*This post has been sponsored by The J.M. Smucker Company. I received product and compensation, but all opinions are my own.*
I've hosted quite a few Simple Brunch Coffee Bar events through the years, and they are perhaps the easiest to prepare! They are a win, win for me because I spend the least amount of time preparing, I'm less stressed and I still have the entire day ahead of me after the brunch. Cooler weather will be here before we know it, and that just means more coffee for me….which I love.
Did you know that Saturday, September 29th is National Coffee Day!
It's the perfect reason to celebrate this Saturday or any day! Invite a few friends over or just create a special brunch for your family. It's also great for those 12 noon football games.
A Coffee Bar is fabulous for the late morning hours!
All prep can be done quickly the night before or the morning of for ease.
Don't stress! Purchase premade muffins, pastries and fruit trays.
Folgers® K-Cup® Pods make the bar self-serve! Just periodically check your single-serve water reservoir.
A couple of hours is the ideal amount of time. It still gives your guests plenty of time to accomplish other things during the day.
Clean-up is minimal with just a few food items.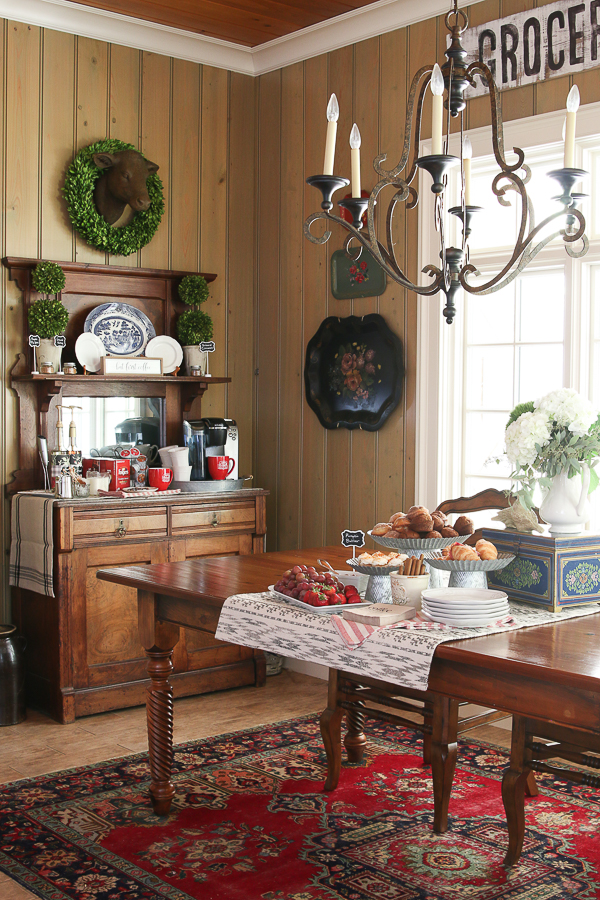 I set my bar up in the breakfast room area of our kitchen. Notice that I moved the front and side chairs from around the table to allow for movement. I placed the chairs in the family room for extra seating.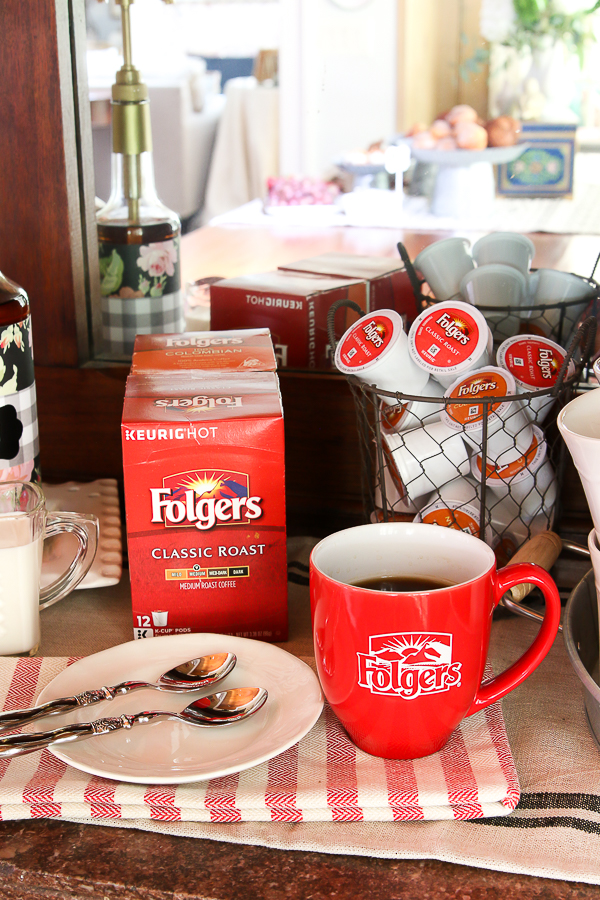 Of course, the star of the show is the coffee! I elected to use Folgers® K-Cup® Pods for the coffee bar. It's easy for a small crowd. I used Folgers® K-Cup® Pods in the following 2 delicious varieties:
Folgers Classic Roast® Coffee which is a delicious medium roast made from rich, aromatic Mountain Grown® beans
Folgers® 100% Colombian Coffee which is a very rich and full-bodied medium-dark roast coffee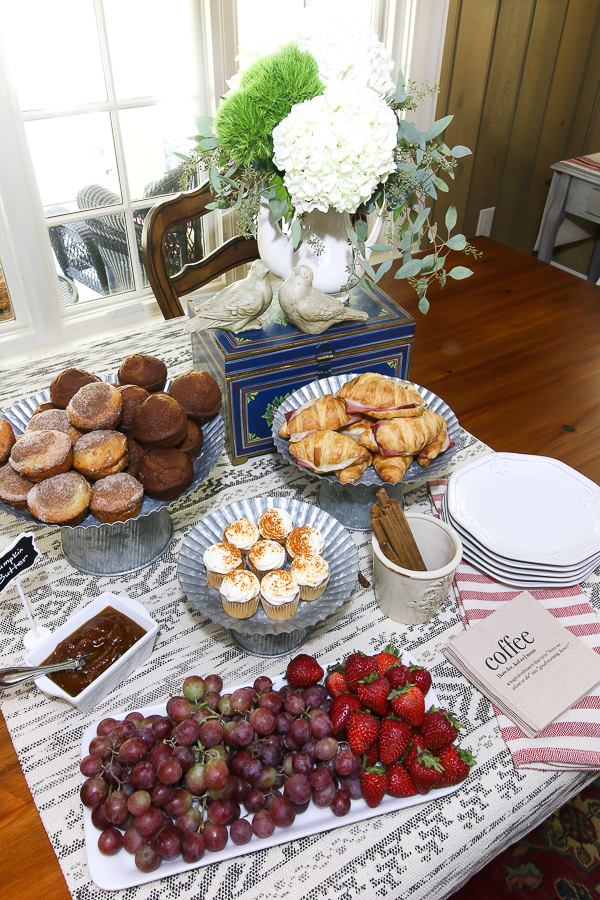 Think outside the box when decorating for your coffee party! This is not a runner or tablecloth, but a rug! Yes….a floor rug. Of course, you'll want to use a rug that you purchased strictly for dining purposes. It's unique and contains just the area for the goodies. The extra space on either side works great for those that linger and chat around the food.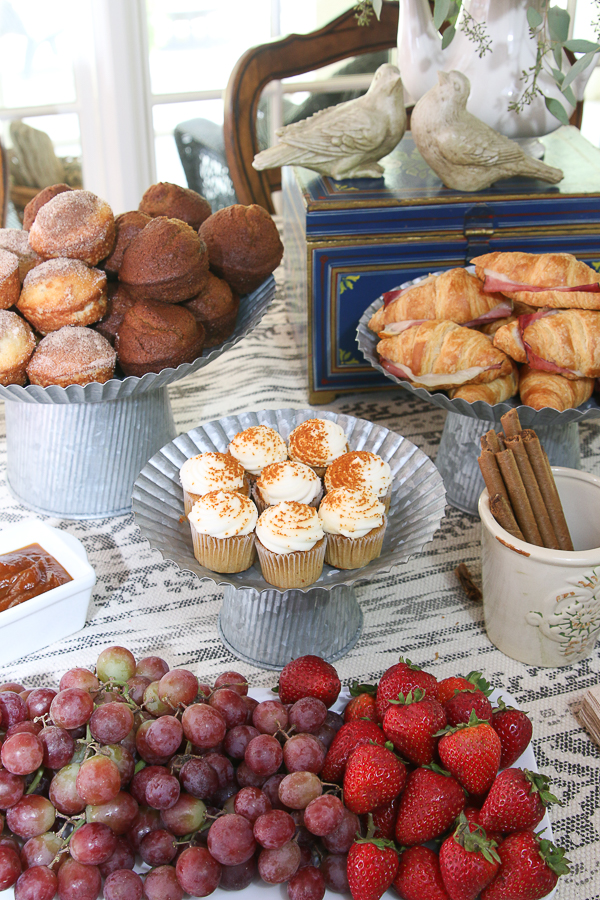 Vary your heights for your plates of food to create interest. Tiered plates work great for this. You can also create height by placing various boxes under a tablecloth as well.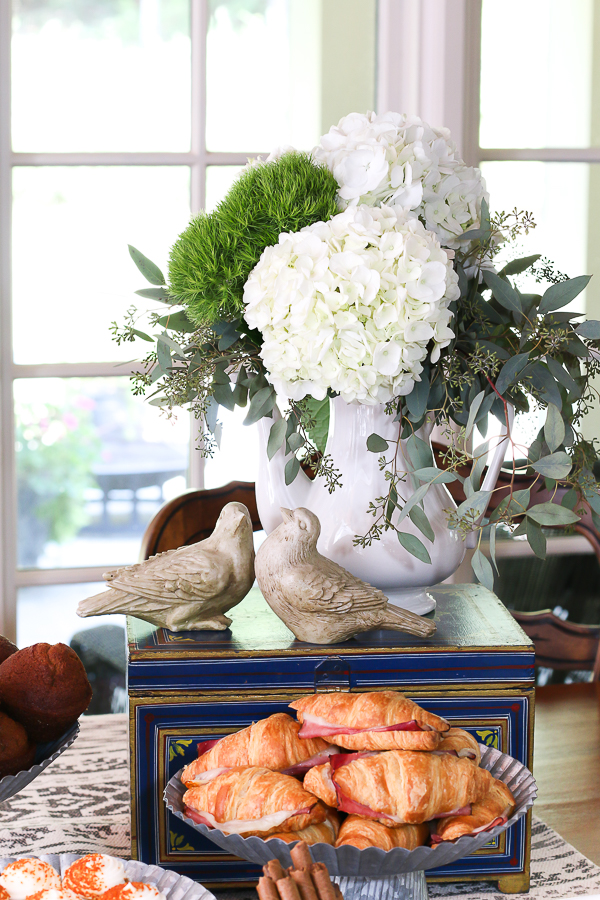 Bring in the unexpected to your tablescape with home decor pieces. The blue floral box was the perfect addition to showcase the grocery store flowers in a teapot with a couple of birds.
Foods for the Coffee Bar
grapes & strawberries
chocolate cookie straws
seasonal mini-cupcakes
2 varieties of muffins
mini ham & cheese croissants
seasonal butter spread for the muffins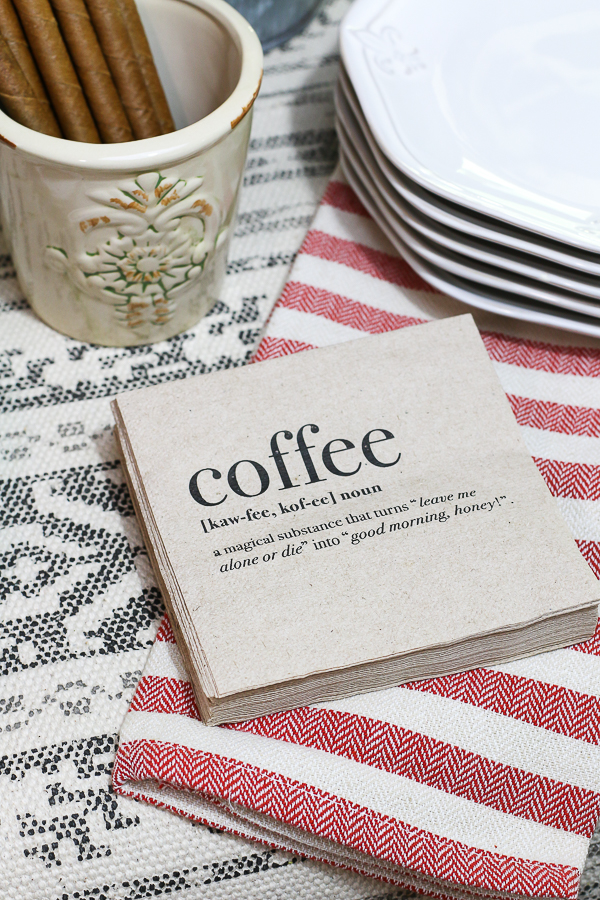 I added a bit of whimsy with a fun paper napkin.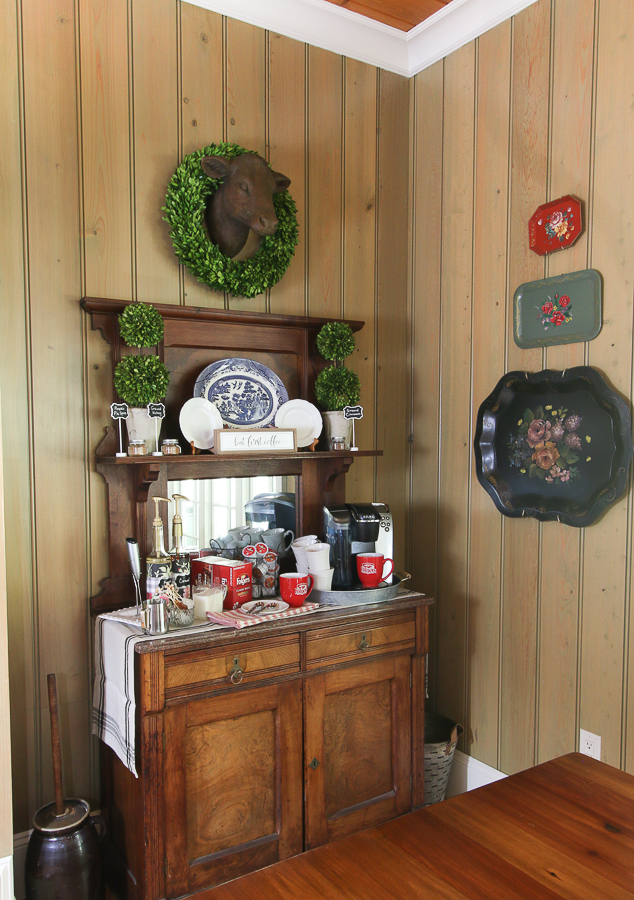 Off to the side of the food is the coffee bar. I must say that I am so happy with the idea of a coffee bar set up here (for the first time!), that I'm going to leave it this way for a while. I find that as cooler weather approaches, we drink coffee more than just in the morning. Getting coffee at a local shop takes too much time! With this coffee bar, I have everything I need to make an amazing cup whenever I want.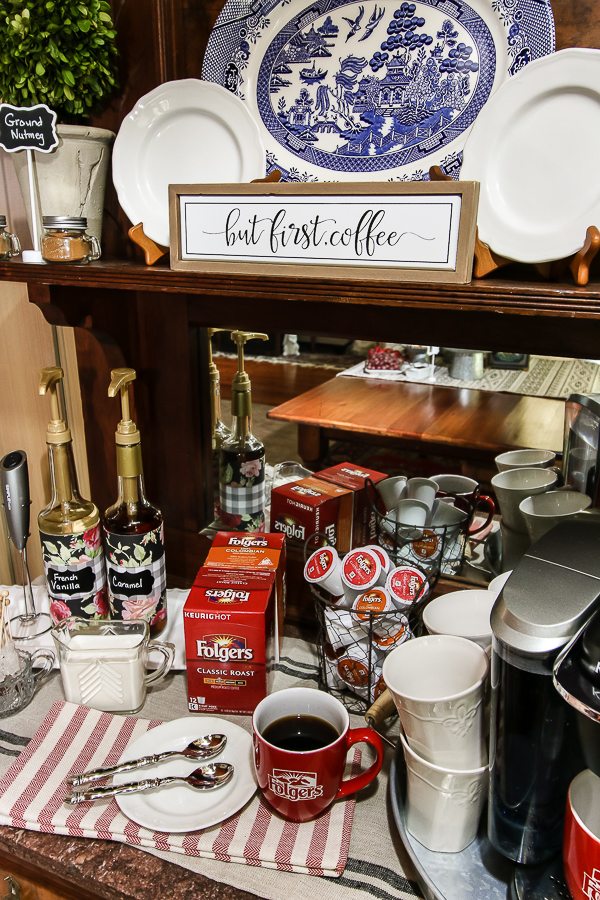 This fun coffee bar took no time to put together! It was the ultimate compliment when my college daughter went nuts over it.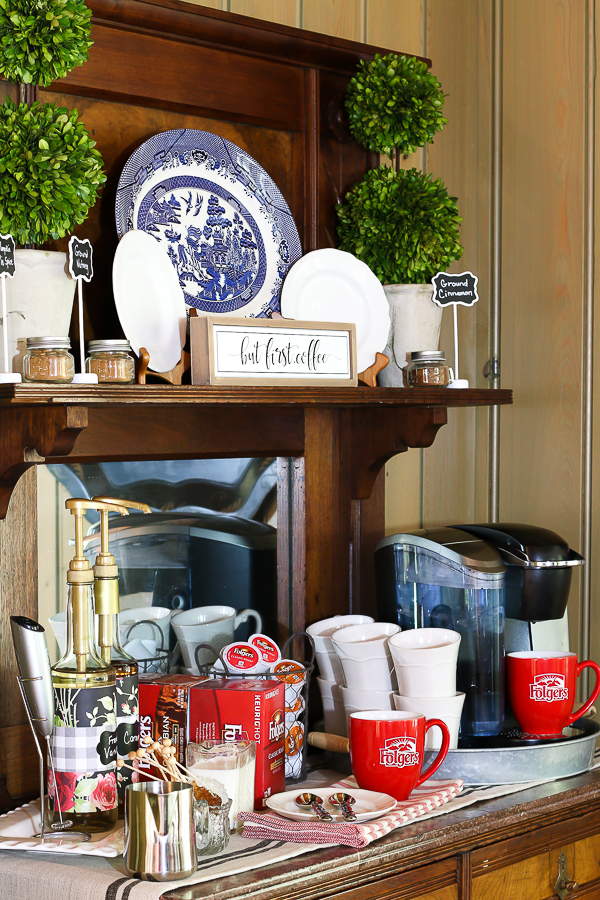 I left the decor on the top as is, but added that cute little coffee sign.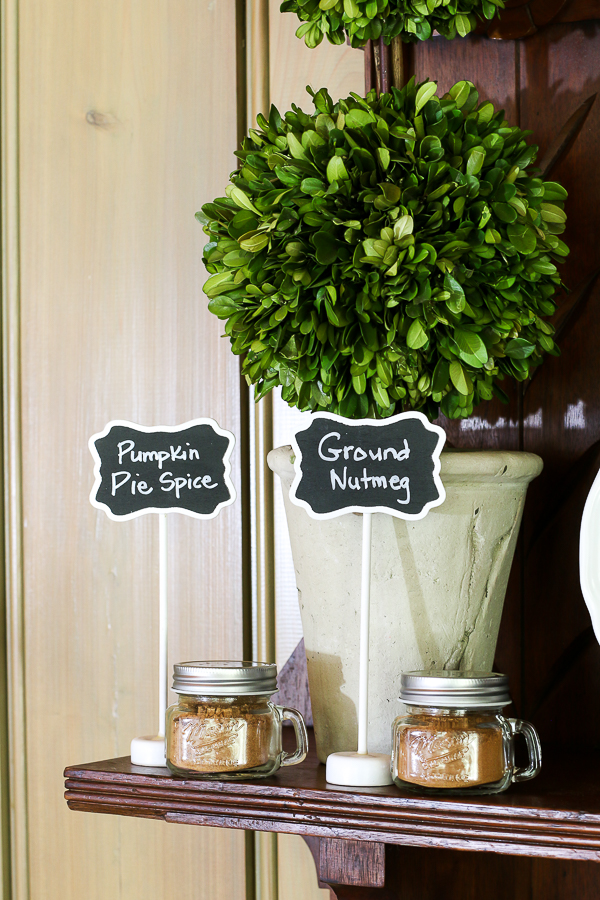 You can quickly step up your coffee bar by emptying the spices into cute salt and pepper shakers or covering them with labels. I also placed a sticker on the bottom of each in case they get mixed up. I used Pumpkin Pie Spice, Ground Nutmeg and Ground Cinnamon.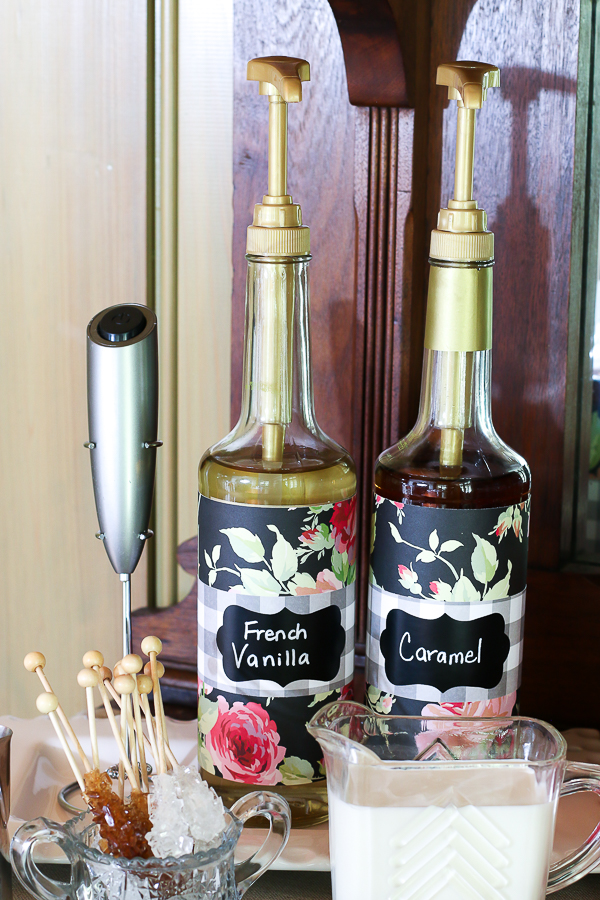 I made these floral labels with scrapbook paper, chalkboard labels and chalk pens. It allowed me to add another pattern to the area and inexpensively jazz it up a bit. Sugar stir sticks are a fun touch as well. A personal milk frother turns your coffee into a cappuccino with ease.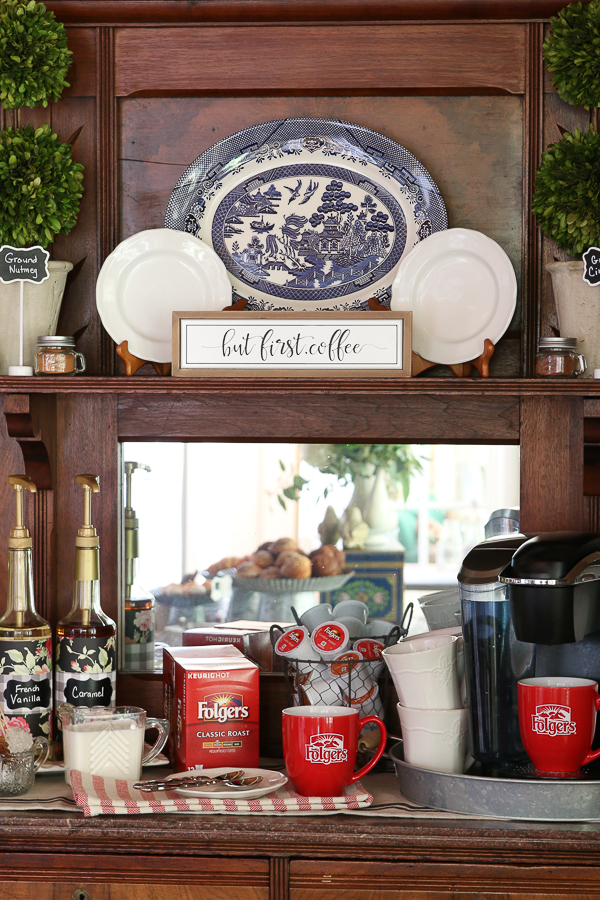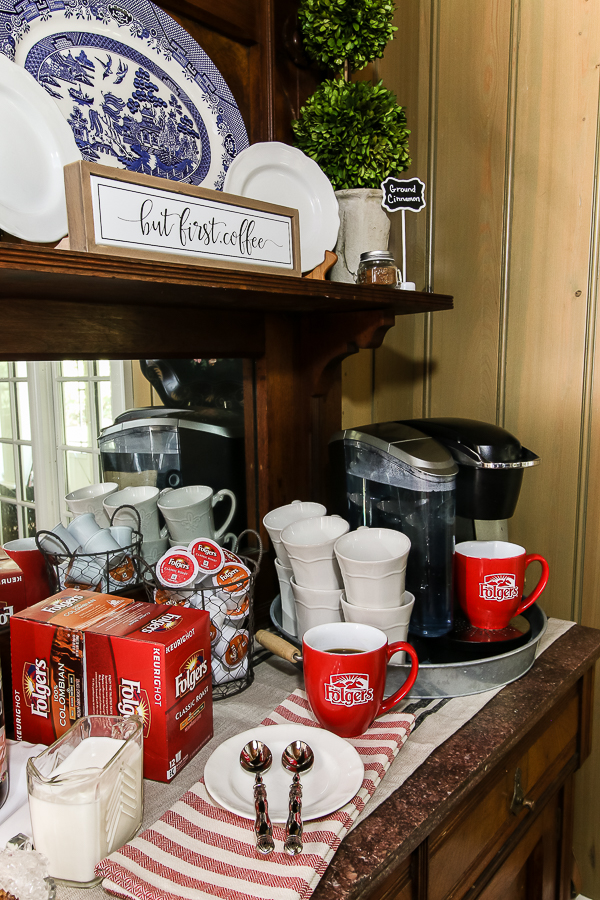 If you are setting your coffee bar up on a surface that needs protection, I highly recommend a tray of some sort under your coffee maker to contain any possible spills. This round tray works great for my single serve brewer with a little space for extra mugs.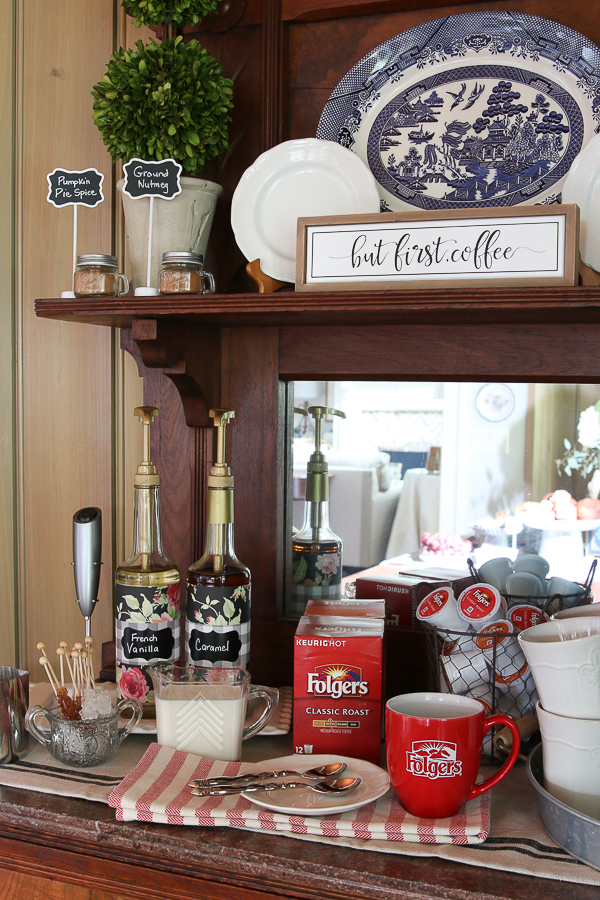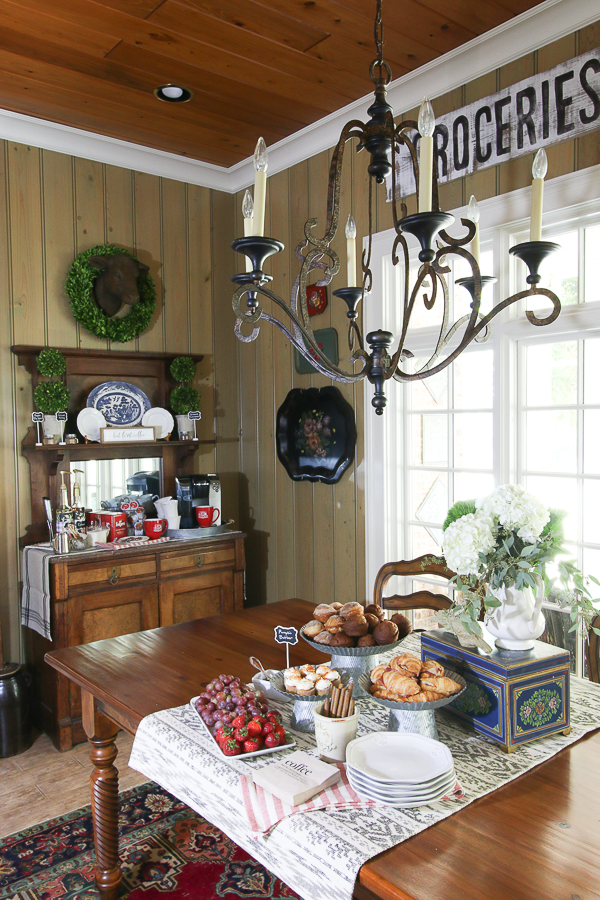 Coffee bars are a great way to bring friends and family together for either a yummy breakfast or brunch or even an after-dinner dessert party! I'd love to hear how you plan on celebrating National Coffee Day on September 29th! Even just a simple morning in with your loved one enjoying a cup on the porch is fun and relaxing.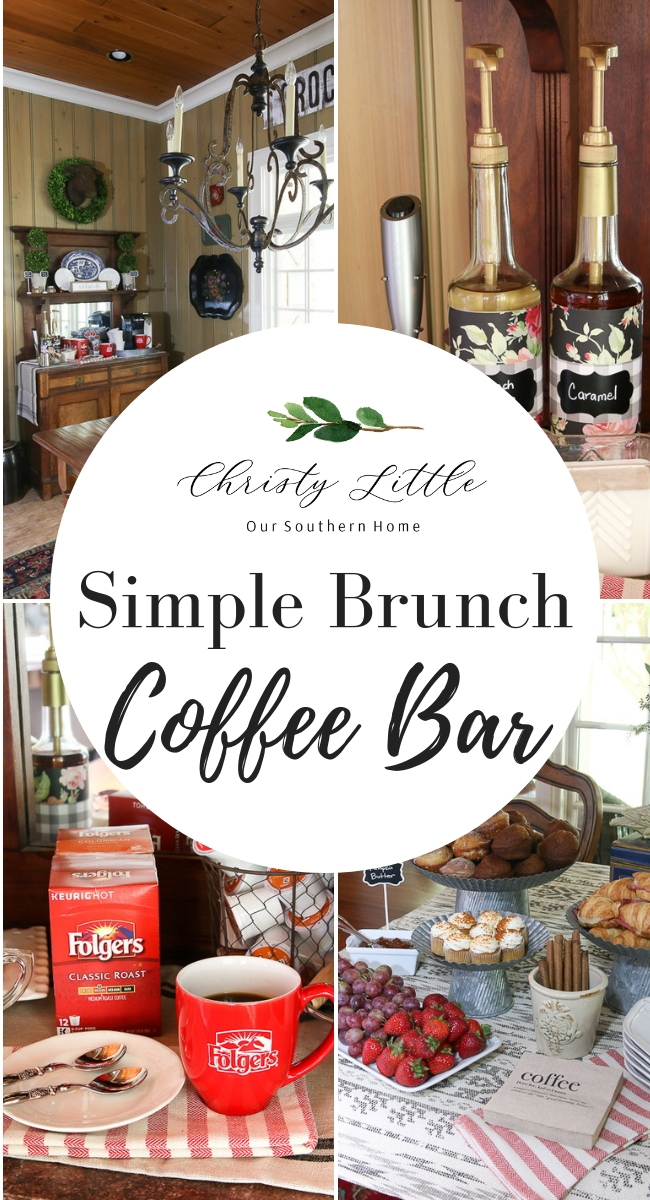 Be sure to check out Folgerscoffee.com for even more delicious roasts and varieties that are sure to please any coffee lover.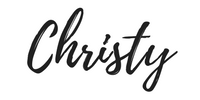 Buffer