Simple Garlic & Herb Butter
Simple garlic & herb butter recipe that can be used with so many dishes like bread, grilled corn, green beans and topped on chicken.
It's time for another group of fabulous recipes with my blogging friends. I'd like to give a big shout-out to my friend Marty from A Stroll Thru Life for organizing this each month for us. 
Be sure to read until the end of the post to get the links to this week's yummy collection of recipes.
SImple Garlic & Herb Butter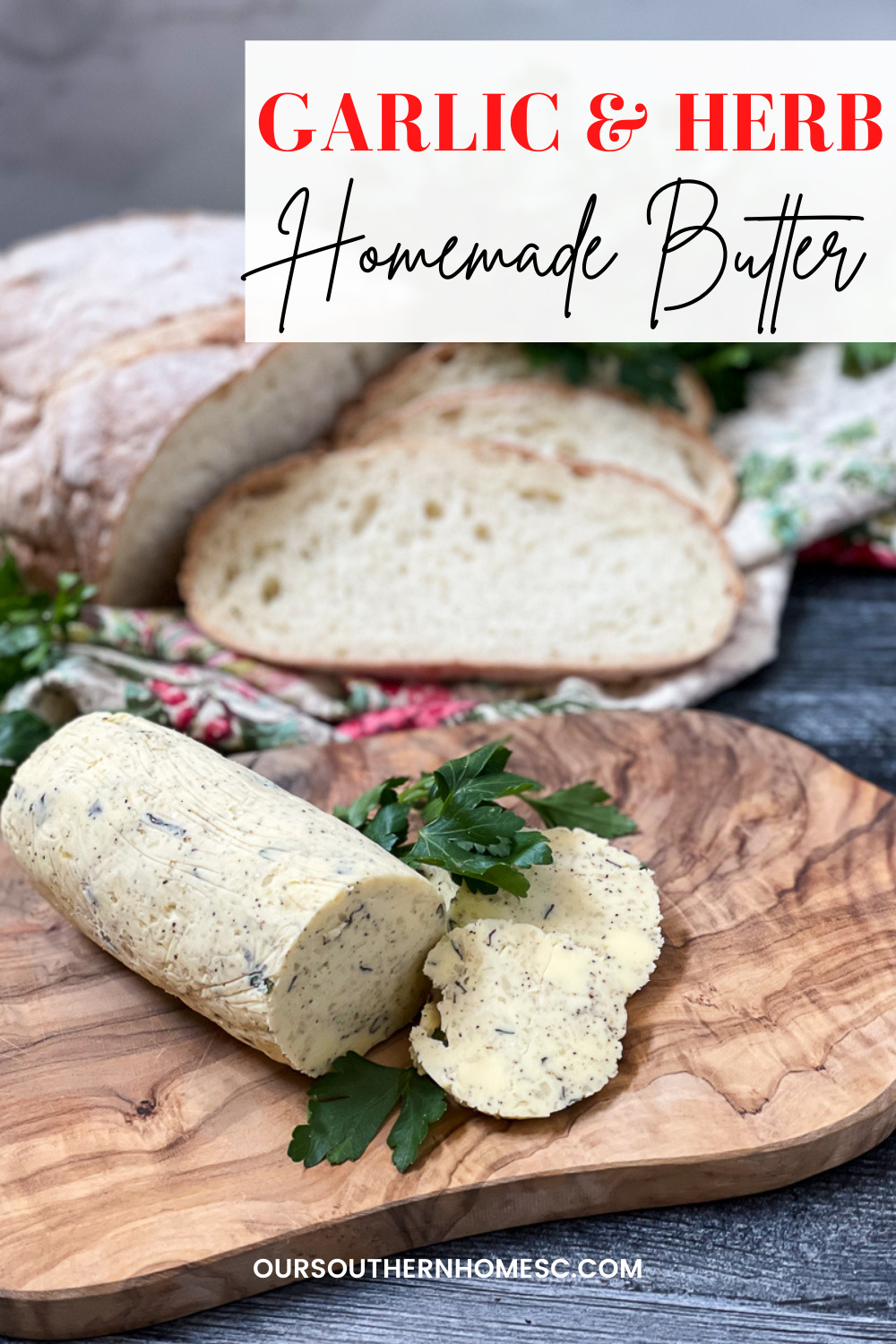 Butter has been the topic of healthy conversations for many years. Remember that time way back when (if you are old enough) that we shunned butter for margarine. I haven't bought margarine in years. My kids don't even know what it is. You have to kind of laugh at that. We did recently make a chocolate pie that had a stick of margarine in it. It was pretty yummy, but nothing beats the real thing.
We eat very healthy around here, and I do use real butter in moderation.
Some things just need real butter like corn on the cob and French bread.
My daughter, Ashlyn, loves creating recipes. She will graduate from college in 1 more semester. She gets her love of cooking from me. Together, we've had a lot of fun cooking recipes from cookbooks and concocting our own.
This simple garlic and herb butter is one of her fabulous creations.
The thing with the way we cook is that it's never really the same each time. We cook from memory and a little tasting as we go. I requested that Ashlyn recreate this recipe for us this month in written form. We use it more in the summer than at any other time.
This butter recipe is perfect for all kinds of dishes!
garlic bread
grilled corn
sauteed green beans
on top of salmon and chicken for my sheet pan meals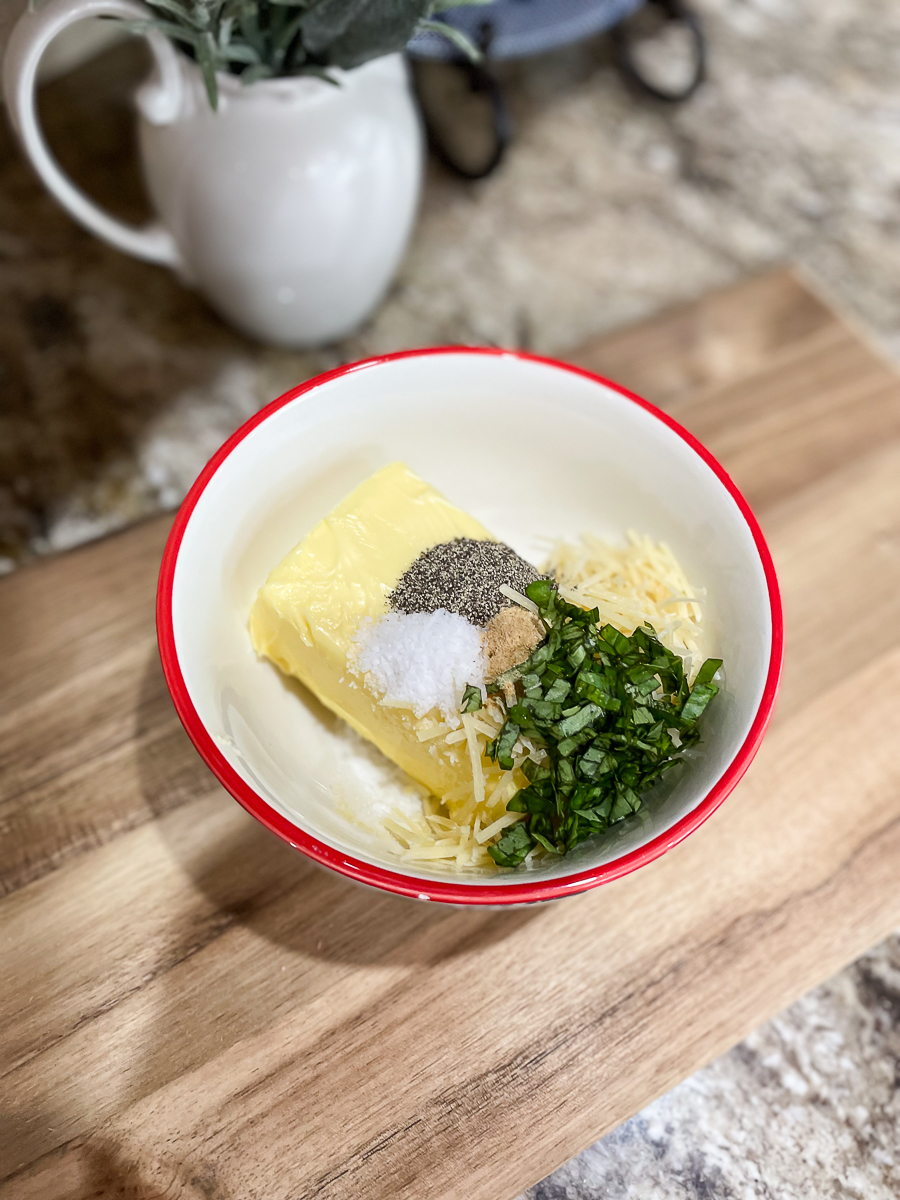 This recipe is about as simple as it get! You'll mix all ingredients together. Make sure you soften your butter to room temperature.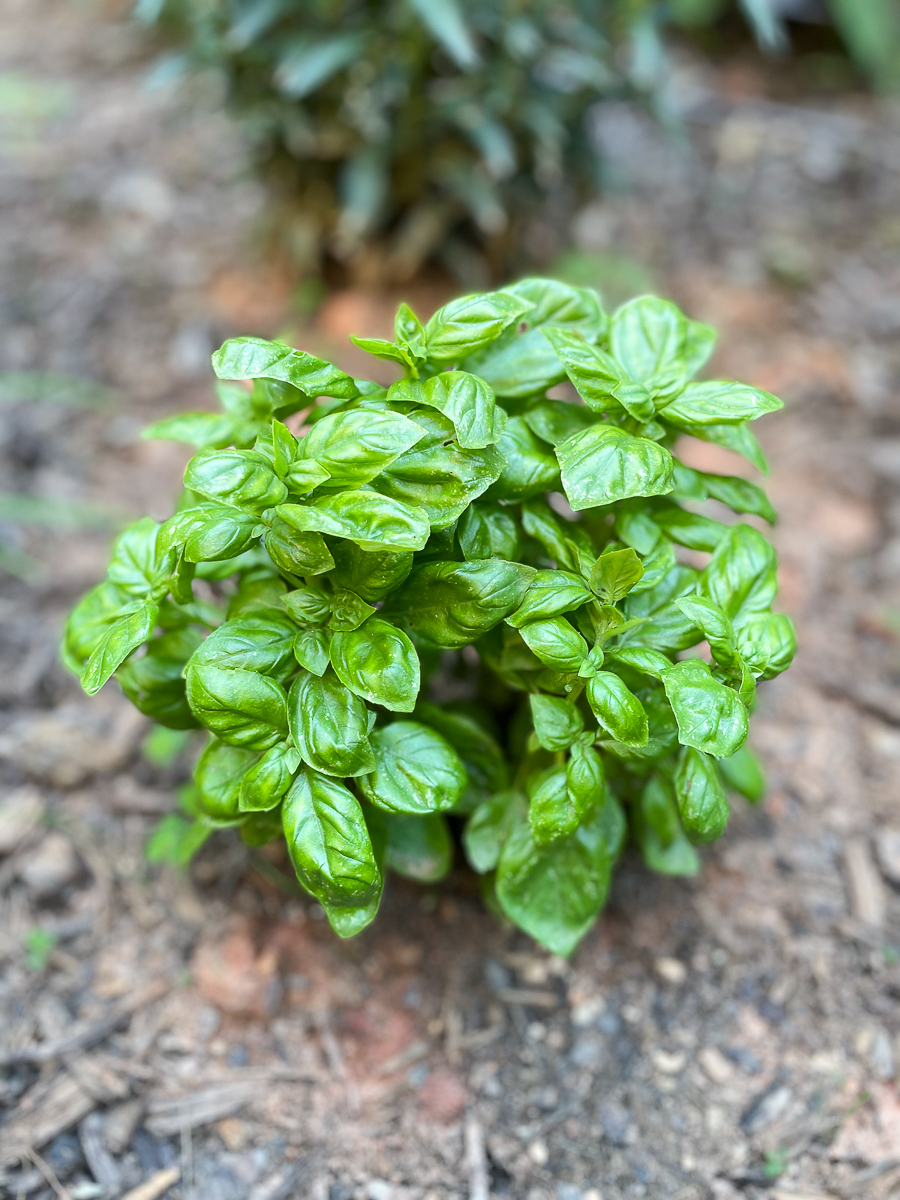 Do yourself a favor and plant one or two basil plants. We use it up until it freezes. We hope to make some fresh pesto to freeze with it before the end of the growing season.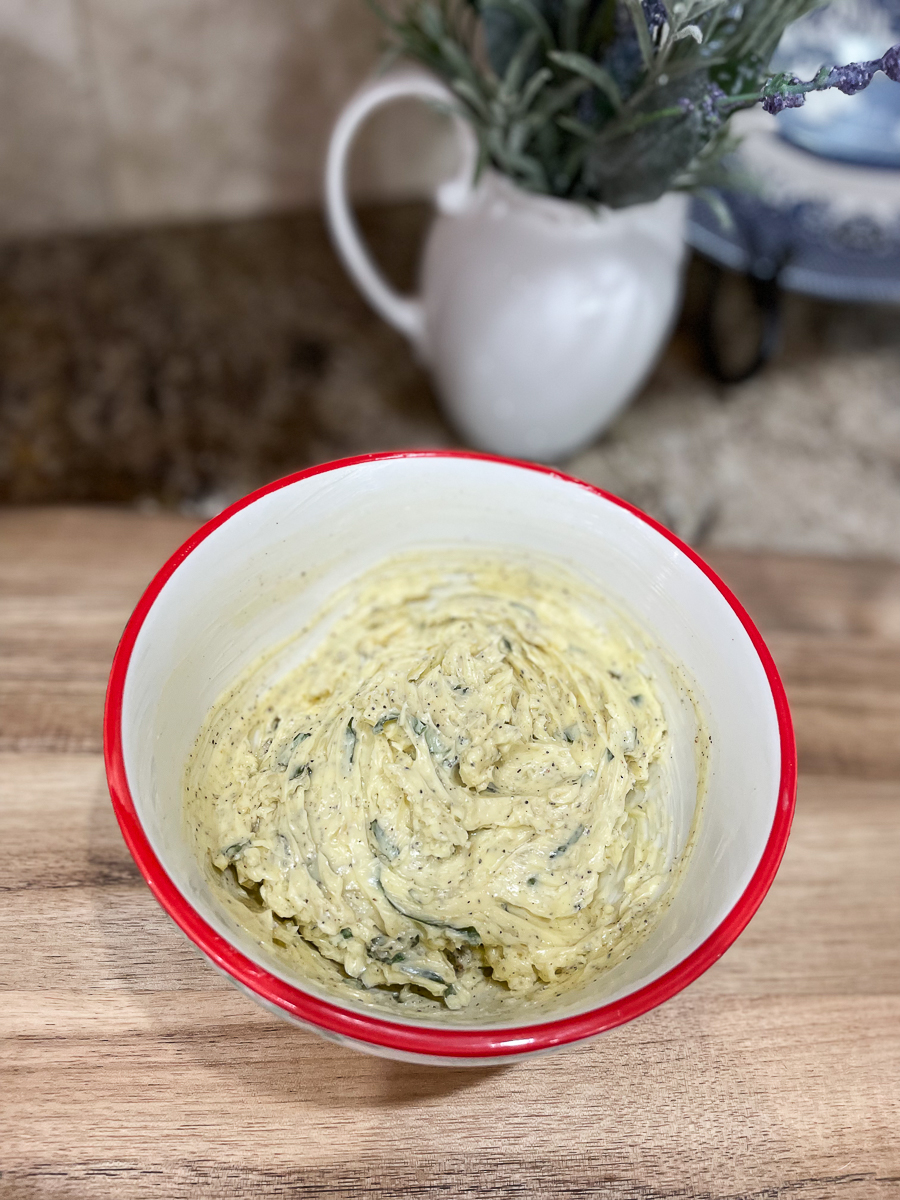 My preference is irish Butter. I get the store brand from Aldi.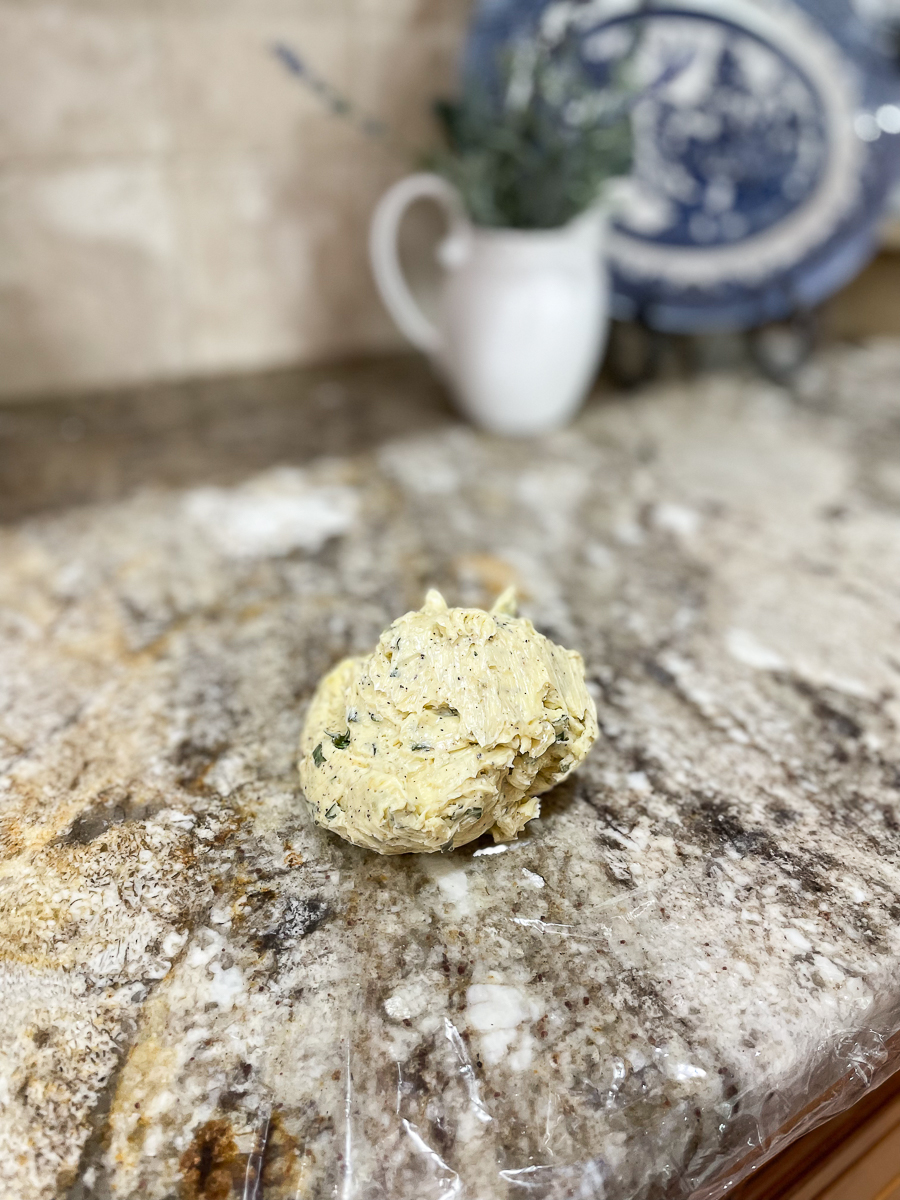 Lay out plastic wrap on your counter and place the stirred and combined butter on it.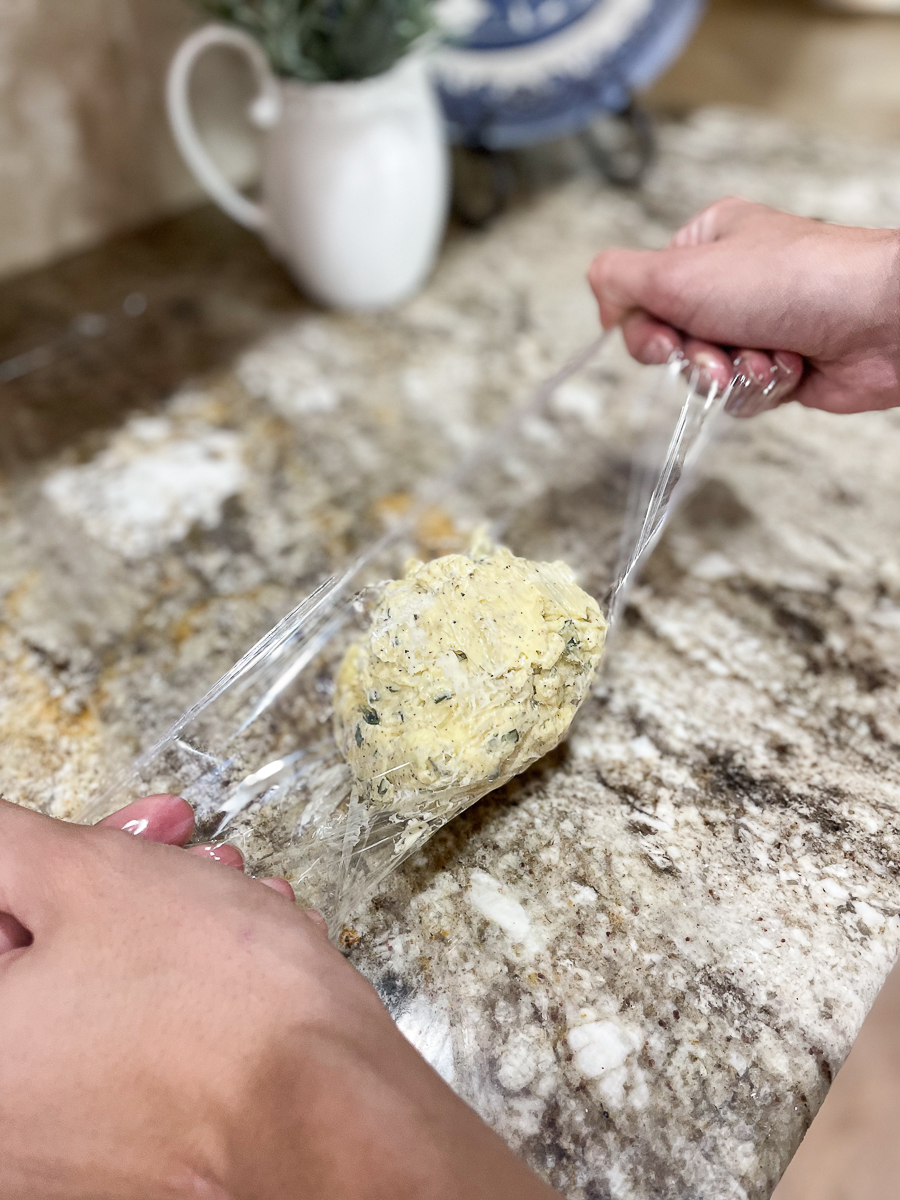 Fold over the plastic wrap onto the butter and then work it into a log shape.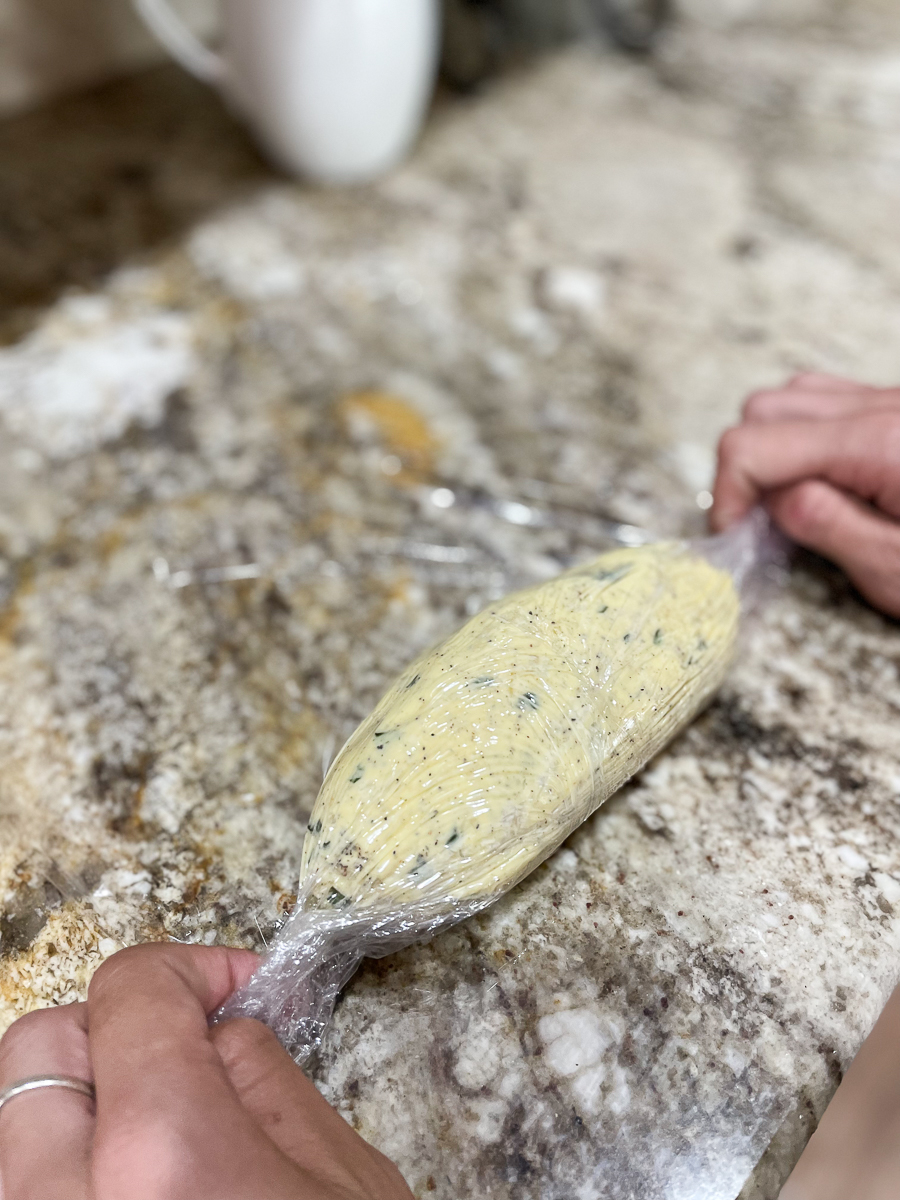 Twist the ends together to seal.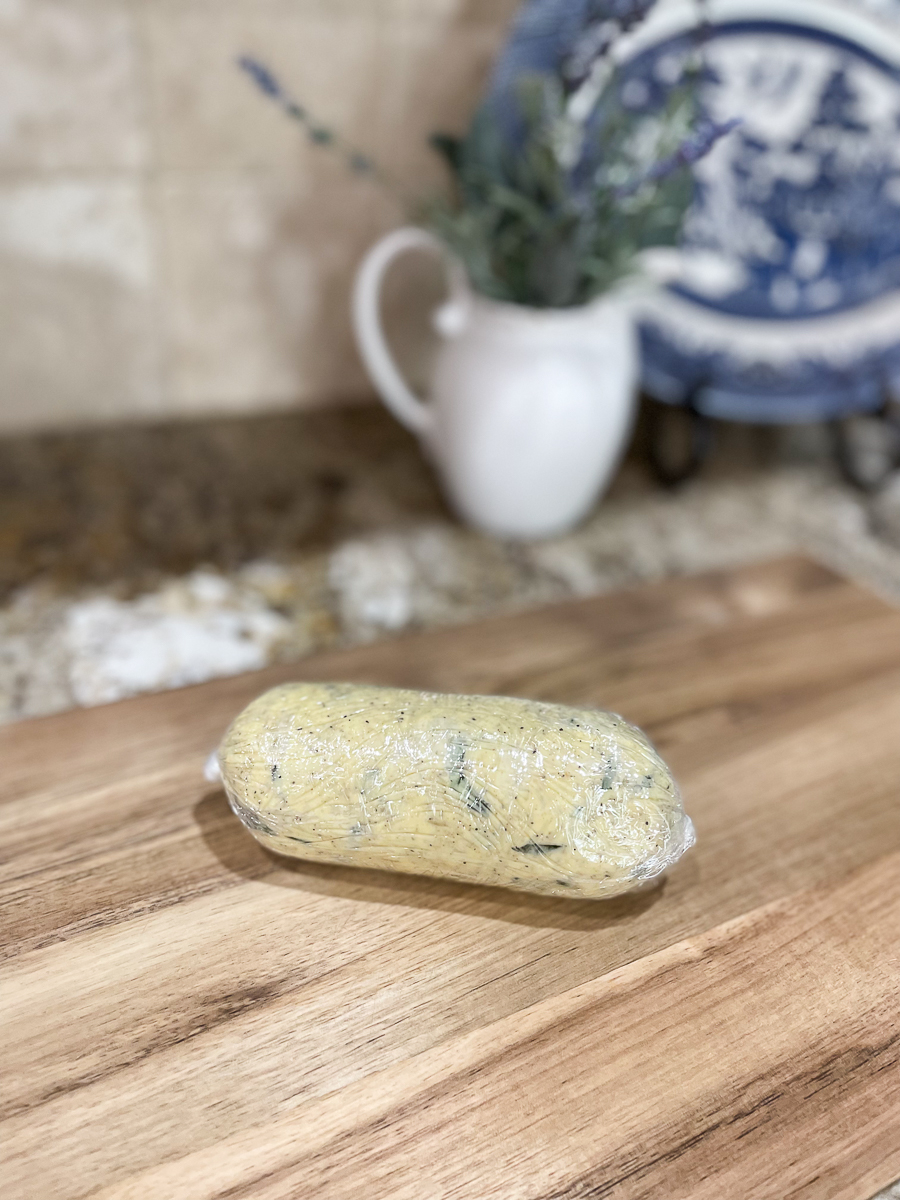 Place it in the fridge for at least 30 minutes if you want to slice. You can use even before putting into a log shape if you want to spread on bread or corn. Keep stored in the refrigerator.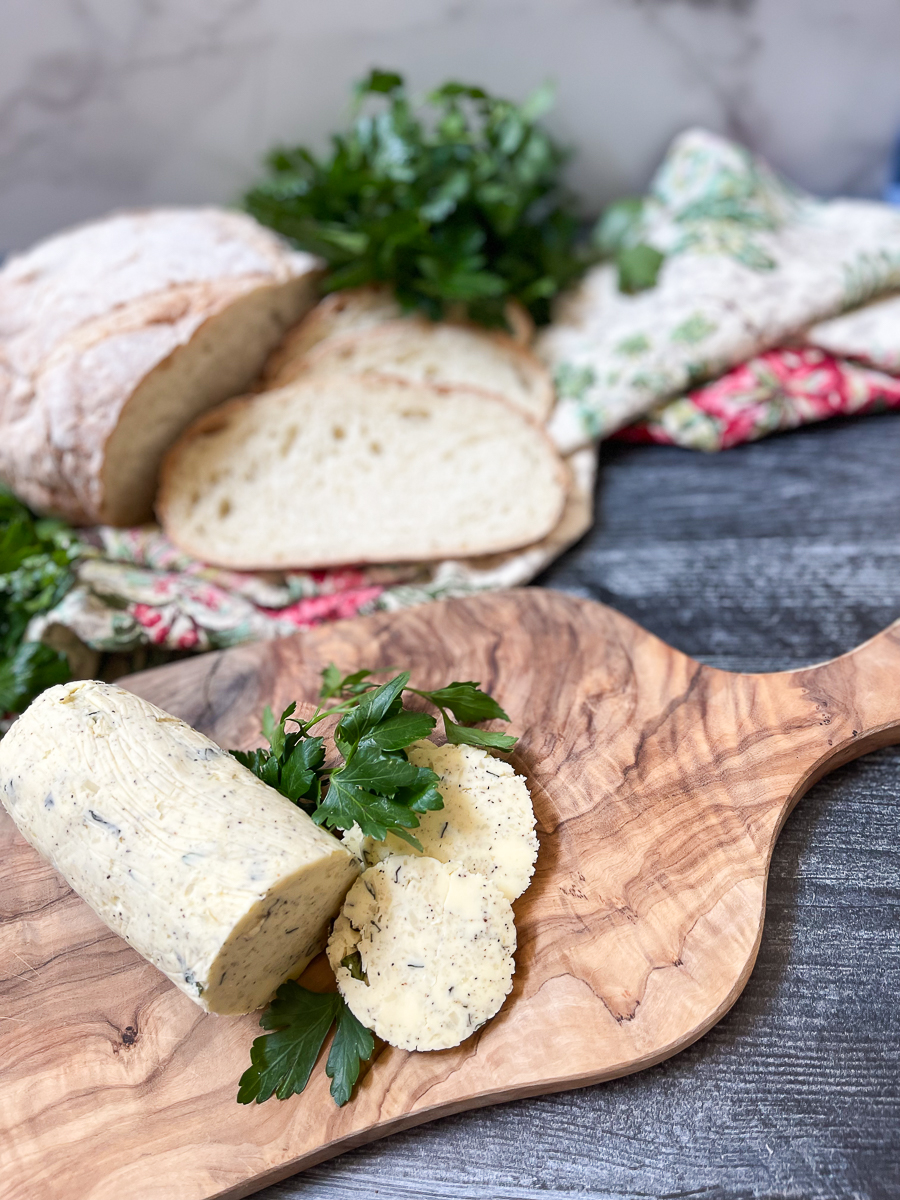 This was sliced about 45 minutes after chilling in the refrigerator.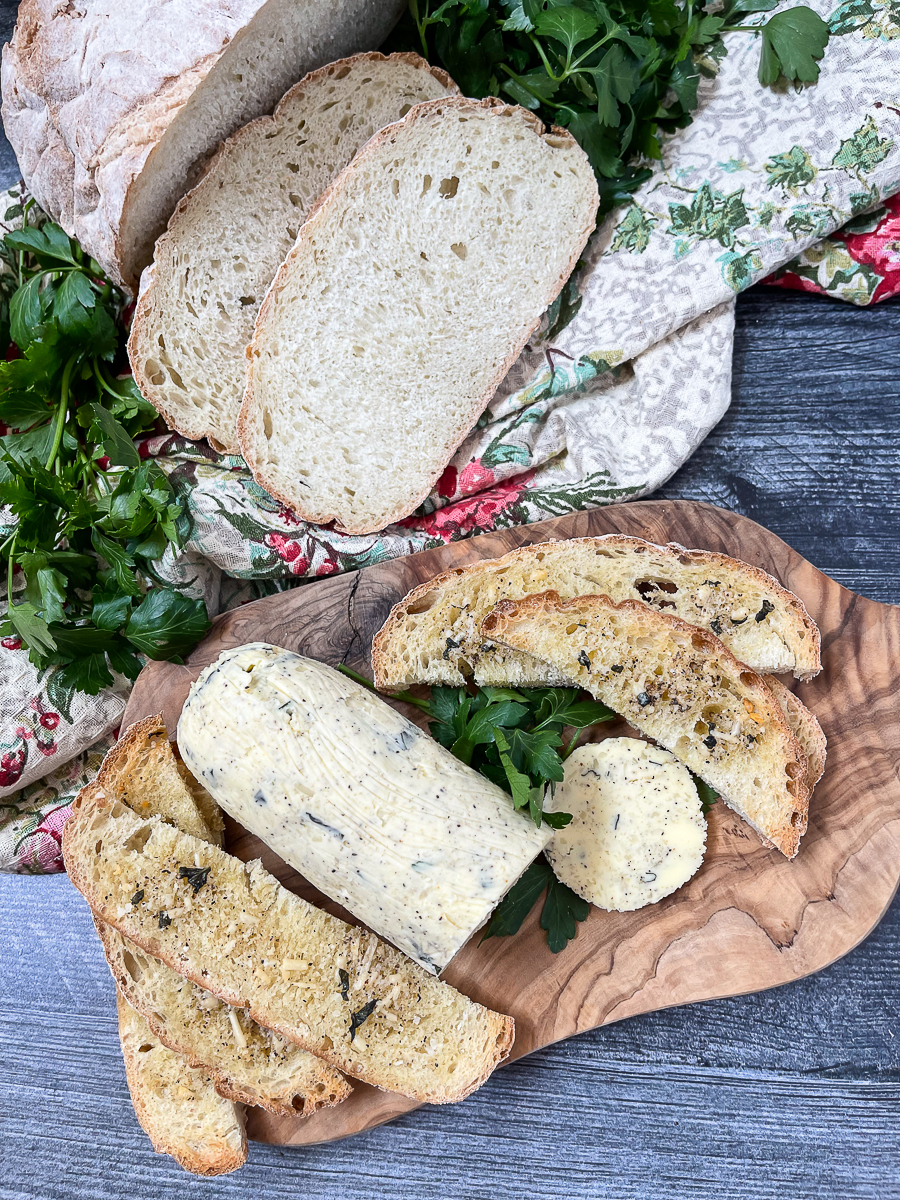 We enjoyed it that evening with dinner on fresh sourdough bread from our local grocery.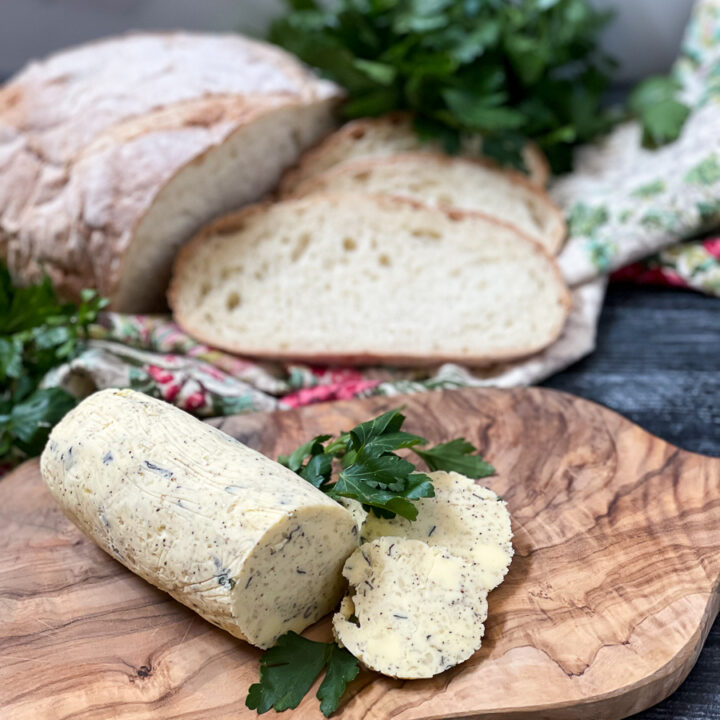 Simple Garlic & Herb Butter
Yield:
8 Ounces of butter
Additional Time:
30 minutes
Perfect for grilled corn, garlic bread, sauteed veggies and more!
Ingredients
8 ounces of butter
1/3 cup of grated parmesan cheese
1-1/4 teaspoon of kosher salt
1 teaspoon of ground pepper
2 tablespoons of finely chopped fresh basil
1/2 teaspoon of garlic powder
Instructions
Allow butter to sit at room temperature for a couple of hours or until softened. You do NOT want melted butter so resist the urge to microwave.
Combine all ingredients in a small bowl and blend very well.
Lay a piece of plastic wrap on the counter and spoon the butter mixture on the plastic wrap.
Fold over the plastic wrap onto the butter then proceed to work it into a log shape.
Twist the ends on the plastic wrap to give it a good seal.
Place in the fridge for 30-45 minutes to solidify the butter for slicing.
Store in the fridge when not in use.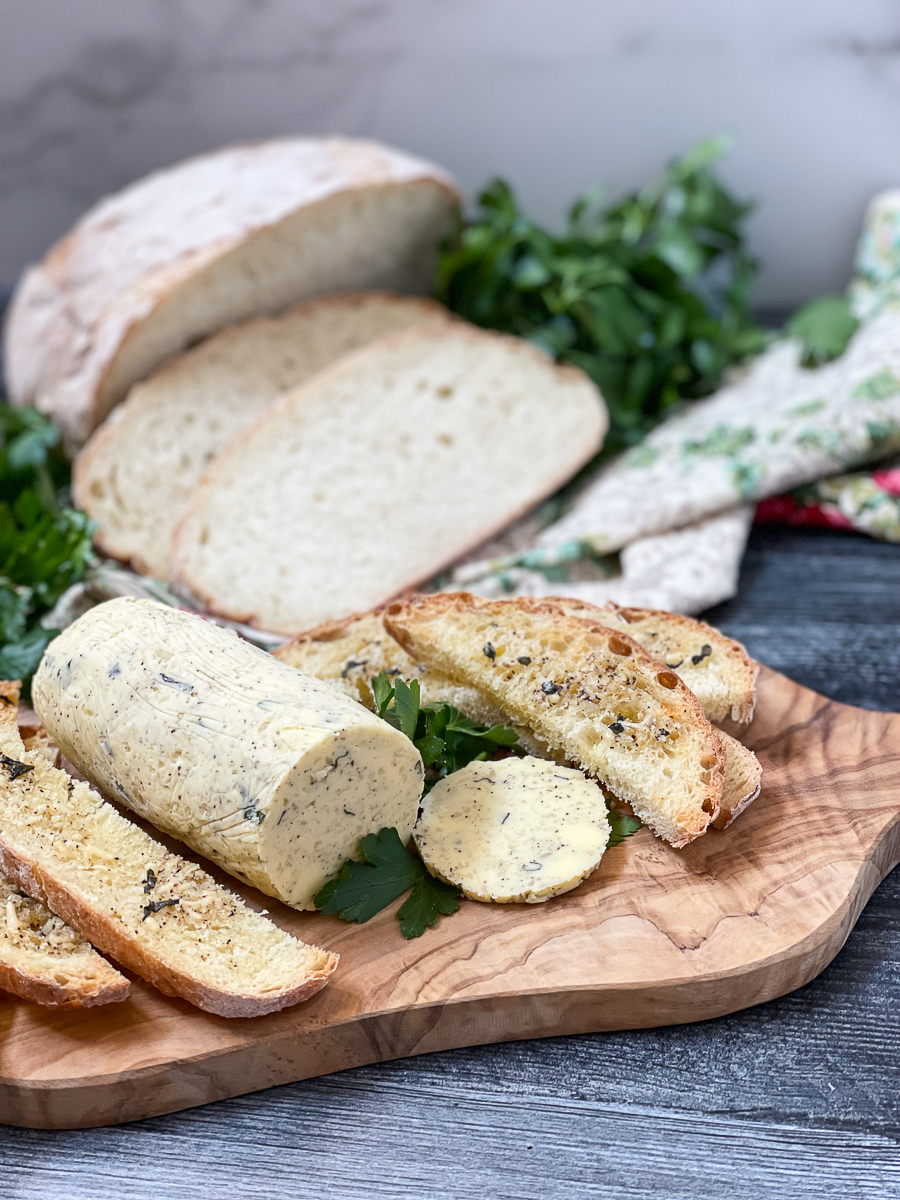 Be sure to keep it stored in the refrigerator. We use ours up pretty quickly because you want to use it on everything, but I try to use it within the week.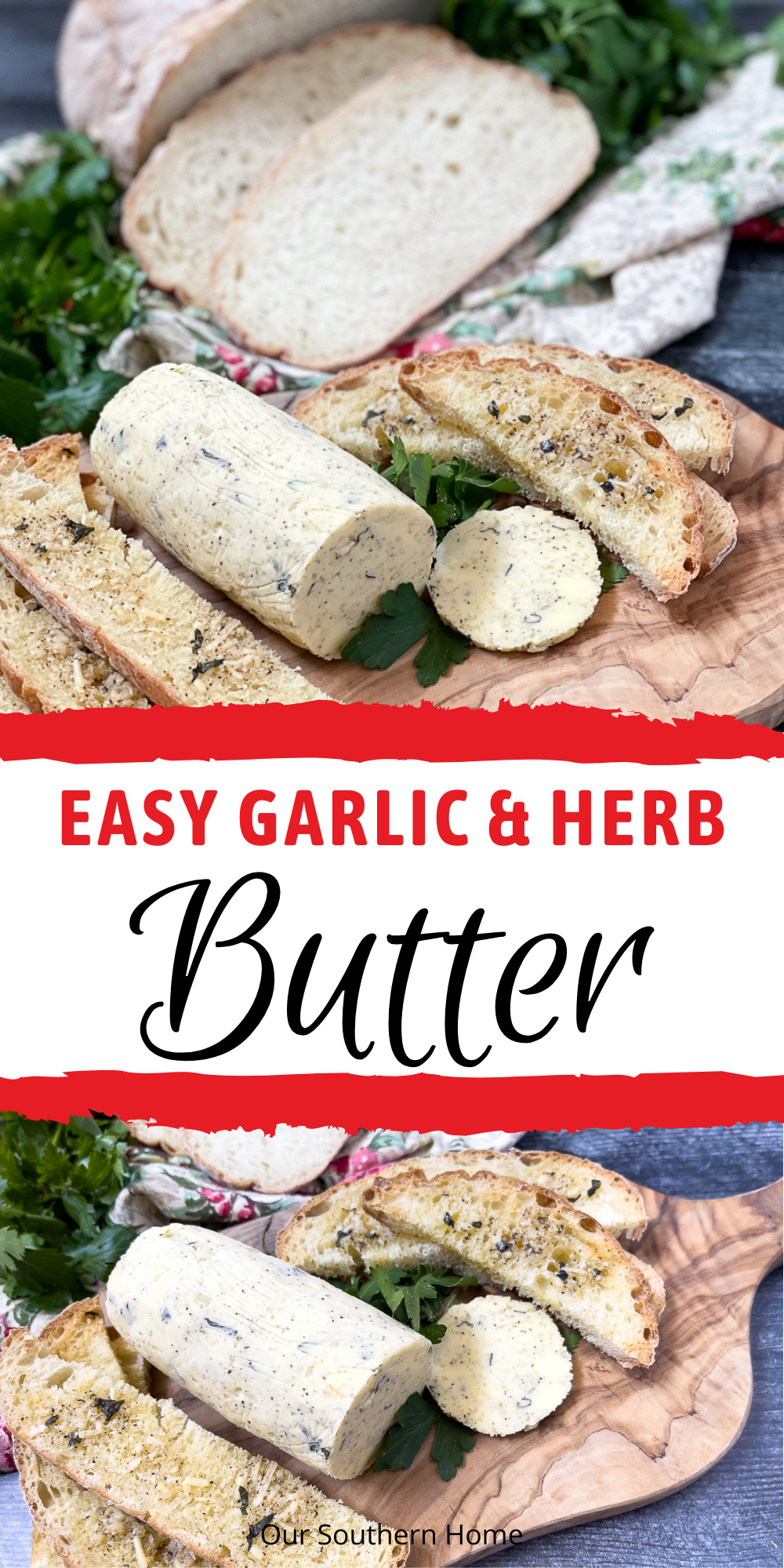 More New Yummy Recipes
Our Southern Home – Homemade Garlic & Herb Butter – This would be a staple to have in the fridge at all times.
11 Magnolia Lane – Delicious Homemade Granola – This is so fabulous, you can add just the ingredients you love.
Blue Sky at Home – This is sure to become your Family Favorite Peach Cobbler too.
Worthing Court – Grilled Chicken with Strawberry Salsa – Adding Fresh fruit salsa turns this dish into a summer must.
Decor To Adore – Fast and Delicious Ground Beef Wellington – I am sure this fabulous dish will become a staple in your recipe box.
This Is Our Bliss – A few tortilla chips and a scoop of Easy Texas Caviar will be your family and friends favorite at your next BBQ.
A Stroll Thru Life – Summer Fruit – Easy Peach Pie your family will love.


Latest from OSH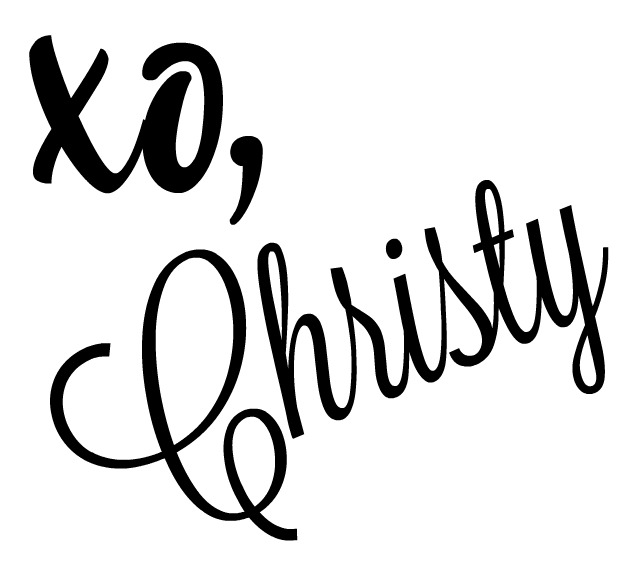 Buffer