I don't know about you, but I'm tired of hot and humid….I want FALL! I am longing for all the things that mean fall to me…cooler weather, jeans, boots, scarves, crackling fires, apple picking, pumpkins, colorful leaves, apple cider and afternoon hot tea! Here in South Carolina, our fall can have its ups and downs. One day you can be wearing a light sweater and the next shorts and a t-shirt!
One thing that excites me is drooling over all the fall and Halloween decor that bloggers design. I enjoy the inspiration and the creative ideas to try in my own home.
Next Monday starts the All Things Home Fall tour and yours truly has been selected to participate! Happy Dance!!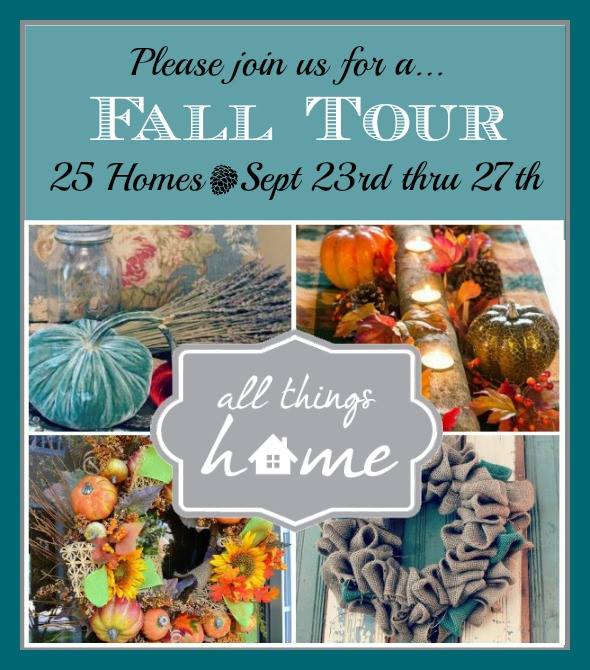 Later this week, I'll post the links to all the homes participating! Lots of well-known blogs! My tour is next Tuesday. I am very busily getting our home ready. This is just a Fall tour. There will be a Halloween tour next month! Be sure to visit the tours because there is also going to be an amazing GIVEAWAY…..it is very unique!! So while I continue to work on my fall decor, I thought I'd share last year's front porch with you. I hope you don't get too scared….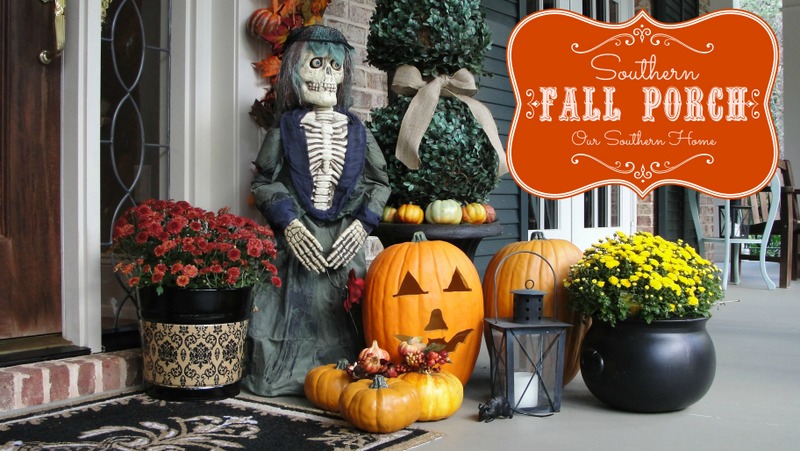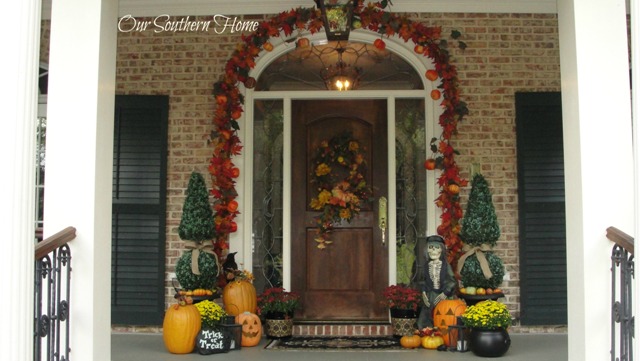 Some of the items used on the porch have been staples for quite a while. The spooky skeleton witch is new to the porch this year. For several years, she held guard on the front family room steps. She was a fun 1/2 price find at Michael's Crafts. All of the pumpkins are faux.
I love bringing in splashes of black here and there to tie in the Frontgate rug. Frontgate has beautiful outdoor mats that are made to last! I highly recommend these topiaries from Ballard. I have had them for 4 years now, and they still look great! Notice that I added some pumpkins around its base. The look would not be complete without the wired burlap ribbon from Amazon. It's a huge roll that will get you through several projects!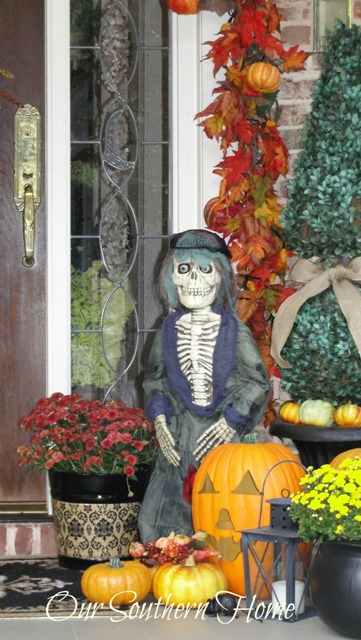 The mum planter is a fun DIY project. Click to take you to the instructions featuring this Mod Podge Mum Bucket which started out as simple galvanized buckets! This was a recent feature.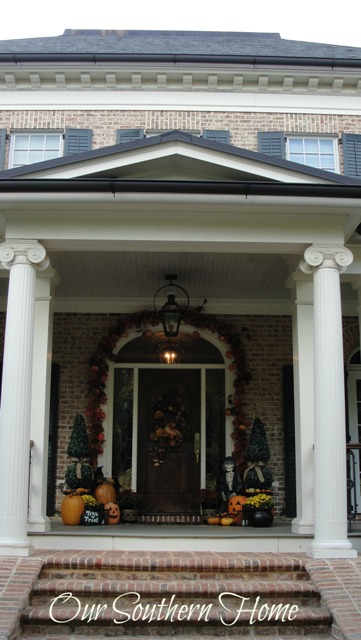 We never have trick-or-treaters, but it is fun to decorate like we do!!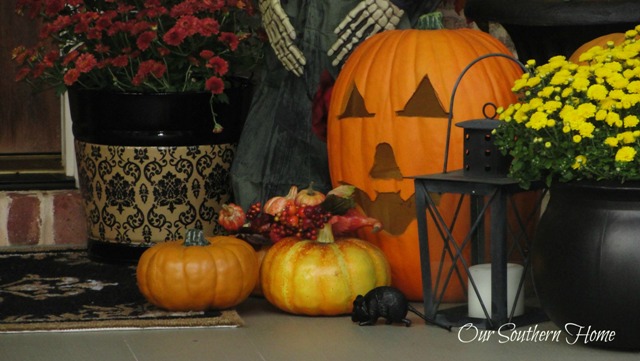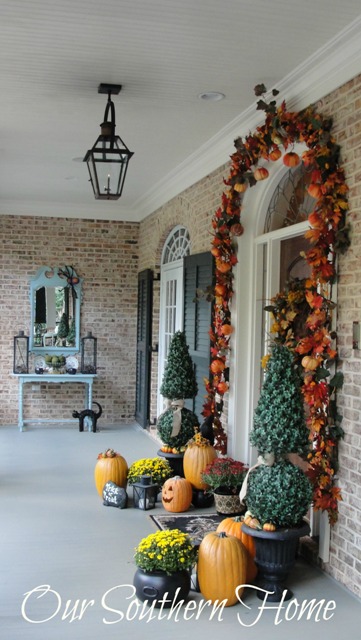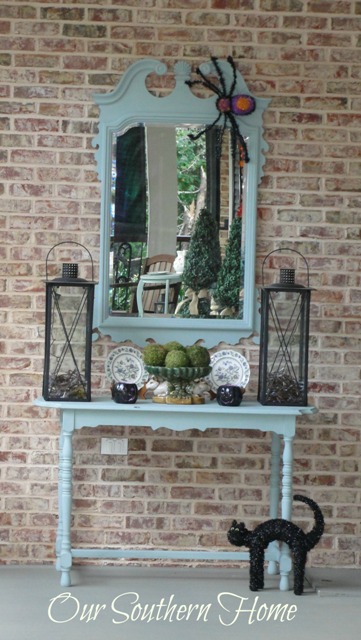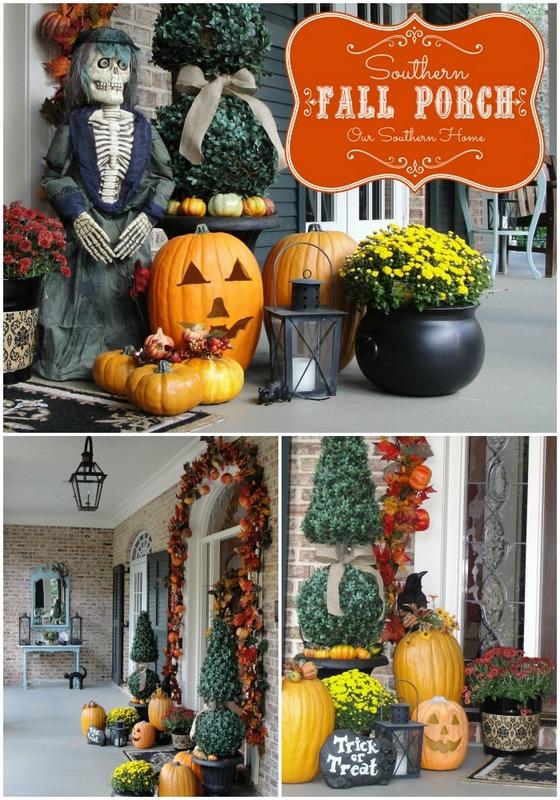 I hope you have a very lovely week~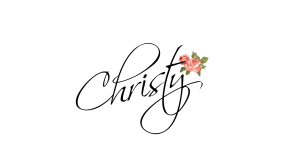 Buffer