In our home, we have always treated our pets like members of the family. They are, after all, our fur babies. Sometimes they need a little spoiling. It doesn't take a lot to let your pet know that they are special and loved. Their love for us is unconditional and you can so tell when they feel our love. In Rocky's case, you can hear him purring from across the room.
We have 2 dogs and 1 cat. I guess you could say that the pet in charge is Rocky, the cat. He is the oldest of the three.
He is 13 years old and still very active. He has always been an indoor/outdoor cat. He will let you know when he wants in or out. He's quite funny in that when he is inside, he wants your undivided attention. He will follow you around meowing as if to say, "Let's sit and visit a while." The interpretation of this is actually, "Let's sit so you can talk softly to me and scratch me." It's little things that make him happy! This summer has been so horribly hot. We contributed the heat to the fact that he hasn't been eating as well.
I figured it was time to try a new food. I purchased the new Meow Mix Bistro at Walmart and a new, cute bowl to pamper him.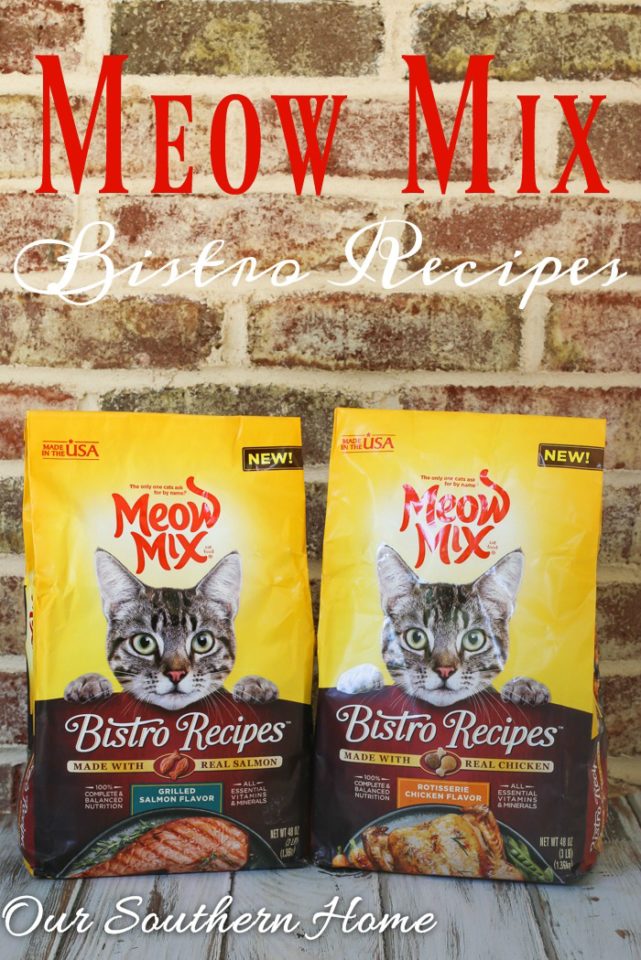 It comes in two flavors, chicken and salmon. I decided to pick up one of each for him to try. Since we have one cat, I prefer to purchase smaller bags at a time with only having one cat so it's always fresh.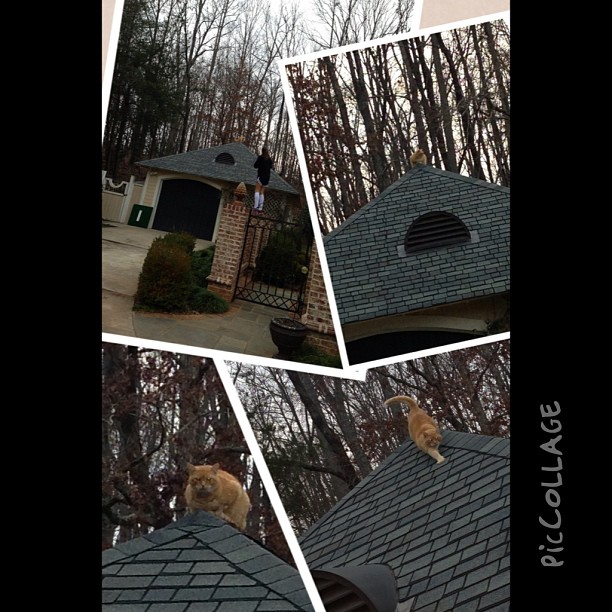 Rocky, even at his age is still very active. He routinely climbs to the top of the garage and perches like a weather vane. This is a collage my daughter made of him a while back.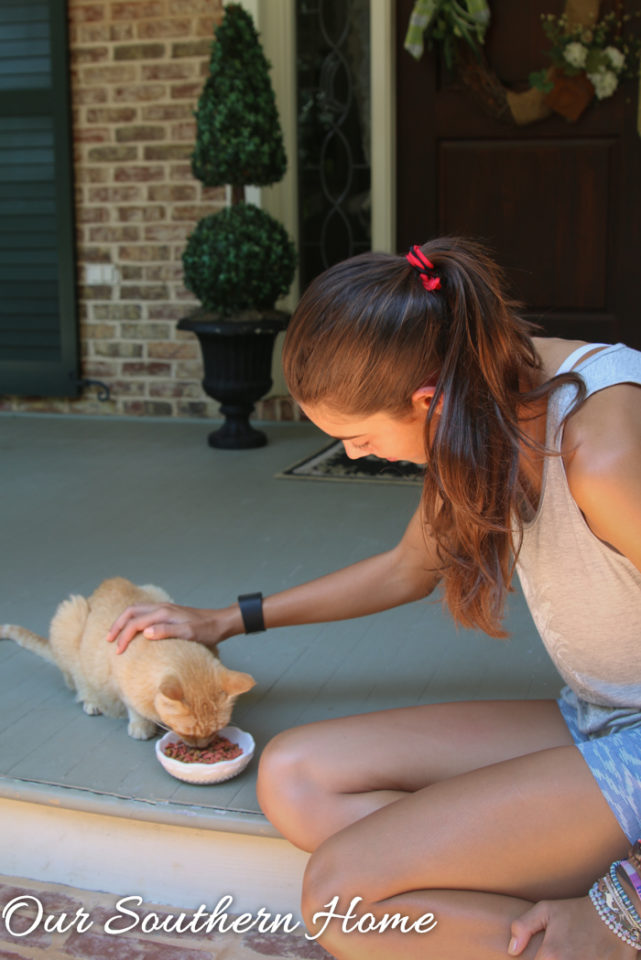 We served him up a bowl, and wow! He went to town.
Meow Mix Bistro is prepared with REAL salmon and chicken in every bite. He's definitely being treated to a gourmet meal.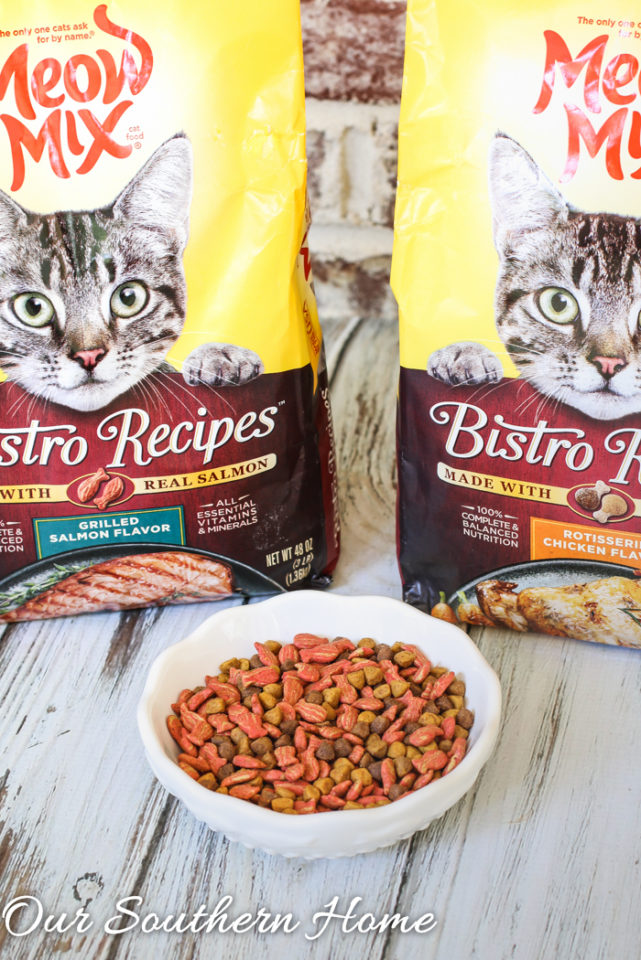 The fact that it is 100% balanced nutrition is important to us for Rocky. He loves it.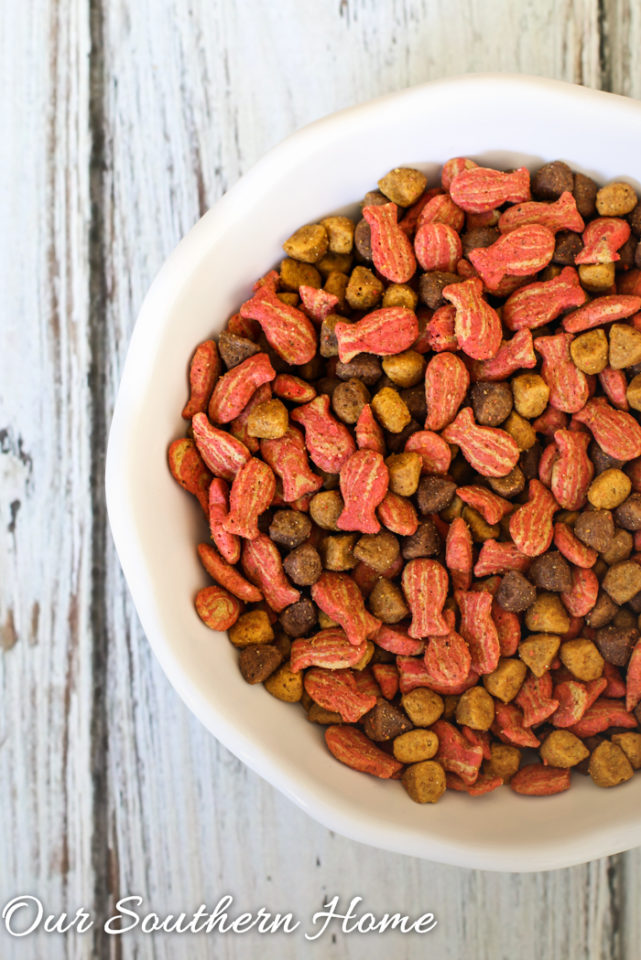 Aren't the fish shapes adorable! Another plus….it's carefully crafted in the USA!!!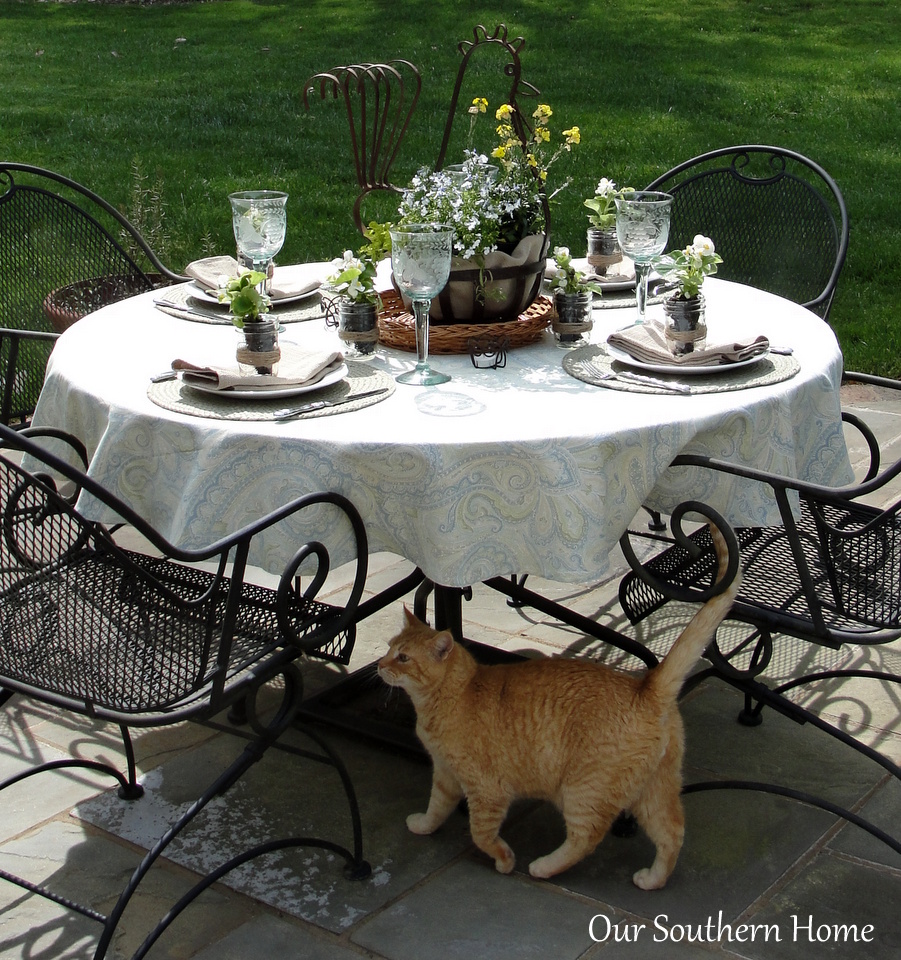 Rocky has such a big personality. He is one of the most vocal cats that we've ever had. He "talks" constantly. Especially when inside. He will follow you around meowing until your finally sit down to pet him. As gourmet as the new Meow Mix Bistro is, we could certainly set him a place at the table with us!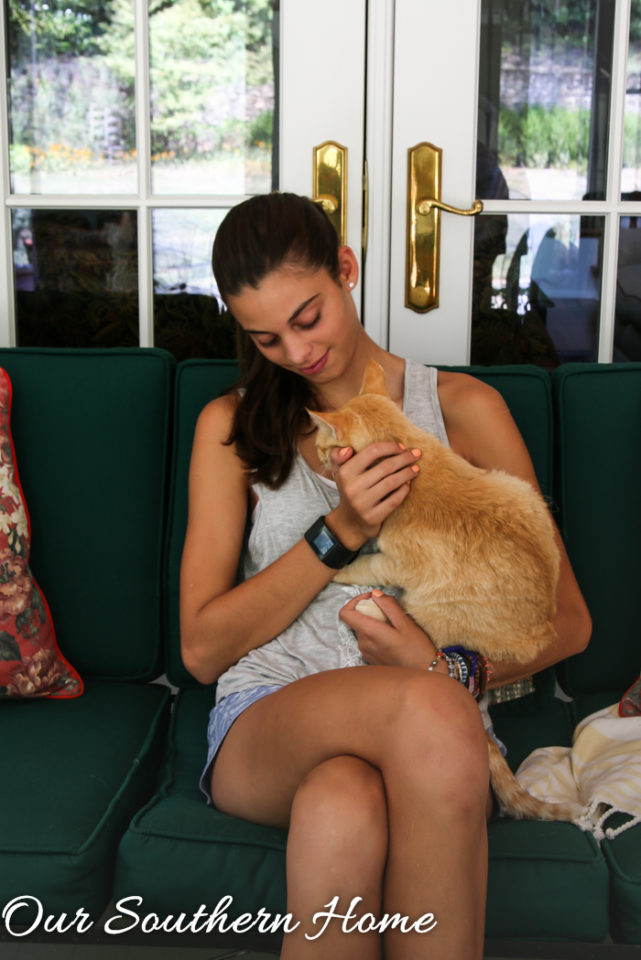 I think his favorite spot is here on the screened porch. When he's ready to go out, he has learned to push on the screen door to let himself out.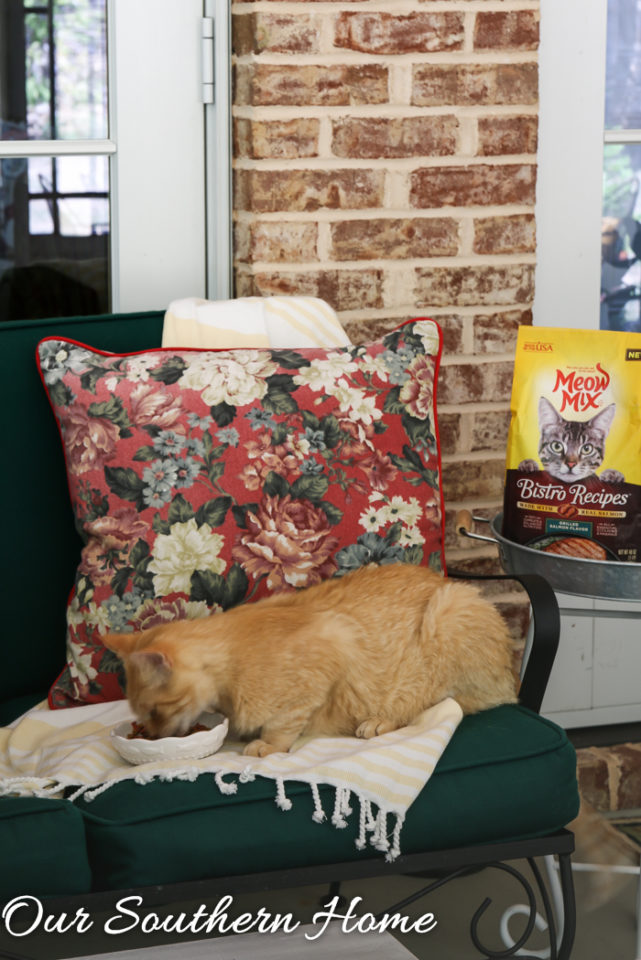 See the little blur of his head? That's him chowing down!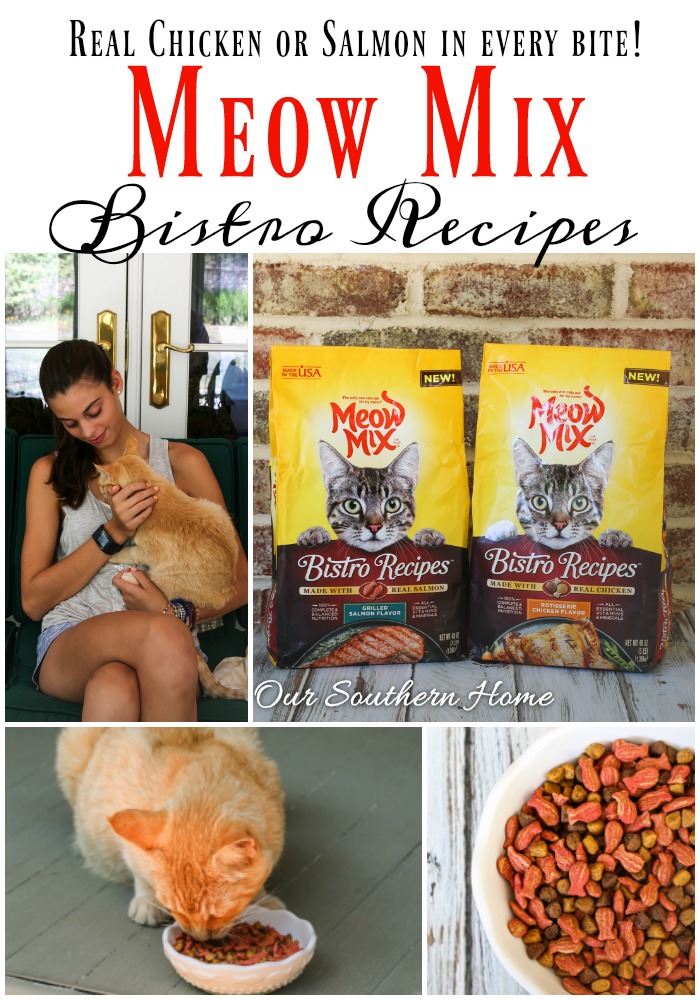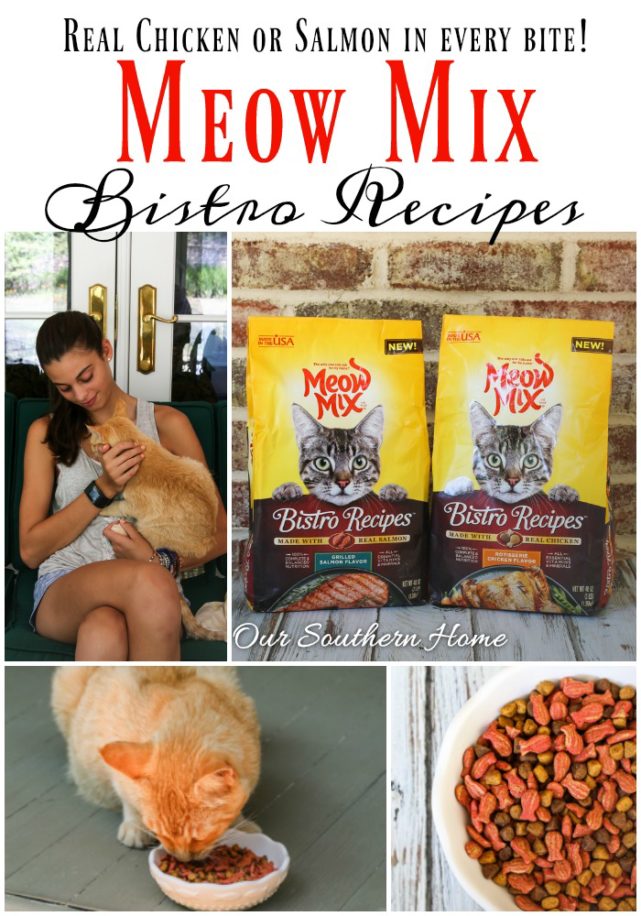 Love your cat….spoil your cat!
Treat them to a bag of Meow Mix Bistro from your local Walmart today.
The product can be found at your local Walmart and will also be available on Walmart.com soon. For now, you can find out more about Meow Mix Bistro Recipes here.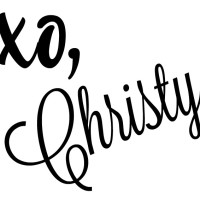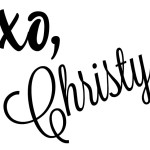 Buffer