Travel Guide: High Point, NC
Friends, I've got quite the post for you today. Go grab a cup of coffee or glass of tea and let's meet up in a comfy spot.
I've got lots to share with you about my trip to High Point, NC……you know The Home Furnishings Capital of the World™!
It's been a while since the Mister and I have gotten away…alone. High Point is the perfect getaway for couples or a girlfriend's trip. The area has so much to offer. Let's get started!
I've put together all the details for you in this…….
Travel Guide: High Point, NC!
Our time in High Point was a Thursday through Saturday.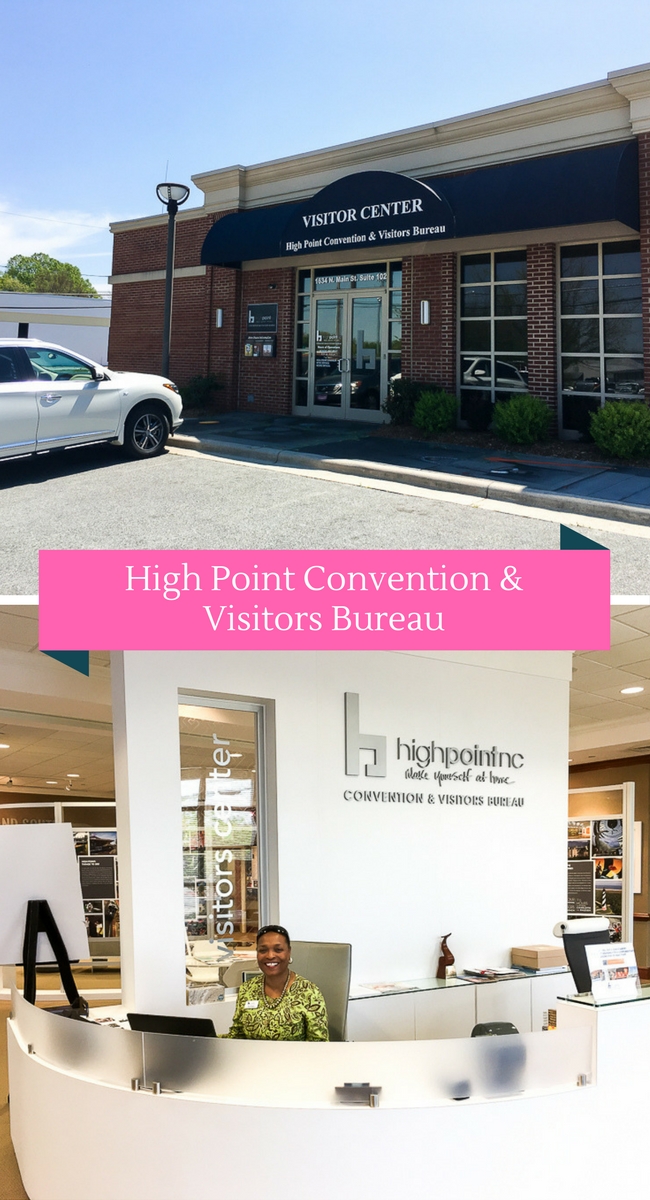 Upon arrival, we first stopped at the High Point Convention and Visitors Bureau. This is perhaps the coolest and most high-tech facility of its kind that I have ever stepped foot in.
You are greeted by this sweet smile as soon as you walk in the door, complete and utter southern hospitality.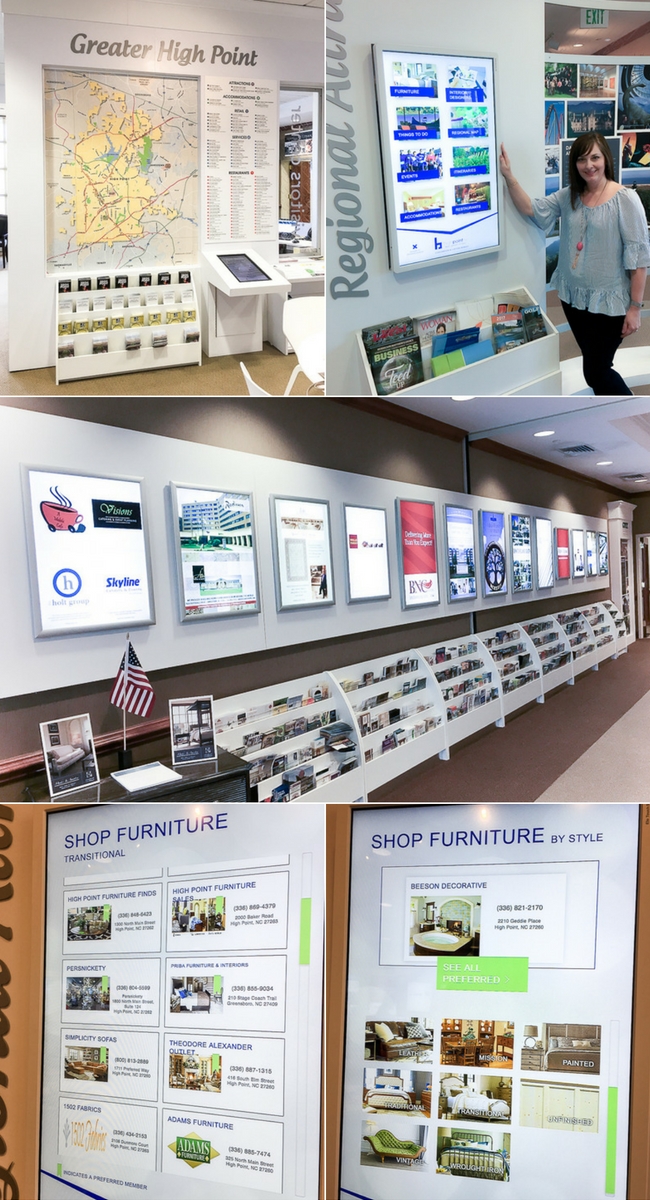 Be sure to stop by the High Point Regional Visitors Center. They have a state-of-the-art center complete with interactive kiosks to further explore what High Point has to offer. At the kiosks, we were able to search furniture styles, manufacturers and products to lay out exactly where we should visit. Everything is touch operated. It's so easy to use.
They also have brochures on the furniture showrooms and area attractions.
Our visit was pretty one track…..I wanted to get in all of the furniture looking and planning that I could.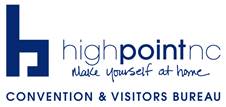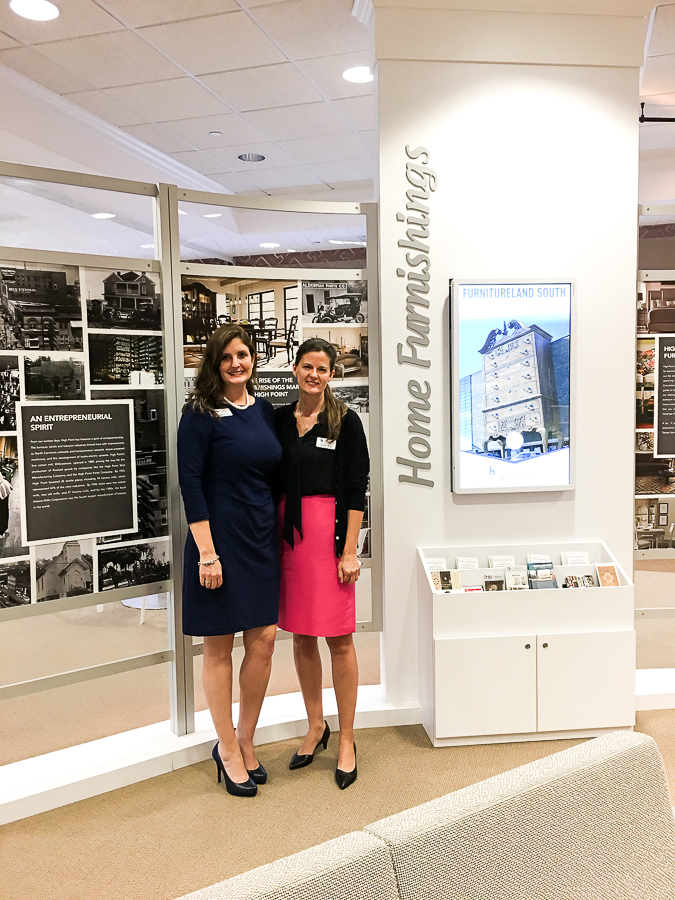 Be sure to look for these 2 beautiful ladies, Nancy, Director of Sales and Marketing, and Christina, Visitor Center Manager. They are very knowledgable about the area and the furniture showrooms.
I highly recommend that this be your first stop once you arrive. That kiosk will save you so much time. There is so much to see that it really utilizes your time to plan well.
You can get all the details on the below mentioned showrooms, Inn and dining HERE.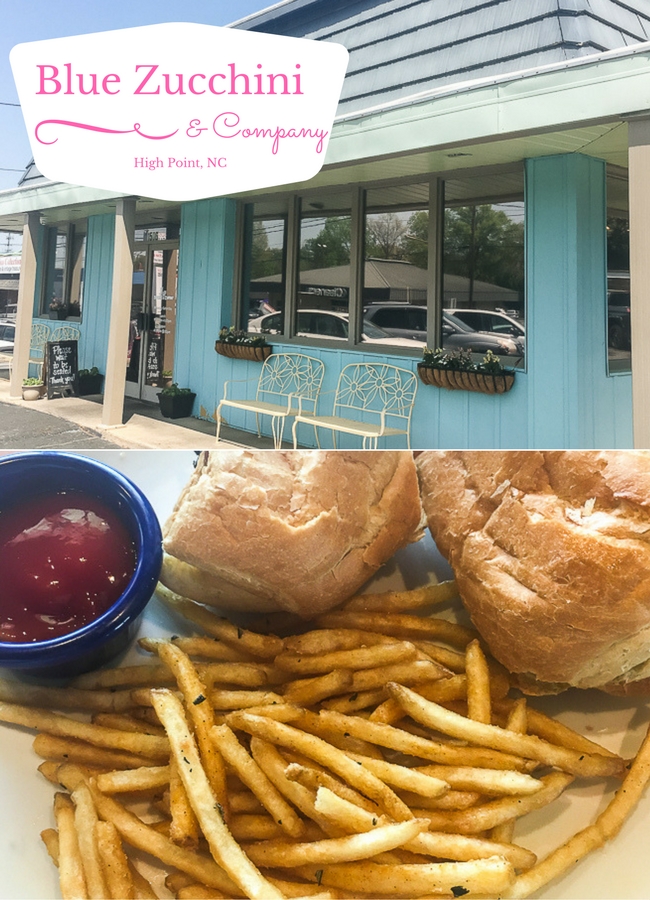 I really try to support local when I can especially when traveling. The Mister and I found the local restaurants to be excellent. Not only can you try a variety of dishes, but the decor and atmosphere is usually unique which I love.
We decided to get fueled up for our busy day of furniture shopping by stopping for lunch at Blue Zucchini & Company. I could seriously have eaten a trough of these seasoned, shoestring fries. This restaurant is just as whimsical with the decor as it is with the selection names on the menu. The server was prompt and extremely friendly. It's no wonder there is a little wait for lunch. BUT it is so very worth it. I feasted on the "Low Rider" which is roast beef and the mister had the "Southern Pride" which is fried green tomatoes with pimento cheese. YUMMY! Thankfully they halved the sandwiches because we shared. Gosh I can't wait until I can get some tomatoes planted to recreate that recipe!
Make sure you PIN this post for when you plan your trip! I know you'll want to try some of these restaurants, but you'll also want to check out the showrooms we strolled through….planning and scheming along the way. My other half had the mental calculator running…..that's no fun!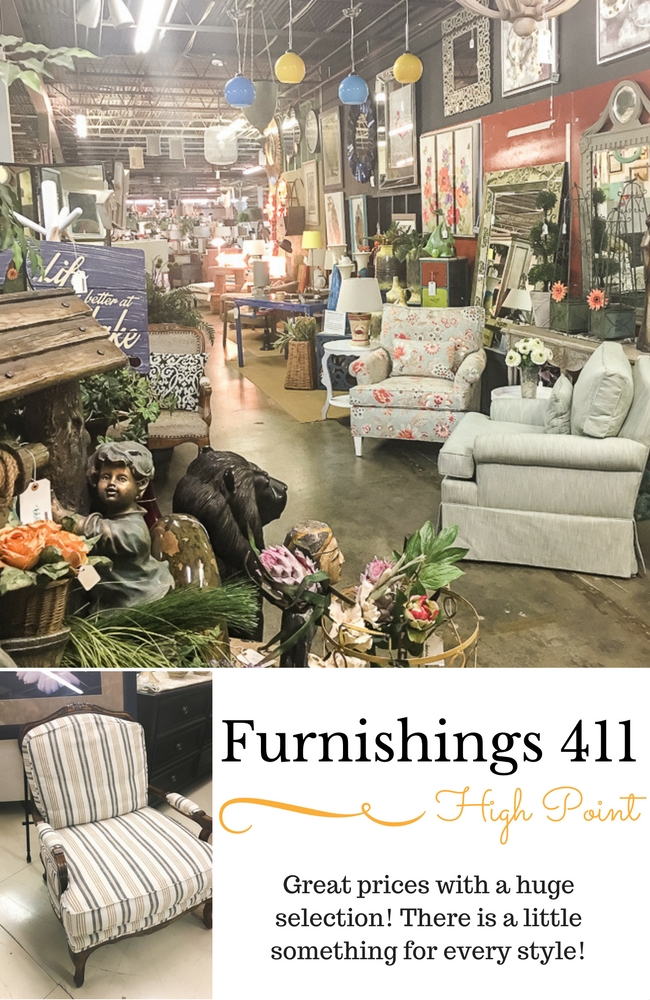 This is the first stop on our Furniture Shopping Whirlwind. Furnishings 411 is really a great space. This is truly a place for the bargain shopper. You can buy directly off the floor. The prices are crazy good here. They have contracts with the big showrooms. They contact them when they have overstocks, market samples or one of a kind pieces that they need to move. They get steep discounts which they in turn share with the public. Their inventory moves fast and is always changing. So if you see it, you'd better buy it! See that chair in the bottom left corner, we both loved it! Has that gorgeous French Country caned back that I love.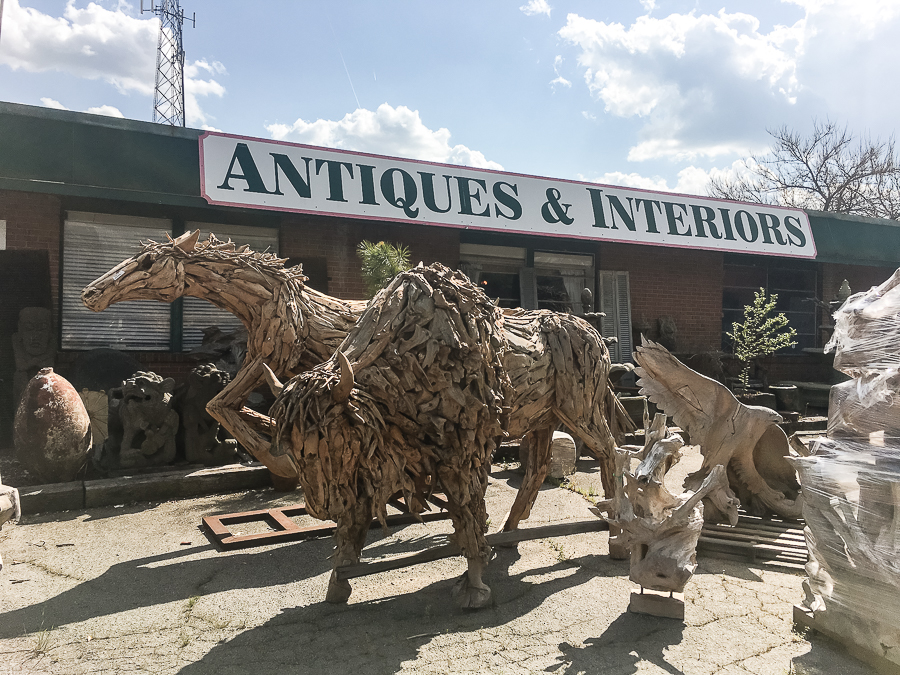 If you haven't read my planning post, then you can check it out HERE. I mentioned dressing comfortably which includes shoes. You are going to be getting in your steps on this trip.
Did you think that High Point was just about the new stuff? No way! Nestled in amongst the furniture, accessory, fabric and rug showrooms, you'll find treasures like this. Antiques & Interiors had me salivating as we drove in and parked. This place is 100,000 square feet of pure joy in the form of European Reproductions and Antiques.I think this was my husband's favorite place.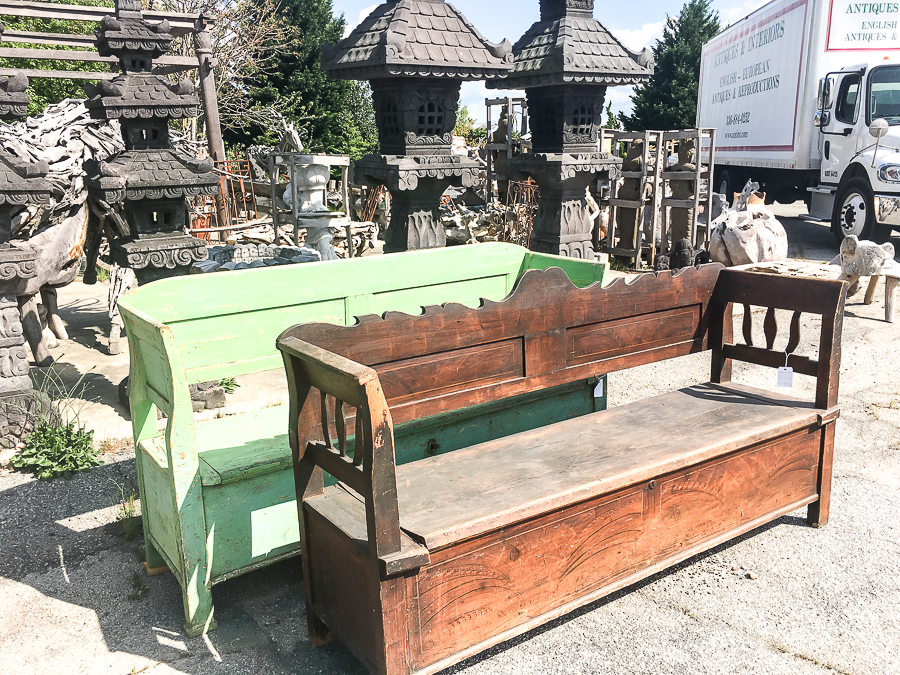 Lots of outdoor space full of seating ideas, garden urns and ornamental items for your gardens and outdoor living spaces. I didn't walk, but trotted to these 2 benches. Next trip….we are bringing the truck. I'm sure they ship, but I want to take it right home next go around. We actually have several things from this store on our list to purchase. I can so see one of these benches on our front porch.
We must have spent 30 minutes outside before heading into the showroom. These statues are so sturdy! Check out the span on these moose antlers.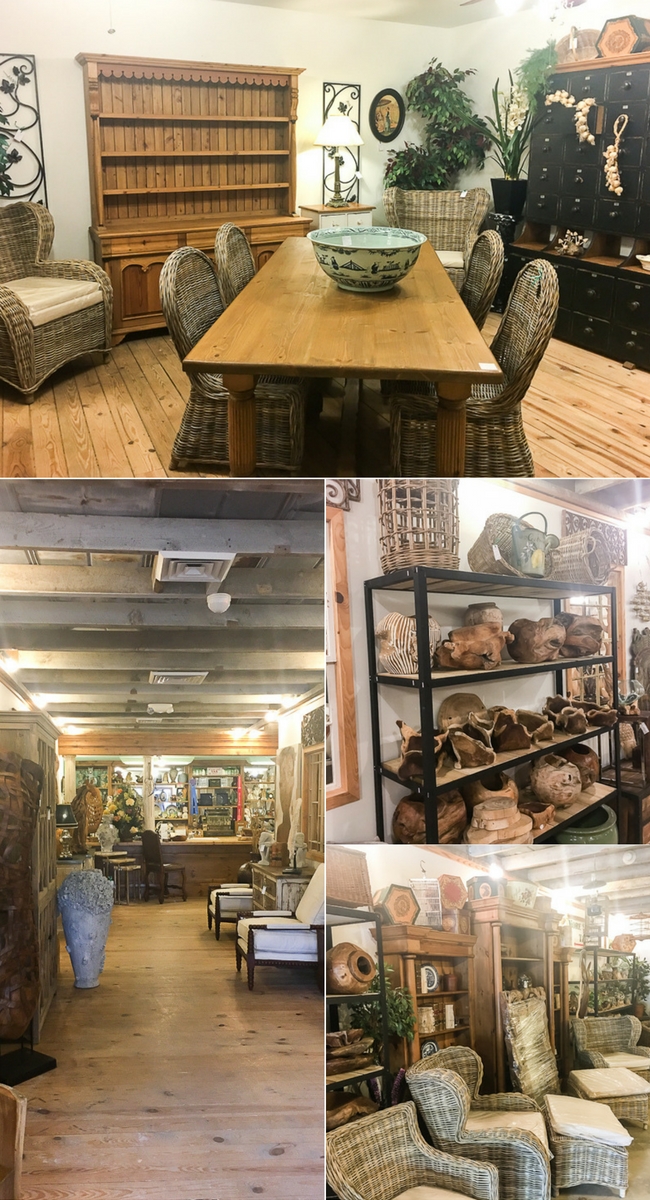 We finally drug ourselves inside. I have no idea how long we were here, but it was a long time! It's full of long intricate hallways with rooms off here and there. Look at all of this fabulousness.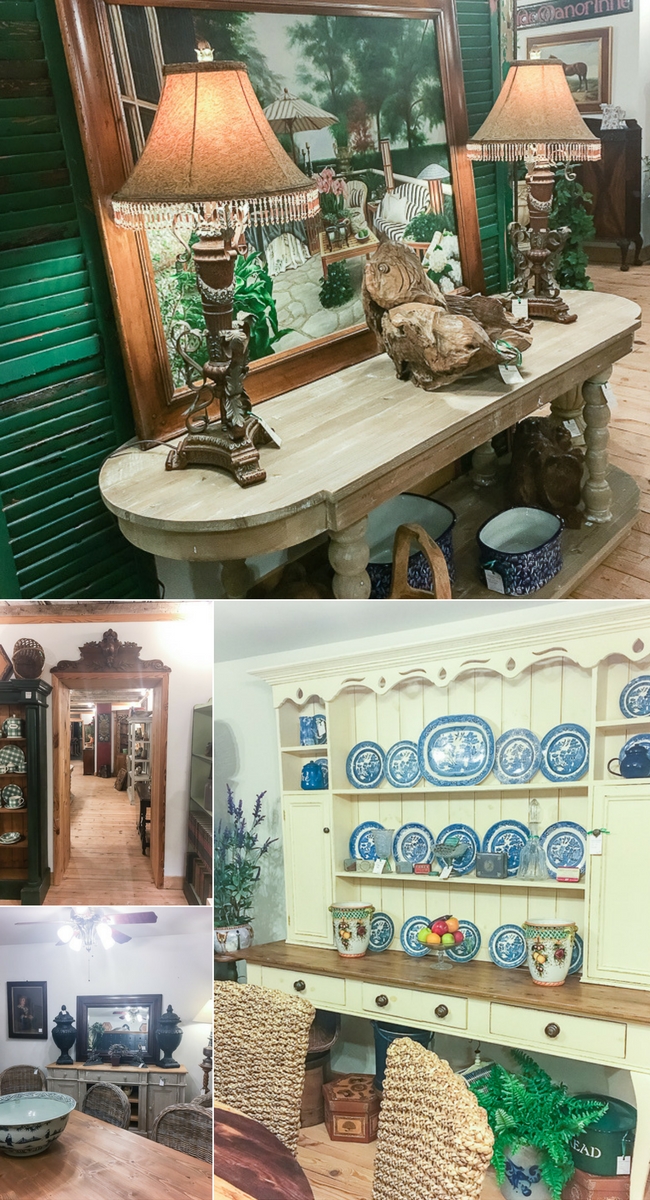 You could literally furnish and accessorize an entire house in here. It's all so my style. There are so many hutches to select. Allow yourself plenty of time here.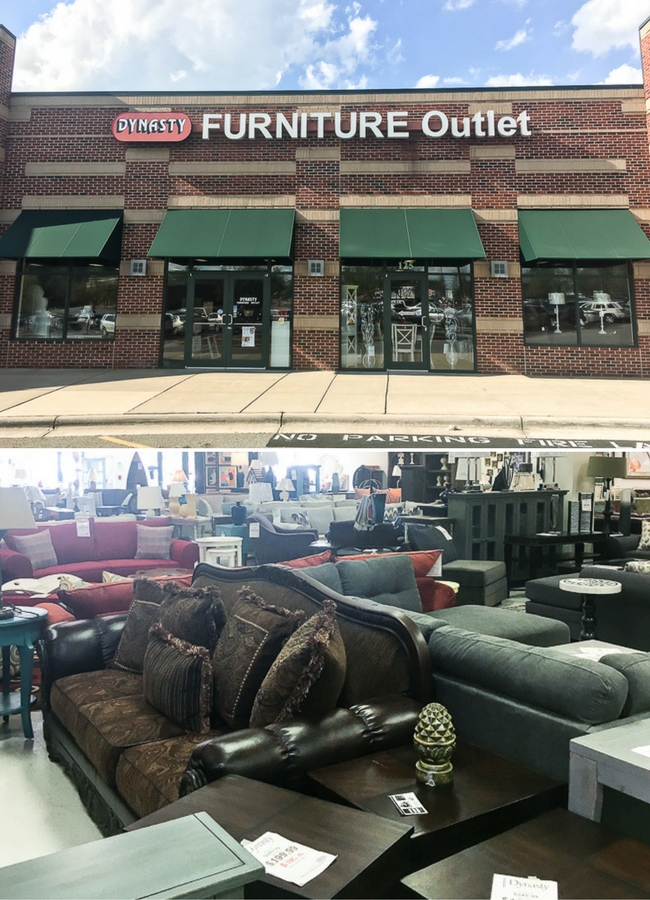 We were able to add one more stop in for the day at Dynasty Furniture Outlet. It is much smaller in a strip mall, but really has some nice selections.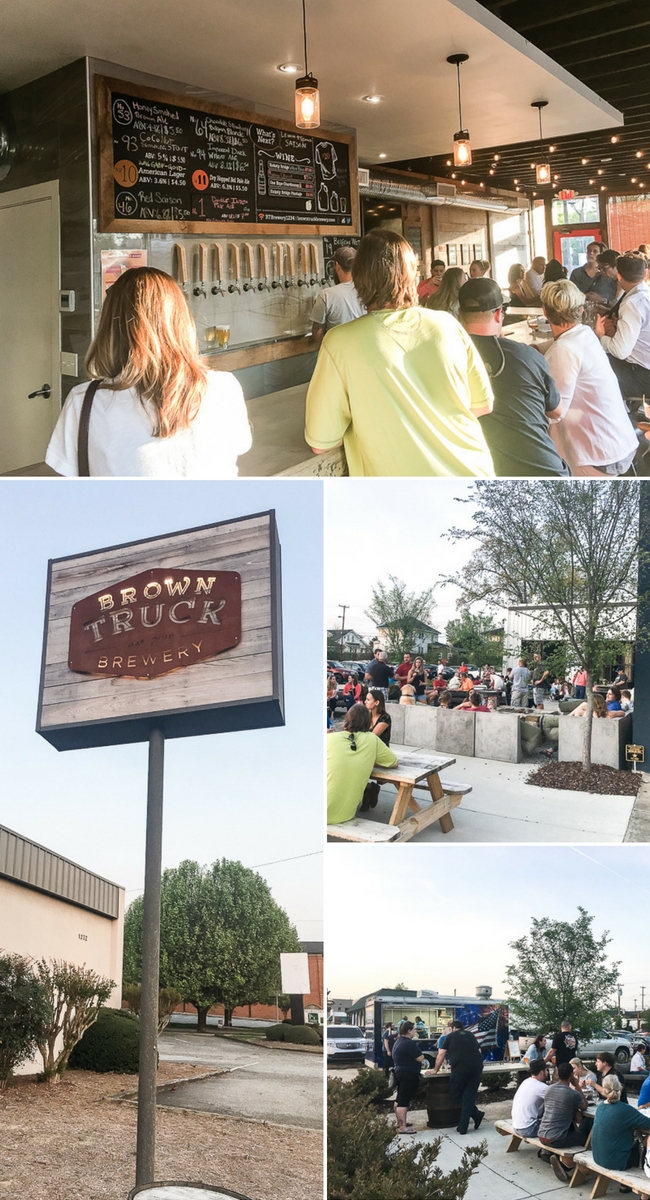 That evening we went to Brown Truck Brewery. The energy at this brewery is spot on great. They do not sell food here, but a food truck is on site. It's a great place to try some different beers. Make sure you follow the High Point Convention and Visitor Center on Facebook. Their page is the go-to spot for what's happening locally. While we were there, they posted a special to get a free beer here when you presented your room key from the inn. Sweet deal! One thing that we loved so much about this place is how relaxed it was and you can bring your dog! Yes, it is dog friendly inside and out.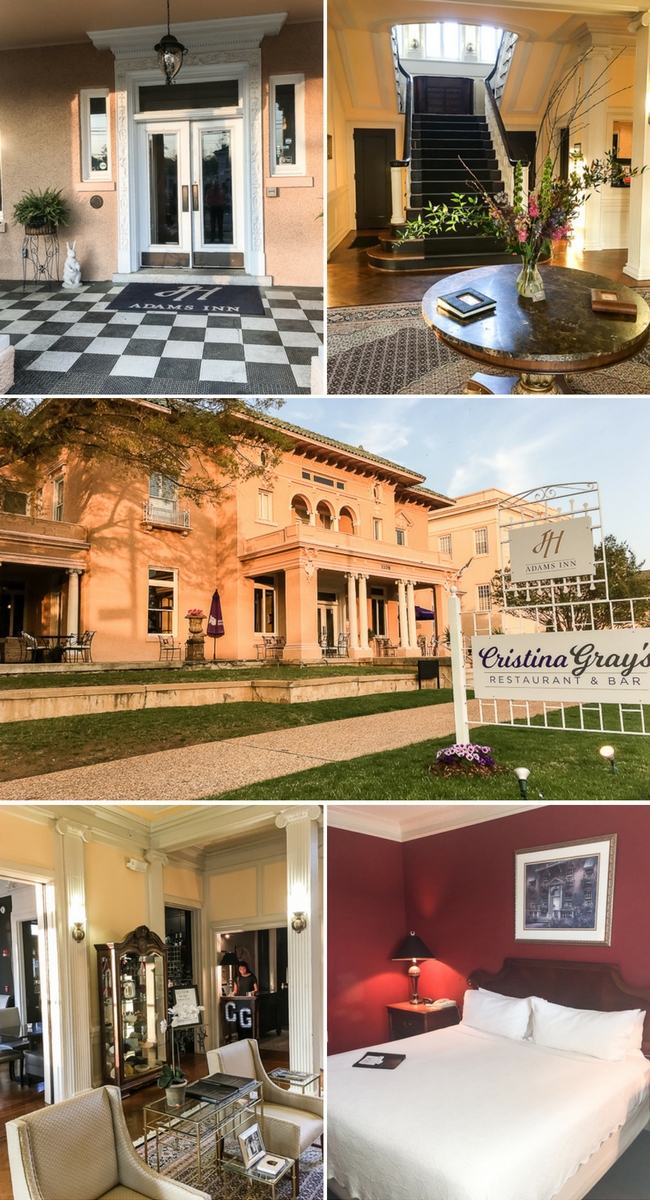 We actually checked into the J.H. Adams Inn right after we had lunch, but headed out after we dropped off our bags. It is a beautiful historic boutique inn with an upscale casual restaurant and bar. We came back here after our brewery visit and had appetizers and wine in the bar. It was a lovely evening. They have outdoor seating on the porch and live music on Thursdays, but it was occupied otherwise we would have been out there. It truly is a beautiful inn. The staff was very attentive to our needs and the rooms were spotless and very comfortable. Each morning, we enjoyed a complimentary continental breakfast. It was much more elaborate than what you would normally think of with this sort of breakfast. There were fresh scrambled eggs and sausage links along with the other items you'd expect in an elegant buffet style setting. It's also a great spot for an event with the outdoor veranda out back. We witnessed a party one night and a rehearsal dinner the next. We highly recommend the inn.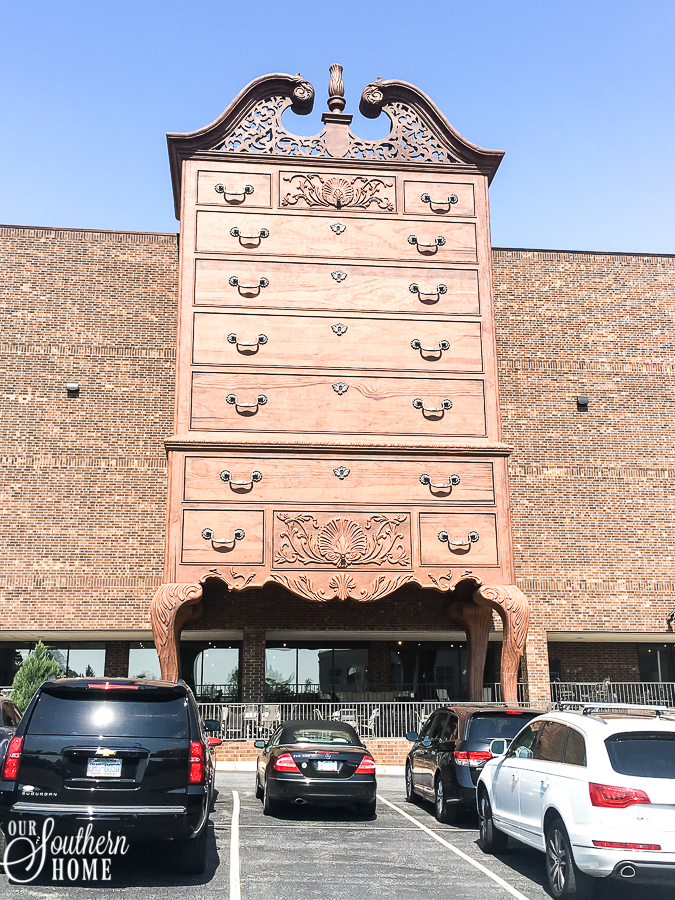 Seriously, you need to plan about an entire day at Furnitureland South. Multiple buildings as well as an outlet make this an incredible visit. Could an entrance be more grand? I kept mentioning the giant chest of drawers that we'd see. The Mister wasn't expecting this. It's quite impressive to enter here. As soon as you enter the doors you are greeted by designer assistants. They give you a map of the grounds and their phone number for you to call them if you'd like assistance or to place an order.
The map is very helpful. You can find everything from lighting, living rooms, dining rooms, bedrooms, game rooms, outdoor spaces, rugs, accessories, lighting and more!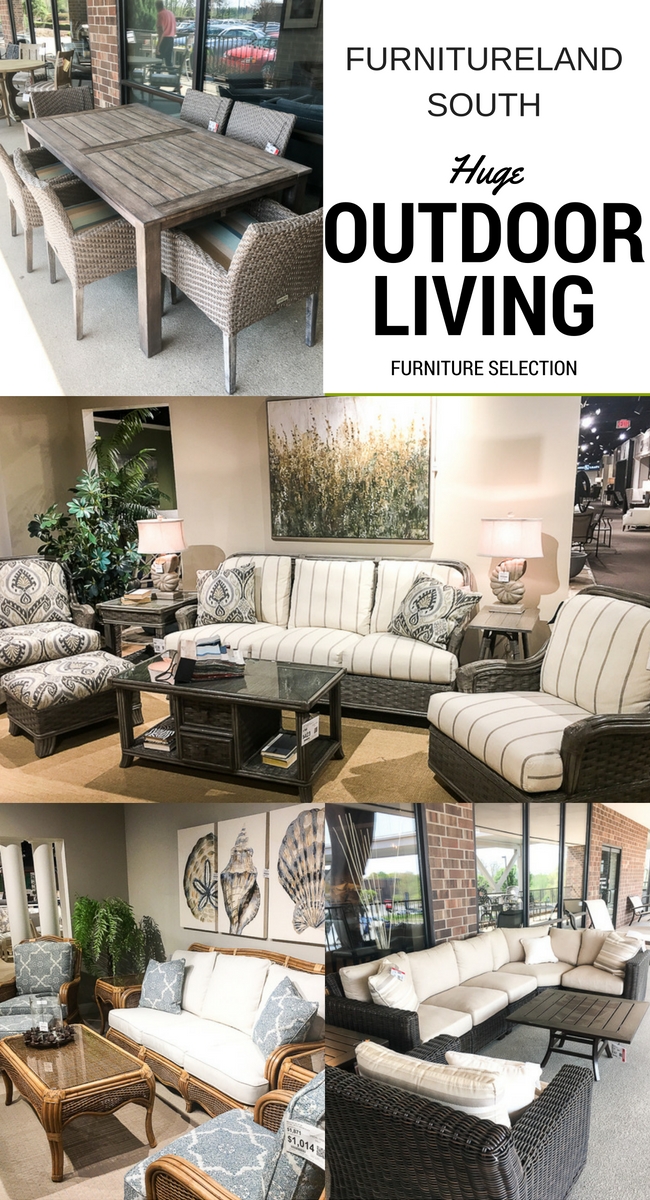 It was really a goal of mine to find some inspiration for our front porch. There is literally every style represented here from contemporary to traditional. I have a love affair with porch furniture. Above are just a few of my favorites.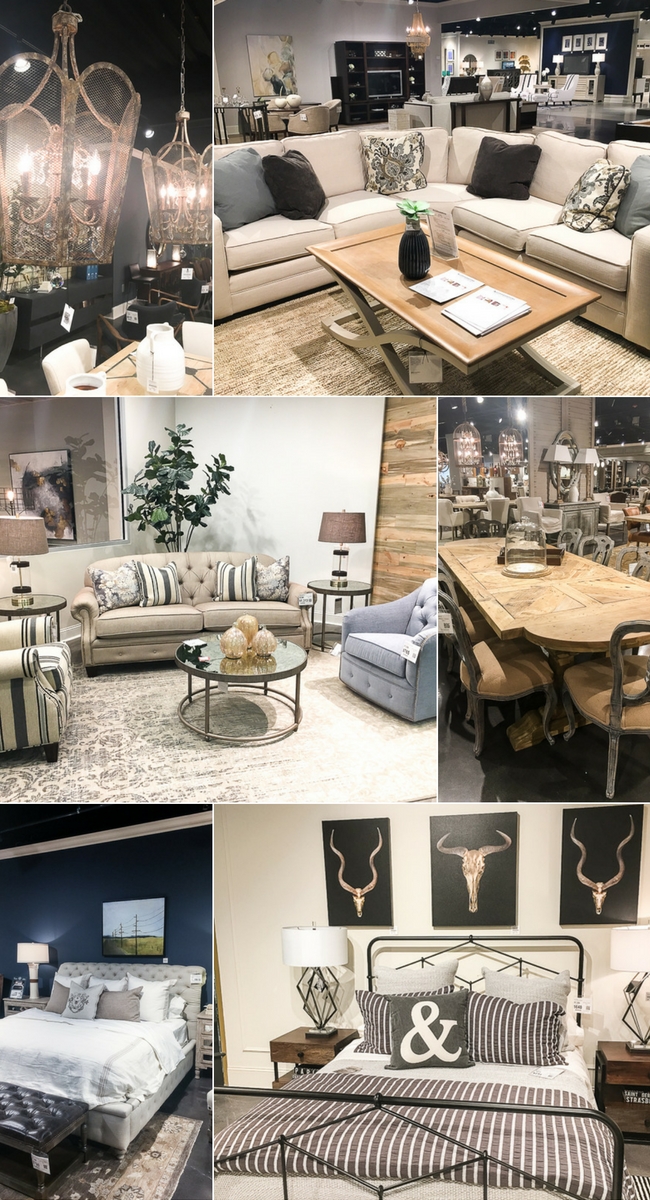 I adore the bottom right bedroom look for our college son. It's time for a transition in that space from teen to young adult male that can also function as a guest space. You can even order the bedding.
This complex is so large that there is a Starbucks and Subway on site. We didn't take the time to leave and come back. We ate lunch there!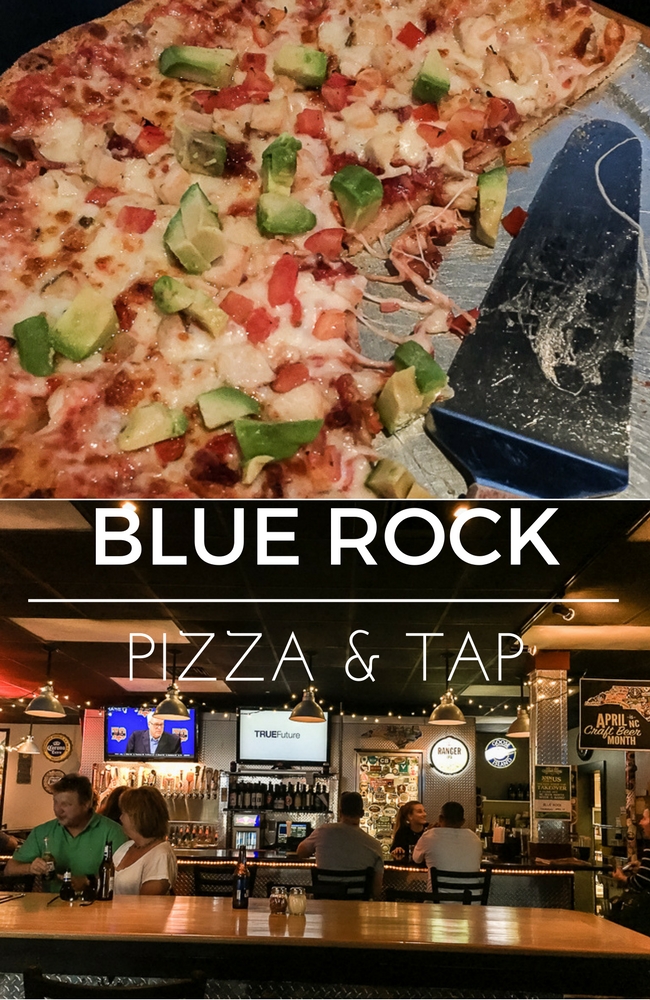 To say we were exhausted at the end of the day was an understatement. We had originally planned on a fancier night out, but decided to go with good old pizza and beer. This has to be perhaps the best pizza ever. You can build your own or pick from the long list of selections. Look how cool the bar is! Great thing about all the dining choices is that they are walking distance from the Inn. There is just something about walking in a town and exploring on foot that I love.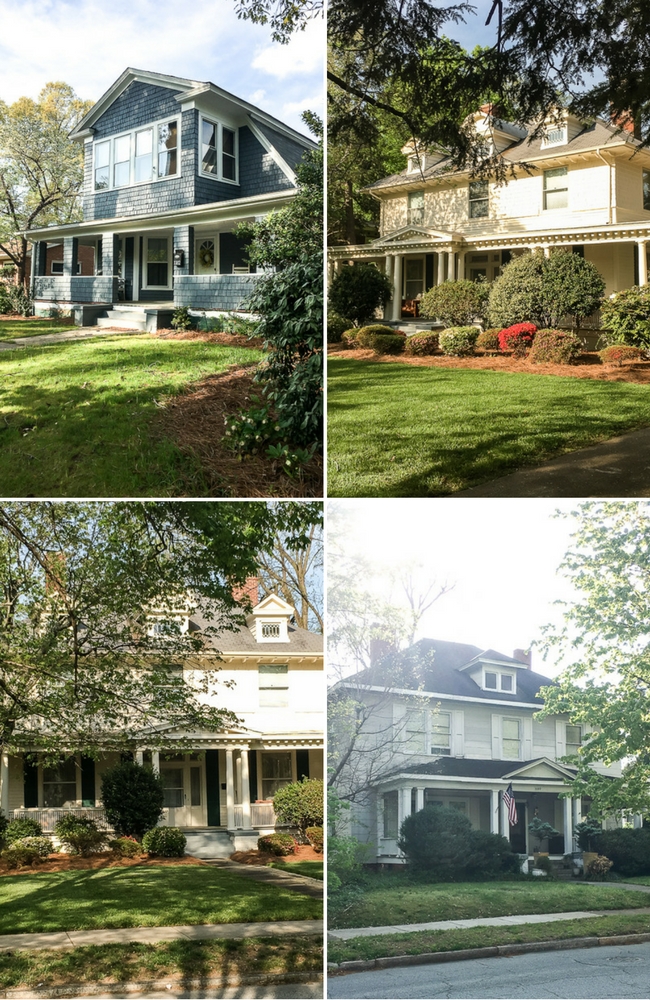 No town visit would be complete without a stroll through the historic area. After breakfast on our last morning, we took our stroll. Great thing is that it is right out the back door or the inn.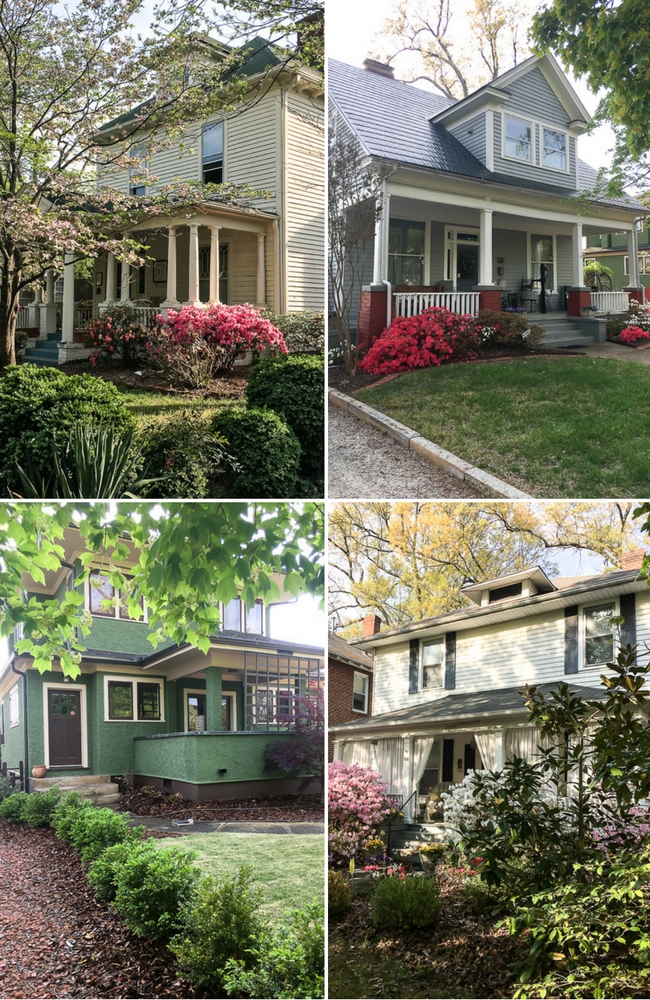 Aren't they charming? I just love slowly walking and checking out all the details. Quintessential southern here in High Point is what you'll find.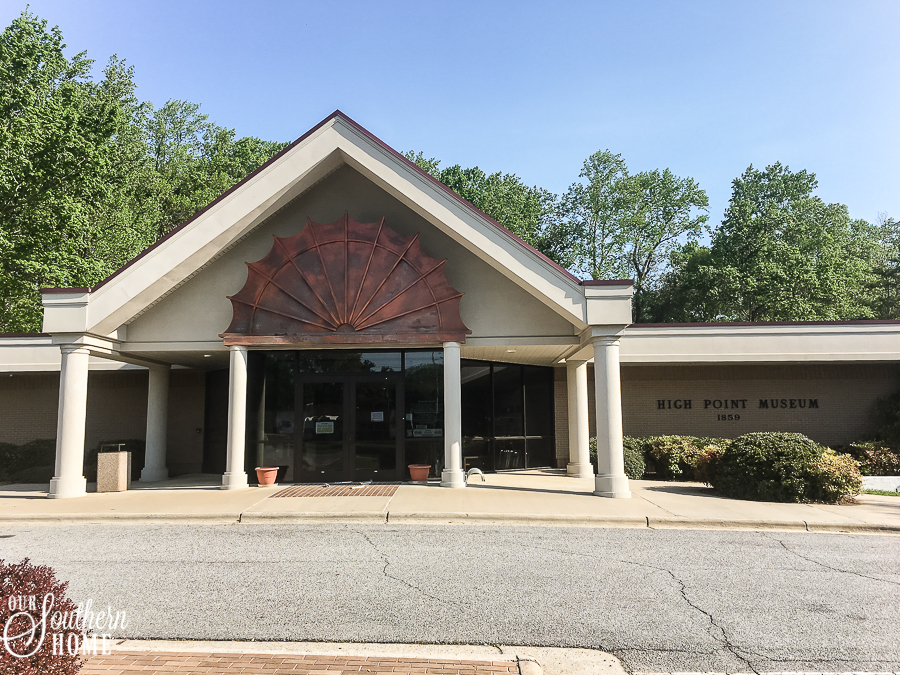 We drove to visit the High Point Museum, but unfortunately it was closed for the Easter weekend.
I can't rave enough about the area. There is so much to do that we could go back for another long weekend and never do the same thing twice. Next time, I definitely want to visit the Butterfly Farm.
High Point has over 50 furniture stores and outlets, offering furniture, rugs, lighting, accessories and more!
There are services that can pair you with a preferred designer while there. This allows you access to the trade-only showrooms as well as assist you with navigating the shopping area to make the most of your time there. The High Point Convention & Visitor Center can help lead you in the right direction for assistance.
Check out the design services in action at the High Point Regional Visitors Center.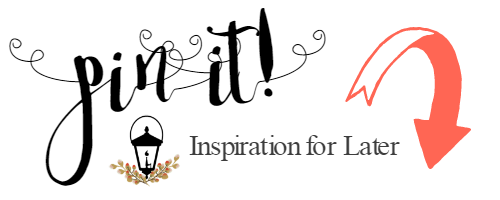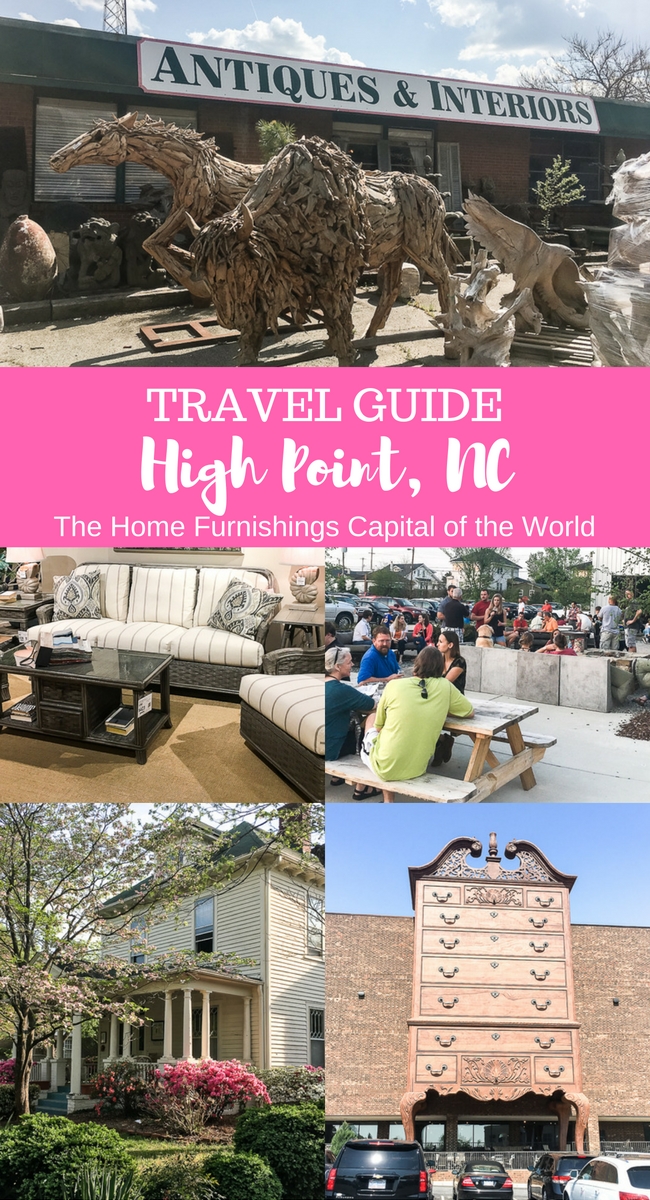 Be sure to follow High Point Convention & Visitors Center on social media! Facebook | Instagram | Pinterest | Twitter | Youtube
Have you traveled to High Point? I'd love to hear about your time there.
Visit the website for the High Point Convention & Visitor Center to request your furniture shopping trip packet which will be shipped directly to you.
Be sure to check out my tips for planning a furniture shopping trip HERE.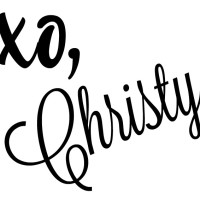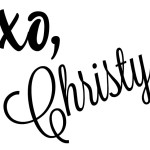 This is a sponsored conversation written by me on behalf of Visit NC. The opinions and text are all mine.
LINK PARTIES where I'll share this post: Home Stories A to Z Not Just a Housewife Kammy's Korner The Happy HousieDesign Dining and Diapers Liz Marie Blog Funky Junk Interiors Savvy Southern StyleTatertotsand Jello DIY Show Off Redoux Interiors Between Naps on the PorchThe DIY DreamerOh My Creative Little Miss Celebration Just a Girl and Her Blog Sand and Sisal InteriorFrugalista House on the WayAddicted 2 DIY I should be Mopping the FloorMiss Mustard Seed Stone Gable- The Scoop Inspire Me Tuesday Feathered Nest Friday Treasure Hunt Thursday Northern Nesting
Buffer