Office Chair Hack Tutorial
This is the perfect first upholstery project! This office chair hack tutorial is the perfect way to use your own fabrics for a custom look!
Latest from OSH
This post is sponsored by Wayfair and Porch. All opinions are that of Our Southern Home.
This post may contain affiliate links. If you purchase something using one of my links, I may earn a small commission from the retailer costing you nothing more. You can read more on my disclosure page. YOU WILL FIND A SHOP THE LOOK FOR OUR HOME AT THE BOTTOM!
Check out my new series: Saturdays on the Porch! I'll be sharing random thoughts on the week. The first one is all about my DIY manicure, favorite Instagram decor accounts, my new Chico's sponsorship & thoughts on going gray!
Office Chair Hack Tutorial
Squeal! The chair was just featured on this popular blog! You've got to check it out, it's one of my absolute favorites!
This is the perfect first upholstery project! This office chair hack tutorial is the perfect way to use your own fabrics for a custom look! Covering a desk or office chair is easier than it may look! If you can use a stapler then you can do this project! You'll find the complete tutorial plus sources for affordable desk chairs to get started on your project. You can also check out your local thrift store or Facebook marketplace for second-hand chairs to use for this project.
This chair project was completed for my mudroom home office. It just got an organizing update that I am loving.
Our mudroom felt dark with green walls and no windows. It's conveniently located off the kitchen. It is where I work and the kids use the computer for homework.
I started by painting the walls a light neutral. I can't believe how that changed the look! It made the room so much brighter.
My desk chair for the last 10 years has been an upright, small wooden antique chair. Major stiffness after time at the computer.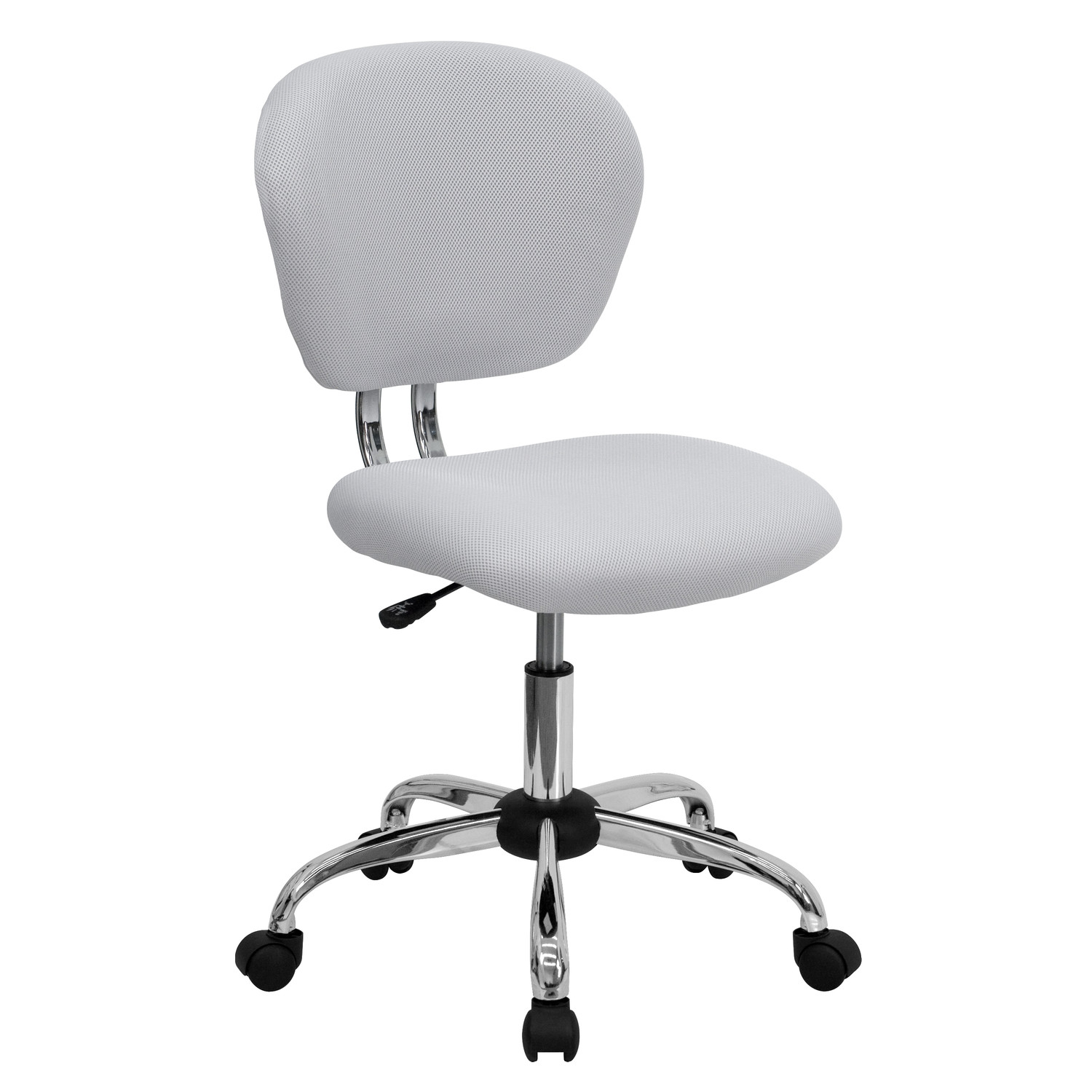 I decided that it was time for a functional and comfortable chair. Quite frankly, I wanted to do a farmhouse makeover in the room, and I didn't feel like any of the fabrics that I was coming across fit the bill. I wanted something with casters to make the workspace more functional and comfortable. I decided to go with this chair from Wayfair. They have a huge selection to choose from HERE. I knew that the fabric would be a simple change for an office chair.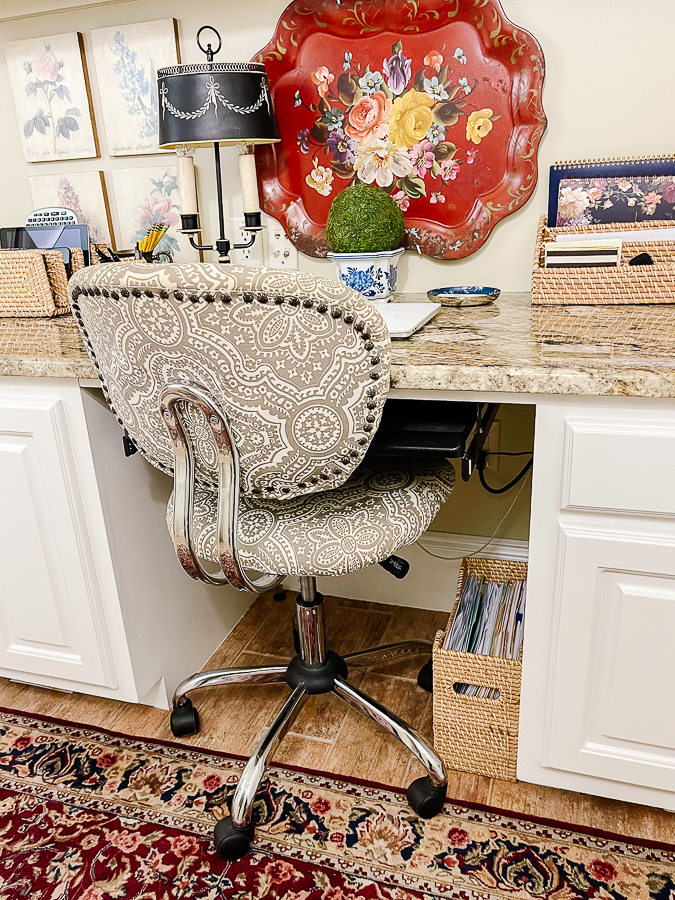 The addition of new fabric really gave me the farmhouse look I was after! Let me share with you how simple it was.
You will need the following for a chair of this type:
1-1/2 yards of fabric (more or less depending on pattern)
pencil
tools required per chair instructions
poster board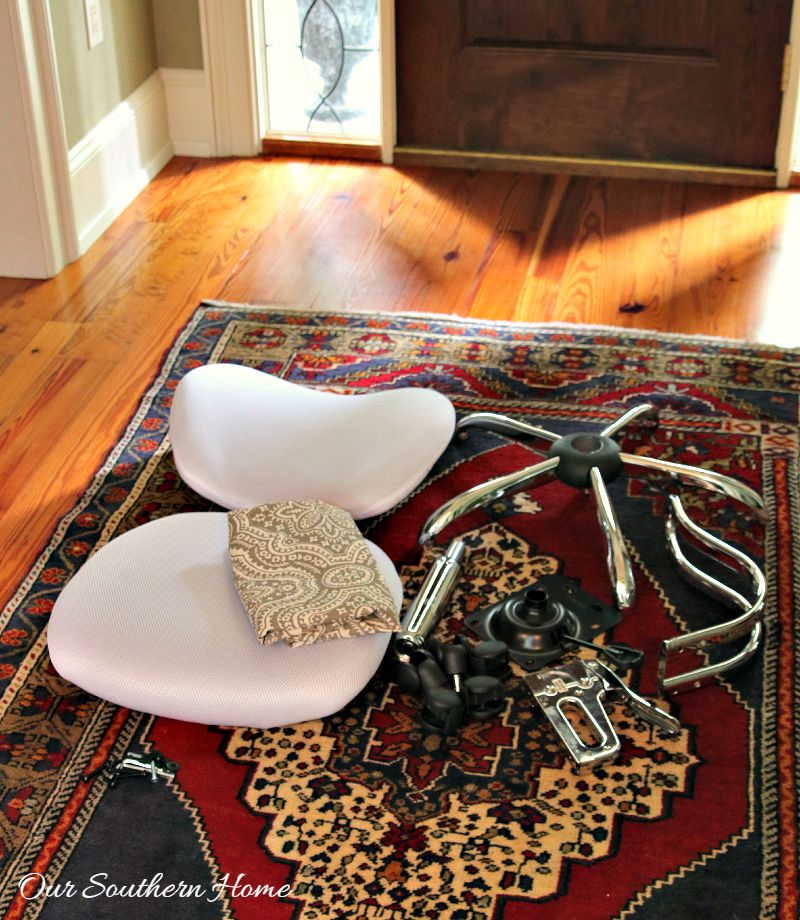 I assembled all chair parts except the seat and back. These were the parts that I would be upholstering. The chair was so quick and easy to assemble.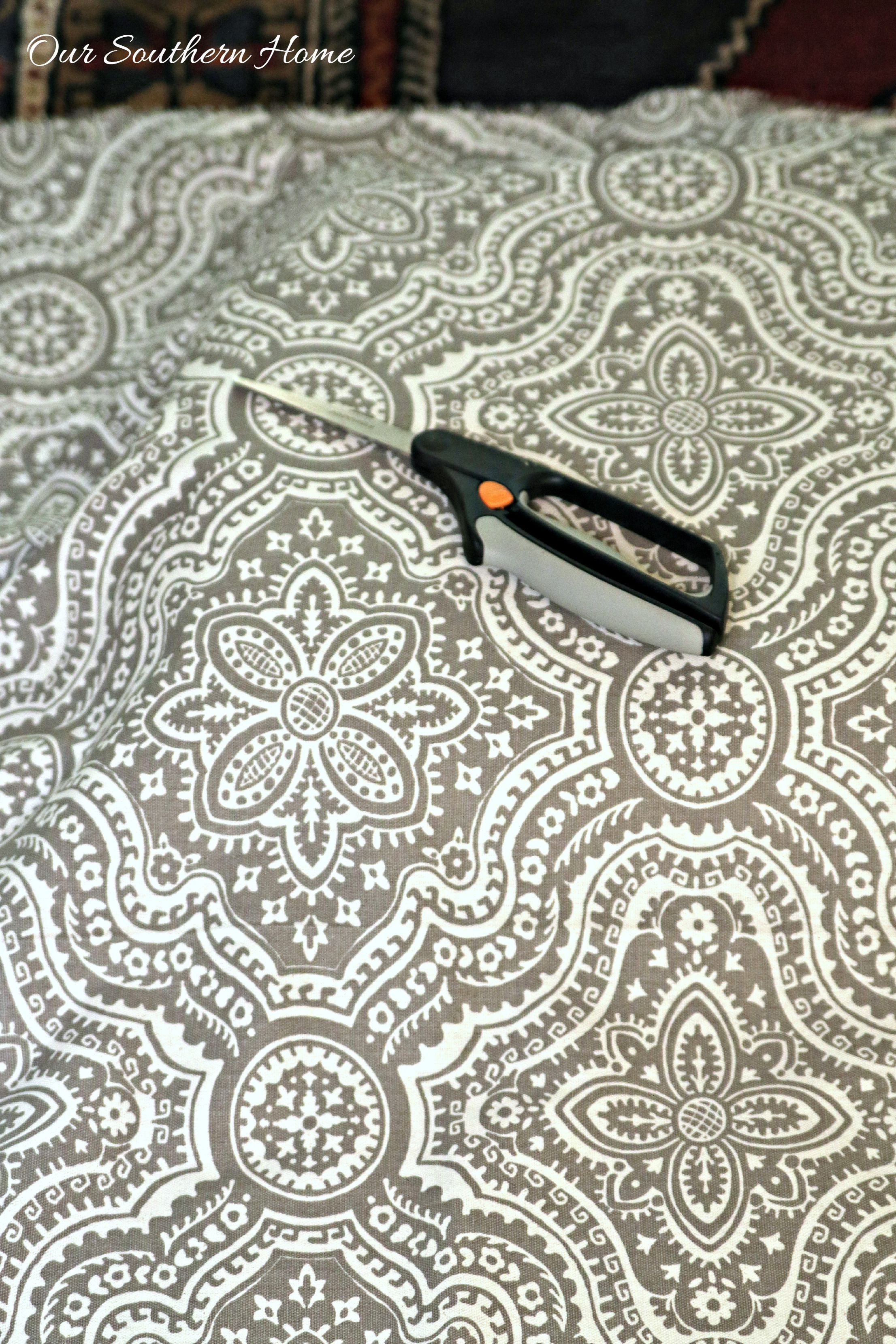 Cut the fabric to fit the seat and back leaving a couple of extra inches all around for stapling.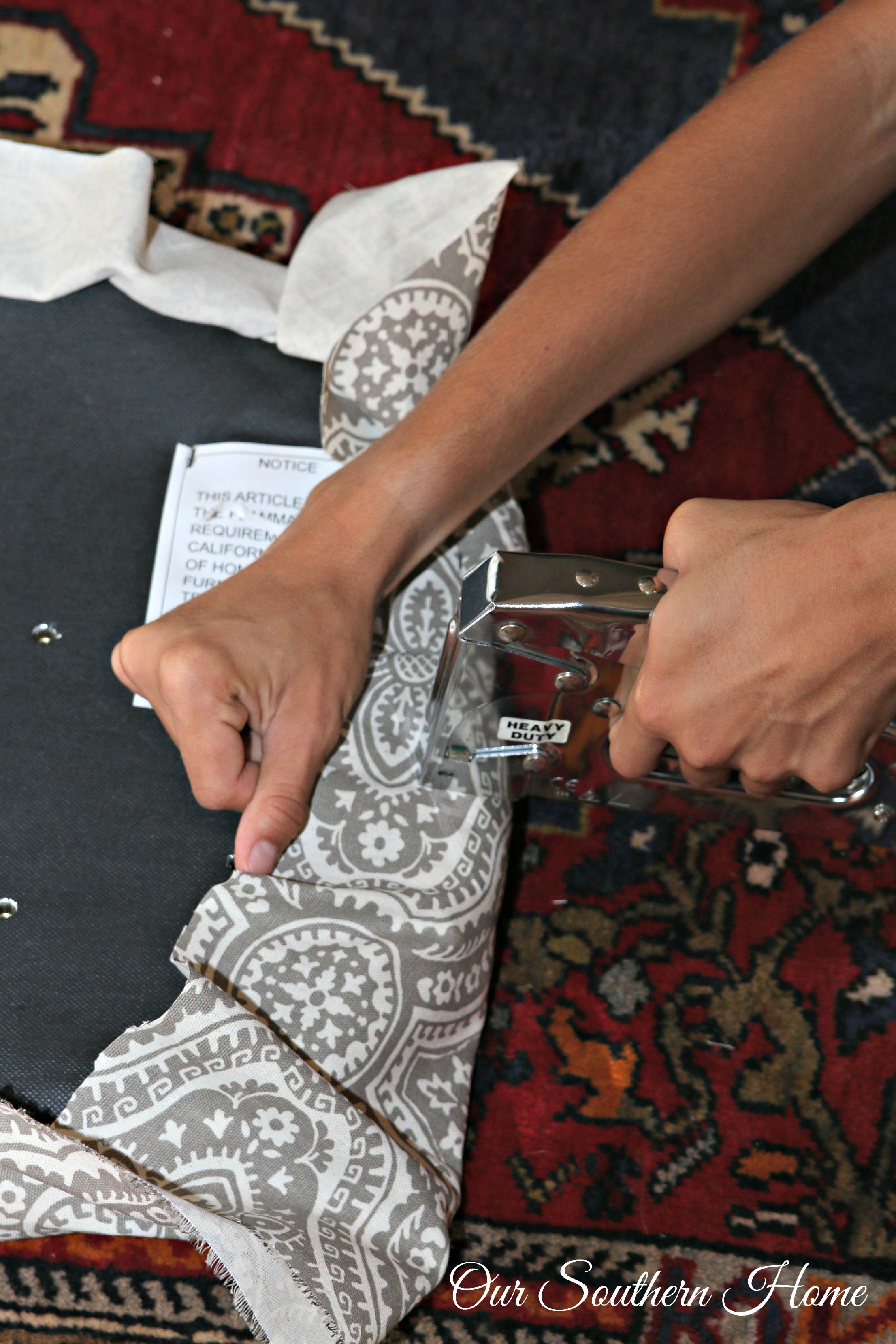 If you use a fabric with a pattern, you may need to make sure it is centered on the seat. Staple the fabric all around the edge of the seat bottom keeping it pulled taut. Do the same for the back rest.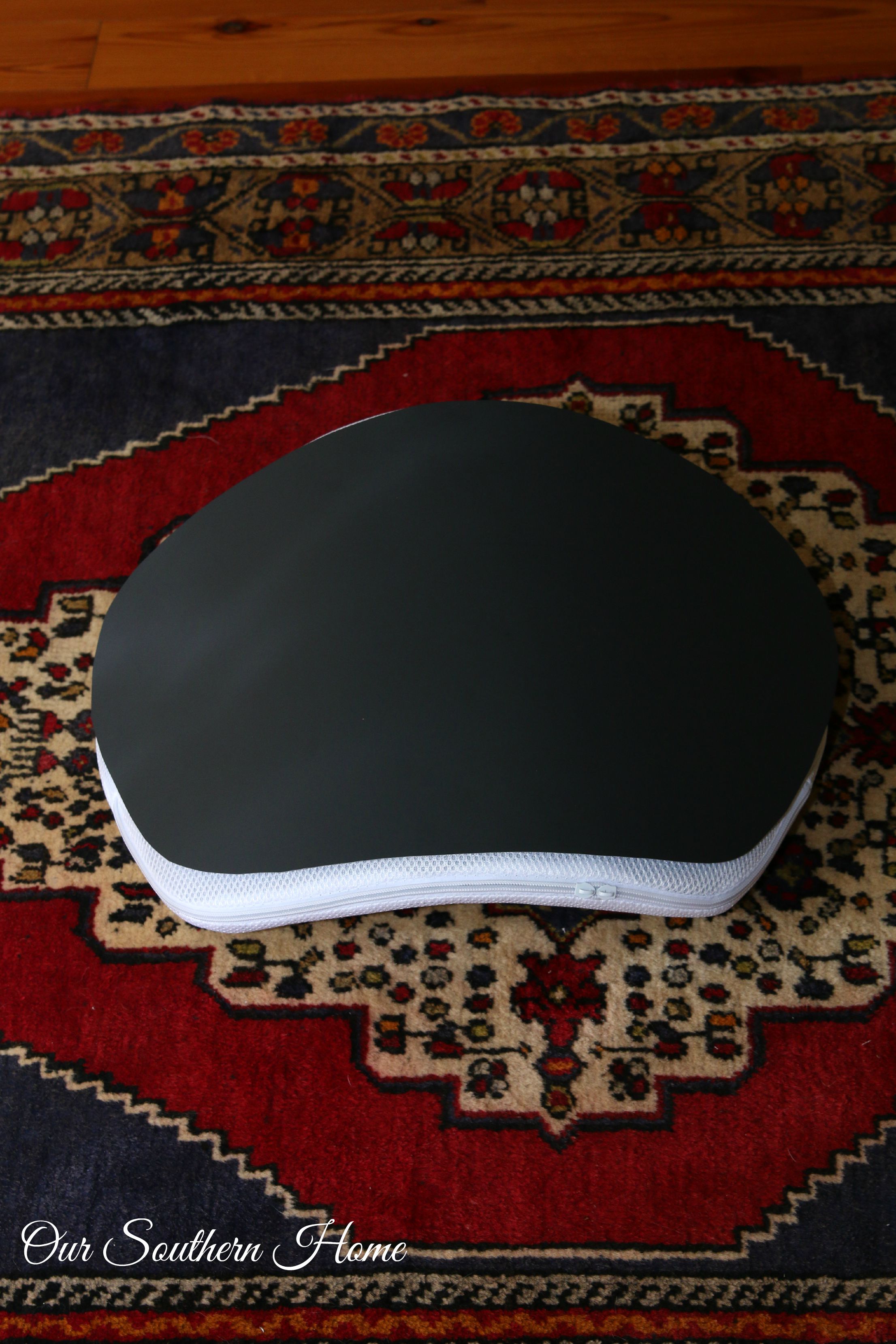 At some point, you will want to trace a pattern for the back of the backrest with your poster board. I had a piece of black so I went with that. It didn't show through the fabric and saved me a trip to the store.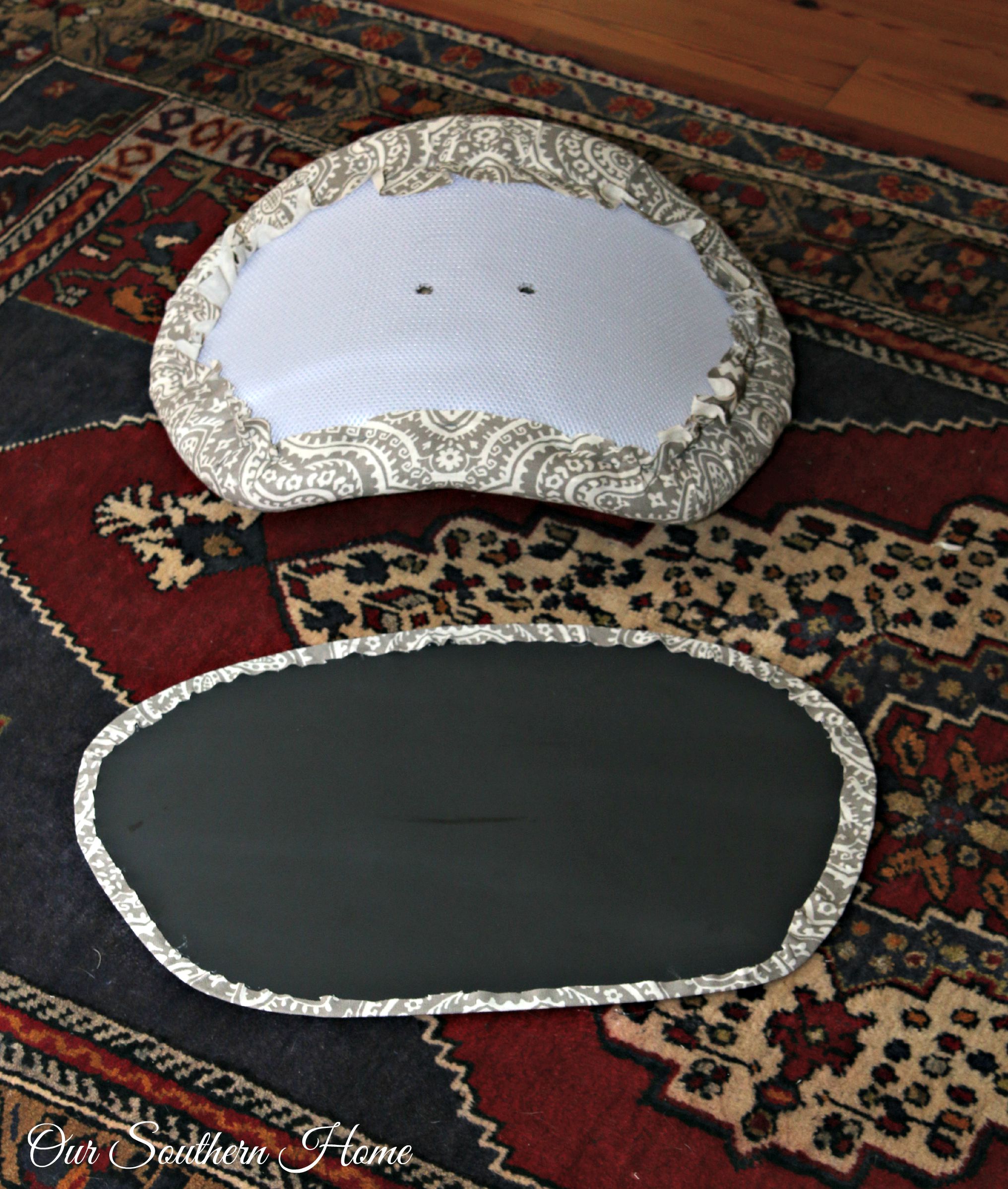 I then cut a piece of fabric for the poster board. I took the board and fabric outside. Spray the board with spray mount. Carefully center the fabric on the board if you have a pattern. Then using hot glue, glue the edges down.
This poster board panel will be adhered to the back of the backrest to hide the stapled area. Use a hammer to nail in upholstery tacks to adhere it to the back.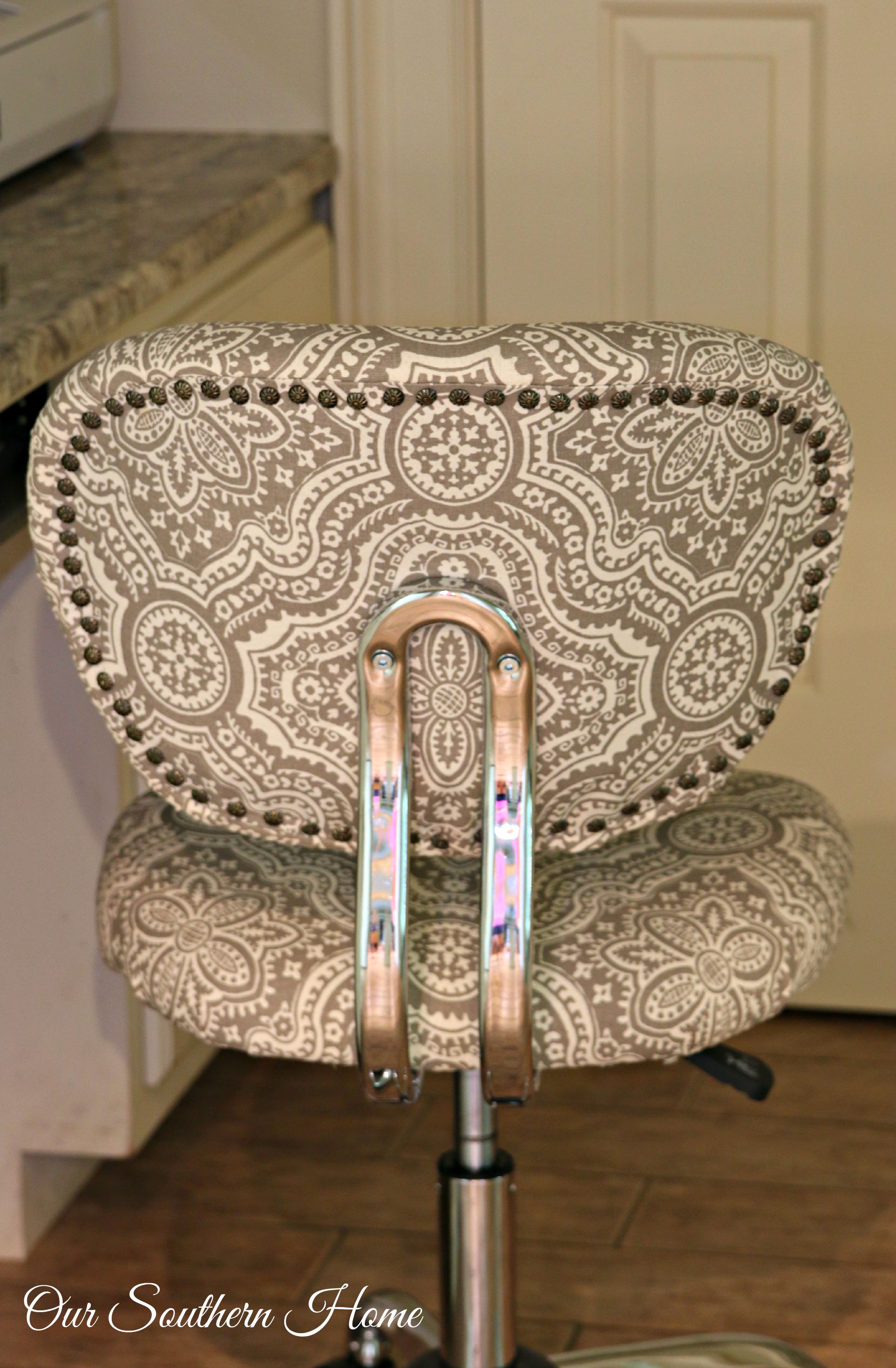 The upholstery tacks really give it a high style look. I am totally in love with the look, comfort and function of this chair now! Complete the assembly and you are done!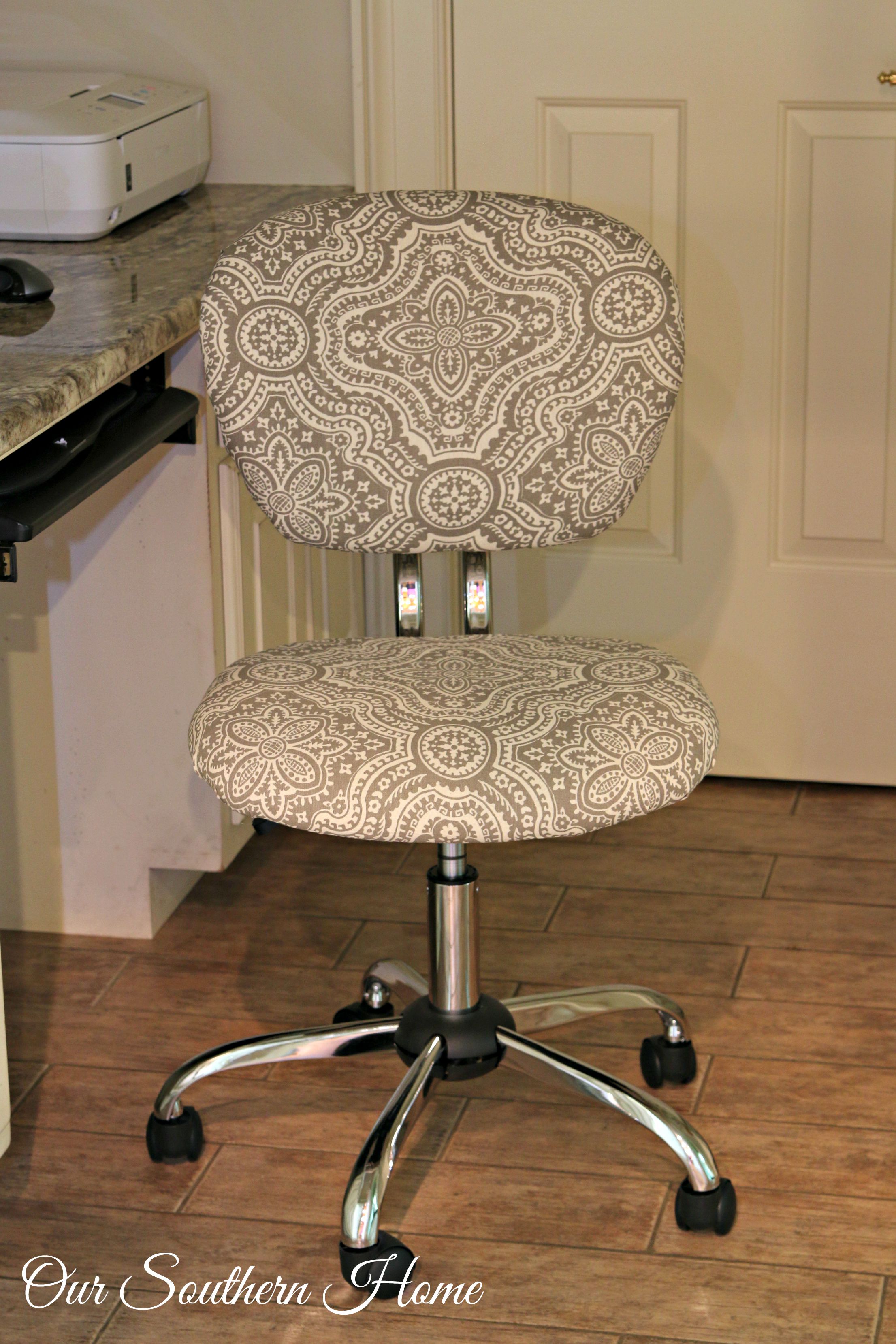 I recently updated this space with new organizing products as well as fresh white paint on the woodwork! You can check it out HERE.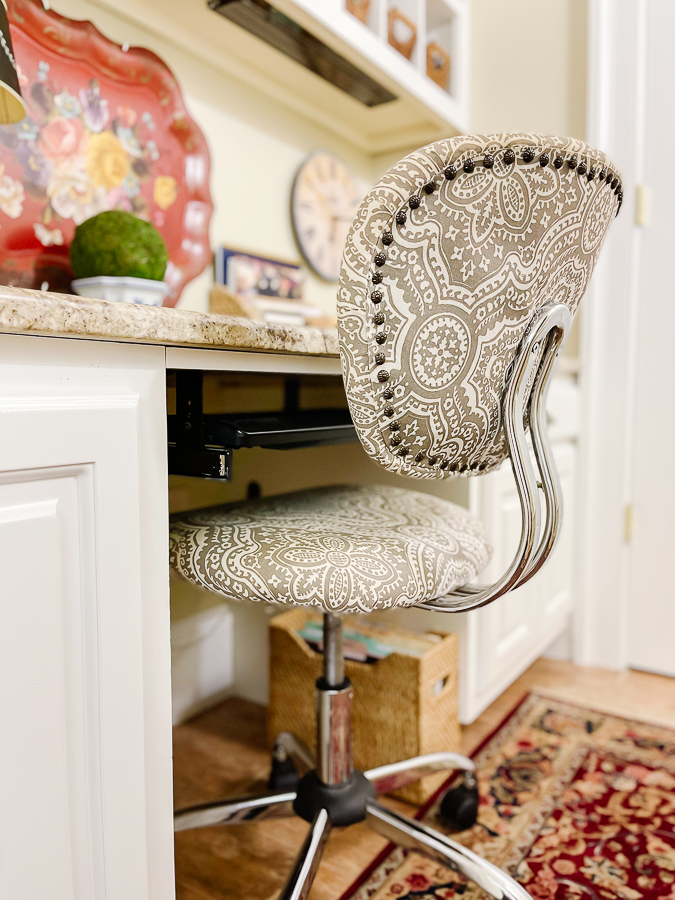 Other DIY Projects in this space!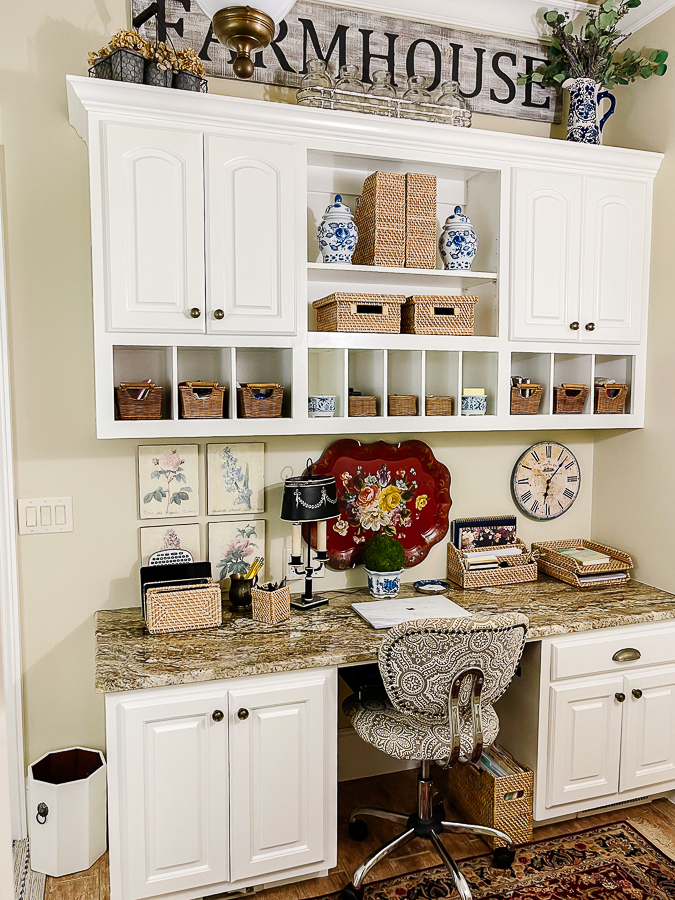 It is just such a calm and serene space to work now.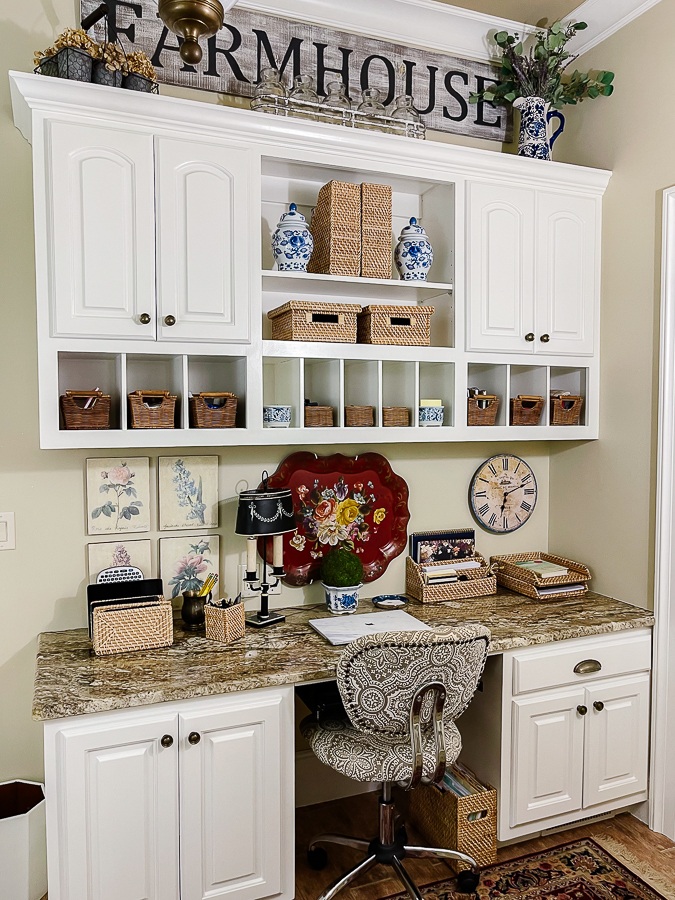 I'm no longer bothered by the lack of a window. This new office chair has greatly helped my back!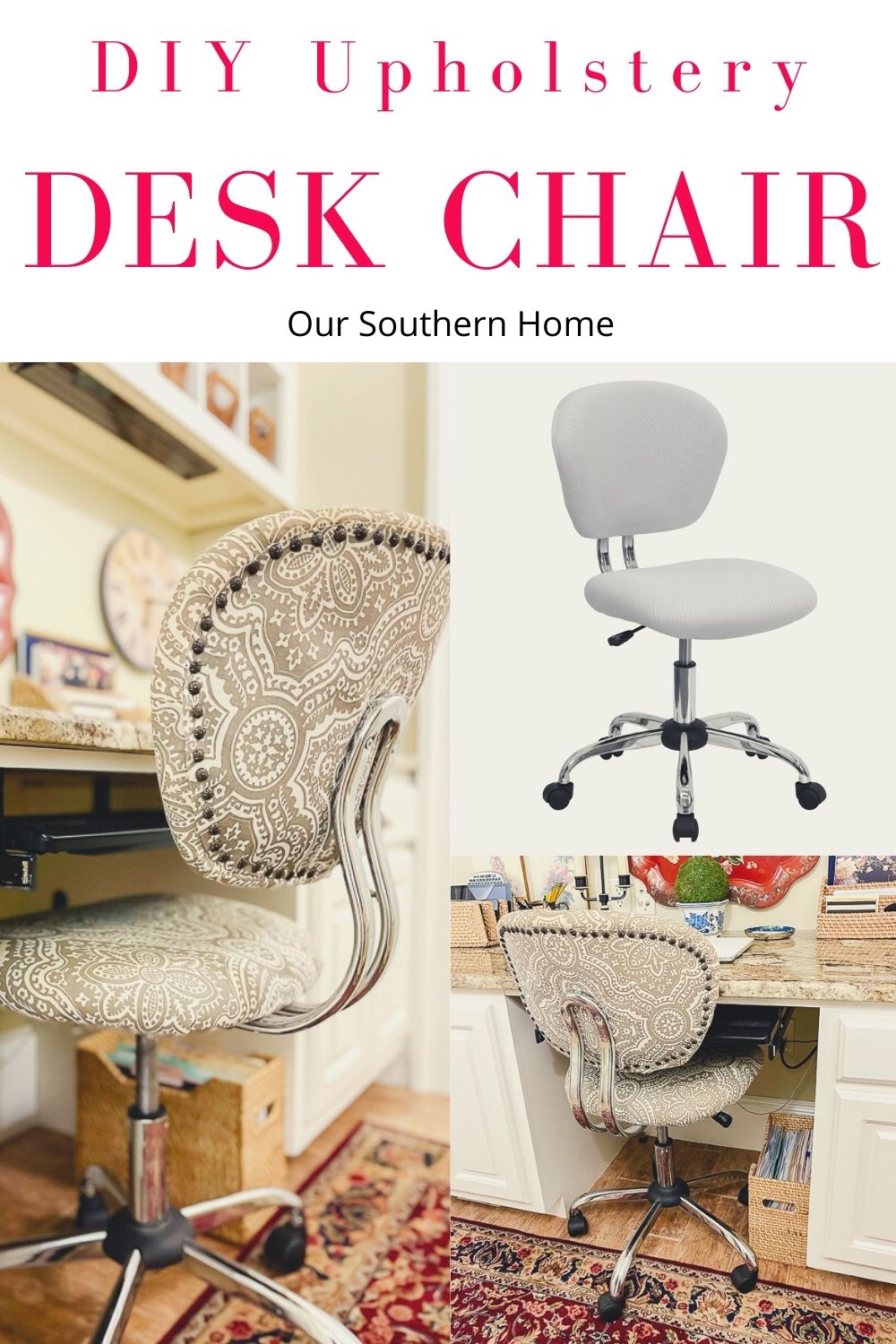 Recent Posts from OSH!
The Container Store Projects
Buffer