Valentine's Day is such a sweet time of the year.
I really can't remember too many times that we have gone out to celebrate since the kids came along. My youngest is 15 today! Happy Birthday, Ashlyn!!!
When they were younger, we'd go out more or we'd pick up take-out gourmet food from a local business.
For several years now, we've celebrated as a family…….dinner and a movie or just at home.
We just like being home.
This year, I think we will go out…just the 2 of us since it is on a Friday! Woot, woot!
This brings me to Valentine's Day decorating. Here is my Valentine's Day vignette.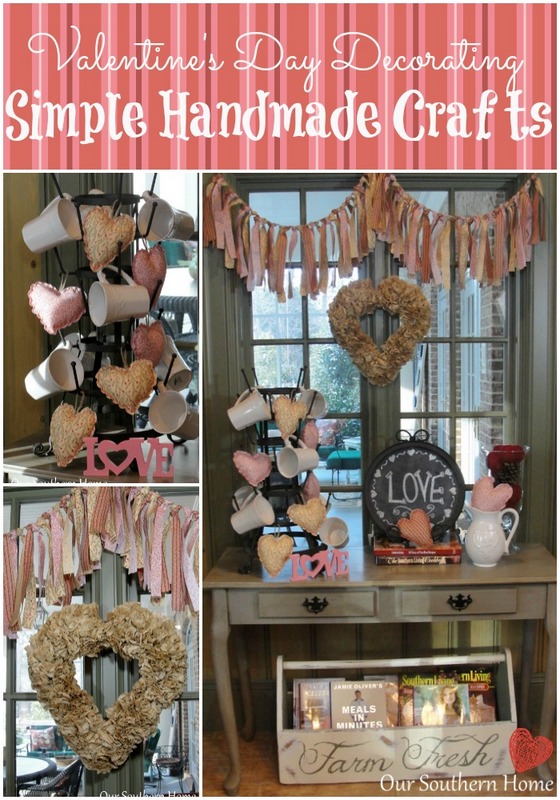 I am participating with 19 other bloggers in the All Things Home Valentine's Showcase.
You can find the complete list below. Be sure to visit everyone for lots of great inspiration!
Today's Tours: Worthing Court, The Tablescaper, Celebrating Everyday Life, Our Southern Home, A Stroll Thru Life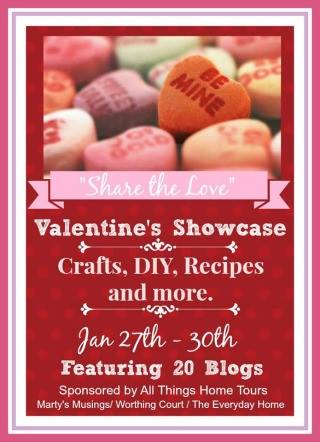 I decided to really decorate our kitchen dining area for the holiday.
My plan is to cook a really special Valentine's Day breakfast to eat as a family before the kids head off to school. Then that evening….hubby and I will be off for our date!
Today I am going to share a vignette in the dining area. It has really become a favorite space to decorate since the fall when I moved the table to this spot.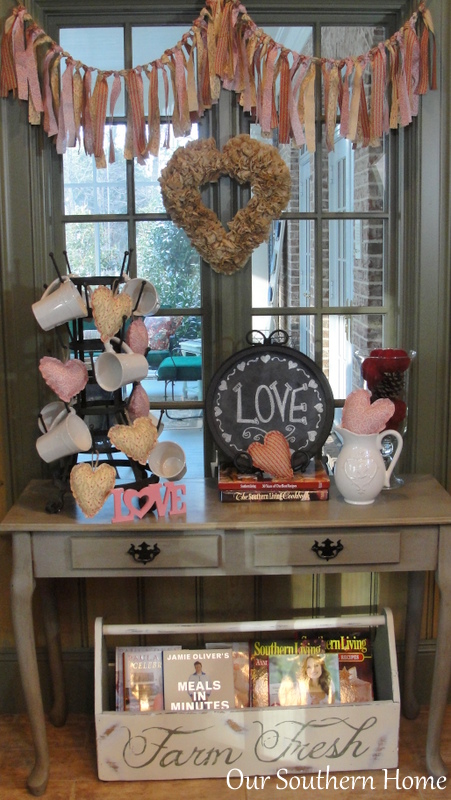 This was the very first piece of furniture that I painted with Annie Sloan Chalk Paint 2 years ago. I was scared, but the console was only $30 from a thrift store. It's a very inexpensive piece of furniture in a shiny cherry finish.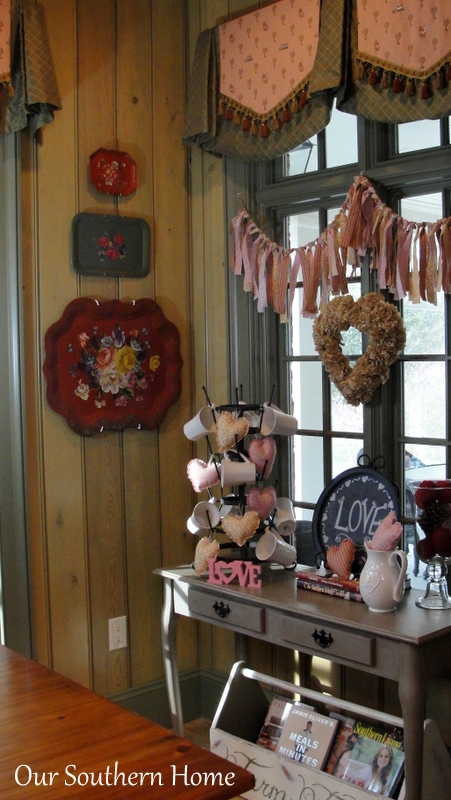 I was so over all the reds from Christmas, and I figured Valentine's Day was the perfect holiday to have an excuse with 2 guys in the house to get a little girly!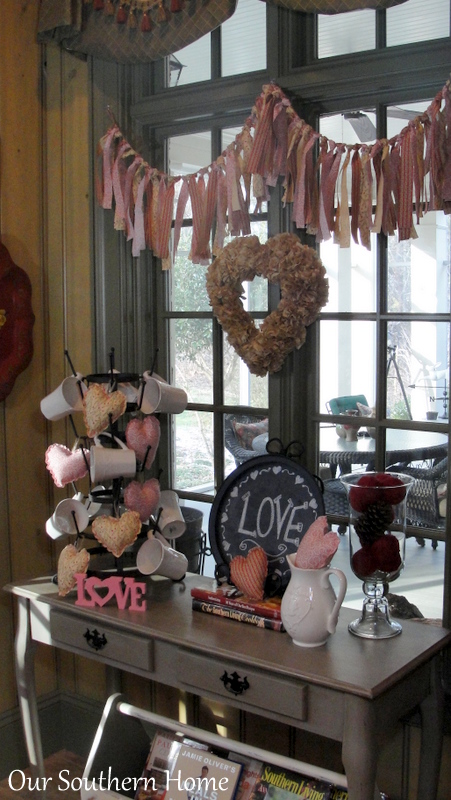 I decided to get my pink on with 3 different fabrics from Walmart! One had deeper shades in it that worked nicely with my existing fabrics.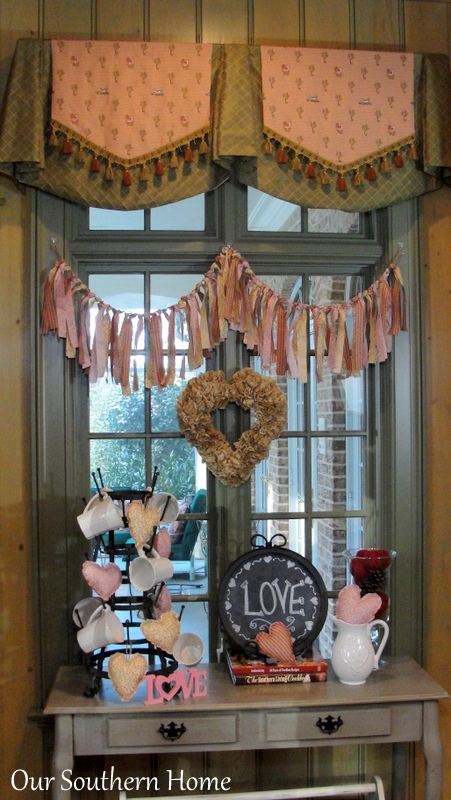 I bought 3 yards of fabric at $3.99 per yard at Walmart. I was able to make the heart ornaments, mini heart pillows and the fabric bunting. I still have some strips left over from another project. Some of the pillows are on the table.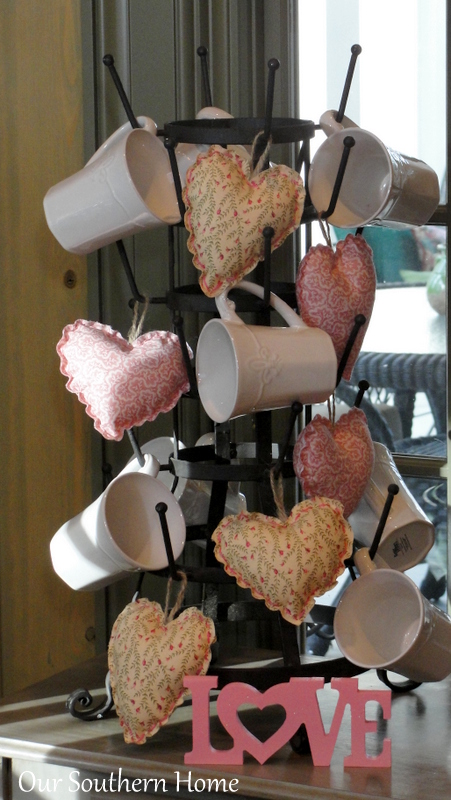 I'll be sharing the pattern and the directions for the hearts in an upcoming post. I just bought that little "LOVE" sign from the $1 Spot at Target.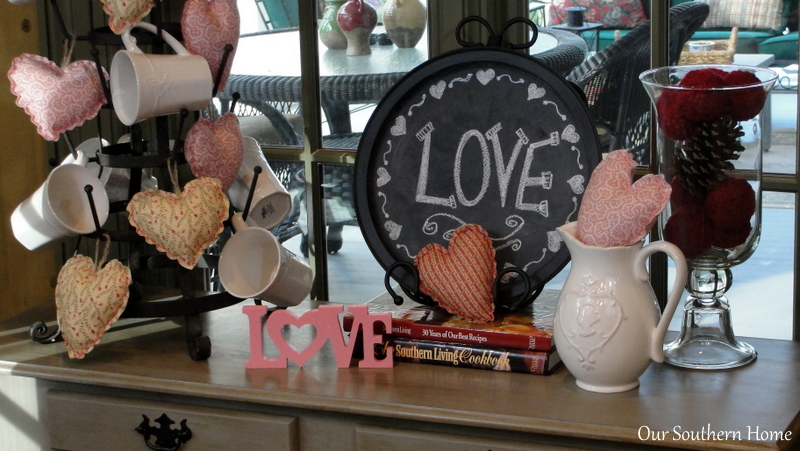 My hubby gave me the iron vintage style drying rack for Christmas. I "LOVE" it! Do you notice the white pitcher….shape looks like a heart. I got it on clearance at Tuesday Morning! The clear vase with the pine cones and yarn balls is from Christmas. I didn't put it away and I like how it brings the reds out in the fabrics.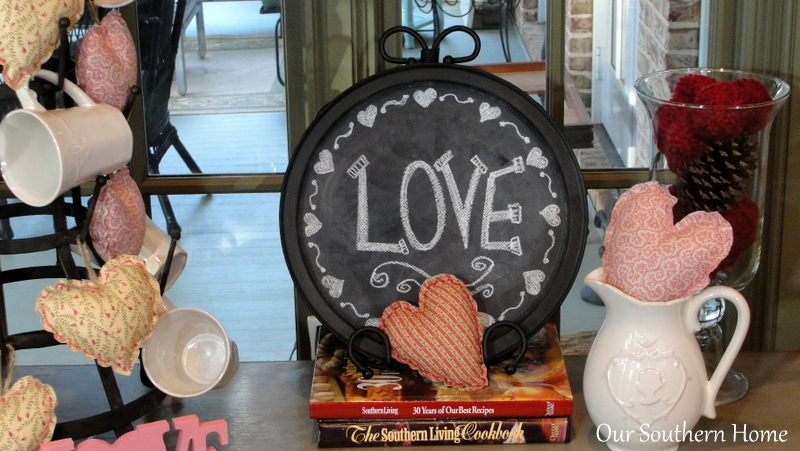 I have gotten so much use out of the .50 cent tray from the thrift store! I frequently change out the chalk messages. It has been used all over the house…even the front porch during fall!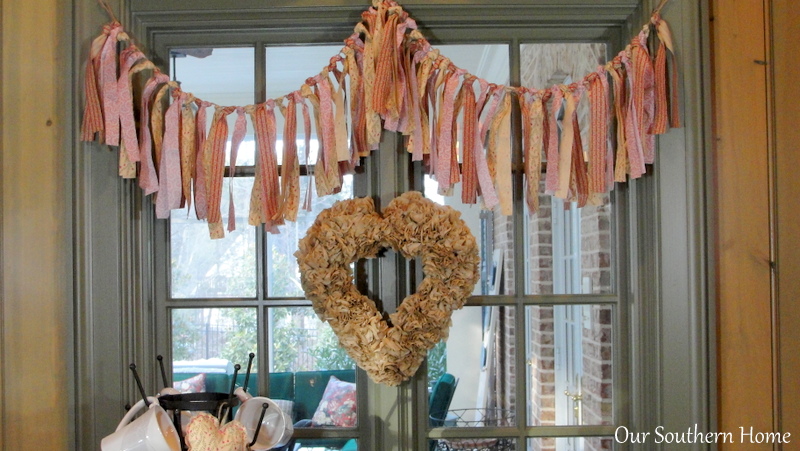 The heart wreath is made with a Styrofoam heart shape with coffee filters. I'll share more of that in another post as well. Today, I'll share how to make the fabric bunting. Super easy and inexpensive!
I placed 3 small clear Command hooks on the window. Then I pre-measured my twine.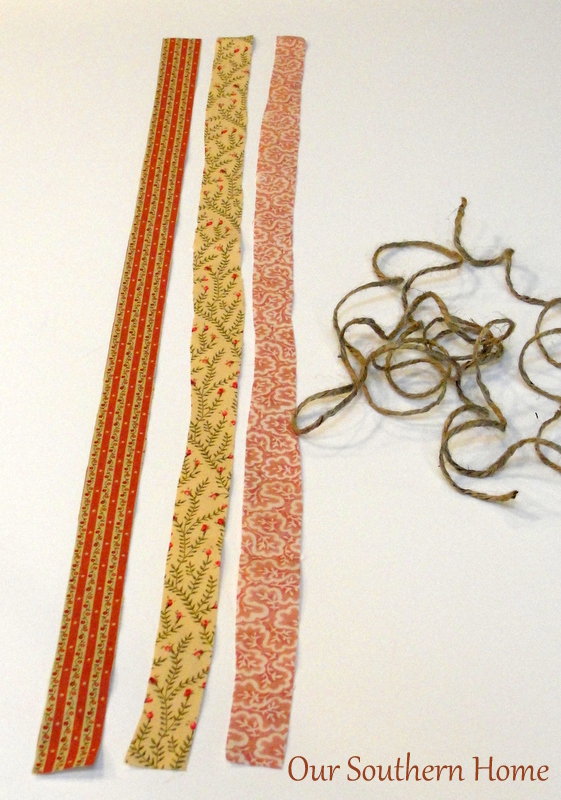 I folded the fabric in half that was leftover from the hearts. I then just eyed all the cuts. You can tell nothing is straight and perfect. I cut the fabric in 1 inch wide strips that were 24 inches long.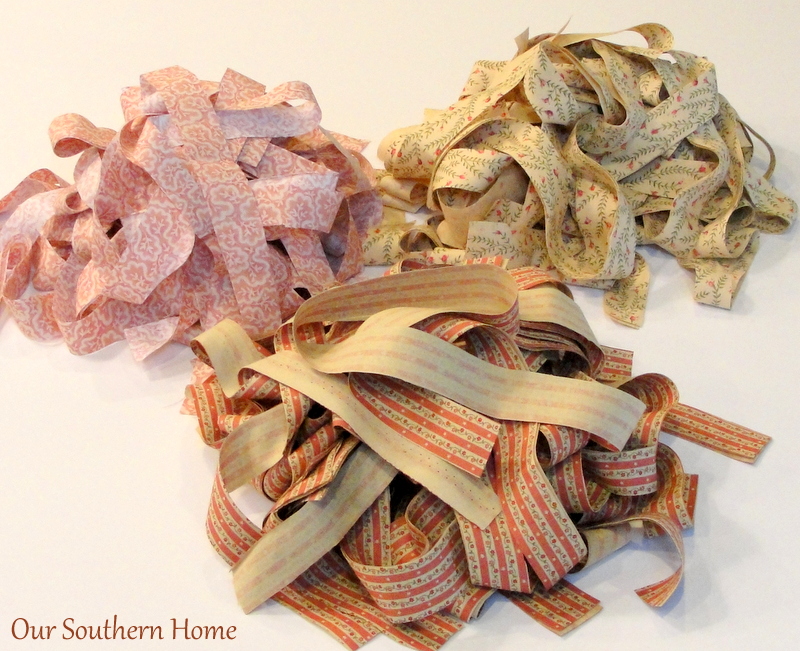 I ended up with 3 sets of each fabric. I then began to tie each strip onto the twine. I alternated the same all the way across the twine.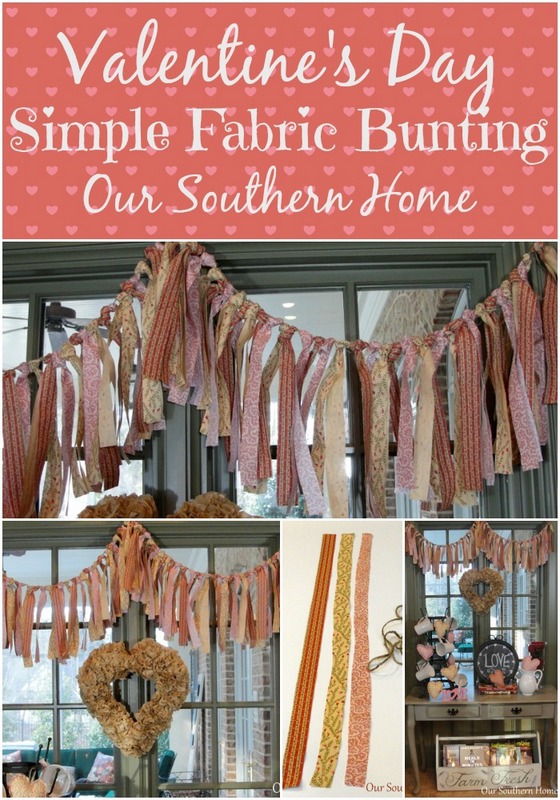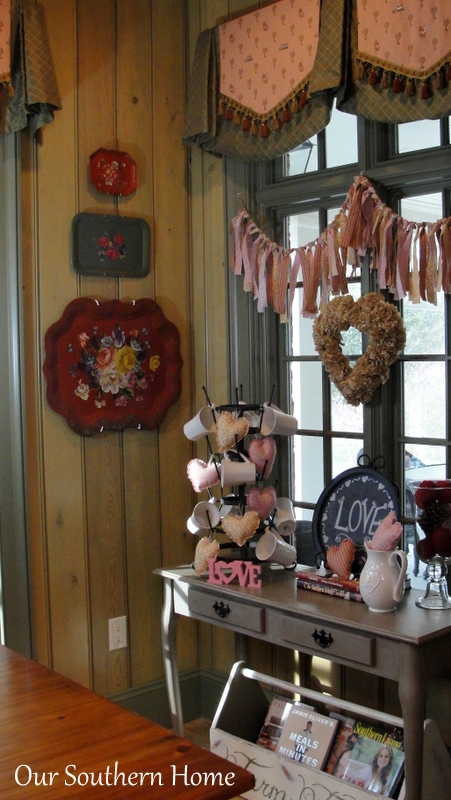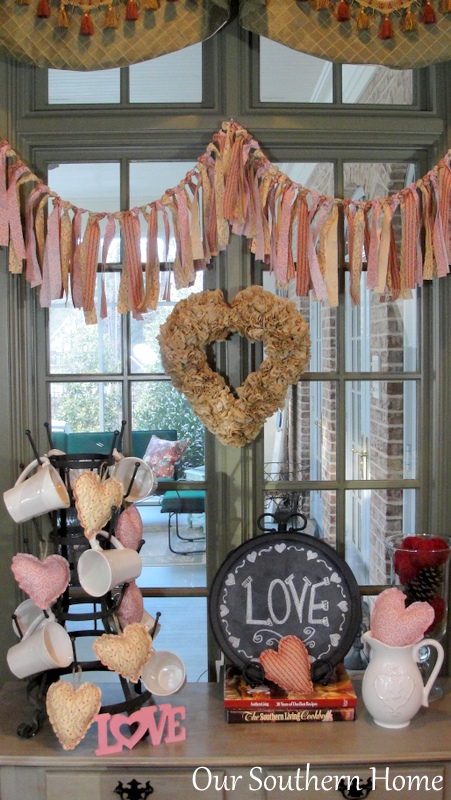 I think my little girly touches blend right in. I've heard no grumbling. LOL!
Be sure to follow along and subscribe. Be sure to visit the other blogs listed below on the tour!!!
Upcoming Posts: Heart Ornaments and Mini Pillows, Heart Wreath, Wall Art and the full breakfast room tour next week with The Scoop Group!
Thanks so much for visiting!
You can follow Our Southern Home on PINTEREST.
I share lots of behind the scenes of projects in progress and some family along the way on INSTAGRAM. Instagram is such fun. I'd love for you to follow! (@Our Southern Home)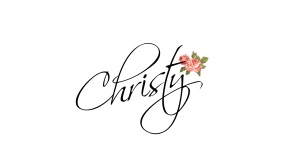 This weeks tour schedule!!
Monday, January 27:
The Everyday Home
Cedar Hill Farmhouse
AKA Design
Setting for Four
Create and Babble
Buffer