Do you love soup? I sure do, and this is probably my family's favorite!! A sweet friend of mine shared this recipe with me last year. I asked her if I could share it with you. So here it is! Thanks bunches, Anne!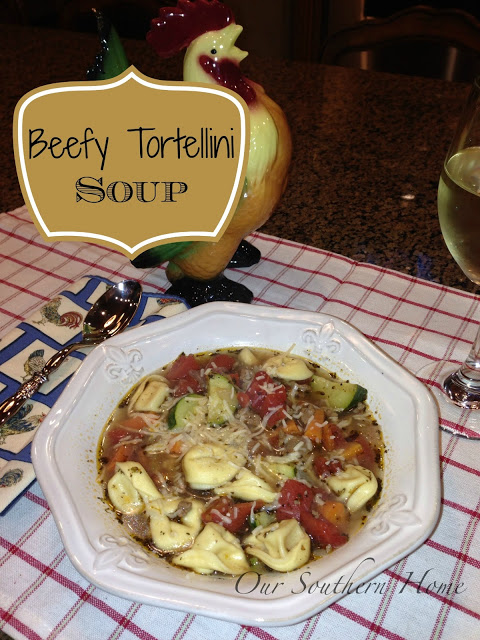 The only 2 soups that my son likes are this and my potato soup. I need to share that one with you as well! Maybe next week.
It is very easy and simply cooks on the stove top.
Ingredients Needed:
1 TBS. olive or vegetable oil
2 cloves minced garlic (I use kind in jar)
1 lb. of lean ground beef
1 can diced tomatoes, your seasoned preference
1 long squirt of Italian dressing
1 dash of Tabasco (optional)
basil, oregano and pepper to taste
1- 9oz package cheese filled tortellini, refrigerated kind
Parmesan cheese for serving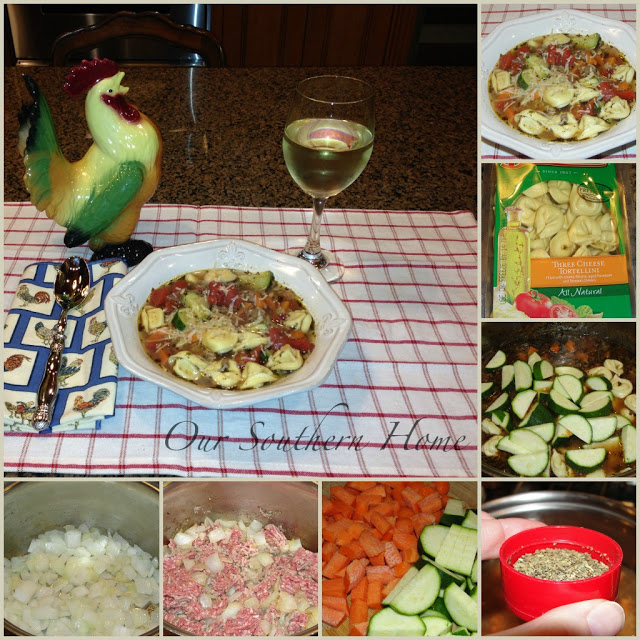 Directions:
Cut carrots into 1/4 in. slices and set aside. I usually have baby carrots and stick carrots on hand. I just used those. Coarsely chop onion.

In a skillet, heat oil over medium-high heat. Add the onion and stir-fry until just begins to brown. Add garlic. Cook 1-2 minutes.

Crumble in lean ground beef and cook until no longer pink. Drain.

Meanwhile, in stock pot, add broth, water, Italian dressing and diced tomatoes. Cover and bring to boil. Add carrots and seasoning including Tabasco, if using. If you look at the collage picture you will see the amount of basil and oregano that I use. I use about that much of a capful of each and a hearty pinch of pepper. Cook uncovered, stirring occasionally. You may need to add additional water.

Carefully add beef mixture to broth. Let everything cook together. Taste broth and season as needed.

Halve the zucchini lengthwise and cut crosswise into 1/4 in. half rounds.

I add the zucchini about 3 minutes before the pasta is ready to keep it a bit firmer. If you like it mushy, then add at the time of the pasta. Adjust accordingly to your desired tenderness of the zucchini.

Add tortellini, cook until al dente, 10-12 minutes.

Serve with parmesan cheese on top and with crusty French bread.
Over the past year this has really become a family favorite. I serve it quite frequently! I may even make this on occasion this summer and use fresh diced tomatoes from the garden and our zucchini. I have a family of 4 which includes 2 teens. We still have enough leftover for a couple of lunch servings. If you haven't used the refrigerator pasta before, it really expands as it cooks. There is no need to up the pasta size for this recipe. I know the package looks small, but it is perfect!
Have a great day! It is a rainy and cold day…only 36 at noon! That's cold for us in SC! Thanks for stopping by!
I'd love for you to follow Our Southern Home. The various ways to follow are in the sidebar.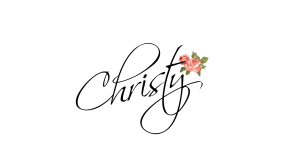 This post was featured at: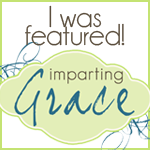 Buffer