It's beginning to look a lot like Christmas here at Our Southern Home. I literally just finished decorating our Christmas Porch. A nasty cold put me out of commission for over a week. I think it was the worst cold that I have ever had….I think I say that every time I have a cold. Lol!
Our porch is a favorite area to decorate. I confess that after 4 years of blogging, it can be a challenge to change things up a bit, but I love a decorating challenge! After 25 years of marriage, I just don't want to add a whole lot of major new stuff to the mix. It's a chore to drag everything out of the attic as it is. This year, I created a giveaway box. As I unpacked Christmas, if I hadn't used it in a while or it wasn't sentimental…it went in the box. I filled up the back of my SUV! It felt good.
My motto….Do the best you can with what you have. Sprinkles of new are ok here and there!
A huge big thank you to my friend, Amy! She has that fabulous blog that I know you have heard of, Atta Girl Says. Amy organized and is hosting this year's porch tour.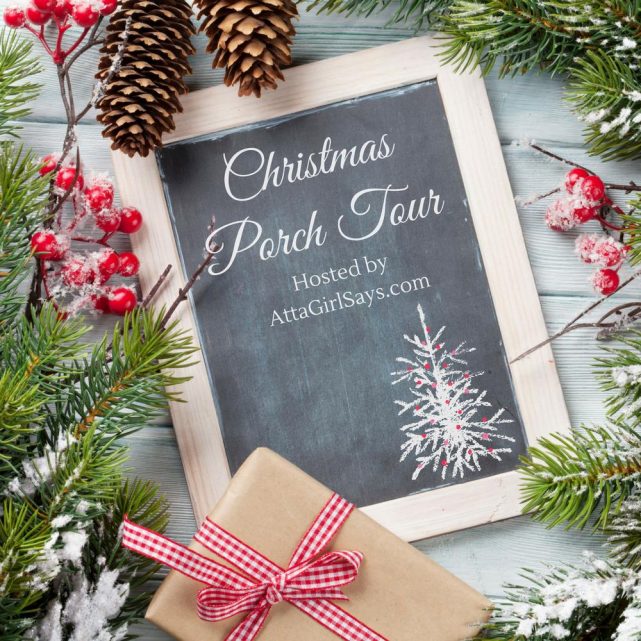 I am so honored to participate with the incredible line up she has organized for us!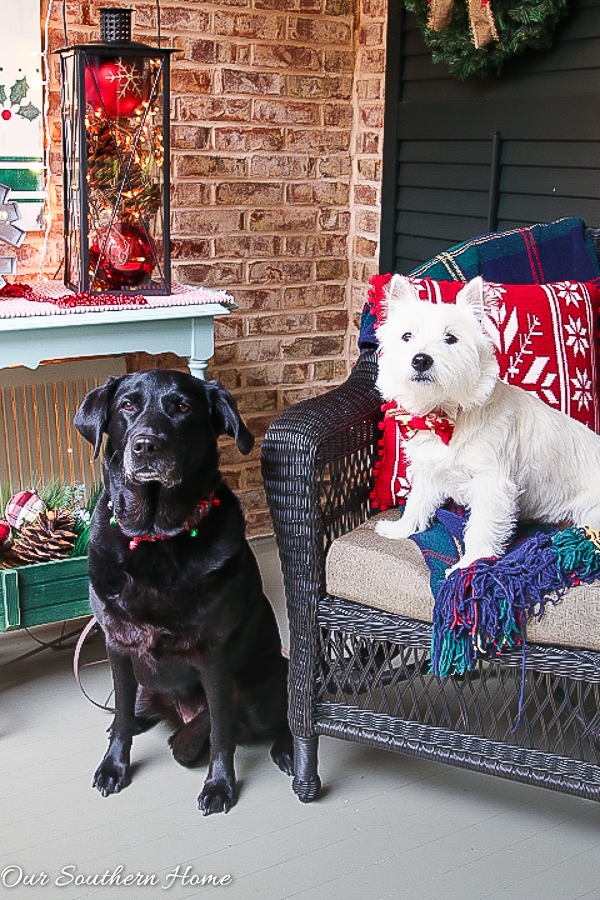 Lizzie and Bentley welcome you to our Christmas Front Porch!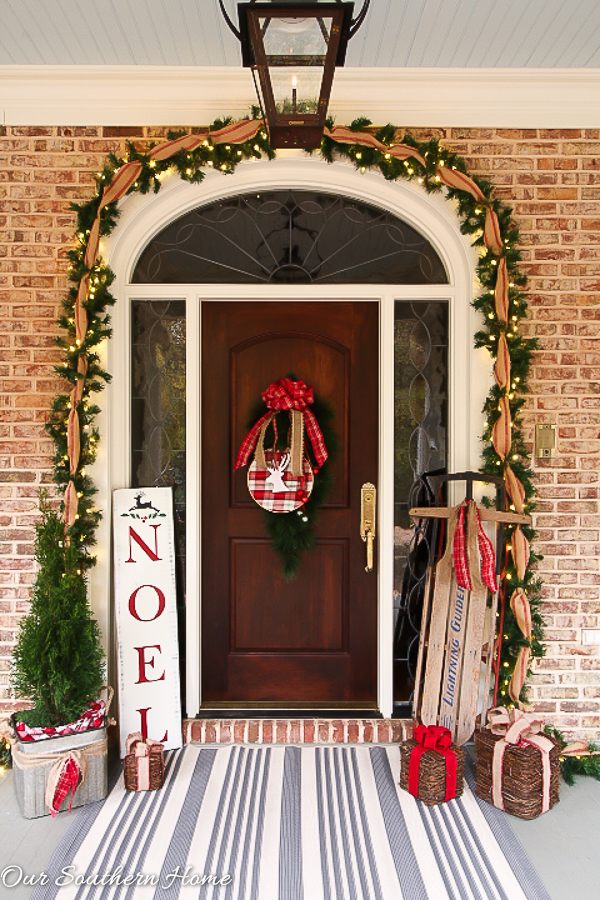 Our new rug literally came in right before I began to shoot the porch! I love it. It's a great grey stripe that you can find here with my affiliate link.
In year's past, I always have my Ballard topiaries flanking the door. They are starting to show their age so I wanted to do something less symmetrical and a bit more casual on a budget!
The grapevine set of 3 presents are from Home Depot and the galvanized pail is from Hobby Lobby.
The garland is 12 years old and still serves the purpose. The upholstery ticking that I added a couple of years ago is still a favorite of mine and really helps to make the garland look more substantial.
I made the wreath last year. Still love it so why make something new! You can find it HERE.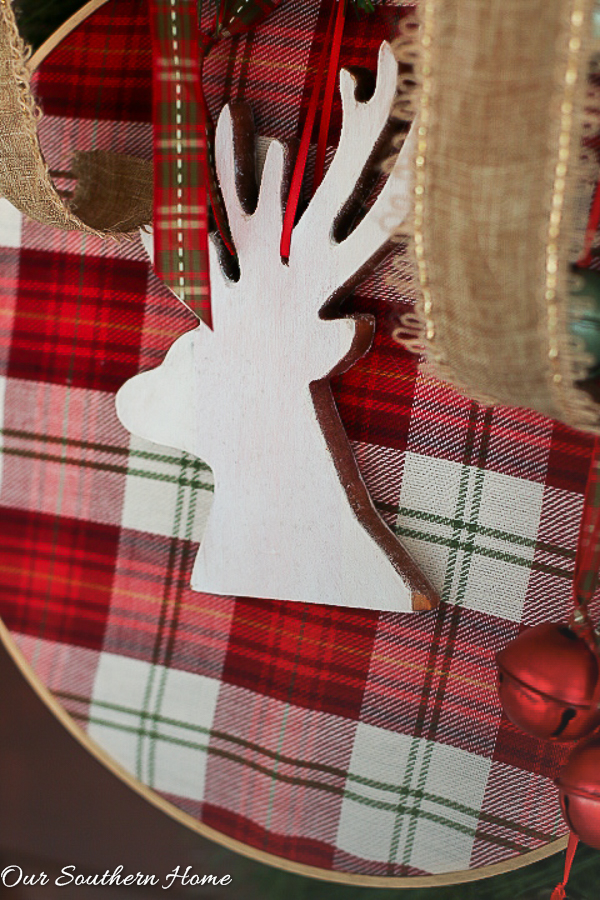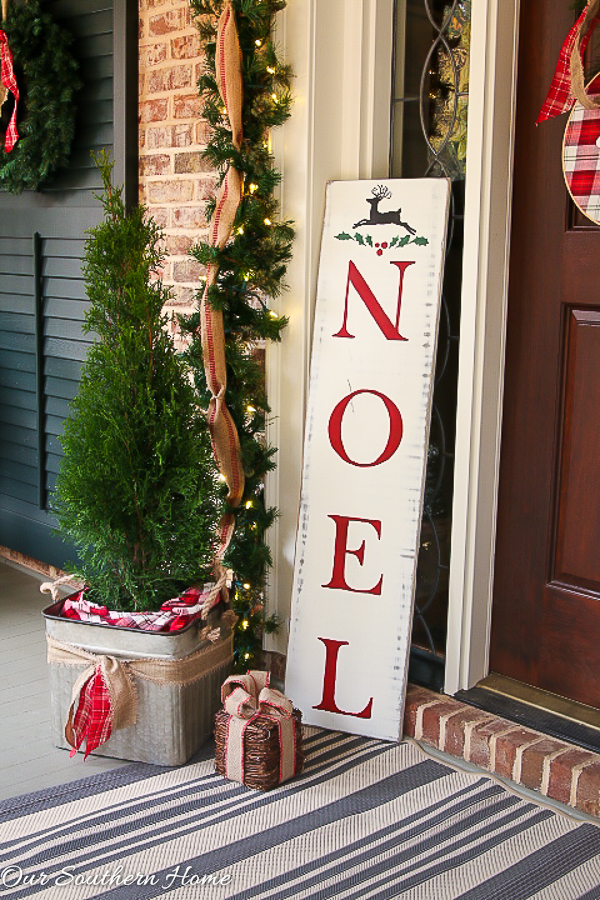 I just made the sign last week. I'll be sharing the tutorial as well as the printable graphic to make your own later in the week.
Signs are an inexpensive DIY way to add a bit of personal charm to your home.
You'll notice throughout the porch that while it is coordinated, it's not matchy, matchy. This is my way of making it feel a little different from previous years. The red and white plaid ribbon is from last year. I added the beautiful, neutral ribbon from Hobby Lobby.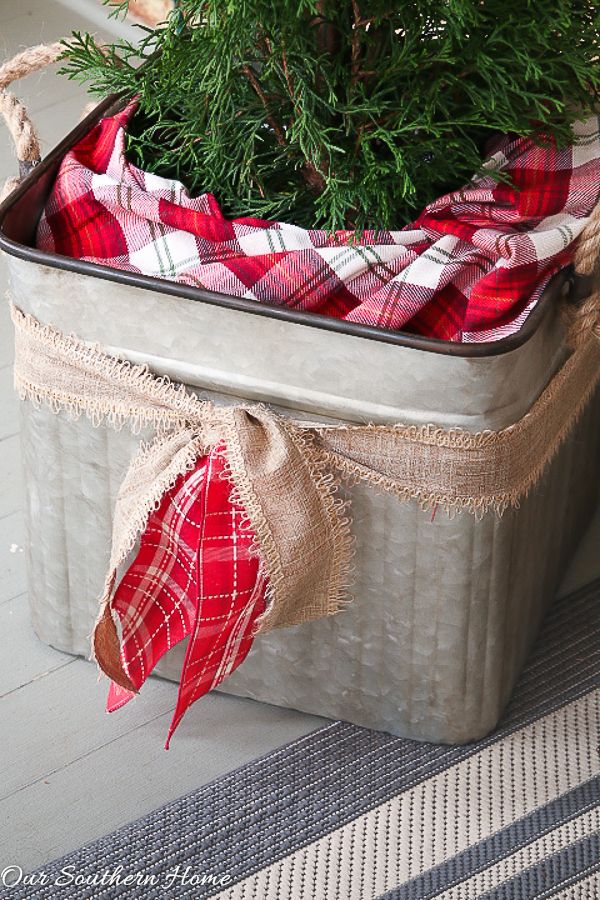 HINT: Purchase an inexpensive, rectangular plaid tablecloth from a budget store like HomeGoods.
You get a lot of fabric for your money. It washes well and is great for craft projects. You'll notice it on the wreath and around the base of the evergreen. The evergreen is live. We will plant it after Christmas.
How cute is that container. It was only $20 with my 50% off coupon!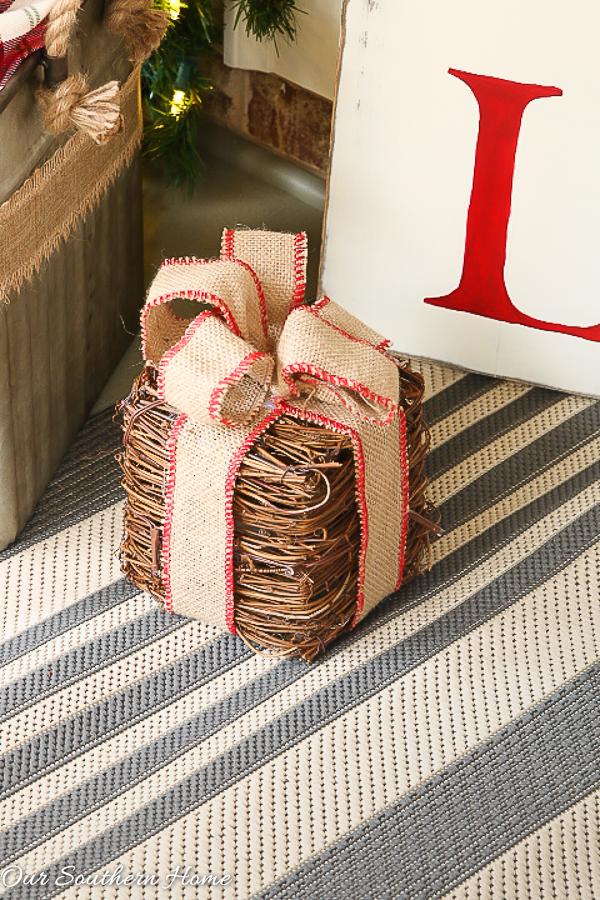 If you look closely, you will see that the presents actually light up. They require batteries. I think I'll leave them just like this, no batteries.
I still have my childhood sled from my early years of growing up in Virginia. If you notice, I layered 2 ribbons and the sled just like I did on the shutter wreaths. Instead of doing a traditional bow, I went with a simple knot.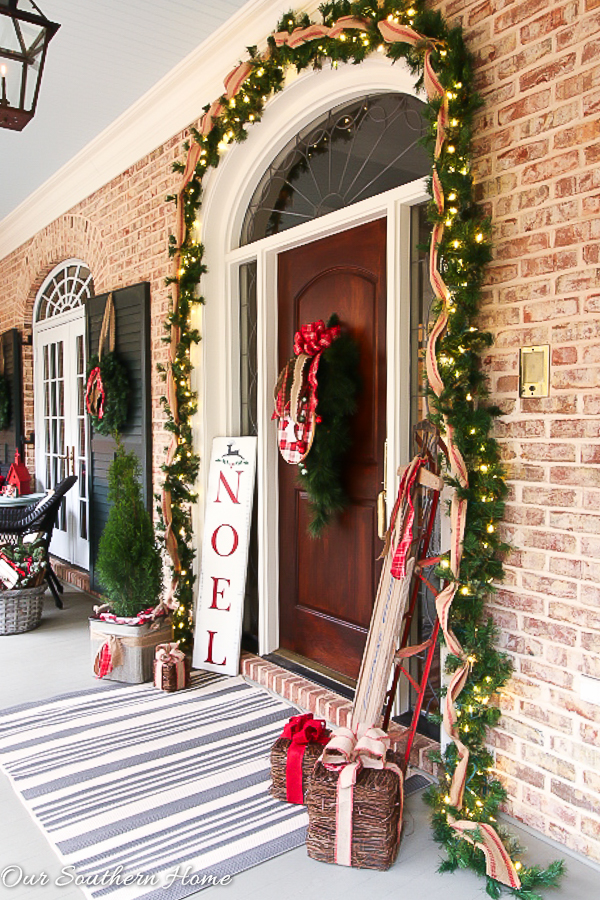 Did I mention how much I love my new rug!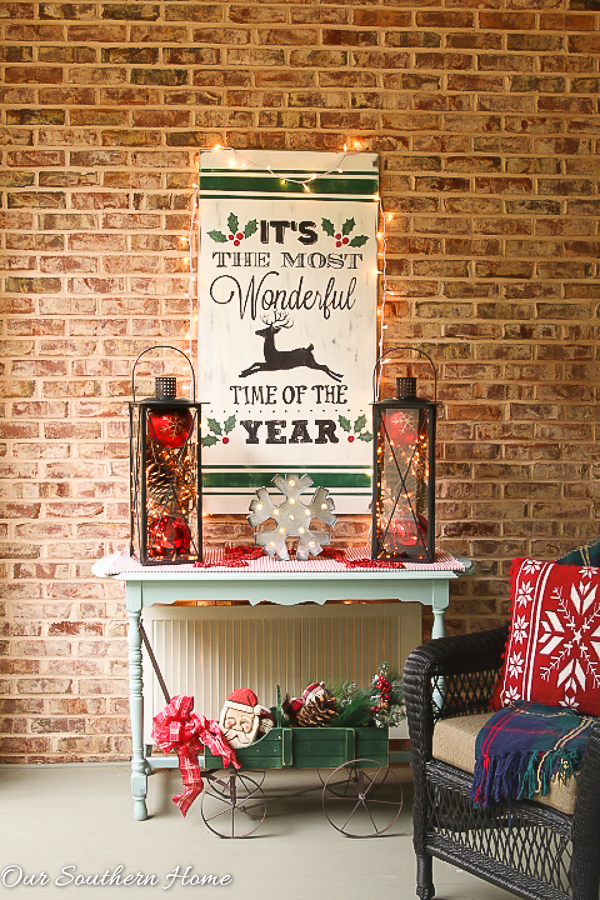 I purchased that adorable little decorative wagon (affiliate link) this fall. It's just as cute with Christmas décor as it was with pumpkins. It's a steal at less than $20!
Notice that shutter underneath. It's from the thrift store and is perfect for hiding the outlet and timer! Cords out of sight!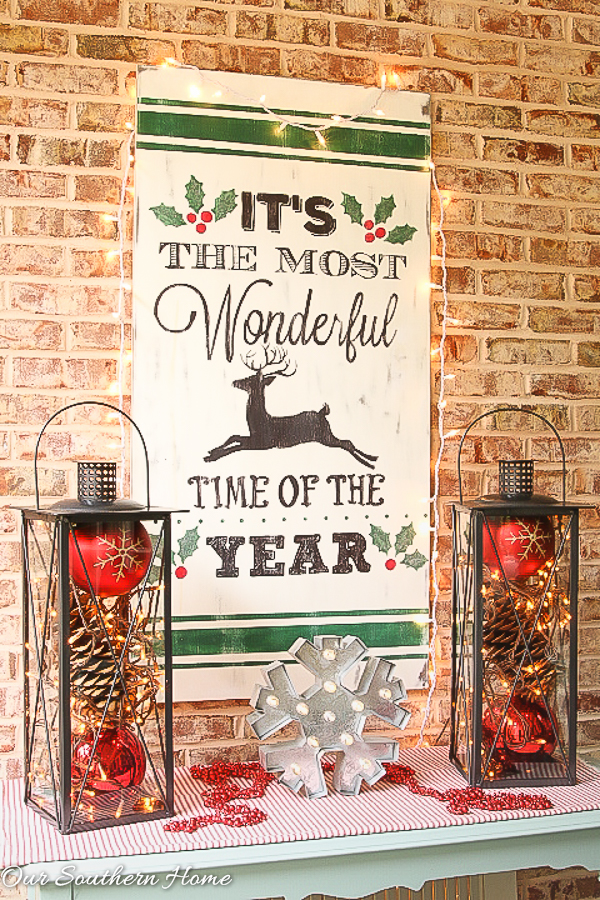 A simple piece of red ticking folded make a nice runner. Edges are left raw.
Fill large lanterns with ornaments and large pine cones. I use these strands of brown string lights year around in them. They blend nicely with the contents.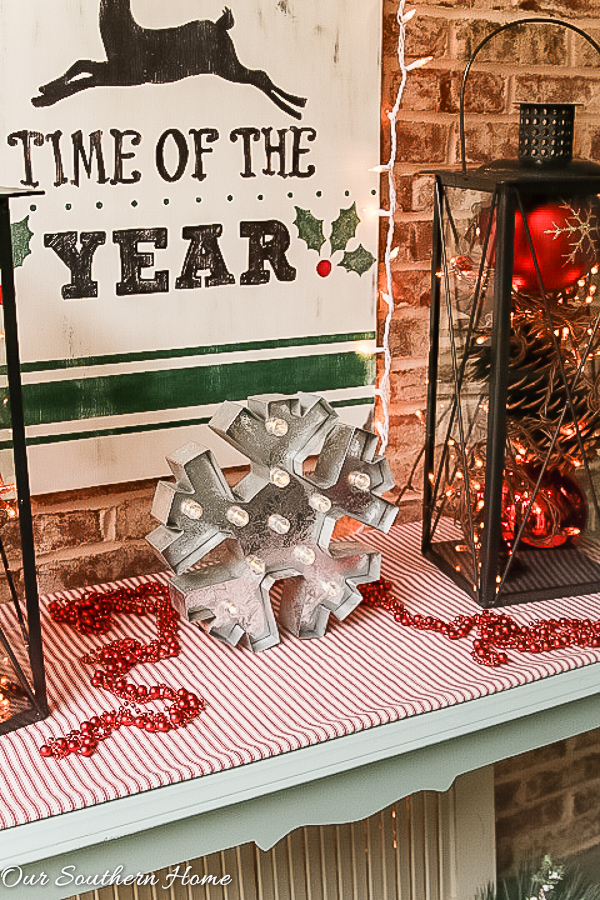 I almost put that strand of red garland in the give away box. I love the way it fills the space around the galvanized snowflake from Lowes. I did put batteries in it. It's just too cute not to! Plus it had an option for it to just stay on for 6 hours.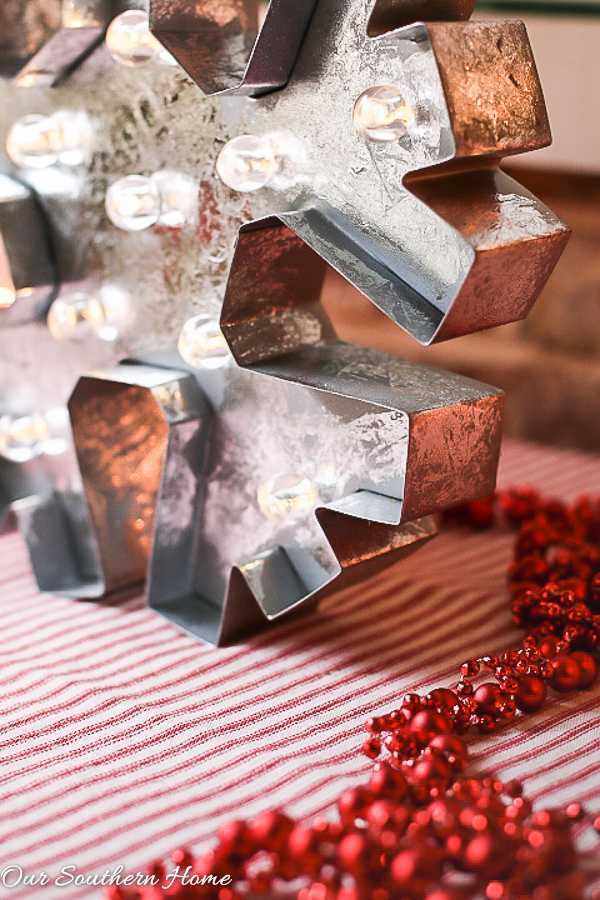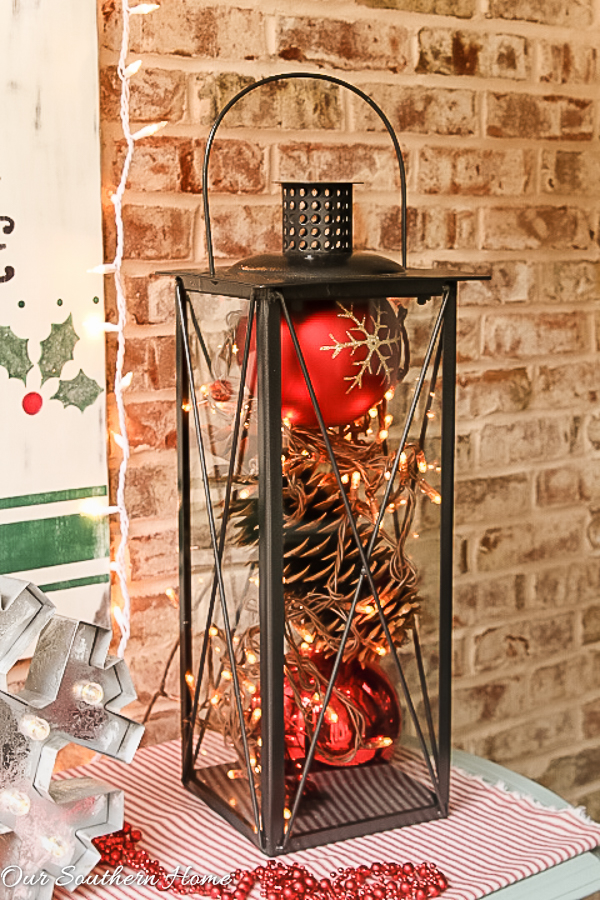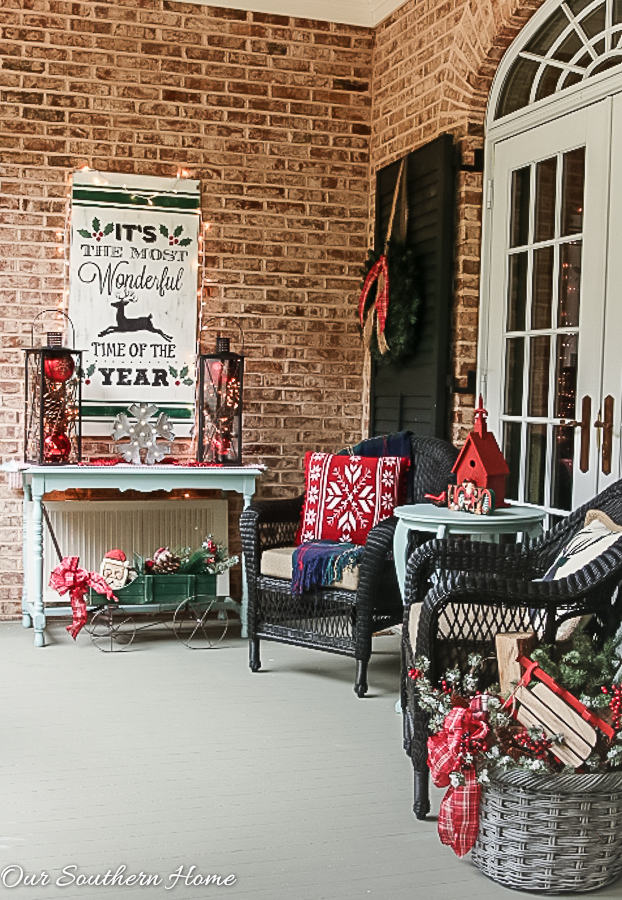 I almost forgot this sign! I made it last year. You can find the complete tutorial with printable to make your own by clicking the link.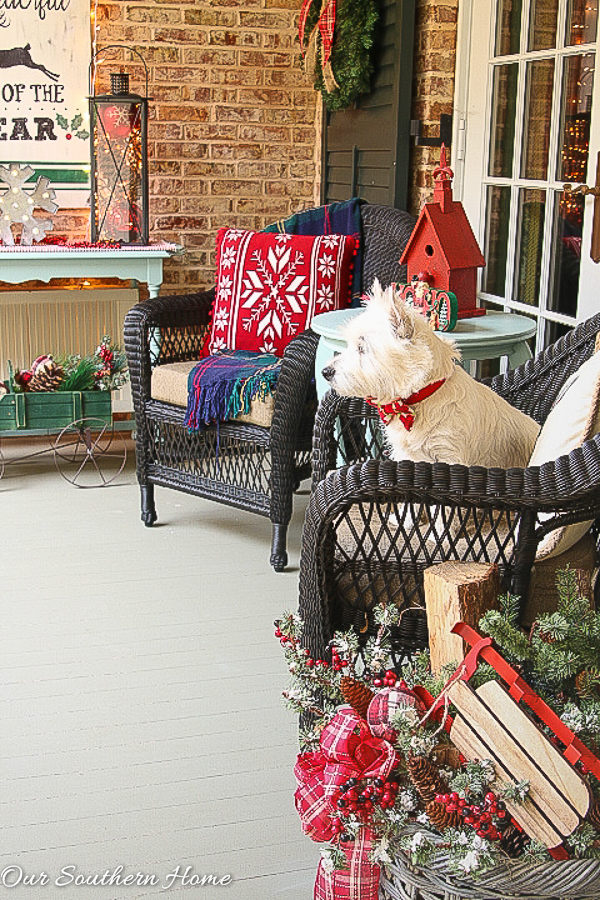 Look at that cutie…..dying to run after that squirrel.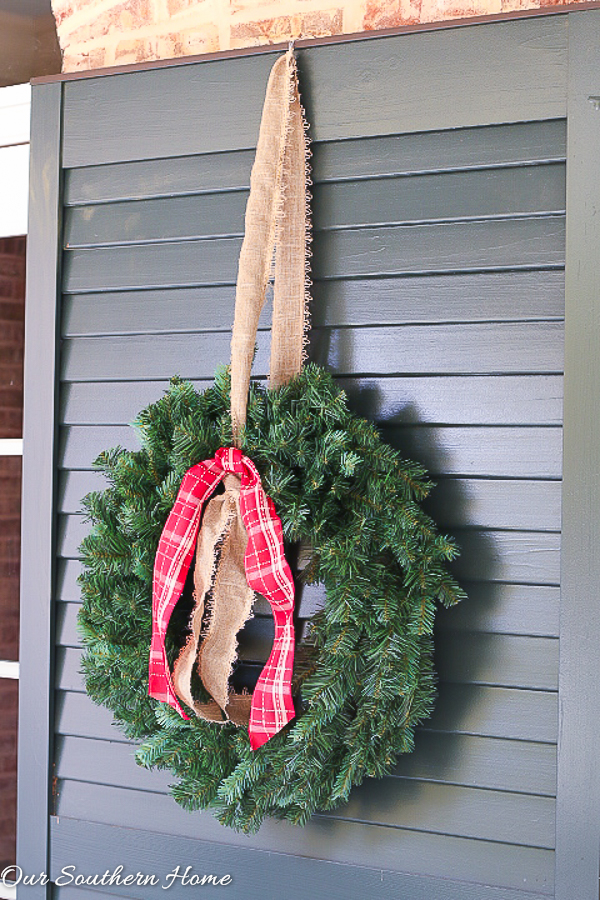 In year's past, I have had a large wreath on each of the French doors. This year I wanted to do a wreath on each large shutter. Wreaths are expensive! I opted for these plain ones that were on sale for like $5 each. Just added the ribbon with a simple knot opposed to a bow.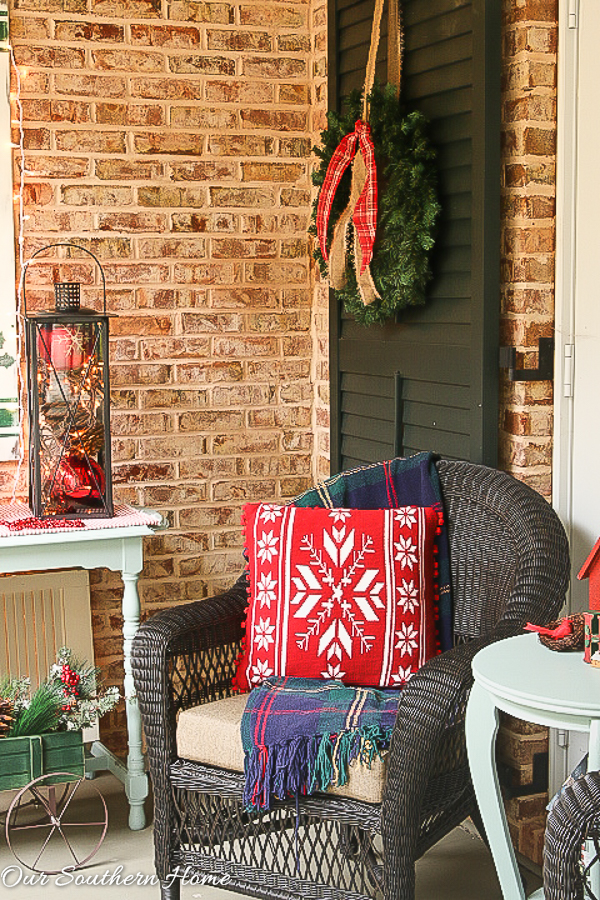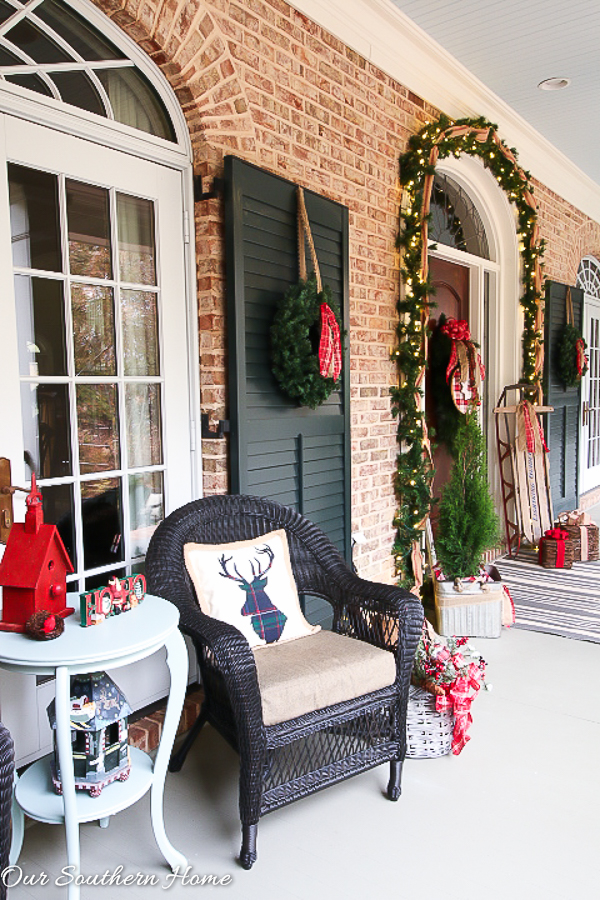 You can DIY the same deer pillow with this tutorial. We just had the ceiling painted blue this fall. Isn't it so fresh looking!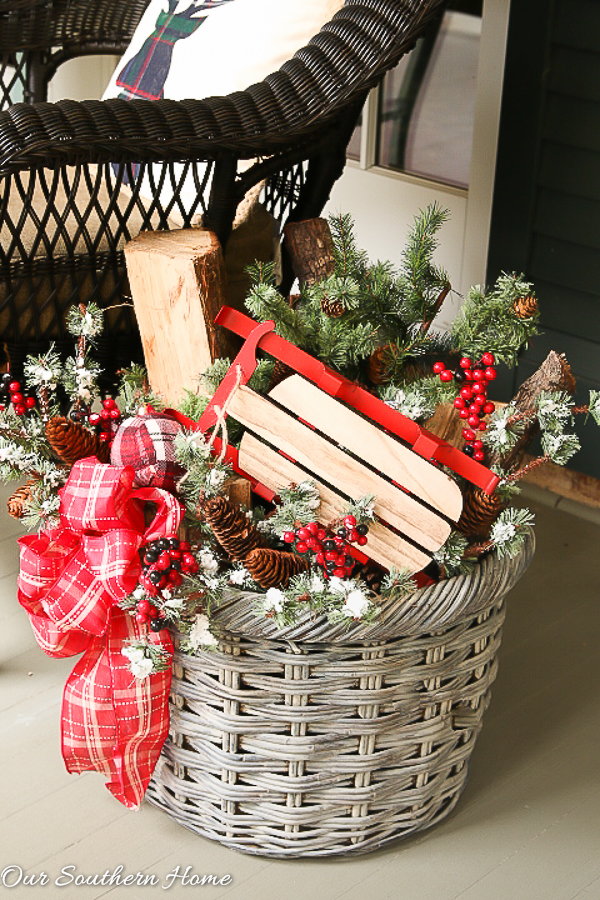 This thrift store basket received a very simple paint treatment that you can find HERE. Adorable little sled from the Dollar Spot at Target.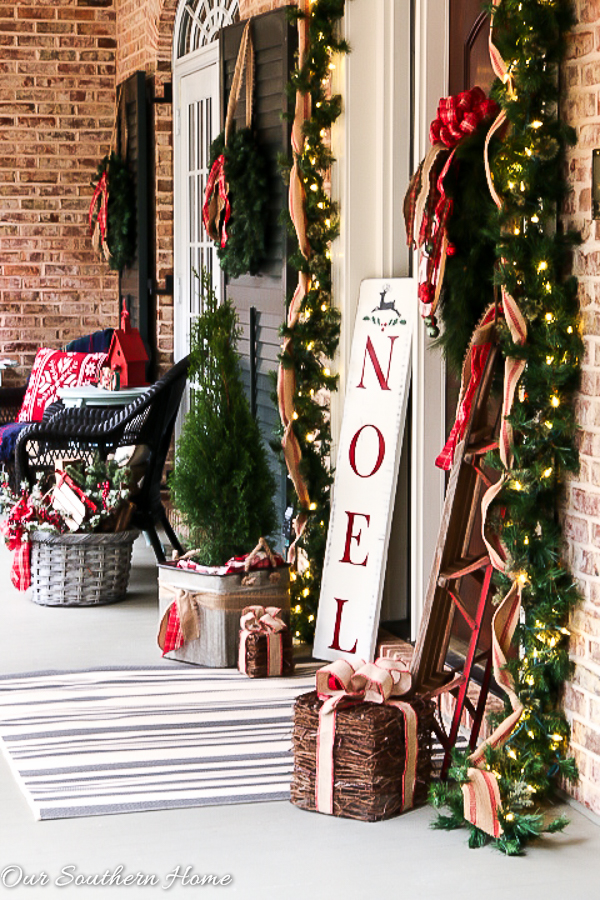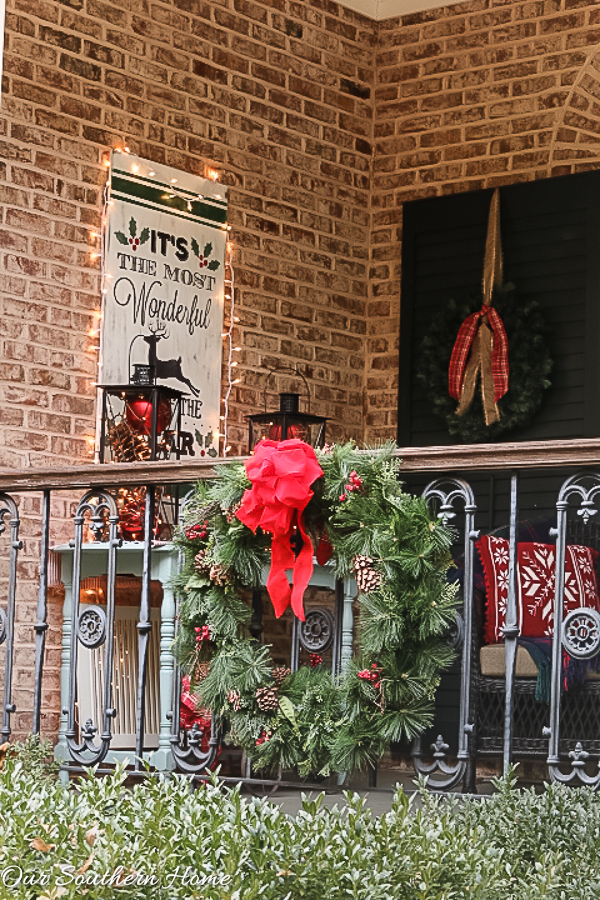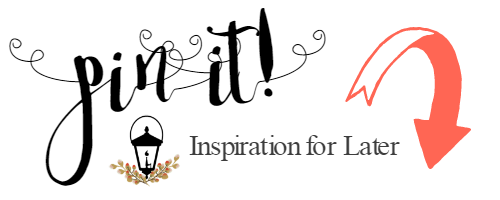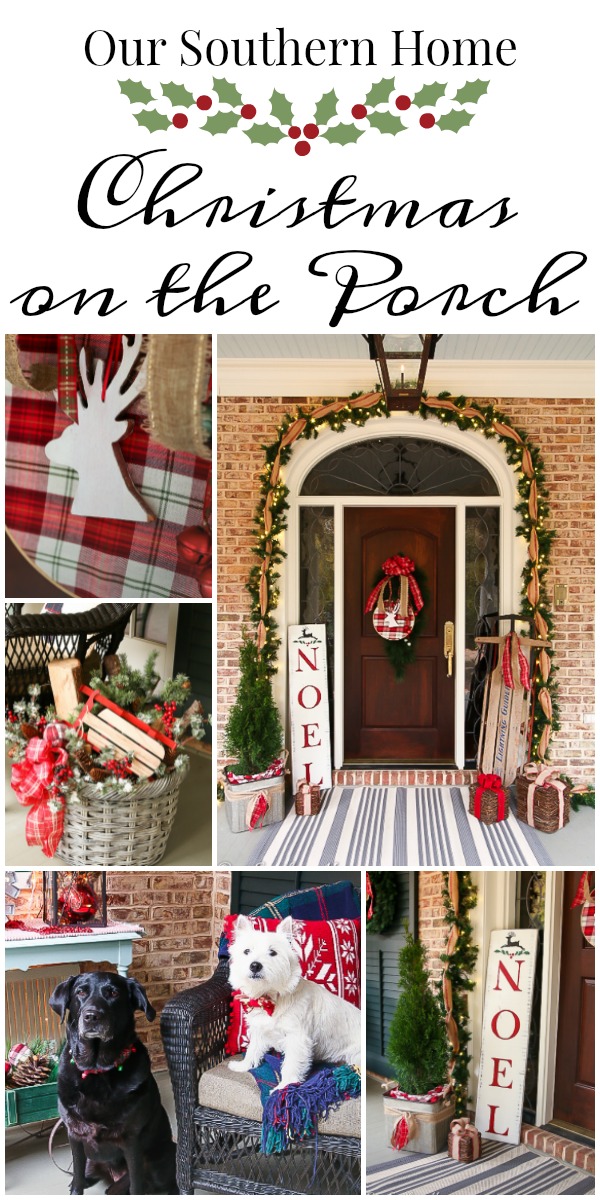 Now it's time to check out the other ladies on this creative Christmas Porch Tour!
I'm excited to be joining these other bloggers in a Christmas Porch Tour, hosted by Atta Girl Says.
Whether your style is vintage, rustic, farmhouse, French country, traditional or cottage, you'll find lots of inspiration as you deck your halls for the holidays.
Click on the links below to visit all of these gorgeous Christmas porches.
Atta Girl Says | Cottage at the Crossroads | Cottage in the Oaks
House of Hawthornes | Our Southern Home
Postcards from the Ridge | Refresh Restyle | Worthing Court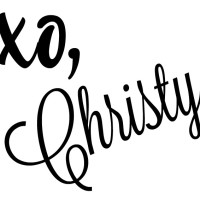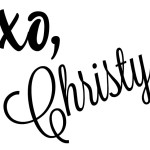 Buffer