Console Makeover With White Wash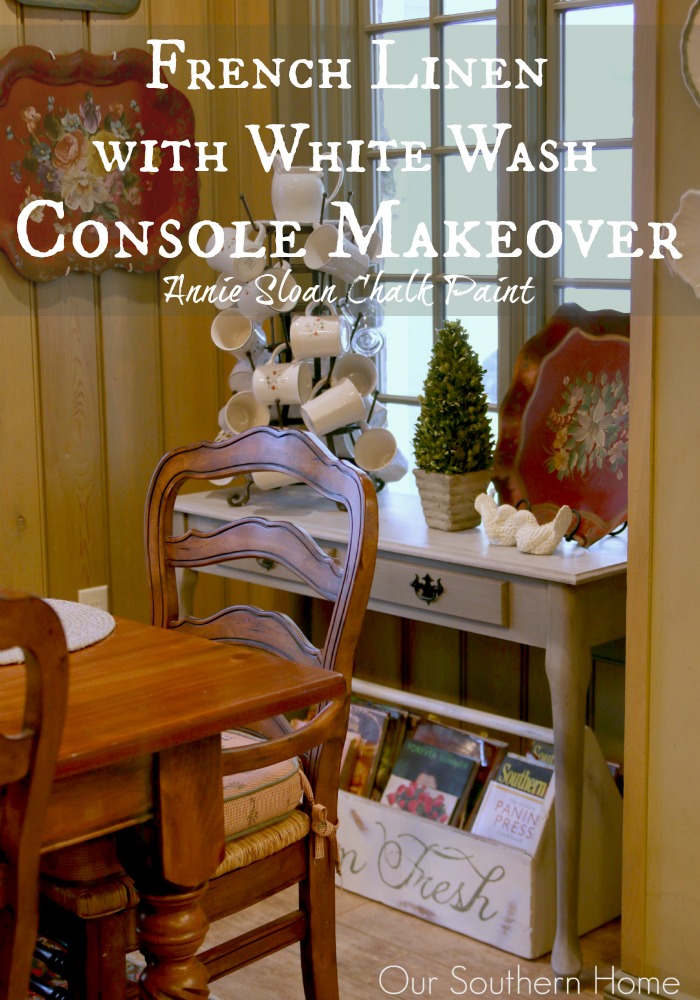 Welcome to our monthly furniture makeover series. I love seeing what my blogging friends come up with each month. This month's theme is "Inspired By."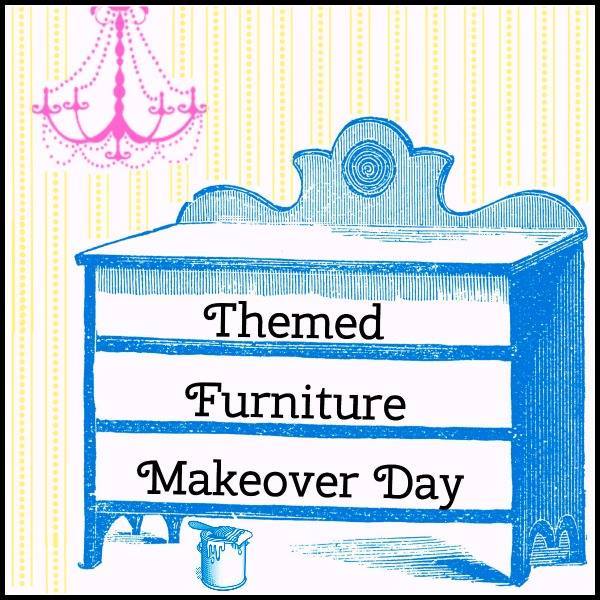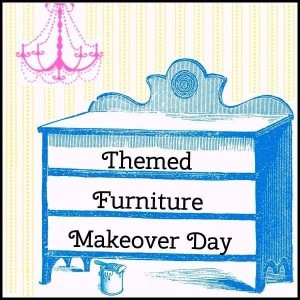 I've been wanting to do a mini-makeover of the console table in the breakfast area of our kitchen. It used to be in a different area of our house. While it looks great in the breakfast room, I felt like it needed a little lightening.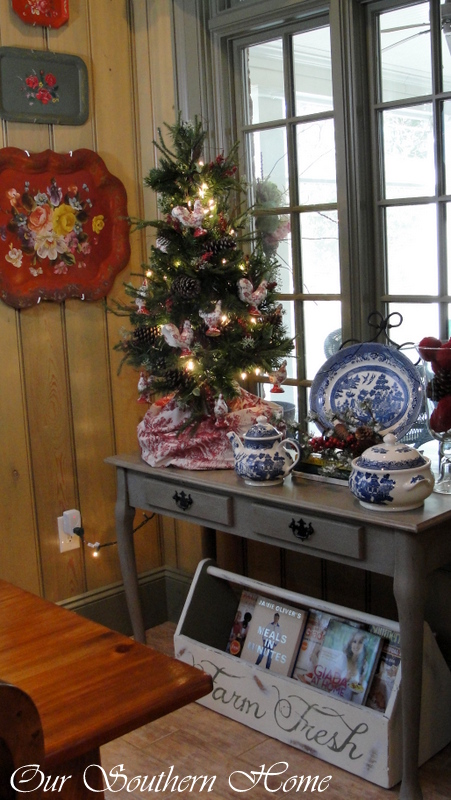 Here it is a couple of Christmases ago. It is painted in French Linen with clear and dark wax. It is one of the first pieces that I painted over 3 years ago with Annie Sloan Chalk Paint before blogging.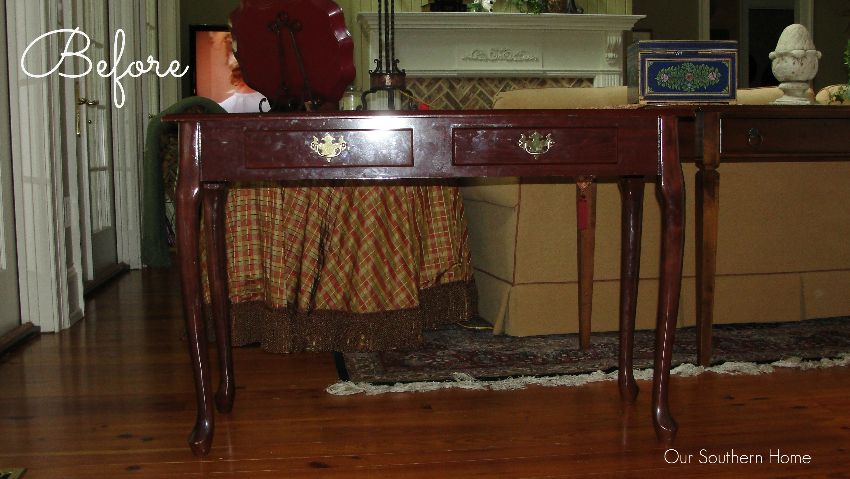 I searched around in my photos and found a before. I believe it was around $20 in a thrift store. Nice and shiny.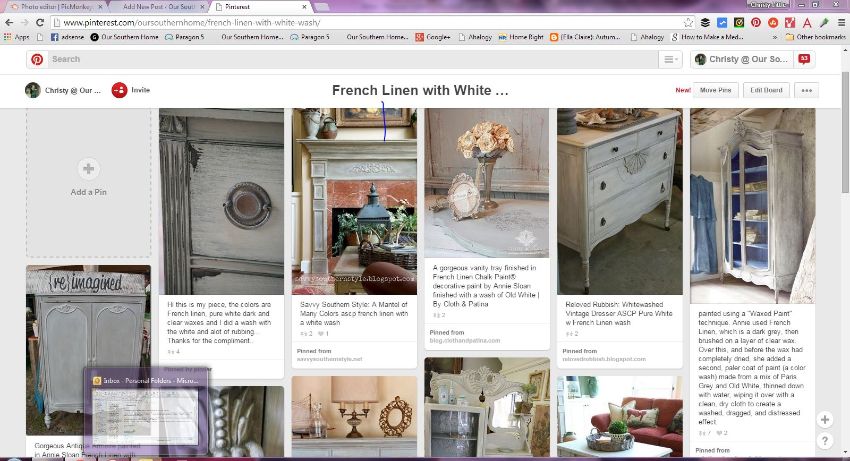 I decided to look around Pinterest for inspiration. I wanted to see if I would like the look of a white wash. I created a pin board and began to pin away.
You can follow me on Pinterest HERE.
I loved the look and decided to give it a go. I've white washed Coco before, but not French Linen. It's only paint…repaint if you don't like. Of course, I didn't really want to go through that!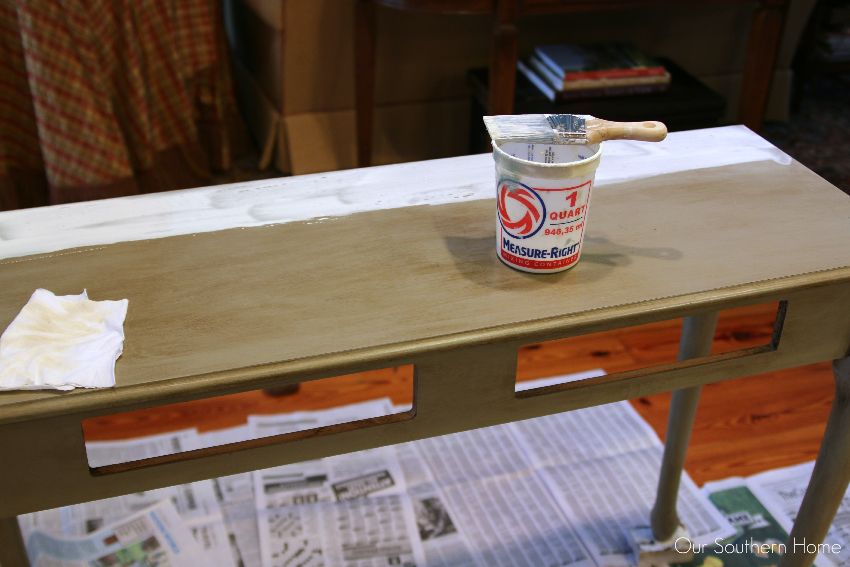 If you've never white washed before it might appear a bit scary. White washing takes very little paint. I mixed 1 cup of water with 2 tablespoons of Old White. It will be liquidy.
Take a regular brush and paint across the top working in sections. Then take a clean rag folded and wipe off the paint with a light hand. Be sure to go over the last wipe in one fluid motion. I ended up doing 2 coats of white wash. It only took about 40 minutes to white wash. It's a fast process. It dries quickly once wiped down so really not much downtime before you are ready to do the next coat.
I let it dry for a few hours and applied one coat of clear wax. I am going to live with it like this for a while. I may go back with a second coat of clear wax and add just a hint of French Linen paint or possibly Coco. It can be fun to play and try new color combinations.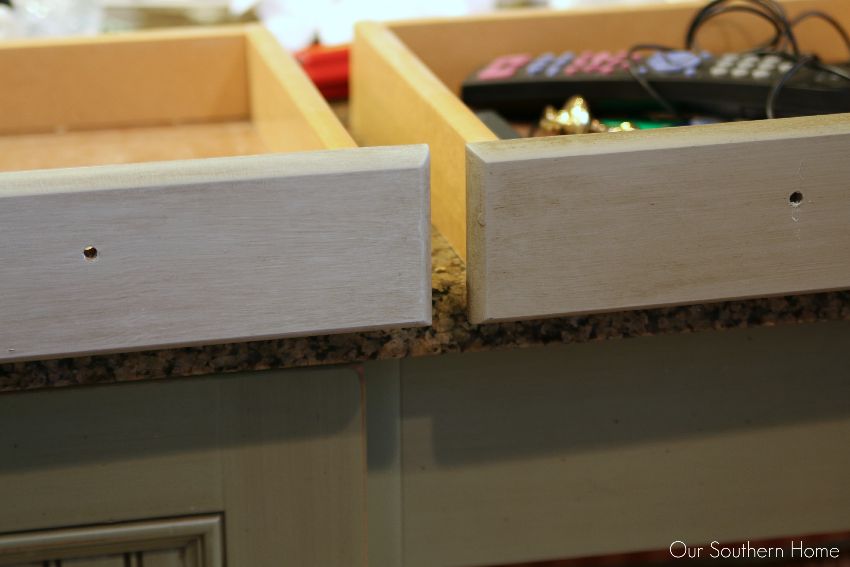 Here are the drawers. The drawer on the right hasn't been white washed. The drawer on the left has 1 coat.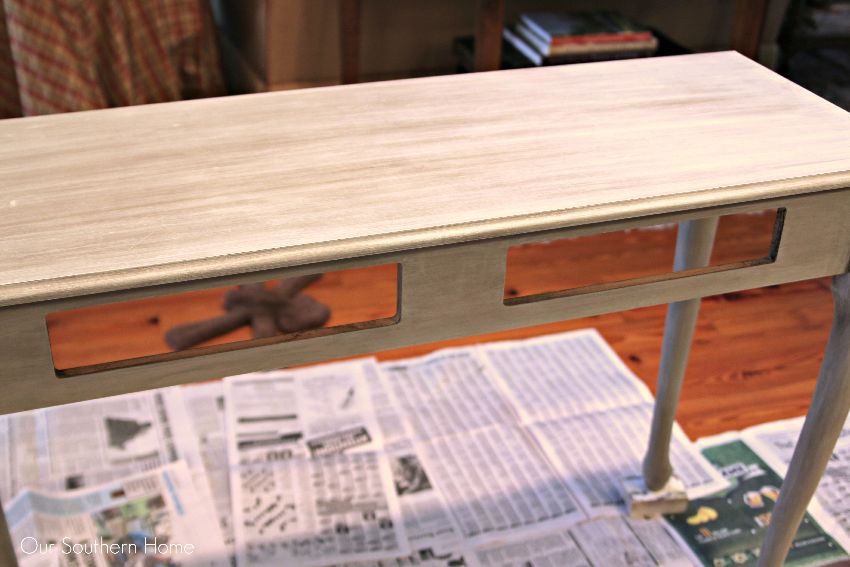 I really like how you can still see brown tones coming through. You can vary the pressure as you wipe the paint off to show more in places.
It just really brightens up the space with the dark green trim.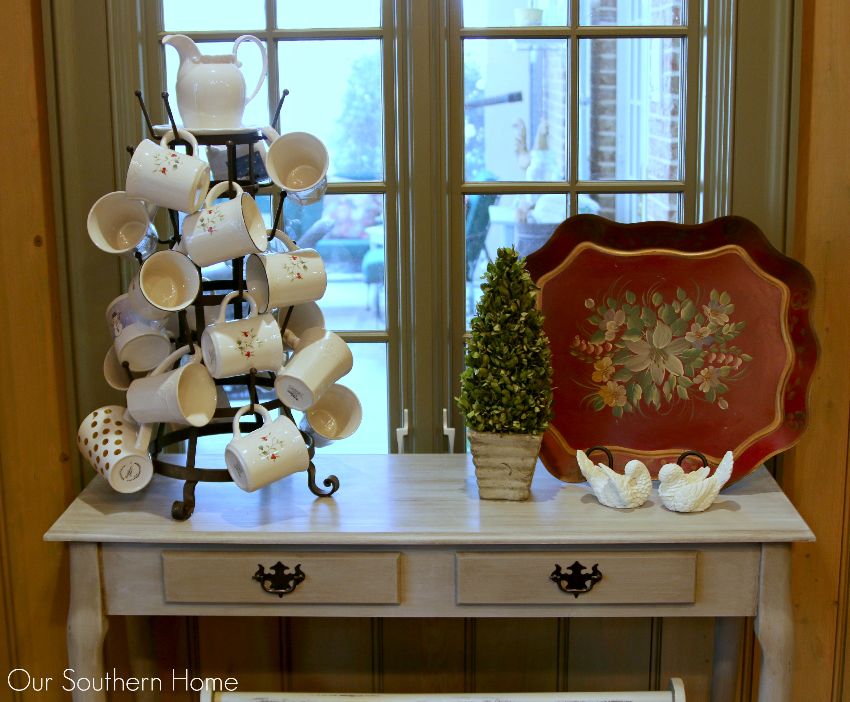 I sprayed the hardware with a rubbed oiled bronze.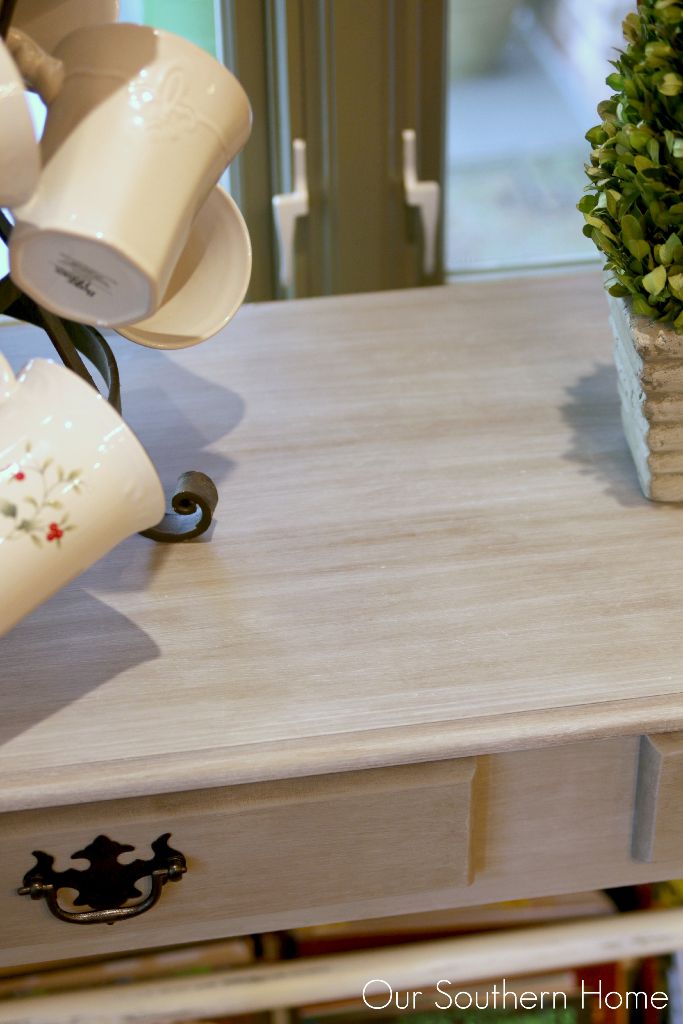 Notice how some brown is still peaking through.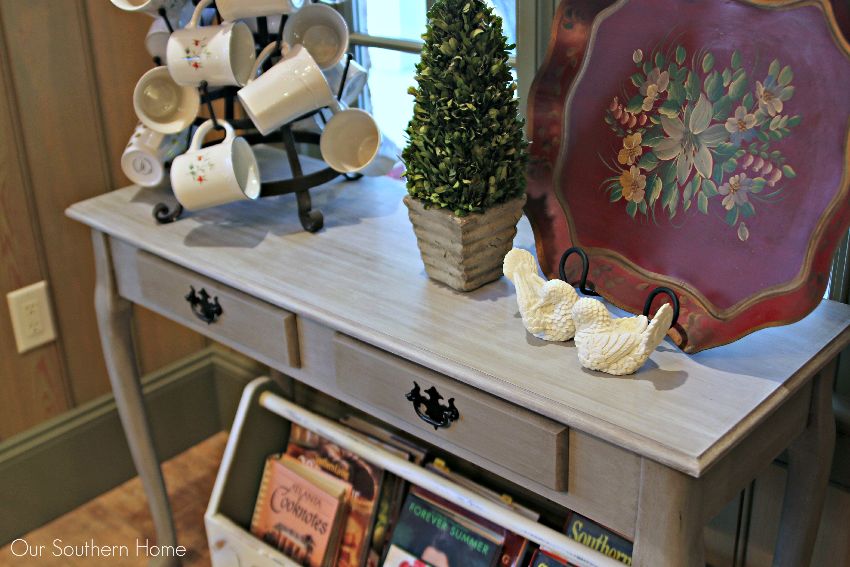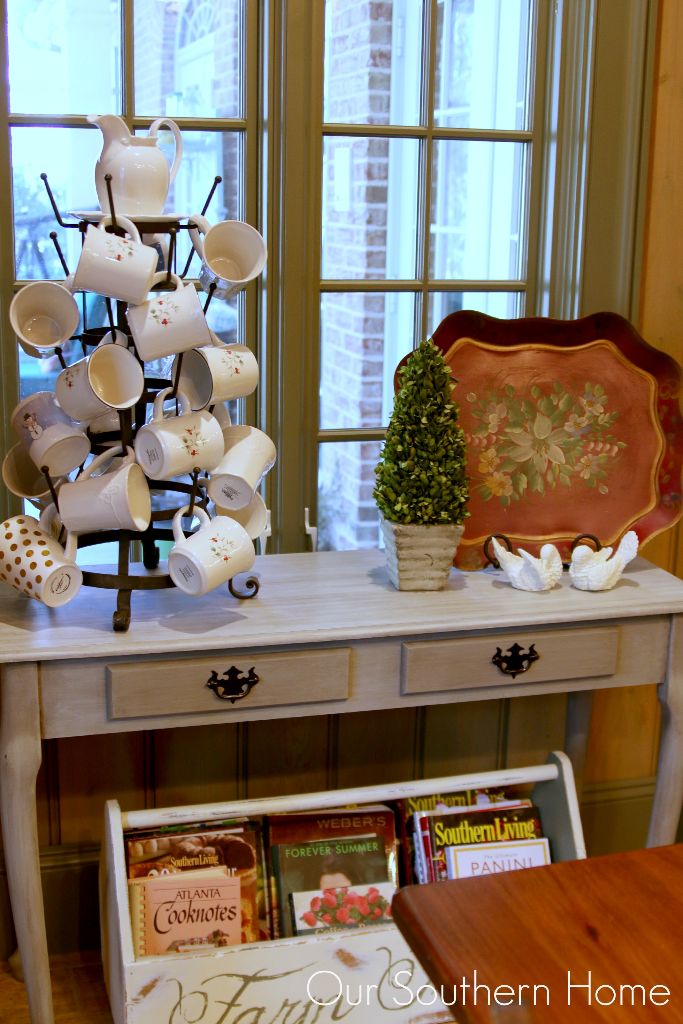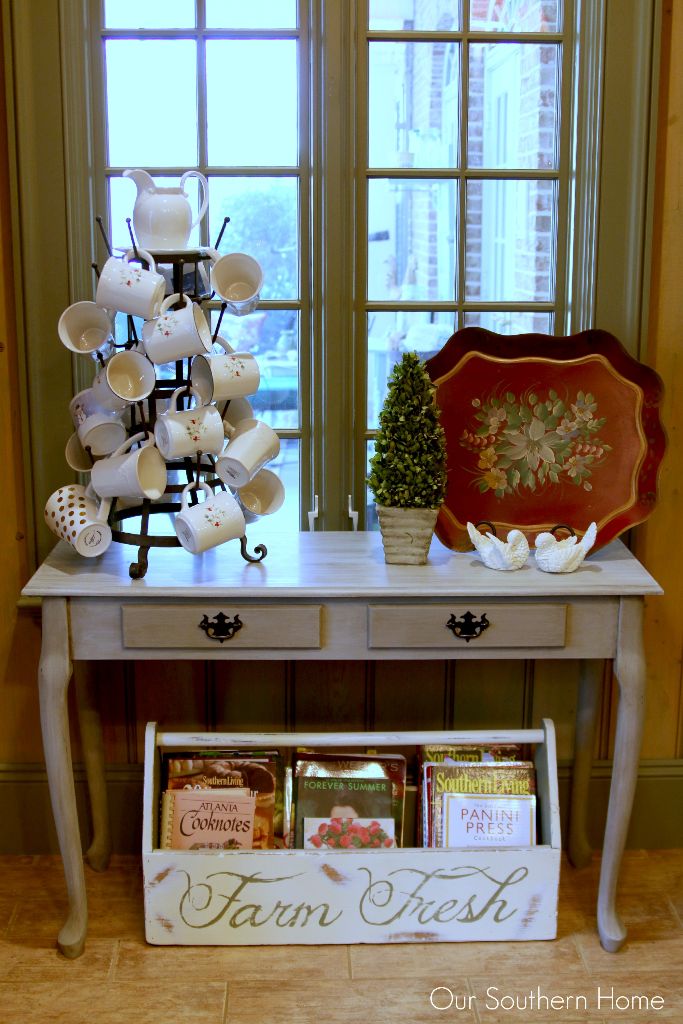 A few recent furniture makeovers you might like to check out!
French Country Side Table Makeover
Farmhouse Chest Makeover – Ikea Hack
French Grain sack Chair Makeover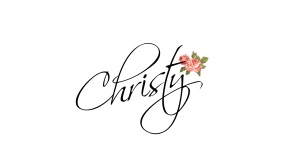 Here are the projects from my friends for our "Inspired By" theme!!
Buffer