After the Labor Day holiday, it feels like the end of summer to me. It sure doesn't feel like fall in the south, but I can certainly make our home feel like fall. I try to change things up a bit each year with my seasonal decor. That usually involves using what I have and adding a few new goodies in the mix.
I am excited to be apart of At Home Stores "Wall to Wall Fall" campaign. I adore decorating for fall. I love everything about the season. To me it feels like such a cozy time. Pumpkin spice is in the air, football has started, and sweater weather is just around the corner. It just feels like a time to be at home and cozy.
Today I am going to share with you Five Fall Decorating Tips to work fall into your decor.
This year I decided to work natural elements into my existing decor. I have lots of faux pumpkins that I've painted through the years. Quite frankly, they needed a little something! I decided that I wanted to add more blue, metals and oranges to the mix.
Preparing to Decorate
Unbox all of your existing decor in a central location
Group like items together
Walk around the rooms you'd like to decorate
Decide on where you want to create vignettes
Shop for a few new items to incorporate into your existing decor
Let's start with our front entry!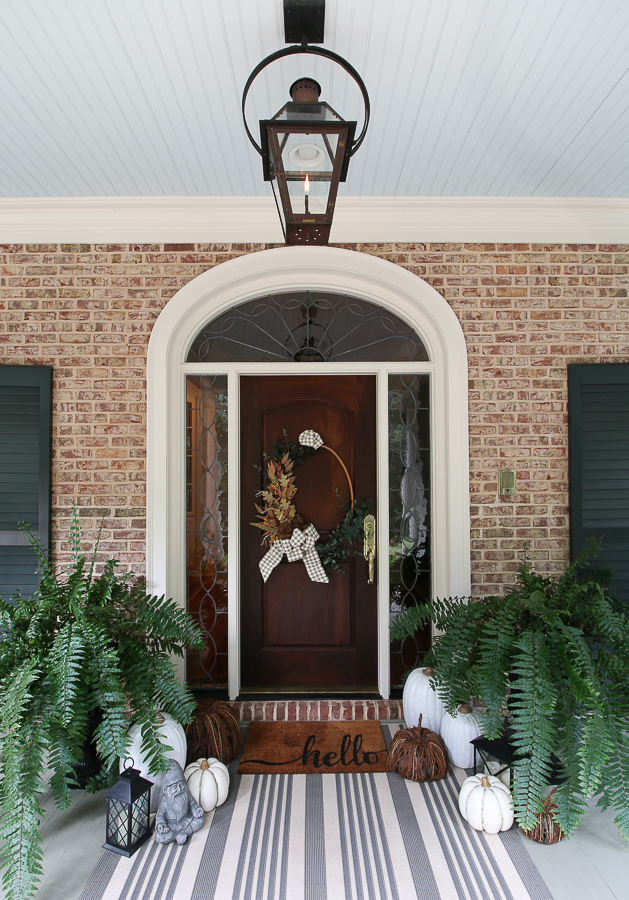 Tip 1: Create a simple wreath with large floral swags.
We have a deep front porch, so I am able to use lots of different elements. I created this new wreath for our front door. It is perhaps the quickest and easiest wreath that I've made to date. You can find the tutorial HERE.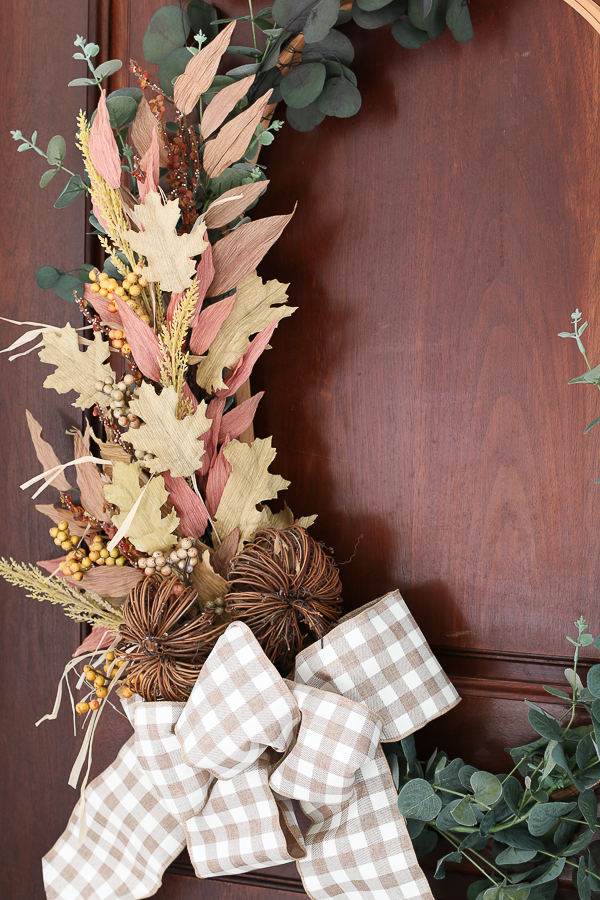 The star of this wreath is this gorgeous leaf swag. It makes this wreath come together quickly with only having one fall element to add! You could remove the leaf swag and replace it with something similar for Christmas and winter! Isn't this brown plaid ribbon gorgeous! I found it in the Christmas section. I had to have it as soon as I saw it! It's thick and wired so you can easily form a bow.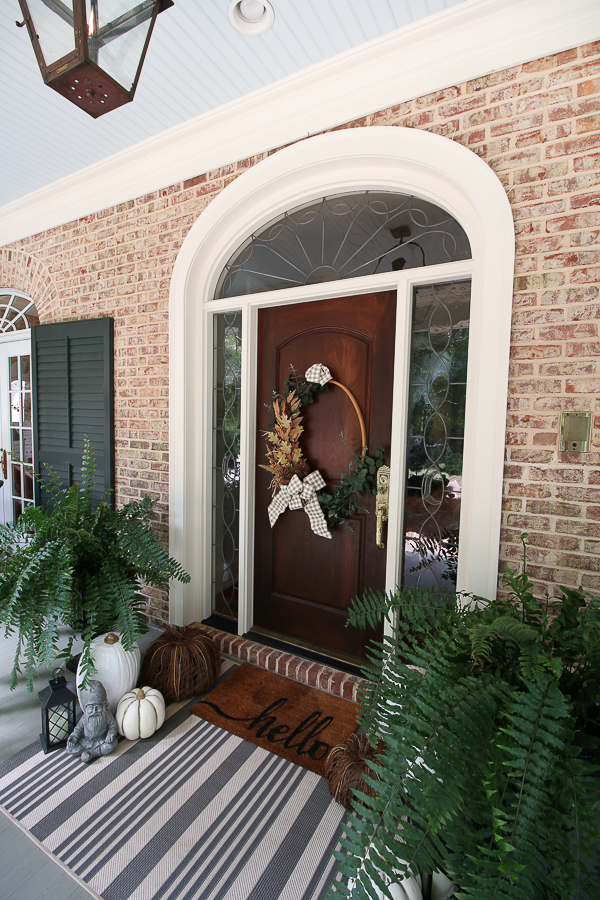 As soon as real orange pumpkins are available in my area, I'll be adding a few around the entrance and some pretty pink and maroon mums! I can't wait to share that with you in early October.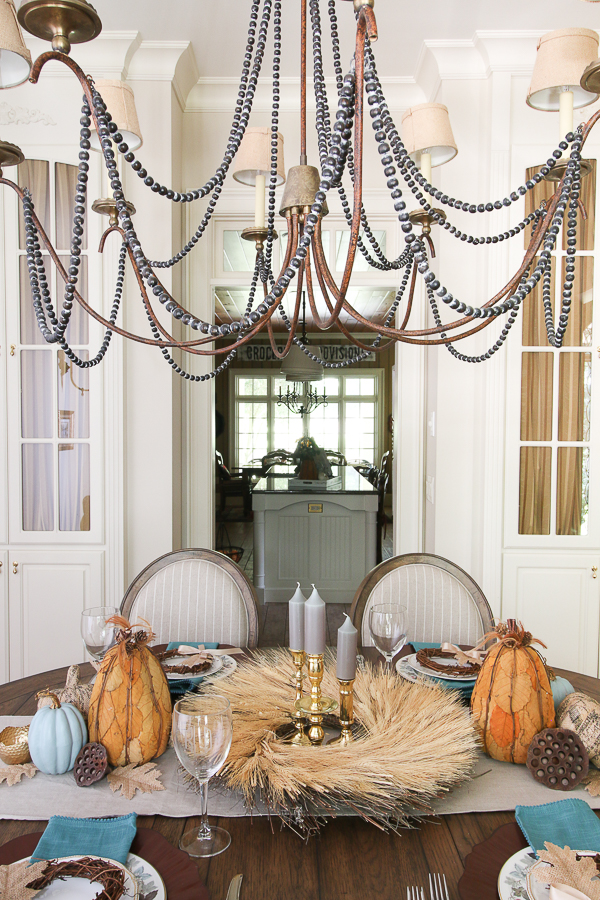 Tip 2: Use a wreath in a different way
A wreath doesn't have to just be restrained to the front door! The wheat wreath is quite the showstopper! It is now the centerpiece of our dining room table. 3 brass candlesticks in the center fill the space.
Wreaths are also perfect layered over artwork and mirrors inside your home.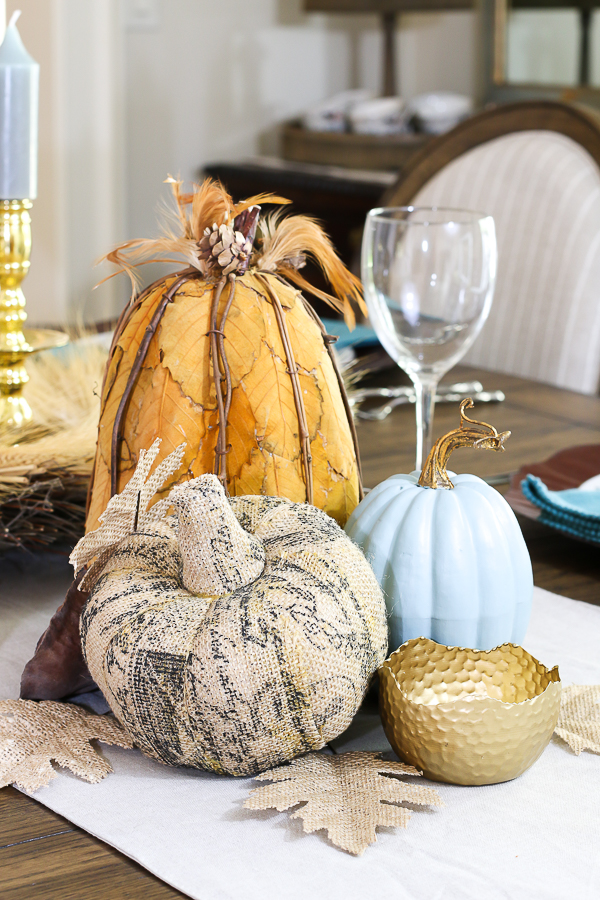 I wanted to go for a look of rustic elegance this season. These unique burnt orange leaf pumpkins are a perfect addition to our fall home this year. Do you notice the feathers on the top! I'm also adding touches of metals in all rooms from brass to copper. I added these matte gold finish votive holders. The shape is unique and the light reflects off the sides. So pretty!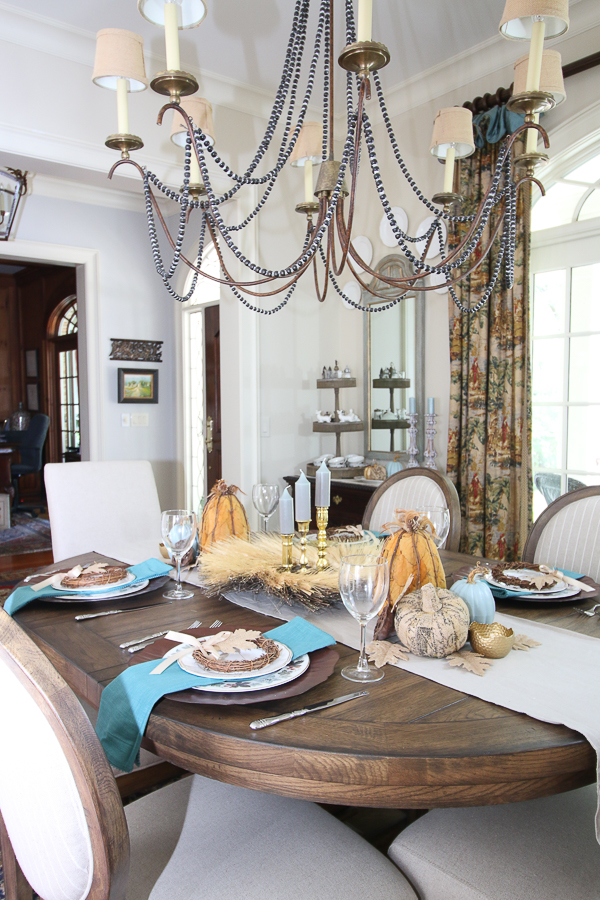 The centerpiece is symmetrical on either side of the wheat wreath.
The teal napkins were also found in the Christmas section. They look fabulous with my china and the colors in the window treatments and rug.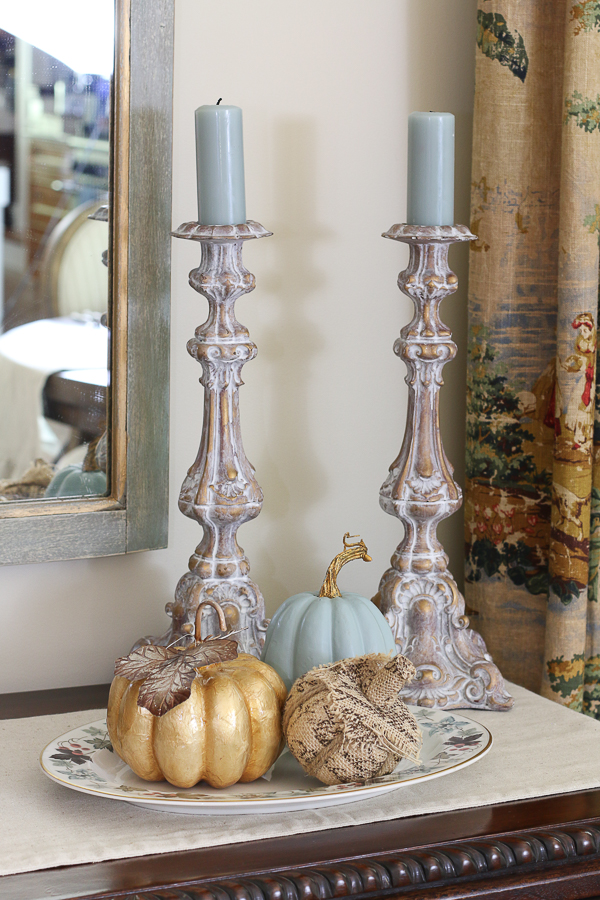 I carried the fall look to the side table with the same colors and this lovely metallic gold pumpkin with metal leaf.

Tip 3: Mix rustic and glam for rustic elegance
I knew as soon as I saw these heavy, food primitive looking wooden pillar holders, I just had to have them. They are a nice addition to our French farmhouse mantel. Topped with these pillar candles from the fall section they really say harvest home.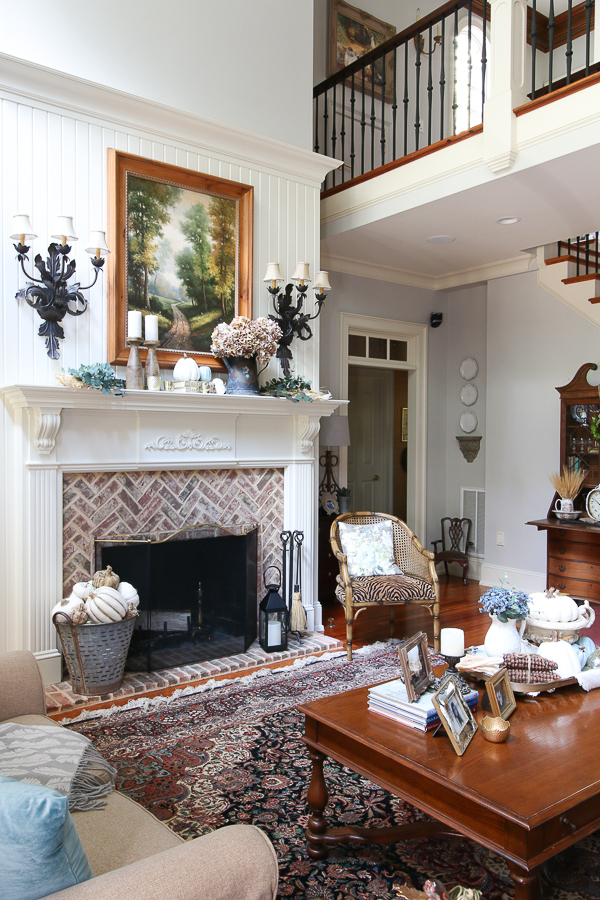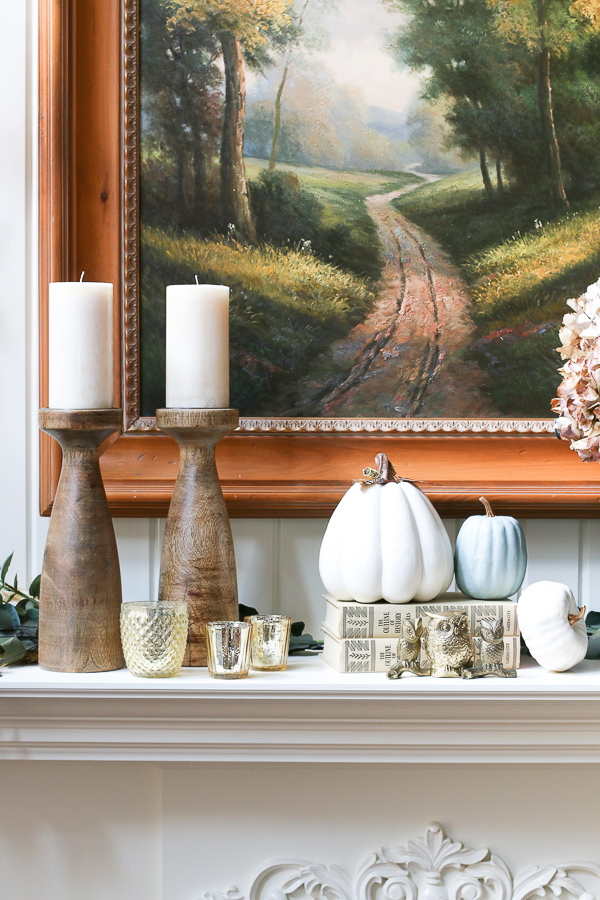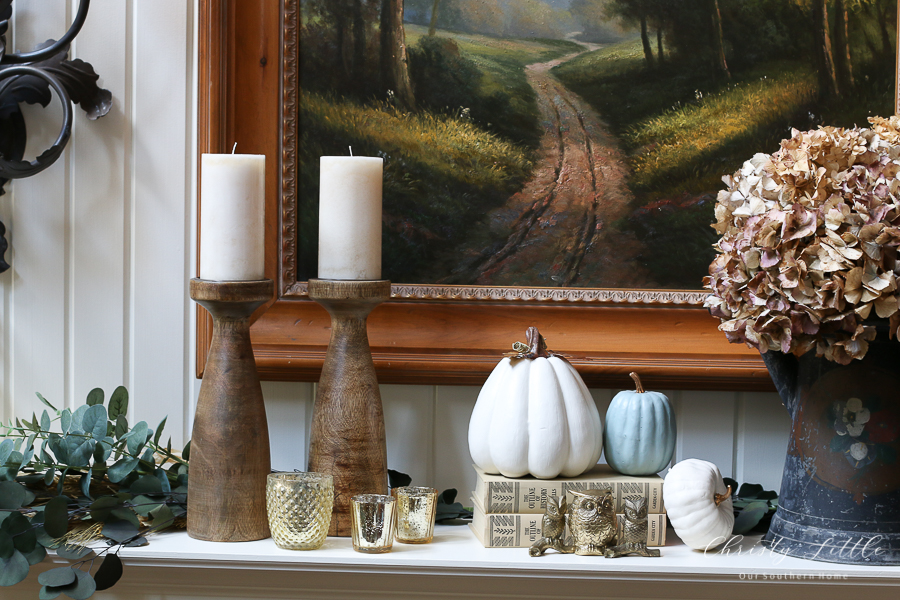 Wheat swags were angled on each side of the mantel topped with eucalyptus. Using faux and dried florals really takes the work out of the season for me. Decorate once and done.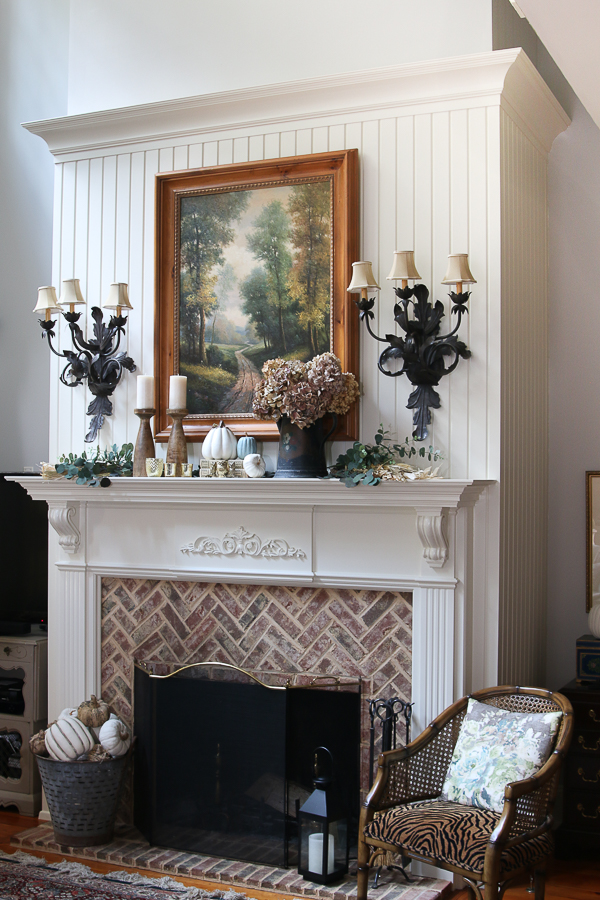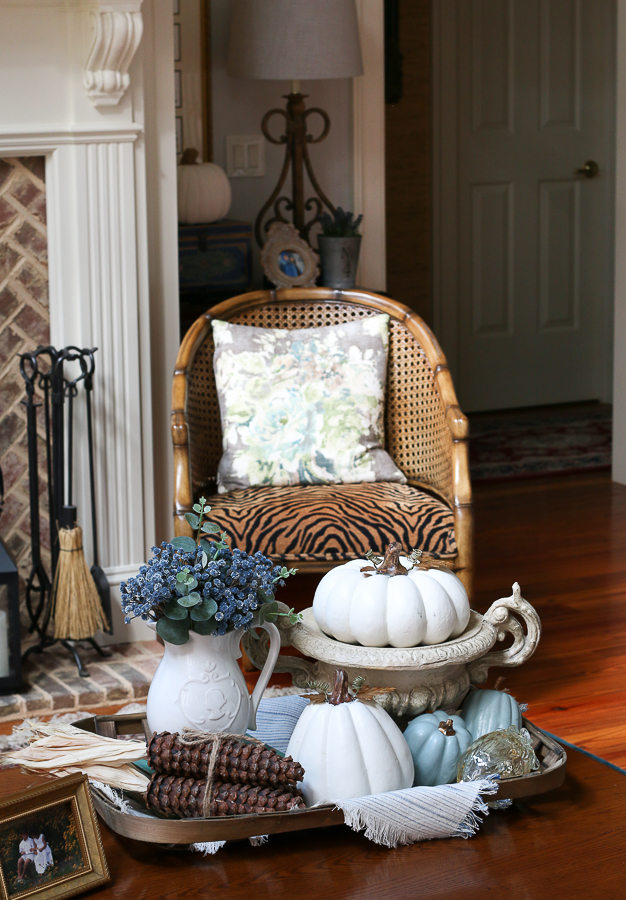 TIP 4: Create areas of highs and lows for interest
Create interest with your vignettes!
Elevate your pumpkins:
place them on books
place them on pedestals
place them in urns or bowls
Creating highs and lows in a vignette fills a space and is a great option when displaying smaller items grouped together. Incorporating other textures with the pumpkins like faux florals and the fabric in the basket, brings the look together.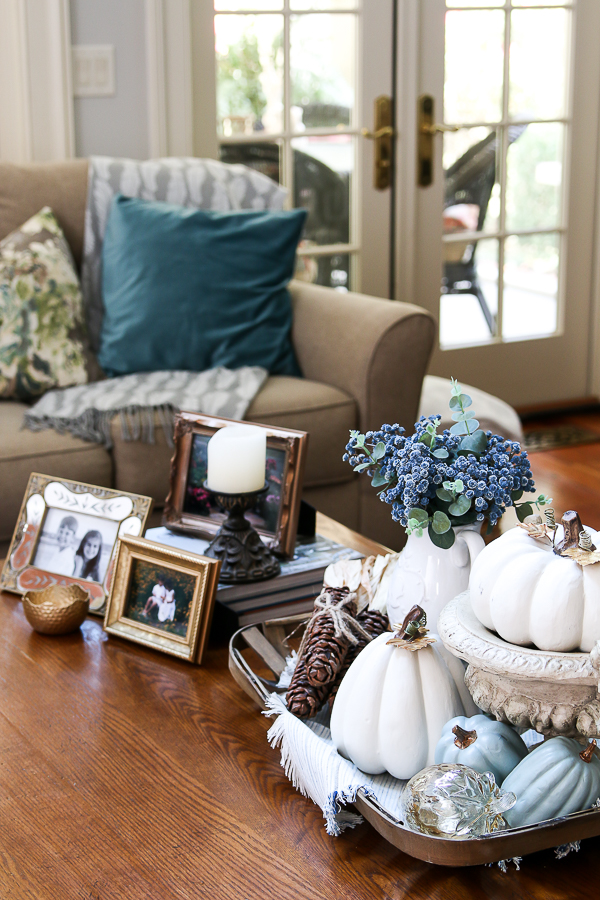 I continued my rustic elegance look with the addition of the matte gold votive holder, the thrift store candlestick, the pinecone corn and that precious glass acorn!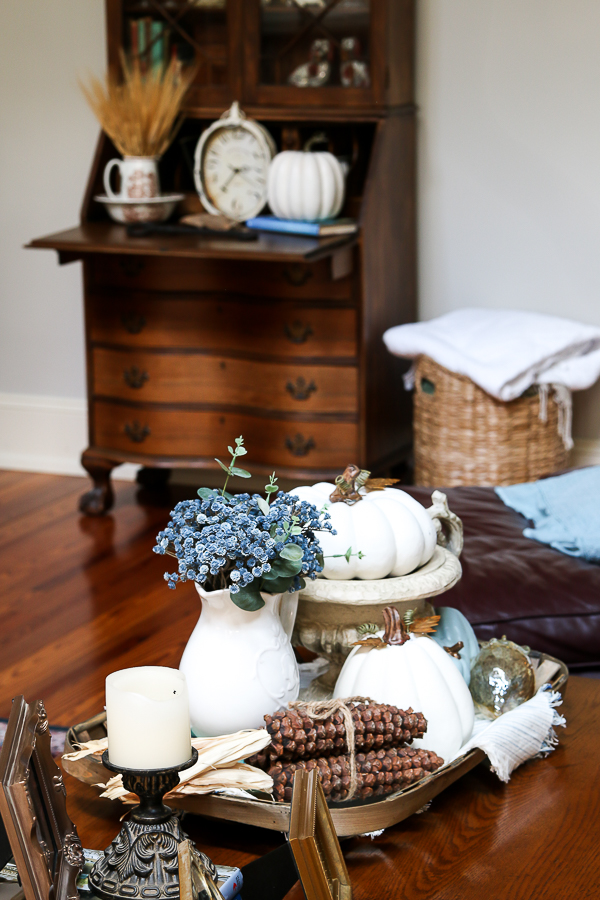 Check out that pinecone corn bundle!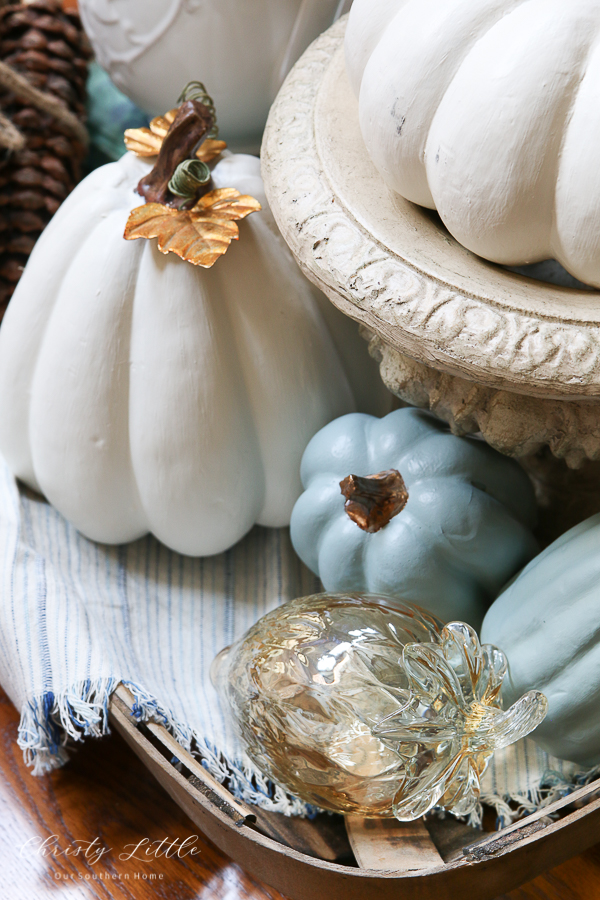 That glass acorn is my favorite!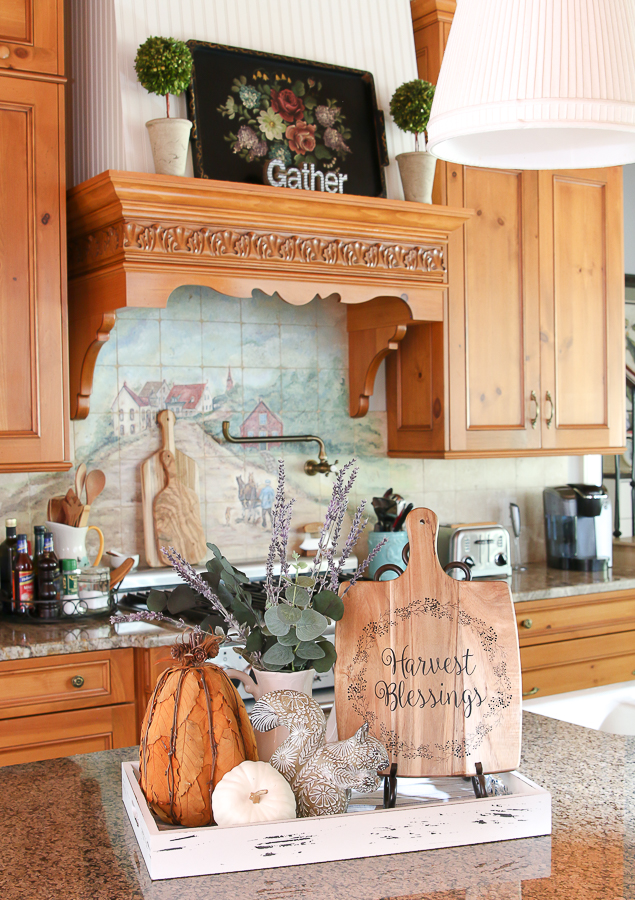 Tip 5: Use trays to contain vignettes for easy removal in the kitchen and on tables
Trays are perfect to use on kitchen counters and tables where you may need to slide it out-of-the-way or completely remove temporarily. This allows your to move it without taking your precious vignette apart. I always use some sort of tray on this area of the kitchen counter. Using a tray allows you to create a somewhat tight look. Utilize Tip 4 as well……using highs and lows. This area is a the perfect spot to use something with text to welcome those who enter. This Harvest Blessings cutting board is the perfect welcome and adds a high area to the vignette. The vintage coffee pot of faux lavender and greens adds a bit of softness with the napkin layering the bottom. My fall vignettes would not be complete without a pumpkin or two. I've carried the orange from the dining room into the kitchen with another of the orange leaf pumpkins.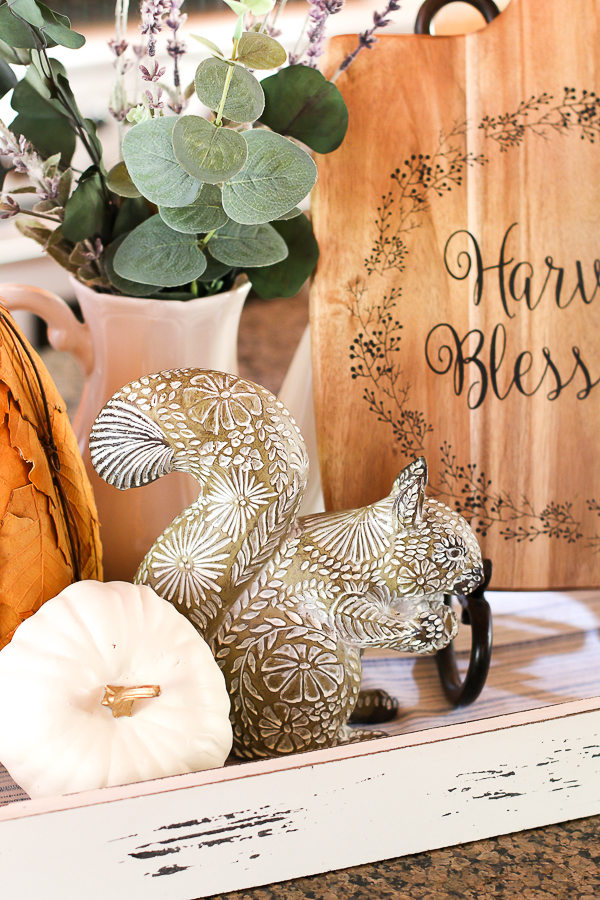 Perhaps the star of this vignette is this carved squirrel. I knew that as soon as I saw it, he had to come home with me. It is just so unique and is perfect with the huge squirrel population around us.
Perfect for Fall Vignettes
add textures with florals and fabrics
metals such as brass and copper add warmth to your home
add touches of whimsy with out of the box elements such as carved items and decor with words
don't be afraid to use non-traditional fall colors to go with your decor
use trays to unify a vignette
mixing old, vintage and a touch of new creates interest


By just adding a few new touches in these rooms from At Home Stores, I was able to create interest and a new look. This store is truly a one-stop for your home decor!
*This post was sponsored by At Home Stores. I only partner with companies that I truly believe in. All opinions are that of Our Southern Home.*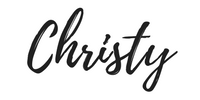 Buffer