Curry Beef & Garden Skillet
Curry Beef & Garden Skillet is the perfect budget-friendly dinner for a busy night! Got to love a one skillet meal!
Ashlyn and I love to cook together. She has had a love of cooking since she was single digits. Fast forward…..She turns 22 on January 30th!
She's a senior at Clemson University and will graduate next December. COVID has been challenging and heartbreaking in so many ways. Ashlyn and Woods share an apartment together in Clemson with 2 other roommates.
Well, Ashlyn hasn't lived in it since March of 2020. All of her classes went online at that time. Even now, she only has one class in person that is 1 day per week. She's decided to just stay home. Woods has most of his classes in person so he is still in Clemson. Ashlyn drives the 18-minute drive to campus each week for that 1 class.
We love having her home. I am sad that she is missing out on her college experience. They will both be living at home for their final semester next fall and commuting since apartment leases run a full year.
What am I getting at? Ashlyn is an amazing cook and developed this recipe playing around one night for dinner. We were blown away and now have it weekly!
This recipe comes to you completely from Ashlyn! Honestly, I told her that in order to share on the blog, she'd have to write out the ingredients as she cooked for a real recipe.
The way we cook most nights is what we call free-style. We don't follow a recipe. We are throwing it together as we go.
So……we are coming together and starting to share these with you on the blog.
Bonus!!! We are also going to start shooting videos for these recipes. Be sure to follow on FACEBOOK, INSTAGRAM, AND YOUTUBE where they will be featured.
Tomorrow, she is going to work on her GOURMET GRILLED CHEESES! Y'all …they are so good! I can't wait to share those with you! I may get spoiled with her helping out on the blog like this. It's a good little part-time job for her.
I like to give a huge shoutout to my dear blogging friend, Marty, from A Stroll Thru Life for organizing this new hop for us!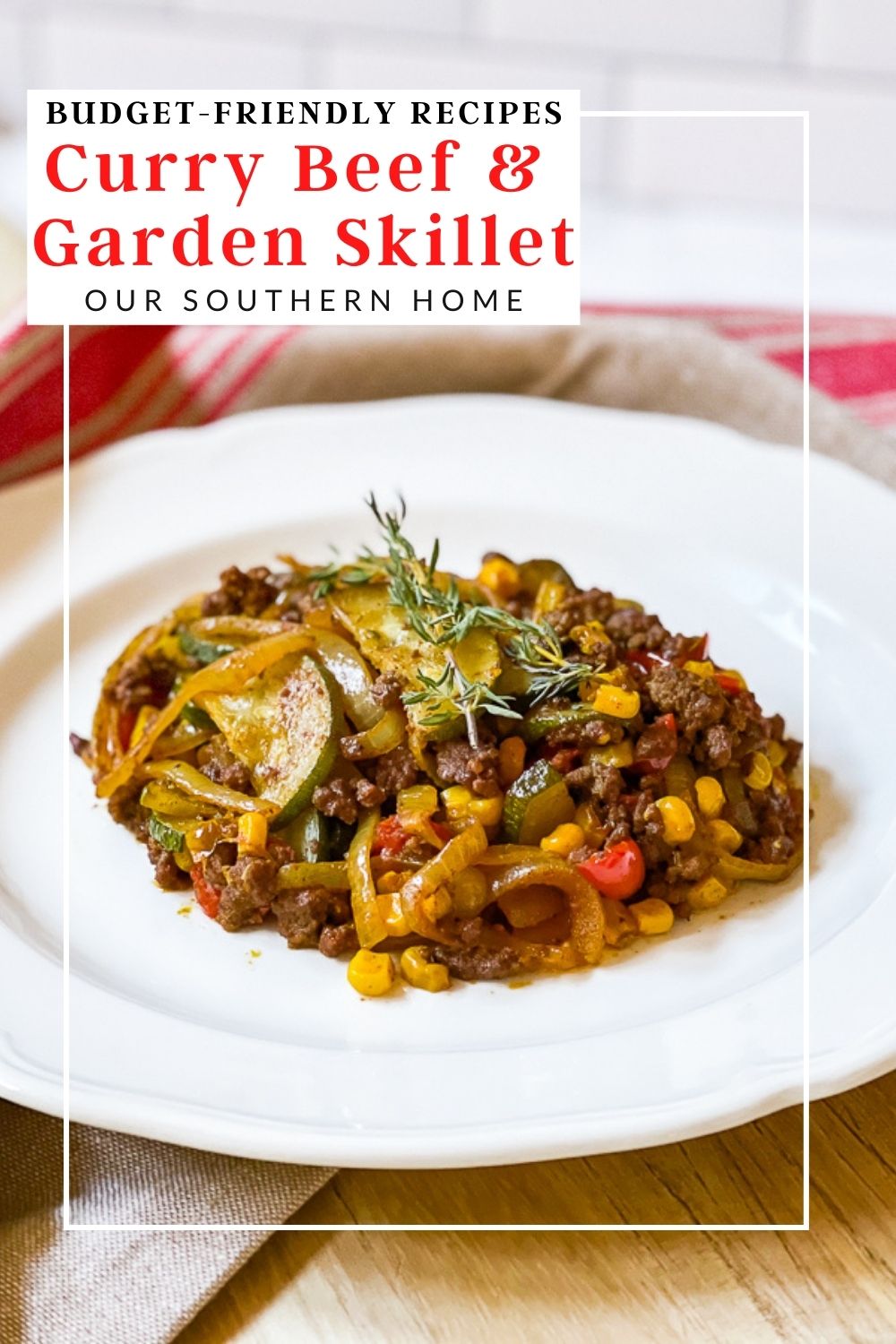 Curry Beef & Garden Skillet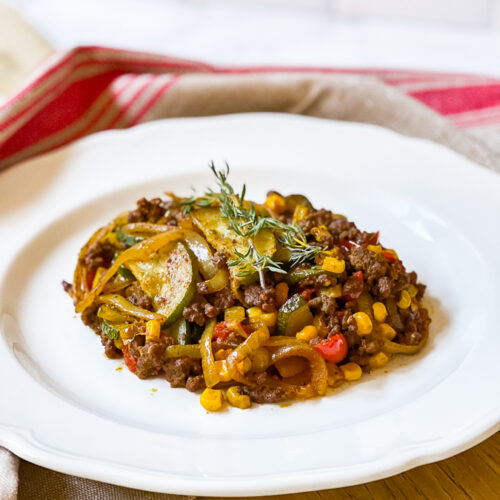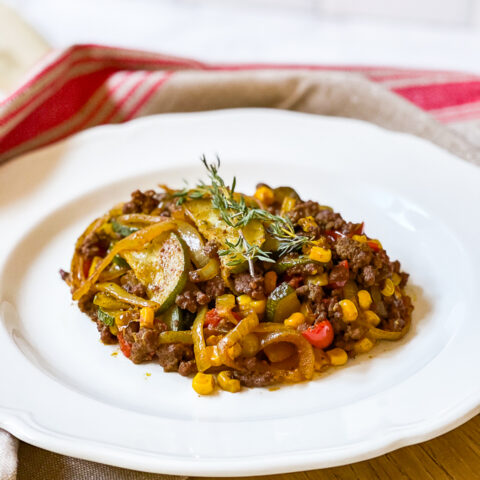 Curry Beef & Garden Skillet
Ingredients
1 pound of ground beef
1 zucchini, halved and sliced
1 can of corn or 2 ears of fresh corn
1 onion, sliced
3 cloves of minced garlic
1 cup of cherry tomatoes, halved
1/2 TBS Worcestershire sauce
salt and pepper to taste
1-1/2 TBS curry powder
2 tsp of chili powder
Rice if desired
Instructions
Brown beef with half the garlic
Salt and pepper to taste
Drain excess grease from the pan
Add onion and remaining garlic
Salt and Pepper to taste
Cook stirring occasionally for 3-4 minutes
Add 1/2 TBS of curry and 1/2 tsp chili powder
Add zucchini and corn. Stir until desired tenderness.
Salt and pepper to taste
Add sliced tomatoes
Add Worcestershire sauce
Add remaining curry and chili powder
Salt and pepper to taste
Sautee stirring occasionally 3-4 minutes until desired tenderness of veggies
Cover on low heat for 3-5 minutes
Serve over rice if desired!
Notes
I eat without rice due to watching carbs, but the rest of my family adds the rice.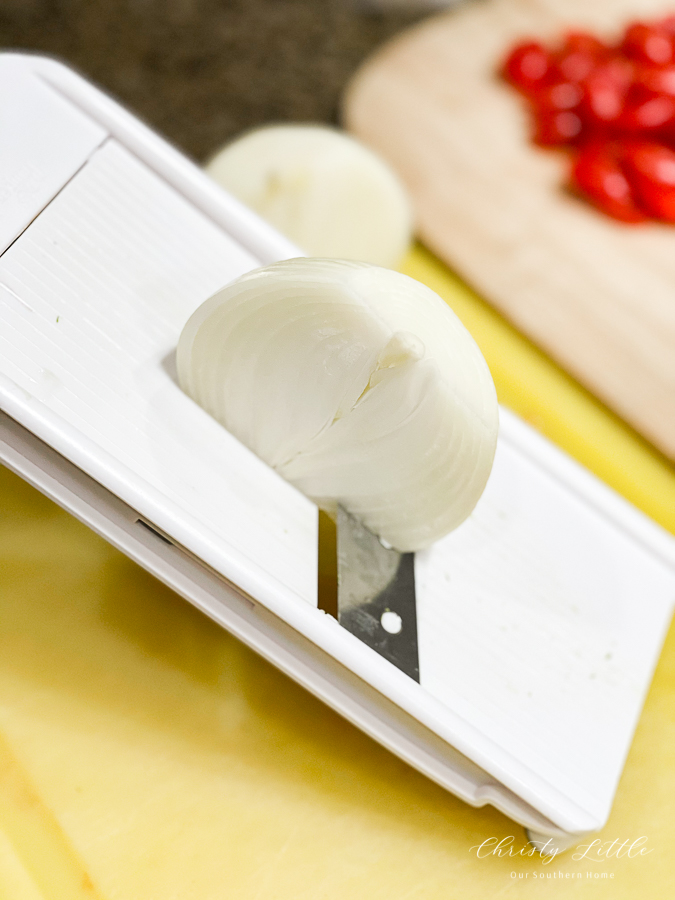 Slicing your onion with a mandolin makes the chore so much easier and quicker.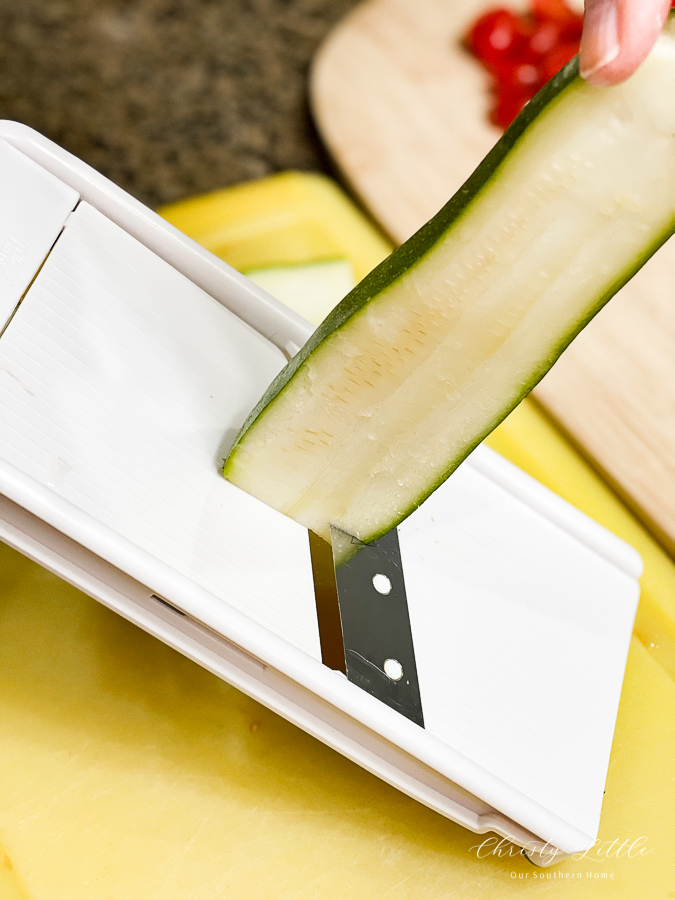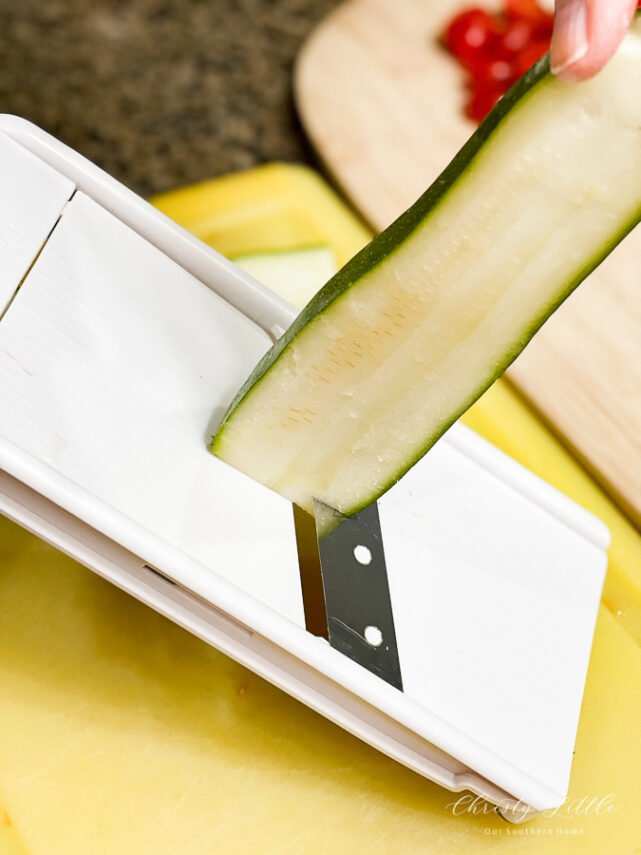 We also use the mandolin to slice the zucchini in perfectly even slices. We cut it in half first for bite-sized pieces.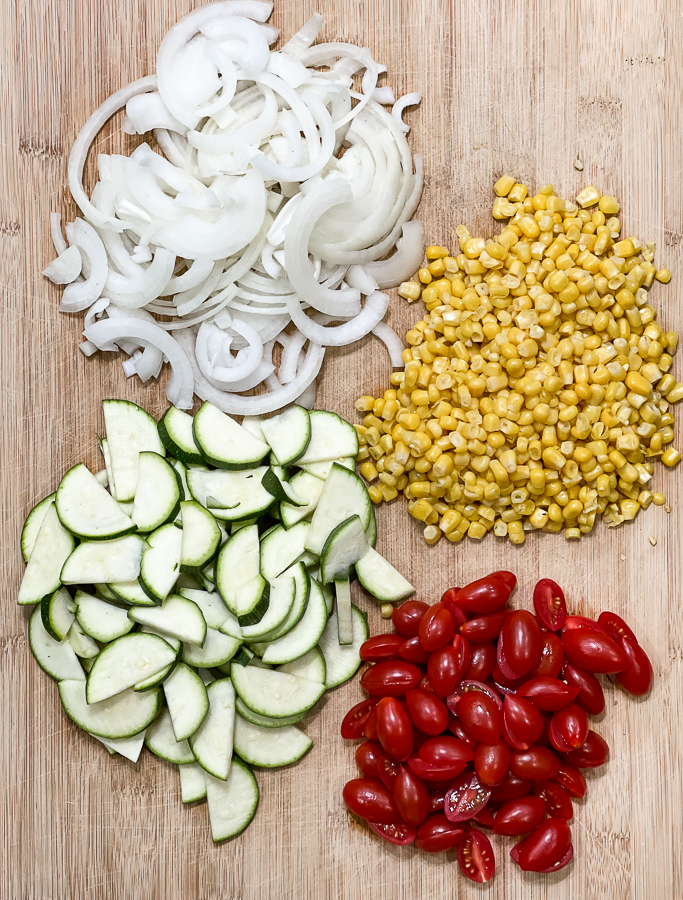 I prefer to use fresh ears of corn and remove the kernels. If they aren't available in the winter, canned corn works in a pinch.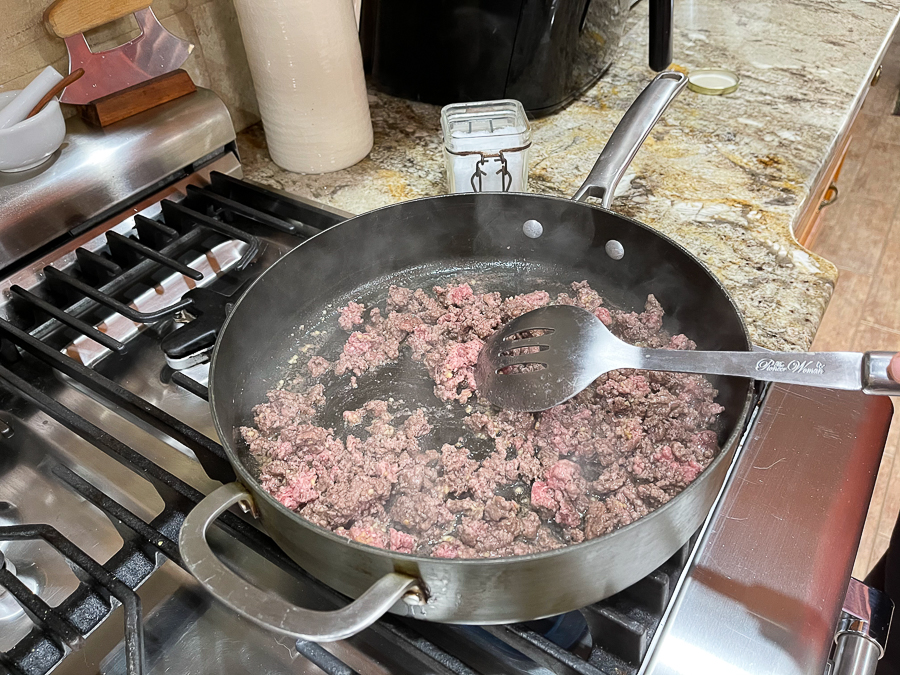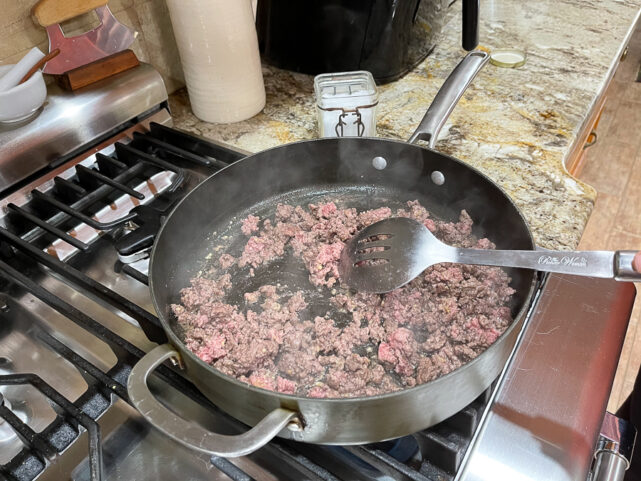 Brown you ground beef and garlic. Salt and pepper to taste.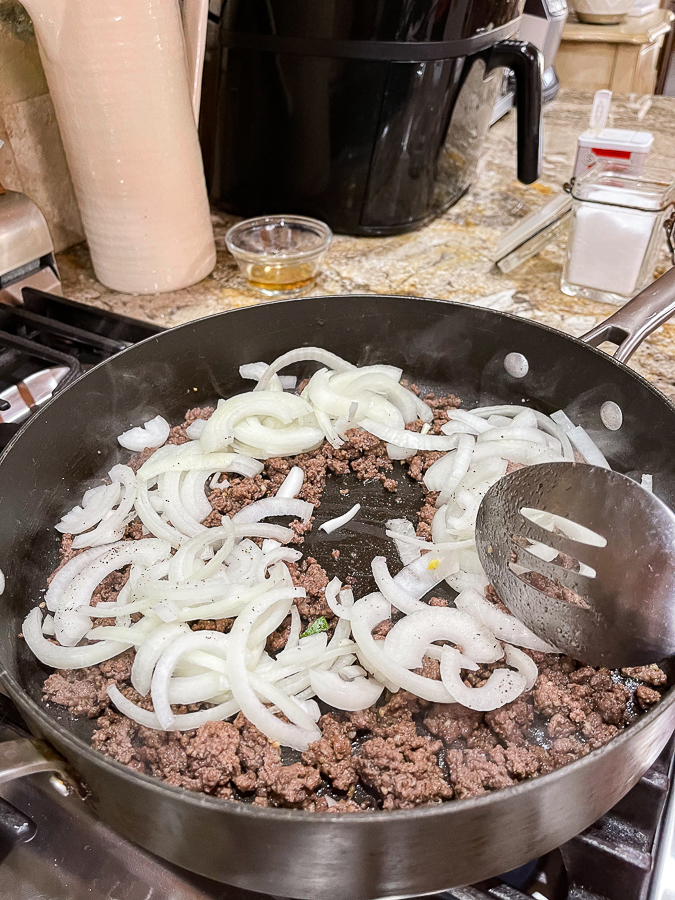 Drain any excess grease from the pan and add the onion and remaining garlic. Salt and pepper to taste.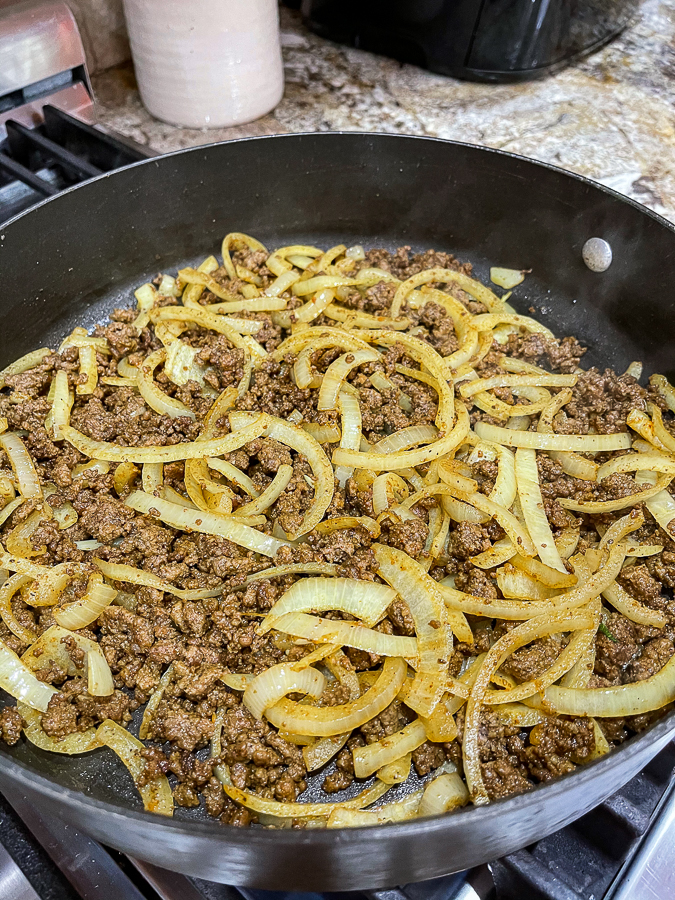 Continue to cook and stir while adding curry and chili pepper.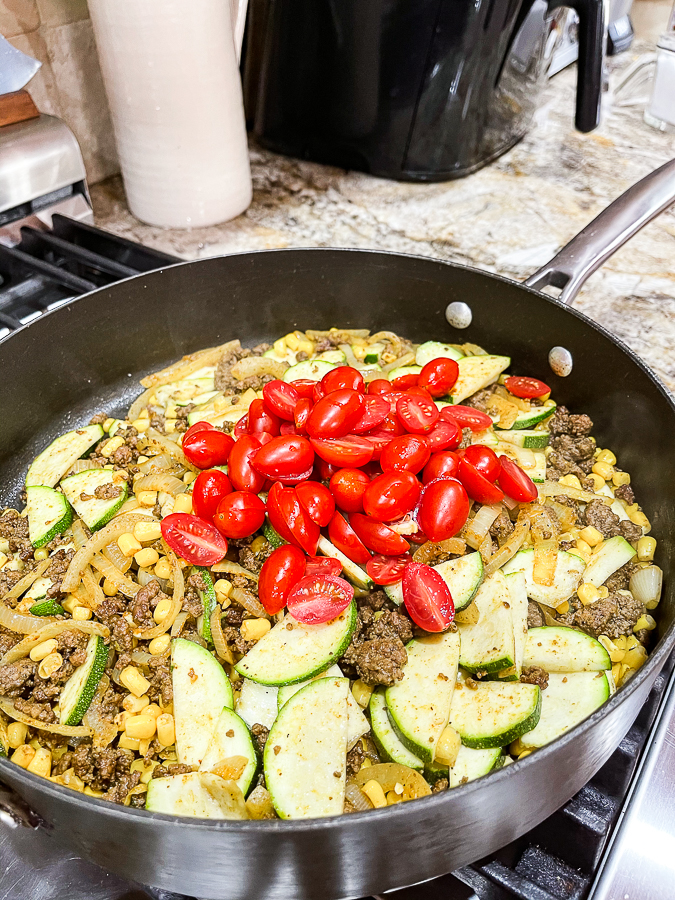 Add corn, zucchini and tomatoes.
If fresh corn is available, I remove the kernels from 2-3 ears.
Add remaining ingredients except the rice and cook until veggies are desired doneness.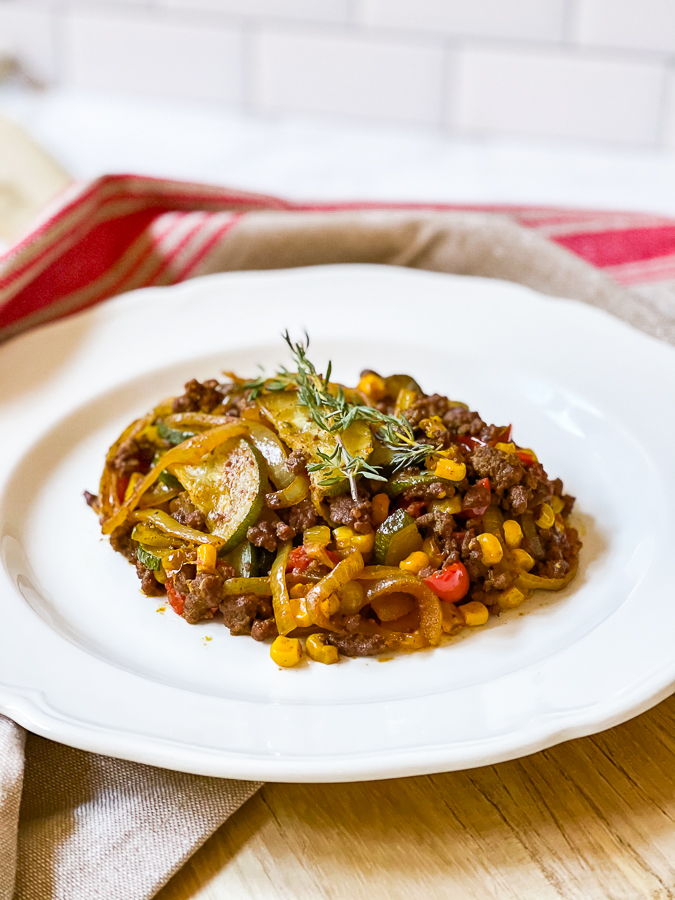 This serves 4 and easily doubles to serve more. I've been eating less carbs for a while so my plate has no rice. We do make a pot of rice with my rice cooker. Serve this on top of the rice.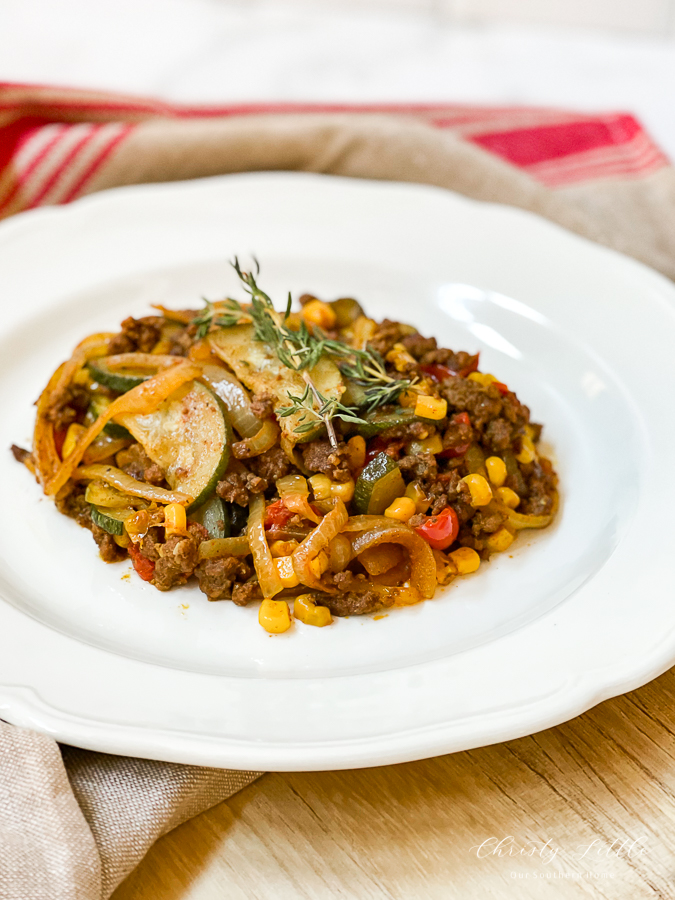 Instead of rice, you can also saute some diced red potatoes.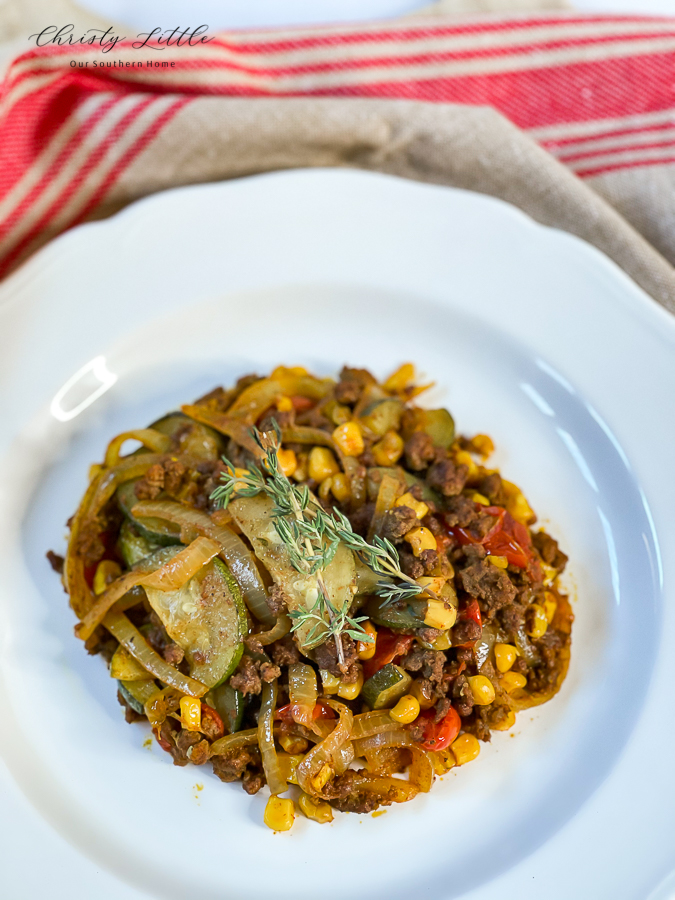 It really is a yummy and affordable dinner for a busy night!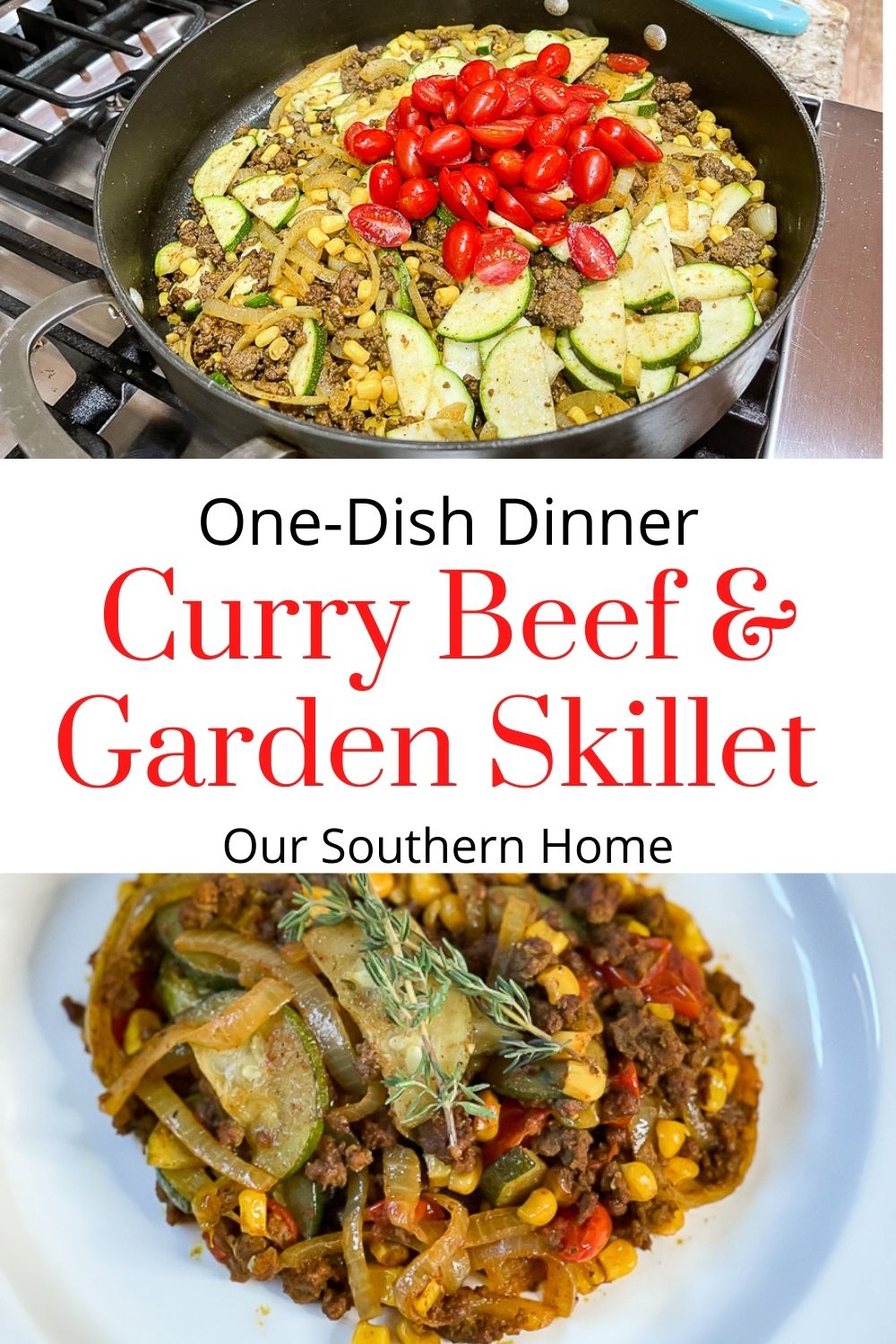 Check out the other recipes!
Get the Recipe!!!! Noting Grace || Stone Gable
Get the Recipe!!! Decor to Adore || Pink Peppermint Design
Get the Recipe!!! Worthing Court || Grace in My Space
Get the Recipe!!! Our Southern Home || A Stroll Thru Life
Latest from OSH
The Container Store Projects
Buffer