Christmas Decor Storage Ideas
Christmas Decor Storage Ideas to protect your investment for years to come. It also allows you to streamline your storage footprint!
This post is sponsored by The Container Store as I am a brand ambassador. All opinions are that of Our Southern Home.
Christmas Decor Storage Ideas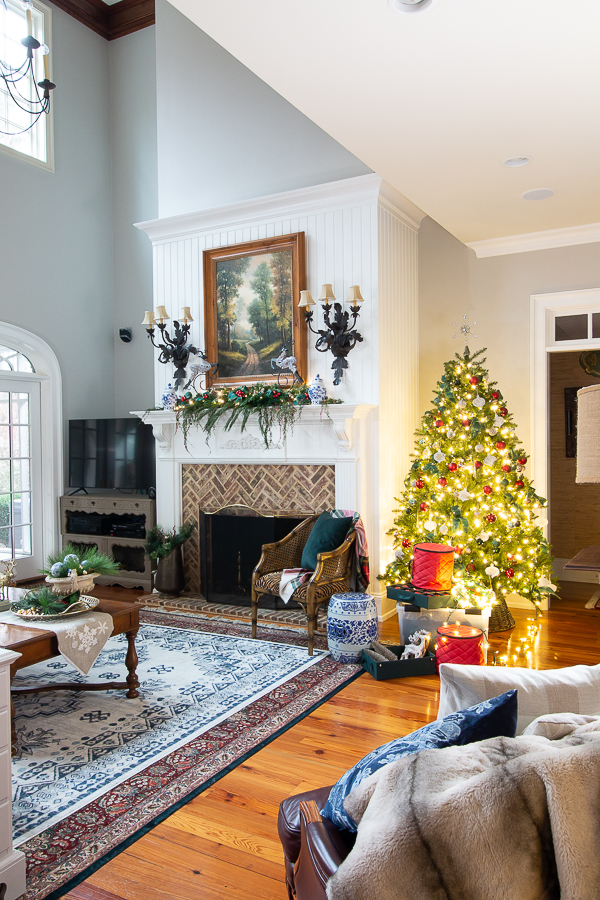 One thing to do right now to get your Christmas decor in order to make things easier for next year is to take inventory of what you have.
I've been on a mission now for several months to get our home organized and less cluttered. This also includes our attic spaces.
Christmas decorations are typically an investment that you want to last for years to come.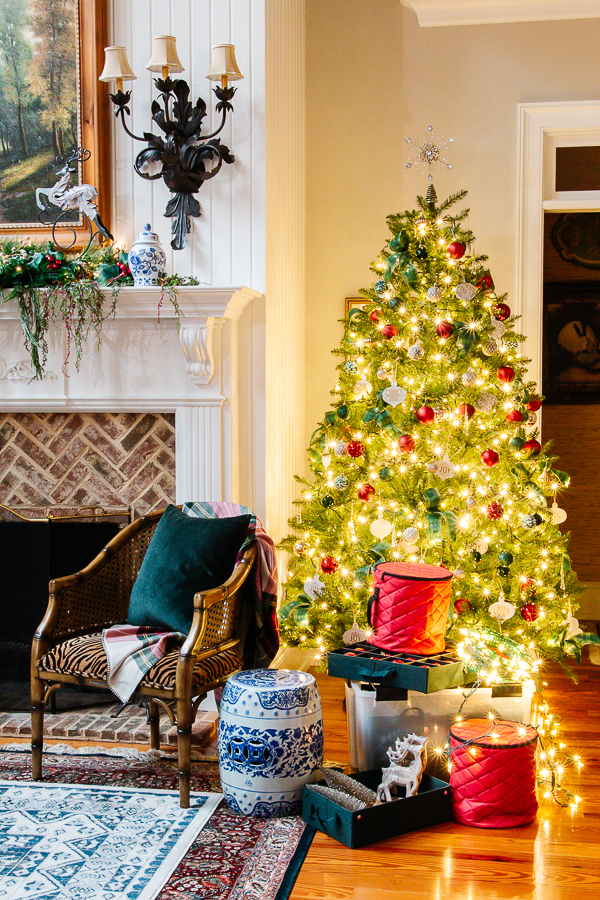 We should take care of how those are stored. Not only will this protect them for future use, but it will make the process of decorating the next season so much easier.
Proper Christmas decor storage will ensure many years of use and enjoyment.
The Container Store has many holiday storage options not shown in this post. You can see them HERE.
Christmas Ornaments & Decor
I think my favorite item from this month's post is this 74-quart Weathertight Clear Tote. They lock on all 4 sides and have a seal on the lid that protects them.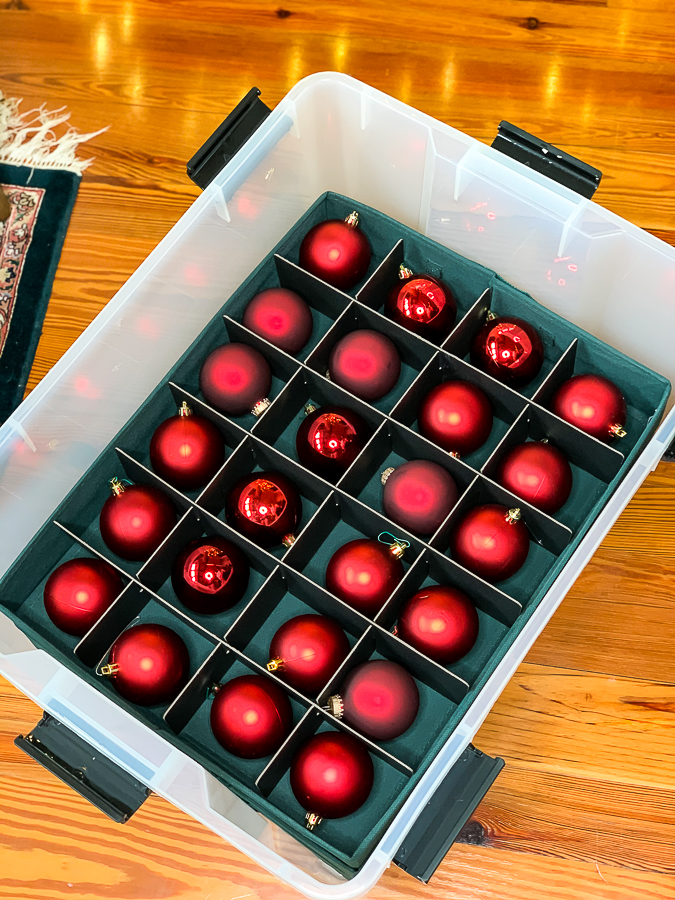 They are perhaps the best storage totes that I have ever used.
They also come in varying sizes.
The 74-quart sizes fit the Drop-In bins perfectly!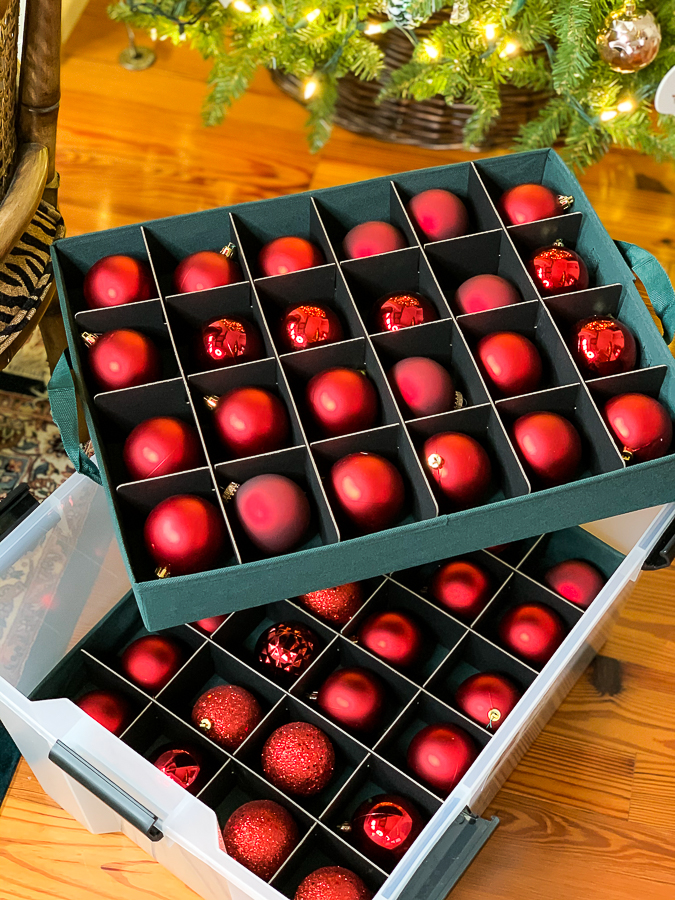 These ornament drop-in storage bins are so sturdy and come with handles for carrying the ornaments to the tree. 
If you have larger ornaments, you can remove a divider to accommodate.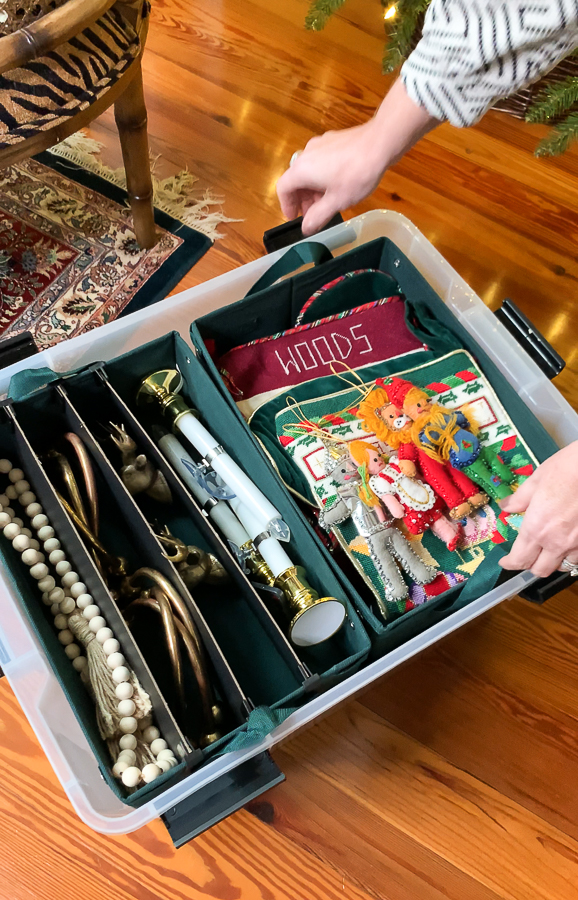 There are also bins to accommodate tall collectibles and keepsakes. Each bin has convenient handles for carrying. 
I can't begin to tell you how much space you save with these bins.
In the past, I wasted so much valuable storage space by wrapping ornaments in tissue and stacking them in open boxes.
I have really been cleaning out our Christmas decorations. I know that this year when we pack things up, I'll be cutting down on the number of boxes since I'll be utilizing my space in a better way.
Configuring the Bins
In one bin, I have 3 ornament trays and 1 keepsake bin + 1 tall collectibles bin in the top. I have done this in the 2 bins that I have. I love the convenience of the removable trays to carry with you.
Are you tight on space and looking for some under-bed storage for ornaments. Look at these!
Don't Forget the Christmas Lights!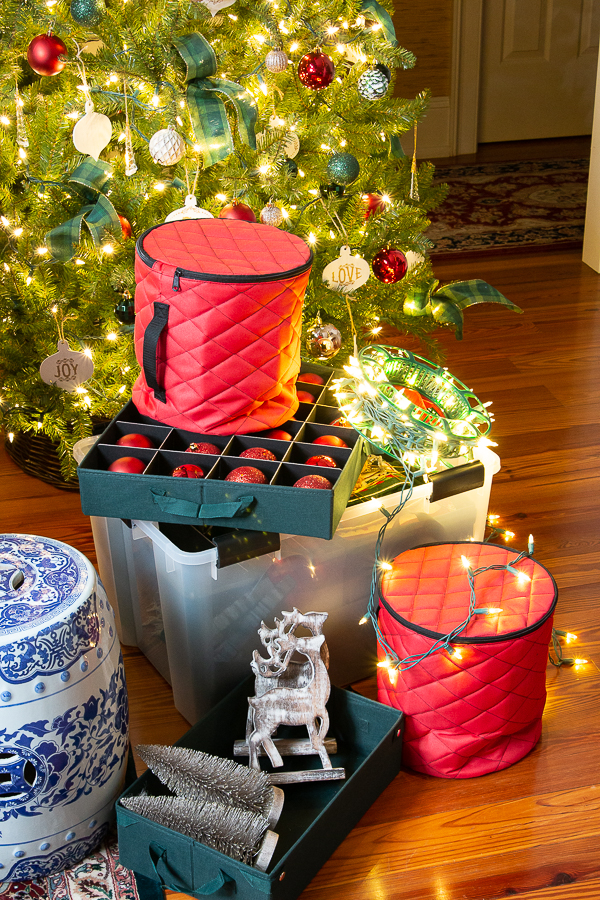 Gone are the days of tangled lights with these Large Light Reels.
Aren't the quilted cases gorgeous!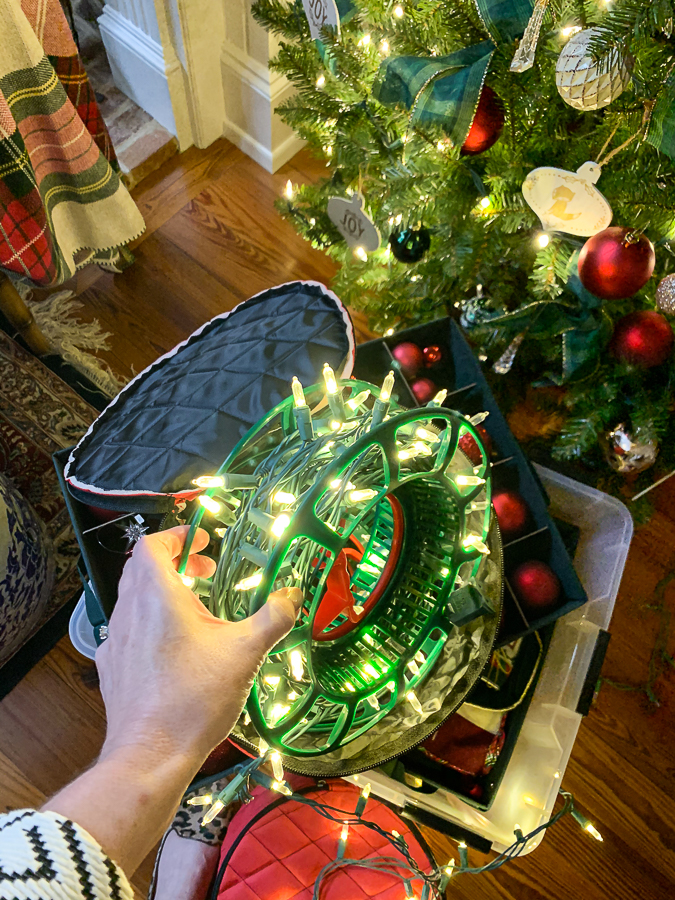 Each case comes with 3 reels each holding up to 200 mini lights. 
The little handle on the inner reel makes stringing lights so simple.
Wreath, Tree & Garlands Bags
Protecting wreaths from dust and breakage while being stored is a must.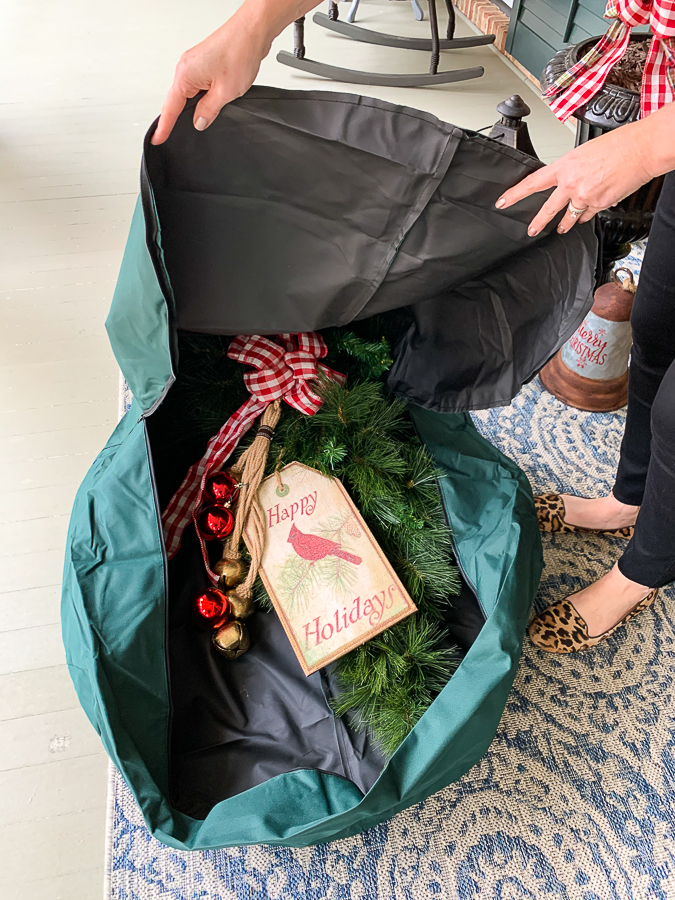 This heavy-duty wreath bag is perfect for 2 large wreaths or even garlands!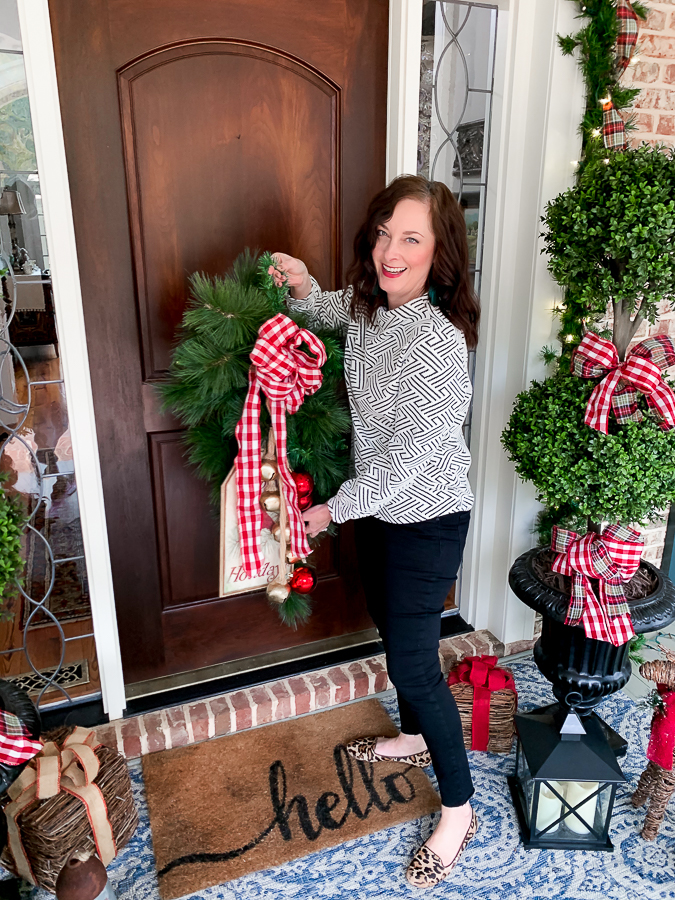 If I had a place to store artificial Christmas trees, I would order these tree bags in an instant!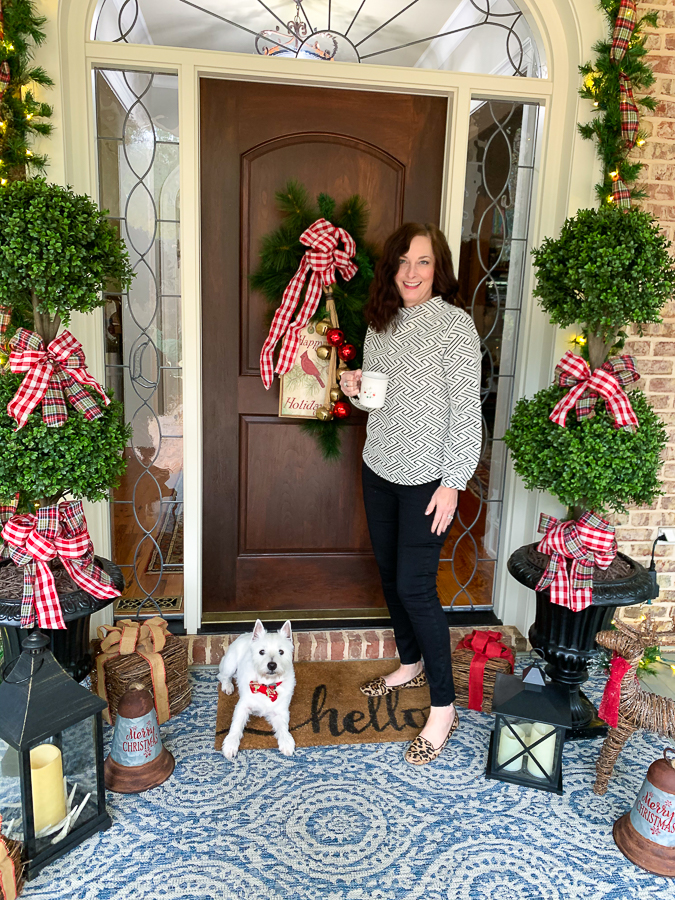 China, Stemware, and Silver Storage
Another thing to consider is proper storage for your holiday china and dining pieces.
They can take up valuable space in your china cabinet.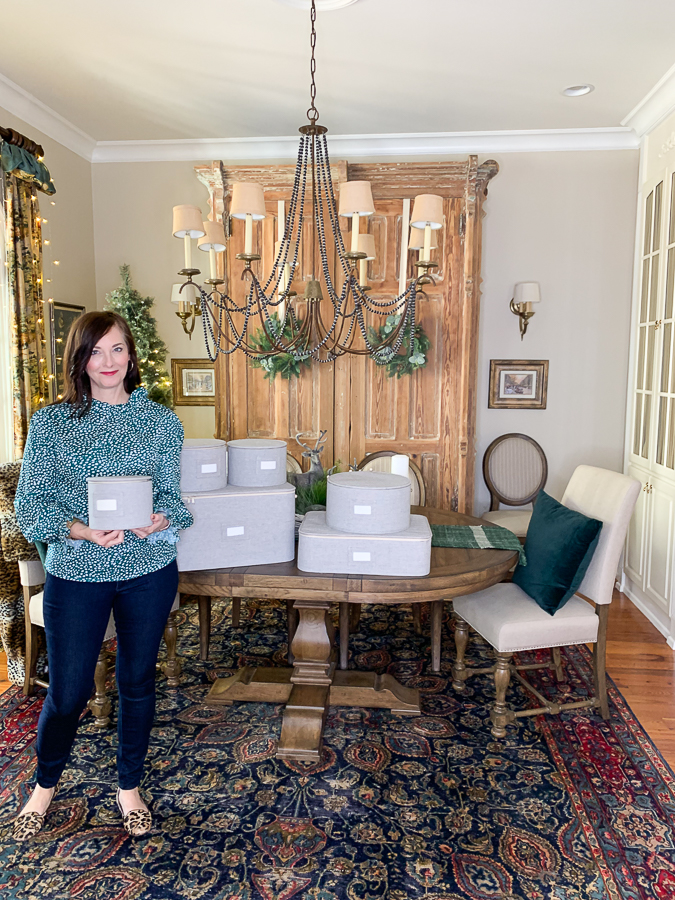 This gorgeous 4-piece zippered round case set, cup storage case, and tall stemware case would allow you to remove them from the china cabinet and place them in a closet or even under a guest bed! This is how I am storing my Christmas china.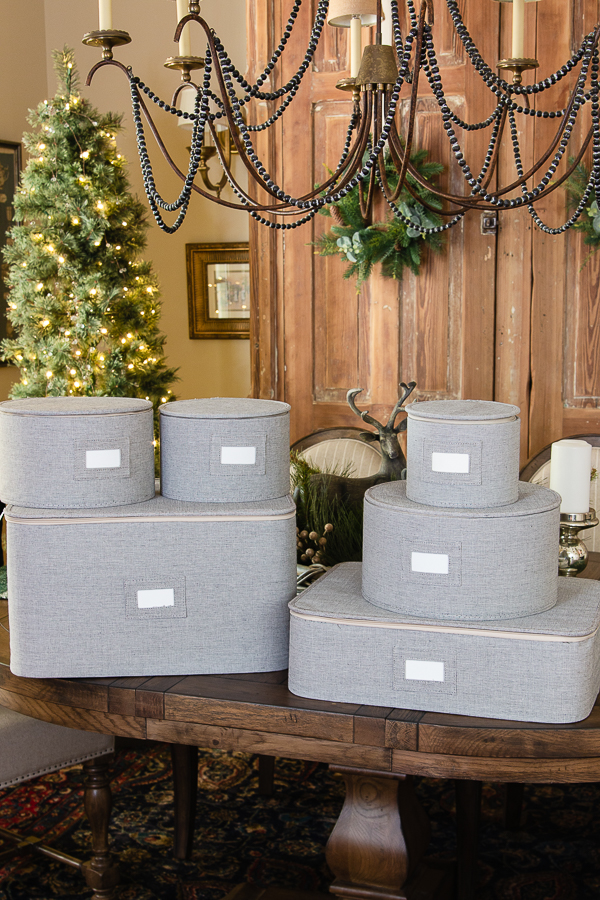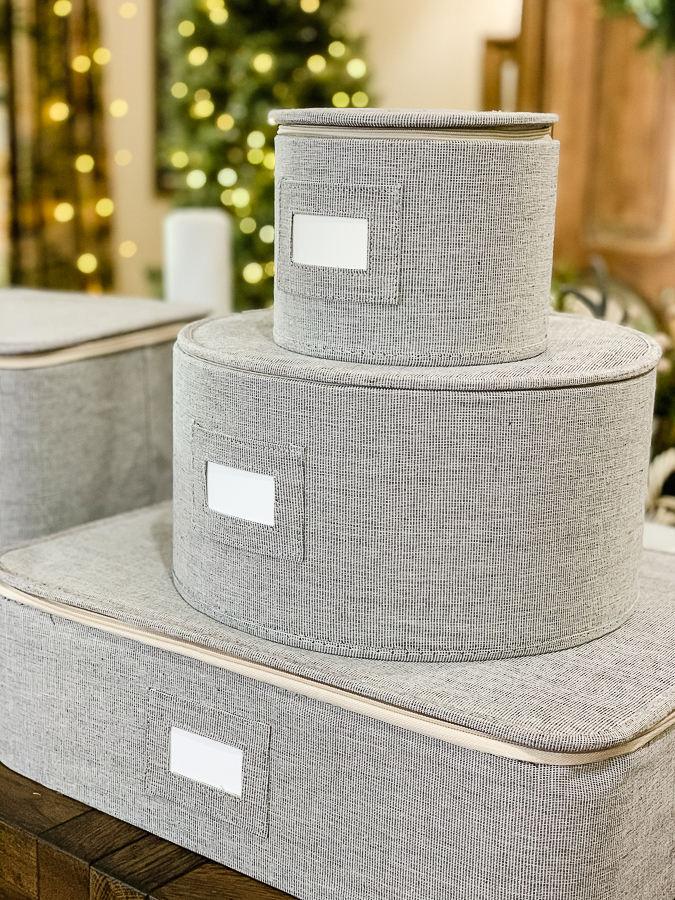 They are so sturdy, padded, and with an easy-to-use zipper. I love the little nameplates on the fronts.
This matching cup/mug storage case will be perfect for mom's china.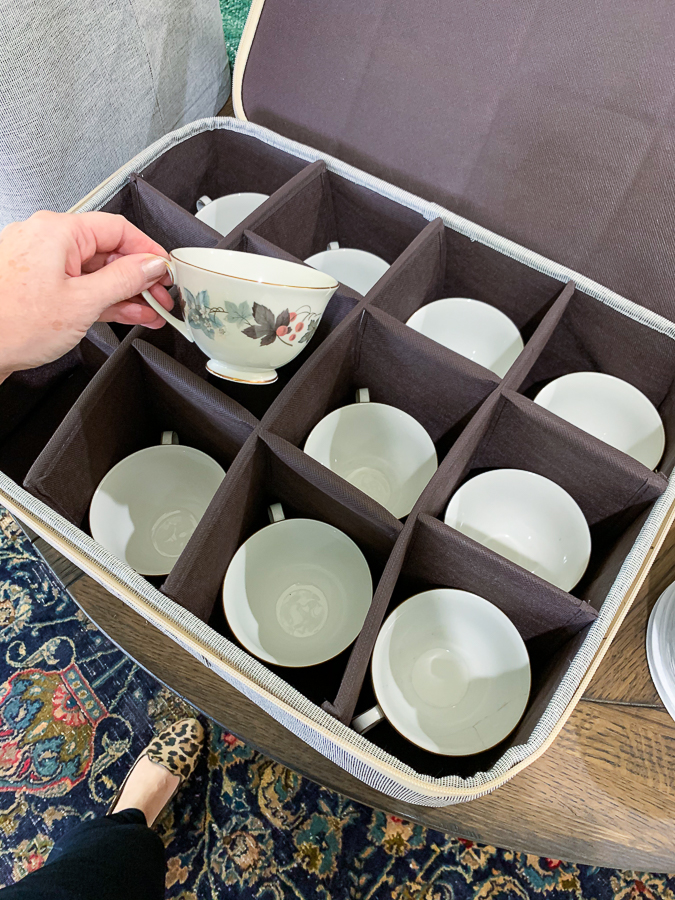 This brown twill stemware/wine glass case will store the glassware that I inherited as well. I can't even begin to tell you how expensive these are to replace!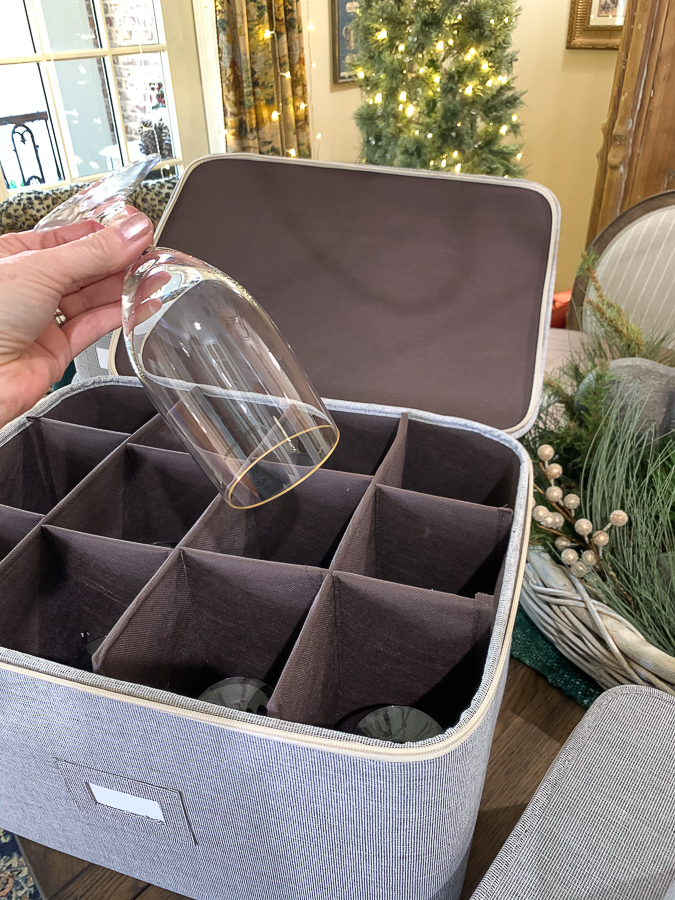 My mom gave me her wedding china several years ago and I cherish it. It's over 50 years old and stunning. I use it most in the fall through Christmas.
These storage cases will keep them safe for future generations. 
Alternative Use!!! This year I added really large breakable ornaments on our deer-themed tree….you can see it here. The ornaments are so large and would not fit in any of my regular storage containers. I wanted to be extra careful with them. Guess what! They fit perfectly in these containers! I am able to fit 2 ornaments per section. They also work well for tall ornaments. TCS also has this jumbo ornament box that I want to order.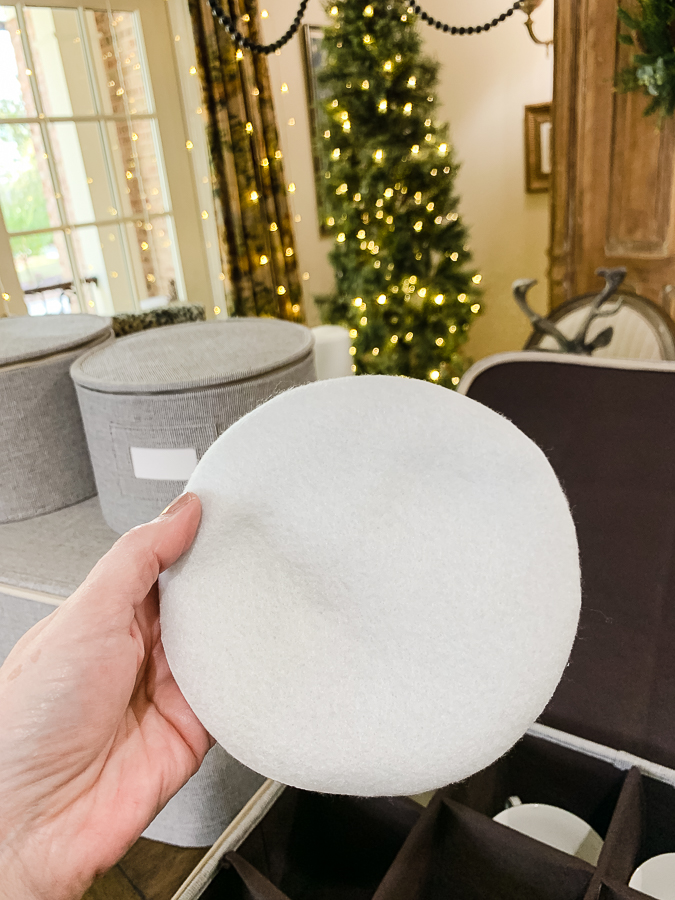 I plan on ordering even more of these felt disks. They are a must for placing in between your china pieces to protect from chips, scratches, and breaks.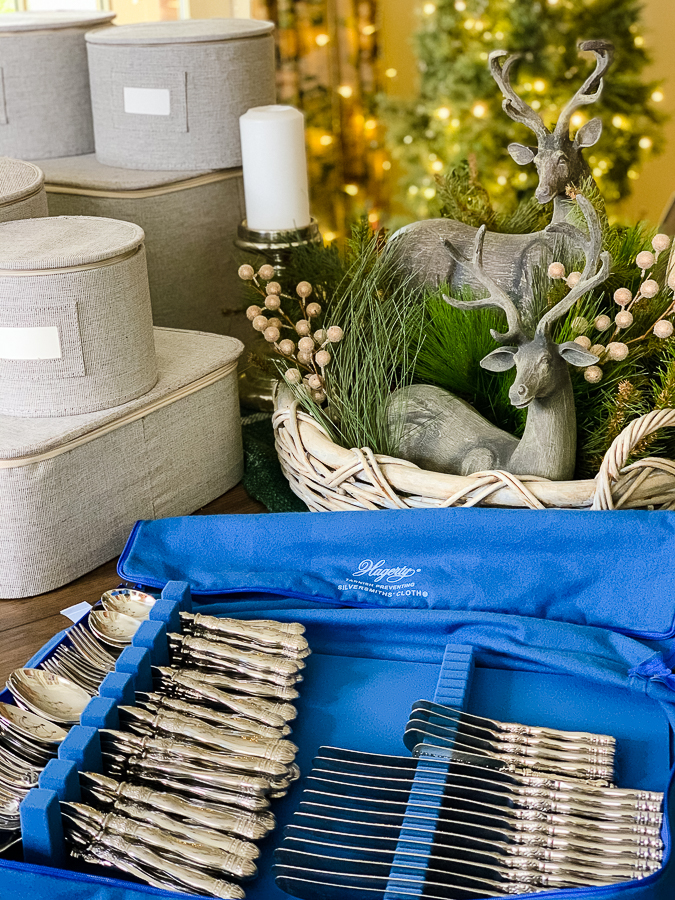 Do you have serving and silverware pieces that you only use on special occasions? This zippered Hagerty silver flatware storage case is fabulous. 
The silversmiths' cloth will keep your silver pieces from tarnishing.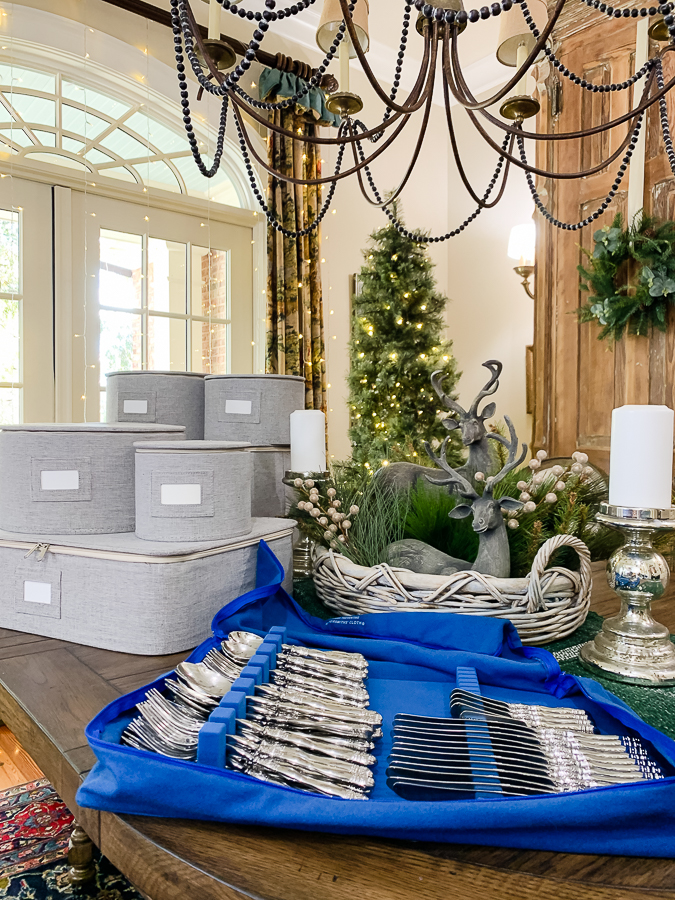 I just purchased this silver cleaner to clean my pieces then store them properly.
The Container Store has a large collection of Hagerty silver storage options.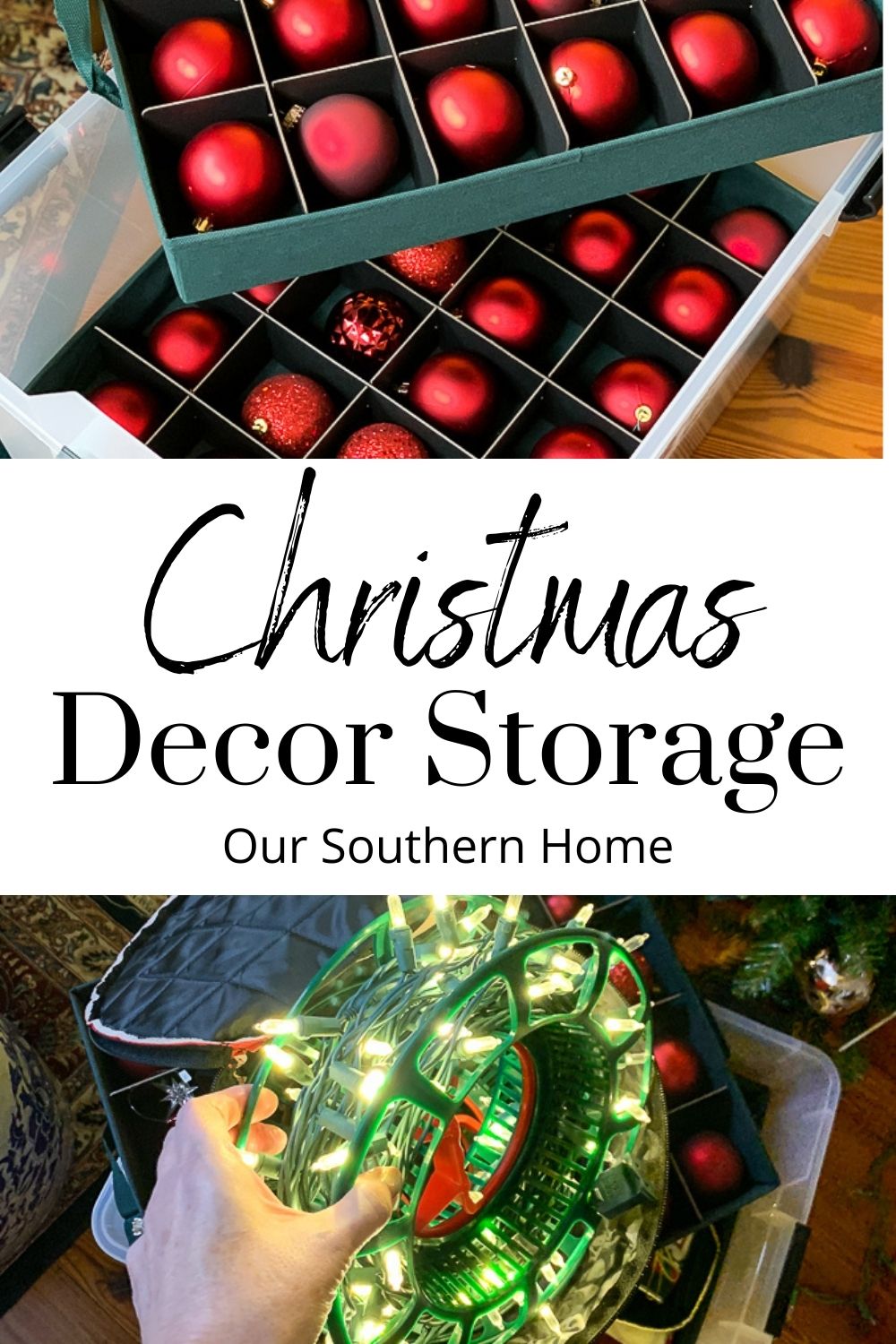 I am by no means ready to pack away the Christmas decor yet, but I'm excited to this year. This will be the most organized that I've ever been!
Do you have any Christmas decorating tips? I'd love to hear about them in the comments.


Recent Container Store Posts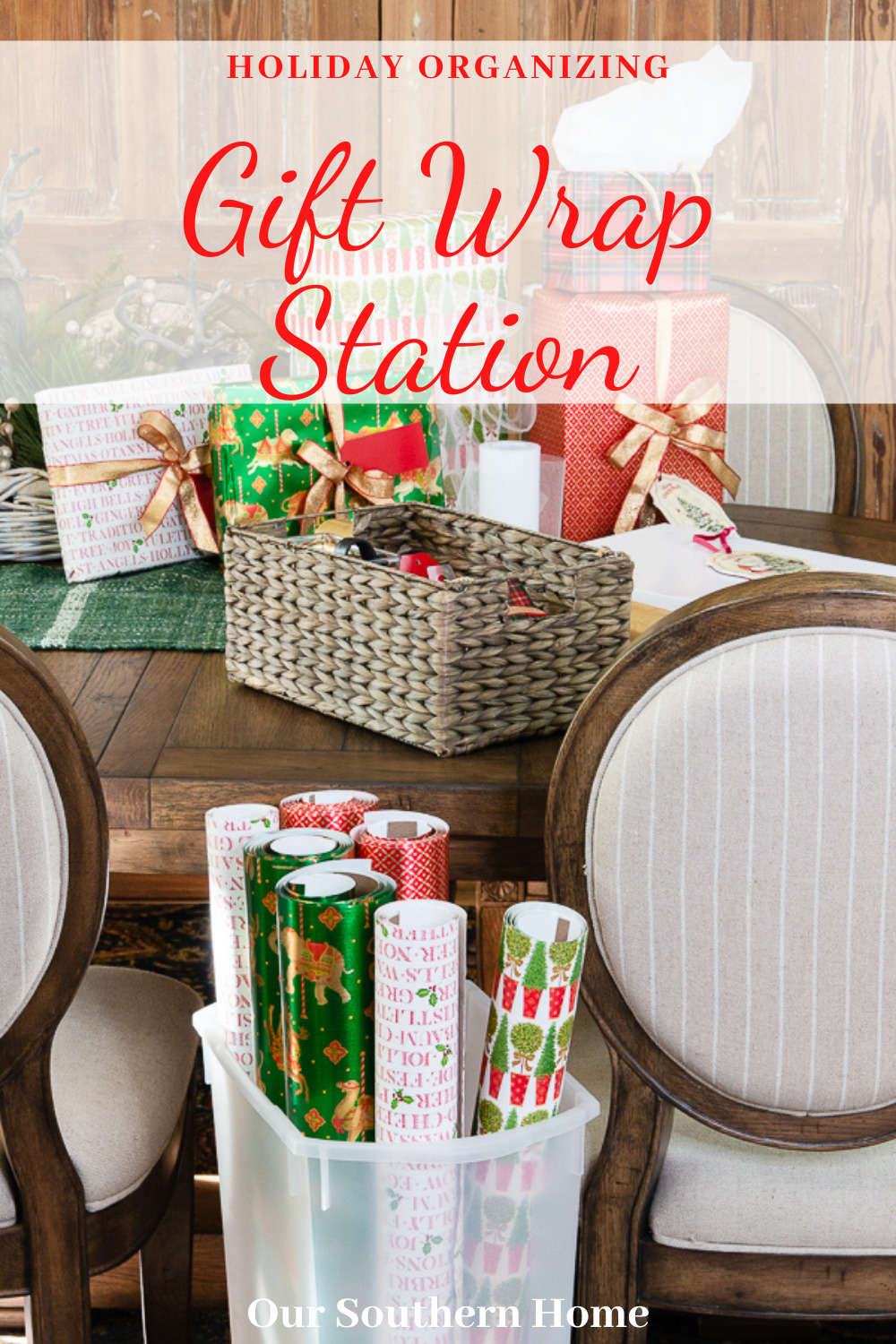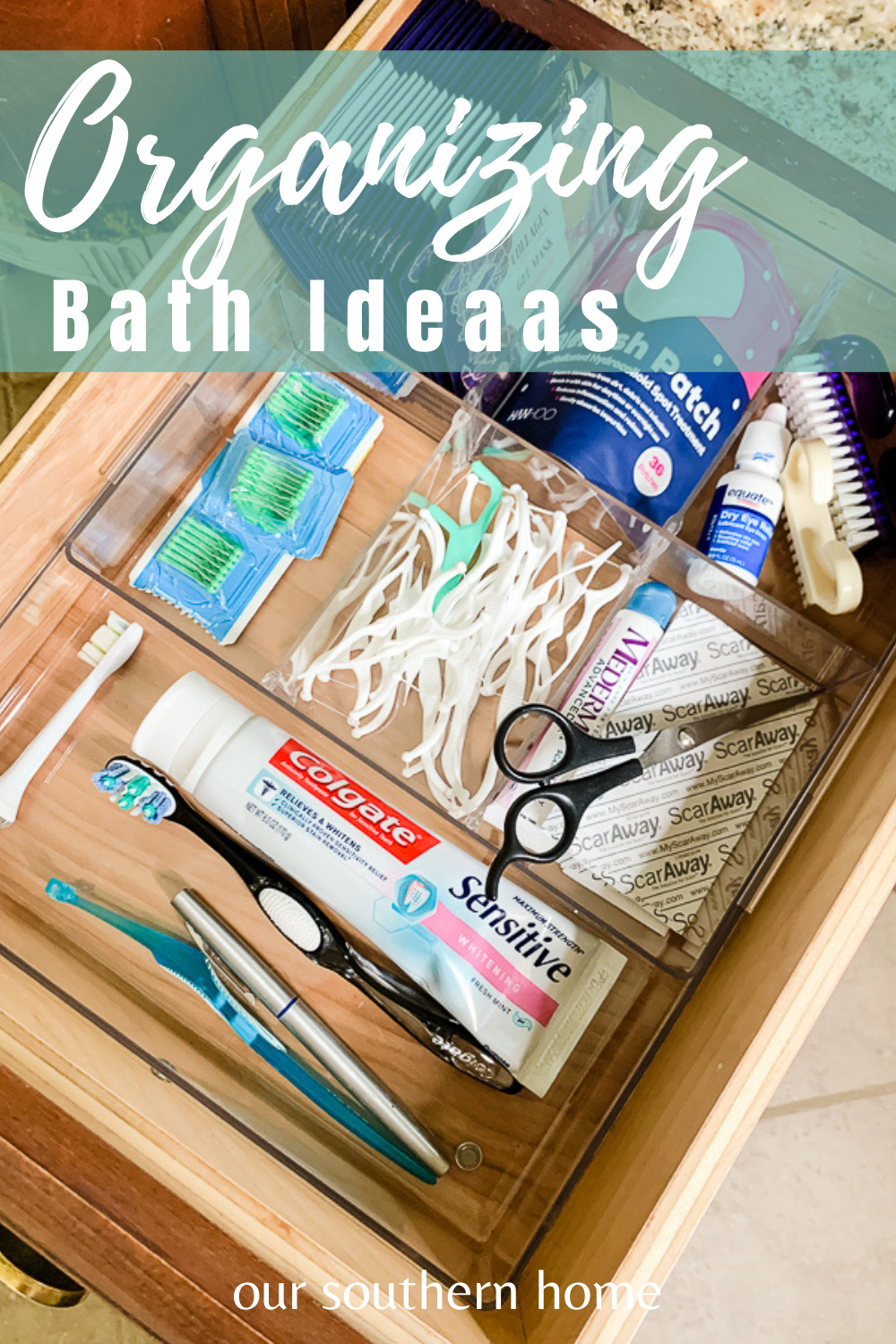 Recent Posts from OSH!
5 Christmas Favorites from the Blog!
Buffer