This post is sponsored by The Container Store. All opinions and photography are my own.
Utilize all of your pantry space by incorporating an Elfa Pantry Door Rack in your kitchen from The Container Store. Get organized today!
This post was updated with current links on 1/2022.
Elfa Pantry Door Rack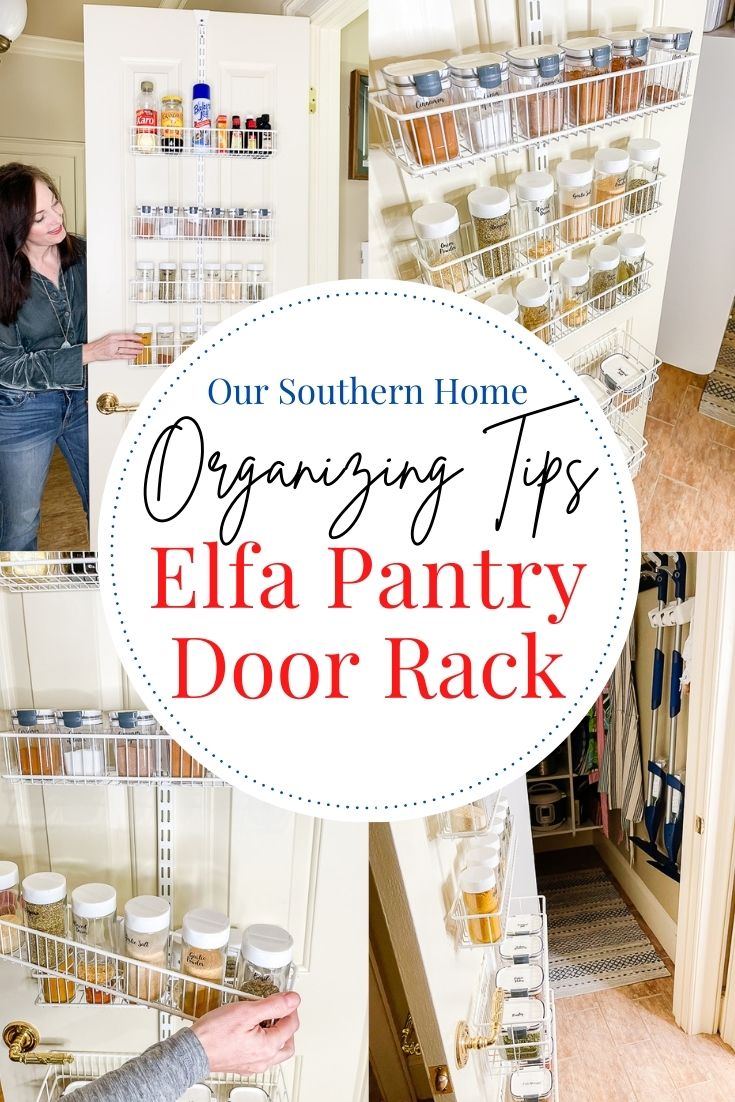 I must say that I am a recovering behind-the-scenes disorganized person. I've been working on this for about 6 months now, and my efforts are paying off!
I'm actually a clean freak and love a tidy home. Behind closet doors, cabinets, and drawers…you might think otherwise.
One of the things that I have come to the realization of is that I just keep too much stuff.
Yes, I have clothes still in my closet from 10 years ago that I plan on getting into again. Every time I do a closet cleanout, I say that this will be the year that I wear it again.
My husband jokes that if there is free space in the house, I will fill it up. I think he's right!
As I've gotten older, I've finally come to grips with this issue.
I know one of the first things that people say when they see a beautifully organized space is, "Will it actually stay like this?"
I'm here to say that I believe it can!
I organized our master bath last fall, and it still looks fabulous! When everything has a place, it makes it so simple to put things back.
I've saved so much time and money knowing what I have and need to replenish. For example, When I cleaned out the pantry, we had 3 bottles of parsley.
If you thoughtfully purge, it can work!
I have two pantry areas.
a traditional walk-in-closet pantry in the mudroom
a large built-in cabinet in the kitchen with pullout drawers.
Today we are looking at the pantry closet. Here is the before. (yes, I'm bowing my head in shame)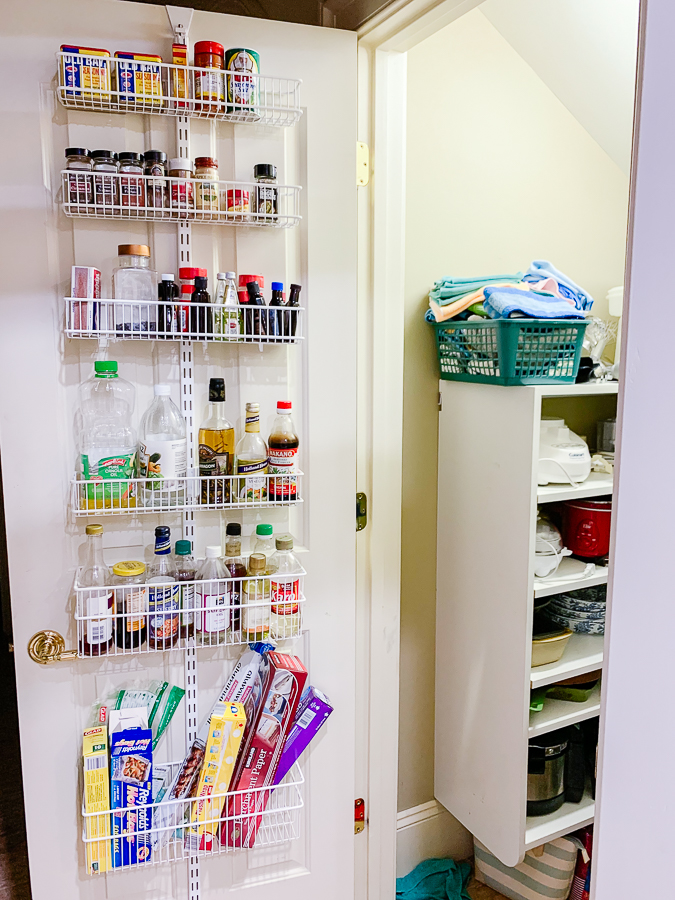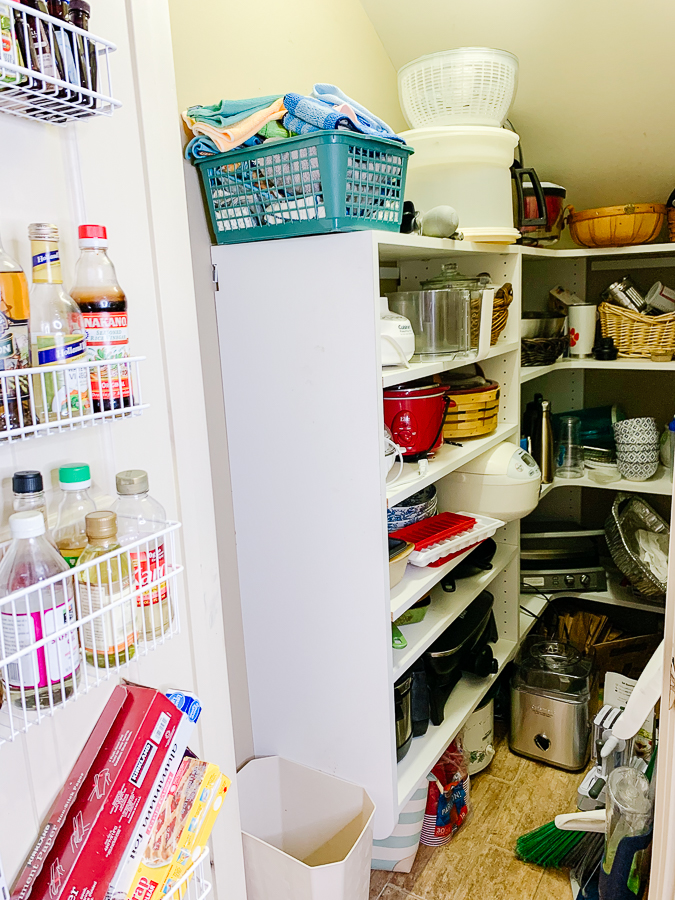 This Elfa Pantry Door Rack is amazing. I actually added it to the door all by myself at least 10 years ago. It's such a simple install requiring no tools.
As you can see, this space was in great need of an organizing overhaul.
If preferred, you can purchase mounting hardware to install directly on the door or even a wall.
Elfa has many over-the-door rack configurations as well as other components for bookshelves and more!
This over-the-door rack would work beyond the kitchen! Here are a few other ideas to use the Elfa Over the Door Rack:
garage door or wall
bathroom for toiletries, makeup, and nail polish
craft room
gift wrapping supplies
cleaning products
toys
I really wasn't utilizing my door rack to its fullest potential.
I removed everything from the door and tossed anything expired.
I decided that I wanted this to become a spice area for our most used products.
Ta, da!! What a difference! It's amazing how a space can change just by using the same containers.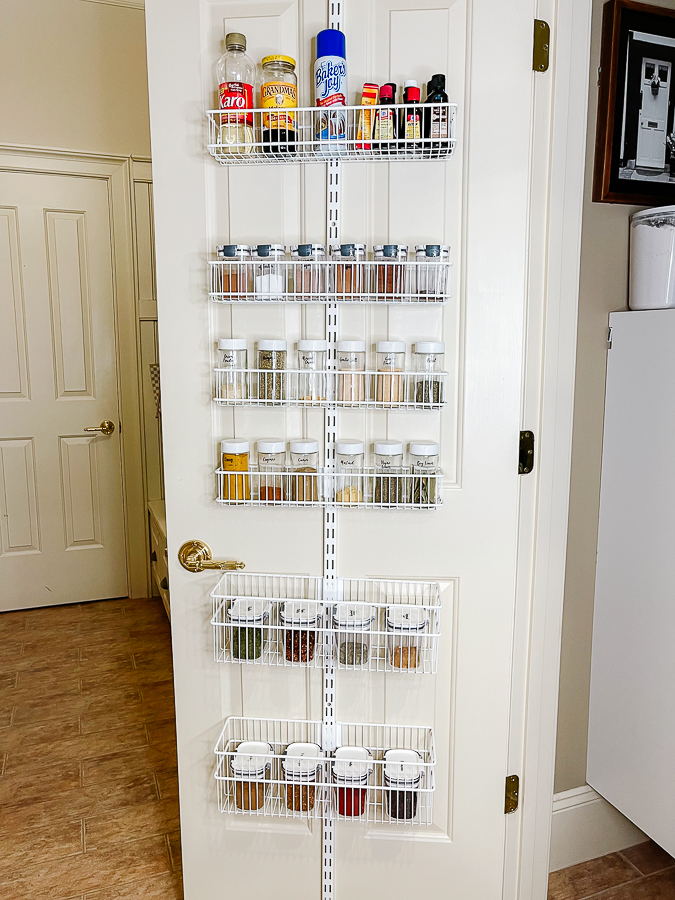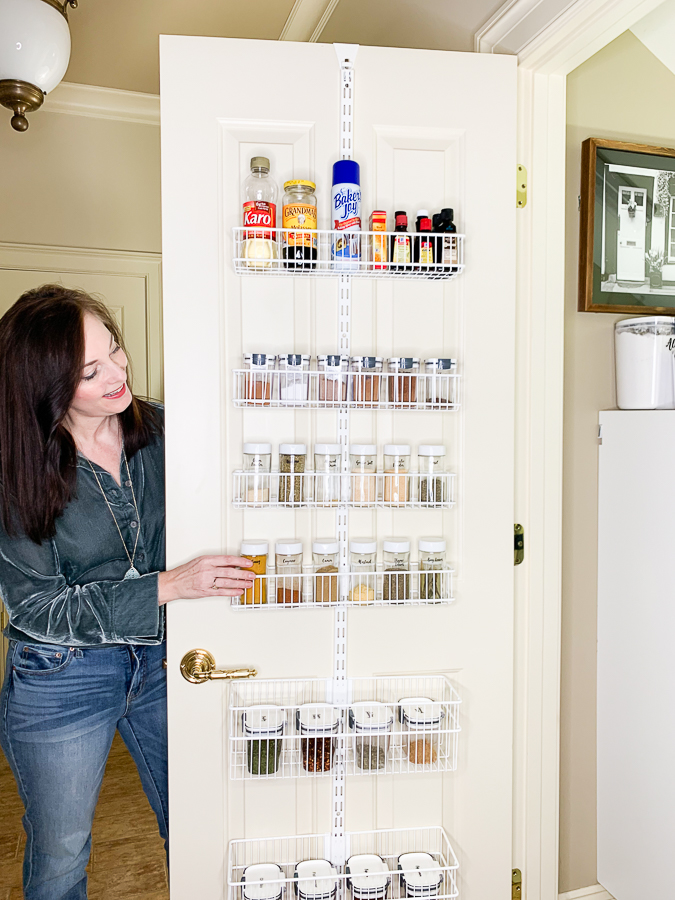 The over-the-door mechanism is barely noticeable which I appreciate.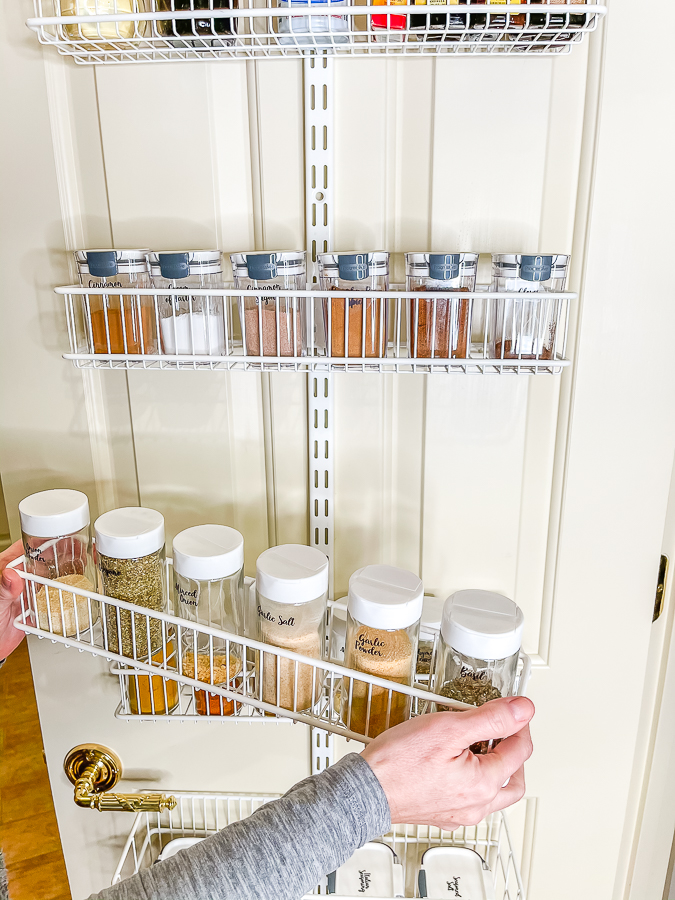 The epoxy-bonded steel mesh baskets are easily removable to carry to the kitchen counter for use. It's a very durable system that's a breeze to clean when needed.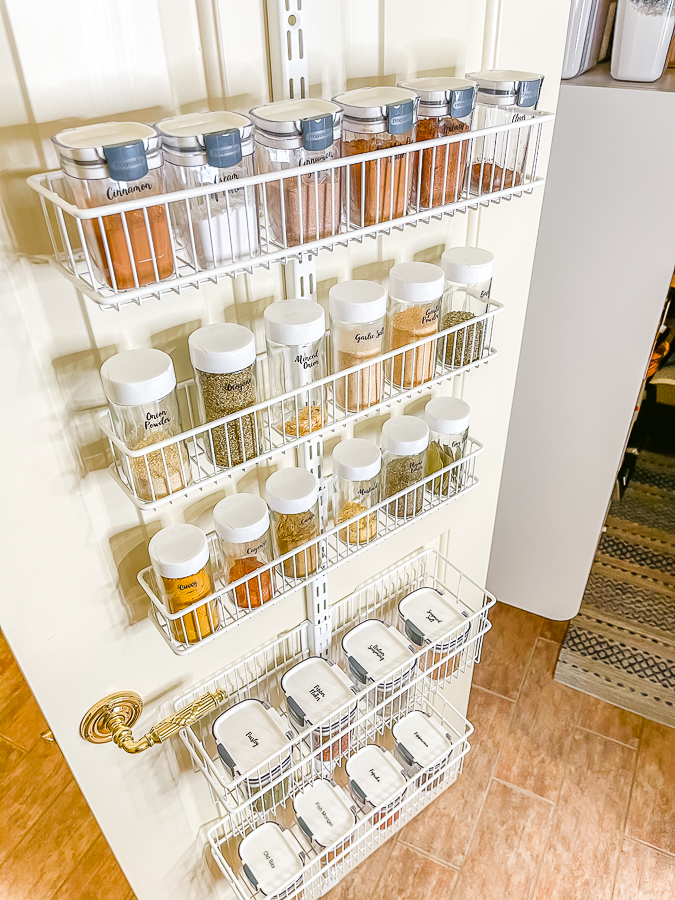 We are a family that loves to cook.
What a difference it makes to unify the space with matching containers.
It also allows me to see what I have so that we can replenish our stock easier.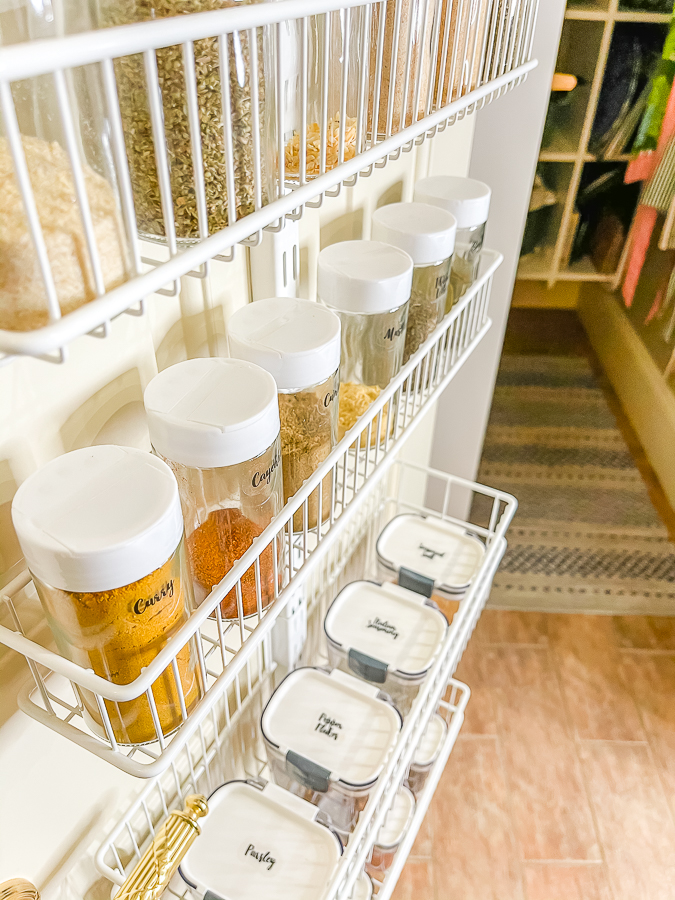 Spices that I use more of were allotted the larger spice containers. I love that they have a slider along with the sprinkle area. This is great for measuring. (updated on 1/2022 to include the latest product link)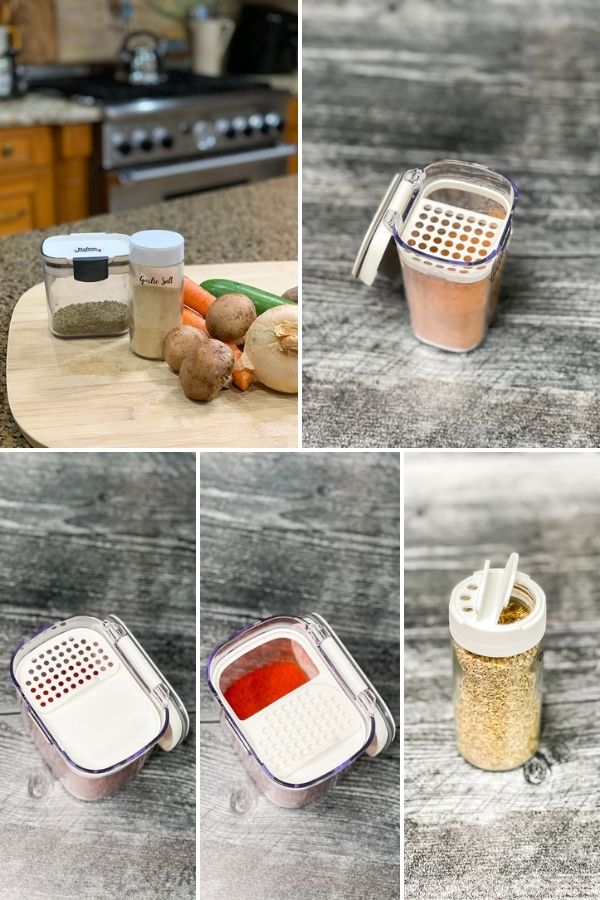 NOTE: This post is updated on 1/2022. Some of the storage items are no longer available. I have updated links with similar items.
6 Ounce Glass Spice Set || ProKeeper 5 oz Seasoning Container || ProKeeper 12 oz Mini Food Storage (also for spices)
The ProKeeper line is absolutely amazing. They've updated the look slightly, with the lid color. You can see more HERE.
Of course, I couldn't just stop with the pantry door.
This pantry quickly gets into a state of disarray.
After evaluating it, I realized it's because there is just too much stuff inside it.
I did a massive purge of small appliances that we really just didn't use anymore along with dated-looking serving pieces and the enormous collection of water bottles.
I completely emptied the pantry and cleaned the shelves.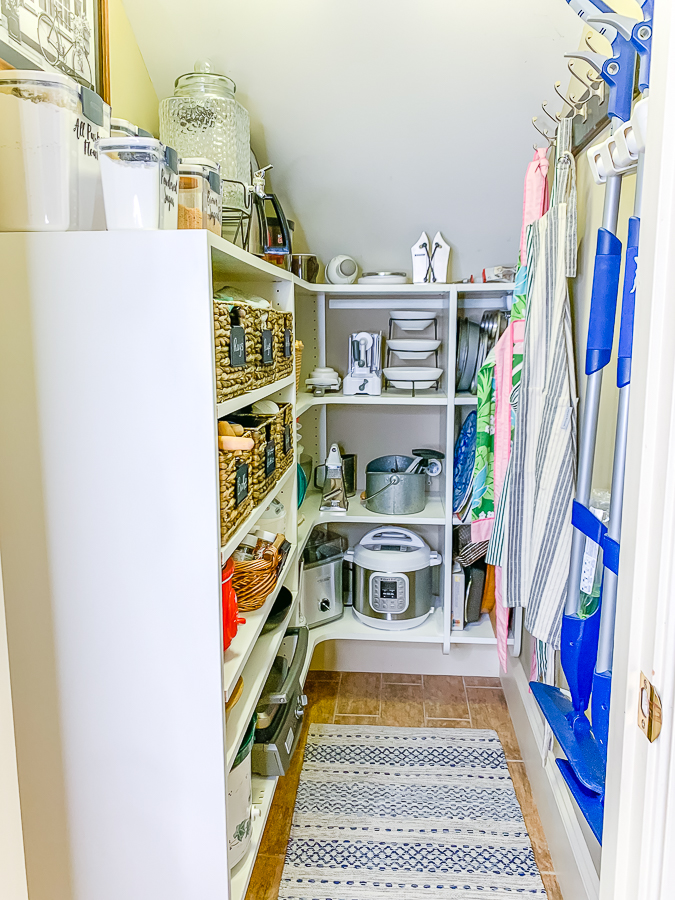 You can actually see the floor now!!! That's a big win!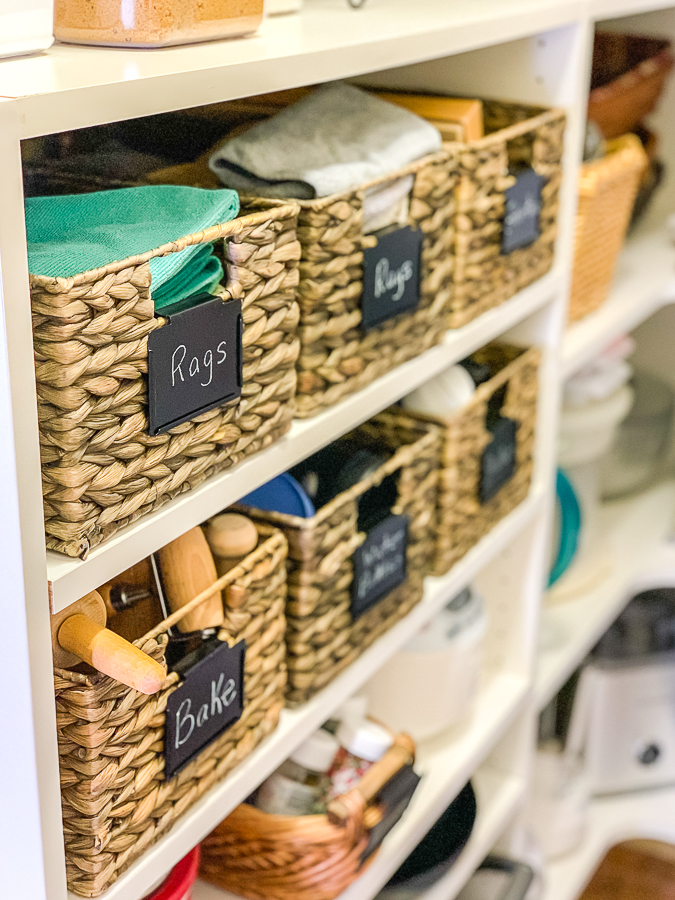 I used these Small Water Hyacinth Baskets on the sets of shelves to organize like items.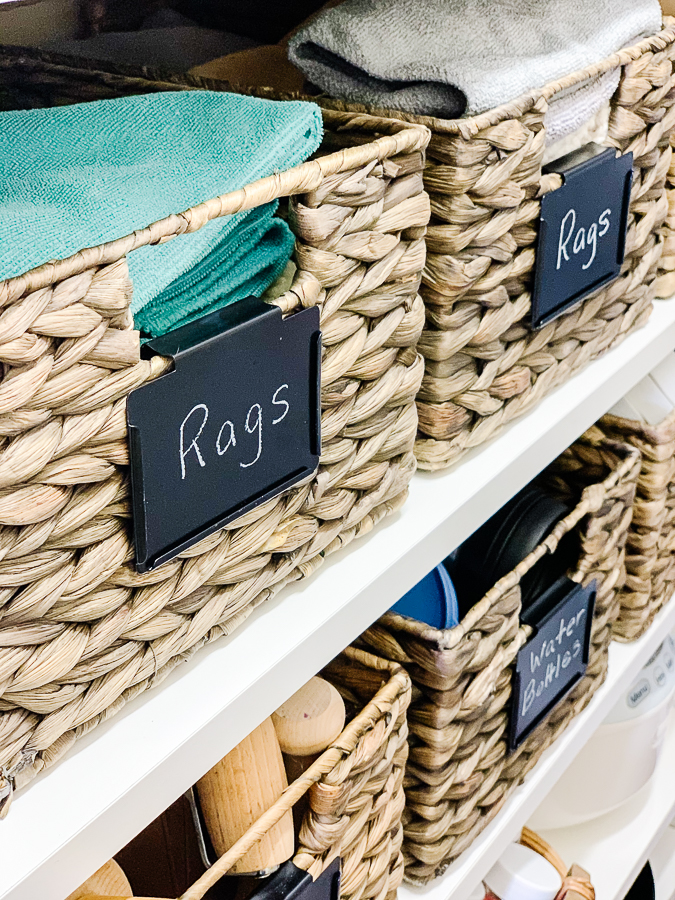 These handled baskets are so sturdy and are available in several sizes. The ones that I've used are a small size.
These bin clips make it easy to label. The chalk can be erased and clips reused as needs change and shift in the kitchen.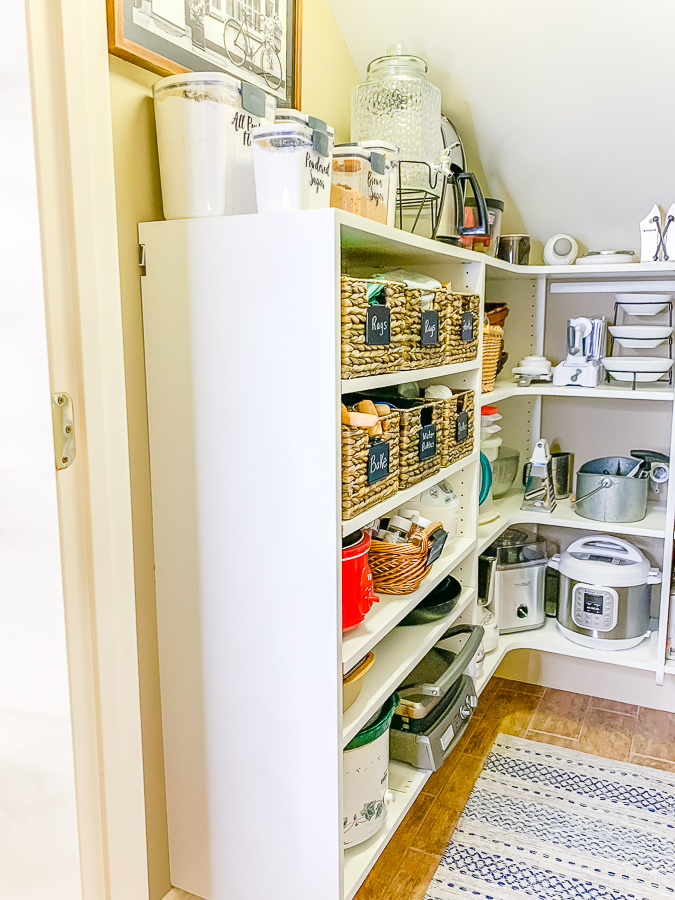 Most of my baking supplies were in the cabinet pantry. I decided that it would be more efficient to move those in here and transfer them to matching containers like this 10 Piece Baking Set. You can also purchase pieces individually.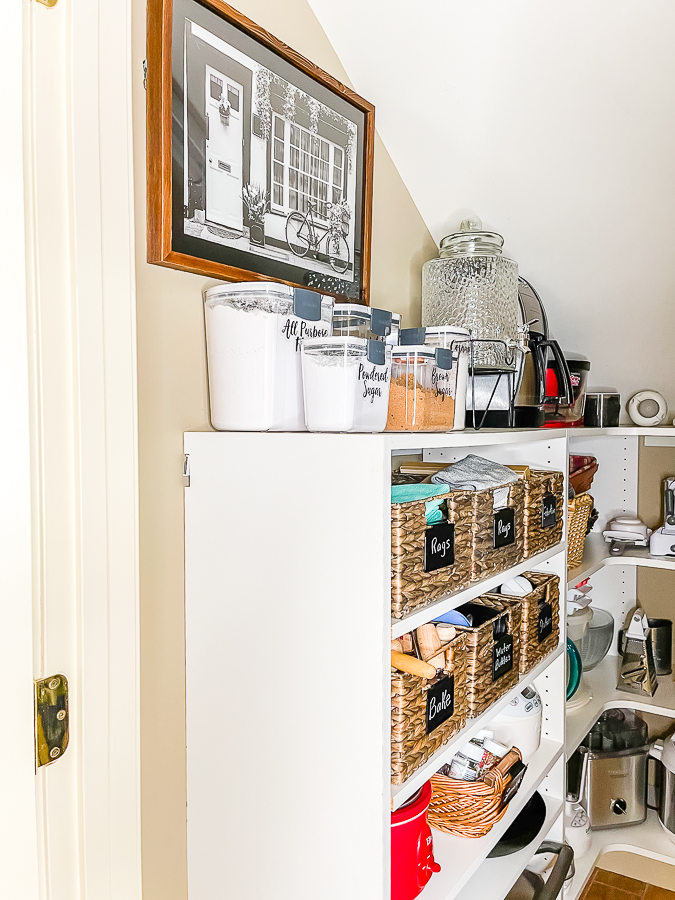 Y'all…..I love this set! They are available as a set or individually. This line has quickly become a favorite.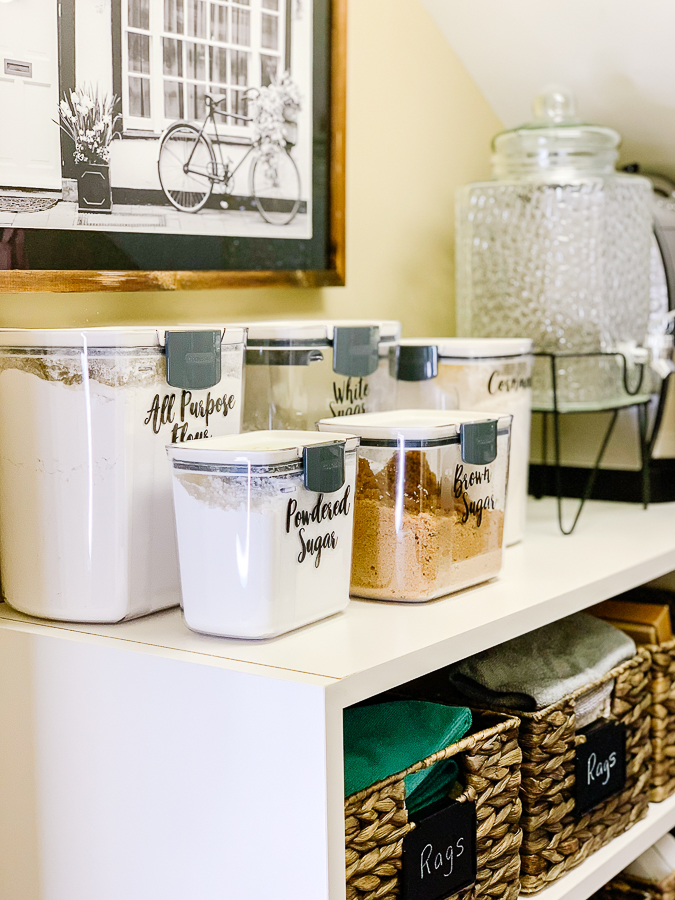 Here are a few of the larger containers in action!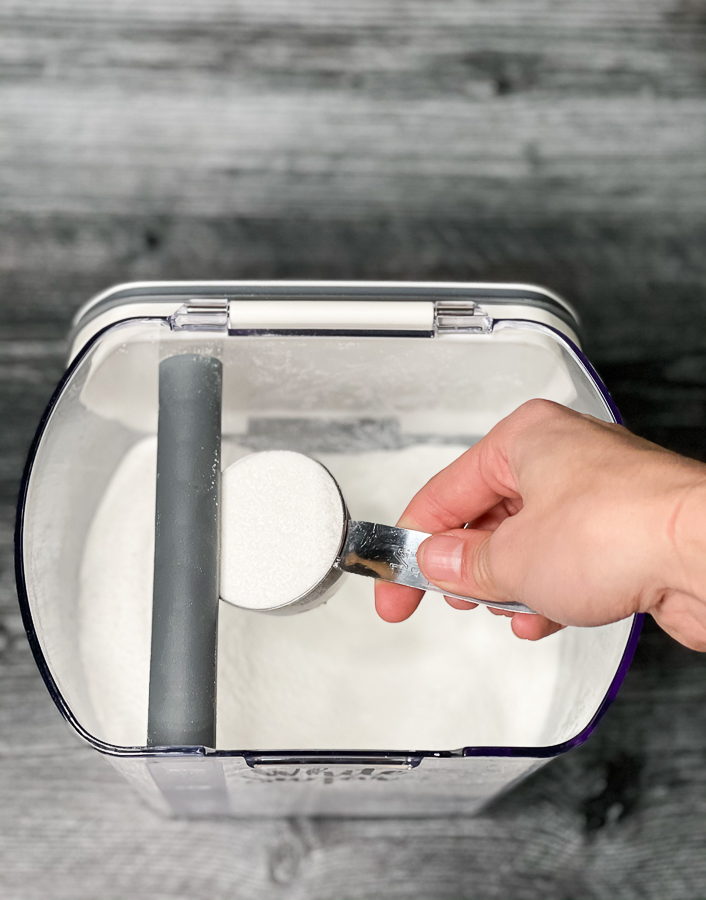 The flour containers are fabulous! They have a wide mouth with movable levelers. Yes! You can scrape right in the container for a level scoop.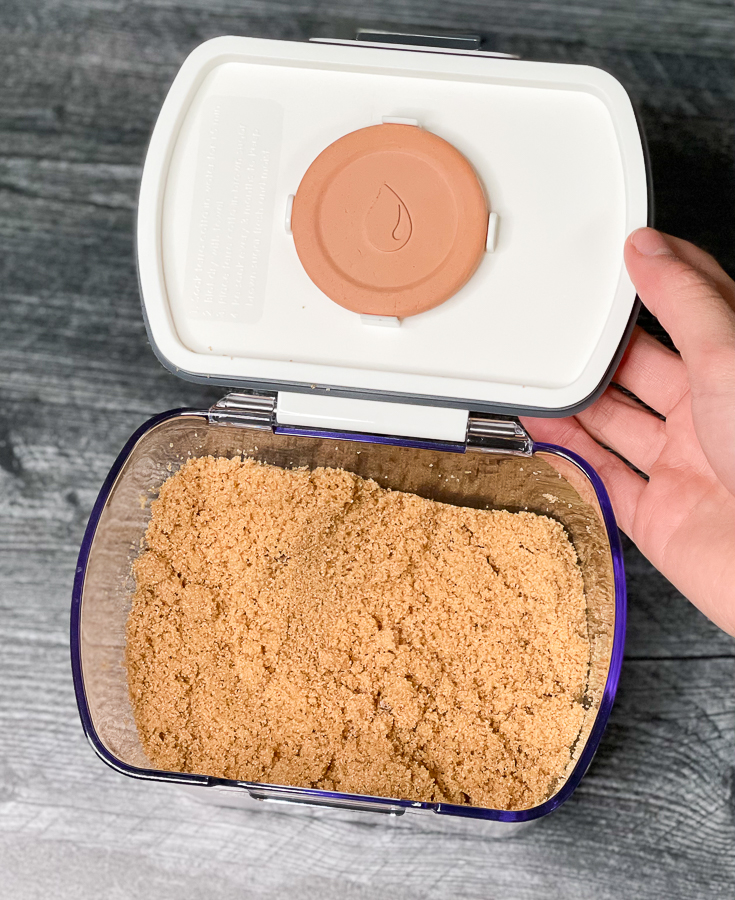 The brown sugar keeper comes with a terra cotta disk insert that keeps your brown sugar moist and clump-free! This is so cool! It truly does keep the brown sugar from getting hard.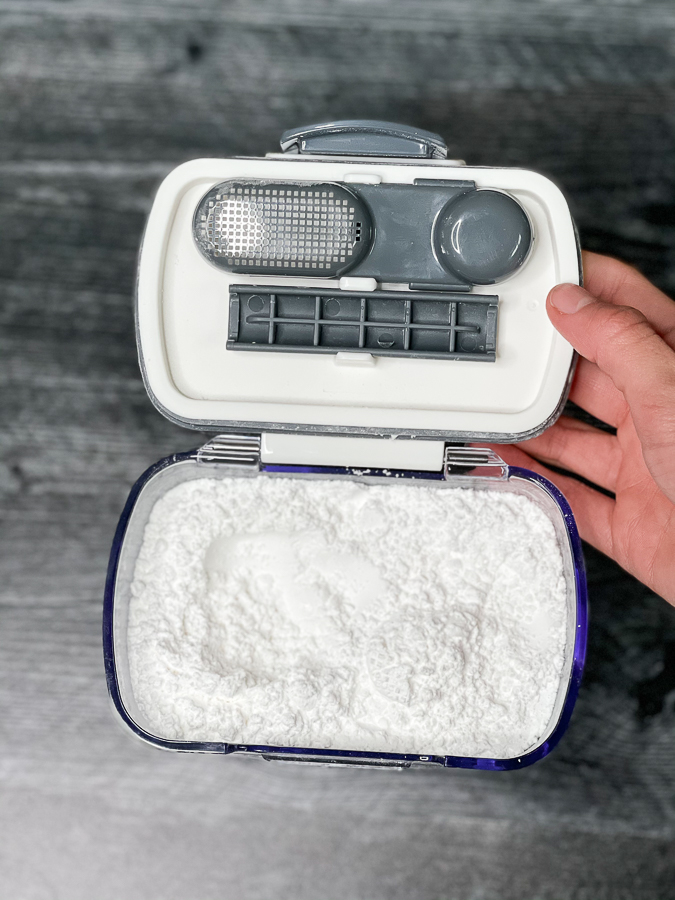 The powdered sugar keeper comes with a removable leveler and integrated dusting spoon.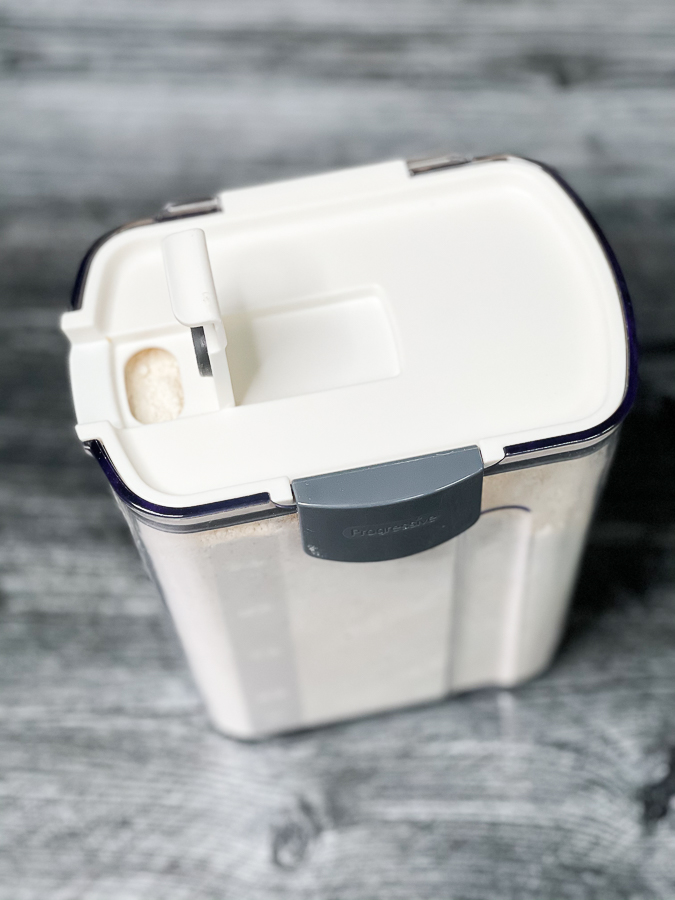 This is technically a sugar keeper, but I chose to use it for cornmeal.
Completely giving your pantry an overhaul may not be in your budget to do all at once, and that is ok!
This is one of the things that I love about The Container Store. Organizing is what they do! I like that these items are classic, and I can expand upon my organized pantry as my budget allows.
It's my goal to eventually add more of the baking containers to carry across the length of this top shelf. 
I plan to measure and add the larger-sized baskets to the floor area under the bottom shelves. This is where I'll add paper towels, sparkling water, and more.
Organizing our small pantry inspired me to add a few decorative touches to make it feel pretty.
I added the framed black and white photograph art along with a simple throw rug.
Next up, I plan to repaint the walls and trim white. I can't wait to share that mini-makeover with you!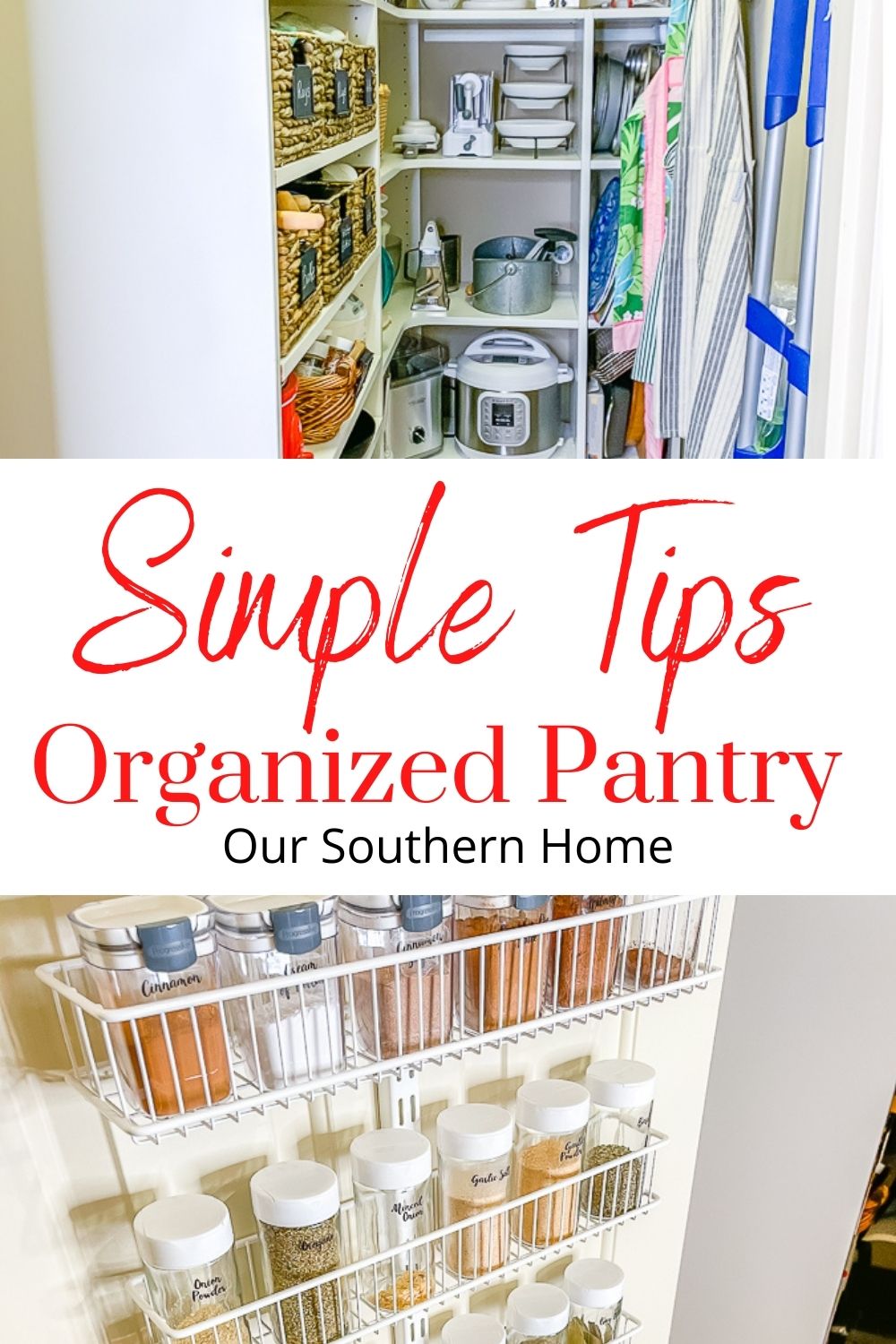 The Container Store Projects
Buffer