Strawberry Cream Cheese Dessert Dip
Strawberry Cream Cheese Dessert Dip is the perfect make-ahead sweet treat to jazz up cookies, crackers, and fruits.
Latest from OSH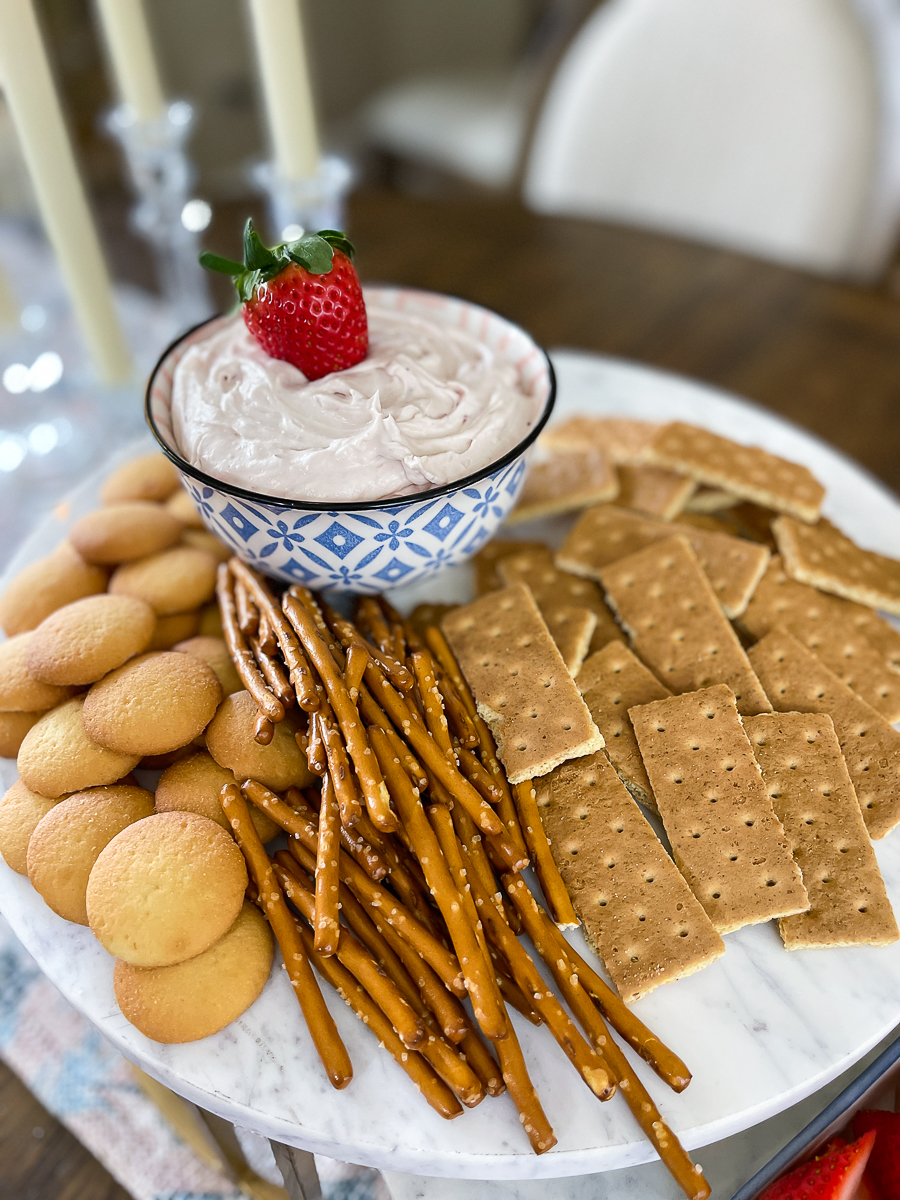 This post may contain affiliate links. If you purchase something using one of my links, I may earn a small commission from the retailer costing you nothing more. You can read more on my disclosure page. YOU WILL FIND A SHOP THE LOOK FOR OUR HOME AT THE BOTTOM!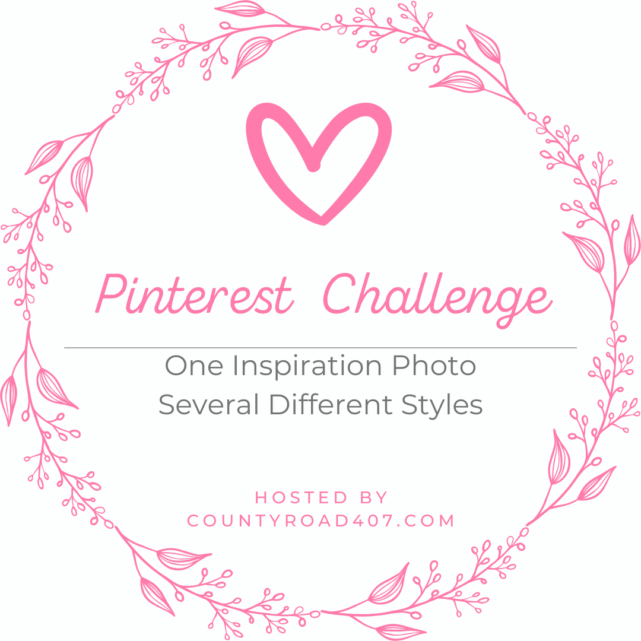 What is the Pinterest Challenge?
Each month, we are given either a topic or a photo for inspiration. Think in terms of looking through Pinterest for inspiration. That is how Cindy gets inspired for the challenge. If it is photo inspiration, she visits the source and asks if they'd like to be our inspiration for the monthly challenge. It's that simple! It's such a fun post each month.
This month we just went with the topic of Valentine's Day Recipes. This is going to be so fun because you will see quite a few different types of recipes. I hope you will be inspired!
If you are visiting from Country Road 407, welcome! Cindy's Valentine's Day recipe is not only cute but soo yummy looking!
Strawberry Cream Cheese Dessert Dip
Strawberries are one of my favorite fruits so anytime I can incorporate them into a dessert is a win-win.
This Strawberry Whipped Cream recipe came about due to part of the method we use when making our homemade ice cream. So I pulled from it for this recipe in terms of the whipped cream.
This recipe is essentially a strawberry cheesecake dip. I am a sucker for a cheesecake, whether in the form of a cake or dip.
My husband isn't a cream cheese fan, but loves this dip!
This is the perfect dip to serve at a baby shower or even a bridal shower. It makes such a pretty, soft, and romantic shade of pink. The pink makes it perfect for Valentine's Day!
How to Serve It
as a dessert on its own like I have done here
as part of a charcuterie board
you could even serve a dollop on top of a piece of pound cake or brownie
Dipping ideas
graham crackers
fresh strawberries
vanilla wafers
variety of fresh fruit like apple slices
animal crackers
pretzels
Ingredients
block of cream cheese
powdered sugar
vanilla extract
heavy cream
strawberry jam
Let your block of cream cheese get to room temperature. It will blend easier.
This is such an easy recipe with a few simple ingredients. I typically make it the day to be served, but you could prepare the day before.
The Instructions
It will be much easier to use an electric mixer. I use a stand mixer, but you could also use a hand mixer.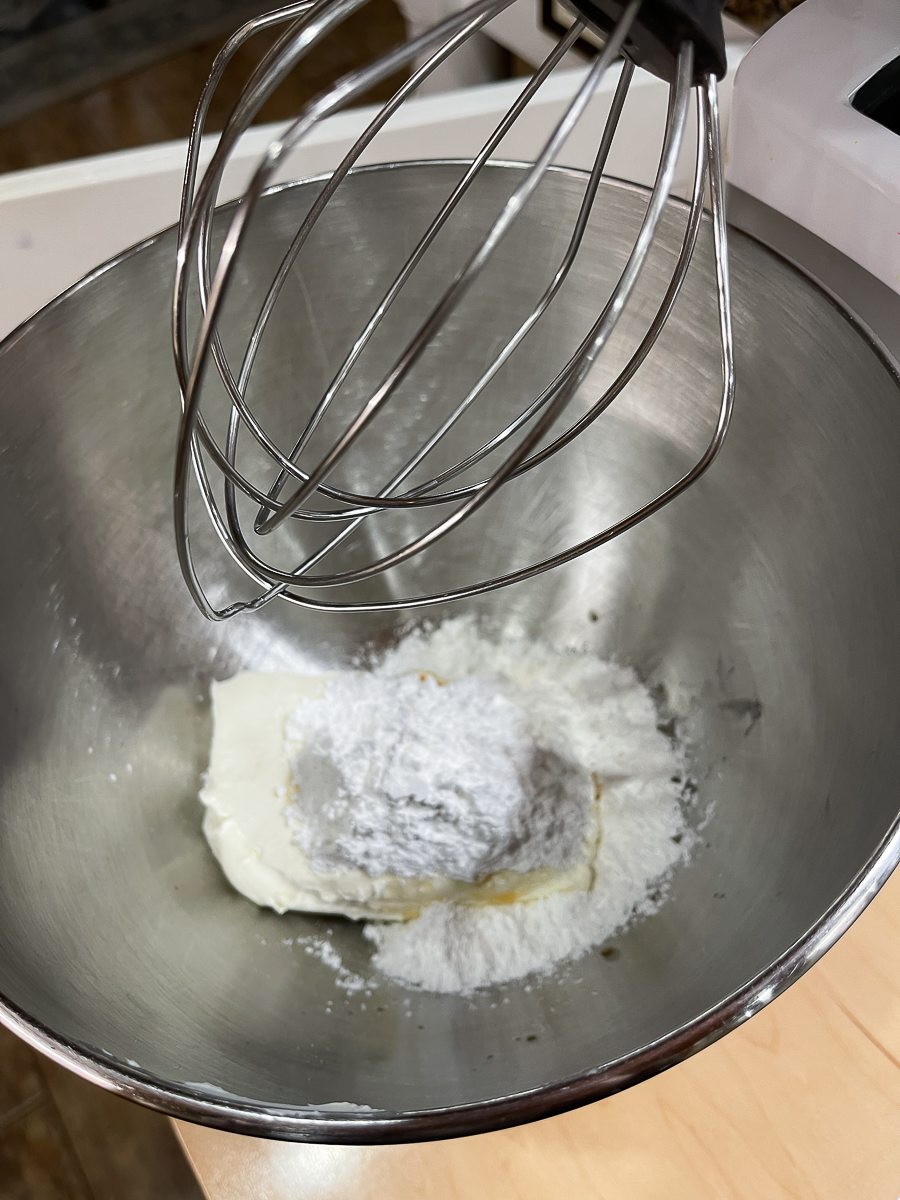 In a large mixing bowl, combine the cream cheese and powdered sugar.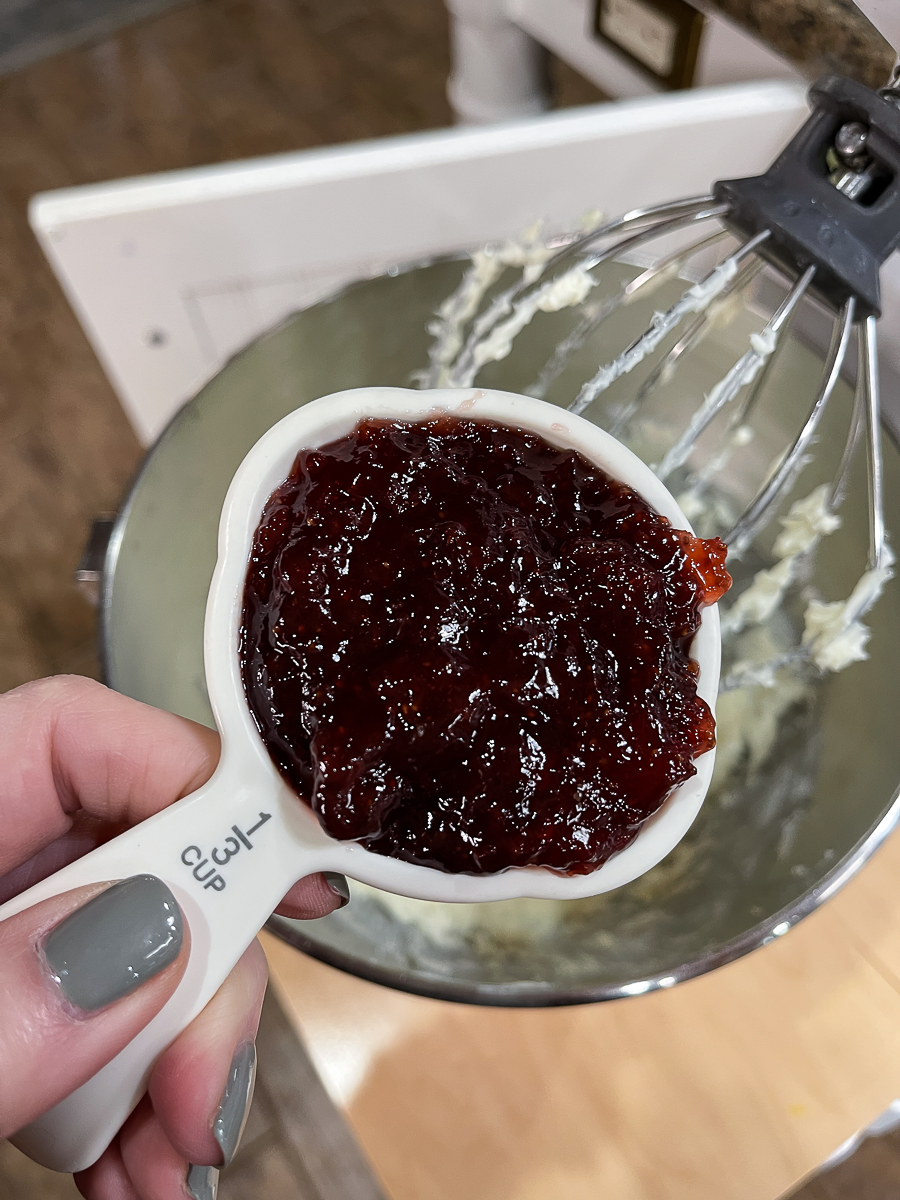 Then add in the vanilla extract and strawberry jam until well-blended.
Set this mixture aside.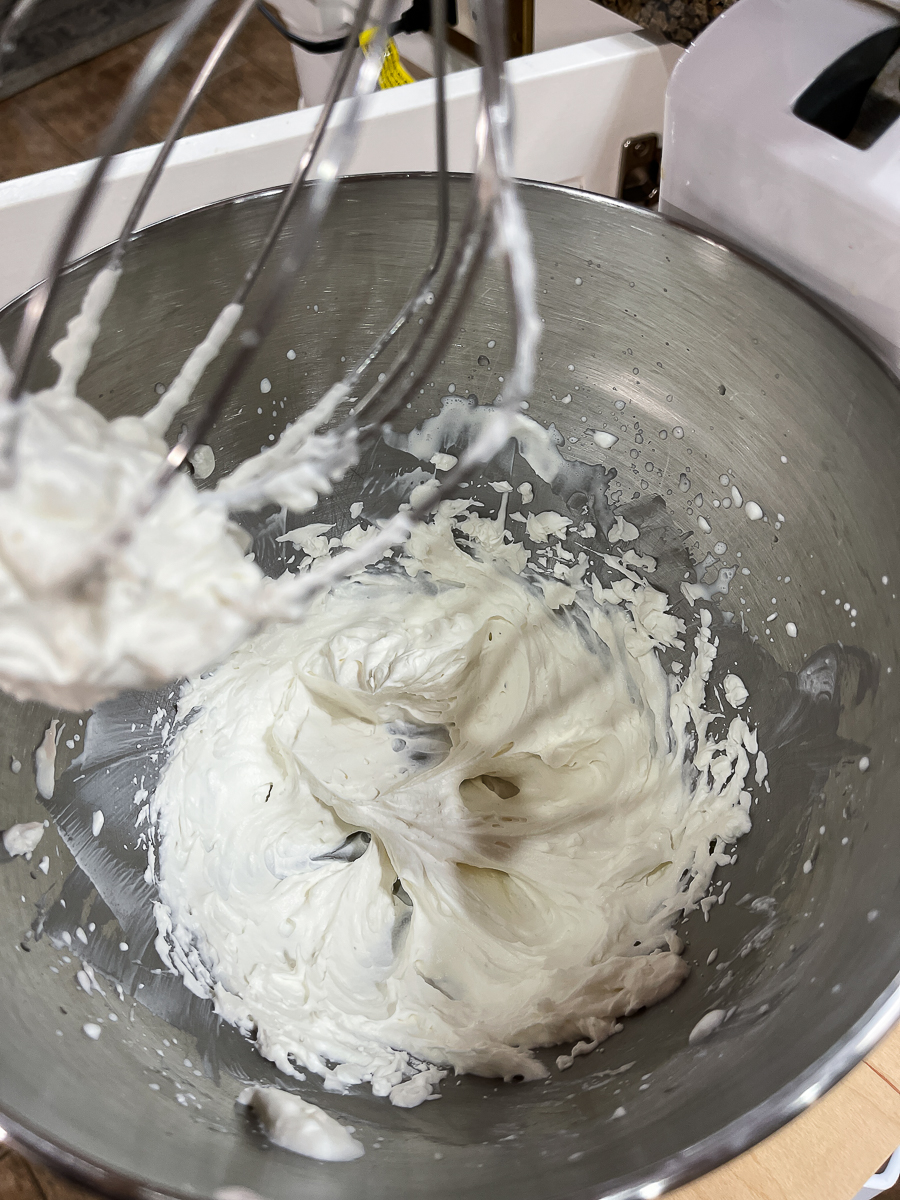 Using the whisk attachment with your electric mixer, whisk the whipping cream until stiff peaks form.
Fold the whipping cream into the cream cheese mixture.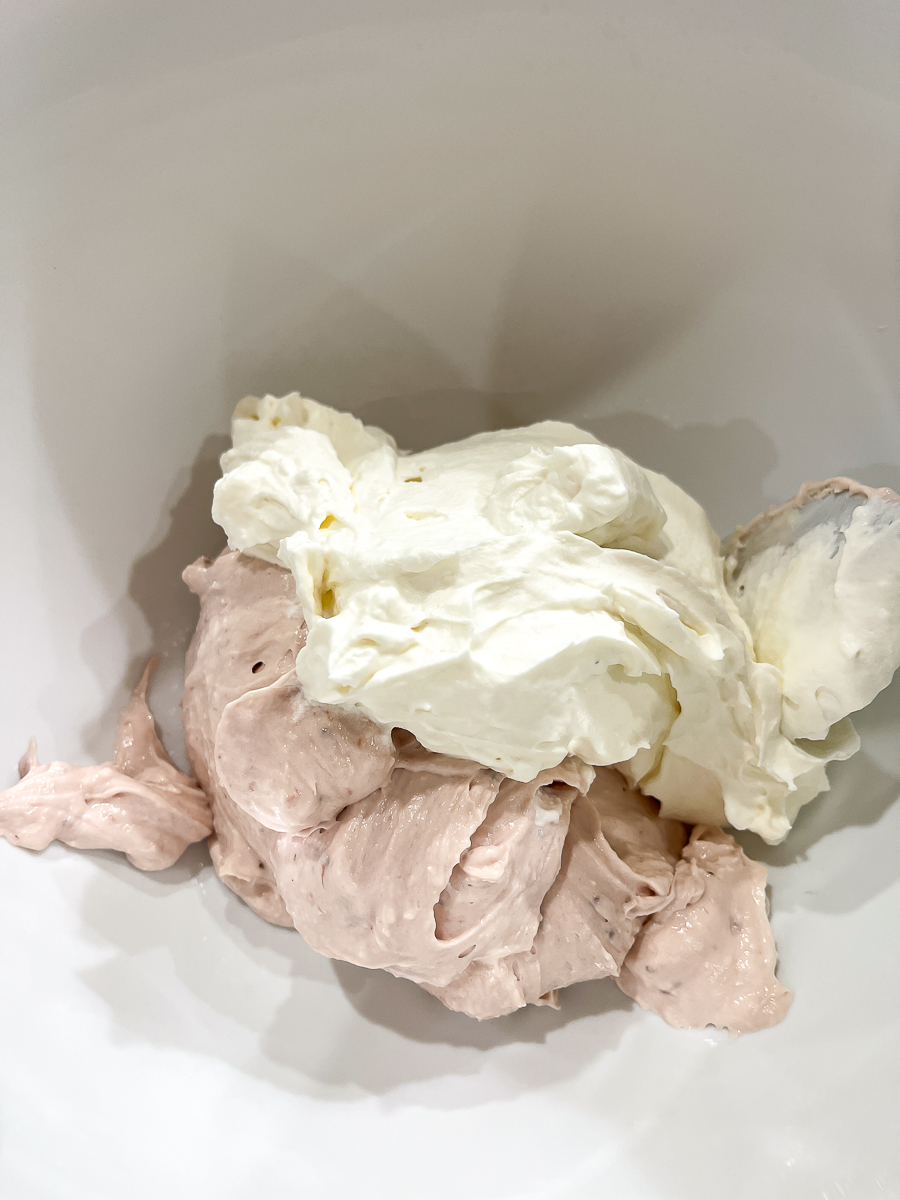 Transfer the mixture to a serving bowl and serve with desired fruits, crackers, and cookies.
You will want to store the sweet dip in an airtight container in the refrigerator. I only keep it for 3 days.
I have not tried the recipe with cool whip in lieu of the whipping cream. I just prefer to not use cool whip. I'm sure it would work as a quicker step.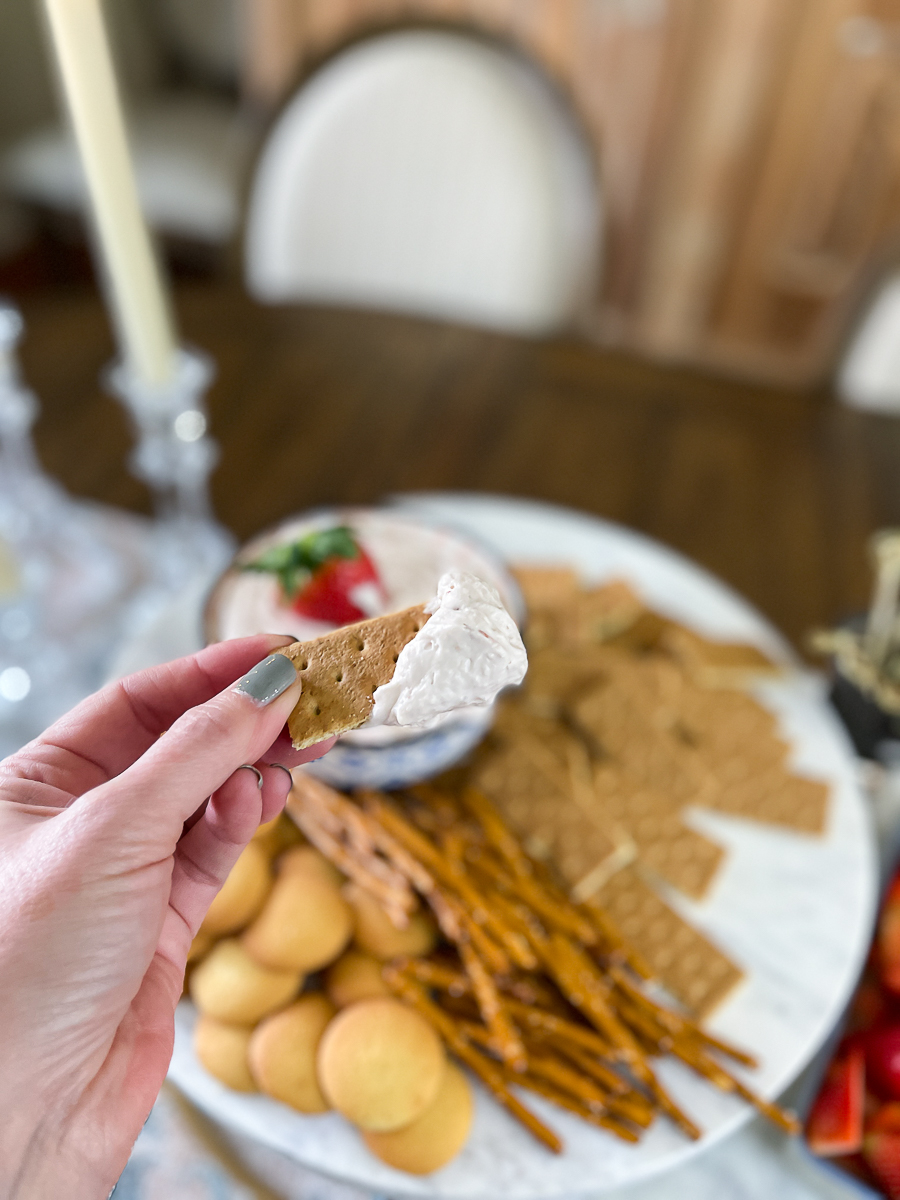 This strawberry cream cheese dip is definitely a hit with my family.
It's the perfect way to add a simple dessert, especially if doing a charcuterie or meal board.
Be sure to print the recipe below and pin it to your Pinterest boards for your next party!
Up next is Marty from A Stroll Thru Life. I don't know about you, but how fun would it be to serve her S'mores Dip with my dip for a dessert bar?
Print the Recipe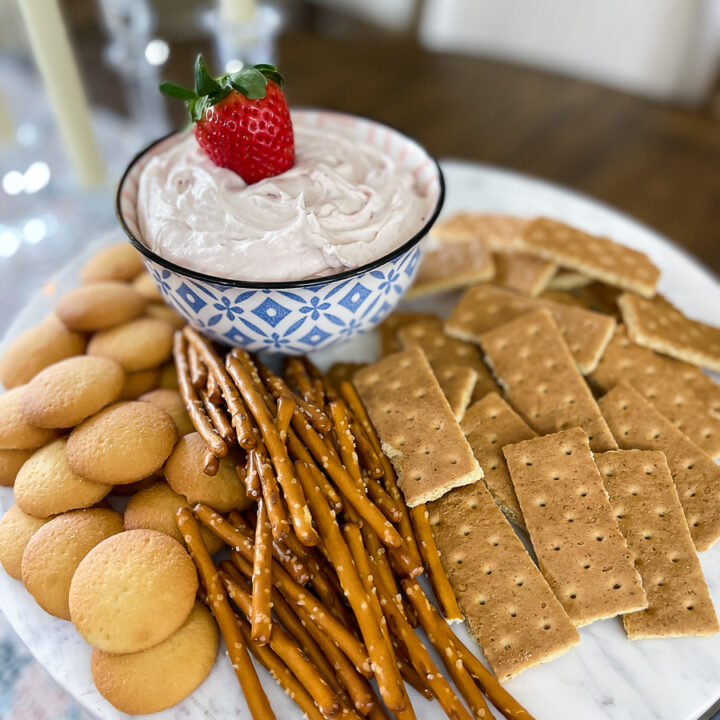 Strawberry Cream Cheese Dessert Dip
Yield:
Approximately 2 Cups
This yummy make-ahead dessert dip is perfect for dipping crackers, cookies, fruits, and pretzels.
Ingredients
8 ounce block of cream cheese, softened
1/2 cup of powdered sugar
1/2 teaspoon of vanilla extract
1/3 cup of strawberry jam
1/2 cup of heavy whipping cream
Instructions
With an electric mixer, blend the softened cream cheese and powdered sugar.
Add the vanilla extract and the strawberry jam. Mix until combined.
Set aside the cream cheese mixture.
Using the whisk attachment (if you have one), whisk the whipping cream at medium-high speed until stiff peaks form.
Fold the whipping cream into the cream cheese mixture to combine.
Notes
Serve with the following items:
pretzels, vanilla wafers, graham crackers, animal crackers, strawberries, and apple slices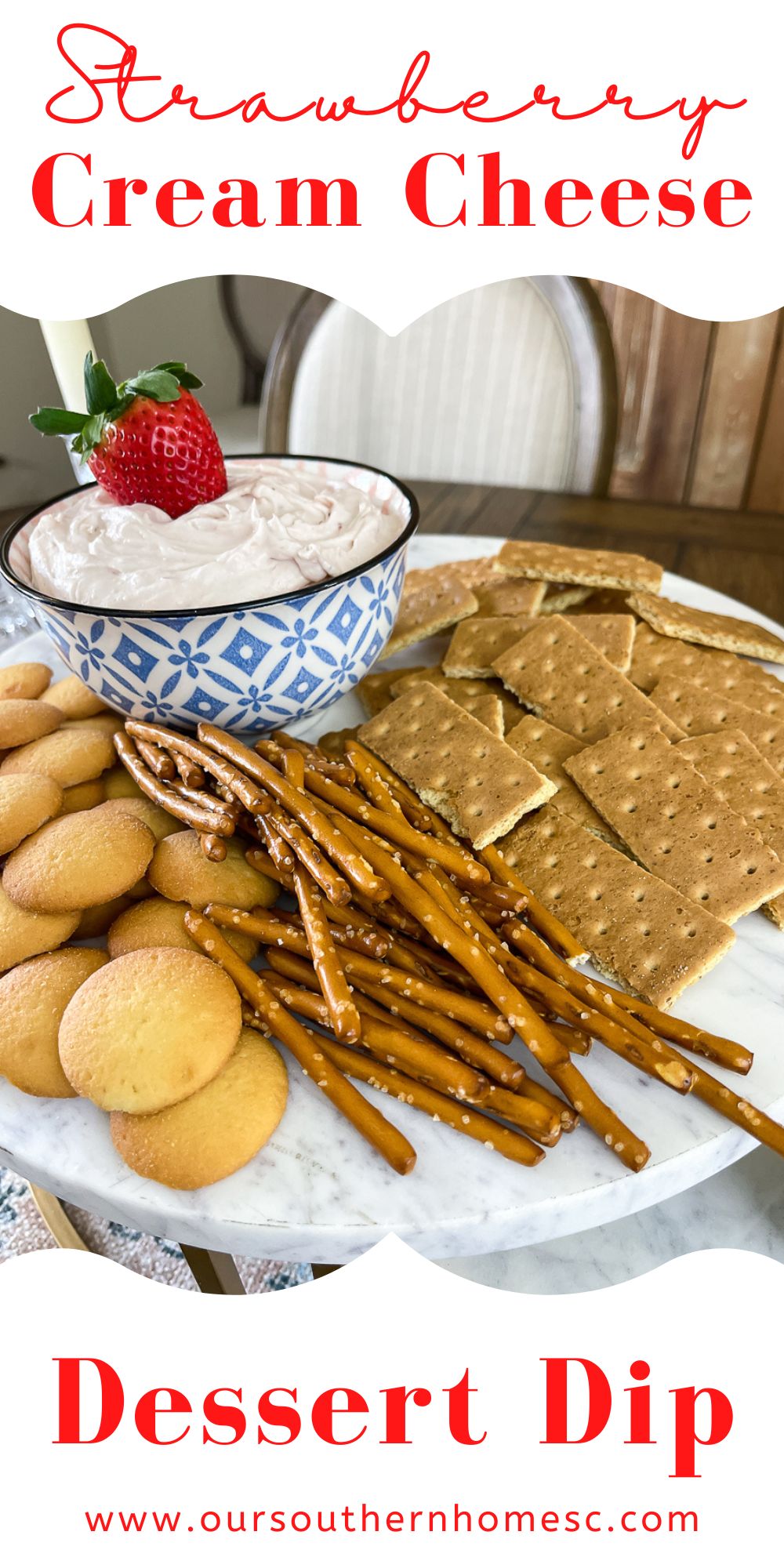 More Valentine's Day Recipes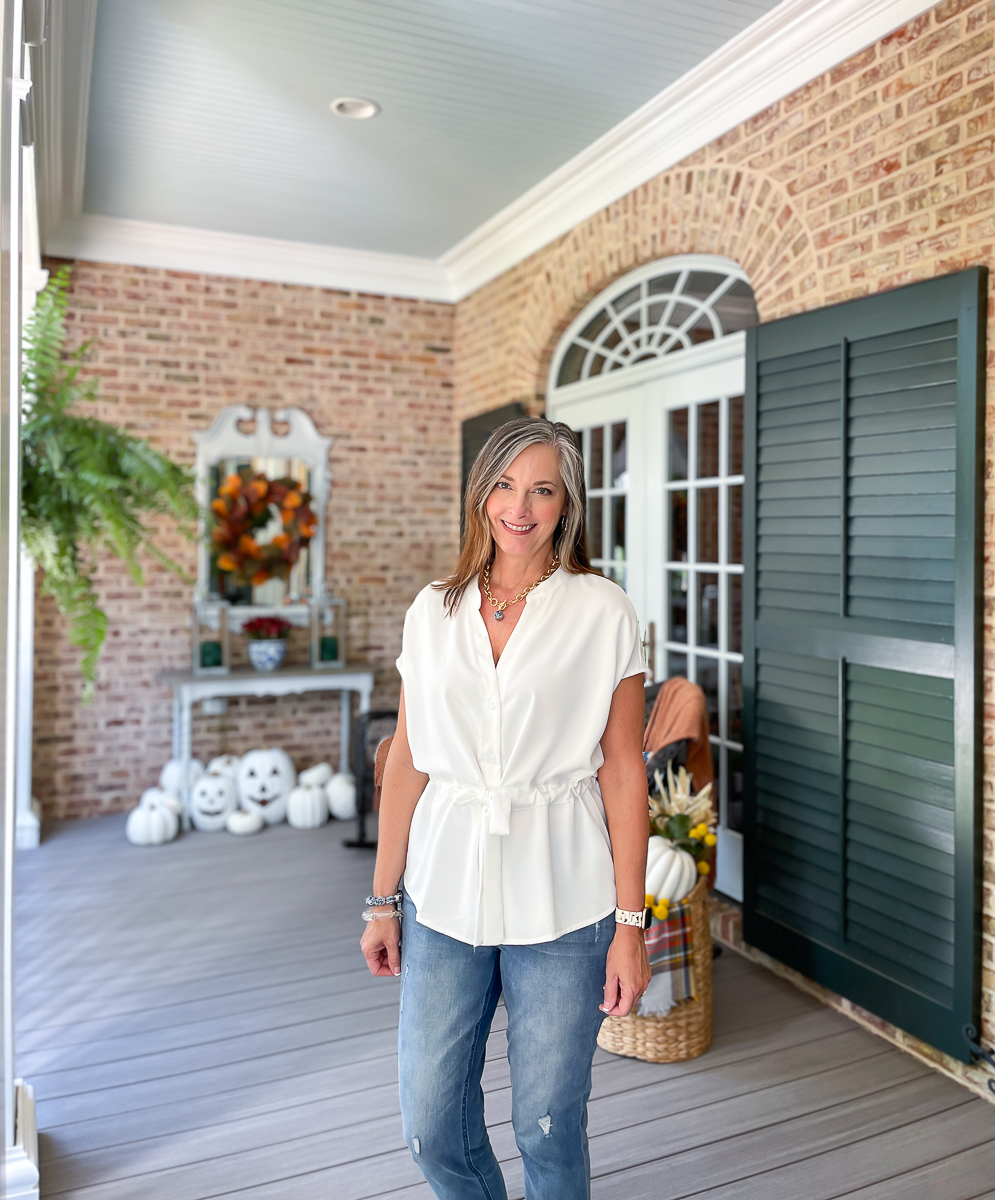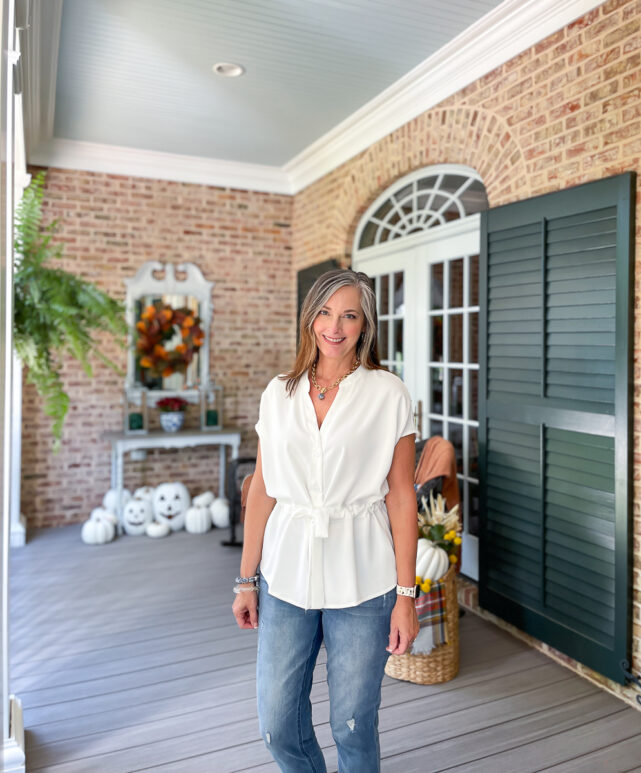 Christy has been creating content for Our Southern Home since 2012. She has been featured in numerous print and online publications. Her classic, eclectic design approach spans her home and fashion style. Christy has a way of mixing store-bought with thrift store, antique and vintage finds. As a recent empty nester, she is having fun navigating this new stage of life. Read more about Christy HERE. Be sure to subscribe below. You can also contact me HERE.
Buffer