I am so very excited to be once again participating in one of Marty's fabulous tours. Marty blogs at A Stroll Thru Life and she works so hard each season to organize a tour for us full of inspiration. We are pleased to present Fall Home Tours all week!
We have an amazing, eclectic line up that is sure to please all decorating styles. If you are stopping by from The Chronicles of Home, then welcome! It's a pleasure to have you.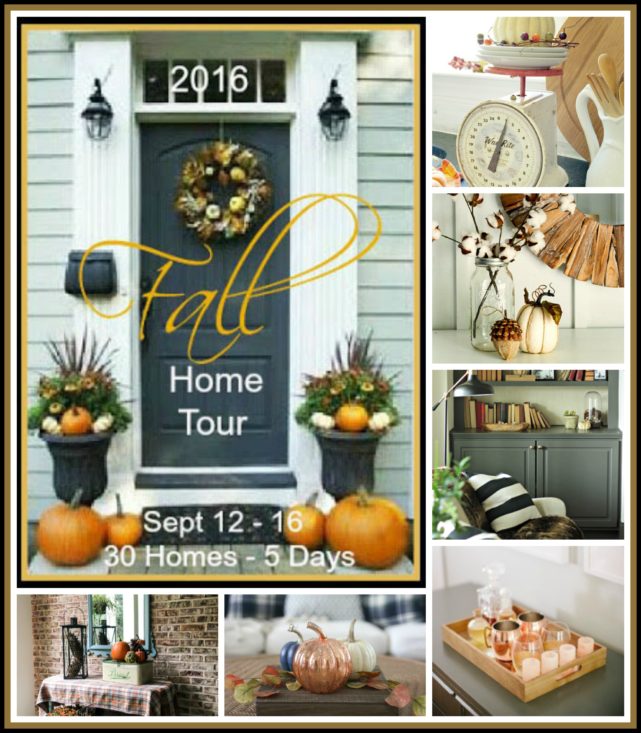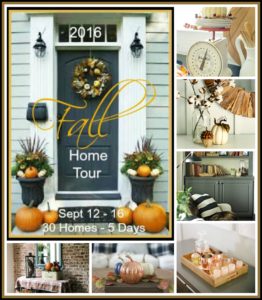 I am so excited to share my Fall Home Tour with you!
It is still terribly hot here in South Carolina. I am hoping that with the addition of fall touches, the cooler temps will be just right around the corner. When I started decorating, there was not a pumpkin in sight…real that is. They are starting to make an appearance at the grocery store.
Come on in…let's get started.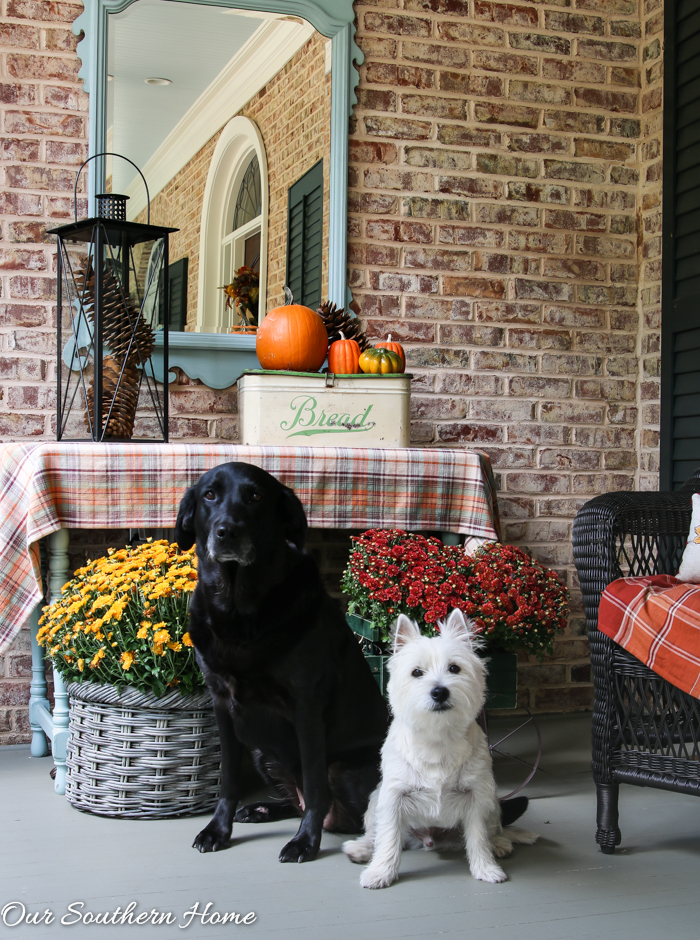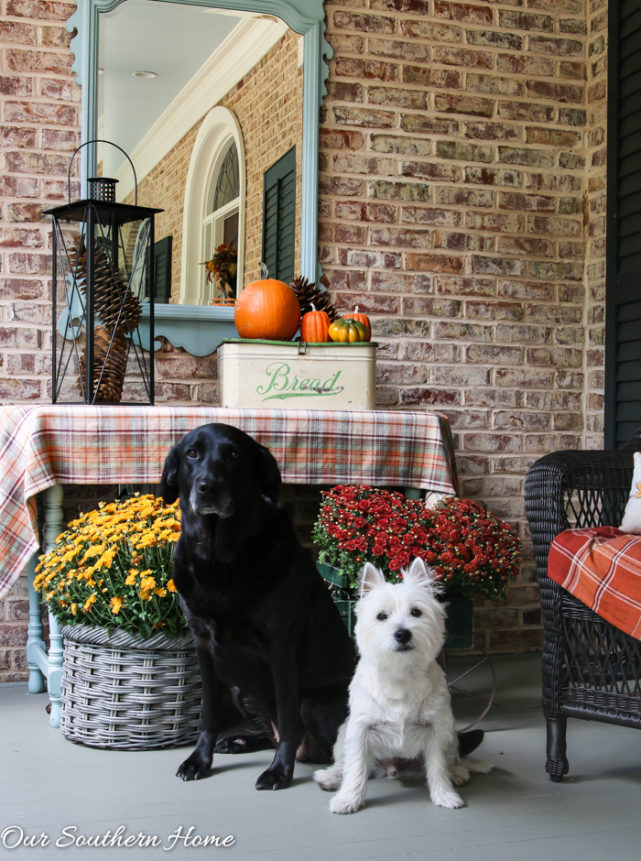 Lizzie and Bentley welcome you to our home. Lizzie is our precious 11-year-old lab. Bentley our rambunctious, toddler Westie at almost 3 years old. Both are spoiled rotten. Would you believe that Bentley has his own Instagram account that my teen daughter runs. You can follow his adventures HERE.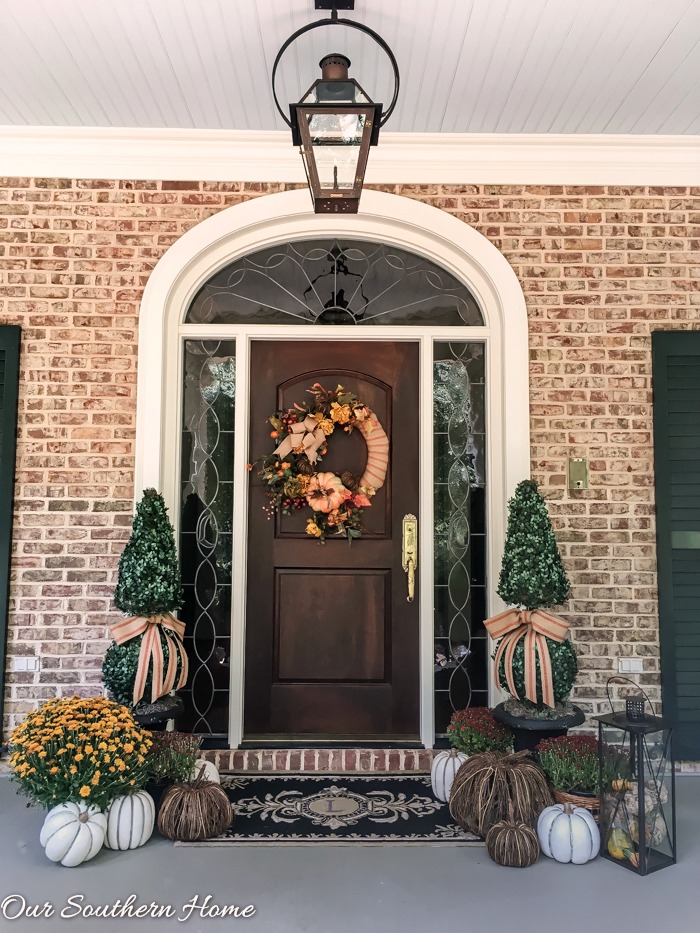 This post contains affiliate links. You pay nothing extra. I receive a portion of the proceeds which helps with the costs to run the blog.
The only new addition this year around the door is the set of grapevine pumpkins that jumped in my cart at Sam's Club. They light up, but I probably won't plug them in. You can find something similar HERE. I think it is actually the same set!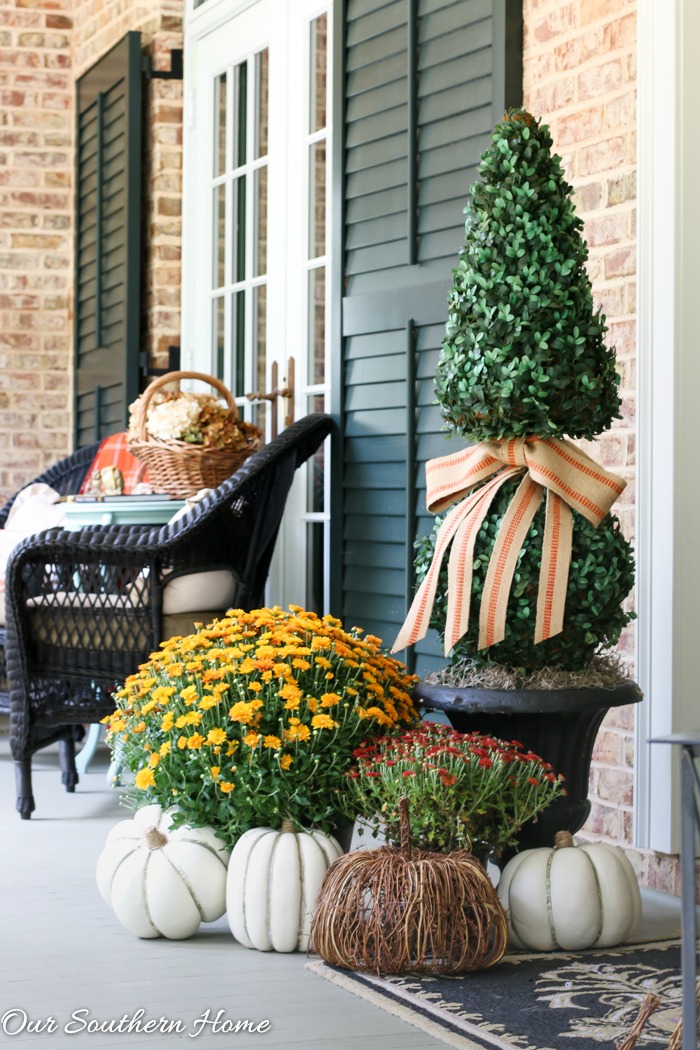 The white pumpkins are actually faux pumpkins from Walmart that I painted! You can see the Tutorial HERE. I have had these boxwood topiaries that I purchased from Ballard Designs for years. I checked and I didn't see them on their site. I did find a comparable version with good reviews HERE. I actually like them better!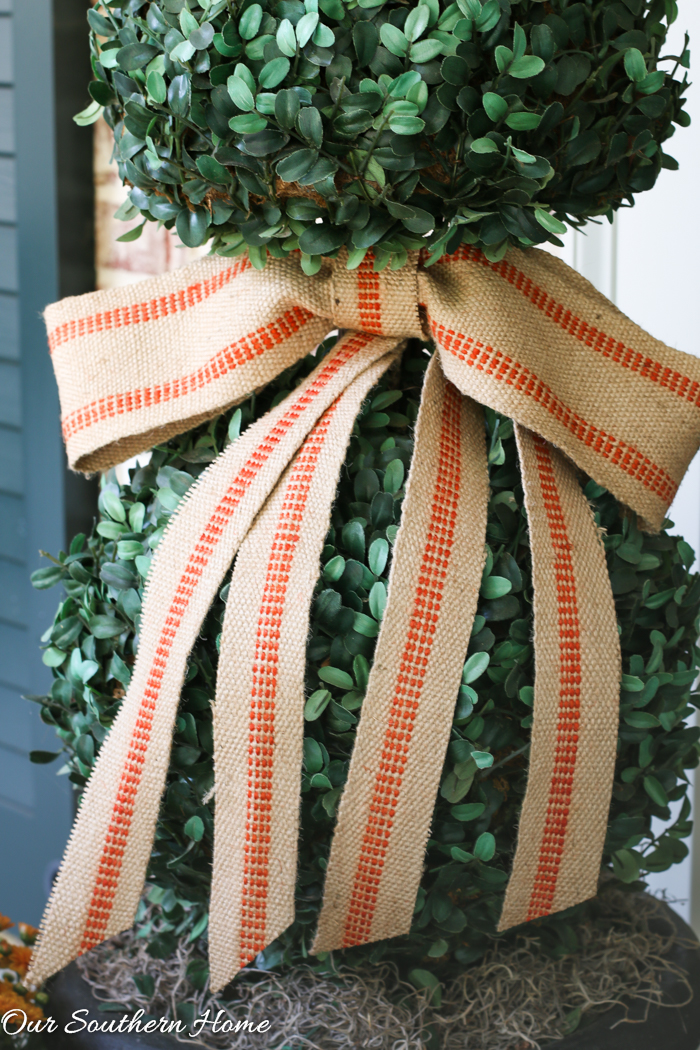 I made these bows last year from upholstery tape. It's perfect for fall in that it is orange opposed to the typical red you see.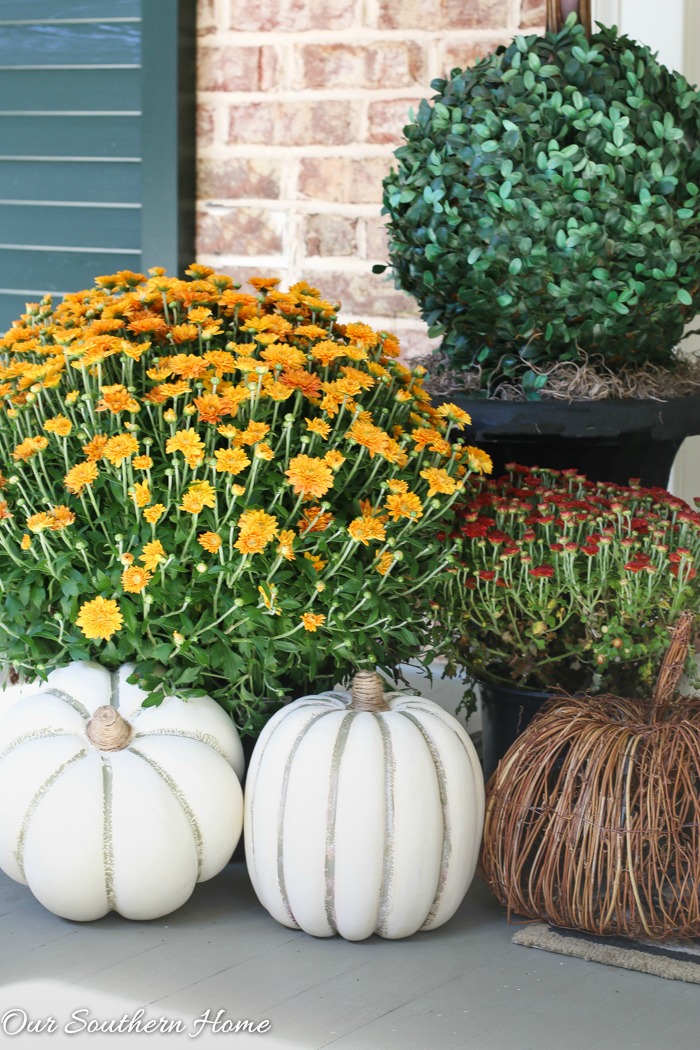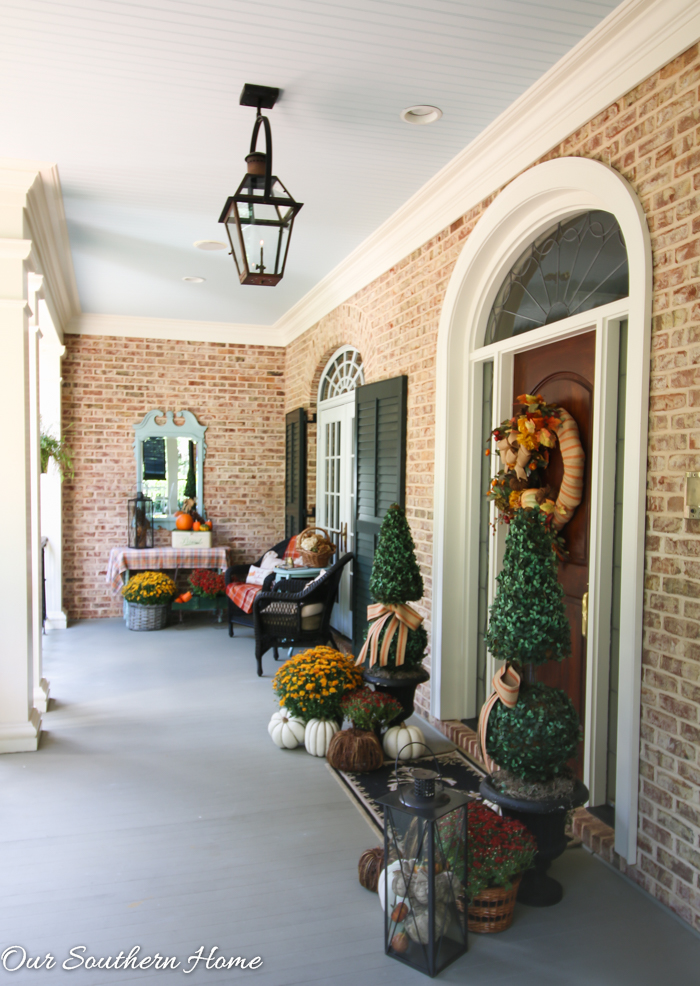 If you have visited before, you may notice a change! We just had the ceiling repainted haint blue! I absolutely love it! The color is SW 6498 – Byte Blue.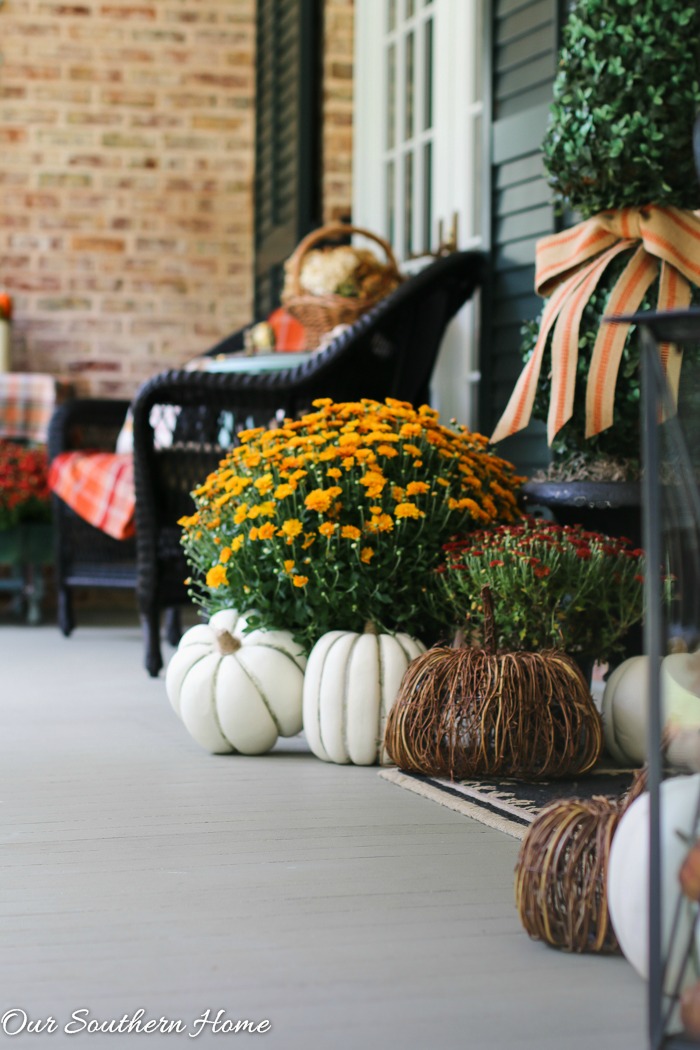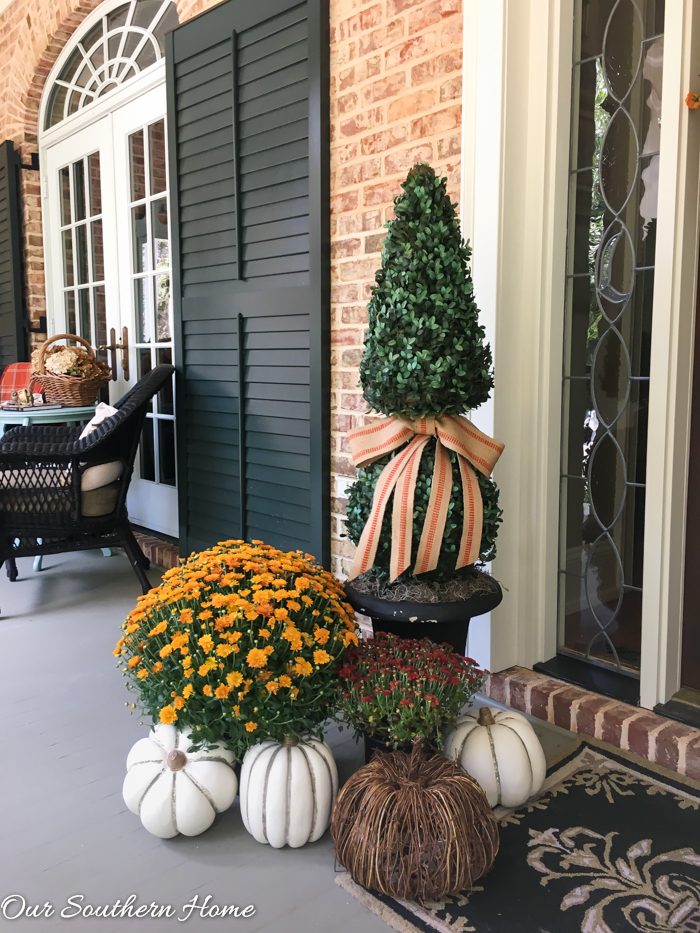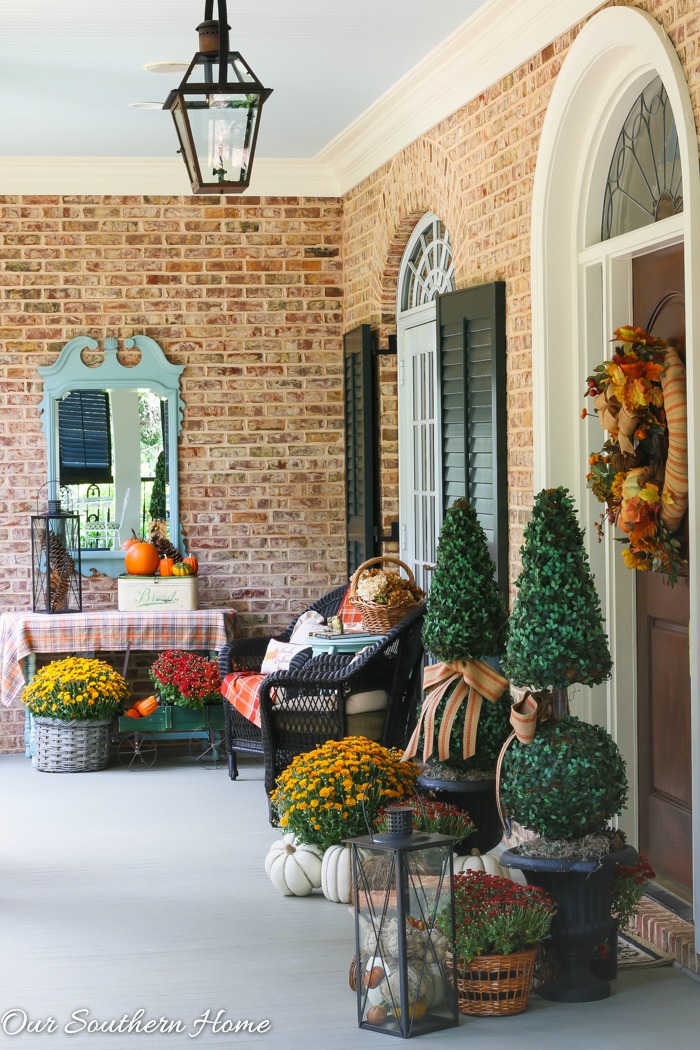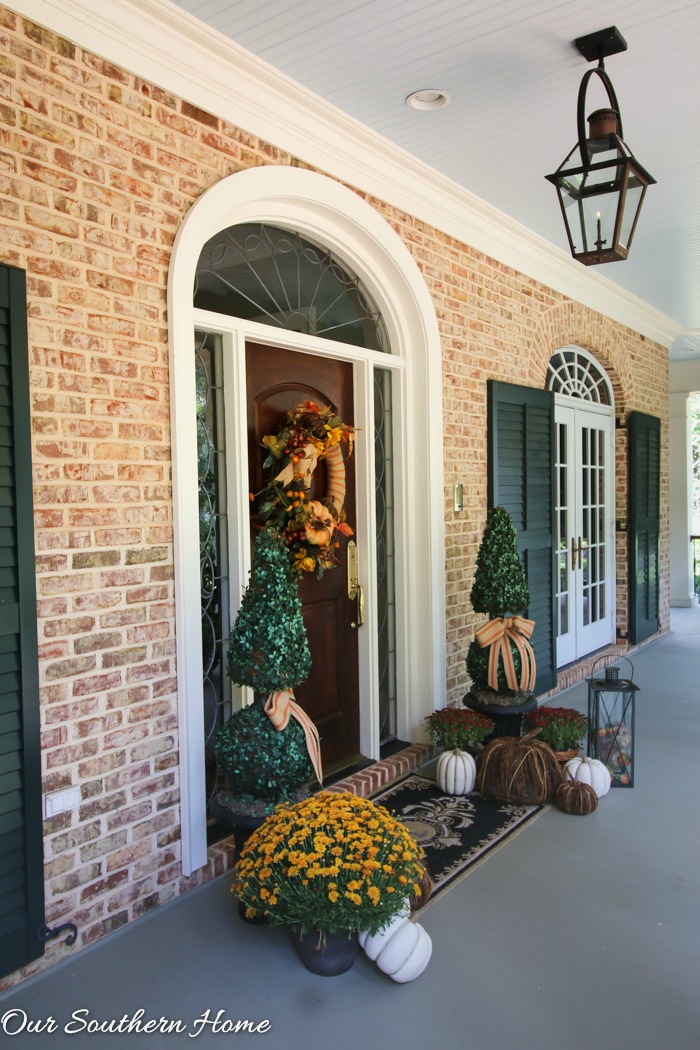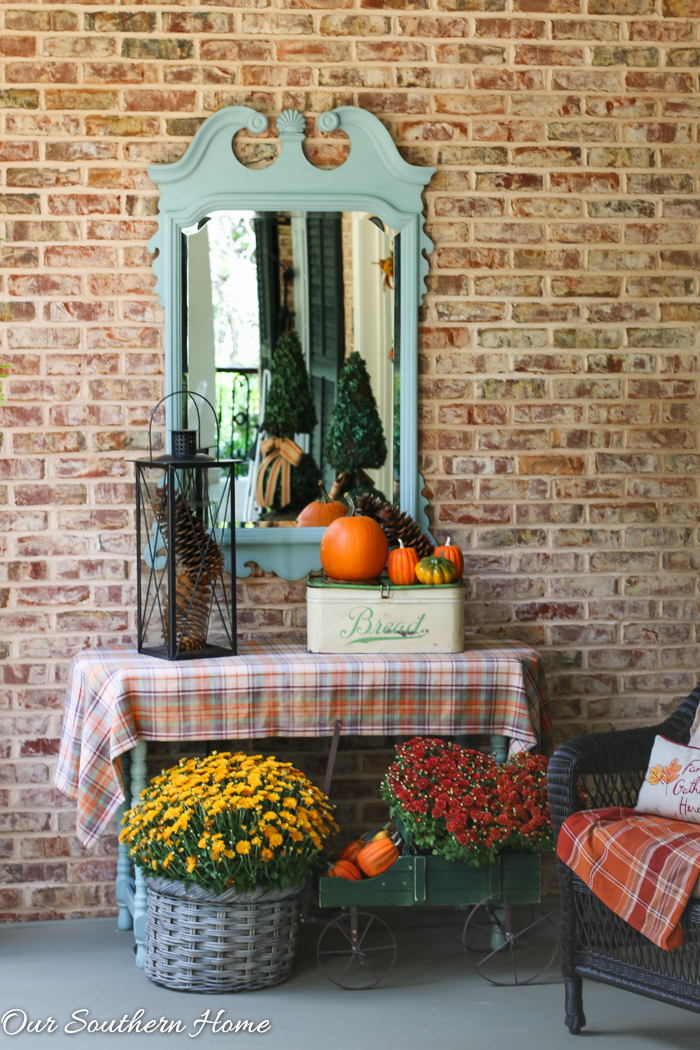 I like to decorate with a mixture of store-bought, antiques, vintage finds and thrift store decor. I am also a big proponent of shopping your home. Changing around what you have can make your home look and feel new and fresh! The table-cloth on the blue table is from Goodwill, but the one on the chair is from Marshalls!
TIP: If you can't find a great plaid throw….use a cotton tablecloth!
Shop This Post Below for Fall Decor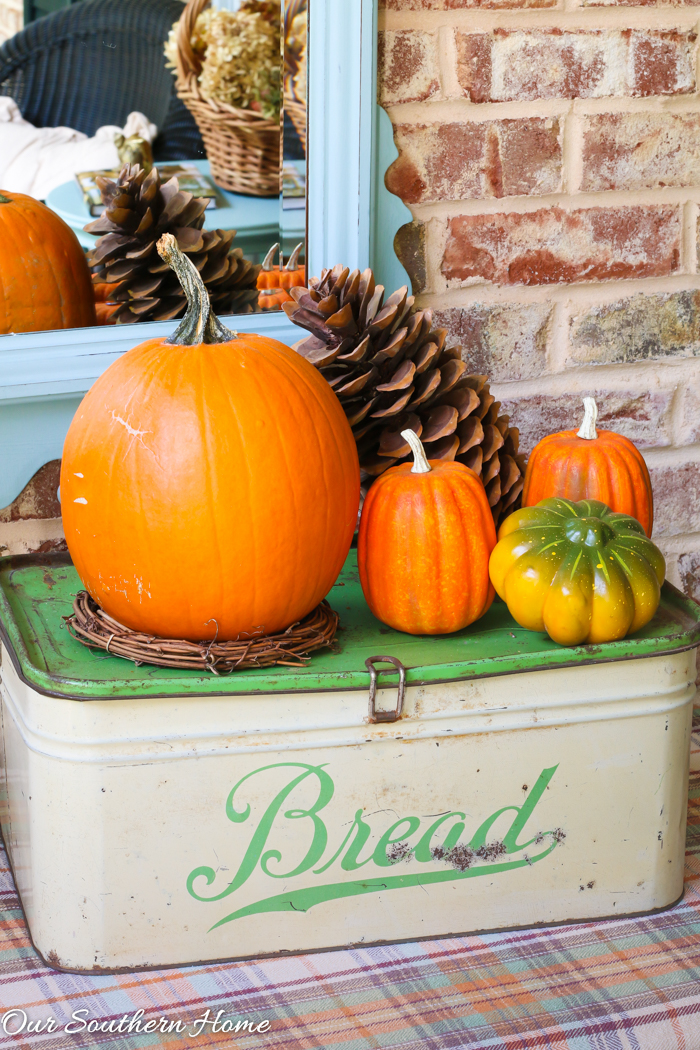 The only real pumpkin on the porch is this larger one on the left. It was growing on the side of the road. I've been watching it on my daily walks. As soon as it looked ready…it was ours!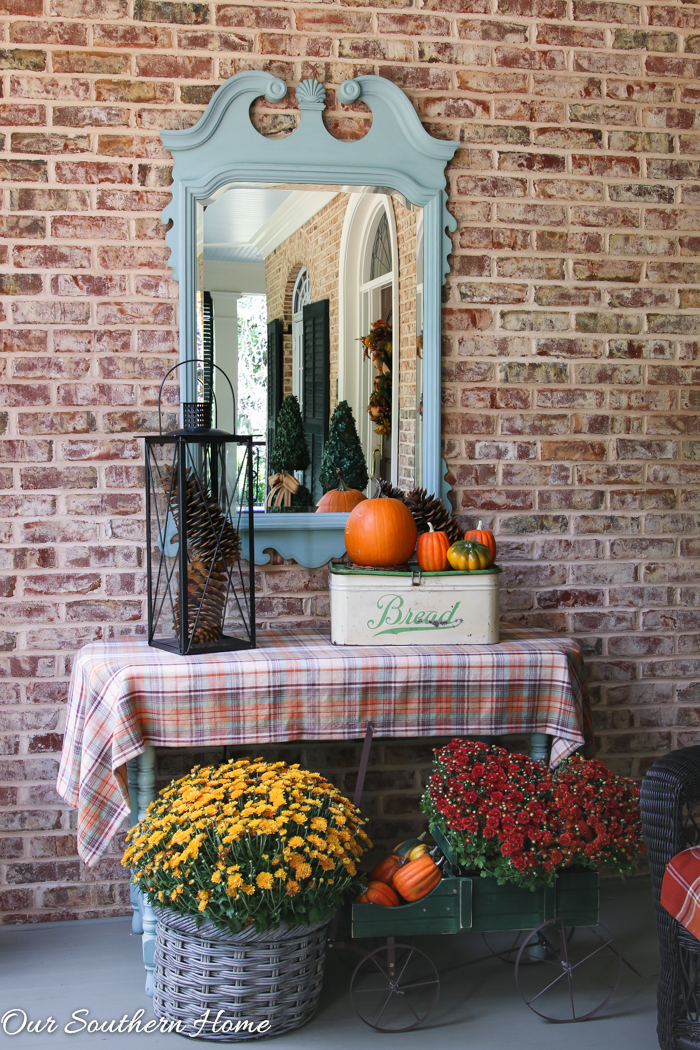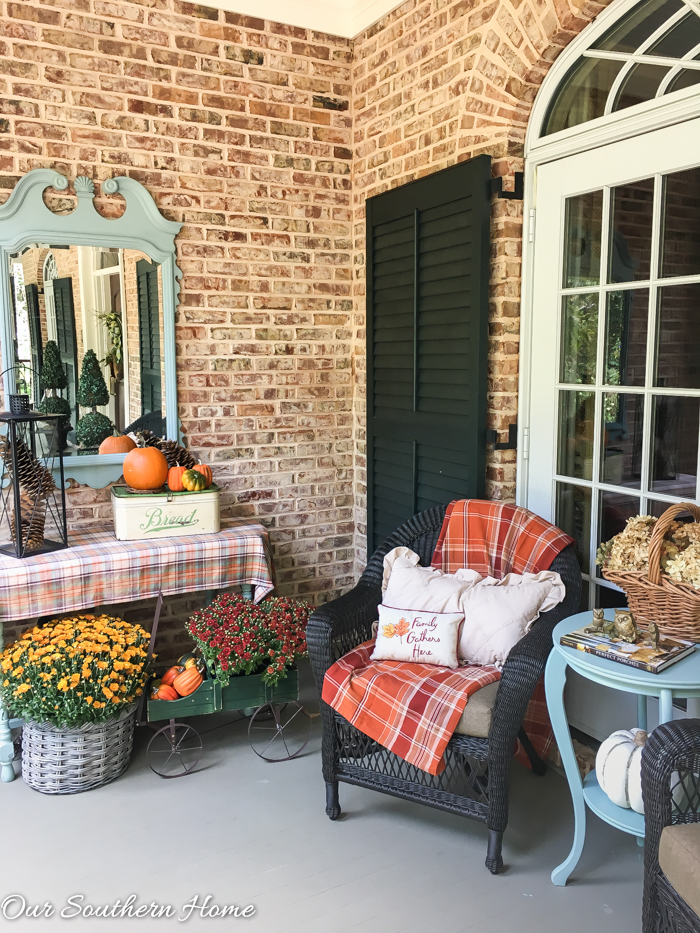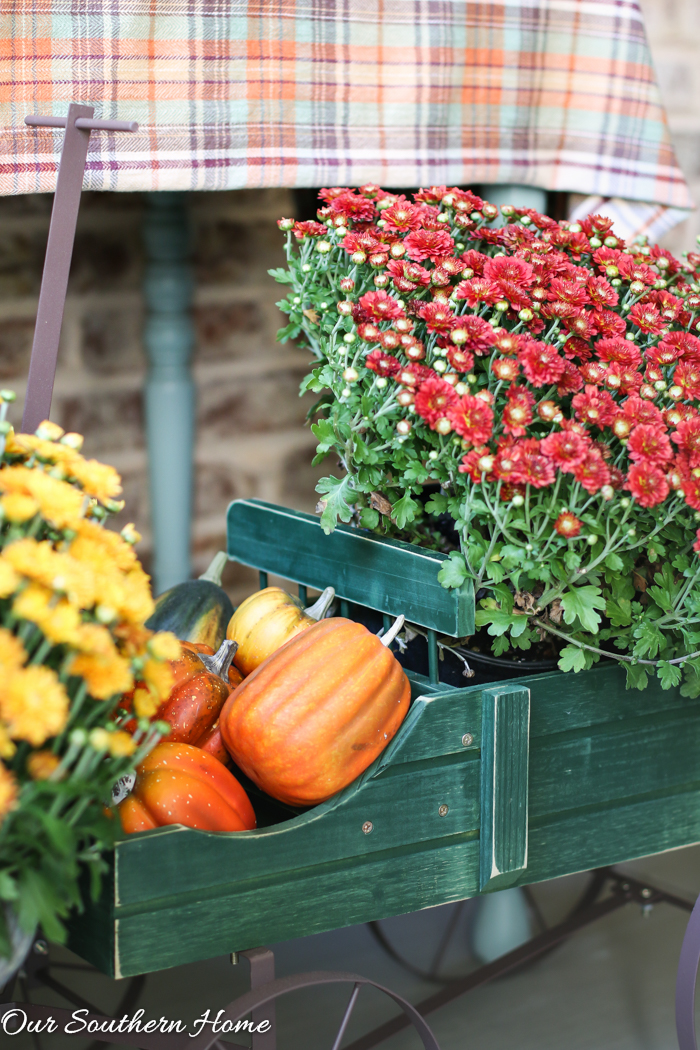 This adorable wooden wagon is less than $20! You can find it HERE. It is meant only for display.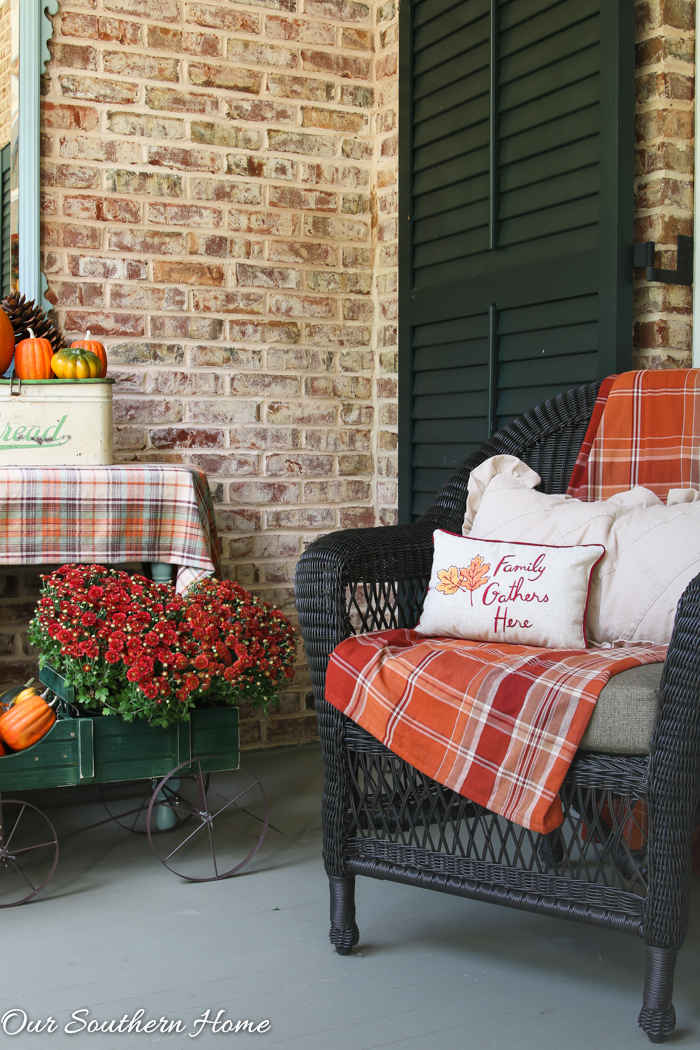 The sweet family pillow can be found HERE.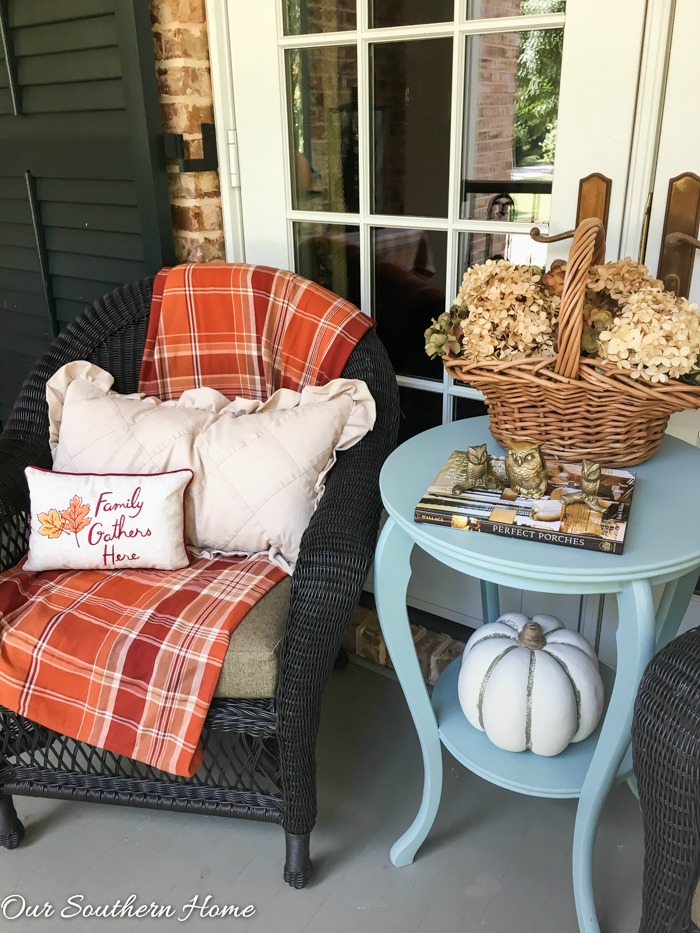 The little brass owls were my mother-in-law's. I love using them each fall.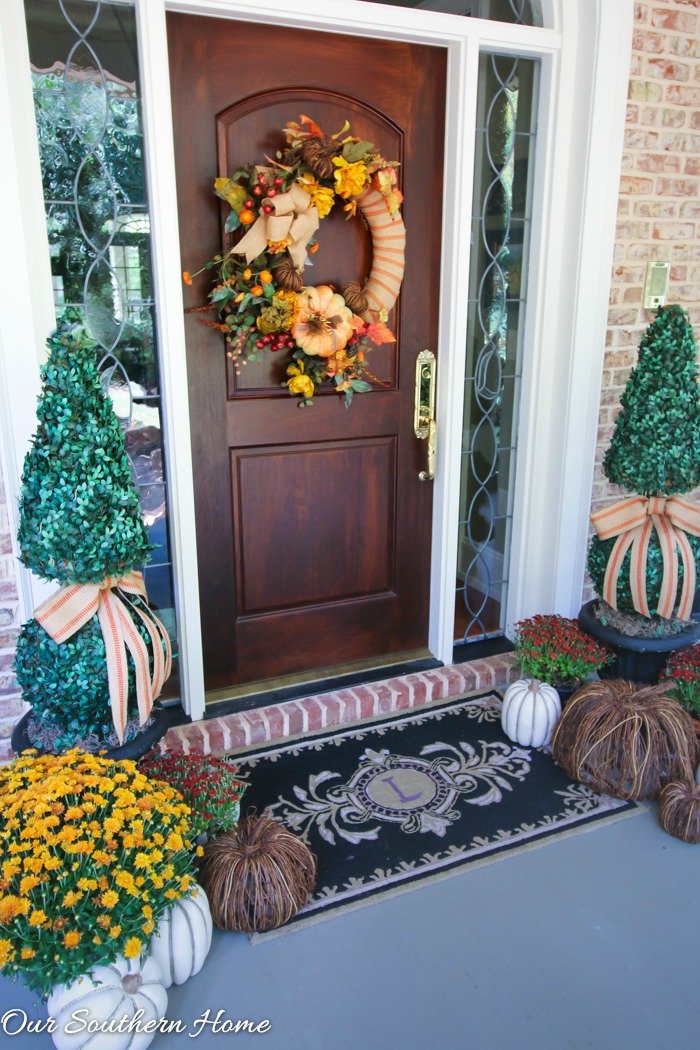 Let's head inside. You can find mu upcycled wreath HERE.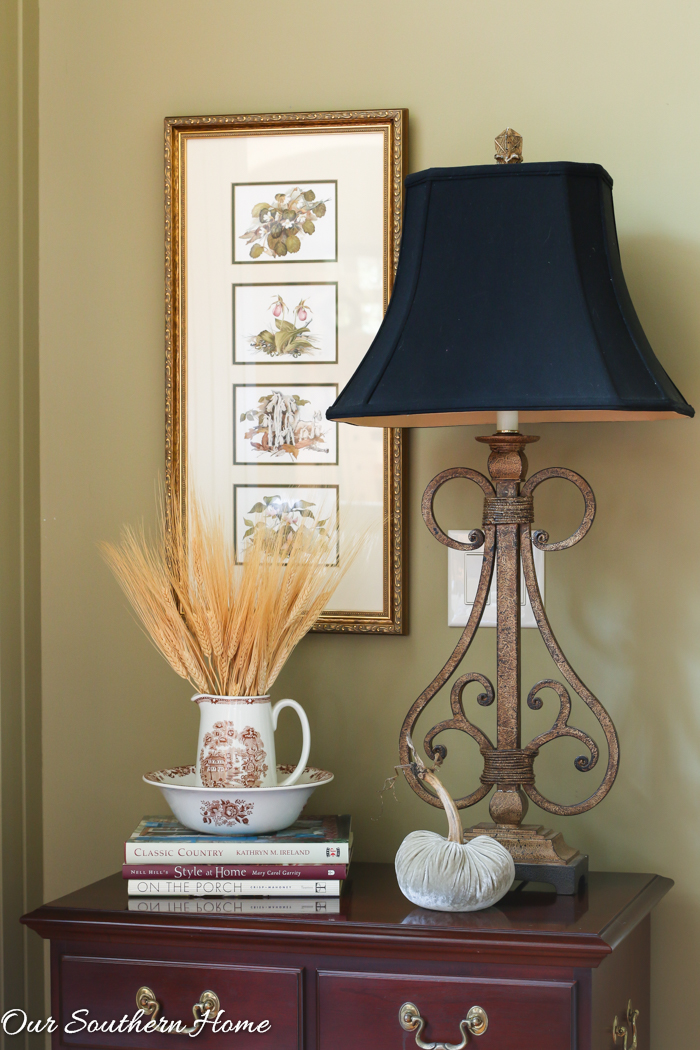 Here are a few vignettes in our family room. The transferware set is an antique from my mother-in-law. It is great for fall.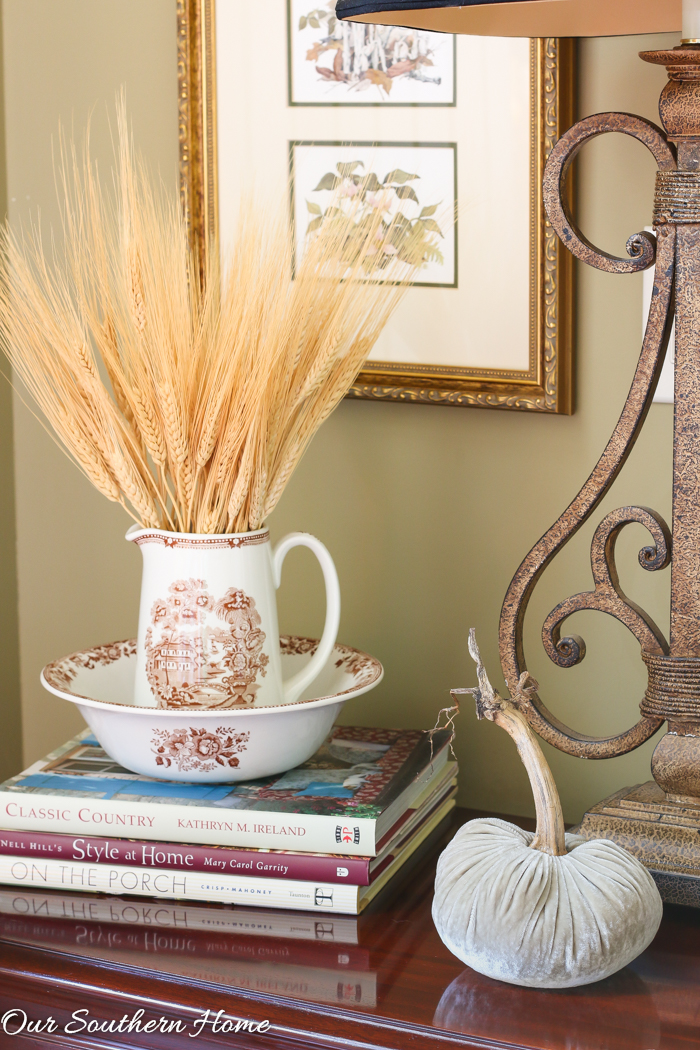 I adore velvet pumpkins and use several throughout the family room.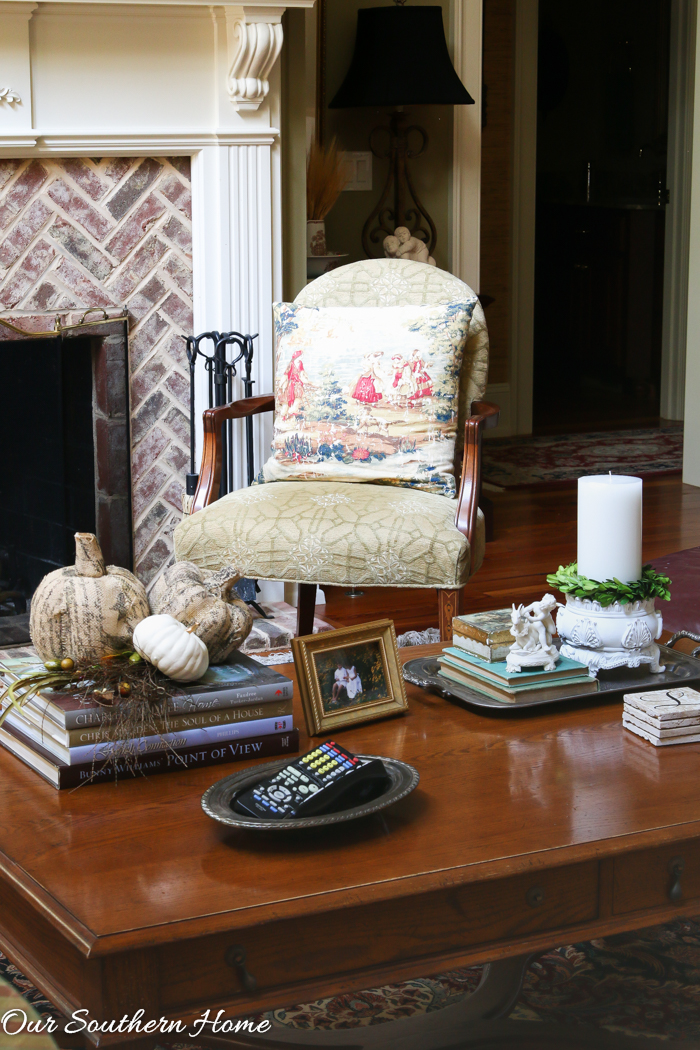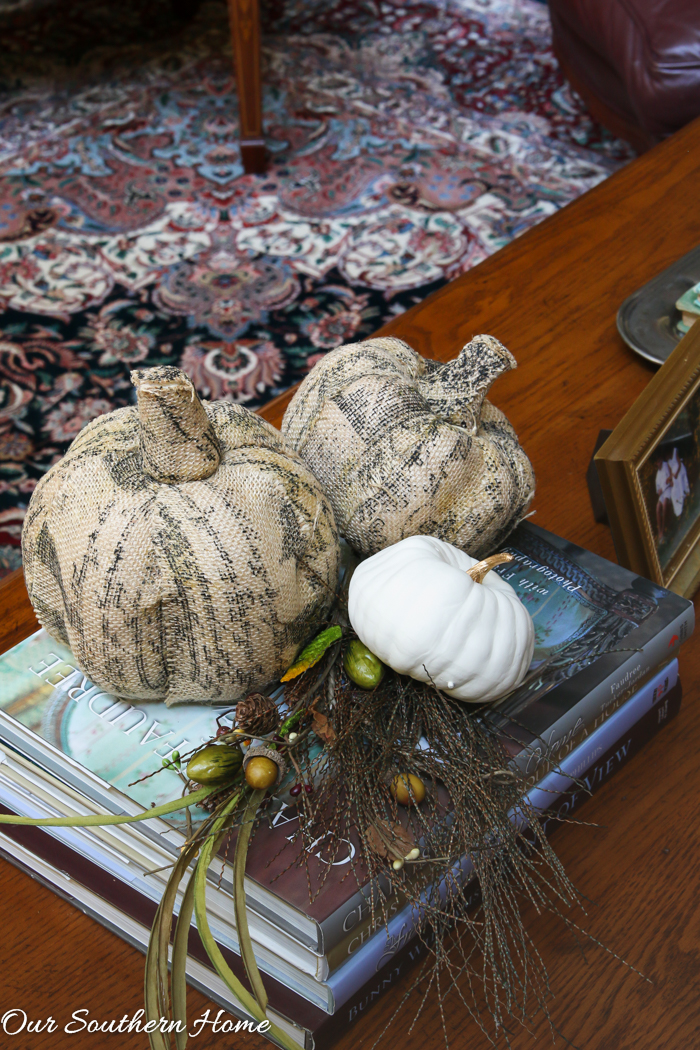 Dollar store pumpkins painted white take on a bit of elegance when the stems are painted metallic gold with a little Rub 'n Buff
.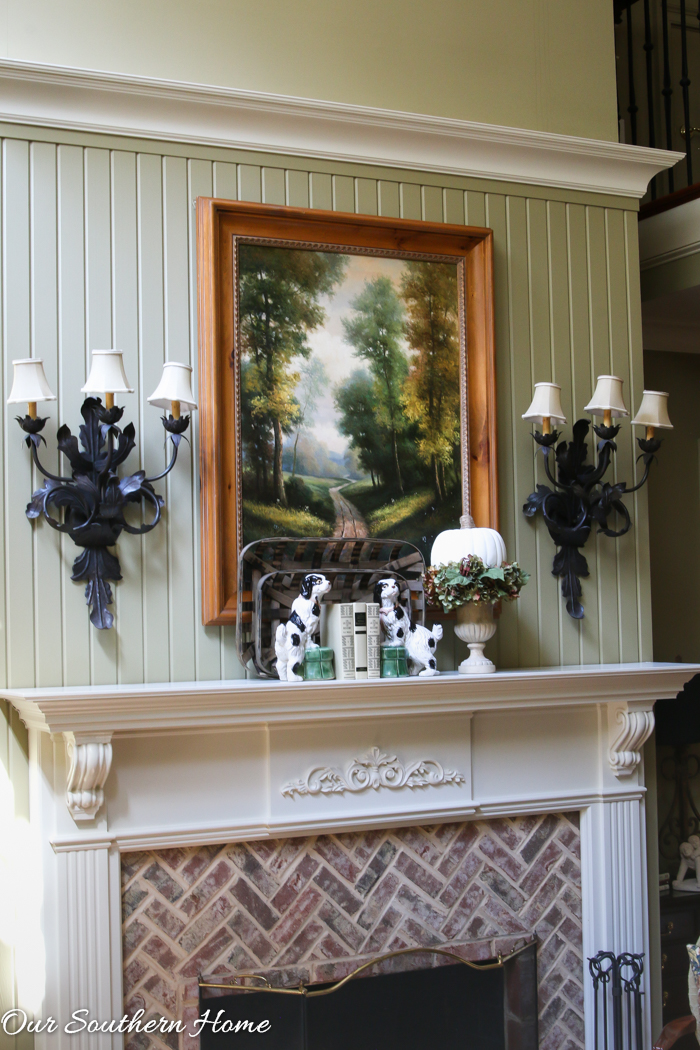 You can see more on the faux pumpkin topiary HERE.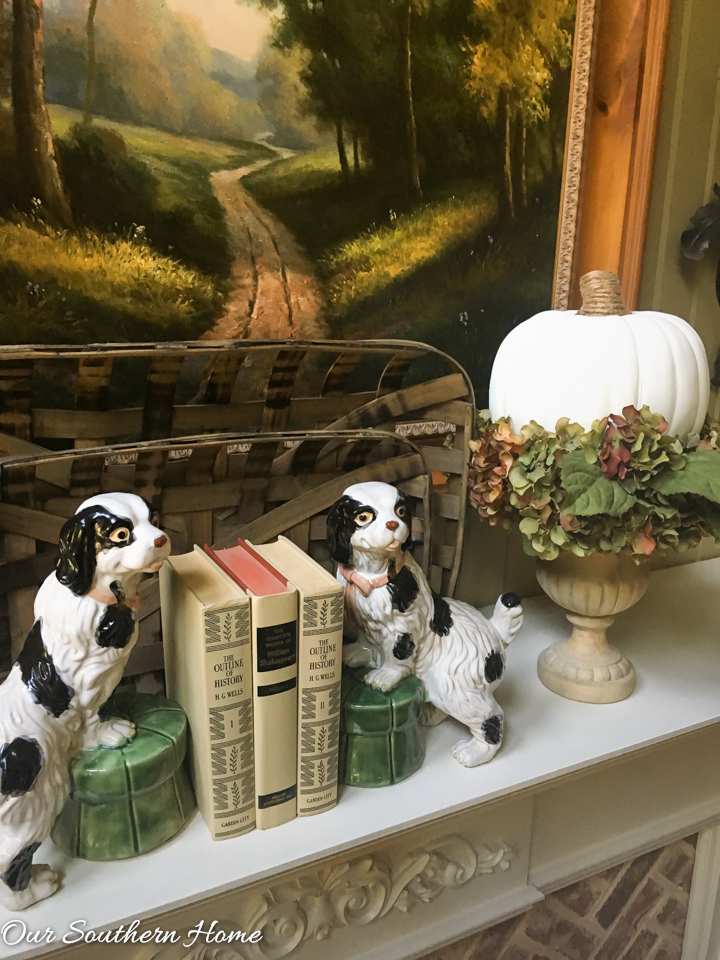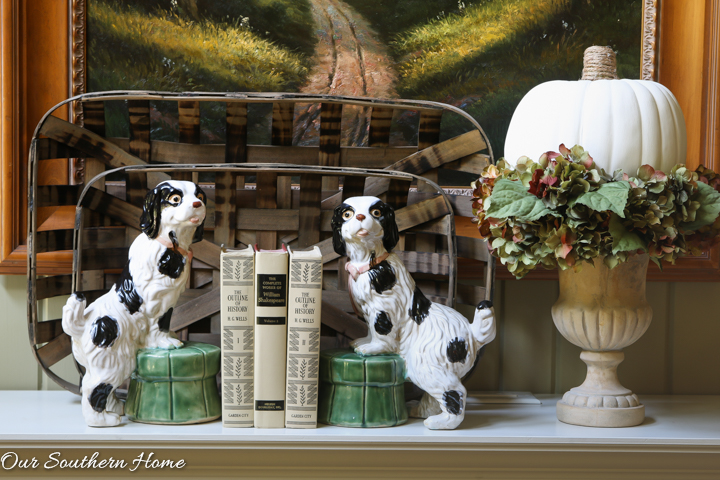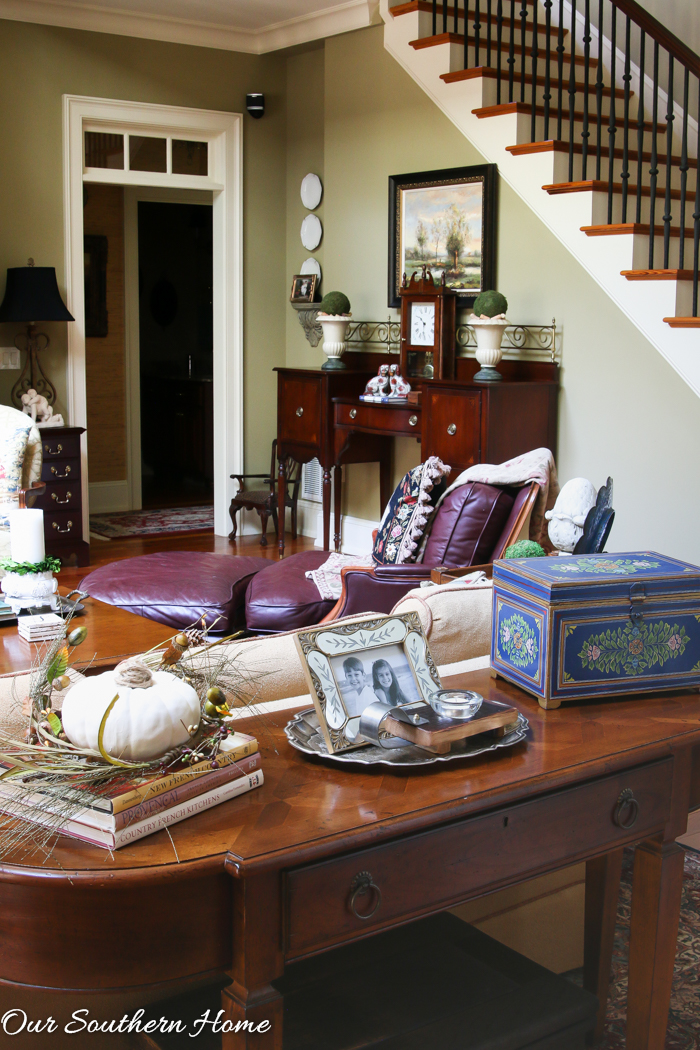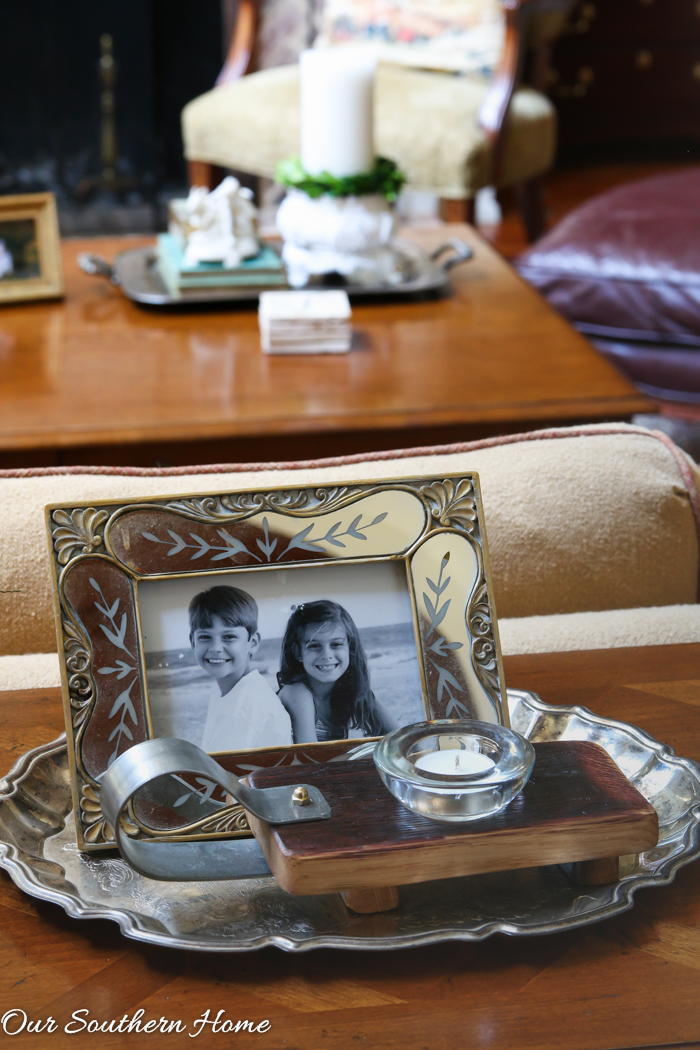 I love my new candle holder. It was a souvenir that I brought back from our trip to San Francisco. We toured the Robert Mondavi Winery in Napa this summer. It is made from the stave of a wine barrel. I'm not a t-shirt kind of souvenir girl. I want something with meaning! This to me was perfect.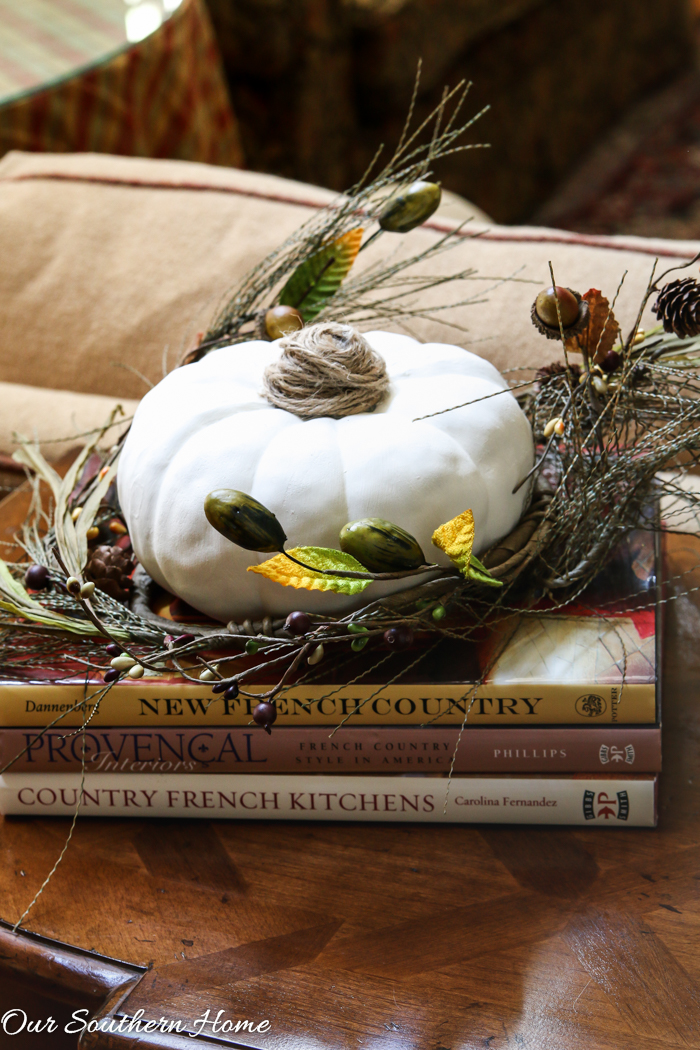 Cheap faux painted pumpkins can look much nicer when you wrap that plastic stem with twine. Secure it with hot glue.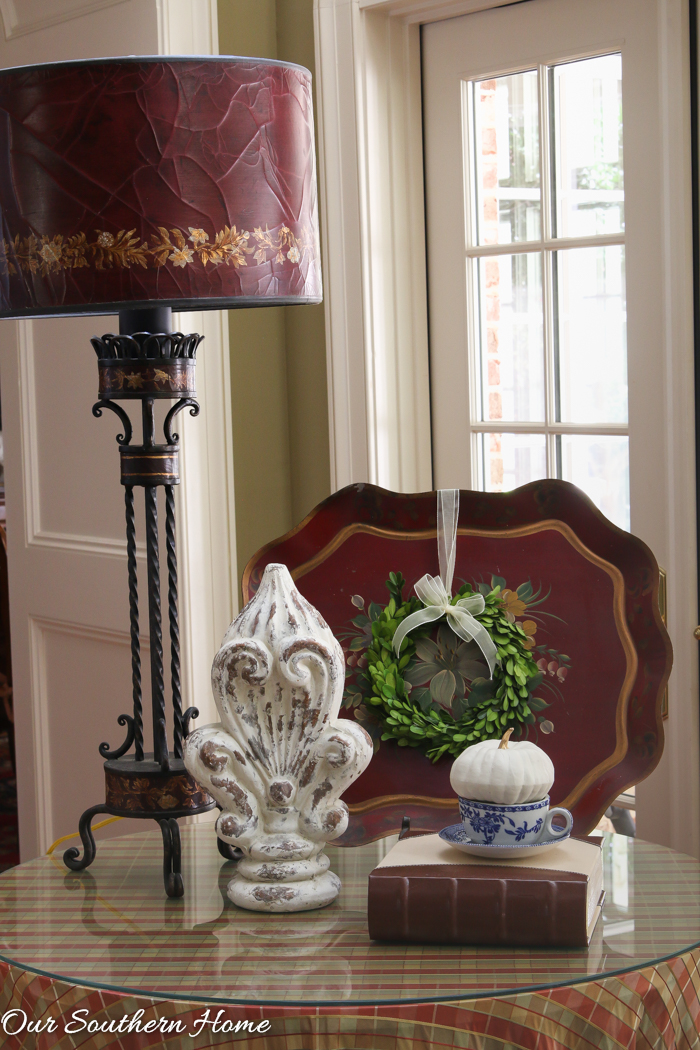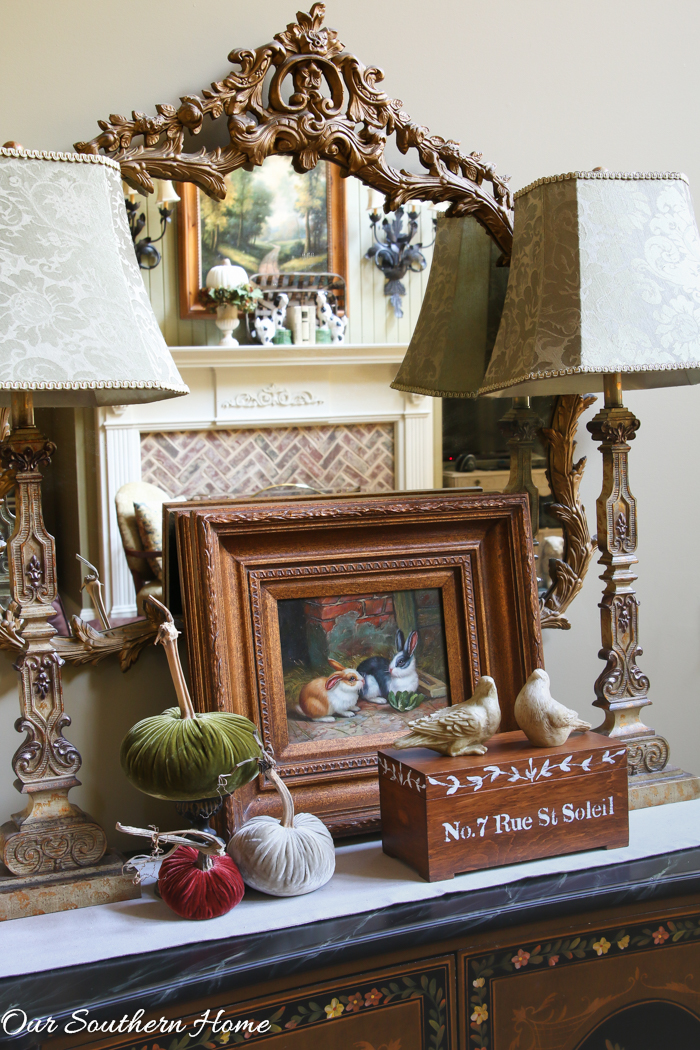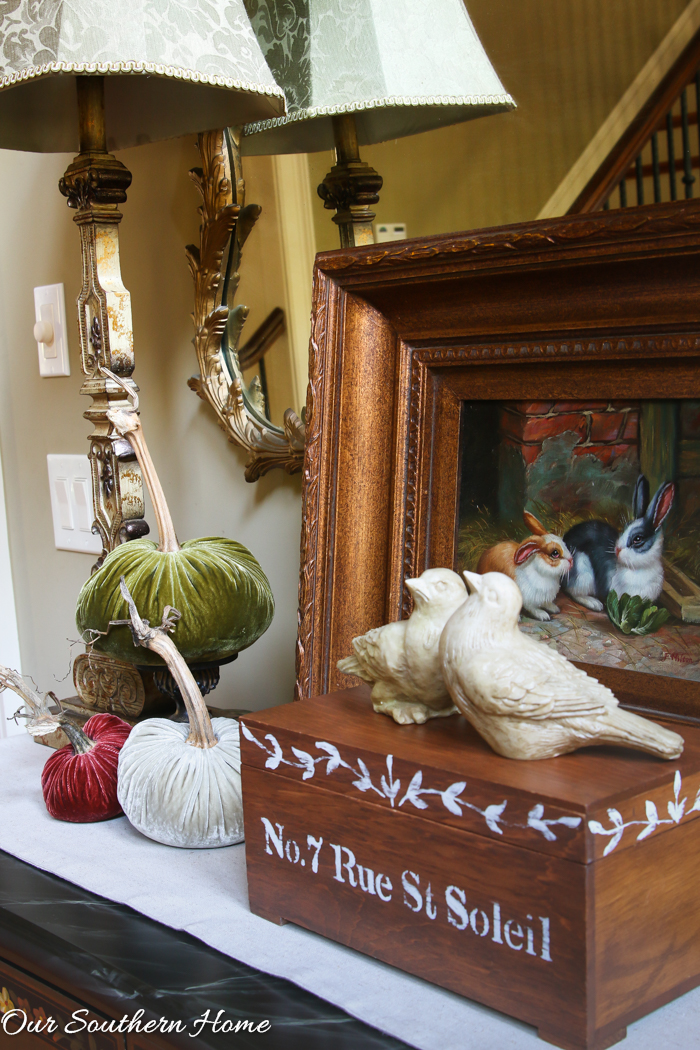 That little wooden box was a recent thrift store makeover. You can find the details HERE.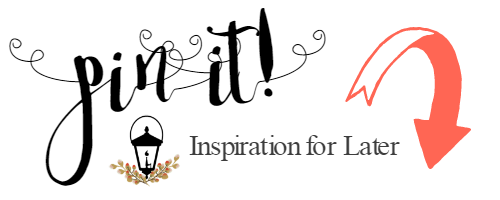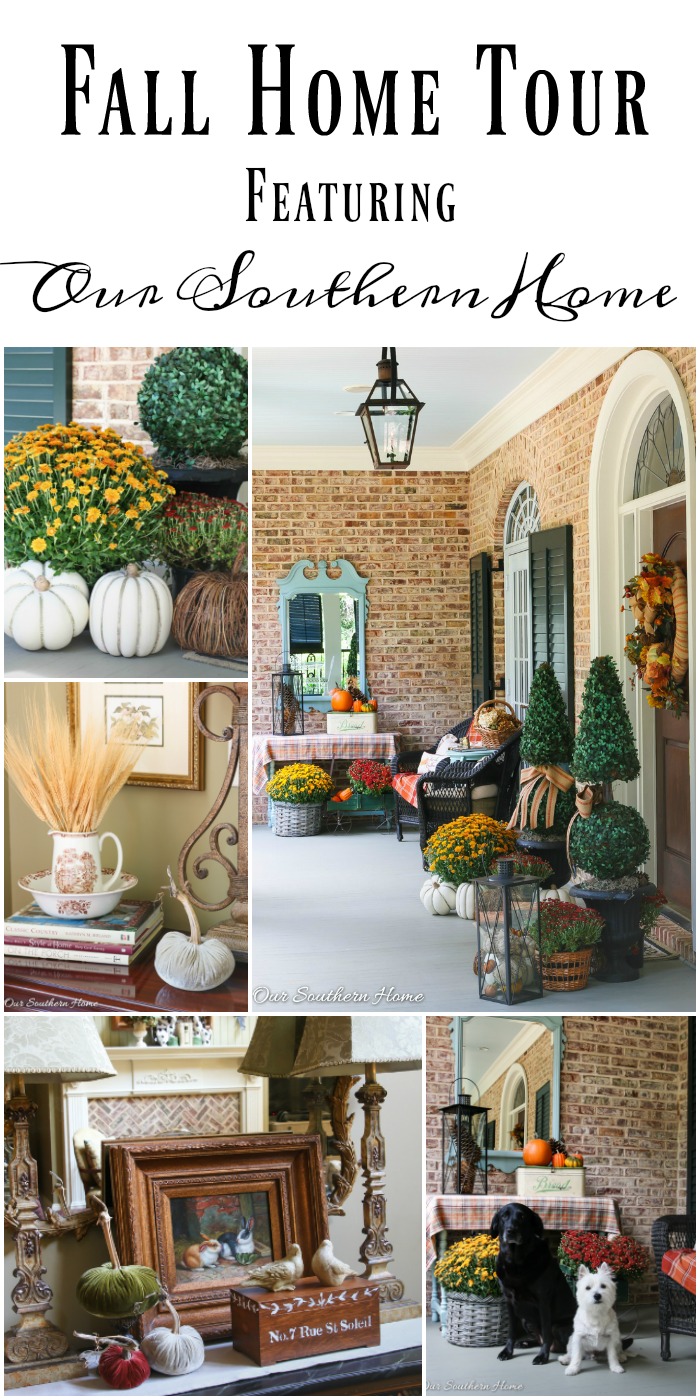 I hope you enjoyed my fall tour. I'll be sharing more soon…..the formal dining room and breakfast room! Be sure to sign up for updates on the sidebar!
It's time to check out the other ladies on the tour this week!
Monday – Sept 12
Tuesday – Sept 13
Wednesday – Sept 14
Thursday – Sept 15
Fri – Sept 16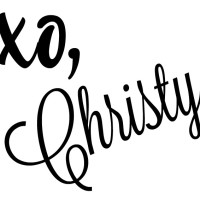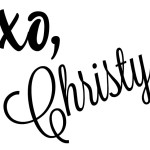 Buffer