Vintage Look Tray Makeover
Hi, friends! It's that time of the month where the Thrift Store Decor Team comes together in our hopes to inspire your next home decor makeover!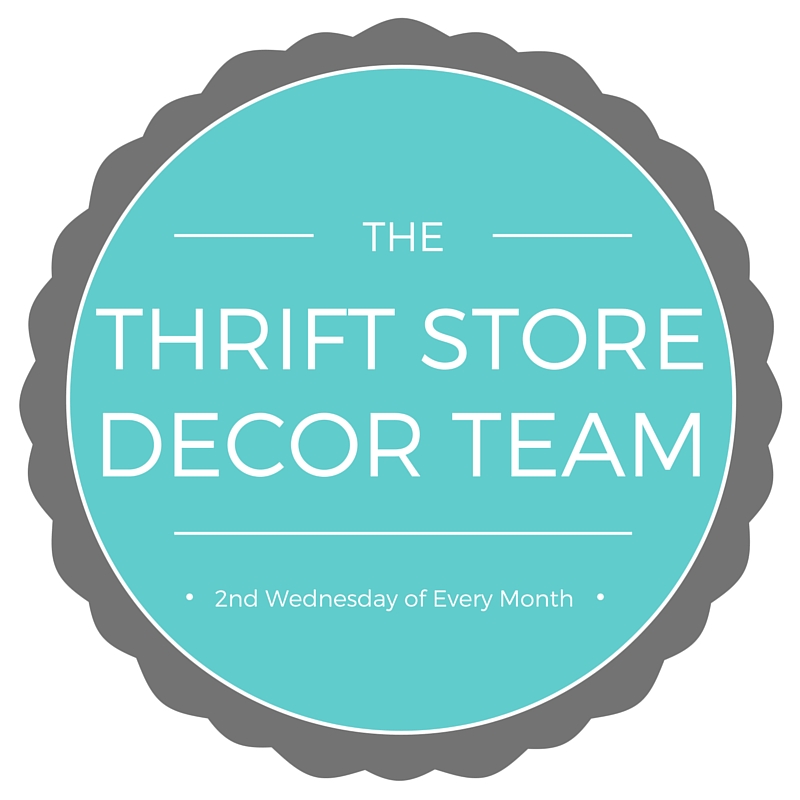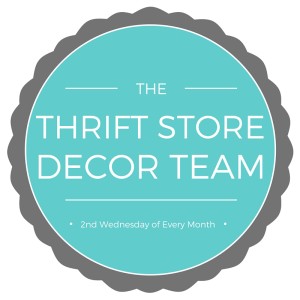 This post contains affiliate links. You will pay nothing extra if you click and purchase. The companies that I work with pay me a small percentage on purchases. This helps to pay my monthly blogging expenses. You can read my complete Disclosure Policy.
Our posts are not just about jumping in the car and heading to the local Goodwill! Maybe you have something in your home that one of our techniques or projects can be used on. After you check out this month's projects, be sure to take a stroll around your home to see if something is waiting for a mini-makeover.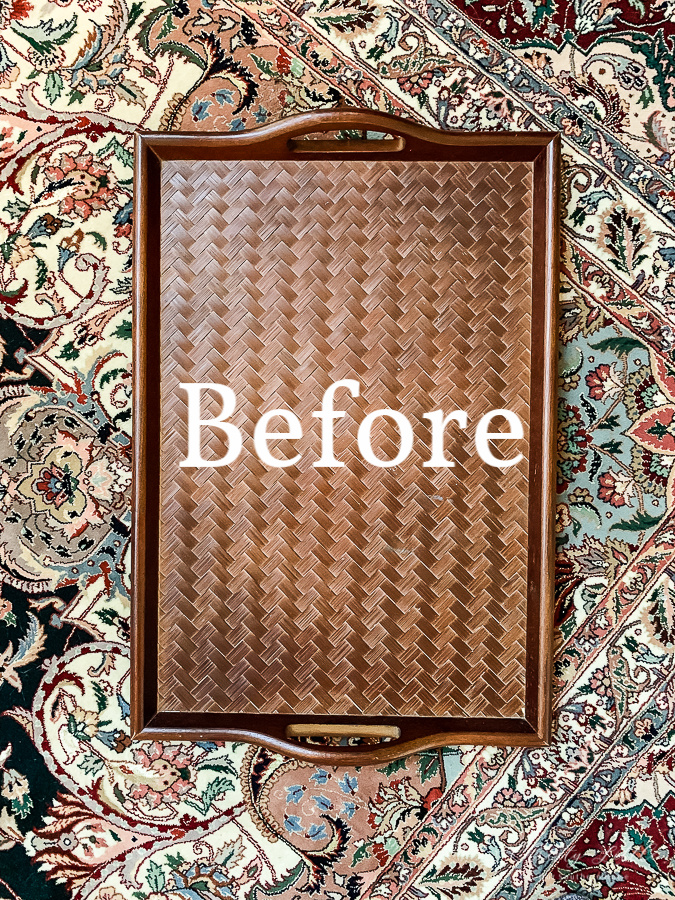 First of all, this $2.99 tray from Goodwill wasn't really bad at all. It's in great shape.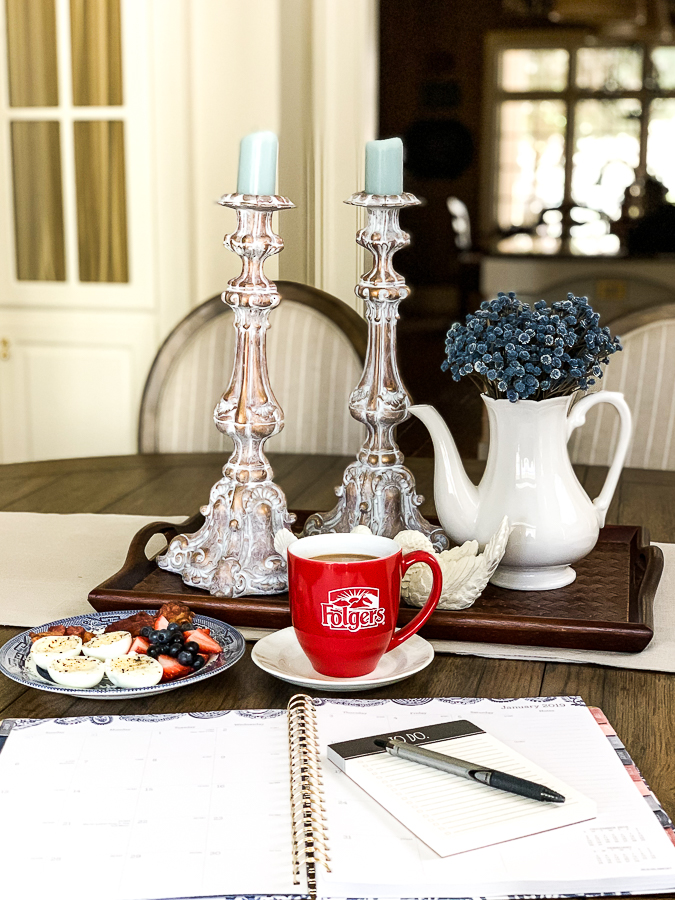 I even used it in this post about my goals for 2019. It just doesn't have my look. It's a little too Tommy Bahama for our home.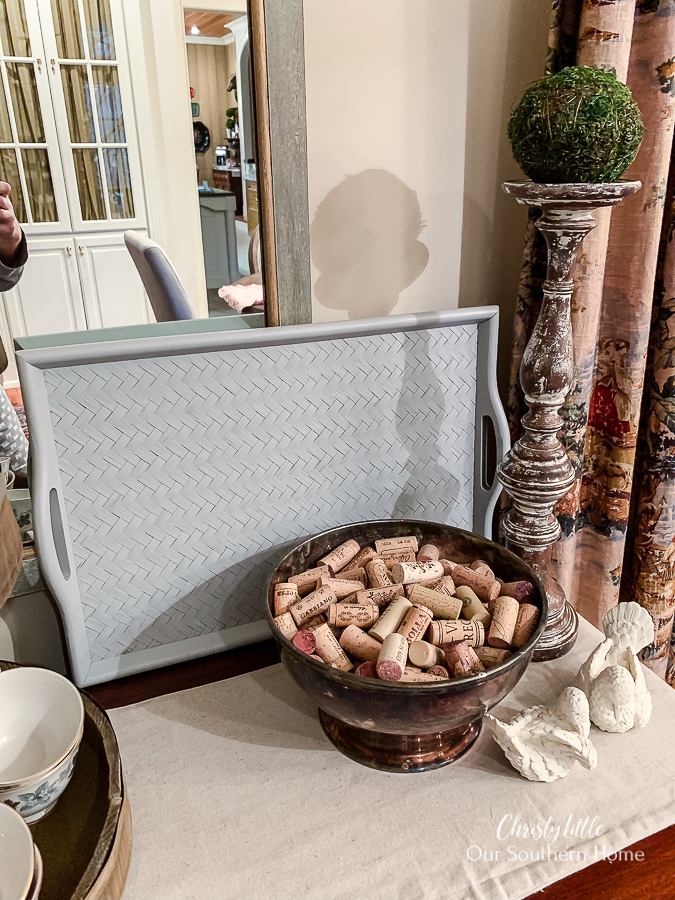 I simply spray painted it a couple of weeks ago and just set it aside until I had time to work on it. Needless to say……I still wasn't happy. So many of my decorating makeovers aren't totally planned out. They just happen as I get started. This is just a quick cell photo…see me in my pjs. That's my regular look! I could live 24/7 in my Old Navy pj bottoms! I have collected quite a few through the years. They all spark joy….even the ones with holes!!! HINT: I buy the next size up because I want loose and baggy. LOL Sorry to get off topic, but I love pajamas. 🙂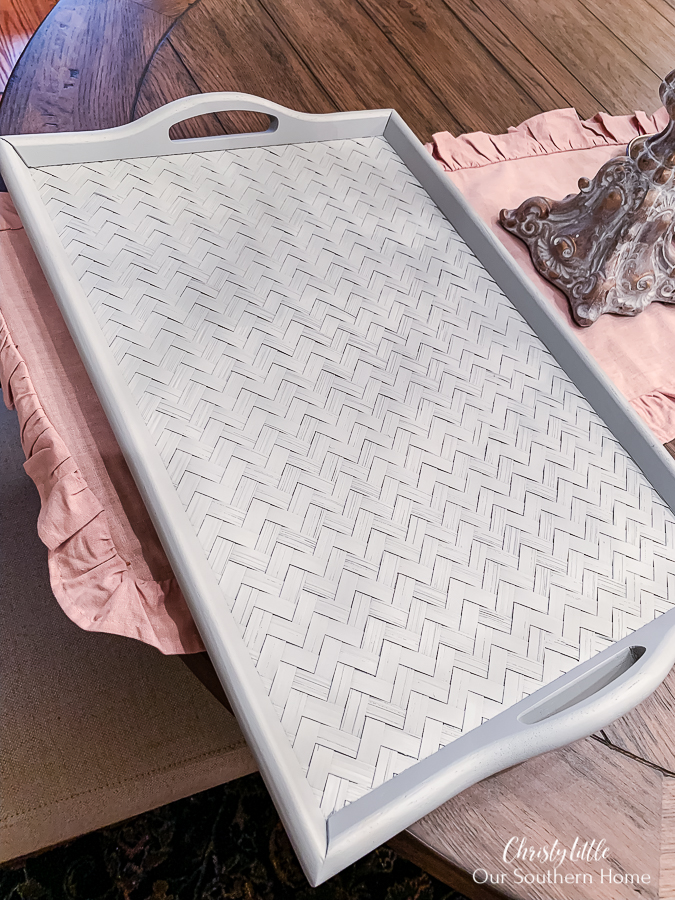 Unless, I have a particular color in mind…I use what I have on hand for spray paint. I typically always have white and gray on hand. I used Rust-Oleum Chalked Spray paint in Aged Gray.
The look here was just too new and pristine. It called for a little aging.
Always be sure to spray paint outside! These things will come in handy!
Shop Painting Items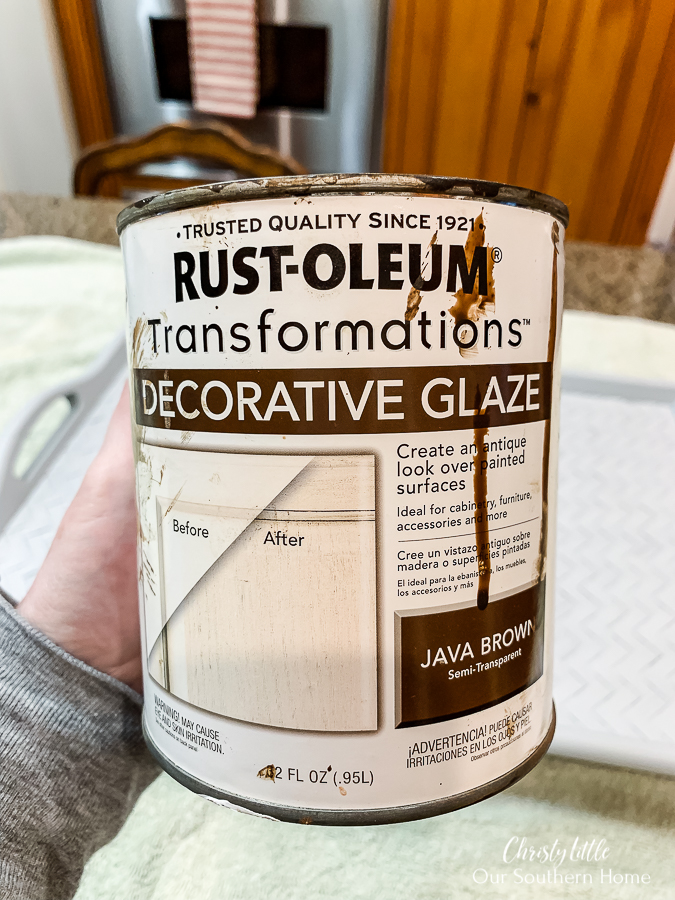 I have had this can of Rust-oleum Decorative Glaze forever!!! A little goes a long way. This is what I use when I want to instantly age a painted piece. I do not think it's available anymore. I love General Finishes products so I think this glaze would be a good option. It's what I'd use.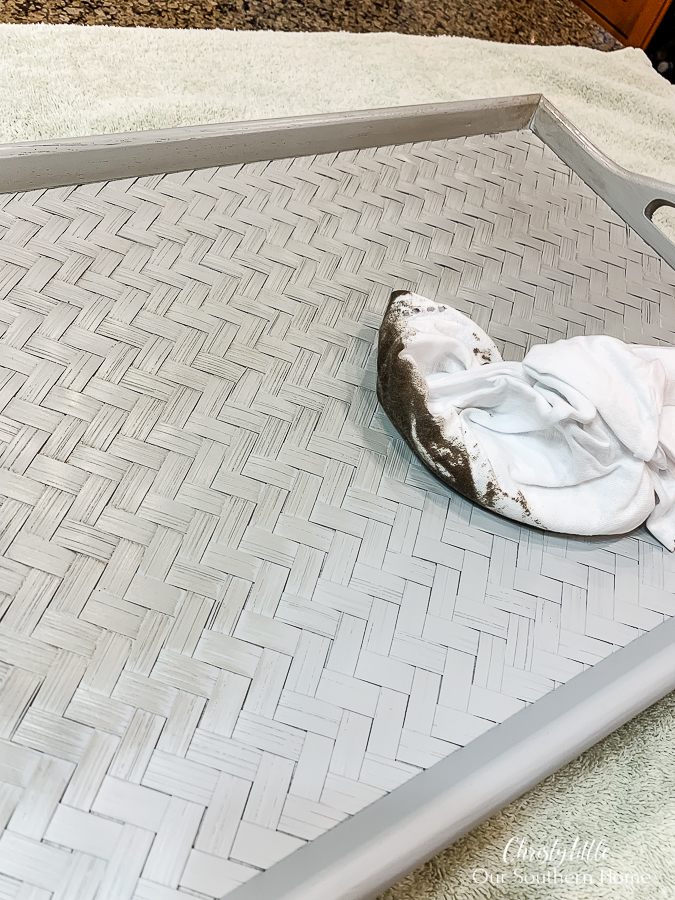 Glaze is so incredibly easy! Be sure to wear some disposable gloves and use a cloth rag.
Dip your rag in the glaze slightly. Wipe it all over and let it sit for a few minutes. Then go back and wipe and buff it. It will remove the excess leaving it in the crannies and aging the paint just a touch.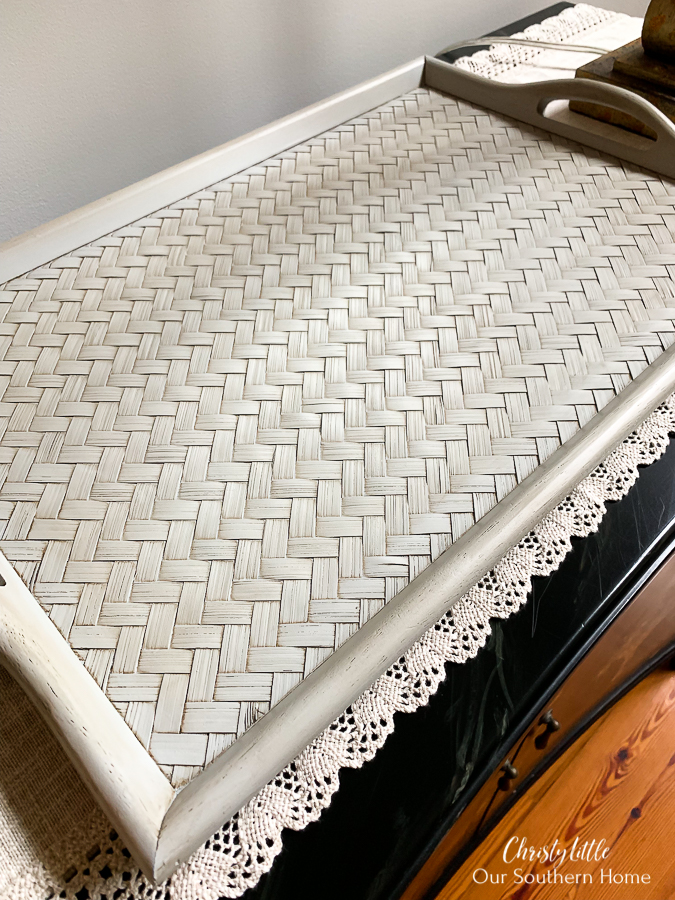 Here it is all glazed and ready for some decor magic!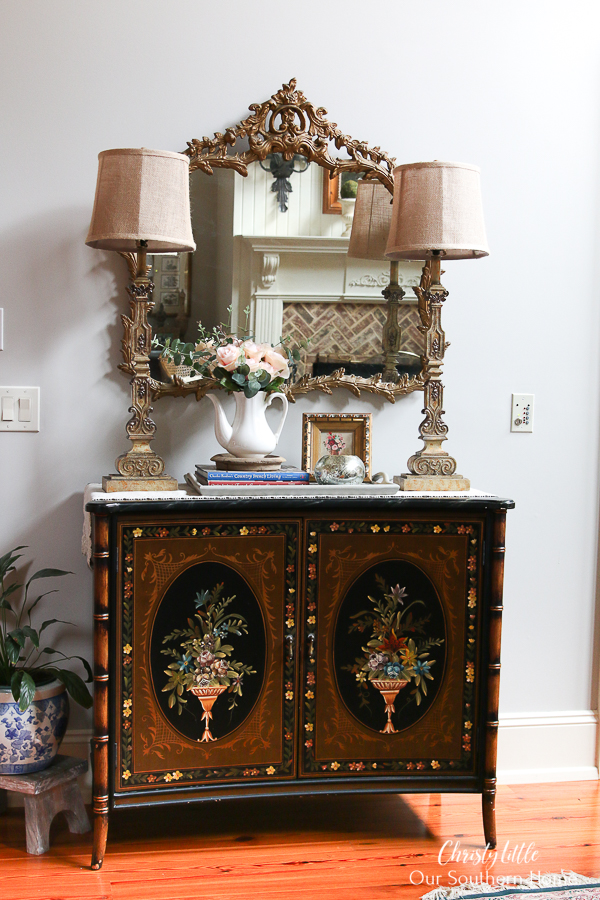 I absolutely love using trays in my decorating. They are functional and just great for creating layered vignettes. I get so many compliments and questions about this painted chest that my hubby gave me about 20 years ago! I'm sure I'd never paint it. I found a close match for it HERE and this one is on sale at a great price!!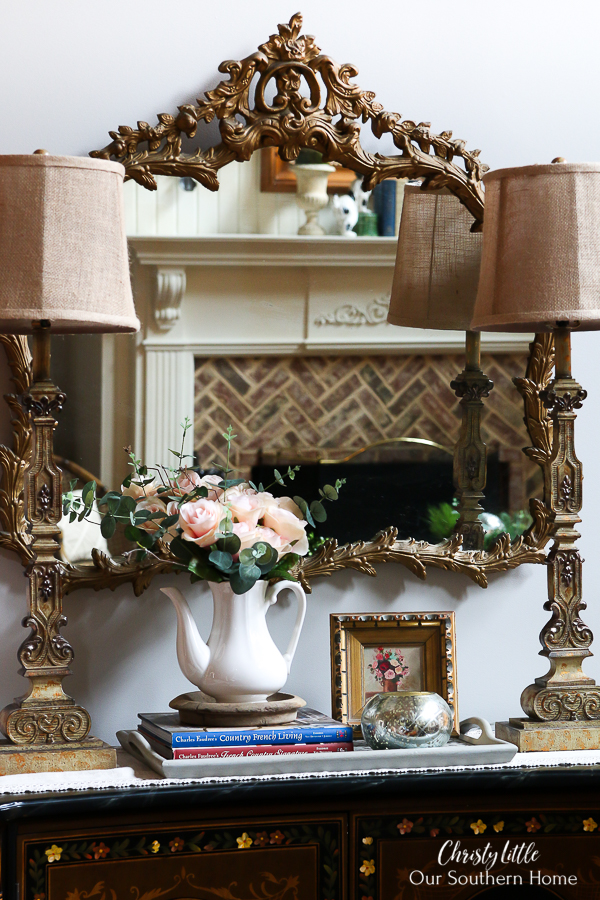 I also get asked frequently about this antique mirror. Guess what!!! I've searched high and low and have found 2 that look very similar! You can find them HERE and HERE! I kind of want another.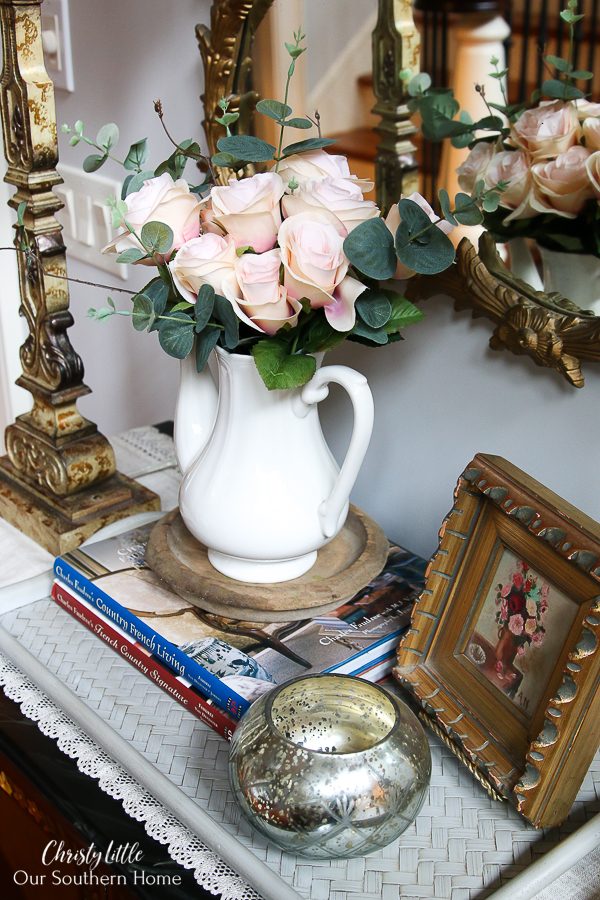 The tray isn't the only thing from the thrift store here!
The coffee pot is thrift store ironstone
The little wooden thing under the coffee pot is the top of a butter churn. I use it ALL the time!
The little oil is vintage from eBay!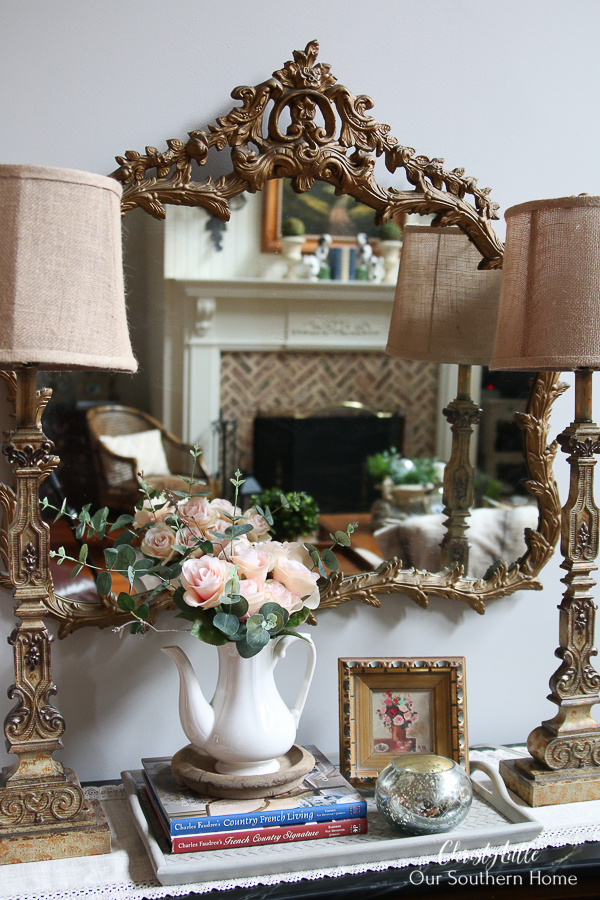 Trays add a wonderful layer to your vignettes. They define a space beautifully!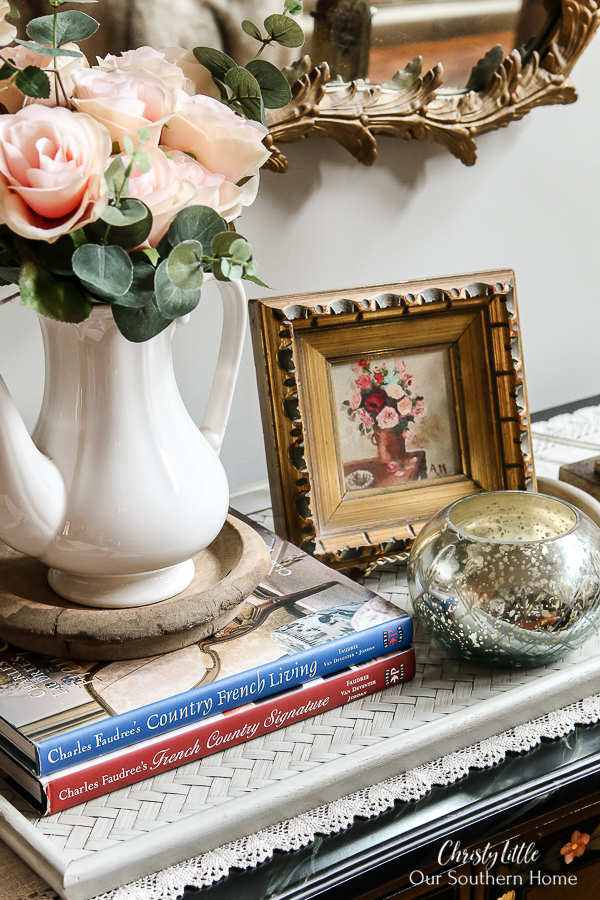 While this little oil is no longer available, you can always search for similar listings. Just search eBay for Small Vintage Oil Paintings. The before link is for a cute little one that I just came across.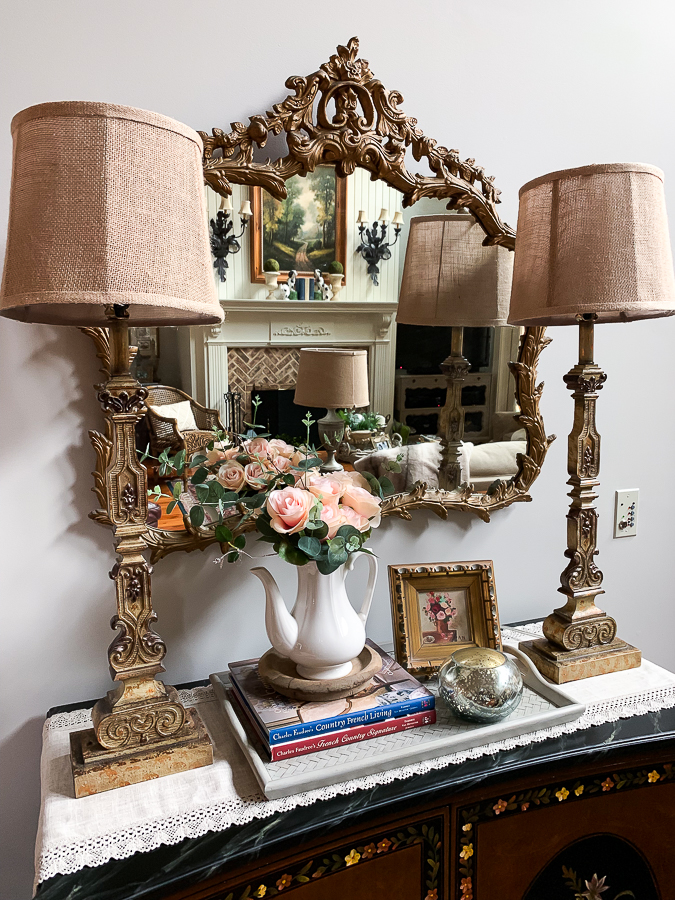 Would you believe that those flowers are fake from Hobby Lobby! I also used them in this post.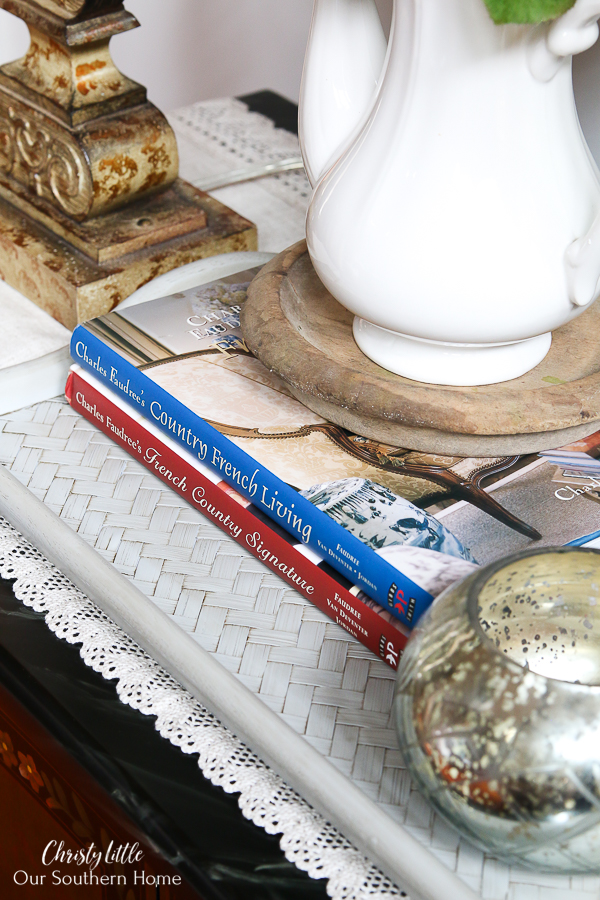 Trays and boxes are things that I never pass up when thrift store shopping. They always make a great makeover!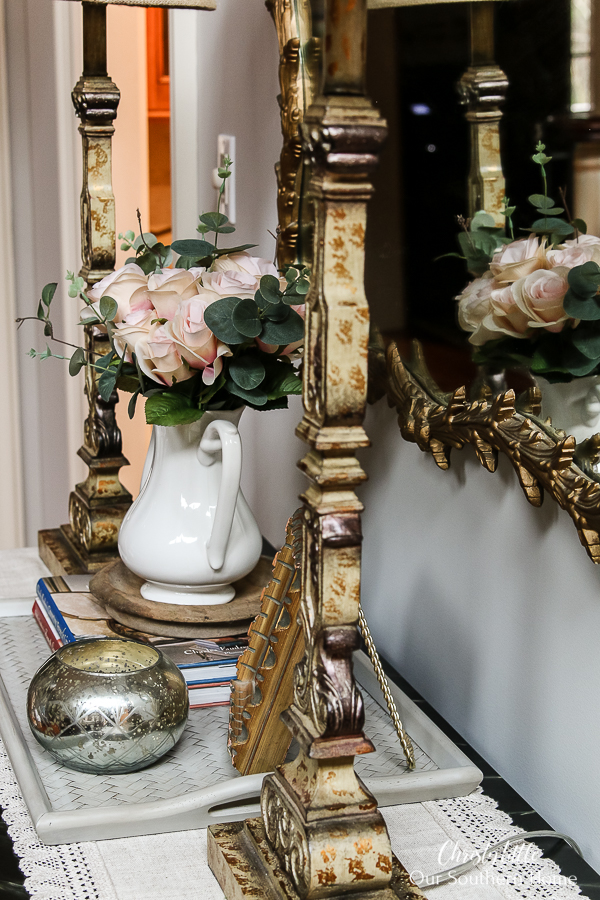 I really love using gray with gold toned items. The mix of glam and rustic with the butter churn top really gives it a cozier, eclectic feel.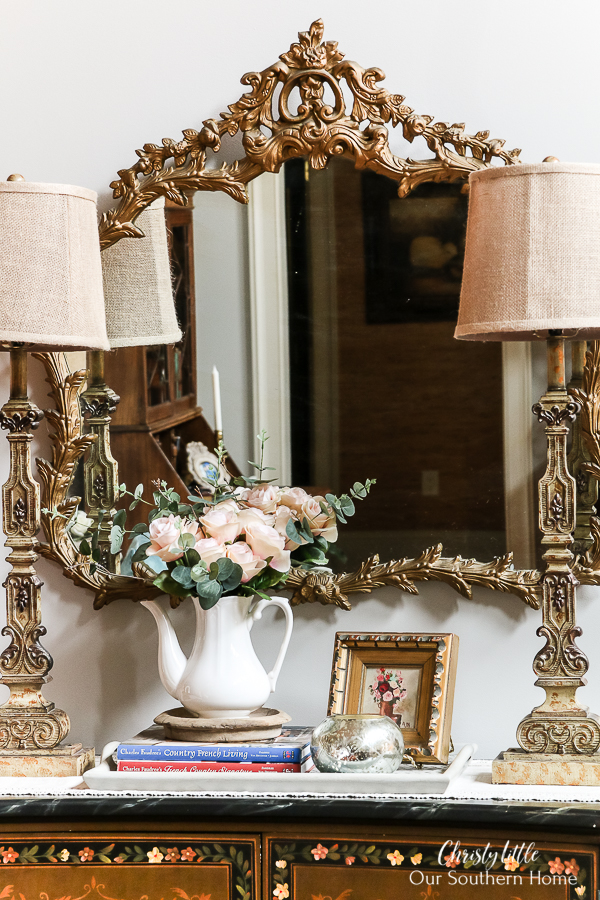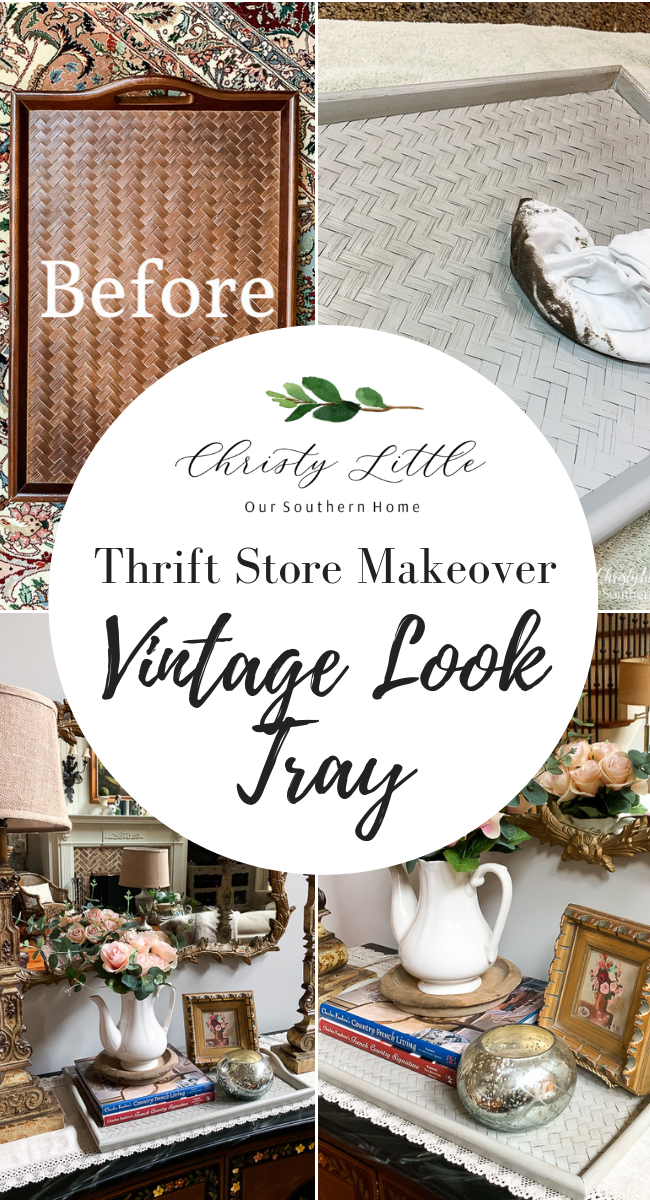 Check out the other projects from the team! Here are the before photos. The links are right below the photo.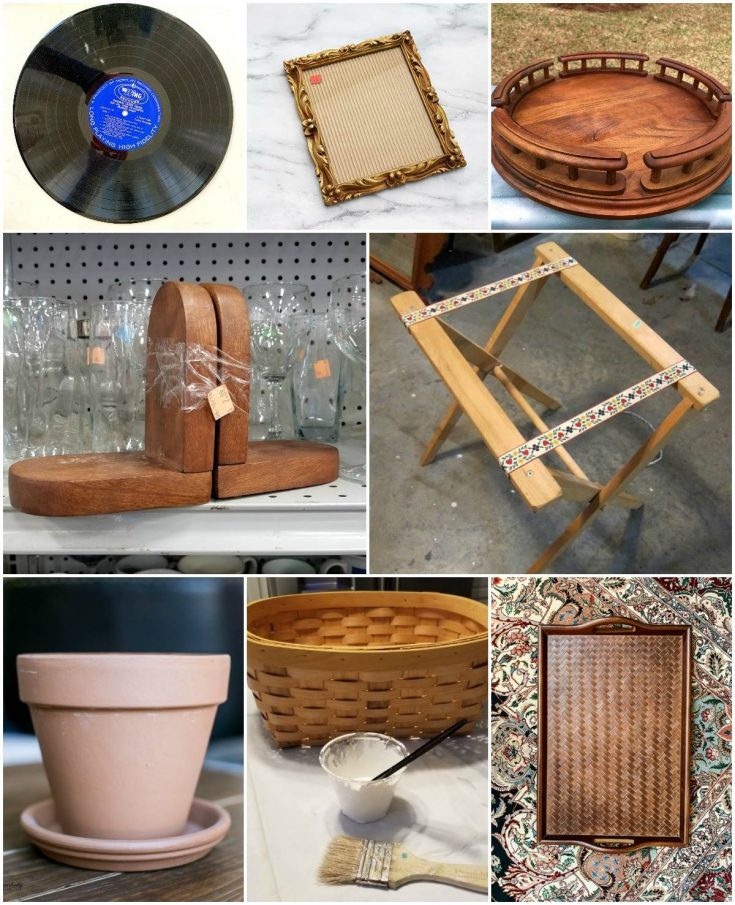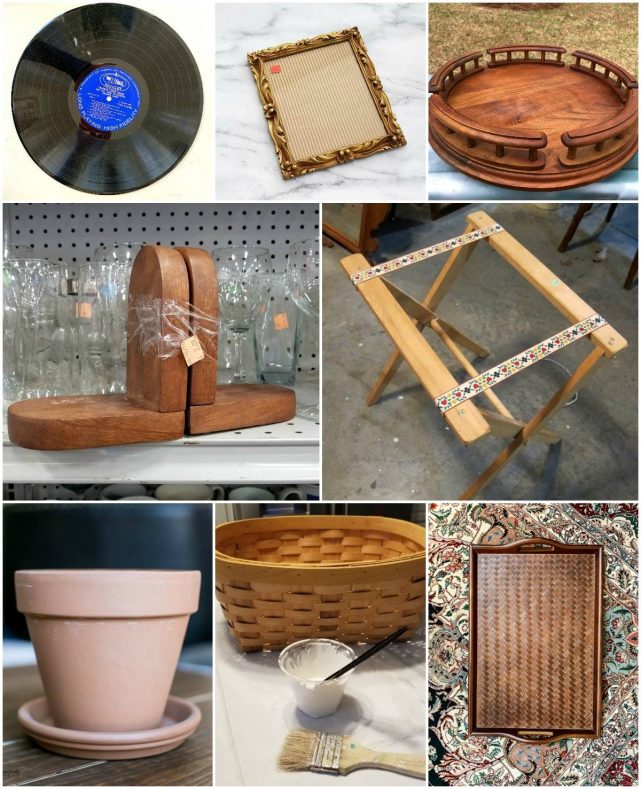 Here are a few of my favorite makeovers in my home that you might like!
See all of my Thrift Store Makeovers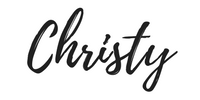 Buffer