Simple Fall to Halloween Porch
I am so excited about our fall porch this year! You see, we NEVER have trick-or-treaters. We live in the country on 7 acres so we were never a high priority for the candy hungry kiddos. We took our kids to subdivisions or trunk-or-treat. It was always such a fun time. I really miss those days.
When the kids got older and left for college, I quit putting out much Halloween. The past couple of years, I just left it in the attic all together. Maybe it was a silent protest to our children growing up on us.
I'm not sure what got into me this year, but I added just a touch within our fall porch. I love it! Skulls…where have you been hiding!
I'll be guiding your through my Simple Fall to Halloween Porch!
Thanks so very much to my friend, Amber, from Follow the Yellow Brick Home for organizing such a wonderful fall porch and patio tour!! I hope you all don't mind me adding a bit of harmless spook this year! Amber is first up on the tour so if you are visiting from her, welcome! I absolutely adore Amber's vintage style. She has some amazing antiques!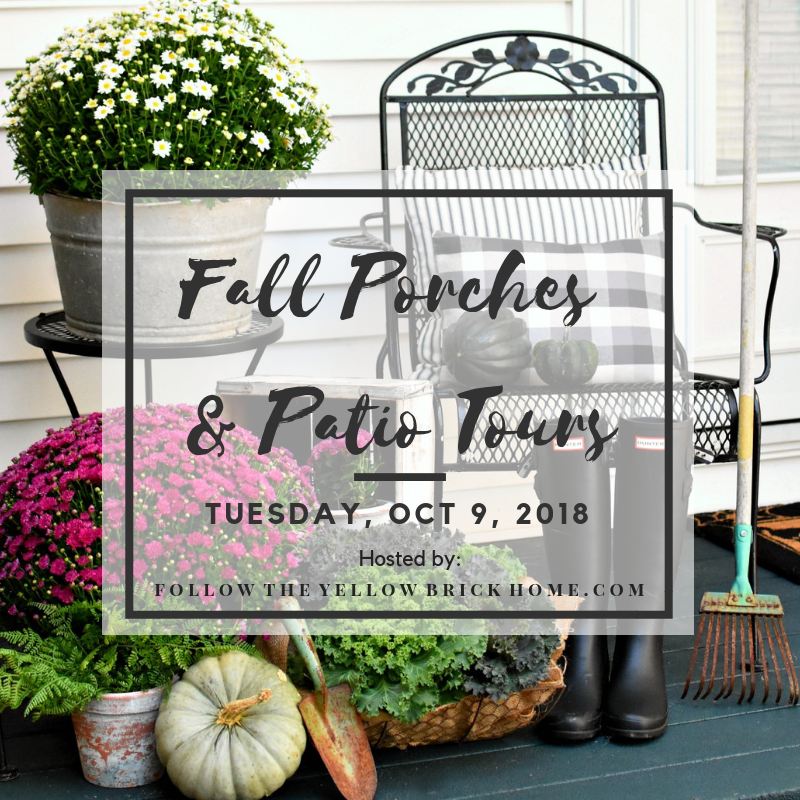 You will notice that I added very little Halloween. Instead of adding a lot of little things, I went with a few bigger pieces…Simple Fall to Halloween Porch! That's my goal!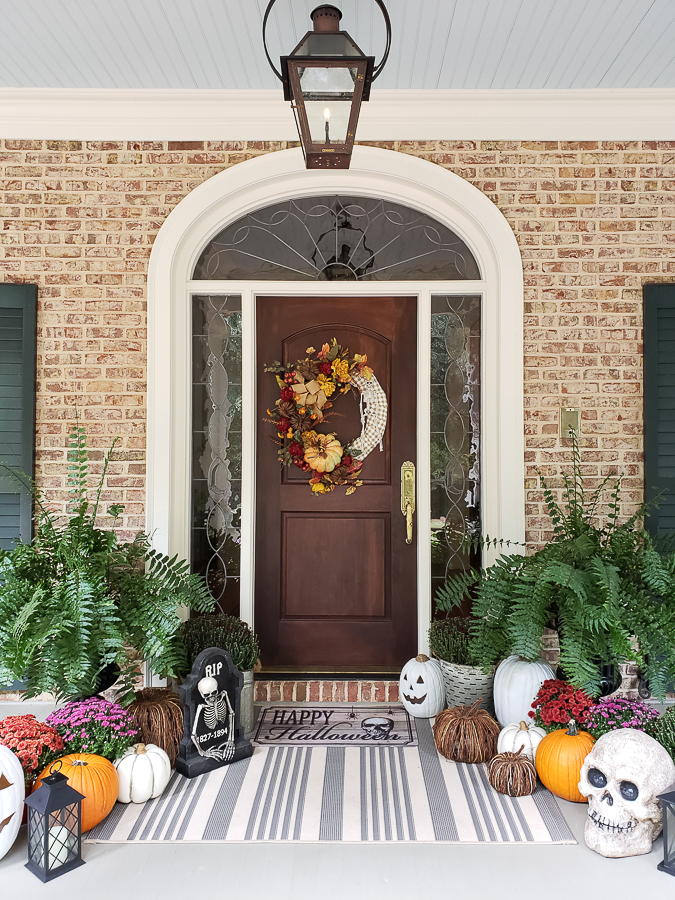 My Macho Ferns will hang in well into November due to the deep porch and being close to the house. I am looking into getting new faux topiaries for the porch.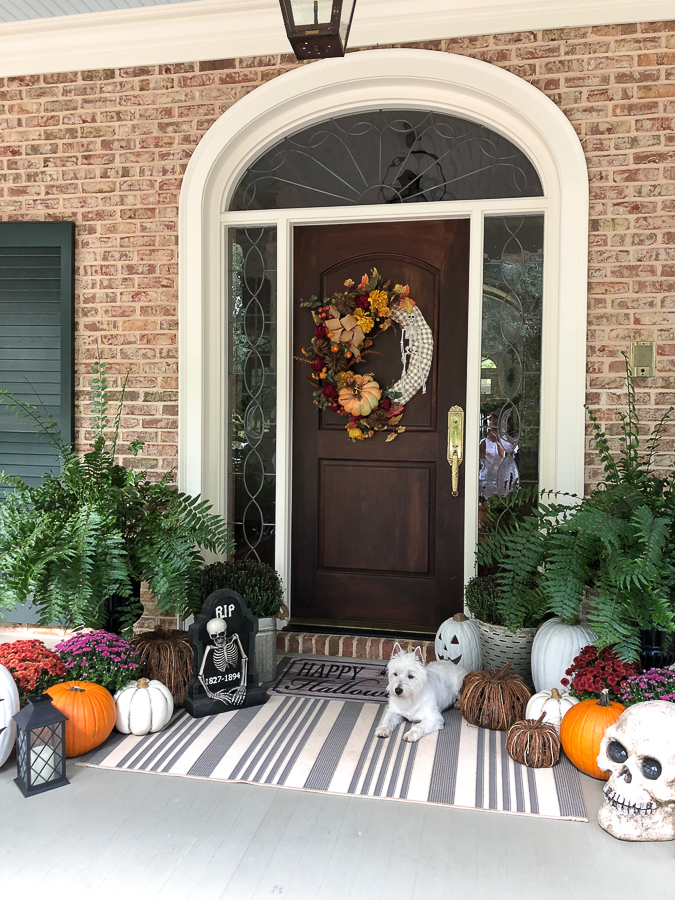 Especially love that little white pumpkin front and center! You can follow Bentley on Instagram HERE.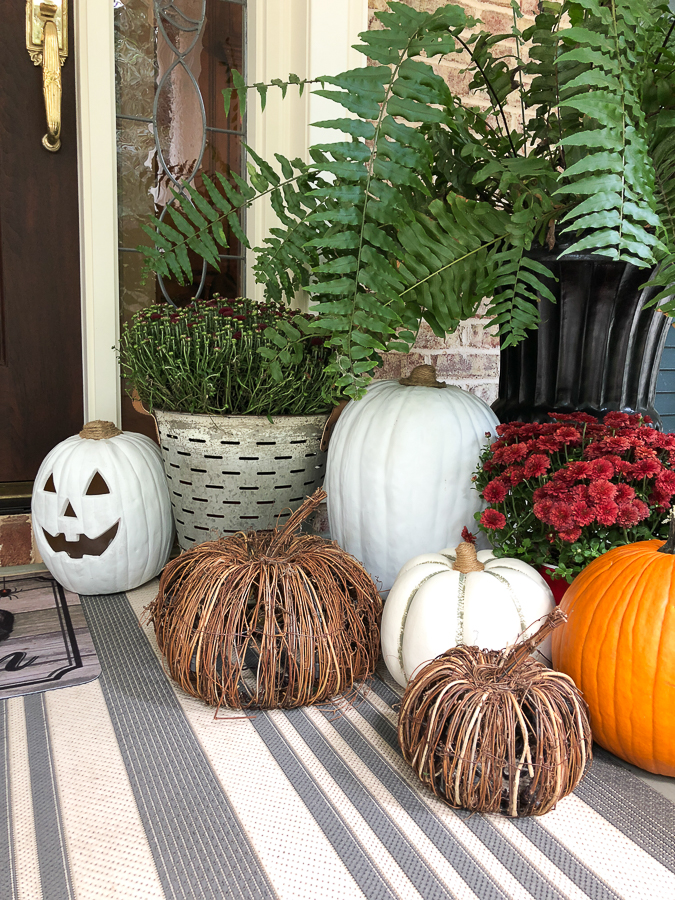 I have had my large faux pumpkins here for double-digit years. They used to be orange, but became horribly faded from the sun. I almost donated them! What was I thinking? I just simply painted them with white spray paint and they are now good as new. I hot glued twine to the tops for the stems. The ones with the green stripes were painted a few years back. You can find a couple of posts on painting pumpkins HERE and HERE.
HINT
Turn your carved pumpkin around to just celebrate fall. Perfect for after Halloween!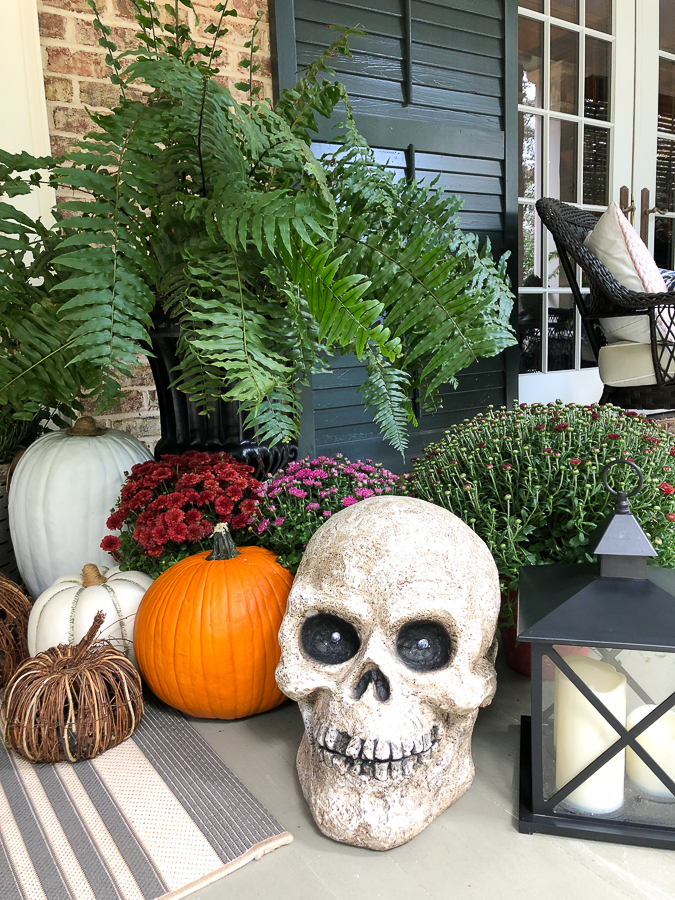 On this side, I added this really large resin like skull. Creepy, yet cool don't you think! It has a place for batteries so the eyes light up!
Hint
Strategically place your Halloween items so that you aren't having to redecorate once the haunt is over! All I have to do is remove the skulls/skeletons and turn the jack-o-lantern around. Easy-peasy!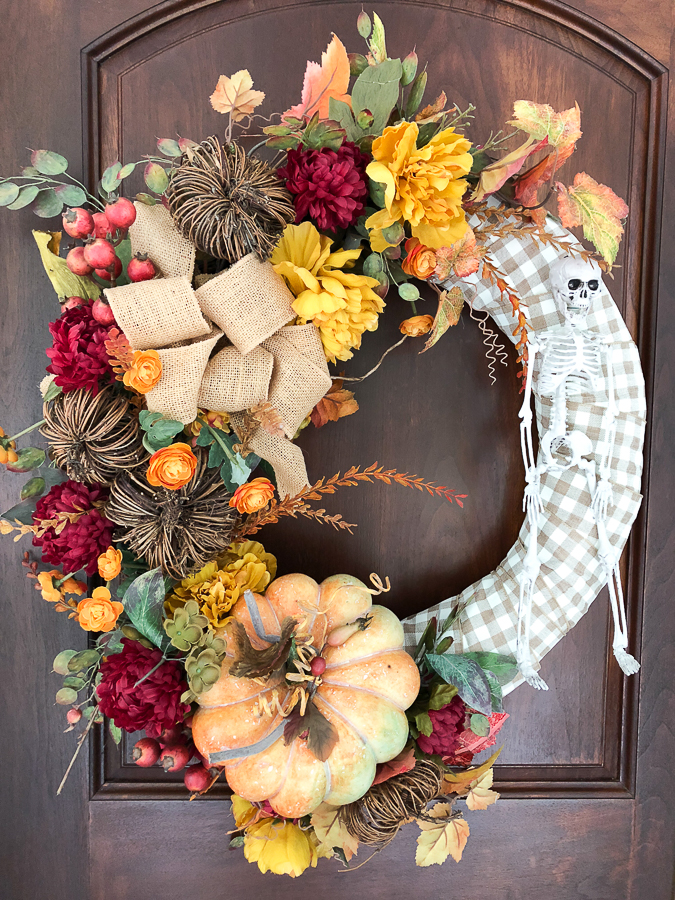 I have had this wreath for a long time! I bought it made some years ago. Close to the time that we moved in here in 2004!!! The covered porch helps a lot! Through the years I have taken it apart and replaced a few things here and there. You can find the very first redo of it HERE.
HINT This year I covered over the old upholstery ticking with this plaid check neutral ribbon. I love the contrast. I purchased one inexpensive spray of burgundy for $3.99 and cut them apart. I then tucked them in to add a pop of color.
You see my porch pillows are pink. I wanted to add the burgundy to keep my same pillows. I also added burgundy mums.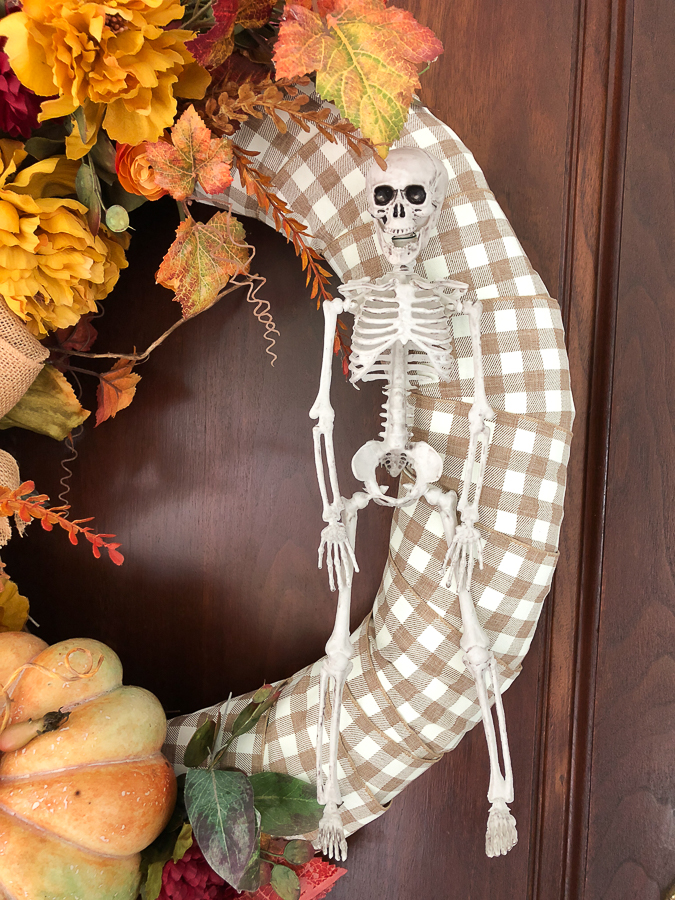 HINT
Add one spooky element to your fall wreath like a bat, skeleton or witch to instantly turn it into Halloween! This inexpensive skeleton has a little black tie at the top. I didn't want it seen, but wanted to keep it so I taped it to the back of its head! I was able to tie a long piece of thick florist wire to its neck. I then worked it into the ribbon to secure it to the wreath. After Halloween, I'll remove it.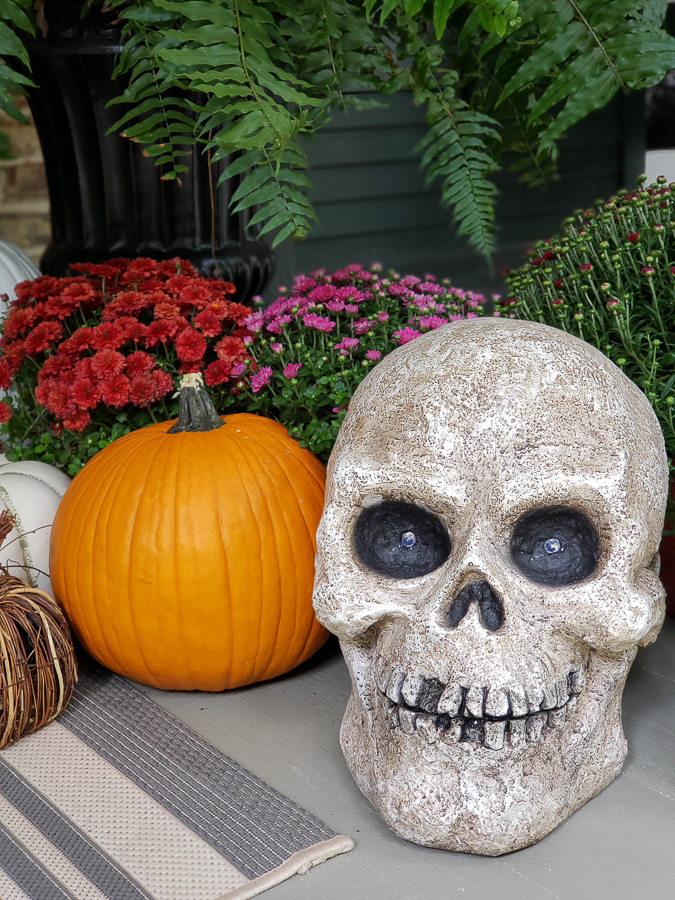 Look at how realistic this skull is!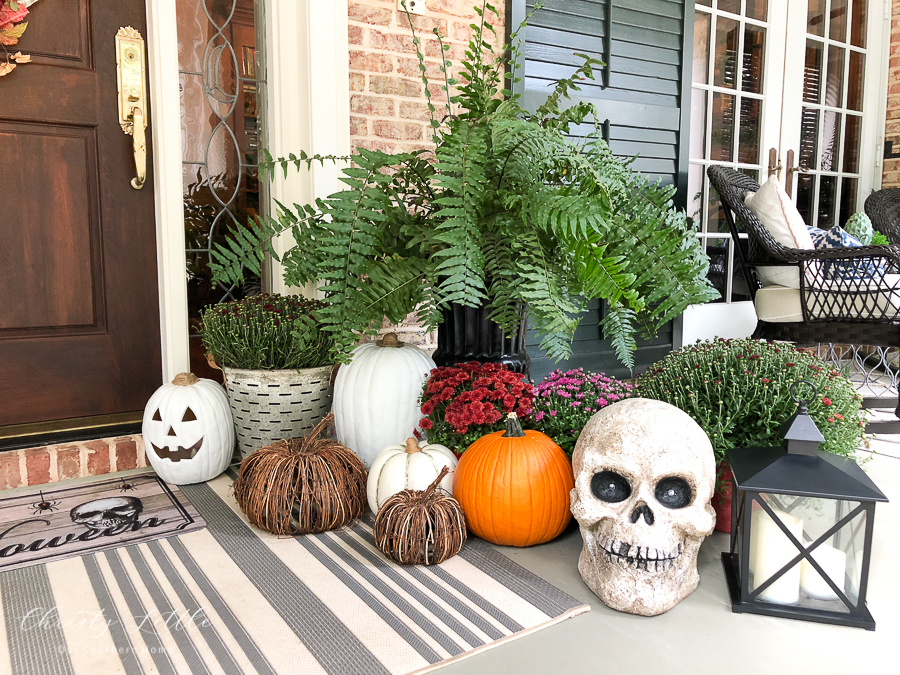 The door area of the porch is the only spot that I decorated this year. Less is more for me these days!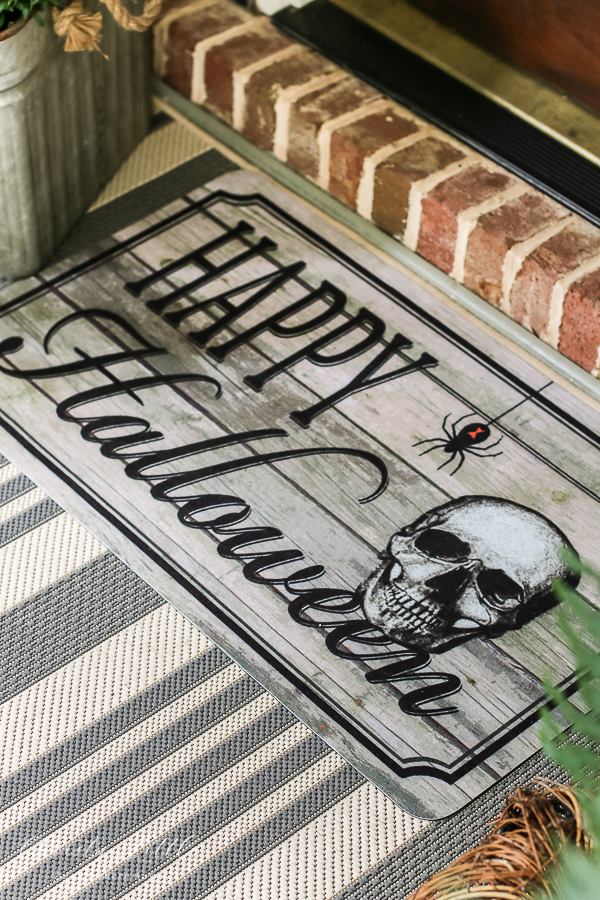 I did add this fun Halloween door mat in place of my everyday one. How lucky to find a skull one!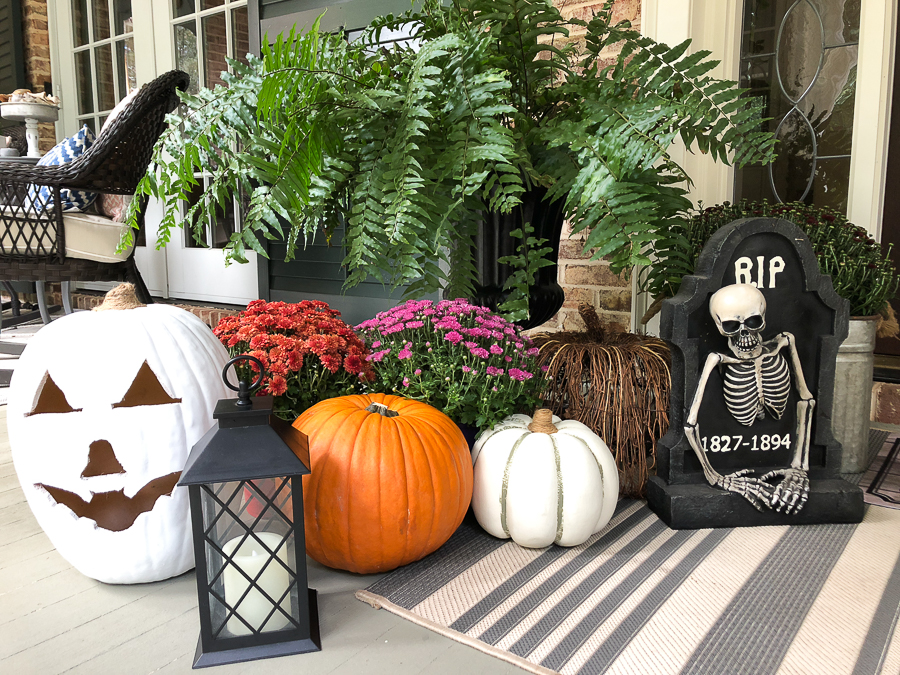 I just added 2 Halloween elements on either side, but I used large pieces for impact! I used 3 different colors of mums….burgundy, rust and pink.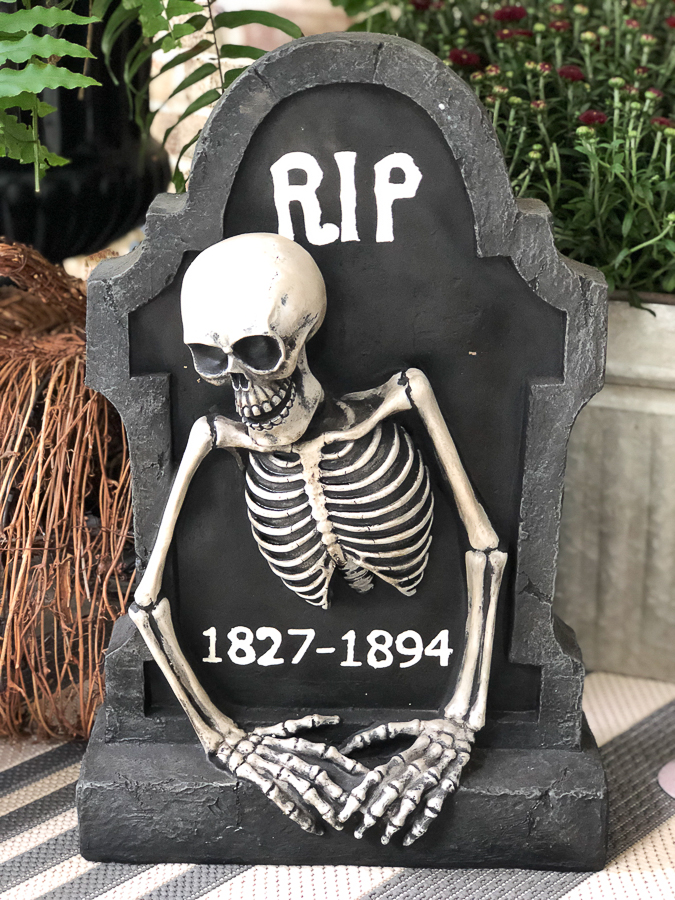 I stuck with a skeleton theme as you can see.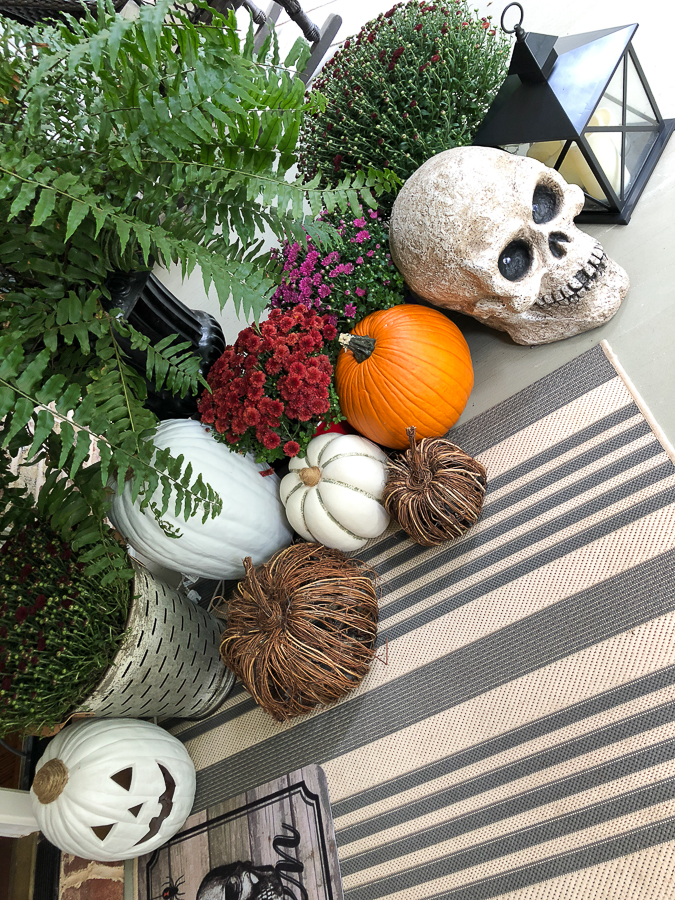 Angling out on either side of the door make the entrance cozy and welcoming. Strategically placing the smaller mums covers the mismatched plastic containers they came in.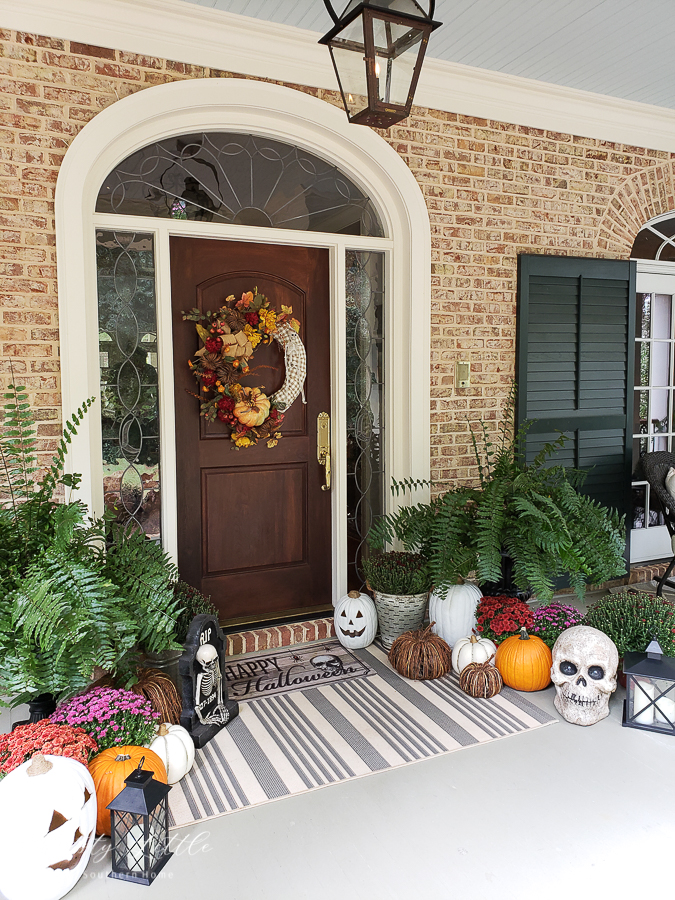 Happy Halloween Y'all!!! Be sure to check out the other bloggers on the tour below!!! Lots of inspiration!
Interested in more? Here is this year's FALL TOUR!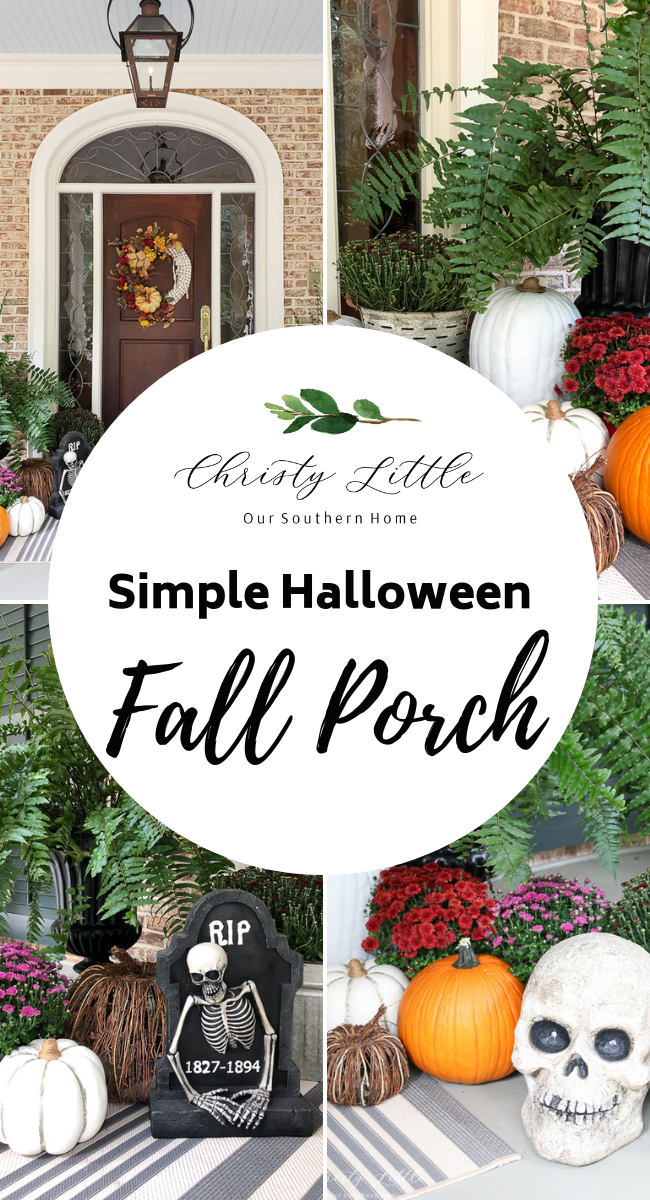 Next up on the tour is my sweet friend, Marty, from A Stroll Thru Life! I love Marty's style with a classic style. A lady after my own heart!
Now for some amazing fall porch and patio inspiration from the tour!



Shop Halloween decor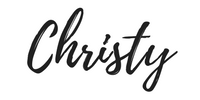 Buffer