Saturdays on the Porch #21
Saturdays on the Porch #21 featuring this week's fashion looks and more from Our Southern Home for life and home.
Happy Saturday, sweet friends! I hope you've had an absolutely amazing week!
Latest from OSH!
Saturdays on the Porch #21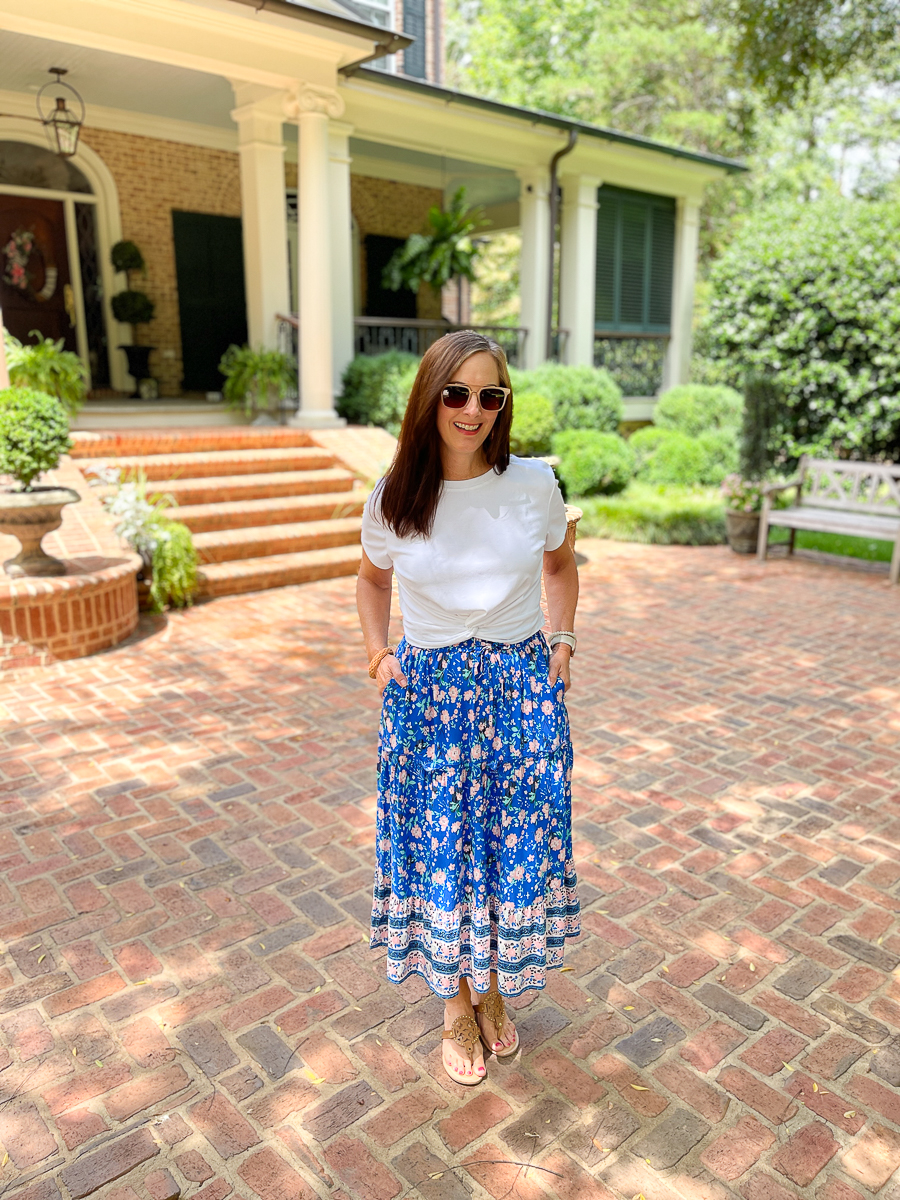 Blue Floral Skirt | White Tee | Sandals | Rattan Bracelet | Rattan Earrings | Sunglasses | Lipstick | Topiaries
See that smiling face above? That's the look of being done with painting for the week! Ha, ha!
For the last week and a half, I have been painting like crazy. That first gallon of trim paint that we brought back from the beach is almost empty.
Ashlyn and I have made a lot of progress since then. She was able to finish the back staircase and the base & door trim in the upstairs hallway. She's leaving the crown and doors for me. Isn't that kind of her!
I got the second coat of paint on all the woodwork in the hall going to our bedroom and 2 doors in the guest room.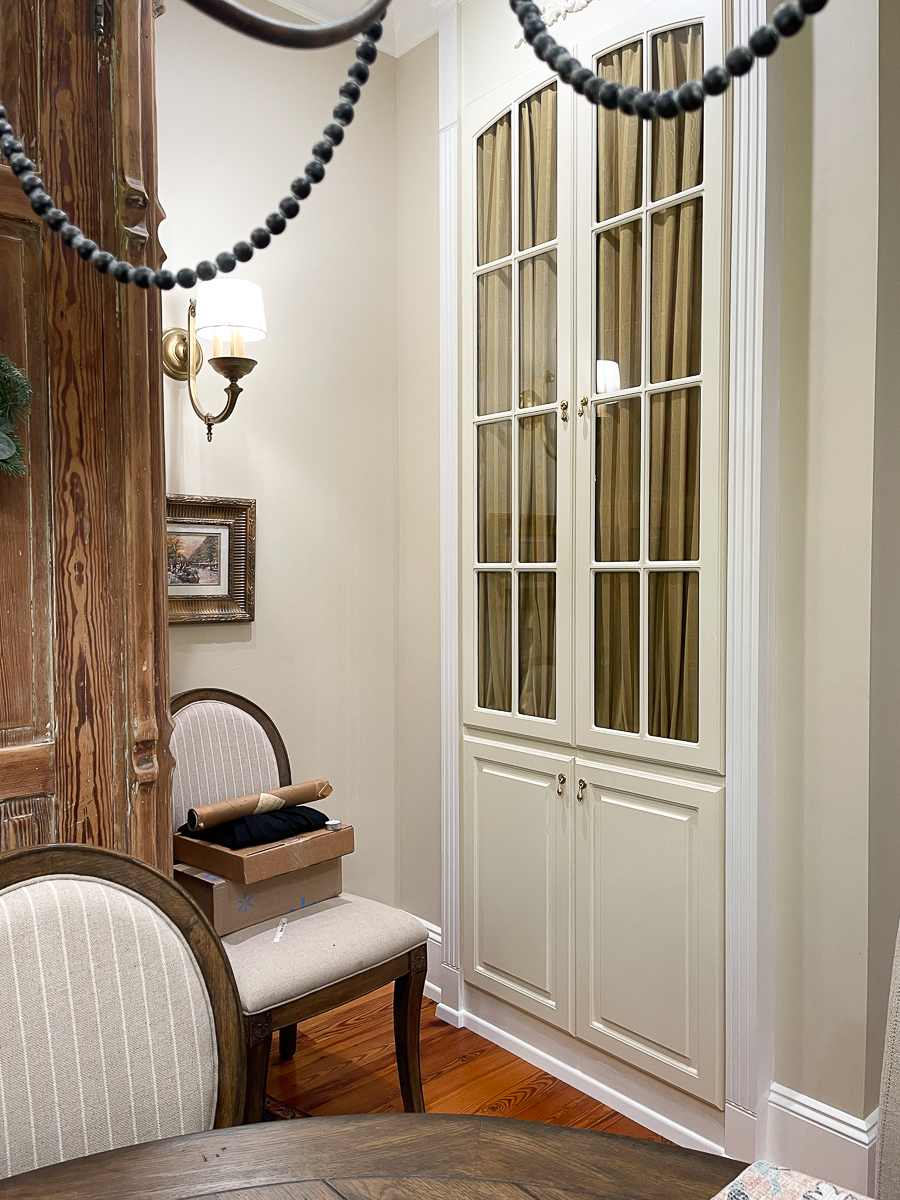 These built-ins have been sitting like this for over a year waiting on me to finish them. You see…..I've dreaded painting them, and for good reason. Look at what a difference between the old trim paint and the Simply White.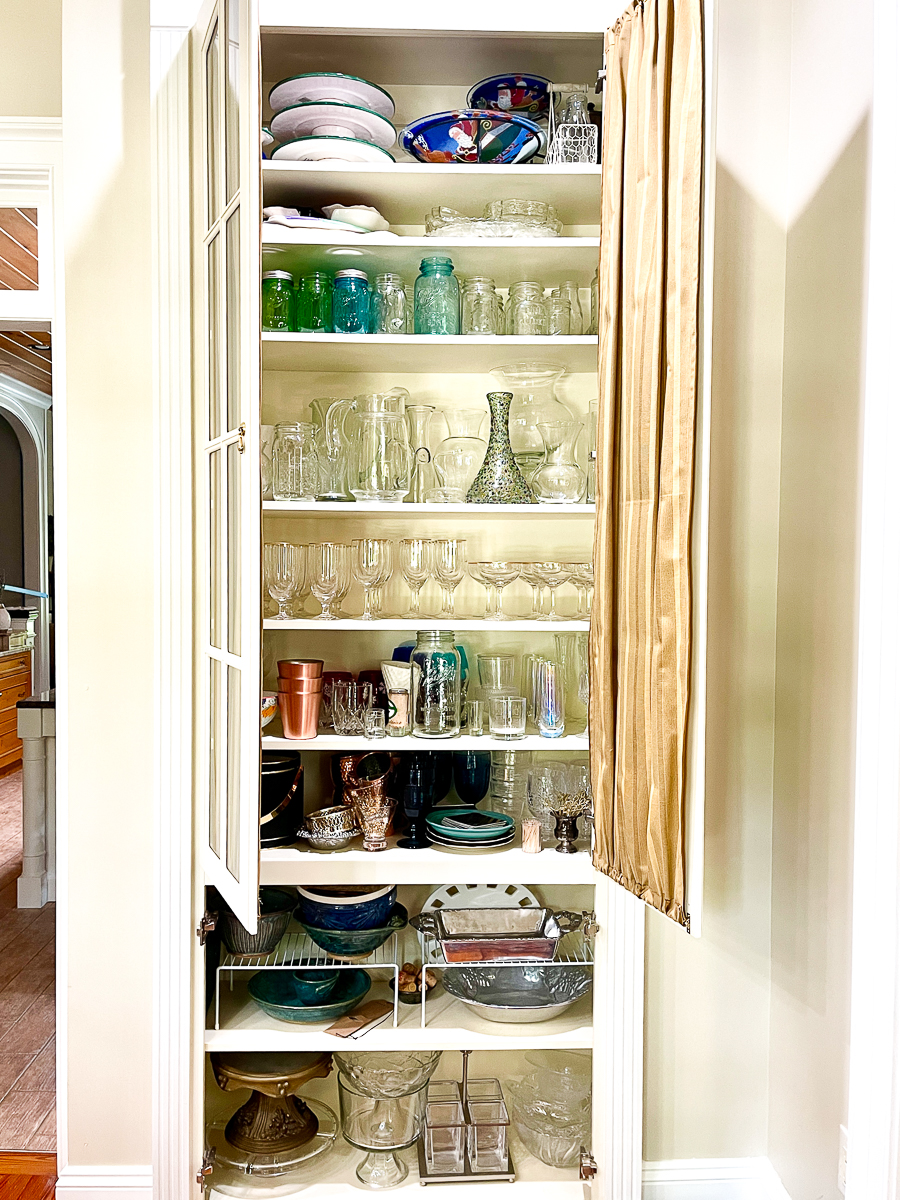 Do you see the bit of blue tape in the kitchen? We had to tape off the stairs so the painted risers of the stairs and trim could dry and harden.
It's definitely time for me to do a cabinet cleanout. Those riser shelves in the bottom section are pure gold and allow you to maximize your space!
These 2 built-ins have been such a paint to paint. I had really hoped to pop out the glass and knock it out quickly, but when I removed the fabric…I had forgotten that the glass is in there with adhesive caulk for stability. These doors are so heavy with German glass. I don't have the patience to spend hours taping up the grids. I just paint and scrape any paint that gets on the glass.
I did finish painting both cabinets on Thursday! Now to scrape the paint, reattach all of the hardware, and hang them. I am also adding new white fabric panels. I am using these from Amazon. They are too long, but an easy fix to hem. Fabric in the glass is a necessity to cover up all of this. I am not interested in these being pretty for display. I need them to be for function.
I can't wait to get this project wrapped up next week to show you!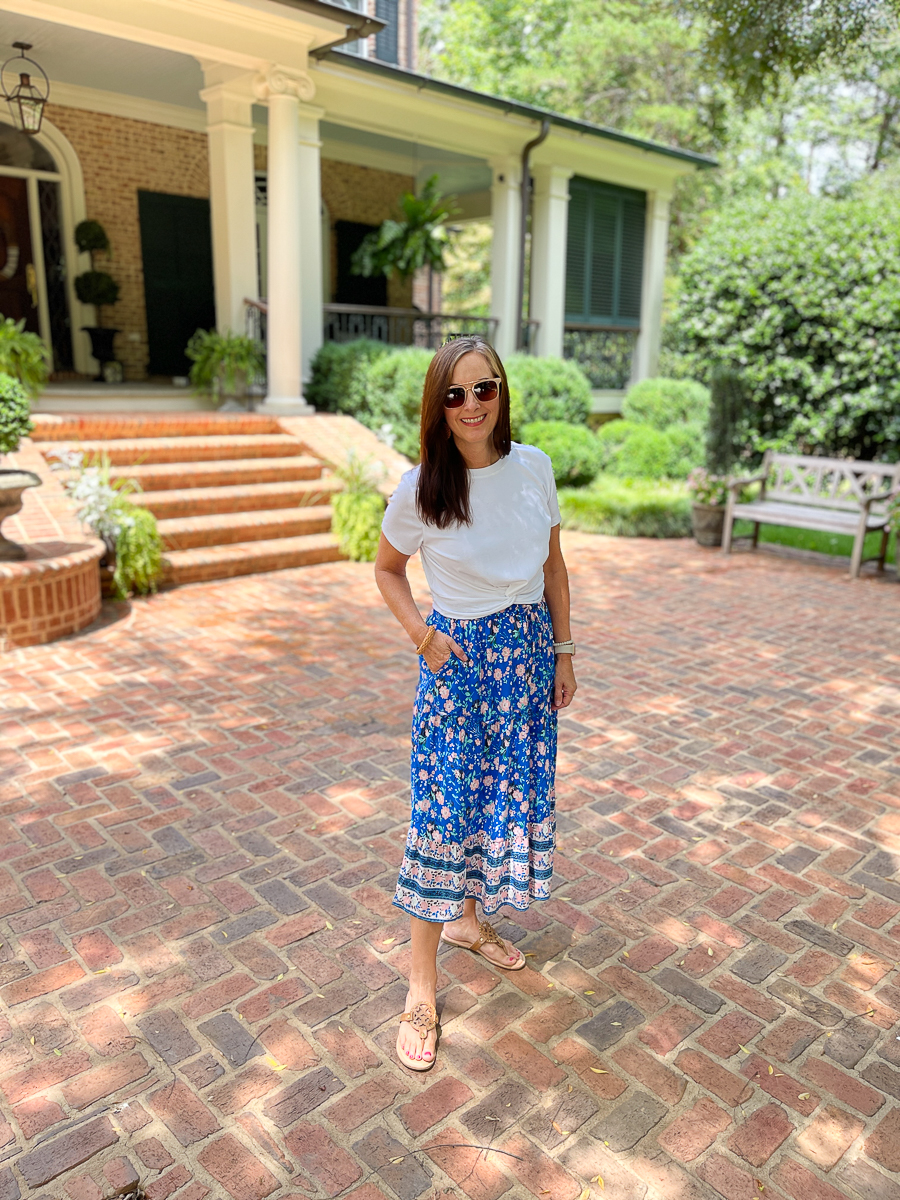 Blue Floral Skirt | White Tee | Sandals | Rattan Bracelet | Rattan Earrings | Sunglasses | Lipstick | Topiaries
Yesterday was the first day that I've put on makeup and dressed nicely since last Sunday for church. When Ashlyn returned from her last class, we went to HomeGoods, Sam's Club, Hobby Lobby, and Walmart. Nothing fancy, but sure felt nice to get out in the world for a couple of hours.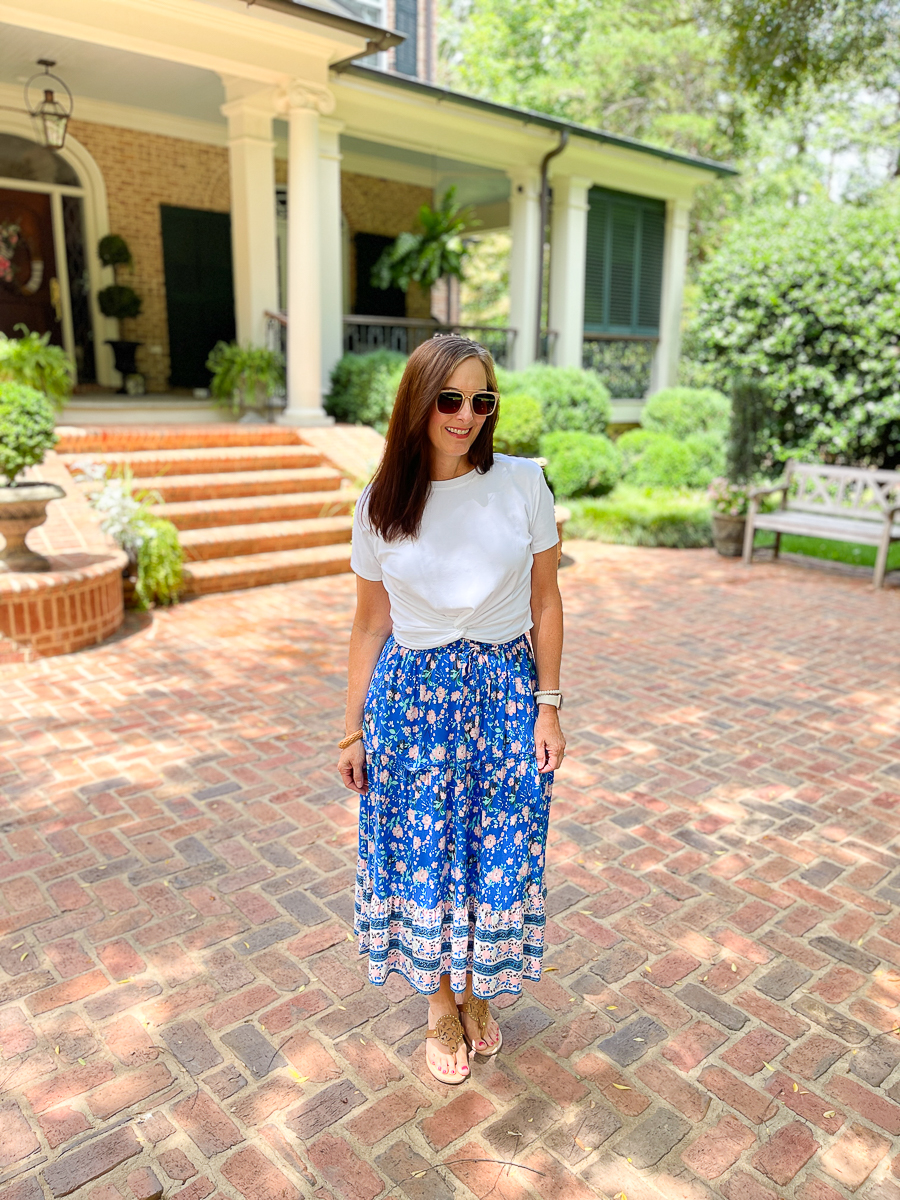 Blue Floral Skirt | White Tee | Sandals | Rattan Bracelet | Rattan Earrings | Sunglasses | Lipstick | Topiaries
I really enjoy wearing this outfit! The skirt and tee are both from Amazon.
FIT TIP: I am wearing a medium skirt and a large tee.
The skirt comes in so many fabulous colors with quite a few that will work for fall. It's actually on sale right now. It has pockets which I adore plus an elastic waist.
I would say that if you are in-between sizes, I'd go up in the skirt. While it is an elastic waist, it is not too stretchy. The skirt is amazing and very figure flattering and hides all imperfections. It's so easy-going and relaxed, yet I feel very feminine and put together.
Let's chat about the cropped tee. Yes, I ordered a crop top!
I am more pear-shaped. I did not like a shirt tucked in. It just added too much bulk and wasn't comfortable in the waist. It made it too tight. I do own a creamy white shell tank top that worked style-wise, but the color was off. A thin top would tuck. You could also knot a tee at the waist.
I decided to look at crop tops. The skirt comes up on your waist so I thought I'd try a crop top only if it didn't show any midriff.
This is why I sized up to a large to get a longer length. It's perfect! Now if I walk around holding my hands over my head, you will see my midriff, but I'm not doing that out in the world. The twist of the tee at the waist also helps to define your waist.
My topiaries are still at an insanely great price!
Let's Chat Hair
I do need a trim. My last one was in April. This is the first time that I have ever let my bangs grow out witout caving in and cutting them. I am enjoying no bangs. It has been more versatile than I ever thought it would be.
My last permanat color was 1/21/21! I can't beleive that I am still hanging in there. I did put a temporary color on it the first of June. It was just so awkward. That has since washed out and really helped get me through an awkward part.
I'm not sure that I will do it again. It has really grown around my face and much lighter there. Kind of like highlights.
I'm still not sure I'm going to keep this up, but I can tell you that I love the freedom of not coloring. We still stay home a lot. I've always been a homebody, but I think living in a pandemic has helped the process.
When it gets brassy, I Use these products.
I have found that since I am not coloring my hair that it is much drier. I only wash it a couple of times per week. I have always used hair oil….just a tiny amount on my ends. I've bumped up the amount of hair oil that I use, and that has helped tremendously!
I am also using a hair mask in the shower. I usually let it work its magic while I shave my legs. Mine is one that I picked up at Marshall's, but going to try this one with rave reviews when I run out.
Do you have any gray hair tips?
New Beginnings (Bitter Sweet)
This is the first day of school pic for Woods and Ashlyn. Why is this bittersweet? This is the first day of their last semester at Clemson! They started on Wednesday. Both are back living at home and commuting the 18-minute drive to campus.
It seems like Woods has been in school forever! He has completed 2 semesters of an internship plus transferring put him behind. He will be receiving a math degree from Erskine and a computer engineering degree from Clemson.
Ashlyn will have a criminal justice degree from Clemson. She had planned to go to law school but has changed her mind for now. She doesn't want the law school debt and is ready to get on with life. Her dream would have been to be an FBI agent, but that is so hard. She is going to take paralegal training starting in January. She is still researching universities. I had no idea that the top paralegal programs require a bachelor's degree or letter of recommendation from an attorney with so many years of work experience.
We are so incredibly proud of both of them!
What I'm Reading
What We've Bought
What Caught My Eye
I got rid of a lot of fall and Halloween decor after the season last year. Going forward, I want to decorate very simply for seasonal changes with the exception of Christmas! I am loving these ideas on using natural elements.
Love this weekly series of home tours! It's a great way to discover new blogs and get decorating ideas!
Hands down….one of my favorite gardening sites. It may be on the opposite side of the country from me, but gorgeous inspiration!
I am so ready for soup and stew season! I found a yummy-looking pork soup to add to our rotation.
This DIY table runner is so simple and a fun way to customize the color to your tablescape!
Lovely before and after of this family room!
Love the shape of a pillow, but the fabric pattern or color isn't the best. You've got to check out this easy DIY to change the look!
I hope you have an amazing week!!! If you are a blogger and would like to be featured in Saturdays on the Porch, please email me at [email protected] with Saturday Feature in the subject line.
Yummy Soups to Warm the Soul!
Warm up for the holidays!
Buffer