Every time I decorate our home for a patriotic holiday or event, I always wonder why we don't just do it more often. I swear it is an instant mood elevator. I'm not a big red person, but our flag just makes me feel so many emotions…..especially now in 2020!
Simple Patriotic Porch
I've got a few simple ways that you can instantly add red, white, and blue to your decor with very little time or money.
Be sure to follow to the end of the post where you will find a list of all the blogs on today's tour as well as my SHOP THE POST for our patriotic porch.
This month's Pinterest Challenge is so my style and perfect in that our screened porch is already blue and white. Adding a little red was all that I needed.
Welcome to another installment of our monthly Pinterest Challenges hosted by my sweet friend, Cindy, from County Road 407.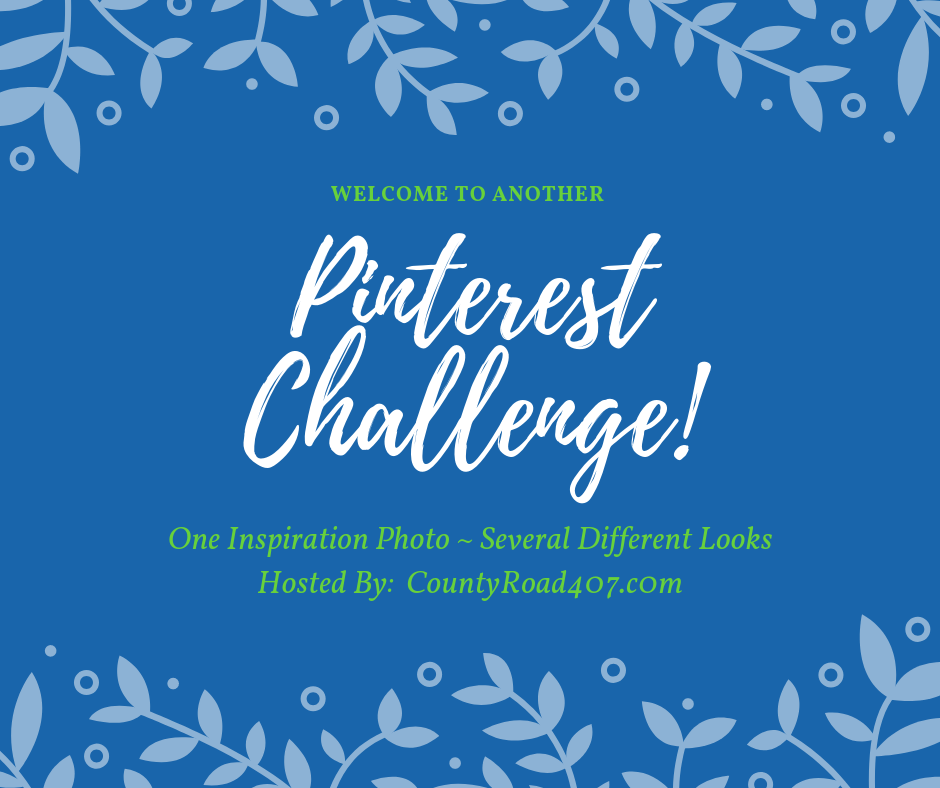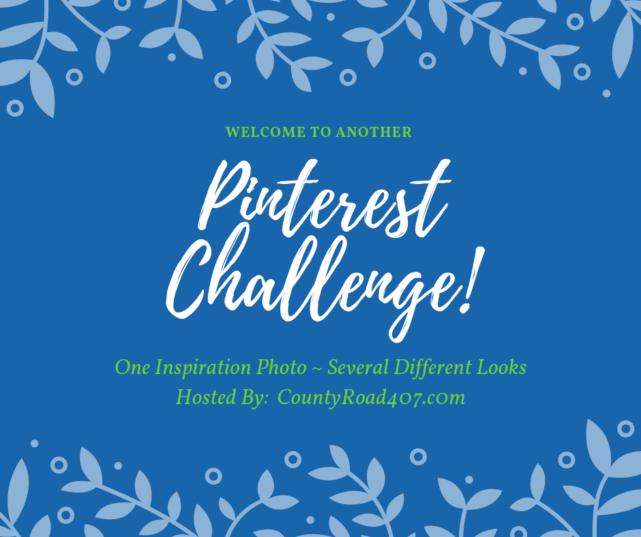 If you are stopping by from Cindy's blog over at County Road 407, welcome! I adore her Texas farmhouse style.
This month for our Pinterest Challenge, we are recreating this beautiful patriotic living area with inviting shades of blue from Liz at Liz Marie. I've had the pleasure of meeting Liz at a couple of blogging conferences and she is the sweetest, most genuine person. She is also talented with like everything! Be sure to give her a visit.
Items that I'm incorporating
stool
2 crisscrossed flags
the large flag behind the couch
blue and white pillows
round tray on the coffee table
floral on tray
3 jars
picture frame on the tray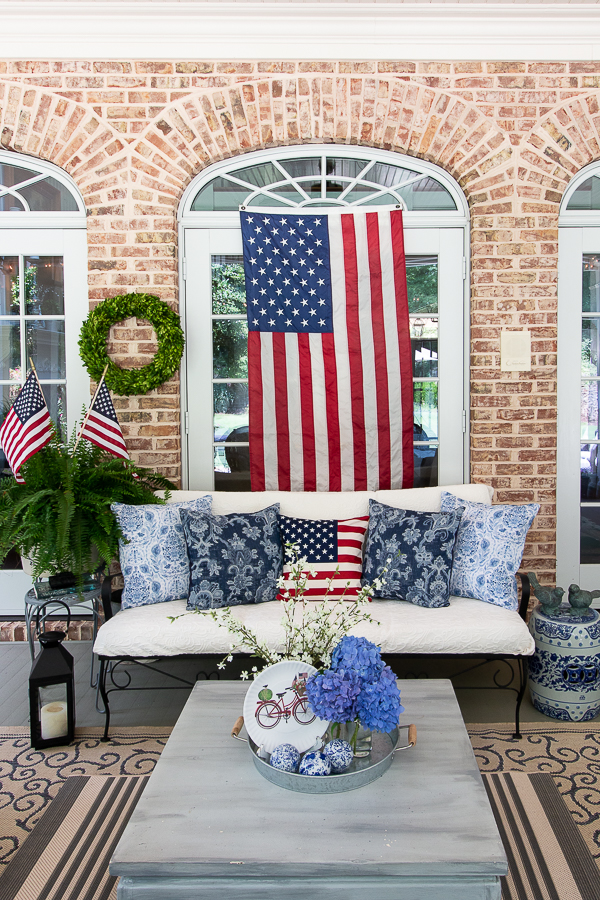 The flag is probably the first element that stands out. I'd consider it the focal point of my sitting area. Due to my space, I decided to hang my flag vertically as opposed to horizontally.
Since this is a temporary look for the holiday, I used clear shipping tape to adhere to the flag to the window. It has 2 metal rings for hanging. I looped the tape through the rings and attached it to the glass. It's been there for 5 days and still up.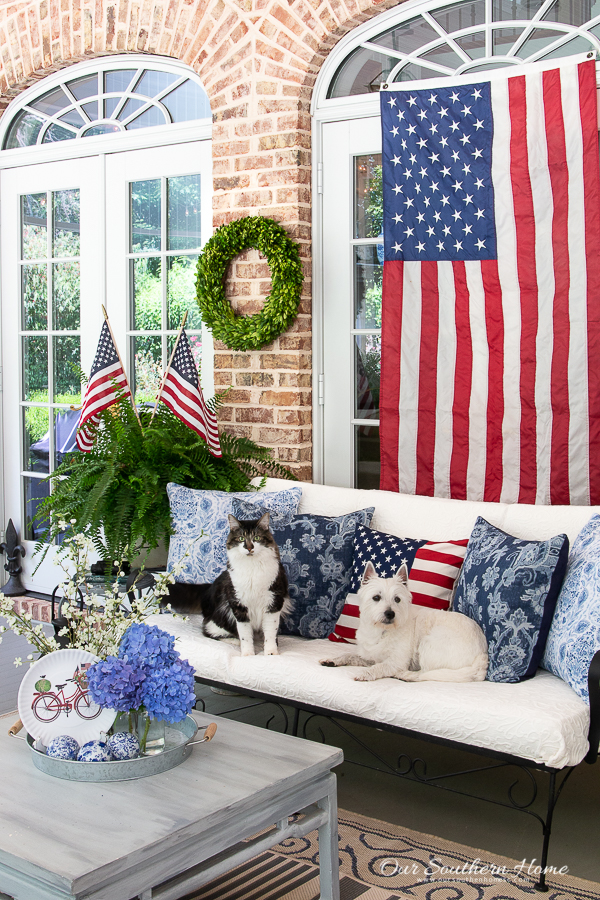 Bentley and Jack welcome you to our screened porch. These 2 use it just as much as we do. This picture was truly a one-hit-wonder. Bentley had already jumped onto the couch like he always seems to do when I have the camera out. Ashlyn came outside and brought Jack with her. She plopped him down on the couch and I snapped 1 photo before he jumped down. Thankfully, I had already adjusted my camera settings and pressed the button! It would have been perfect if Bently was looking at me as well, but I'll take it!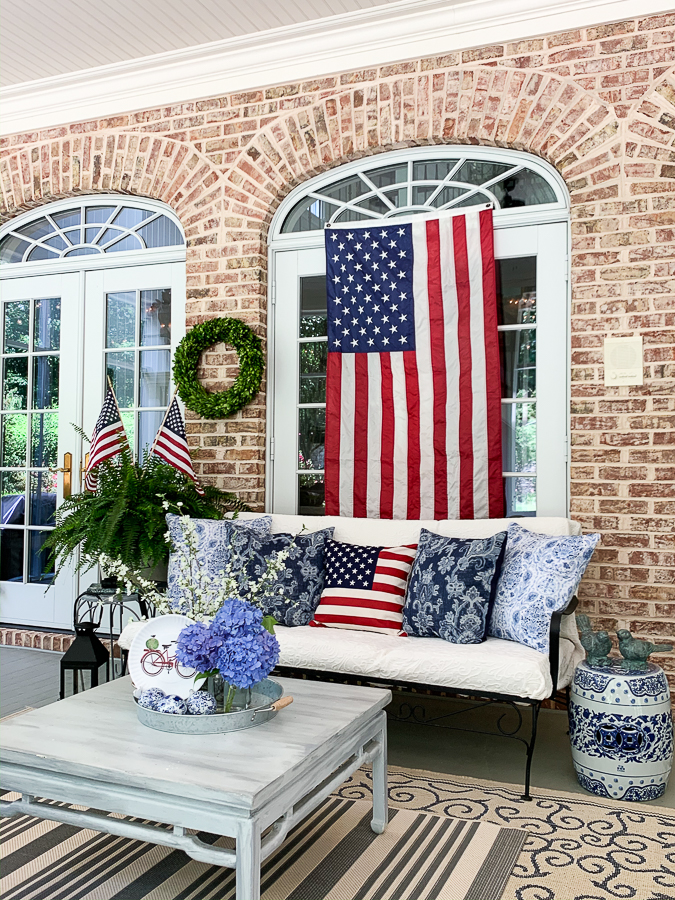 The porch was already decorated with blues and whites so incorporating red was a breeze! The darker blue pillows were on the other end of the porch so I moved them here. I like the mix of the 2 patterns. It really helps that flag pillow cover stand out beautifully!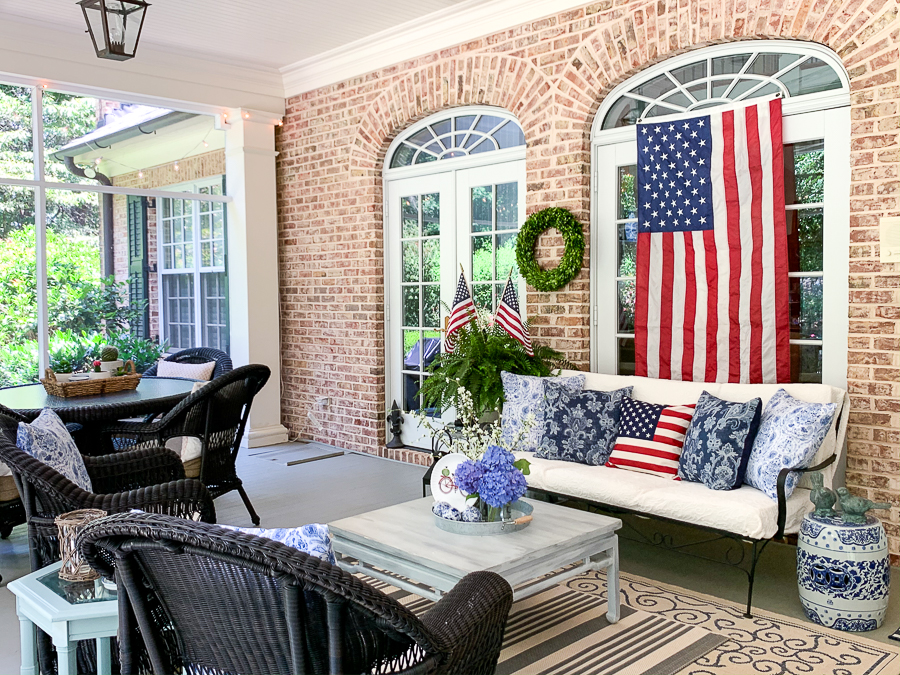 I already had everything for this look which really made me happy. Don't you love it when you don't have to take a trip to the store!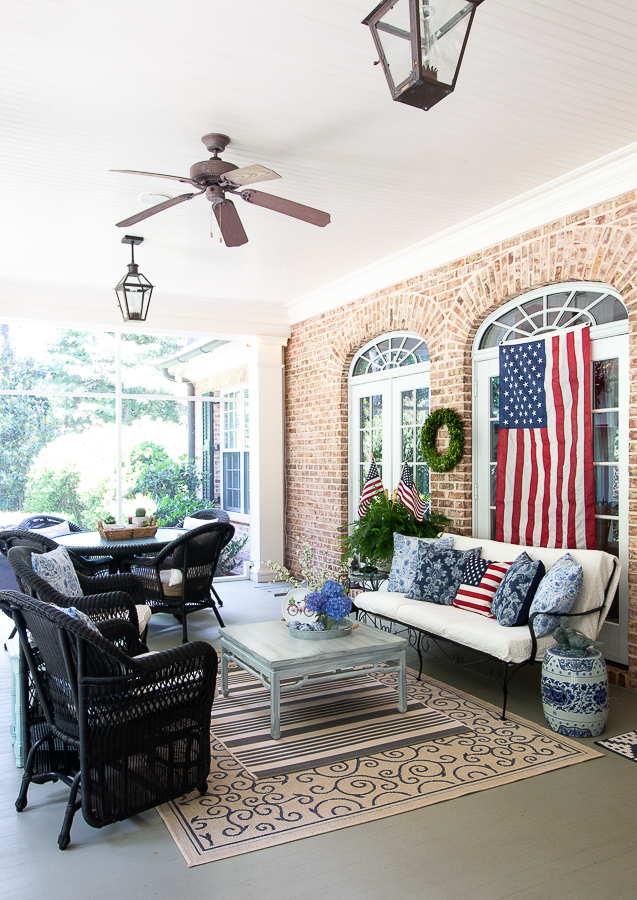 This is a temporary look for the holiday so I didn't mind hanging the flag over the door. If this would be up long term, I would have gone back to hang it at the end of the porch by the dining table.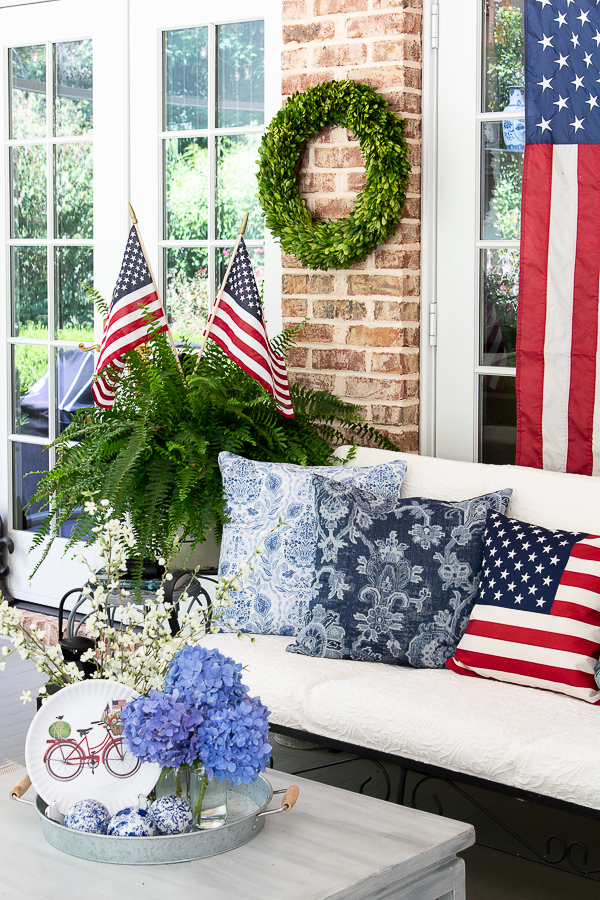 The flags that I had for the crisscross look were larger than the ones that Liz had on her coffee table. I have some smaller ones, but not sure where they are. These were a great size for the existing fern.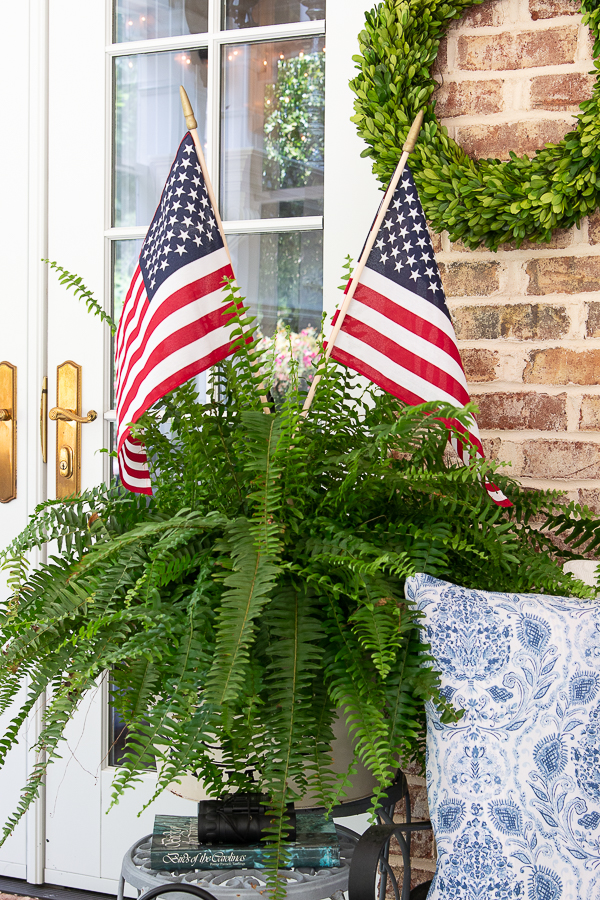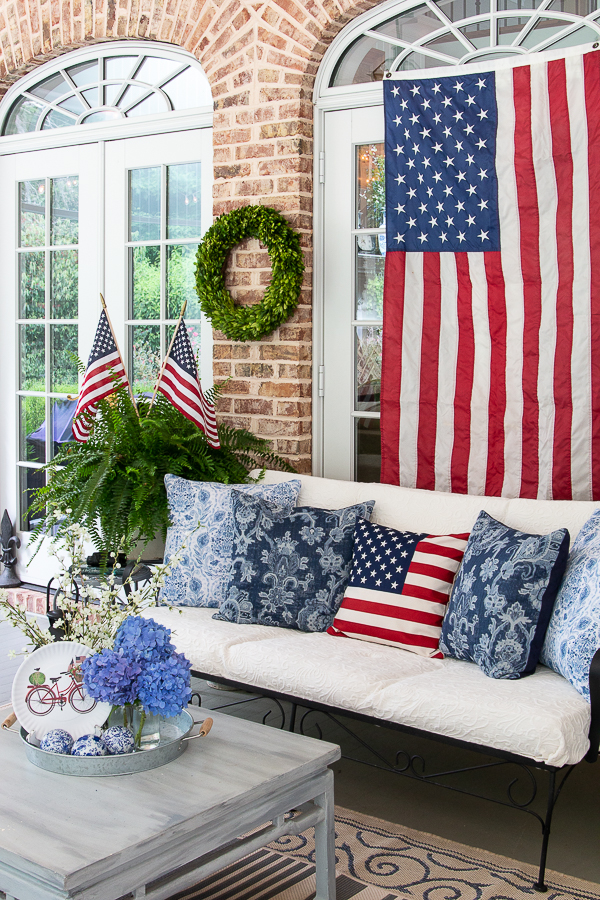 Let's chat about the round tray. It is usually on the dining table so I switched out the 2 for this post. Guess what??? I like it better here. The table is a square so the round tray is perfect for the center.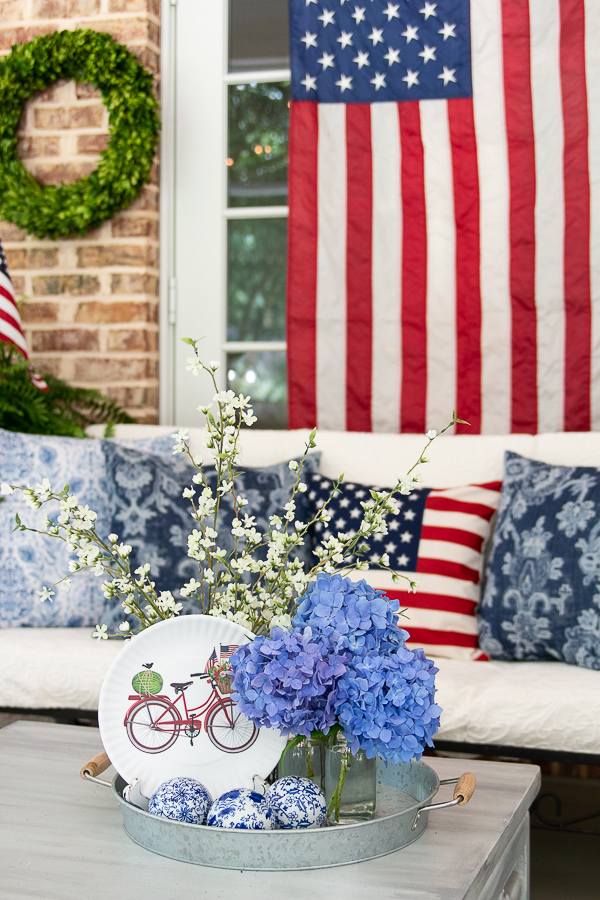 Let's break down the look! I didn't have a frame that I wanted to use here but have this set of adorable melamine bike plates for summer. Aren't they fun. This one has little American flags on it so perfect instead of a frame.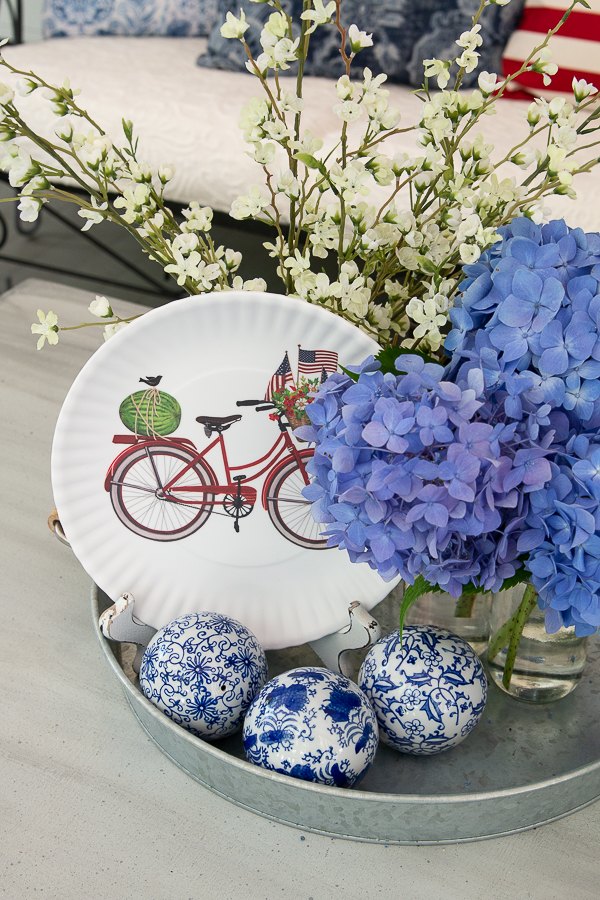 The white faux flowers give the light and airy look like Liz's vignette. I had 1 blue mason jar and it was a little too big for this tray. I do have 3 matching small milk jugs that I used instead. I filled them with freshly cut hydrangeas from our front walk.
The chinoiserie blue and white balls fill in space a bit.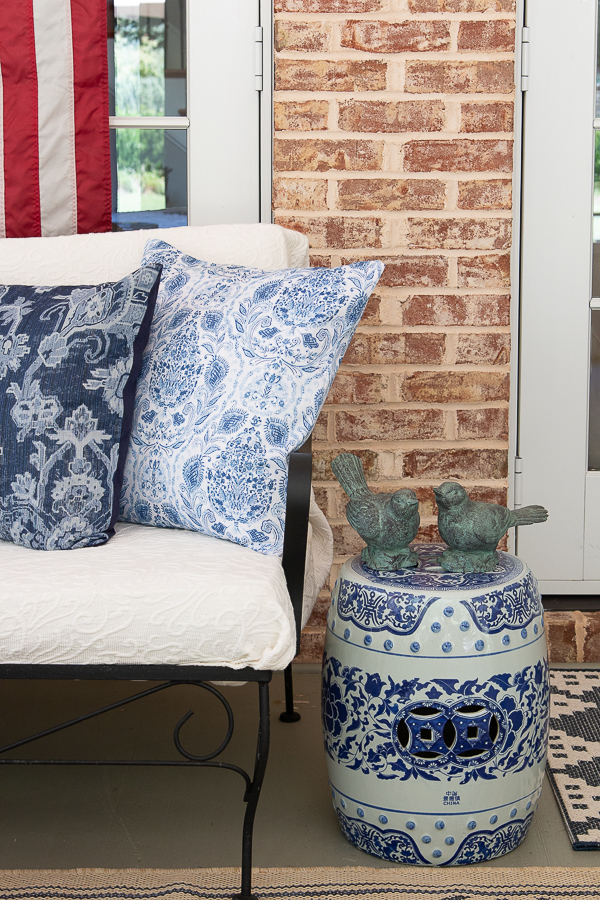 I hope you aren't tired of seeing my chinoiserie garden stool! Here is a similar one. Here is another one. I told you I'd be using it all the time inside and out. I see another one in my future down the road.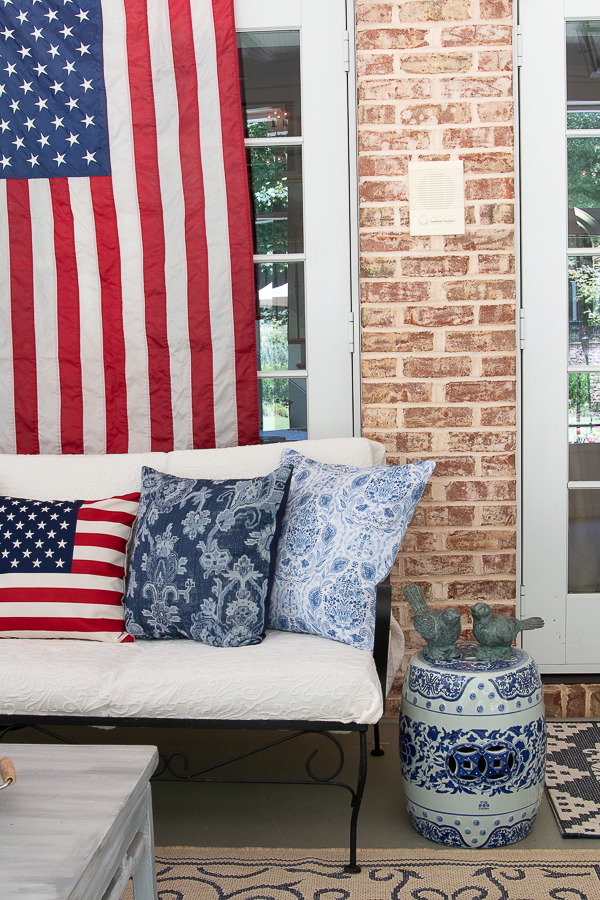 My cushions are actually dark green. Last summer, I discovered that this old queen quilt that was in the linen closet was a great fit for it! Being on the covered porch, it has held up beautifully. I wash is several times during the season.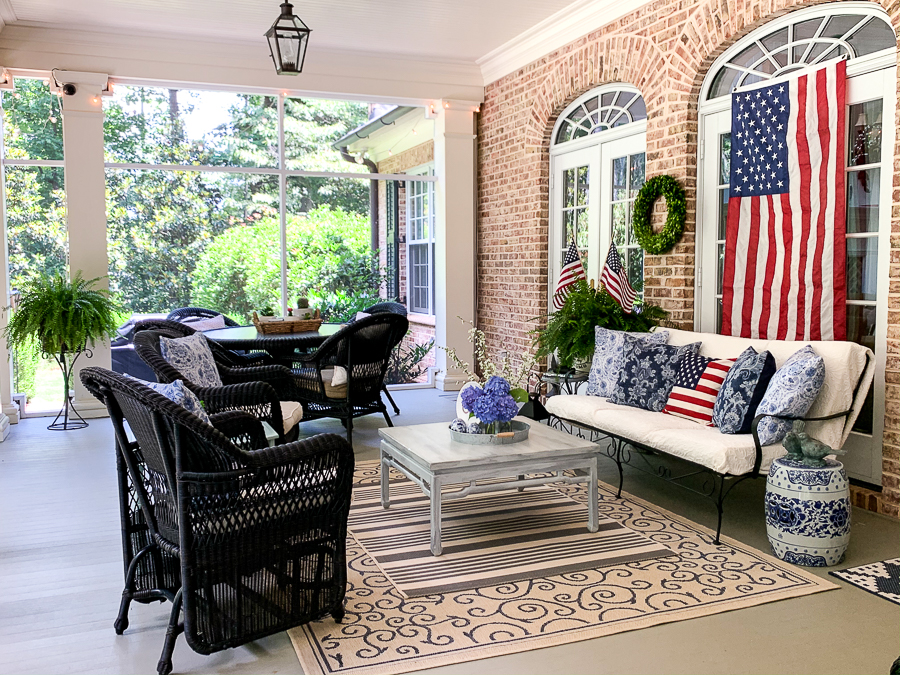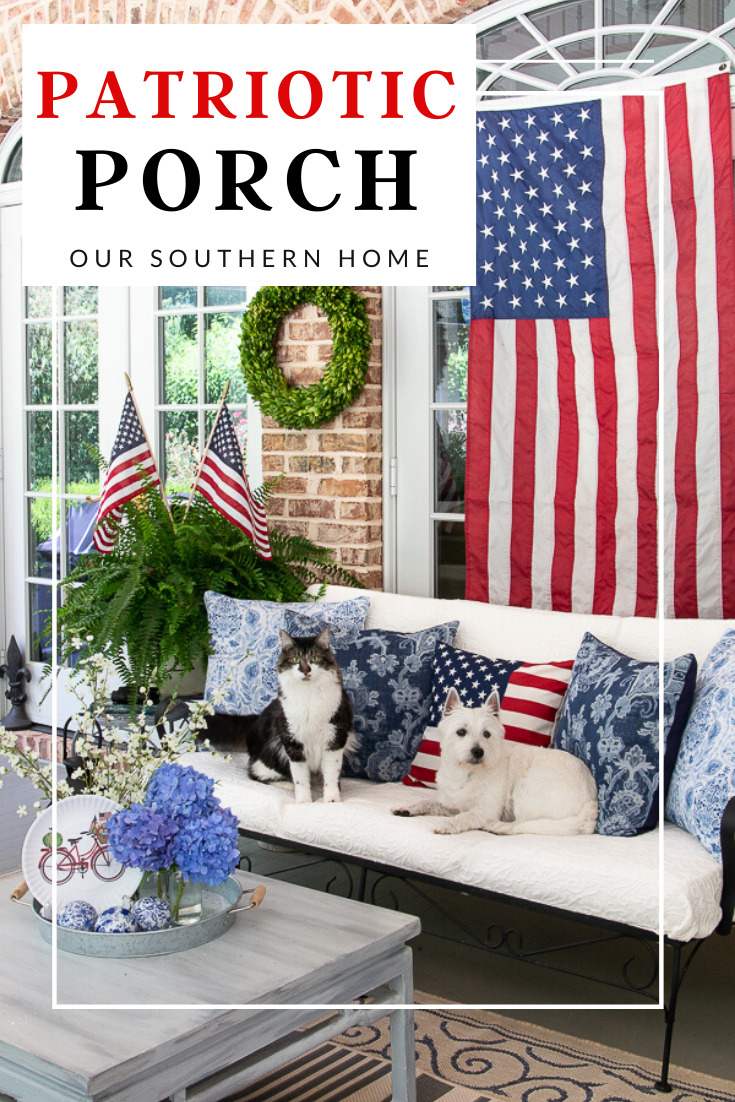 Up next on the tour is the lovely home of Laura from Decor to Adore! Her blog is such a treat with her vintage collections, especially vintage fashion!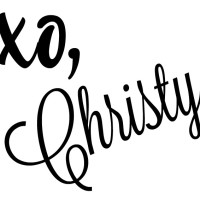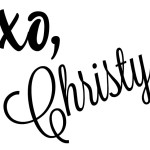 Buffer