I can't believe it is already March! We are having a beautiful week. I'm itching to start working in the yard, but I must first finish painting our kitchen. I'll be painting the walls this week. All the trim and windows are painted. The last thing will be the island. I've been saving that beast for last.
It was nice to take a break from climbing the ladder with my paint roller. This week I got to pick up my spray paint can instead.
Thrift store makeovers can sometimes be the most gratifying. Taking something that cost very little and making it work in our home is a great feeling!
Today I'm sharing my Thrift Store Farmhouse Candle Holder!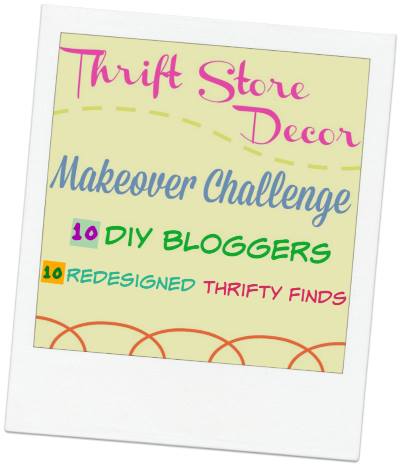 This month I combined an old purchase in my stash with a new Goodwill purchase from last week.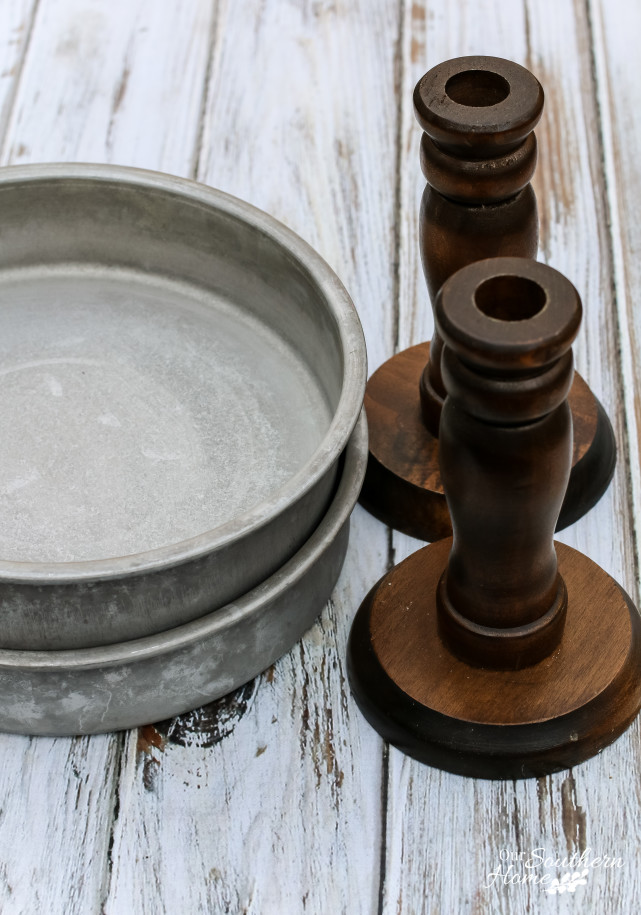 The candle sticks were $1.49 each that I picked up last October. The smaller, old cake pans were .99 cents each. I cleaned them each with cleaning wipes and let them dry.
Next I painted the candlesticks with Rust-Oleum satin finish spray paint in Blossom White. I painted 3 light coats. On the last coat, I turned them upside down to get in the crevices. Let that dry thoroughly.
Apply E600 adhesive to the top rim of the candle stick per the instructions on the packaging. Center it on the backside of the pan. Let dry thoroughly. I buy the clear E6000.
Hint: It is easier to get it centered if you place the pan on your work surface with the bottom facing up. Then turn the stick upside down and place. I use a ruler to get them centered. I'm not looking for perfection…..just a rough guide.
Leave it alone to set up and really cure.
Flip over and decorate.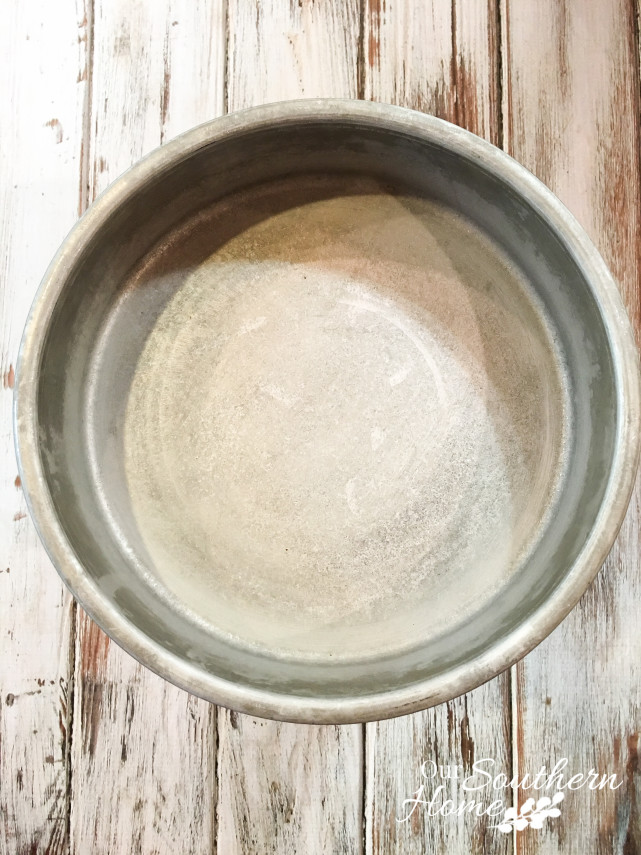 I didn't have a tall candle on hand, so I elevated the base with a small white container turned upside down. It fit the candle perfectly.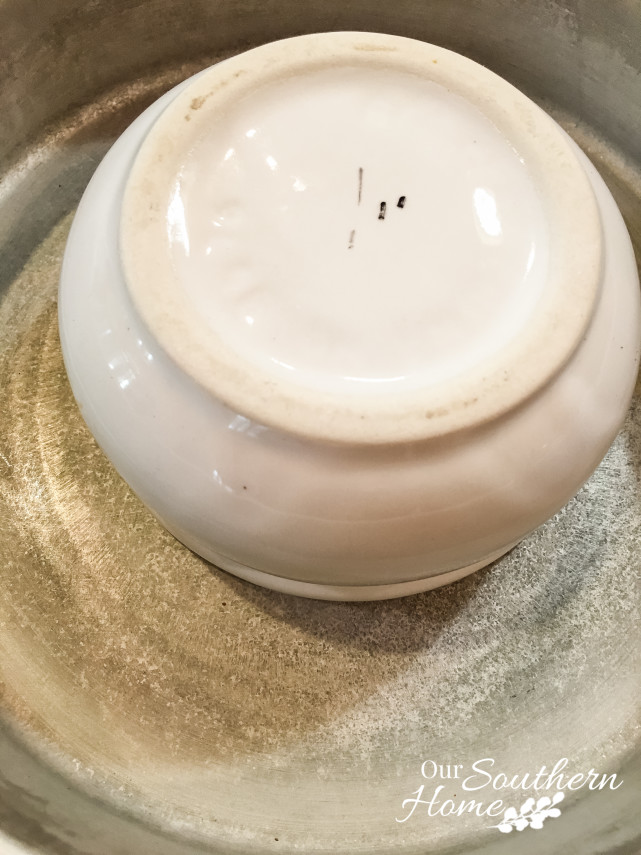 You wouldn't have to do this.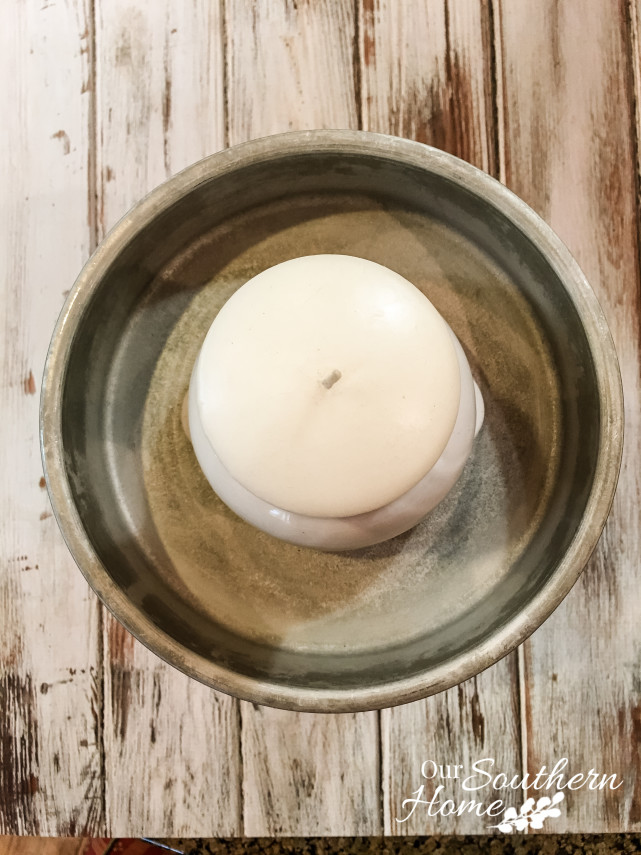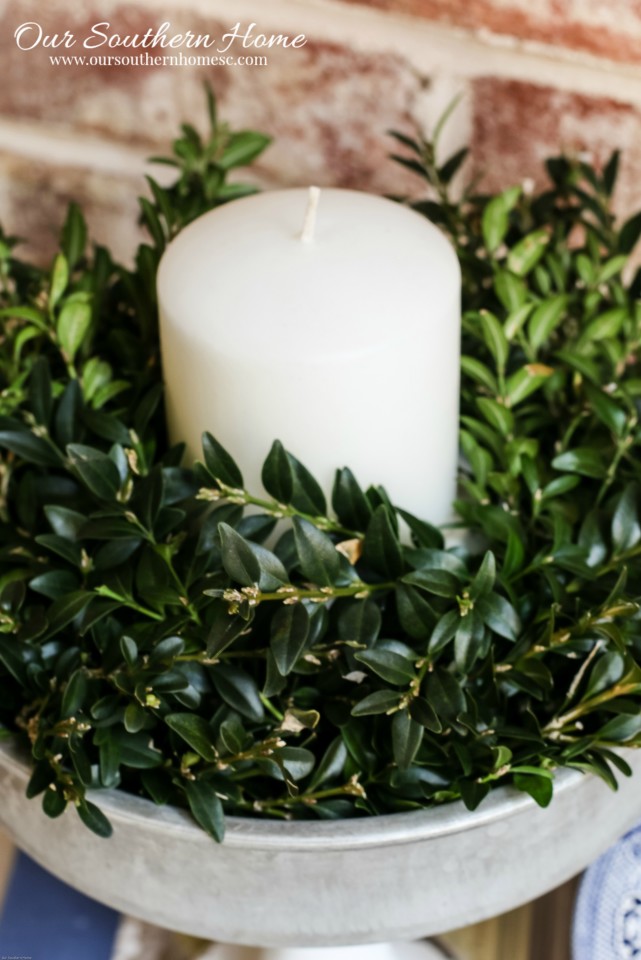 Next I went in the yard and clipped sprigs of boxwood. I placed the thicker branches around the bottom to fill the container. Then I cut much smaller sprigs to make the top look pretty. I love the natural look plus it didn't cost anything! I find that boxwood look great clipped like this for a while.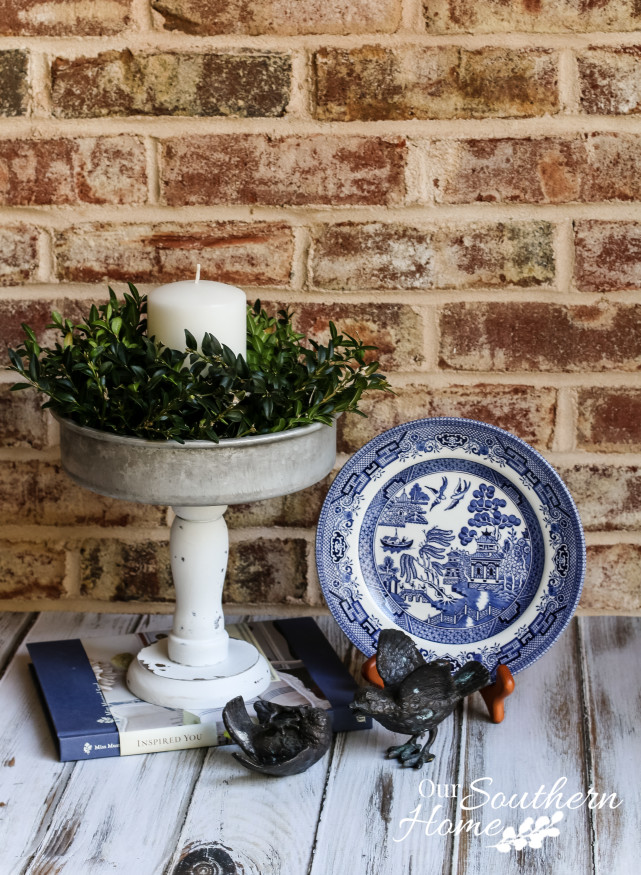 I just staged it simply here. I'll be sharing my spring tour in a couple of weeks. I'll be showcasing them on the tour.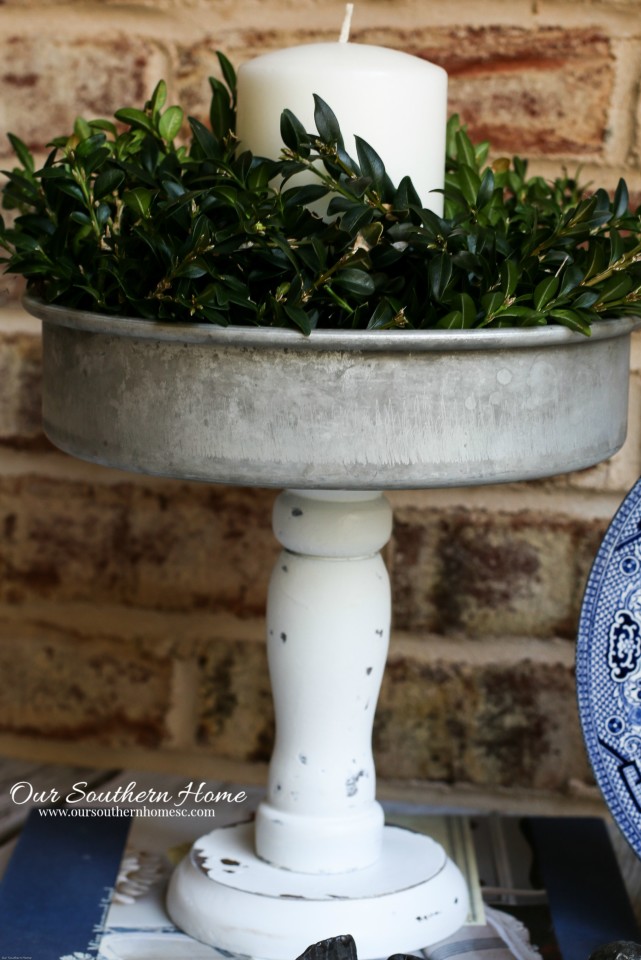 Distressing is completely up to you. At first I wasn't going to distress them. With the age of the cake pans, I liked them distressed a bit. I wanted a chunkier distressed look so I pulled out my hand-held orbital sander
to do the job fast.
I distressed before gluing the two pieces together.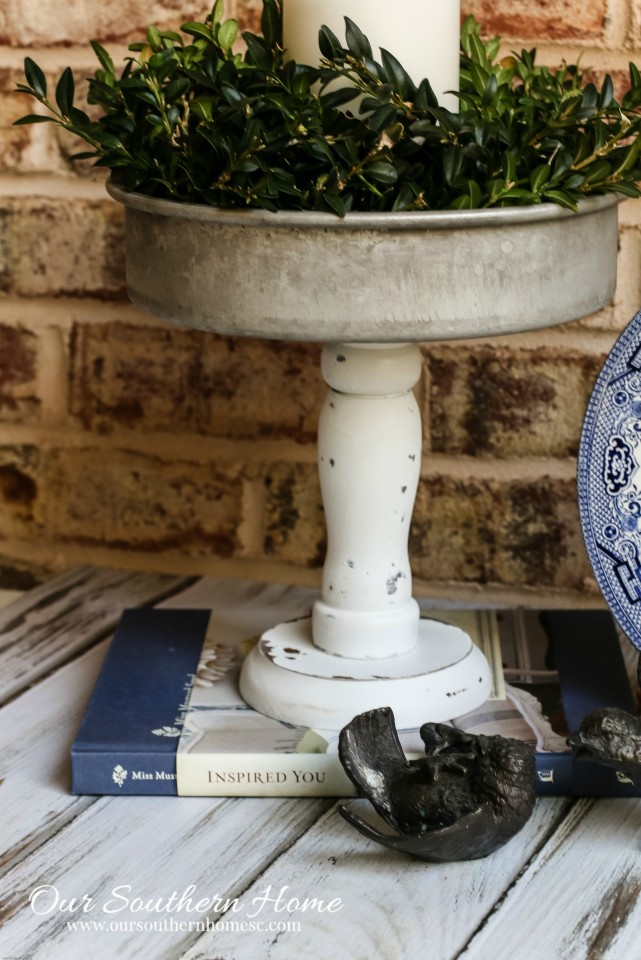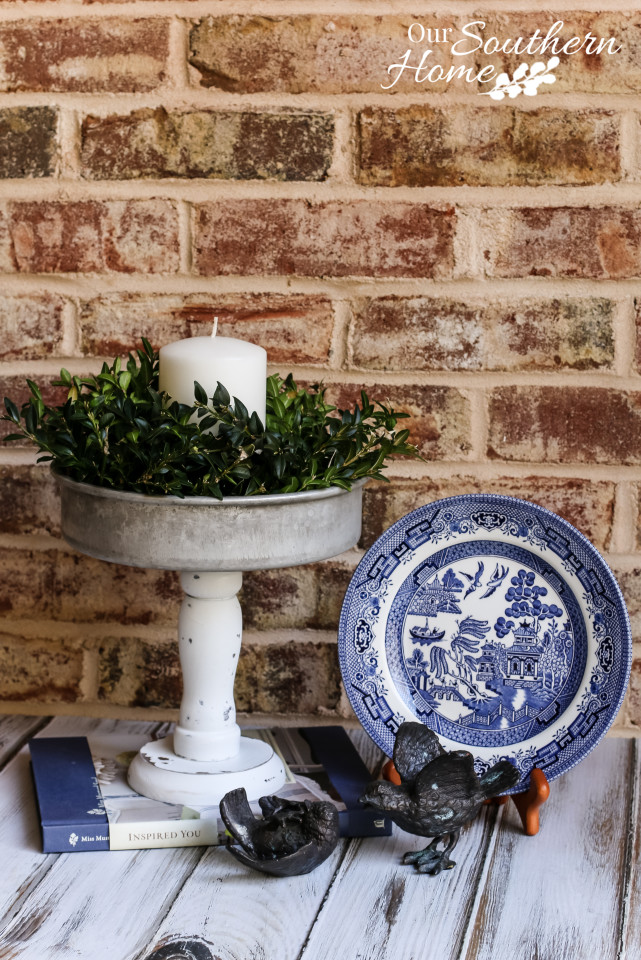 I know I will get so much use with these! Here are a few ideas!
candle holder with items around the base like flowers, jelly beans, greens, wine corks, colored eggs, candies……the sky is the limit here!
serve food like cookies and crackers
store k-cups
What ideas do you have?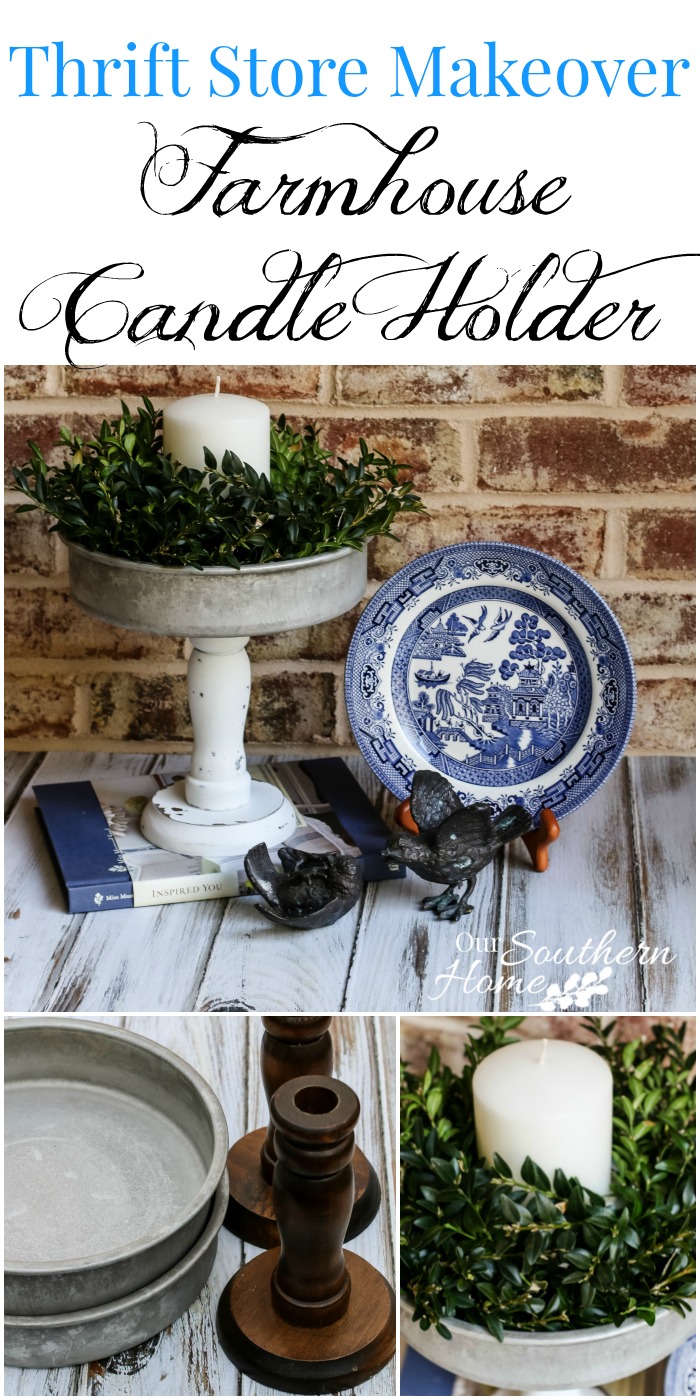 Be sure to PIN for later to share with your friends!
Now let's see what these other creative gals have up their sleeves for us today!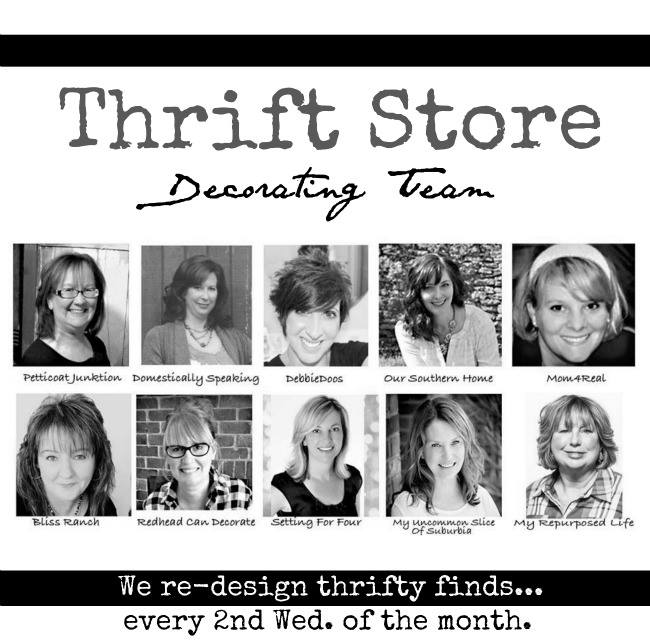 I'd love for you to follow along on social media!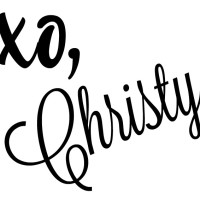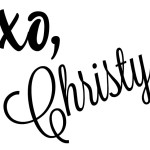 Buffer