Sheet Pan Roasted Salmon and Veggies
This shop has been compensated by Collective Bias, Inc. and its advertiser. All opinions are mine alone. #MazolaHeartHealth #CollectiveBias
February is Heart Health Month! In honor of this I am using Mazola® Corn Oil in my Sheet Pan Roasted Salmon and Veggies! A clinical study showed Mazola Corn Oil reduces cholesterol 2x more than extra virgin olive oil. To learn more about this claim, visit Mazola.com.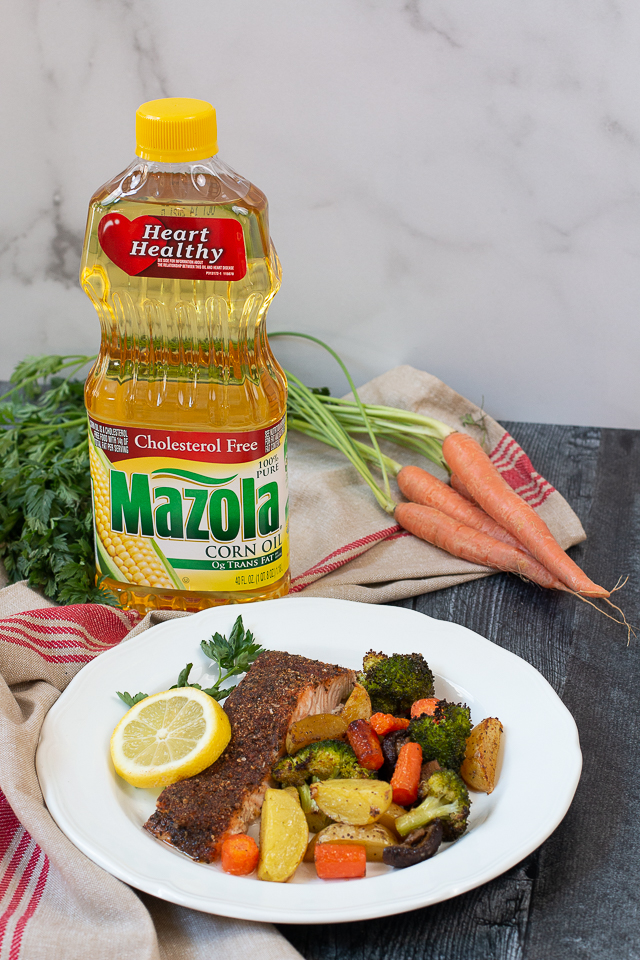 My entire family loves salmon, and we have it at least 1x per week. In the summer, we grill it frequently. When the weather isn't great for grilling or just want to get things completed quicker, we opt for this one pan method.
Who doesn't love just 1 pan to clean up after dinner?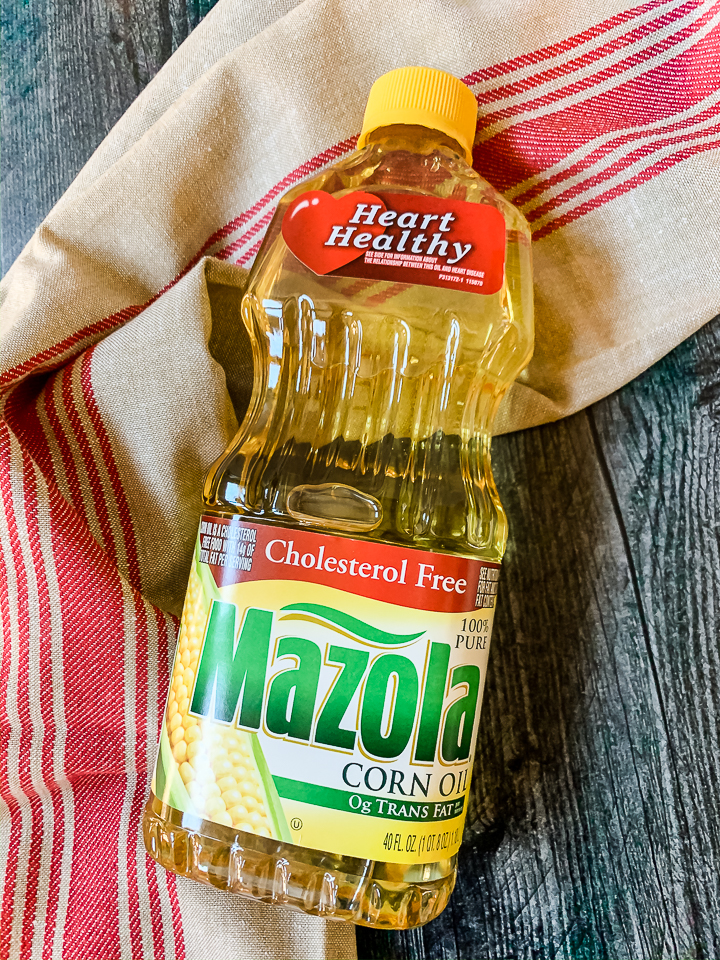 Mazola Corn Oil is an all-purpose, cholesterol free cooking oil and my choice for this recipe. Mazola Corn Oil is an all-purpose, cholesterol free cooking oil that is a smart heart-healthy* choice for your family. *See Mazola.com for more information on the relationship between corn oil and heart health. It has a variety of uses include baking, grilling, sautéing, stir frying, or mixing up a marinade or dressing.​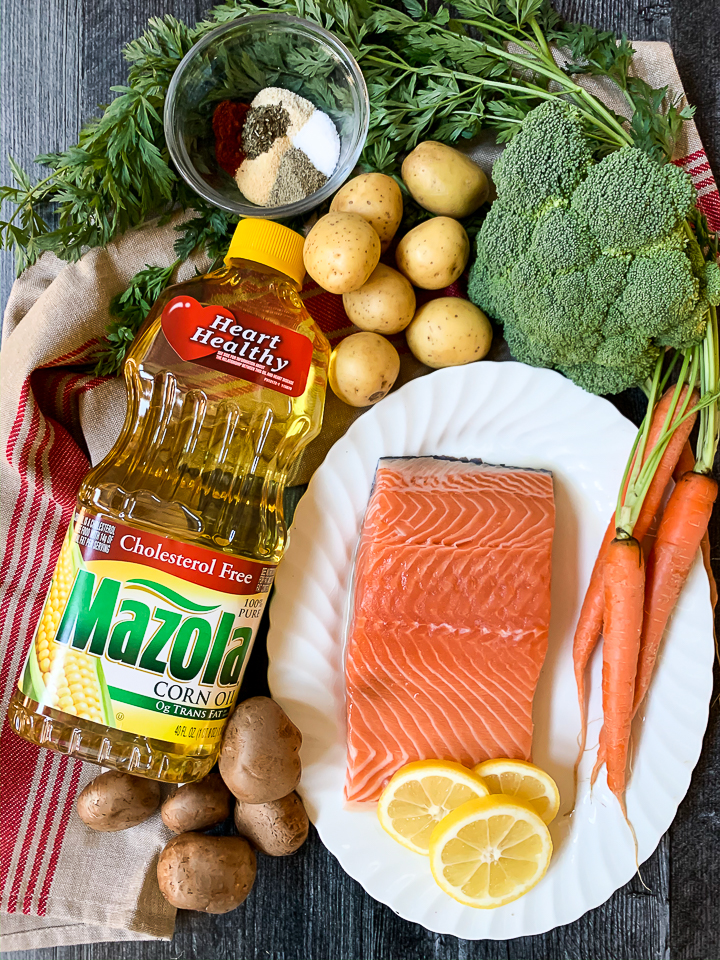 There are many variations that you could use on the veggies! I've used sweet potatoes, chunks of sweet onion and asparagus before. Sheet pans dinners are really fun to experiment with for dinner.
Sheet Pan Roasted Salmon and Veggies
Yield: 2 servings

Prep Time: 12 minutes

Cook Time: 22 minutes

Total Time: 34 minutes

A yummy and good for you simple 1 dish meal perfect no matter the season! This recipe can easily be multiplied.
Ingredients
For the Salmon:
1/2 tsp. Kosher salt
1/2 to 1 tsp. ground pepper
1/2 tsp. onion powder
1/2 tsp. garlic powder
1/2 tsp. paprika
1/4 tsp. basil
Mazola® Corn Oil
1 pound of salmon with skin
For the Veggies:
1 heaping cup of broccoli florets cut in bite-sized pieces
1/2 cup of mushrooms of choice halved
4 small carrots peeled and chopped
1-1/2 cups of cut up small gold potatoes
1/4 cup of Mazola® Corn Oil
salt and pepper to taste
Instructions
Mix you first six spices in a small bowl to blend.
If purchased one large piece of salmon cut into two pieces.
I used a medium sized sheet pan.
Pour about a tablespoon of oil into the pan and brush it all over. if you don't have a brush, use a paper towel.
Oil the skin side of your salmon lightly and place in center of the pan, skin side down.
Oil the top of your salmon in the same manner
Evenly distribute the spices on top of both pieces of salmon. Do not do the skin side.
Place all of the chopped veggies in a large mixing bowl.
Pour in 1/4 cup of corn oil.
Salt and pepper to taste
Toss to completely coat.
Pour onto the sheet pan all around the salmon.
Place on middle rack of a preheated 425˚F oven for 15-22 minutes depending on oven.
Stir veggies several times while cooking.
Notes
Salmon is a meatier fish, and I prefer to cook mine a little longer. When cooking a sheet pan meal, I prefer to cut veggies into smaller bite-sized pieces so they cook at the same pace as the salmon. You will not flip the salmon. This is definitely a family favorite!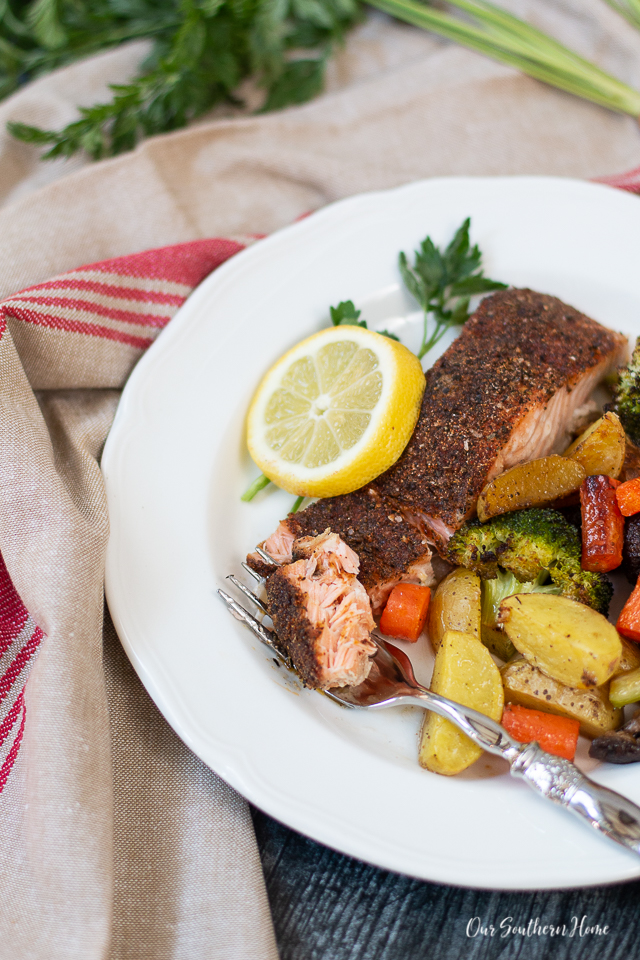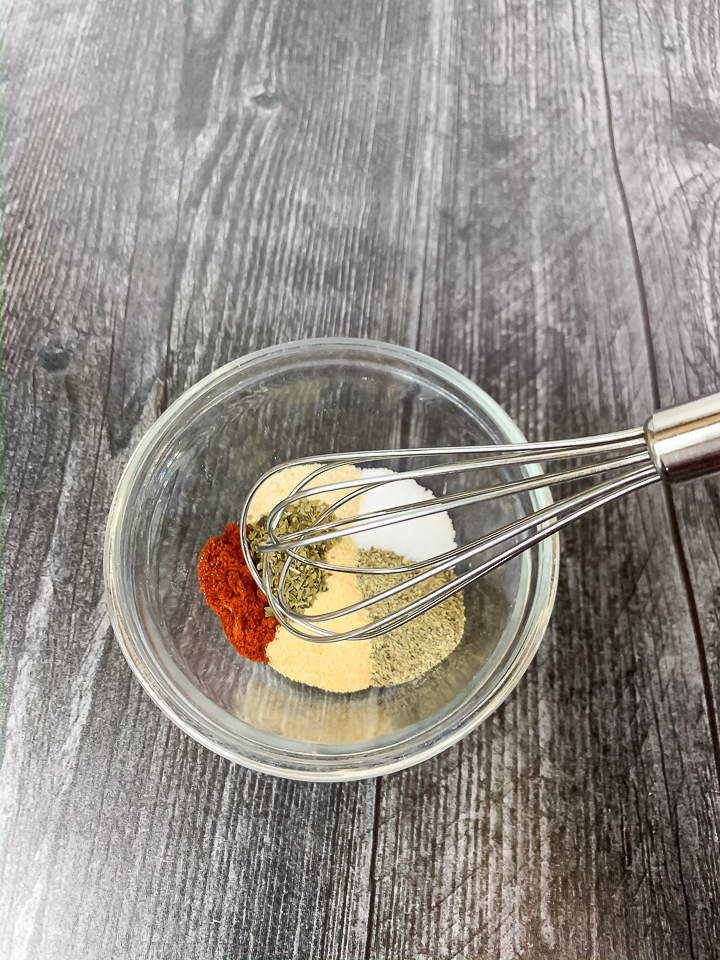 Blend your salmon spices in a small bowl. A small whisk works well for this. My husband likes a lot of pepper so we used the full amount mentioned in the recipe.
I prefer to use Mazola corn oil for this dish because it has a high smoke point of 450˚F. It can be used in many cooking instances including grilling and stir frying. Not all oils are created equal with a high smoke point. Many home cooks do not realize that once a smoke point is exceeded, the flavor and nutritional value can be compromised.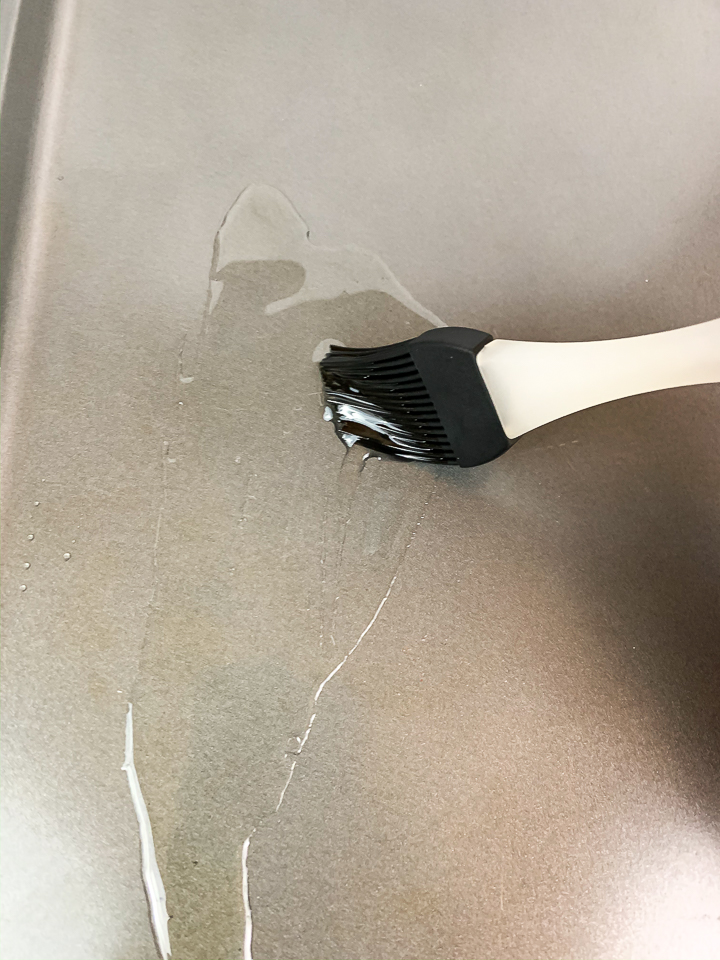 Pour enough Mazola Corn Oil into the pan to coat. Use a brush or a paper towel.
Mazola Corn Oil has more cholesterol-blocking plant sterols than other cooking oils! Would you believe it has four times more than olive oil and one and a half times more than canola oil. Clinical studies indicate that when consumed as part of a diet low in saturated fat and cholesterol, plant sterols can help reduce the absorption of cholesterol in the gut! WOW! I am all for improving the way in which we cook and eat. A clinical study showed Mazola Corn Oil reduces cholesterol 2x more than extra virgin olive oil. To learn more about this claim, visit Mazola.com.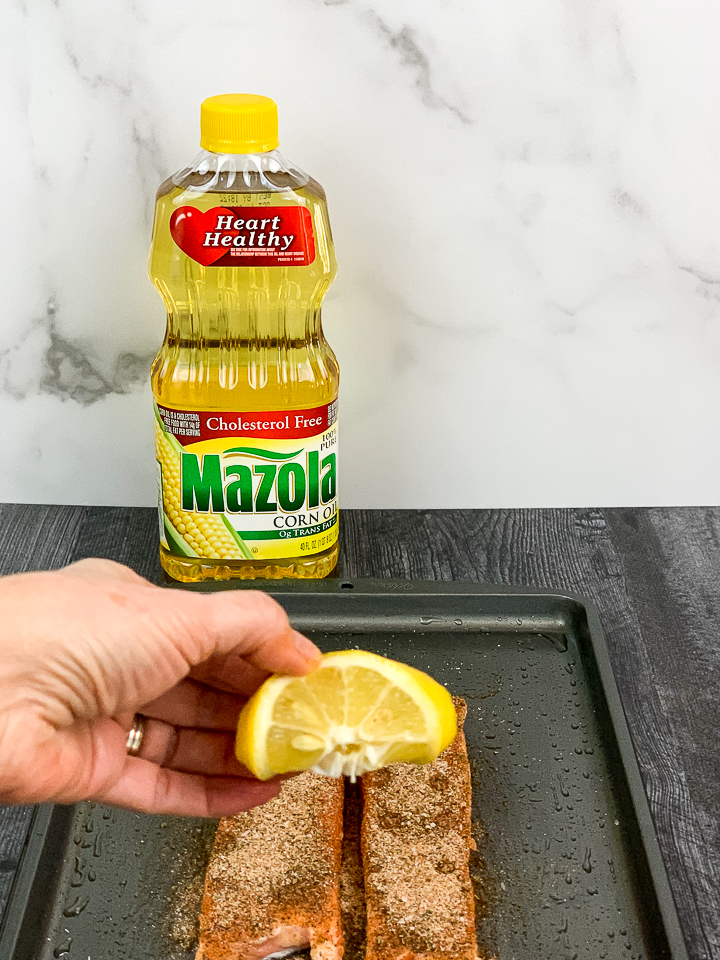 Brush oil on the skin side of the salmon and place in the center of the sheet pan. You'll notice that I cut my larger piece in half. Brush Mazola corn oil on the top of the salmon. Using your entire bowl of the spice blend, evenly distribute on both pieces. Squeeze lemon juice on both pieces.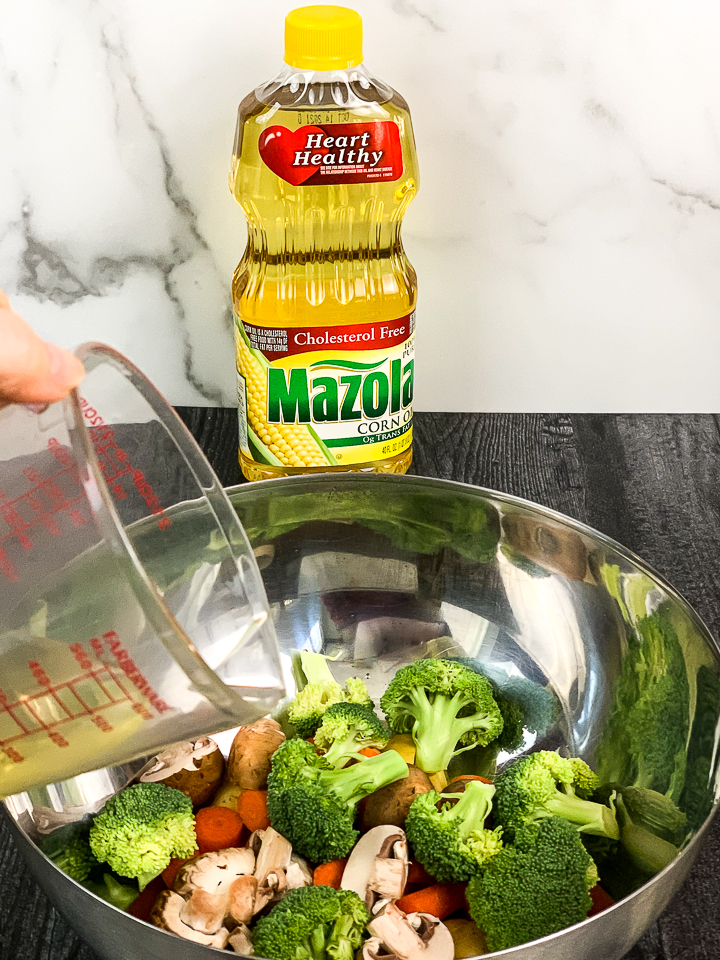 Chop veggies and place in a large bowl. Pour in 1/4 cup of Mazola corn oil. Salt and pepper to taste.
The American Heart Association recently issued a new presidential advisory on dietary fats and cardiovascular disease (CVD) that strongly advised replacing saturated fat, like that found in coconut oil, with polyunsaturated fat, like Mazola corn oil, to reduce the risk of CVD by 30 percent.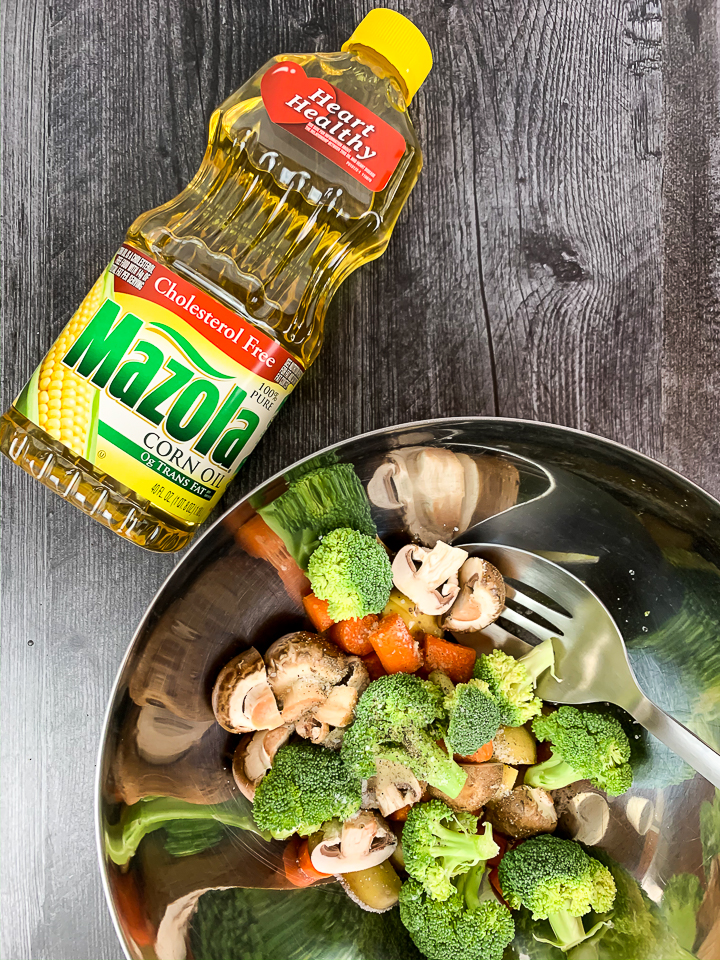 Toss to coat the veggies with the Mazola Corn Oil and salt/pepper.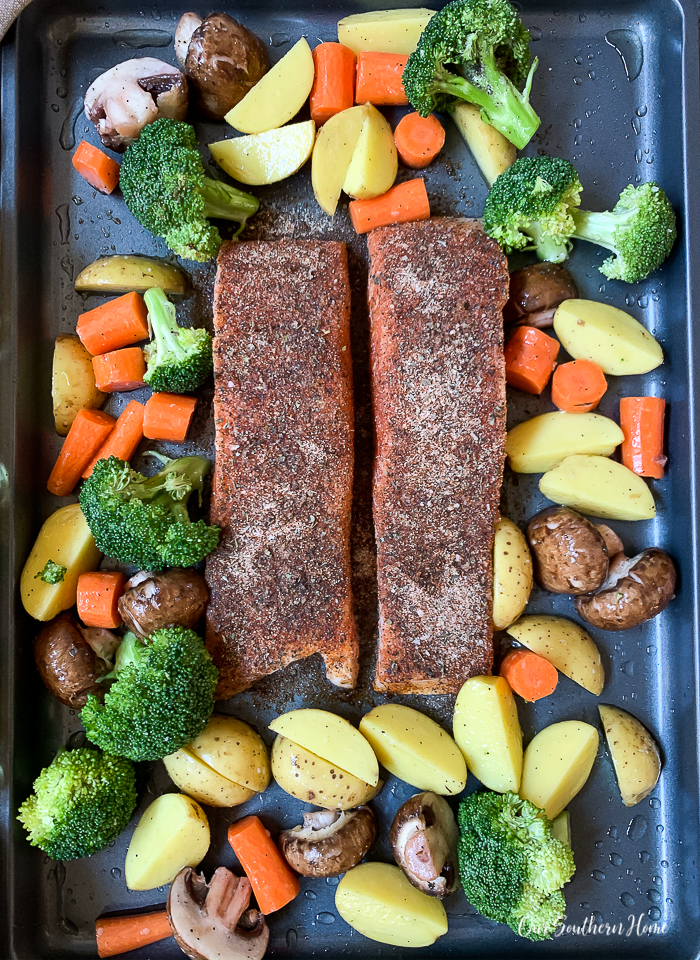 Arrange the veggies on the sheet pan around the salmon.
Place in the preheated oven and cook according to recipe directions. Be sure to stir the veggies several times throughout the cook time. You want them to evenly cook and not char on one side. Cook time will vary per oven. Mine took the entire time as we like our salmon more well done.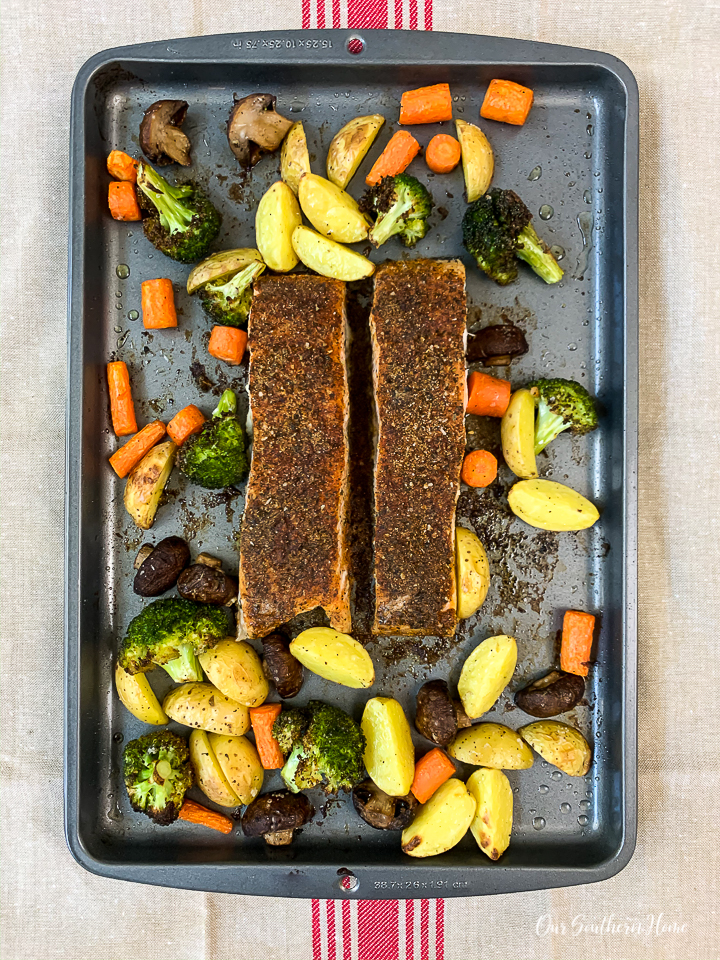 Can you see why this is a family favorite? We have this dish once per week.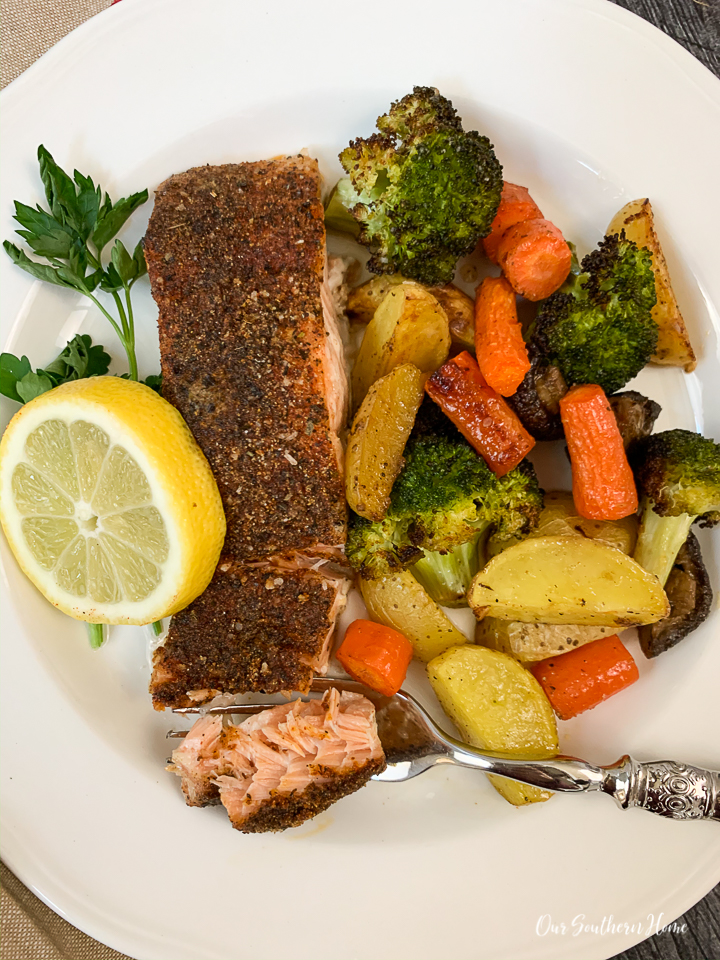 Your salmon is a meatier fish, but should look like this when done.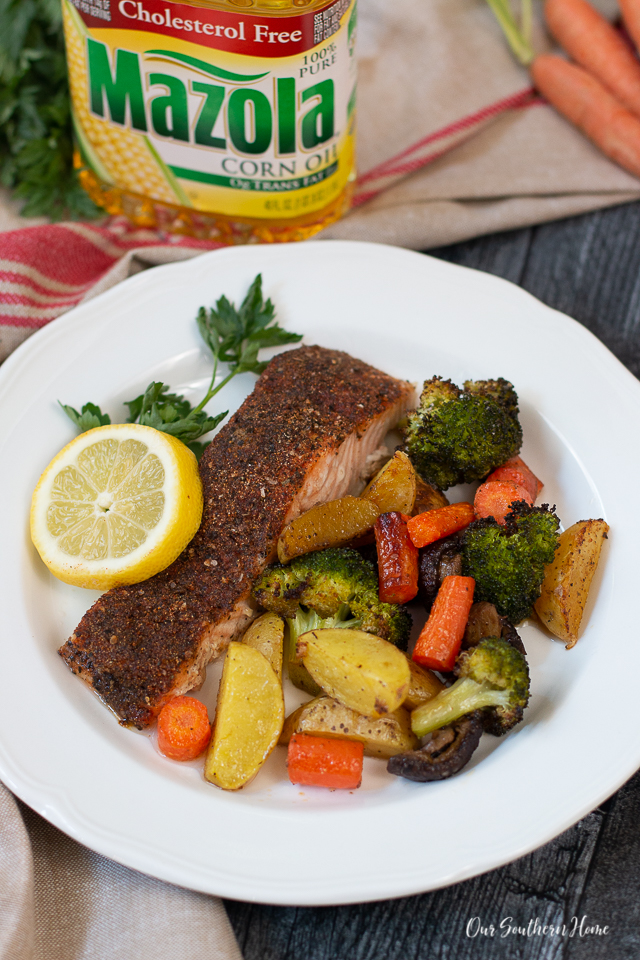 Reduce saturated fats and cholesterol in your meals easily by making simple swaps. For example, substitute butter with Mazola Corn Oil. Check out Mazola for more delicious recipe ideas. ​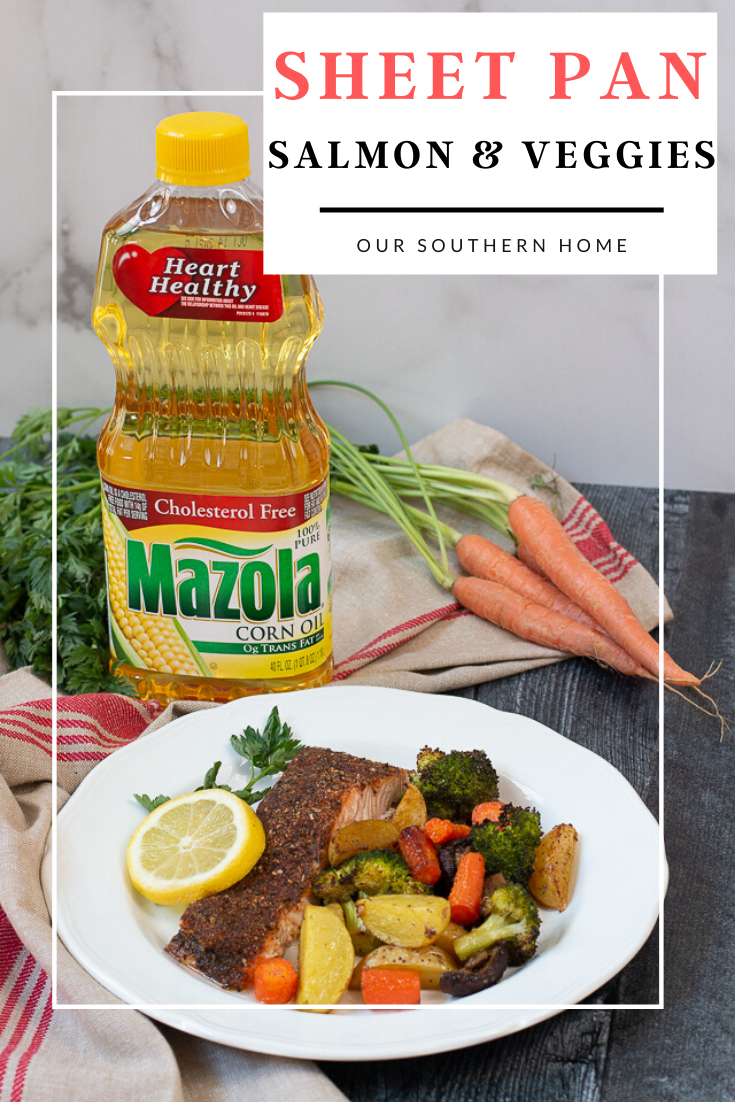 Remember that February is National Heart Health month! I'd love for you to share some swaps that you make or heart healthy ideas.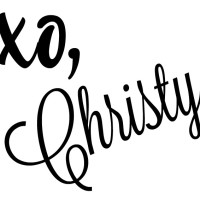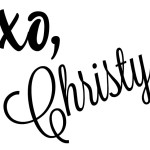 Buffer