2020 HGTV Dream Home Tour
This post was sponsored by HGTV and Cabinets to Go!
Last month, I had the privilege to spend a few days in beautiful Hilton Head, SC with HGTV and Cabinets to Go. Would you believe that I live in SC, but have never been to Hilton Head. It's such a breathtaking beach.
2020 HGTV Dream Home Tour
Hilton Head, SC is the location of the 2020 HGTV Dream Home. This is the first dream home that I have visited. Let me say that it did not disappoint.
I was hosted along with a group of other bloggers and influencers for several days at a couple of events held at the home.
Even if I had not been to 2 catered events at the home, it's obvious that this is a home meant to be shared with family and friends. The layout from the grounds, porches, patios and interiors is meant to celebrated where food, drink, conversations will be shared and memories will be made.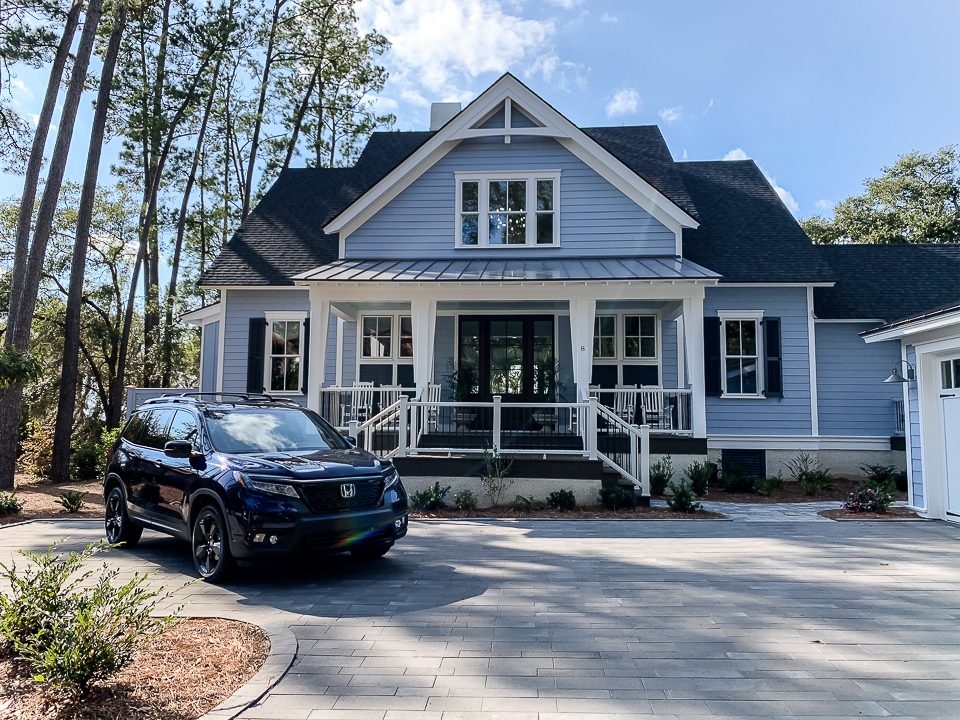 Act quickly! You still have time to enter to win! The deadline is 5pm on February 19, 2020 est.
The grand prize is valued at over 2 million!
A 3-bedroom, 3½-bathroom, waterfront home located on Hilton Head Island, South Carolina
Beautiful furnishings and decor courtesy of Wayfair.com
A brand-new Honda Passport
$250,000 cash from Rocket Mortgage® by Quicken Loans®
It was really fun listening to designer, Brian Patrick Flynn, discuss the entire process of the build. It is not the goal of the design to be on par with exactly what is on trend right now. They are thinking ahead! He is given a color palette, design details and such that he must include in his interior design of the home.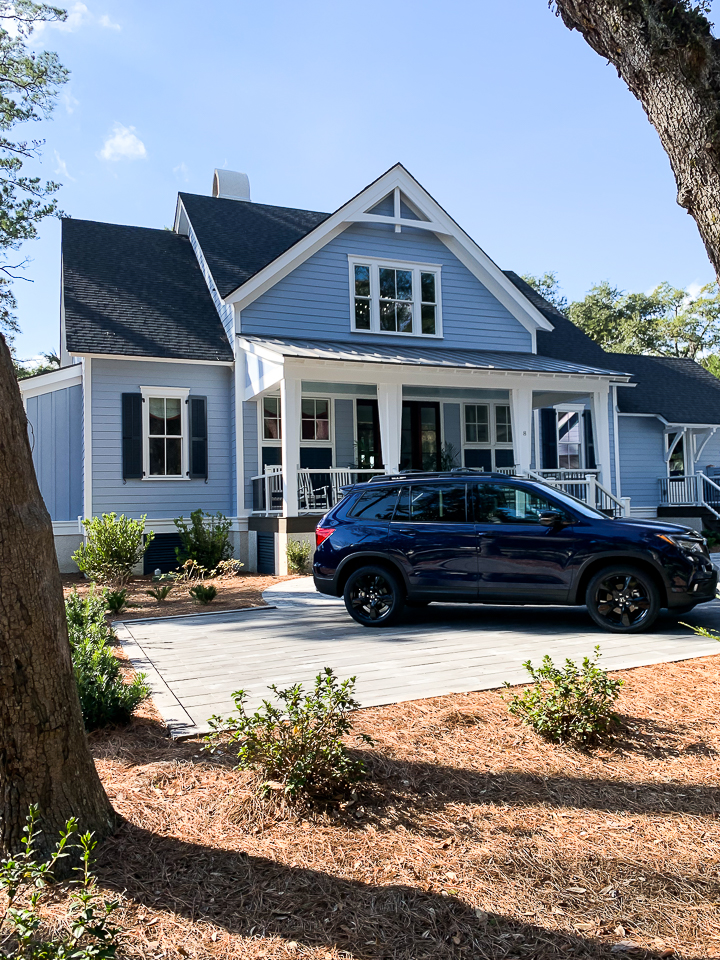 The exterior of the home really speaks to me in that I am so in love with all things blue these days. It's definitely got a coastal cottage vibe.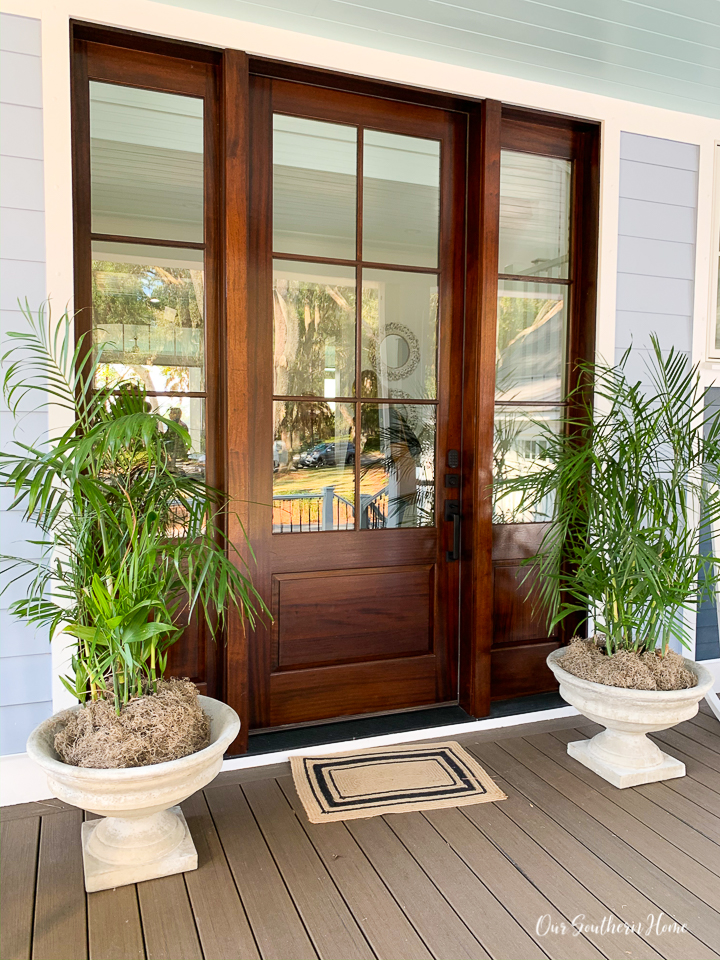 Stained doors are truly my favorite especially when the house is a painted color. It creates such a warm and inviting entrance. All porches are deep and encourage relaxing.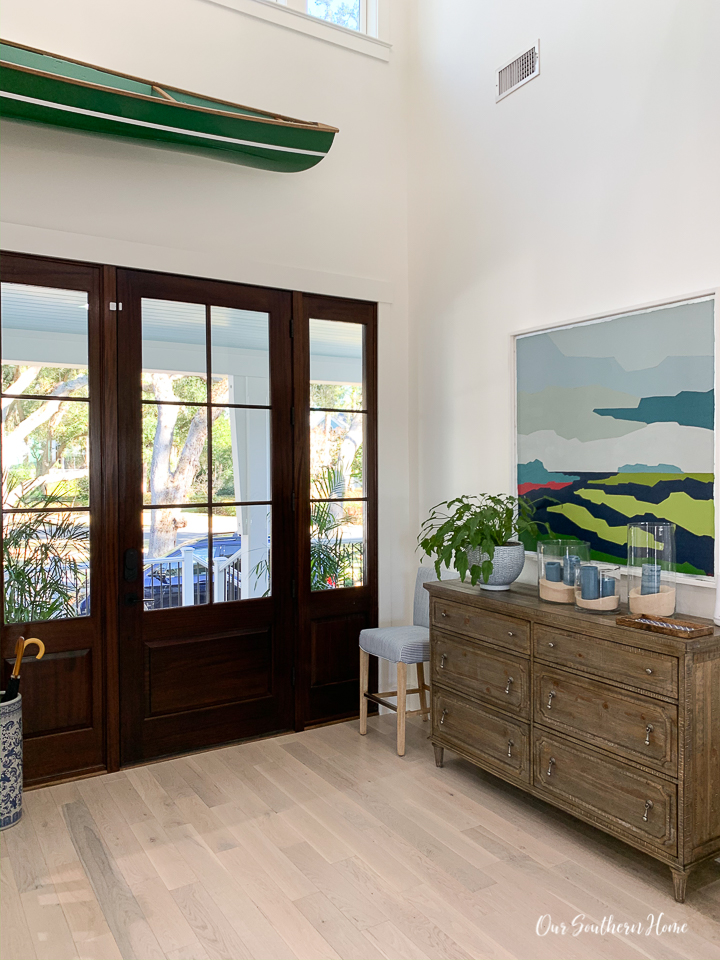 The foyer is so open and bright with the large windows above the door.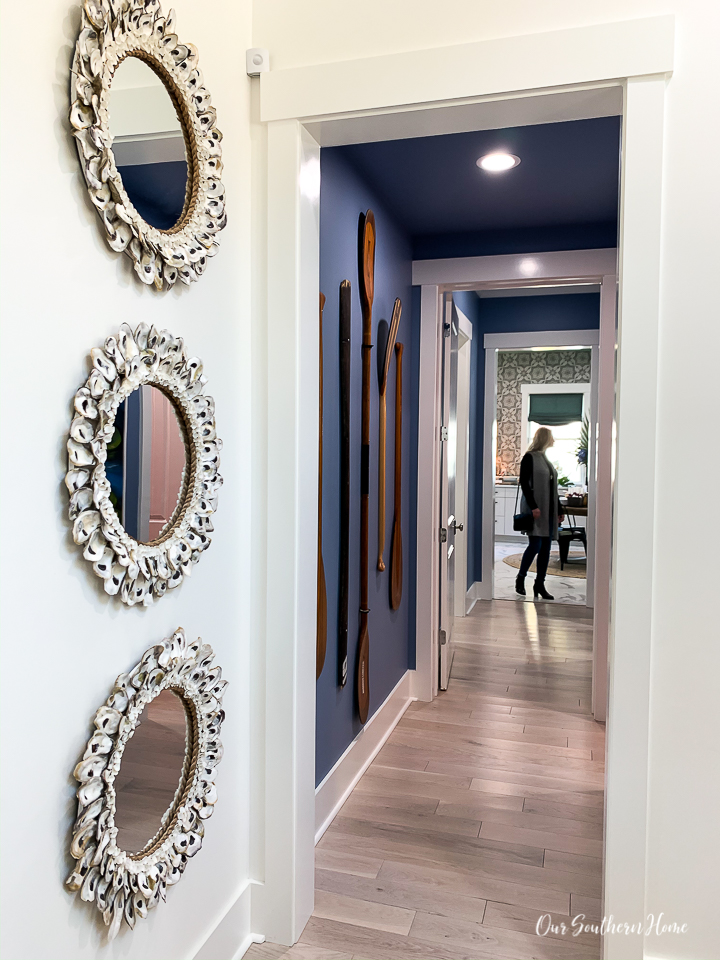 So many coastal and water details throughout the home with the canoe above the front door to the oyster shell mirrors and oars hanging in the hallway off the foyer.
The foyers walks you right into the family room. The back of the house features windows and doors to let in bright light and gorgeous views.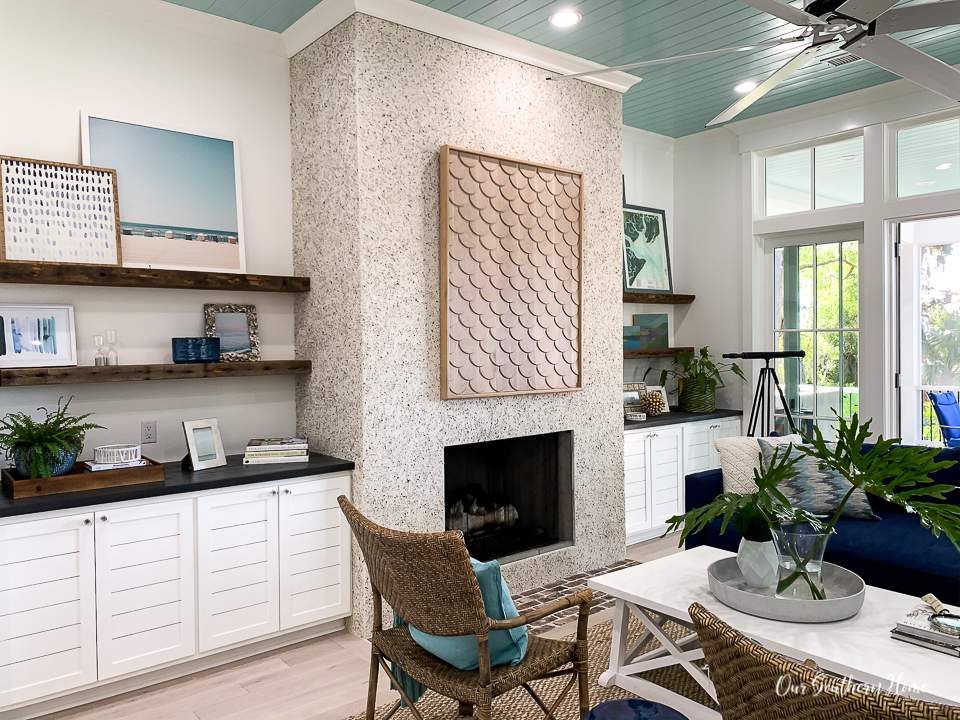 So many unique features with the painted haint blue ceiling, cabinet doors and textured fireplace surround. The blend of traditional coastal features with a bit of contemporary creates a one of a kind home.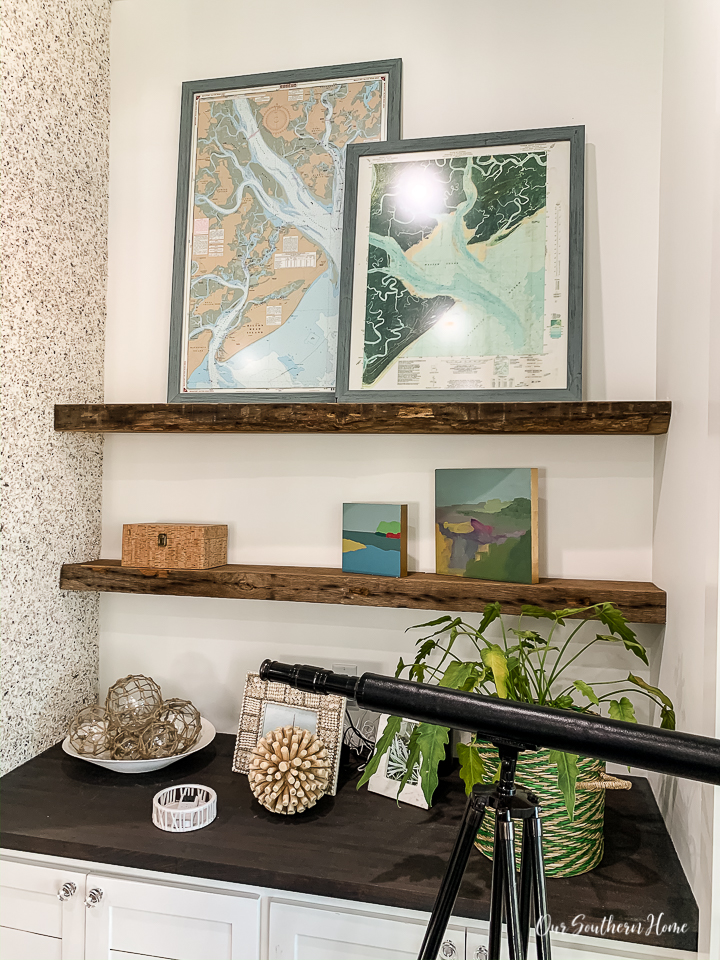 Maps of the area are a fun way to decorate the floating bookshelves.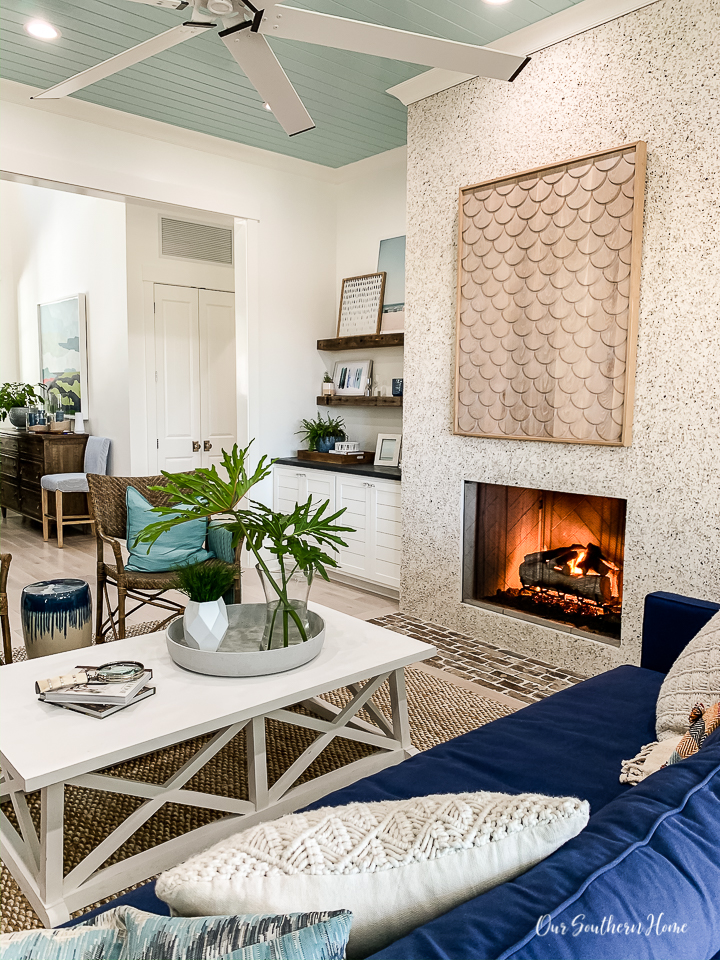 The family room opens to the kitchen and dining areas. The master is located just off the hall to the right.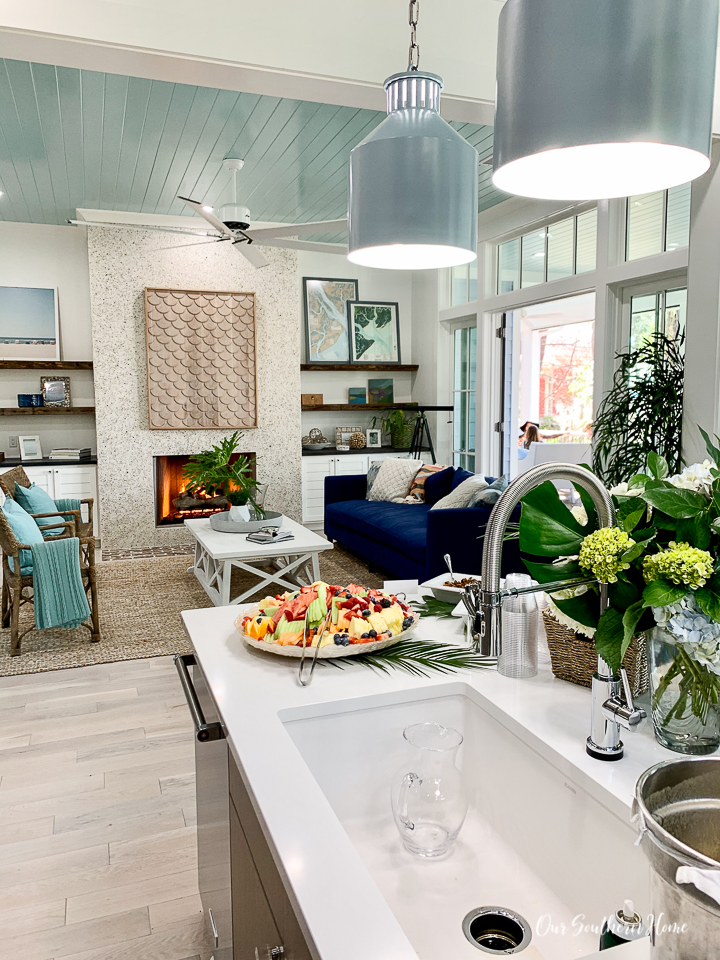 You will never miss a moment with your guests while cooking in this kitchen. Isn't that huge sink dreamy.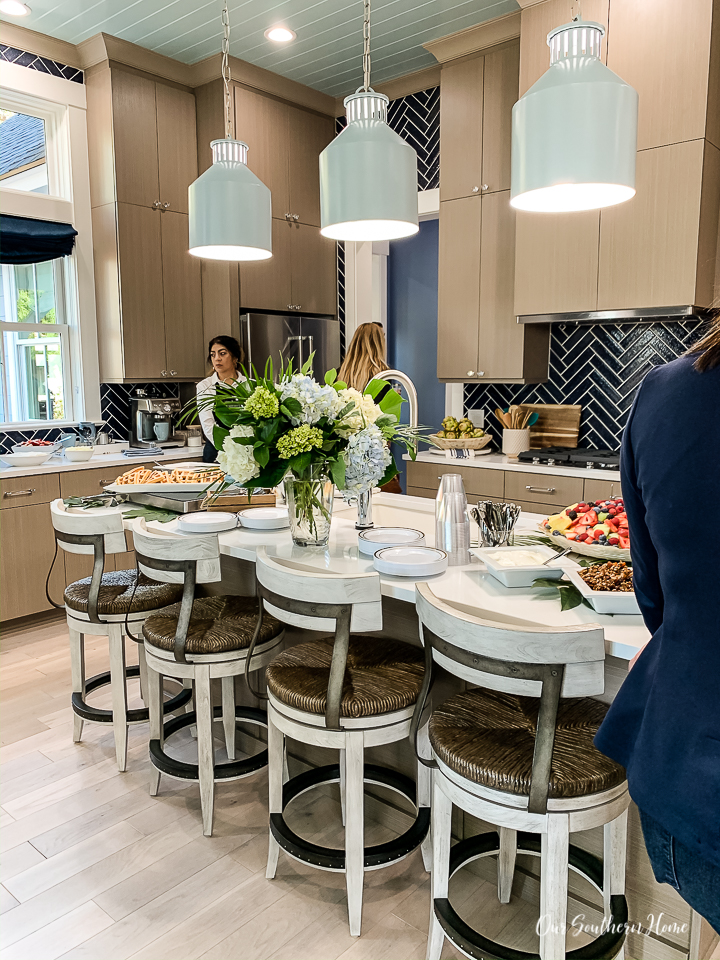 The enormous island is the focal point of this kitchen. The quality of the cabinets and storage is a chef's dream.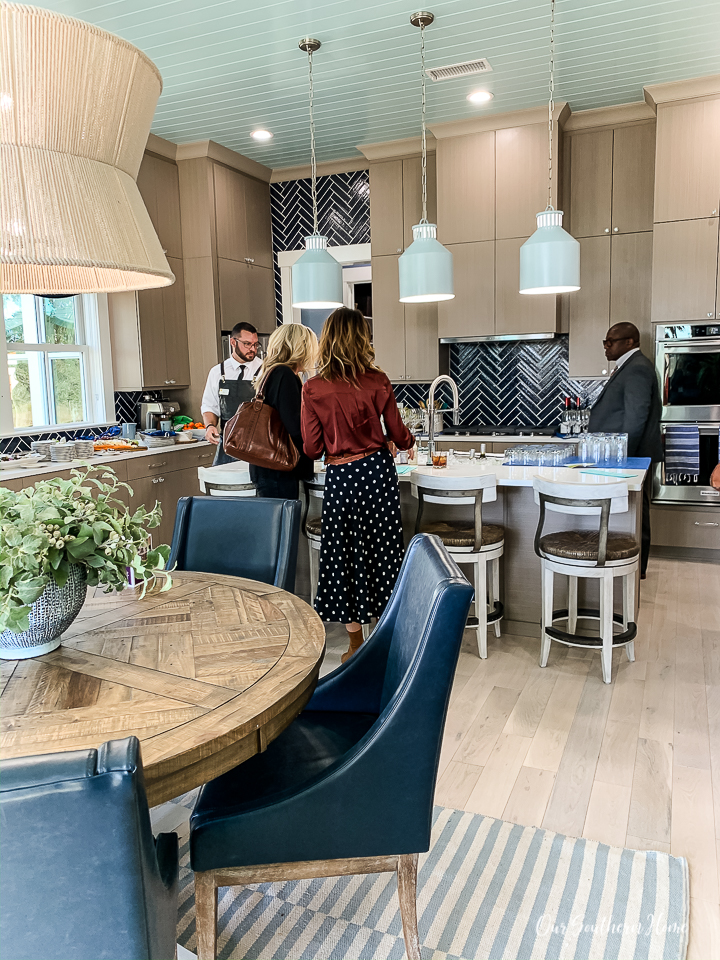 The planked ceiling carries into the kitchen area. They could have easily gone with a white kitchen, but I love the driftwood color of these cabinets. They shine with the navy subway tile with a chevron pattern.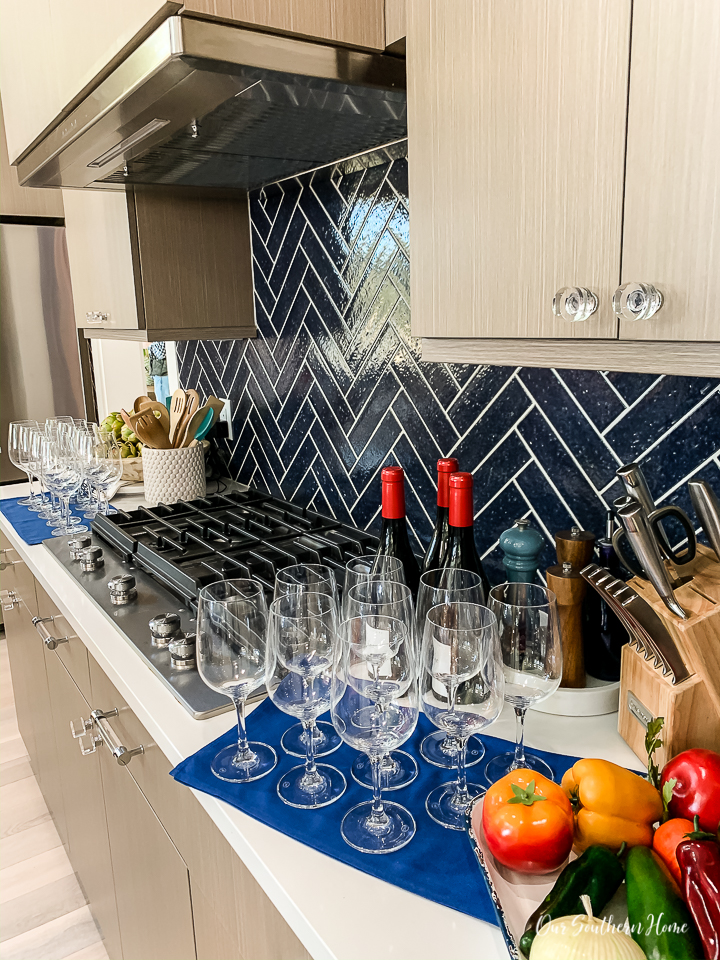 These cabinets will be a breeze to keep clean.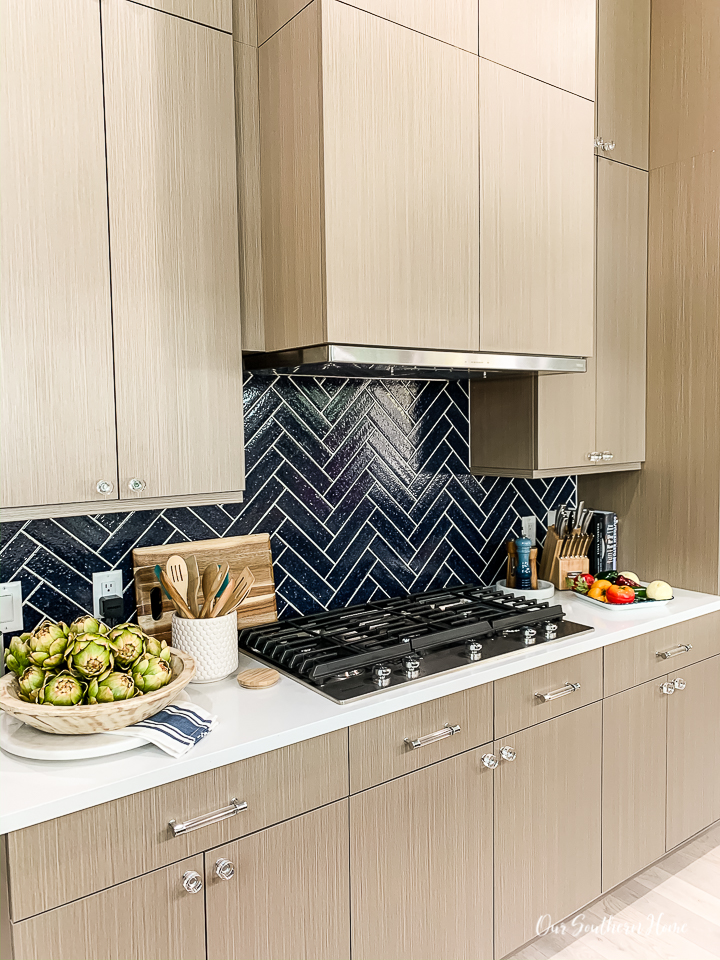 Wait until you see the storage!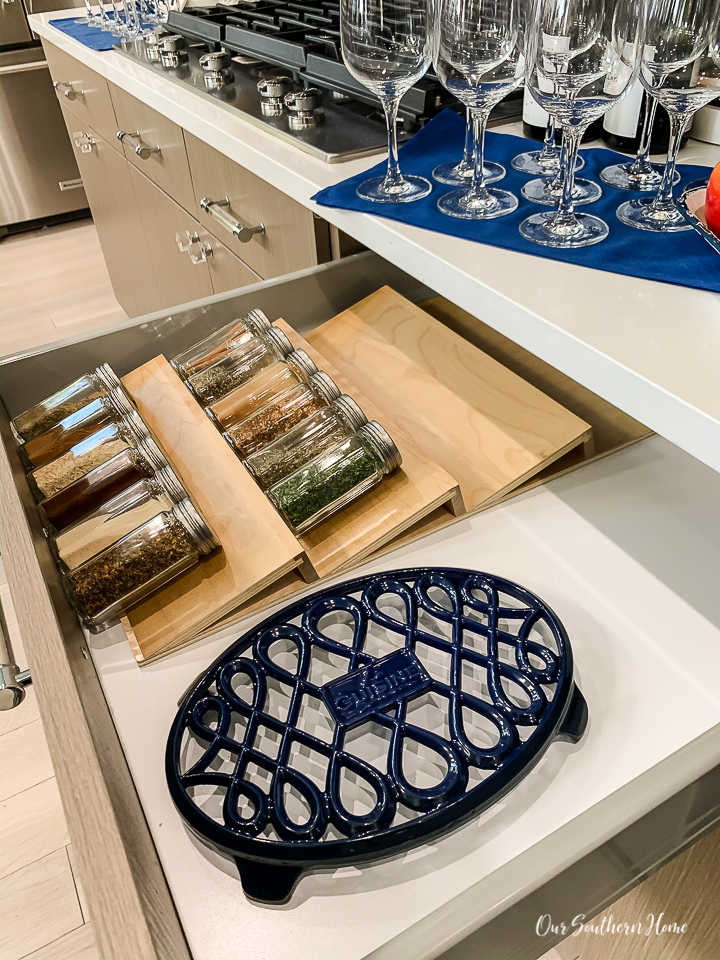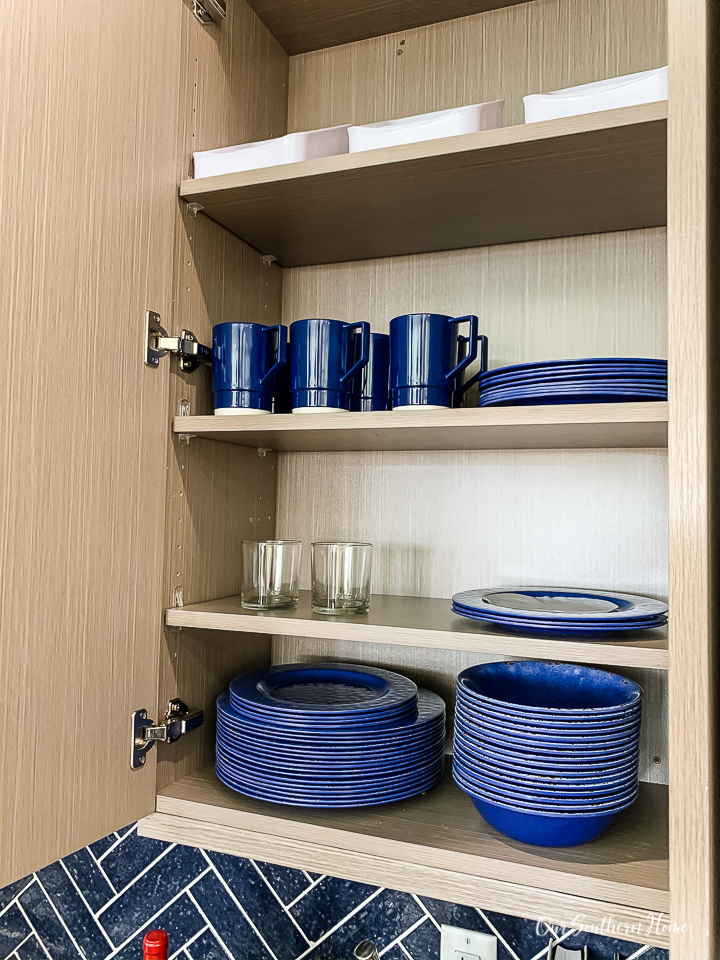 The insides of the cabinets are just as beautiful as the outside.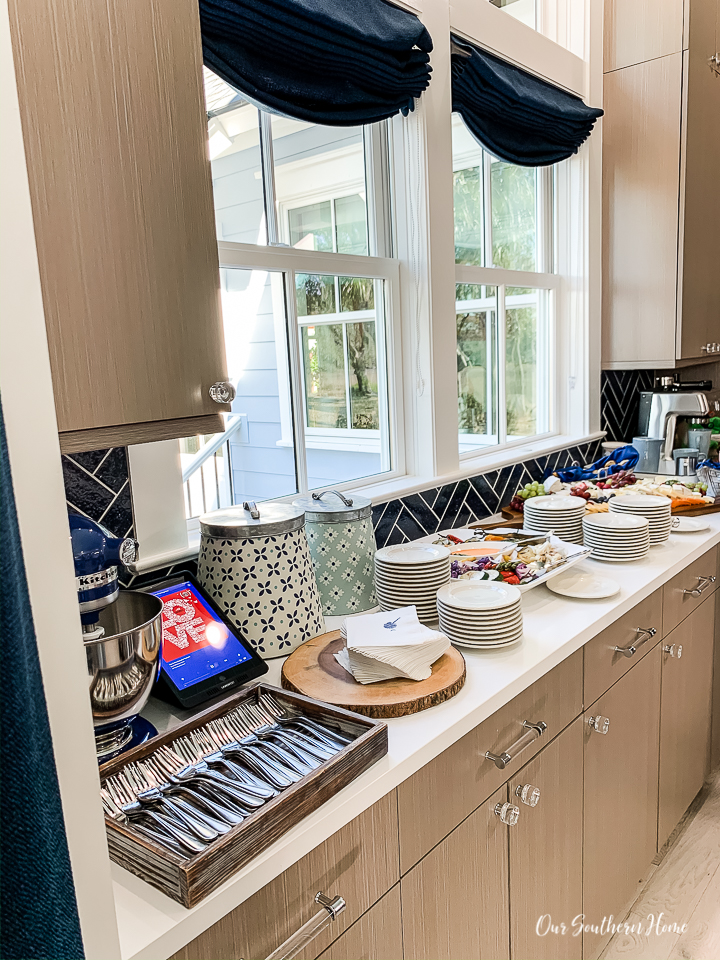 Perfect for a buffet!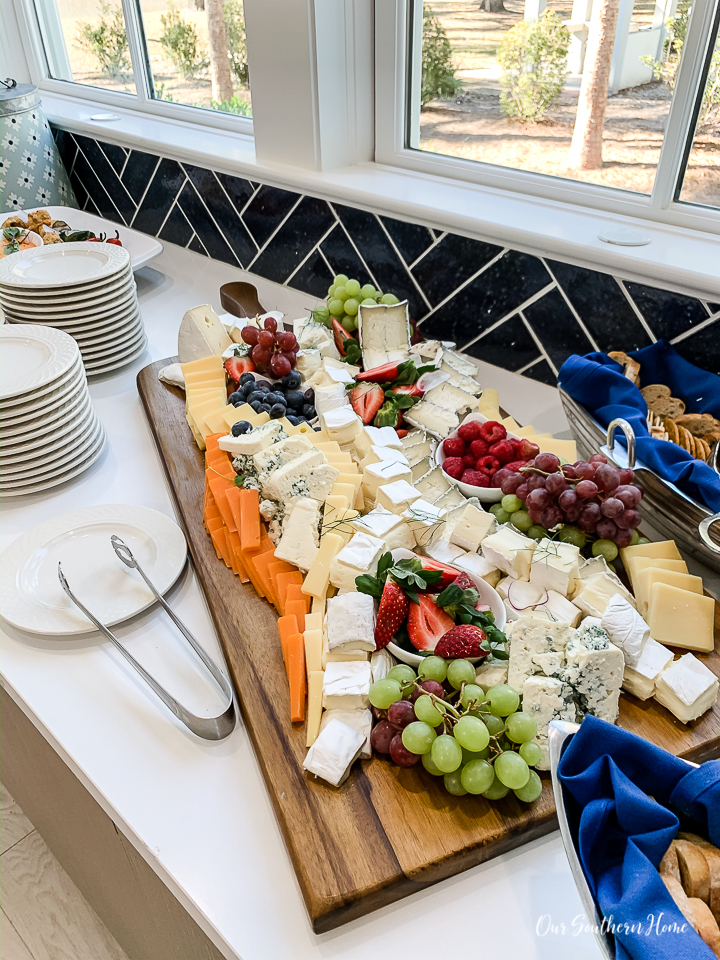 You know that I love a fab charcuterie board. It's my favorite way to entertain these days.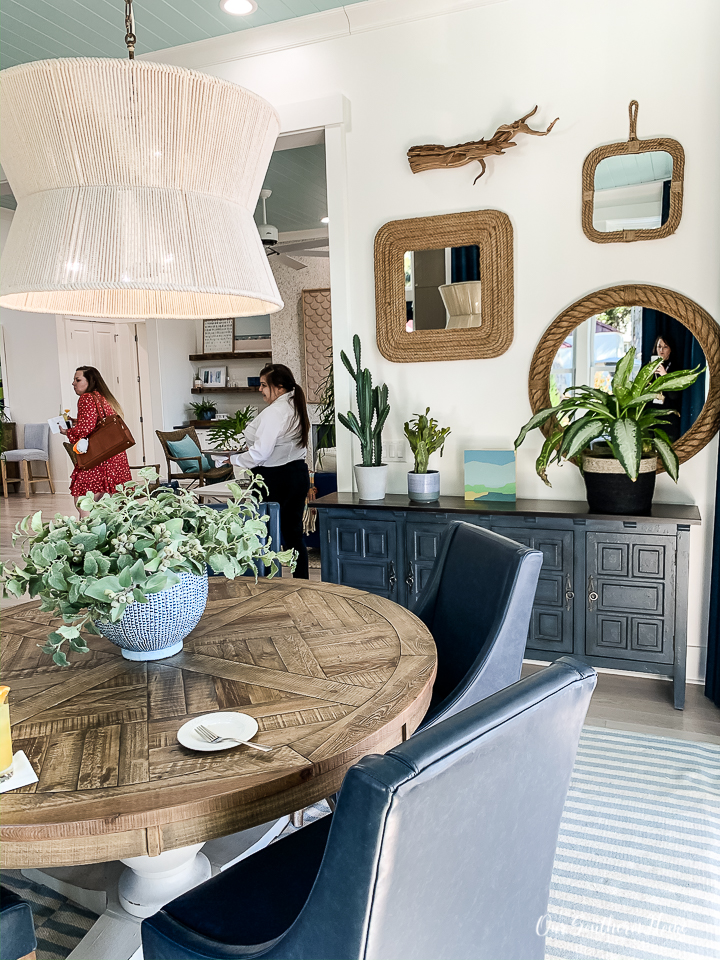 I'm kind of obsessing over this round table. There is not a dedicated formal dining room in this house. Instead you have open dining to the kitchen. There is also loads of dining options on the porches.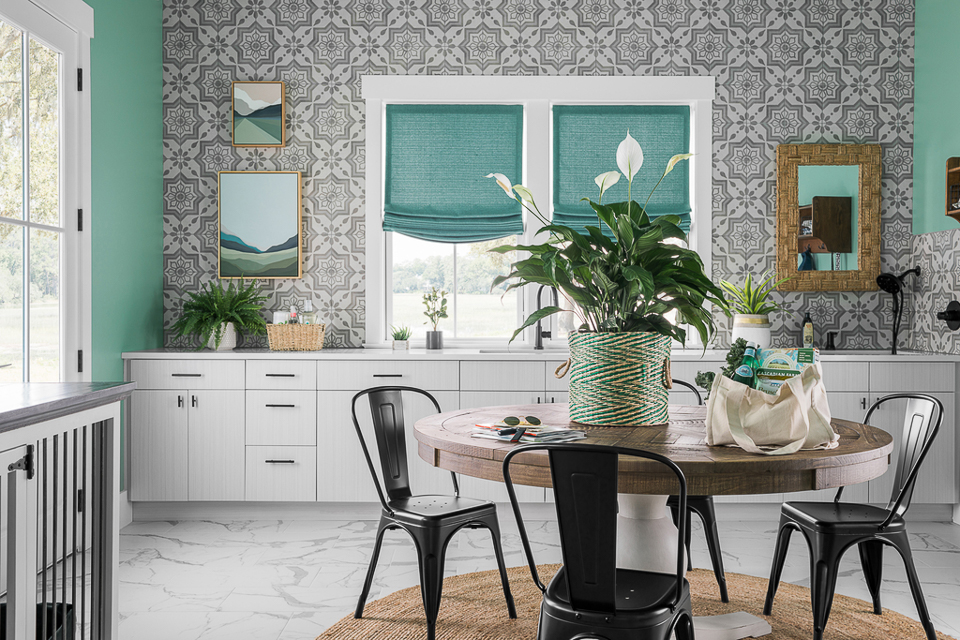 Are you ready for this? This is a fabulous room off of the kitchen. It has access to the back yard and to the garage area. This is a wonderful laundry room! It works as a butler's pantry, homework area, home office, blogging office (I wish) or even a craft room!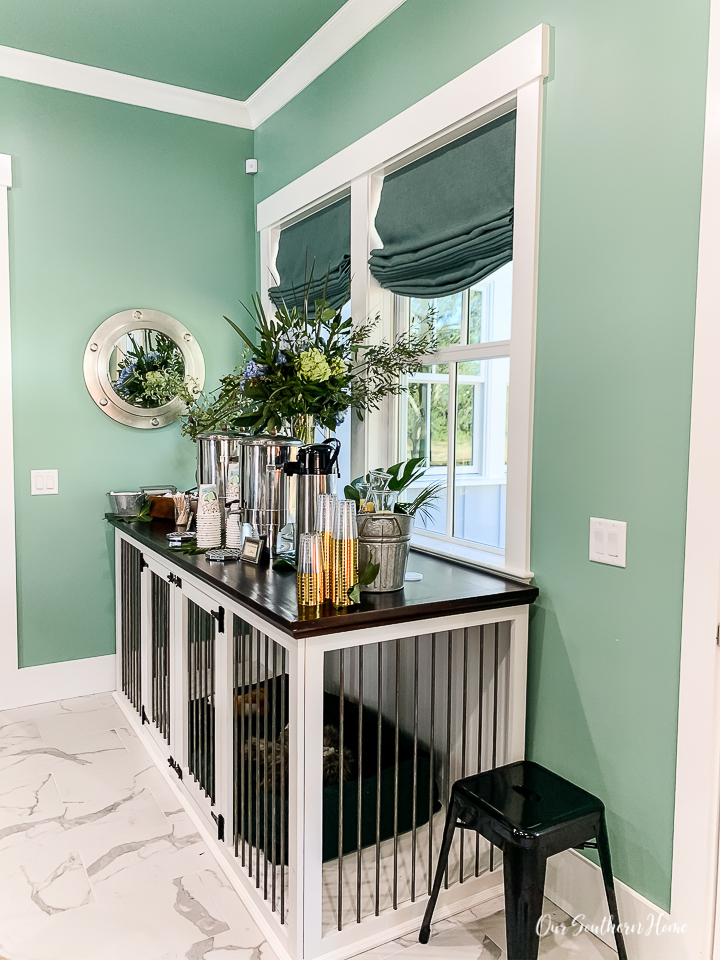 Look at that amazing dog crate and countertop area!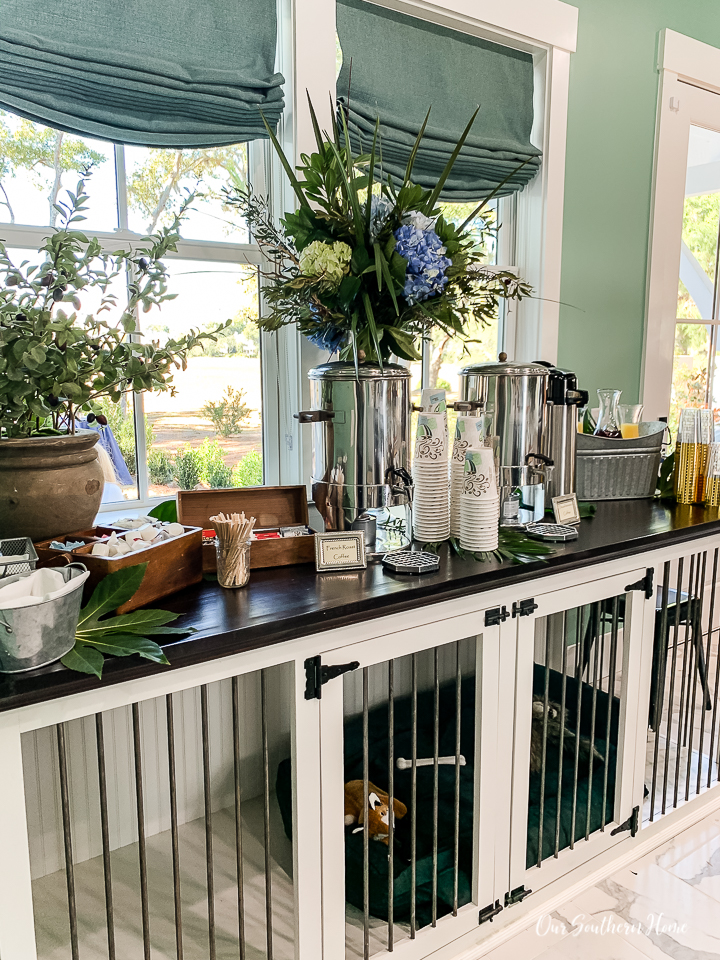 How cool is this!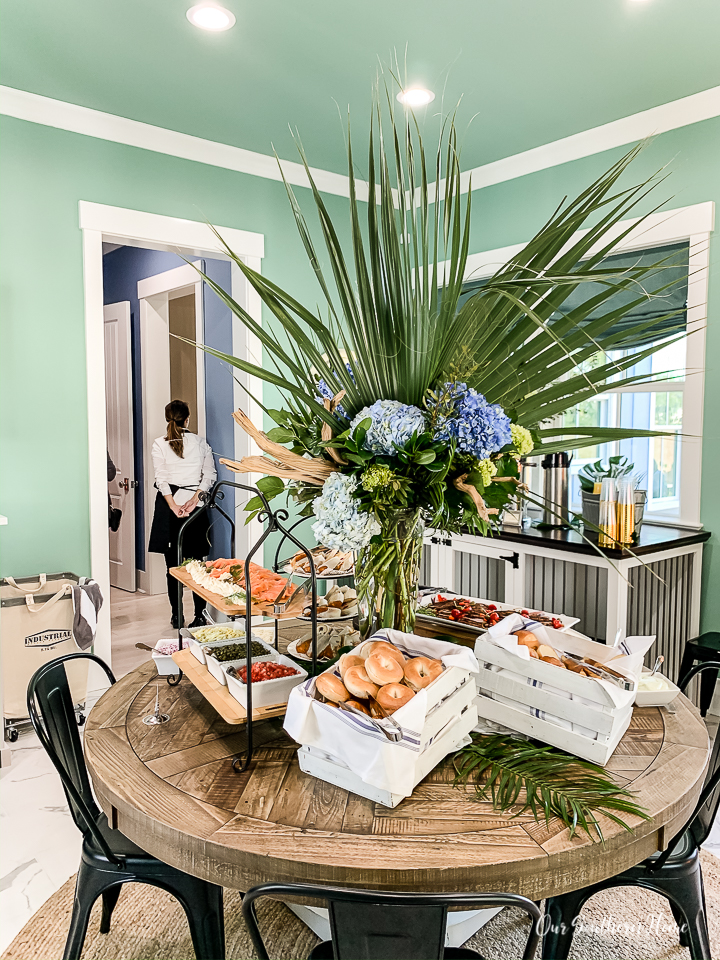 HGTV and Cabinets to Go sure know how to throw a party!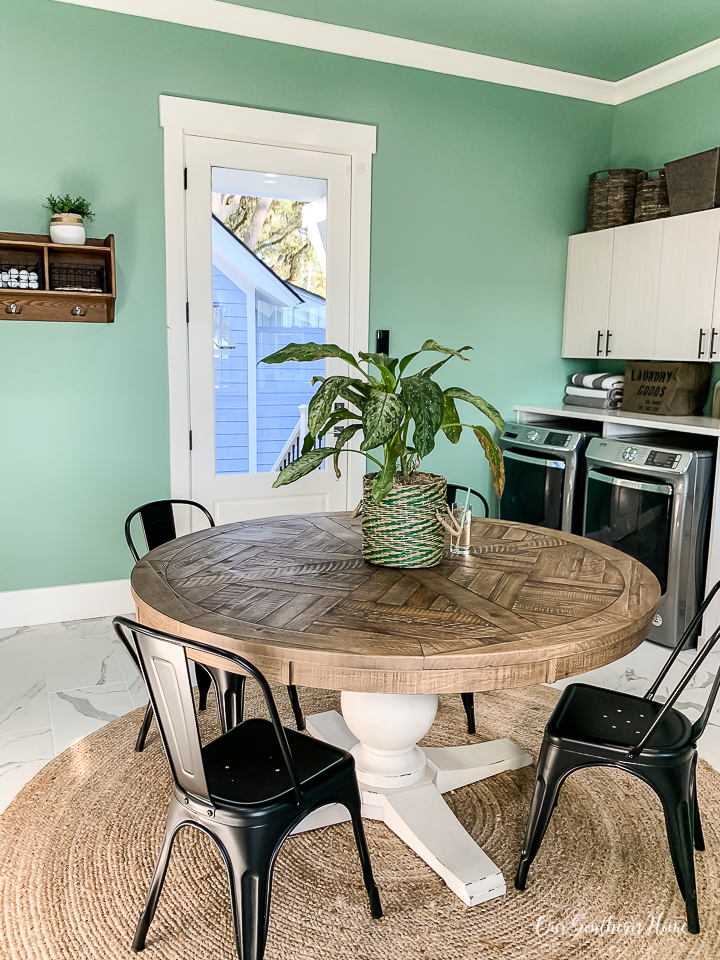 Isn't this a fabulous space! I could get so much work done in this room.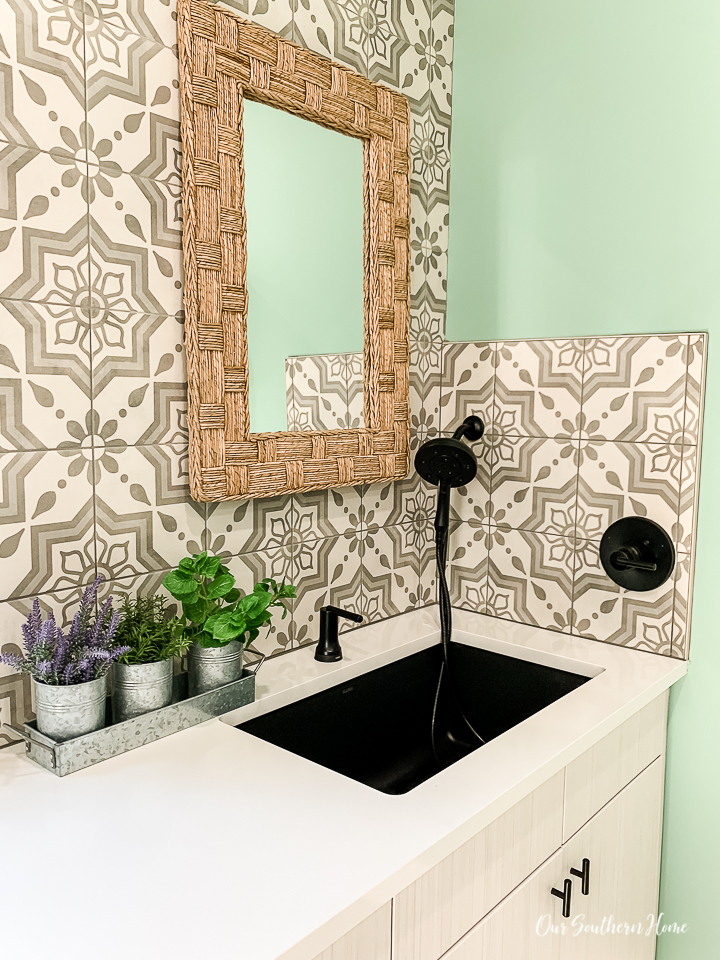 I am so in love with this room. This would be the perfect spot to give Bentley a bath. The tiles on the wall make clean up from crafting, dog washing and flower arranging a breeze.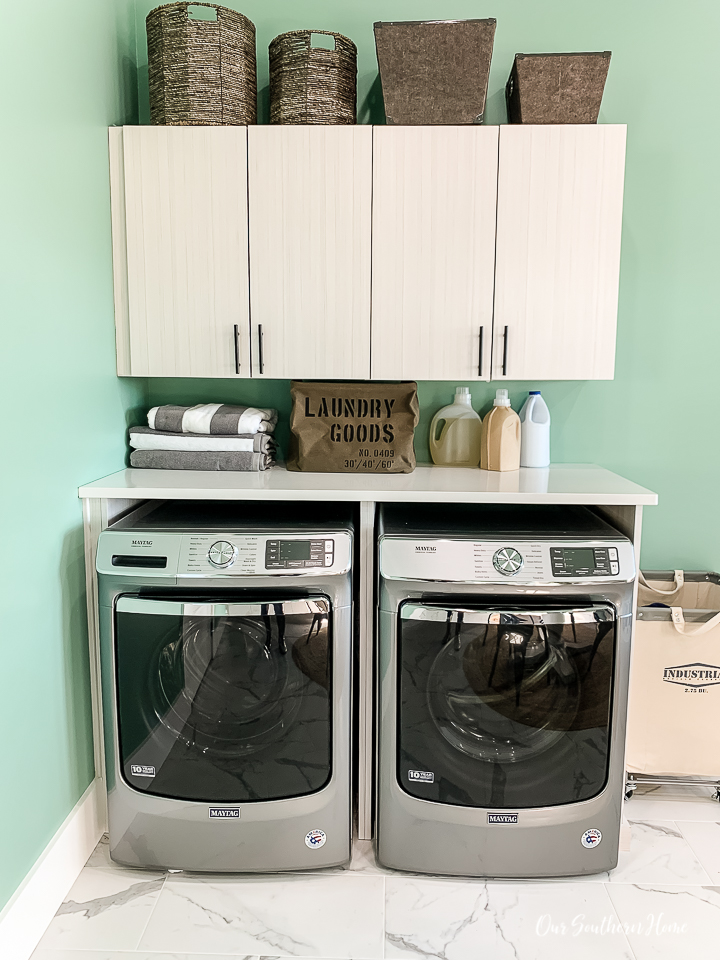 Laundry would never be a chore in this home.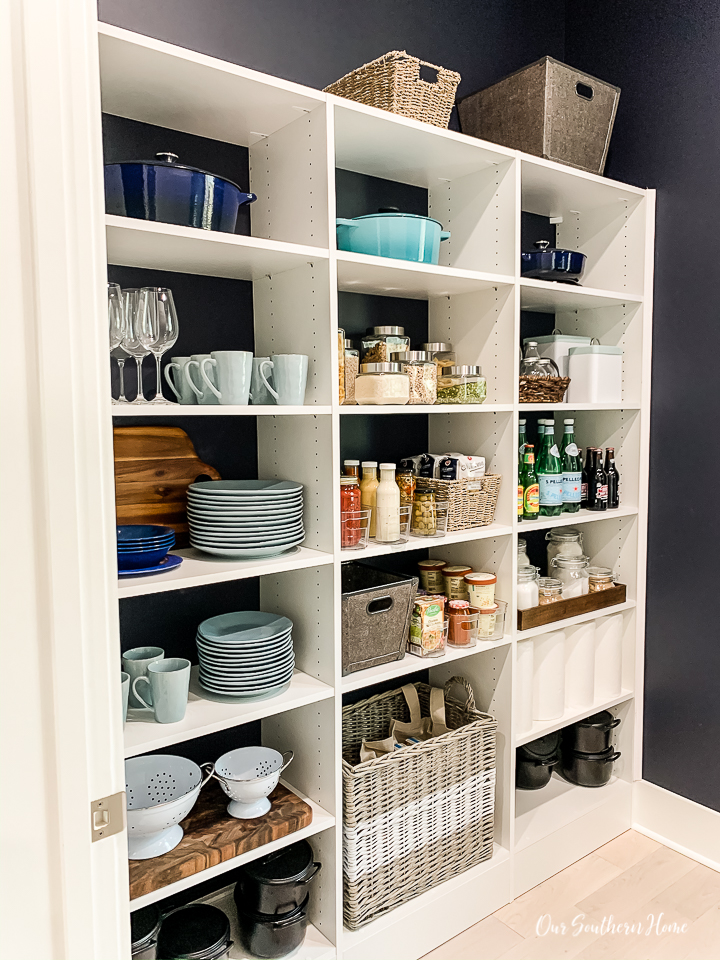 A well equipped and large pantry is off the kitchen.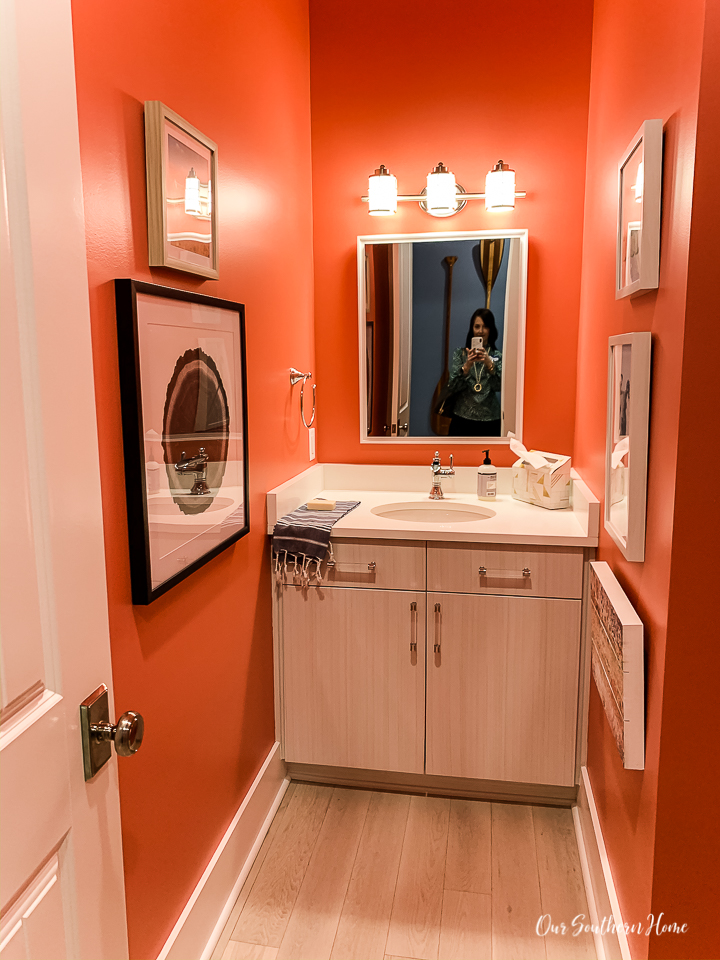 What a fun color for the half-bath off the kitchen. Beautiful cabinetry matches the laundry room and kitchen style.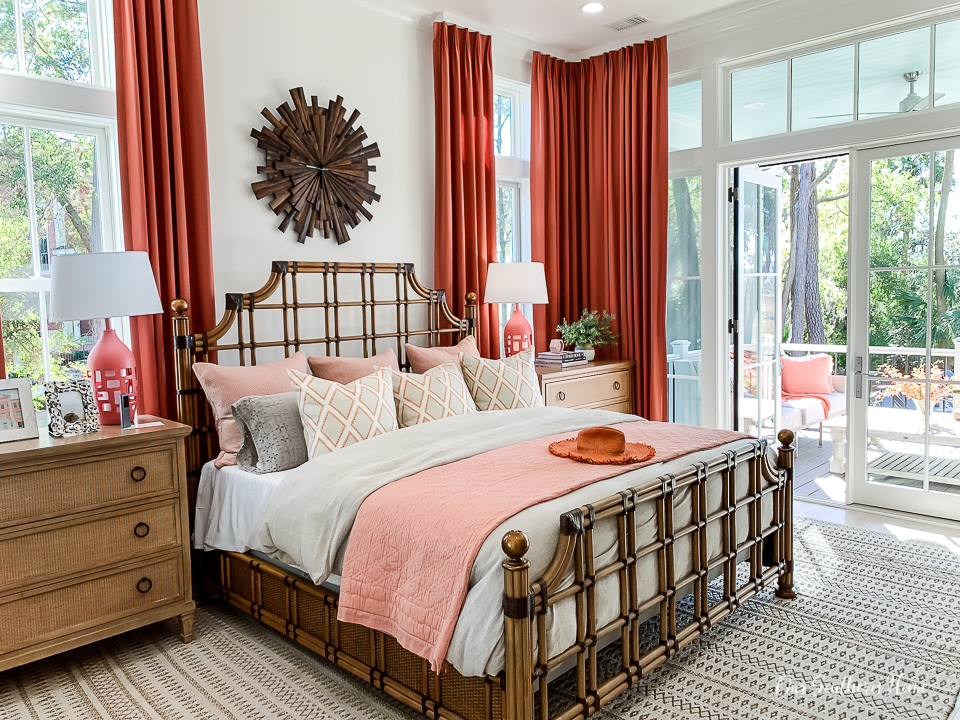 The master bedroom is on the main level on the opposite side of the house from the kitchen. I adore the coral colorway in this room. It shines against the white walls.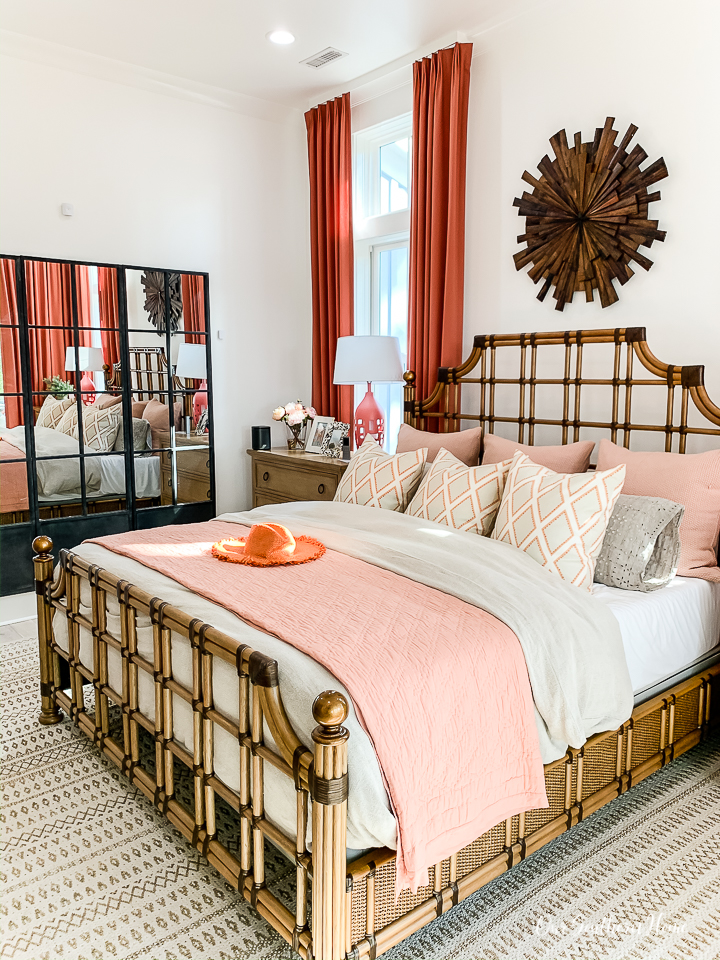 Isn't the rug fabulous! So much texture in this space that creates coziness. Isn't that mirror wall fabulous that creates an expanse in the room.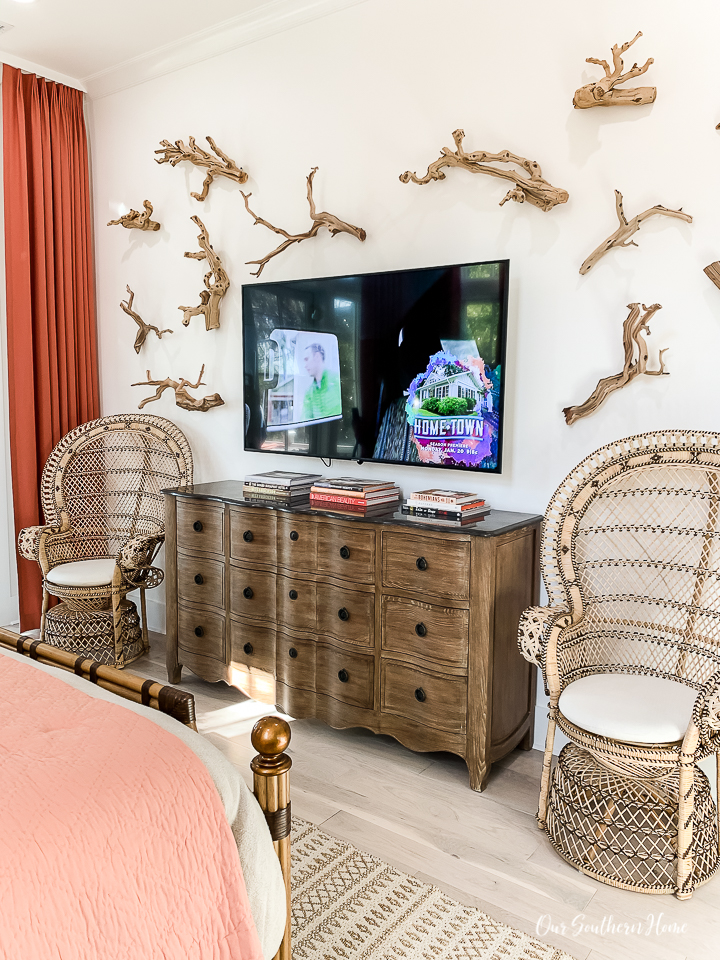 The furniture choices in this room are a favorite of mine.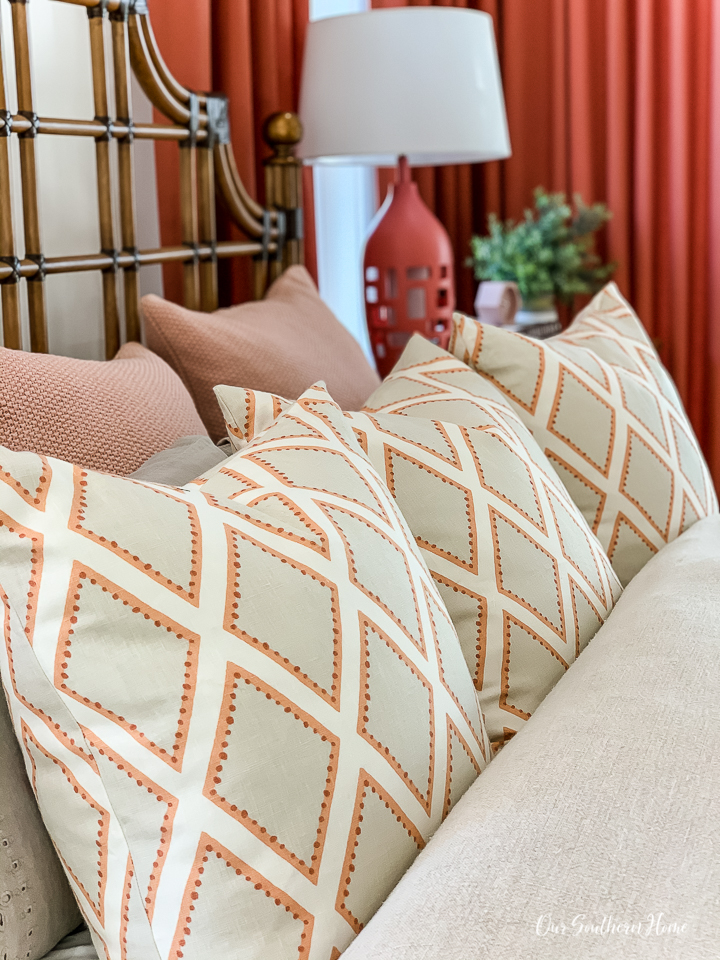 Color, pattern and texture bring this room together!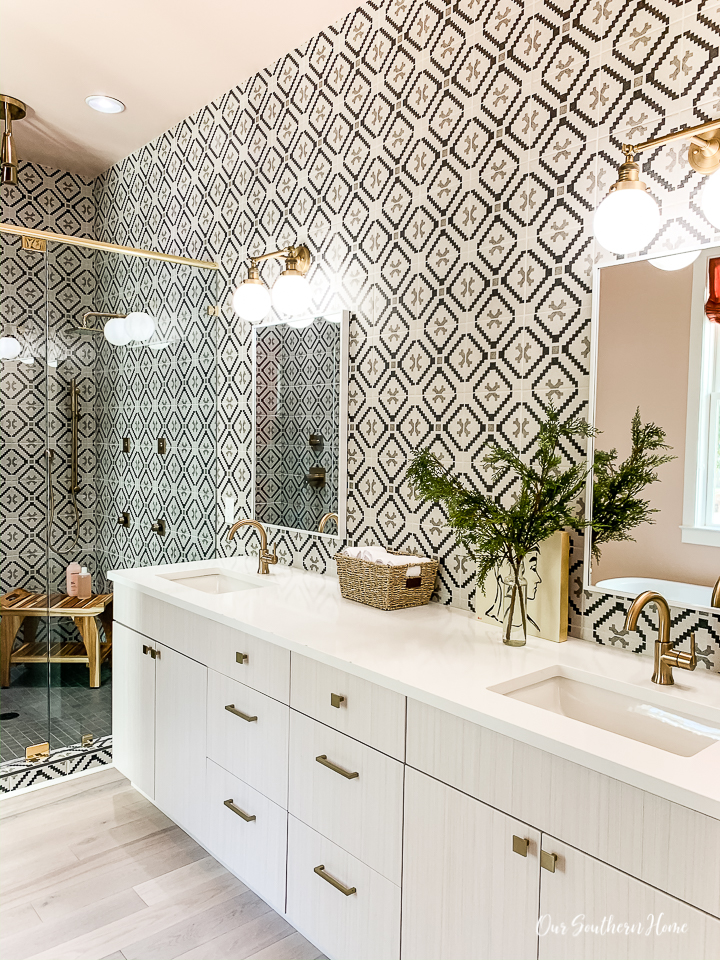 This is quite the master! The tile wall carried from the shower was a bold choice, but perfect! Notice the cabinets! Cabinets to Go outdid themselves with the cabinetry in the entire house.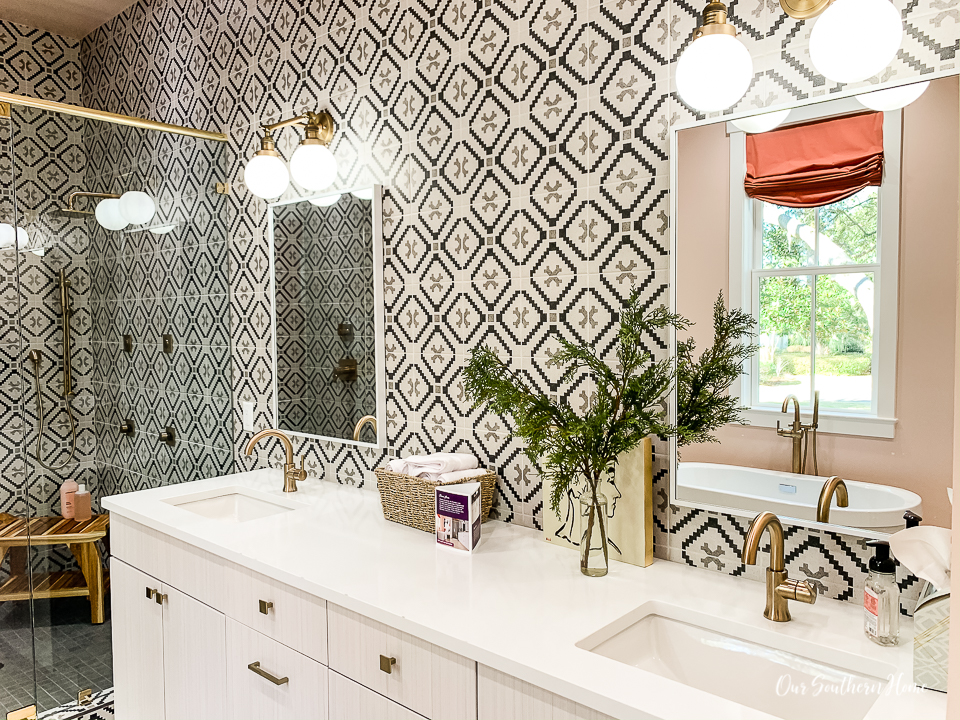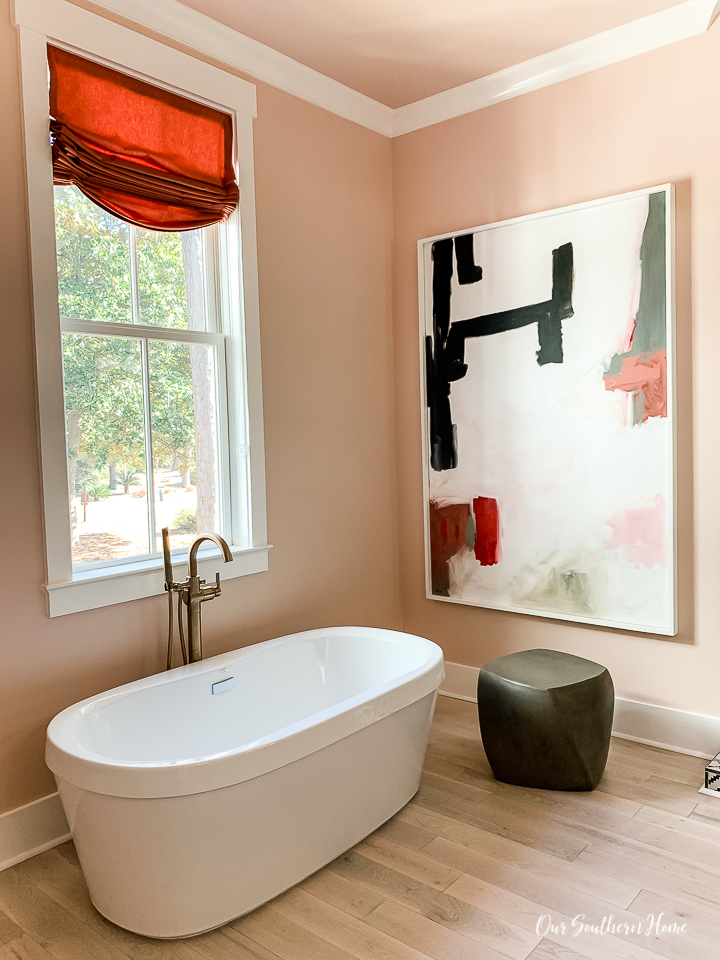 Using a massive piece of artwork here gives the space a more high end look opposed to a wall of multiple art pieces. It's spot on perfect for the space!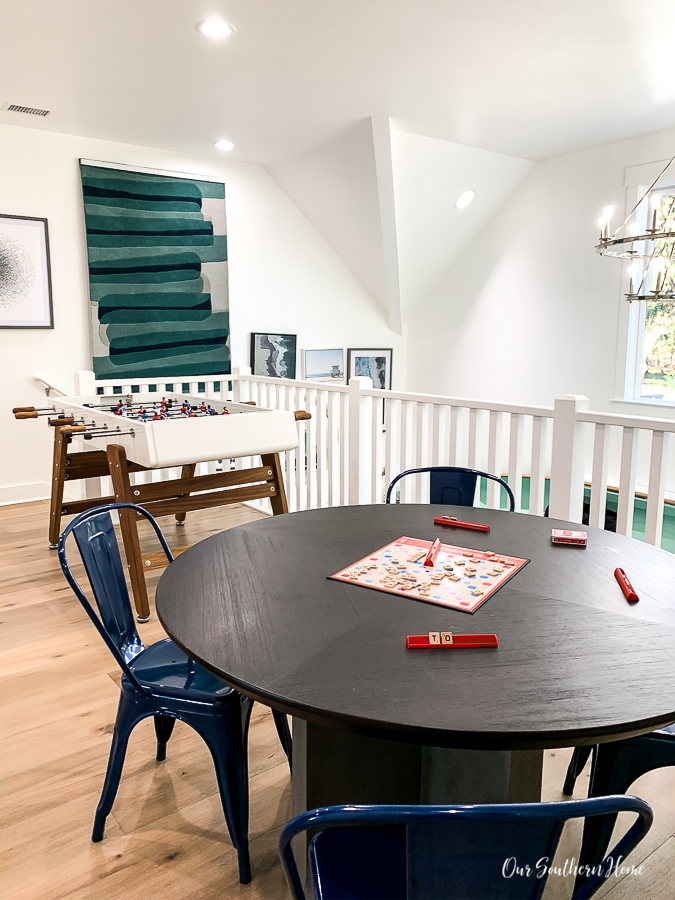 When you come up the staircase in the foyer you are greeted with an area meant for entertaining complete with table and foosball.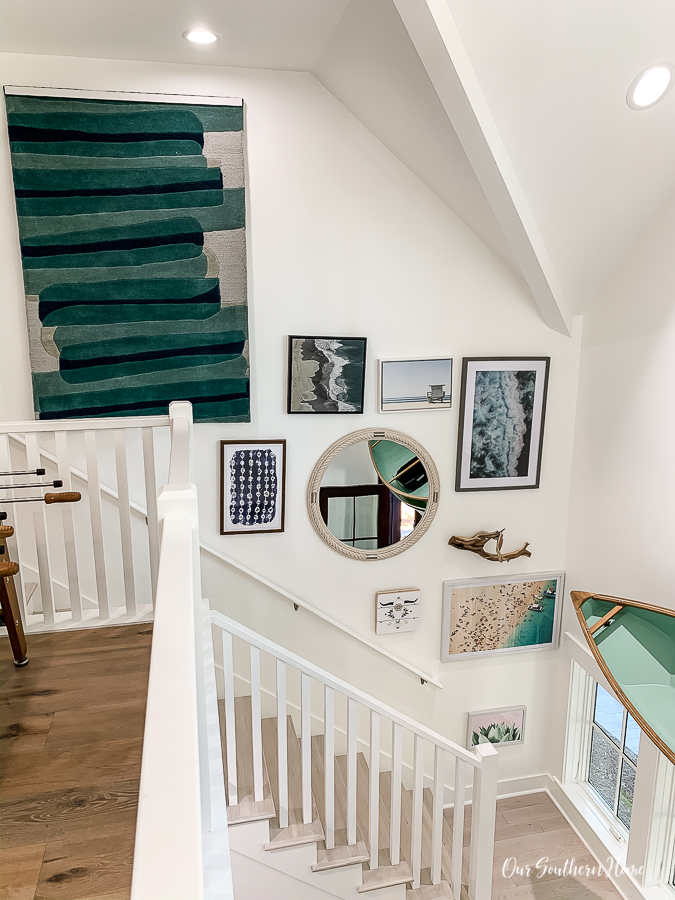 The artwork looks like it has been collected through the years.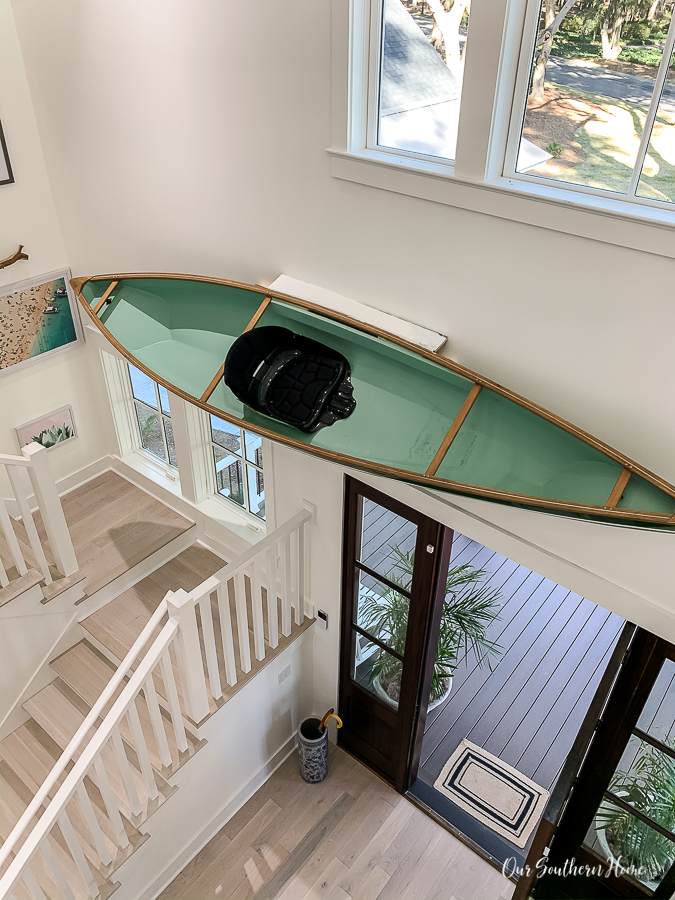 How cool is it to have a canoe hanging in this space. It's quite the conversation piece.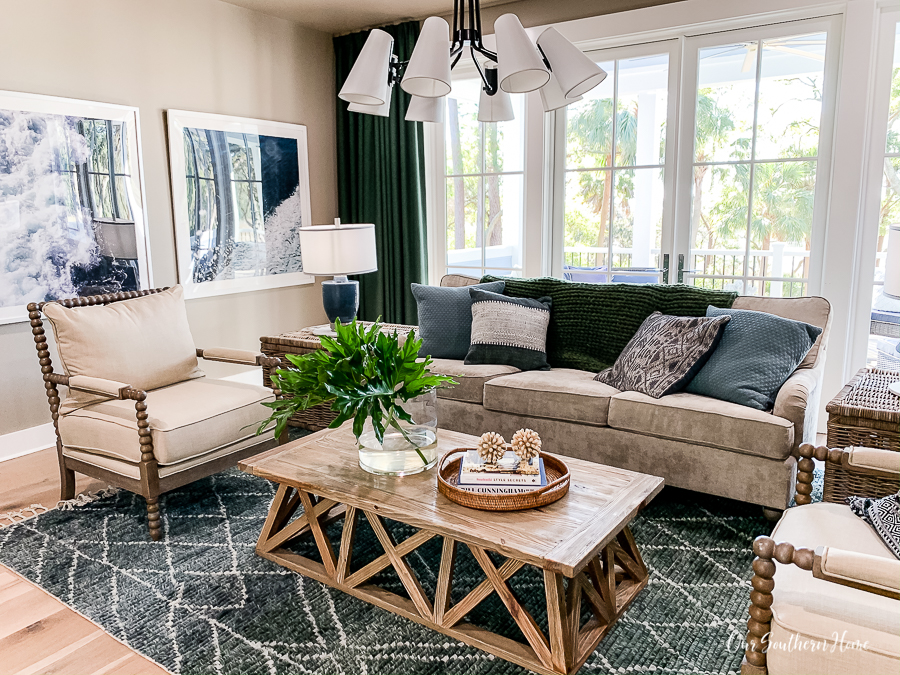 Upstairs you will find this cozy den/media room. It opens up to a large covered porch.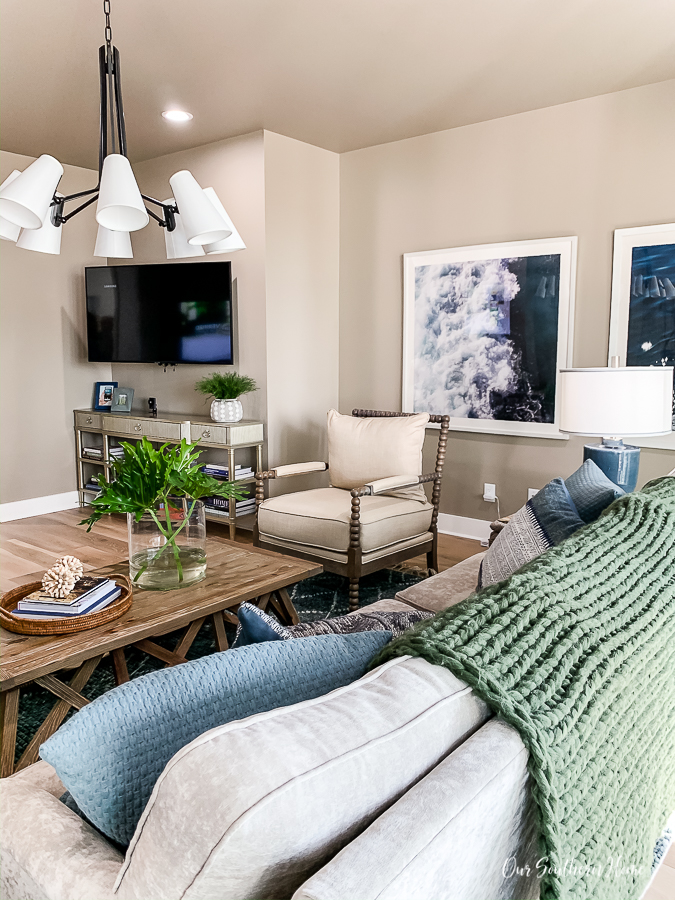 Two twin TV areas are opposite each other in this room with swing out arms. This is a football fan's dream!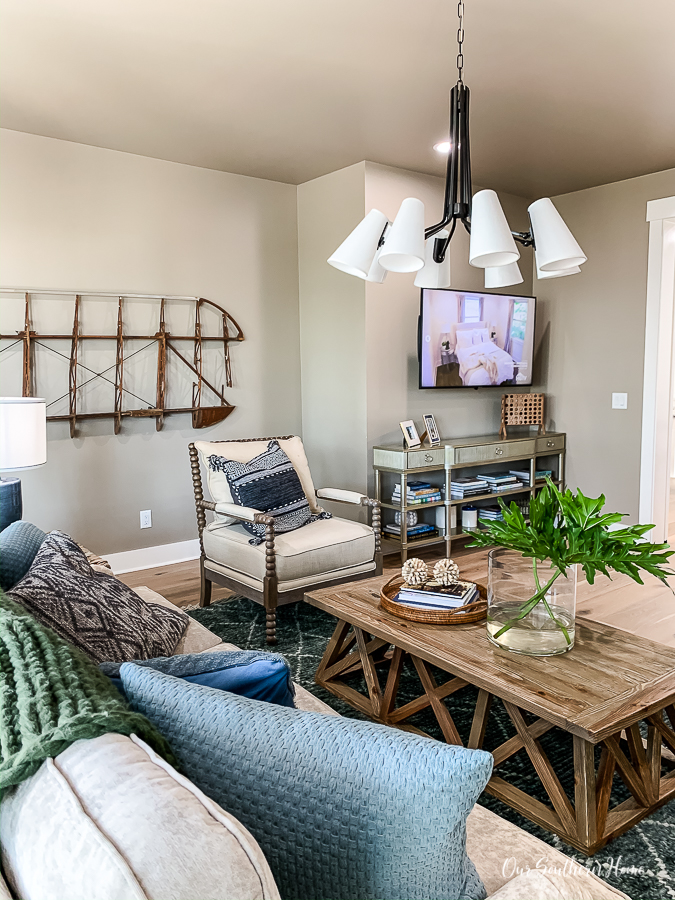 This room is also a favorite. The colors are so relaxing. It decorated beautifully down to those fabulous chairs.
On either side of the family room, you will find 2 bedrooms with their own baths.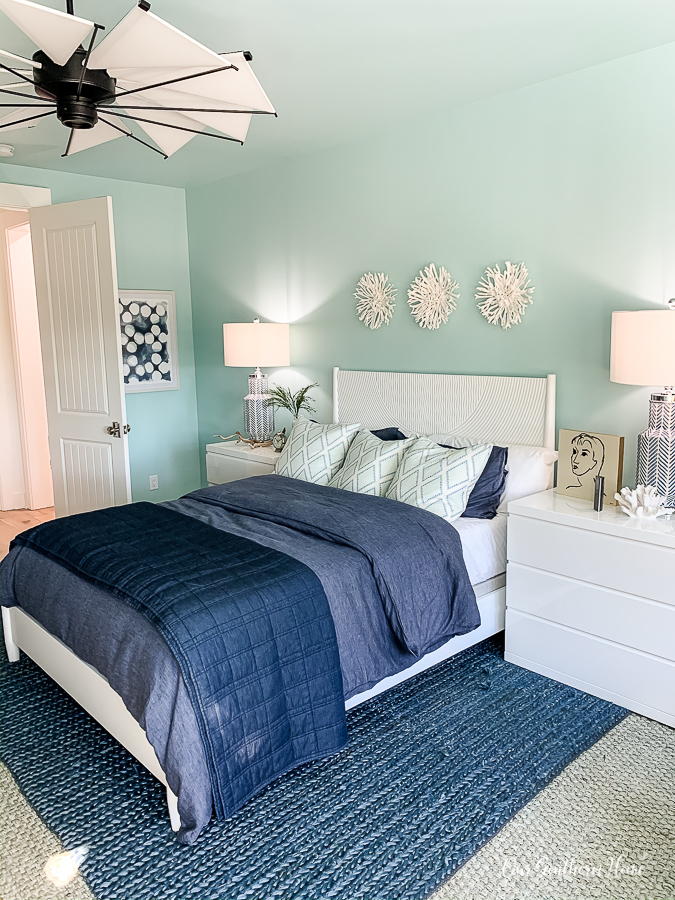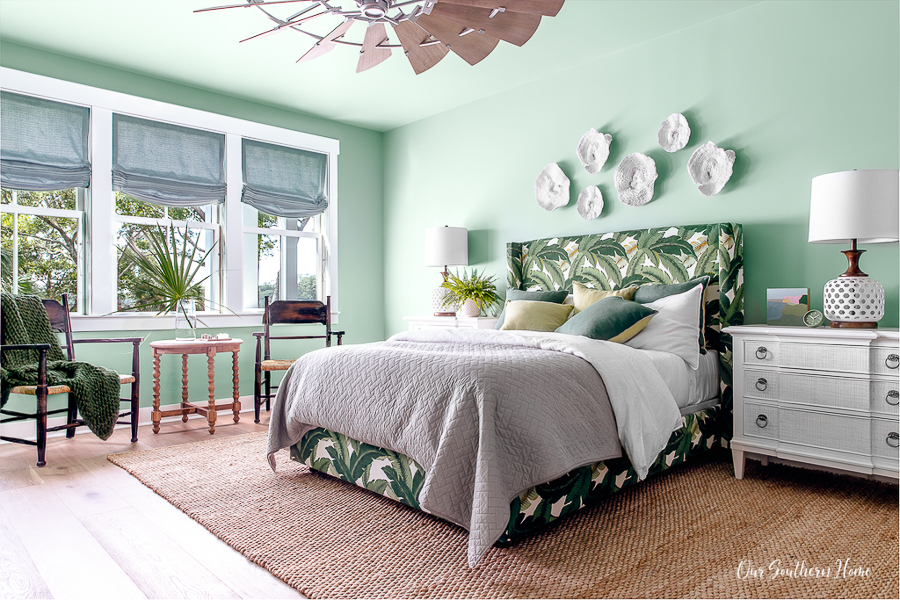 Both have great natural light and vibrant uses of color.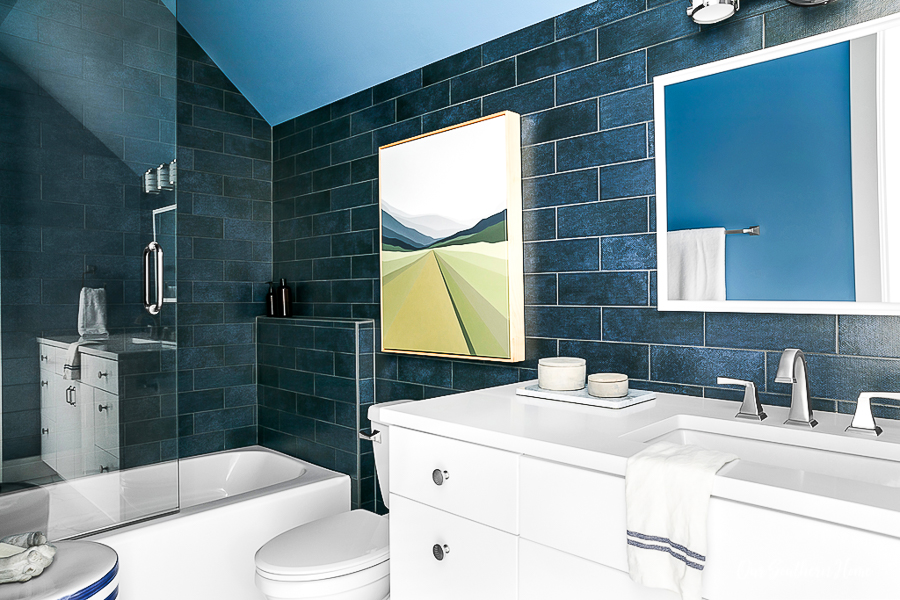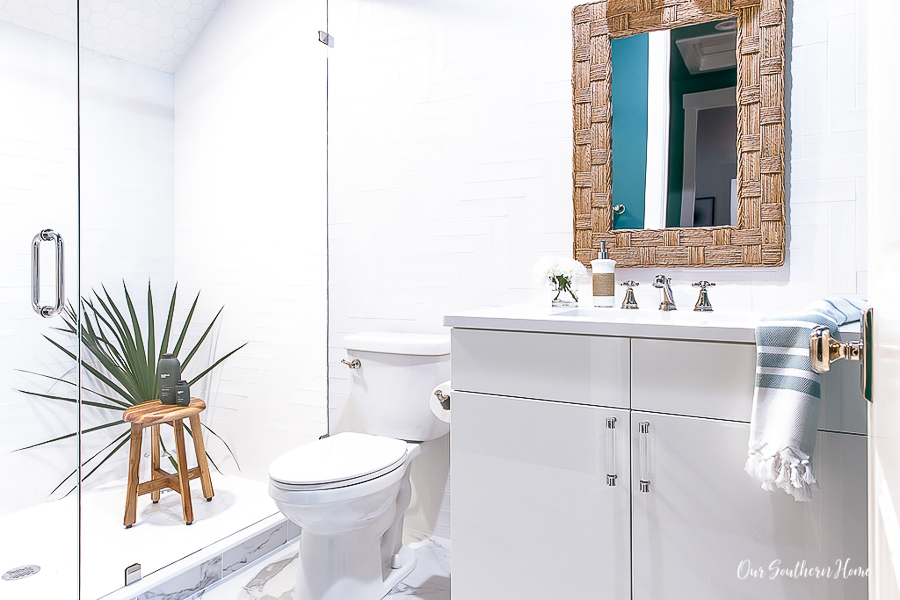 The floor plan of this home is fabulous for living and entertaining. It's not a huge house, but very well laid out. Every inch is well utilized.
Let's go outside now!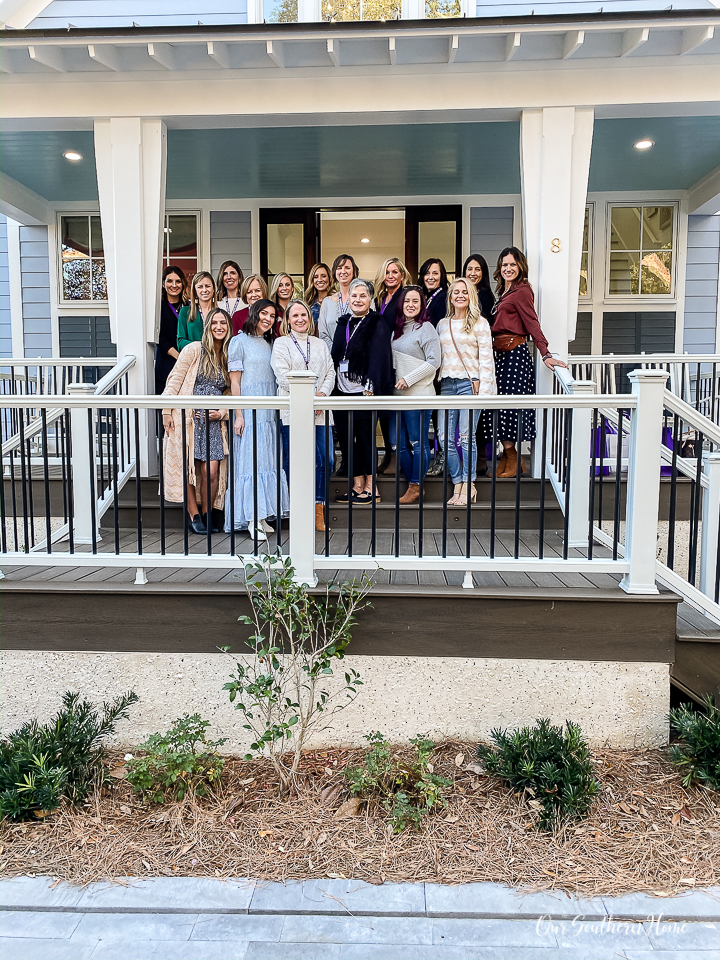 Here is a fun group photo after the Cabinets to Go Event. It's always such fun catching up with blogging friends and meeting new ones.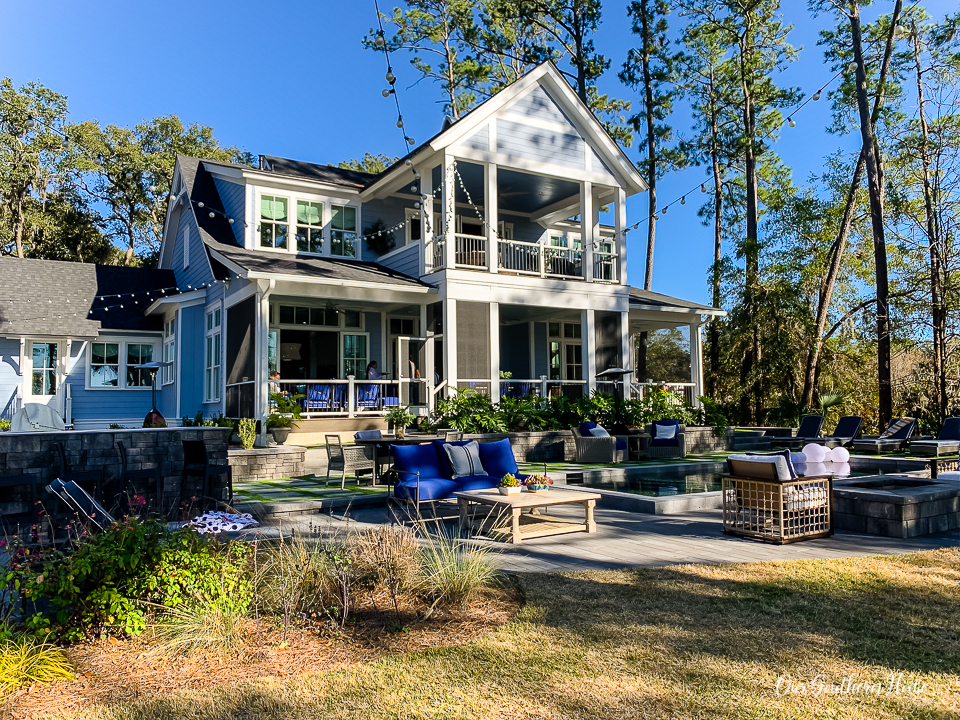 Both days were beautiful, but a little chilly and breezy. That didn't stop us from enjoying this backyard oasis.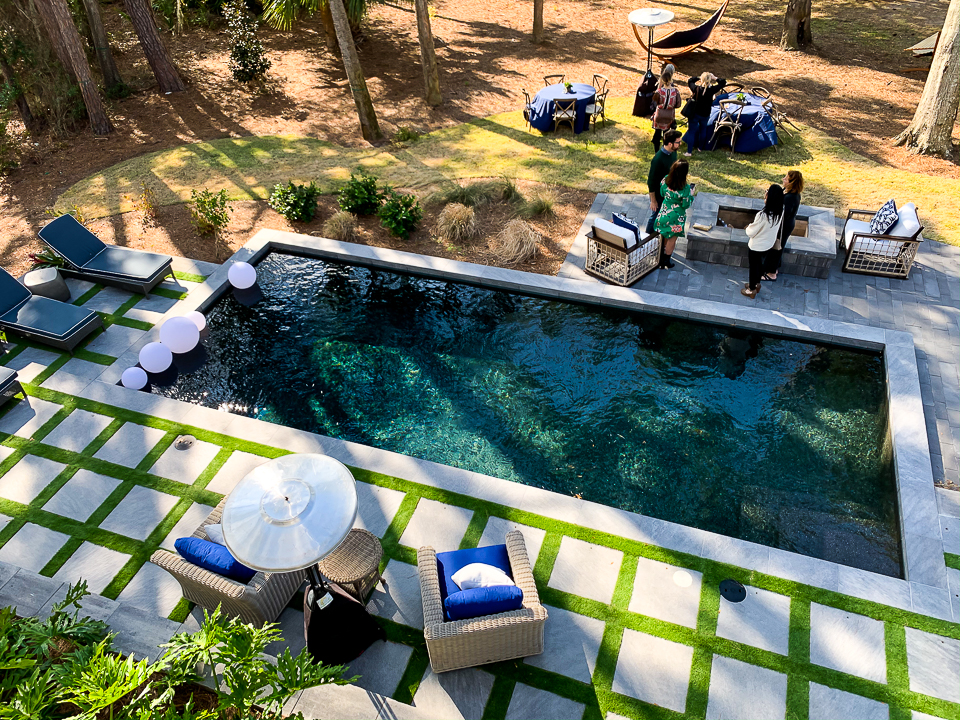 Such a creative look for the pool space with the patio area.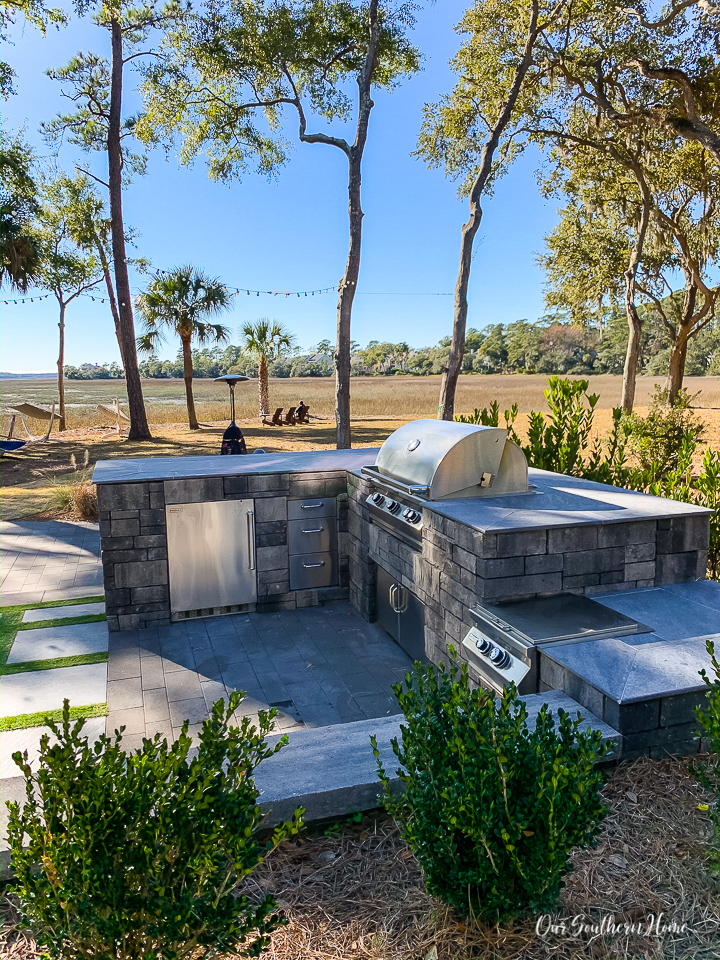 Outdoor grilling dreams! Do you see that view!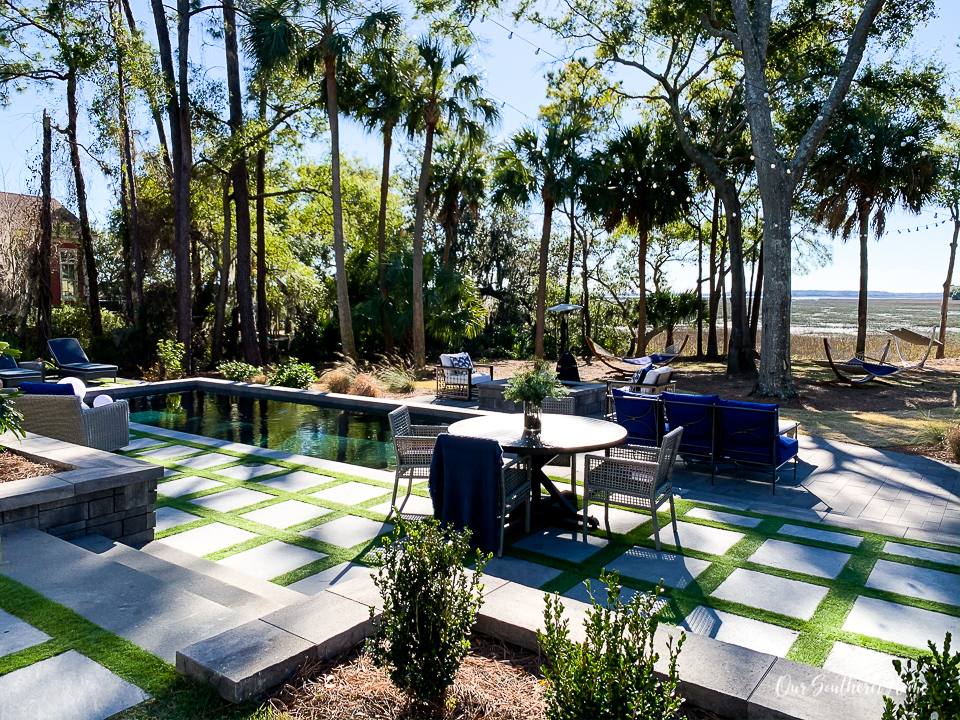 The outdoor living spaces are outfitted with many areas for dining, conversation, sunbathing and relaxing.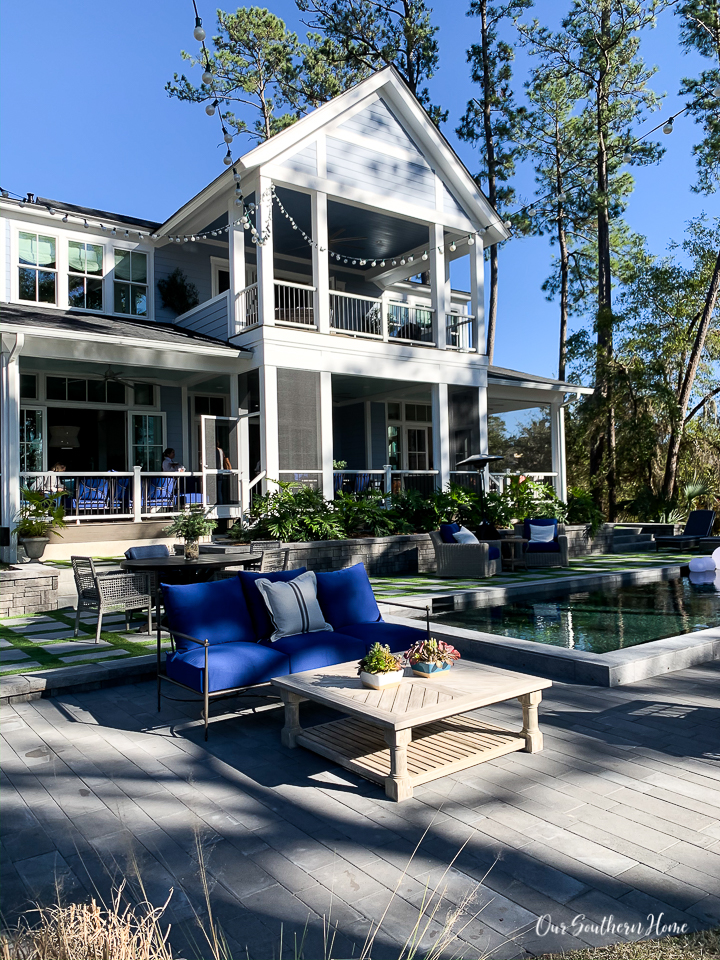 I could move here in an instant!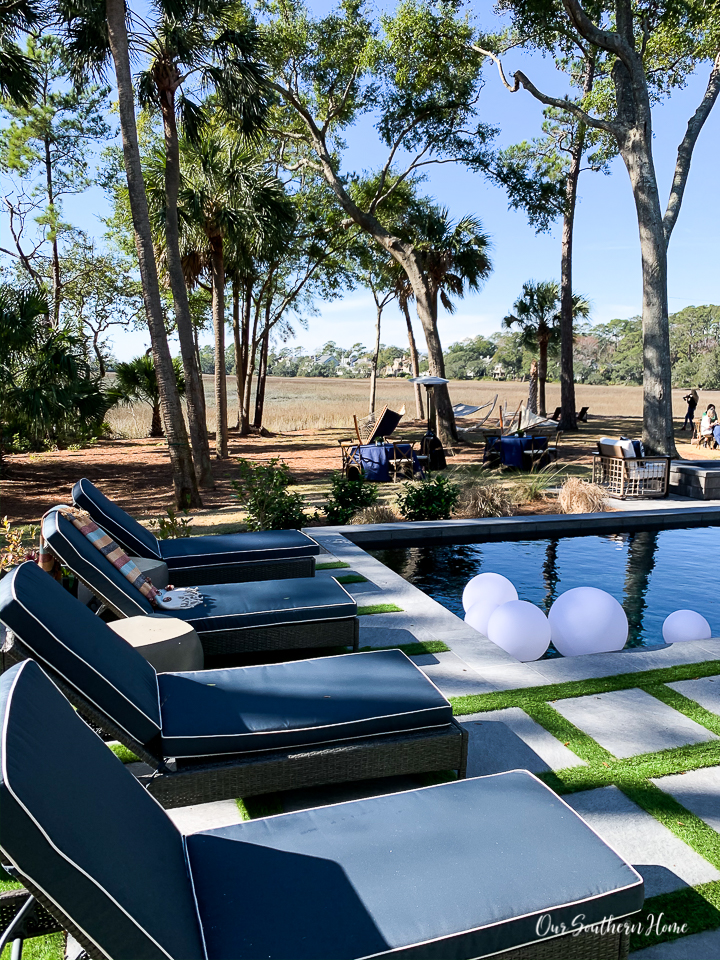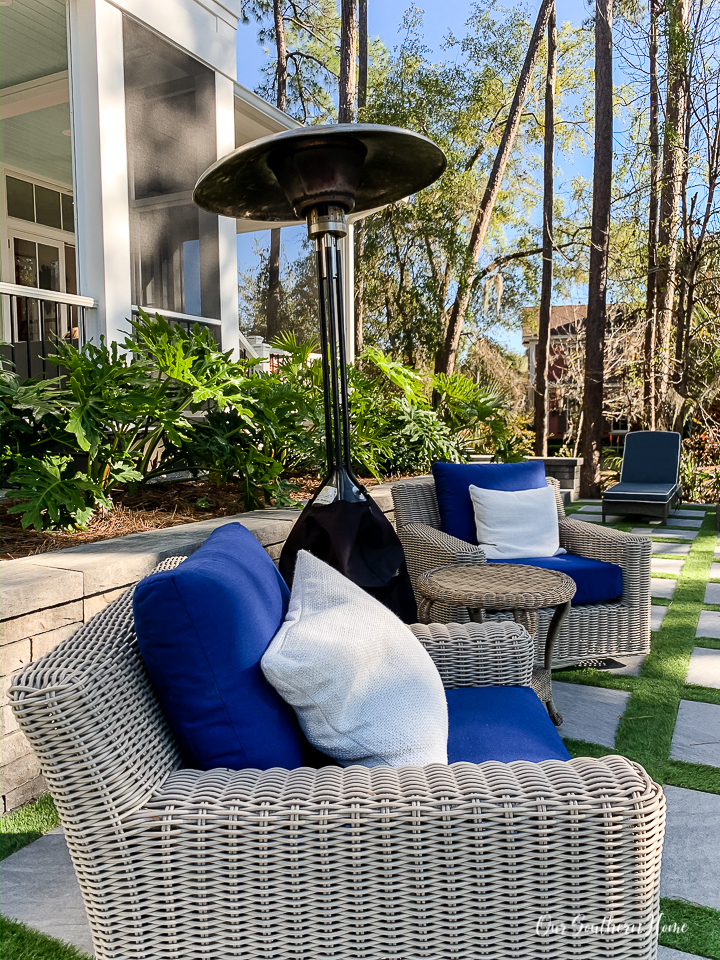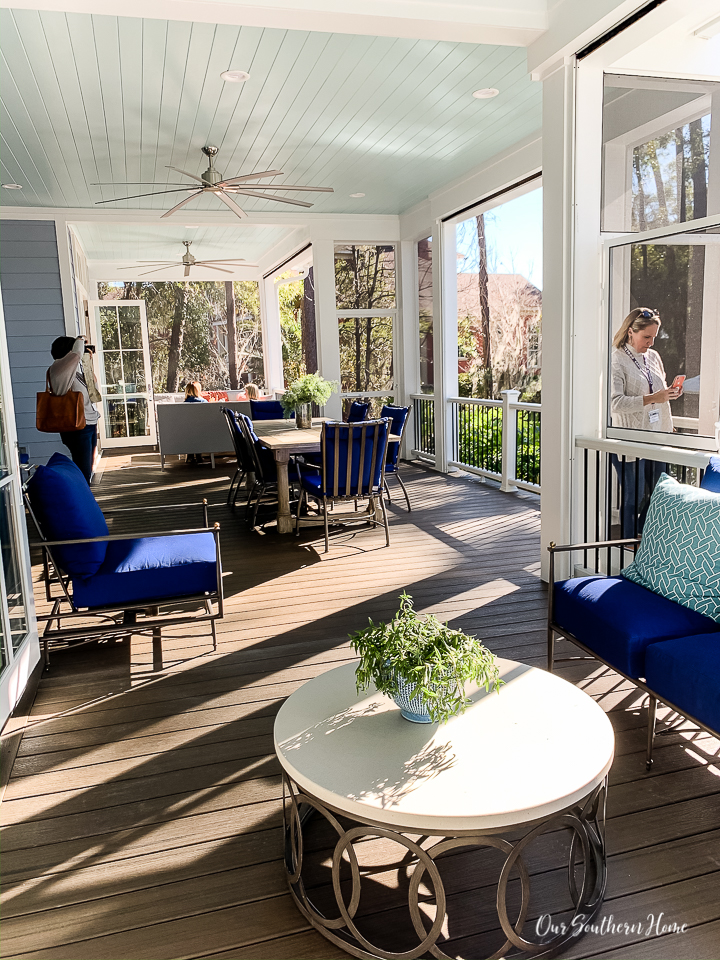 The porches are equally impressive!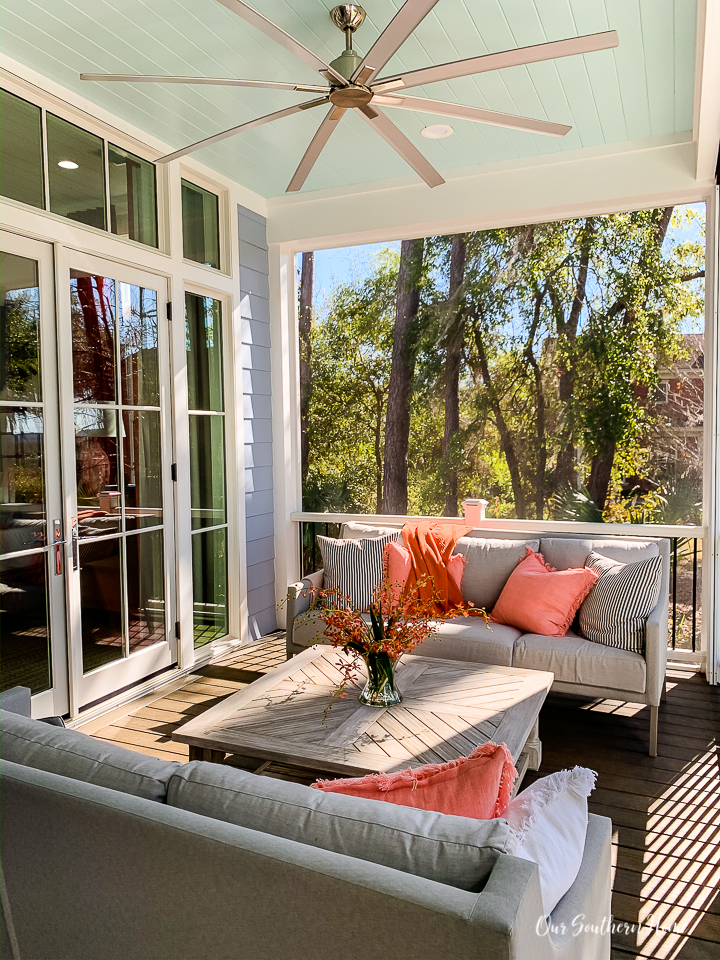 What a cozy spot off the master bedroom!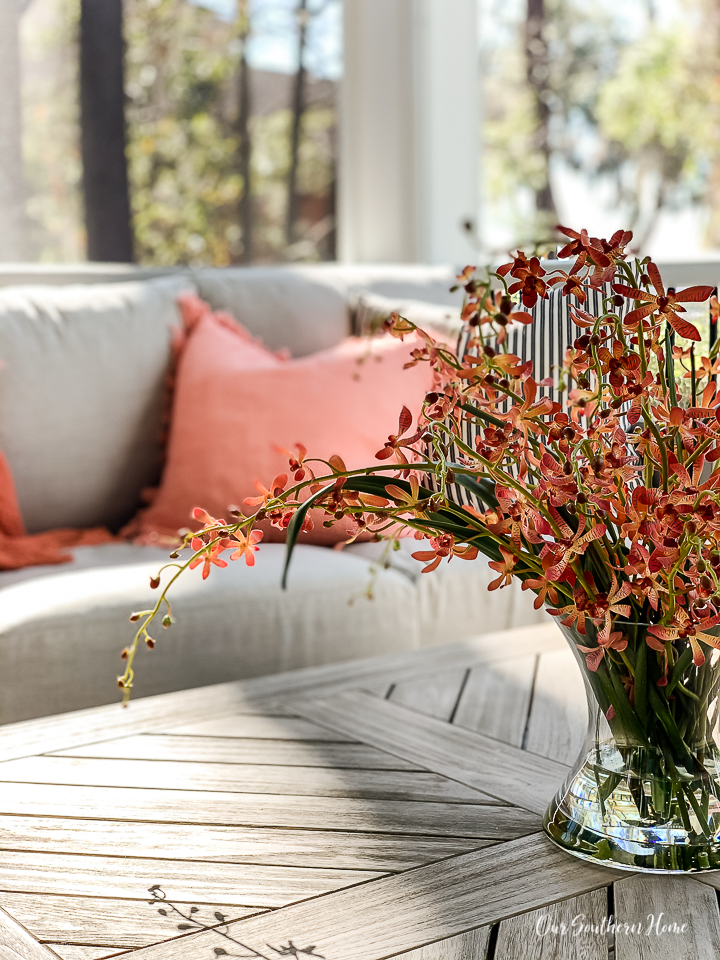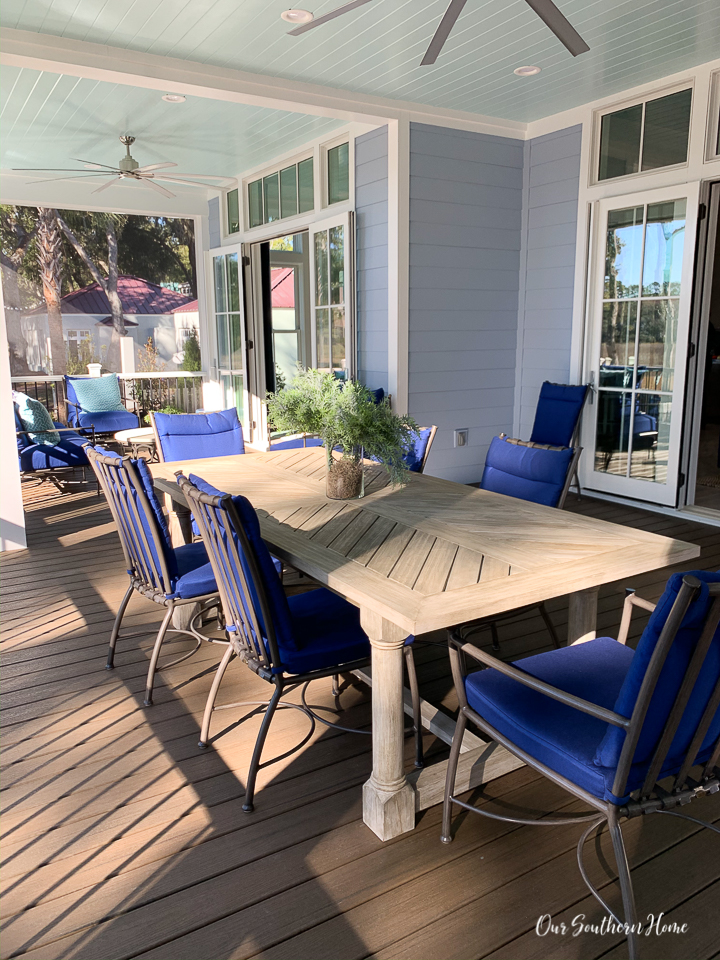 This house is definitely large family approved!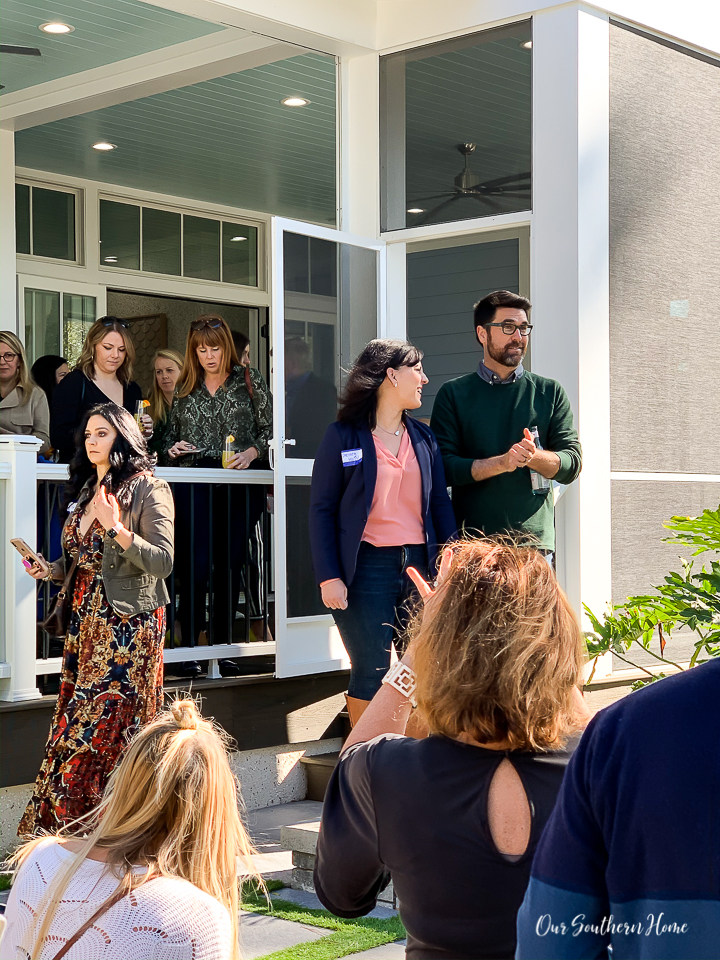 Brian Patrick Flynn is an incredibly talented designer. He has a big personality and is a joy to follow on Instagram.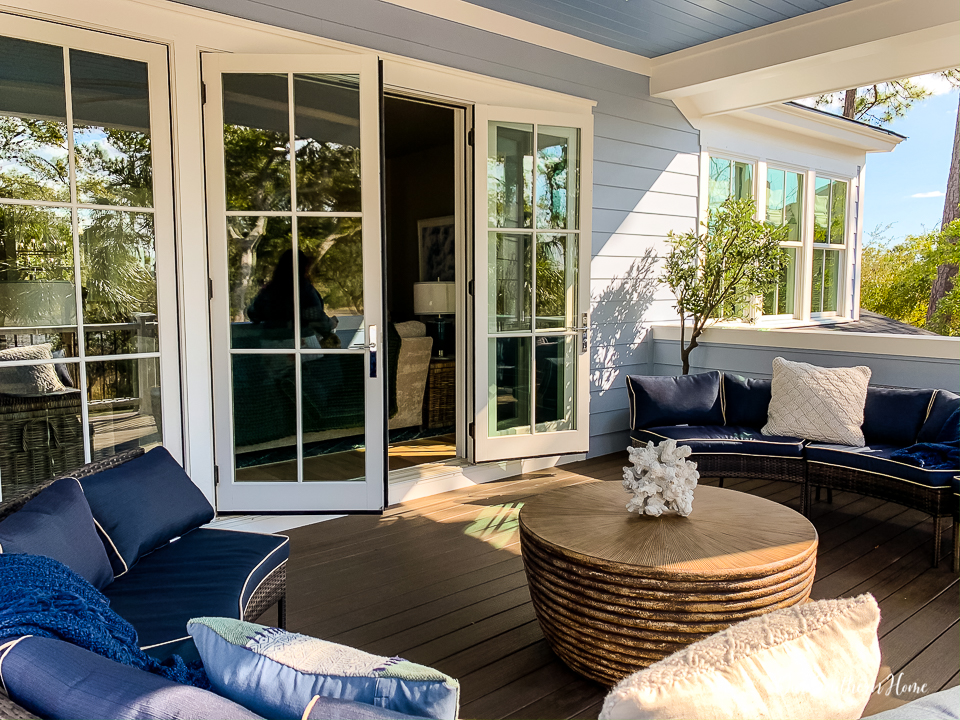 This is the porch area upstairs off of the den/media room! The evening views were spectacular!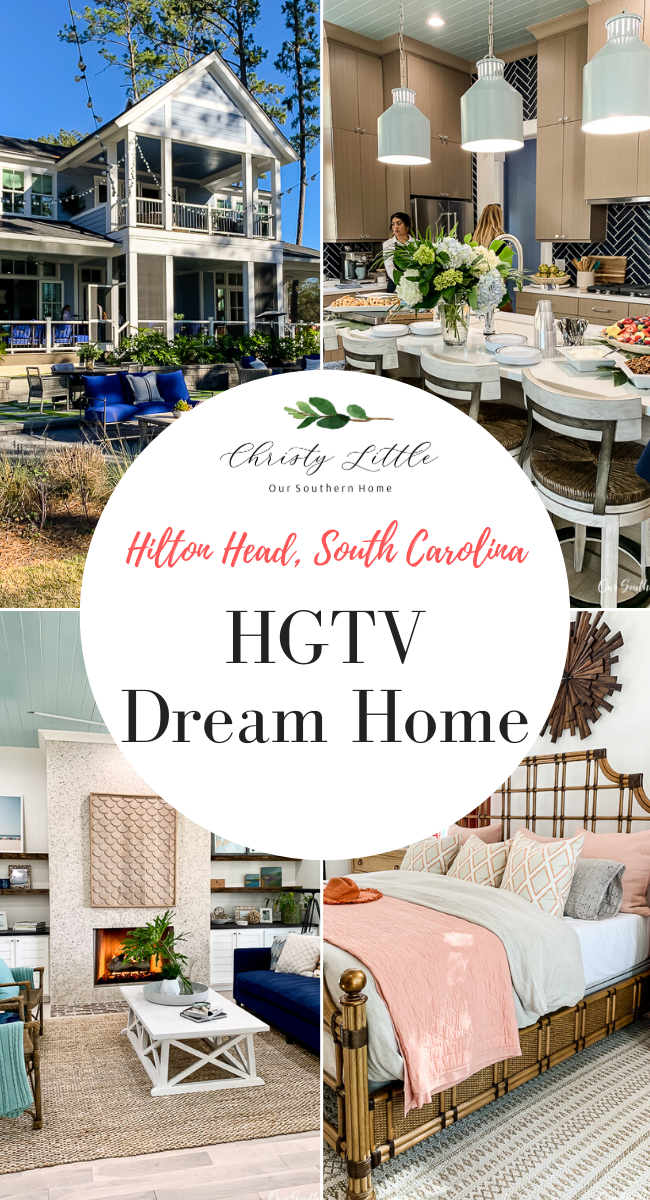 Be sure to subscribe for updates! I'll be sharing another post soon with paint color, building supply and furnishings details!
Don't forget to enter to win the home and prize package!
Act quickly! You still have time to enter to win! The deadline is 5pm on February 19, 2020 est.
The grand prize is valued at over 2 million!
A 3-bedroom, 3½-bathroom, waterfront home located on Hilton Head Island, South Carolina
Beautiful furnishings and decor courtesy of Wayfair.com
A brand-new Honda Passport
$250,000 cash from Rocket Mortgage® by Quicken Loans®
ENTER HERE! Good luck! If you win, be sure to invite me to visit!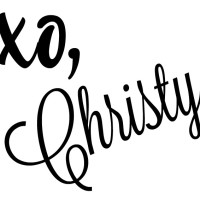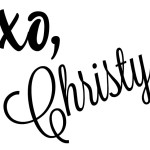 Buffer