Spring Yard Spruce Up In Progress
**This is a sponsored post by Our Southern Home for Ryobi Outdoors. I was provided product. All opinions are my own. My opinion….Ryobi Rocks!!**
Spring has finally settled in around here occasionally bordering on summer like conditions. That's pretty typical here in the south. The pollen is getting better and better…..at least the visible yellow stuff. As a result of the beautiful weather, our Spring Yard Spruce Up is in progress!
I'll confess…. I usually leave the hedge trimming duties to my hubby. We kind of have a "not said," but mutually understood division of household chores we each do. I usually take care of the inside and he does the outside when it comes to major yard maintenance. He doesn't know it, but I could never relinquish control the fun of planting the flowers!
I am pleased to announce that I am a Ryobi Outdoor Ambassador. In Early spring, I had the opportunity to spend a couple of days at their facility with several other bloggers to get to know their operations, product and fabulous Ryobi family! I just love their products.
My hubby has always used gas operated outdoor tools. Problem for me and lots of women….we can't start them!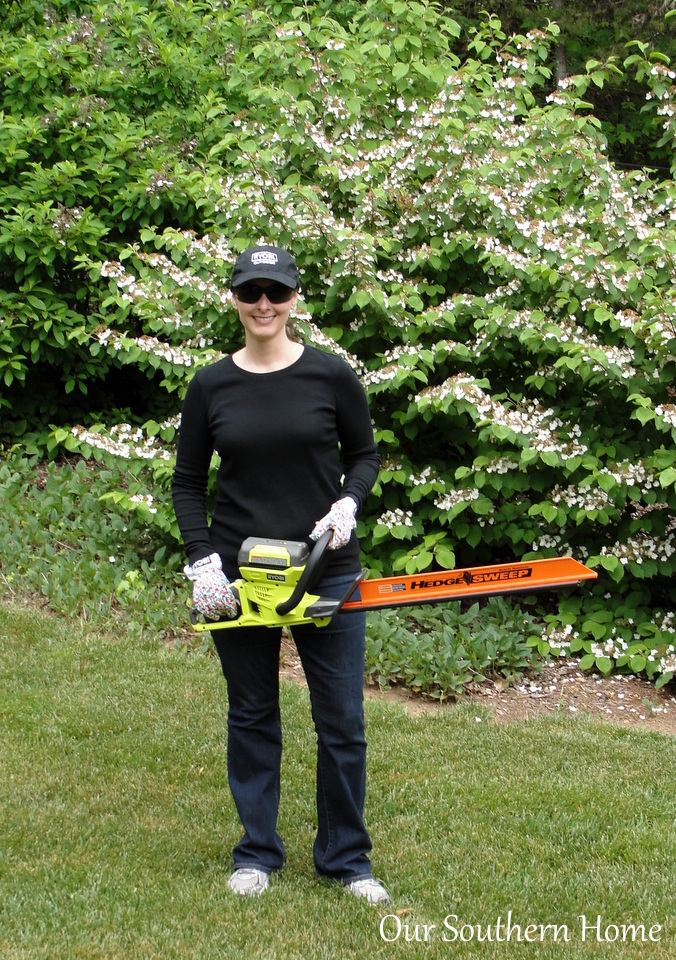 Ryobi Outdoors has an awesome hedge trimmer the Ryobi 24 in. 40-Volt Lithium-ion Cordless Hedge Trimmer found at Home Depot. With it being battery powered, I can use these tools whenever I want. Easy start and use! I am so impressed with the power these 40-Volt Lithium products have. Guess what…..my hubby is as well. Ryobi has sent me several to try out. He's ditched the gas, and I always see him using the new battery-powered ones. Thanks Ryobi Outdoors!!!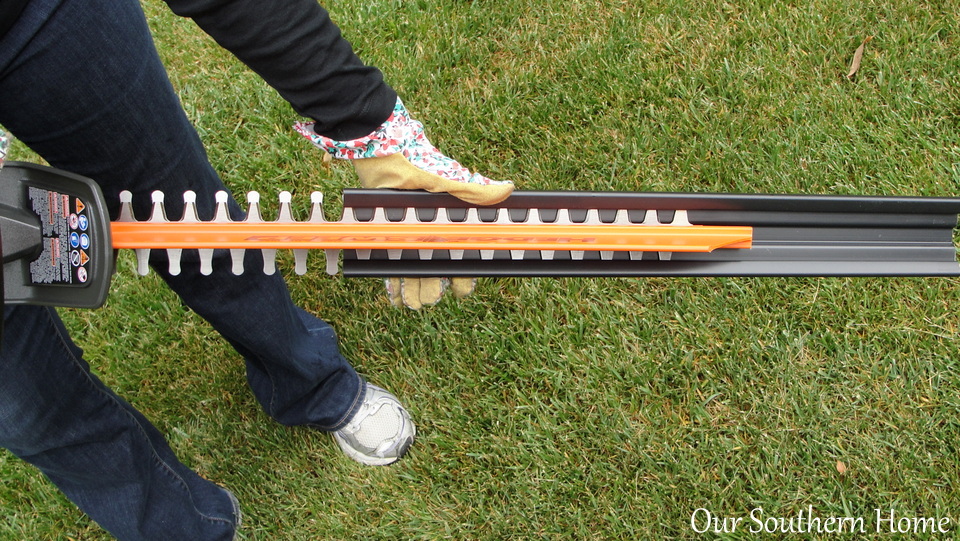 With pets, kids and clumsy me……I love this safety feature!!! This cover slides over the blades when not in use and for storage.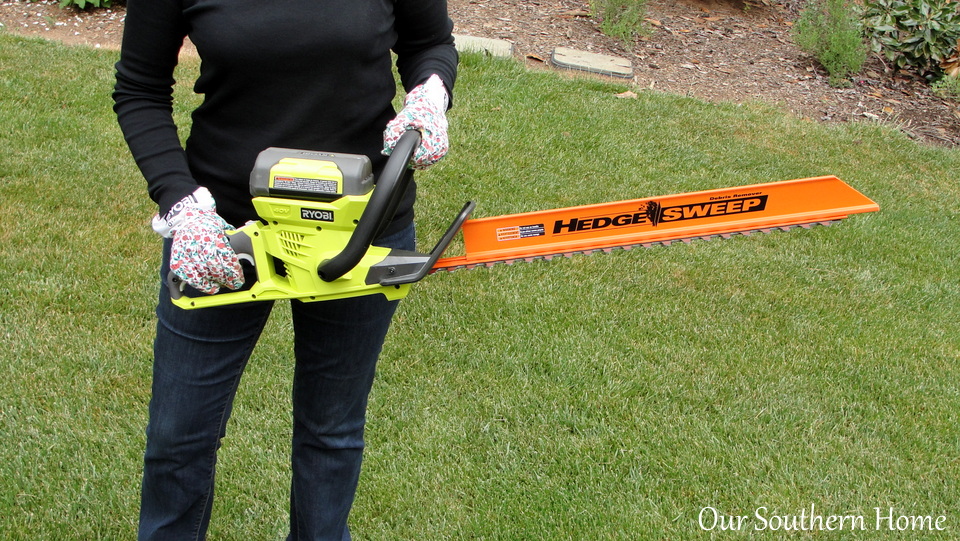 The battery just pops in. The charger is separated the battery just pops in as well. This makes storage easy and neat! All of the Ryobi 40-Volt Lithium outdoor products use the same battery! Notice the orange part? This is the sweeper. It helps to bring the clippings away from the shrub as you trim so they aren't sitting on the shrub! Less work at clean up time!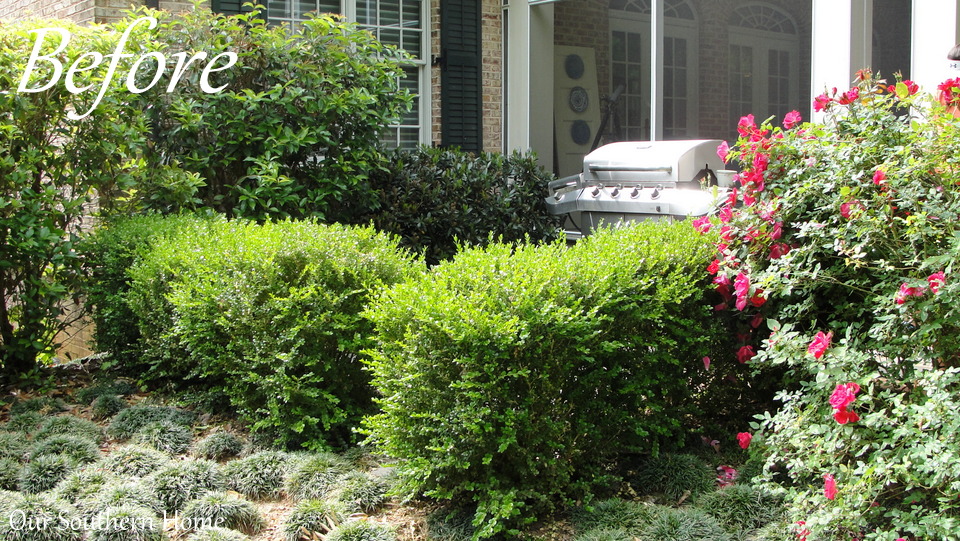 I really wanted this area cleaned up for Mother's Day. We always take family photos here. Great thing about this tool…I could go out there and do it myself since my hubby wasn't there to do it for me! He said I did a good job and that I could gladly take over this chore!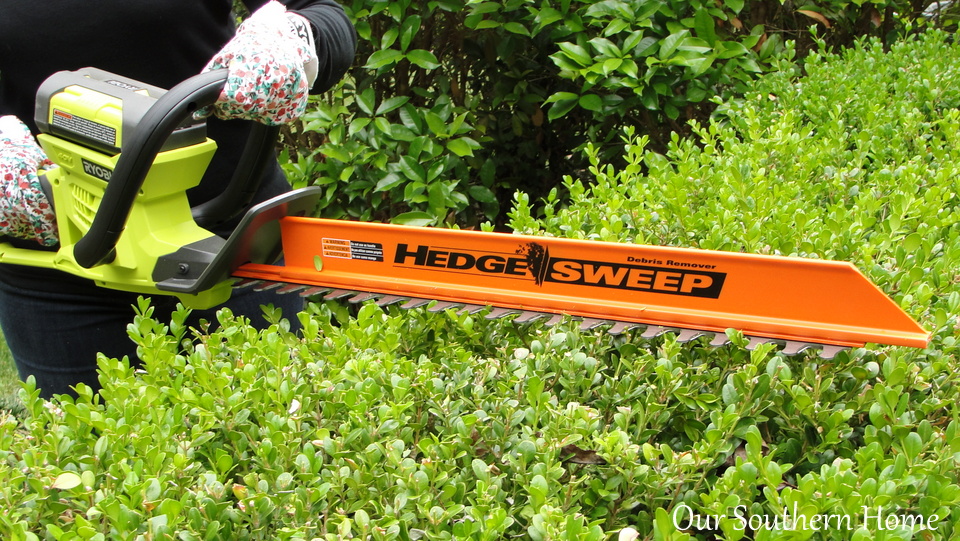 The following are after shots of this area. Not bad for my first hedge trimming attempt! I can see me trimming the boxwood more often to easily get clippings for decorating! I love that it is noticeably lighter than our gas trimmer. It is so quiet!!! I'm all about quiet!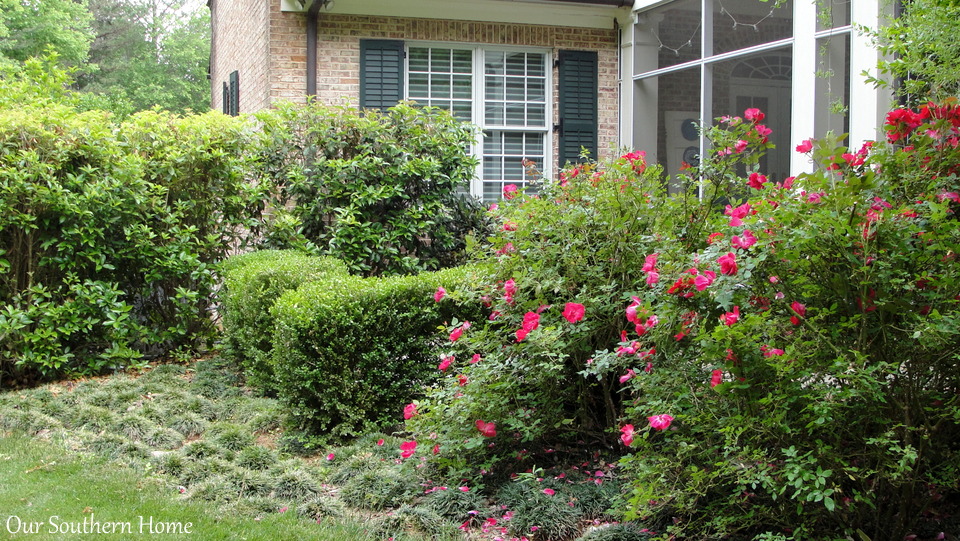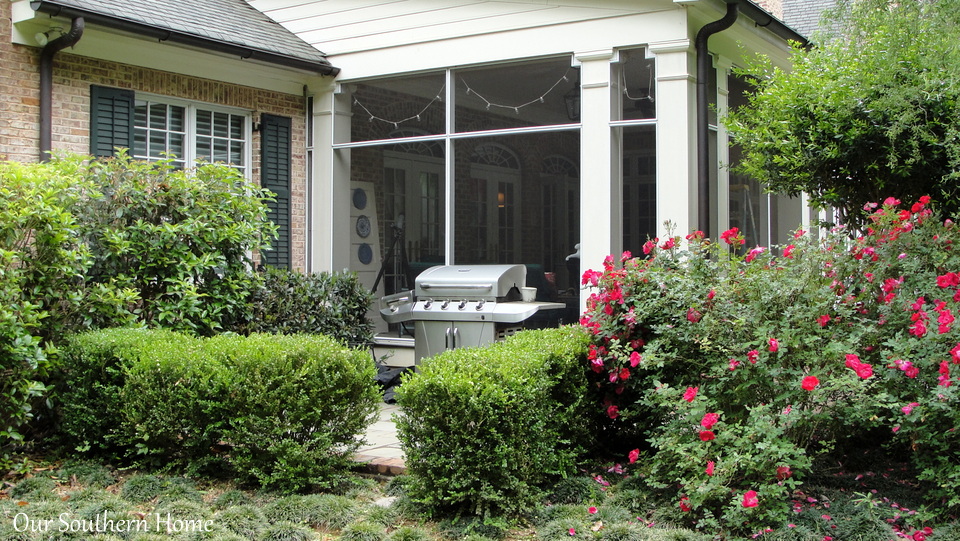 I had so much fun here that I kept on going!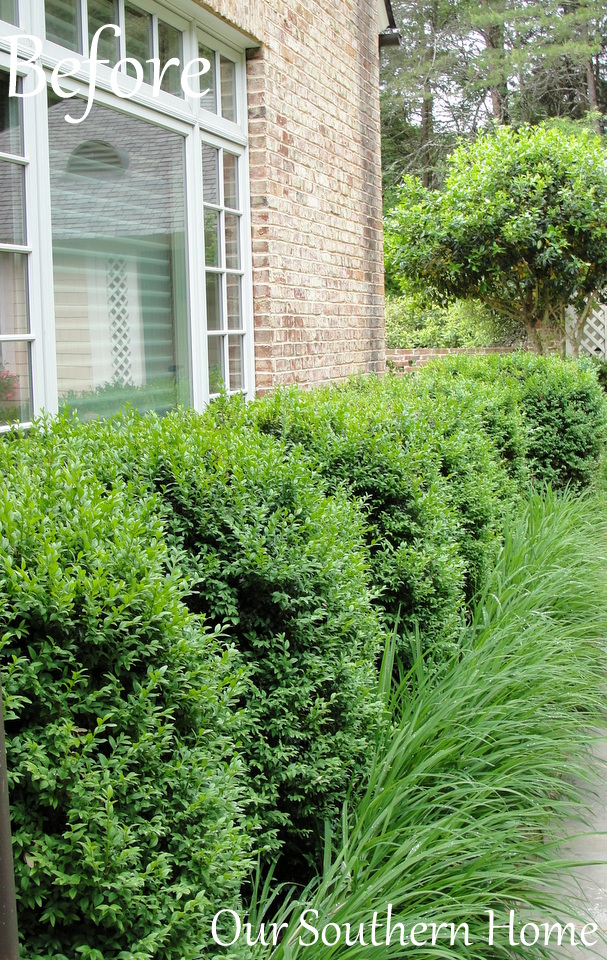 These weren't in horrible shape. They had been trimmed in late February, but were starting to take off again.
Here are the after shots!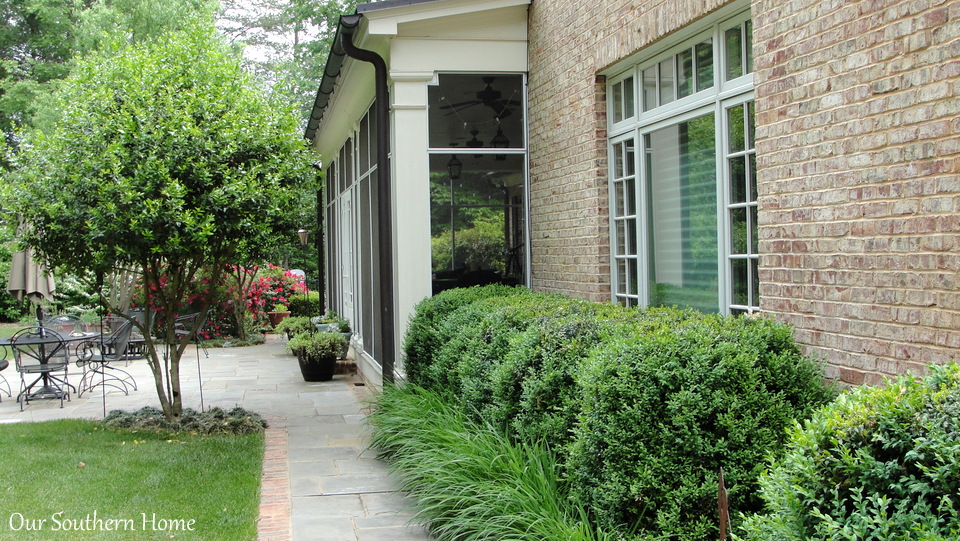 Really cleans them up!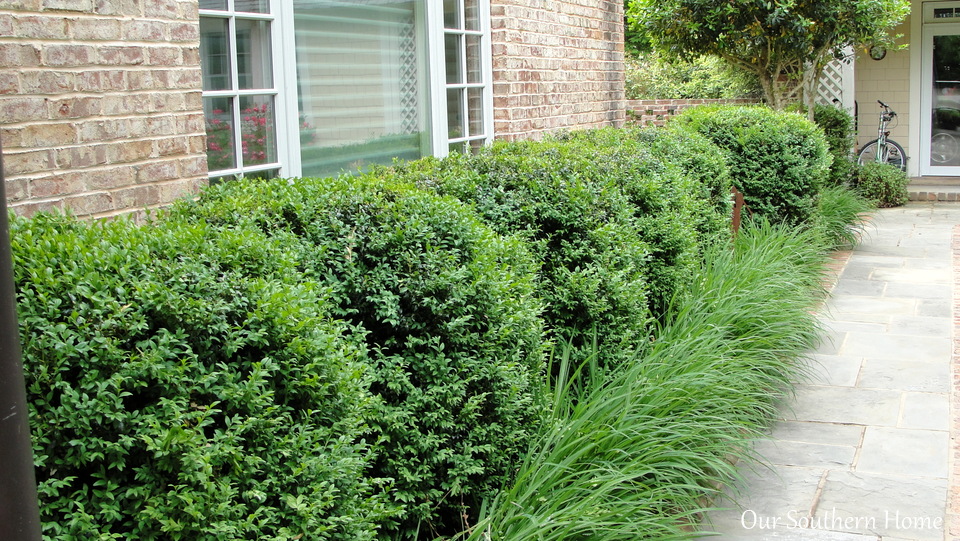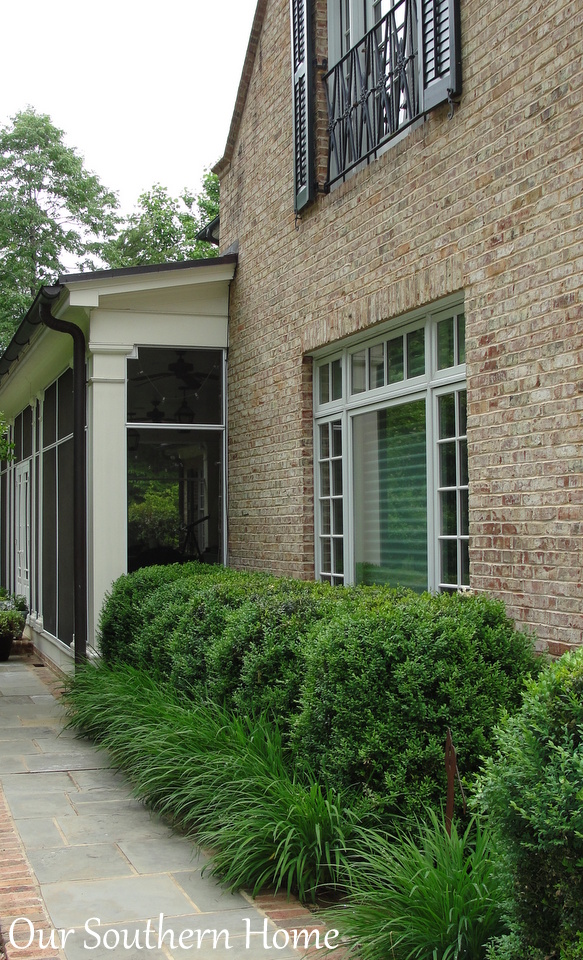 I am looking forward to those day lilies blooming this summer!
This area is next on the to-do list!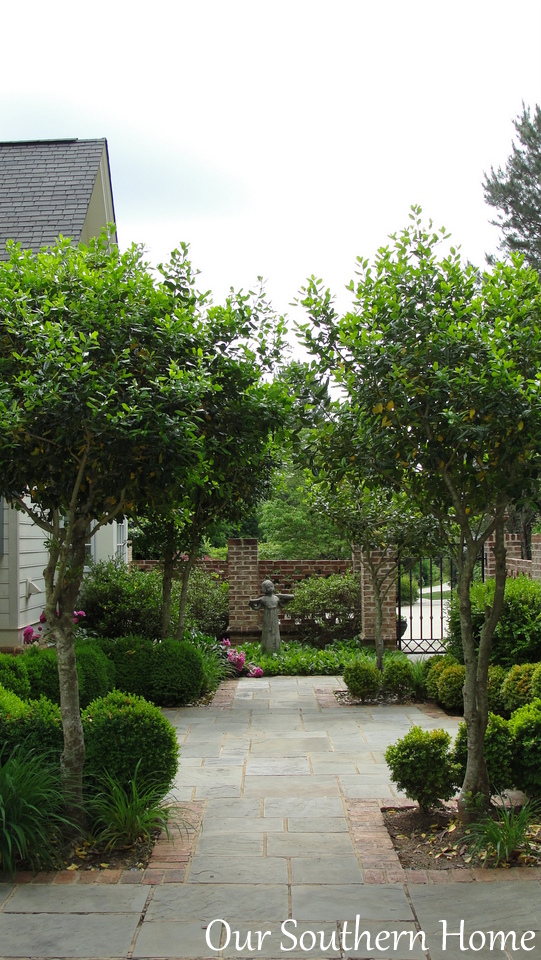 Do you notice my bright peonies peeking through?
Never did the battery lose power or get sluggish. I could have trimmed much more! A storm popped up on me.
Now with all tools, you need to exercise safety precautions!
Ryobi Outdoor Safety Guidelines: Hedge Trimmer
Secure Hair off shoulders

Do not wear jewelry or loose clothing

Wear long sleeves, long pants and sturdy shoes

Wear eye protection

Always use 2 hands

Wear gloves

Usage: Trimming and shaping hedges and shrubbery. Do NOT raise trimmer above shoulder.
Connect with Ryobi Outdoors
Ryobi Outdoors on Facebook
Ryobi Outdoors on Instagram
Ryobi Outdoors on Twitter
Ryobi Outdoors on Pinterest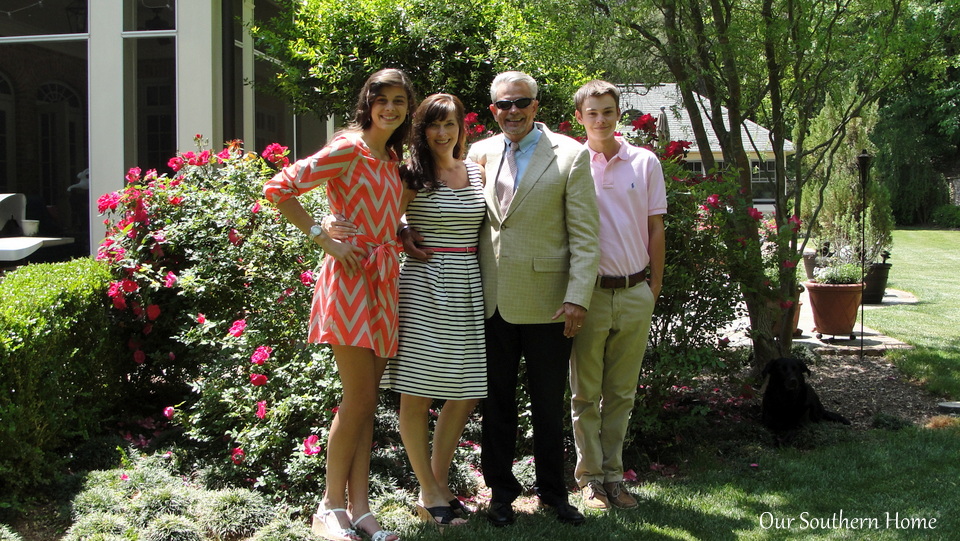 I trimmed the hedges the day before Mother's Day. Can you see a bit of the hedges in the left of the photo? They are looking pretty for the photo! I hope everyone had a wonderful Mother's Day. I am blessed with a wonderful mother and 2 children.
**Hint hint….This would make a great Father's Day gift!**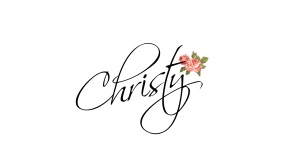 Buffer