8 Simple Ways to Add Spring to Your Home
8 simple ways to add spring to your home will guide you in the transition to a new season with ideas for pillows and more!
8 Simple Ways to Add Spring to Your Home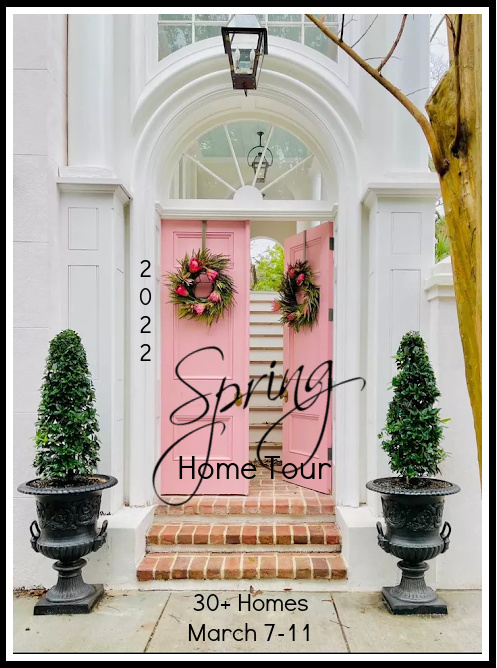 Latest from OSH!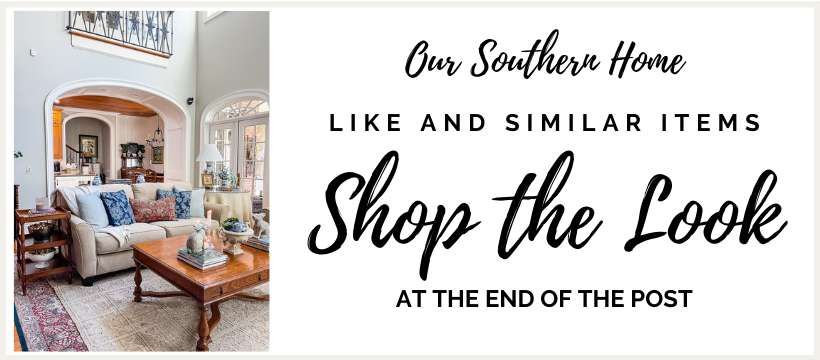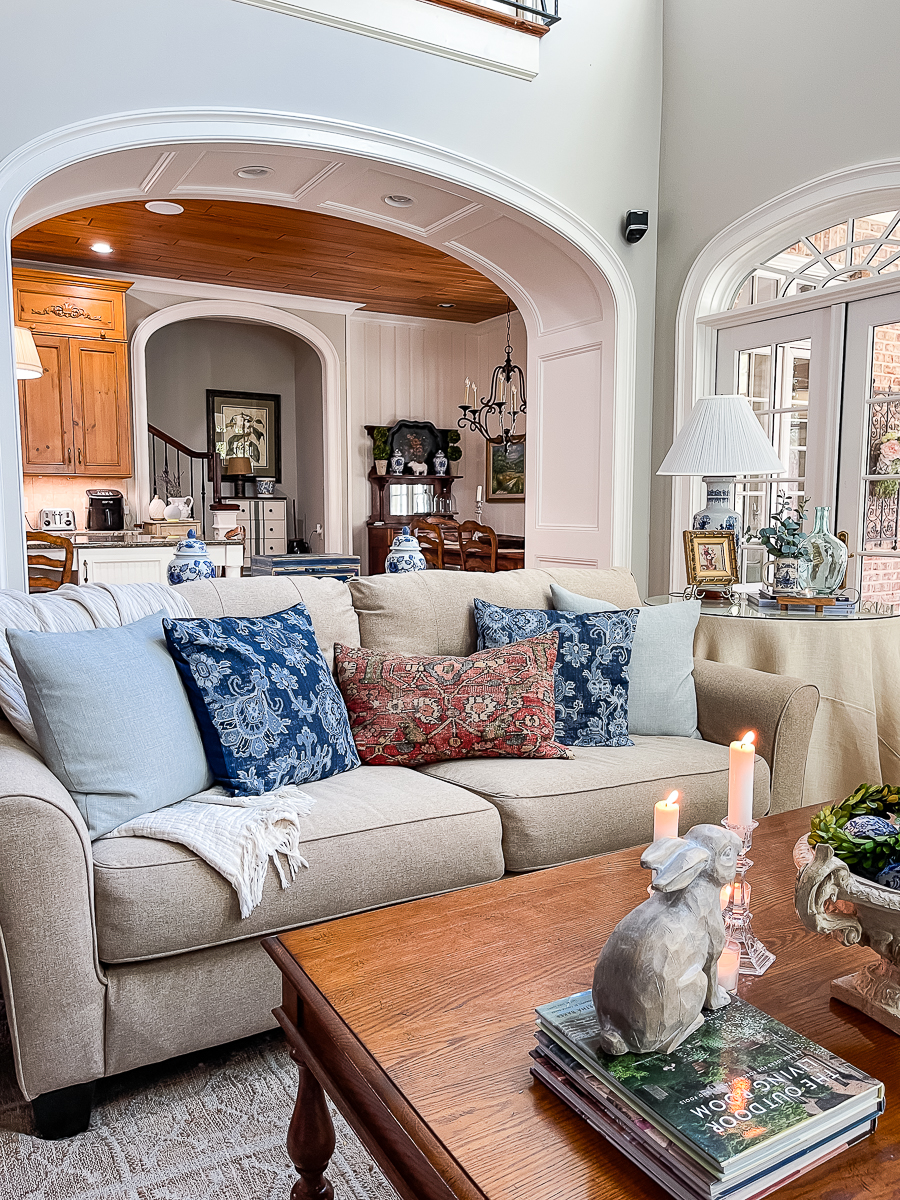 This post may contain affiliate links. If you purchase something using one of my links, I may earn a small commission from the retailer costing you nothing more. You can read more on my disclosure page. YOU WILL FIND A SHOP THE LOOK FOR OUR HOME AT THE BOTTOM!
Spring is in the air here in the south. We even had quite a few teaser days in the 70s.
The birds have been so active. I think that even our pets have a bit of spring fever.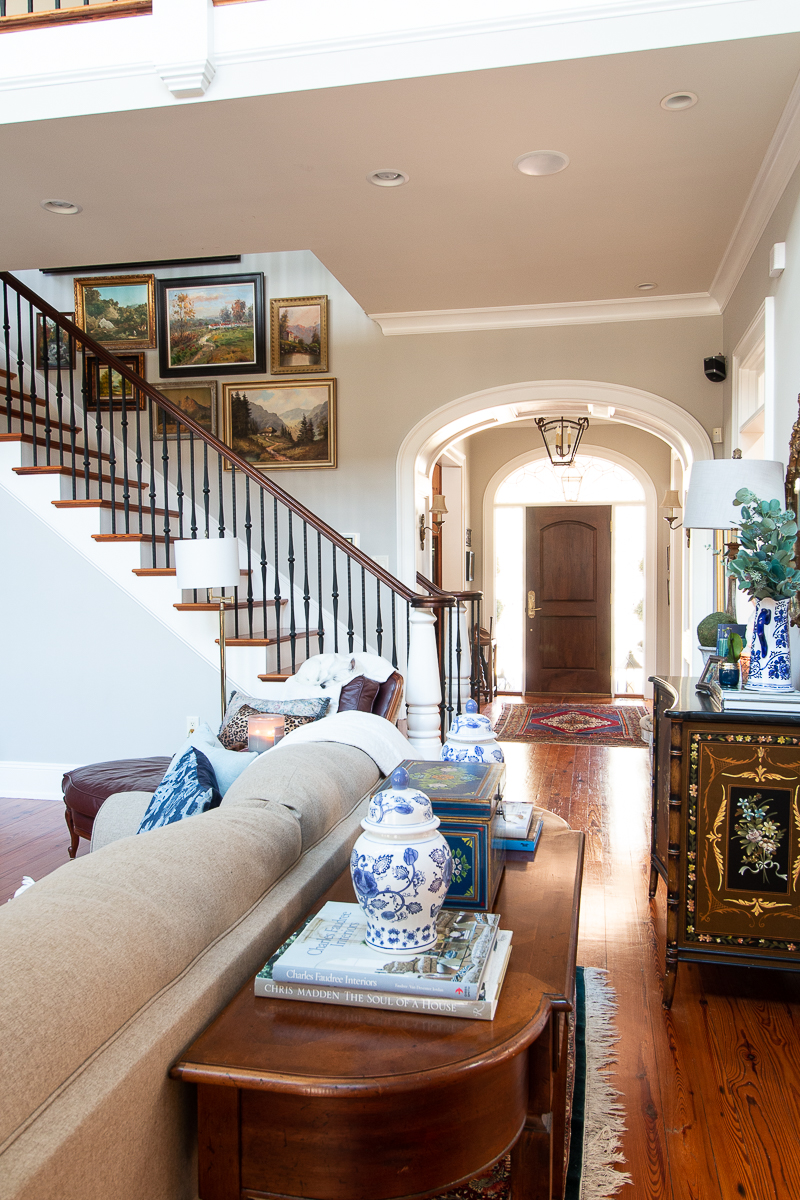 Of course with the promise of spring and the warmer days ahead comes the onslaught of pollen. We started seeing pollen about two weeks ago.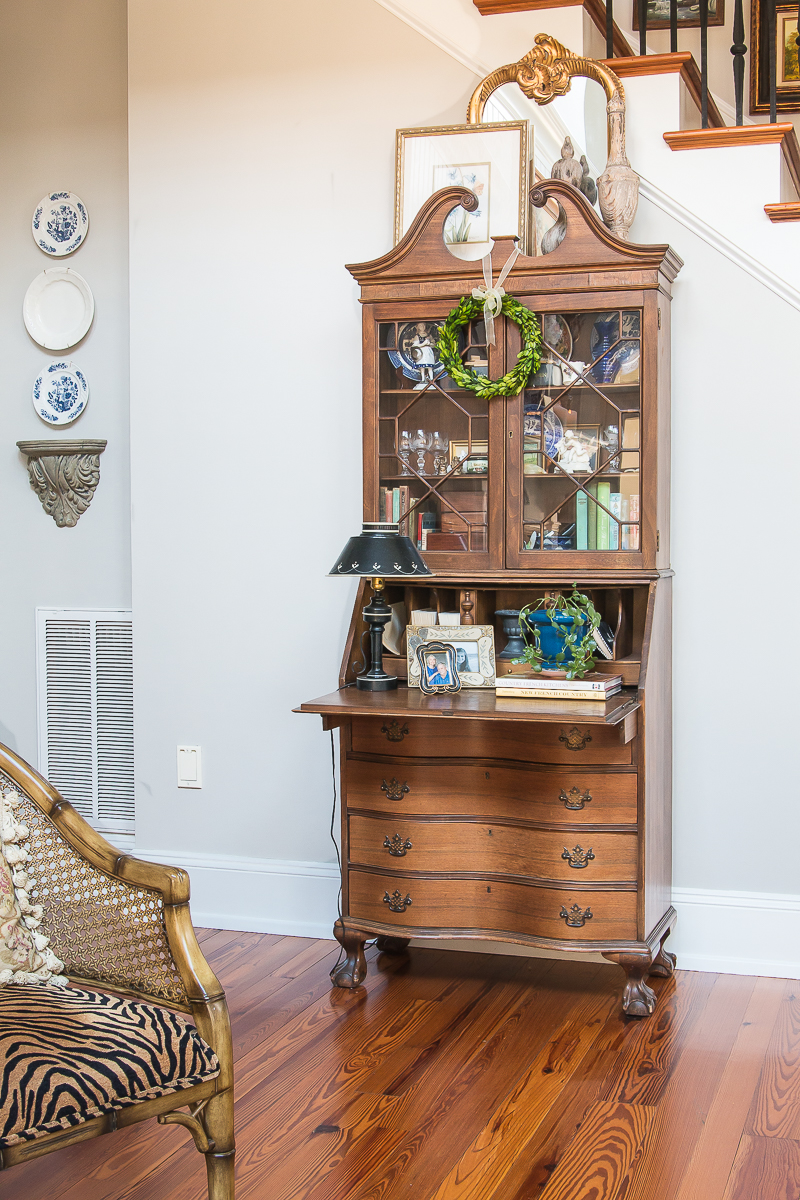 It will be early May before we can truly enjoy our outdoor spaces.
I'd like to give a huge shout-out and thank you to my dear friend, Marty, from A Stroll Thru Life. She organizes our seasonal home tours. It's not an easy task, but she does it with such grace and organization.
If you are visiting from Calypso in the Country, welcome!
You will find the complete list of the spring home tour at the end of this post.
I used to decorate with all things spring when my kids were younger…..all the bunnies, Easter grass, and cutesie Easter eggs. They loved it. I loved it.
The older that I get, I crave simpler ways to decorate for the seasons. My kids are now in their 20s and both are officially engaged to be married. Very soon, we will have a truly empty nest.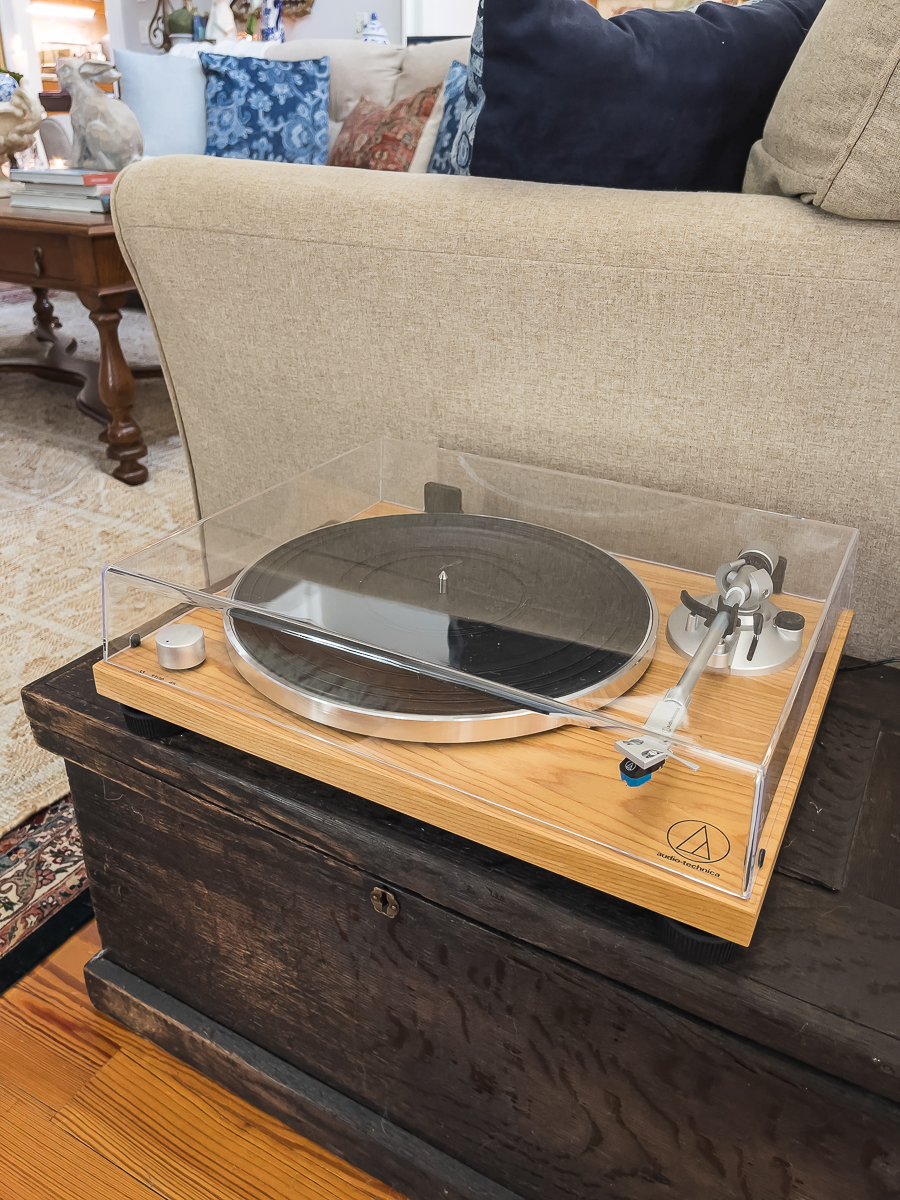 Ashlyn got a nice record player for her birthday, and we love sitting in here and listening to albums this spring.
After a long winter, it's fun to decorate your home with a fresh spring look.
8 Simple Ways to Add Spring to Your Home
Here are 8 simple ways to add spring to your home in subtle ways. These ideas can be applied from the front door and dining room to the living room. The change in seasons is also the perfect time to do a little spring cleaning as your usher in the new season.
SPRING PILLOW COVERS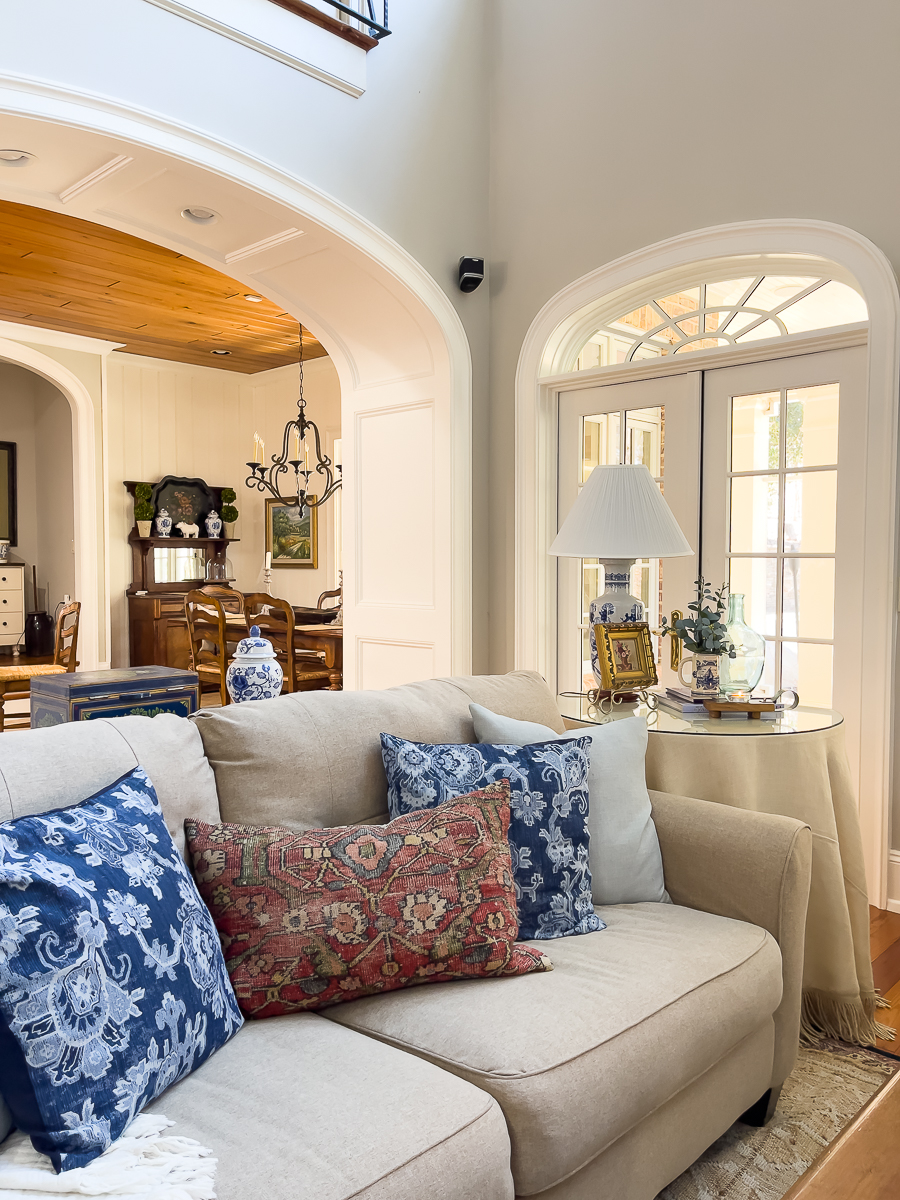 A great way to add new life to your space with lighter fabrics, bright colors, and a similar color palette of spring. New throw pillows are a great addition this time of year. Many are found affordably from your budget-friendly stores like HomeGoods, Walmart, and Target.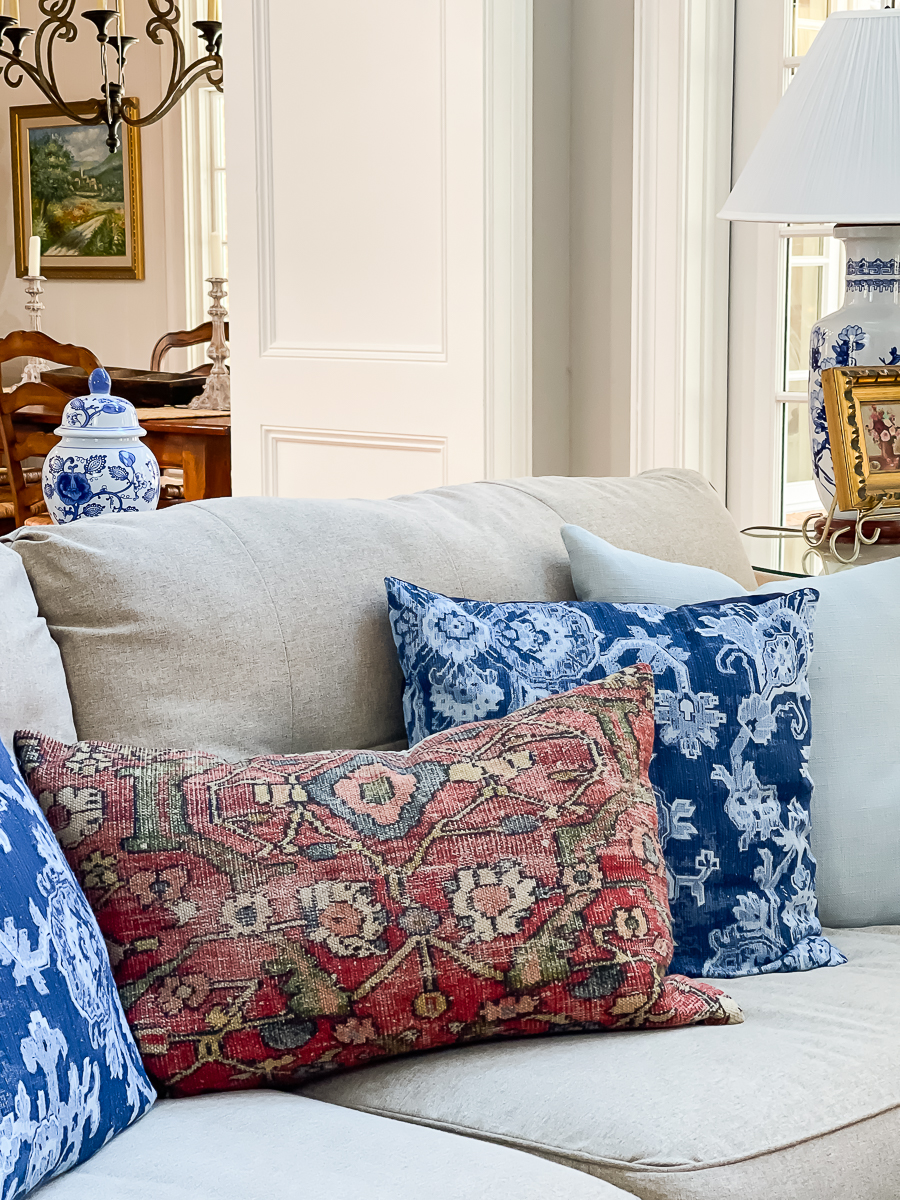 Through the years, I have gravitated more towards using pillow covers. Pillow covers are perfect for small space decorating.
Great Sources for Pillow Covers
Pillow covers allow you to change for the seasons easily with fewer pillows to store. Covers fold easily and store on shelves and in drawers.
SPRING FLOWERS
Flowers whether fresh or faux are a great addition to the spring season.
Fresh spring flowers are an inexpensive way to add a touch of spring.
My favorite way to get this look is a quick trip to a grocery store like Trader Joe's for fresh flowers.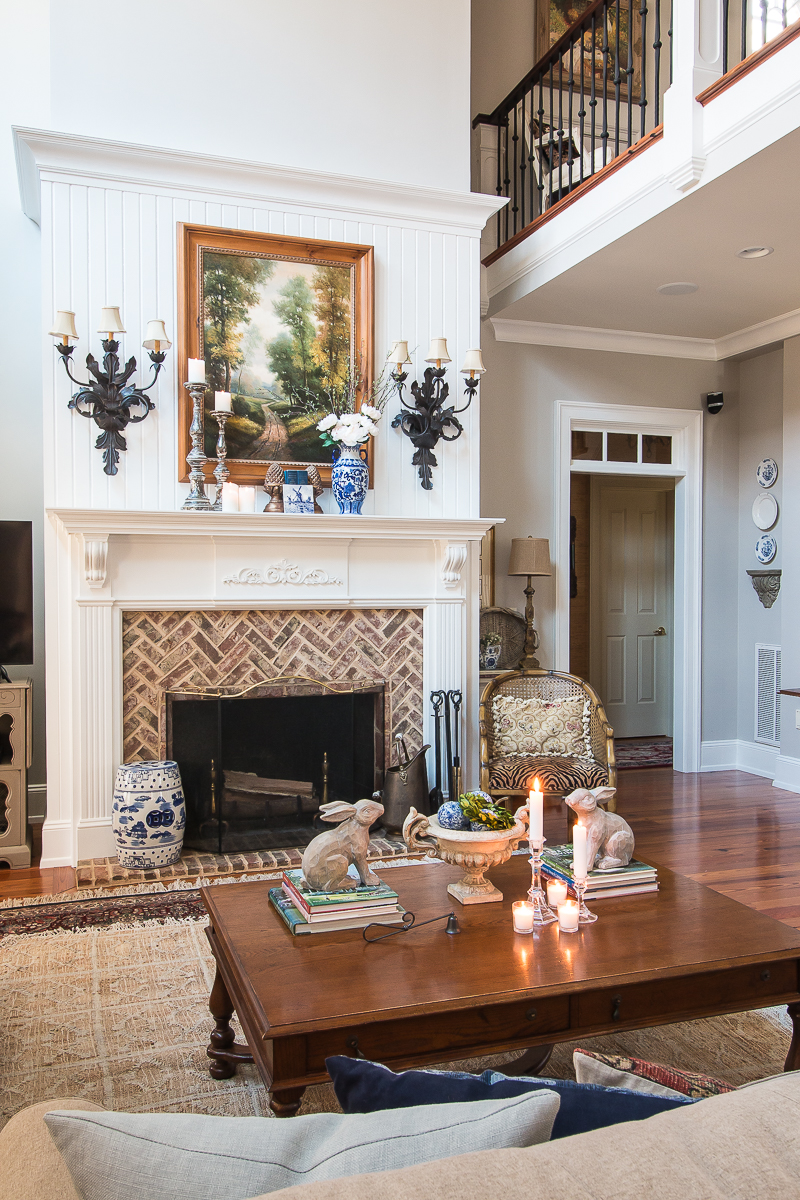 While doing a mix of flowers is striking, I lean towards using the same flower with a little greenery mixed in. It's the best way to achieve a pretty look quickly.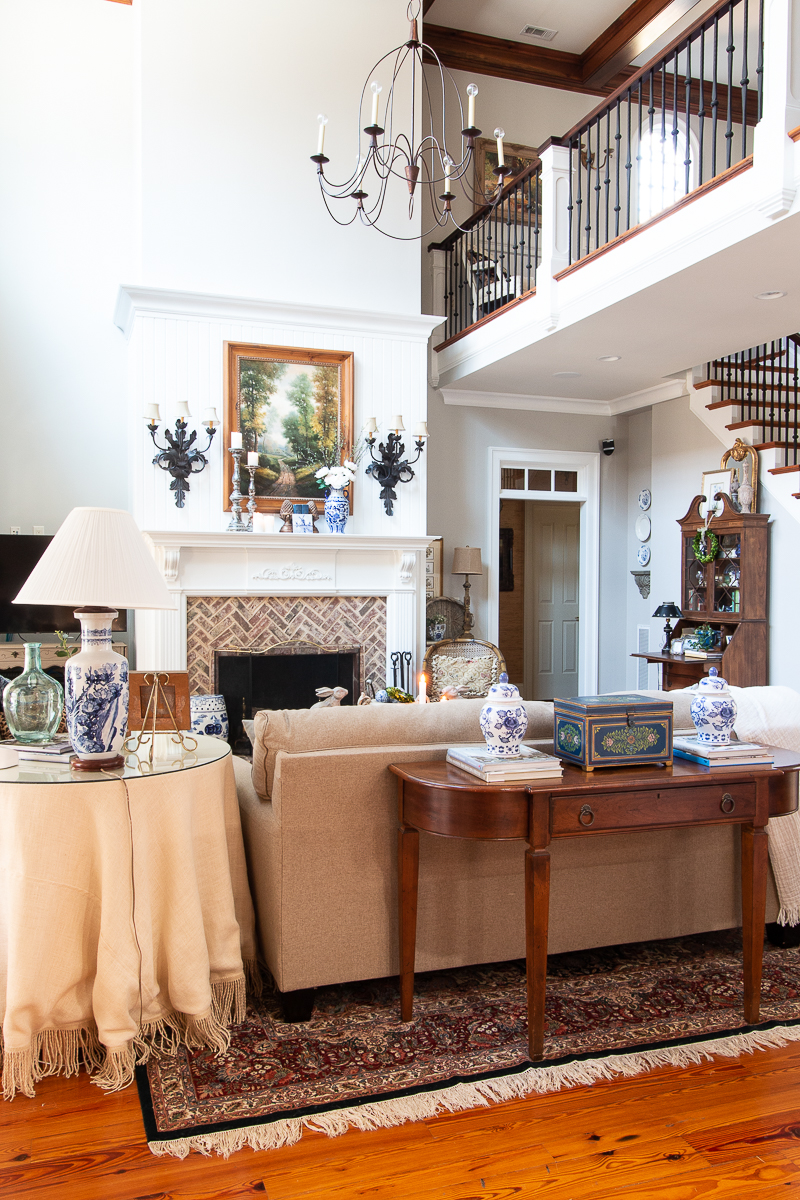 I do use faux flowers a lot. I have a metal bucket in my craft room that I store them in out of season.
It's quite fun to "shop" from my bucket.
A craft store is a perfect place for faux flowers as well as Amazon.
High-quality faux flowers that really look realistic can be found at Afloral and Pottery Barn.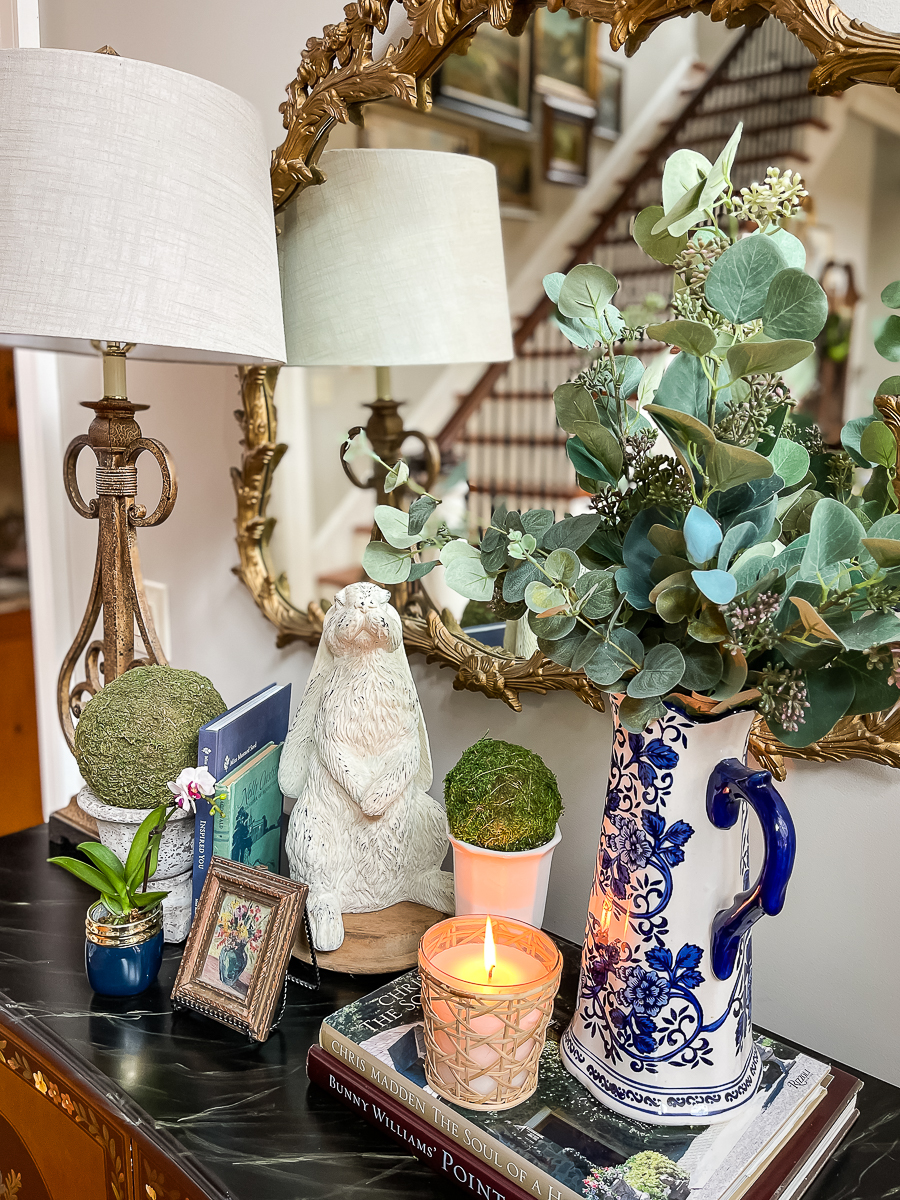 See more of this vignette from our PINTEREST CHALLENGE.
I so look forward to our yard in bloom for fresh clippings. The greenery and stems of buds are gorgeous in simple arrangements.
BUNNY RABBIT STATUES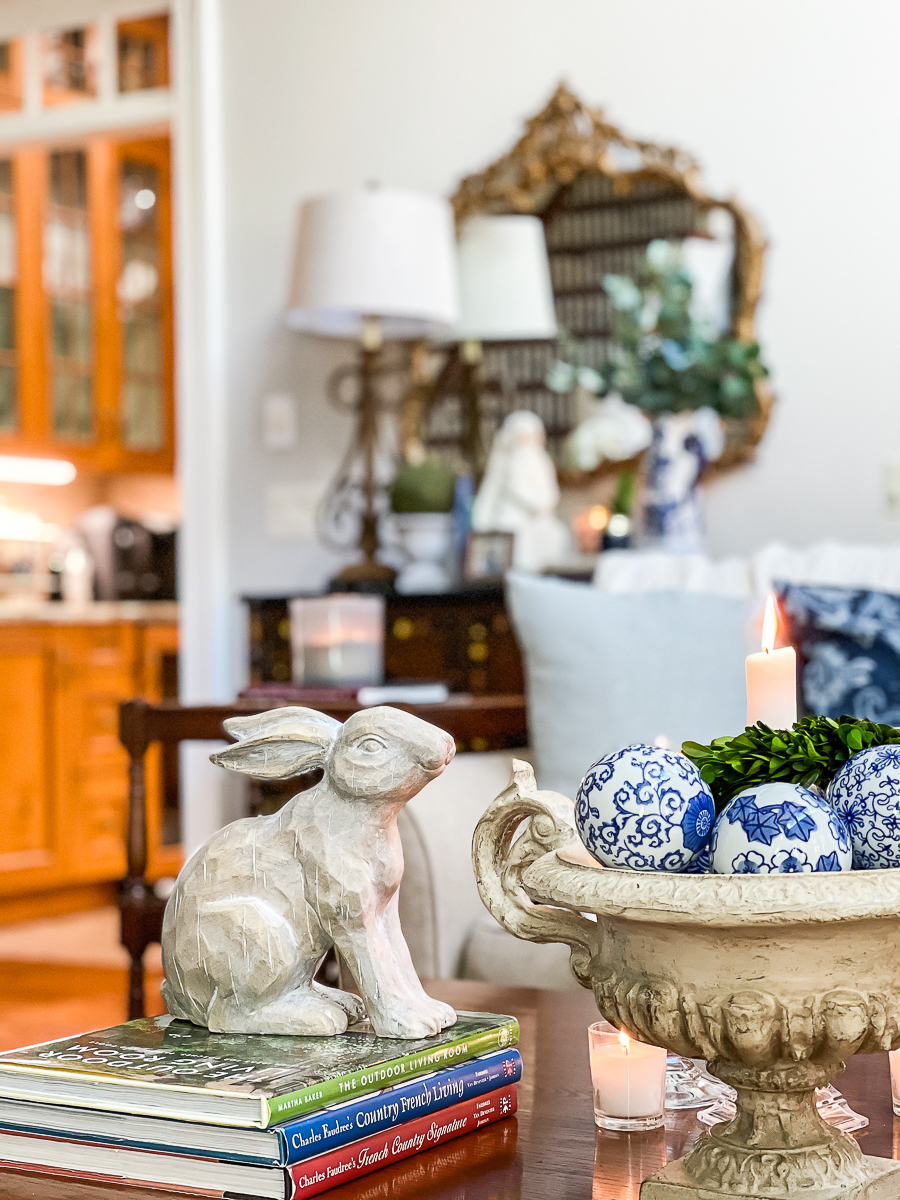 Nothing says spring like pretty bunny rabbit statues and figurines.
An easy way to add spring in a subtle way is by adding a rabbit to an entry table or to coffee table vignettes.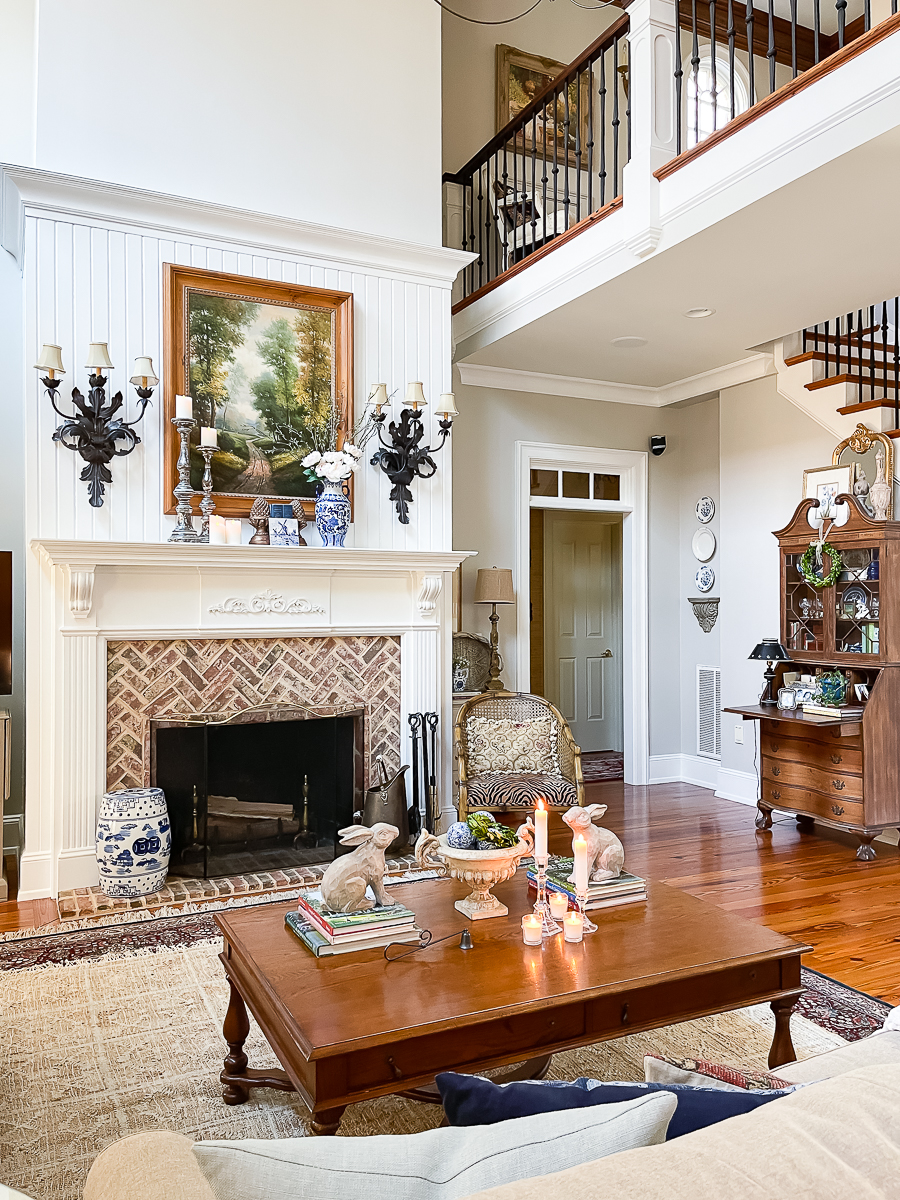 Once I pull out my rabbits for spring, I usually use them in our home and outdoor spaces until fall.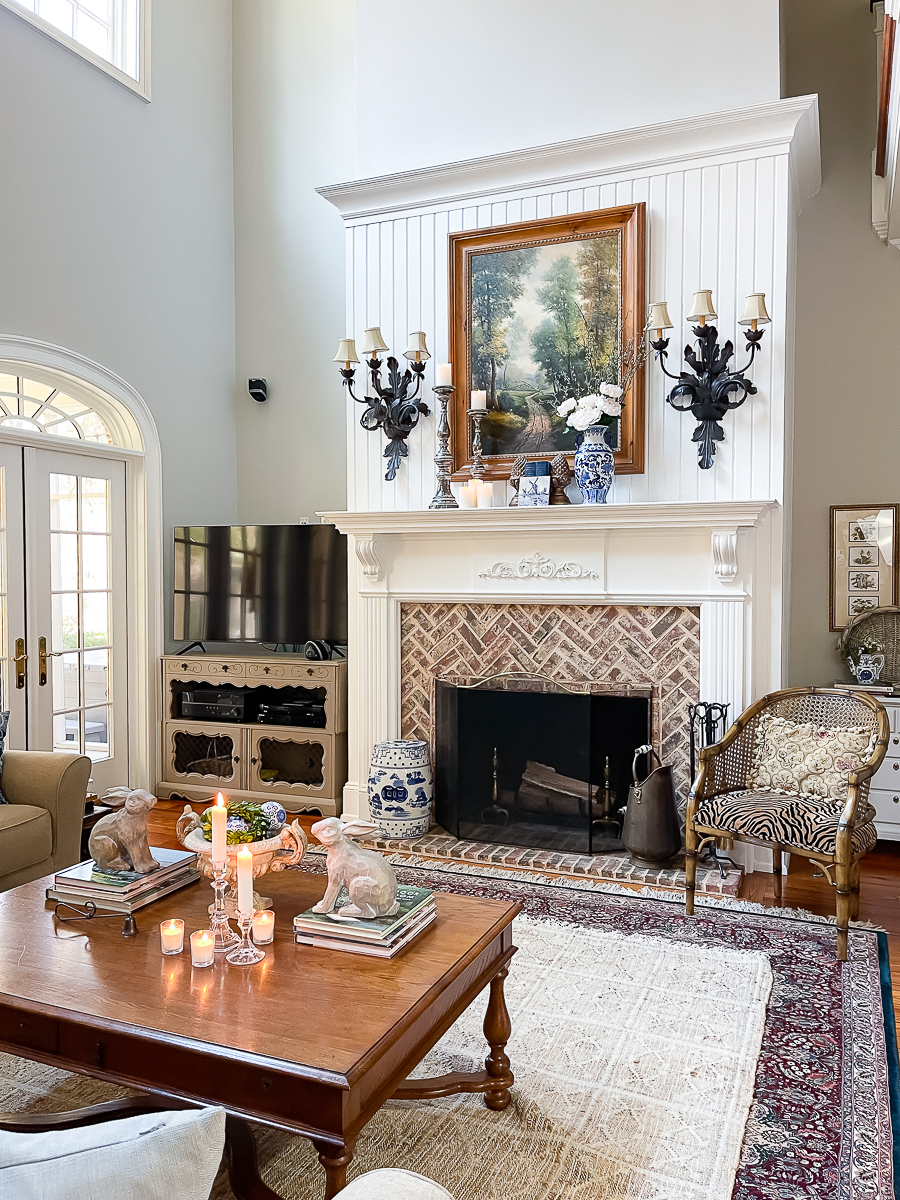 Don't be afraid to search your garden center and concrete shops for outdoor rabbits. They can work indoors as well.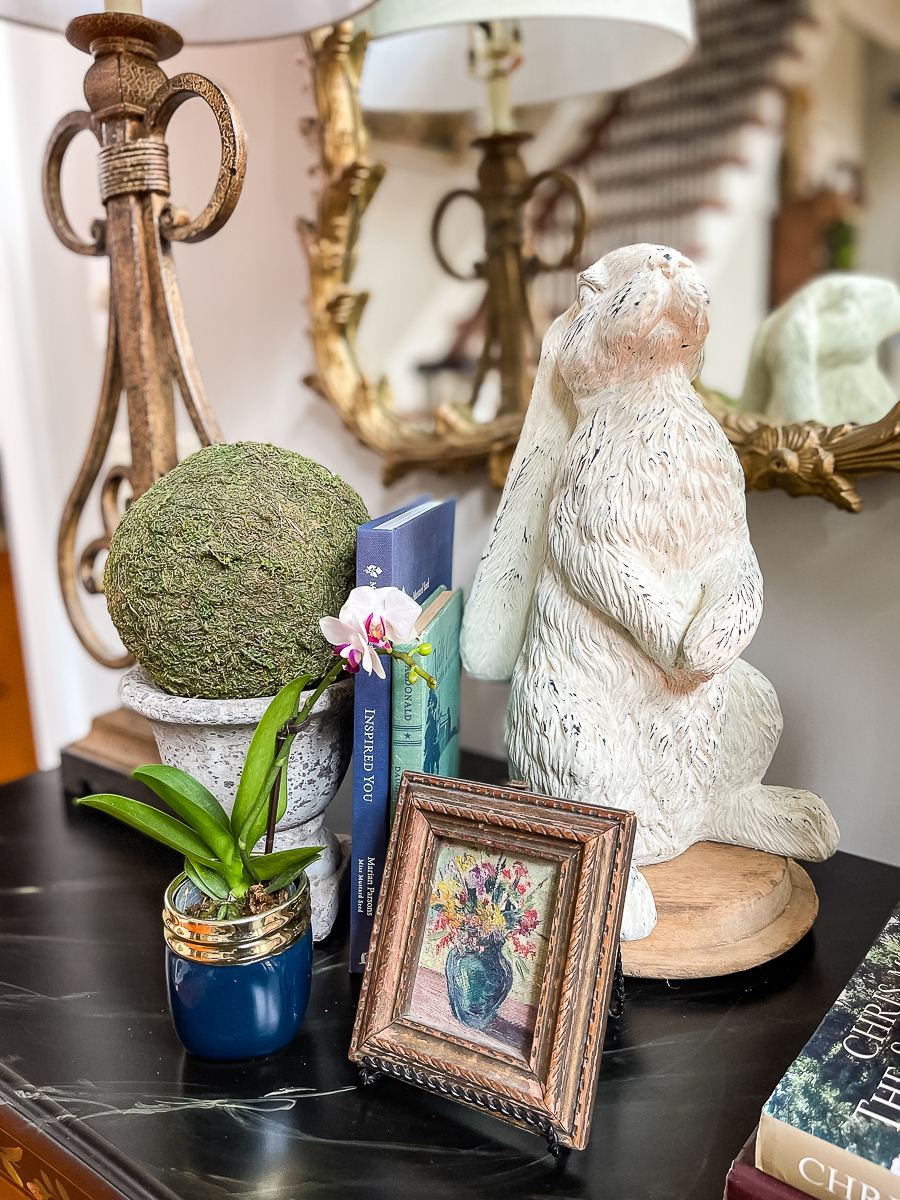 Just take care when placing them on surfaces. You may want to place a runner under them or a bit of cut felt.
THROW BLANKETS
Now is a great time to prepare your space for warmer weather.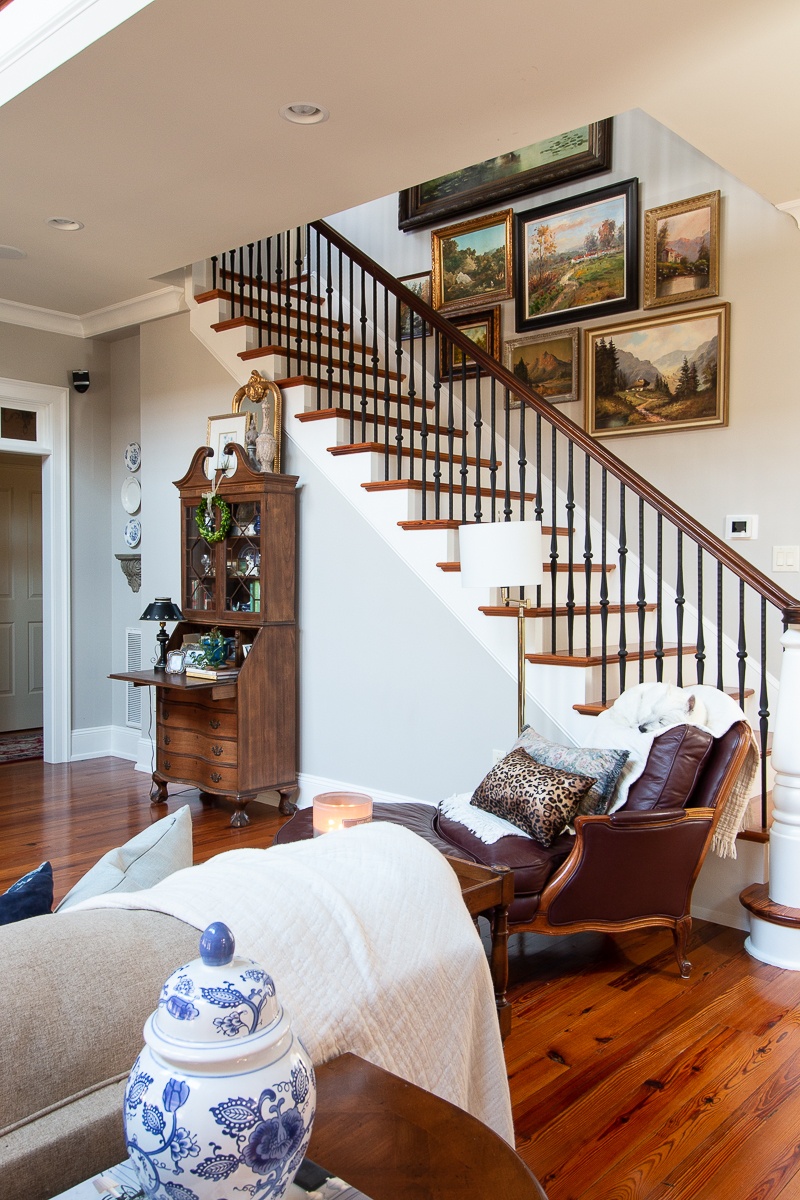 Pack away the faux fur throws. They are a bit heavy on the eyes for spring.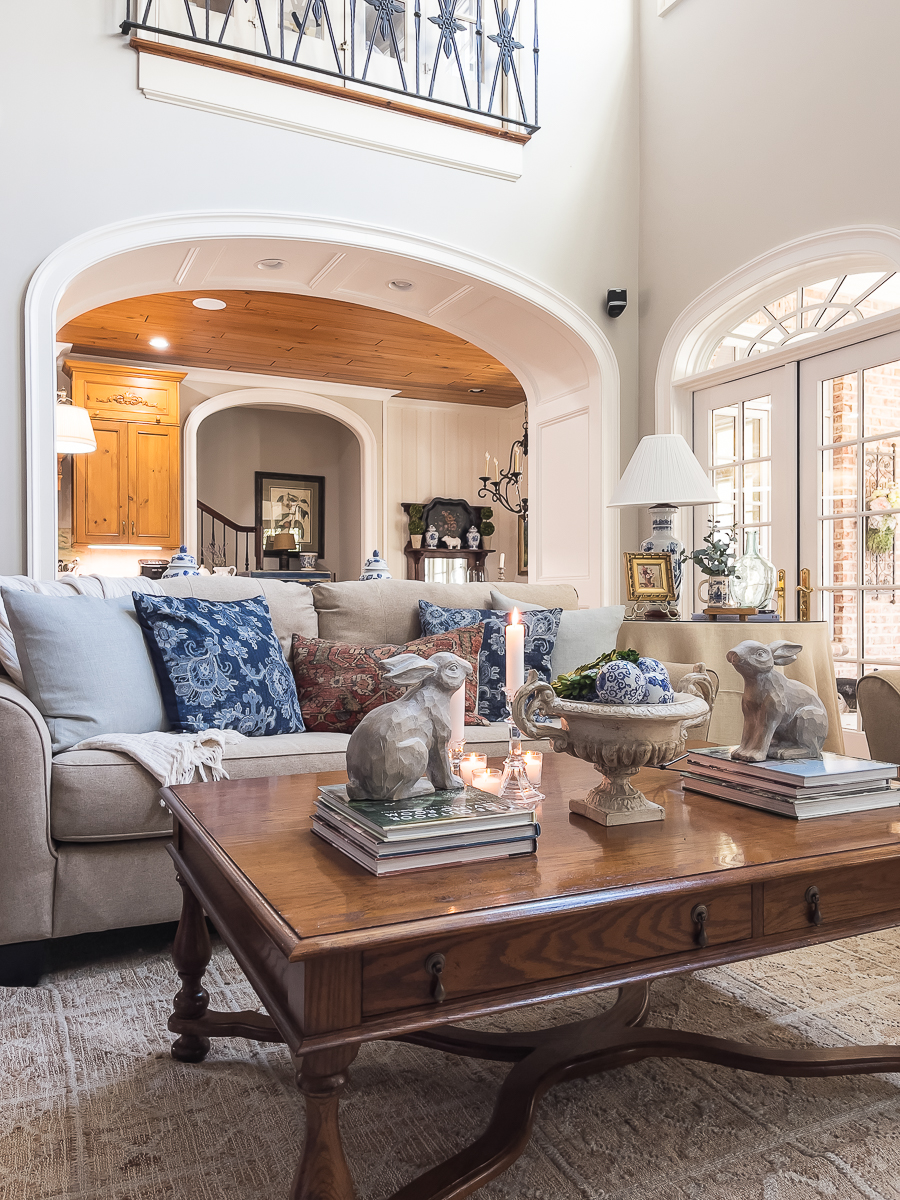 Instead, opt for lighter weight throws in spring colors.
They add texture and color when draped over chairs and the backs of couches.
HomeGoods is a favorite shop for throw blankets. They usually have an amazing selection with prices under $24.
I really like this blanket and this one from Amazon.
I am always a bit chilly inside so I appreciate the ability to easily grab a throw to have on me while watching TV or reading.
CANDLES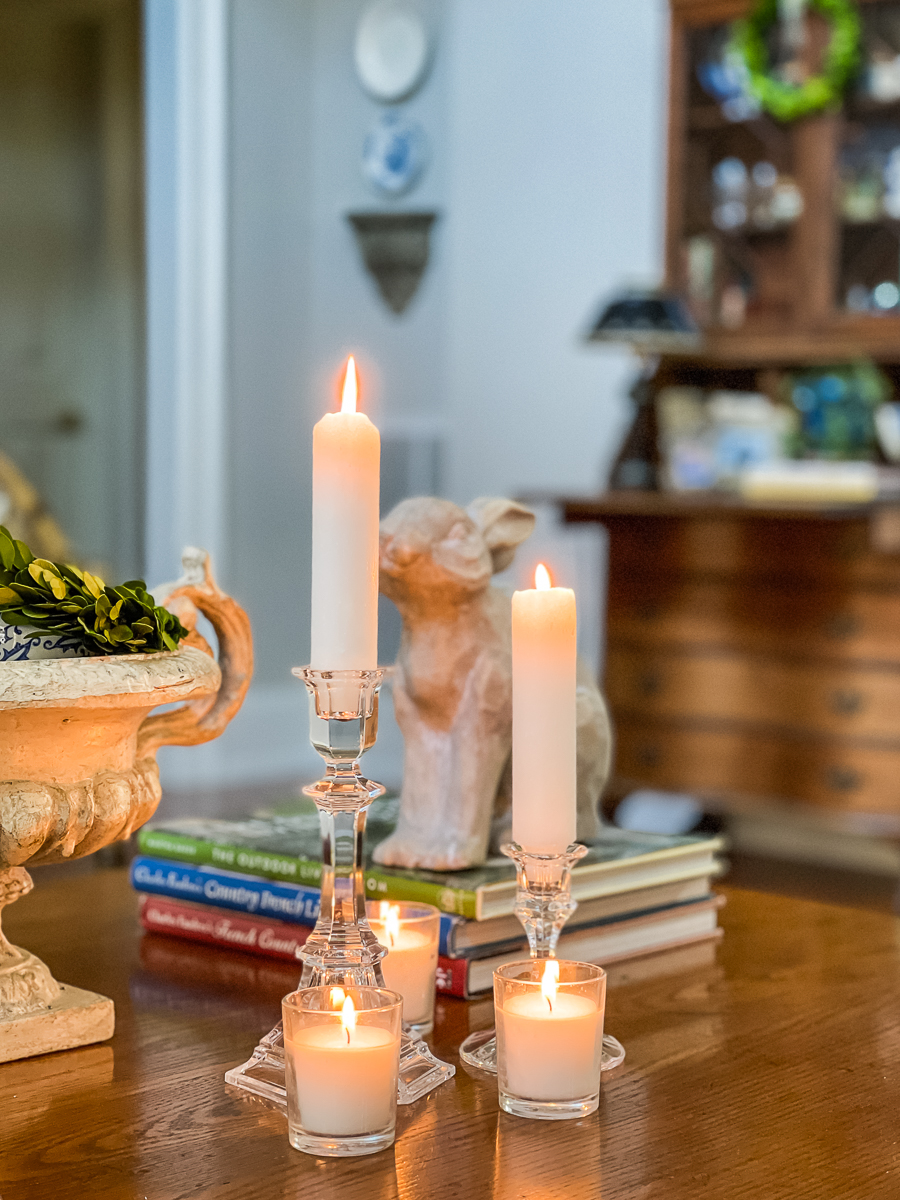 I opt to use white candles in the spring and summer.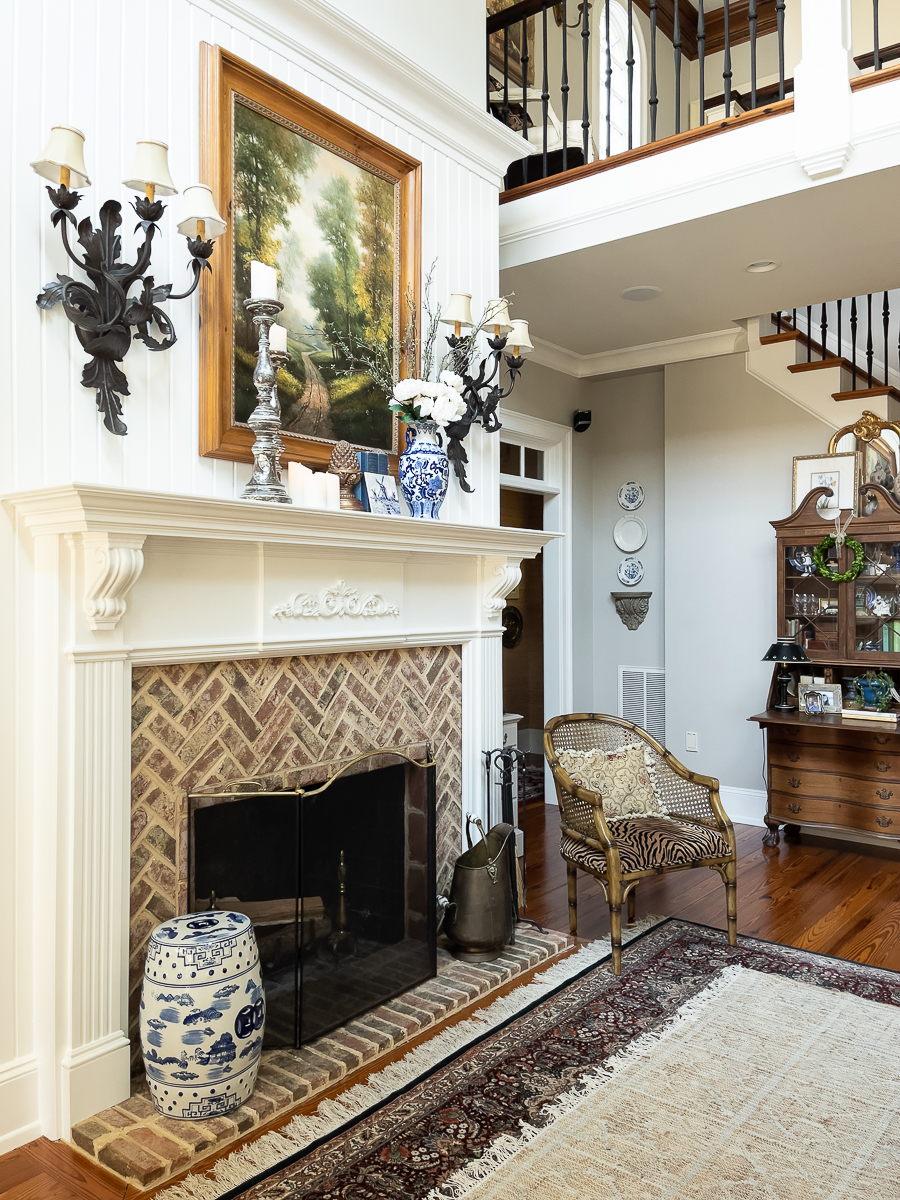 I love using battery-operated candles similar to these on our mantel. It makes enjoying them so my easier.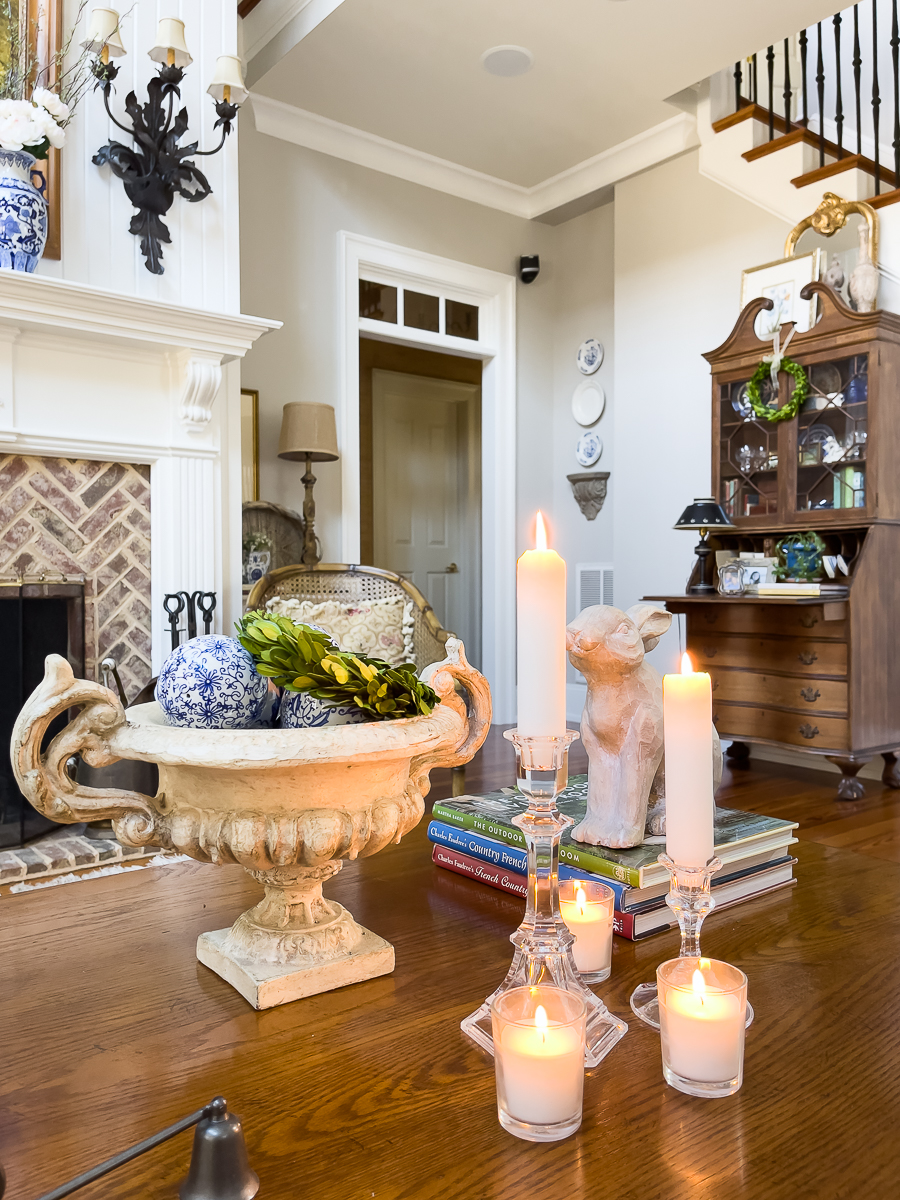 Spring is when I like to bring out my glass candlestick holders. Most of mine were purchased years ago from Big Lots and dollar stores.
I do have my eye on this set.
WICKER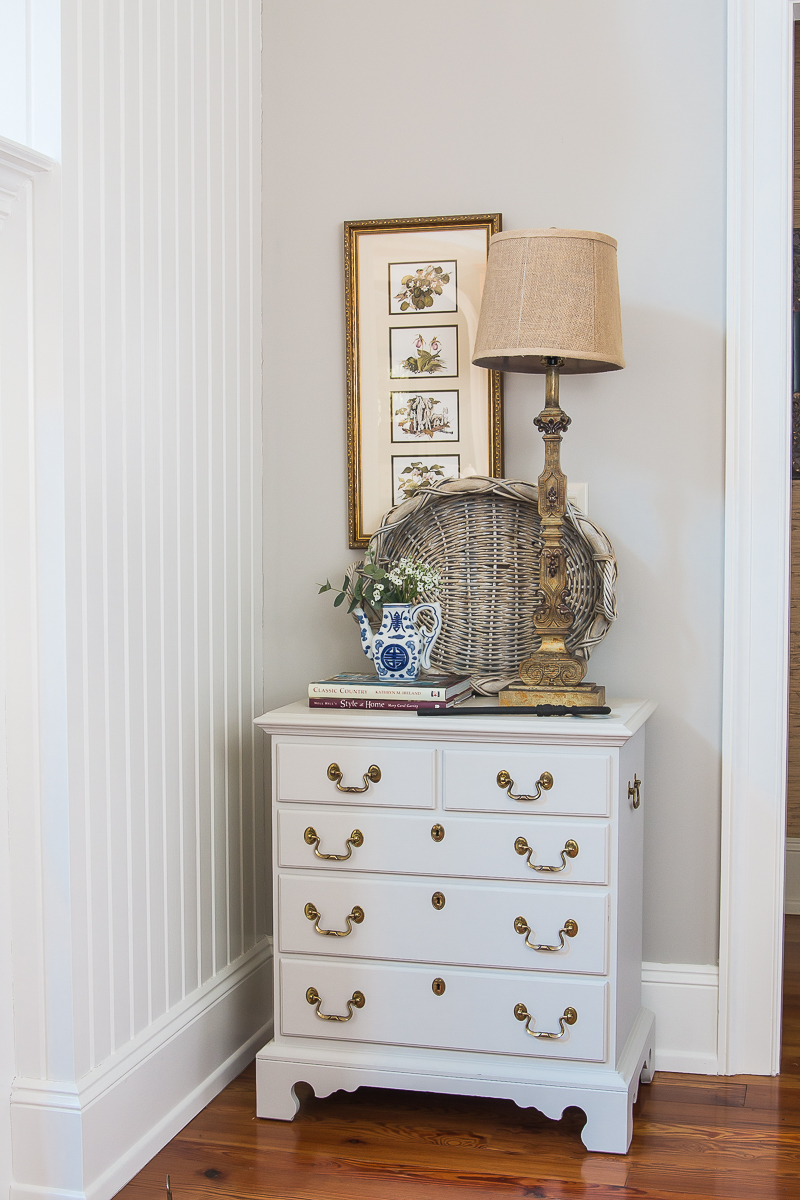 Wicker is a great touch for spring and summer. The texture is the perfect nod to warmer months.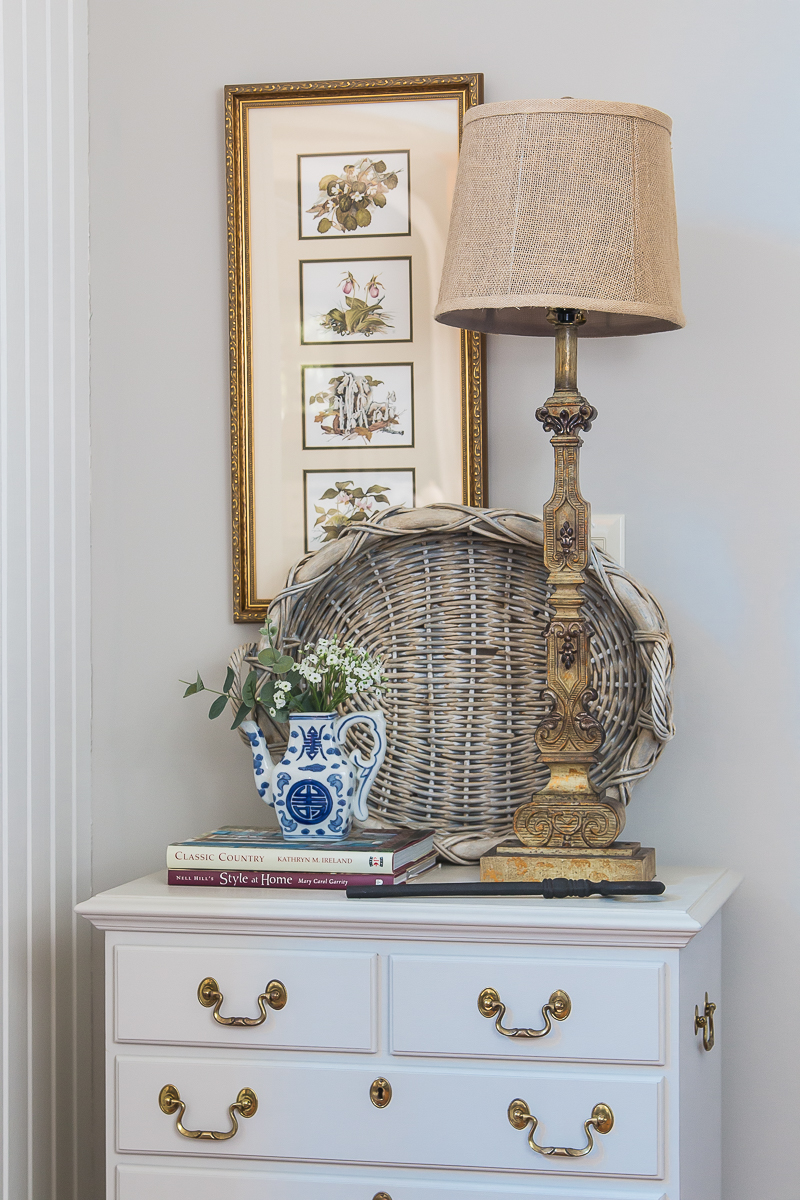 I find a lot of pretty wicker pieces like this tray. It's a favorite piece. You can give wicker a simple makeover with this technique.
Candles are some of my favorite new items to purchase with the change in seasons. i really scored with this new wicker candle. I found mine at HomeGoods. The previous link is similar.
BOOKS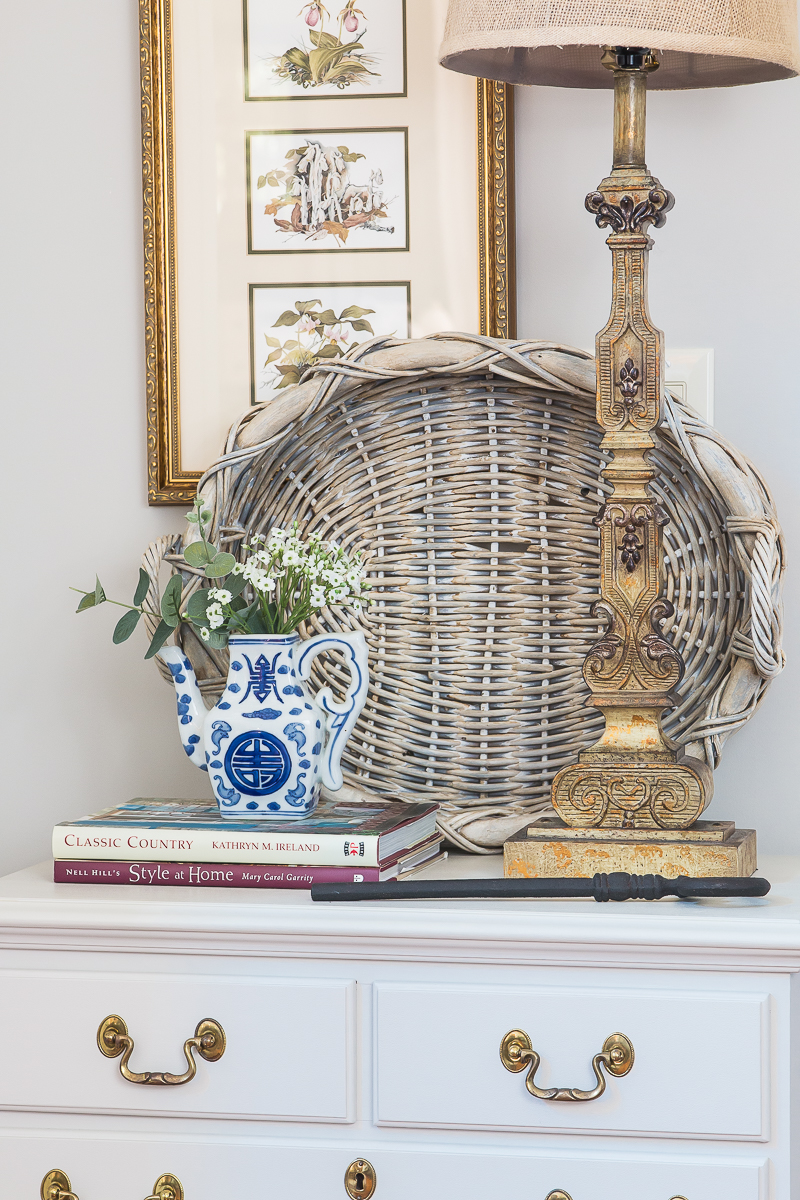 I adore decorating with books.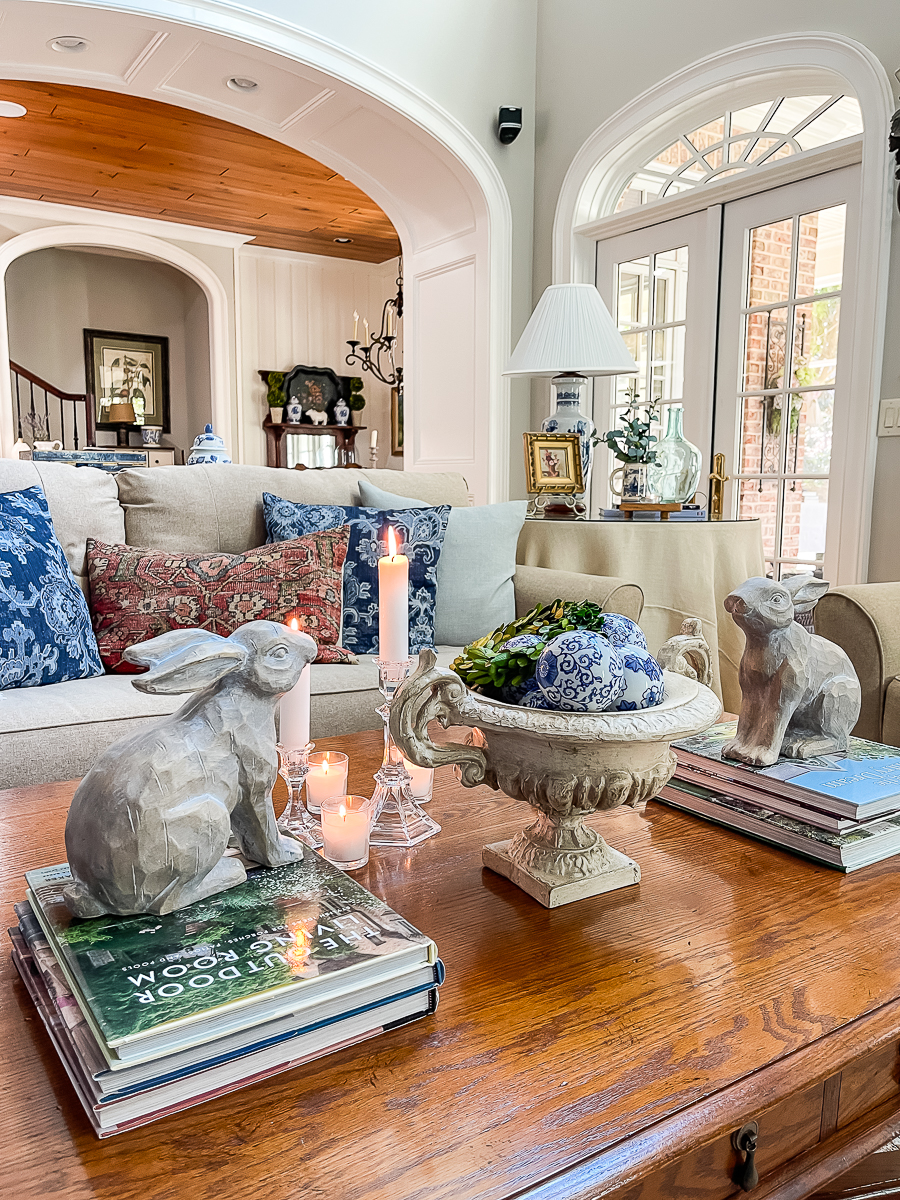 You can see more ideas HERE for decorating with books.
I've collected books for years.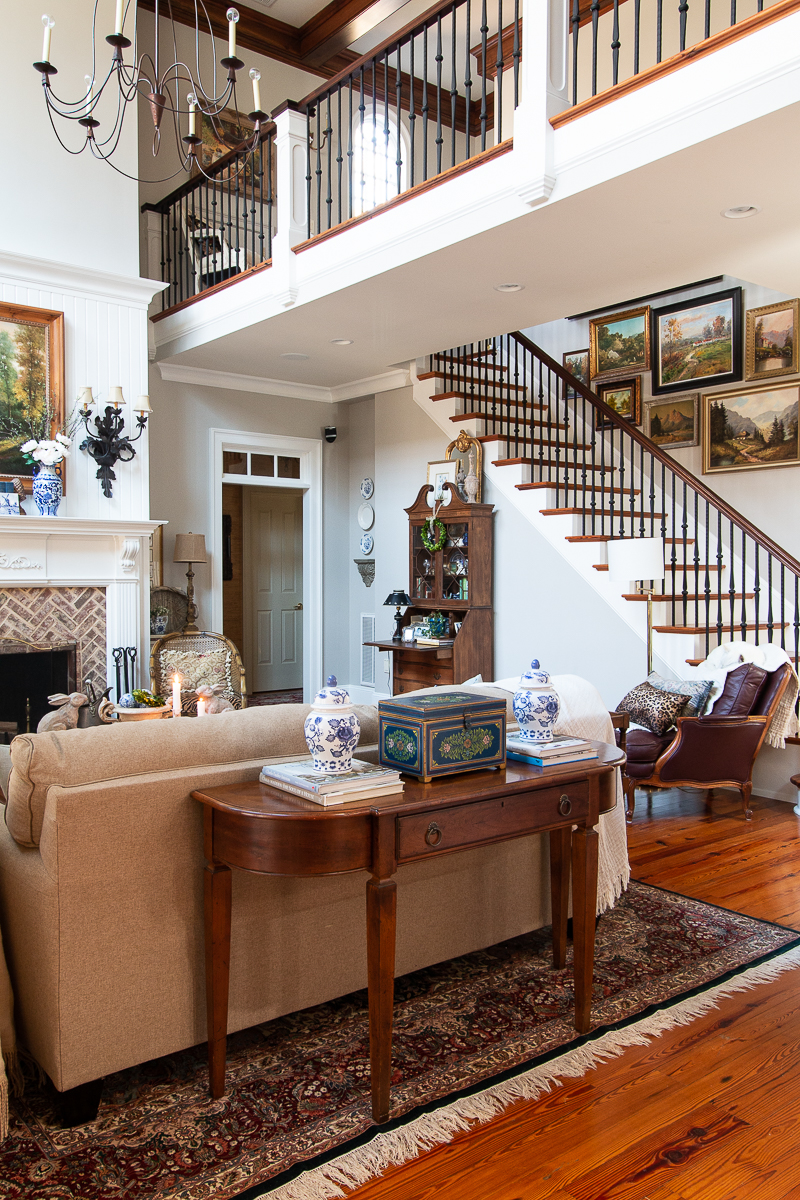 You'll find me visiting our bookshelves and removing the jackets to find the perfect ones to decorate with.
Did you know that you can buy sets of books in particular colorways! I love these in blue, green, and creamy white.
BLUE and WHITE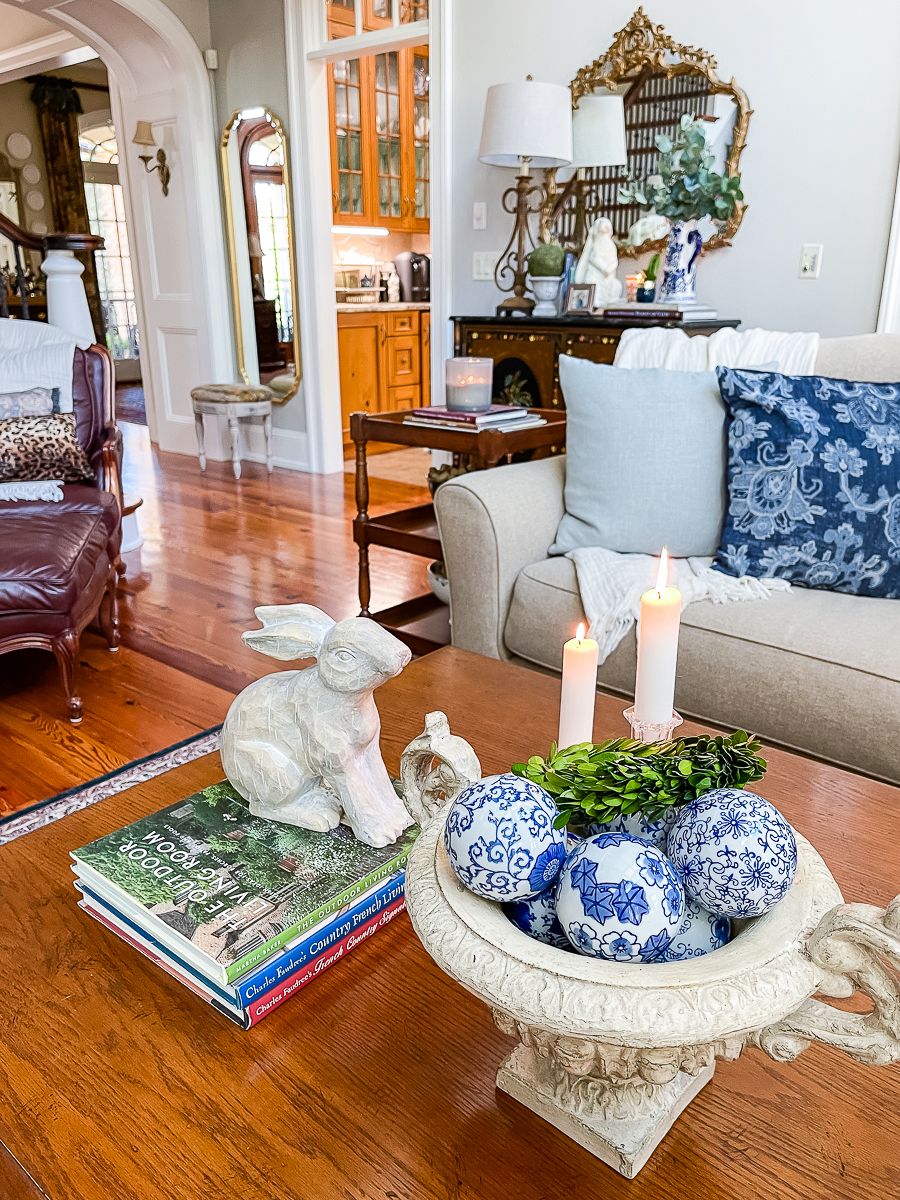 I've collected a few blue and white porcelain pieces through the years, but in recent years have grown to love it even more.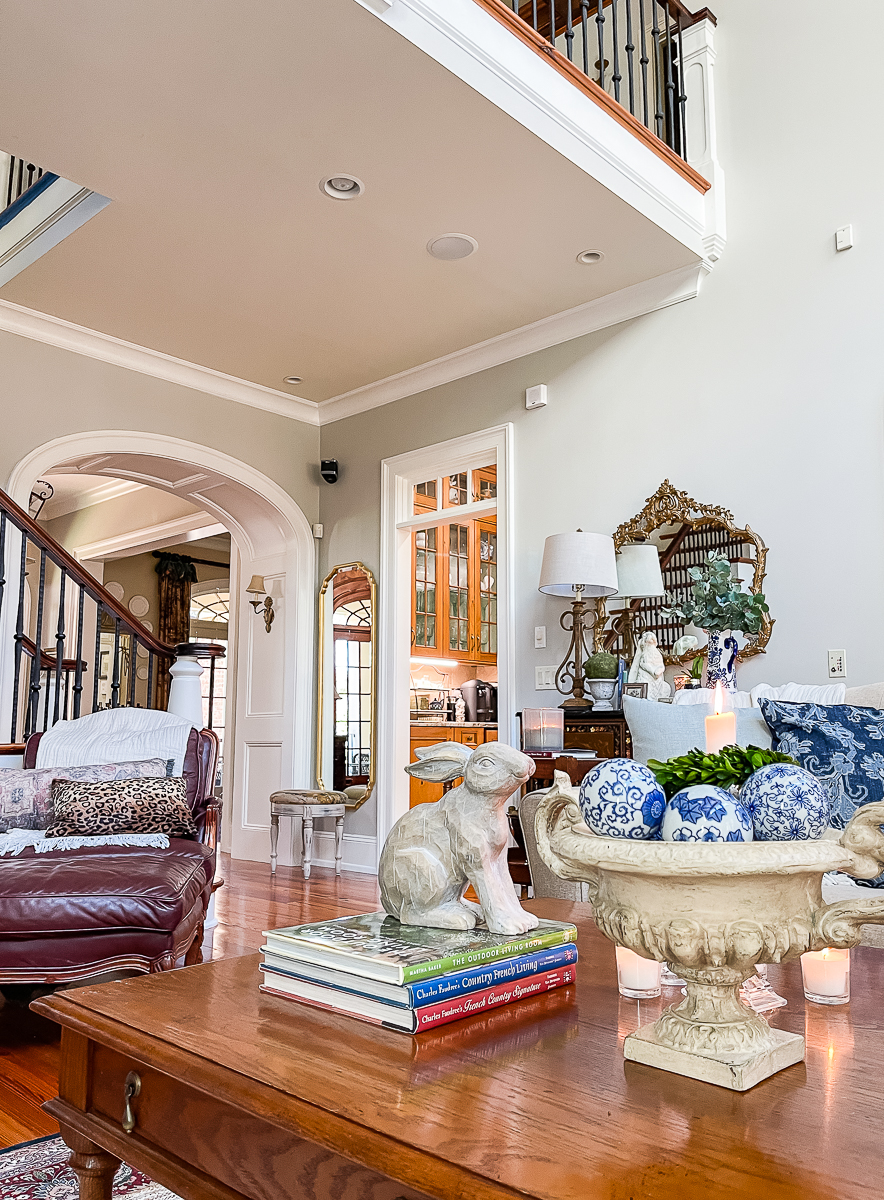 Blue and white is timeless and works so well in our own home.
It's the perfect way to add a traditional touch.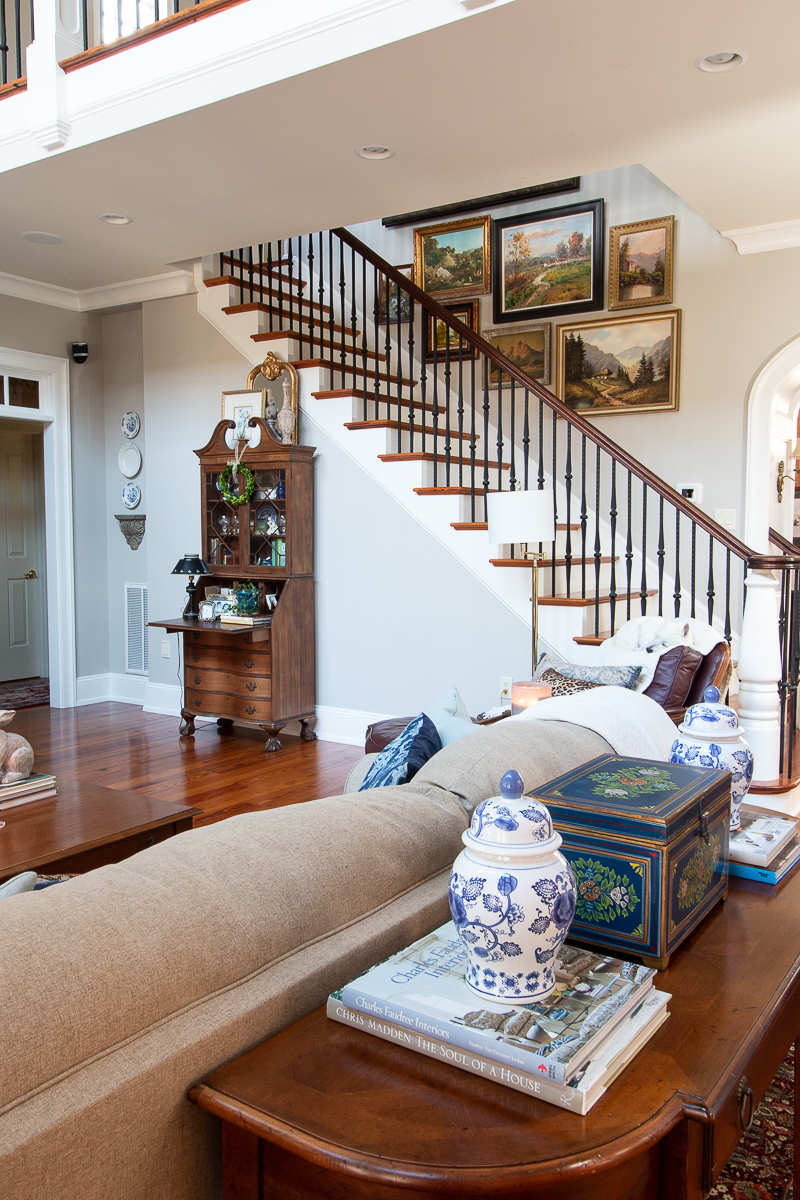 It works throughout each and every season.
I have yet to try a floral arrangement that didn't work in them.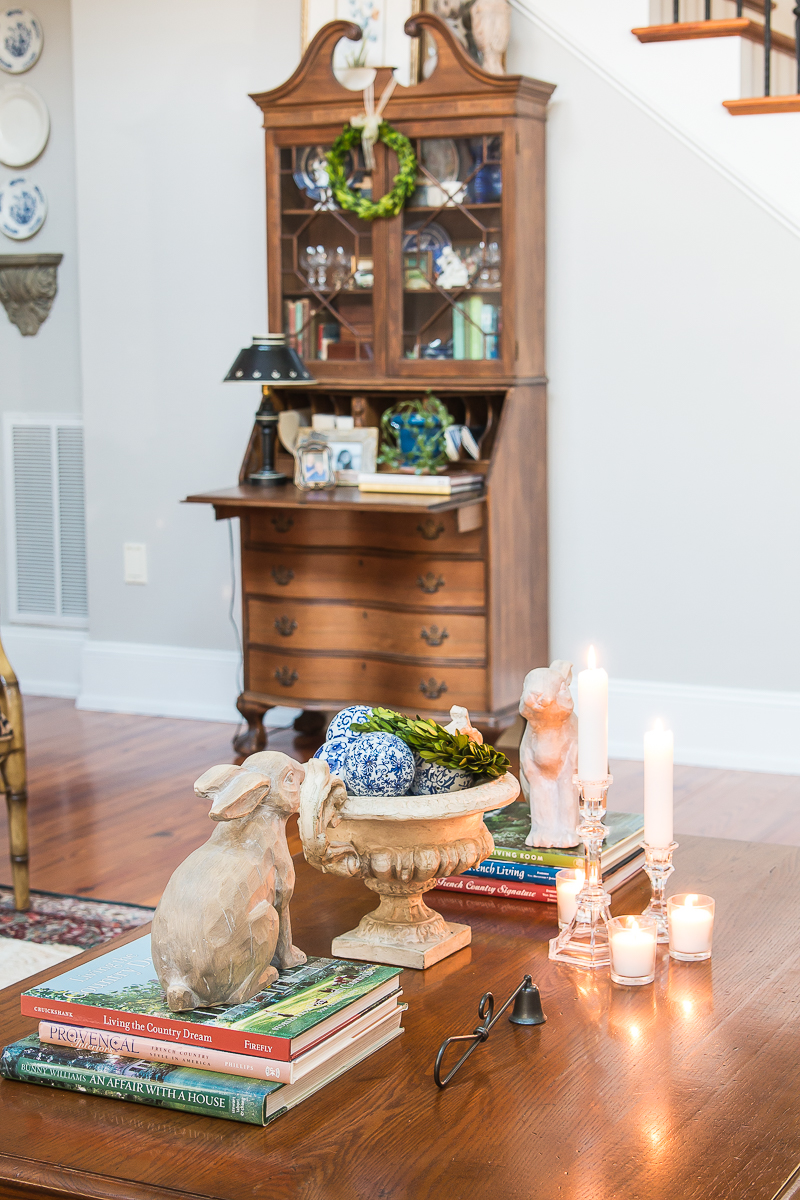 Most of my blue and white are from budget-friendly stores like HomeGoods, Tuesday Morning, Kohl's, Dollar General, vintage shops, and thrift stores!
In Conclusion
The easiest way to bring in simple changes is to first shop your home and use what you have!
Shopping my home is always the very first thing that I do when decorating.
This spring the only new item that I purchased for this room was the little wicker encased candle. It's a simple touch that really brightens up the entry table in the family room.
Always shop your home first. Do not be afraid to move items from one room to another for a new to your look.
Up next on today's tour is Cuckoo 4 Design.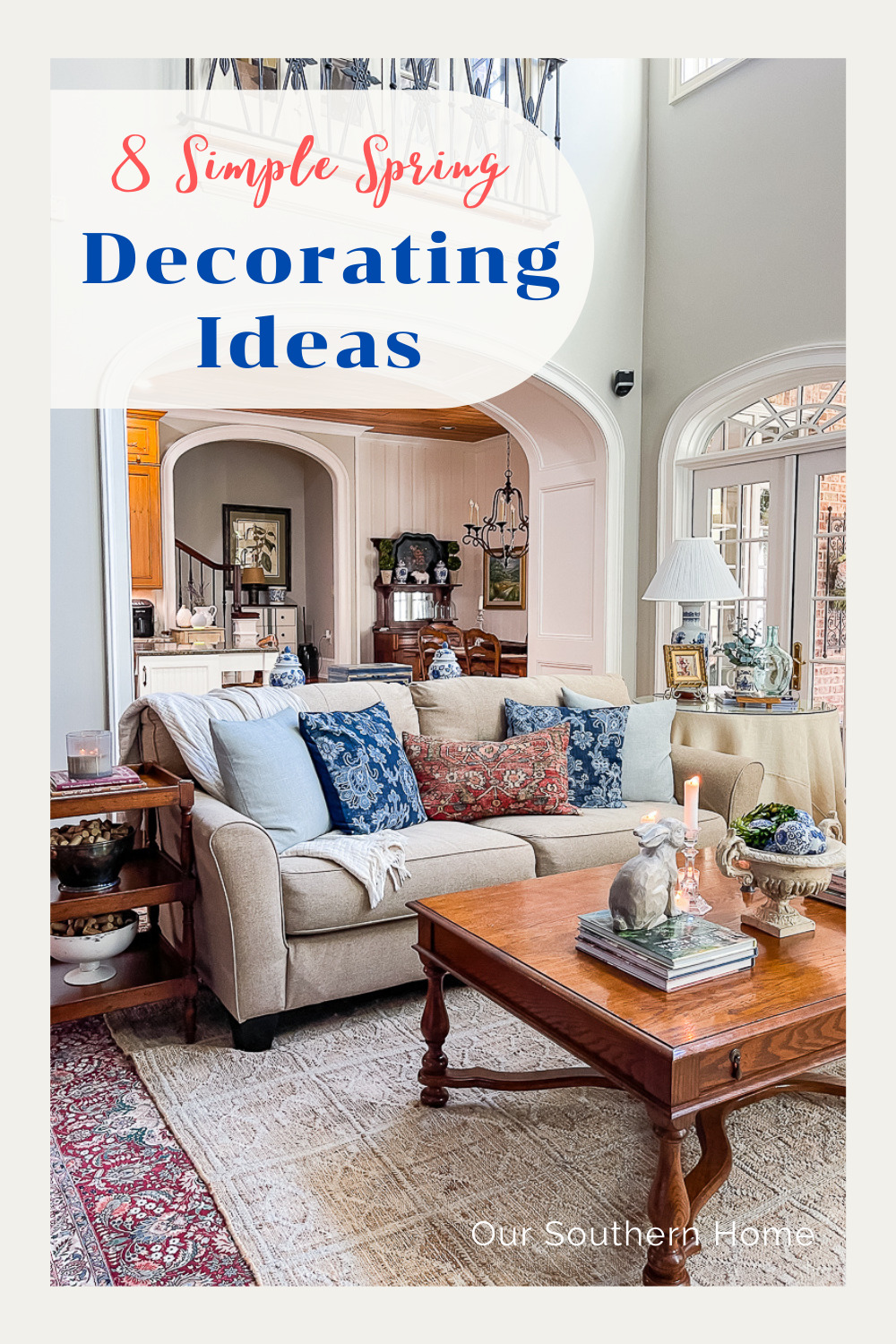 Check out the other spring tours!
Monday March 7th Lineup
A Stroll Thru Life – Thrifty and Chic – Chalking Up Success – White Arrows Home – Pink Peppermint Design – Worthing Court
Tuesday March 8th Lineup
Our Southern Home – Cuckoo4Design – Country Road 407 – Decor To Adore – RemodelaCasa – Calypso in the Country
Wednesday March 9th Lineup
Whispering Pines Homestead – Up to Date Interiors – The Stonybrook House – DIY Beautify – Southern Home & Hospitality – Dimples and Tangles
Thursday March 10th Lineup
CitrineLiving – Hymns and Verses – 11 Magnolia Lane – StoneGable – Southern Hospitality – This is our Bliss
Friday March 11 Lineup
Grace In My Space – Follow The Yellow Brick Home – Quarters One – My Wee Abode


Buffer