Faux Topiaries for the Front Porch
This post contains affiliate links. You pay no extra for purchasing through my links. The companies simple pay me a very small portion with each sale.
Faux Topiaries make my life easier!
First of all, I absolutely love to garden. Getting my hands in the dirt and watching those little guys grow is so gratifying.
BUT I sometimes fall short when it comes to keeping up with watering. I did install a simple drip irrigation system that I purchased on Amazon last year. It was so simple and really helped to keep the front porch area pots watered. I did not run it to the pots on either side of the door. I didn't want the tubing showing near the door. This is the main issue on keeping things alive in this spot. I've always had huge ferns here, but ready to move to something more constant.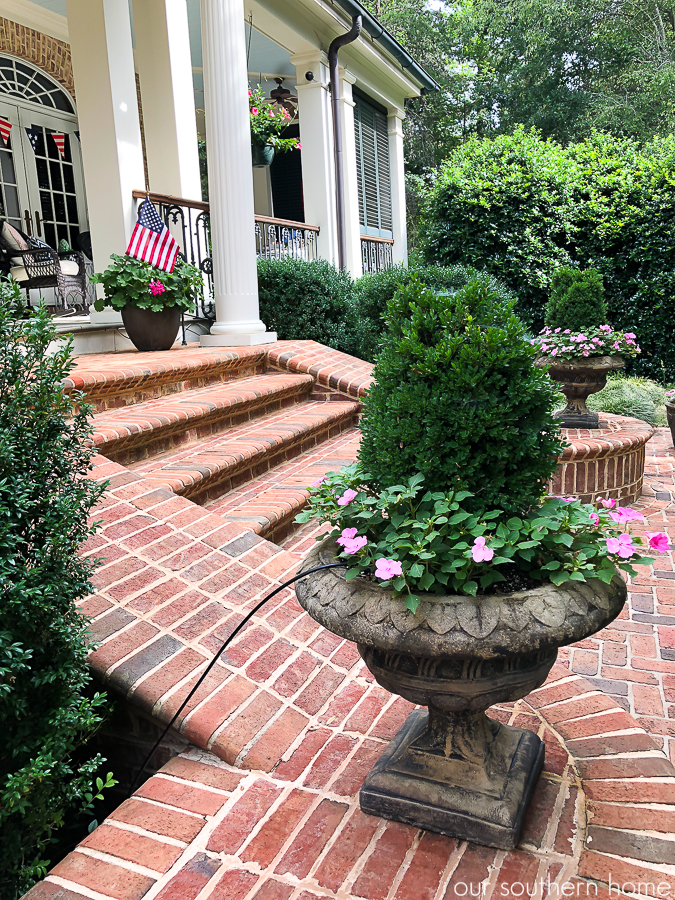 See the drip irrigation really has clean lines and can be hidden well.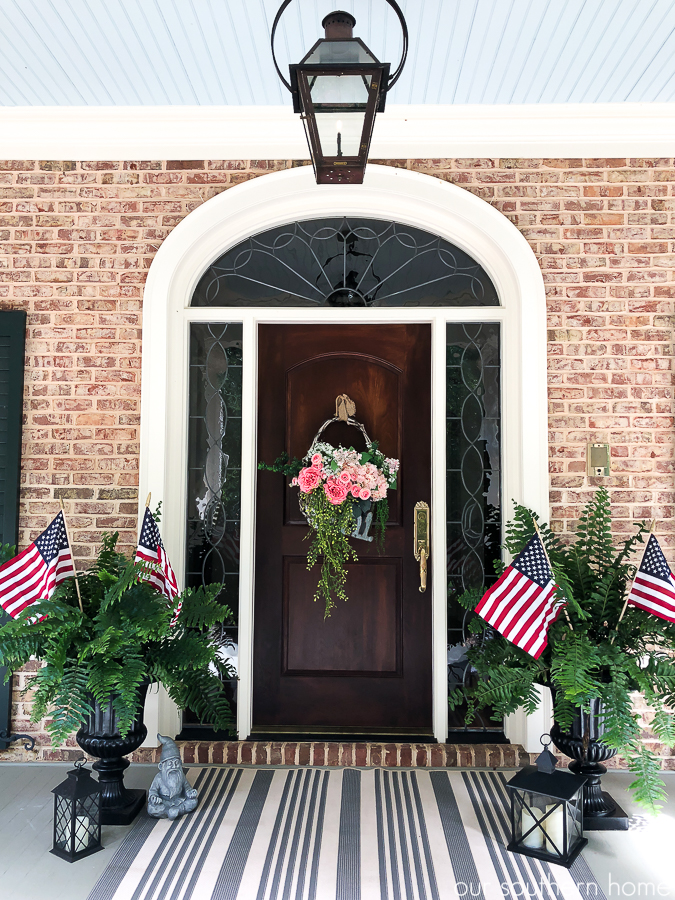 Don't get me wrong, I adore the look of the big lush ferns on the front porch. To give you a little perspective……it's still May and we are expecting temps of 97 on Friday through the weekend.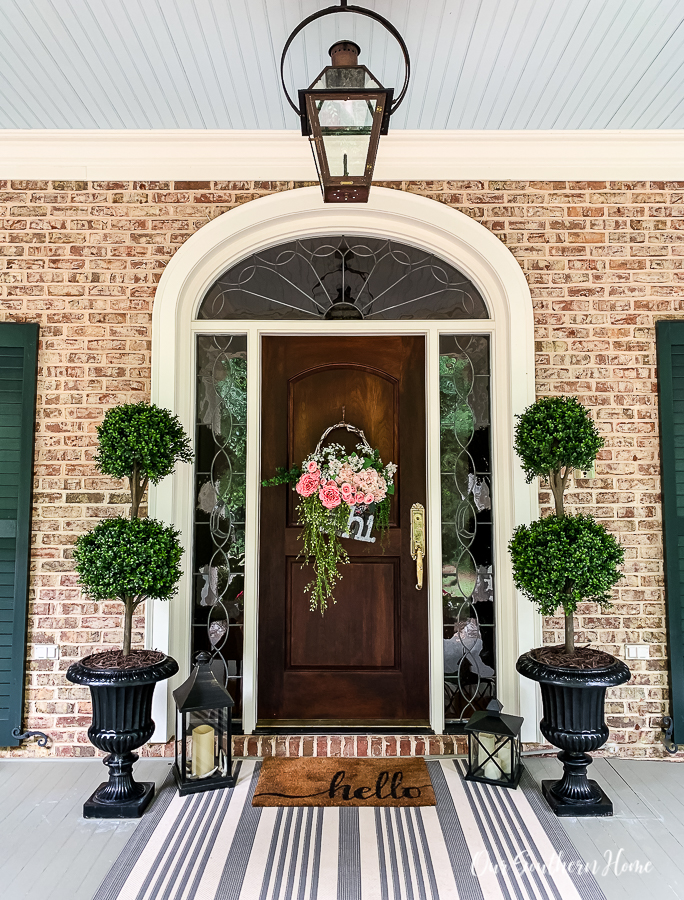 Rug | Similar Hello Mat | Similar Urns and HERE | Boxwood Faux Topiary | Similar Lanterns | Outdoor Faux Candles | Floral Wreath
These are the same urns that I have had for YEARS!!! They've gone through many spray paint touch ups. I love how grand and real these new topiaries look. Here is a great looking black urn. This is an excellent way to get instant curb appeal!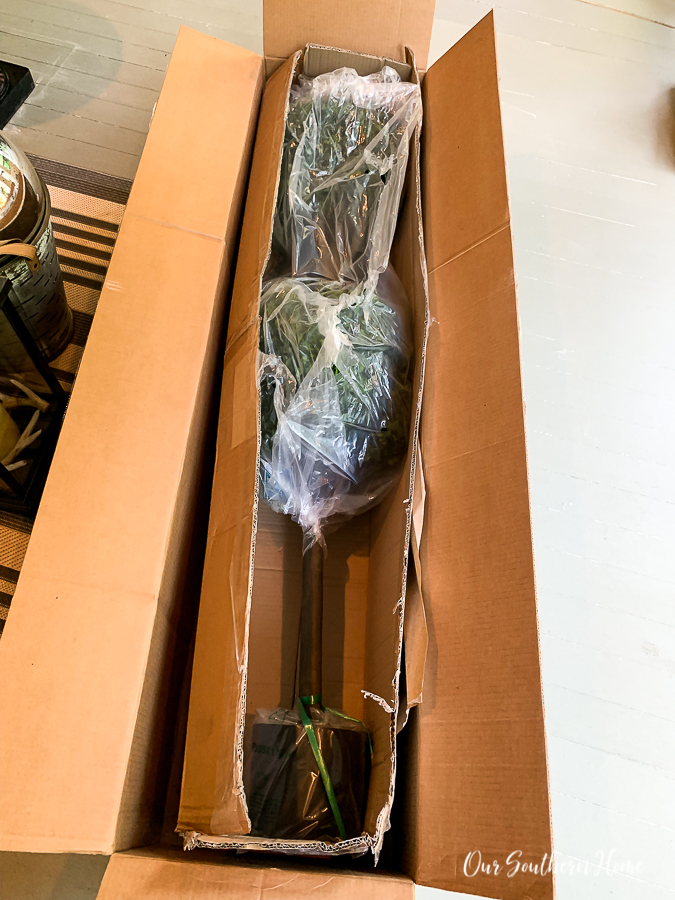 They took about 10 calendar days to get here, but so worth the wait! They came very securely packaged and double boxed.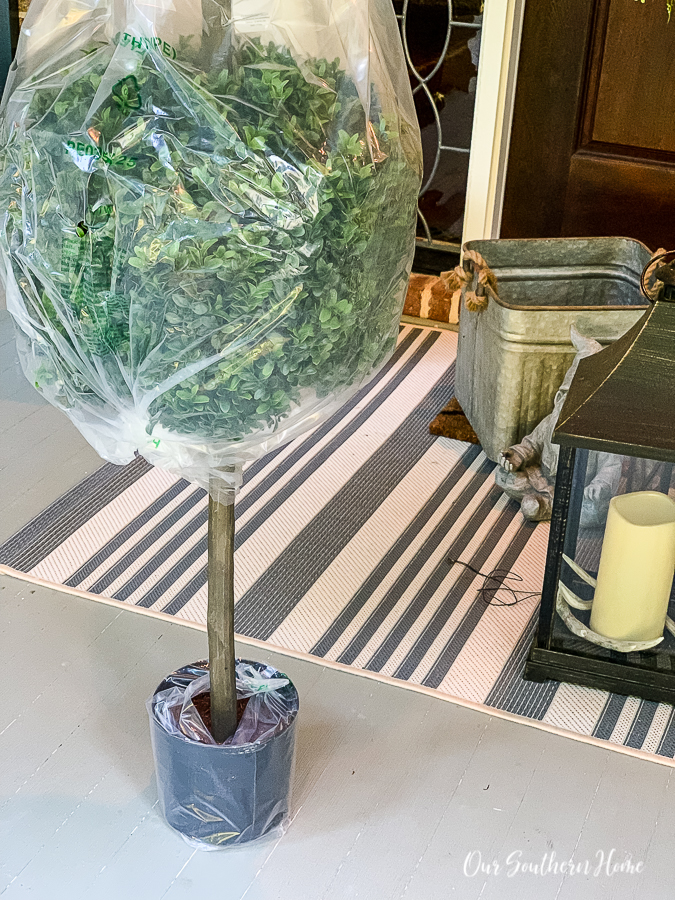 Each section was secured with plastic. They definitely have a weight to them. The base is a smaller plastic pot meant to place in something decorative.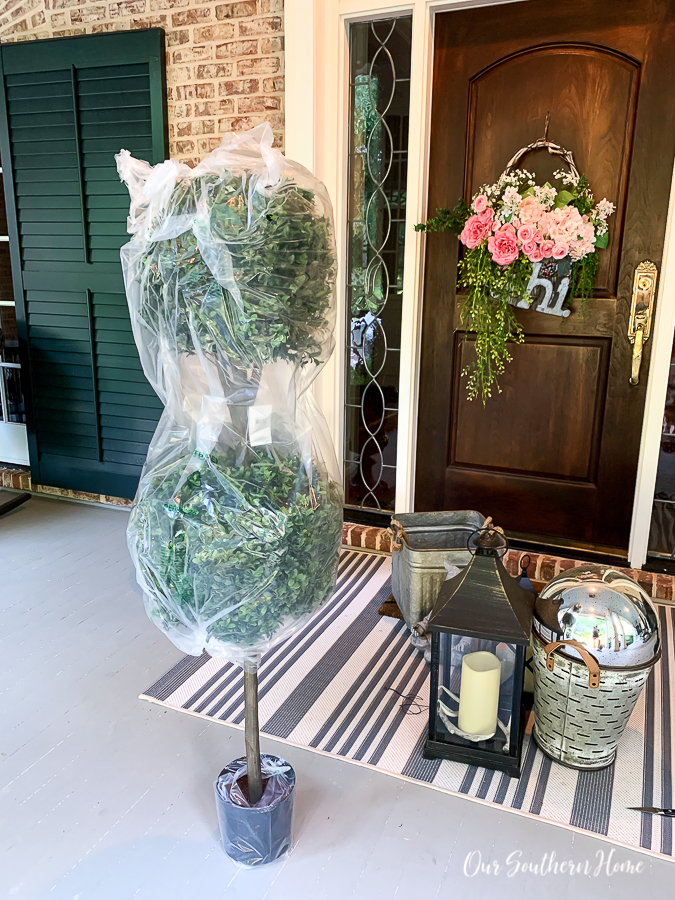 As you can see through the plastic, they required very minimal fluffing once I removed the plastic. I really only had to adjust the areas that were laid flat in the box.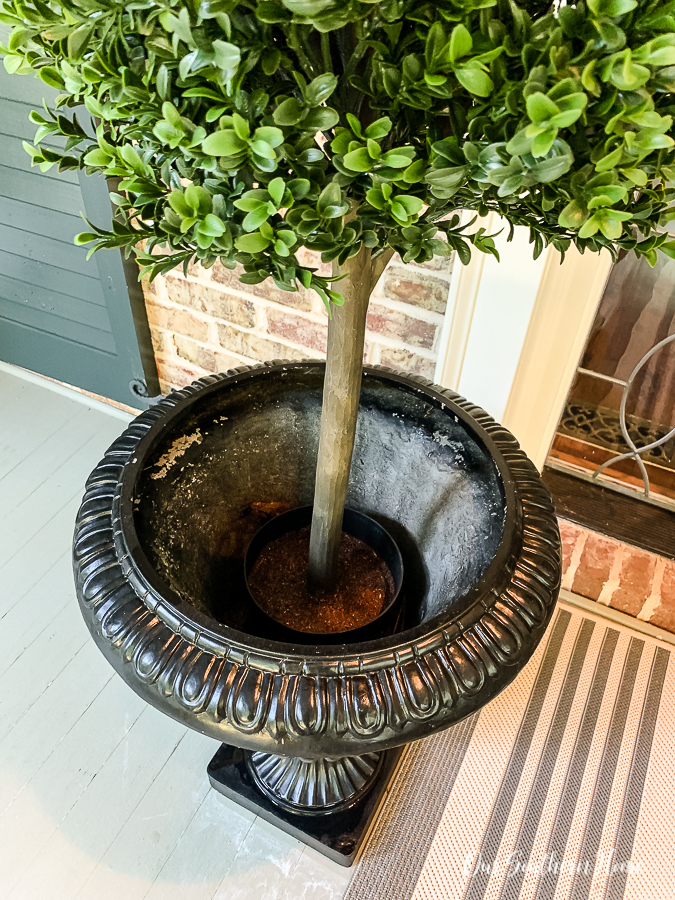 I had one brick in the bottom to raise up the ferns so I left it here. They work perfectly! I asked my husband to cut some wood shims to place around the pot in the urn to secure it. He suggested just buying a bag of sand instead. So we went with that. It worked!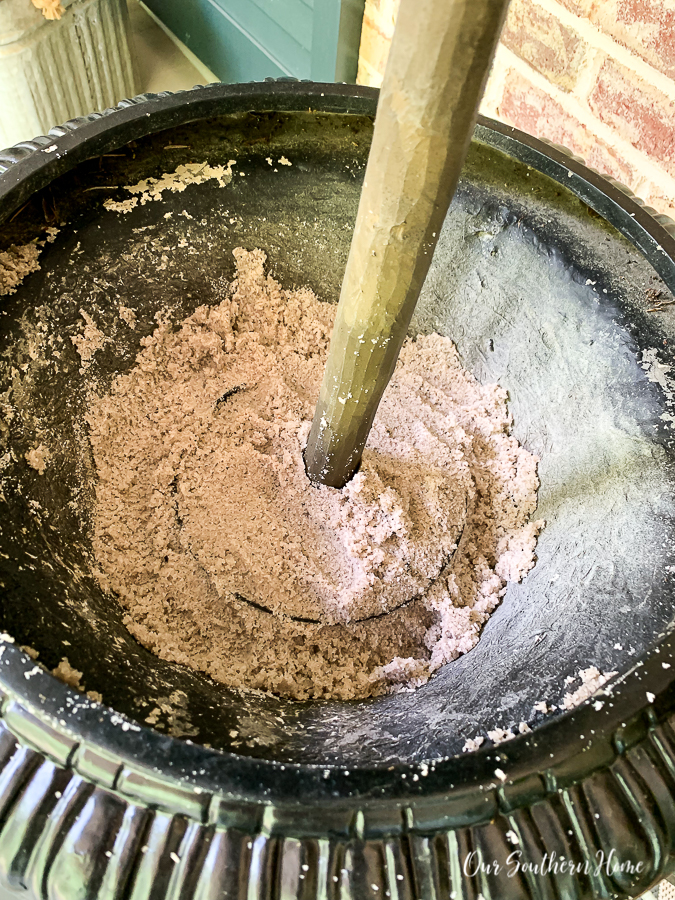 I poured a 50 pound bag of all-purpose sand was used for both pots (not play sand). I really packed it around the pots to secure them from flopping around. I added a couple more pieces of broken bricks around the top really just to fill the space. I'm really glad that we used the sand to add some weight. They've never blown over.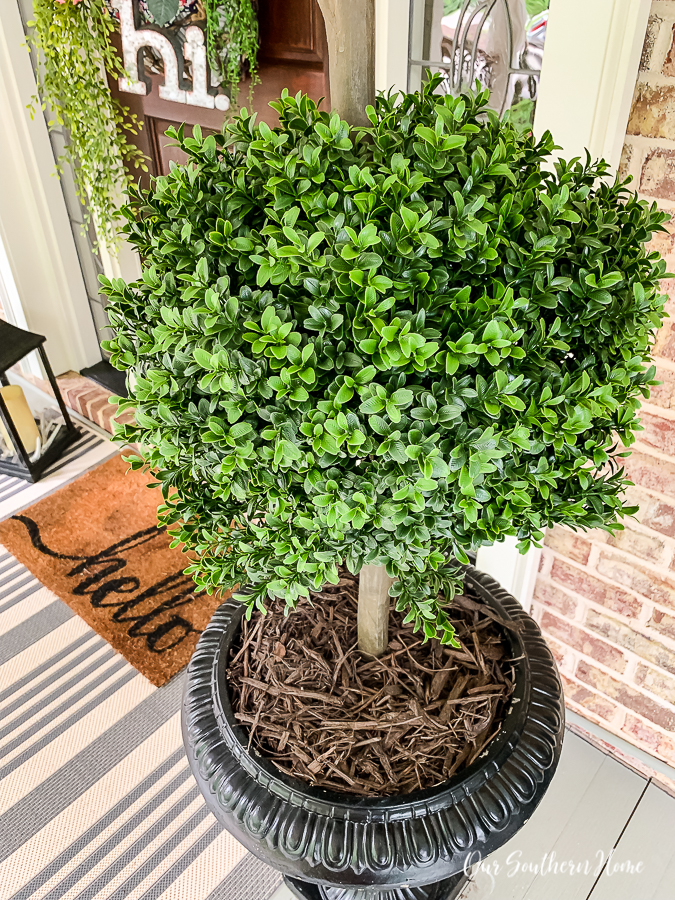 Lastly, we topped off the remaining space with bark. I think for the holidays, I'll remove a little bark and add pumpkins, ornaments and possibly Easter eggs for the occasions.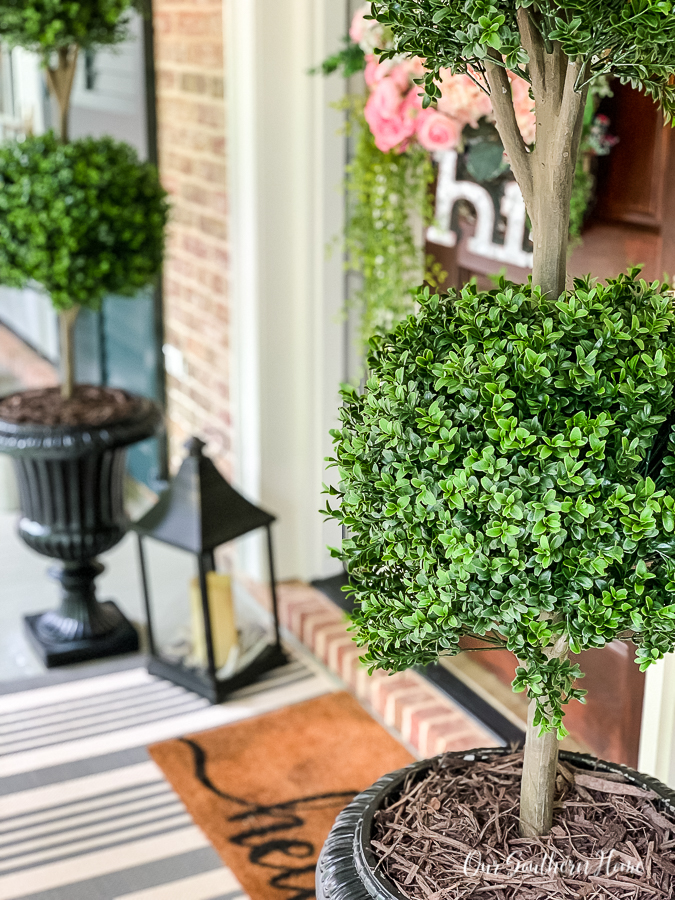 We absolutely adore the new look. They have created such a striking entrance and look fabulous on the walk up from the brick walk.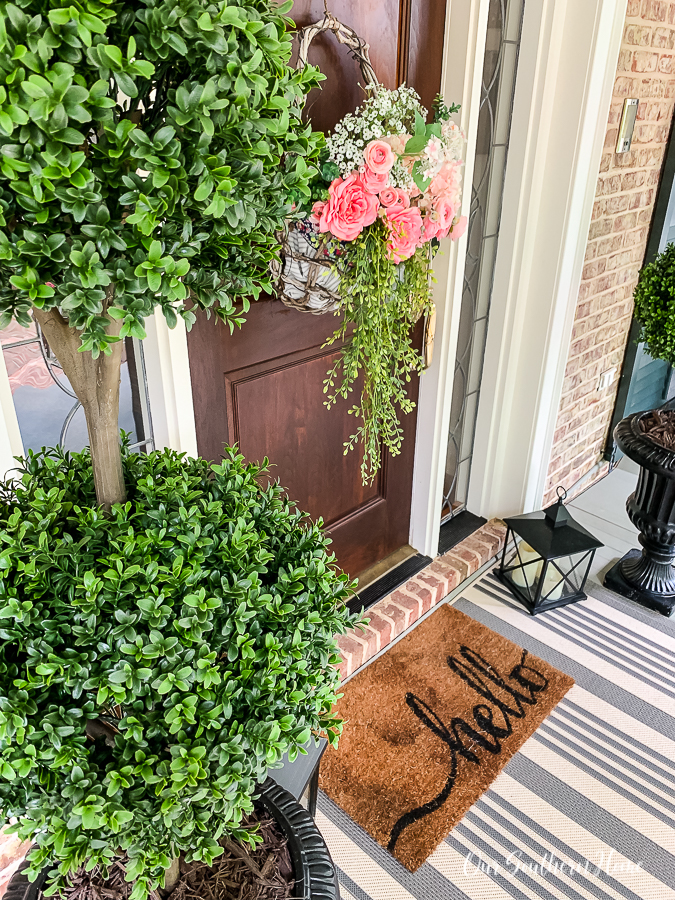 They are not real, so I didn't expect them to look totally real. They are not silk, but plastic. Honestly, you really just don't notice it.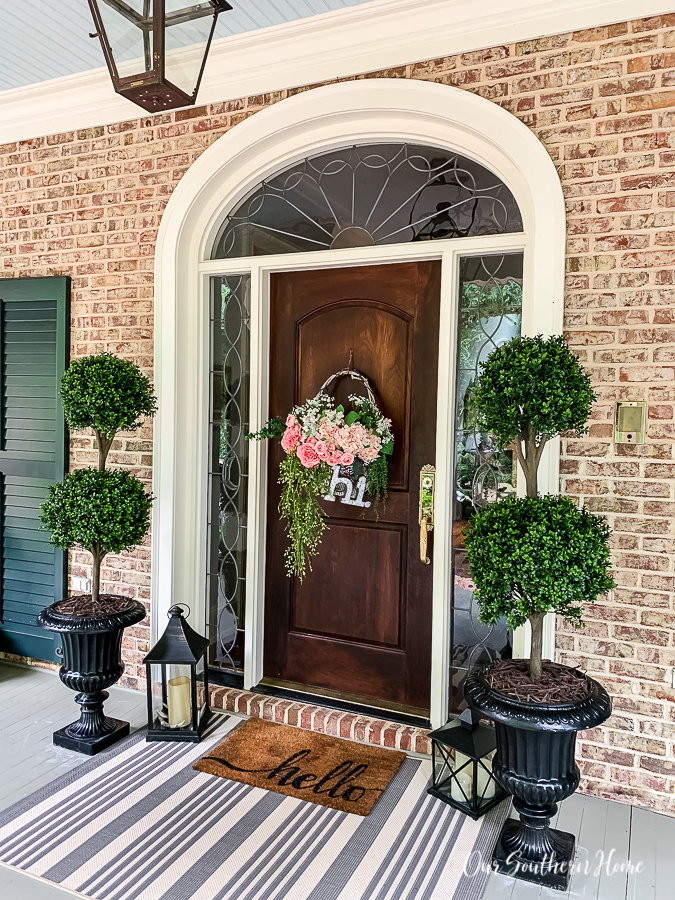 They truly give off a realistic look.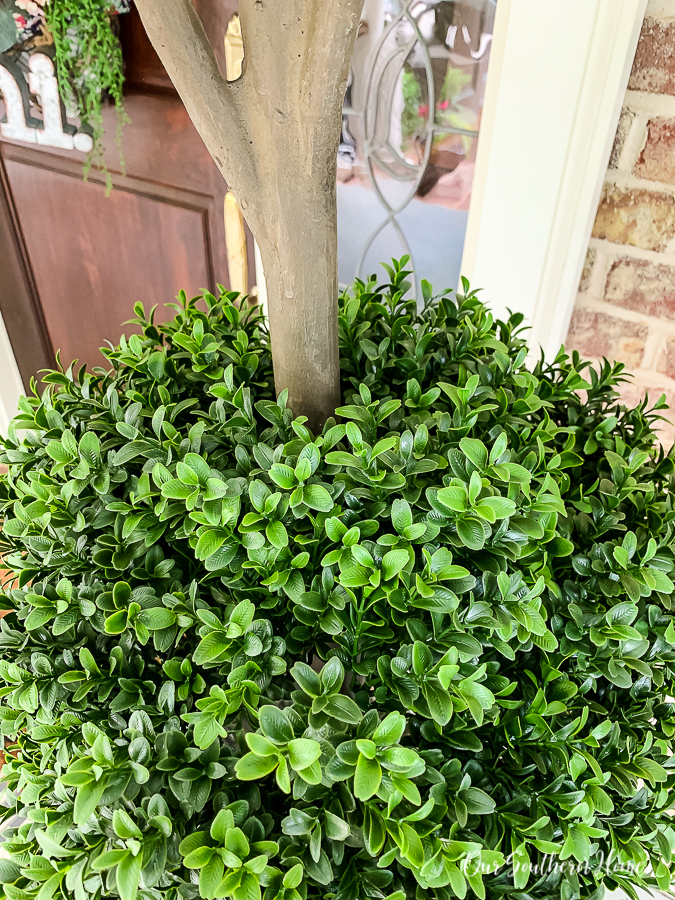 The trunks are fabulous. They look very realistic and love the way they branch out in areas like a real tree would be.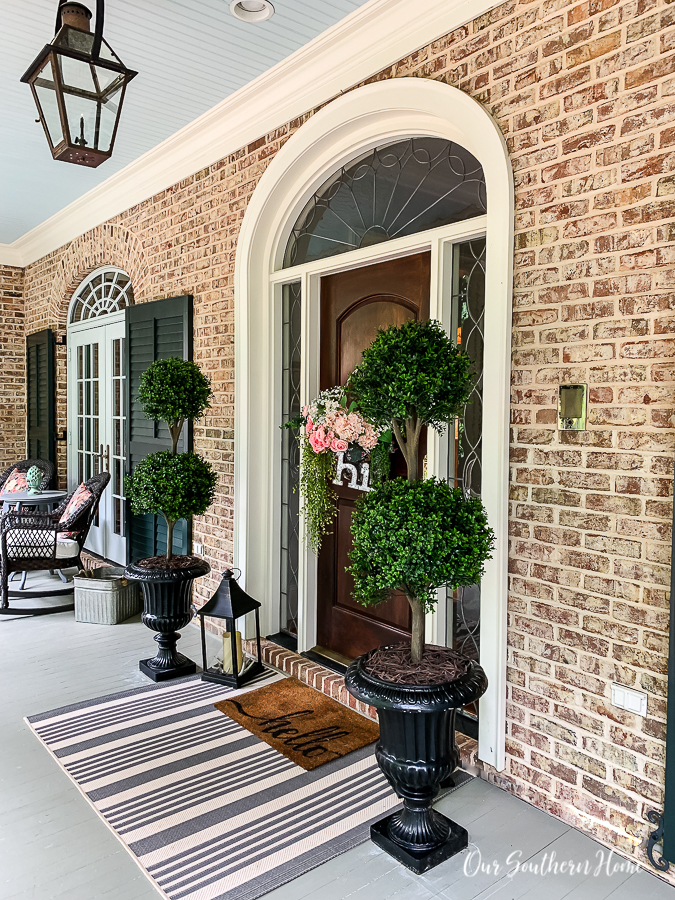 That striped rug is on its 3rd year here and truly the best outdoor rug! It cleans so well…..I've even pressure washed it!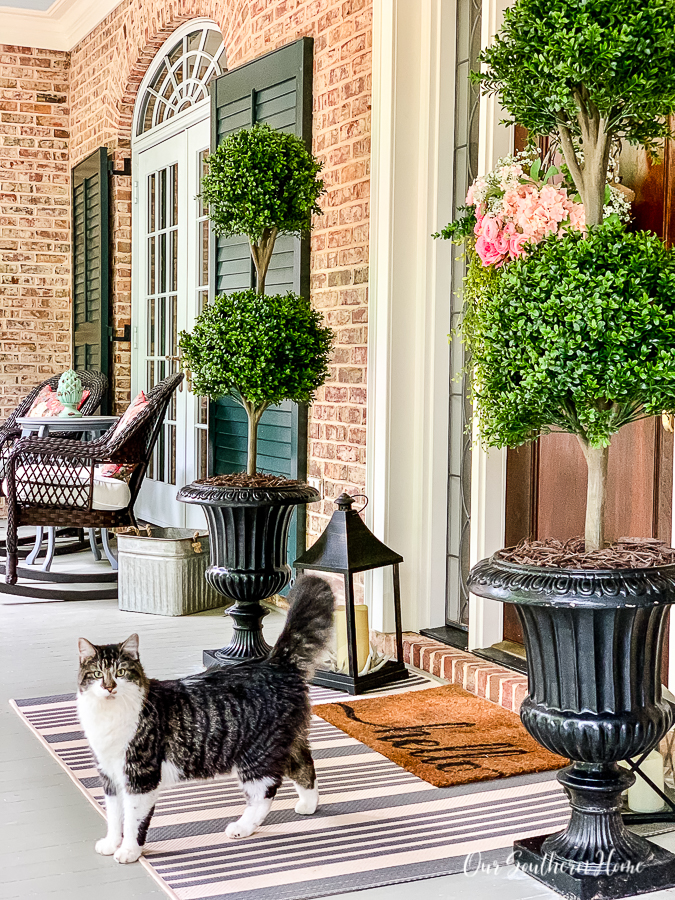 I adore how neat and fresh the space feels.
Jack certainly approves of the new entrance look!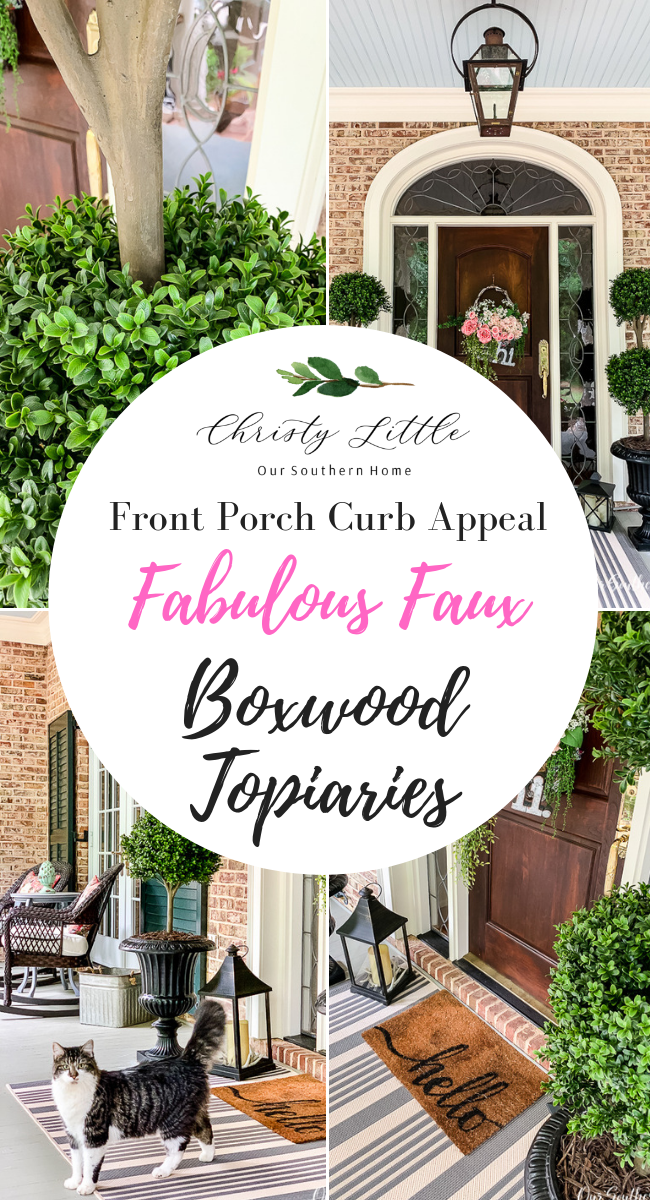 To give a bit of an update on the post
We have now had the topiaries for a year, and they still look fabulous! They are our favorite Amazon purchase. Here are a few pics of it over the last year.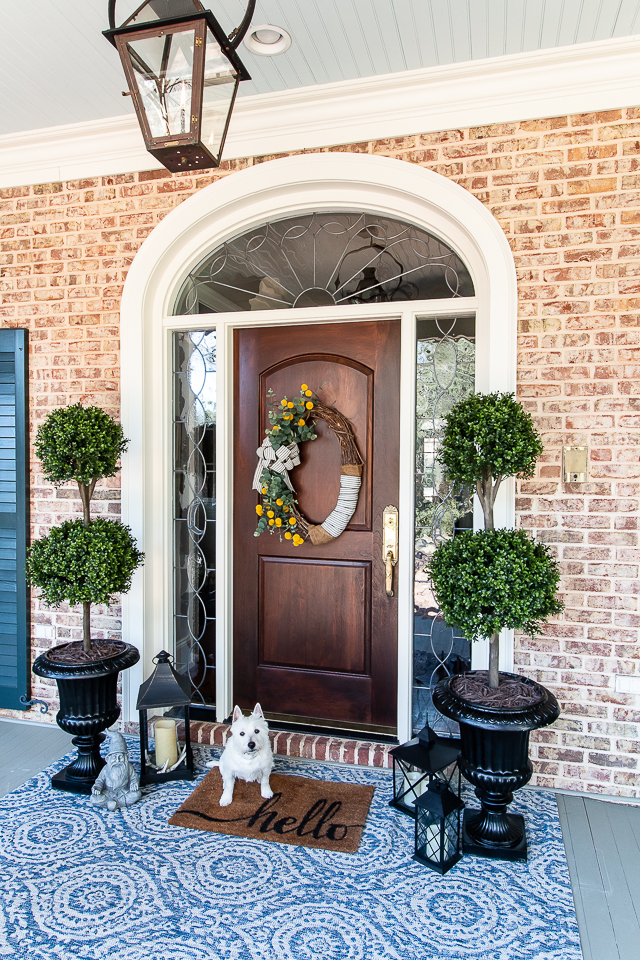 Isn't this rug a beauty! I'm really into all things blue these days and it really brightens up the space. I went a bit larger with this rug from Boutique Rugs. It's perfect for our spring and summer porch this year. The striped rug is now on the screened porch.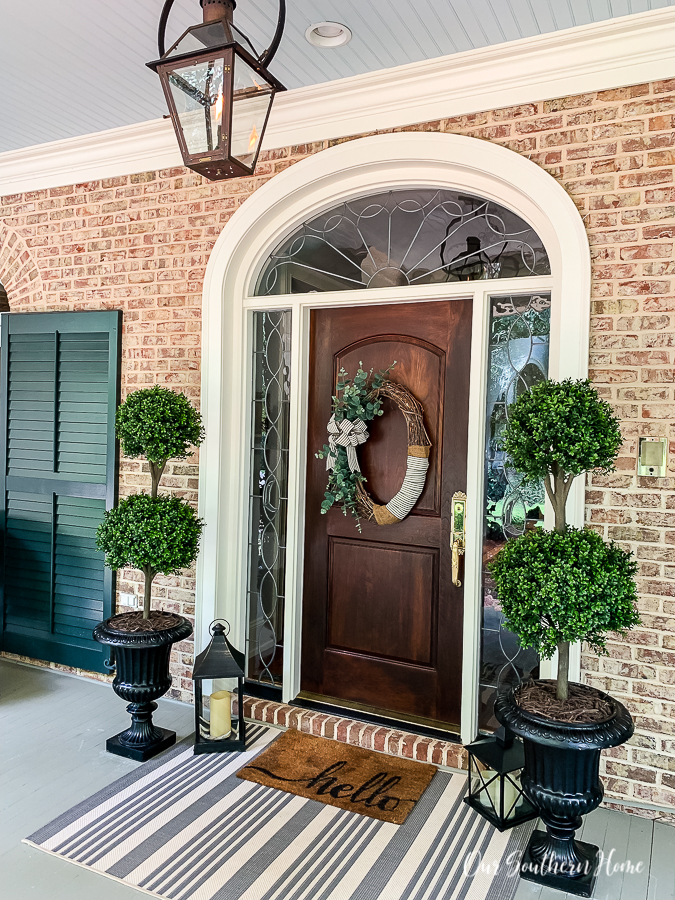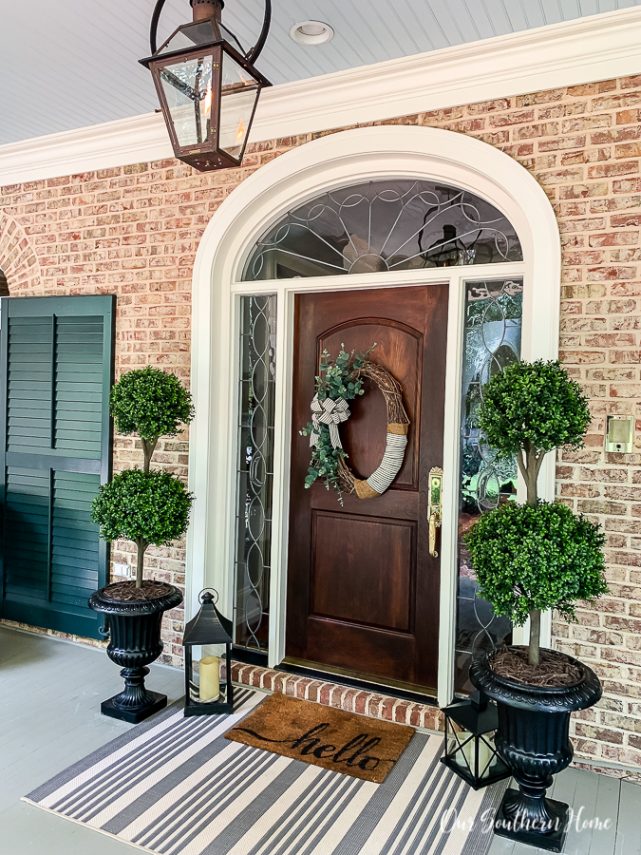 The porch stayed simple for late summer through fall.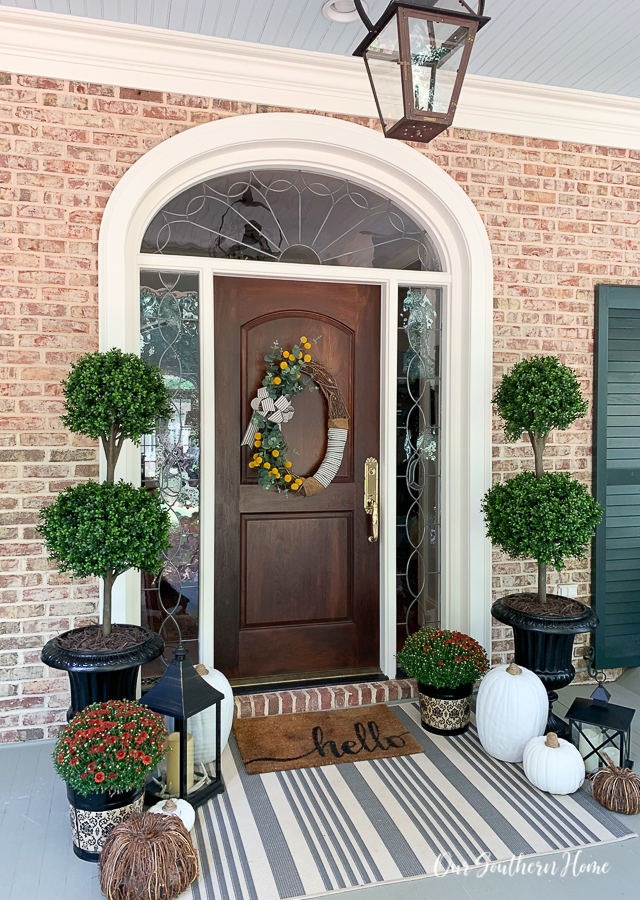 The topiaries blended beautifully with all things fall.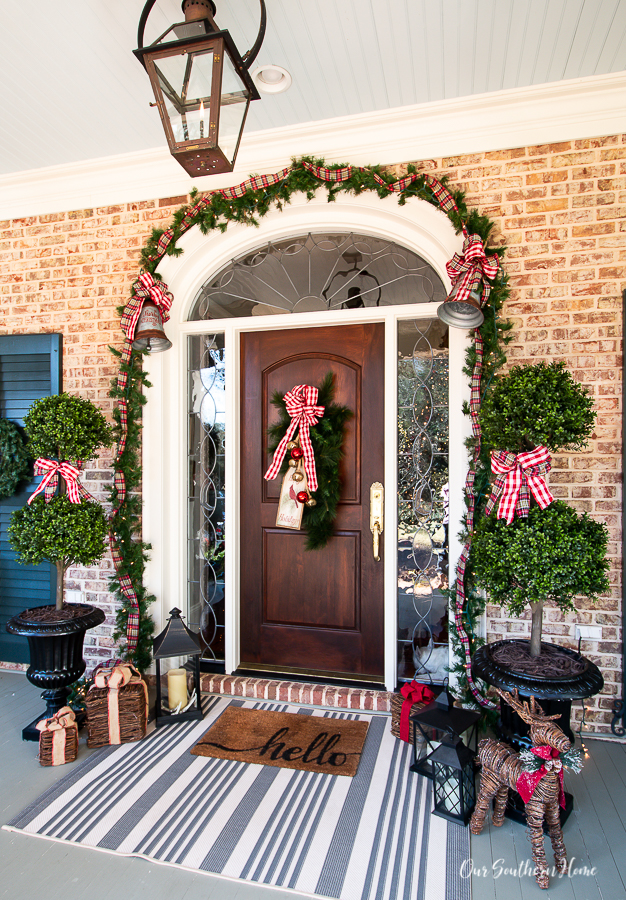 They looked festive with the Christmas decor. The trunks handle large ribbon nicely for the holidays.
For us, these topiaries have been a great investment. They always look great, and we don't have to worry about watering anything on the porch. I am all about low maintenance on the porch.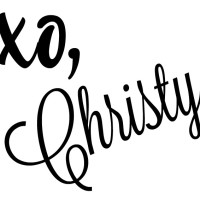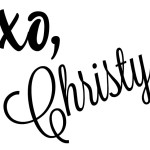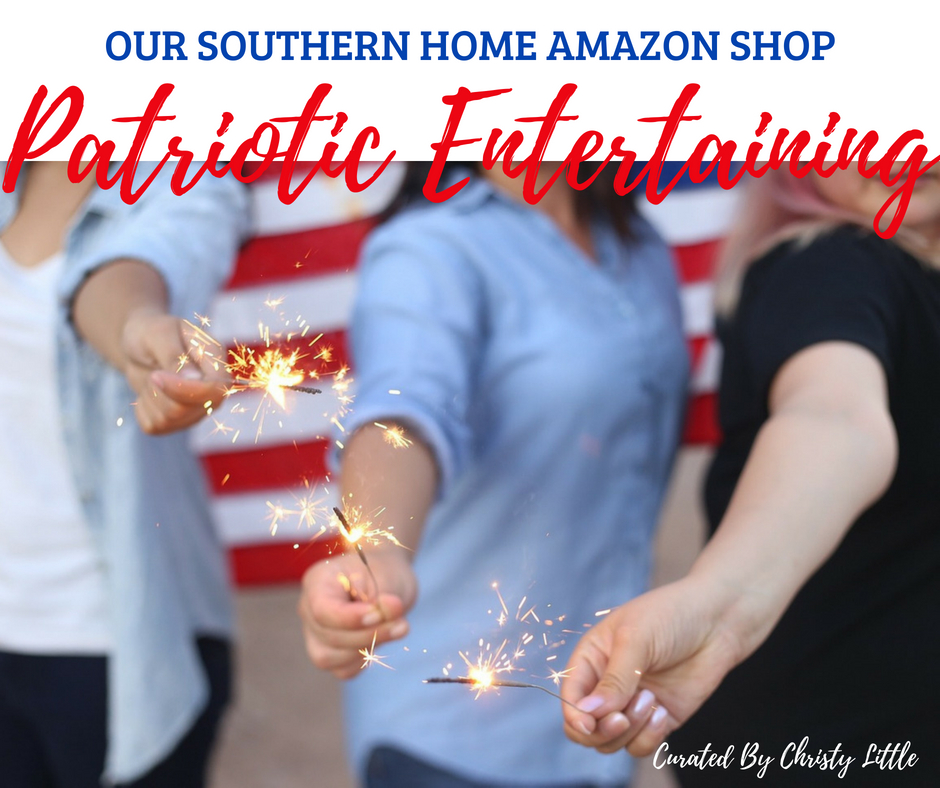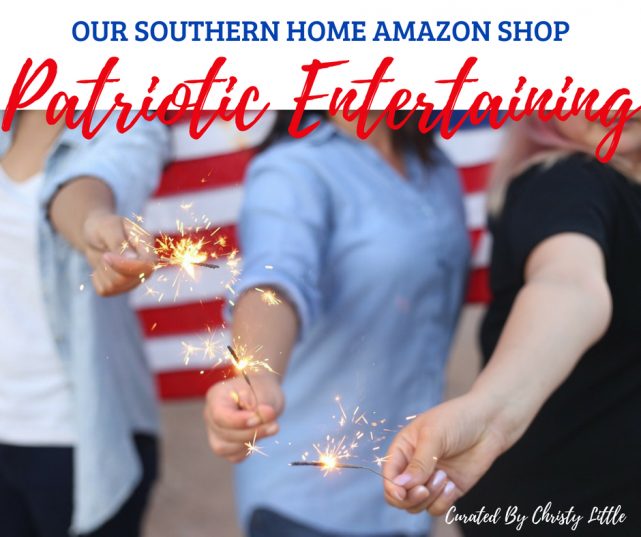 Click above photo to go to my Amazon Shop and see my Patriotic Picks!
Buffer