Simply Spring Casual Decorating
Simply Spring Casual Decorating with beautiful ideas from this month's Pinterest Challenge. Create this look with decor you may already own.
Latest from OSH
You will find a handy SHOP THE POST graphic at the end of this post with clickable photos.
Simply Spring Casual Decorating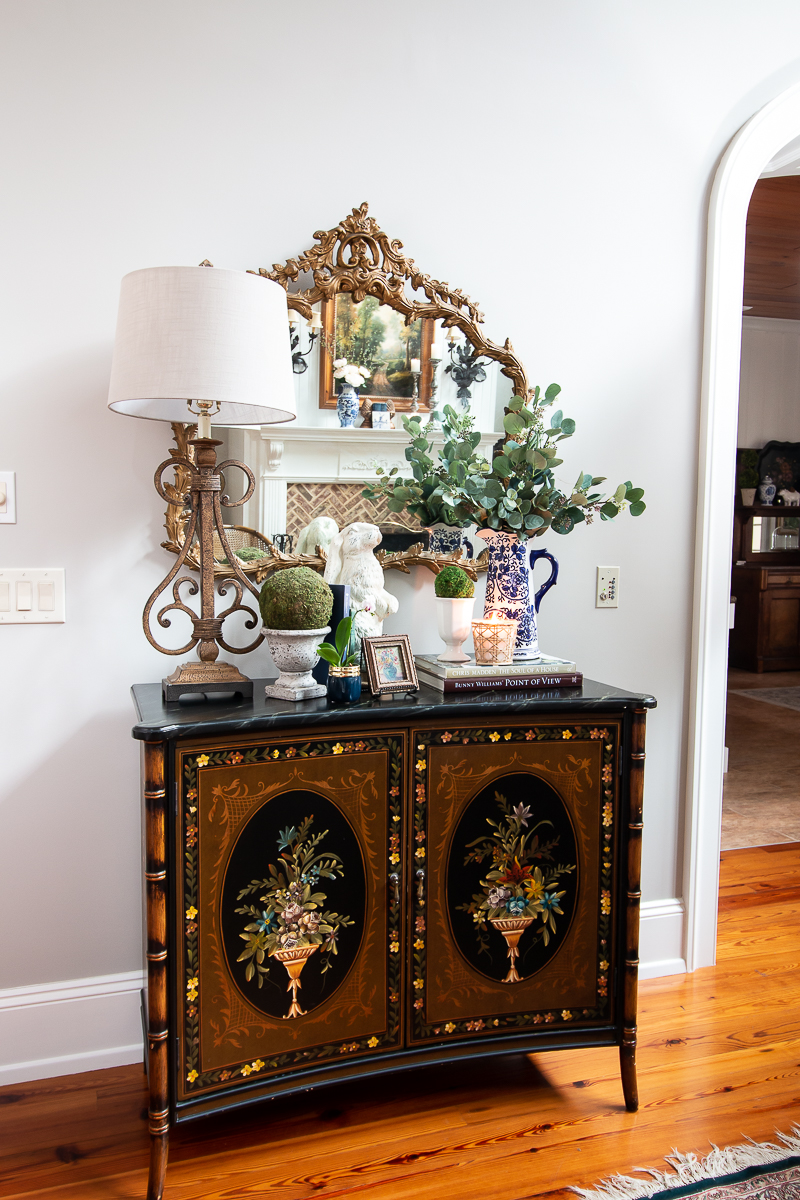 It's still a bit chilly here in the south, but warmer days are definitely closing in on us. We've had a few days with a nice little taste of warm sunshine.
I'm ready! We had one fabulous snowstorm. It was the best we've had in a while. Now that we've enjoyed that, I'm kind of getting ready for outdoor living.
BE SURE TO FOLLOW TO THE END OF THE POST WHERE YOU WILL FIND A LIST OF ALL THE BLOGS ON TODAY'S TOUR AS WELL AS MY SHOP THE POST FOR THIS SPRING LOOK. YOU'LL ALSO FIND ITEMS LISTED UNDER THE PHOTOS.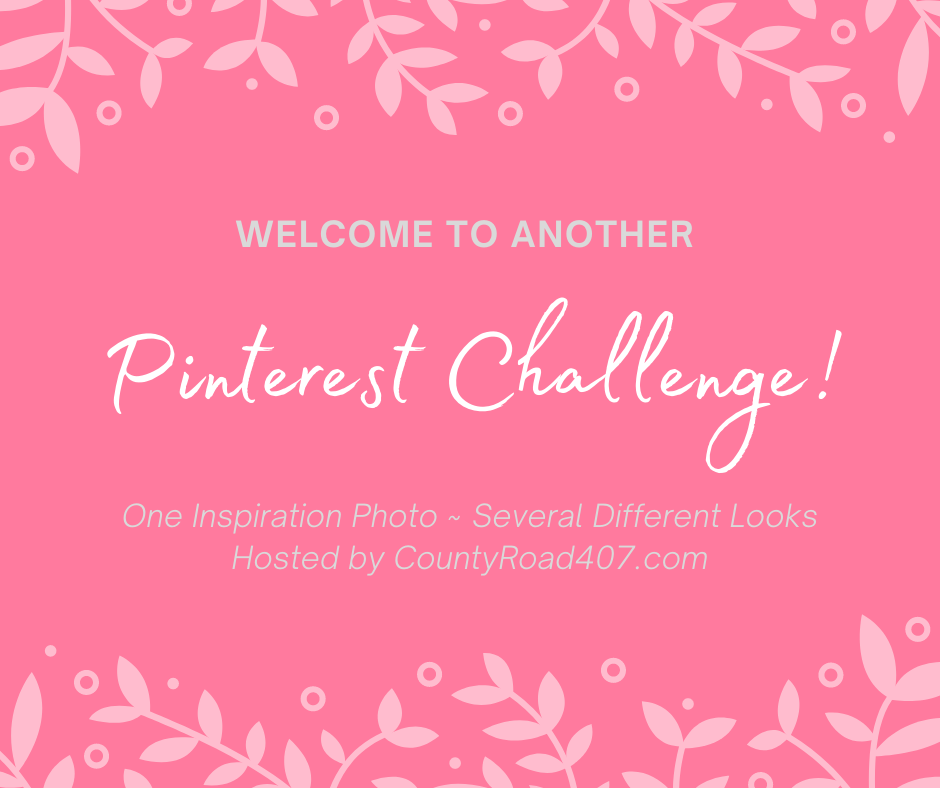 A big thank you to my friend, Cindy, from County Road 407 for organizing this fun tour for us each and every month. Be sure to give her beautiful site a visit.
Each month she selects a photo for inspiration. We then recreate the look with our own spin. This month is a favorite for sure!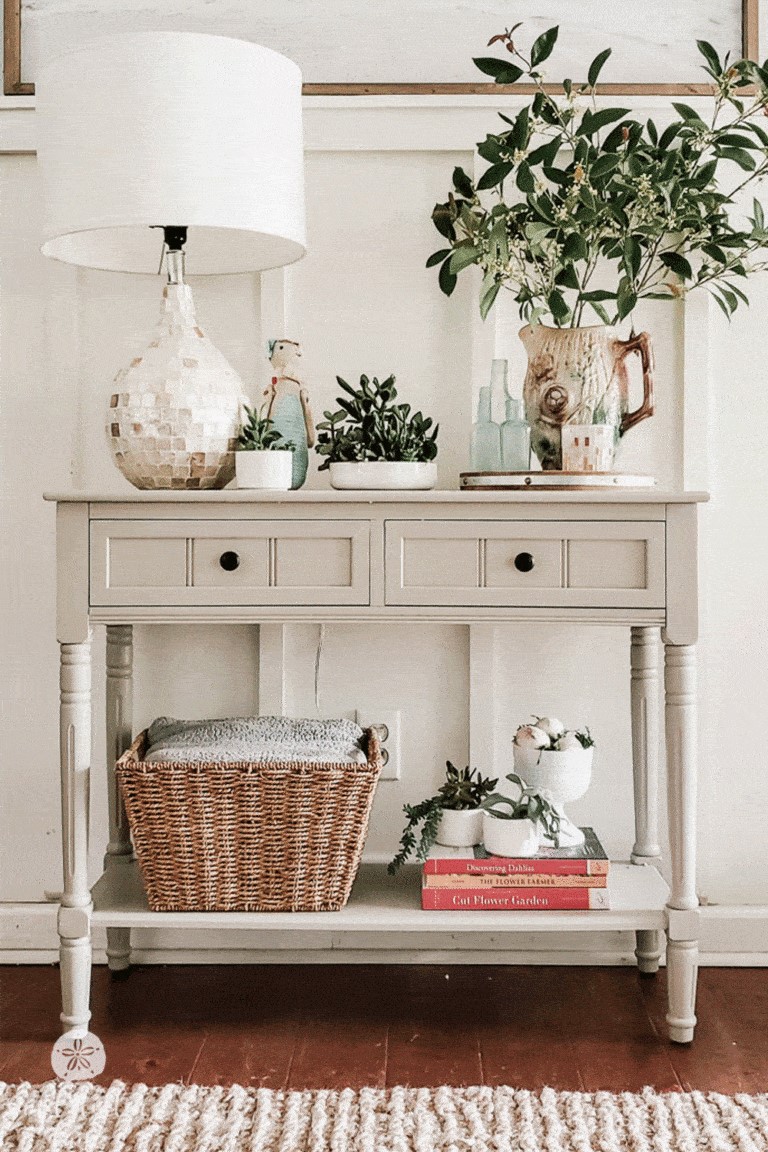 I really love a table like this with open shelving at the bottom. It's beautifully decorated for spring from Sand Dollar Lane.
Be sure to visit Leen and her gorgeous blog.
Inspiration Takeaway
1 larger lamp
Pitcher with greenery
Rabbit statue
Wicker element
Books
Candle
Additional vessels with greenery
If you are stopping by today from my sweet friend, Kim, over at Shiplap and Shells….welcome! Kim's home and gardens are a treat for the eyes.
Let's chat about the breakdown of my version of this month's Pinterest Challenge.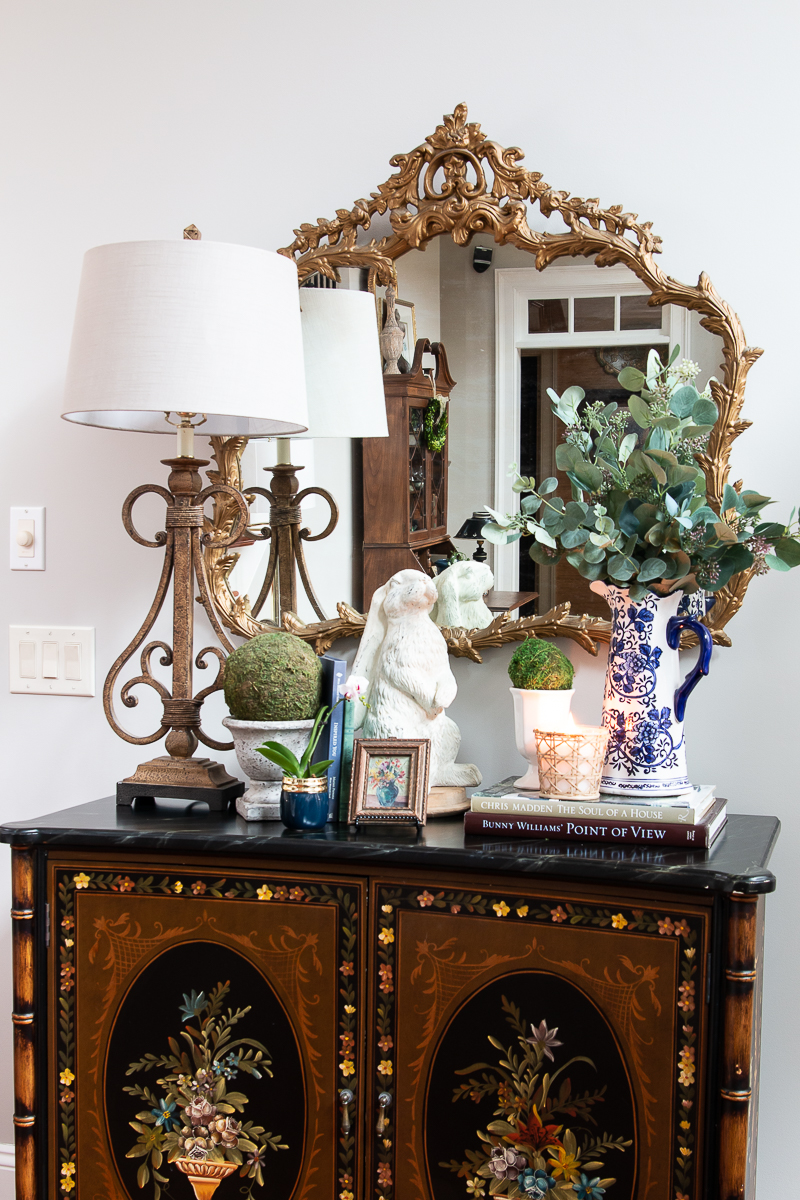 My children are older now and soon to be married. I used to decorate with lots of cute Easter decor. In recent years, I have gravitated to just adding a few seasonal touches.
Of course, nothing says spring like a rabbit statue. You won't believe what this rabbit used to look like! See the before, and the details on the simple makeover HERE.
This table acts as an entry table for us. Our foyer is completely open. This is the first piece of furniture that you see as you look straight ahead as you enter the front door.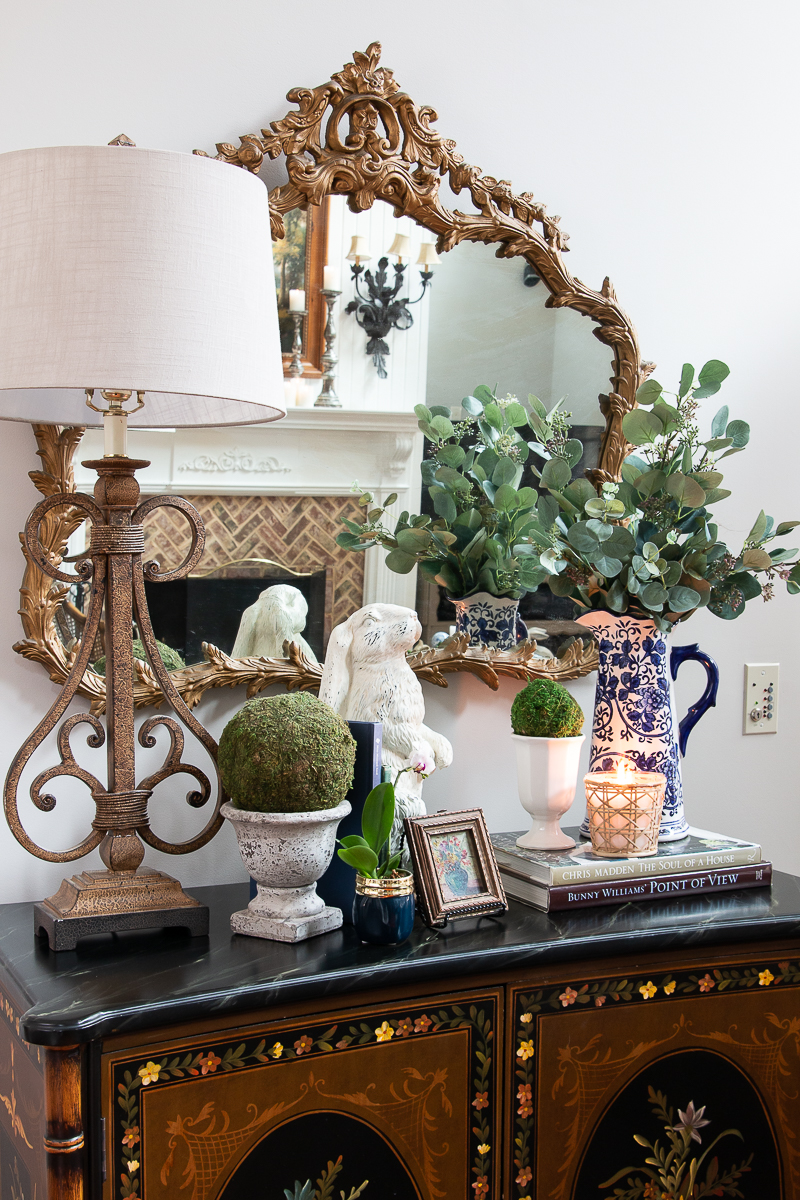 To create this look, I had to change out my pair of lamps that are usually here,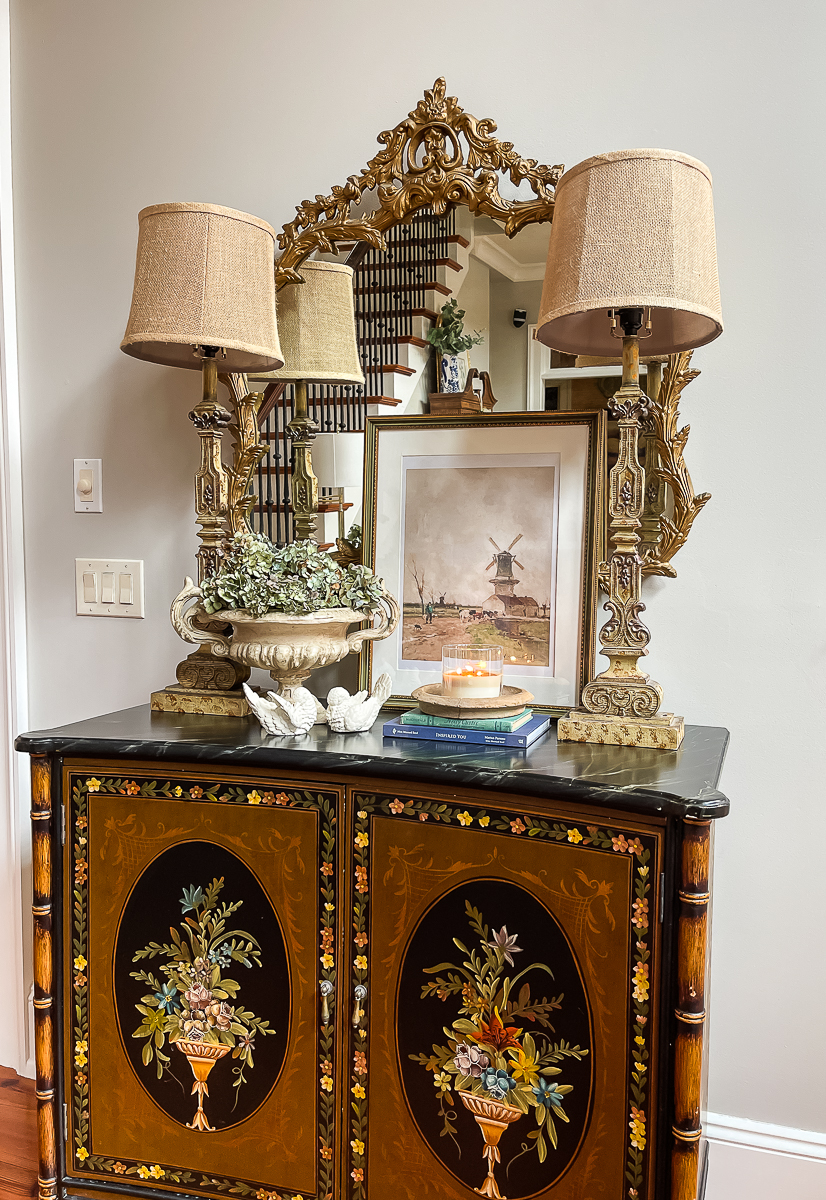 This was the look right before I decorated this area for spring. You can get the details on this very inexpensive thrift store art makeover HERE.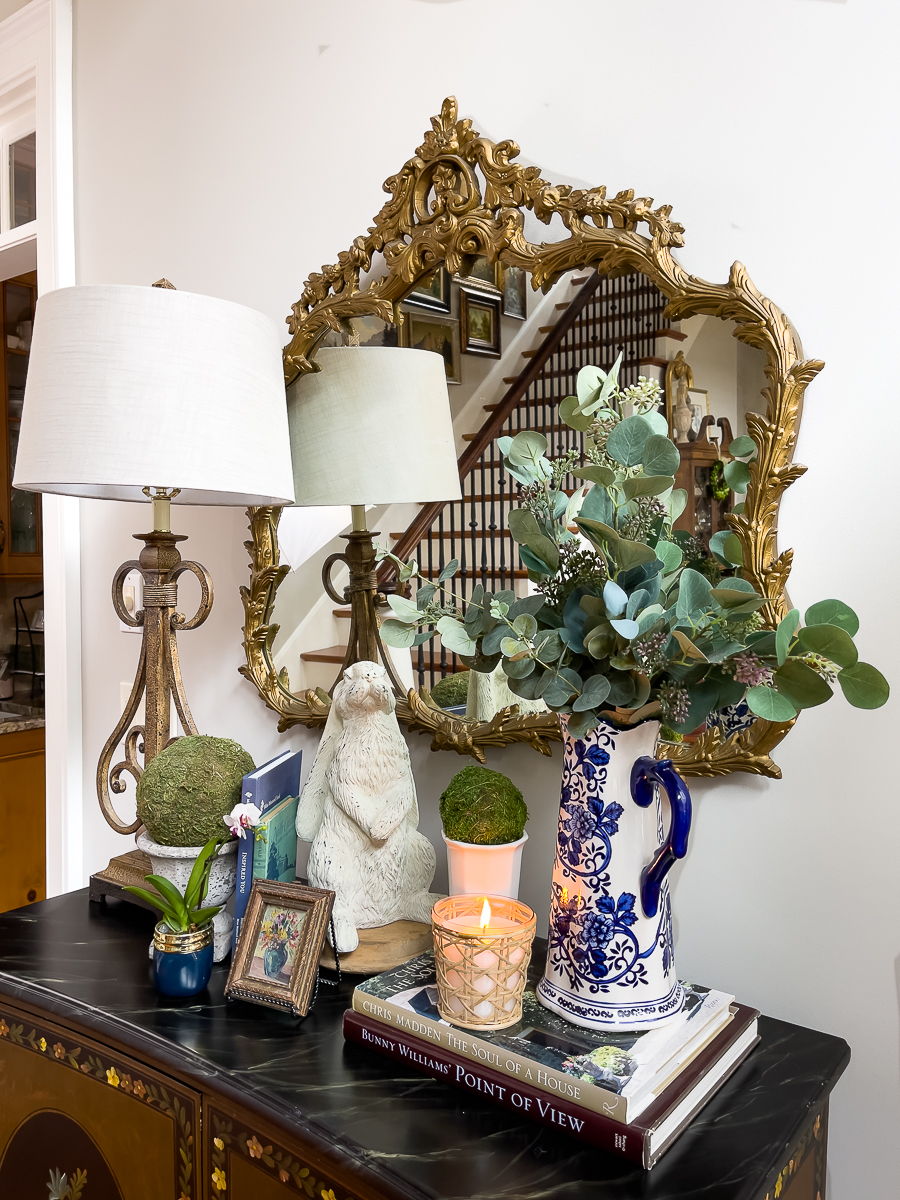 The inspiration photo uses a larger, rounder lamp. I tried one of my lamps that were already here, and it just looked lost with the vignette balanced by the larger pitcher with greenery on the other side.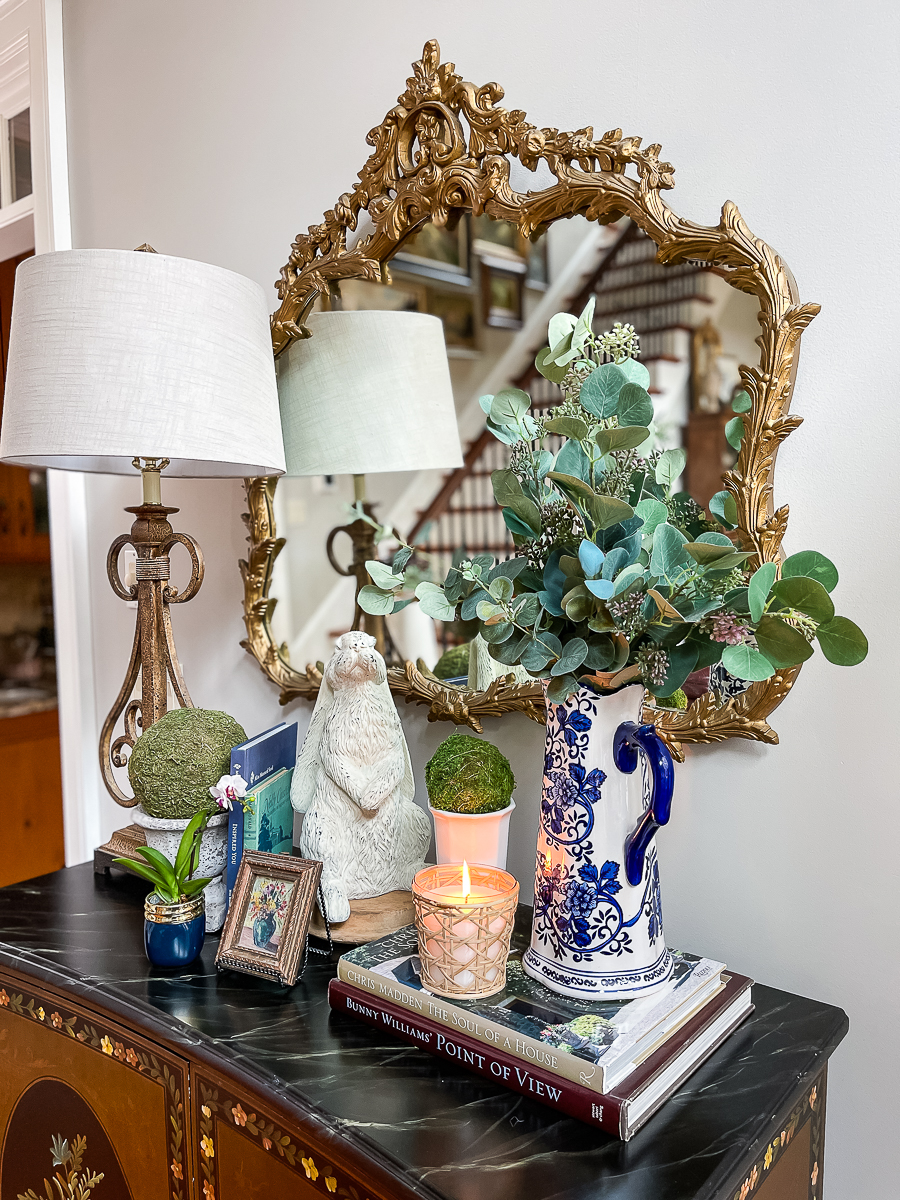 The blue and white pitcher really balances out the look on the other side. I actually love the idea of just using greenery with the vase.
It allows all the painted flowers on the chest to shine and stand out.
Just sticking with greenery and not adding flowers really works for me.
Do you notice the little orchid? There is a tiny little flower there, but not enough to distract.
It's actually a real orchid. My mom gave it to Ashlyn on her birthday at the end of January. It's still alive! Send me your orchid tips!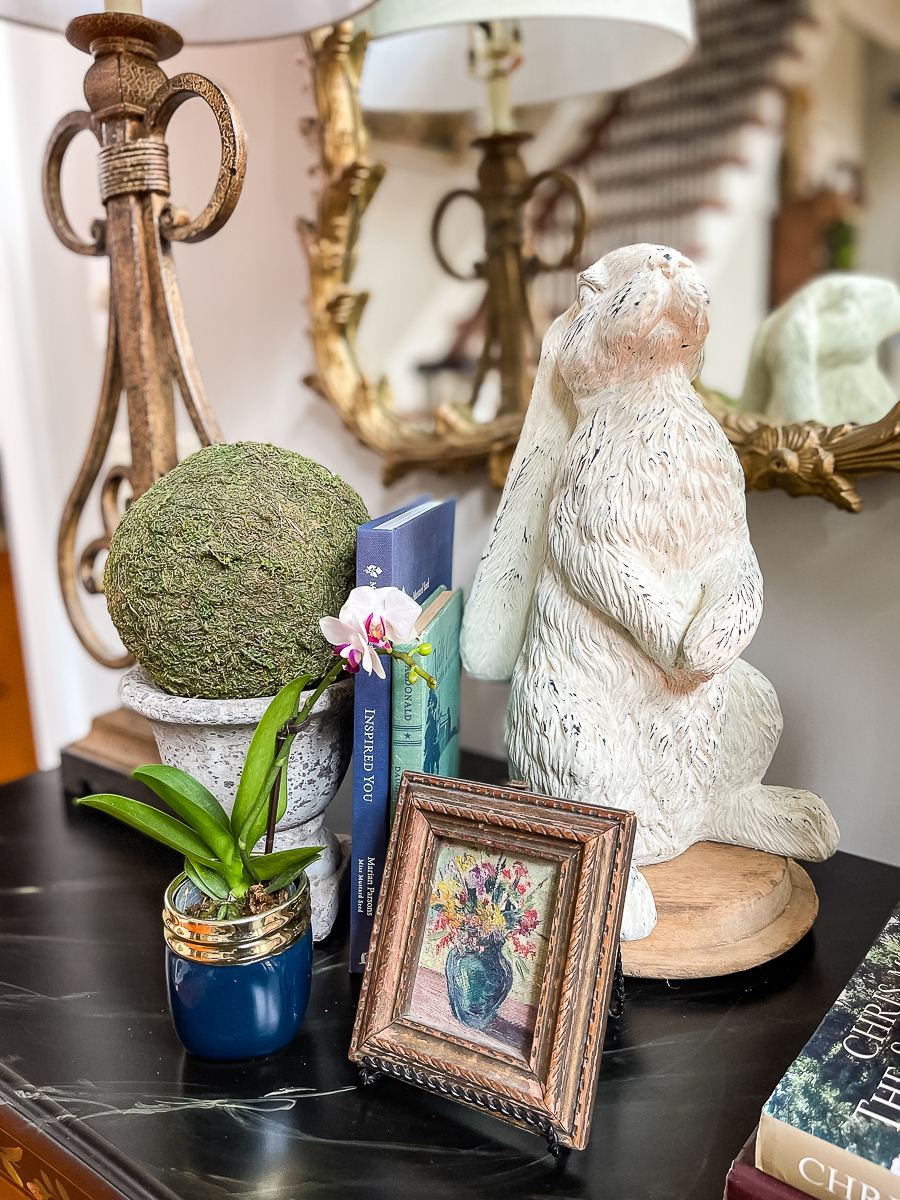 Isn't the little blue and gold jar perfect with the colors here?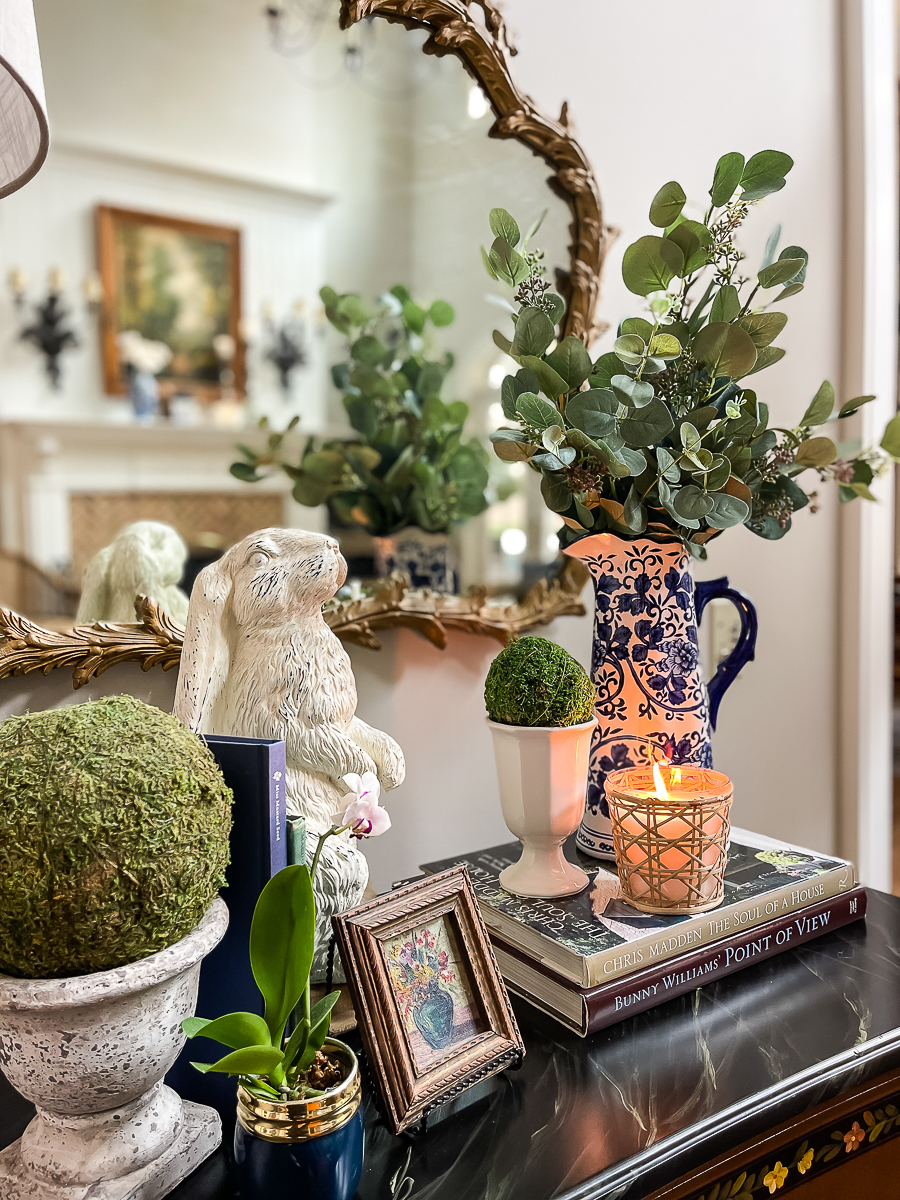 Everything has been collected through the years with the exception of the orchid and little wicker candle from HomeGoods.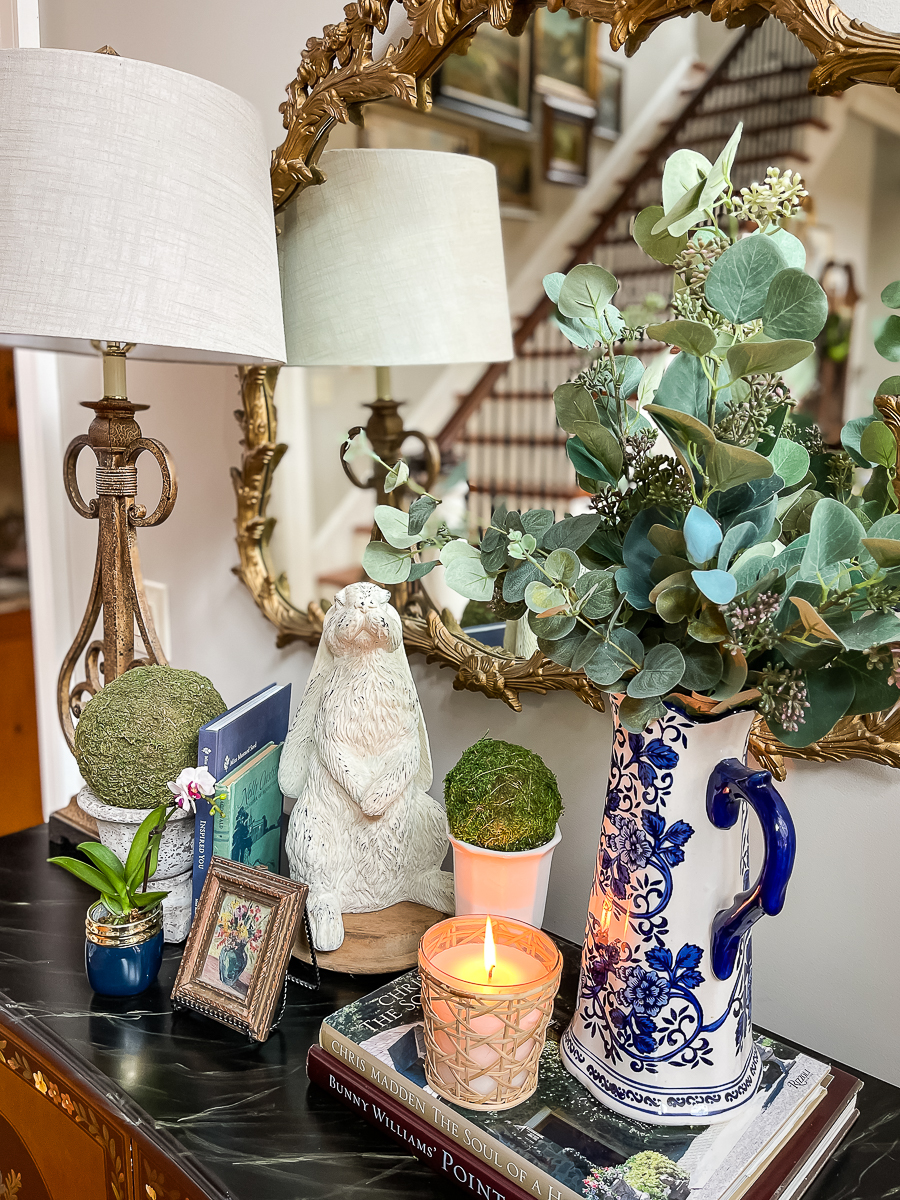 You can see more of the Vintage Gallery Wall HERE. You can see it in the mirror reflection.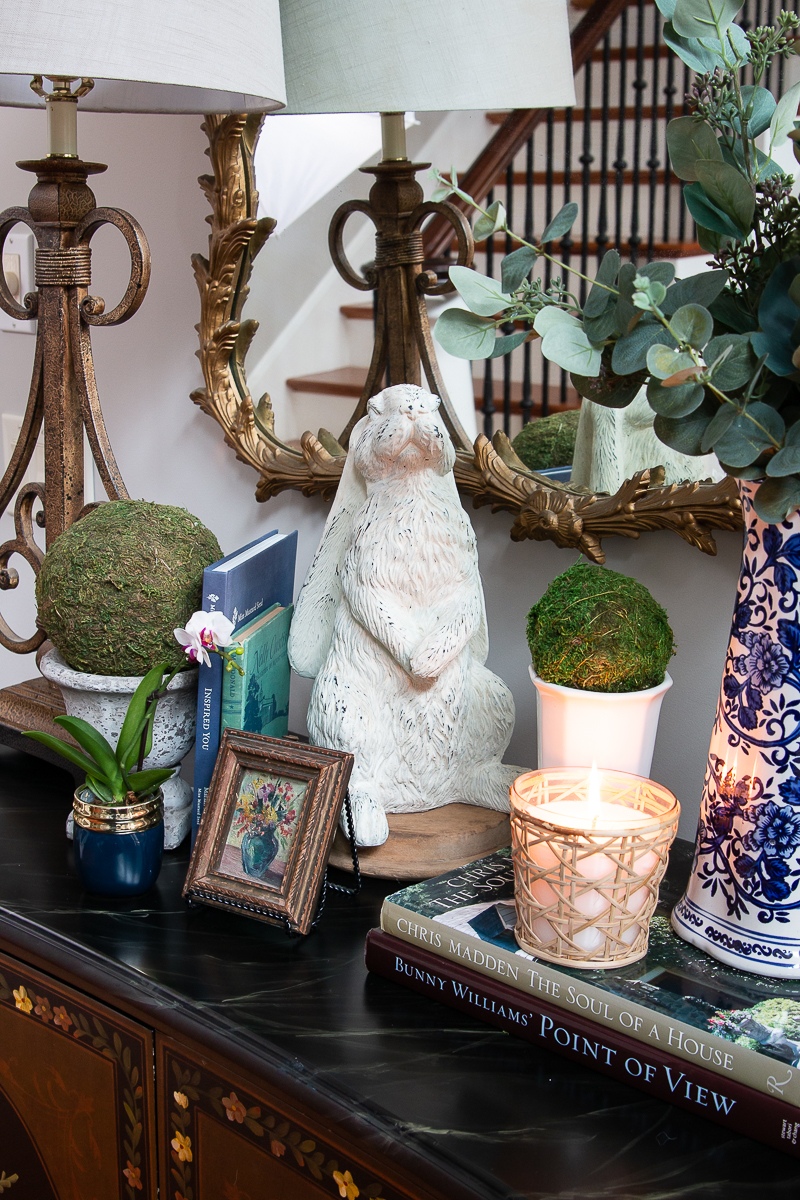 As I created this vignette, I moved things around. I added and subtracted. It's a fun process. Have fun as you decorate. Nothing is perfect. Create and stand back to see your efforts. Make changes until you are happy. I love how this turned out for this space. I look forward to enjoying it until I start to transition to summer decor.
Up next on today's tour is BlueSky at Home. Carol has a lovely home. You've got to check out her lovely home.
More from Today's Pinterest Challenge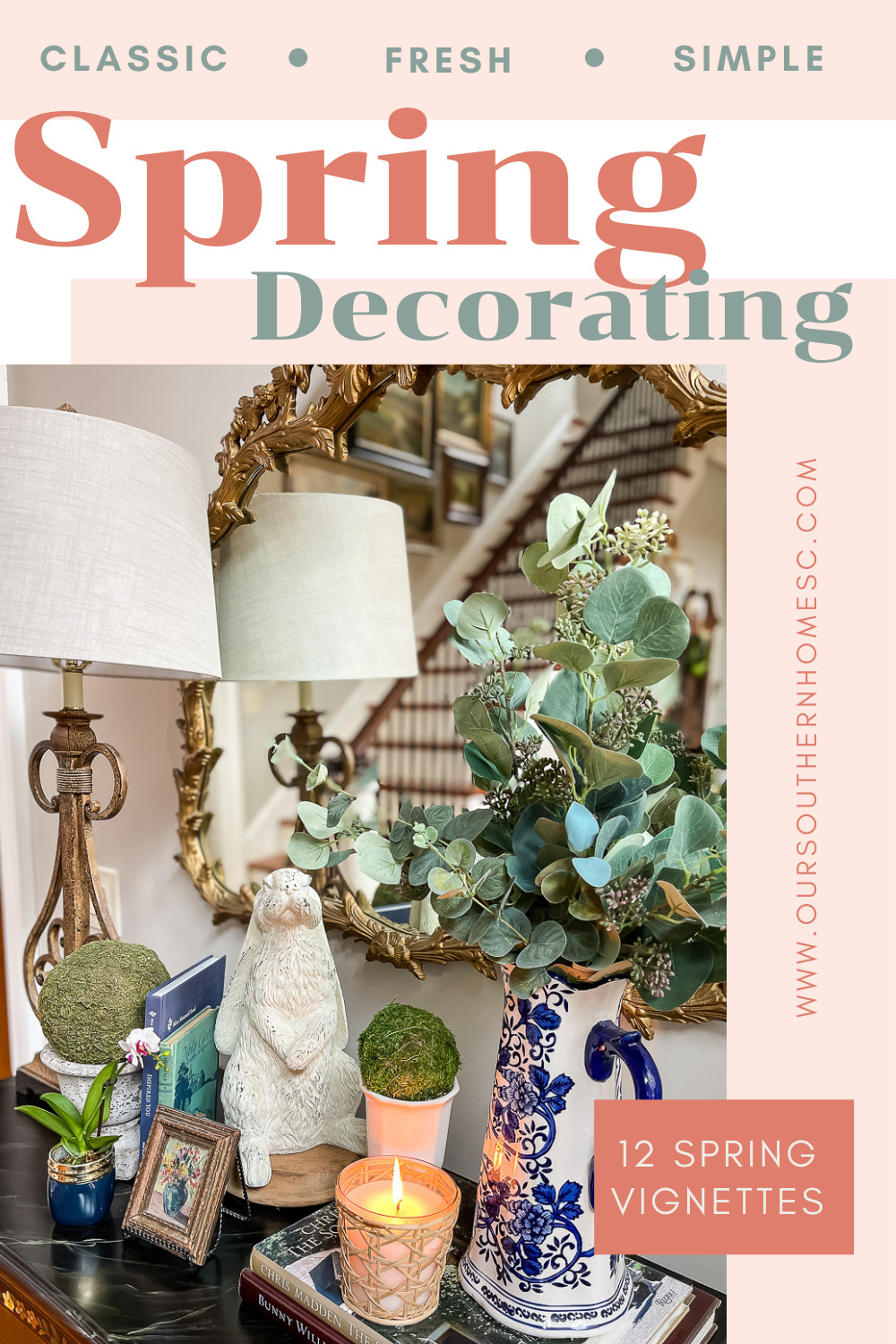 Buffer