I am so excited about sharing our Christmas Master Bedroom with you today! It's a room that I don't share a whole lot. I'm really not sure why? It's always been a bit hard to photograph, and after repainting it this summer……I am convinced it was the color from when we built in 2004.
I can't even remember the previous color, but the new color is Ashwood by Benjamin Moore. It's OC-47.
I'd like to give a big thank you to the girls over at 11 Magnolia Lane for organizing such a fabulous tour with a different theme each day. It's a great way to concentrate on ideas to share with you.
Today's tour is all about Bedrooms. At the end of the post you will find the entire tour lineup + items to shop our bedroom look.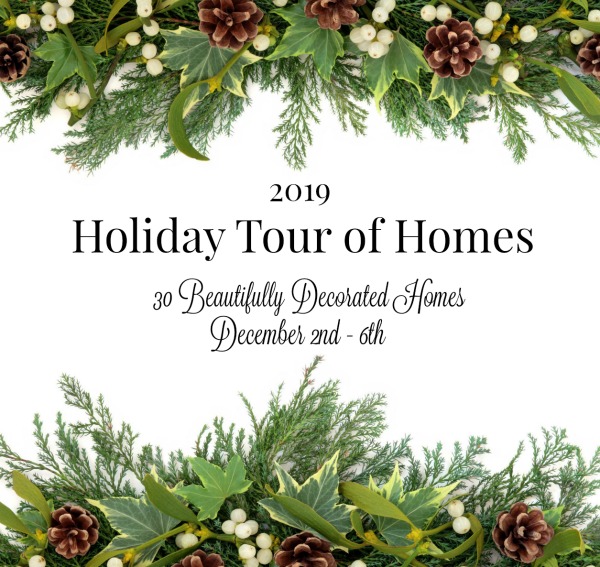 If you are hopping over from visiting Sincerely Marie Designs then welcome! Amanda has such a beautiful home. I always leave inspired.
This post contains affiliate links. If you make a purchase with one of my links, it costs nothing more for you. The company may pay me a small commission. You can read my full disclosure HERE.
Welcome to our master bedroom!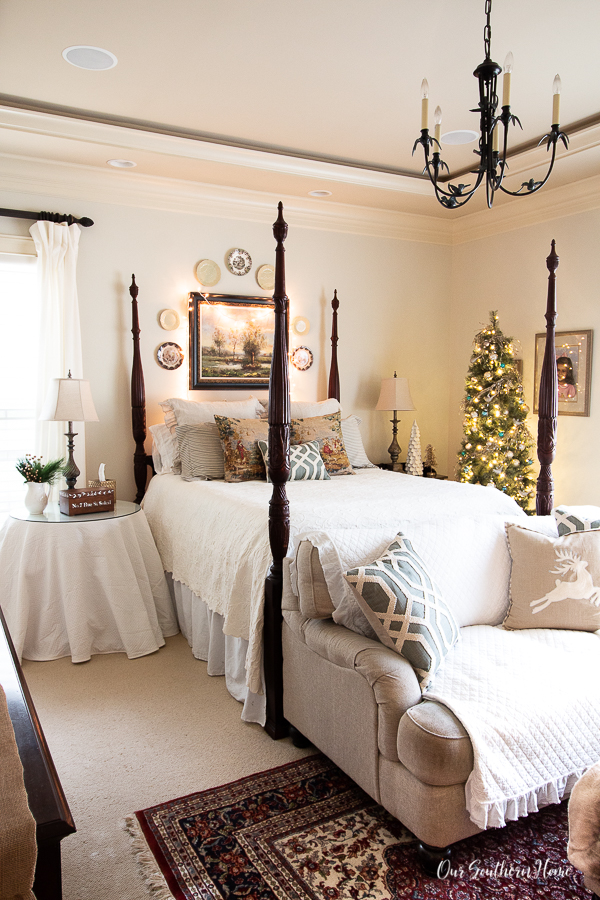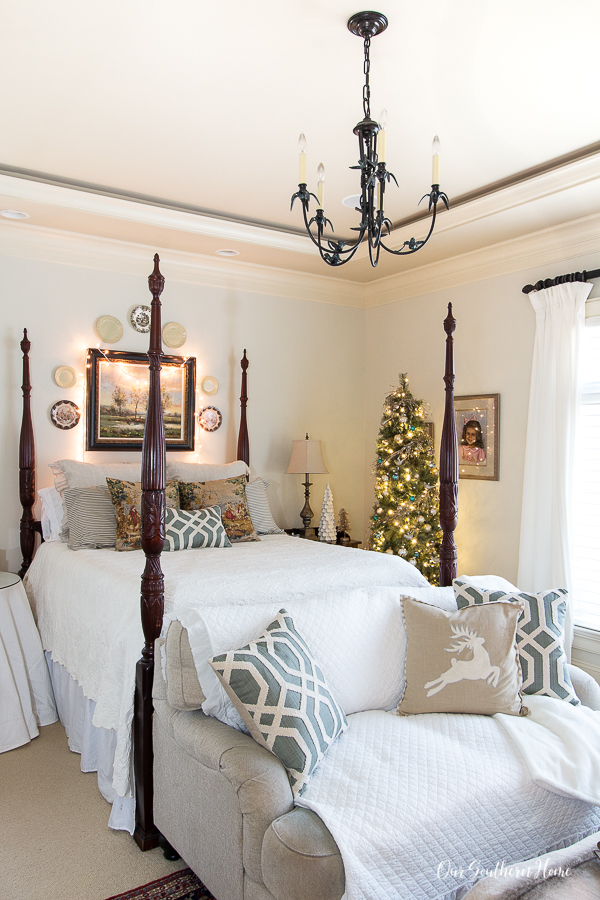 While I did move pet pet toys and beds out of the room, I did want to leave things the way they pretty much are. I have these white quilted throws on the loveseat to protect them from the pets and us! LOL! Being empty nesters now, we watch TV in here 80% of the time so it's well used.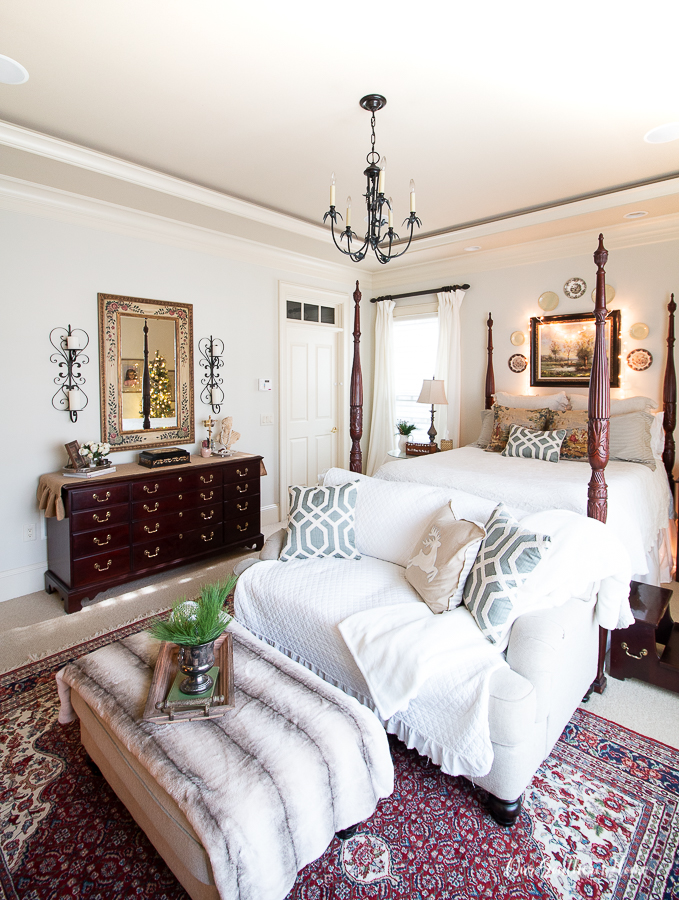 This rug is about 25 years old. It is a hand-knotted oriental. It's been in our previous home in the office, here in our upstairs living room and last year in the college apartment. We moved it back home when the kids changed apartments and got them a more contemporary rug. I was going to put it back upstairs when I decided to give it a go in here for the fall and winter months. I must say that while it's not exactly what I want here, it's growing on me.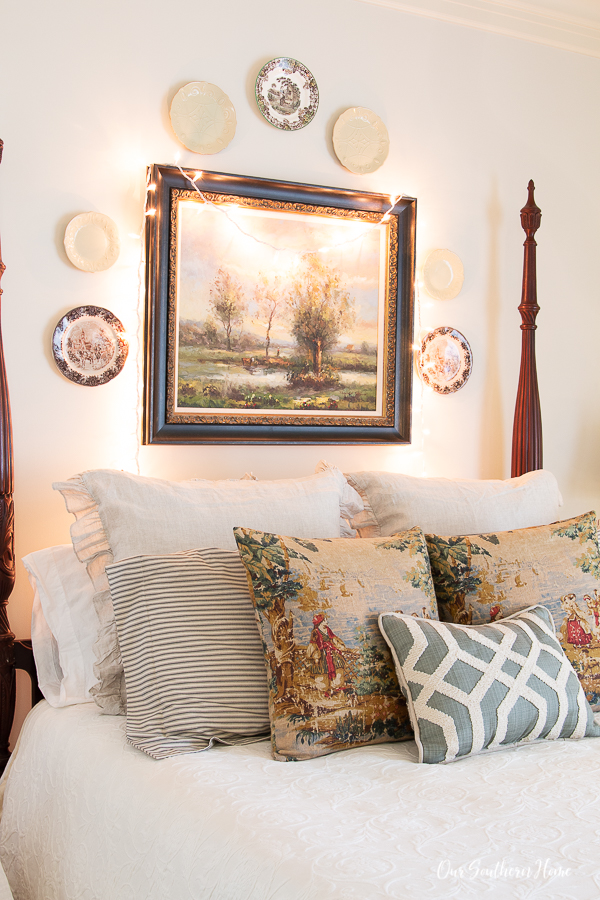 This is why I love pillow covers so much! The toile covers I made several years ago have been folded up out of use. The colors worked well with the rug. The beautiful soft green and cream pillows were in the family room. I had already removed them for Christmas so to the bedroom they went! The black and white ticking stripe pillow covers are from our set from Red Land Cotton. I love mixing and matching. The gorgeous ruffled euro shams are new from Amazon. They are so fabulous that I'm going to get them for the other bedroom. I really prefer using neutral bases and then adding color and pattern with my smaller pillows.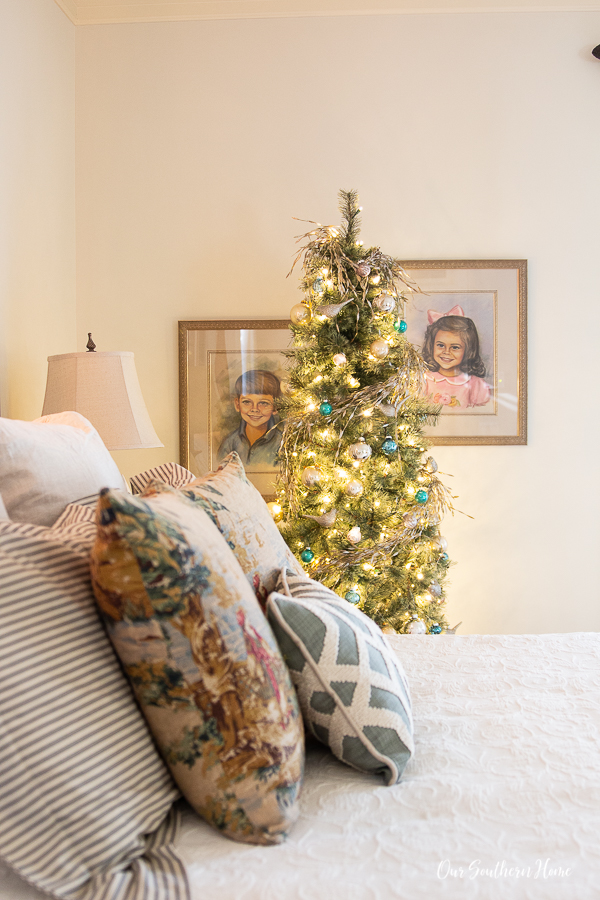 I've been wanting to add a small Christmas tree to our room forever and finally did! I was in Big Lots in the fall when they were putting out their Christmas decor. I knew I'd have to go back and I'm glad that I did. I picked this tree up there and it is the perfect size for a bedroom. I'm tickled with it.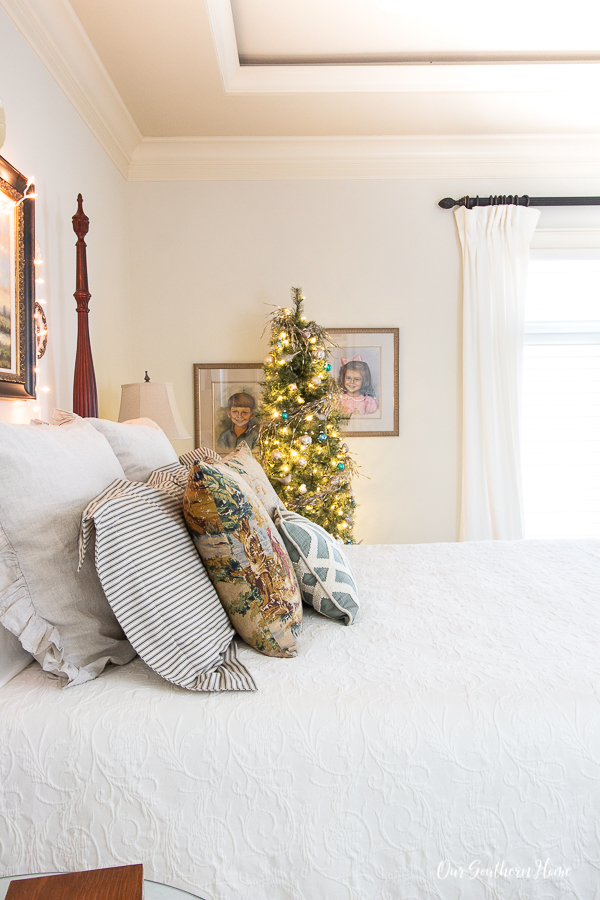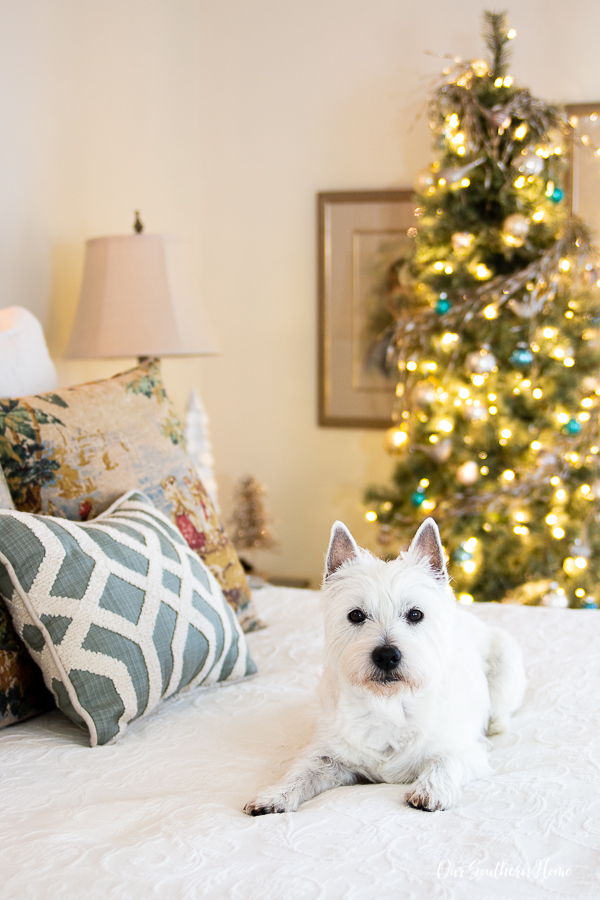 Bentley follows me all over when the camera equipment comes out. It's the funniest thing. He'll even move around based on where I'm shooting. You'll see in a minute! He really is the perfect prop.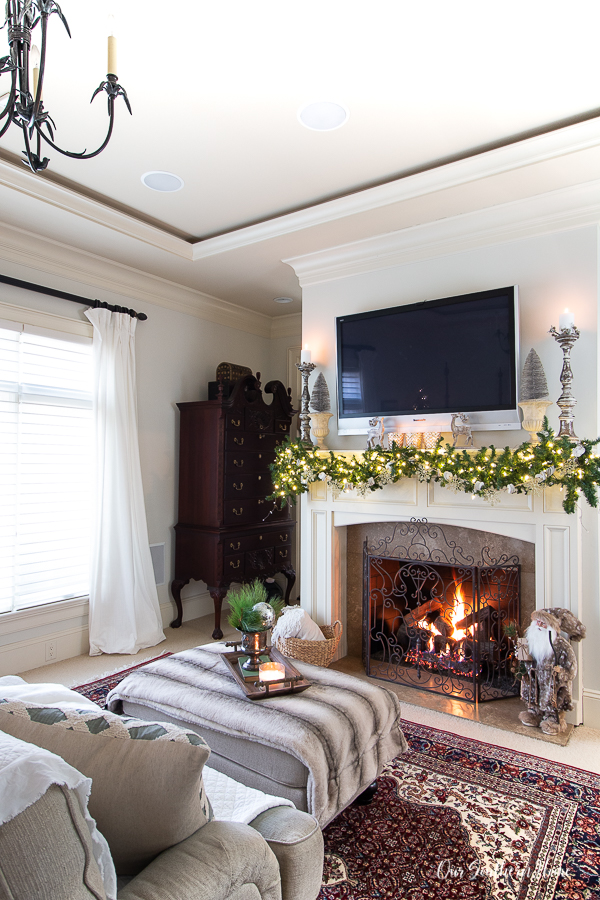 I used to have heavy, custom window treatments in here. I replaced them a couple of years ago with these from Ikea. One of these days, I'll get around to hemming them.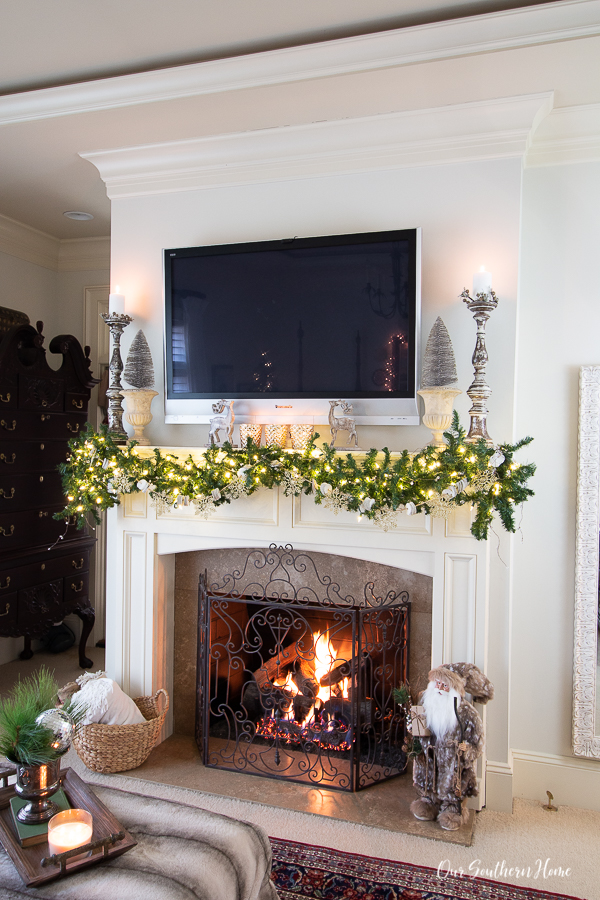 We really enjoy having the fireplace with the gas logs in the bedroom. Would you believe that this TV is still hanging in? It's a plasma and about 13 years old, but still has a great picture.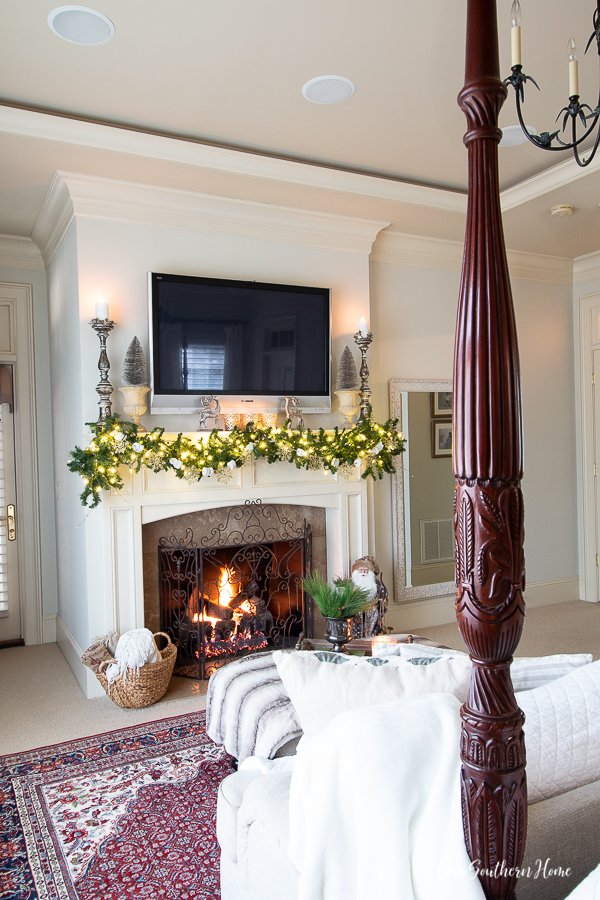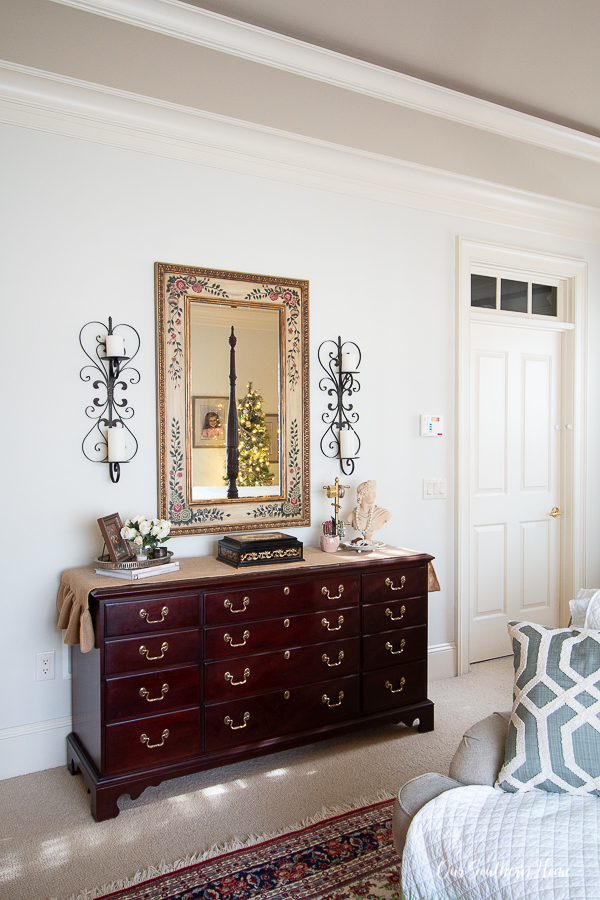 I've debated painting the dresser to break up the set a bit, but my hubby isn't insync with me on that one. It's solid mahogany so it would be a big step to mess with that. I actually like it better with the Ashwood walls. Ashwood is a light gray with a greenish tint which I adore.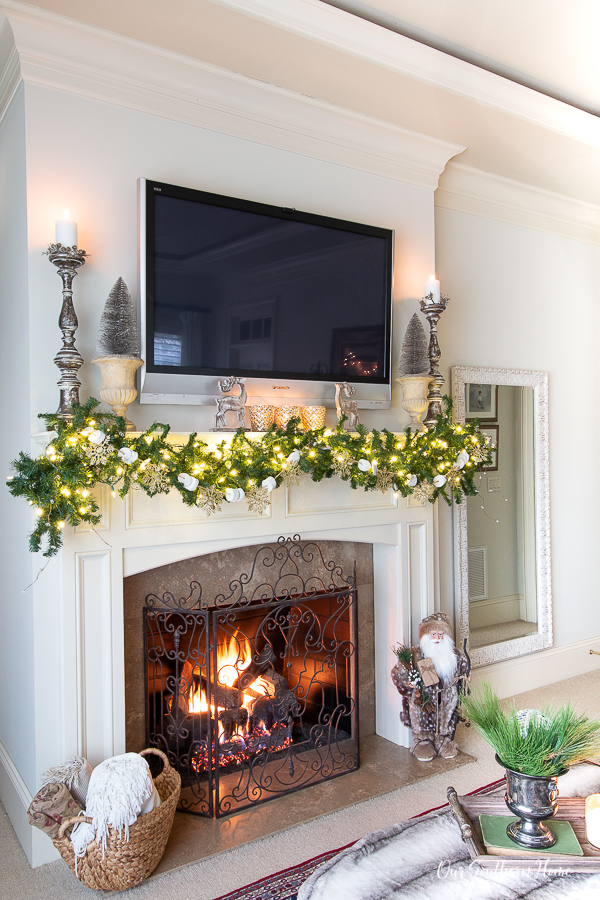 I really try to keep the mantel fairly neutral in here with the TV.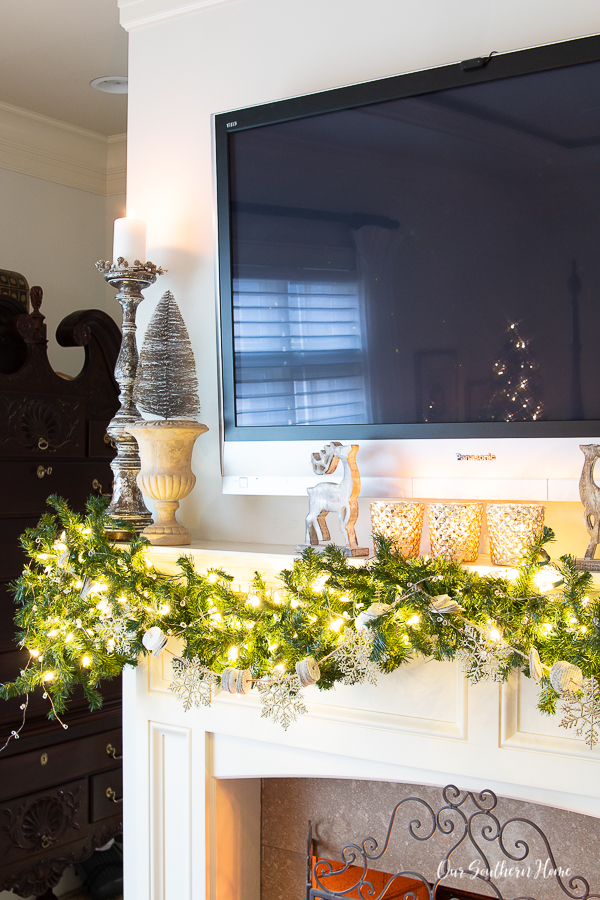 I made the dollar store vintage look garland several years ago for the master. I still love it in here. It just uses twine, book page circle cut-outs and snowflake ornaments. It was actually featured in Country Sampler Magazine last year.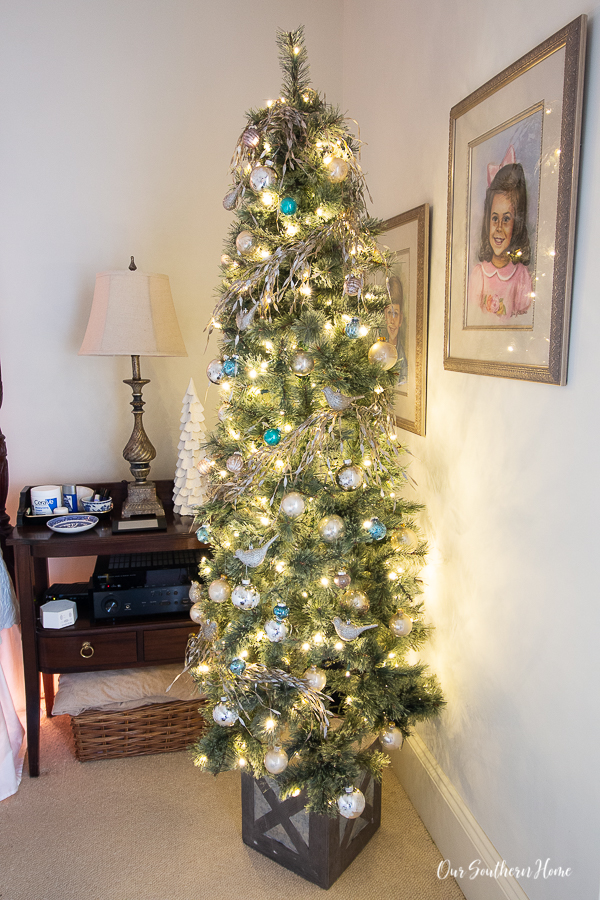 I had a much fuller mantel last year in here, but went back to simpler. A lot of these ornaments and the gold garland was on the mantel previously. Isn't this tree a gem. I just adore the darling base.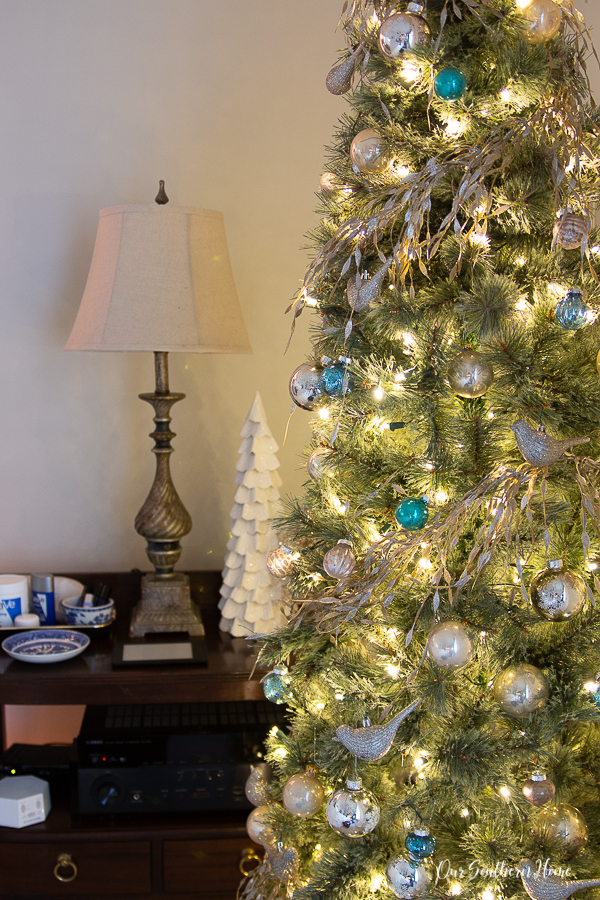 I kept it fairly simple.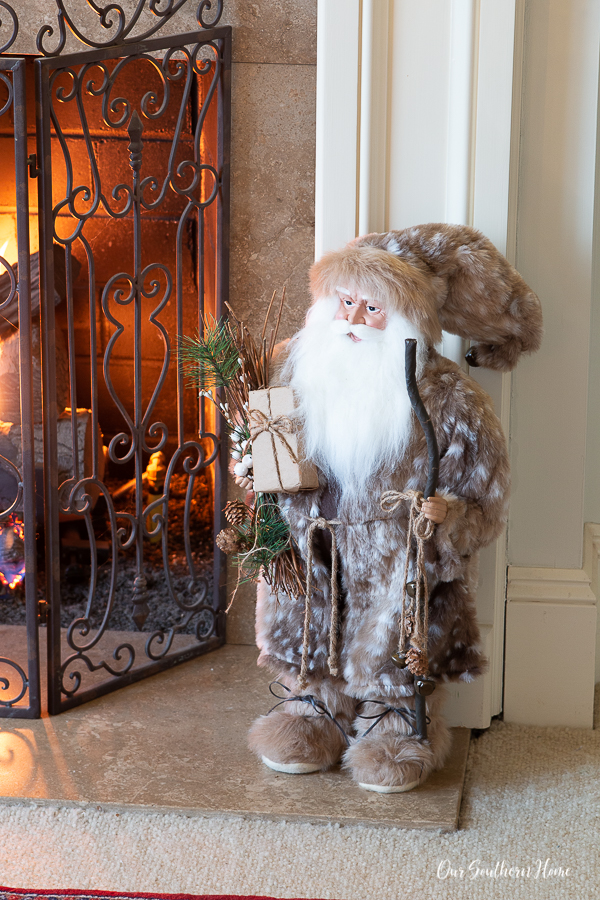 Santa has been guarding the hearth here since last Christmas. I adore his faux fur coat and hat.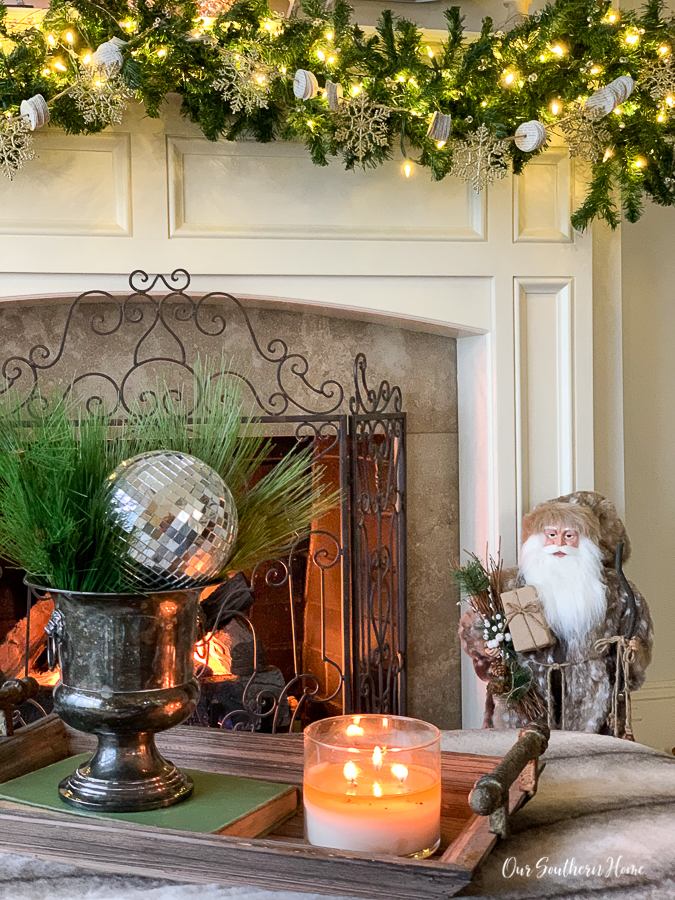 Our bedroom while traditional in furnishing, has a rustic, vintage feel for the holidays. I've always been a fan of mingling different styles for an eclectic feel. Isn't that disco ball fabulous! Our daughter had this electric disco ball that would sit on a table. When her friends were over, they loved dancing around with it on. When she got older, it no longer worked. I pried the ball off of the motor and kept it. It is so fun to use during the holidays. It's a nice keepsake.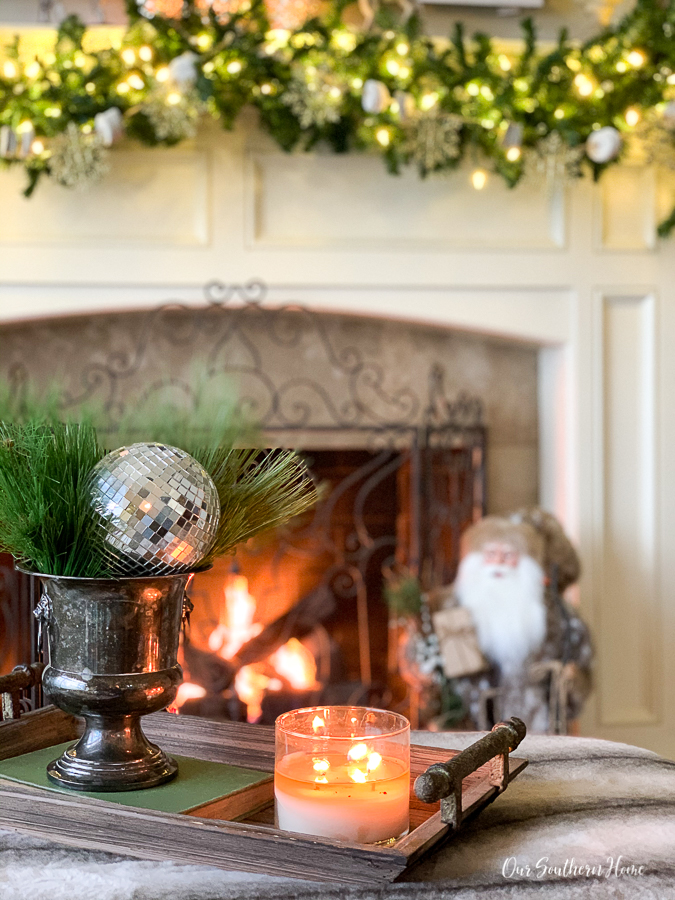 I love finding old and discarded urns at the thrift store. The are great for decor and storage.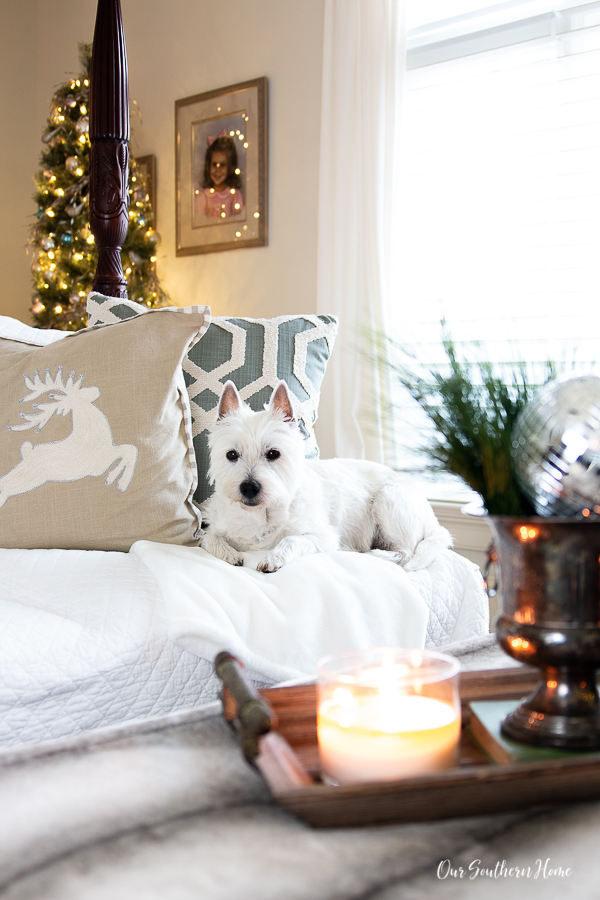 That sweet boy finding his spot perfectly on the couch.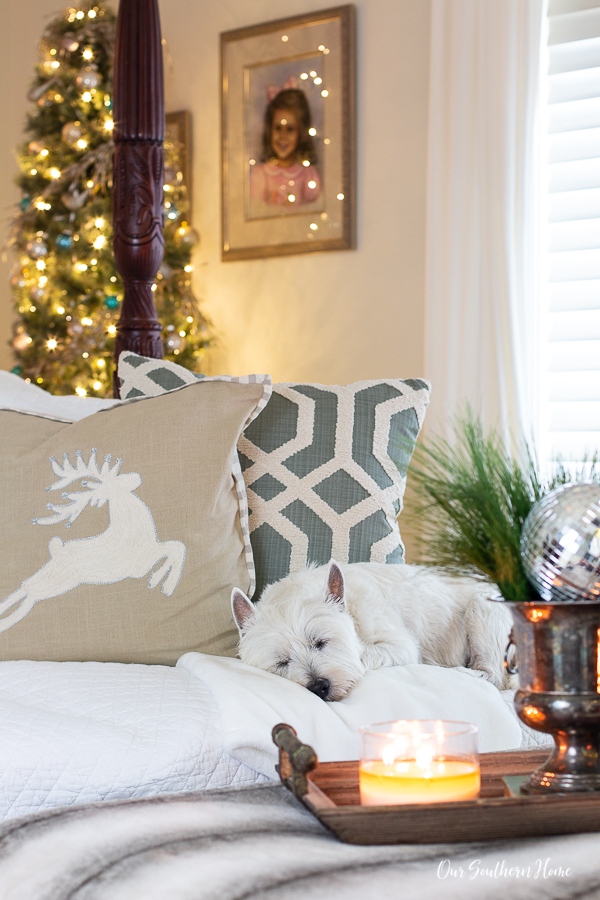 I hope you've found some ideas today create a relaxing bedroom for a long-winter's nap!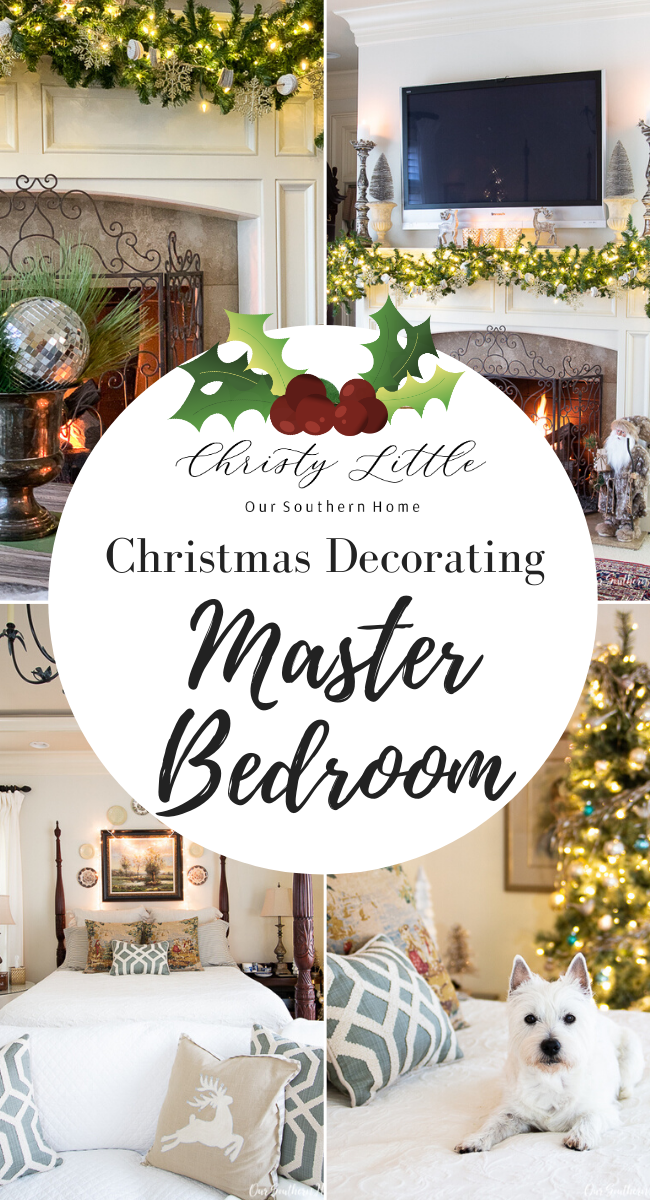 Up next on the tour is Christy from 11 Magnolia Lane. You are in for a treat!
This week's Christmas Tour Link!
Monday, December 2nd (Front Porch/Outdoor Spaces)
Cyndy at The Creativity Exchange | Julie at Less-Than-Perfect Life of Bliss | Annie at Most Lovely Things | Heather at Southern State of Mind | Sara at Sincerely Sara D | Rhoda at Southern Hospitality
Tuesday, December 3rd (Entries/Dining Rooms)
Amy at 11 Magnolia Lane | Tammy at Pink Peppermint Design | Tam at Citrine Living | Cindy at Rough Luxe Lifestyle | Heidi at Home by Heidi | Deb at Seeking Lavender Lane
Wednesday, December 4th (Living Rooms/Dens)
Marty at A Stroll Thru Life | Heather at Setting for Four | Jen at Stylehouse Interiors | Rachael at This is Our Bliss | Amanda at Dixie Delights | Paige at The Pink Clutch
Thursday, December 5th (Kitchens, Laundry Rooms, Misc Spaces)
Summer at Summer Adams | Heather at Setting for Four | Andrea at Life on Cedar Lane | Emily at Eleven Gables | Laura at Duke Manor Farm | Amy at 11 Magnolia Lane
Friday, December 6th (Bedrooms)
Christy at 11 Magnolia Lane | Jenny at Evolution of Style | Heather at The Heathered Nest | Shand at Quarters One | Amanda at Sincerely Marie Designs | Christy at Our Southern Home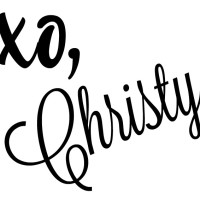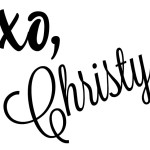 Christmas Ideas from the OSH!
Buffer