Tips for creating mood boards to have a visual plan whether decorating just a room or an entire house! Start by ordering flooring samples.
This post is sponsored by Carpet One. All opinions are that of Our Southern Home.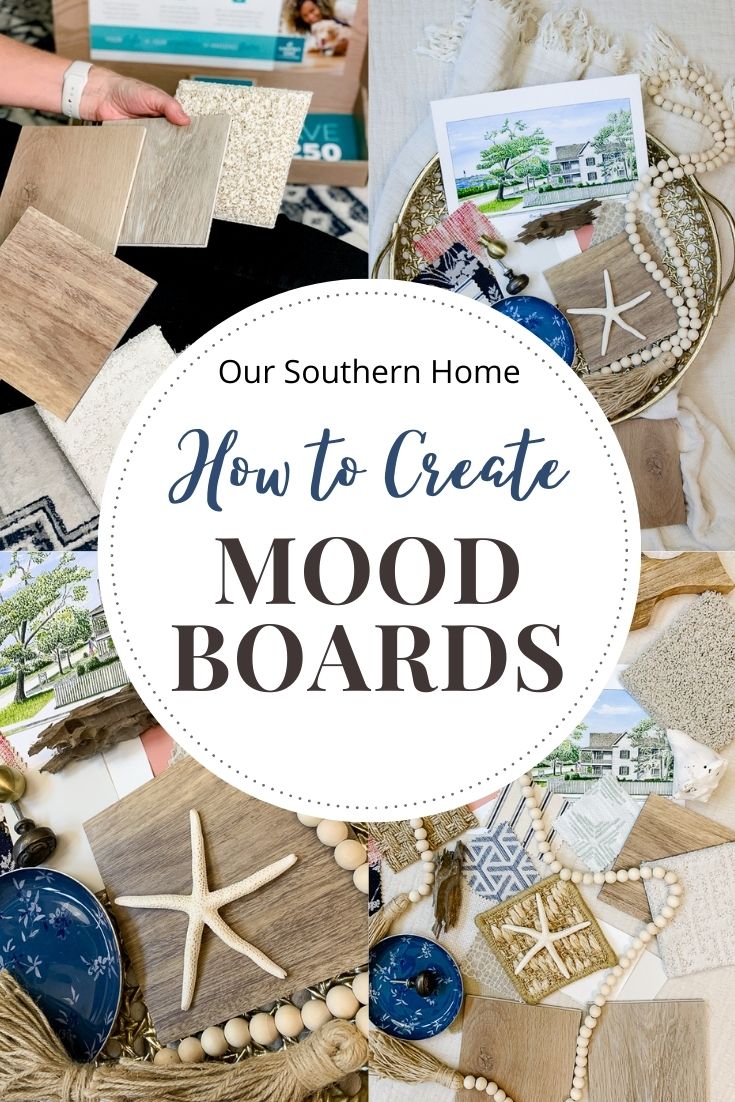 Creating Mood Boards
Have you ever thought that mood boards were just for interior designers and tv programs?
A mood board is a type of visual collage consisting of images, text, and samples of objects. Mood boards can be created for all kinds of things in your home!
I'm here to share with you how you can create your own mood board for your home.
Mood boards can be as simple or elaborate as you'd like for them to be!
Mood boards can be physical or digital. Personally, I love a physical mood board. I like to touch and see the fabrics and materials.
Creating mood boards is fun!
Mood Board Ideas
room design
interior design
the exterior of your home
porch or patio design
flowerbeds
gardens
swimming pool
trips
outfits
and more!
Our family beach cottage was built in the 70s and is approximately 1700 square feet. We've owned it with my husband's sisters since 1993. We've been gradually updating it through the years. We actually just finished installing a brand new kitchen. The original kitchen had to go. The new kitchen is pretty and functional. It's complete with the exception of new floors.
The flooring in the entire house needs replacing. It's a berber carpet. The last flooring was purchased in 1996 due to hurricane damage. Needless to say that with dogs, many kids, and sand through the years, it's way past its prime.
We've been bouncing ideas off of each other over the last year. I think we are leaning towards all luxury vinyl plank in the entire house. Another option is carpet in the bedrooms and luxury vinyl plank everywhere else.
I was so excited when Carpet One recently launched being able to shop for hardwood, luxury vinyl tile, and broadloom carpet samples online. I'm all for shopping online and having samples delivered to the door. How cool is that!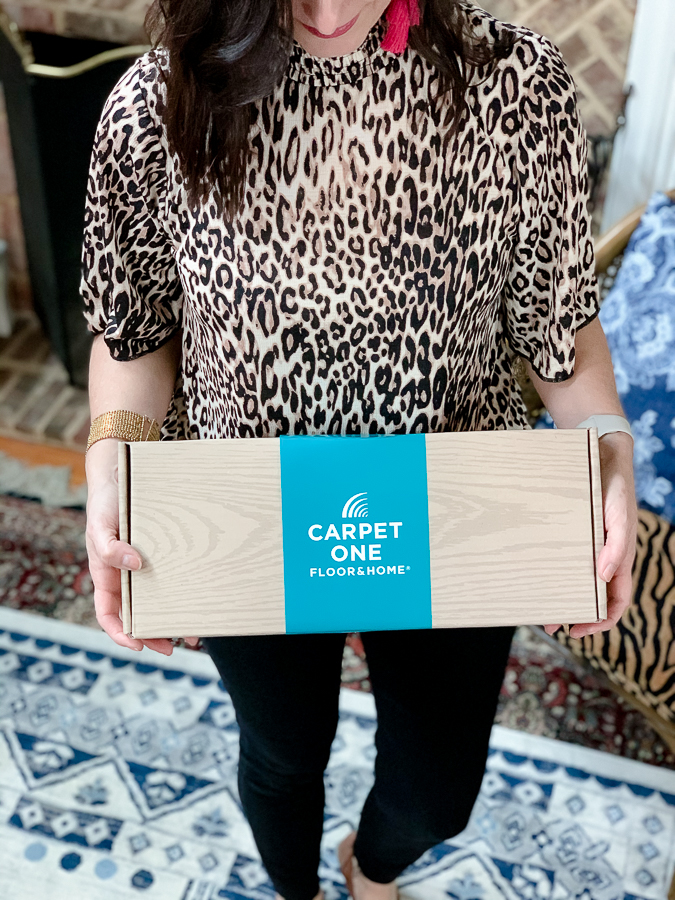 Carpet One Floor & Home is a nationwide cooperative of over 1,000 independently-owned flooring retailers. They feature many exclusive brands and are the largest buyer of floor coverings in North America.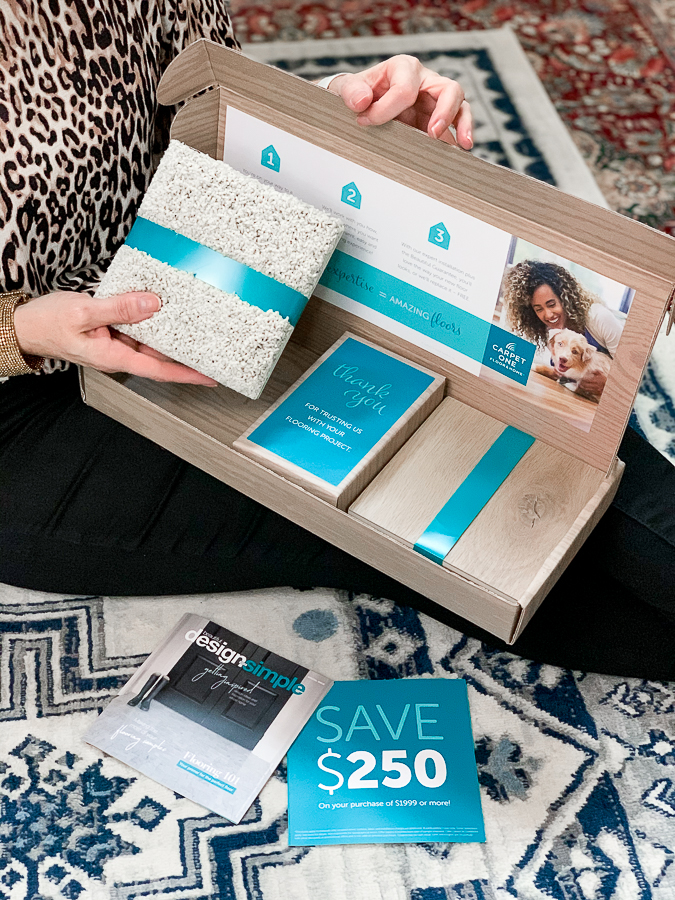 This was the perfect time to dive in and get serious about designing the spaces in our beach cottage.
I decided to order a sample box. It was so easy to use their site. You are able to select 6 samples for $12 (shipping included). They are a great size and perfect for creating your mood board.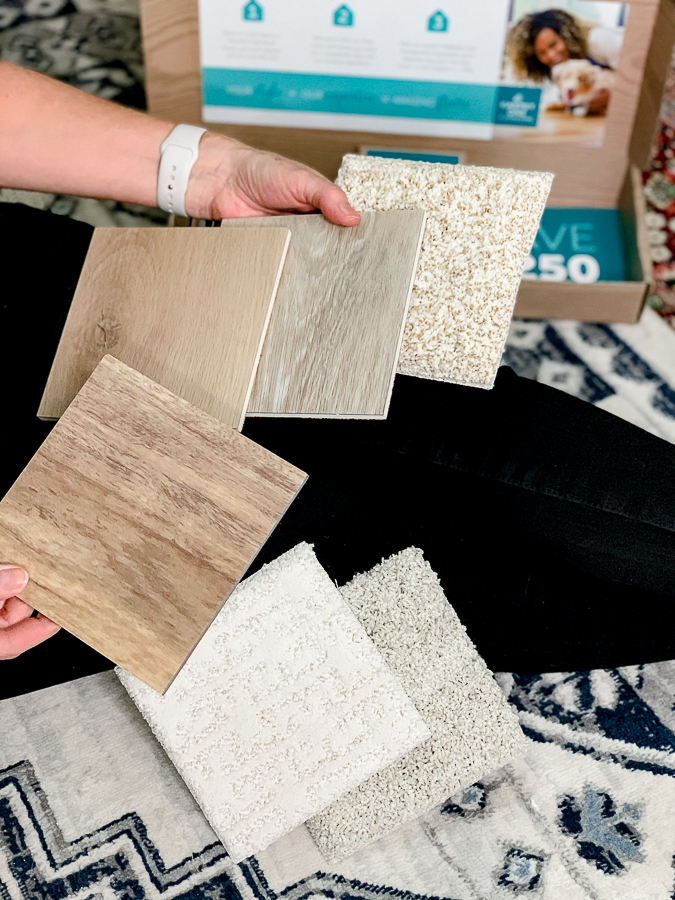 Ordering was a breeze! You are even able to mix and match varieties. For example, I ordered 3 luxury vinyl tile and 3 carpet samples.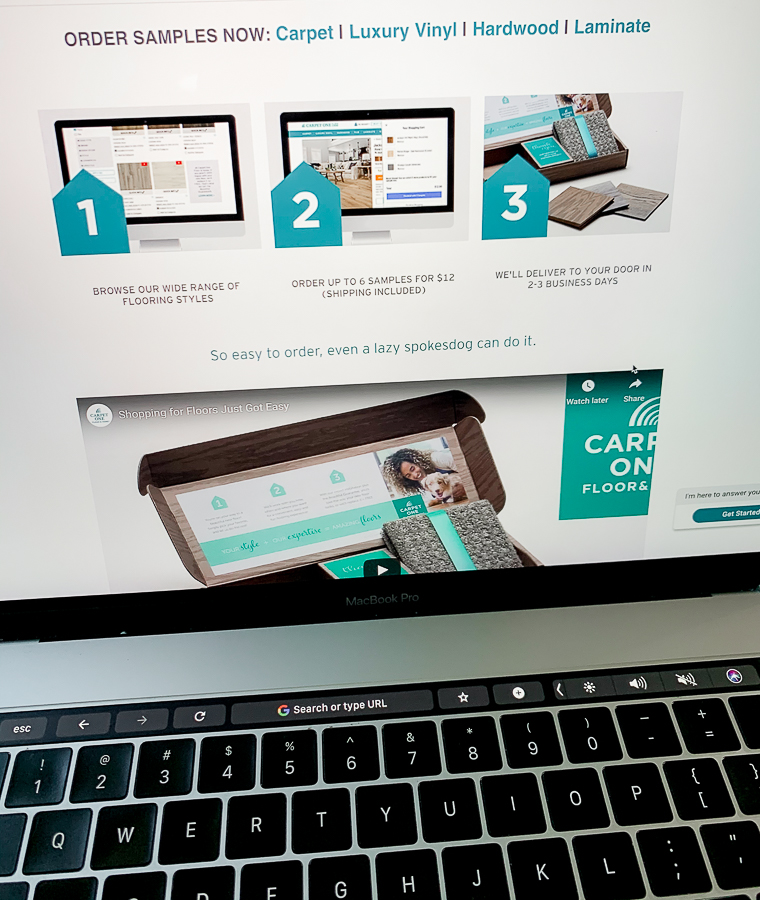 When you get excited about a project, you want the goods right then…or at least I do. I had my samples in a couple of business days.
The box and presentation are simply beautiful!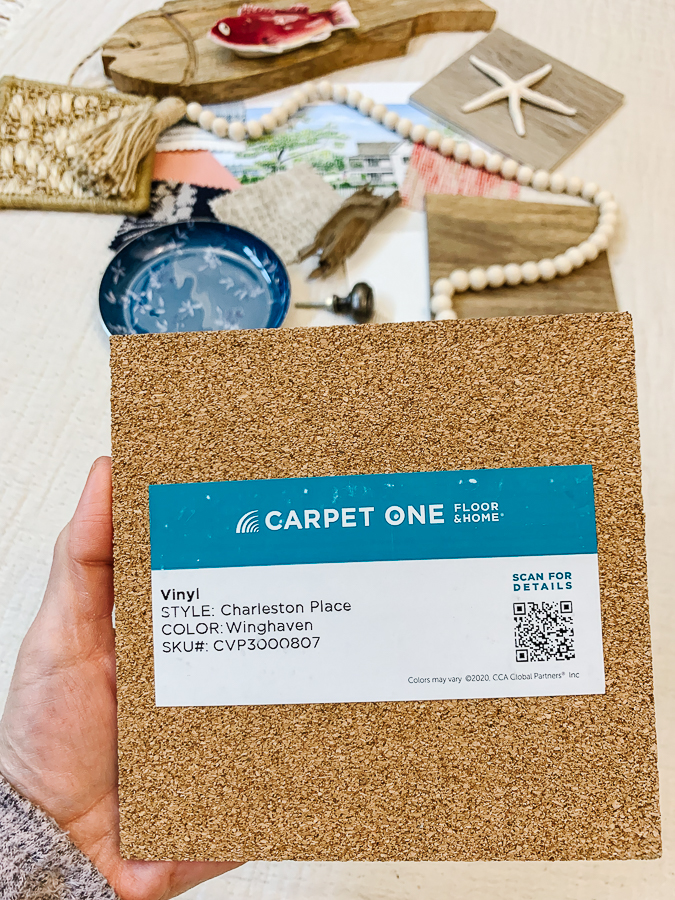 I love how the back of each sample has the name of the sample. That's a big deal for me! I can't tell you how many times I've gotten tiny samples in store to only forget what it was overtime.
Now that I have my flooring samples, it was time to really have some fun and create mood boards for our beach cottage.
Gather Items for a Mood Board
flooring samples
paint color swatches
fabric samples
artwork
magazine and catalog photos
hardware
wallpaper samples
wood finishes from trays, cutting boards, and such
trinkets
elements from nature like driftwood, leaves, rock, shell, and more
photographs
decor pieces
throw blankets
rug samples
I knew in my mind that I wanted to use blues, greens, and corals.
We've got our minds set on going with a lighter floor for the luxury vinyl tile. The lighter color won't show sand and pet hair as much. We've researched a lot and knew that a luxury vinyl tile product ticked off all the boxes for our coastal home.
Each of the samples that I selected below comes in many other colorways.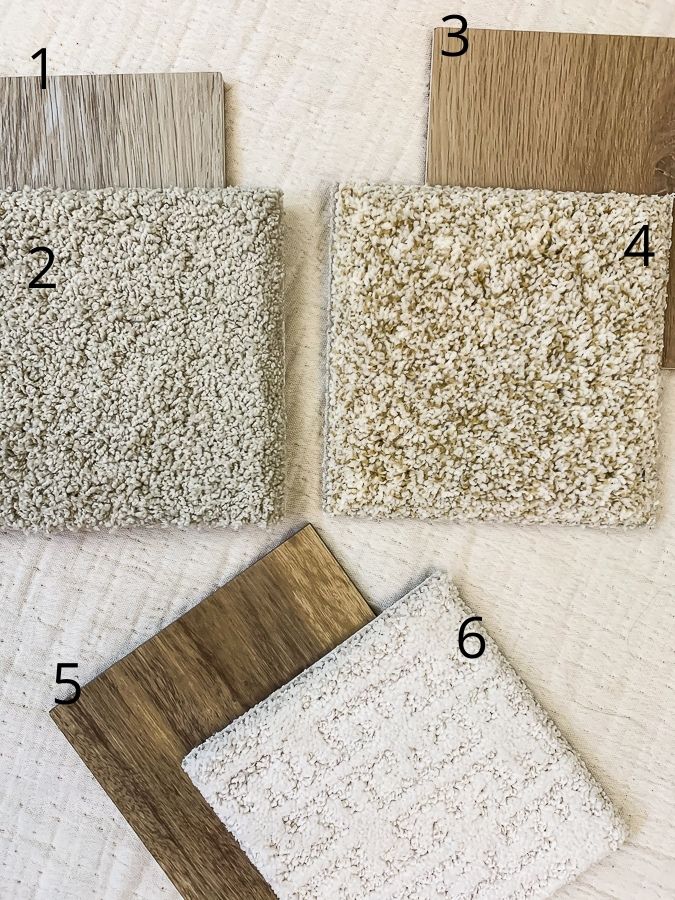 Flooring Samples Selected
I really had fun playing around with my flooring samples. It helped me to narrow things down a bit.
Creating a mood board will save you time in the long run.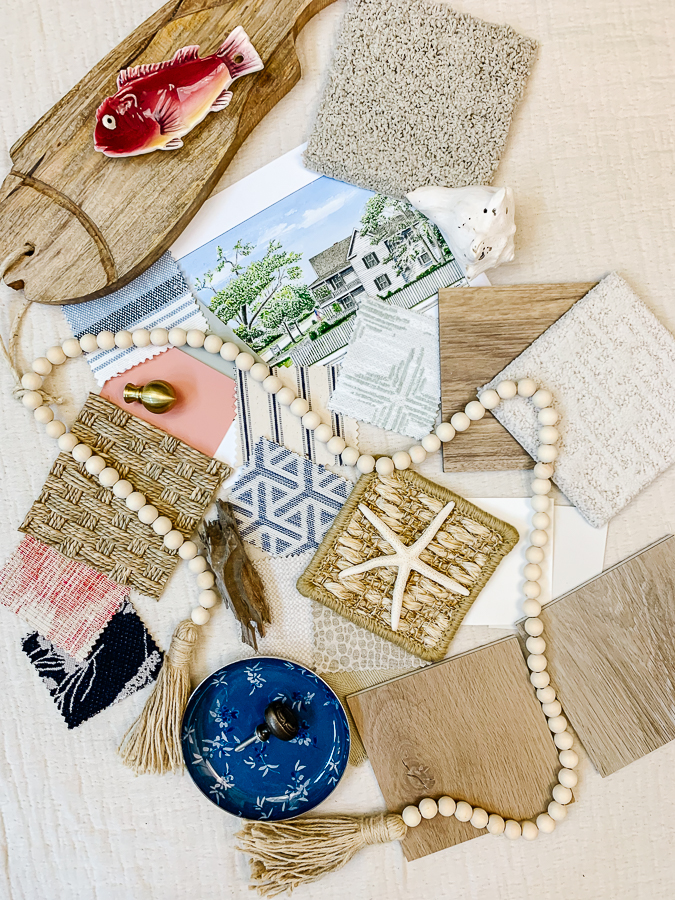 While it's not practical to have your tactile mood board with you at all times, you can snap a cell phone photo of it to have on the go. You can also print out a photo to carry in your bag.
Having that visual element that you've created while out, is perfect if you run across the most gorgeous area rug, but not sure if it works with the fabrics you may have purchased.
I really like the size of the flooring samples. They are a great size to give you an idea of the coloration and pattern, but not so big that you can't throw it in your purse.
Let's take a look at the mood boards that I created.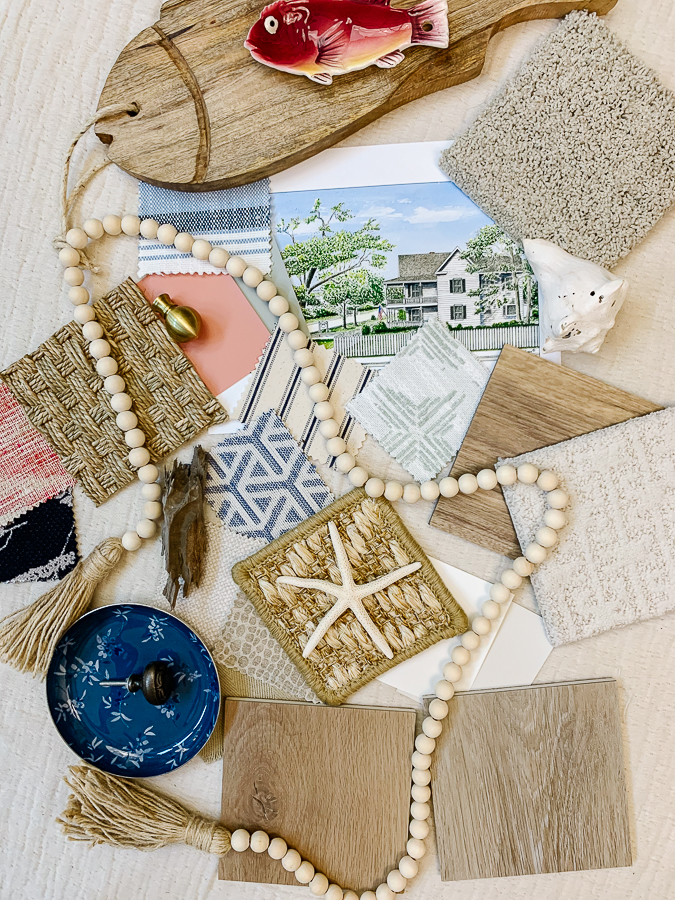 I started by bringing everything together for one large mood board to represent the house then I had some fun breaking that up into smaller, more concentrated mood boards.
Select paint sample chips for the board. These do NOT have to just represent wall colors. They can represent furniture colors and colors that you'd like to incorporate into that space.
I've gone with shades of blue, coral, greens, tans, greenish-gray, and whites.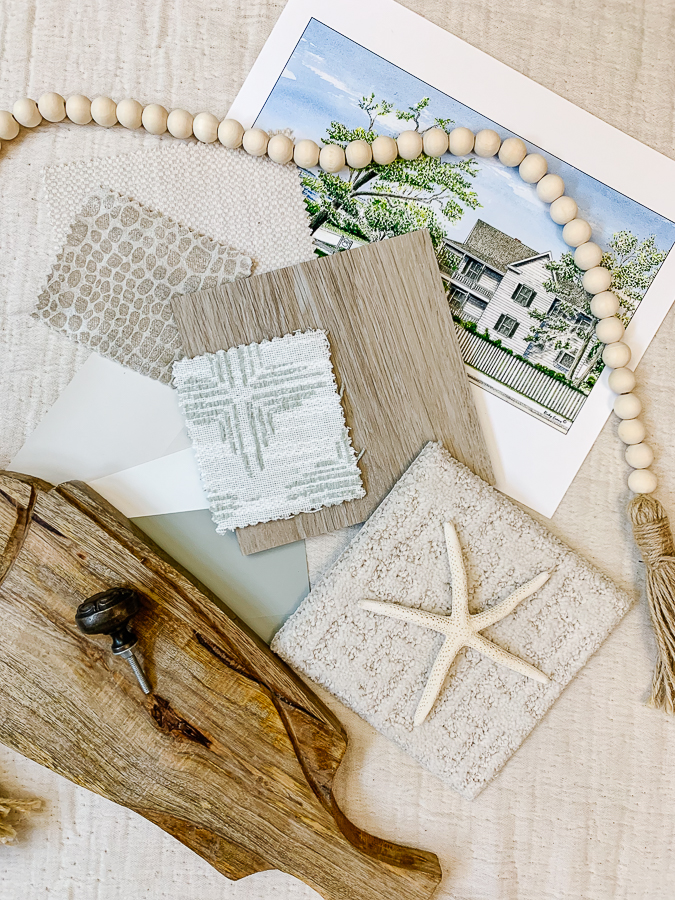 The great thing about mood boards is that you can move things around to make numerous combinations.
The above mood board is lovely with soft greens and shades of whites. The inspiration is a print of the small historic town of Southport, NC. We adore our time spent here when at the beach cottage. It has so many colors that I love. This combo would be a beautiful design for a bedroom.
I'm torn between these 2 flooring samples for this space. The pattern of this carpet is so fun. It would be simple to vacuum with the lower pile and pattern.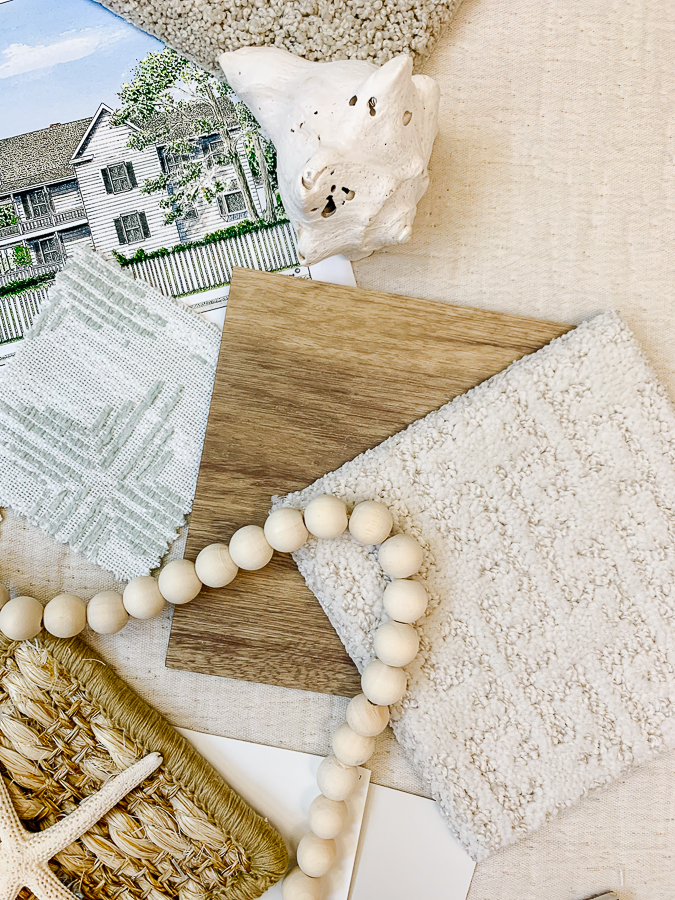 Here is the same mood board with the darker floor. I'm pretty impressed with the luxury vinyl plank flooring samples that I picked. I love them all so much! It may have to come down to closing my eyes and pointing to one to select. They are all so gorgeous!
Do you have a favorite that I've selected?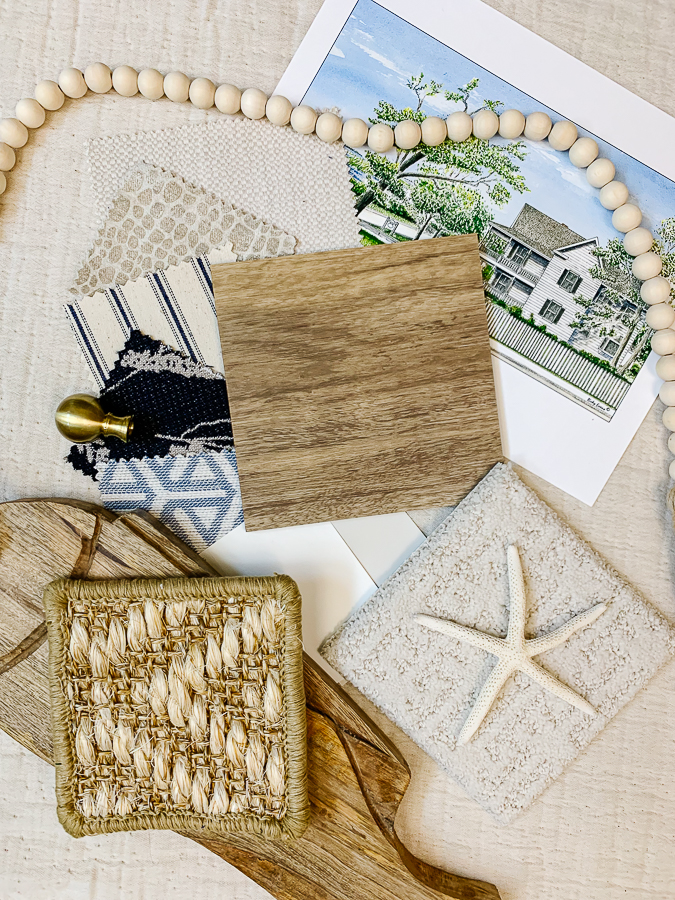 Here is a design that I created going with shades of blue and neutrals. Notice that I selected a different luxury vinyl plank. I really love this one as well. It's light enough to be beachie, but still give some warmth and drama to the space.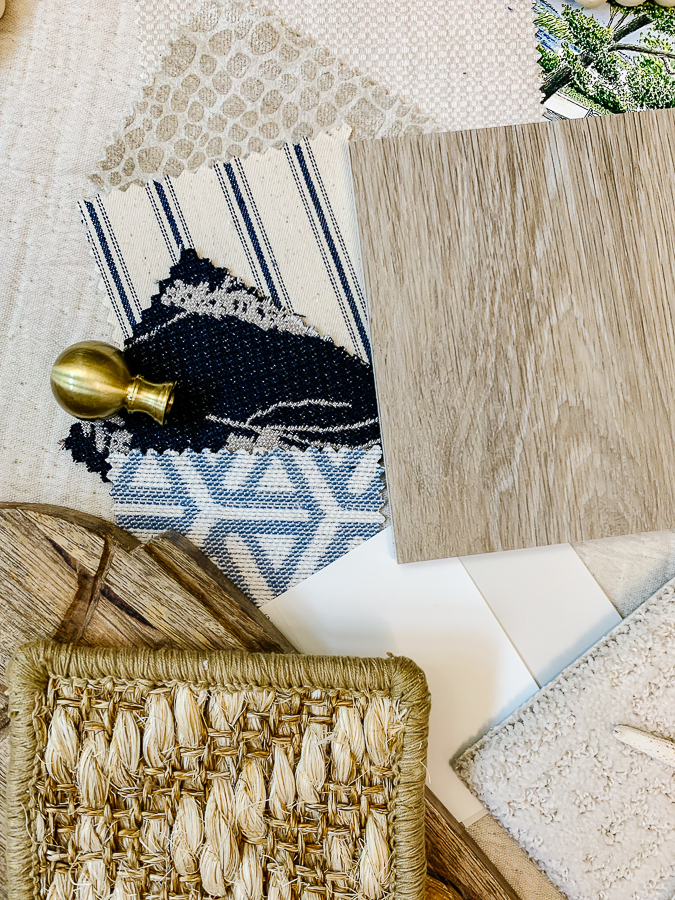 I can envision this look in the family room that opens to the dining area.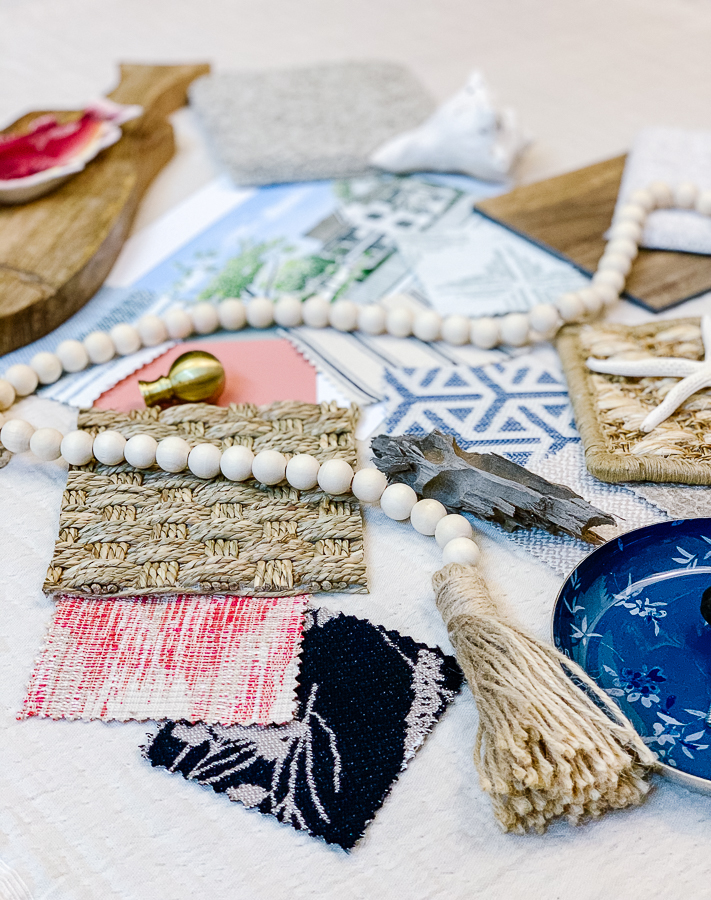 Look at what fun it would be to add in a bit of coral.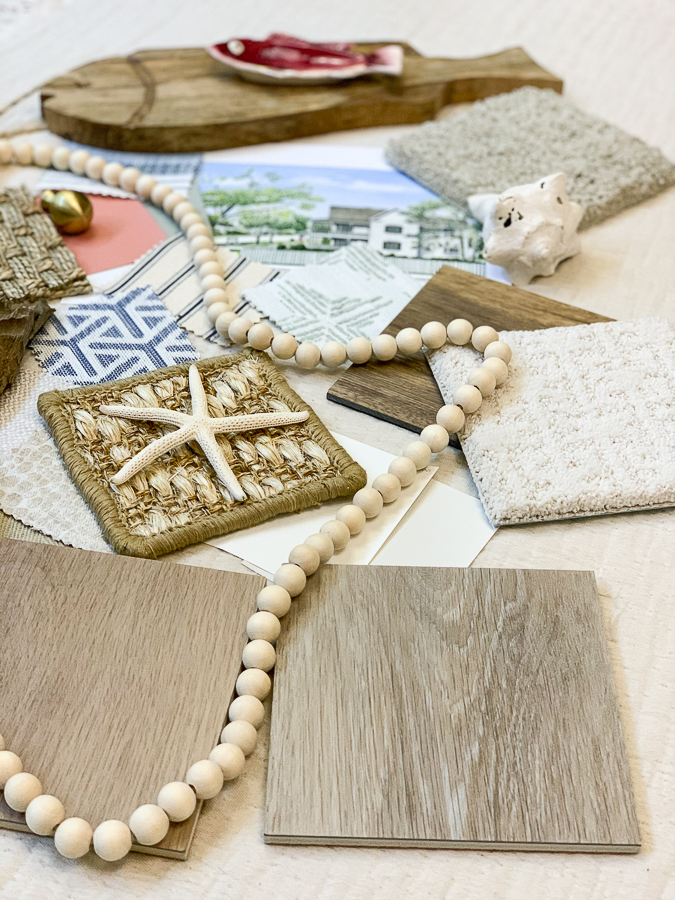 All of the flooring selections would work with these colorways.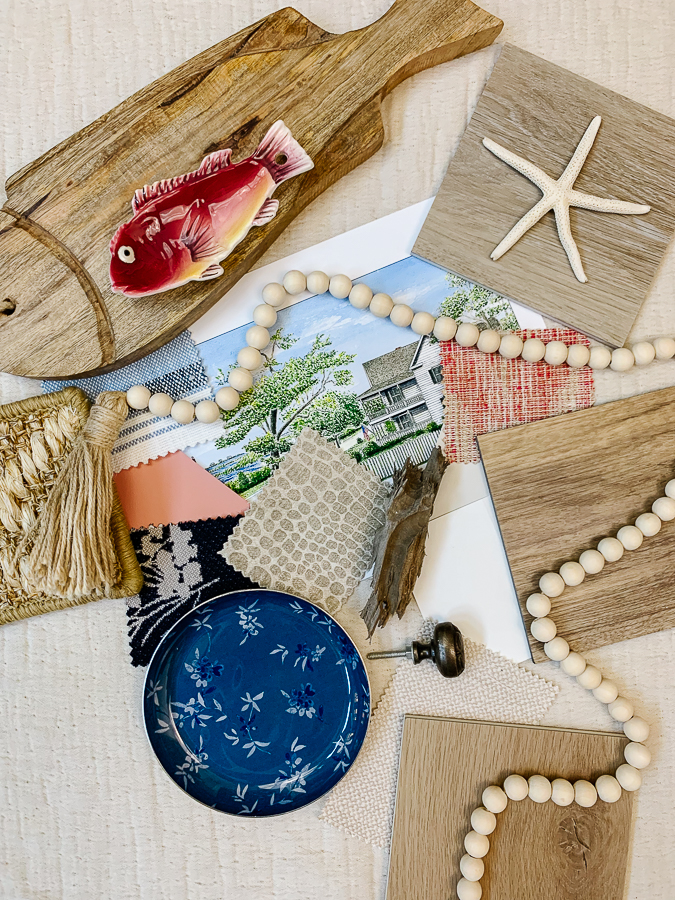 Which Carpet One luxury vinyl plank do you like here? I think I'm leaning toward the top one!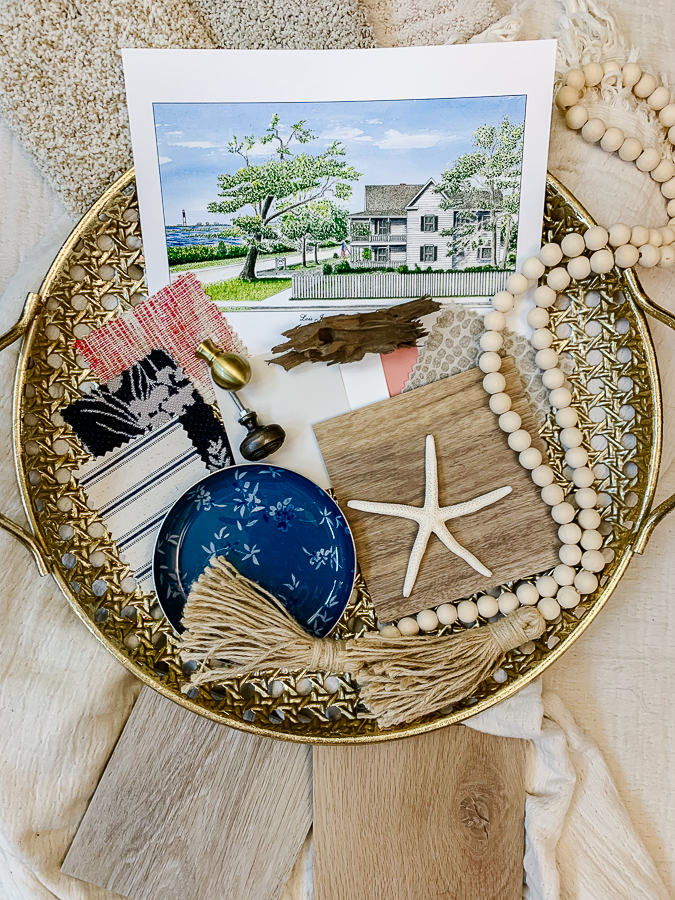 You may not think of using brass at the beach, but I'm liking the eclectic feel. It really adds a bit of casual elegance.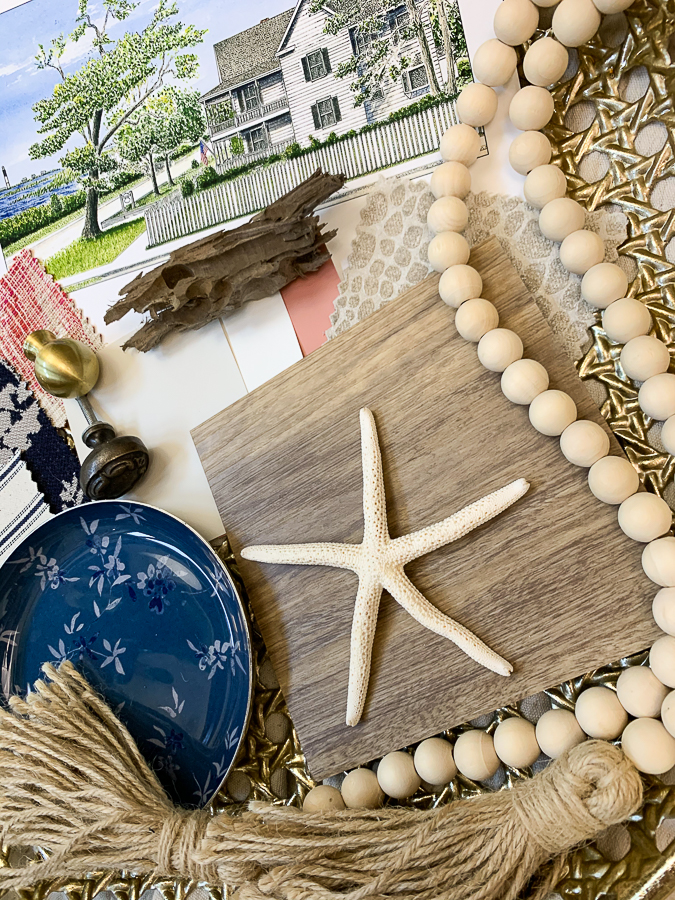 The brass really brings out the honey tones is this sample.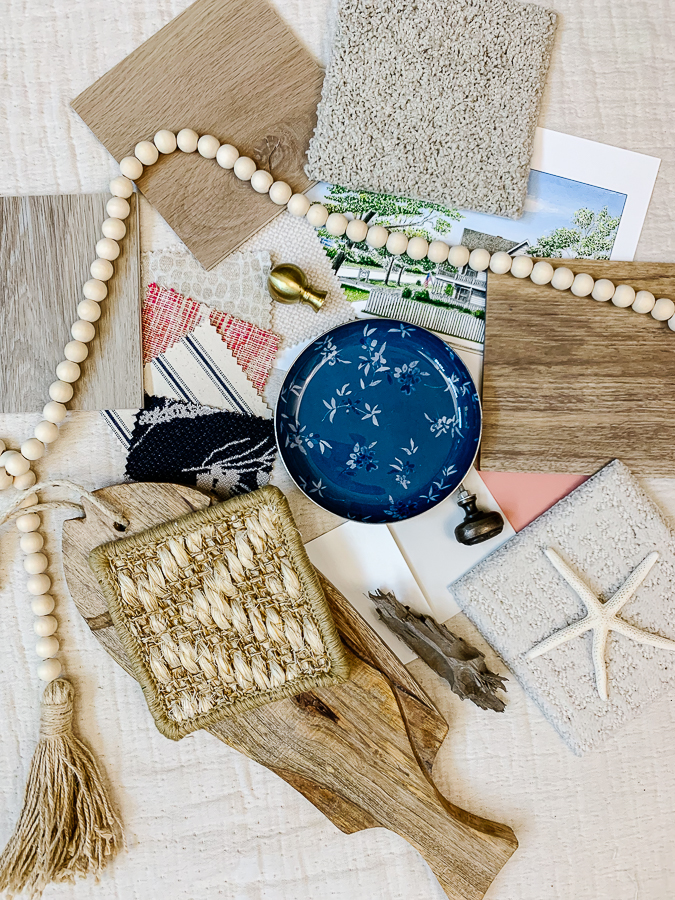 I hope you've been inspired to start creating mood boards for your home! They work no matter how small or grand your project may be.
I highly recommend ordering a sample kit from Carpet One. I have been blown away by the quality and being able to have that sample in my possession as I design spaces for our beach cottage.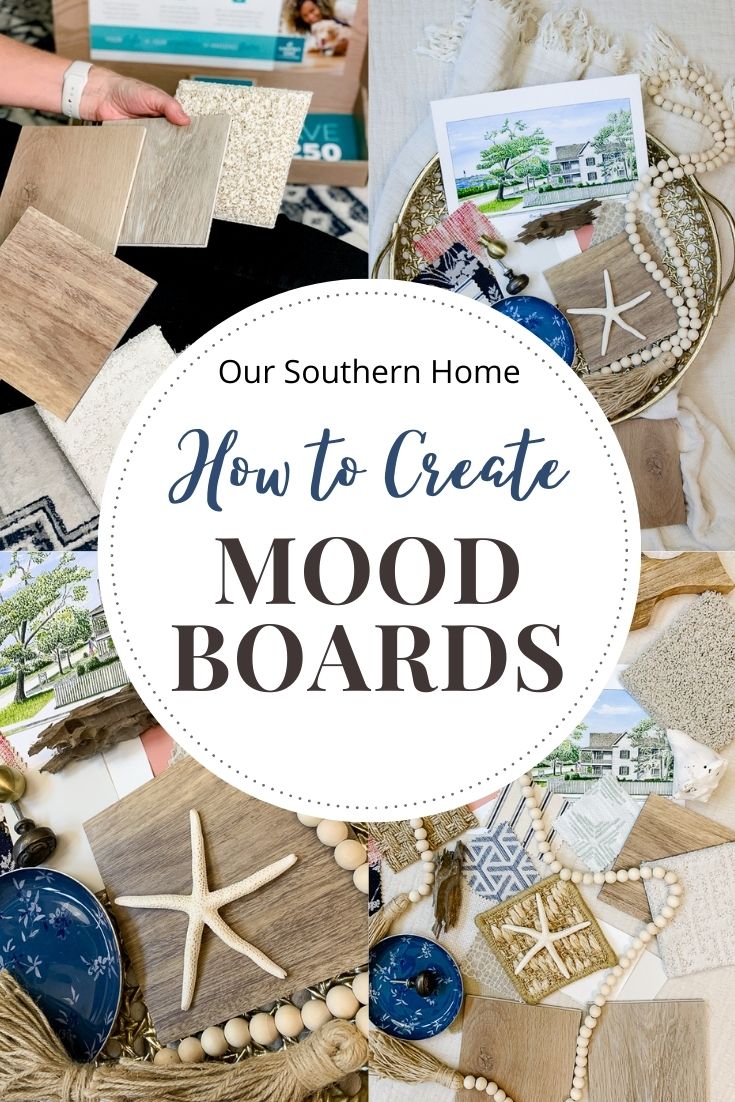 You can see more of Southport, NC when I shared a little walking tour. It's divided into several parts.
Check out these recent posts!
Yummy Soups to Warm the Soul!
Warm up for the holidays!
Buffer