Tips on how to create a vintage gallery wall will have you on the hunt for those perfect treasures whether in-store or online.
Many thanks to Cindy from County Road 407 for organizing our hop!
The theme of this go-around is FRAMES!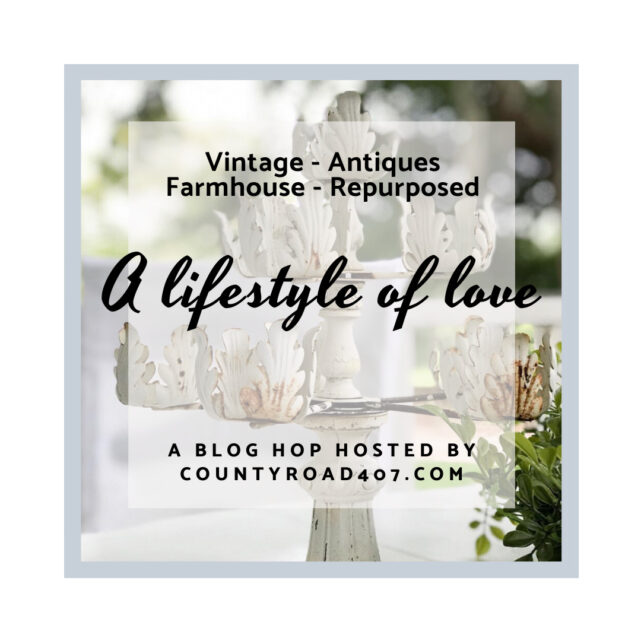 If you are stopping by from Debra's blog over at Common Ground then WELCOME!!!!
My take on the theme is sharing the details of our collected Vintage Gallery Wall.
Vintage Gallery Wall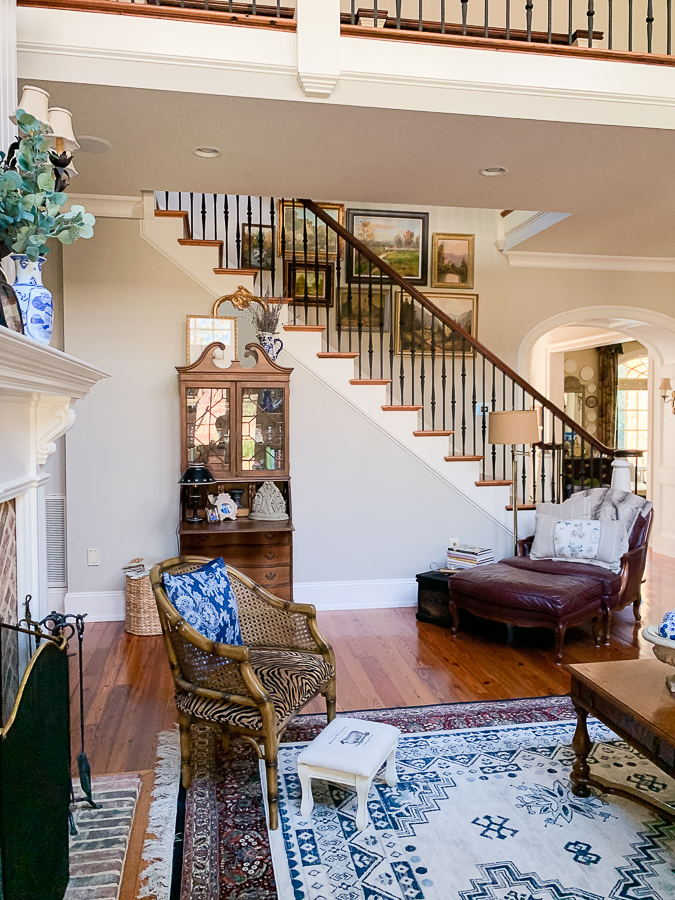 Gallery walls can be a challenge to create. You can find the blue and white rug HERE.
Different Types of Gallery Walls
matching frames
perfect symmetry
family photos
all black and white
matching tones of frames
mixed media
center focal point
themed gallery wall
Honestly, the list goes on. The possibilities are endless. It really just depends on the style of your home and your end result desire.
Evolution of our Gallery Wall
For many years our staircase consisted of one large lone landscape oil. I love this oil. My husband and I purchased it years ago as a Christmas gift to each other. It came from the showroom of a local furniture gallery. It is oil. I adore landscapes.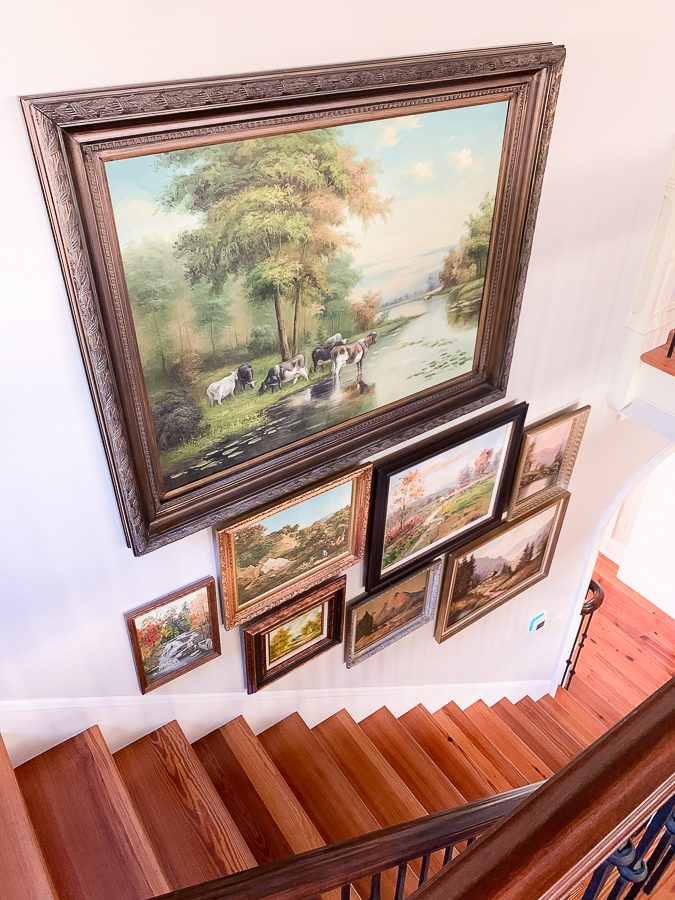 It sat with just the one large oil for so long because I just didn't know what I wanted to do with the staircase.
I had been collecting landscapes for several years and had them scattered around the house. Two years ago when we painted, I decided that I had enough to now start a gallery wall.
Since this is a collected wall, I've been able to add them to the wall as I get them.
Our gallery wall has a very relaxed arrangement in that there is no similar spacing or symmetry.
This is perhaps the easiest gallery wall to create.
This picture hanger tool makes the job so much easier!
Be sure to check the end of the post for shopping details!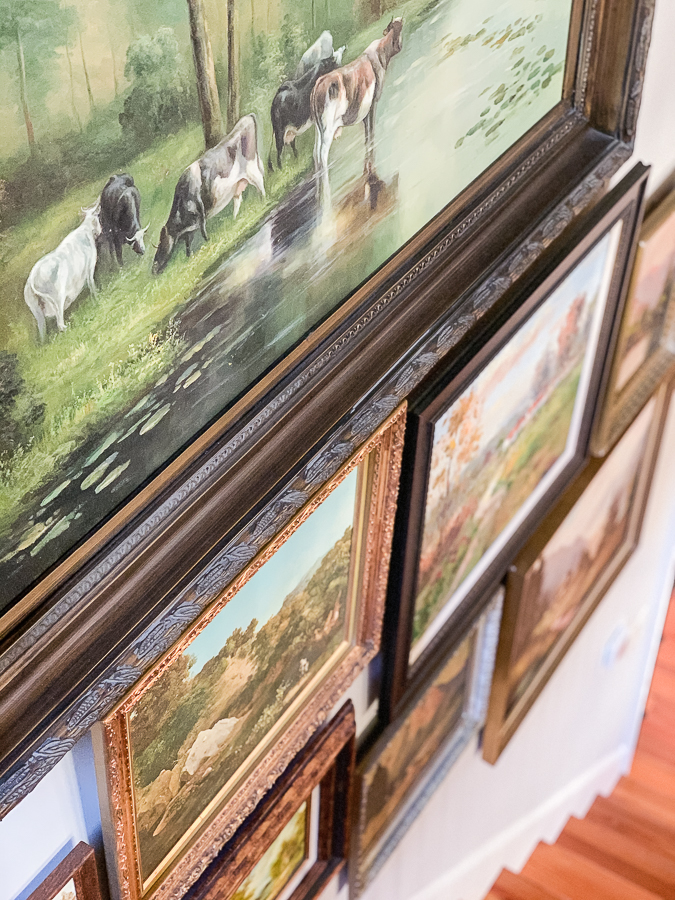 Let's chat about frames!
Frames on a gallery wall do not have to be the same frame, same color, or same style. That's what makes it feel more relaxed and eclectic.
When I mix frames, I try to have varying degrees of the same tones.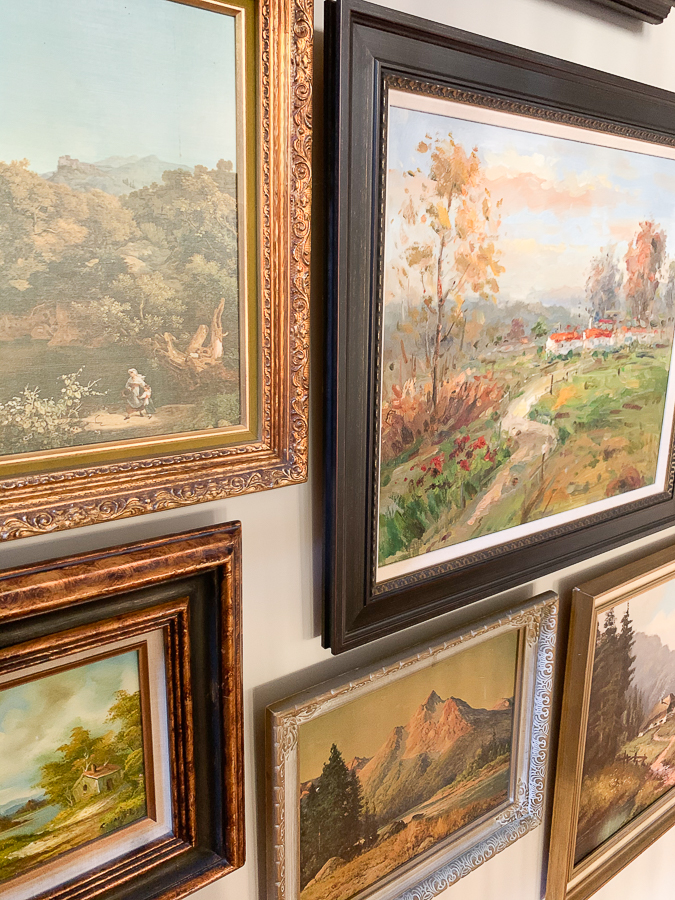 The frames have some sort of gold finish to them. They are either all gold or have gold accents. Some are more subtle than others.
The large oil on the upper right is an oil purchased new on eBay. It came rolled in a tube from China and was very inexpensive….like under $20. The shipping costs as much as the oil, but still worth it. I then took the rolled painted canvas to a framer. They stretched it and framed it in a darker frame with soft inner gold accents.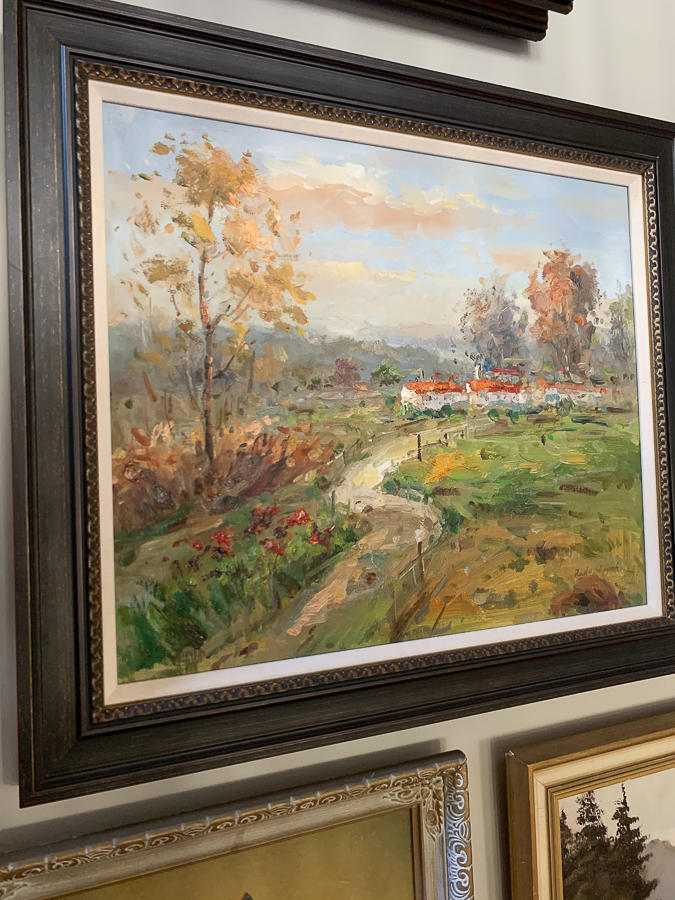 The oil over our bed in the master is from the same eBay merchant.
Unfortunately, eBay does not retain my purchases back to when this was purchased around 2008. I do not remember the seller, but here is a list of landscape oils.
From my experience with purchasing these inexpensive rolled canvases:
read many reviews on a seller
read the fine print details for the size
go with sellers with many ratings….that means there is a track record
double check shipping
I've purchased probably 5 oils like this on eBay as well as framed smaller vintage oils.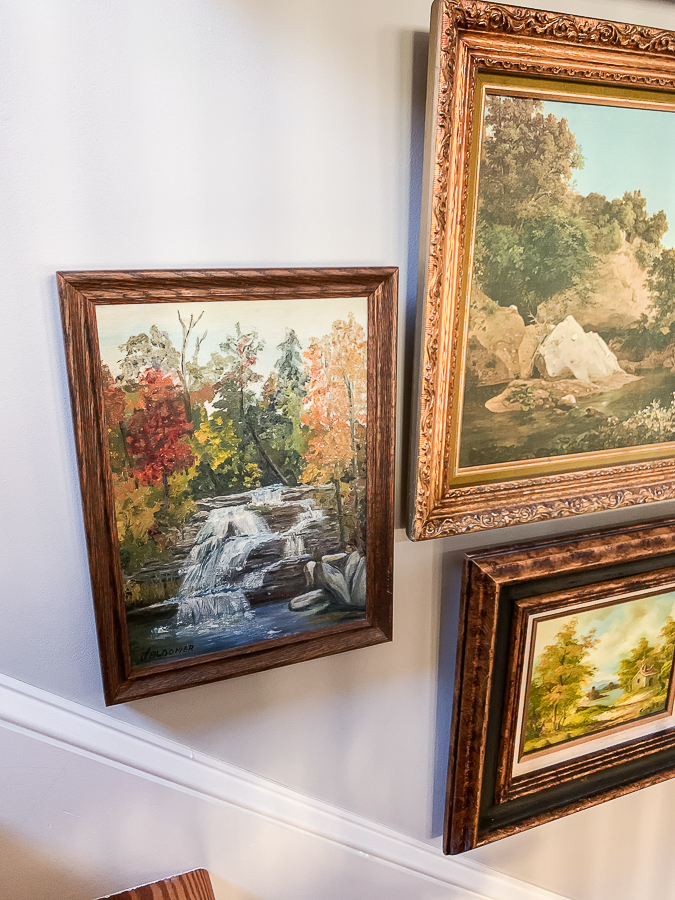 The plain stained frame on the far right isn't ideal for this wall. I plan to spray paint it soon in a soft gold. I love the landscape. It's either oil or acrylic. I'm not sophisticated to differentiate unless told. This one was $4.79 at the thrift store.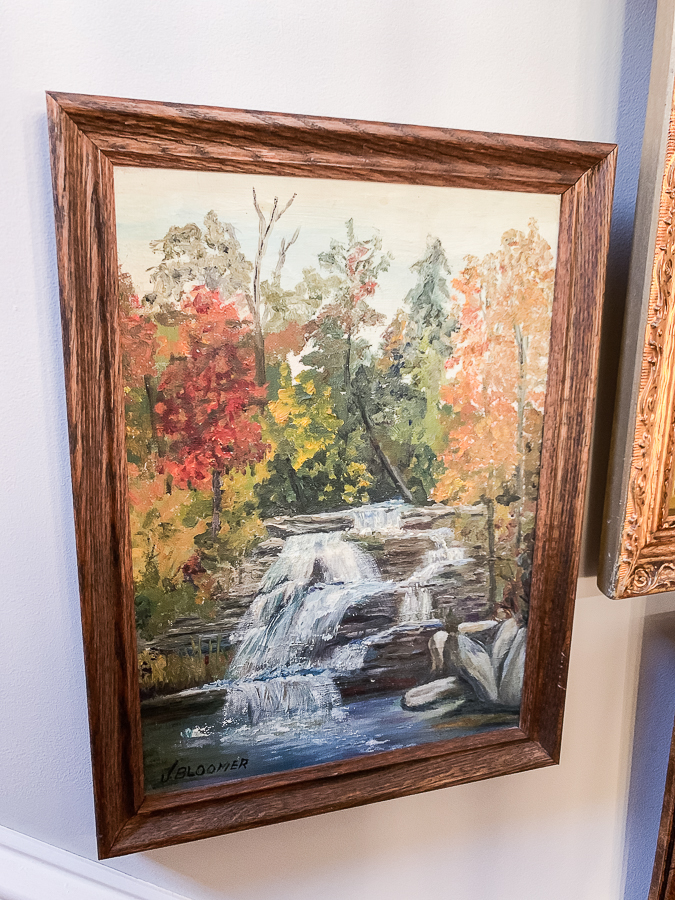 Isn't it pretty!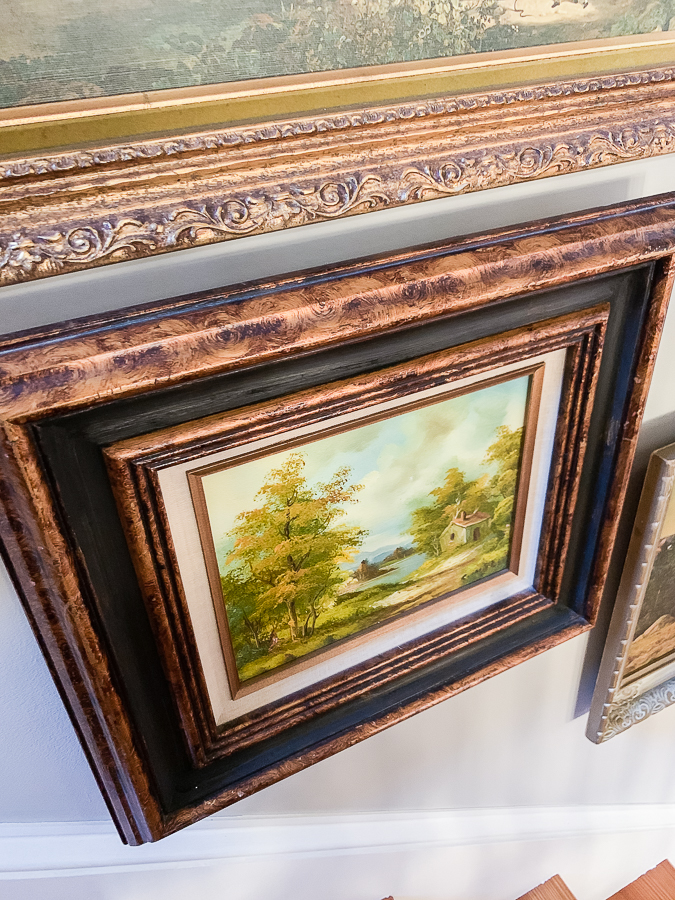 Sometimes you love the oil, but not the frame. That was the case with the one above. It had that tortoiseshell look all over. It was just too much. You can see read all about how this frame looked before I used a particular paint on it which helped make the frame blend better with the overall look of the gallery wall.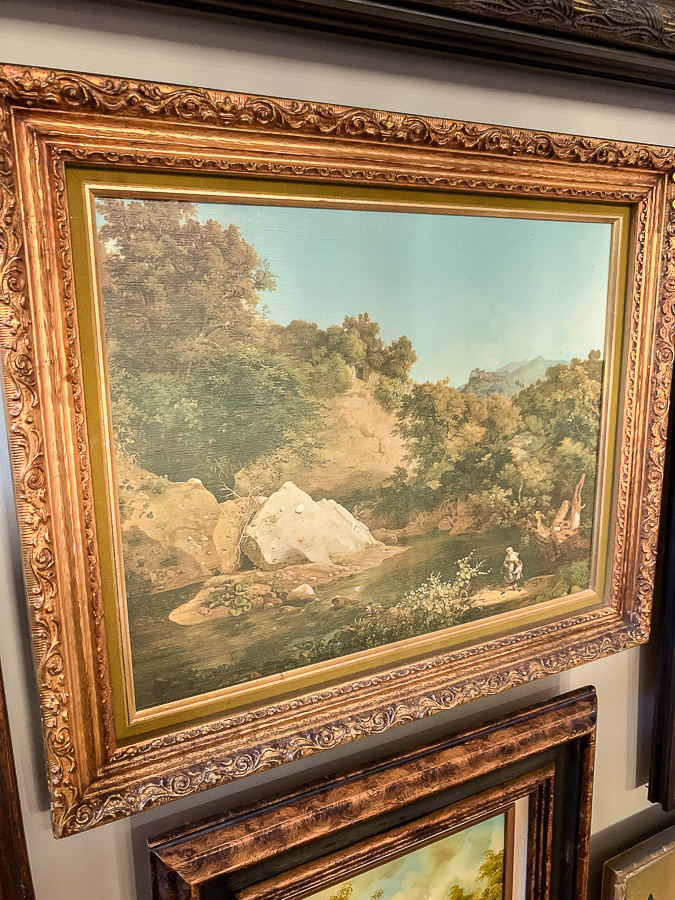 Originally, I purchased this piece of art just for the frame from the thrift store. When I decided to go with a landscape wall, I loved the look of it with the others. It's just printed on a board, but it is old.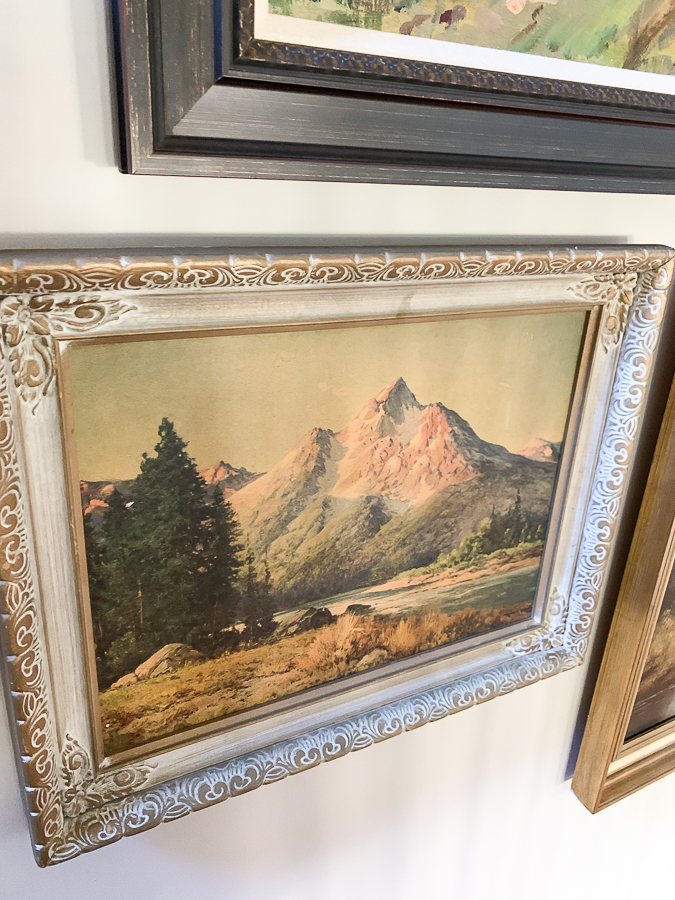 This is also a printed on landscape from the thrift store. Again, I purchased this one at the thrift store for the frame. I love this frame!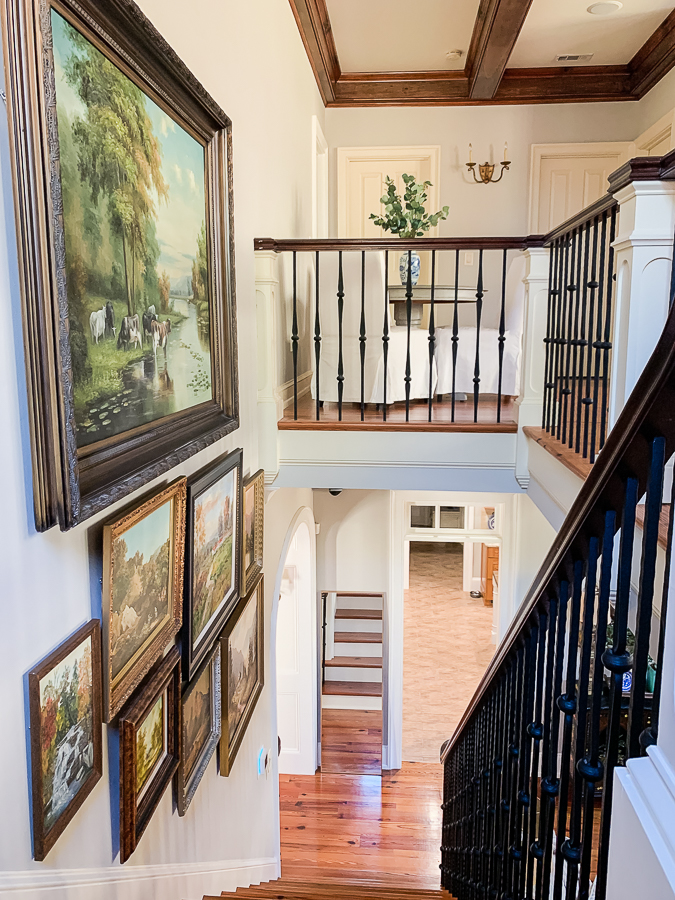 I've still got some areas to fill in over time as I come across that next great find.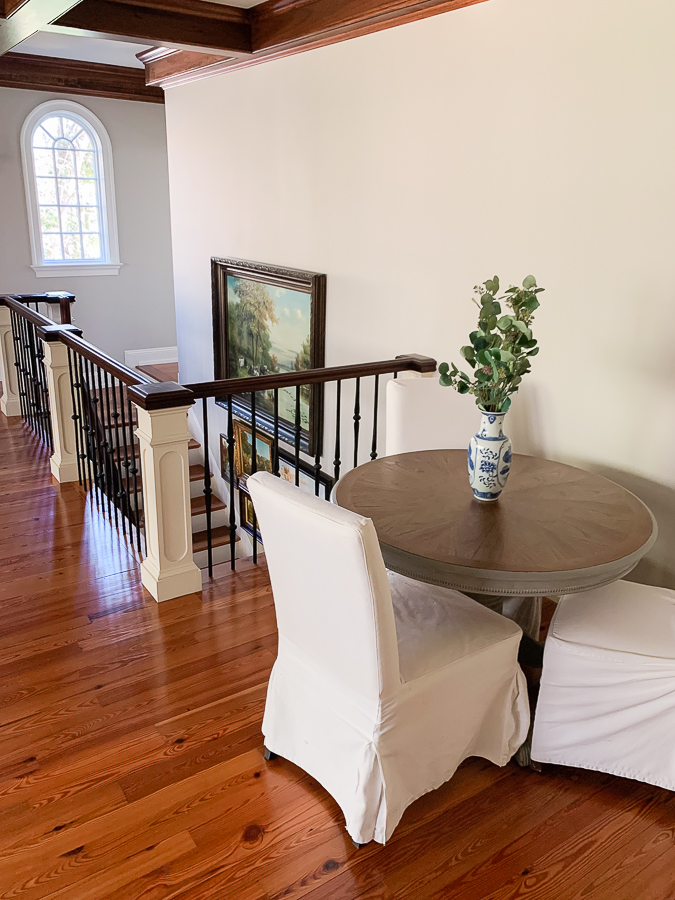 I still haven't rehung anything on the area by the table. This table won't always be here. I used it for staging. It was a thrift store makeover that I got for $10!! Ashlyn wants me to keep it for her when she has her own home. If one of the kids can't use it in a couple of years, I'll sell and make this more of a sitting area/reading nook.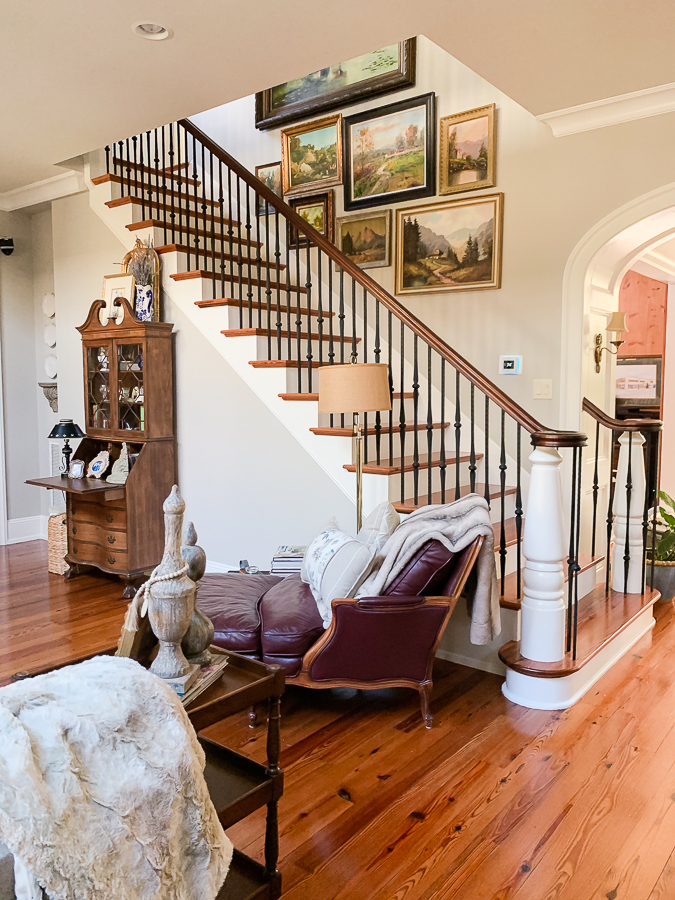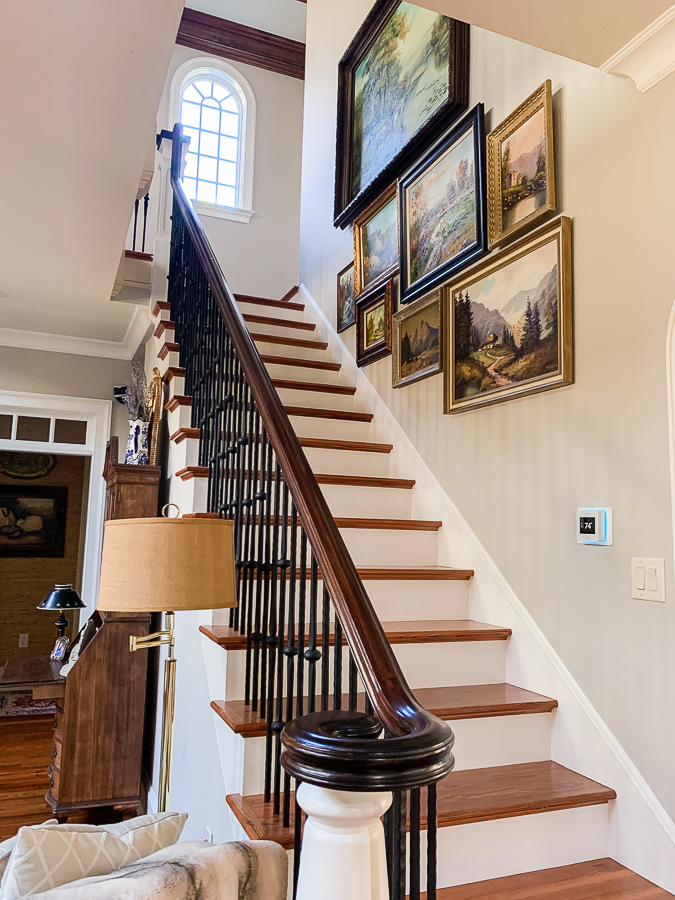 I still have some open spaces, but I'm in no rush. As I see something that speaks to me at a steal, then I'll add to the wall.
I hope you have an amazing day and are inspired to start your own vintage gallery wall.
Up next on the tour is my good friend, Paula, from Sweet Pea!
You'll find shopping sources below! BUT first…..let's check out the rest of this month's projects!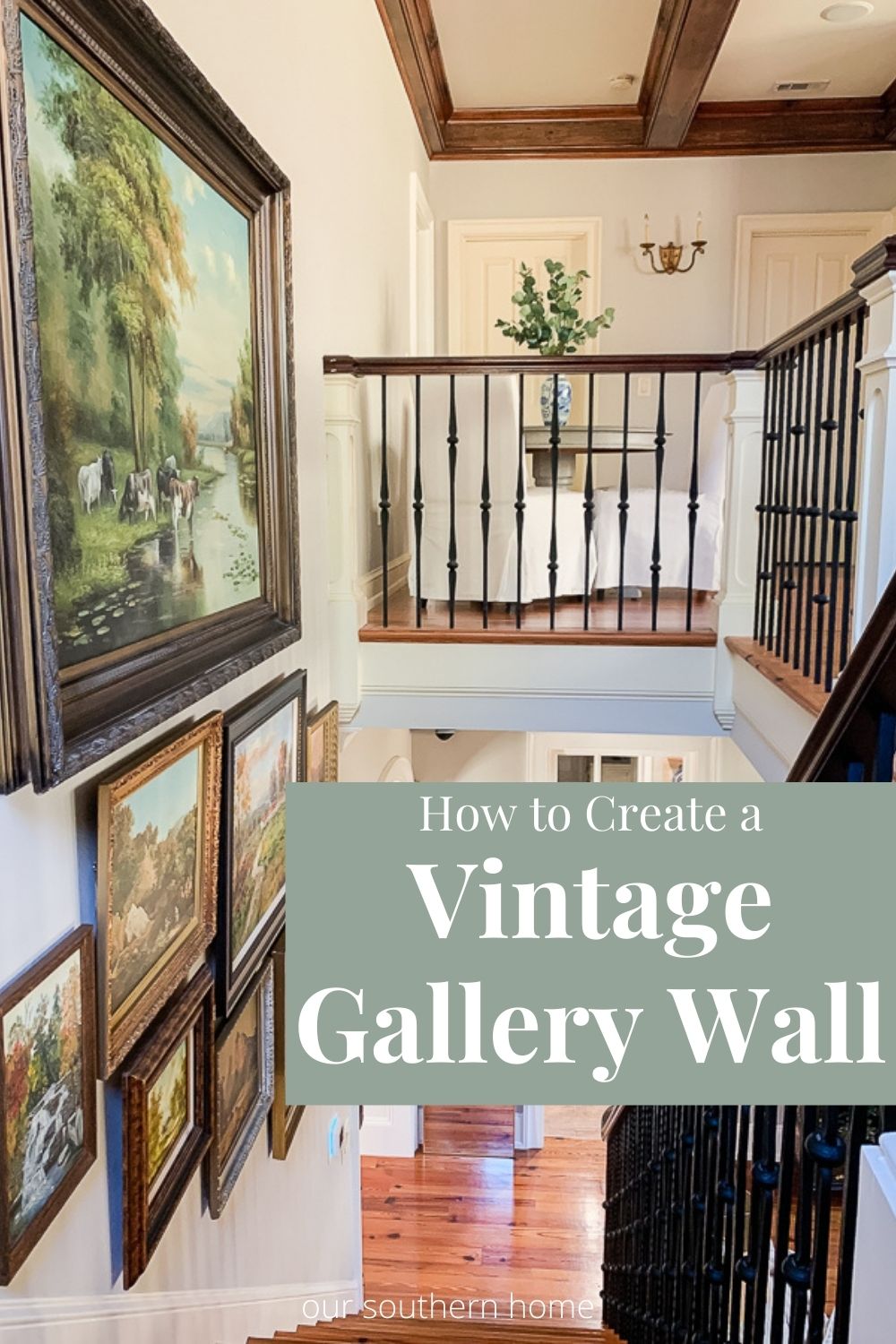 Thrift Store Makeovers
Thrift store makeovers from the OSH!
Buffer