Ideas for Fall Dining on the Porch
I am so excited to officially say, "Happy Fall!"………y'all
We are finally in that odd place where the mornings are quite chilly, but the days heat up. I'll take it….it just means we are inching ever so closely to boots, sweaters and cozy evening by the fire.
This is perhaps one of our favorite times of the year to enjoy our screened porch. I find myself working on my laptop during the day more. We are now even leaving the French doors opened to the porch until around noon each day until the air kicks on. I love being able to hear the birds and trees rustling.
So yes…..here in the south we still have a few more weeks left of outdoor dining in the evenings.
Welcome to another installment of our monthly Pinterest Challenges hosted by my sweet friend, Cindy, from County Road 407.
If you are new to the Pinterest Challenge, here are the details!
each month Cindy selects a photo for inspiration online that we will recreate
the owner of the photo has graciously given us permission to give our spin on the project
you will receive numerous ideas that you can replicate in your home to keep things fresh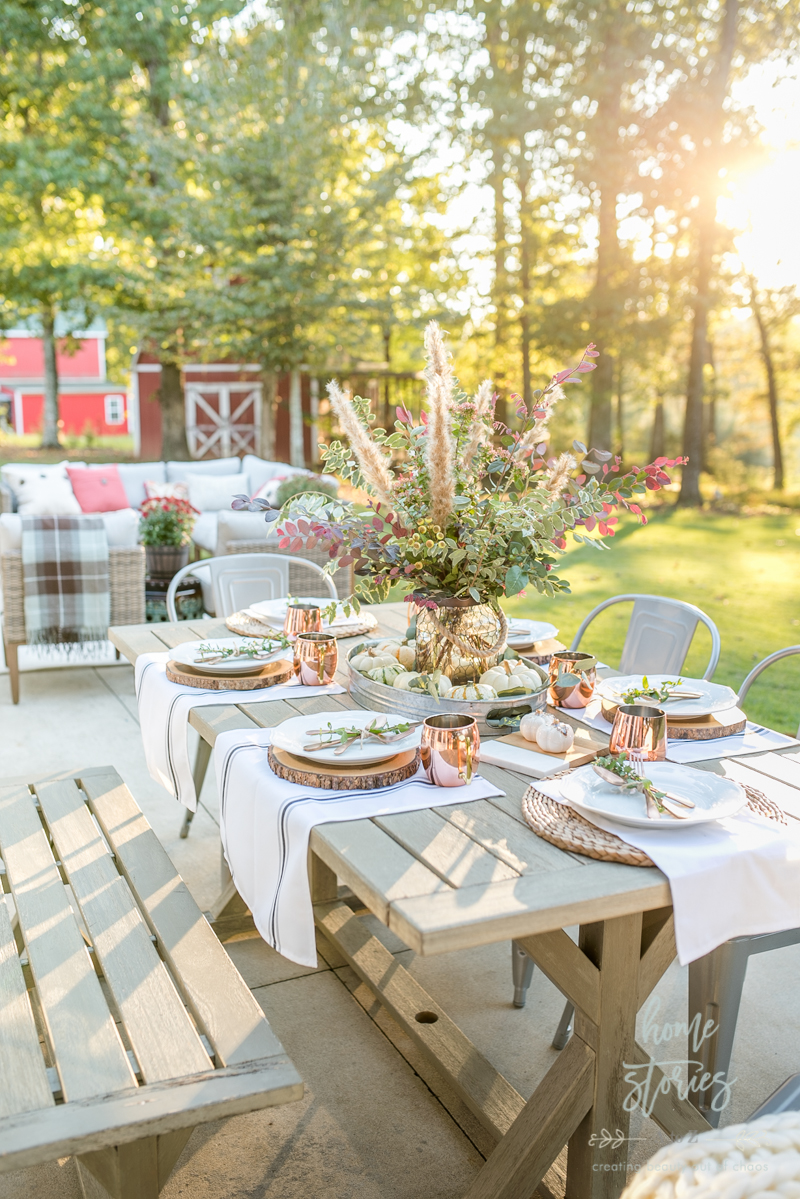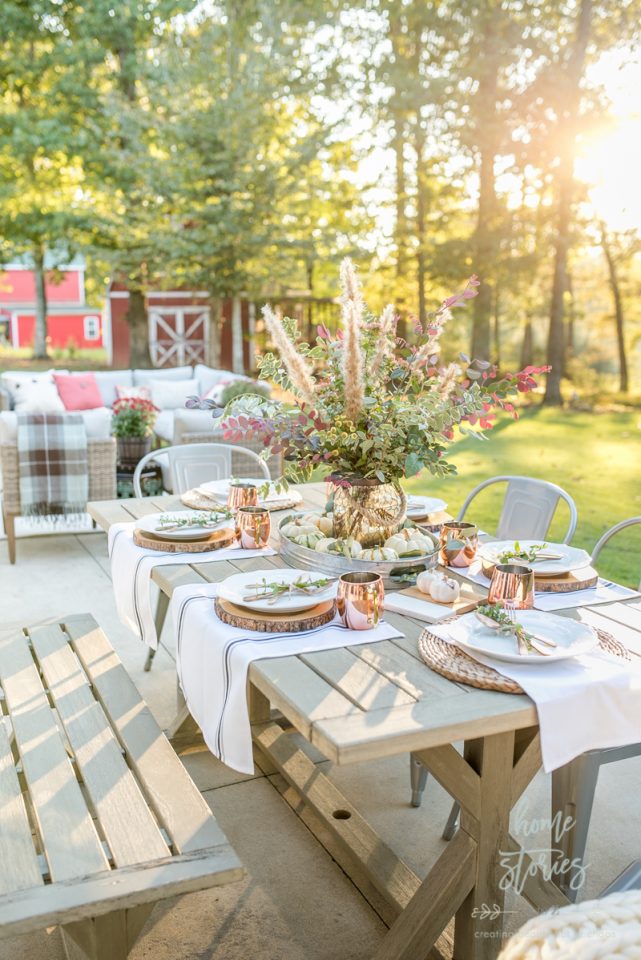 This month's inspiration comes from the talented, Beth, from Home Stories A-Z. Please be sure to visit Beth's blog to see all of the inspiration in just this one blog post.
Little fun piece of trivia…….I was Beth and Matt's Realtor for the purchase of this home. It's a gorgeous place! You've got to go check out her blog to see all of the amazing things that she has done to this place to make it their own.
This post contains affiliate links for your shopping convenience. You pay nothing more for your purchase. The company rewards me with a small commission. You can read my disclosure here.
If you are dropping by Stone Gable then welcome! Yvonne is such a sweet and talented friend. Her blog is such a joy and I always come away inspired.
My takeaways from this photo that I wanted to incorporate that I knew that I already had on hand were the following: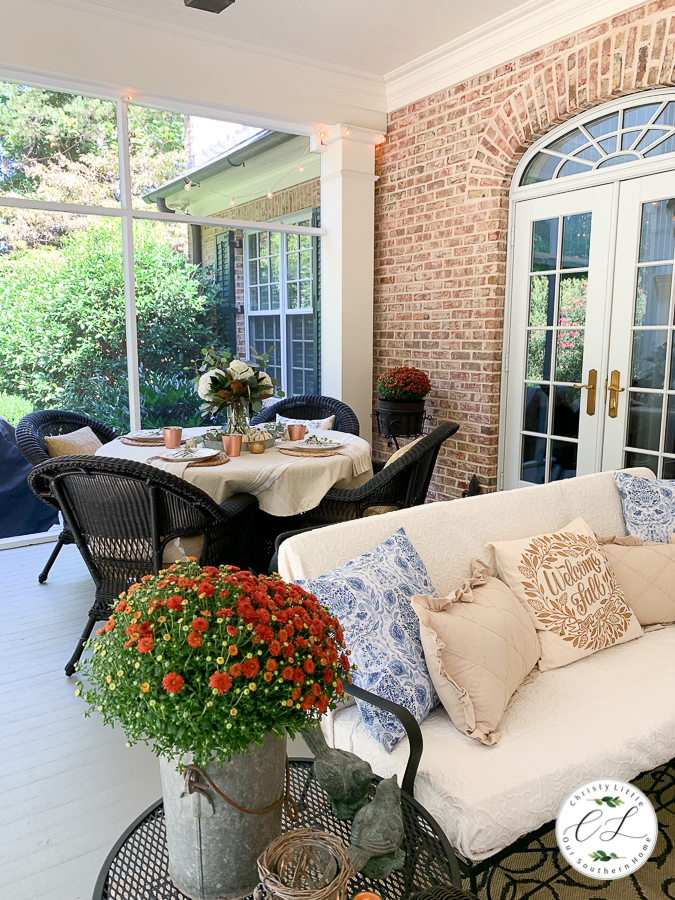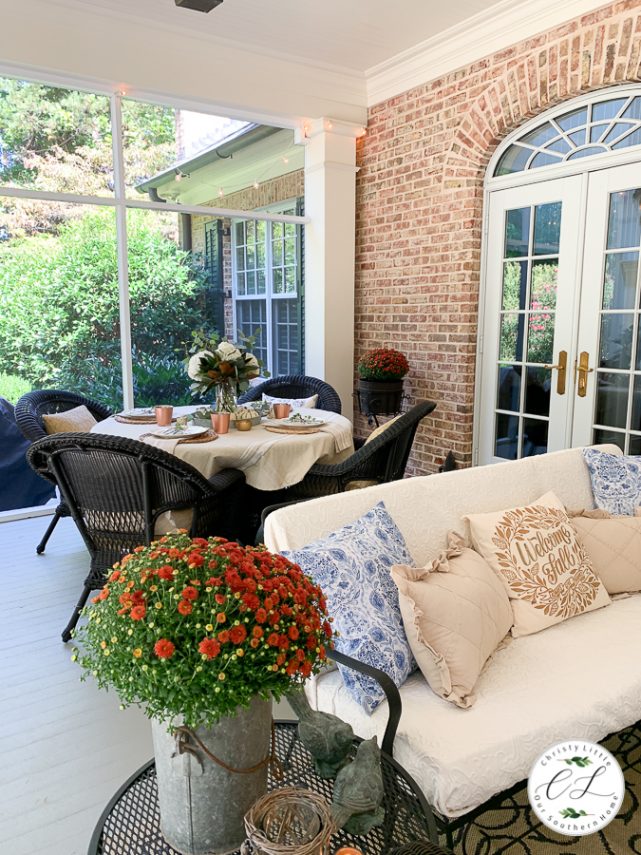 We use our screened porch all the time. Our pets LOVE it! It's a mix of new, thrifted, budget and Craigslist finds. It's casual and comfortable. The outdoor wicker table has a glass top which we use as is most evenings with placemats. We do eat out here all the time. For this tablescape, I knew that I wanted to add a tablecloth to soften the surface and mimic the top of Beth's wood table. Fortunate for me that the napkins that I already owned had a matching tablecloth. It was just a short Amazon click away.
I looked at getting a totally different tablecloth, but concerned that the colors would be off and I didn't have time for that. I needed the tablecloth like yesterday!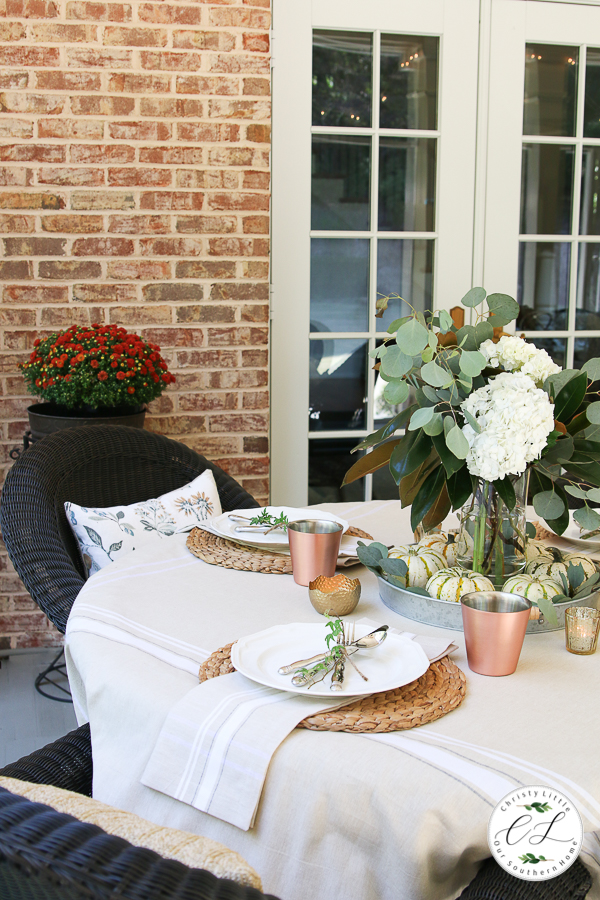 The soft charcoal lines really look pretty with the darkness of the table and chairs. I really like that they match now that I have it. It such a nice neutral set that will work for all seasons.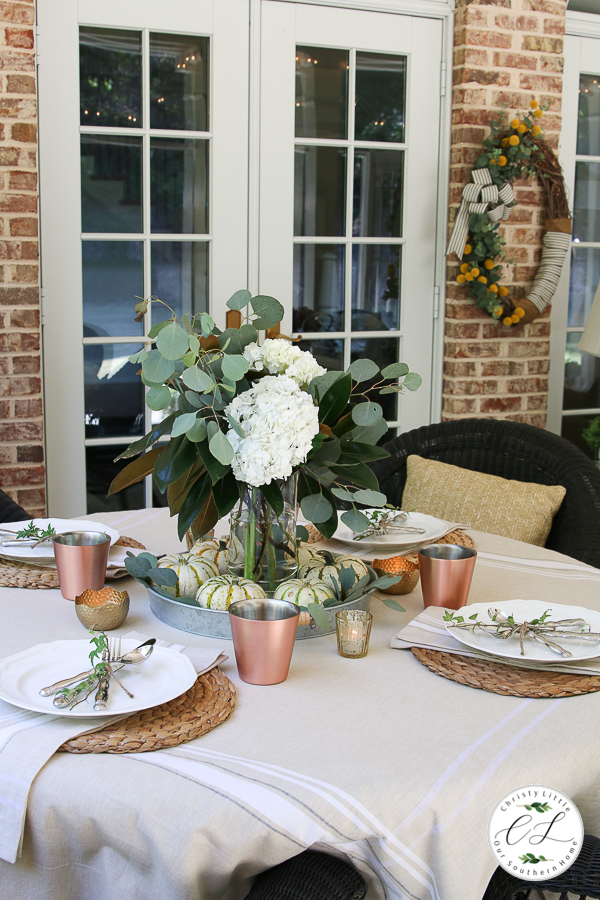 Beth used natural elements from her yard. We live on 7 acres mainly surrounded by woods. We have lots of landscape, but I've really been wanting to use magnolia lately. We have several rows af Little Gem Magnolias. They are wonderful in that they are nice and compact. They are perfect for occasional clippings.
Magnolia are beautiful on their own, but I decided to pick up a bouquet of hydrangea and eucalyptus from Trader Joes. Hydrangeas make everything look devine.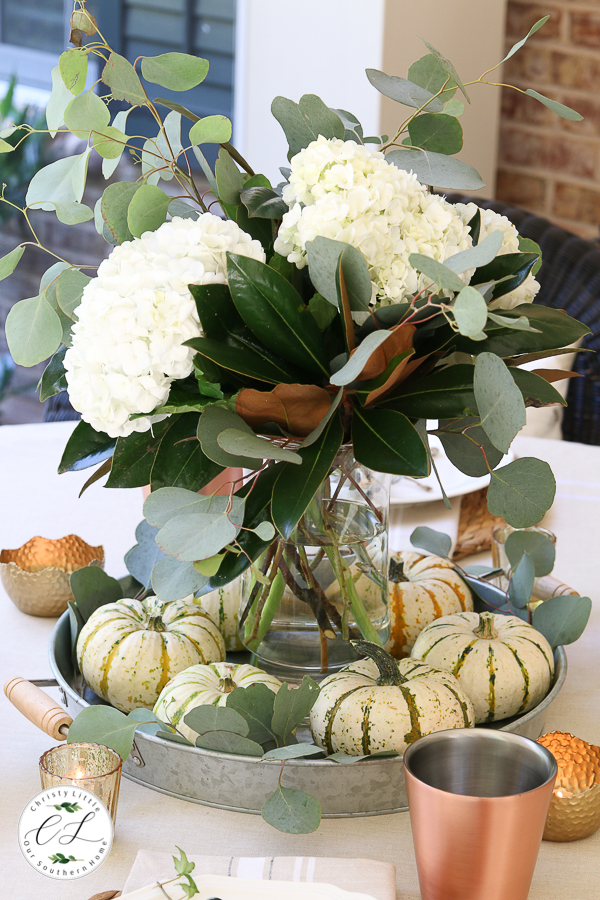 I have an oval and a round galvanized tray. I went with the round due to the size and shape of the round table. If I was using my rectangle or oval table inside, I would have gone with the oval one. I surrounded my vase with the baby pumpkins and a few sprigs of eucalyptus.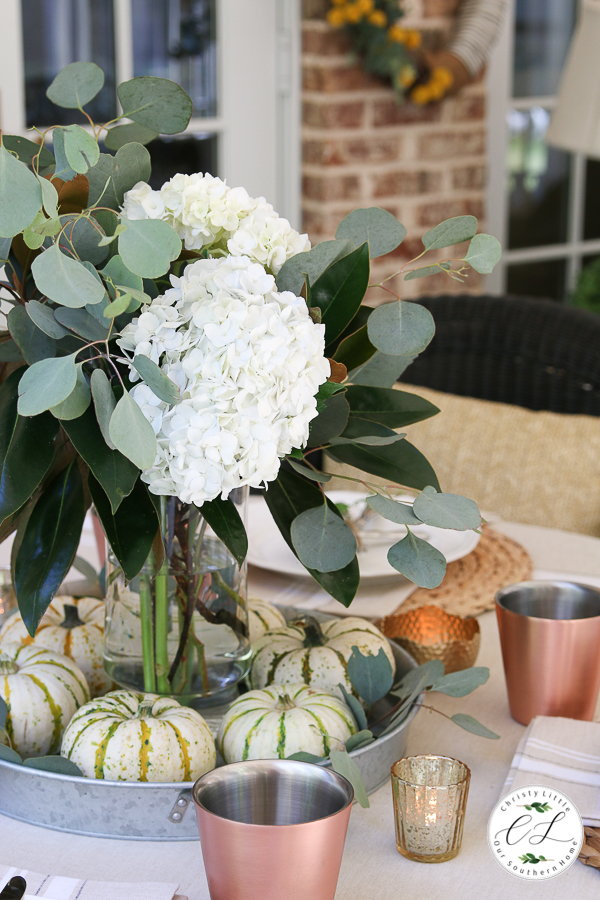 I picked these double-walled copper tumblers up at Sam's Club last year. We use them a lot. Since it's still a bit warm here, I opted to use these due to condensation. Nothing beats the beauty of my traditional copper mugs.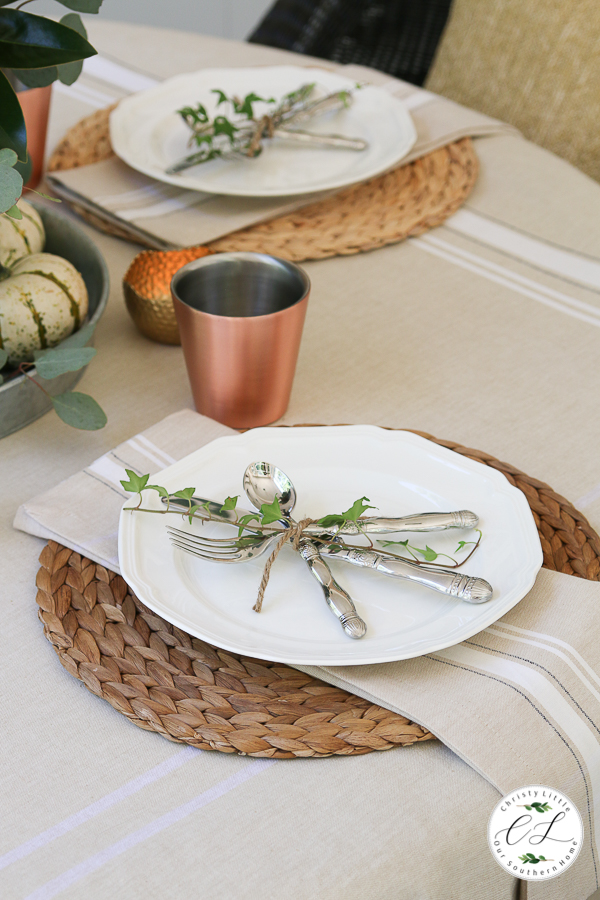 The utensils are simply tied with a piece of twine and a cut sprig of ivy. I really lucked out when I found this set of Mikasa white china at the thrift store. It's linked above.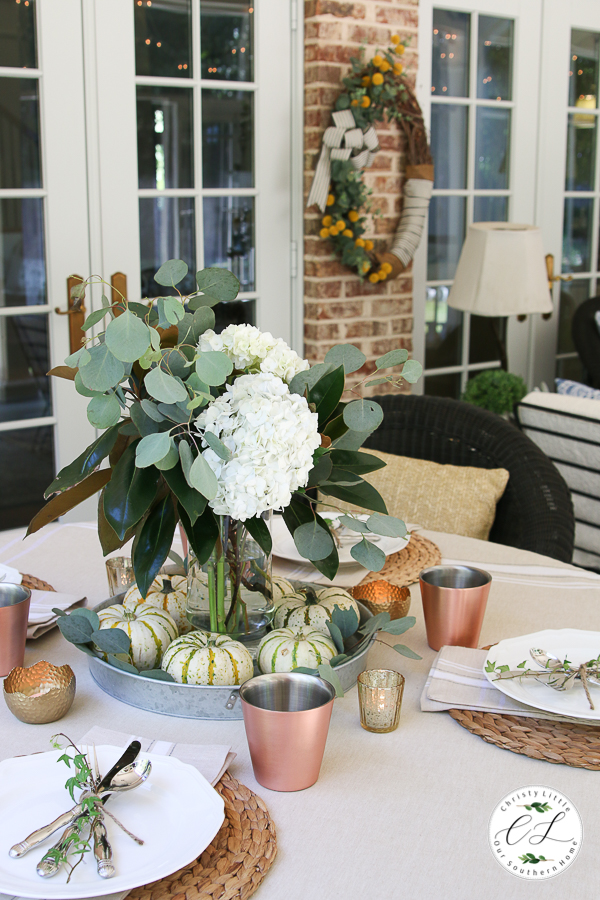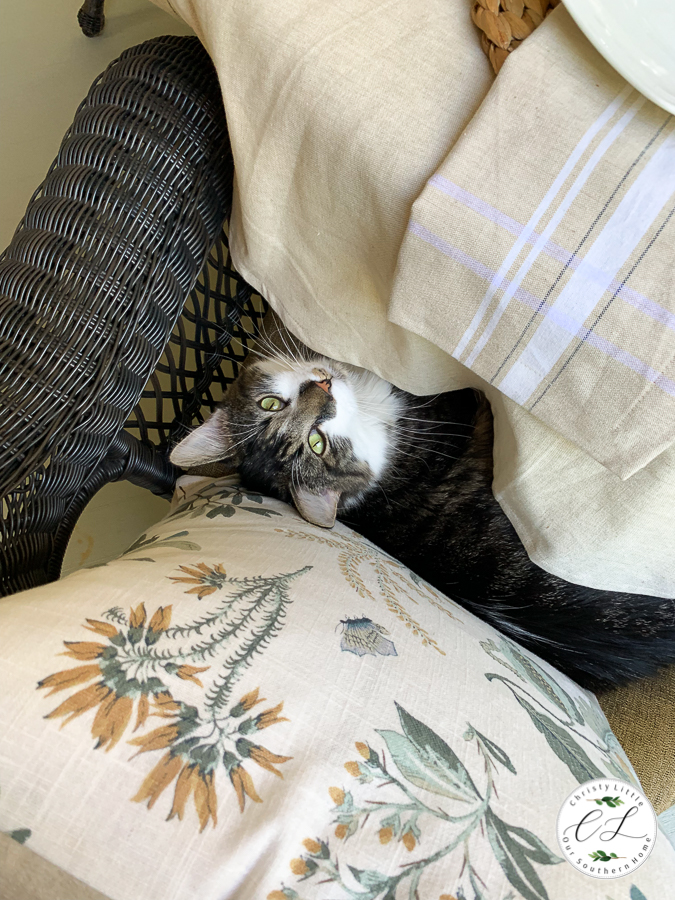 Sorry to disturb your sweet slumber, Jack! If the doors are opened to the porch, he always finds his way to the chairs here. These are actually the pillows that I had made for the family room. Don't be afraid to bring the indoors out when decorating for a dinner party outside.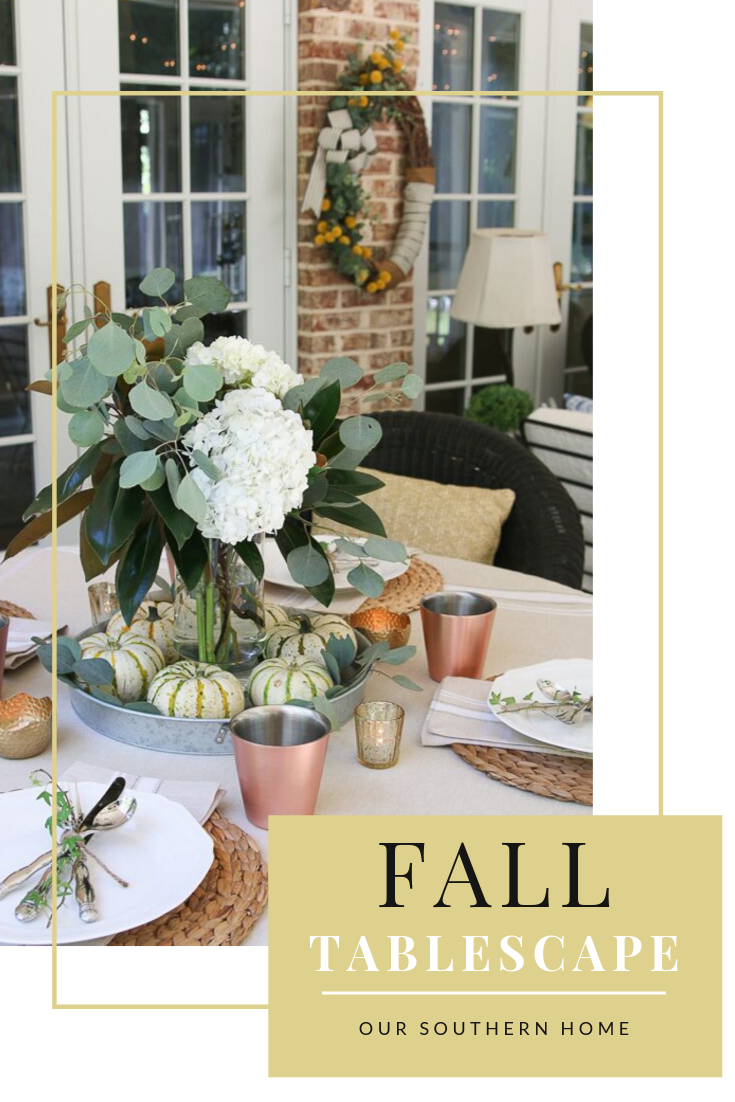 Up next on the tour is my sweet friend, Laura! You will love her vintage, traditional home at Decor to Adore!
I'll be sharing more from our fall porch and our fall dining room soon. Be sure to sign up for my newsletter to notify you of NEW posts so you won't miss a thing!
Be sure to check out my blogging friends on today's tour!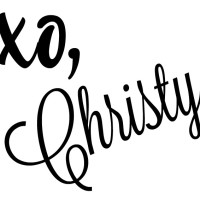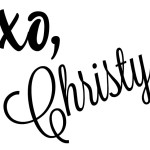 Buffer