Ideas for creating a simple yet gorgeous tablescape for fall in the dining! Color, texture, and the mixing of metals create a lovely look.
Fall in the Dining Room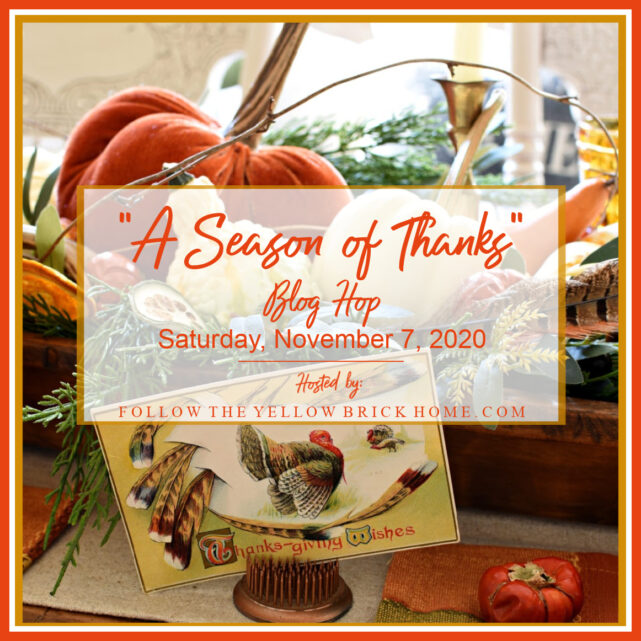 I'd like to thank my friend, Amber, from Follow the Yellow Brick Home for hosting this year's blog hop full of ideas for your Thanksgiving Table!
If you are visiting from Debra's blog at Common Ground, welcome!
I am so excited to be sharing our dining room this season.
Fall in the Dining Room has been a long time coming. This will be the first post that I am sharing the antique armoire FINALLY in our home!
We inherited my husband's grandparent's armoire. His grandfather built it in the house. The house was literally falling down. Most of the treasures had been removed with the exception of the armoire.
It's not completely done yet, but the striping and sanding were.
I'm not 100% sure yet how we will be finishing it, but we are loving the natural look with layers of paint still in the nooks and crannies.
I'm 95% sure I'm not painting it. I'm learning towards applying white wax.
I'm not even going to start working on that part until after the first of the year. We are going to live with it a while as is.
You'll find a shopping list for the room below.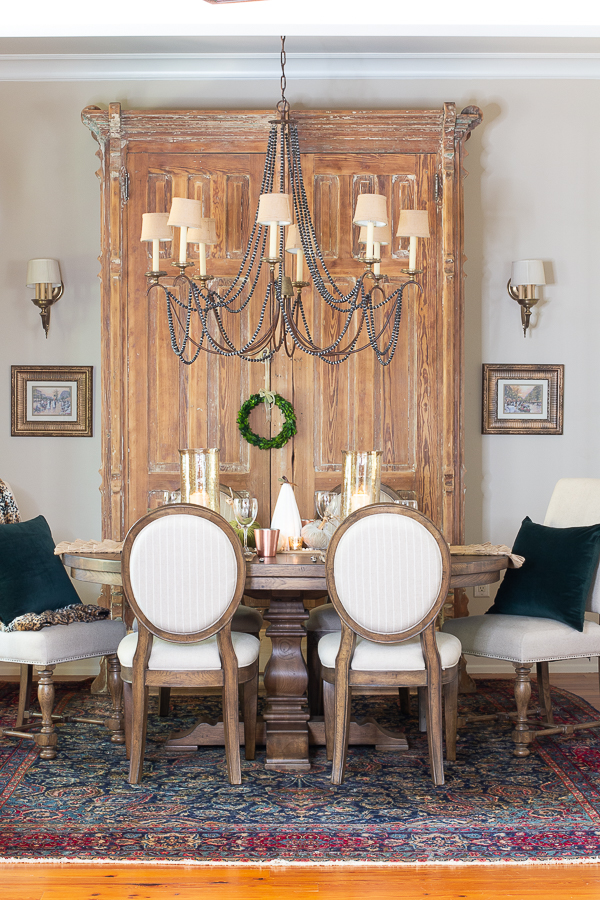 The armoire is beautifully crafted of pine wood. I'll be sharing more on the armoire in its own dedicated post…eventually.
Our Dining room has certainly evolved over the years. If you follow along, you'll know that we sold our previous dining room suite to accommodate the armoire.
We went with something a bit more casual, but elegant.
You may notice that we turned the direction of the table. It just worked better with the room once the beast of an armoire was moved in here.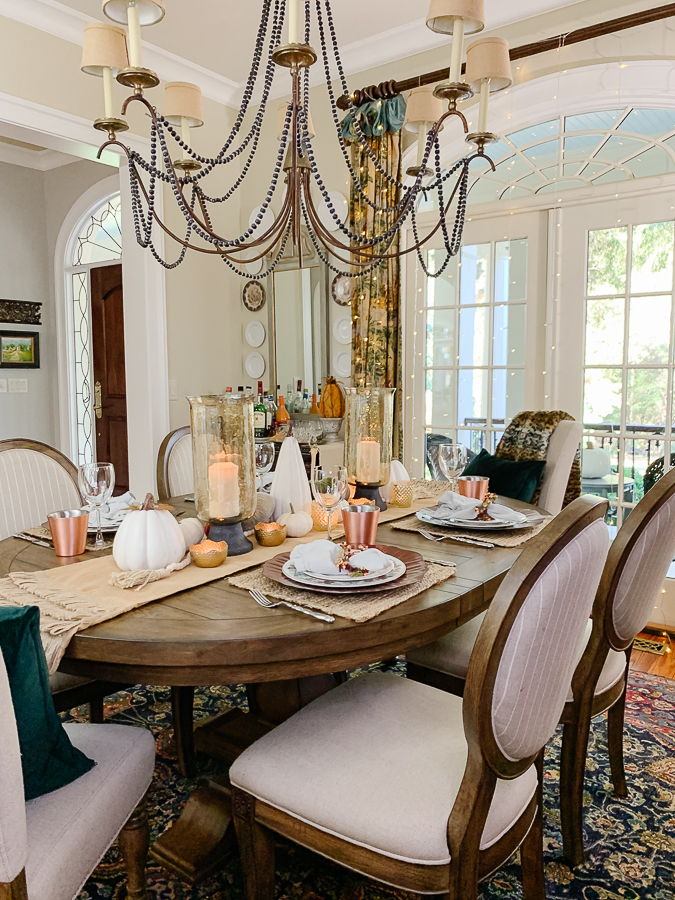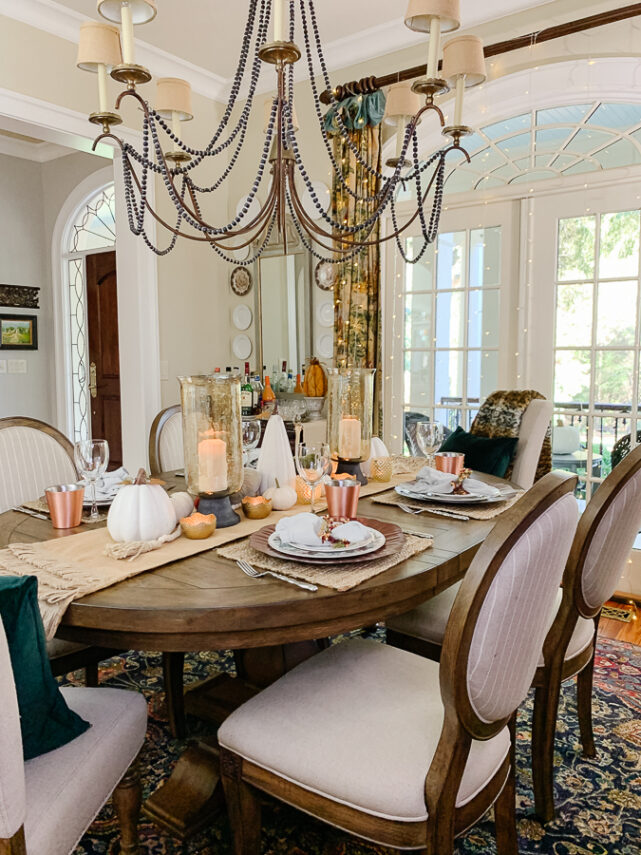 Our old table seated 12 with the leaves extended. We certainly gave up dining space to add the armoire. This table seats 6, but can squeeze in 2 more.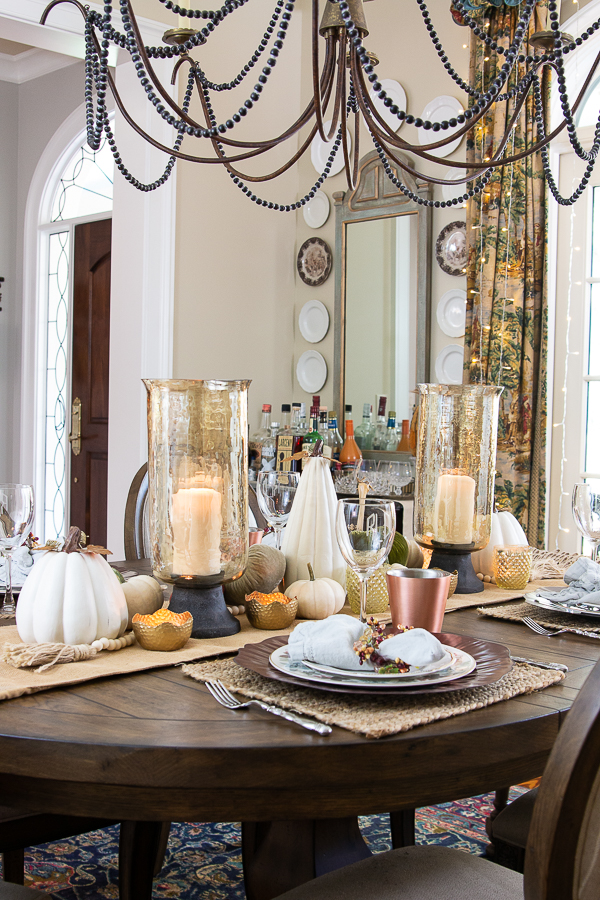 When creating a tablescape for actual dining, I like to create looks that don't require you to remove the centerpiece to converse with guests.
If it's just a look for the room daily, I have been known to go big!
We've been eating a lot of our dinners on a daily basis here these days so I keep it set for 4. It's simple to add additional place settings on the ends.
Create a Layered Place Setting
start with a textured placemat
add a charger that pulls colors from the centerpiece, napkins, or china
go for a relaxed look with the napkins…..they don't have to be starched and ironed
mix china patterns
copper accents are perfect with golds for fall
look for pretty double-walled glasses that protect your table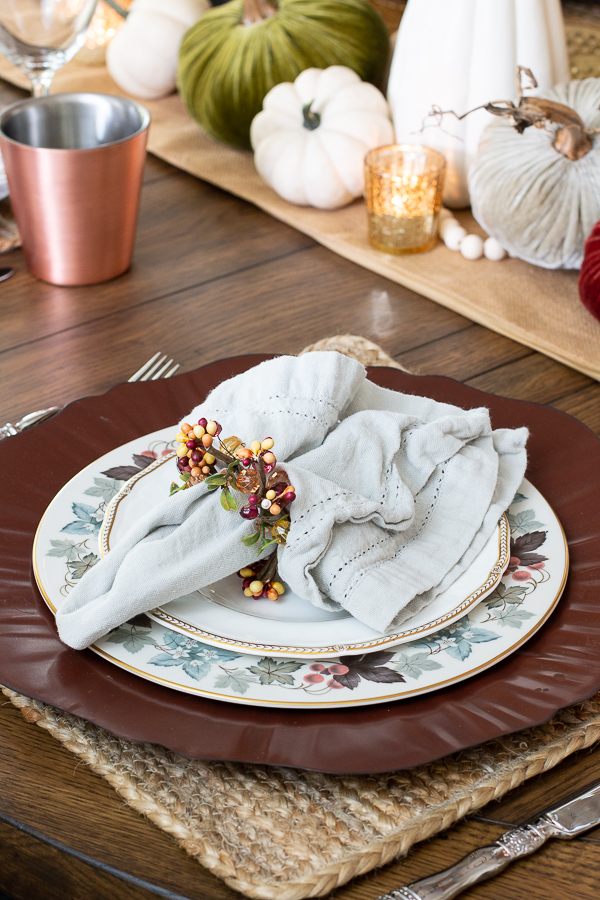 Create a tablescape that your guests can see each other over for dining!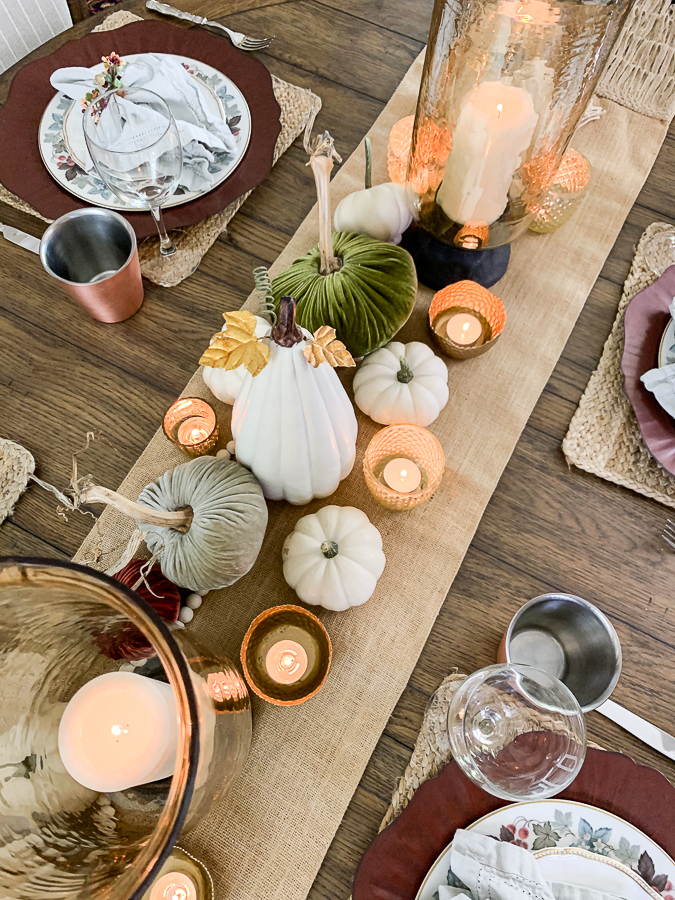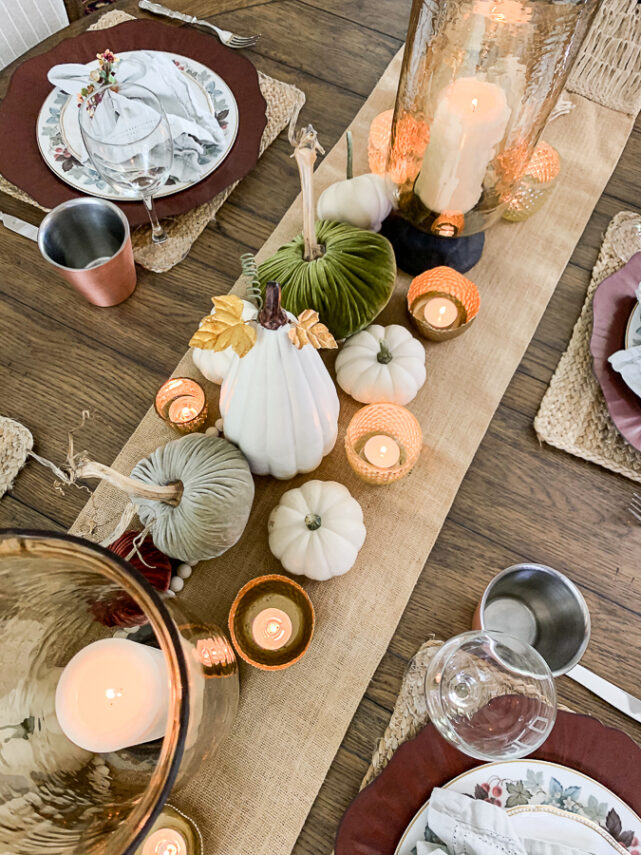 The only height is with the amber-colored hurricane lanterns. I got these on clearance years ago for like $16 each! I use them each fall. I love the glow of the amber color with golds and coppers.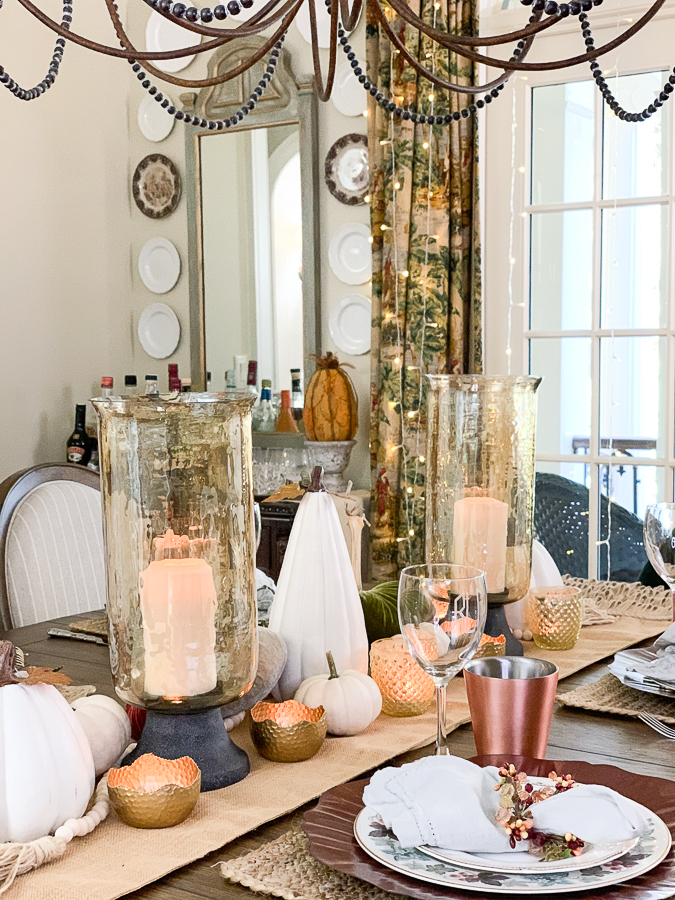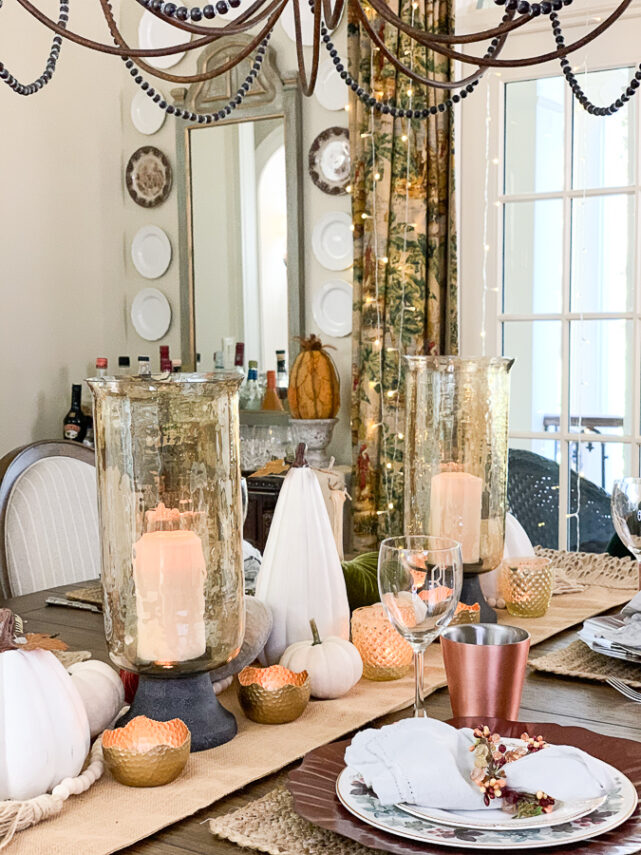 Don't be afraid to mix real and faux elements!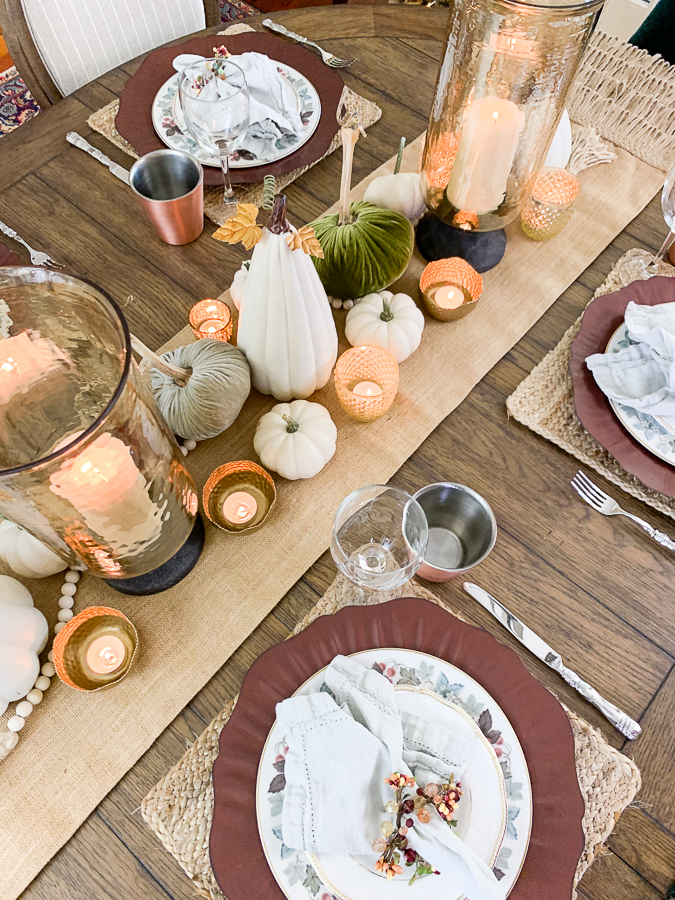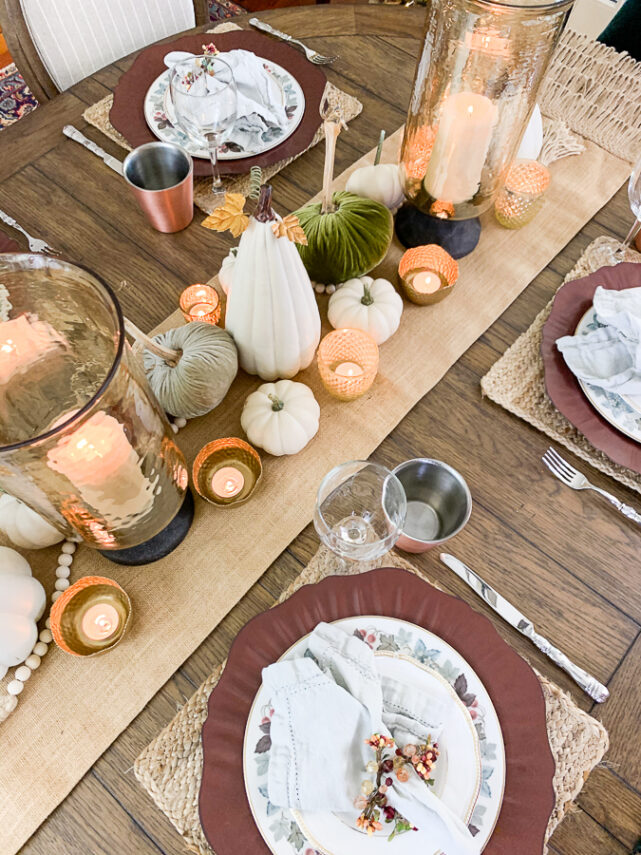 Here I have mixed painted faux pumpkins, velvet pumpkins, and real white baby pumpkins.
I kept the look simple and fuss-free by not adding any greenery. There is enough color and texture that makes it work.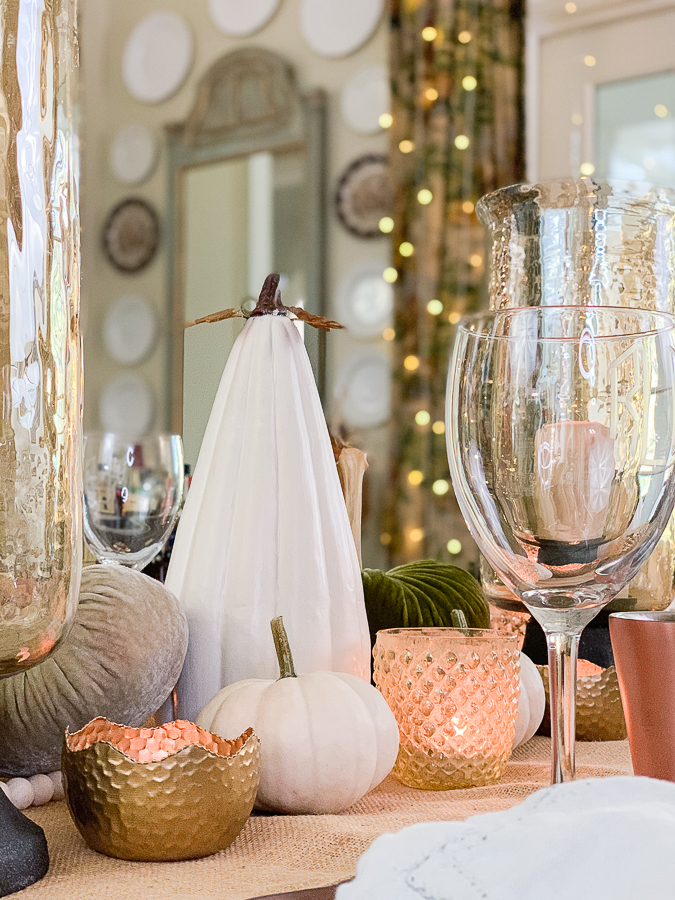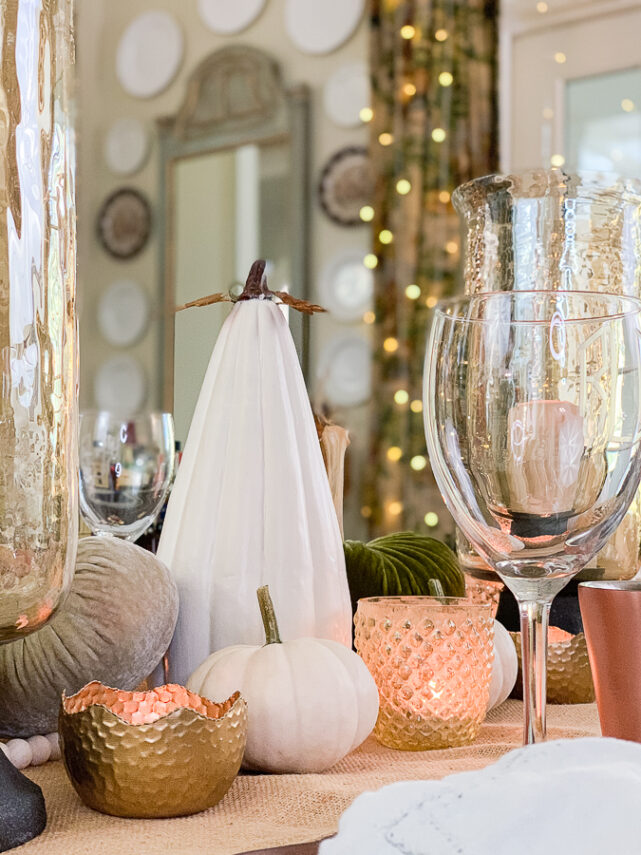 Curtain string lights create a fun, festive look in the dining room. I put them up last Christmas and never took them down!
That mirror in the background is a blog favorite! It's a thrift store makeover and one of the highest viewed posts.
Do you notice the mix of real pumpkins, painted pumpkins, and velvet pumpkins?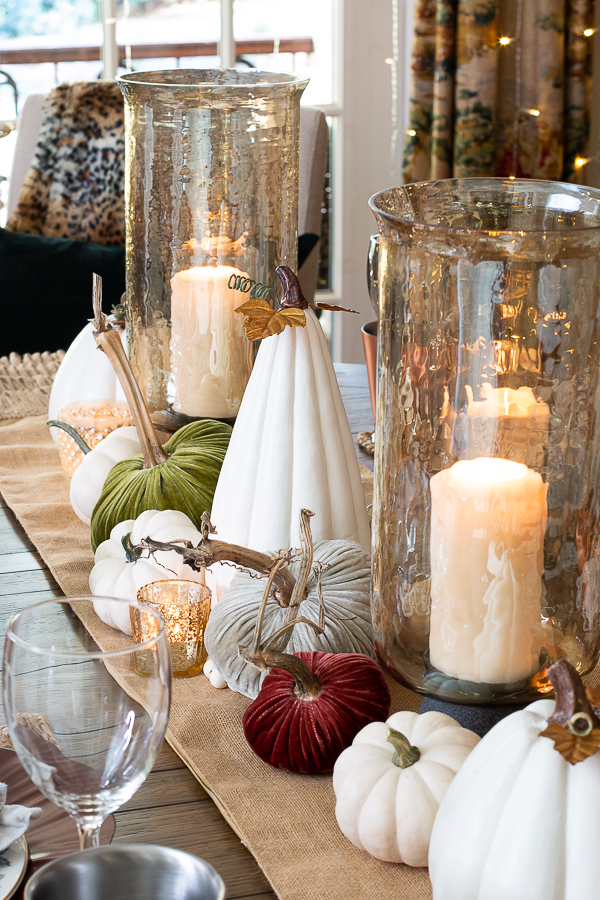 The velvet pumpkins just happened to compliment the colors in the floral china that was my mom's wedding china.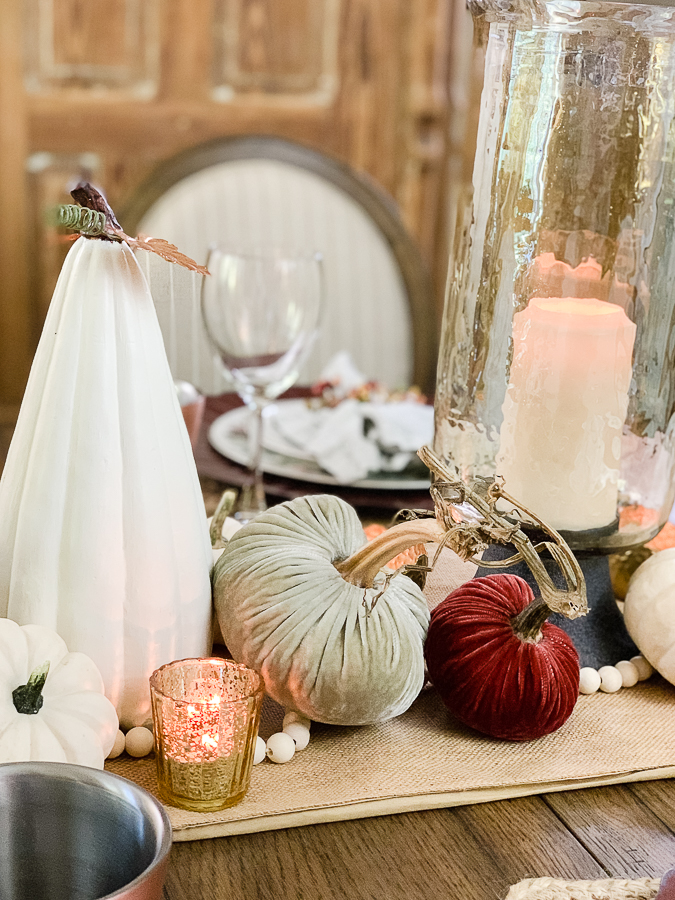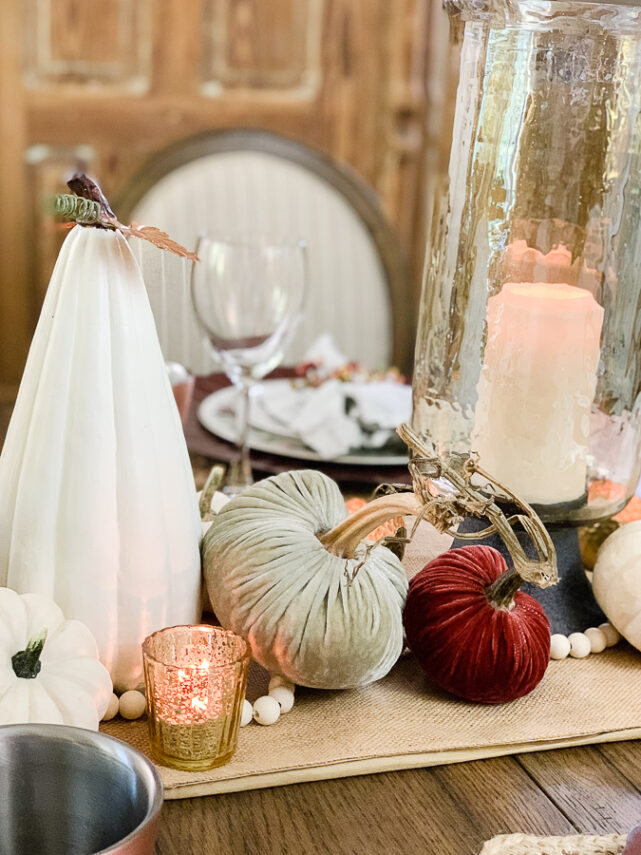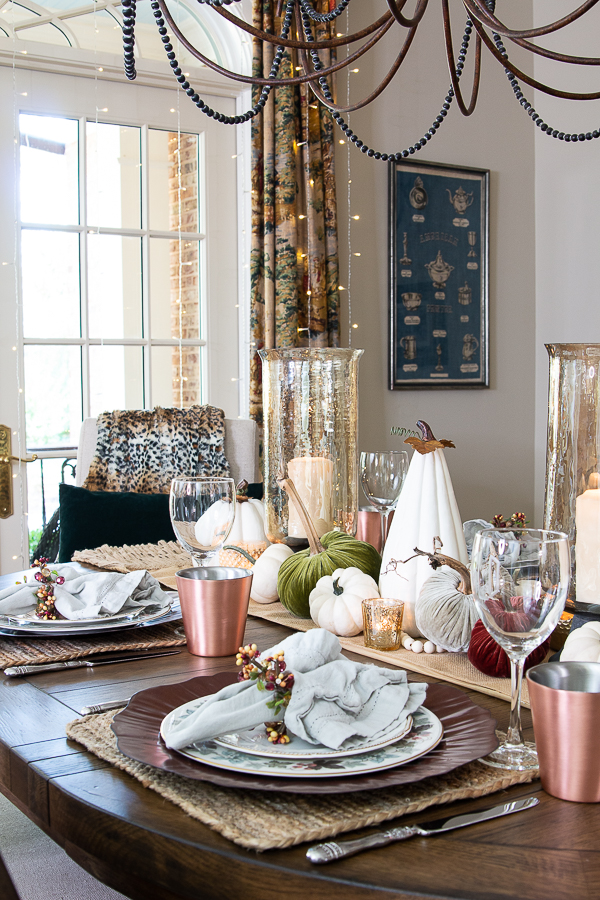 Adding pillows to chairs and casual throws add more coziness to the spaces.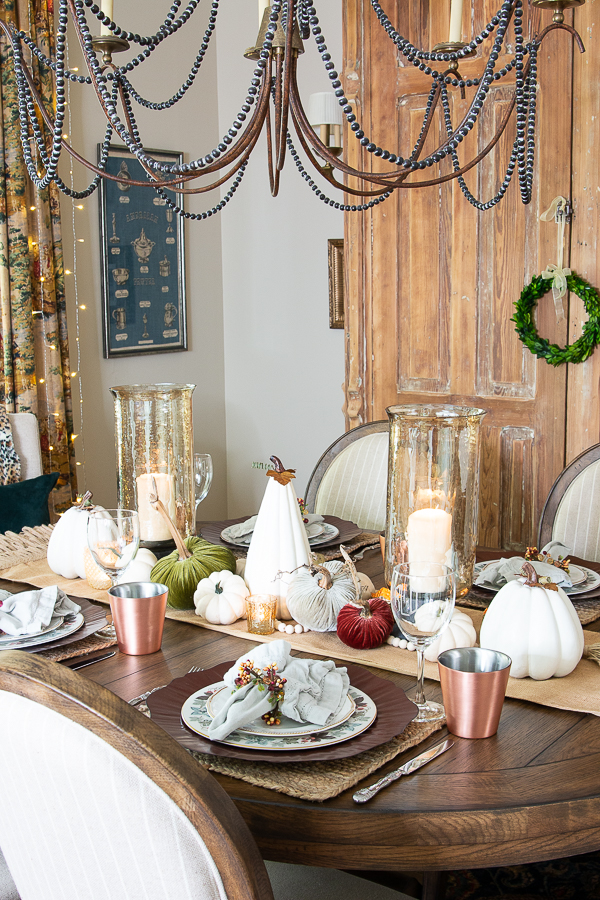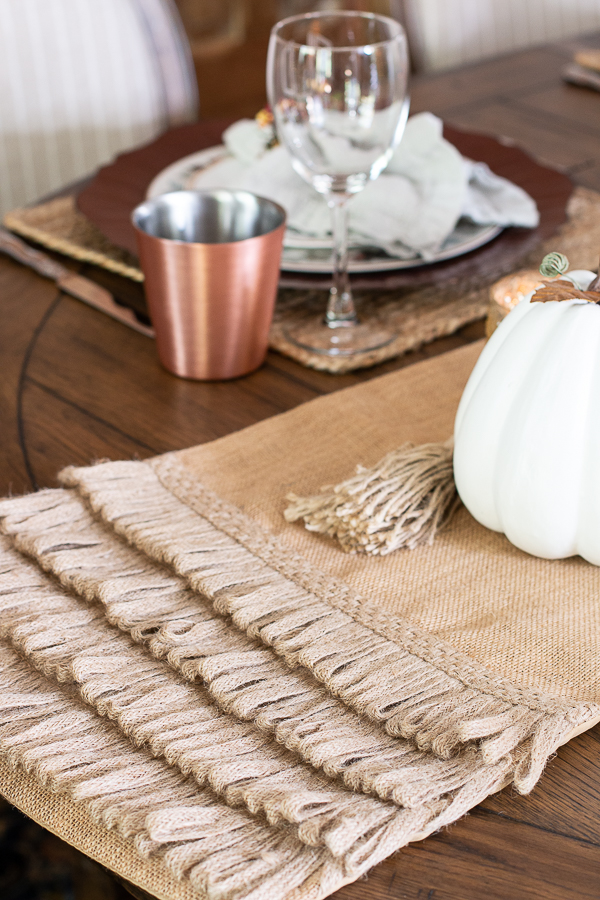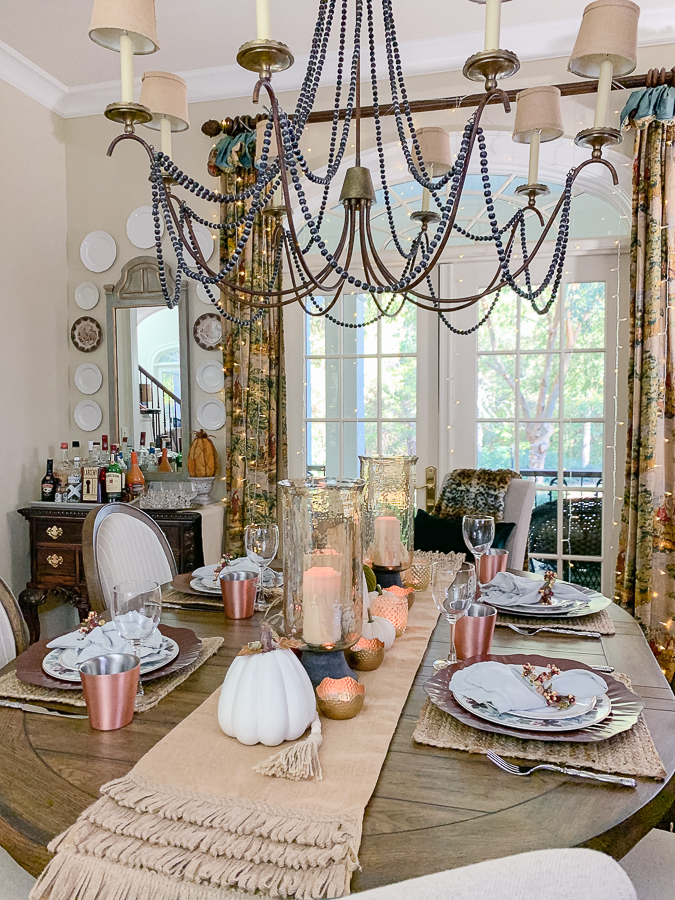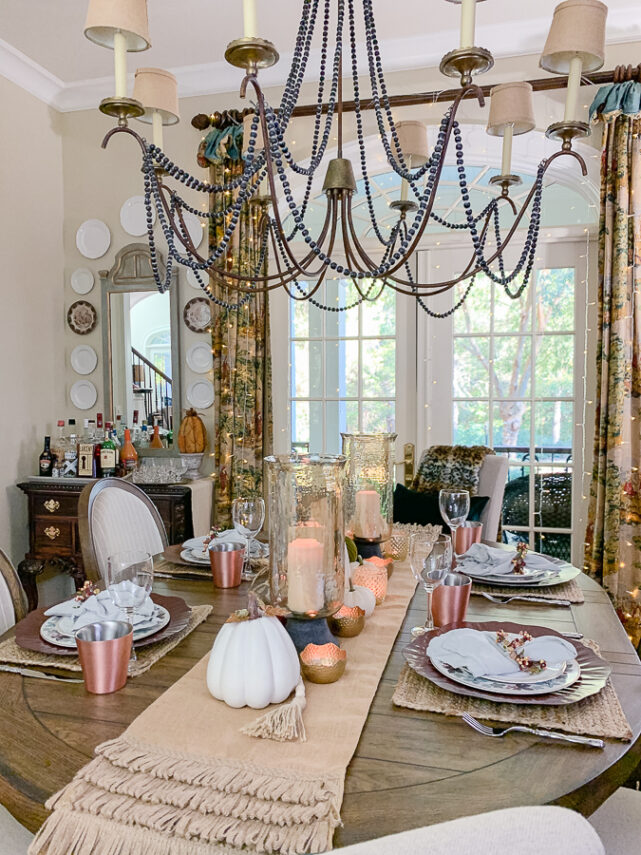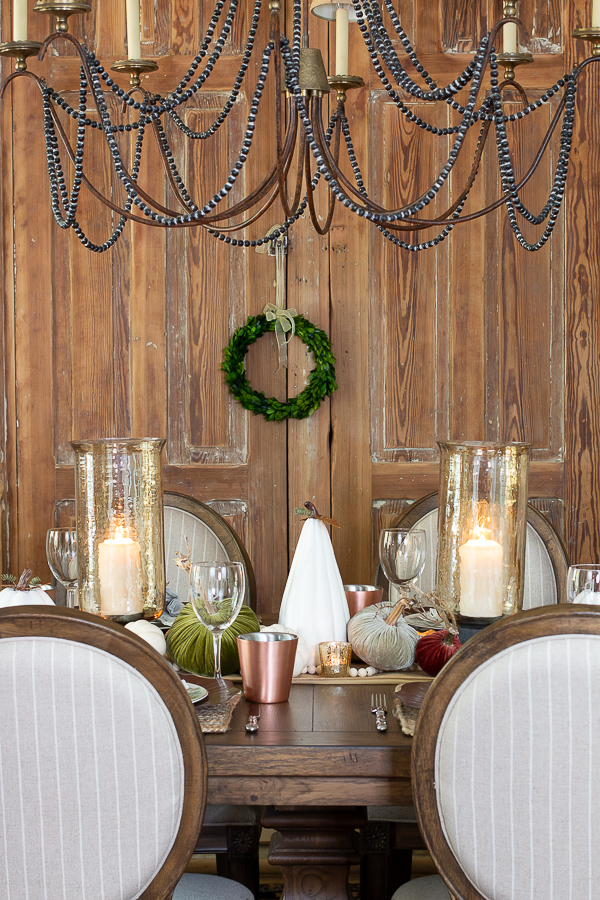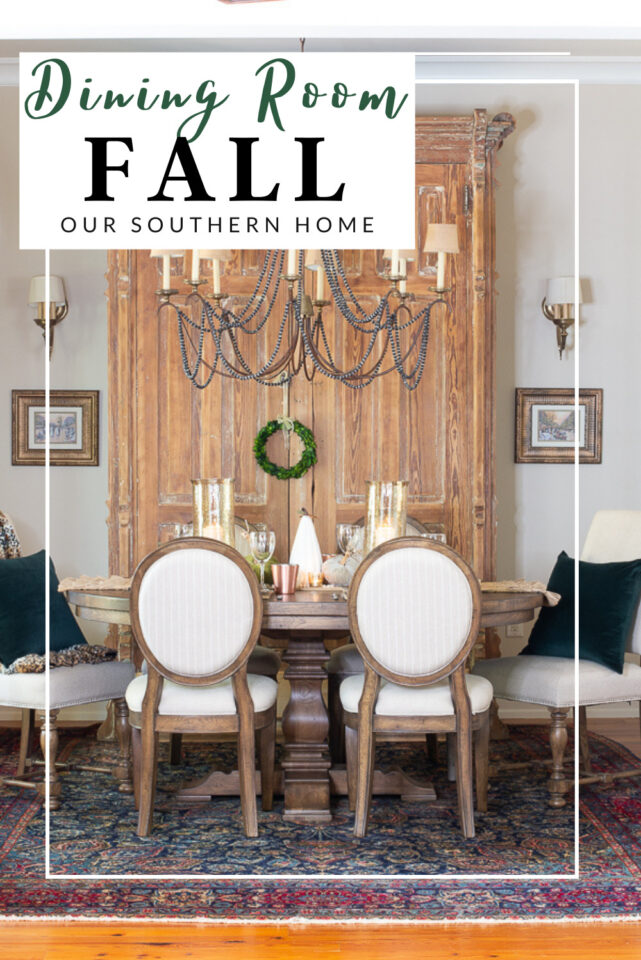 Dining Room Sources
Up next on the tour is the beautiful home of Cindy from County Road 407! Her home is full of vintage farmhouse charm straight from Texas.
Check out the other fabulous homes on today's tour!
Celebrate and Decorate

Buffer