How to Decorate a Fall Porch
Learn how to decorate a fall porch with these simple ways to bring the indoors out even if just for Thanksgiving Day!
Latest from OSH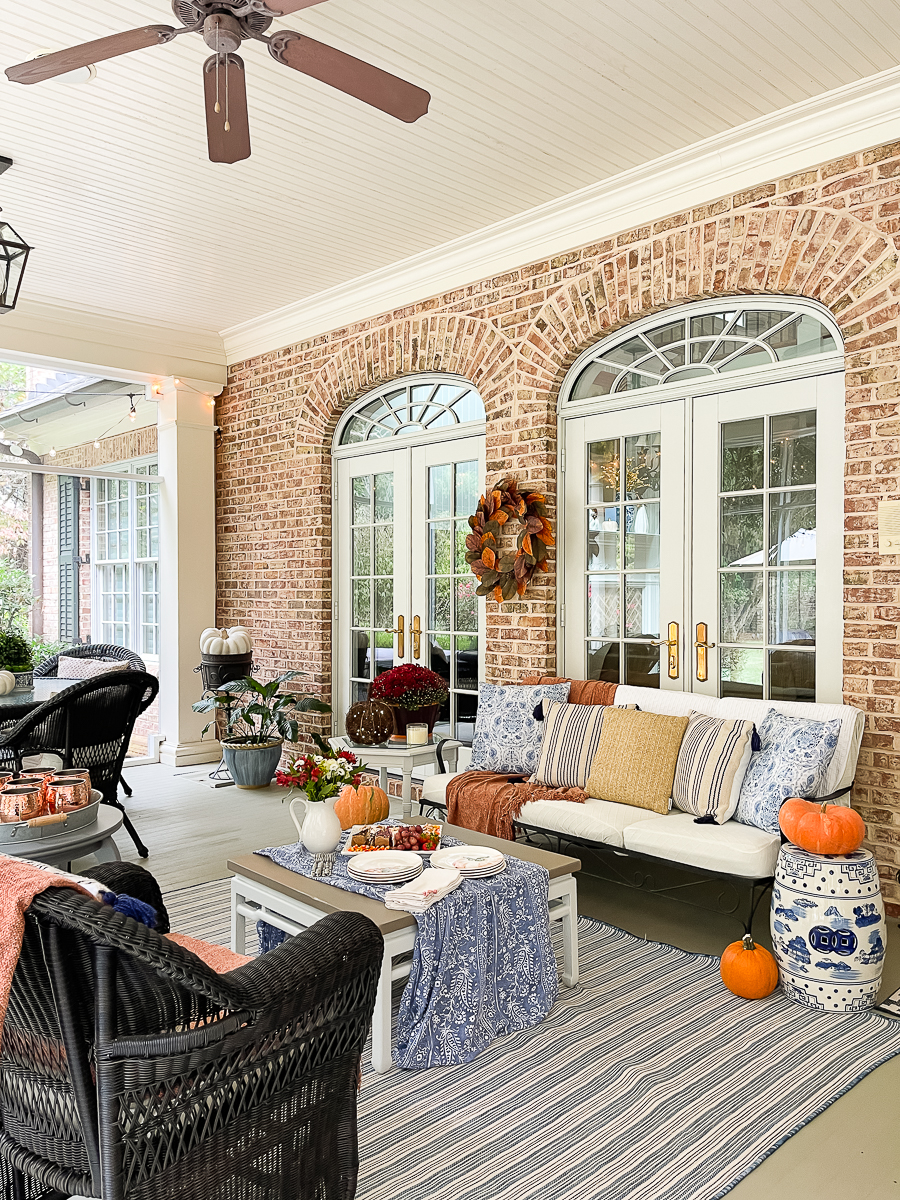 You'll find a SHOP THE POST box below for most items. Seasonal things sell out quickly.
It's hard to believe that Thanksgiving is next week! I'll be hosting this year. It will just be a small gathering. I've been planning out the menu. I'm making the dressing this weekend and will freeze it.
I've looked ahead and our weather for the big day looks nice. It looks like it will be partly cloudy with a high of 64.
I love it when Thanksgiving weather cooperates. Being the south, you can be in shorts or possibly bundled up and anything in between.
How to Decorate a Fall Porch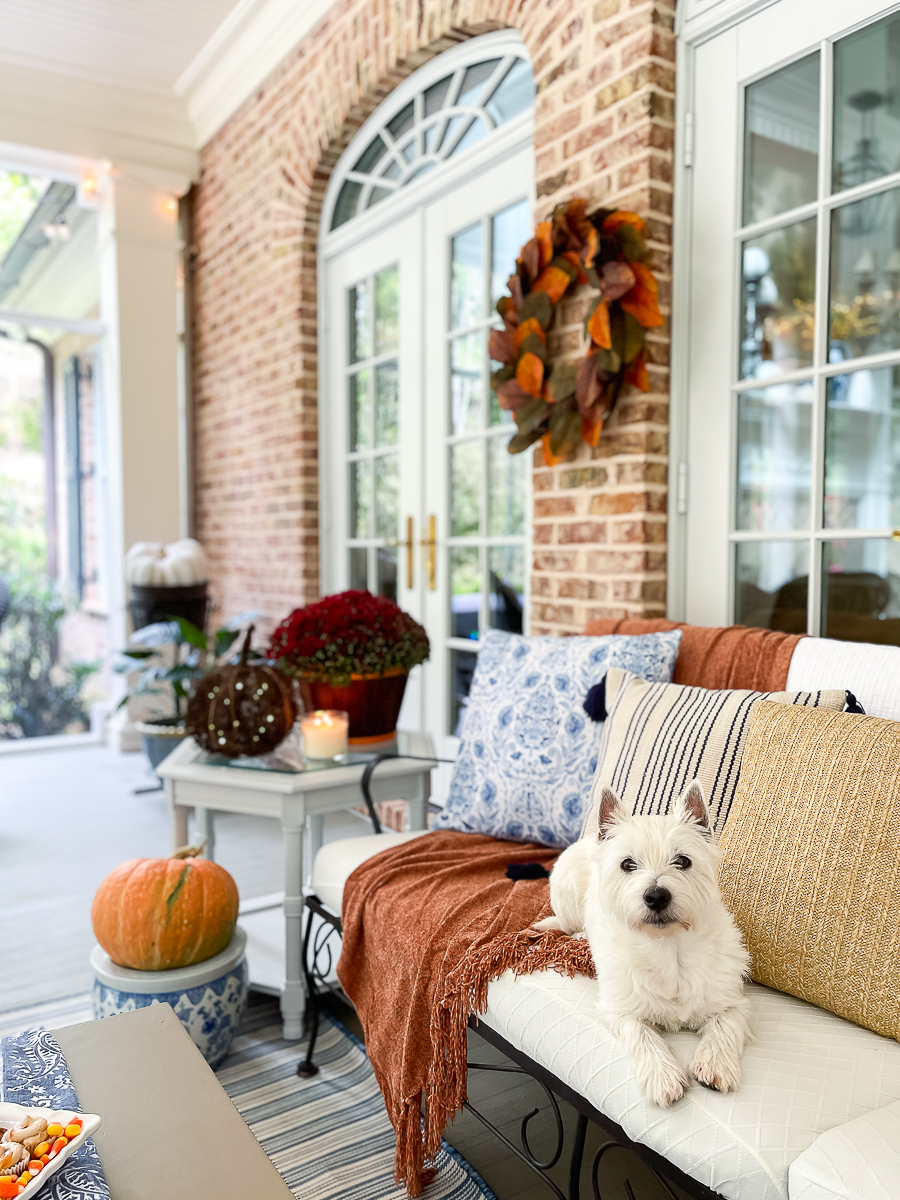 Seriously, wherever you find food…..Bentley will be there! He's not just watching the camera, he's strategically begging. I've never seen a small dog love food like this. The only thing that he will not eat is a spinach leaf that falls on the floor while cooking. Ha, ha!
If we didn't watch his diet and be strict with it, he could pass as a parade day float!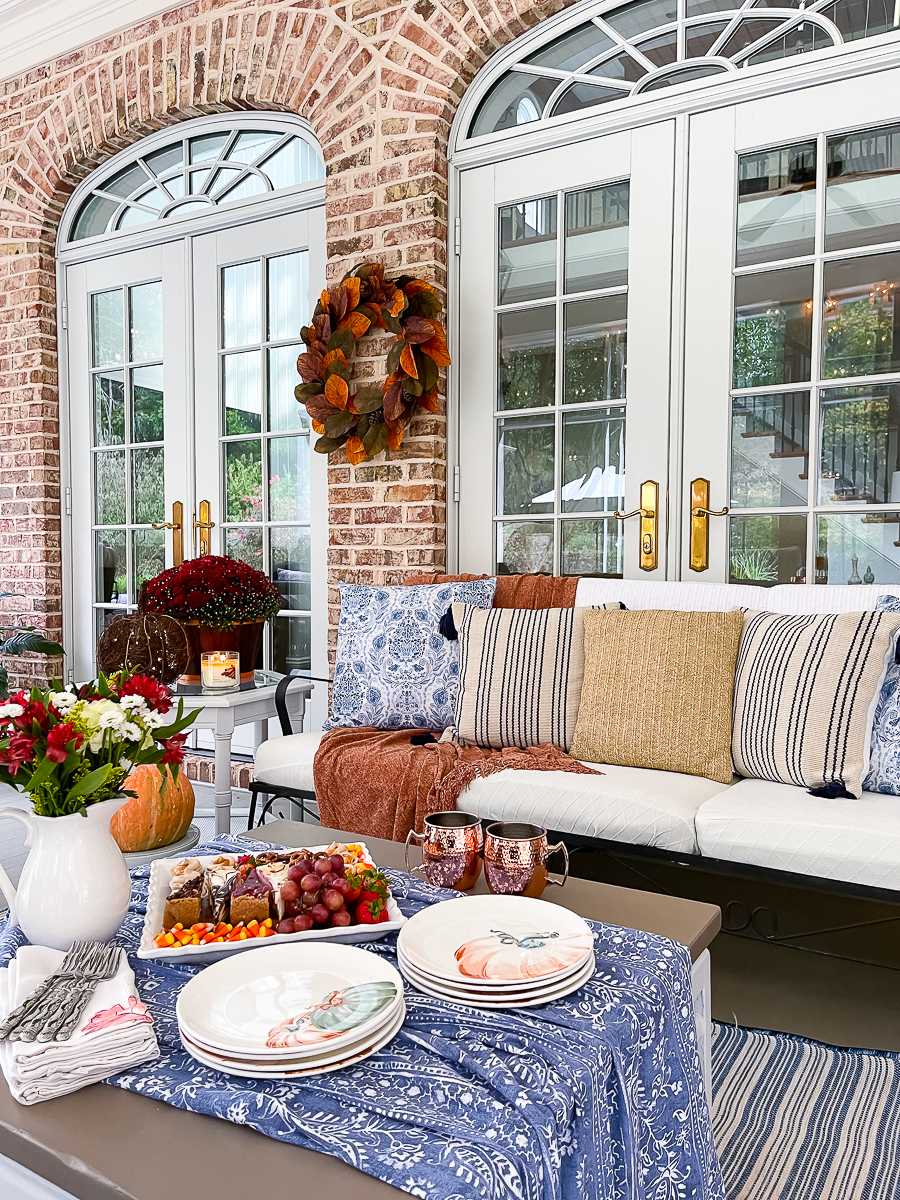 Decorating your outdoor spaces can be very simple for the entire fall season or just for Thanksgiving Day.
You can go very simple with just a few touches sprinkled about or go all out.
If you are decorating just for Thanksgiving Day, it's the perfect opportunity to bring the indoors out.
If weather permits, don't be afraid to bring a few indoor pieces outside for the day like pillows, throws, seasonal decor, and even small pieces of furniture.
I love how this recent coffee table makeover turned out! The same technique was used on our front porch console table.
Real and Faux Pumpkins
If you are planning on any of your events outside, have fun decorating the area. For example, we will eat dinner in the dining room, but spend time in the backyard before dark.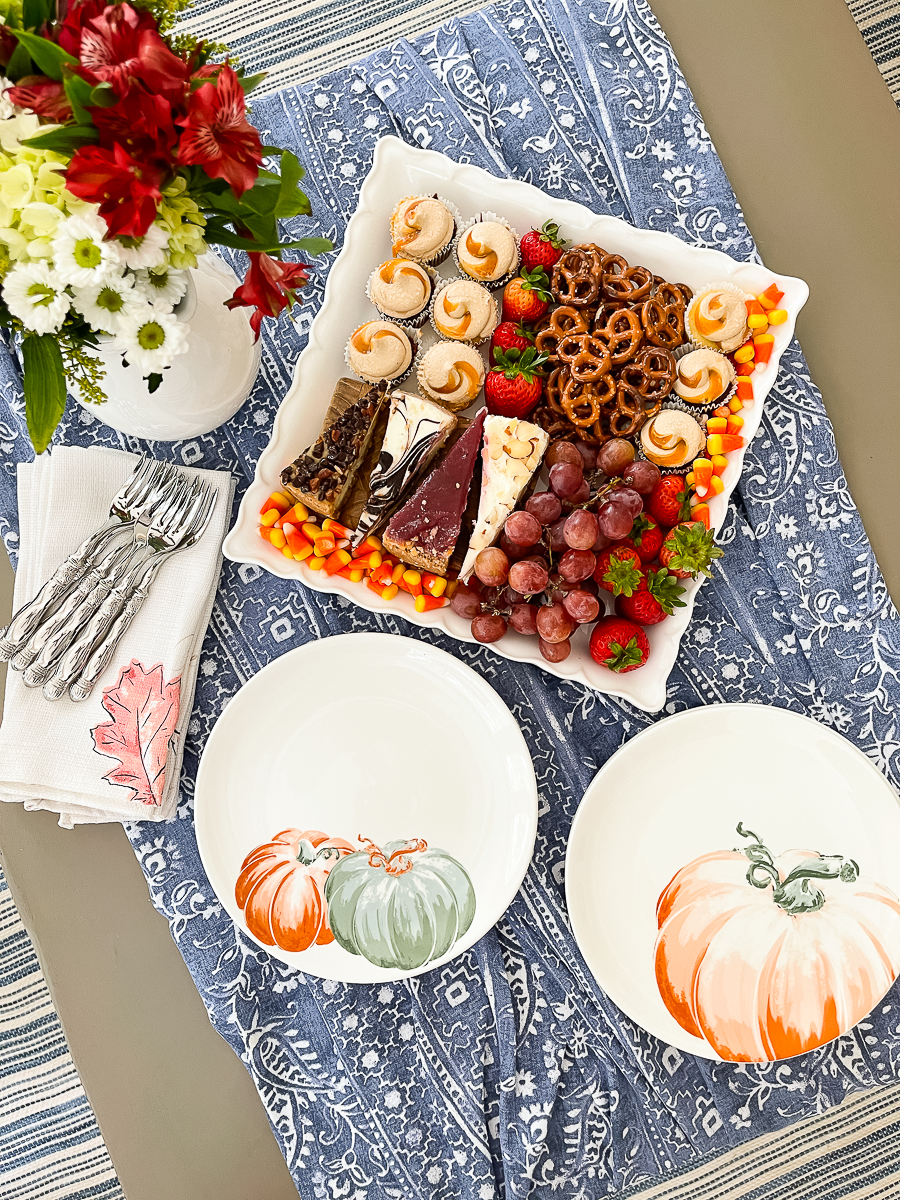 This was actually a Saturday evening after dinner back in September. Change it up to fit your needs. I didn't make anything on this tray. I just stopped at my local grocery store and bought small amounts of 2 desserts. It's all in how you display it.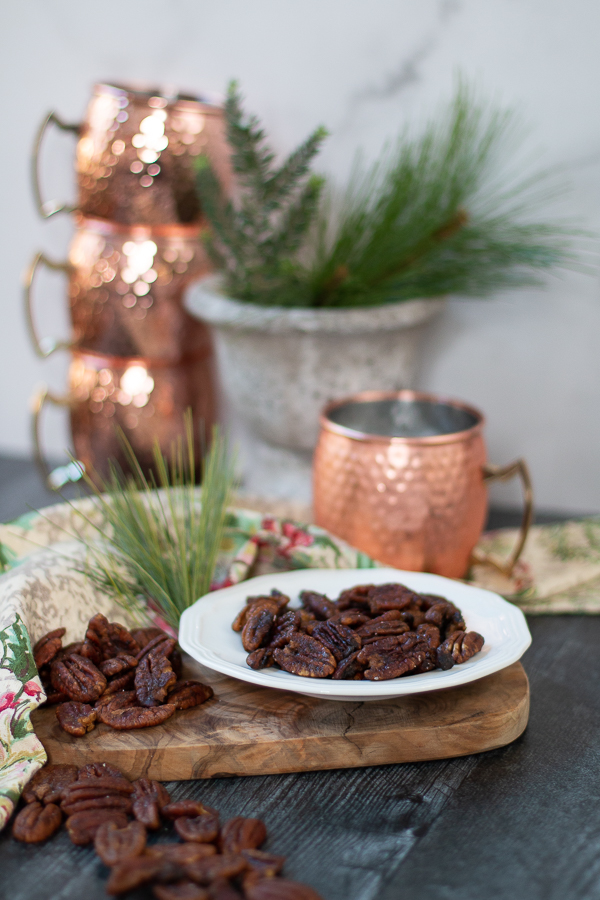 Earlier in the day before dinner, I'll have an appetizer on the screened porch. It can be very simple from a small charcuterie board to possibly this warm artichoke dip or spiced nuts.
Gather some of your faux pumpkins and mix them with a couple of real pumpkins.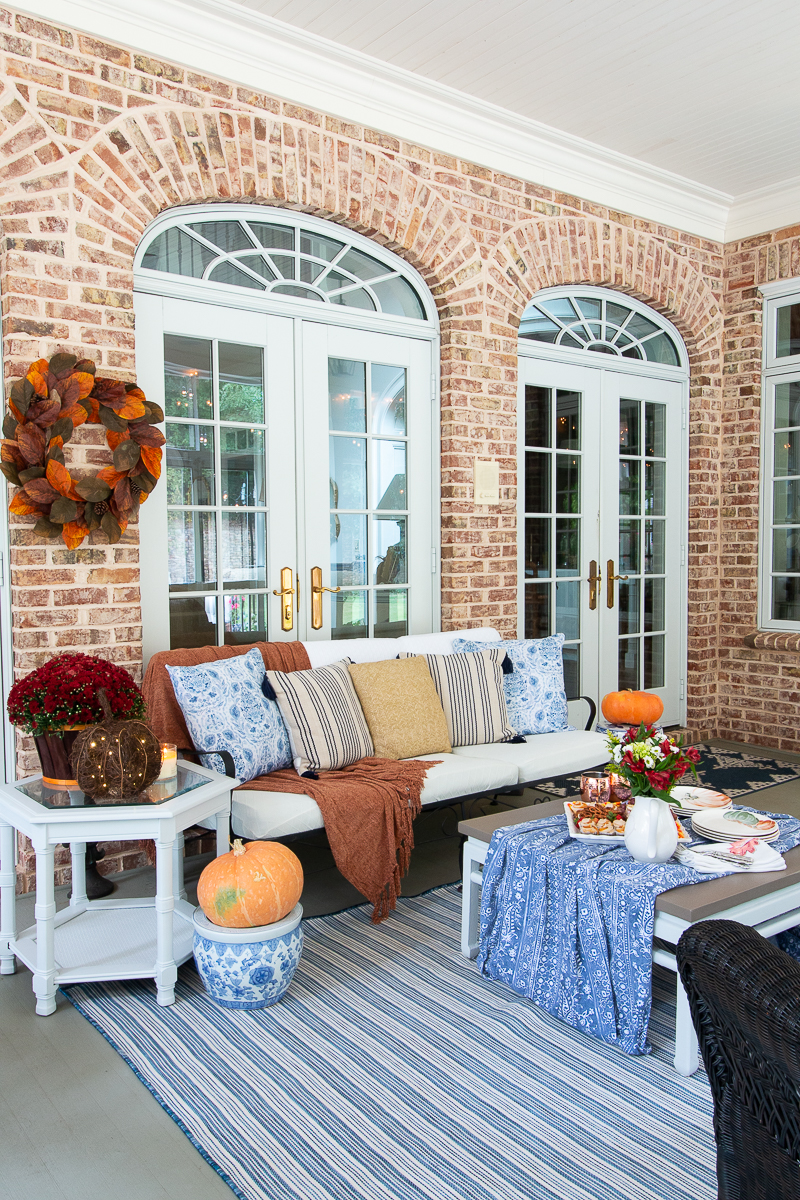 I love to decorate outside with both. It really makes the faux pumpkins come alive.
It doesn't take much in terms of pumpkins to make a space come alive for fall.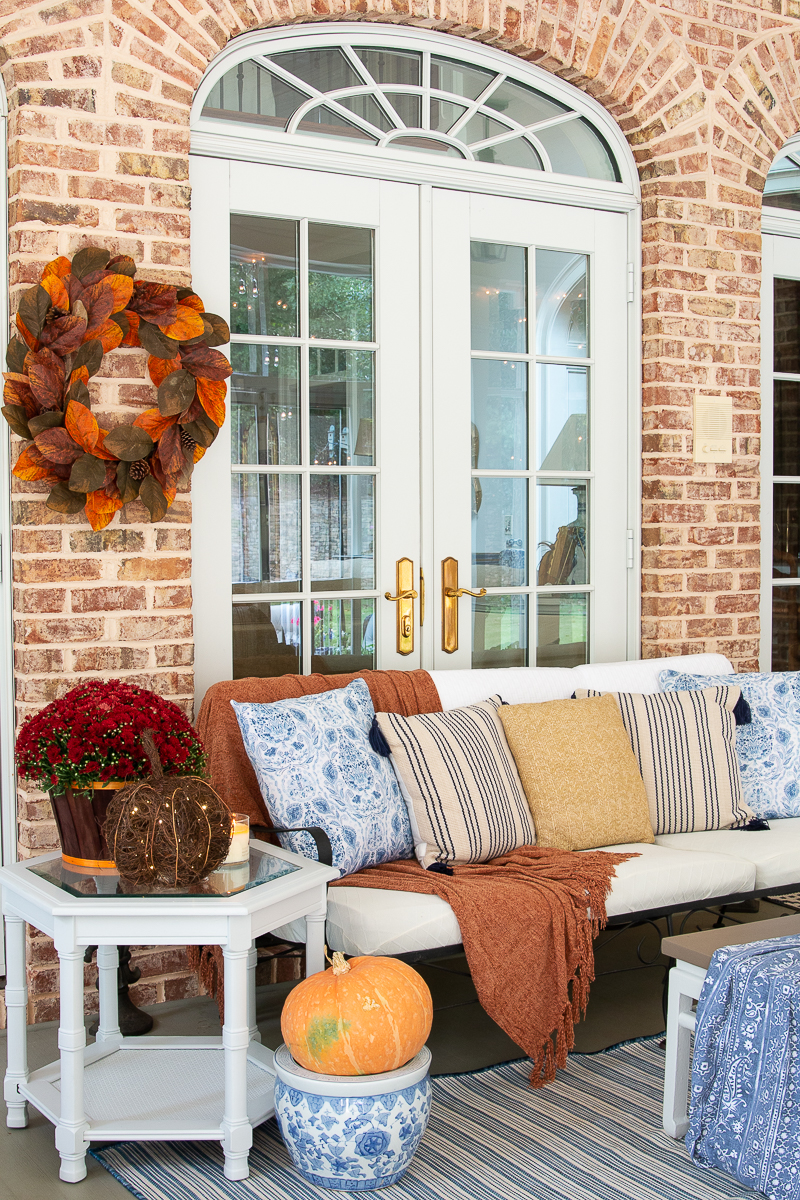 I love a combination of faux, real, and grapevine pumpkins.
Throws and Quilts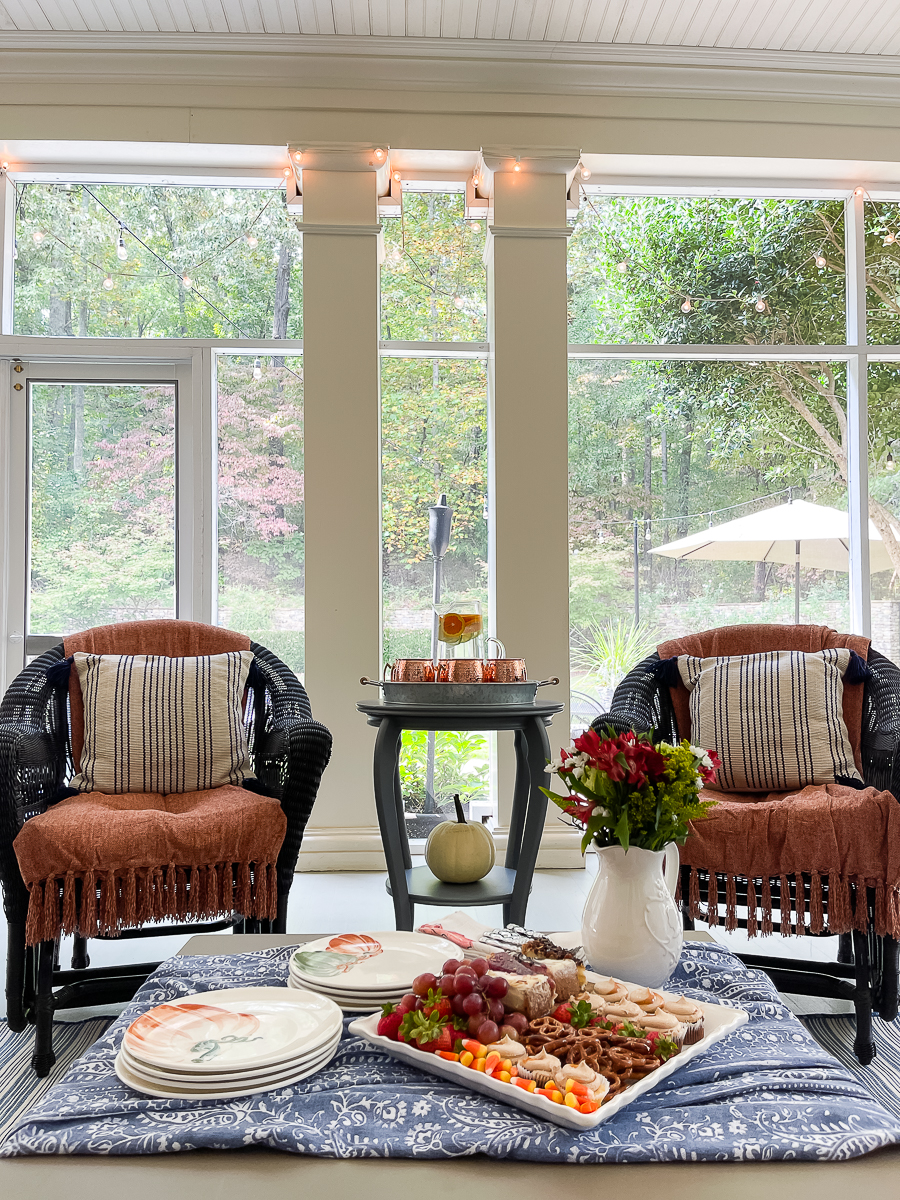 Adding throws and quilts makes things so cozy and inviting.
Simply drape throws over chairs.
A quilt can instantly turn a summer cushion into a fall look.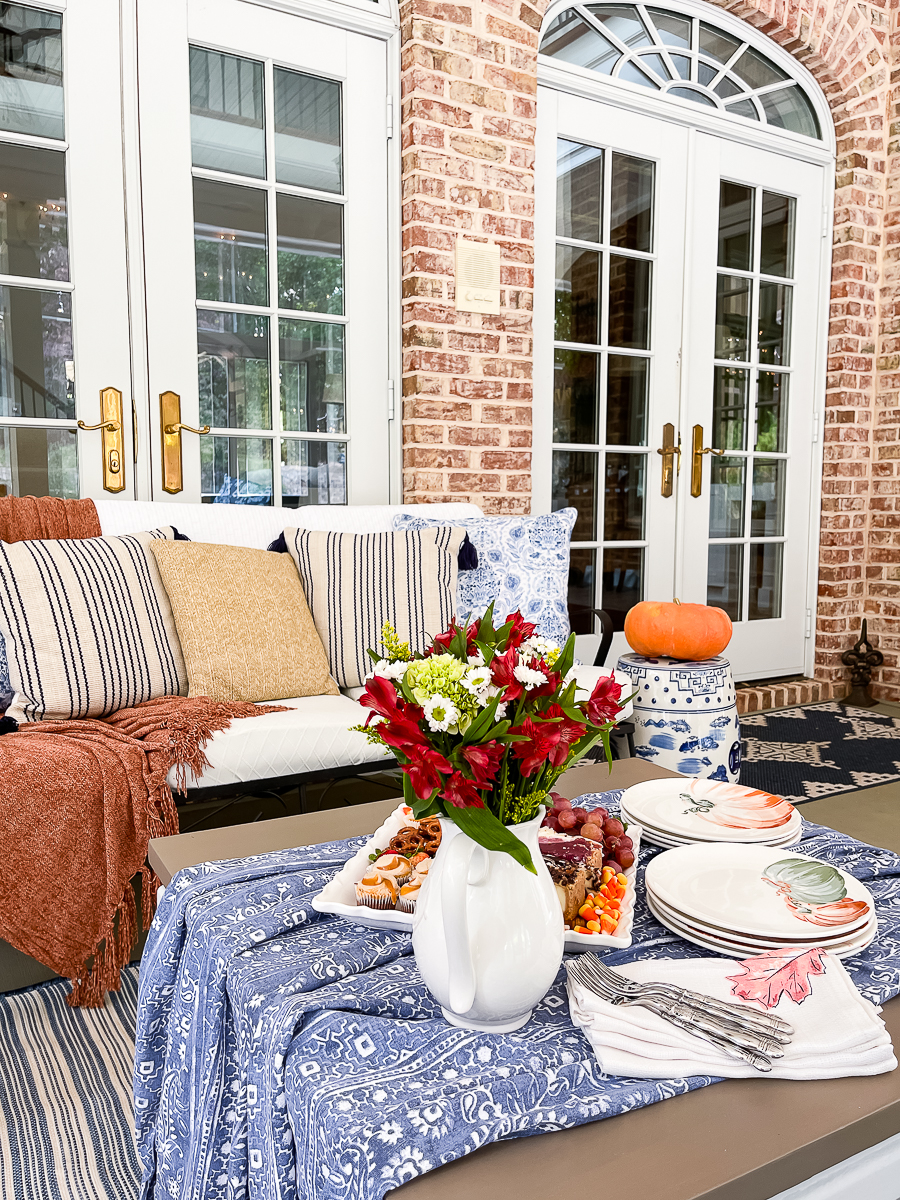 I like to also fold and drape throws over a chair to totally change the look.
Using Tablecloths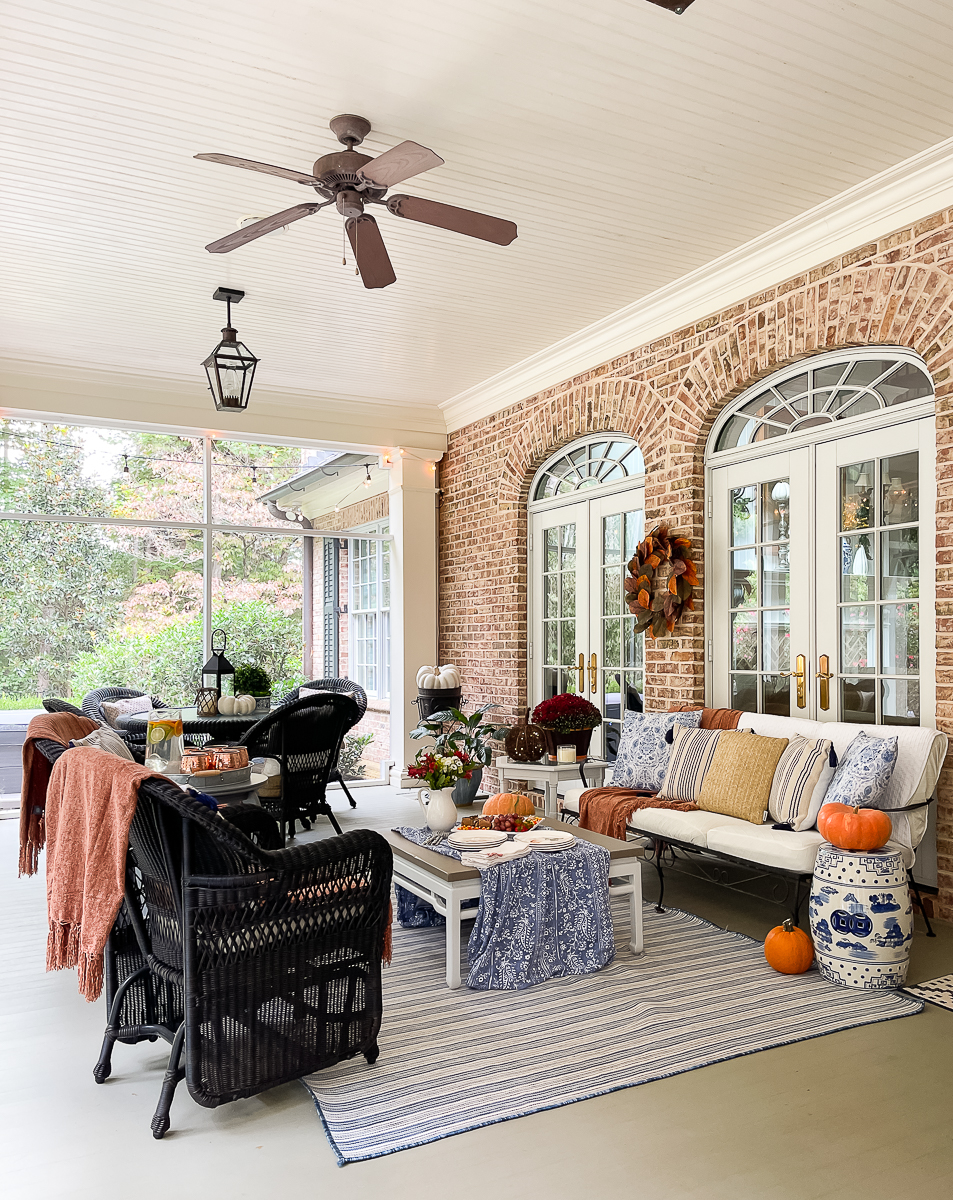 Tablecloths are great for tables other than the dining room table. HomeGoods is a favorite spot for tablecloths.
I love to take a pretty oversized tablecloth and drape it over a coffee table for entertaining.
I've even draped a lovely tablecloth over a chair for a pop of color and pattern.
Do you see those pretty blue and white pillows? I made them out of outdoor tablecloths a few years ago. They have held up amazingly on the screened porch. I covered old pillows that had faded through the years.
Candles and Lanterns
Gather any candlesticks and lanterns that you may have inside for the day.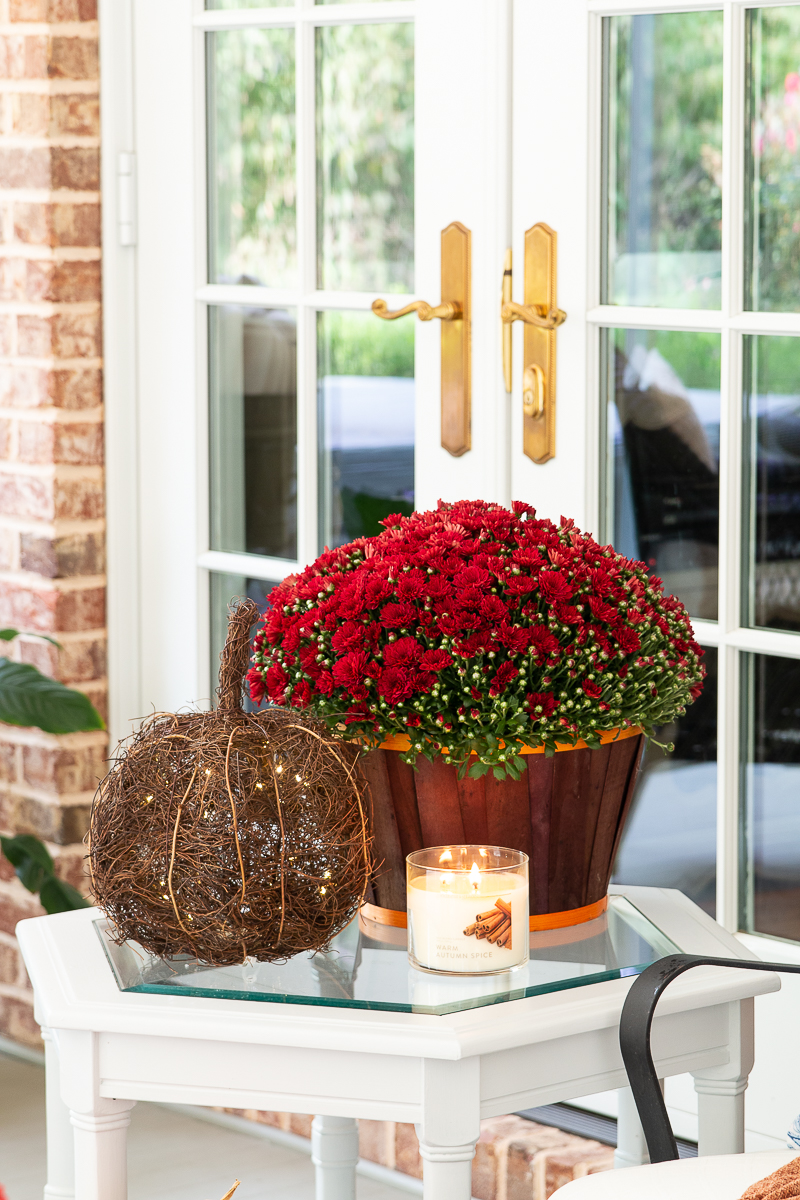 If breezy, you may want to opt for enclosed options like hurricanes for safety and so they don't blow out.
Battery-operated candles are always a stress-free option.
Add a Wreath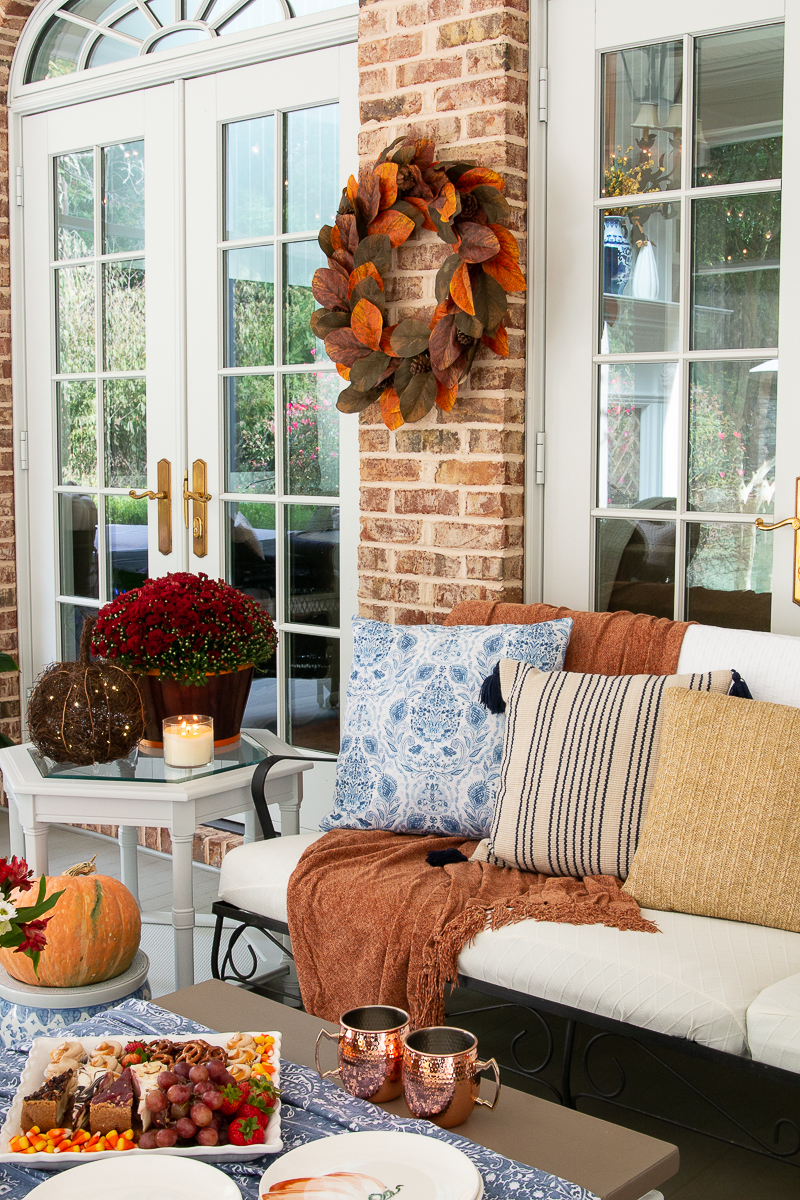 I have a screw in our brick to hang a wreath or art on the porch. Unfortunately, the depth of our brick didn't allow for these handy brick hangers. I used them at our old house.
You can also lean a wreath on a table or in an occasional chair just for looks.
Flowers for Color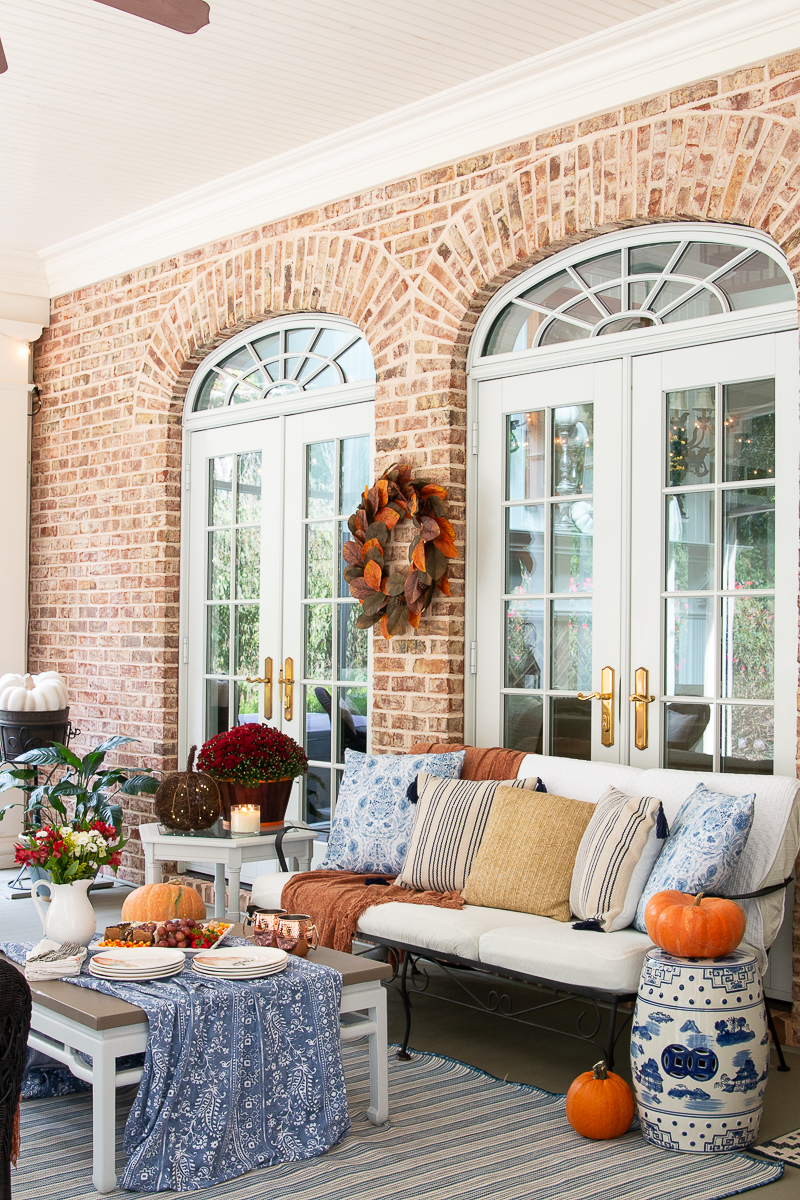 Just adding one potted mum can give your space a pop of color very easily. PLUS, you can plant them in the ground for perennial color year after year.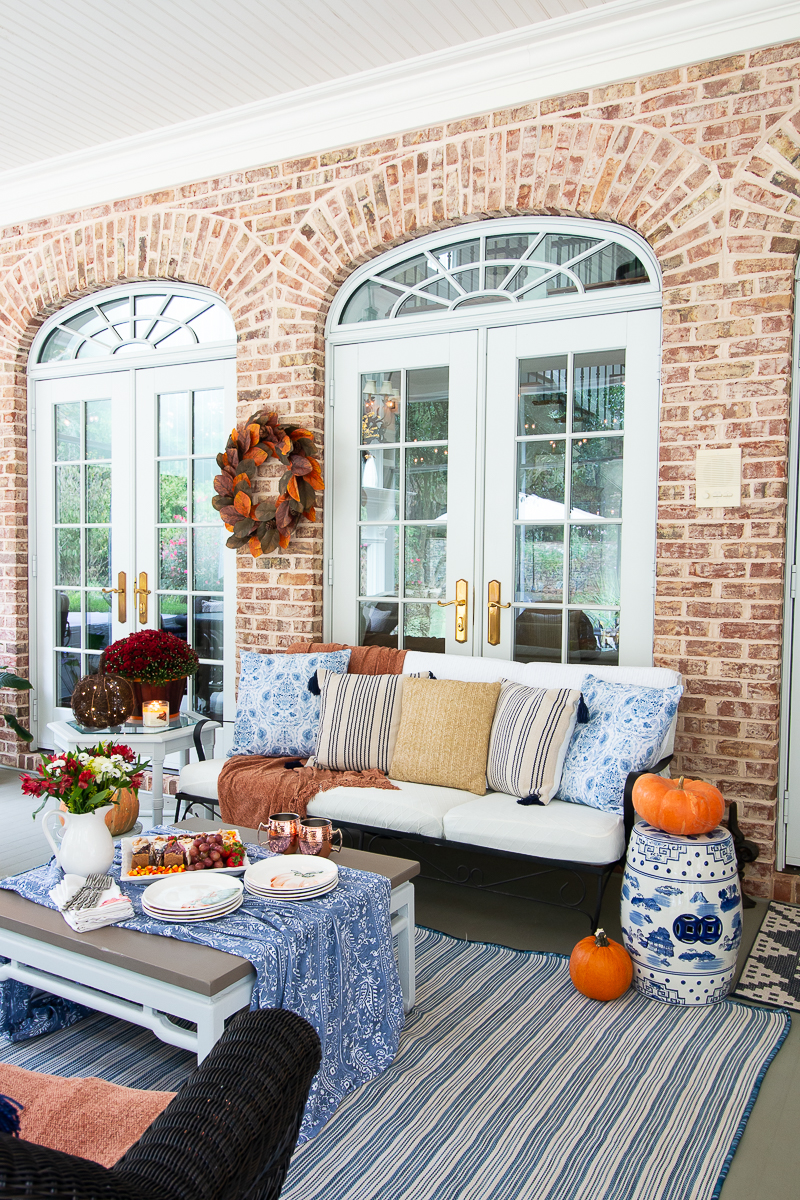 You might even want to try a floral arrangement like this one with grocery store flowers.
Add a Touch of Glam with Metals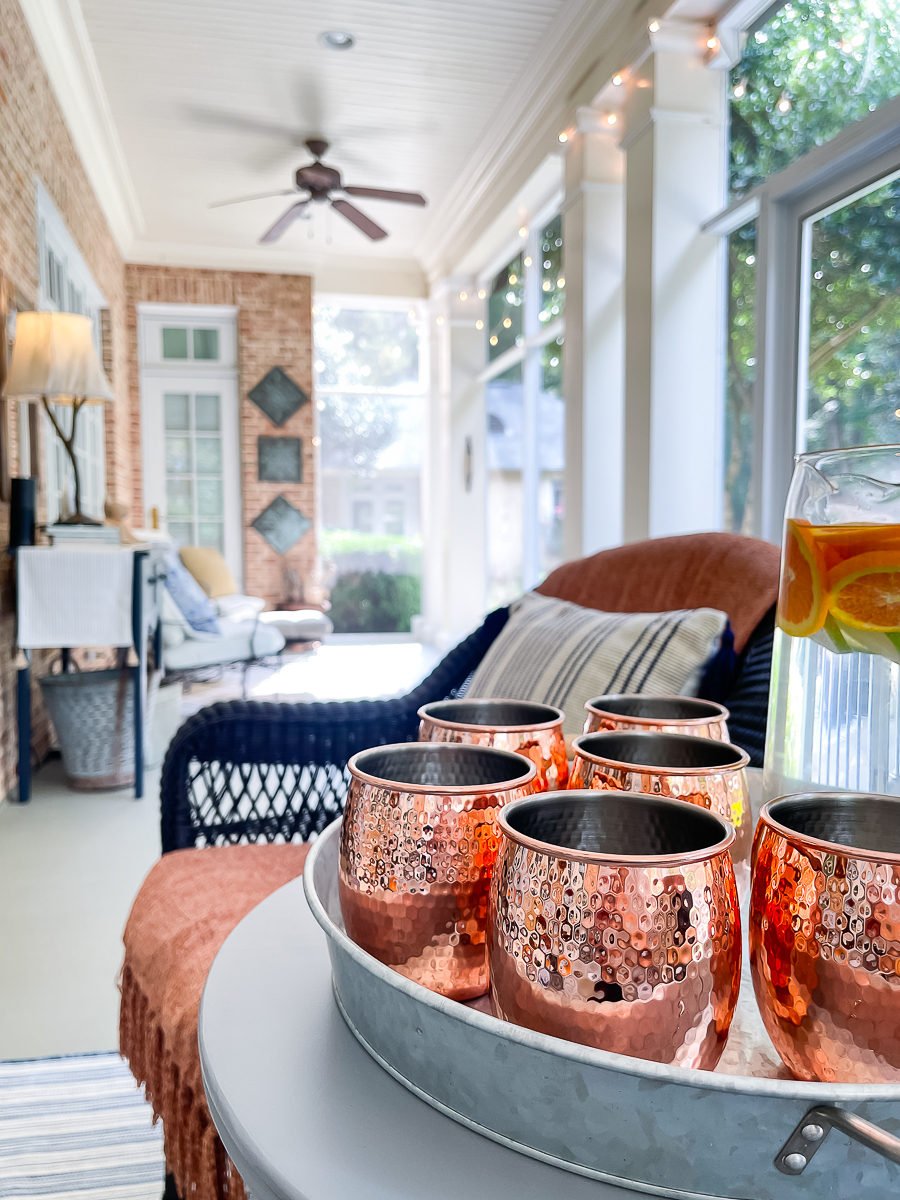 Fall is the perfect time to use metals in your decor for a little glam. I particularly love to use brass and copper when decorating. Copper mugs are a fabulous option for serving cocktails, iced tea, and more! Make sure you handwash. They are so worth it! They give such a nice autumn glow.
They also work well for small flower arrangements scattered on the dining table.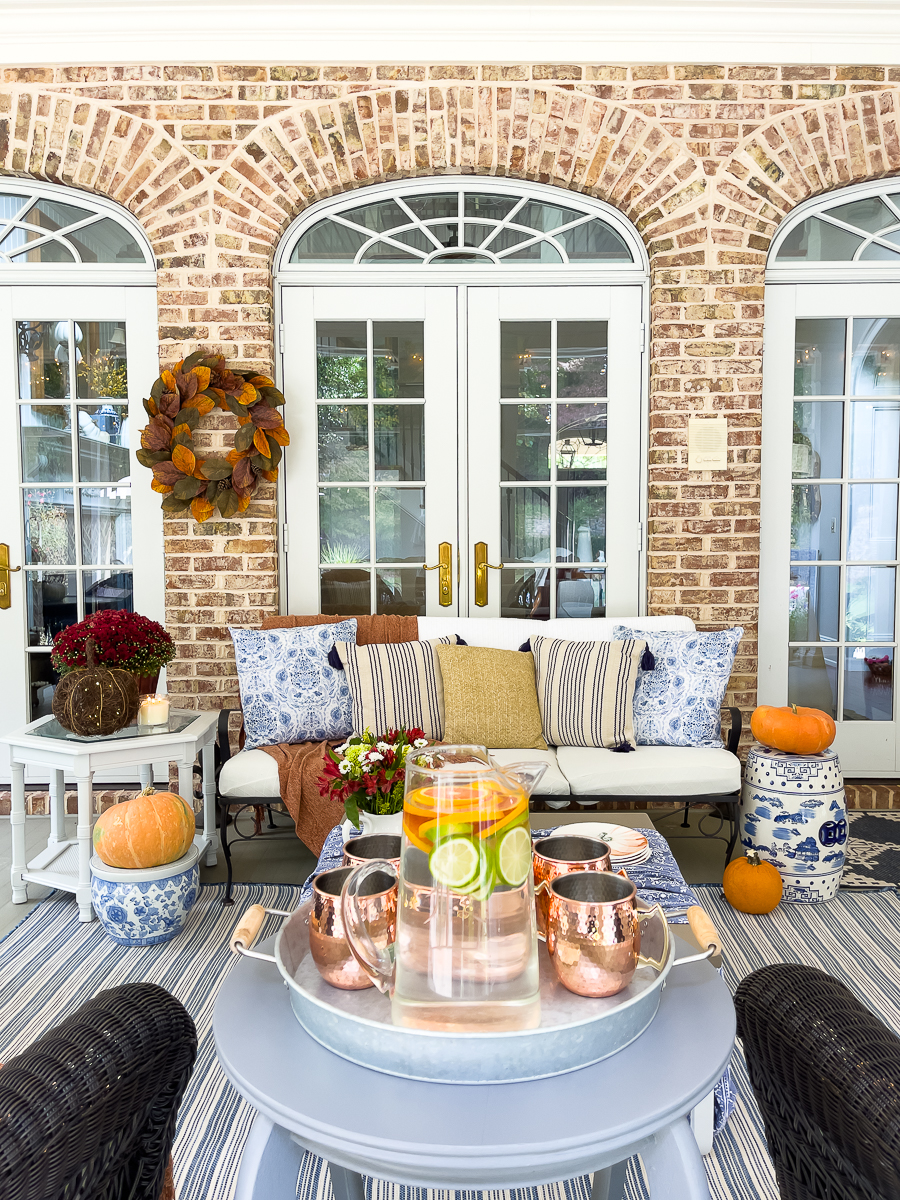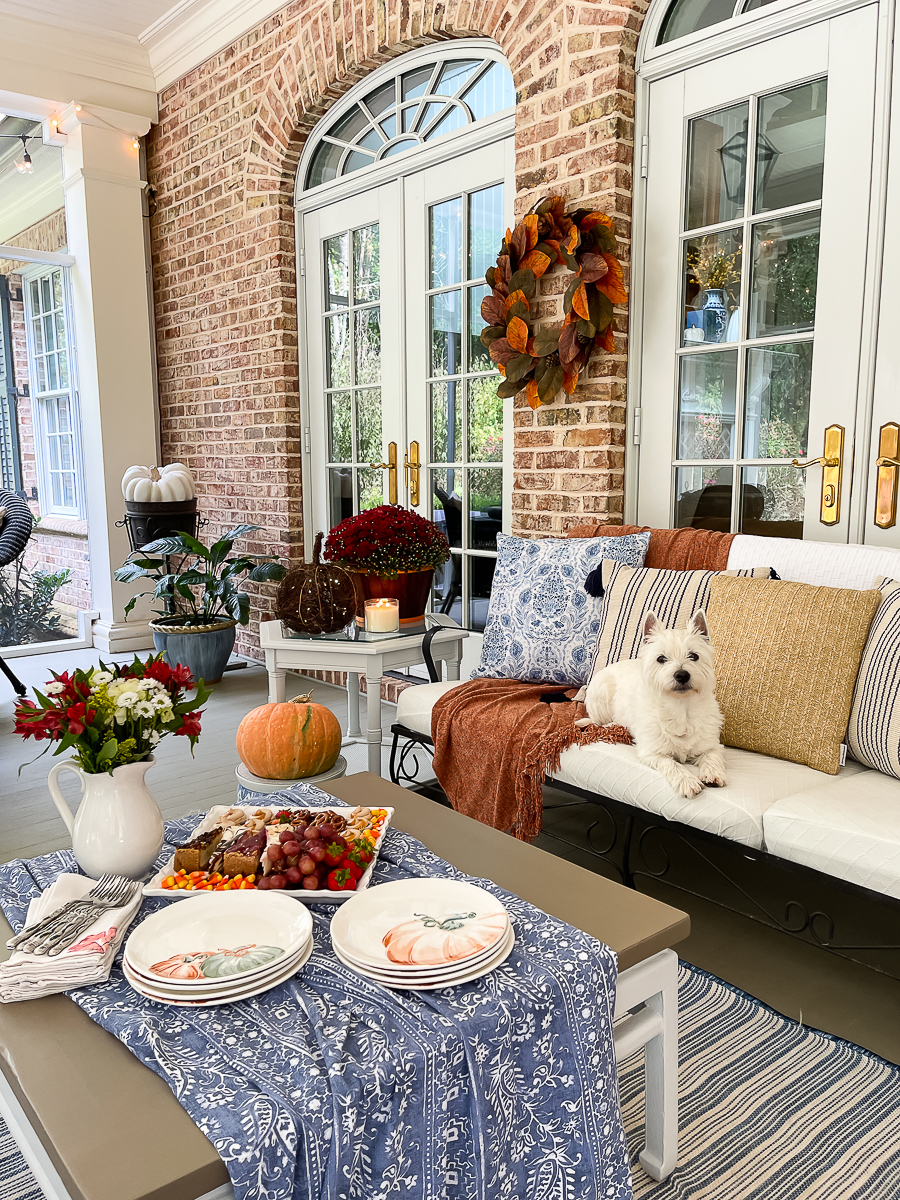 I hope you enjoy these last days and weeks of fall before we transition into all things Christmas. Happy Thanksgiving from our home to yours!
Check out more FALL IDEAS here.
Have you seen this year's Thanksgiving Tablescape?
Loving this sale on Christmas decor for the home!!!

Charcuterie & Meal Board Ideas
Buffer