Saturdays on the Porch #8
Saturdays on the Porch #8 is featuring this lovely navy kaftan with embroidery, lake house updates, and self-tanner.
Recent Posts from OSH!
Check out other Saturdays on the Porch posts that you may have missed!
Saturdays on the Porch #8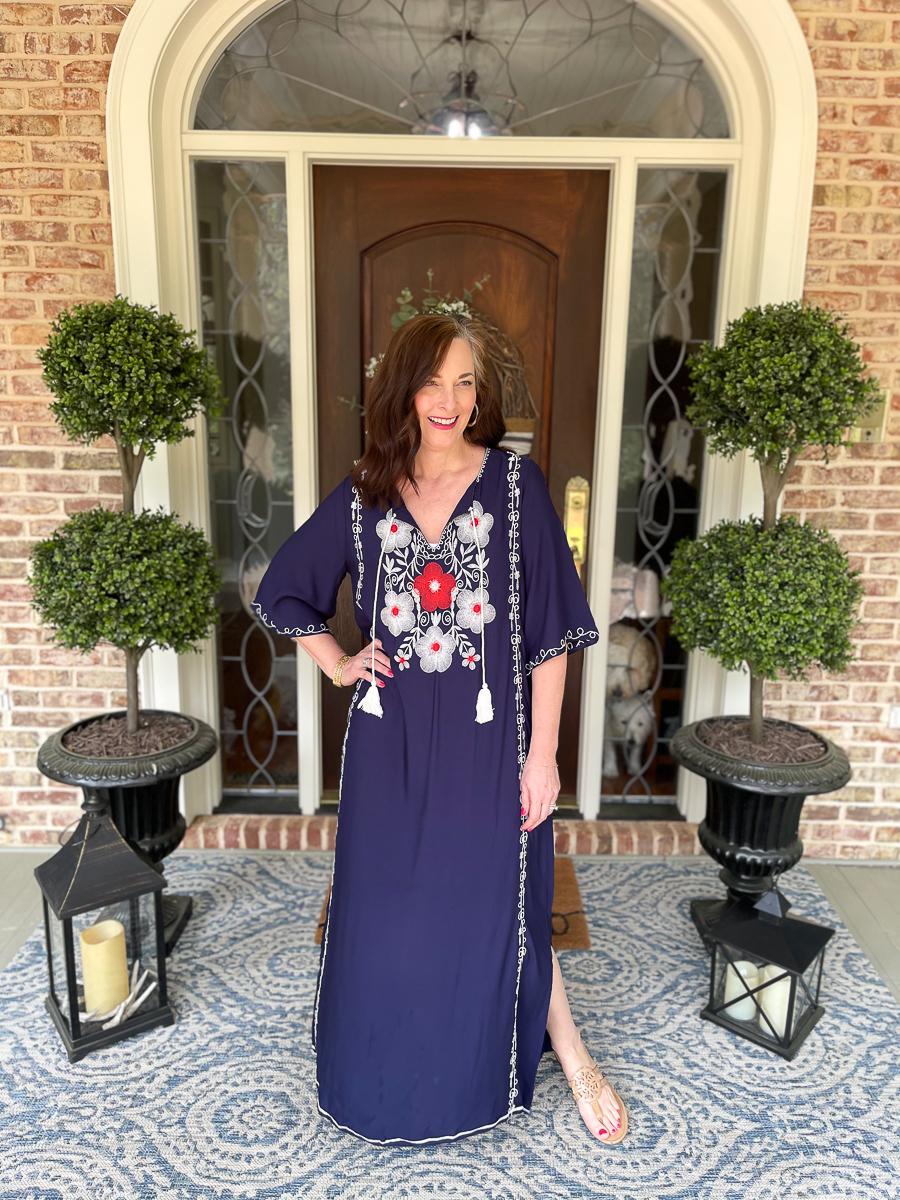 Topiaries | Blue Rug | Similar Mat | Similar Lanterns | Kaftan | Almond Sandals | Bracelet | Earrings | Tank Bra
Happy Saturday, sweet friends! I hope that you have had a wonderful week. It's been great here. I am feeling totally back to normal. I so appreciate all the well wishes.
Needless to say, I've been extra cautious when on stairs now!
It's no secret that I'm a dress girl in the warmer months. I've just never been comfortable in shorts. I wear them just not a lot.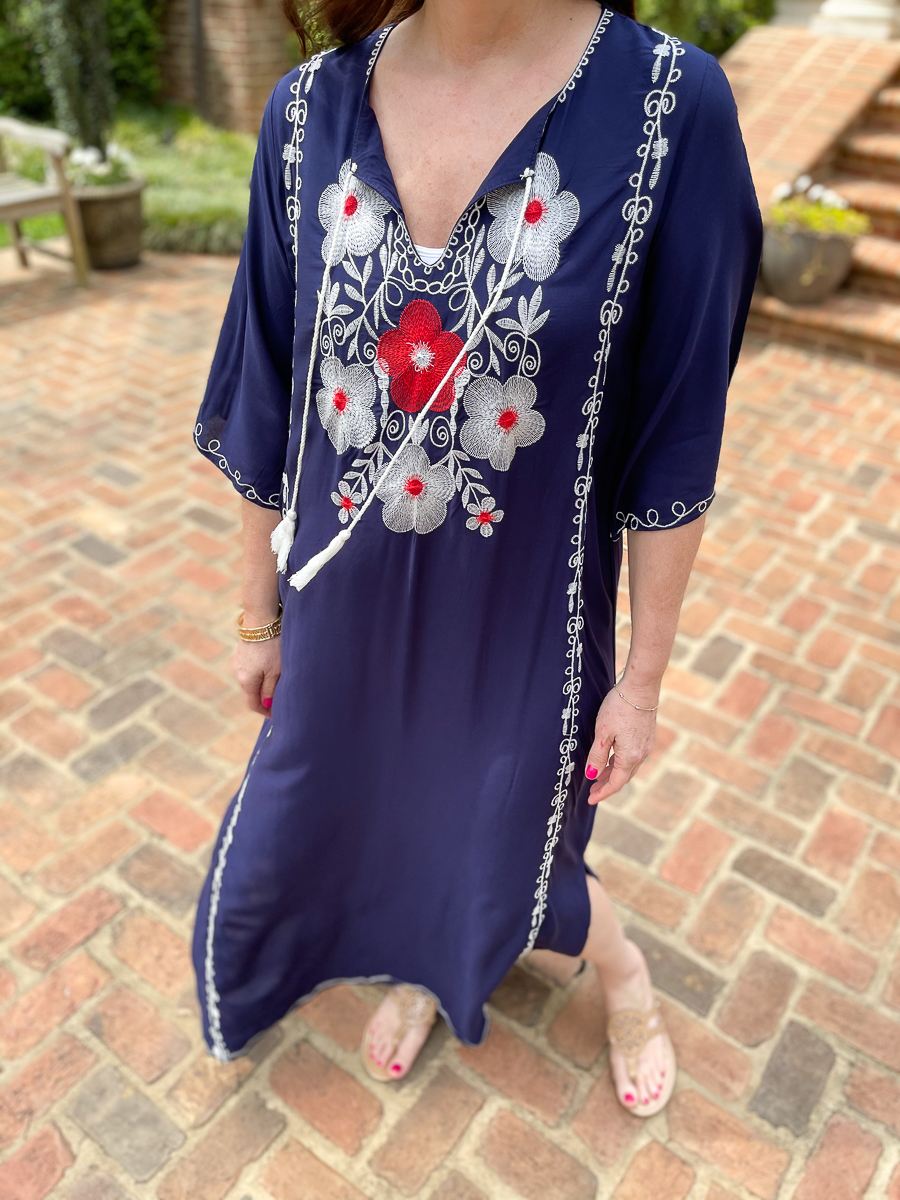 I love a great house dress or better yet a kaftan.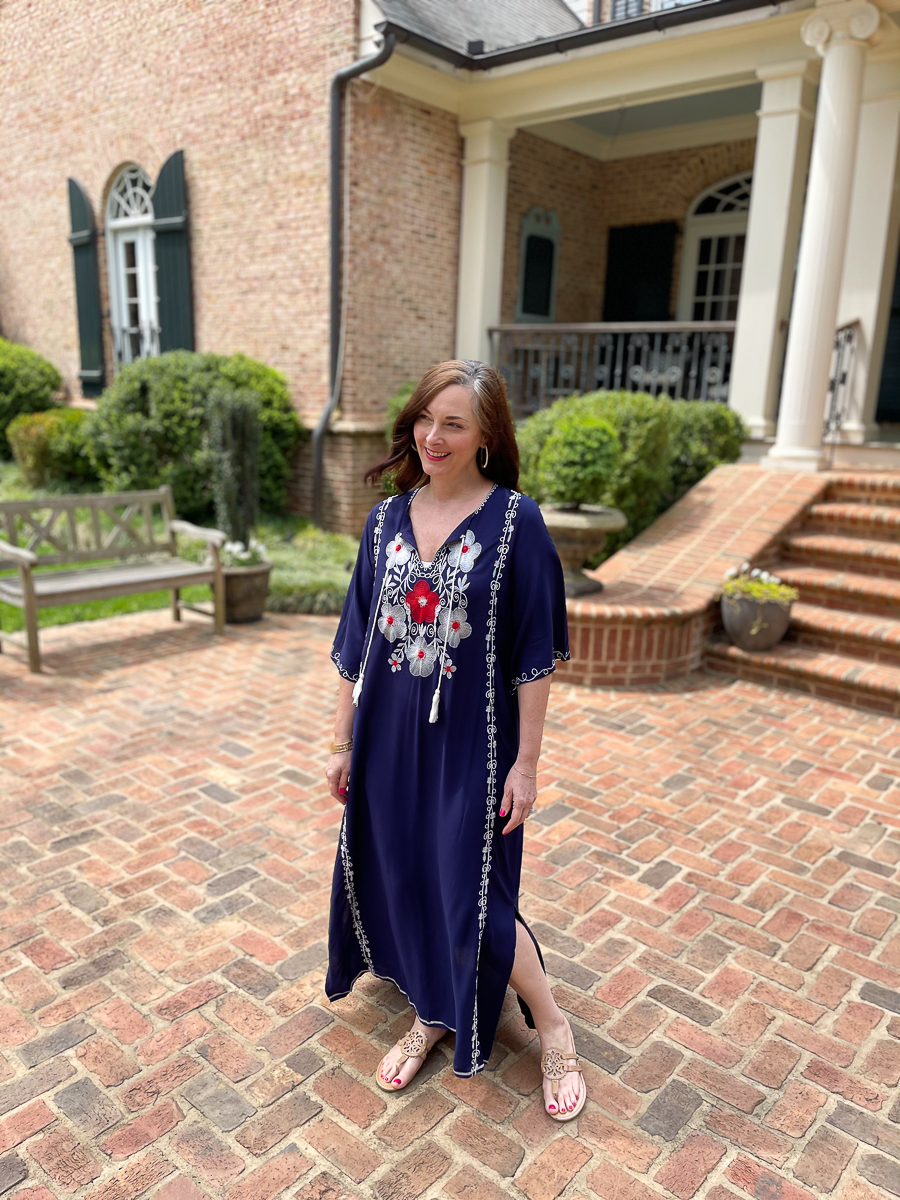 I love kaftans. If you watch Live with Kelly and Ryan, she wears some beautiful ones. I've looked a couple up knowing that they were probably out of my price range, but had a little hope. Yep, most were upwards of $400.
I bought this kaftan last year on Amazon and love it to this day. It's out of stock right now but says that it's due back this month. I'll have to wear it for you one Saturday. It's one size, but I'd say it may not fit if over a size 10. I carry my weight in my hips and thighs so that's where the issue would be for me.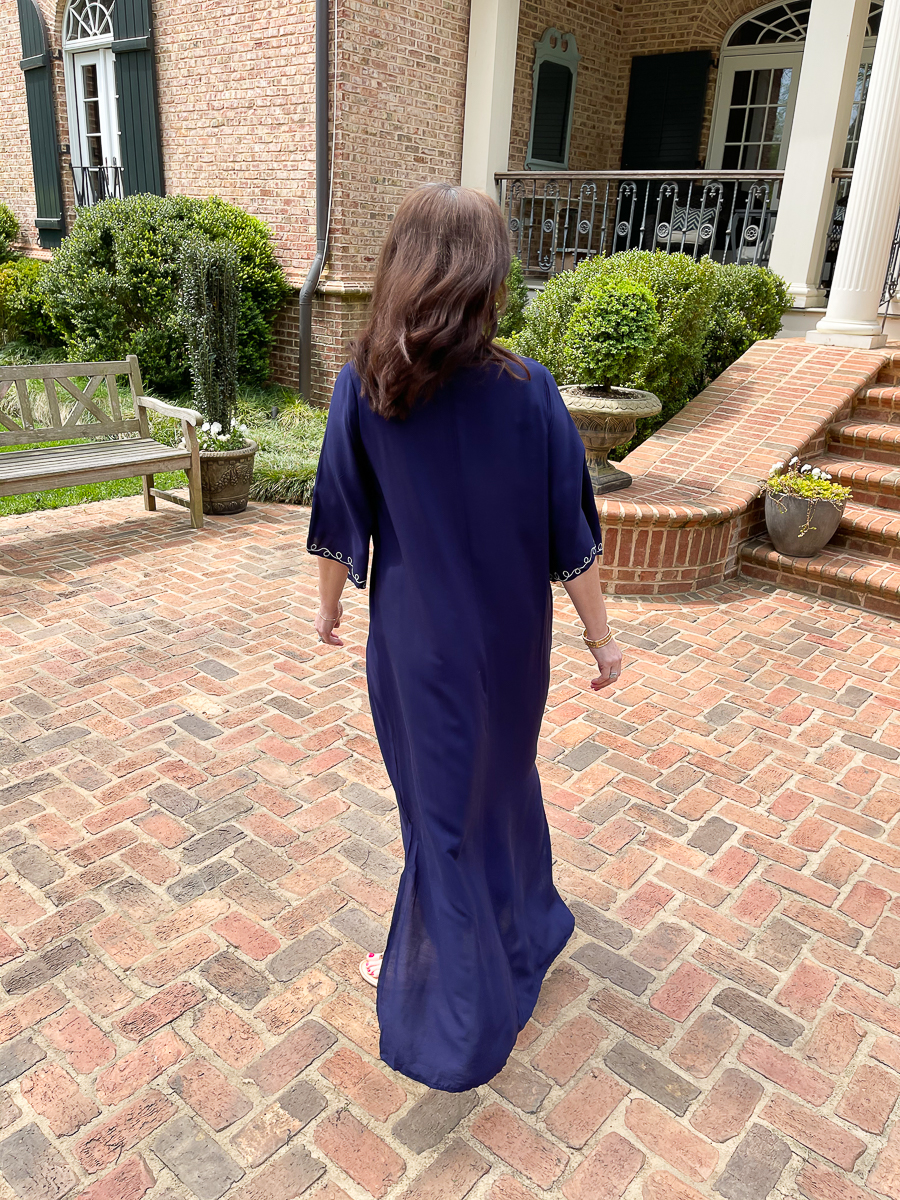 This navy kaftan is much looser than the light blue one. At $23.99, it's a keeper. It's one size as well, but more forgiving. I do wear my favorite tank bra with it for modesty. You can also tie the closure.
It's so comfortable wearing around the house. I love to wear it after a day working in the yard. I'll take a shower before cooking dinner, throw this on, pour a glass of wine, and whirl around the kitchen cooking.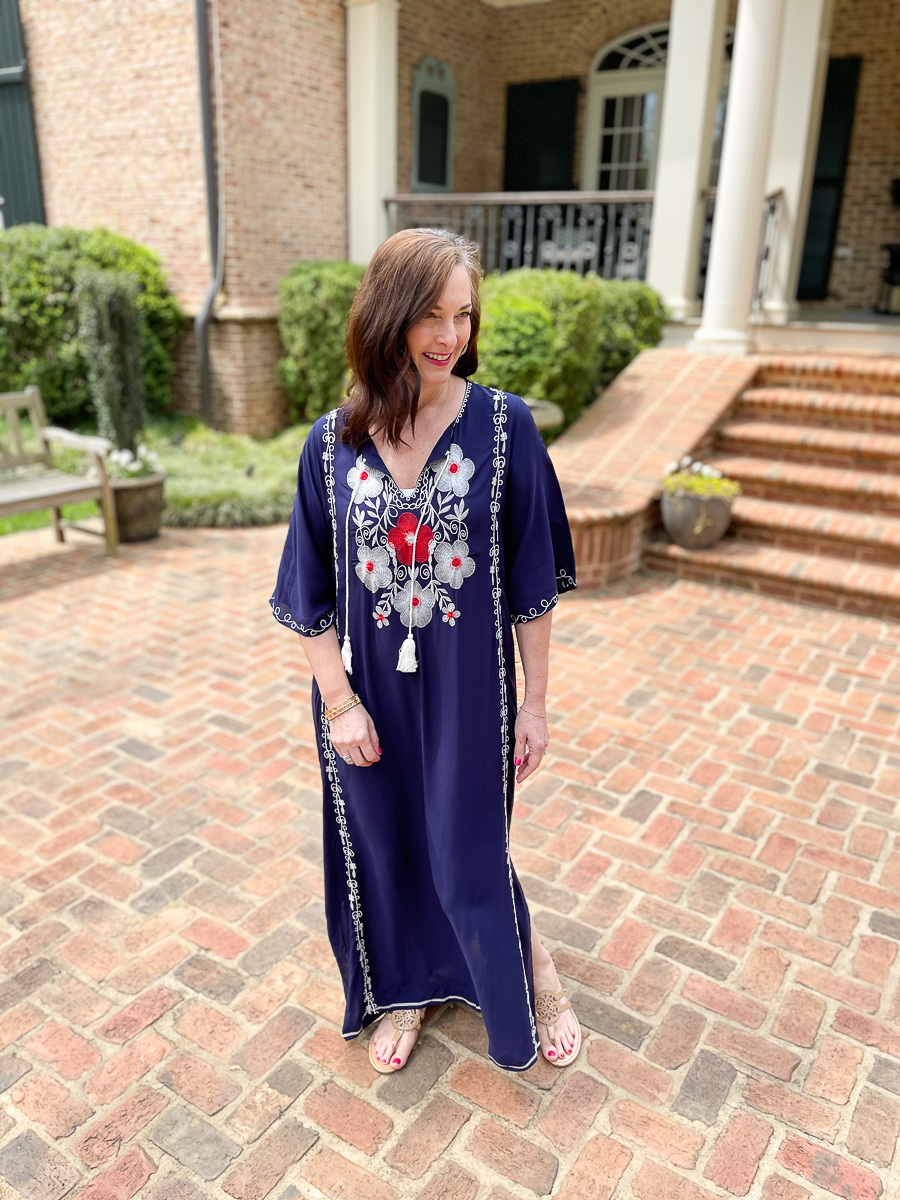 Ok, it doesn't sound that glamourous, but you get the idea! LOL!
Do you notice all those natural highlights poking all through my hair? It's been since 1/21/21 that I last colored my hair. It was really starting to get brassy looking and I used this shampoo and conditioner for brunettes on it. It totally toned down the red.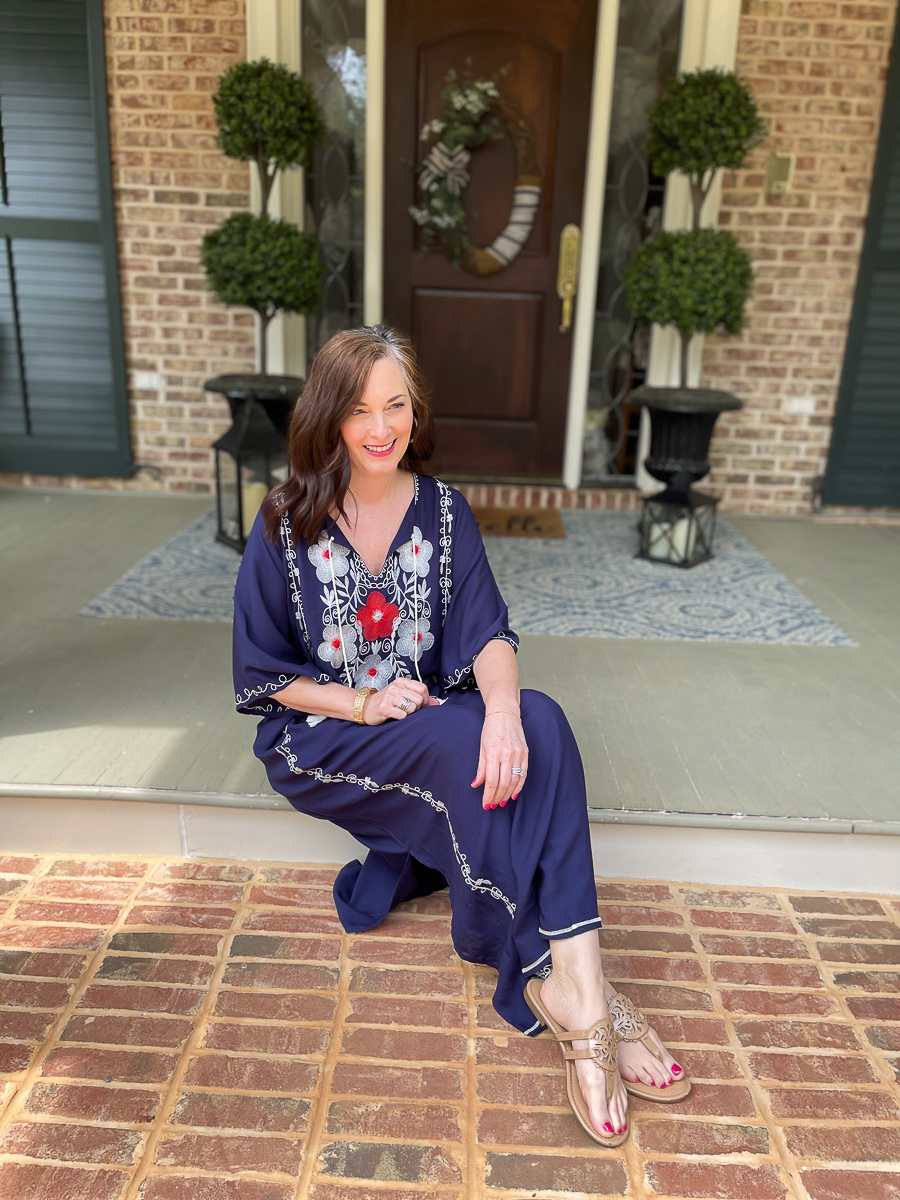 Topiaries | Blue Rug | Similar Mat | Similar Lanterns | Kaftan | Almond Sandals | Bracelet | Earrings | Tank Bra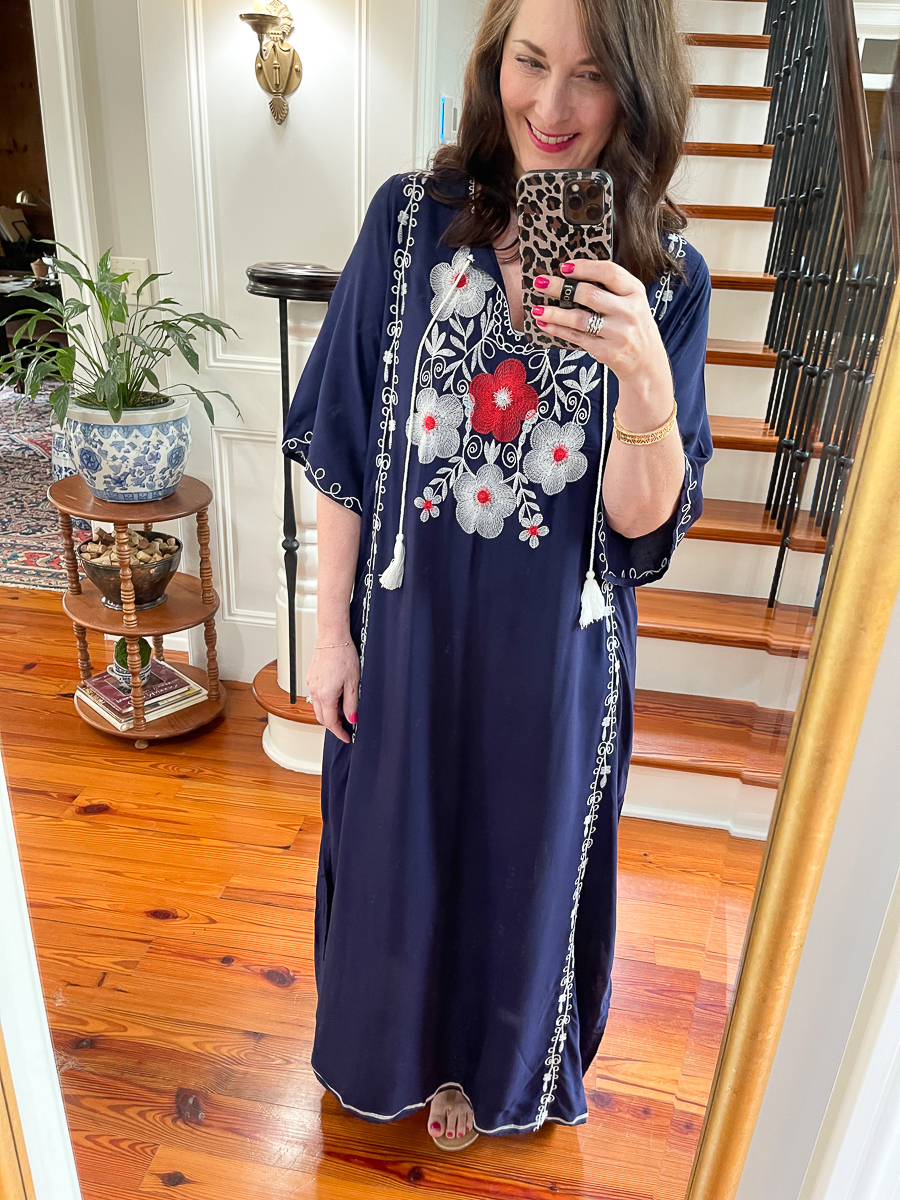 Kaftan | Almond Sandals | Bracelet | Earrings | Tank Bra | Full Length Mirror
You'll be seeing a lot more dresses coming up with the warmer weather.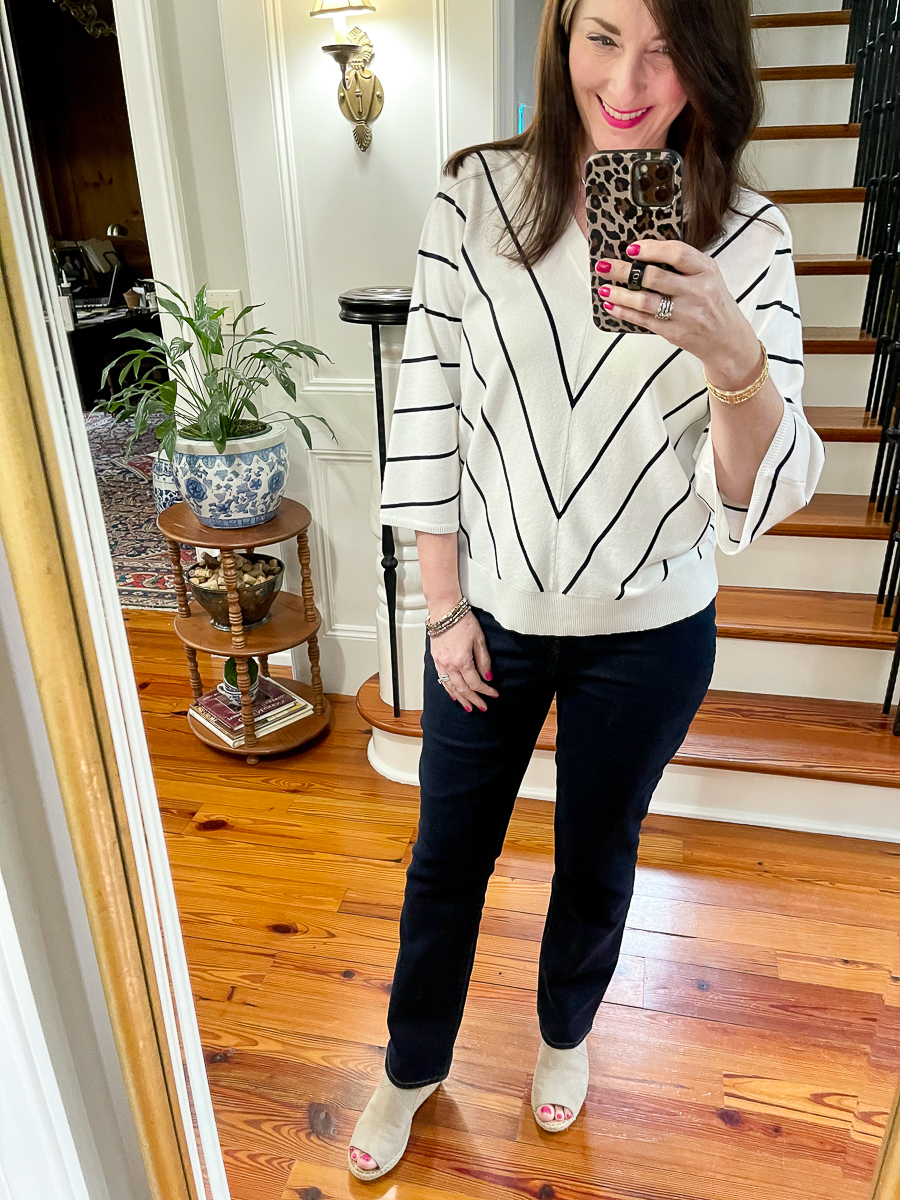 Jeans | Sweater | Shoes | Earrings | Bracelets | Cuff Bracelet | Mirror
My hubby and I went out for dinner last weekend. This doesn't happen very often these days, but it was fabulous. It was a fabulous dinner. We went to Downtown Greenville to Larkins on the River. I wore my favorite dark jeans and this lightweight 3/4 sleeve sweater. I added a pop of color with these earrings.
I only started wearing Chico's clothing this winter when they hired me to showcase their clothing. It truly is a great brand. Everything that they send me fits. That never happens! They run sales all the time!
Wednesday, we went to the lake house.
I took this week's thrift store makeover with me. It looks just as I entended the space.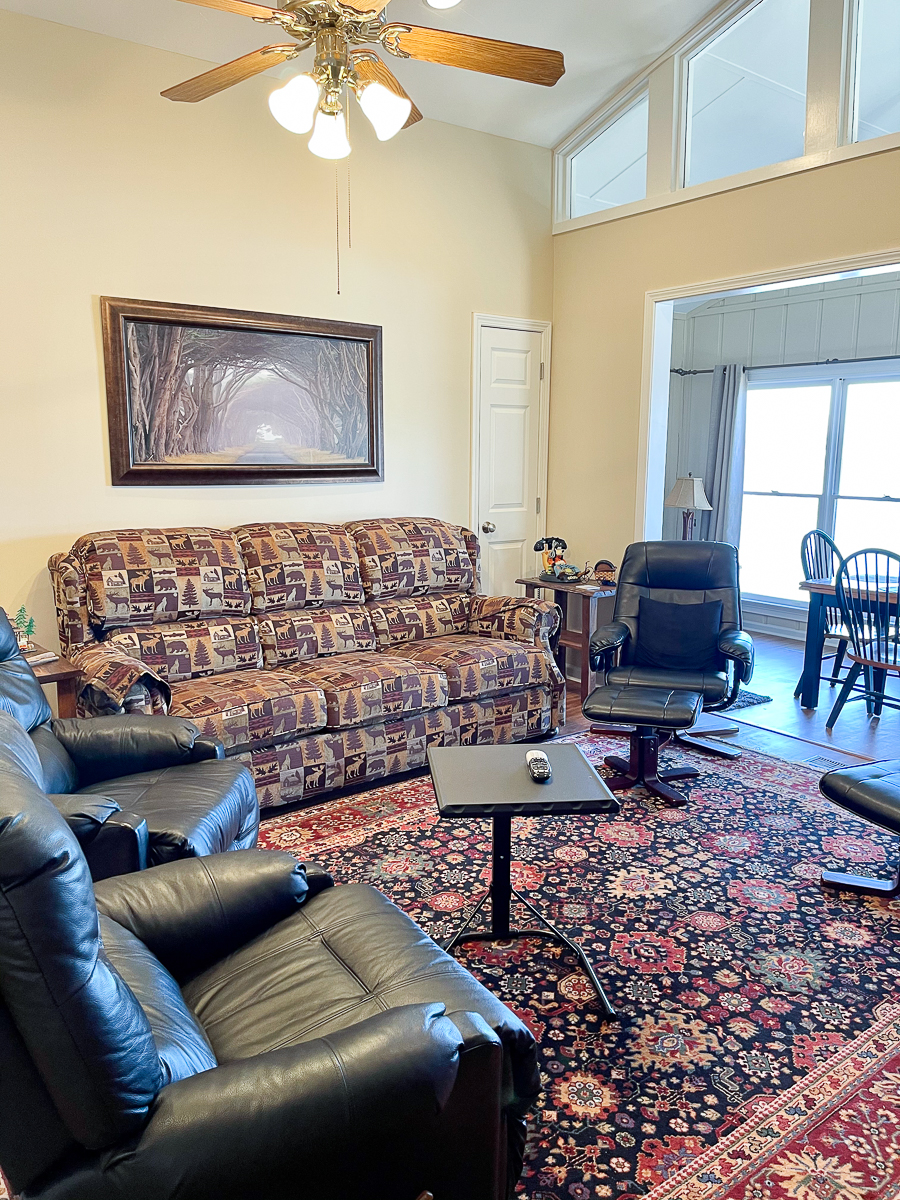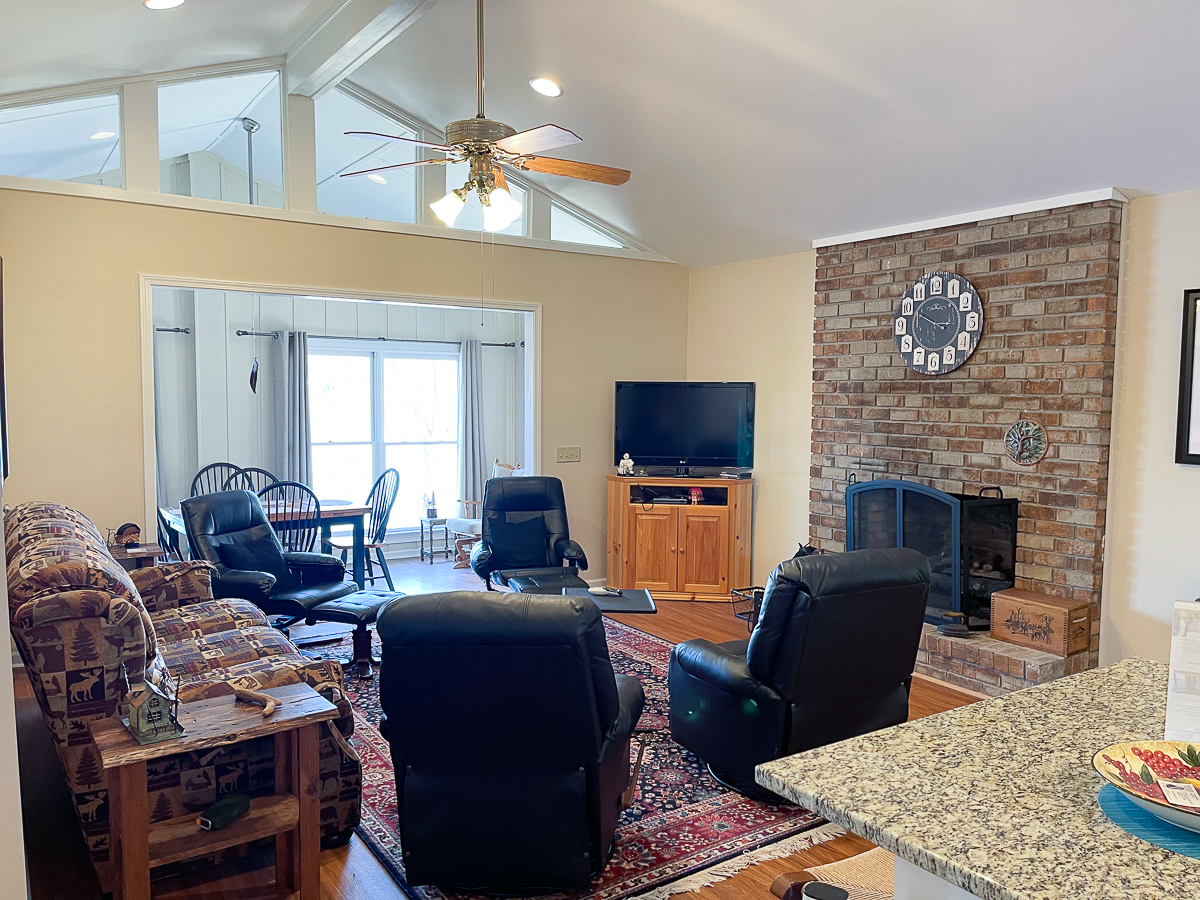 The new slipcover completely elevates the look!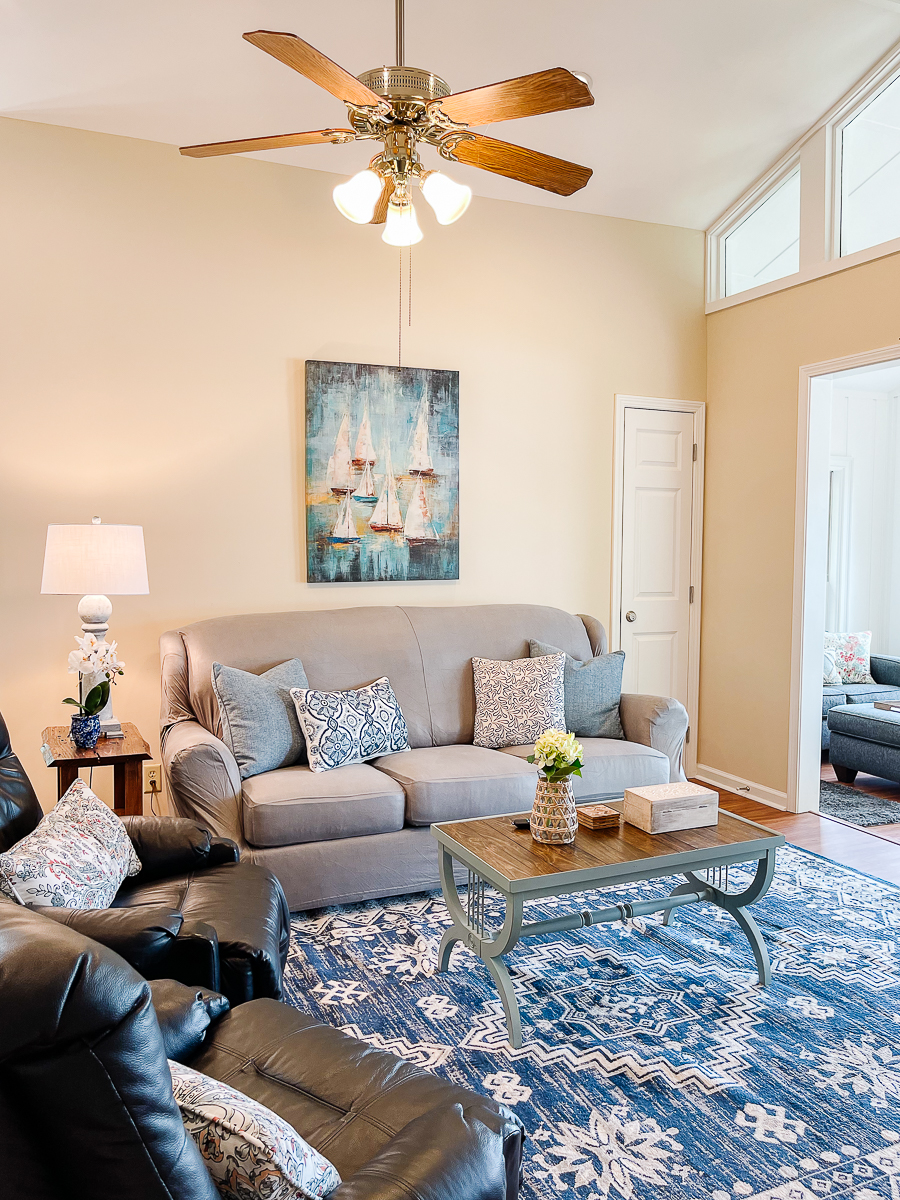 The coffee table was a thrift store makeover from a few years back.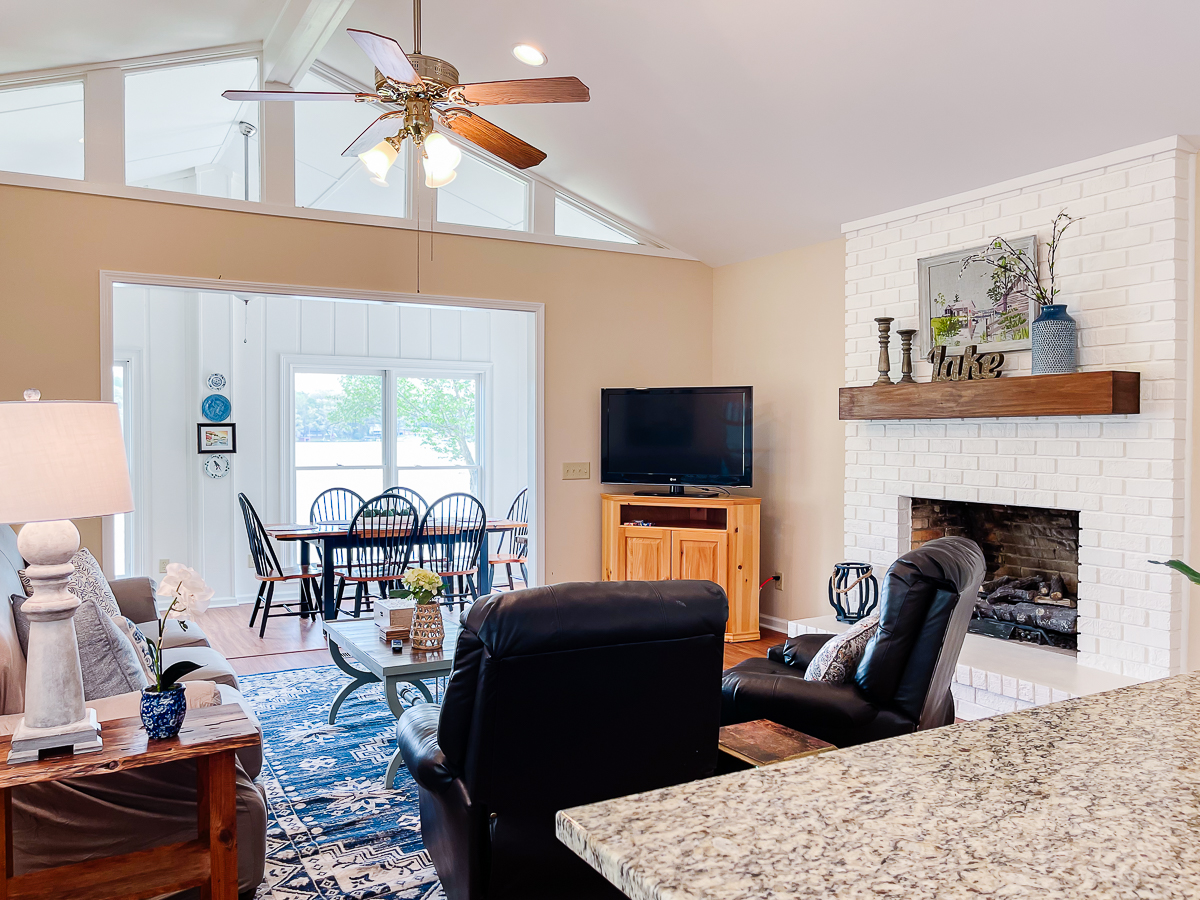 I switched out the rug for one that I had in our upstairs TV room.
The sailboat art used to be in Ashlyn's apartment bedroom with fabric stapled over it. You can read about it here.
It's such an easy way to makeover a piece of art.
I literally just ordered this dress from one of my favorite online boutiques. It's the Farrah. I ordered it in a small. The colors are so cheerful and fun for summer. You can click this link to get 10% off your first order. Once you order your first item, be sure to utilize their rewards program. I got $25 off of this dress from earned rewards over the last year.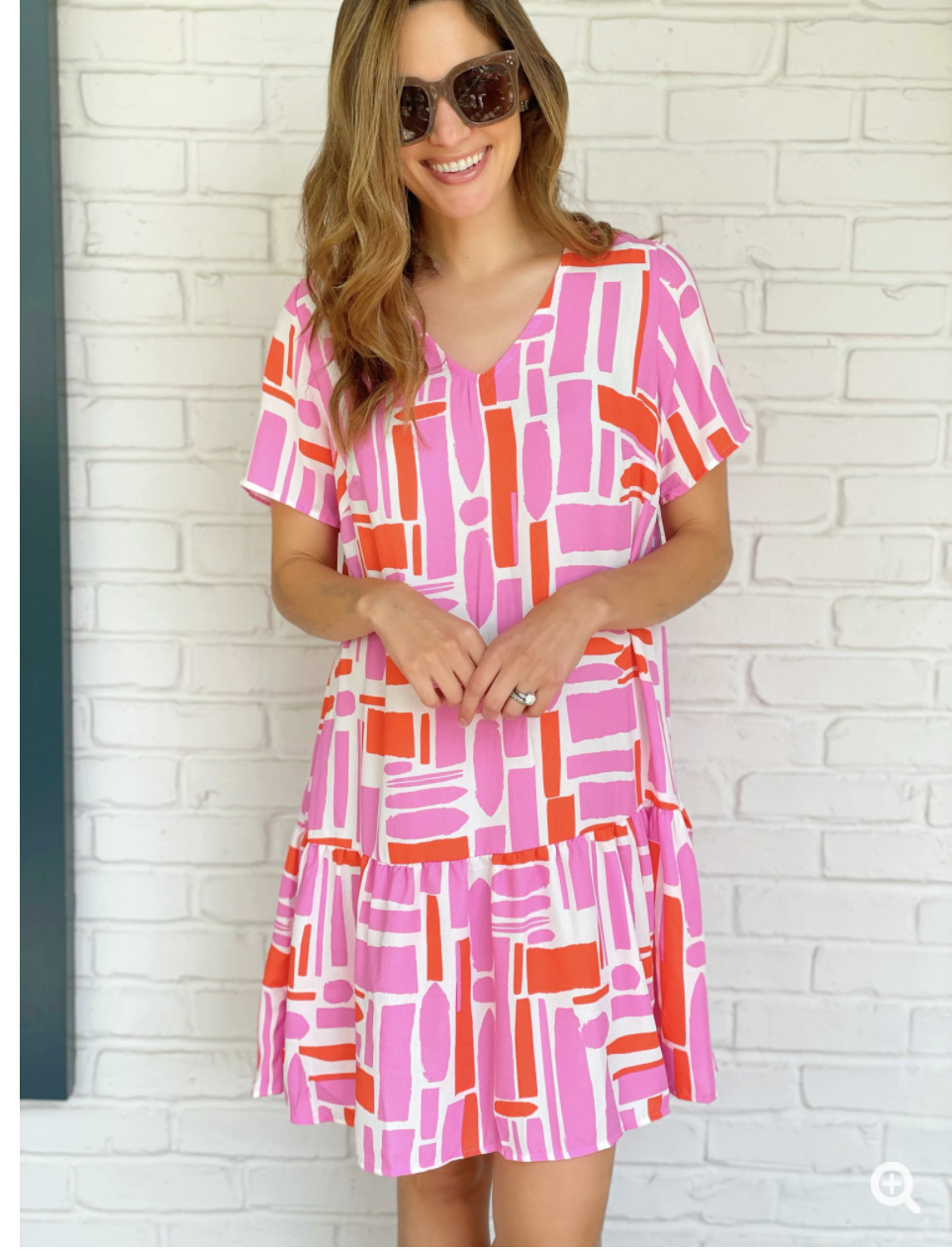 What I'm Reading
I just finished The Restaurant. It was an enjoyable read. I knew that I would enjoy it after I finished her Nantucket Beach Plum Cove series.
My husband just finished The Silent Patient, and he thinks that I will like it. It's what I'm starting next.
What I'm Watching
If you haven't, watch Pieces of a Woman on Netflix. It's got a great cast. It's quite heartbreaking. The lead actress has an Oscar nomination.
I've always been a big Law & Order fan. The new Law & Order: Organized Crime series is really good. It reminds me of a Netflix show. Each week is not a "new" show with a crime. Each week is a continuation of the story for the entire season! I love that. It really keeps you pulled in.
I can't wait for Kate Winslet's new HBO series that starts this Sunday. It's called Mare of Easttown.
Getting a Little Sun
As you can tell in the above photos, I have very fair skin. I'll get a bit of a tan when at the beach house even while wearing 50spf.
In the meantime, I fake it a bit.
I ordered this exfoliating mitt and I've already used it 2 times. It does a great job.
You do not have to use any product with it.
After exfoliating and showering, I moisturize really well using this body oil. I apply the body oil in the shower after patting my skin dry. It absorbs quickly and gives a nice glow. Ashlyn uses it as well.
I use typically Jergens Tanning Mousse. It was out of stock on Amazon so I decided to give this big favorite a try. I used it yesterday and really like it so far. ALWAYS use a tanning mitt when applying self-tanner. Your fingers and hands will thank you. PLUS it gives a more even tan.
Favorites from Instagram
I hope you have a beautiful weekend!!
Buffer