Favorite Grey High Low Hem Top

Happy Friday and welcome to another week of Favorite Things Friday! Sorry I missed last week. My hubby and I went out-of-town for the holiday weekend, and it was all I could do to get out the door let alone get a post ready!
My fashion posts will be a bit different….you see I don't consider myself a fancy fashion blogger. I'm not going out and buying outfits to photograph. I'm deciding on a favorite outfit that I pick from my closet to share with you.
I'll do my best to search online for the exact item or very similar. Lots of times, I've had an item for years….like my gold wedges in this post. I like sharing this post with you each week. It's forcing my to put items together that I normally would not. I'm really having a lot of fun playing with it.
I encourage you to shop your closet!
Please note that affiliate links are used in this post. That means that if you make a purchase with one of them, I will make a small portion of the proceeds. It will cost you nothing extra. It keeps this blog running! You can read my disclosure policy here.
Be sure to check back next Tuesday! My FALL HOME TOUR will be live!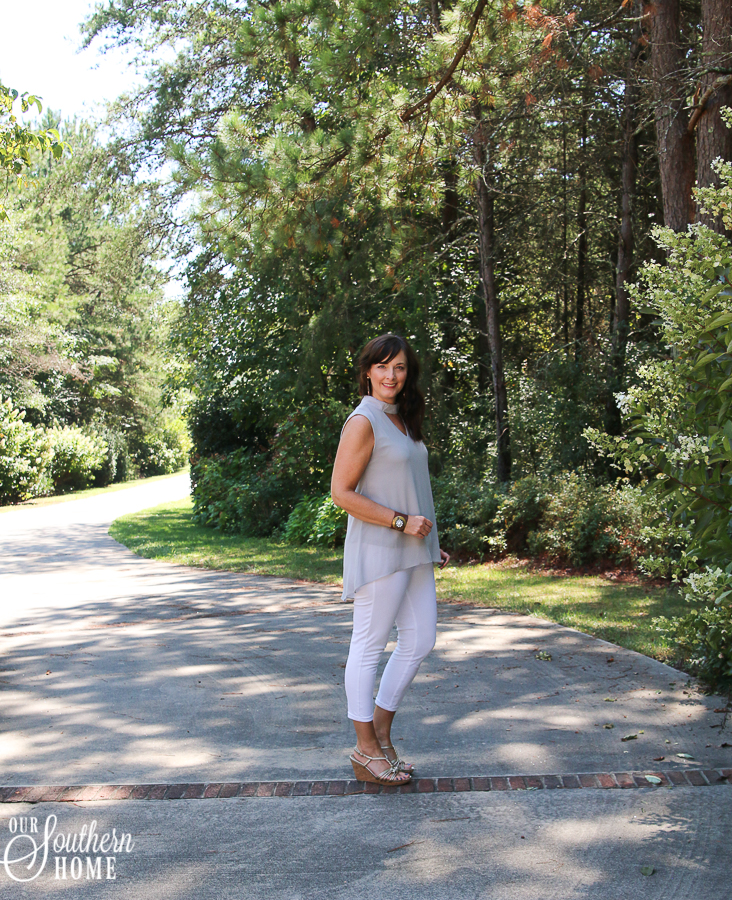 I purchased this top in May from Amazon. It's less that $20. It was perfect in Italy for those warm days and cool nights. I simply layered with a scarf or my trusty denim jacket.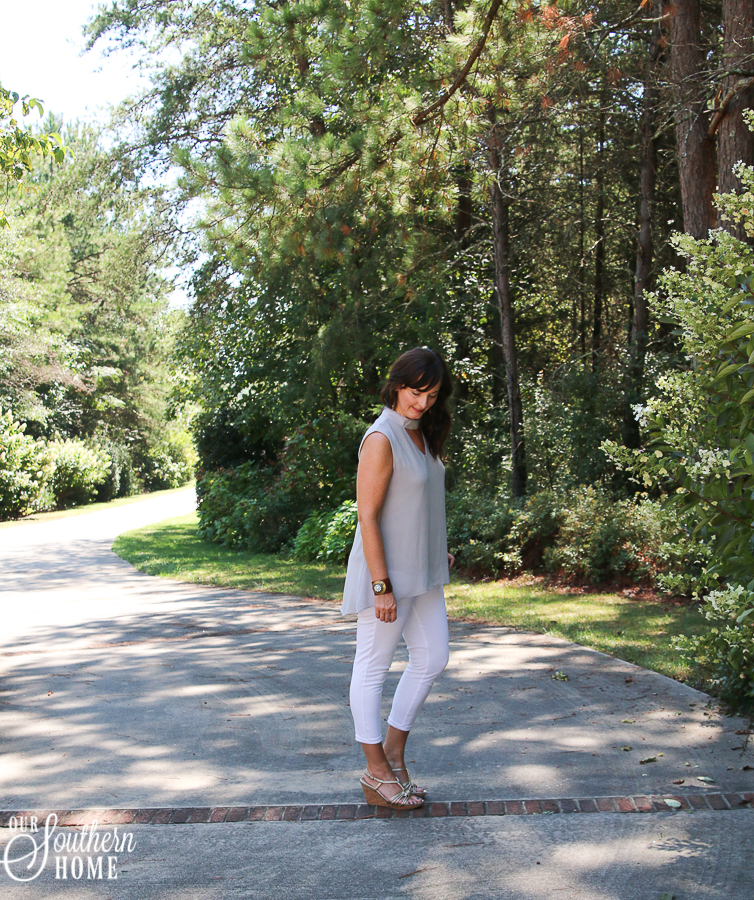 I confess that I love leggings…especially the ones that look like jeans, but really aren't! Comfort is king in my book!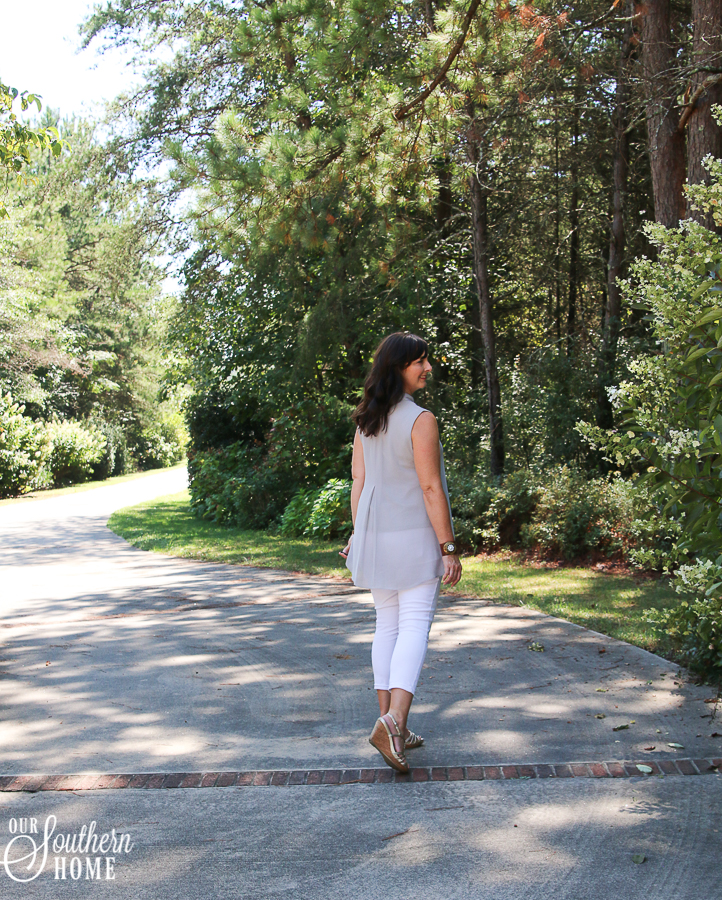 I'm not sure who invented the High-low top….you know shorter in the front and longer in the back to cover the business. I'm always a cover the rear kind of girl. You'll notice that the top is slightly sheer. It comes with an attached under layer tank for effortless style. No special bra required.
I know it's after Labor Day and some say no white, but rules are meant to be broken. It's hot as all get out here through October so go for it! White can be worn year round these days. Capris are no issue either as long as they are the longer variety. Great with the shorter boots these days.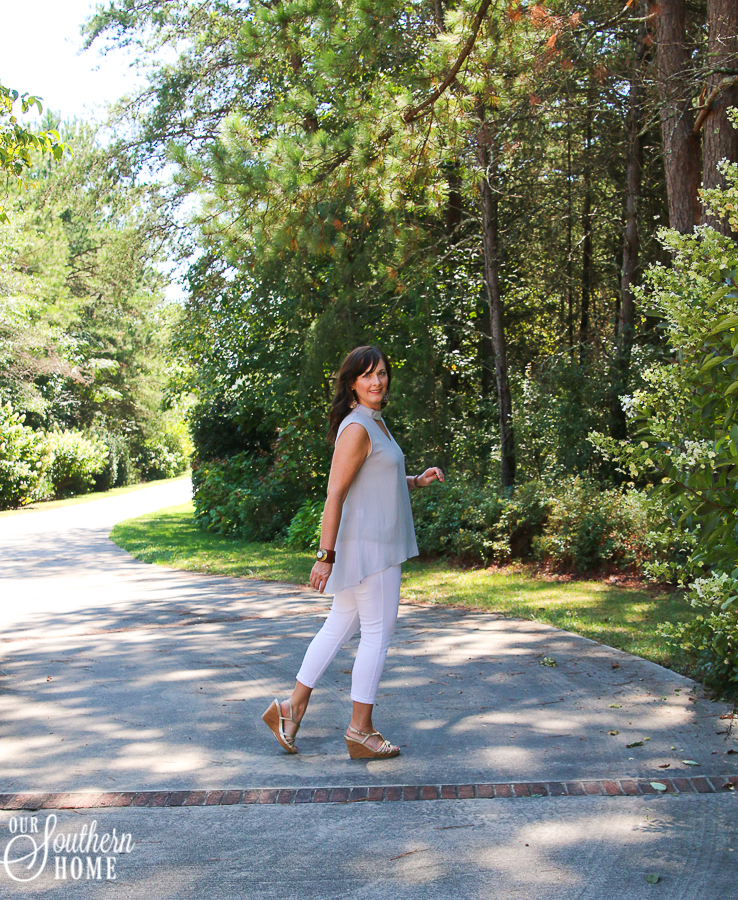 To be honest, I'd only wear the high wedges if showing a house (yes I'm a Realtor) or out on date night. Otherwise, I'd be in some gold flats. These wedges are comfy though. I'd rather wear a wedge that a stiletto!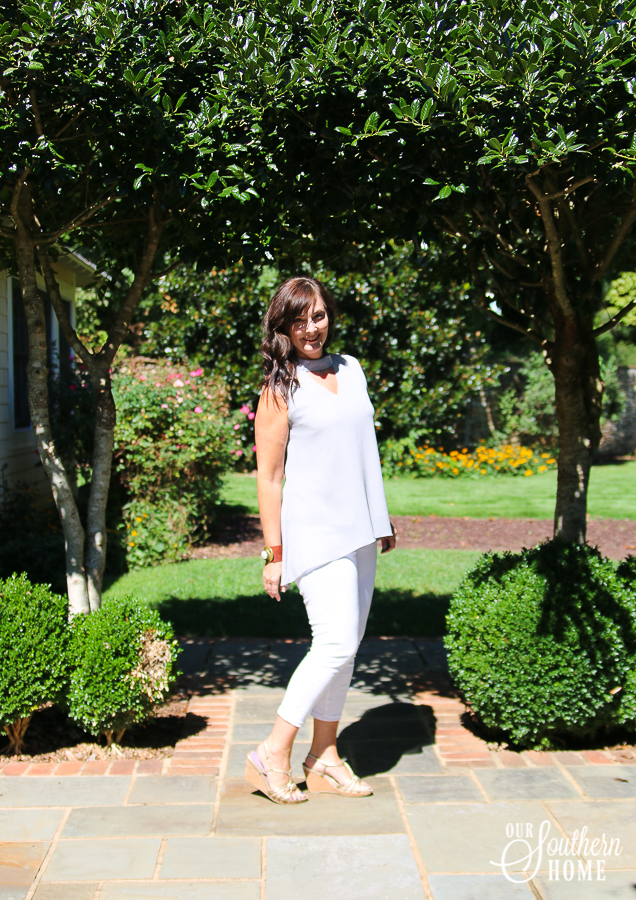 Notice that one of a kind leather cuff! It's from my friend Lucy of Lucy Inspired. Her jewelry is made with salvaged materials for amazing vintage flair!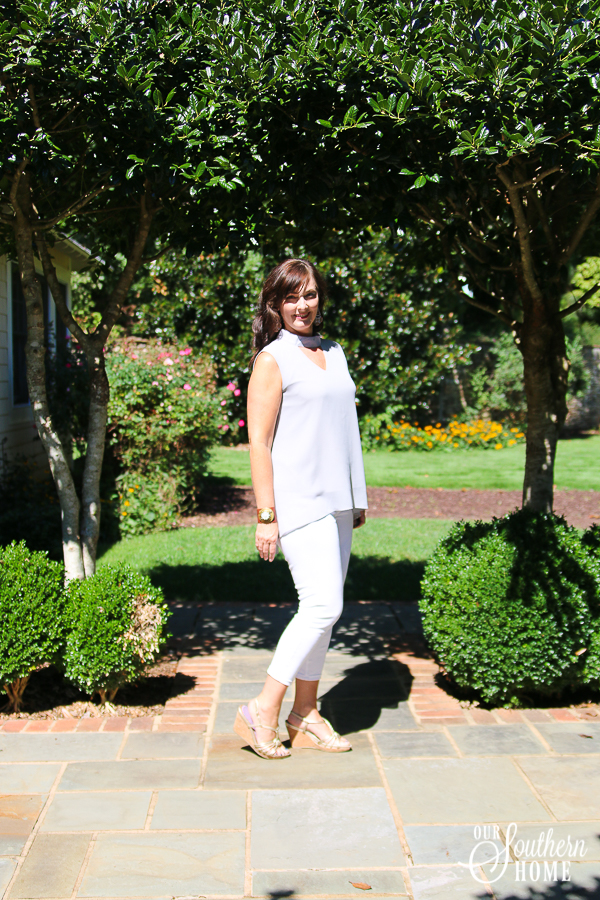 I don't like to wash my hair everyday so you will most likely find it curled on day 2! I put a little dry shampoo in my bangs to absorb any oil. Then I curl with this curling wand. I can't for the life of me use a curling iron so this has given me the ability to occasionally have a curly look.
My LimeLight Product Spotlight of the Week!
Sotoks + One Drop Wonder are due back in stock today! Let me know if you'd like more information on this ALL Natural Dramatic Duo!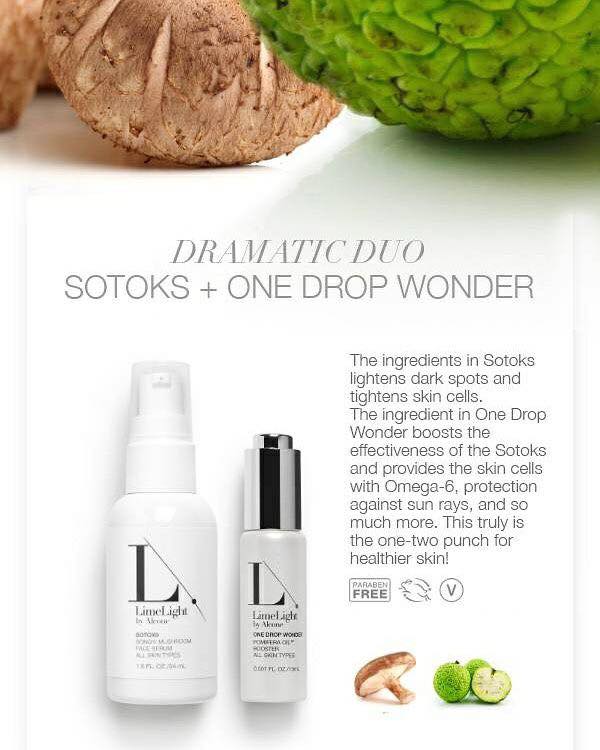 Do you have any fashion or beauty tips you can share with me? I'd love to hear them in the comments below.
SHOP THIS POST

Please check out these other fashion and beauty posts!!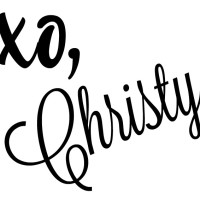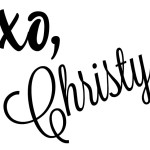 Buffer