Southern Living Model Home {Tour}
Southern Living Cottage Model Home Tour
Have I shared with you what a magazine junkie I am?  The same is true for home tours!!!!  Luckily Mr. OSH loves them as well.  We went Friday afternoon to this home tour by a local builder in a new Greenville, SC subdivision.
It was a mini Mother's Day middle of the day date!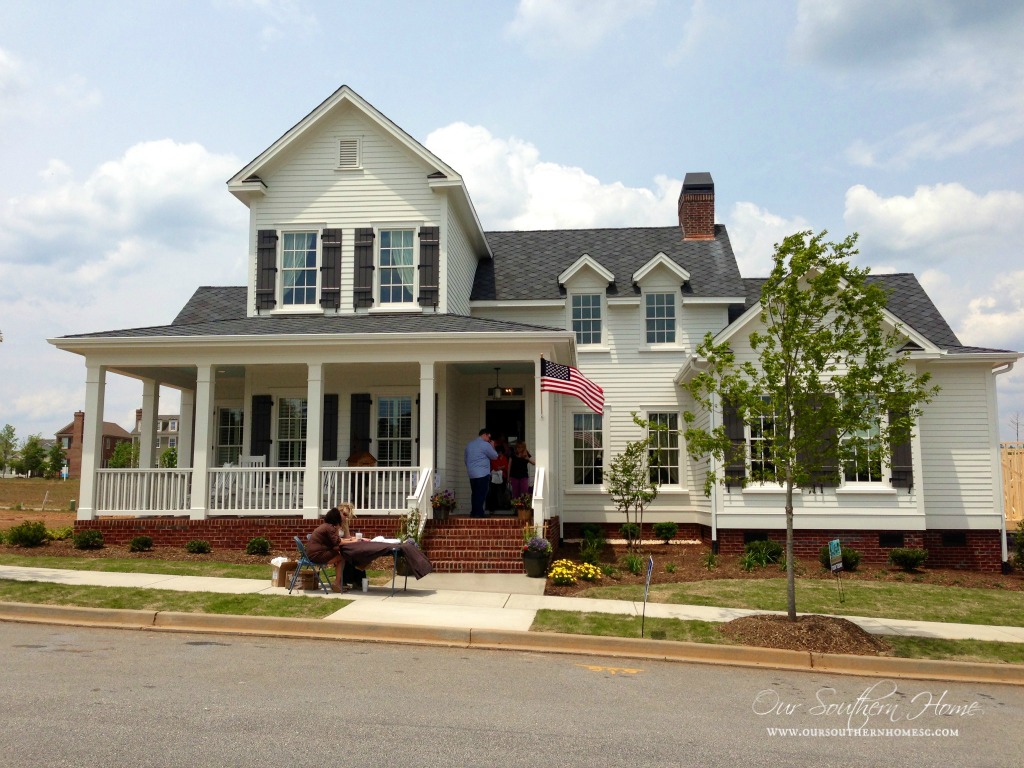 I have always been drawn to cottage styled homes.  The Dillard-Jones Co. in Greenville, SC is a member of the Southern Living Custom Builder Program.  They even have a sister company called The Cottage Group.
I really liked this house.  It has a great open plan with lots of usable space!  I wasn't as crazy about the neighborhood.  The houses are really on top of each other, but this is coming from a country gal living on a little over 12 acres!
Did you notice the pale blue porch ceilings?  Here is a closer look!  I love blue porch ceilings!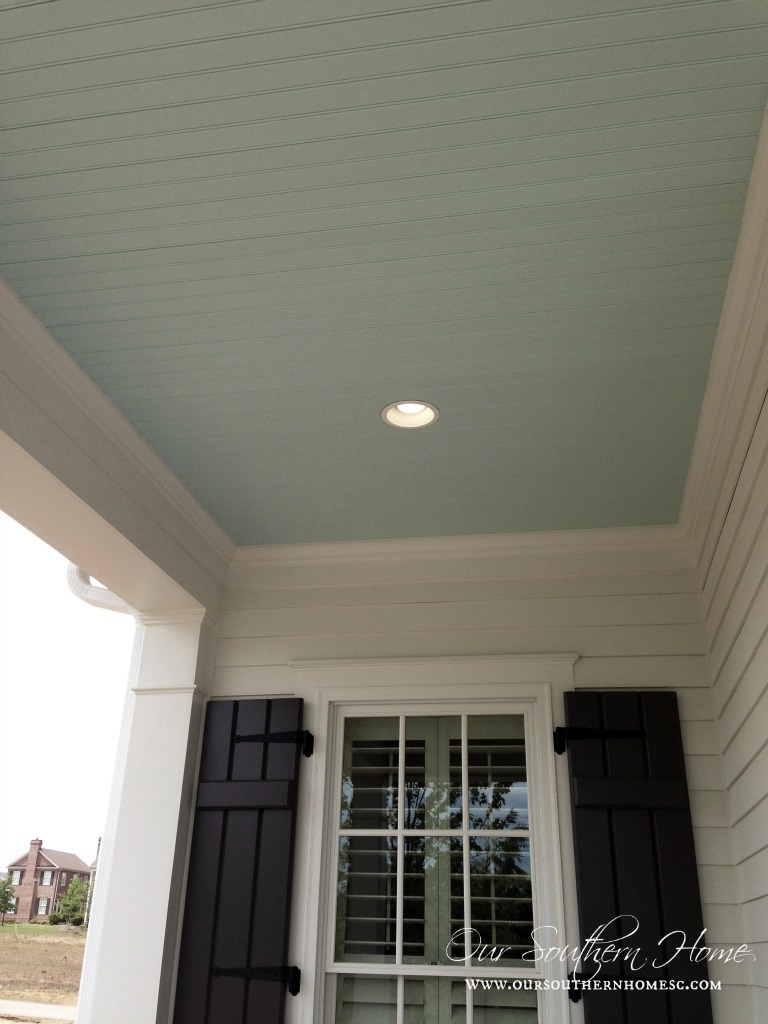 I wasn't sure if photography was allowed……I never saw a "NO" sign so I clicked away with my IPhone 5.  Sorry the pics are not of better quality!  I didn't want to over stay my welcome with a regular camera!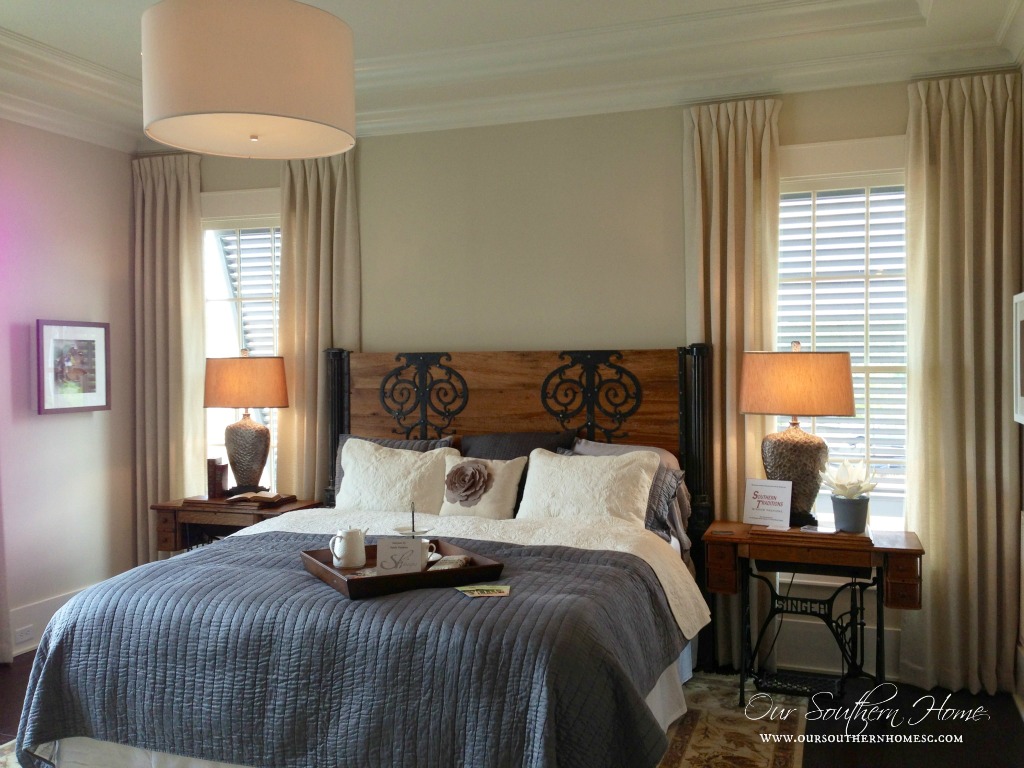 I loved everything about the master suite!  The bed was incredible!  I enjoyed the clever use of the bedside tables as old Singer sewing machine tables!  They looked like an identical pair!!!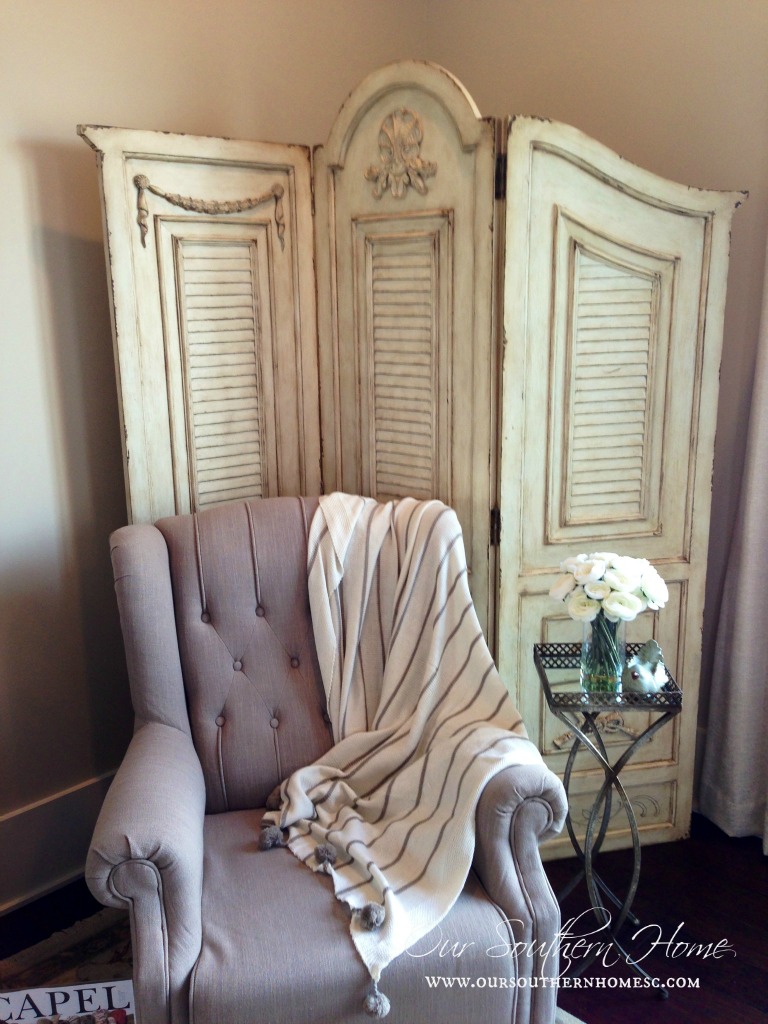 The corner of the master had this lovely sitting area.  The shutter/door piece is to die for!!!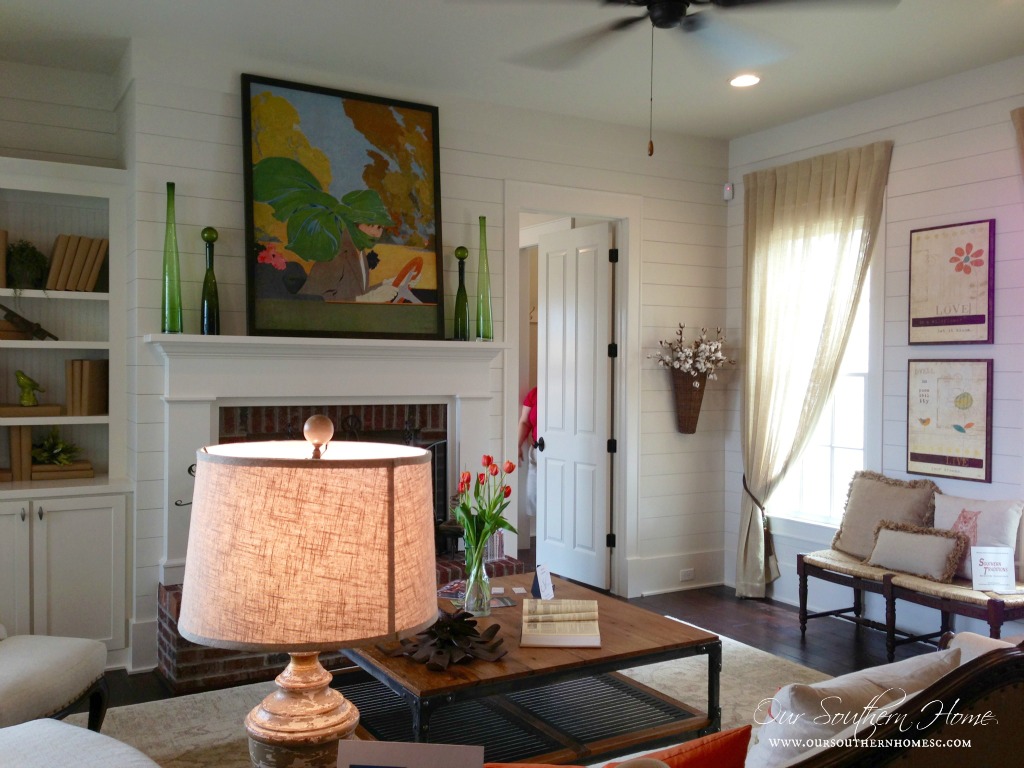 This is the cozy family room.  It is open to the kitchen and dining area.  I really like the walls.  They really looked like a type of cement board, but not really sure.  Each board has a bit of space between them.  I'm not sure how I would like it over time, but today it is fab!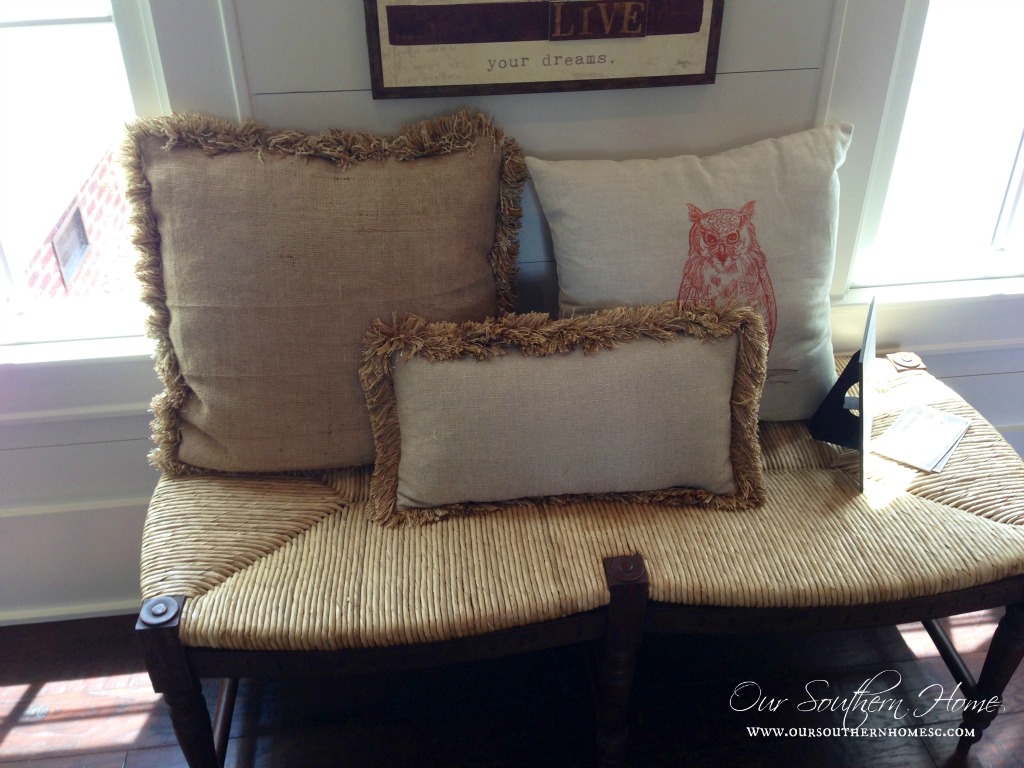 Here is a close up of the bench in the family room.  I have a major crush on the owl pillow.  Several owl pillows were used in the house!
Beautiful kitchen!  The pendant lights were amazing!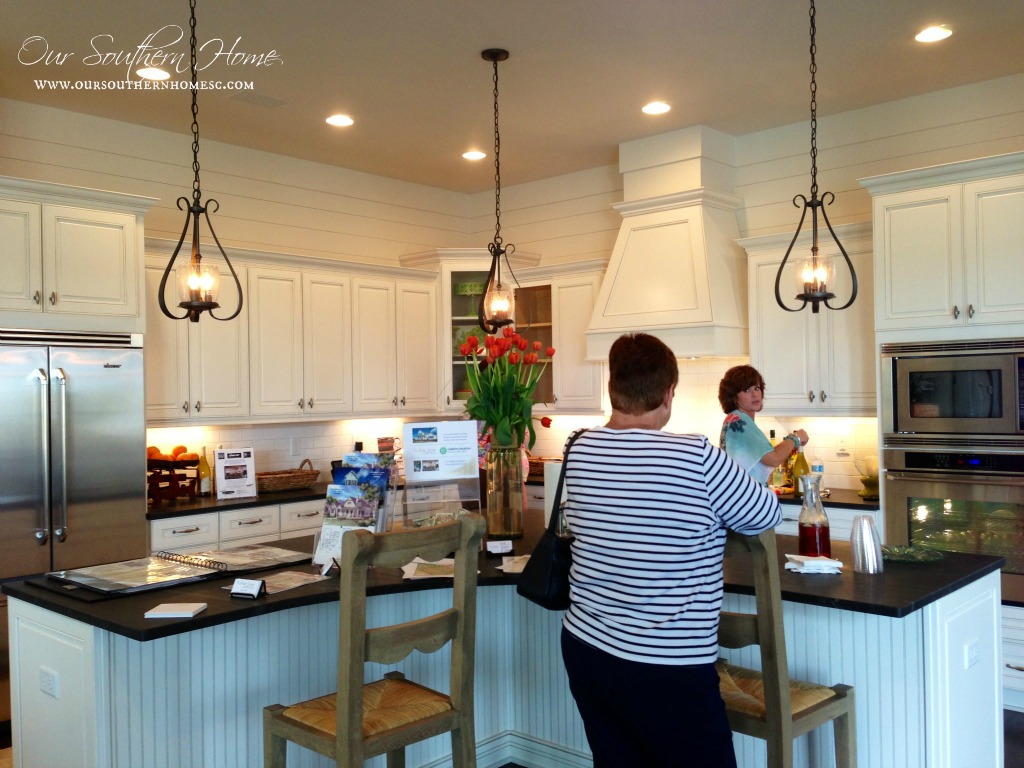 There is also a room at the front of the house used as a home office or could be a formal dining room.  I didn't photograph it because there were too many people in there.  I guess I could have asked them to step out for a few.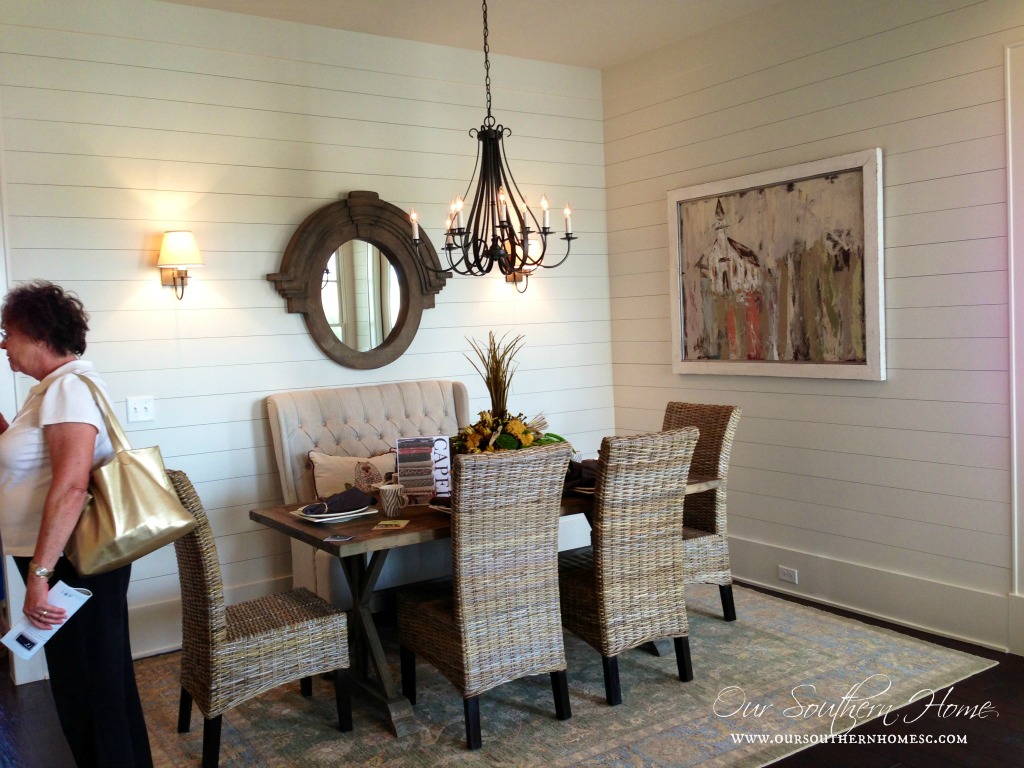 the breakfast/dining room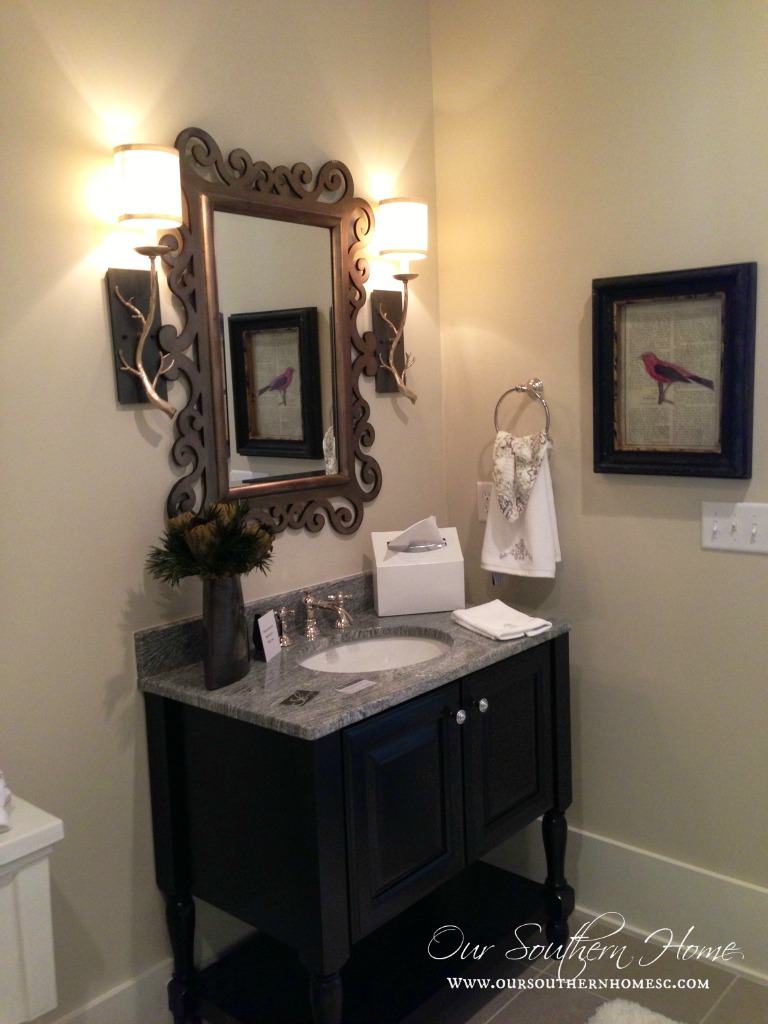 Lovely bath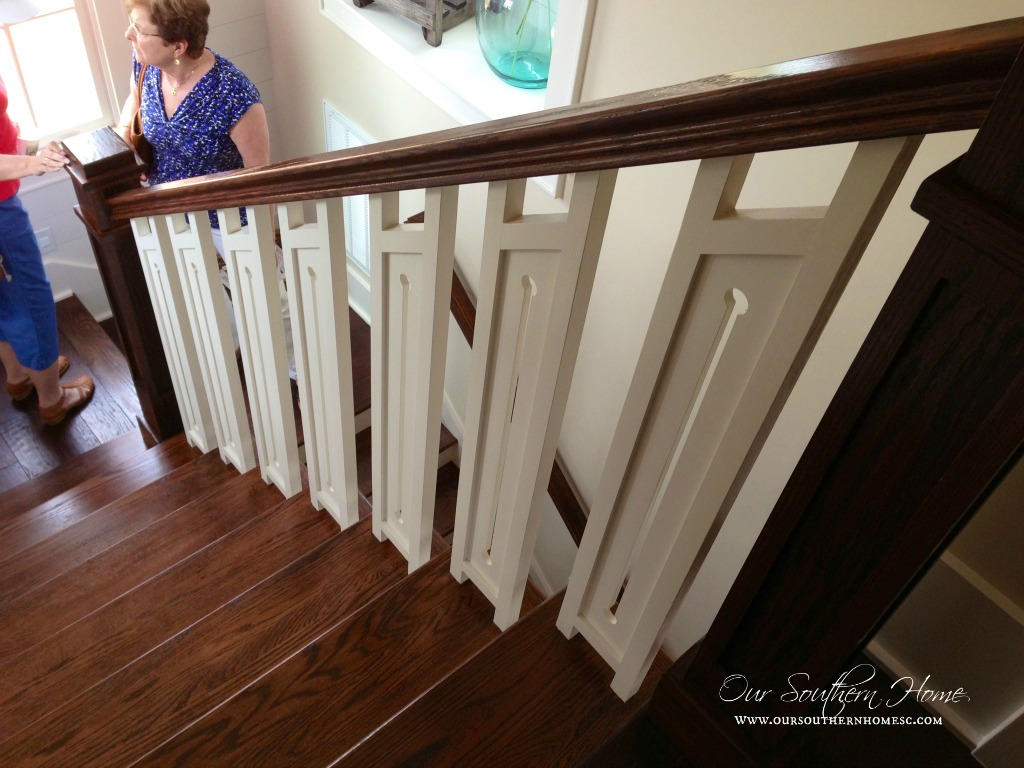 There was also a nice pantry, mudroom, laundry room and garage on the main floor before heading up this fabulous cottage staircase.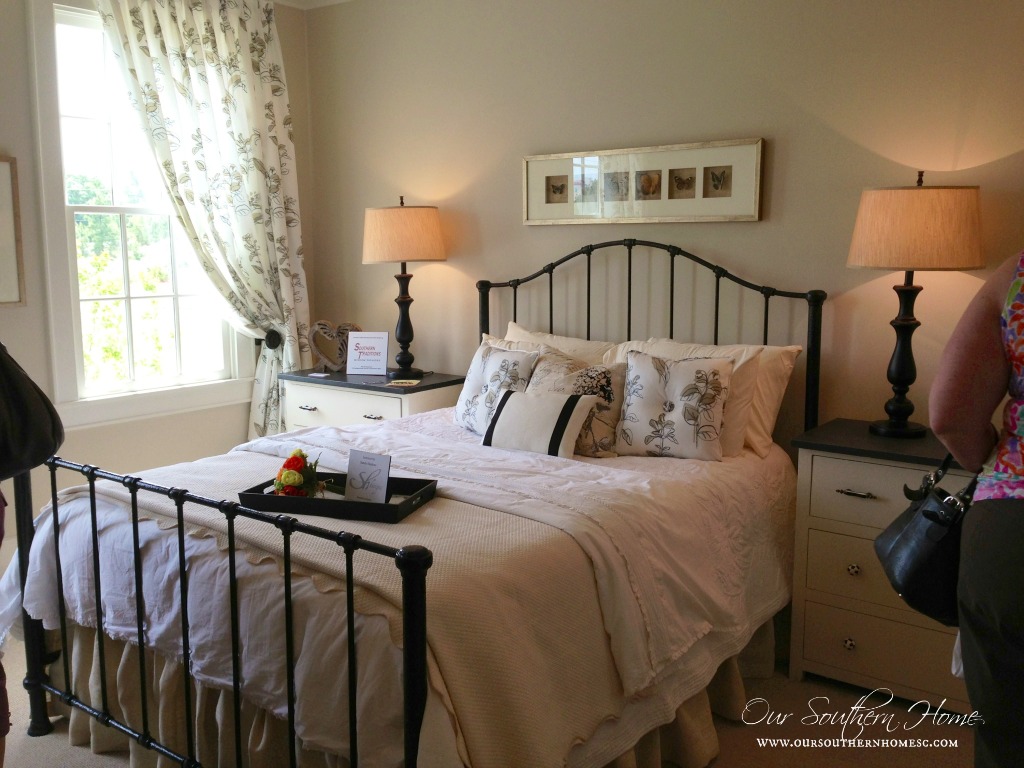 Upstairs you will find two bedroom, two baths and a wonderful media room!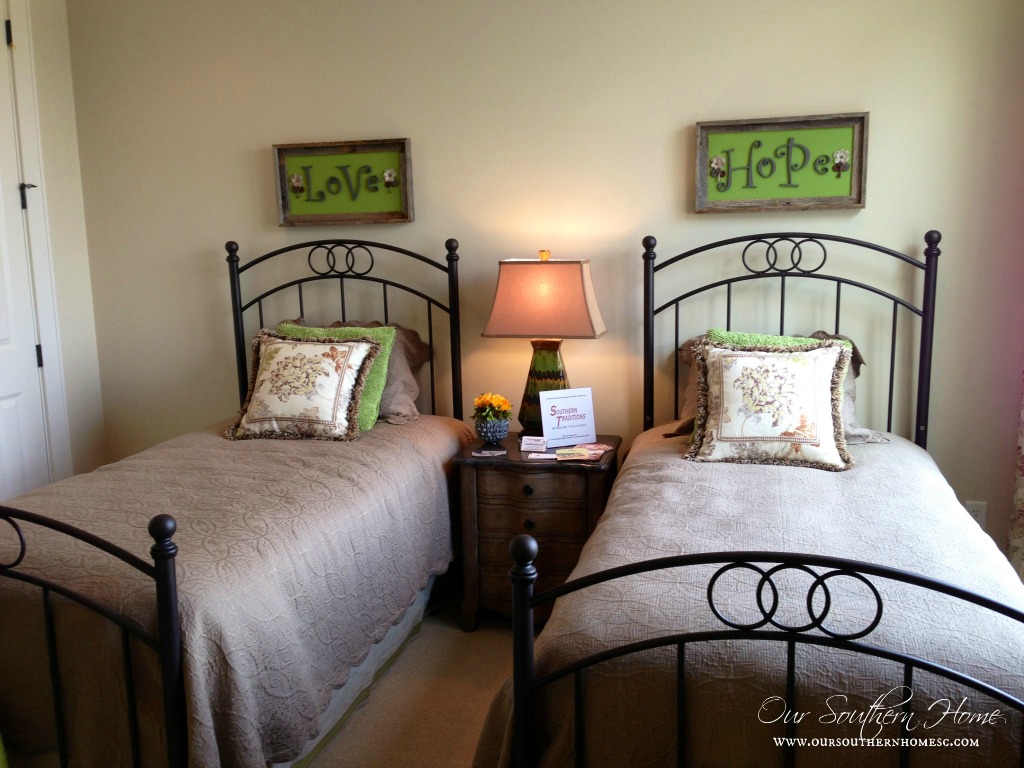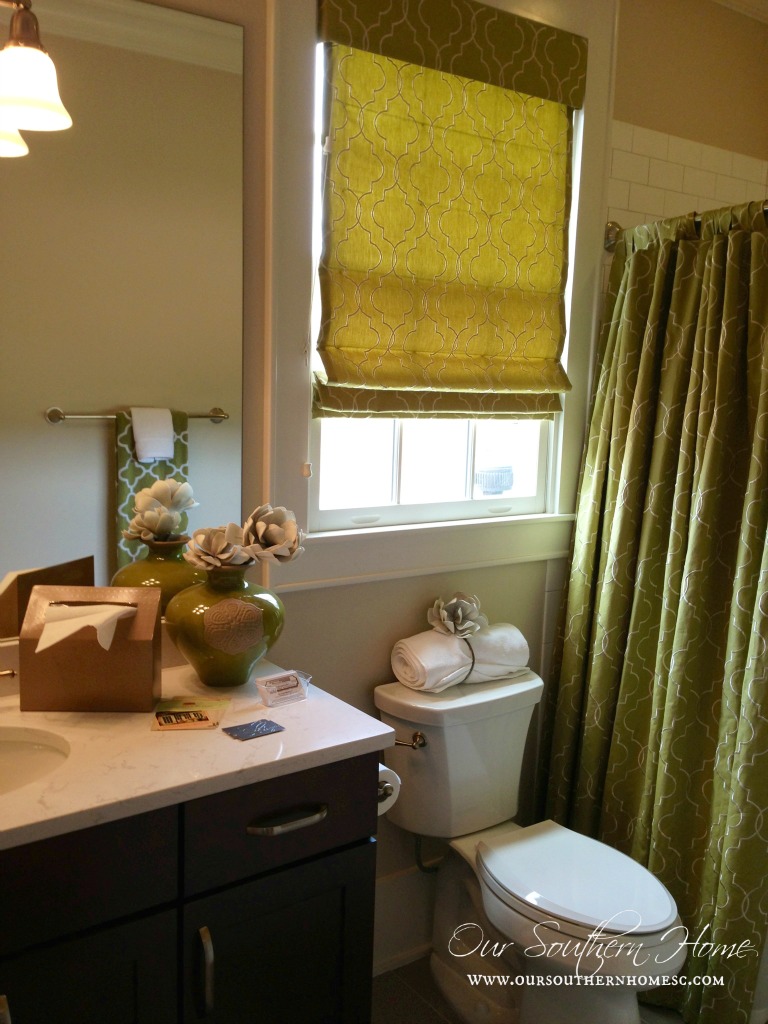 The media room is very spacious!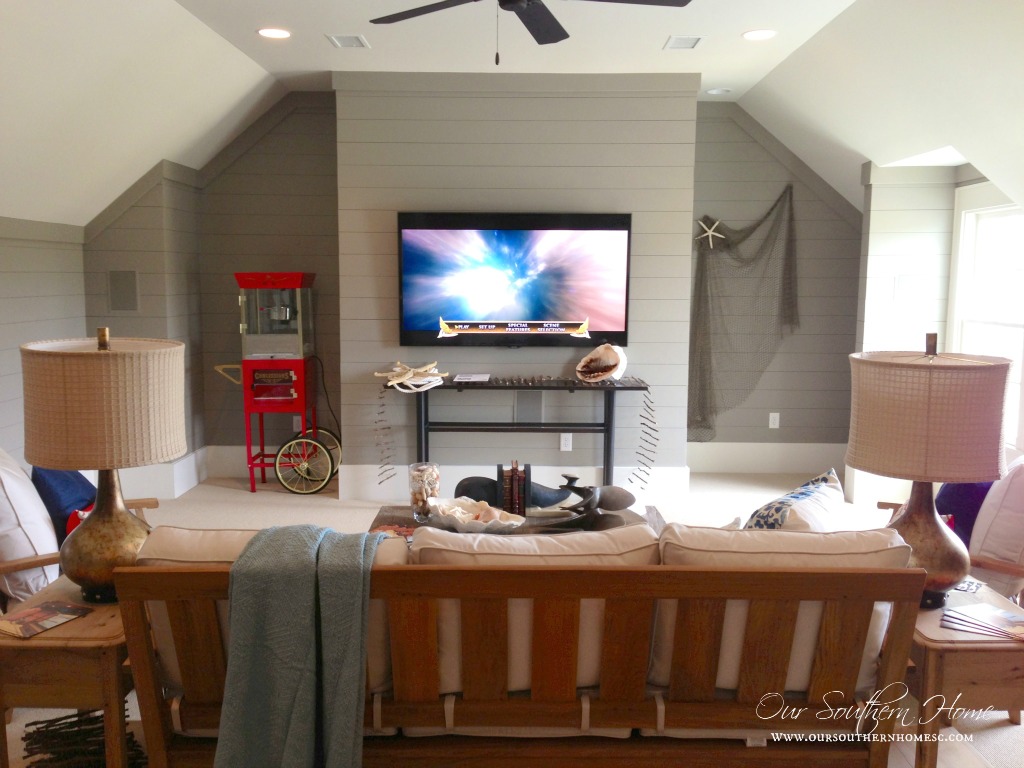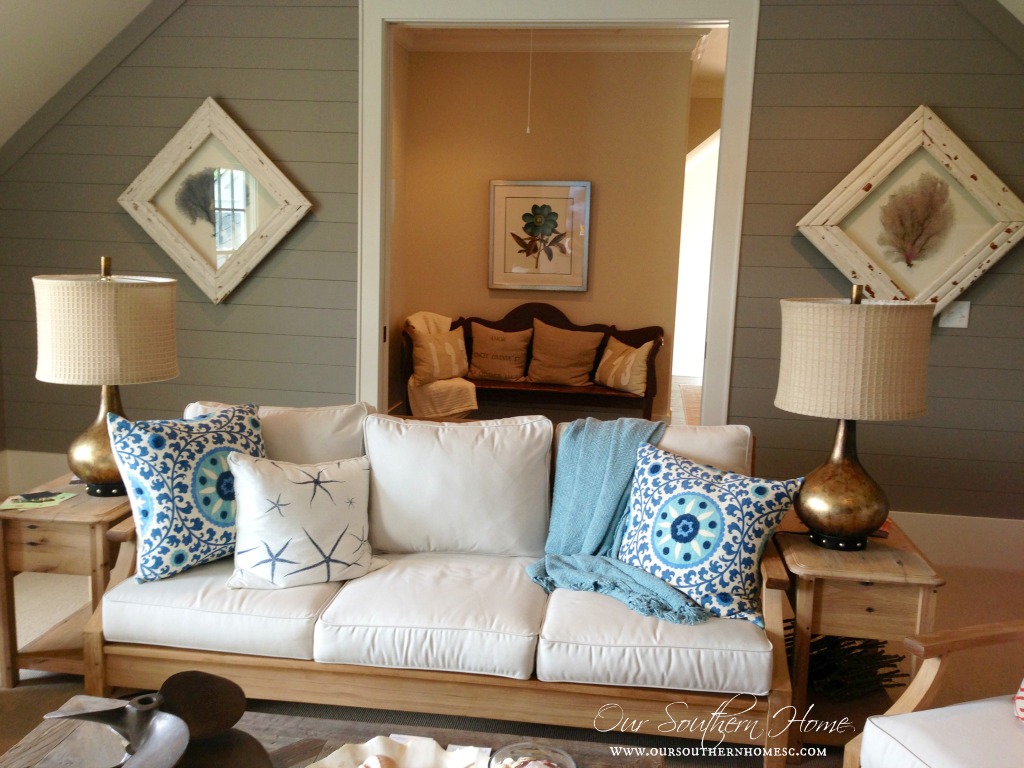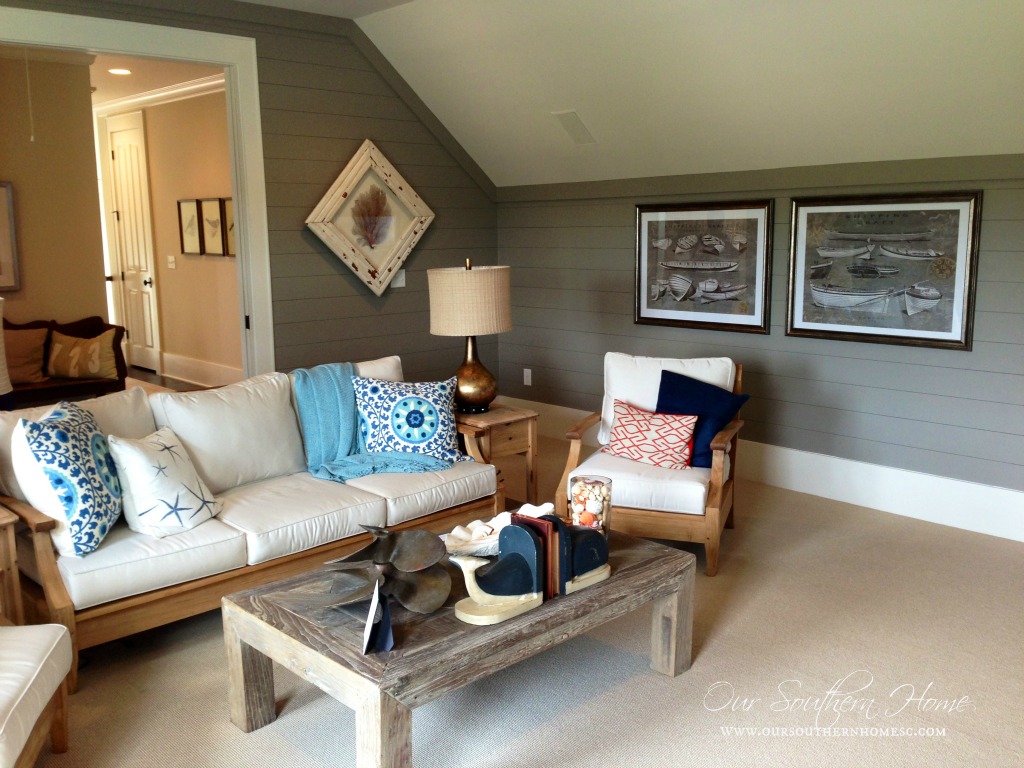 The room is beautiful and airy!  I probably would not use teak furniture with hard lines in a room like this.  I'd prefer softer lines for extreme lounging!!!  A lovely look nonetheless!
You know I love screened porches!  This home has a very nice sized one!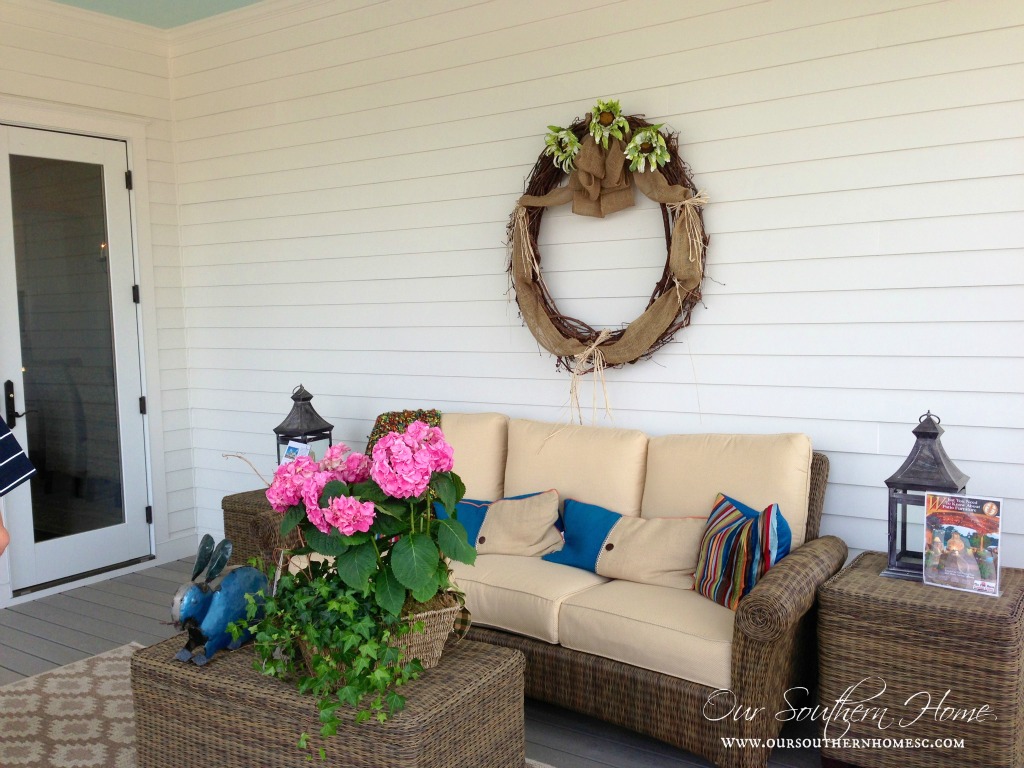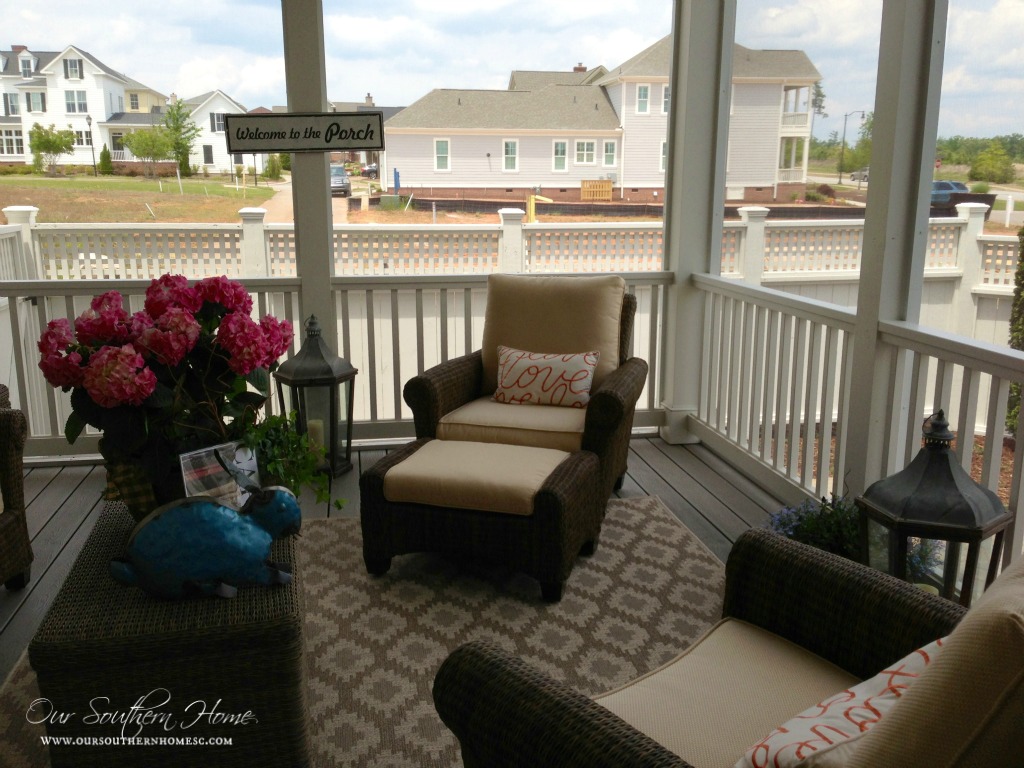 Here is the information sign outside the house.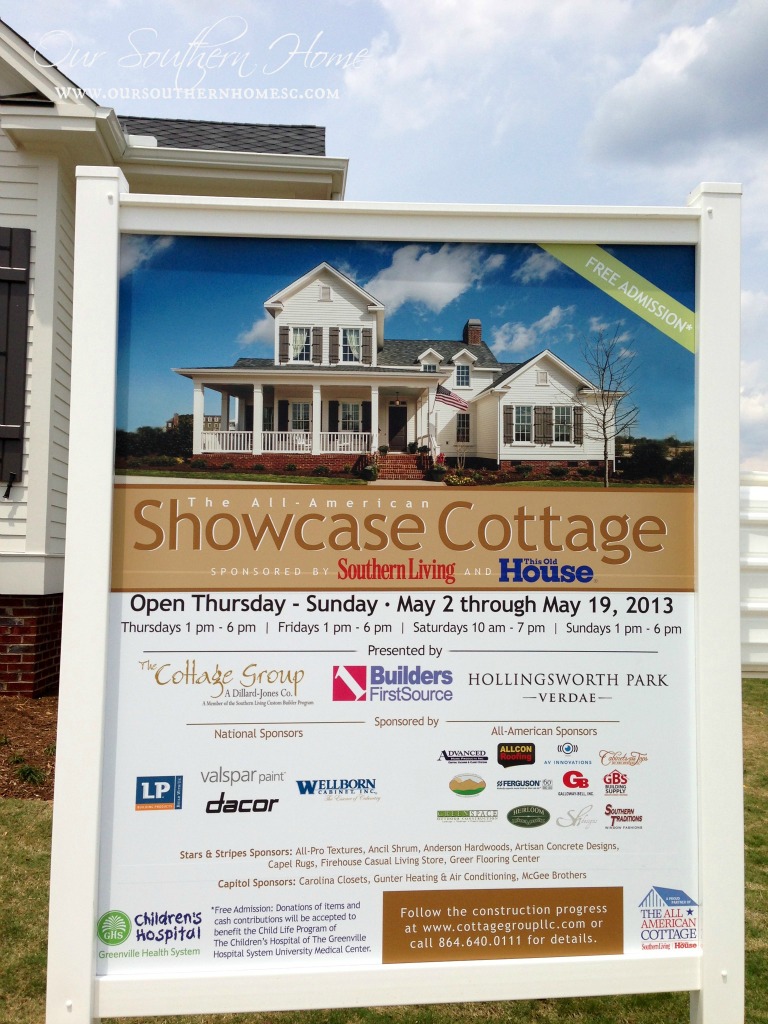 The website for the builder is on the sign if you are local and would like to tour.  The tour is free, but they accept donations to the Children's Hospital.  Hurry!  It ends soon!  It is a cheap date!!  My daughter was so disappointed that we went without her.  She has the home tour bug as well.  
I hope you have a beautiful day!  Thanks for stopping by.  I'd love for you to follow along.  Some recent posts you may like are: