This is a sponsored conversation written by me on behalf of Procter & Gamble. The opinions and text are all mine.
Our house has been non-stop football games lately between college and professional. It's been an exciting time especially for my college alma mater!! Woo hoo! The big game is almost here! It's a bit of a special game for us in that our daughter was born the night before almost 20 years ago!!! I remember it to this day…it snowed ever so slightly, and we enjoyed the game on that little hospital room tv! Of course how we watch the game has changed drastically since then.
Now, we enjoy watching at home with family and friends. It doesn't matter if you are a football fan or not. It's just an exciting evening with the game, halftime show and all those fabulous commercials! Oh, how I love those commercials.
Every year, I try to change-up the evening as much as possible.
This year I've put together a make ahead Taco Nacho Bar!
Here are a few ideas that we've done in the past!
Pizza Party with delivery
Hamburgers and Hotdogs
Chili
Taco Soup
Appetizers
Subs
My son is pretty obsessed with nachos so I thought the Taco Nacho Bar would be a fun change.
Be sure to head to your local Harris Teeter for all of your party and entertaining needs! They've got you covered from cleaning supplies, recipe ingredients, party platters and more!
What's great about it is that you can totally make everything ahead with the exception of chopping the avocado and heating up the cheese dip. When entertaining I always strive to incorporate as much make ahead as possible.

Do yourself a favor and pick up one of those 3 pot slow cookers. They have smaller sections than the regular sized ones which are perfect for party foods and appetizers.
This is what you'll need! Print for later!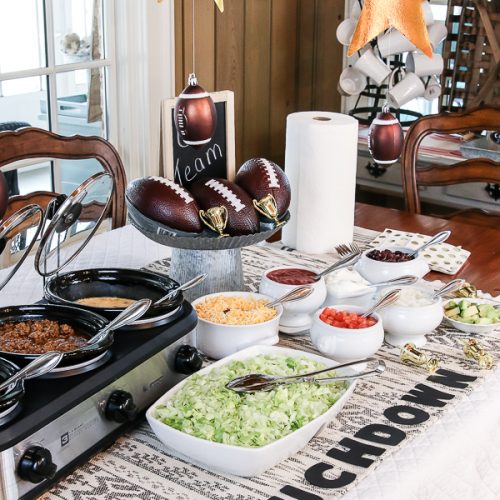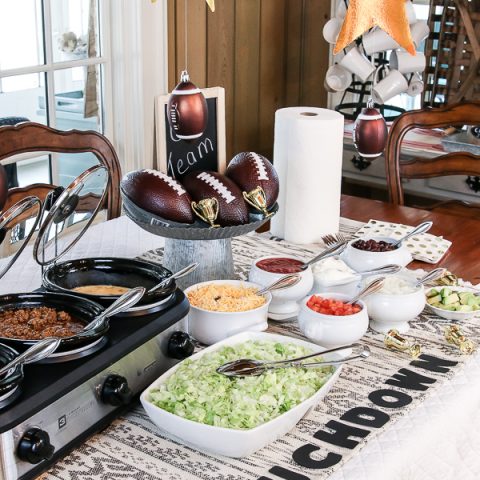 Taco Nacho Bar
Ingredients
2 pounds of ground beef
4 large boneless chicken breasts
3-4 packages of taco seasoning
1- 16 ounce block of processed cheese
1-10 ounce can of diced tomatoes with chilis
shredded lettuce
diced tomatoes
diced onion
shredded cheese
sour cream
diced avocado
rinsed & drained black beans
salsa
tortilla chips
soft taco shells
Instructions
Cover the ground beef in a stock pot with water and a generous pinch of salt and pepper. Boil until cooked through. I like to do this to really get the ground beef a finer consistency. Drain the meat when done in a fine mesh strainer or spoon out with a slotted spoon.
Do the same with the chicken breasts. They will easily shred when done.
Prepare 2 packets of taco seasoning with the water suggested and add to one mini-crock with the ground beef.
Prepare 1 package of taco seasoning with suggested water amount and add to the second crock with the shredded chicken. (use 2 if you like spicier)
In the 3rd crock add the processed cheese and can of diced tomatoes.
Prepare the suggested condiments into small serving bowls.
You can place the soft taco shells wrapped in foil in a 325 degree oven for about 10 minutes to warm them.
Notes
Prepare all of the condiments the morning of and place in fridge in serving bowls.

DO NOT prepare avocado until right before serving as it will brown.

Prepare ground beef and chicken earlier in the day if you'd like. Place them in the crocks about 2 hours before you'd like to serve them on low. This will give the spices time to blend.

Melt the cheese dip in the 3rd crock about an hour before serving on low stirring occasionally to blend.

You may want to move all crocks down to warm when time to serve.
Recommended Products
As an Amazon Associate and member of other affiliate programs, I earn from qualifying purchases.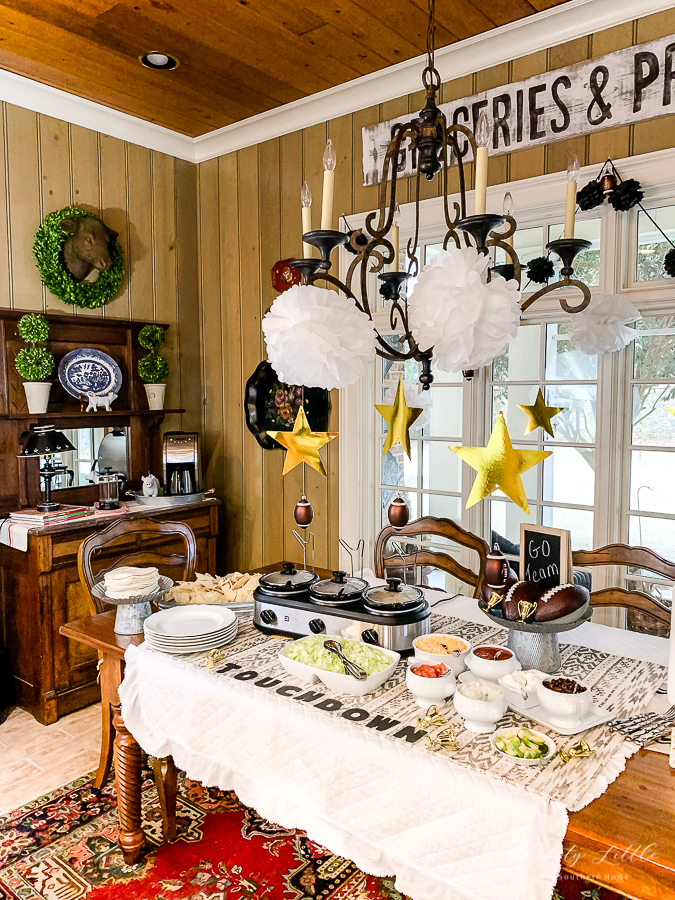 This feast will easily serve 8-10!
This post contains affiliate links.
Here is my affiliate link for this similar slow cooker!
Decorating Tip…..Use throws and area rugs for tablescapes! Just make sure the rug is strictly used for the table! Layer textiles for interest.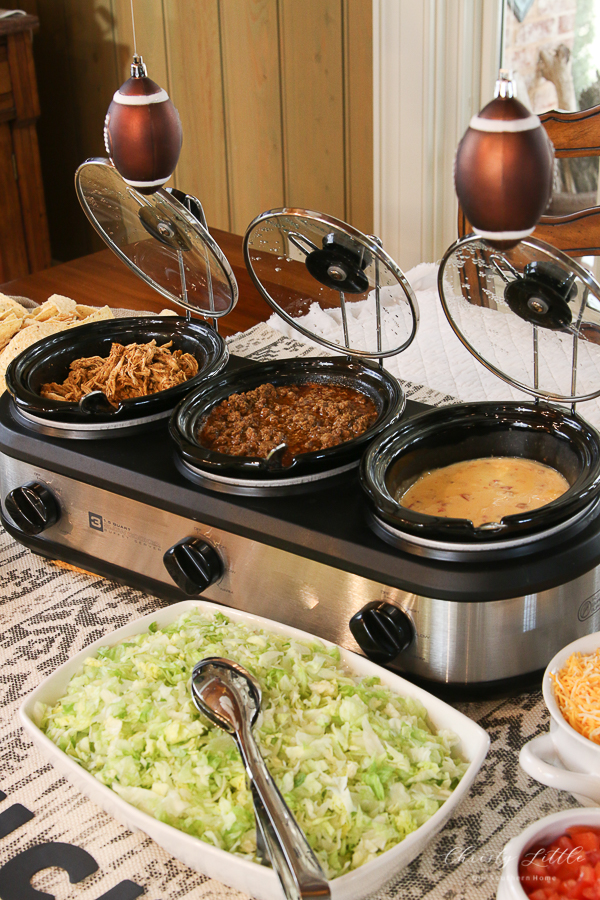 Place your slow cooker in a way that allows you to keep it plugged into the outlet. That way your food stays warm. I like to place the food on the island or a table like this so that food is only accessible from the front.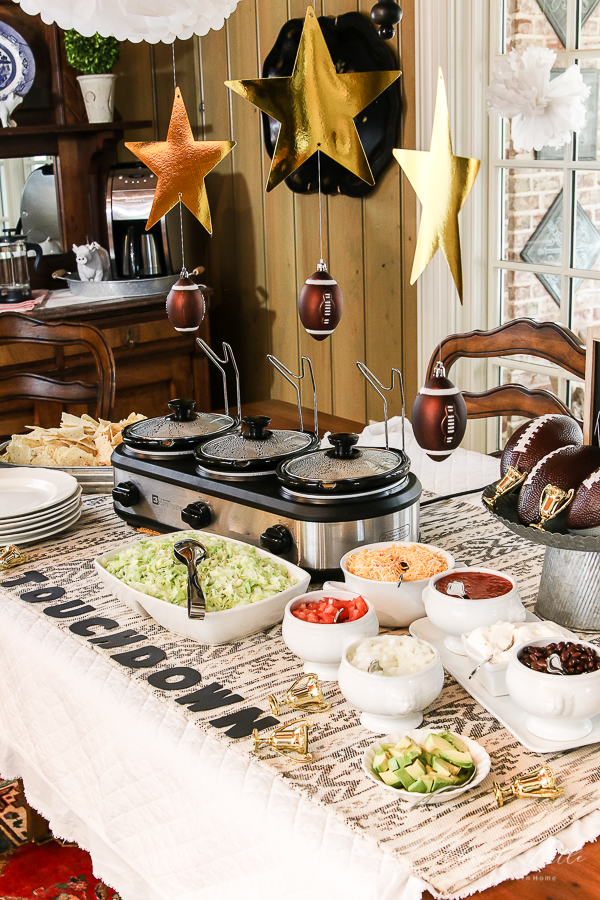 Harris Teeter has an amazingly fresh produce section!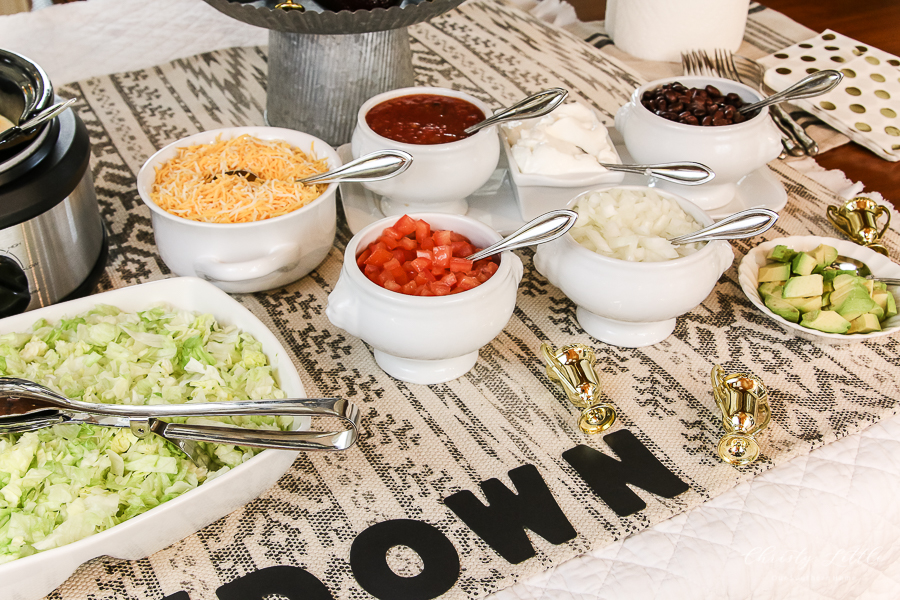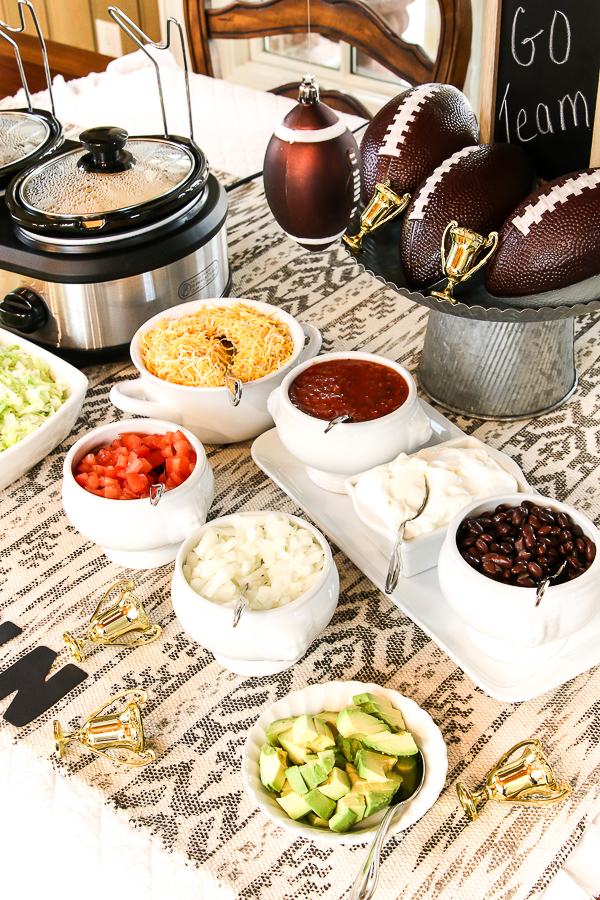 Be sure to not chop your avocado until right before serving. You don't want it to brown. Chop all of the fixings earlier in the day so all you have to do is place them right before guests arrive.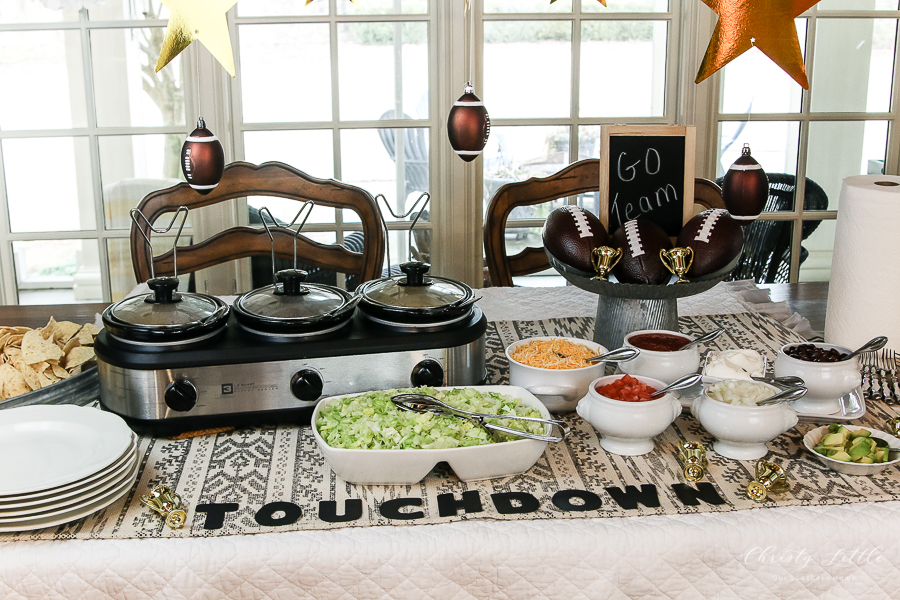 Keep decor simple. The hanging footballs are actually Christmas ornaments! Local dollar stores are great options for inexpensive decorations.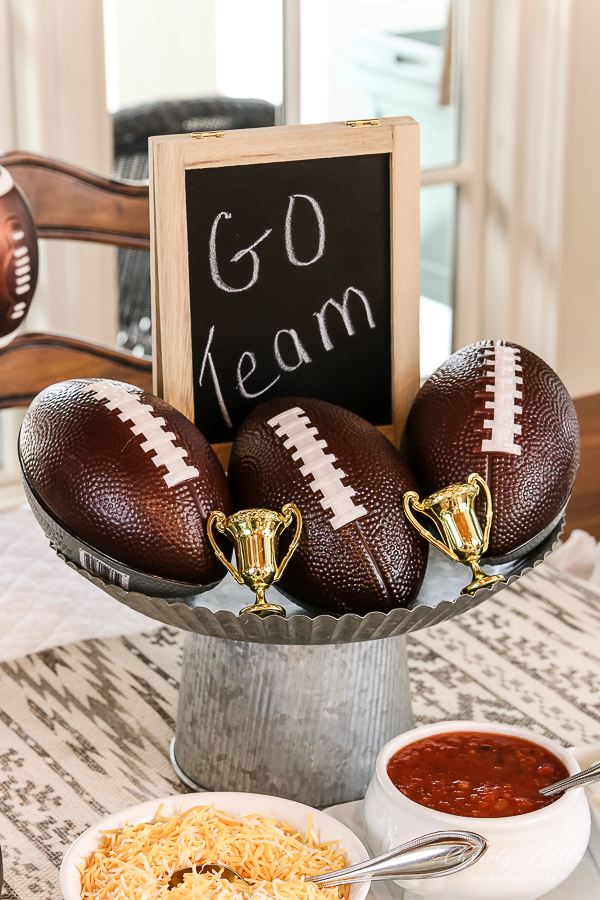 Decorating Tip…..This centerpiece took literally 2 minutes to throw together. Unless you are a diehard fan of one team, keeps things pretty neutral in terms of colors. Let the presentation of the food give you the pops of color.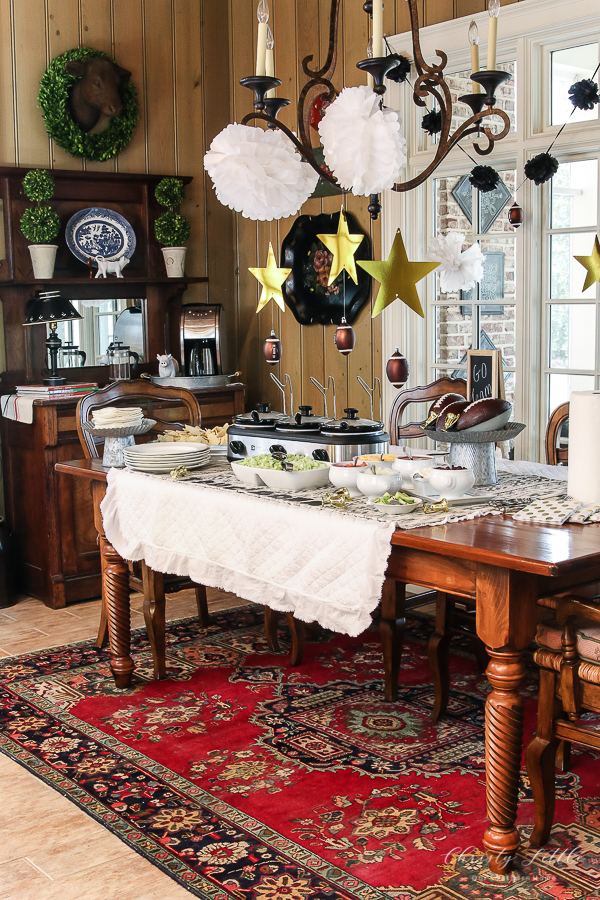 I went with a theme of black, white, and metallic gold.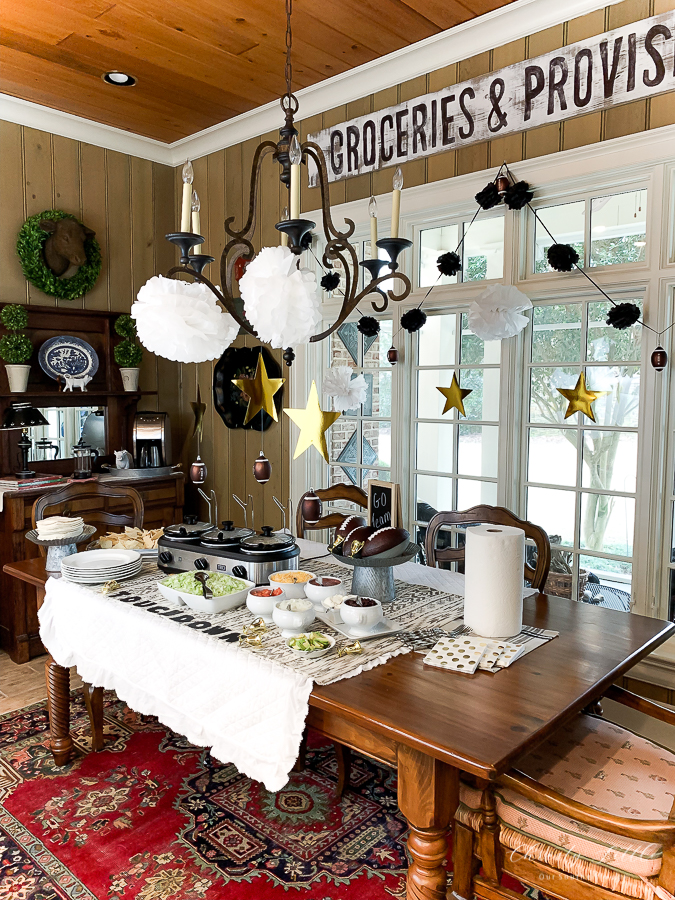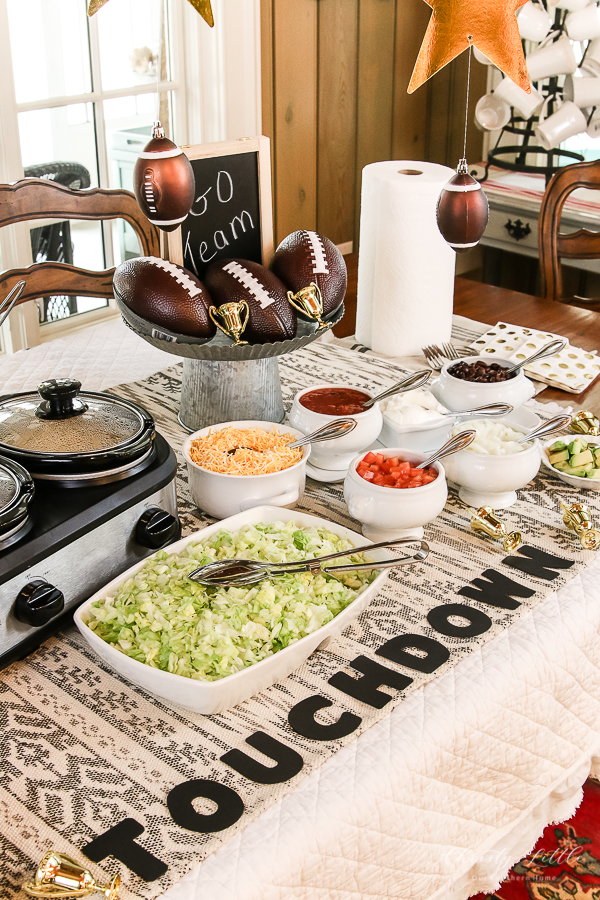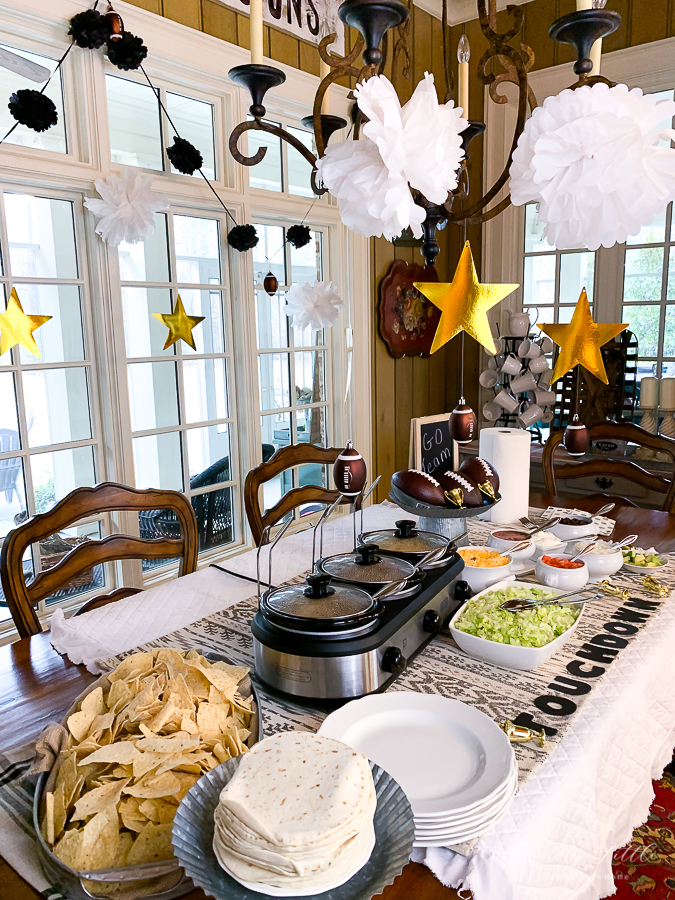 Think outside the box for serving pieces. A tray houses the tortilla chips and a pie plate holds the taco shells. Unless I'm serving a huge group, I usually use regular white plates and silver.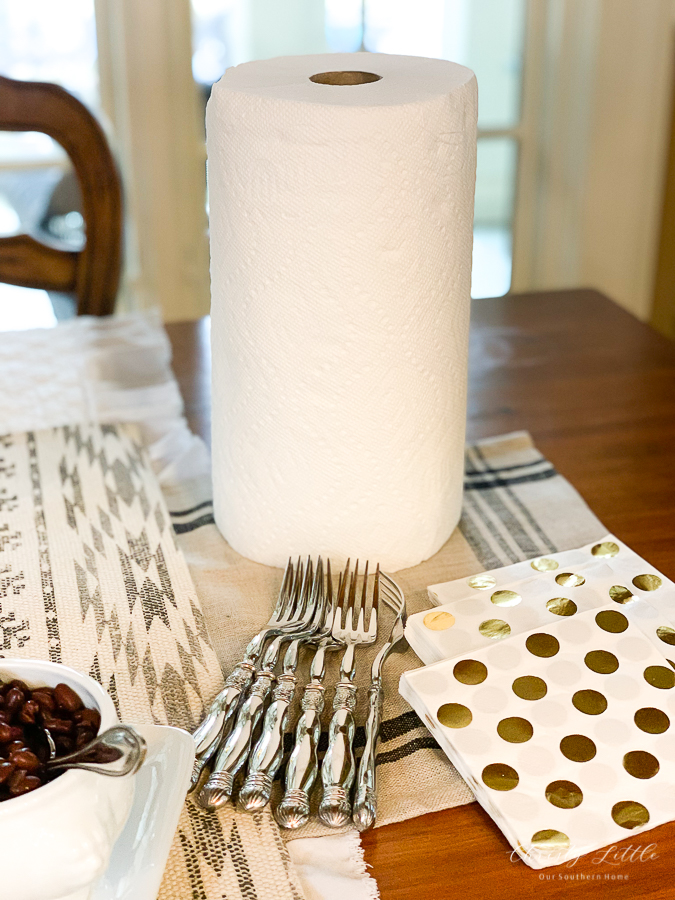 Do yourself a favor and always have a roll or two of Bounty Select-A-Size on hand at your party. I always have them out on the table for guests to use as needed. I noticed that my son went for this as a napkin and bypassed the cute one!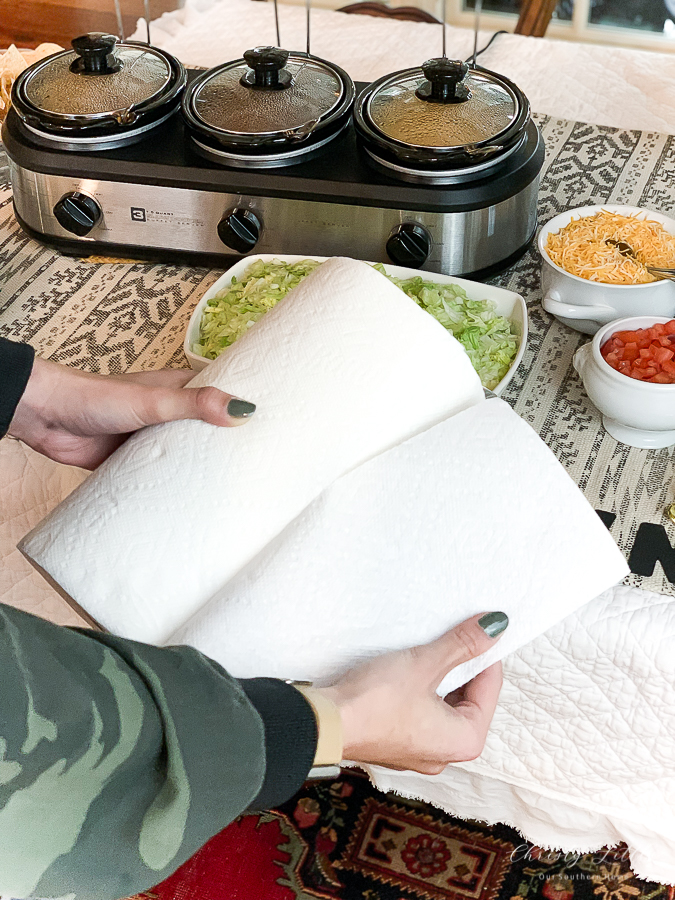 Bounty Select-A-Size paper towels really are perfect for napkins.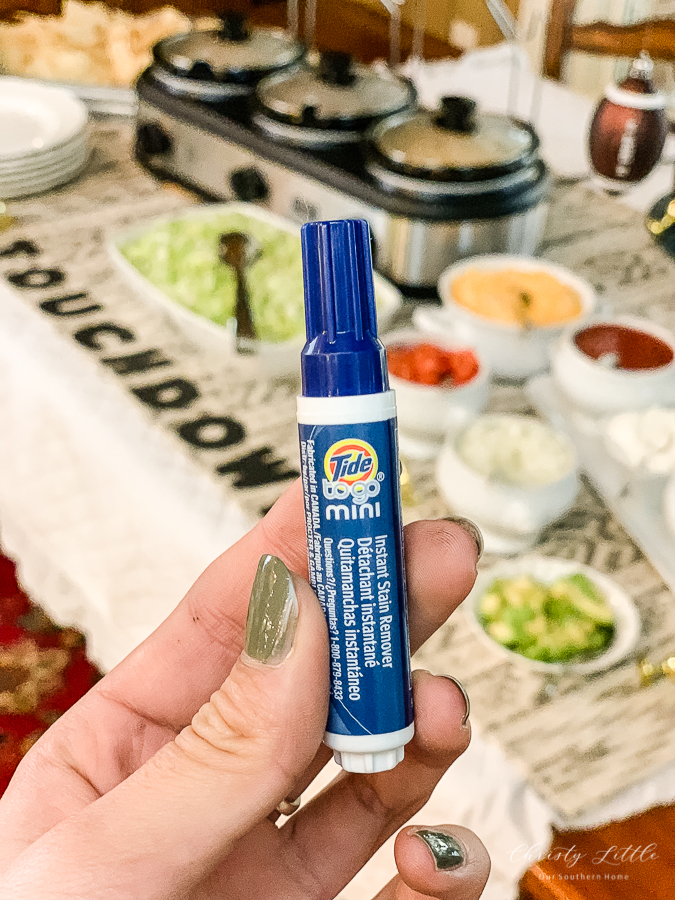 I always have a Tide To Go Mini in my purse and car at all times. It's a good idea to have one handy for parties as well.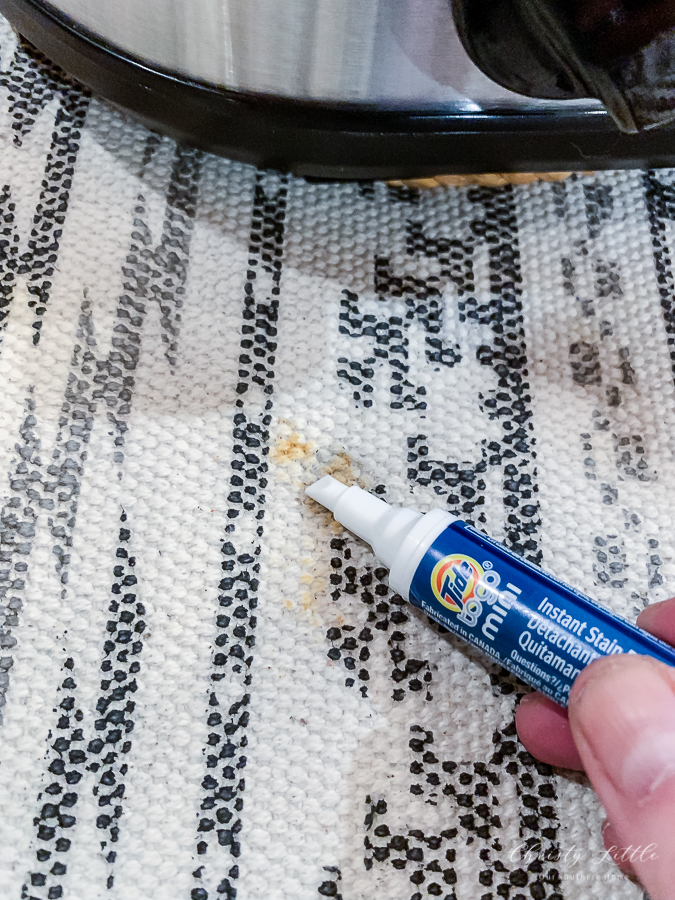 A bit of taco meat was dropped on the rug and this Tide To Go Mini saved the day! The stain literally disappeared.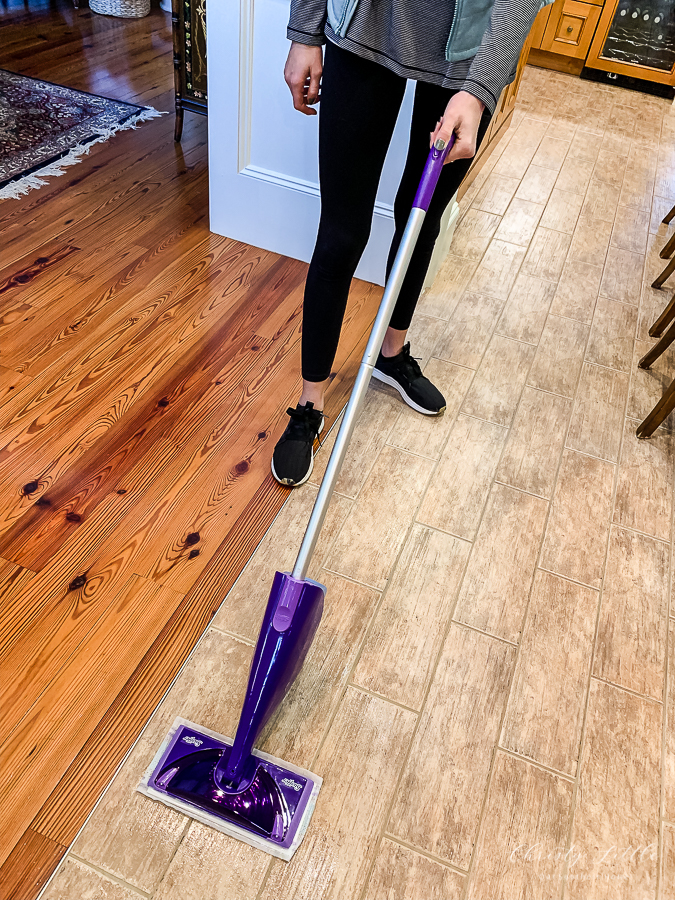 Another party must-have is the Swiffer Wet Jet! It's great for before, during and after the party! The cleaner is always ready and the pads are disposable so great for those quick messes.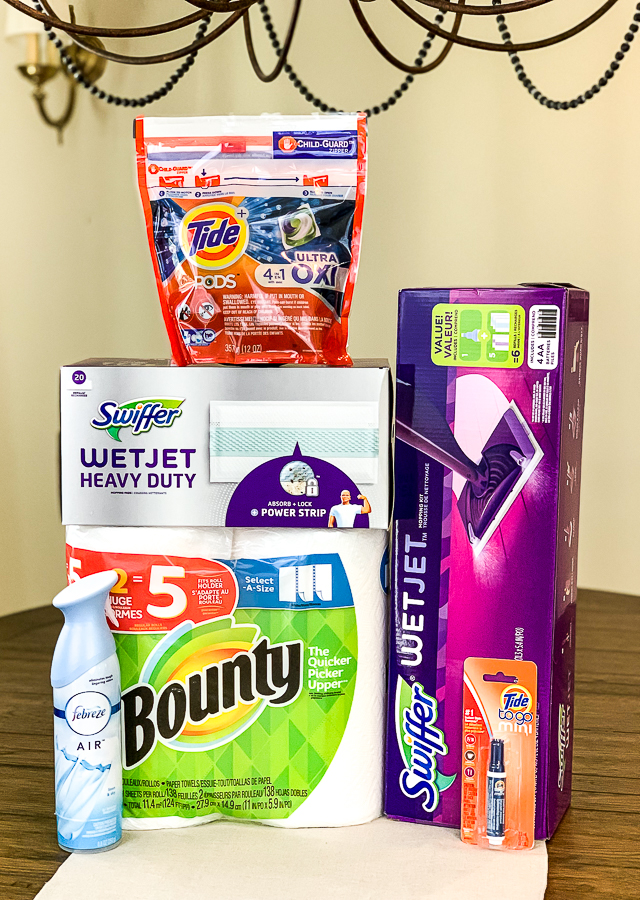 You may not consider the above items as part of your party, but don't leave out the behind the scenes players!!! These are the ultimate party pack for before, during and after!!
Bounty Select-A-Size are great for last-minute cleanings before, during for those occasional spills and after the event.
Swiffer Wet Jet is a party lifesaver! I like to do a thorough cleaning 1-2 days before. These are perfect for a quick run before the party. They clean up accidents and get rid of any stickiness or messes during after party clean-up.
Febreze Air in Linen & Sky is a lovely fresh scent and does not overpower a room. I really like to use it after the even as well because no one wants to keep smelling tacos!
Tide PODS Ultra OXI has amazing cleaning power. Don't let stains set in those table linens. You are tired, so allow yourself the ease of tossing a pod in the wash. TIP! If a guest gets a stain on their clothes during the party, send them home with a pod in a baggie!
Tide To-Go Mini is a must for parties and daily life! It has truly saved a few garments so stains don't set in. One even traveled with us to Italy!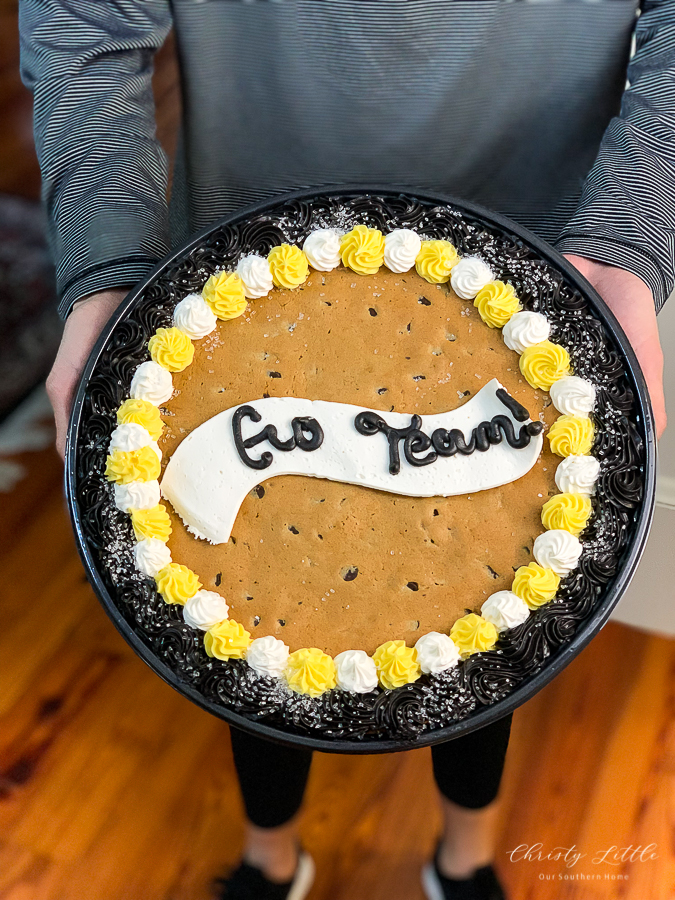 If I've gone to effort on the main dish for the party, I give myself a break and purchase desserts from Harris Teeter like this yummy cookie cake. They will customize them with the writing and the colors to match! They have a wonderful array of items from party platters to desserts in the Harris Teeter Fresh Goods Market.


From 1/30-2/5 at your local Harris Teeter, save $5 instantly on your Deli or Bakery purchase when you stock up on game-day party needs with $25 in P&G products.
For more information and to find a Harris Teeter near you, check out www.harristeeter.com.
Be sure to follow Harris Teeter on social media for inspiring posts for home and life!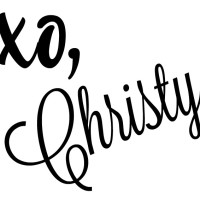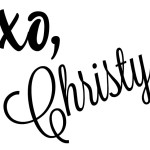 Buffer