Best ever Homemade Oreo Ice Cream made with a simpler electric churn that will have this recipe on repeat!
Latest from OSH!
One of our favorite all-time family sweet treats is ice cream.
Our kids have always been head over heels for ice cream, but not just any ice cream.
Today is our monthly Recipe Tour hosted by Marty from A Stroll Thru Life. Be sure to check out the other yummy recipes featured this month at the end of the post.
This post may contain affiliate links. If you purchase something using one of my links, I may earn a small commission from the retailer costing you nothing more. You can read more on my disclosure page. YOU WILL FIND A SHOP THE LOOK FOR OUR HOME AT THE BOTTOM!
Homemade Oreo Ice Cream
This is actually my sister-in-law's recipe. We've always made this at the beach house. Many years ago, Ashlyn wrote the recipe down, and we've been recreating it at home ever since.
We use an electric ice cream churn which makes the entire process so convenient on your kitchen counter. You can totally use an old-style ice cream churn with salt.
Since we got this electric churn, we've never gone back to the old churn.
Be sure to check the end of the post for the other recipes this month!
You might also like this homemade strawberry whipped cream for a topping!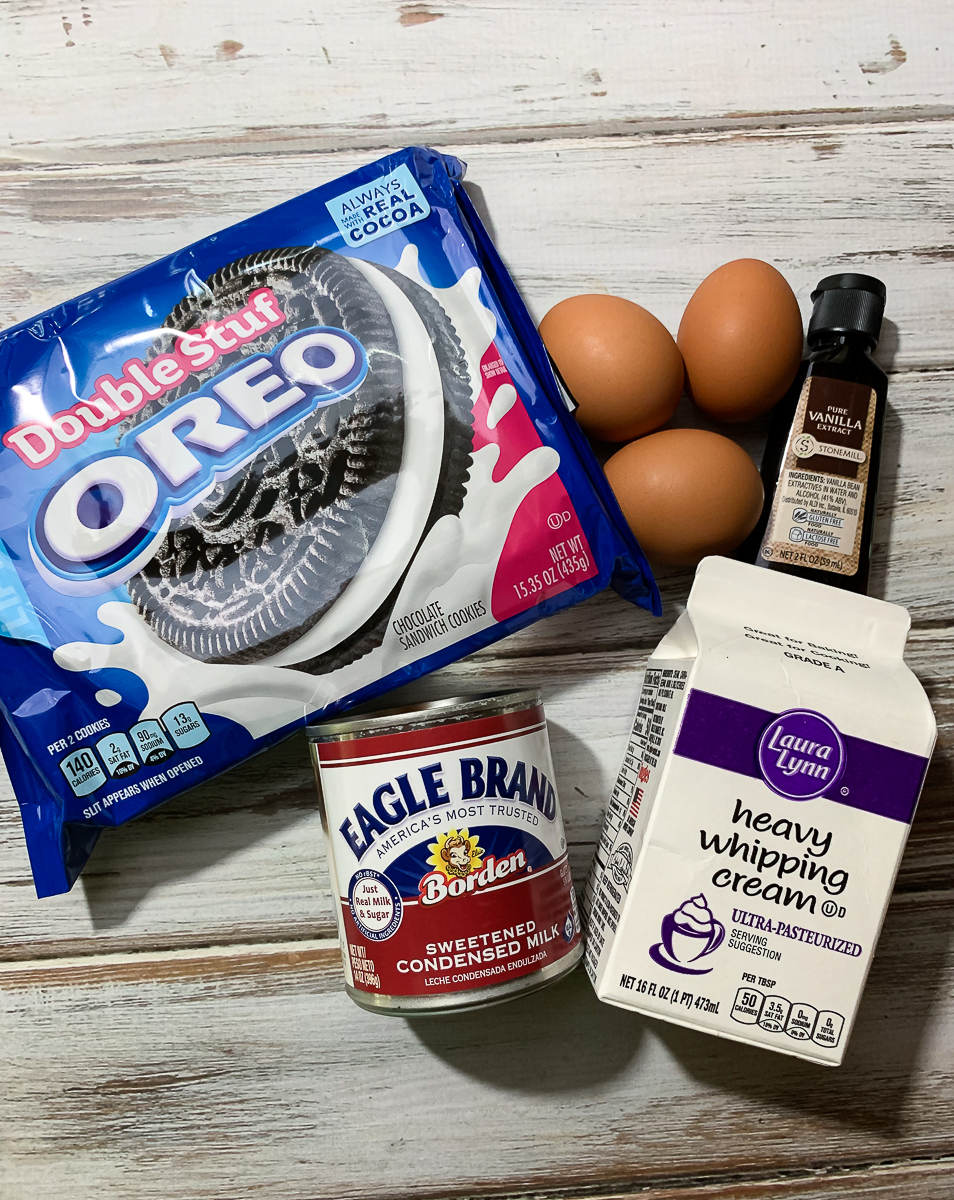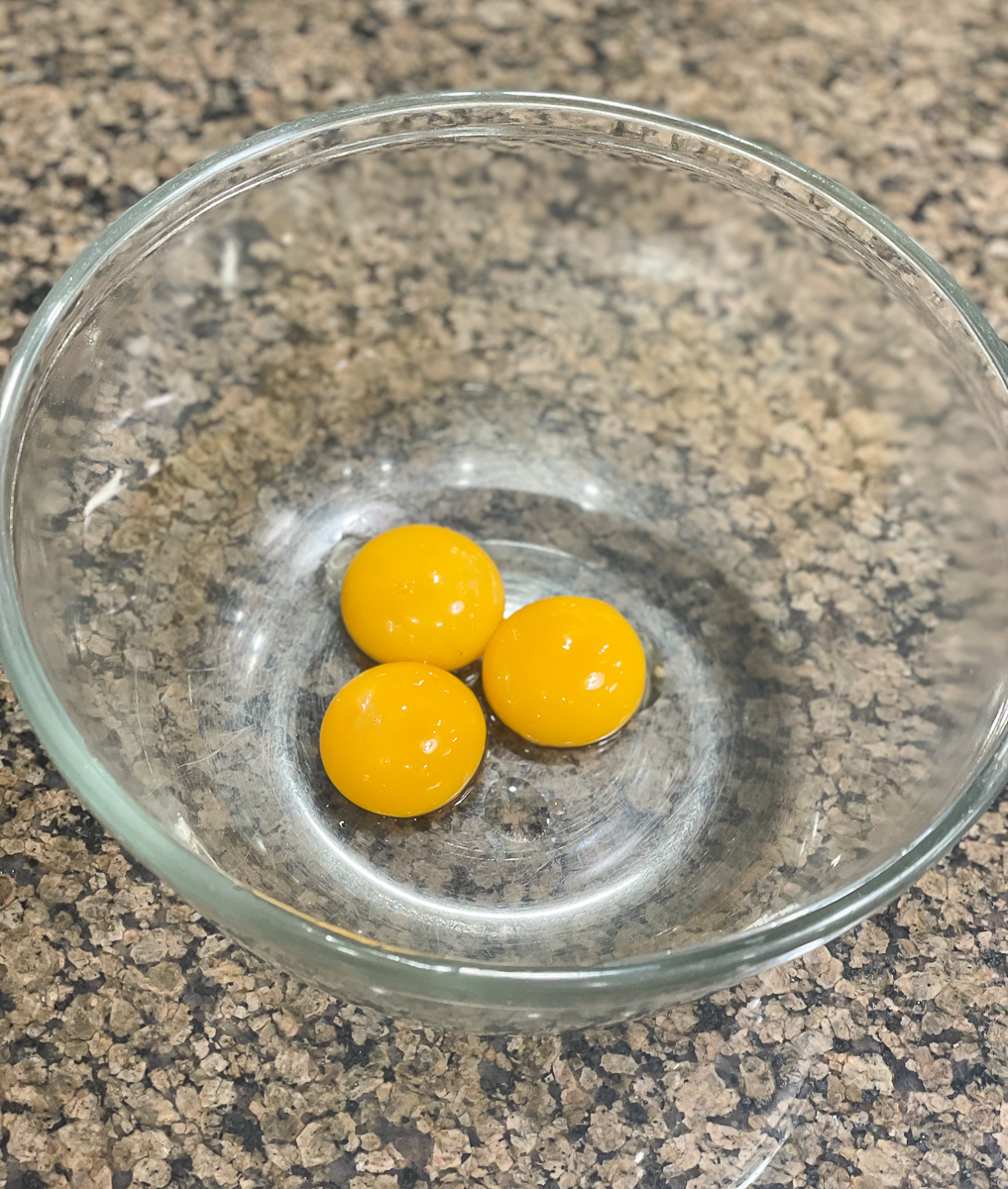 Separate the whites from your eggs and discard them. Lightly beat your 3 yolks. You could also find pasteurized egg yolks if raw eggs are a concern for you. We've never had a problem, but personal preference.
Add your vanilla, water and condensed milk. Use a whisk to blend.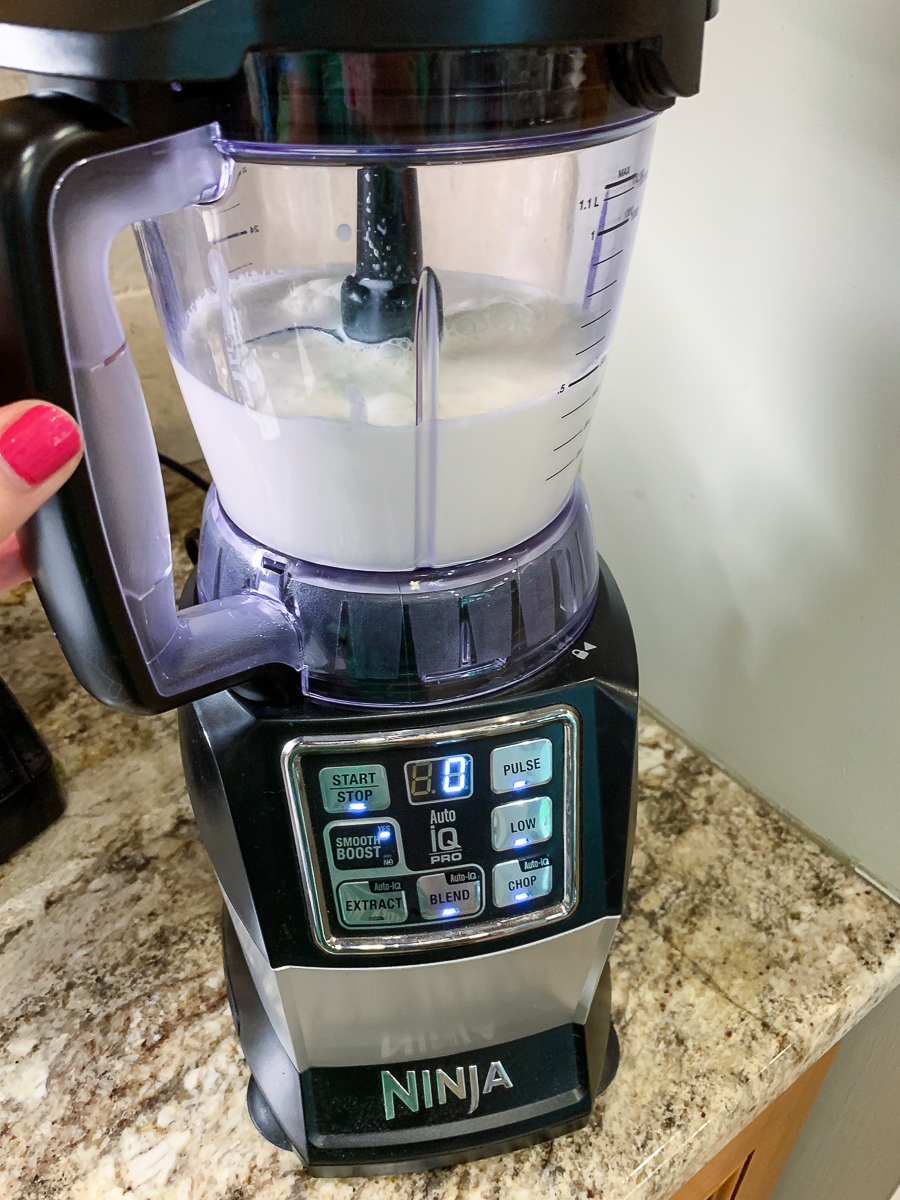 Either vigorously shake the carton of whipping cream or place it in a blender. It takes just a couple of times to whip the whipping cream.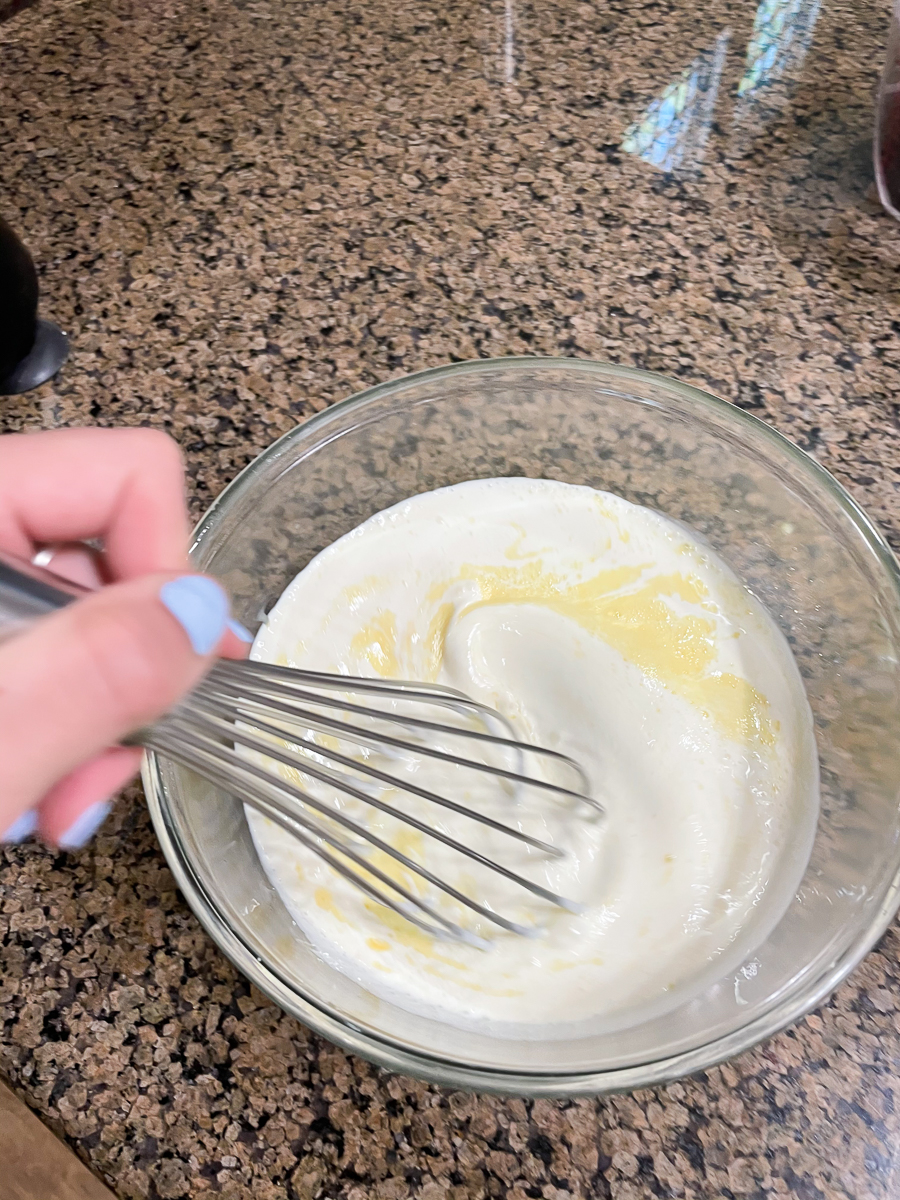 Fold in your whipping cream.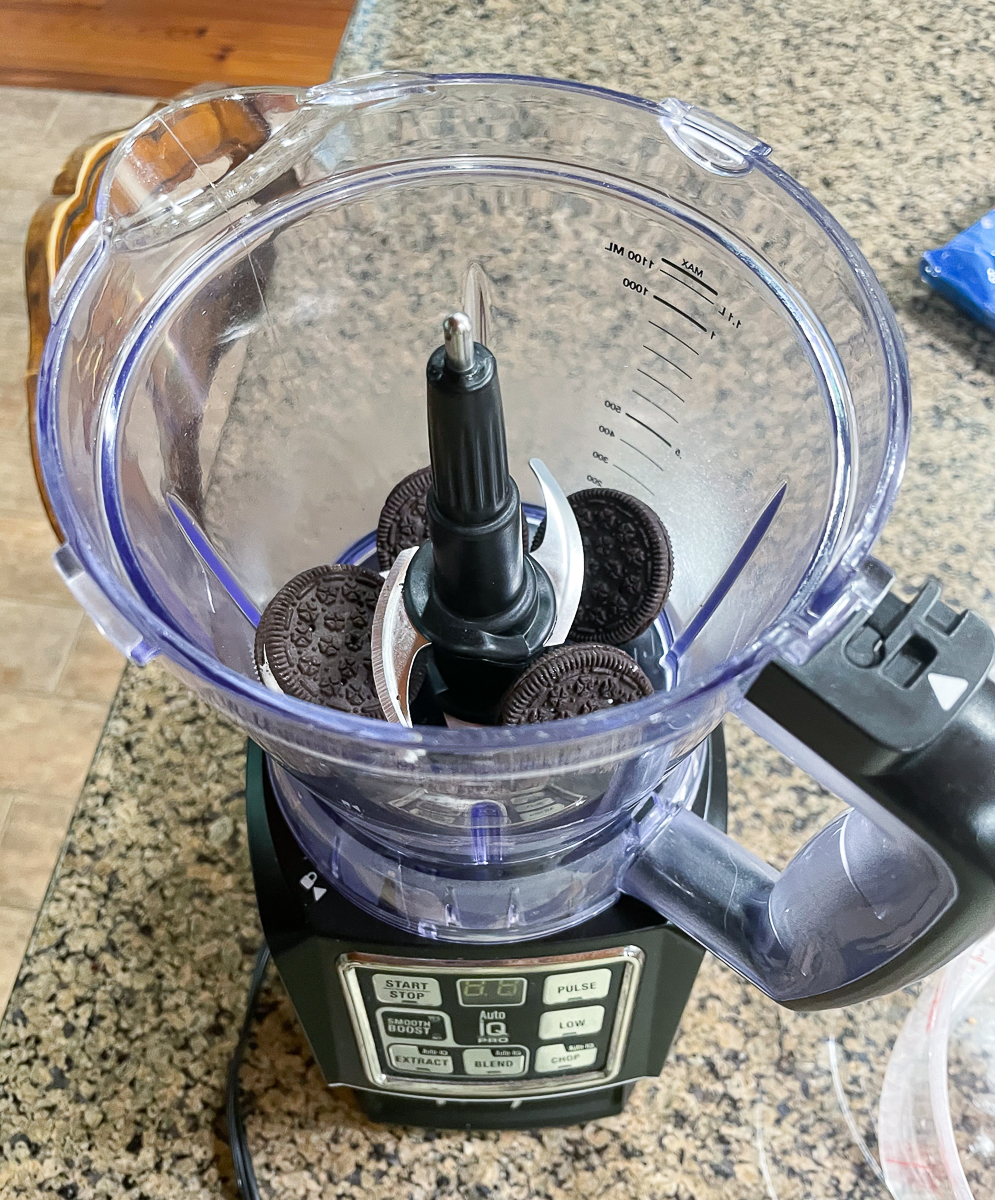 Either hand chop/crush your 24 Oreos cookies or place them in the same blender with the blade. This blender is amazing. I use it to also make my fruit smoothies.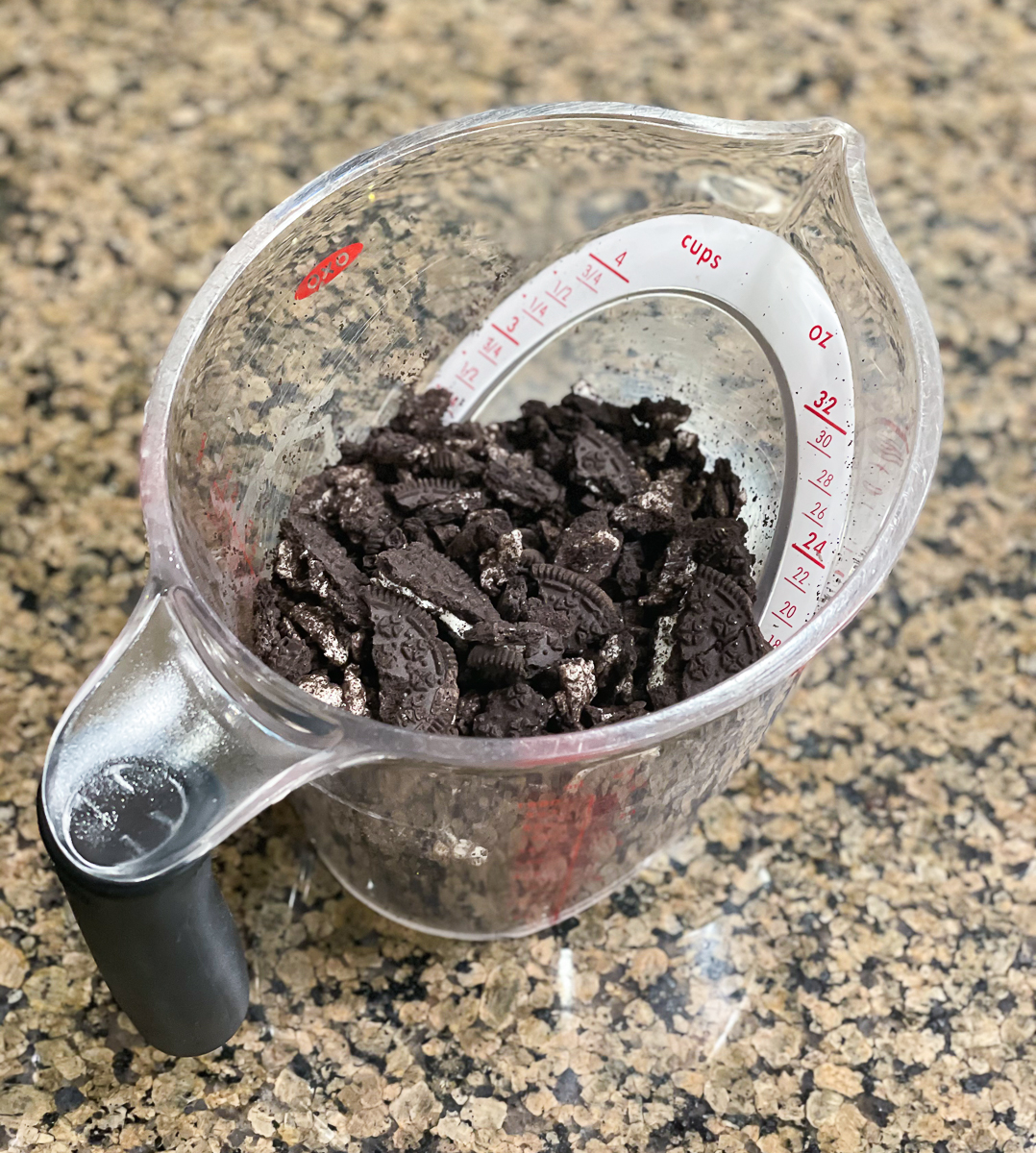 24 Oreo cookies equal approximately 2 cups of chopped cookies.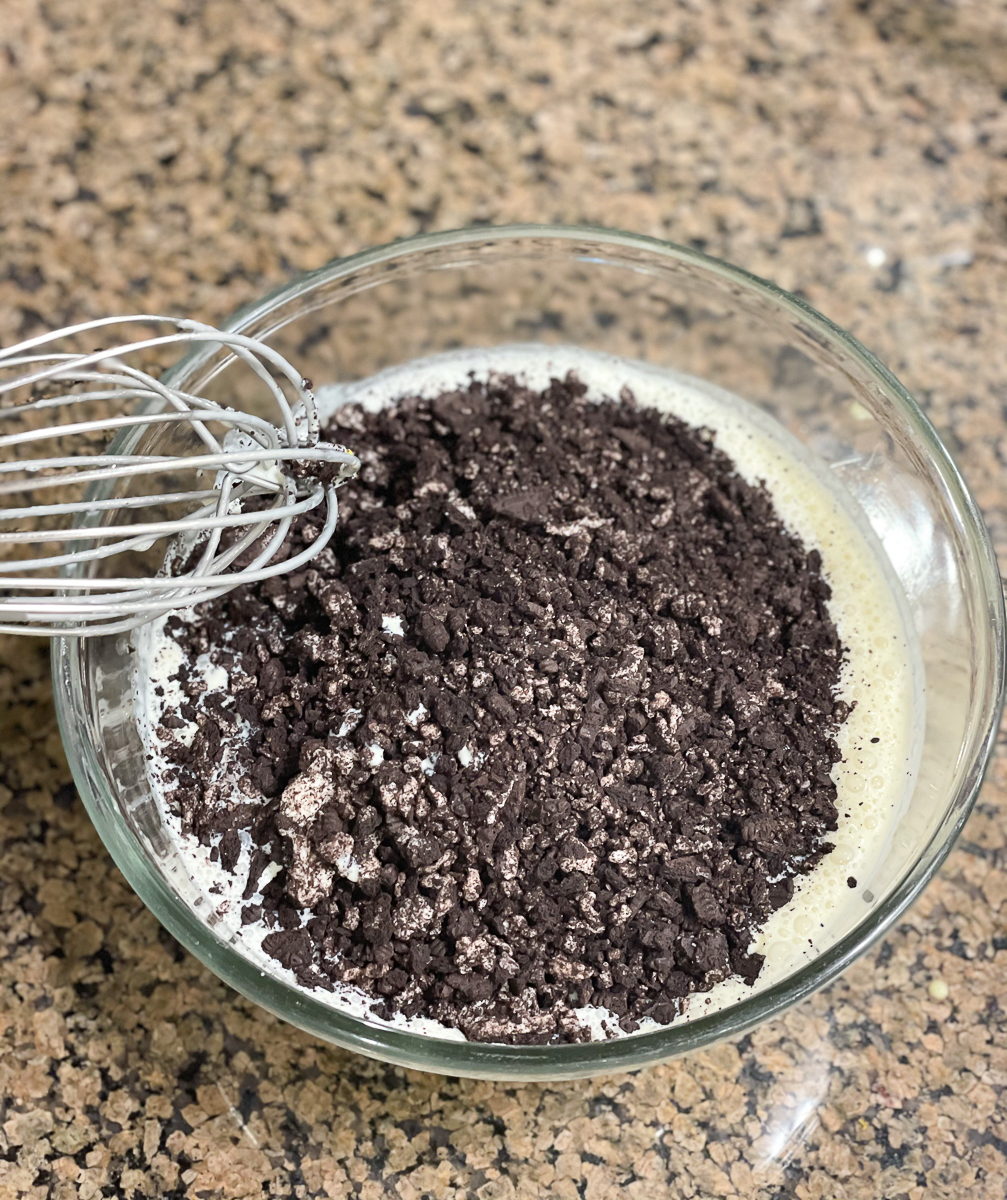 Lightly mix in the chopped cookies to combine. Pour into your ice cream churn.
We ALWAYS keep the inner container of the machine in the freezer so that it is always ready.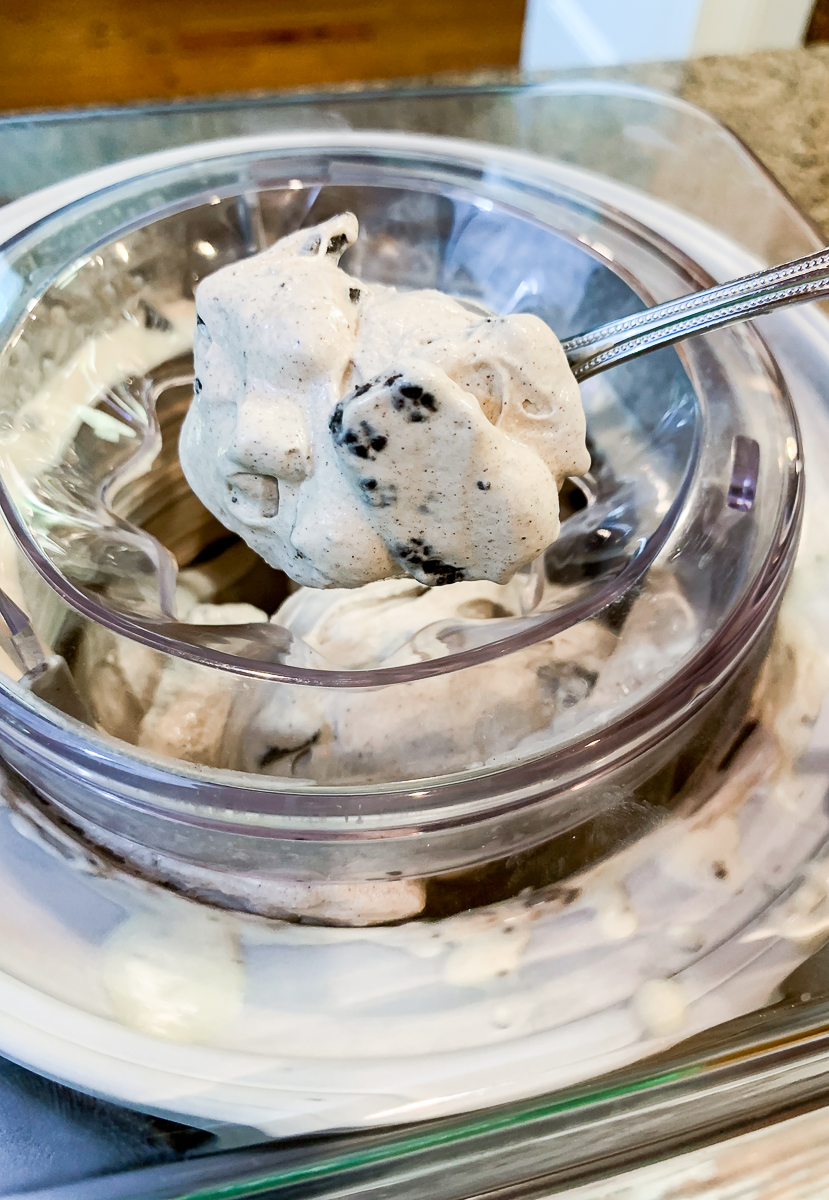 Look at that yummy goodness! You can certainly enjoy the ice cream right now for more of a soft-serve consistency. We prefer to transfer it to a container and freeze it for a couple of hours. This is great for a make-ahead dessert. This ice cream maker is fabulous. We've had it for about 8 years.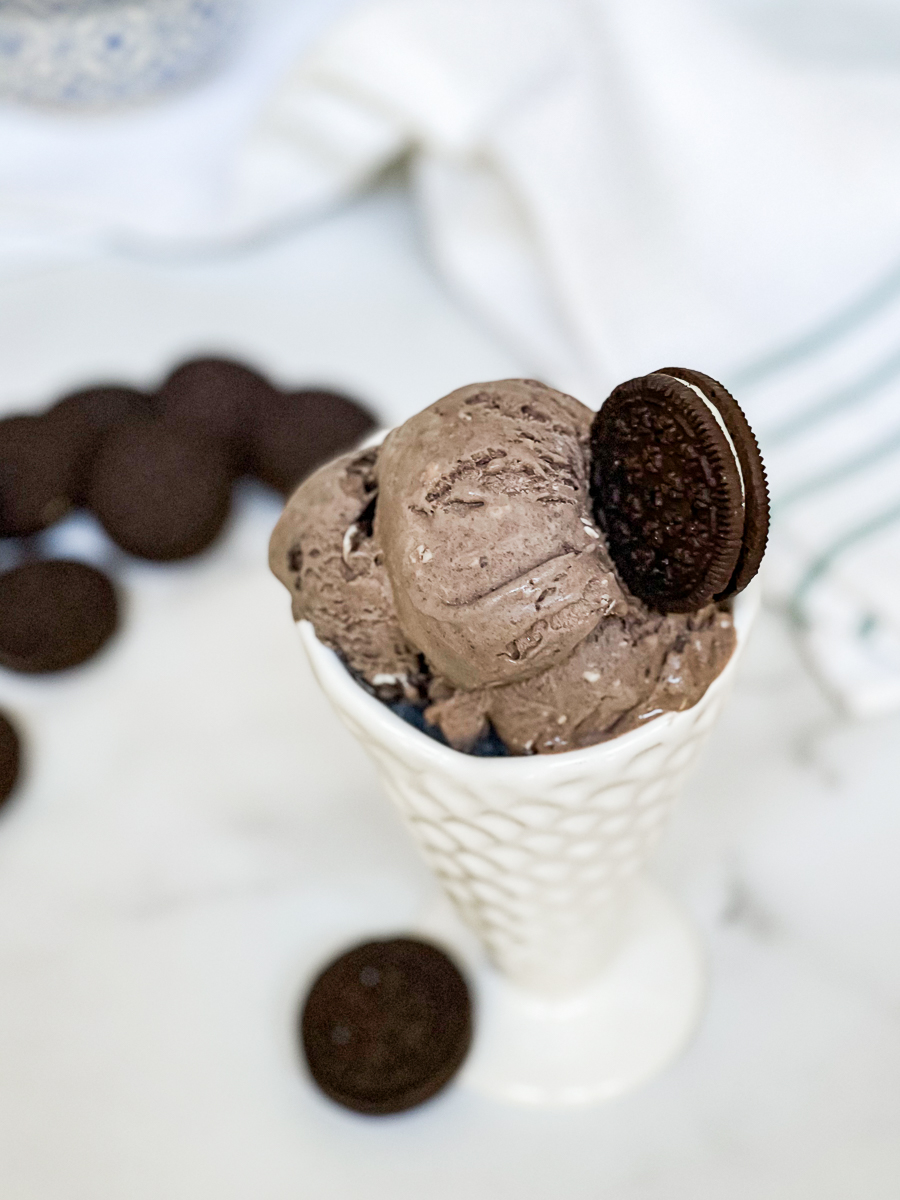 This batch was actually frozen overnight.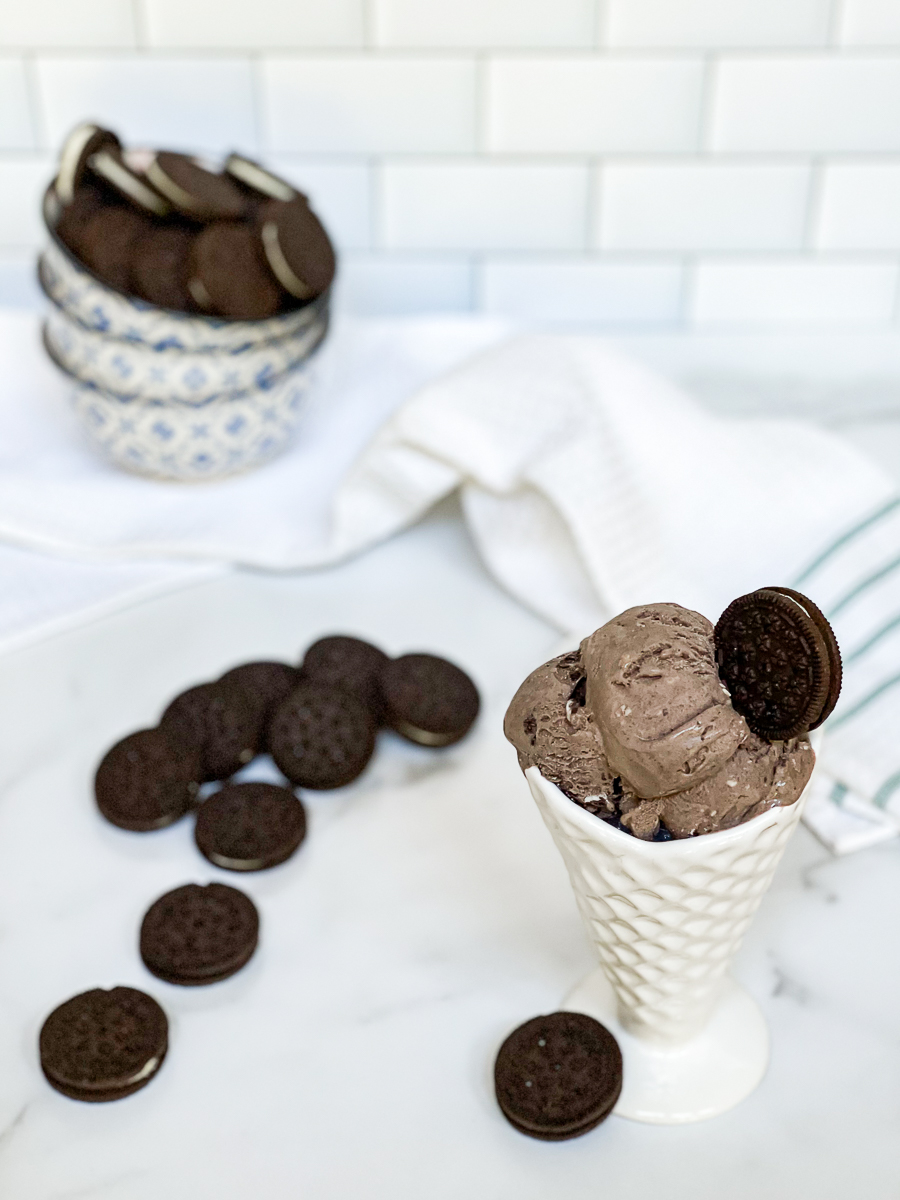 Be sure to print your recipe and pin it for the future!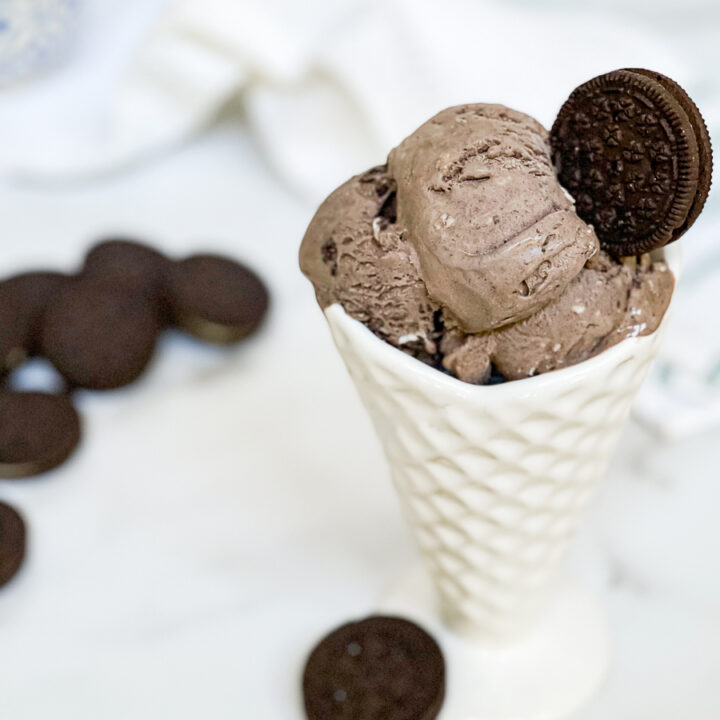 Homemade Oreo Ice Cream
Ingredients
3 egg yolks
1- 13 ounce can of sweetened condensed milk
2 tablespoons of water
1 tablespoon plus 1 teaspoon of vanilla extract
2 cups whipping cream, whipped
24 Oreo cookies crushed/chopped which equals 2 cups
Instructions
Beat 3 egg yolks (or purchase pasturized eggs)
Add condensed milk, water, and vanilla
Whip your cream either by shaking the carton or in a blender
Fold in the whipped cream
Stir in the chopped cookies
Freeze in your ice cream maker until firm.
Transfer to a freezer-safe container and freeze until desired consistency.
Notes
We use an electric ice cream churn. We let it freeze in it for 30 minutes.
Recommended Products
As an Amazon Associate and member of other affiliate programs, I earn from qualifying purchases.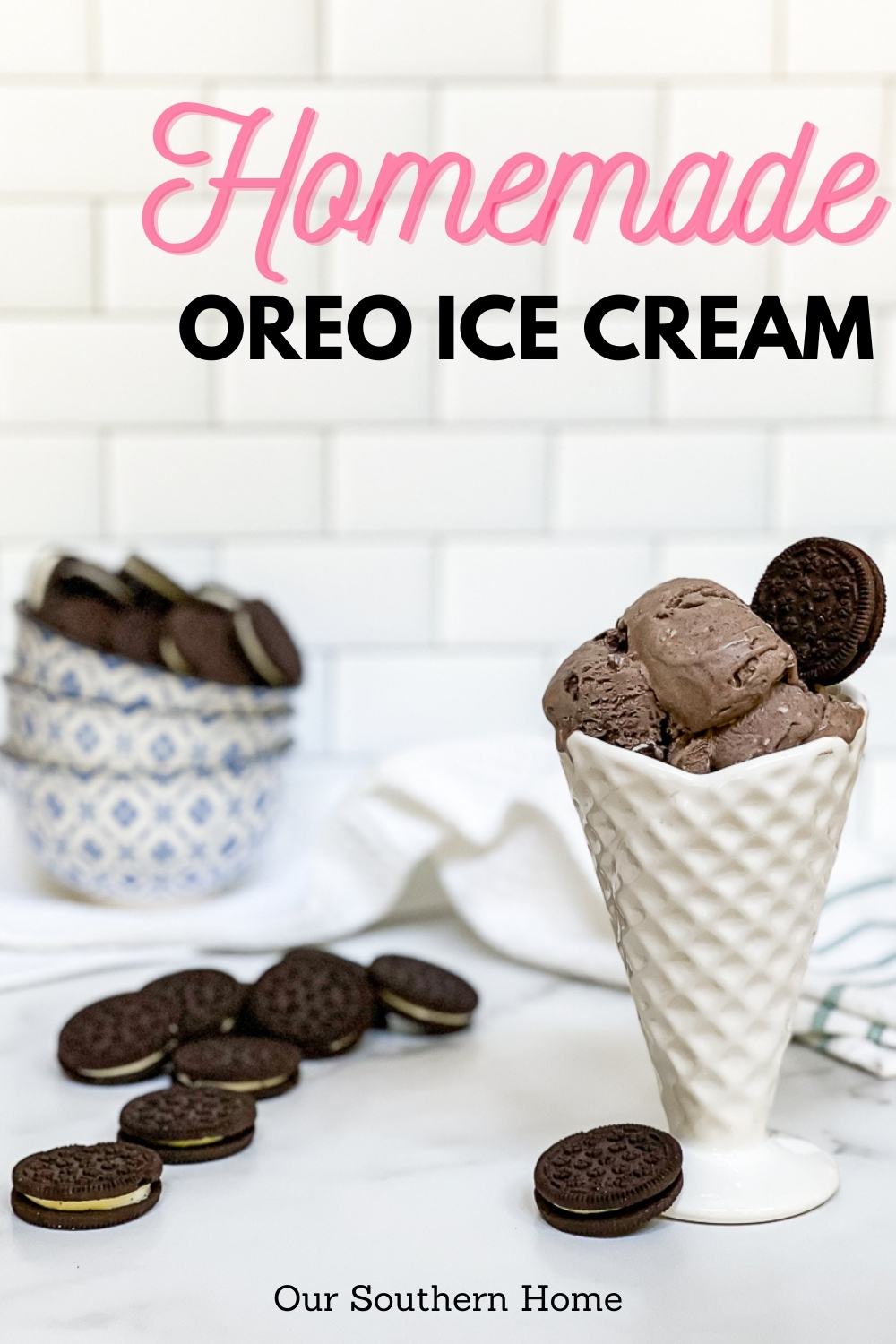 More Amazing Recipes!
Heather @Southern State of Mind shares her Pulled Pork Sliders – These look so good, perfect for a summer patio party.
Tamara @ CITRINELIVING is sharing her easy & delicious boneless Asian Chicken Thighs. My family will love these.
Laura @ Decor To Adore is sharing The Best Homemade Carrot Coffee Cake Carrot cake is a favorite.
Christy @ Our Southern Home shares her recipe for Homemade Oreo Ice Cream. My grands will love this one.
Rachael @ This Is Our Bliss made the most wonderful Delicious Light Fresh Pasta Salad For Summer. I will make this for sure.
Yvonne @ StoneGable shares her Scrumptious Arugula Salad with Lemon Dressing. I love salads, so this is a must make.
Briana @ Bloom in the Black made these amazing Chocolate Chip Peanut Butter Energy Balls. I have to make these.
Marty @ A Stroll Thru Life shared her Old Fashioned Peach Cobbler. This is the kind your grandma made, and so good.
Buffer