Summer Outdoor Living
2020 will definitely be known as the summer of staying at home! Honestly, we don't have a problem with that. If we aren't here, you'll find us at our family beach house. We just returned there from laying sod in the backyard and doing some maintenance and cleaning.
We've always worked lots in our yard, but this year more than ever! We still have so much to do. We are getting ready to pressure wash the hardscapes and for the first time apply a sealer. That's on tap for the weekend.
In the meantime, I'd love to show you around the summer outdoor living spaces of our home in the Upstate of SC. It's home of humidity and mosquitoes, but we love every minute of it!
Be sure to check out the very end of today's post where you will find the COMPLETE list of this week's tour that runs Monday – Friday!
I'd like to thank Marty from A Stroll Thru Life for hosting such a fabulous tour.
If you are dropping by from Citrineliving, welcome!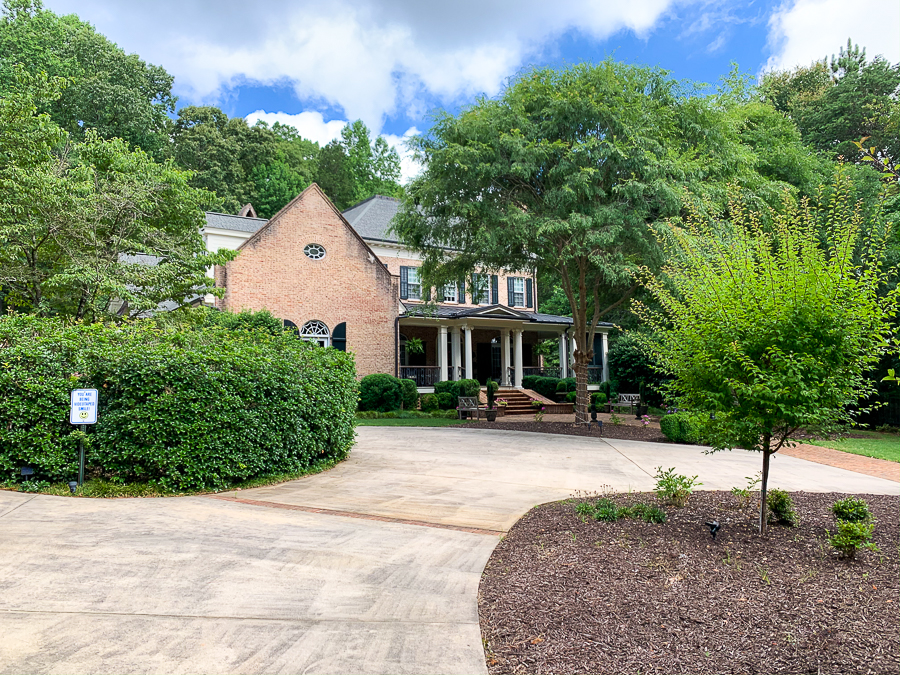 We built our home 16 years, and we are still working on the exterior grounds and living spaces. Excuse the driveway and hardscapes. They are getting pressure washed this weekend with a sealer applied. We've never applied a sealer so we are hoping this helps with the constant pressure washing. I'll be doing a blog post on it soon.
Our home is a Southern Living house plan by John Tee. It was the idea house in Savannah, Georgia back in 2003 I believe. We went there for the weekend just to tour it because we loved the plan. It's the Abberly Lane.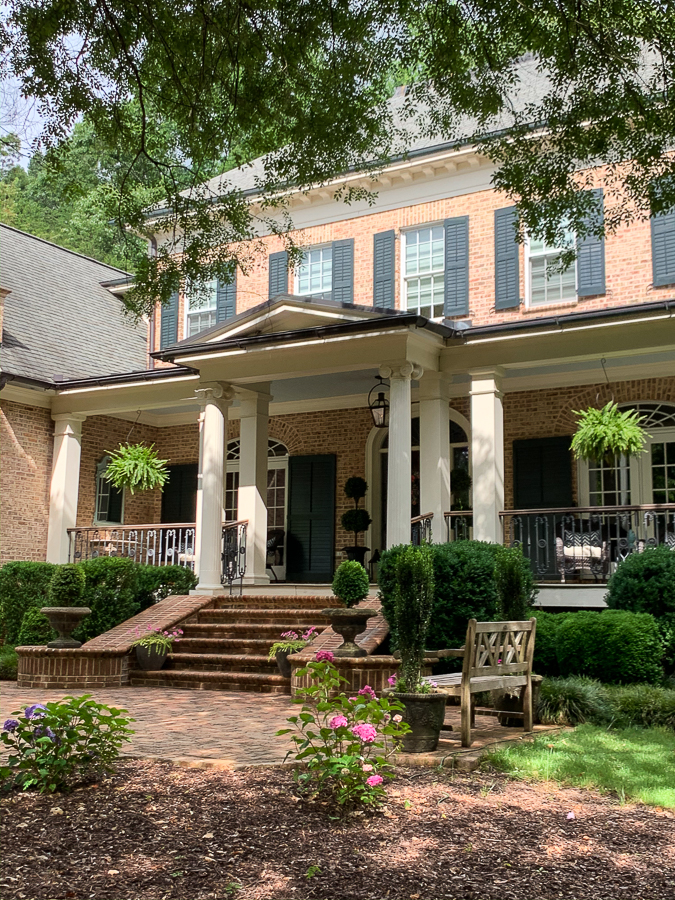 The hydrangeas here are starting their 3rd year. It's been slow going for them, but they are full of blooms this year.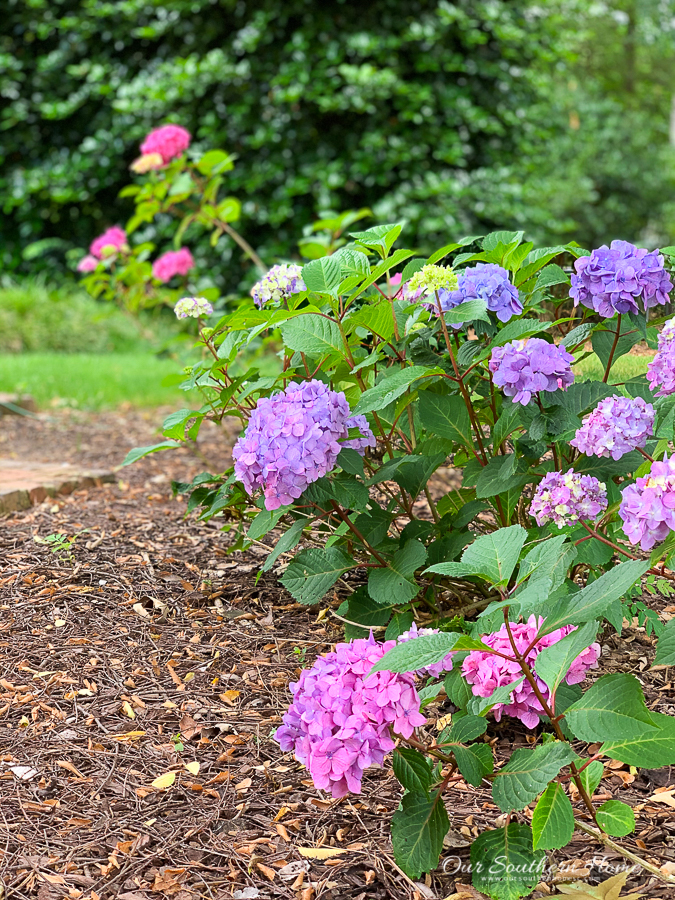 I am resisting the urge to cut too many flowers off of these until they are a bit older.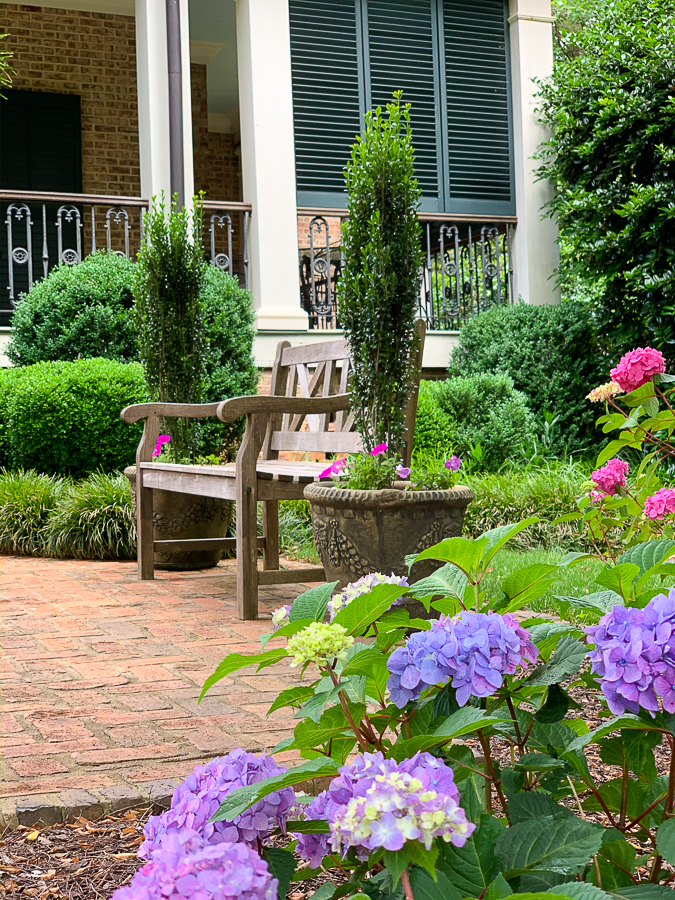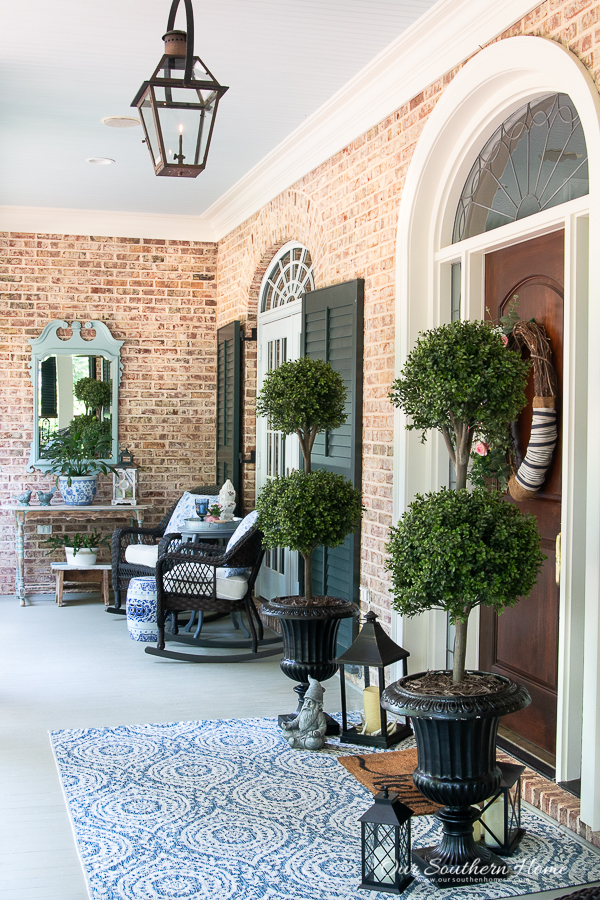 Faux Topiaries || Similar Urns || Outdoor Rug || Gnome || Similar Hello Mat || Lanterns
The front porch is one of my favorites to date. I'm pretty obsessed with blue these days.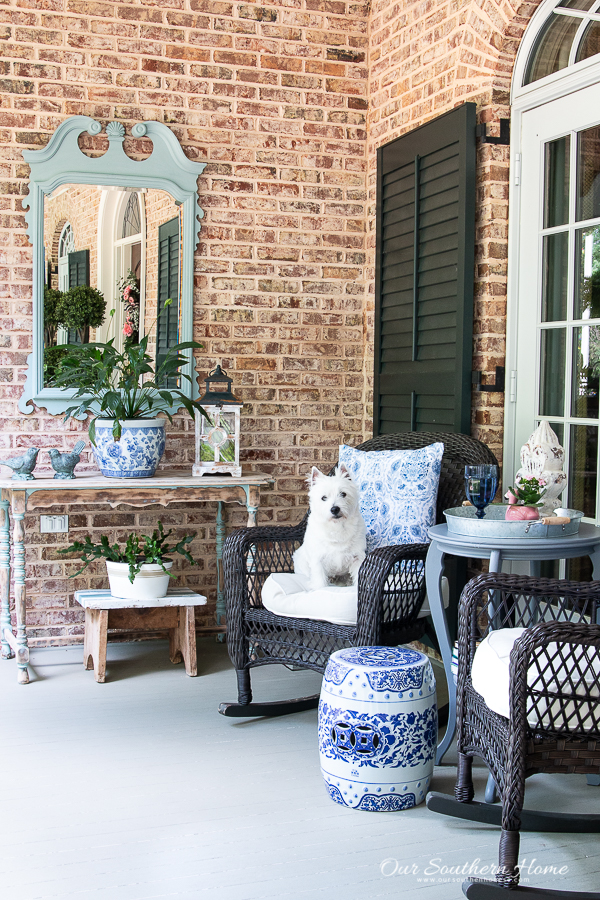 Similar Chinoiserie Garden Stool || Similar Outdoor Wicker Rockers
You can see the complete front porch tour HERE.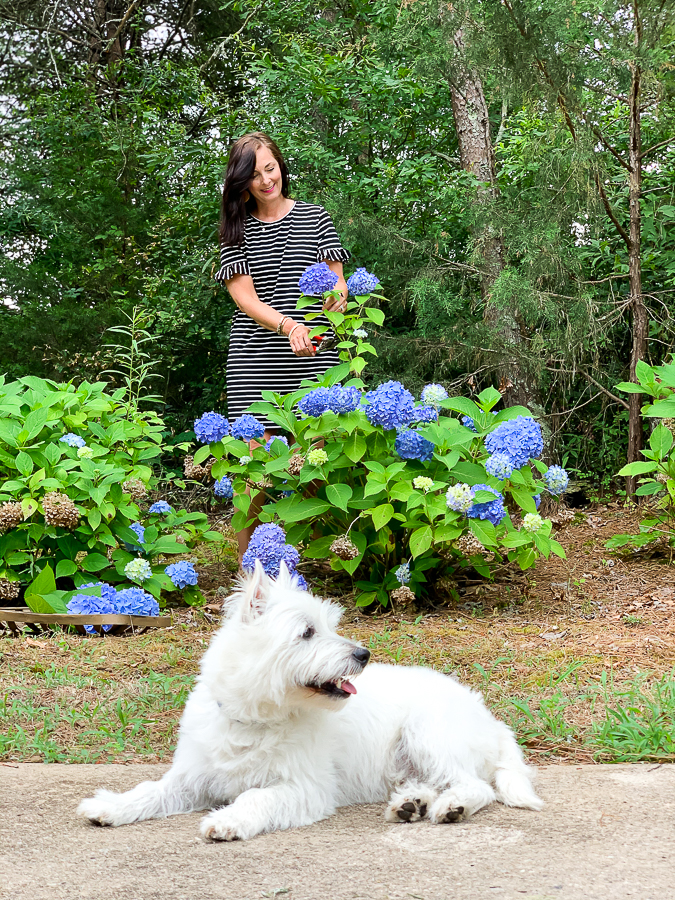 Amazon Outfit Striped Knit Dress || Sandals || Rattan Earrings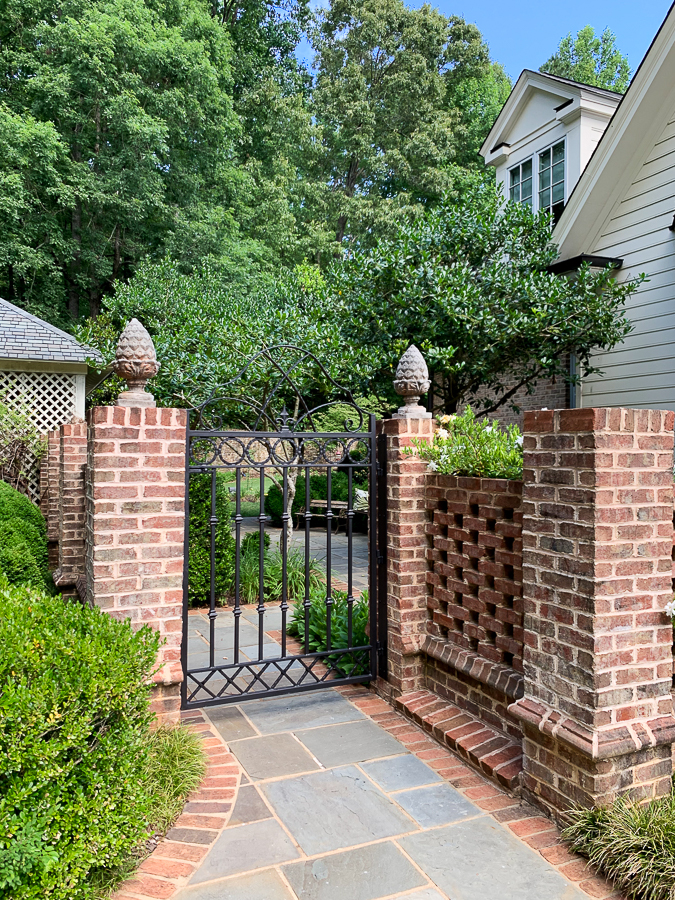 Our backyard is fenced so you'll enter through this garden gate. Be sure to close the gate back so Bentley doesn't get out!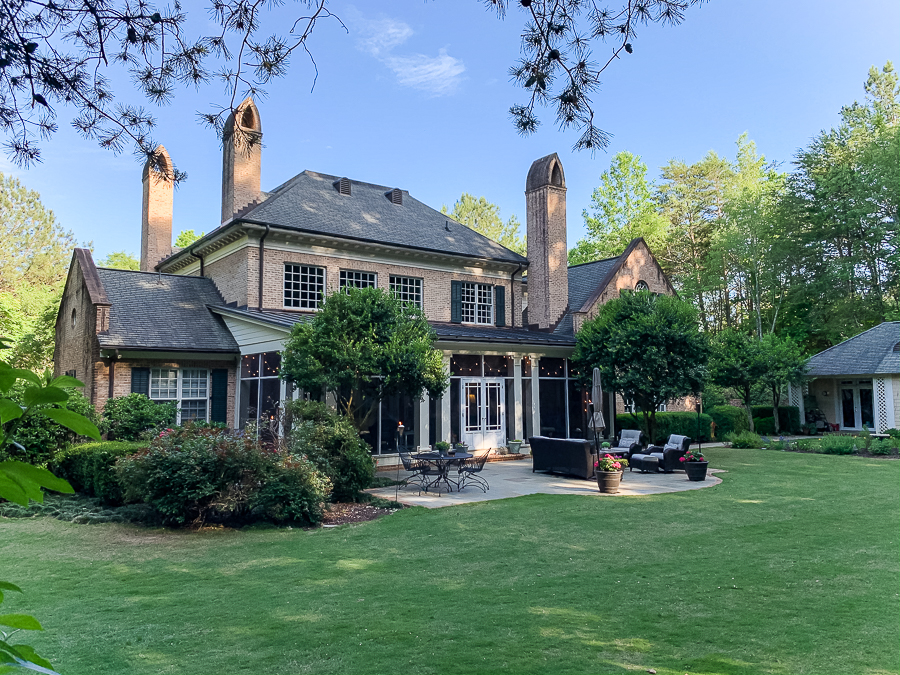 We spend so much time in our backyard. It is nice and flat so perfect for all kinds of games like bocce ball.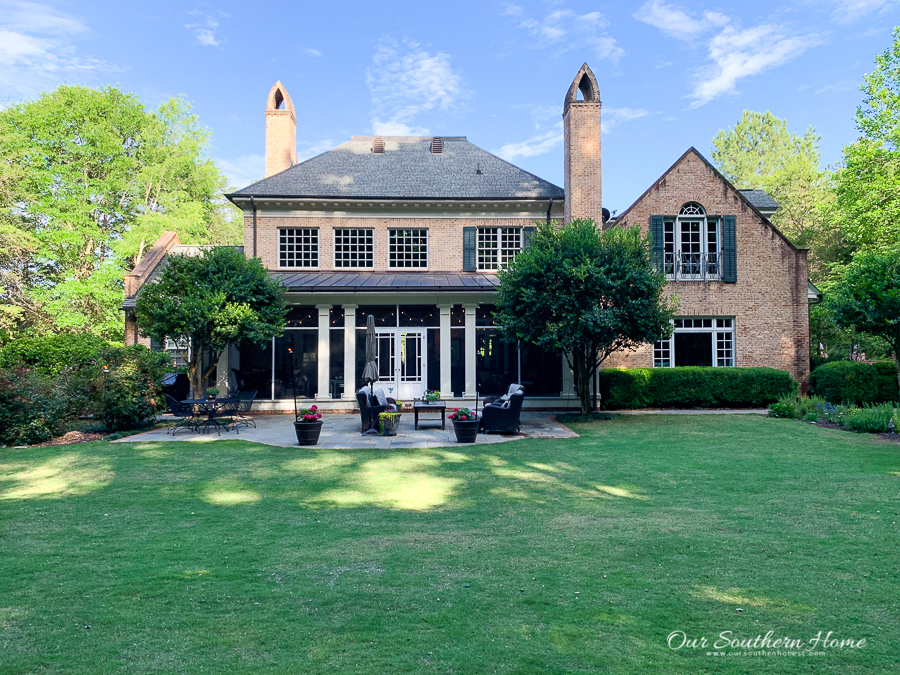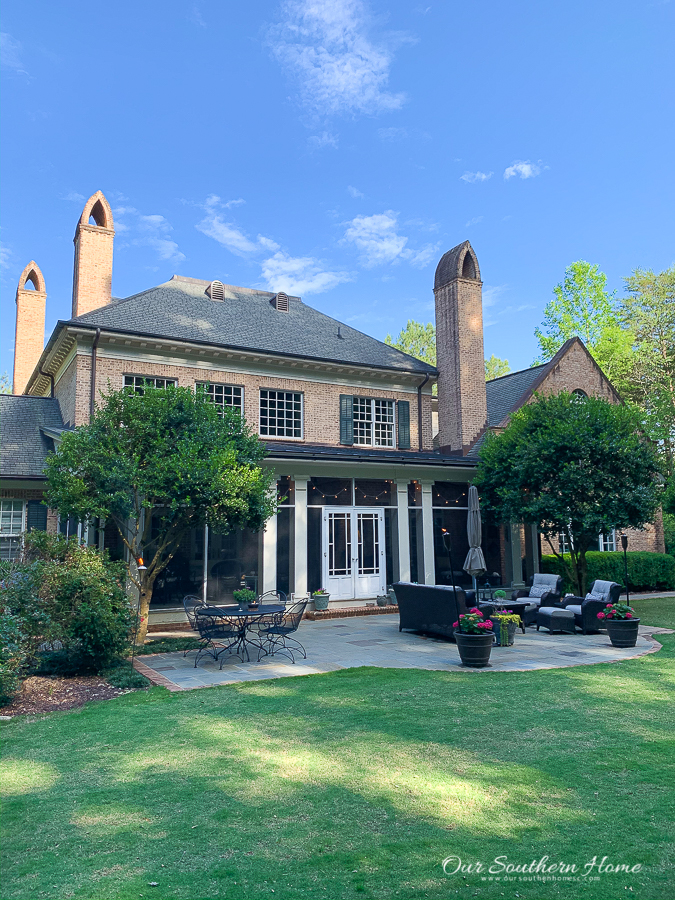 This year we added the outdoor wicker set from Sam's. We are loving it! We are now sitting out here just as much as we do on the screened porch.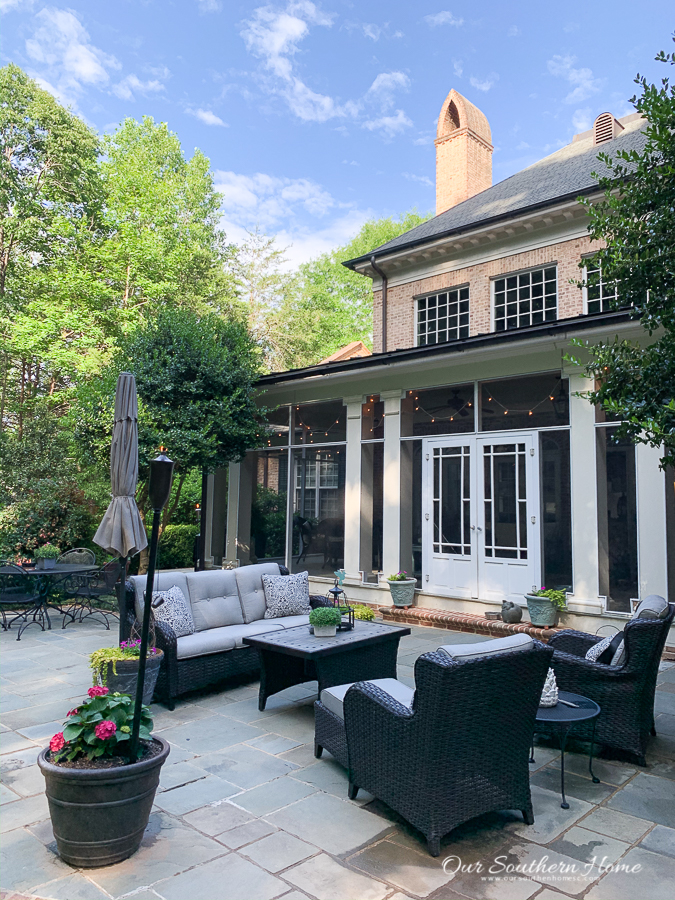 It's such a cozy spot. I see many conversations and meals taking place here.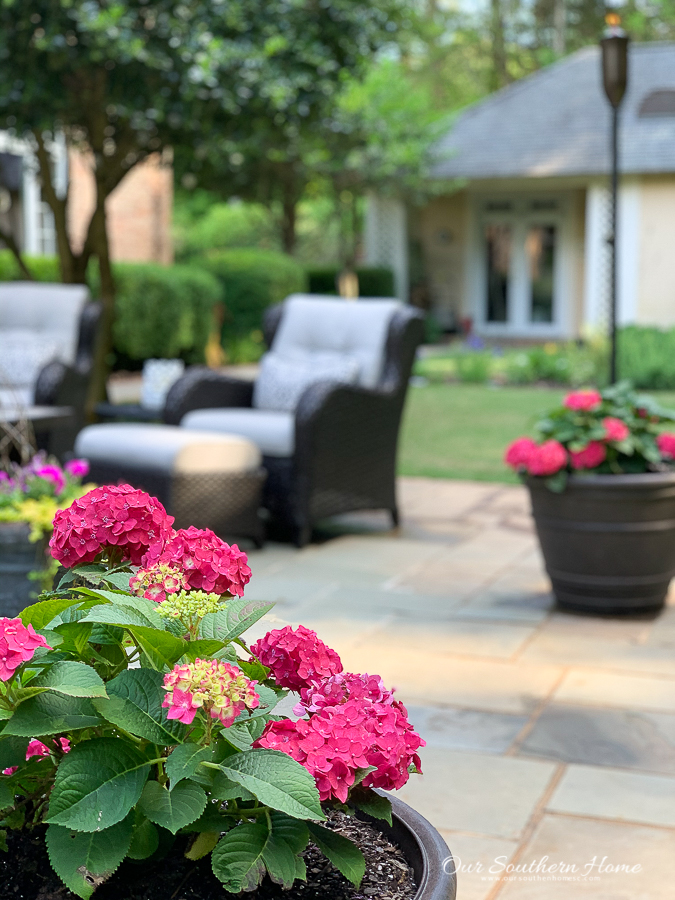 This is my first run at hydrangeas in pots. We are really babying them. I hope they keep looking as great as they do now.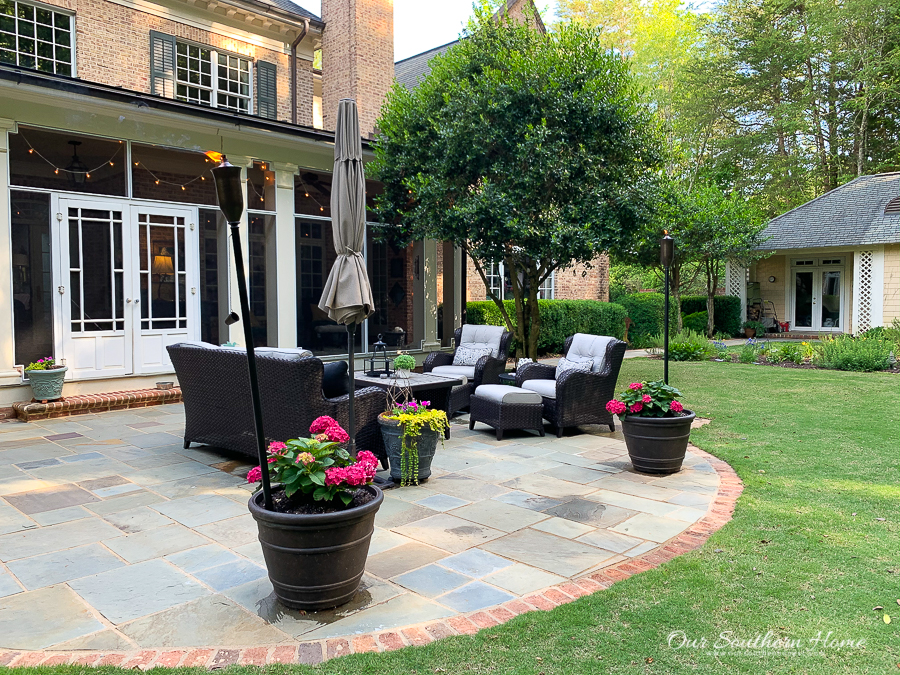 The string lights on the screened porch have been up for about 10 years. They give a nice glow even from the outside. We are getting ready to add string lights to the patio area. I can't wait to share that project with you.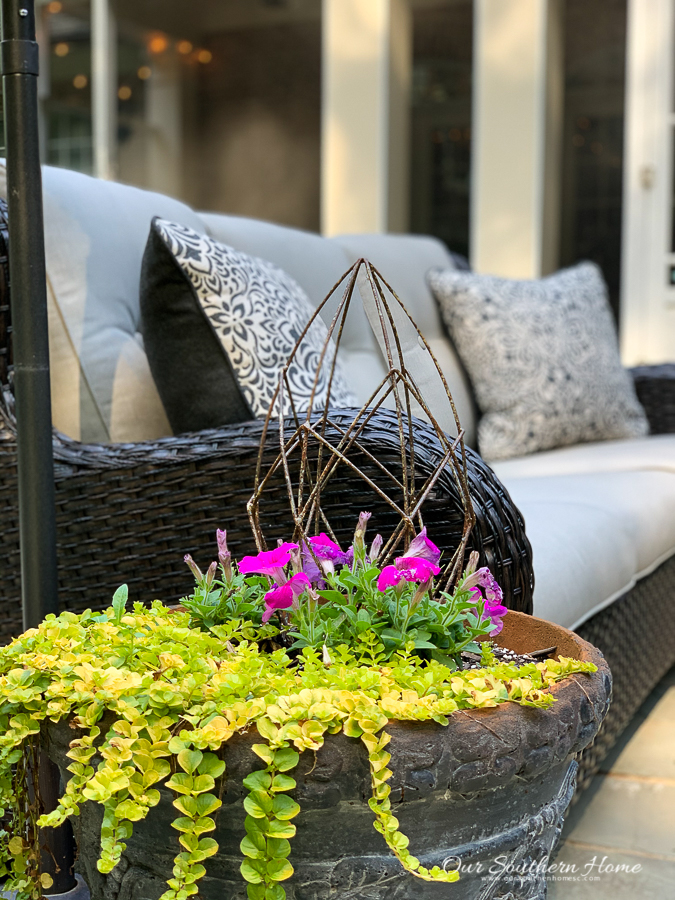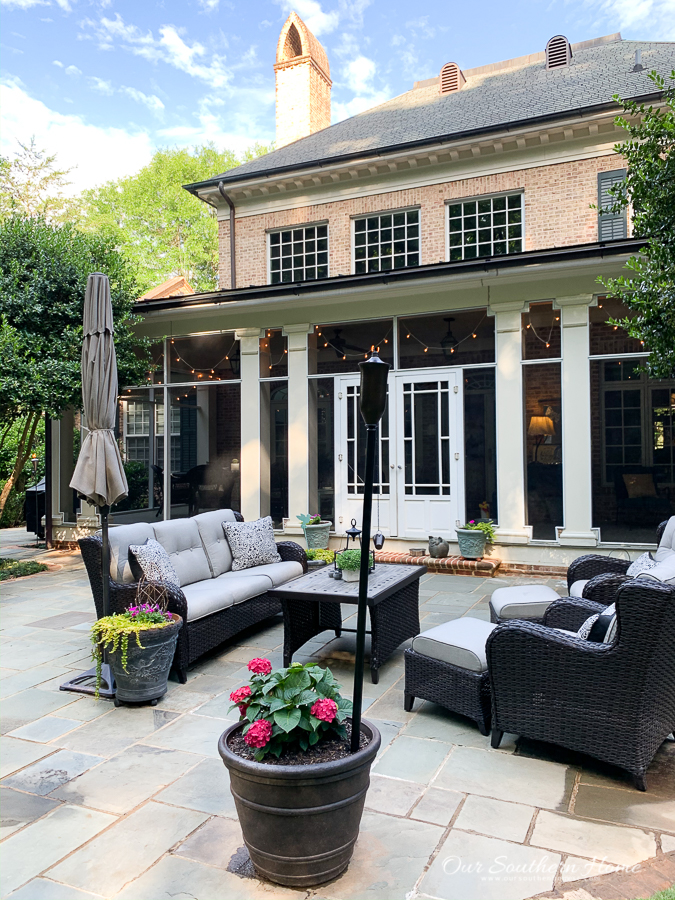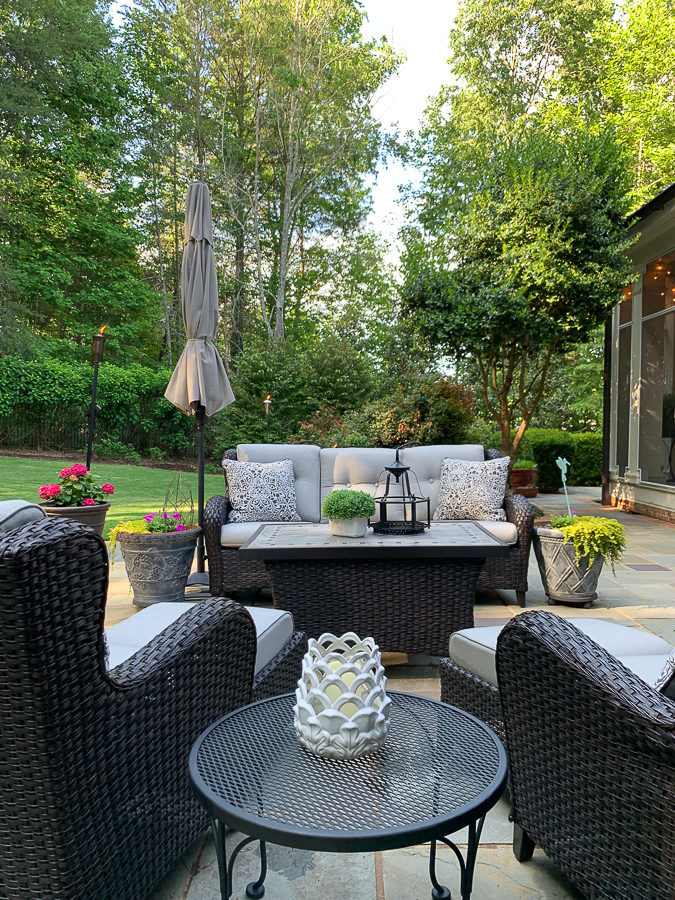 This will definitely be the hot spot for "going out" this summer!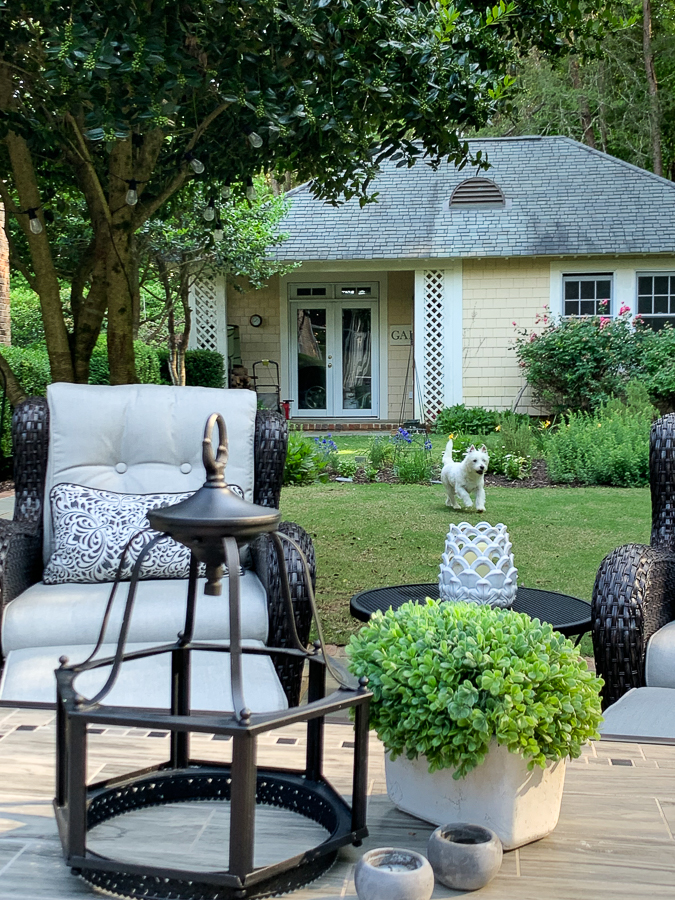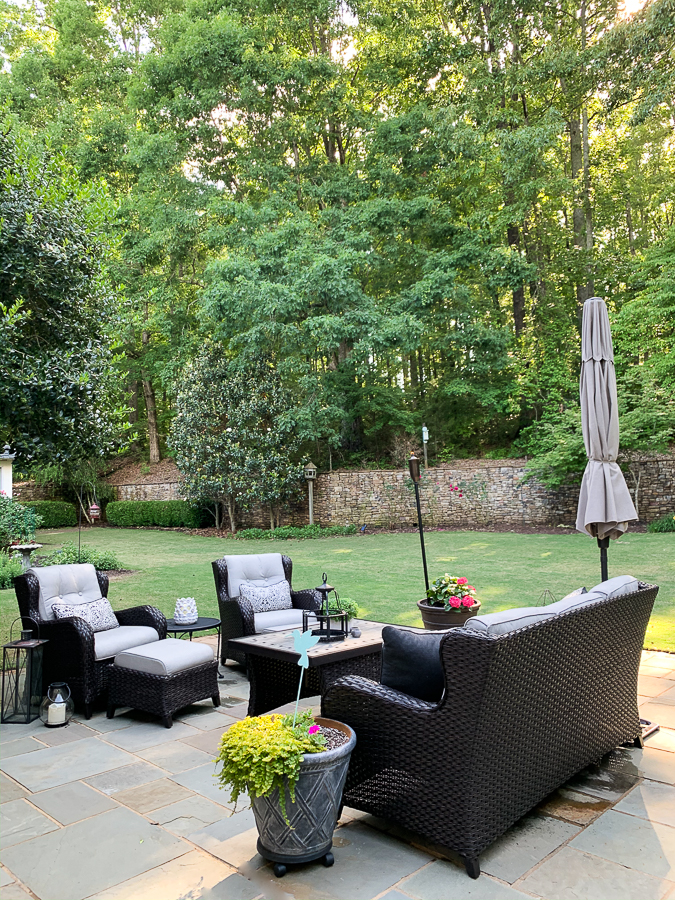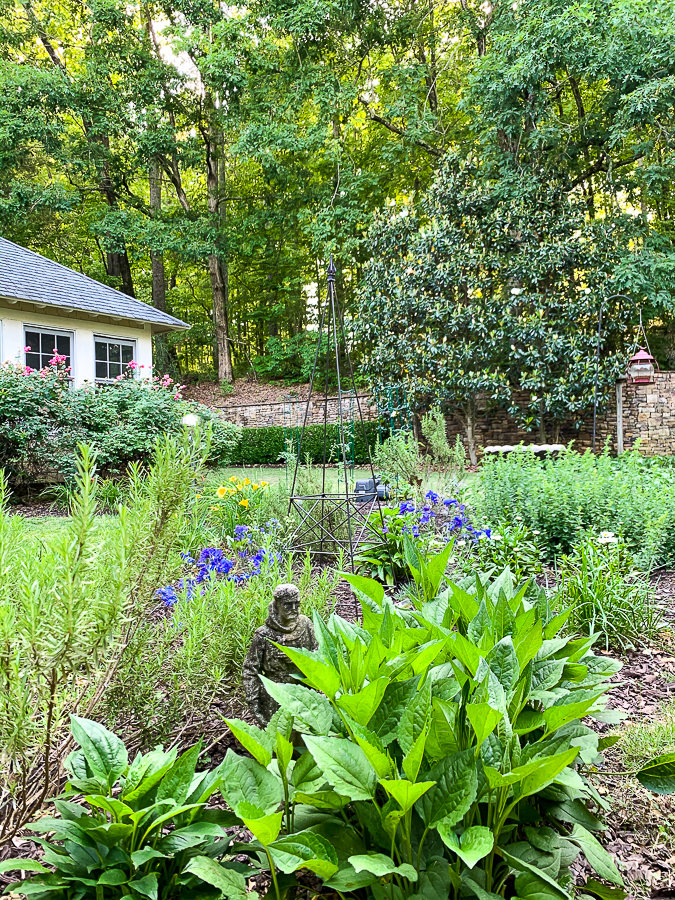 This is our little garden area complete with herbs, a few veggies, and perennials.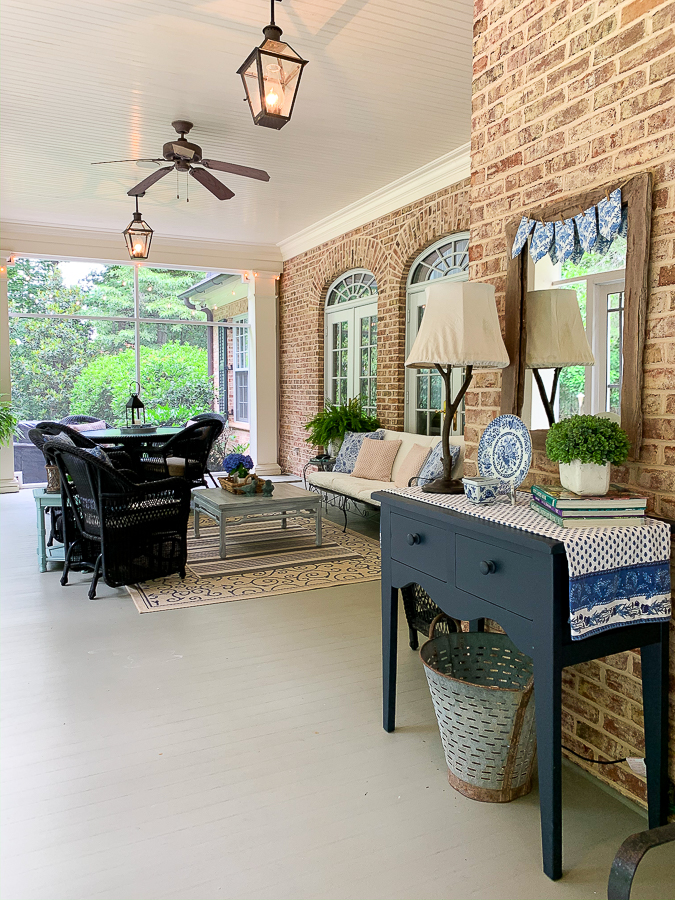 This is our favorite summer spot….the screened porch. We eat out here most nights through the fall. You'll find me working on the blog out here in the mornings.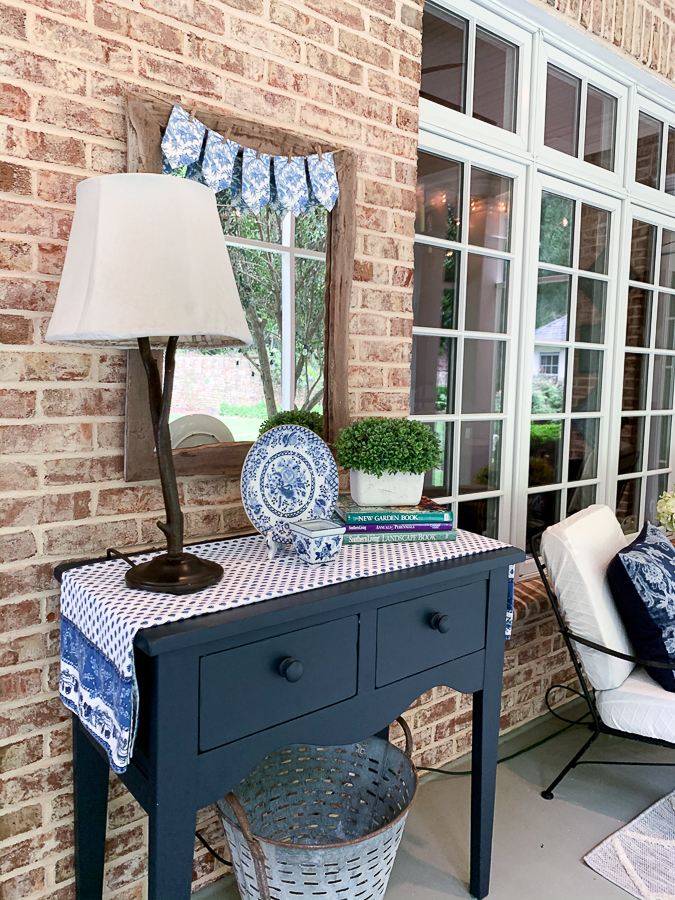 This piece used to be in our kitchen. It's on its 3rd color change. I painted it navy blue last summer and adore it!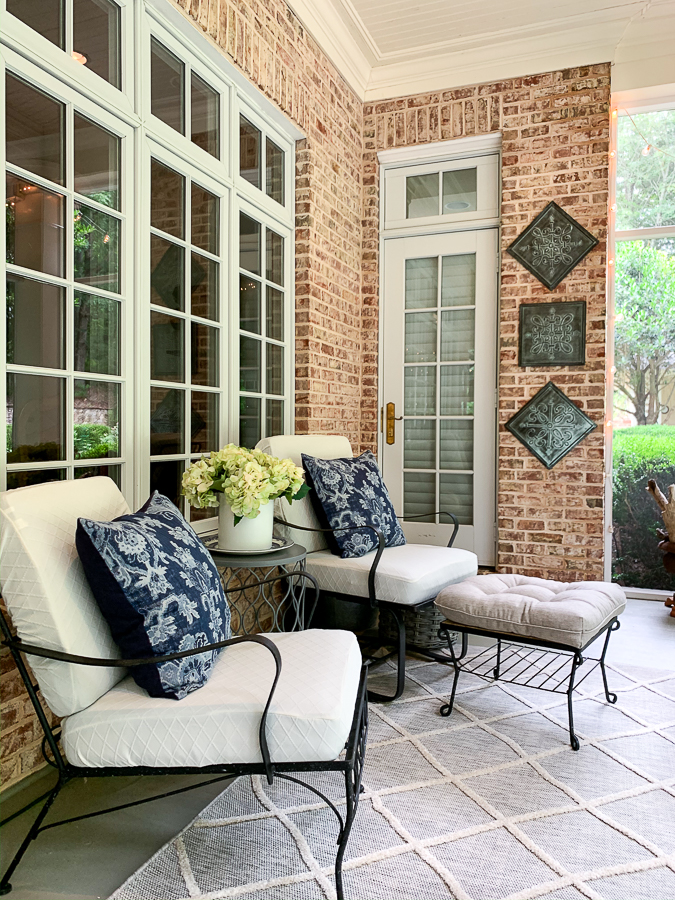 This sitting area for 2 is right off of our master suite. Loving these new cushion covers that cover over the old green. They are like a fitted bed sheet.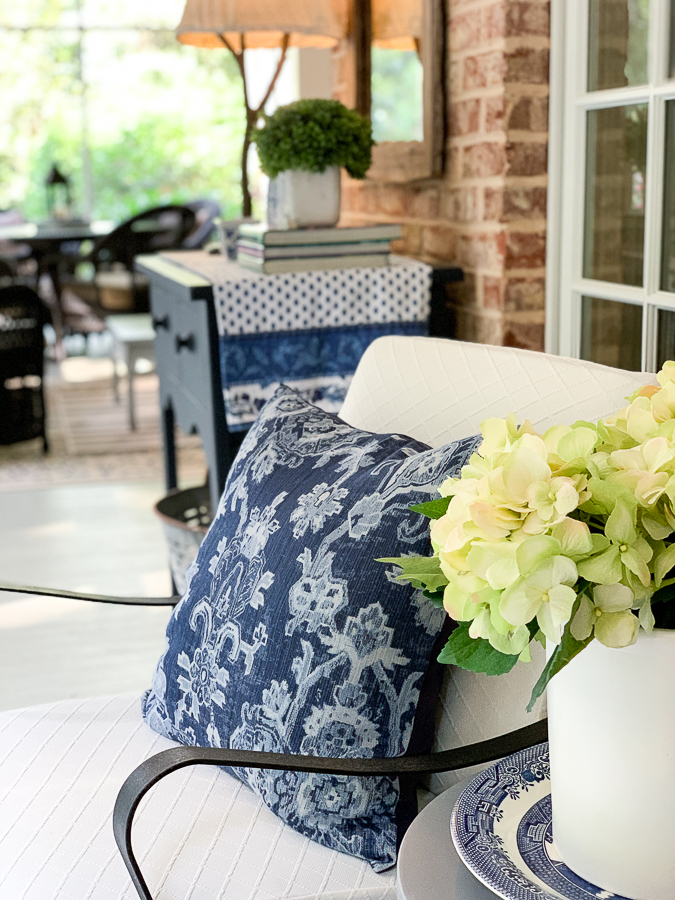 I carried the blue theme from the front porch to the back.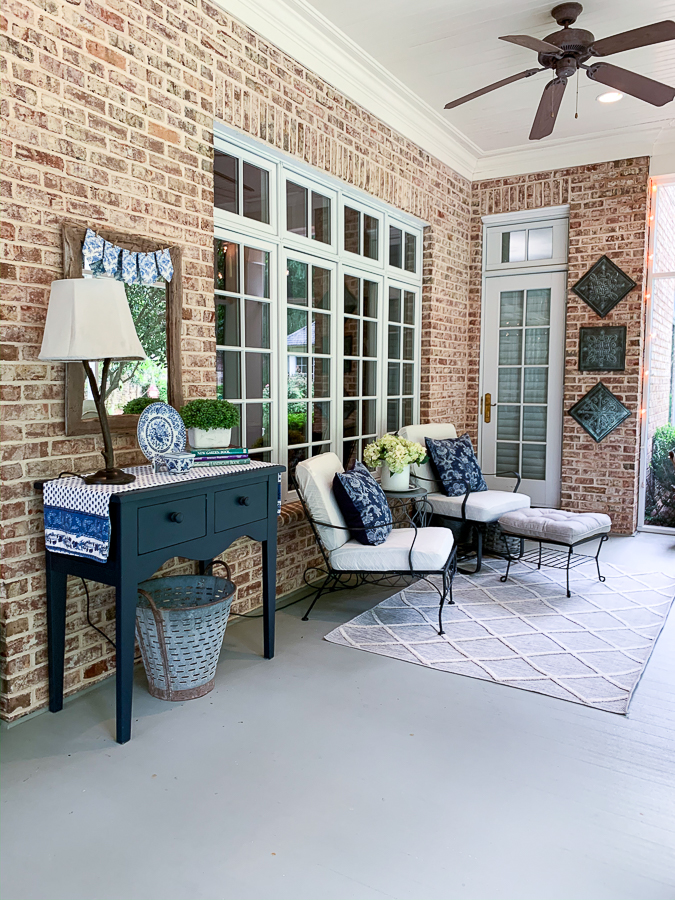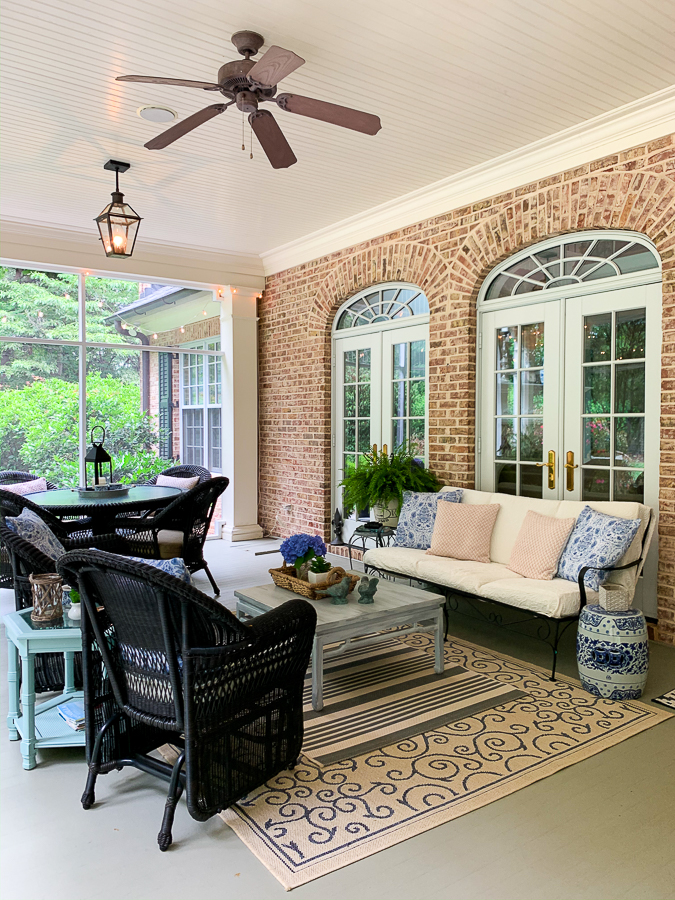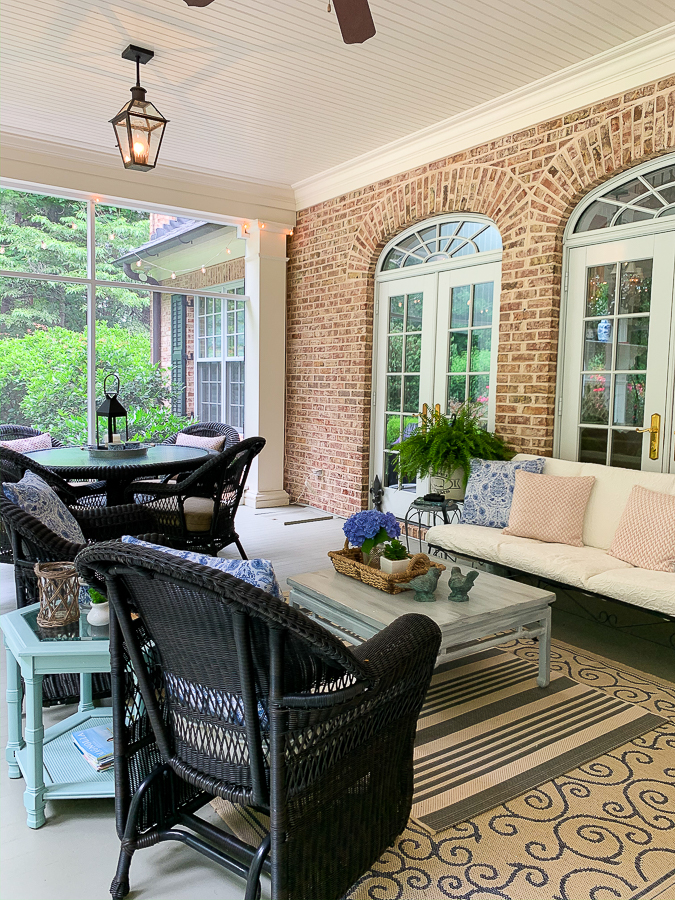 The striped rug is from the front porch. I wasn't currently using it there so I layered it with this one.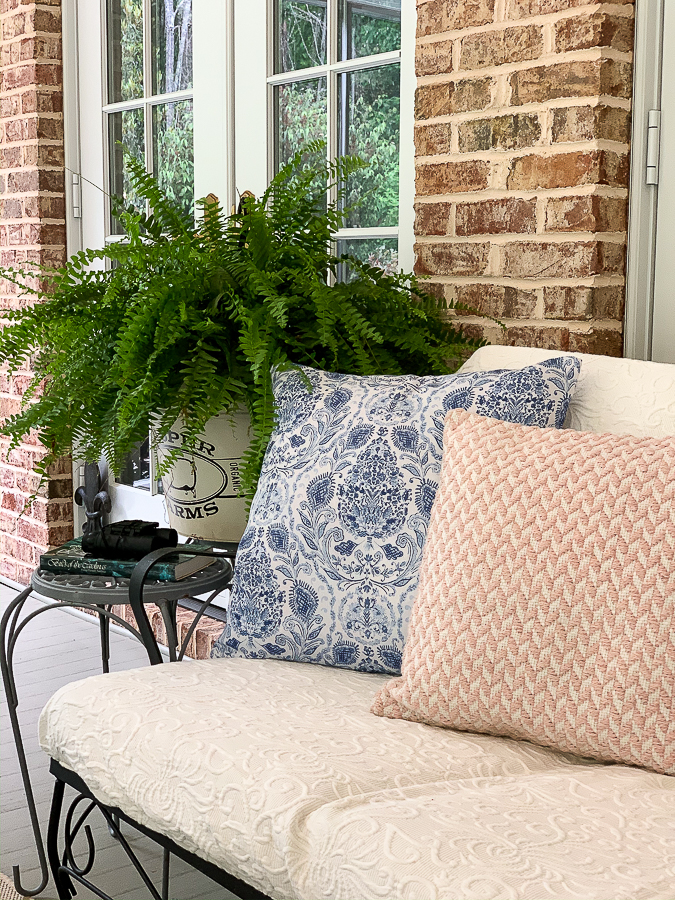 Last summer, I sewed new covers for these blue and white pillows with tablecloths.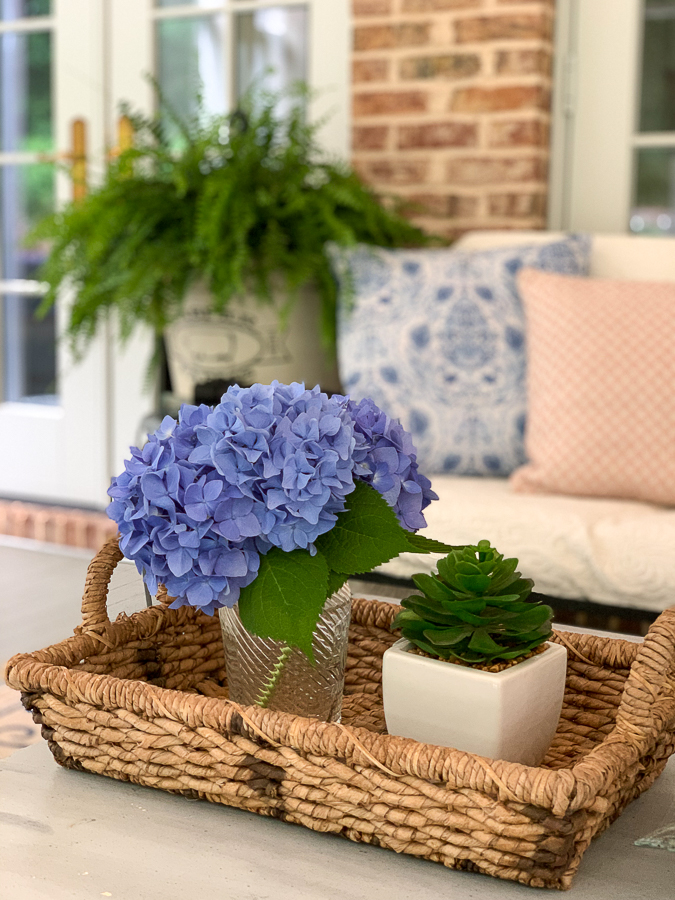 These are hydrangeas from the side of the driveway. Aren't they a gorgeous blue. We returned from the beach with them in full bloom!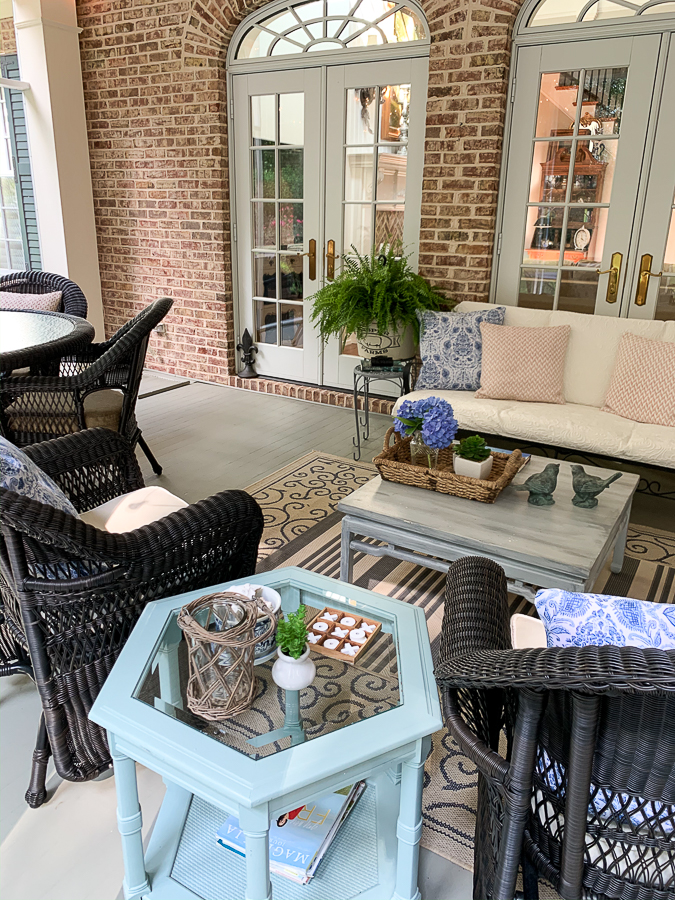 I hope you have a wonderful summer! Stay healthy and thanks for stopping by for a visit.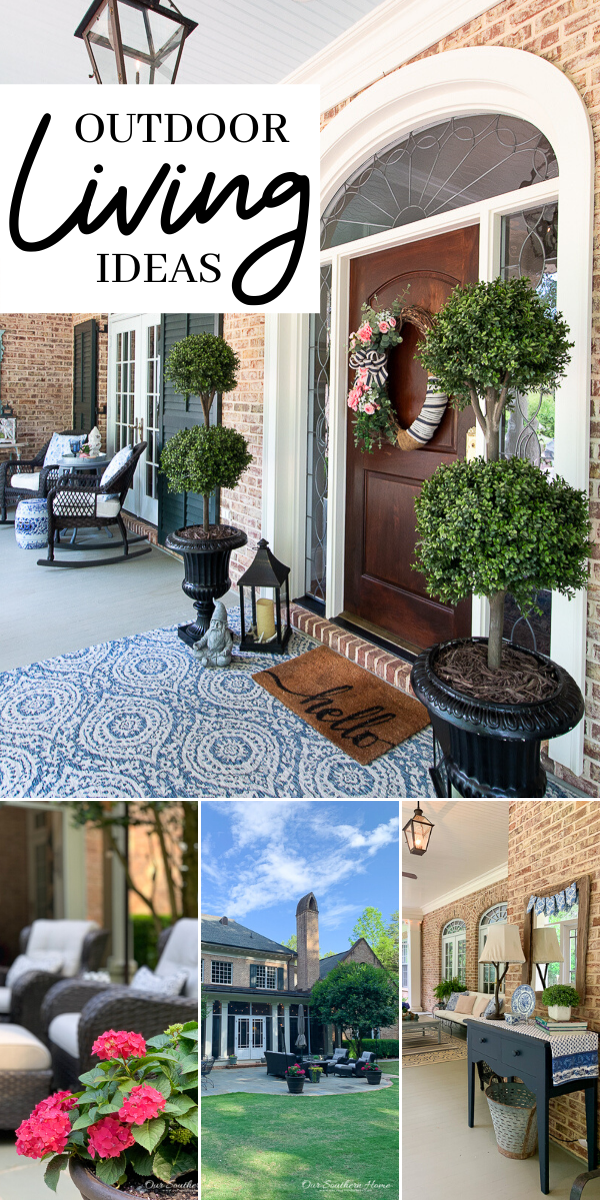 Up next on the tour is my friend Heather from Southern State of Mind. Did you notice the new creamy covers on the chairs by the master suite on the screened porch? She is the one that shared those. They are so stinking affordable and a great fix for me! Be sure to see how she used them on her blog!



Complete Summer Tour
Monday
A Stroll Thru Life | Clean and Scentsible | Far Above Rubies | Remodelando La Casa | It All Started With Paint | Life On Virginia Street
Tuesday
Setting For Four | Duke Manor Farm | Decor To Adore | House By Hoff | Inspiration For Moms | Pink Peppermint Design
Tuesday
Setting For Four, Duke Manor Farm, Decor To Adore. House By Hoff , Inspiration For Moms, Pink Peppermint Design
Wednesday
Modern Glam , Fox Hollow Cottage , Thrifty & Chic , 11 Magnolia Lane , Grace In My Space , Hymns &amp Verses
Thursday
Seeking Lavender Lane, StoneGable, Designing Vibes, Citrineliving, Our Southern Home, Southern State Of Mind
Friday
The Woodgrain Cottage , Life On Cedar Lane, Thistlewood Farms , White Arrows Home, Follow The Yellow Brick Home
Buffer