Shades of Blue Summer Front Porch
Our front porch is one of my favorite outdoor areas in our home to decorate. It's that welcome you receive when you walk up to the door. Today I will share with you a few tips to create my look.
Summer Front Porch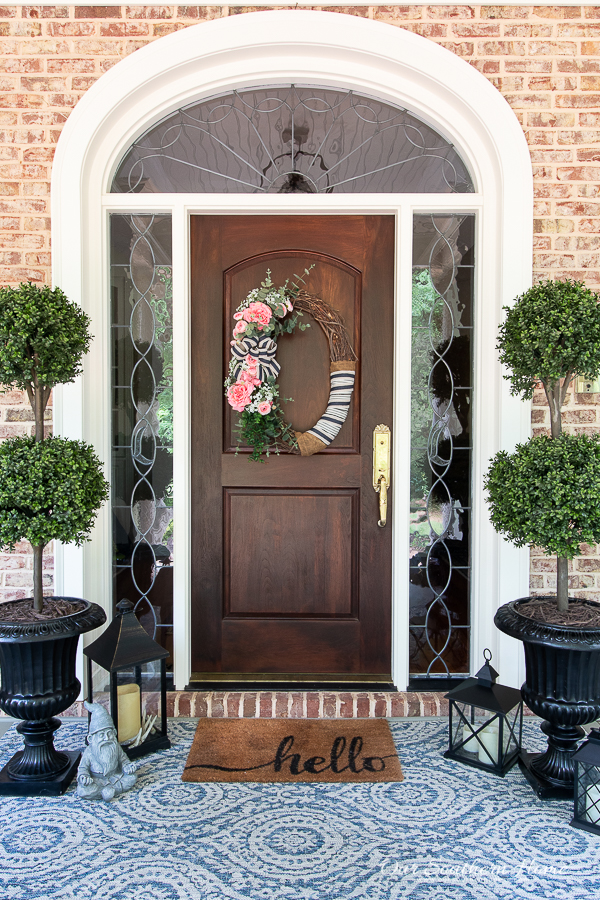 Faux Topiaries || Similar Urns || Outdoor Rug || Gnome || Similar Hello Mat || Lanterns
Welcome to our shades of blue summer front porch!
This month's Pinterest Challenge is so my style and perfect in that I was already adding more blue to our home for summer.
Welcome to another installment of our monthly Pinterest Challenges hosted by my sweet friend, Cindy, from County Road 407.
If you are visiting from A Stroll Thru Life, welcome! Marty's home is a stunner!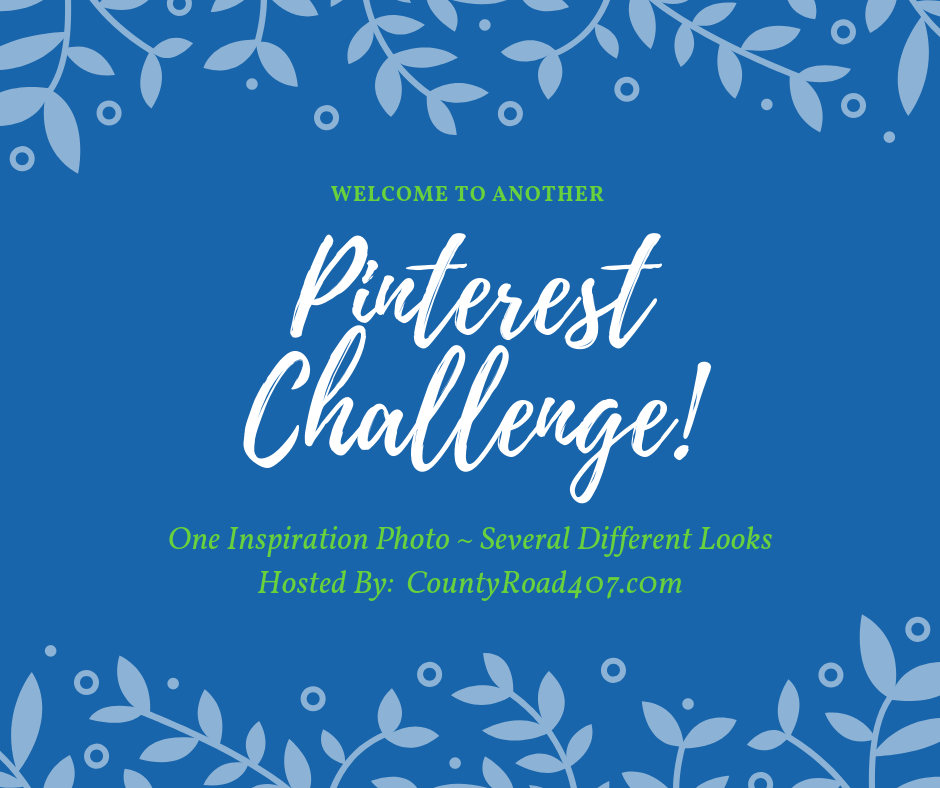 This month for our Pinterest Challenge, we are recreating a beautiful front porch with inviting shades of blue from Bria Hammel Interiors. I am new to Bria's website. Let me just say that I love her style! It is so me. Be sure to give her a visit.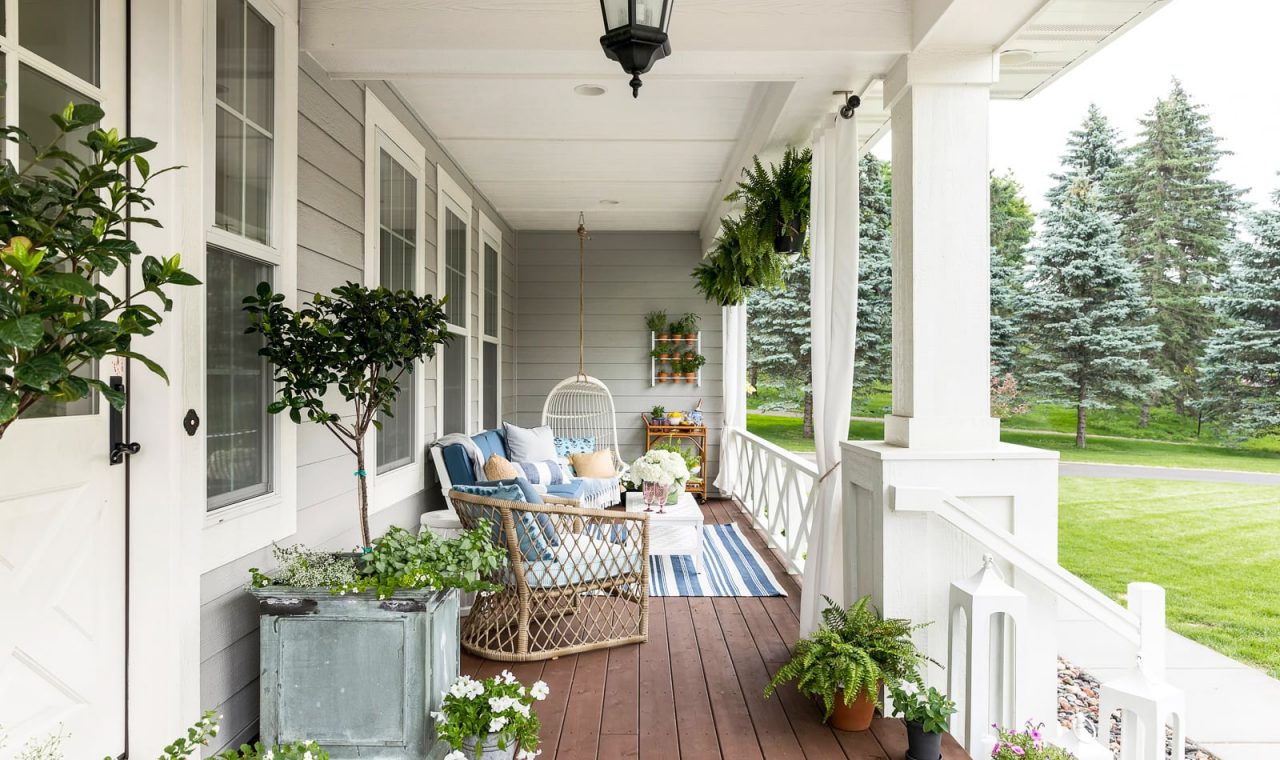 What I am recreating
blue rug
topiaries flanking the door
serving piece
wall art
hanging ferns
sitting area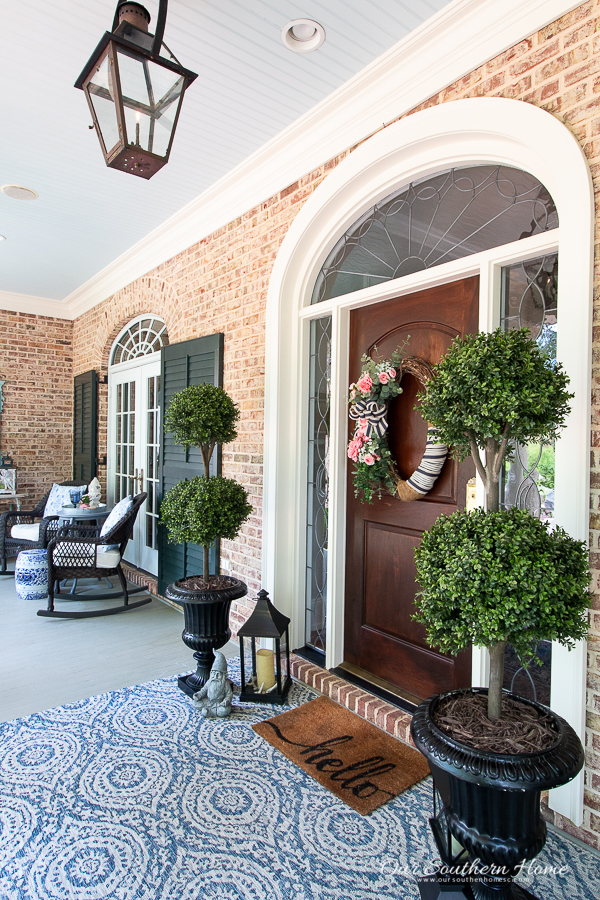 Outdoor Rug || Faux Topiaries || Similar Urns
Layered rugs are huge right now, and I am sure to stay for some time. You can't go wrong if you decide to jump on the bandwagon.
I went with a much larger rug in the blue floral design. This is perhaps my favorite outdoor rug….ever. You can read more about it on this blog post.
The larger rug creates a more dramatic entrance and eliminates the need to add other rugs to the porch.
These faux topiaries are AMAZING!!! You can read all about them in this post.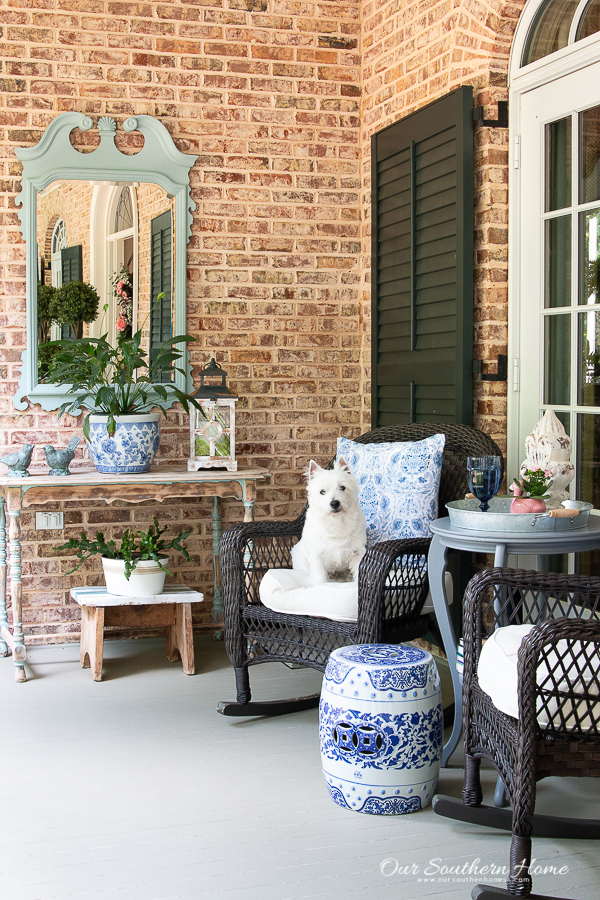 Similar Chinoiserie Garden Stool || Similar Outdoor Wicker Rockers
I've always been a big fan of all things blue and white. I've been gravitating towards it more lately. It's just so classic and fresh. I've had this large pot for over 20 years. The garden stool was a recent purchase. It is so versatile so I'm sure you will see it all over the house and out.
I made the pillows last year out of outdoor tablecloths. They are not that thick vinyl kind. This is actually a machine washable tablecloth. I simply recovered faded outdoor pillows.
Bentley is such a ham for the camera. He is always underfoot when I start taking photos so I usually make use of him. You can follow his Instagram account HERE. My daughter runs it for Bentley.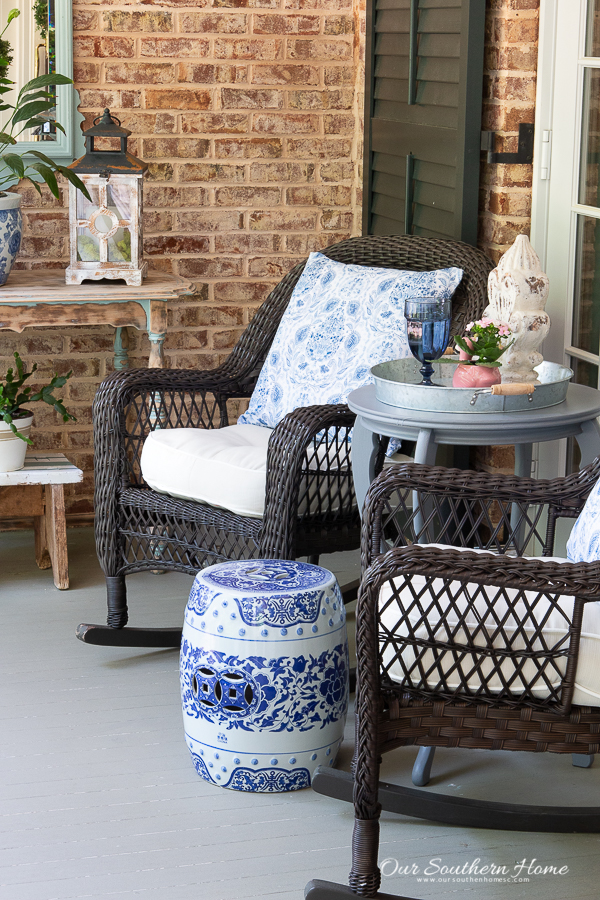 I typically use trays or salad plates as coasters on painted surfaces to contain condensation.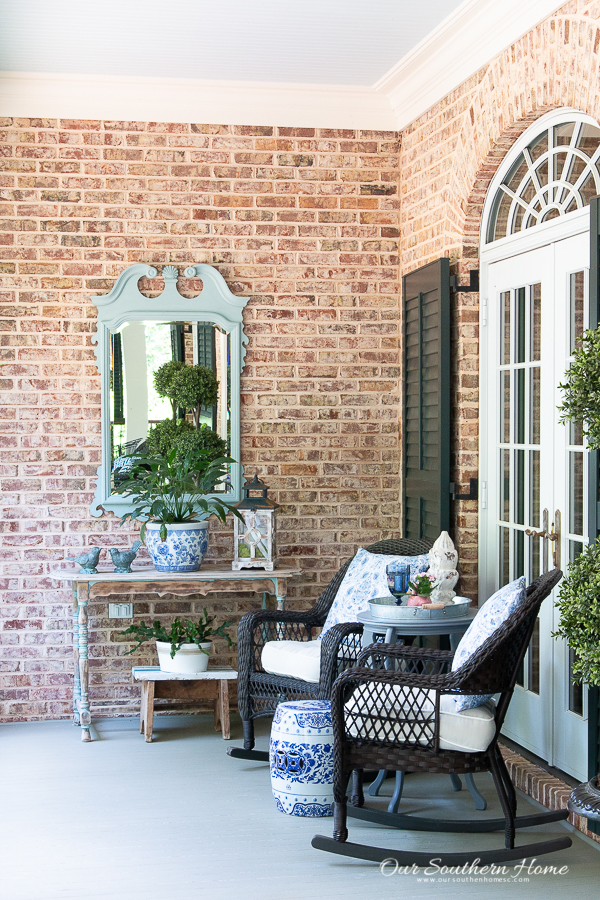 The console table and little painted stool were all thrift stores finds. You can find the details below.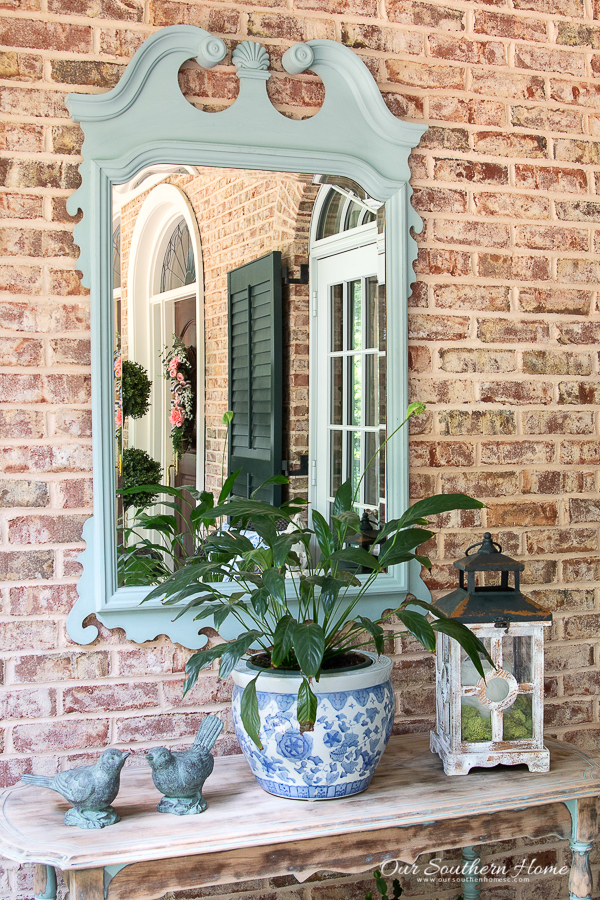 The mirror was part of the dresser with our master bedroom set. I broke the set up a few years back and added it here to the porch. This table is great for decor or serving drinks and snacks. I kept it all very simple this year by bringing out one of my houseplants. They do well on the porch in the summer.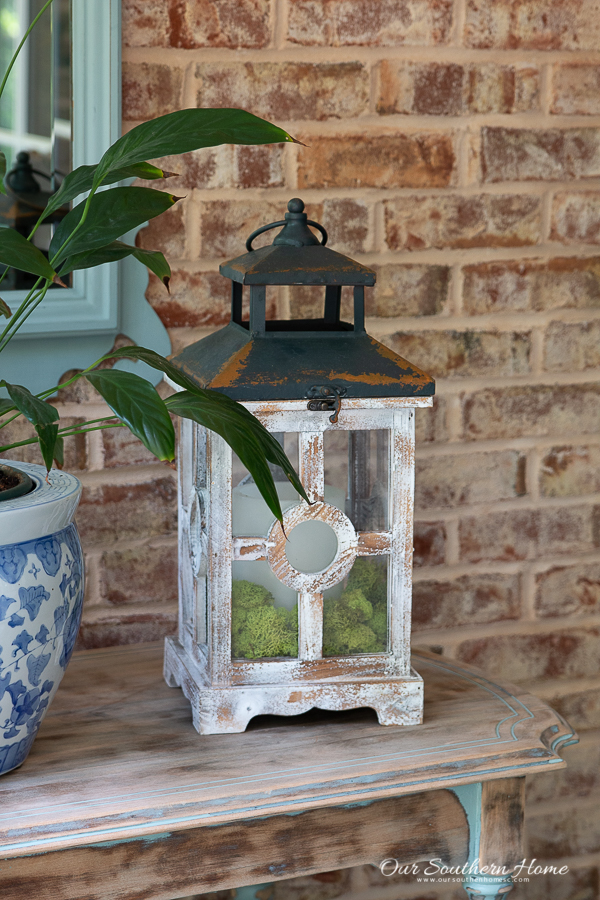 I get so many questions about this lantern. I am going to link several below, but Hobby Lobby still has this one in store! I don't see it online.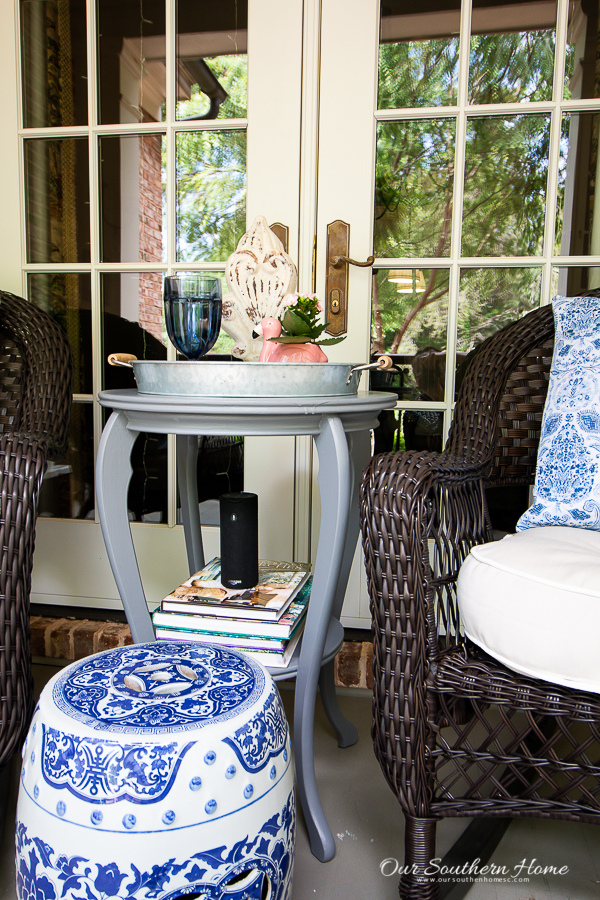 A few outdoor decorating books round out the seating area. They are so fun to look through for new ideas. I love bringing the Amazon Alexa outside with me. I listen to music as well as audiobooks with it. When done, I just return it to the charging base.
You'll find my Shop the Look box below for shopping sources below.
Up next on the tour is Decor to Adore. Laura has a gorgeous home full of vintage style!
Be sure to check out the others on the tour.


Buffer