Super Bowl Party with Rubbermaid and Sharpie
This shop is part of a social shopper marketing insight campaign with Pollinate Media Group™ and Rubbermaid and Sharpie but all my opinions are my own. #pmedia #RubbermaidSharpie http://cmp.ly/3/8vNxcO
Are you getting excited about the upcoming Super Bowl? My family sure does….from the actual game, half-time show to the commercials, it is quite the event.
We've celebrated in many ways over the years from parties with others to just watching at home with the kids in pajamas.
This year, I'd like to share with you how you can create a simple yet fun time with Rubbermaid and Sharpie products!
I've shared with you many times, how I've learned through the years to make parties and get-togethers easier and more relaxed for me!
So YES! You can create a fun party using Rubbermaid and Sharpie. Let me show you how I achieved a relaxed Super Bowl party atmosphere by simply preparing a Slow Cooker Chicken Taco Soup (recipe below) bar with a simple dessert!
The first thing I did was head to one of my favorite stores, Target, to purchase my Rubbermaid containers and Sharpie markers.
Be sure to text COUPONS to TARGET on your cell phone and grab the $1 off Rubbermaid food storage coupon and the $1 off Sharpie 4 pack or larger! That's a great deal! It is so easy! I received my coupons in a couple of minutes. There is no need to print them. Just simply share the bar-code on your phone with the cashier! So easy and convenient! The coupons are valid January 25 – February 8, 2014.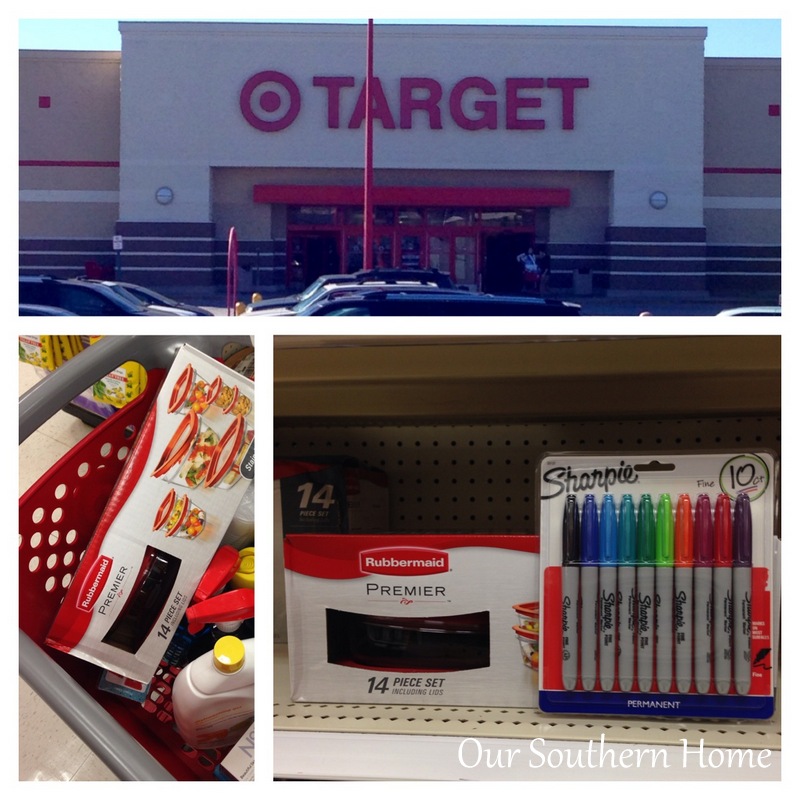 I love a great "Blogging" excuse to head to Target!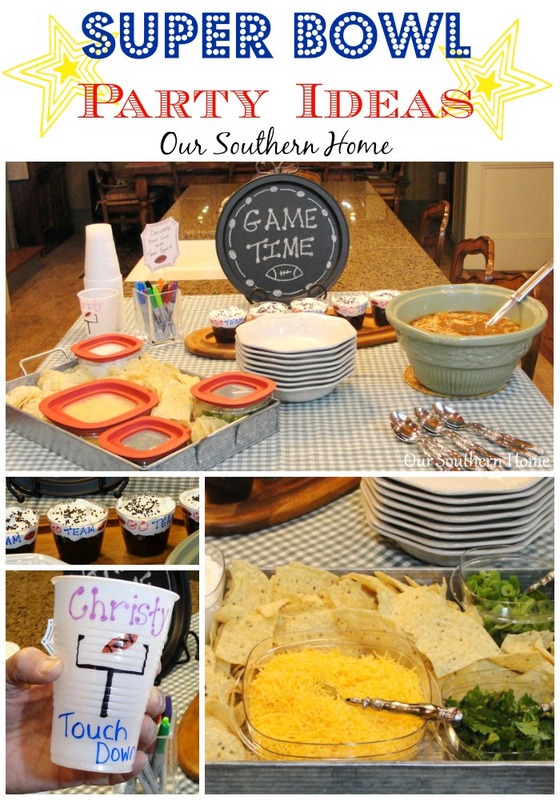 Throwing a Super Bowl party can be so simple and low key while still looking great! For my party, I decided to make a slow cooker batch of my Chicken Taco Soup. During these cold winter nights, it sure is comforting. I'm sharing my recipe with you below. Just start the soup that morning in the slow cooker, and it will be ready in time for your night of game time viewing! After you have your soup cooking….go on and prepare all the condiments in these Rubbermaid storage containers. They are really a crystal clear plastic and look fabulous on my metal tray!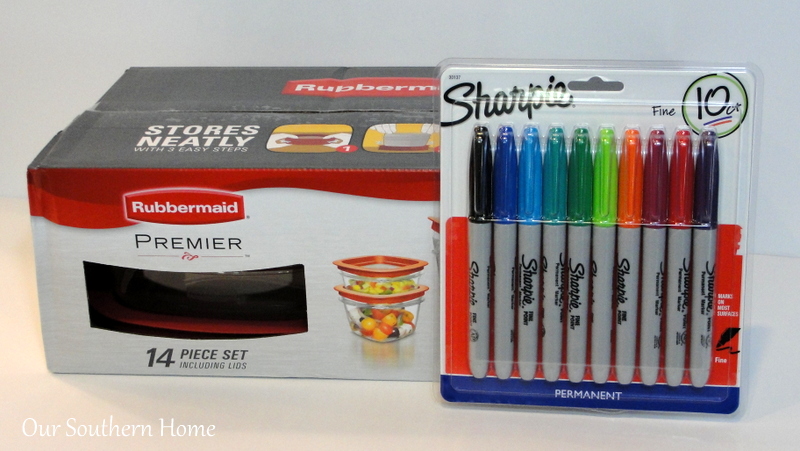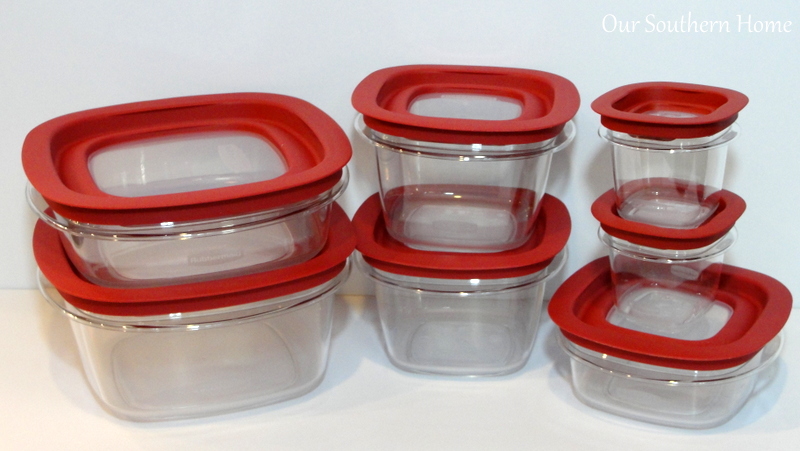 Notice how clear they are! This makes them great for serving a casual meal for the Super Bowl. I used the appropriate sized ones for my sour cream, shredded cheese, green onion and cilantro. Put the lids on them. Go on and arrange them on the tray and place in the fridge. When it's time to serve just fill in the empty space on the tray with tortilla chips and remove the lids!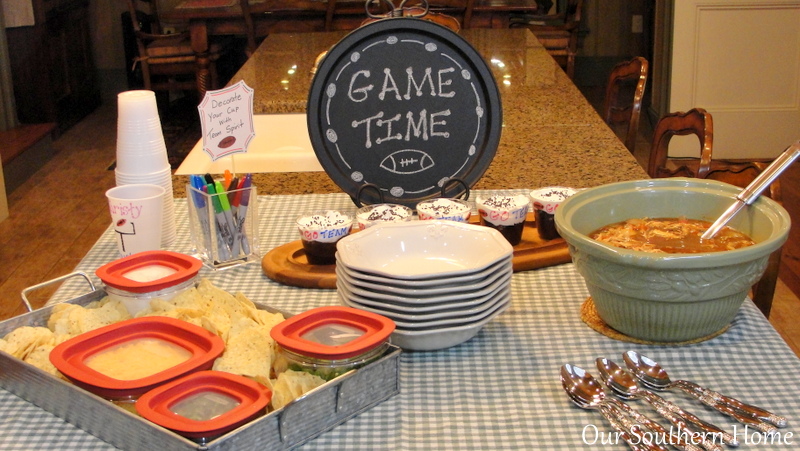 You can see that I left a small empty space between the tray and the spoons. This is where you can place your bowl as you add your condiments.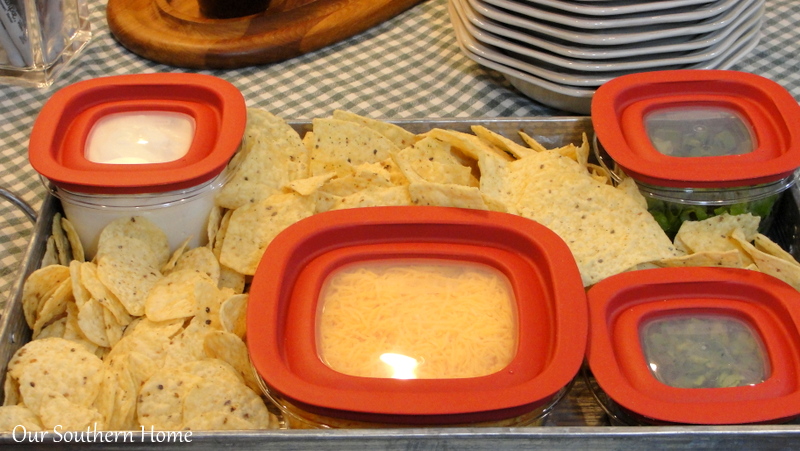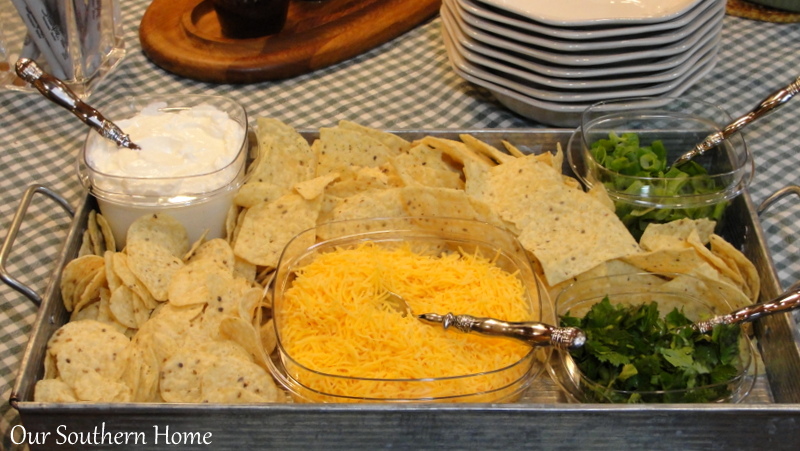 When everyone has eaten, just place the lids back on and pop back in the fridge! It can't get much easier than that!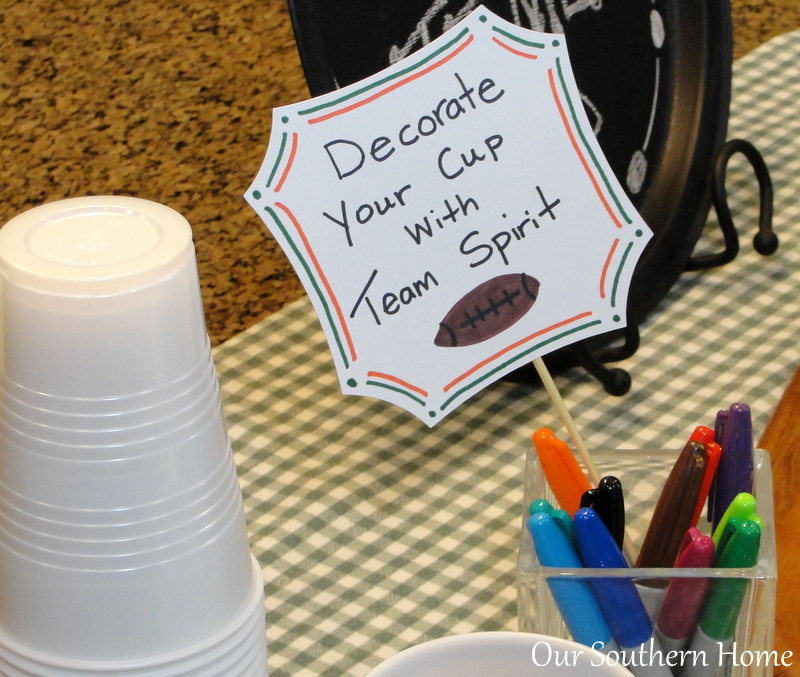 Have plastic cups and a container of your Sharpie markers handy with an area to Decorate Your Cup with Team Spirit! I made the little sign with a cut out on cardstock and drew it out with the Sharpie markers. Then I simply taped it to a grilling skewer!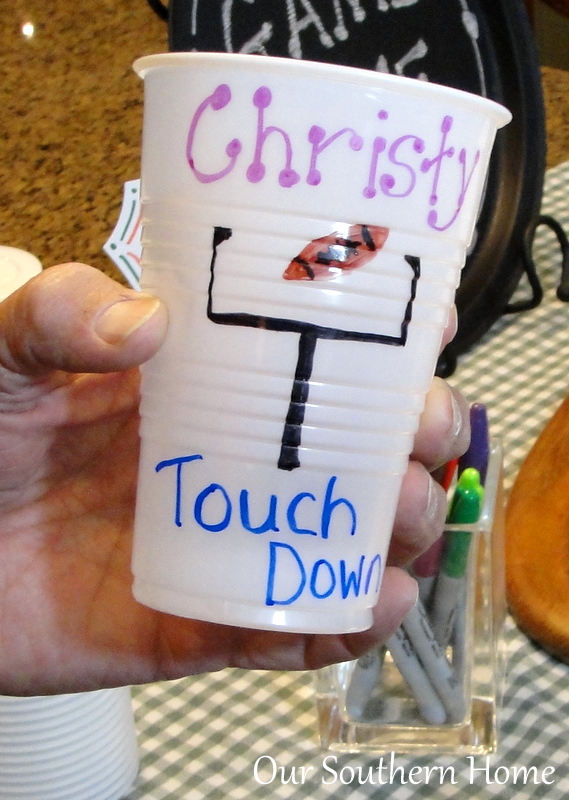 We had some friends over Friday night to enjoy the food with us. The Sharpie markers were a big hit with the kids! My kids that attended were 4th, 8th, 9th and 11th grade…..use with age appropriateness.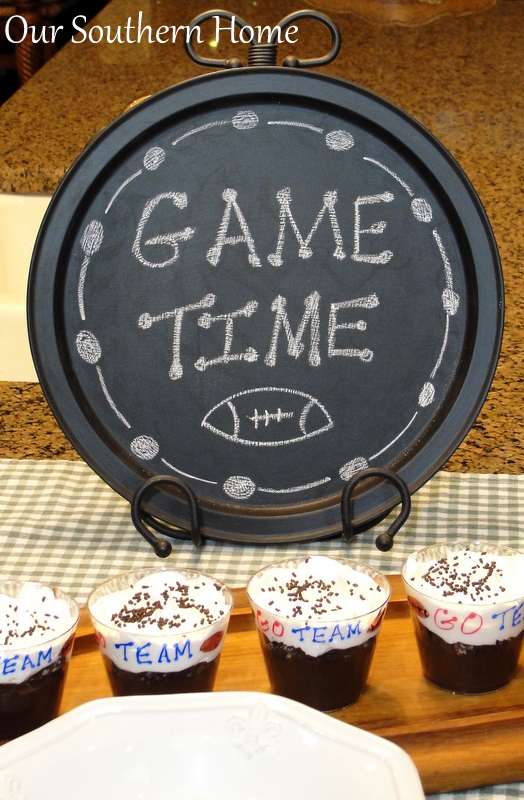 You've seen me use my thrift store tray many times! Here I just wrote a chalk message.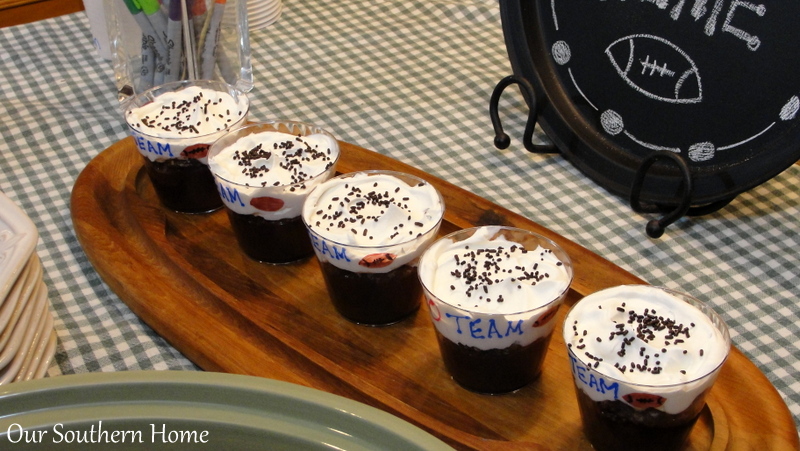 I made a quick and easy pudding cup. Always a kid pleaser!
I just used plastic punch cups and decorated those beforehand with my Sharpie markers. Again this is a make-ahead dessert. I'll share the recipe tomorrow.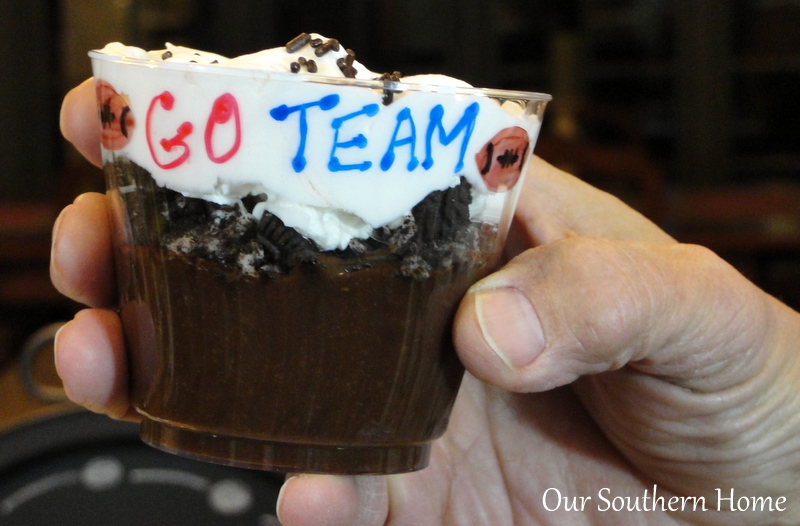 Many thanks to my hubby, the hand model!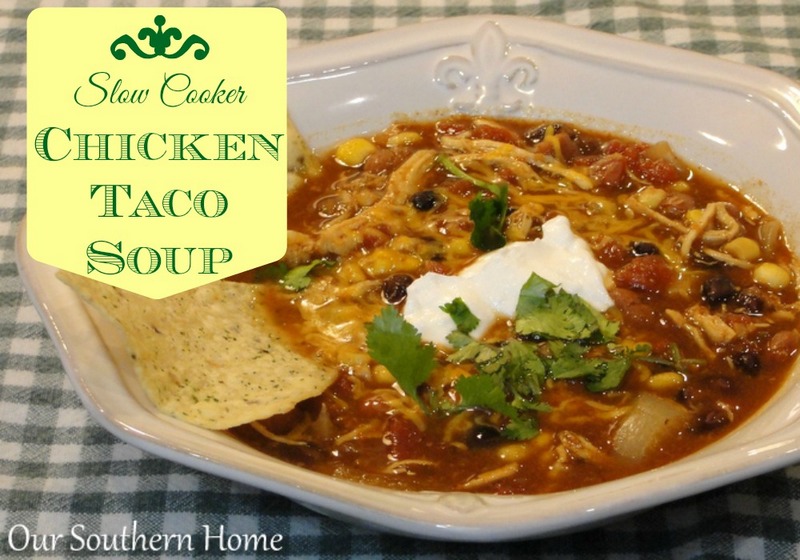 As promised, here is my recipe for the Slow Cooker Chicken Taco Soup!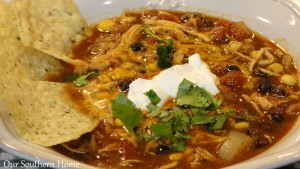 Slow Cooker Chicken Taco Soup
2014-01-26 06:20:52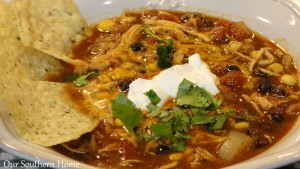 Serves 8
Simply pour all ingredients in the slow cooker in the morning and come home to a hearty soup for a crowd pleaser!
Ingredients
1 onion, chopped
1 (16 ounce) can of mild chili beans
1 (15 ounce) can of black beans
1 (15 ounce) can of whole kernel corn, drained
1 (8 ounce) can tomato paste
1 (12 ounce) can or bottle of beer
1 cup of chicken broth
2 (10 ounce) cans of diced tomatoes with green chilies, undrained
1 (1.25 ounce) package of original taco seasoning
3 large, skinless and boneless chicken breasts
Condiments such as: shredded cheddar cheese, sour cream, diced green onion, chopped cilantro, diced avocado, and tortilla chips
Instructions
Combine all ingredients in slow cooker except chicken and condiments
Mix well
Add the chicken breasts making sure they are covered by mixture
Cover and cook on low 5 hours
Remove the chicken to a cutting board and shred with a couple of forks
Add the shredded chicken back to the slow cooker and stir
Continue cooking for another 2 hours on low
Serve with condiments
Notes
You can omit the beer and use 12 ounces + the one cup of chicken broth instead. You can rinse the black beans if you desire, but not necessary. This has been a family favorite for a few years now. I have a really large slow cooker and have even made a double batch for larger crowds. **I use mild with all ingredients. You can go spicier if you desire with the can goods. I do use original with the taco seasoning, but you could go mild with that as well. It is quite spicy enough for us and the kids this way**
Adapted from allrecipes.com
Adapted from allrecipes.com
Our Southern Home https://www.oursouthernhomesc.com/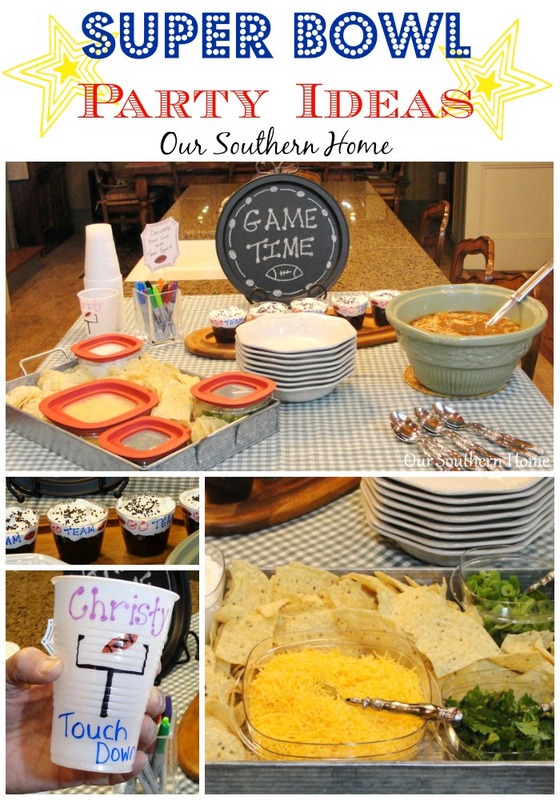 I encourage you to think "easy" when preparing for your Super Bowl Party! Have fun and work less! This took no time to throw together. I wasn't exhausted before my guests arrived! Go to Target and be sure to text COUPONS to TARGET to get your Rubbermaid containers and Sharpie markers for your party!
Other ideas for your Sharpie markers:
1) Create an area to write your game winner with score prediction. Have a basket to place those in. The person closest to the game prediction wins a prize!
2) Place a sheet of craft paper or poster on a table to write friendly game time smack talk!
3) Everyone writes their favorite commercial from the game on a card during the first half of the game and share them after the half-time show! Compare and see which commercial had the most votes.
4) Delegate tallying duties to the older kids!
Happy Super Bowl Week!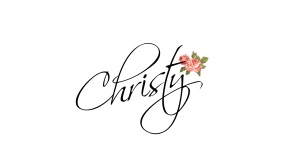 Buffer