Saturdays on the Porch #22
Saturdays on the Porch #22 featuring this week's fashion looks and more from Our Southern Home for life and home.
Happy Saturday, sweet friends! I hope you've had an absolutely amazing week!
Latest from OSH!
Saturdays on the Porch #22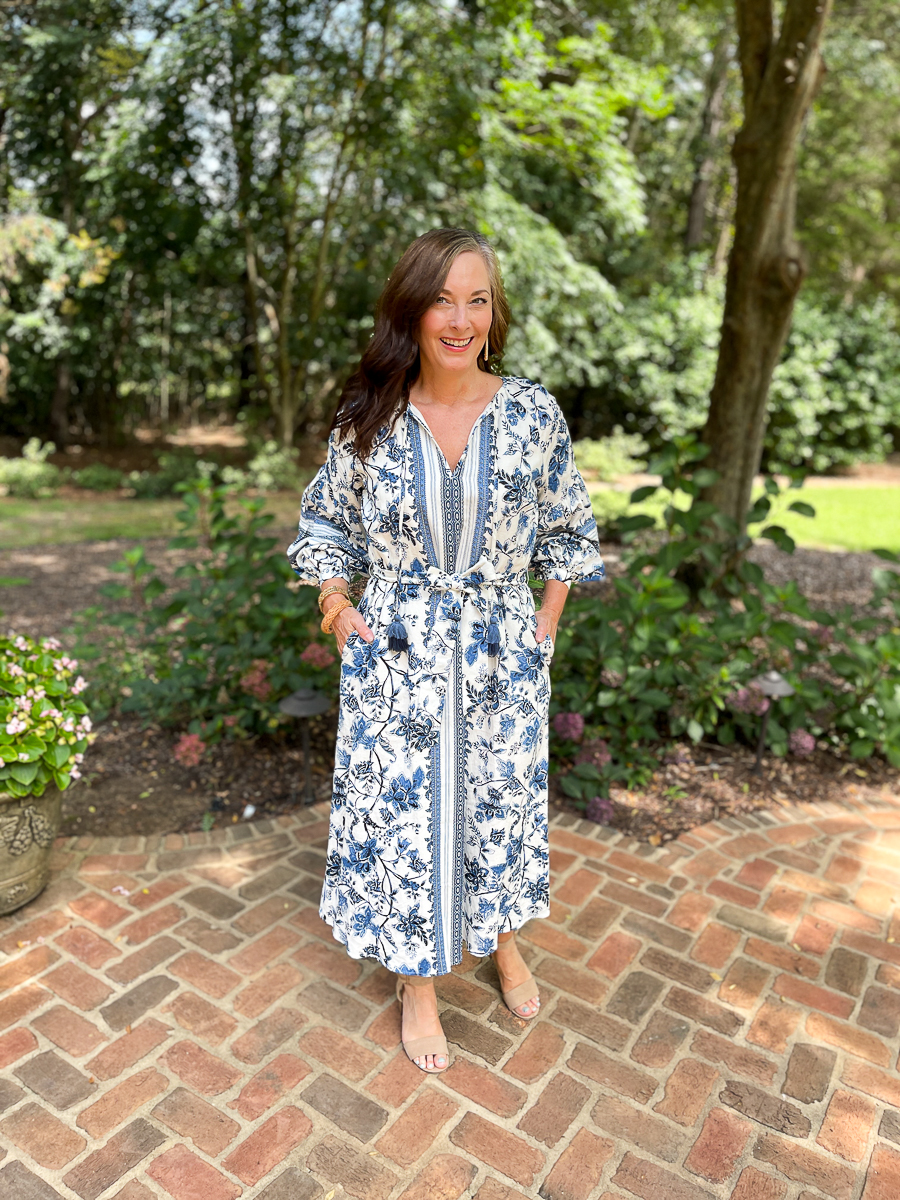 Exact Dress | Similar Dress | Rattan Bracelet | Gold Bracelet | Earrings | Similar Sandal
I love fashion, but don't want to spend a lot of money. I purchase a lot of budget-friendly items especially if trendy. Classics like this, I am willing to spend a bit more. I consider this a classic style. It's not budget-friendly, but at this sale price, it is!
This is the dress that I mentioned that I ordered on clearance from Dillards. I took a chance. It was recommended by another blogger friend. It's over 50% off and non-returnable. Due to the cut, I knew it would be forgiving.
Last week, it had every size available. It is now limited so act fast if you want it.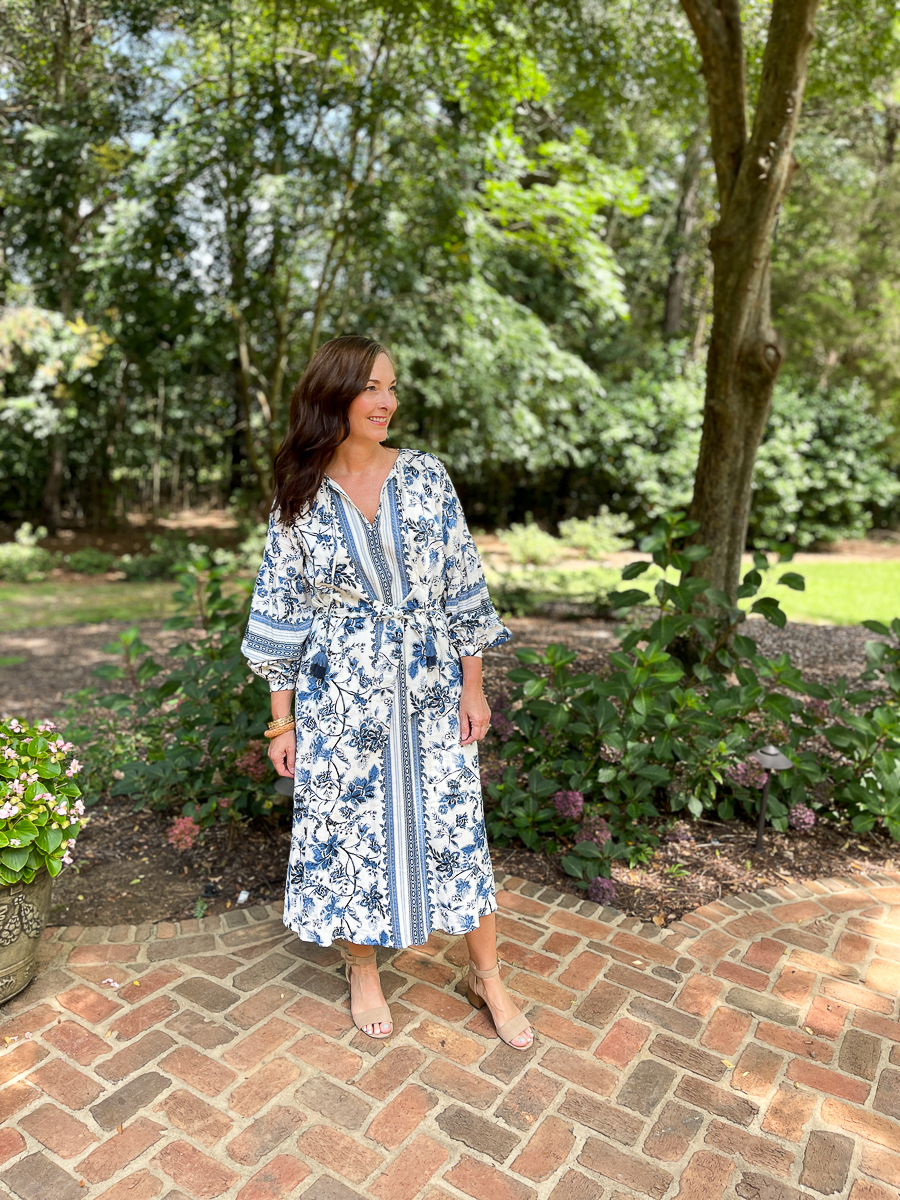 Exact Dress | Similar Dress | Rattan Bracelet | Gold Bracelet | Earrings | Similar Sandal
It has long sleeves, but I have them pushed up a bit here.
It is belted but has no elastic in the waist. This makes it very forgiving to get the waist fit that you need. You could wear it unbelted but would have the belt hoops to deal with.
You could wear the tassel tie around the neck tied or open.
This was listed as a spring dress, that is why the discount. Due to the weight and ability to change shoes and accessories, you can wear well into fall.
Use arrows to see dress detail!
Exact Dress | Similar Dress | Rattan Bracelet | Gold Bracelet | Earrings | Similar Sandal
Being in the south, this would be a spring and fall dress for me.
It is a linen and rayon blend. I didn't iron it out of the box. It's a heavier weight dress with a built-in lining so no need for a slip.
I can't wait to wear it this fall with brown booties. I could even toss on a denim jacket with it.
FIT TIP: I am wearing a size small. I am about 5'6″ and wear a 6/8 or s/m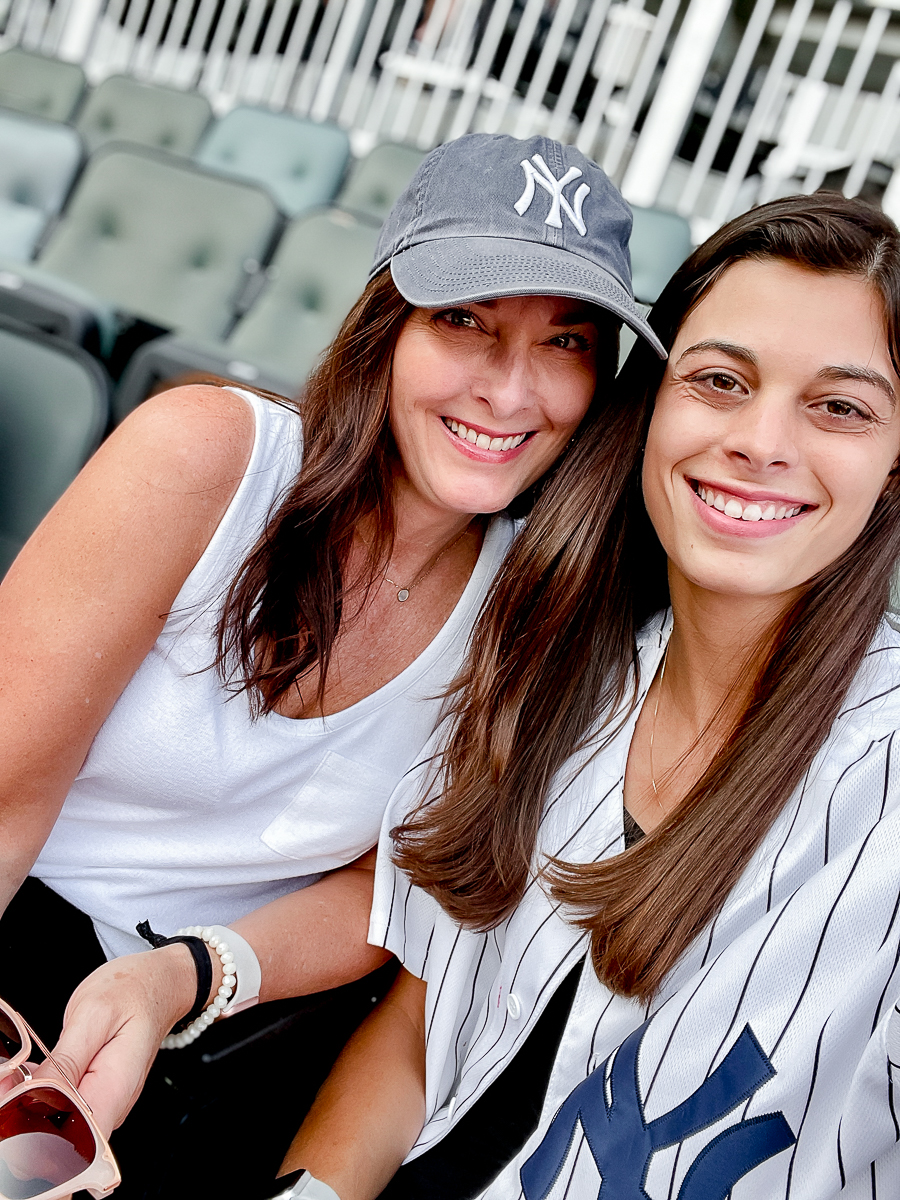 We are big New York Yankees fans. We've been to the Yankees in NYC 3 times. Two times was the old stadium and once in the new one. This was before the game started.
We saw them play Atlanta in Atlanta on Monday night.
See those arms? I am working to trim them up! I'm doing this 30 Day arm challenge. It works! I will be on Day 14 today! I follow her Instagram account. I find it easier to go to each day by going to her Instagram Highlights. The 30 Day Challenge is in a circle Highlight. I have the 30 days written in my calendar in case I forget the day I'm on.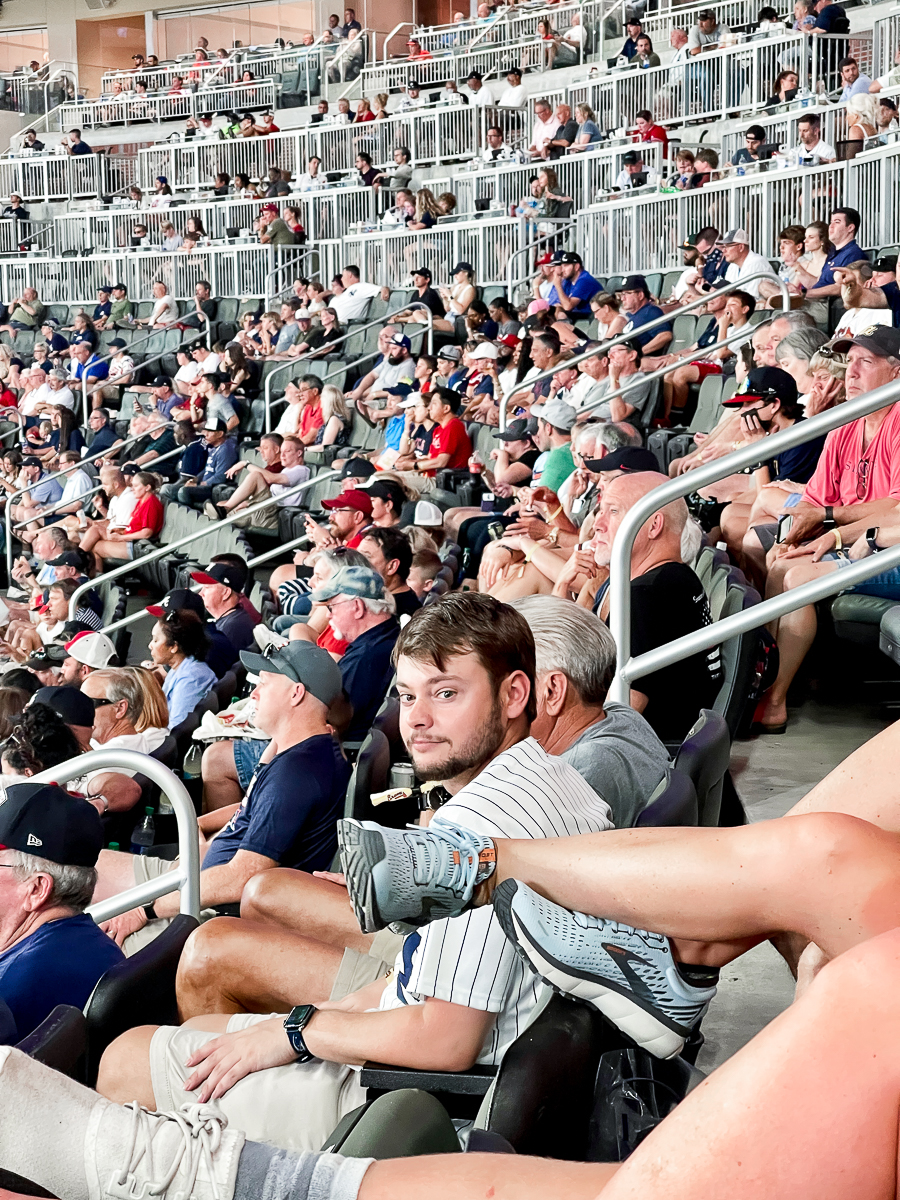 The Braves have a gorgeous new stadium. We had great seats and a fabulous time. We did have to split up and sit 2 and 2, but close by each other.
We had a really great package in the Infiniti section that included $15 in food per person. Y'all the food prices were insane. I had an $8 Chick-fil-A sandwich!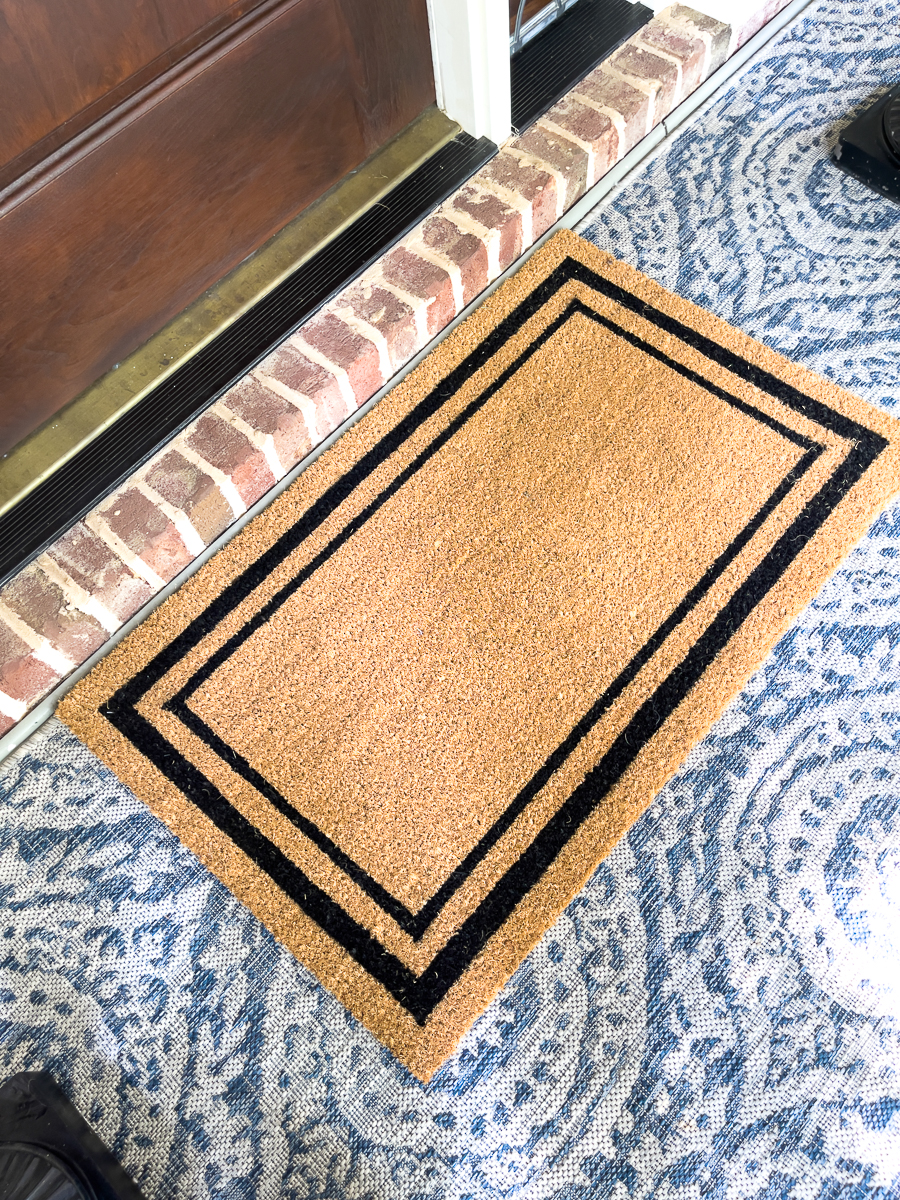 Faux Topiaries | Similar Planters | Similar Lanterns | Fall Wreath | Door Mat | Similar Blue Rug
I got this new mat for the front door. It's a bit bigger than the old one and so much better! With having the patterned rug, I really like the simplicity and clean lines of this one.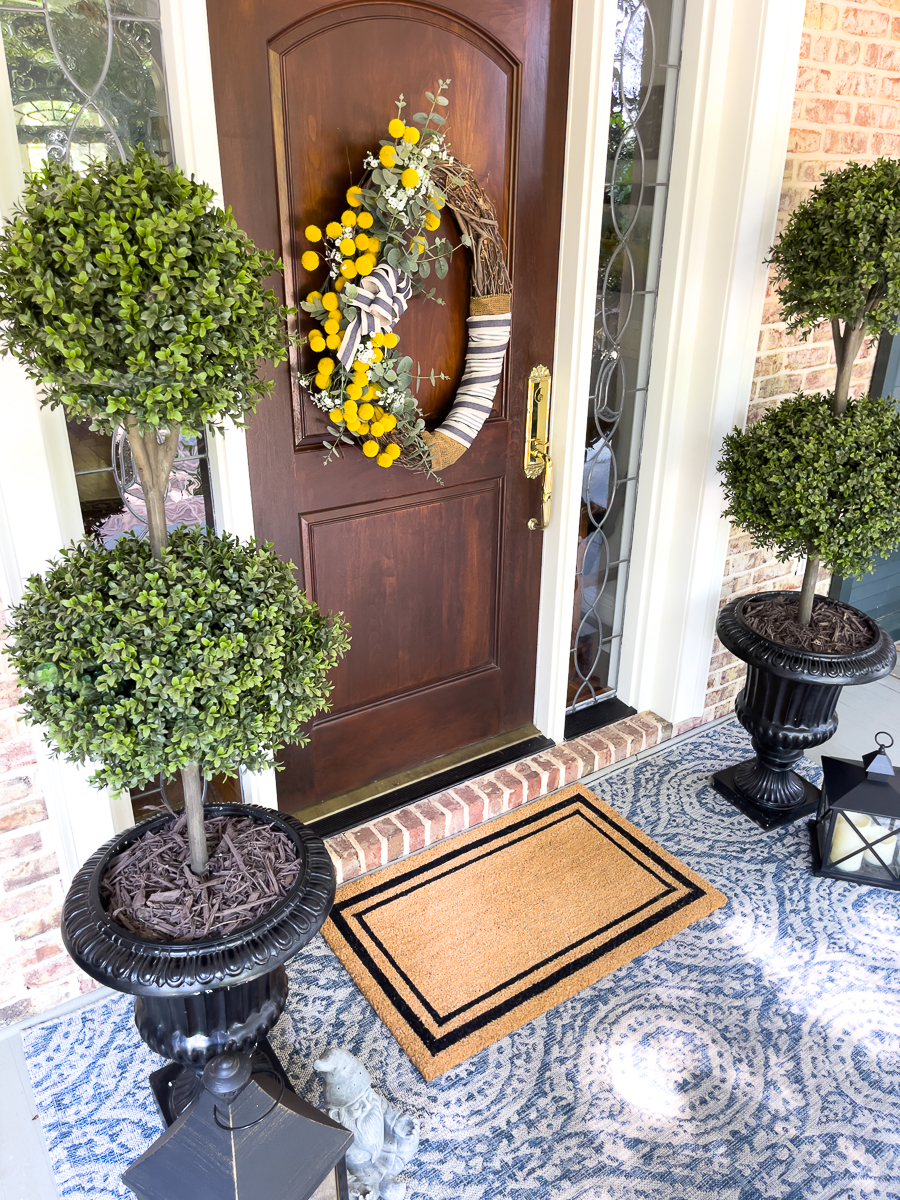 Faux Topiaries | Similar Planters | Similar Lanterns | Fall Wreath | Door Mat | Similar Blue Rug
You can see more of my Late Summer Porch HERE.
Do you have a particular food that you could eat on repeat?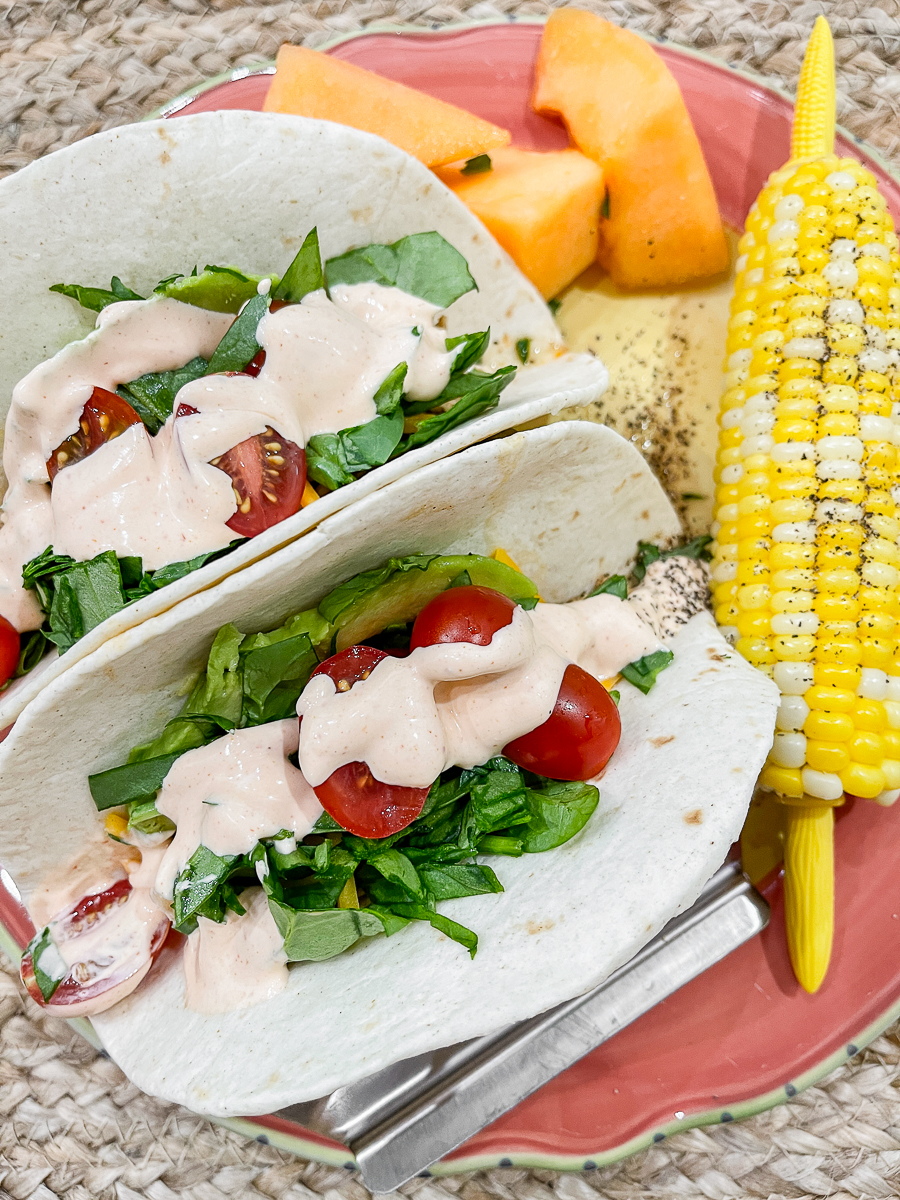 I love tacos! I'm not talking about the box kit. We haven't made that in years, mainly because Ashlyn has become such a great cook that she won't eat it. Honestly, I don't blame her. Honestly, when they were younger…..It was great for busy sports nights.
Making your own tacos is so much better!
I really need to do a blog post on other tacos that we make. This Steak Taco recipe is a big favorite of ours!
We do frozen-battered fish tacos, shrimp tacos, and this week we had chicken tacos.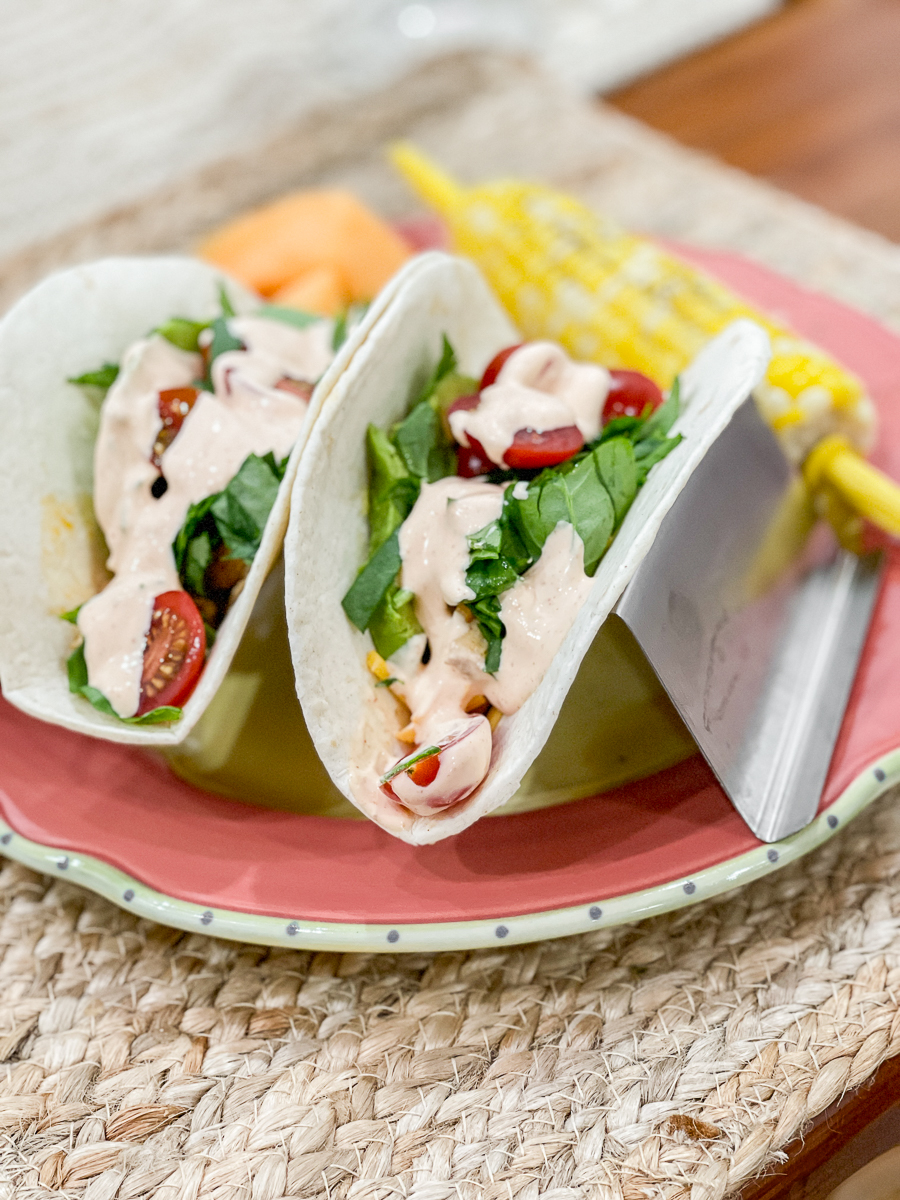 These taco stands are amazing and make eating tacos great because your filling doesn't fall out! They hold 2 on one side or flip it over for 3. I usually eat 2 tacos and the rest of my family eats 3.
I cooked 4 chicken breasts for the 4 of us in the Instant Pot with salt, pepper, Worchester sauce, chili powder, and chicken broth. As I said, I need to do a blog post so I can give you the exact amounts. I just toss it all in right now without measuring. I cook in on high pressure for 15 minutes and then shred it for the tacos.
Make a sauce of equal parts mayo and sour cream. Add siracha sauce and chili powder to taste and desired heat. Thin it until it's pourable with lime juice. I use a whisk.
It's so good!!!! The sauce is also made for all of our tacos with the exception of the steak tacos.
WHAT I'M READING
WHAT WE'VE BOUGHT
This bedskirt for the quest room (due in Tuesday)
This bedskirt for Ashlyn's bed (due in Tuesday)
The kids rent & buy their college text books from Amazon
I exchanged my glass cabinet door curtains for these wider ones. Same ones, just ordered wider for fullness. I still need to hem them.
What Caught My Eye
Loving these tips for fall decorating…..think simple!
This is an adorable boy's bedroom on a budget.
This kitchen makeover with builder-grade cabinets is gorgeous!!!!
This is perfect for late summer!!! Tips on decorating without pumpkins!
Check out these 20 ways to DIY your own curtain rods!
Can't wait to try this Chicken Enchilada recipe!
I'm loving this 30-day arm challenge! I'm on day 14.
I hope you have a fabulous weekend!!!!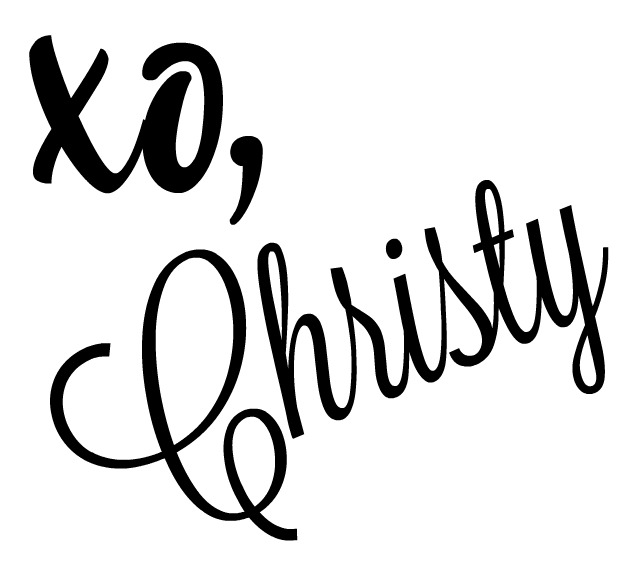 Buffer