Distressed Denim After 40

Happy Friday and welcome to another Favorite Things Friday!
This week as been the strangest week that I have ever had. I'm not sure strangest is the right word…..odd, sad, the list goes on…
This week marks the first week of us officially being Empty Nesters.
Will I ever get used to it? Does it get easier? Will the house always seem this quiet? I do miss the kids terribly. We are so proud and blessed with their accomplishments. Our son is a junior this year on the golf team and our daughter is a freshman on the tennis team. Their hard work at sports and academics has earned them fabulous scholarships. We are blessed that they are at the same college. That means same schedules for at least this year. I'd love to hear how you've dealt with the empty nest!
With this newfound freedom and time on my hands, I've taken on becoming a Beauty Guide with LimeLight by Alcone and a new interest in fashion.
I've always loved clothes and fashion, but I'm putting more effort into what I wear. I'm not wearing the same look over and over.
I am having fun "Shopping My Closet" for new to me looks.
Sometimes, an inexpensive necklace can completely revive a look. I'm wearing things in new ways, and I hope you will enjoy my journey.
Each Friday, I'll be sharing a look from my closet. I'll try to locate the exact item for you or some close looks at a great price. Sometimes I may just share something new!
I love Marshall's and TJ Maxx. It's not always possible to share the exact matches from those stores since they sell so quickly, but it's fun trying to locate them online for you!
Ashlyn insisted that I try on a pair of distressed jeans. I caved and tried them….guess what? I love them and wear them a lot. They can be dressed up or down.
Yes, you can be over 40 and wear distressed denim. The trick is the cut and how you wear them. No, I will not be going for the skinny, skinny look. It's ultimately all about the comfort for me. I encourage you to step out of your comfort zone and give them a try!
This post contains affiliate links. You can read my full disclosure policy HERE.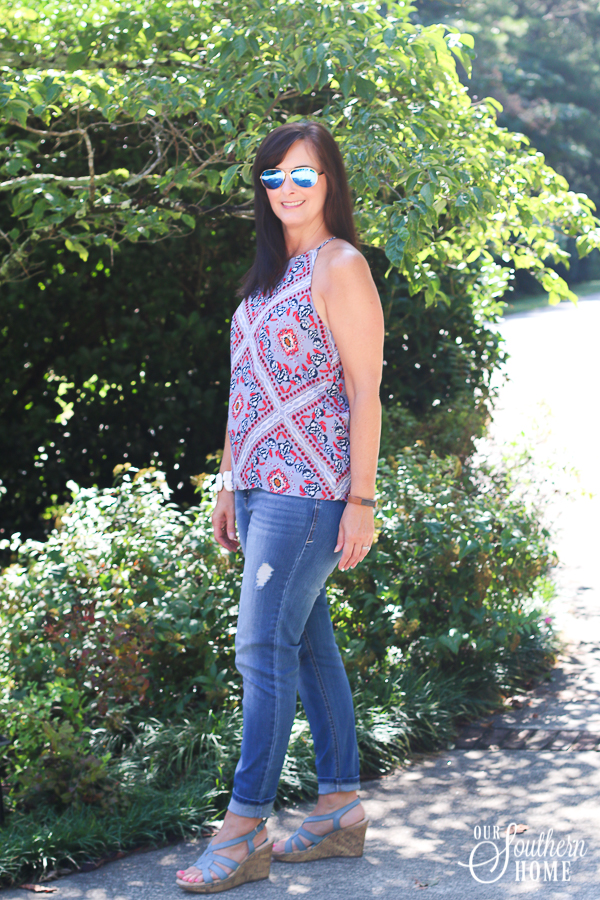 These distressed denim jeans are by Kensie Jeans. They've got stretch in them. Love that! I found mine at Marshalls, but I was able to find them online at Nordstrom Rack and Amazon. You'll see them below in the boutique.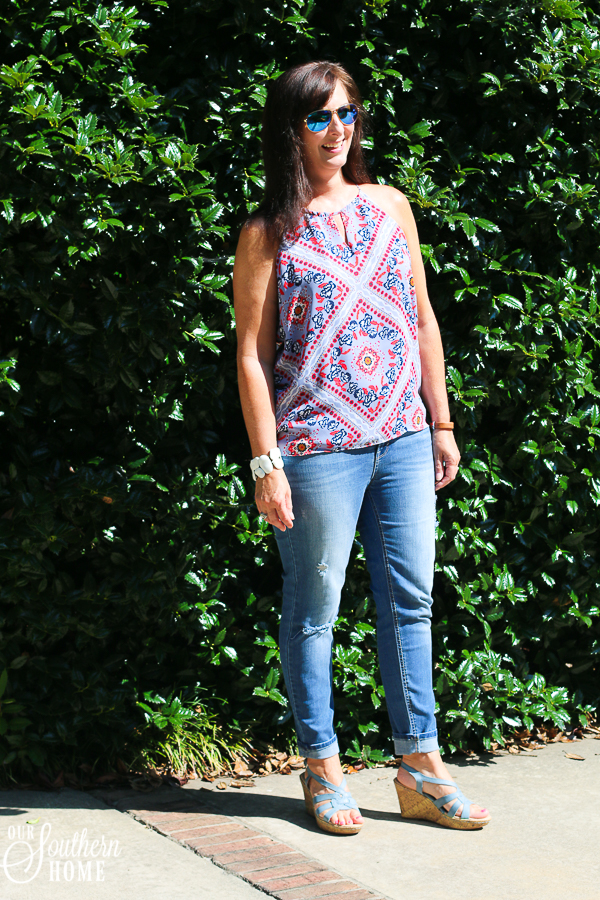 The top is also from Marshalls. It's by Finn & Grace. I wasn't able to locate it online, but you'll find some other floral tops that I found. I wore this outfit out with the kiddos to go back to school shopping. With the distressing of the denim, I felt put together with the top and my Boc blue wedges. These have been in my closet for several years. I can easily add a boyfriend fit cardigan for fall.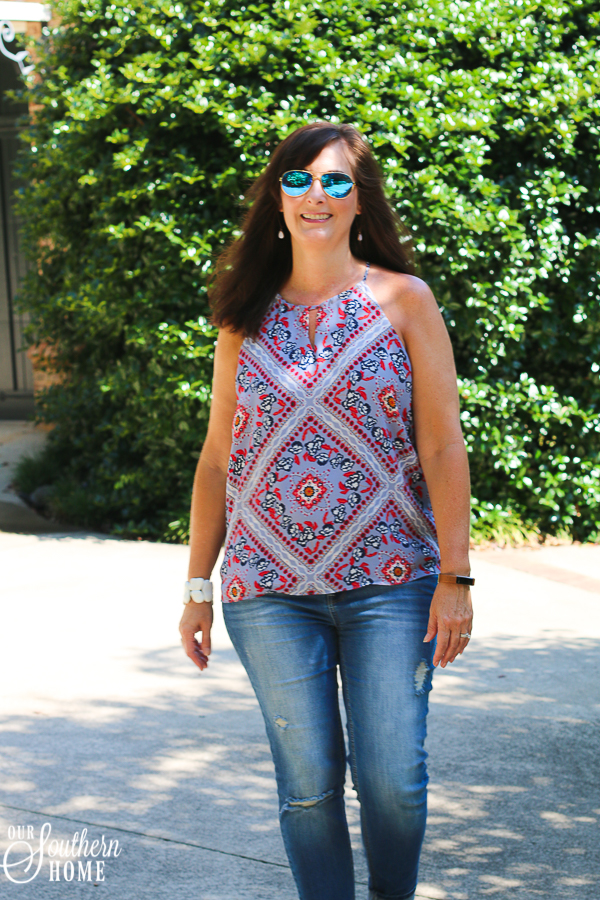 Here you can see a bit more of the distressing. I can't wait to wear them with short boots in the fall! These Oakley aviators are seriously the most comfortable glasses ever. Ashlyn got them for graduation, and I borrow them on occasion.
You'll notice that I wear my FitBit daily. I am kind of obsessed with getting my 10,000+ steps daily. I've finally found a few great more watch like bands for my Alta.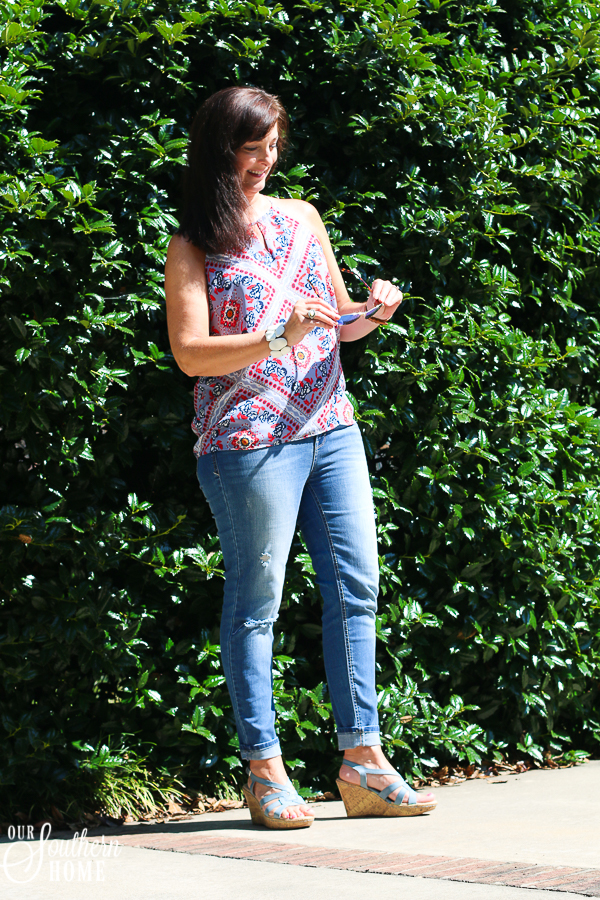 Similar and Like Items to Shop My Look!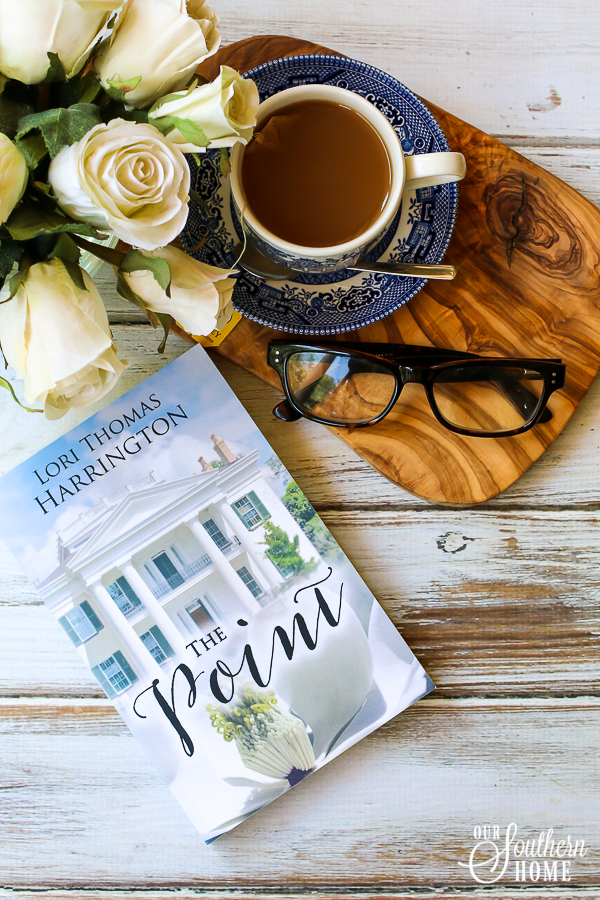 I'll be sharing more about this book, The Point and how I know its author, Lori Harrington. I am so enjoying it. If you love a good southern romance novel, then I recommend it! More to come on it. You can find it HERE.
LimeLight By Alcone Spotlight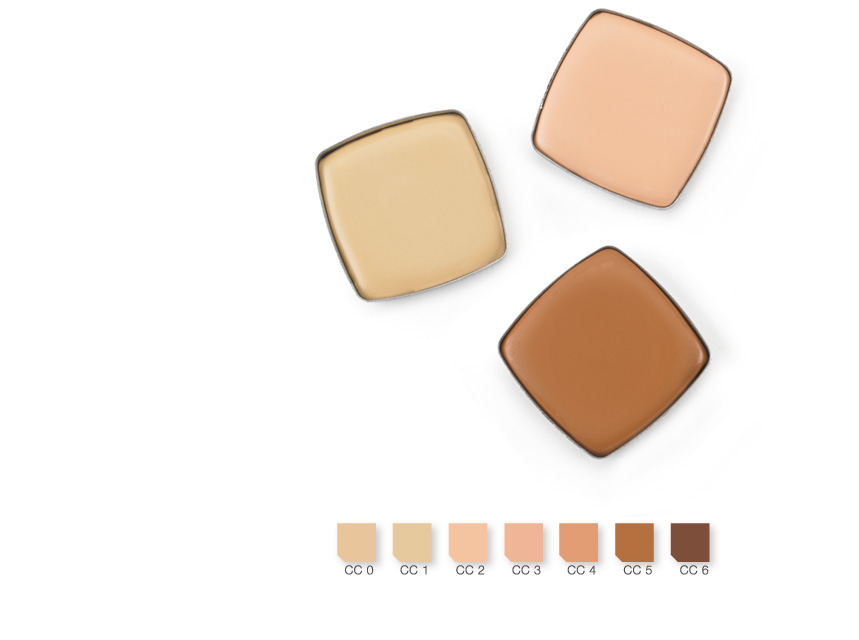 Made famous by world-renowned makeup artists, this camouflage concealer creme is considered the best professional cover up. It is long-lasting, waterproof, and opaque yet feels light on the skin. Artist use it to conceal but also to highlight and shade features. It can completely conceal tattoos, veins, dark under-eye circles, and skin discolorations. View it here.
Let me know if you'd like to discuss LIMELIGHT! We can meet up if local or chat on the phone/Facetime!
Here are a few BEFORE and AFTER photos!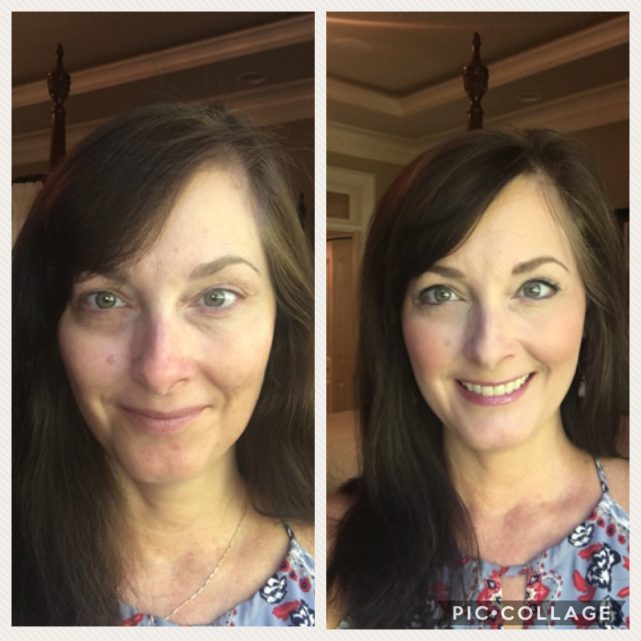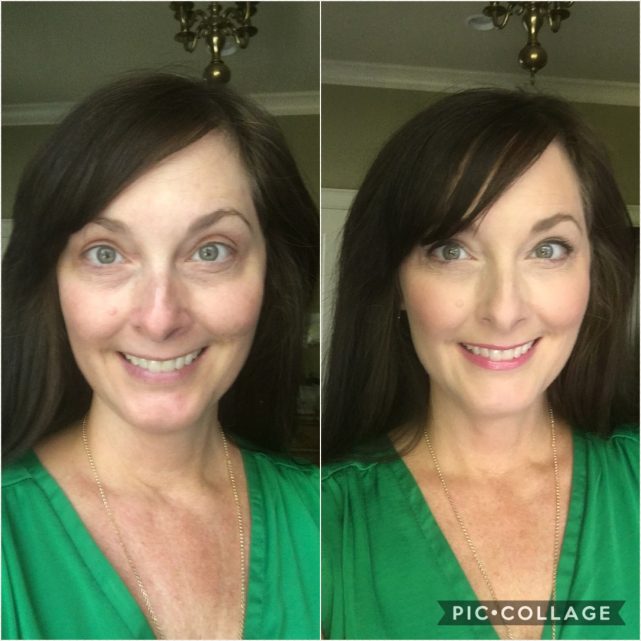 Join my Facebook group where we talk all things beauty, fashion and life!
I have also started an Instagram account for fashion and beauty as well!
Previous posts you may enjoy!
Cobalt Blue Cold Shoulder Dress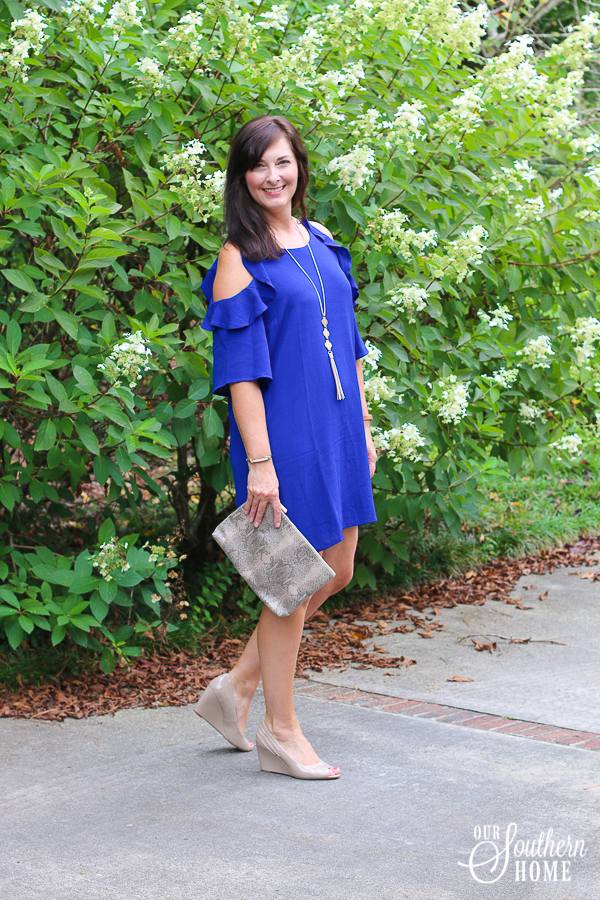 Early Fall Fashion Finds: The Black Dress & Jackets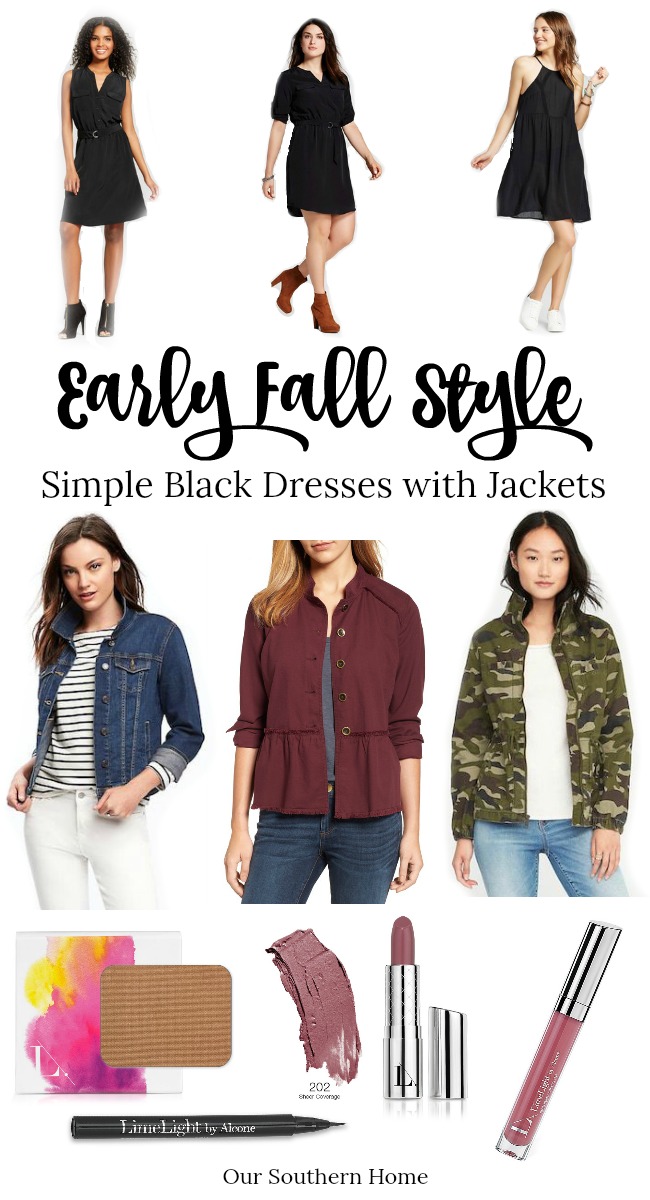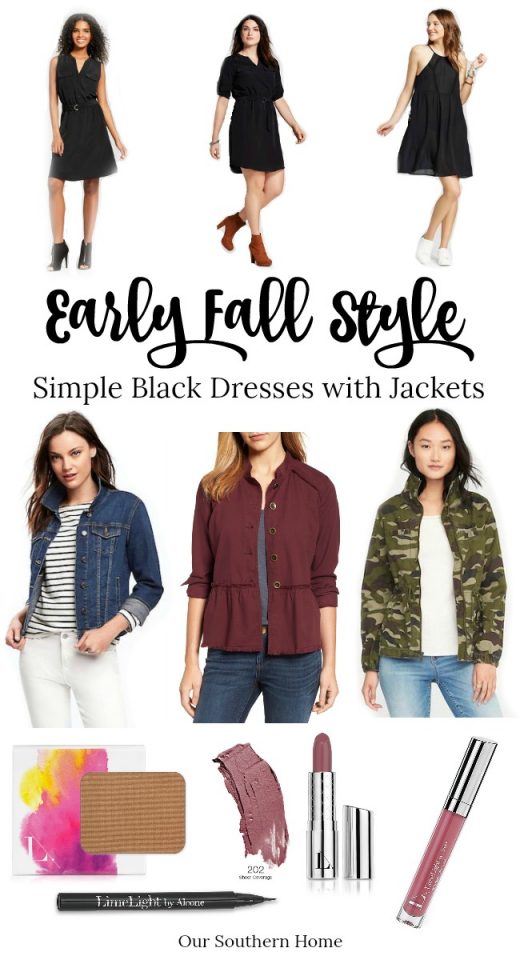 Check out these other fashion and beauty posts from my blog friends!
Have an amazing weekend!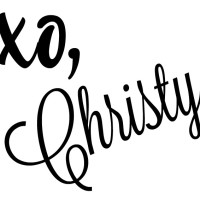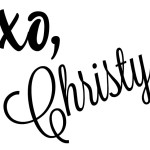 Buffer