Coral Inspired Summer Travel Looks
Coral inspired summer travel looks with Chico's for your summer getaway to help you pack more efficiently.
This post is sponsored by Chico's. All opinions are my own.
Coral Inspired Summer Travel Looks
It's been quite some time since we've all been able to travel. I don't know about you, but I've been itching to go somewhere.
We had a big trip to France planned for the summer to celebrate the kids graduating from college in December. We would have been leaving in a couple of weeks. We were so excited. We would spend the majority of the trip on a self-guided houseboat through the countryside then ending the trip with a few days in Paris. We did this trip over 20 years ago, and the kids have always enjoyed hearing about it. With the uncertainty of going abroad at this time, we decided to roll over the money that we had paid to do the trip next summer. While we are happy with the decision, we are disappointed nonetheless.
Our plan this year is to spend time at our multi-family beach house and do some quick trips within driving distance. We did go to Nashville last week for a 3 day trip. I'll be sharing more on that very soon.
One thing that I have learned through the years is to do a better job at packing.
I've come a long way since that France trip back 20 years ago. The giant suitcases that I could barely navigate on my own through airports and train stations are something to look back on and laugh at now. We met up with 2 other couples on that trip. One was an airline pilot and his wife. They knew how to pack. Back then they had one carry-on suitcase and a backpack! I've gotten a bit better.
Today with the help of Chico's, I am going to share my travel packing tips with coral inspired summer travel looks.
Coral Inspired Summer Travel Looks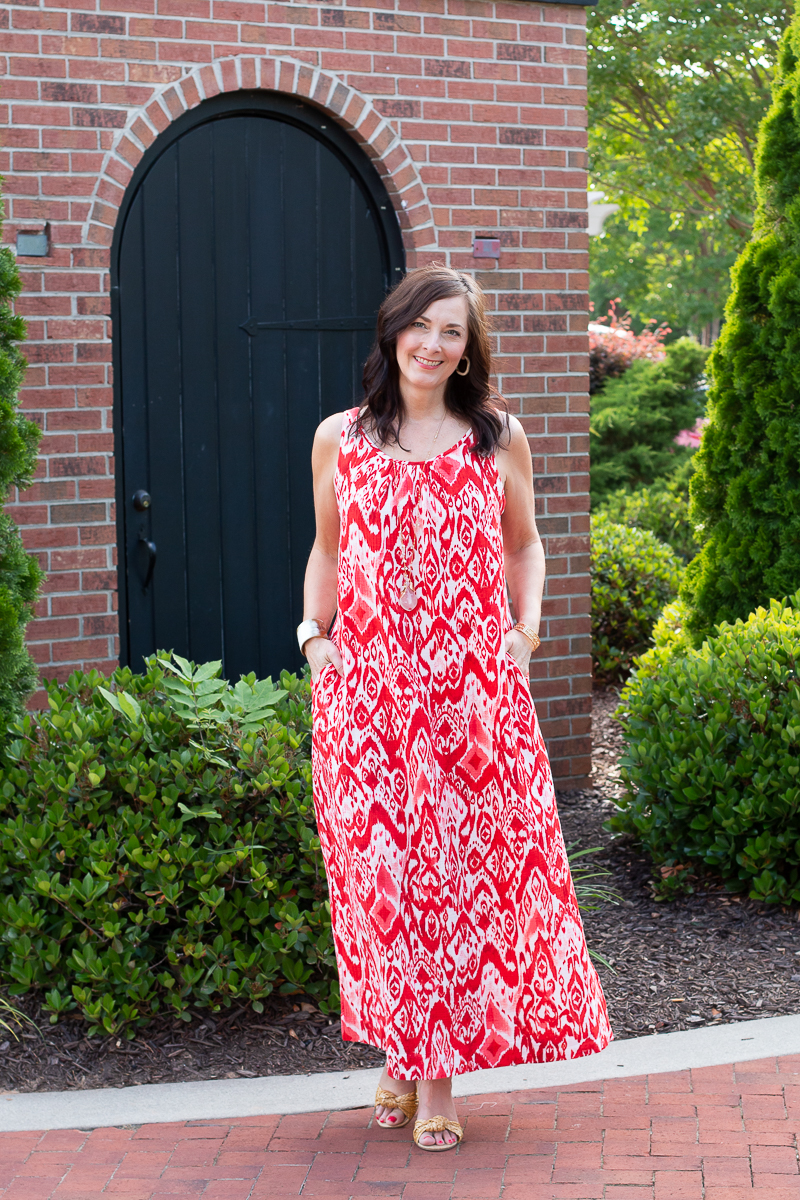 Ikat Dress | Horn Bracelet | Gold Bracelet | Necklace | Earrings | Sandals


Pick a Color Scheme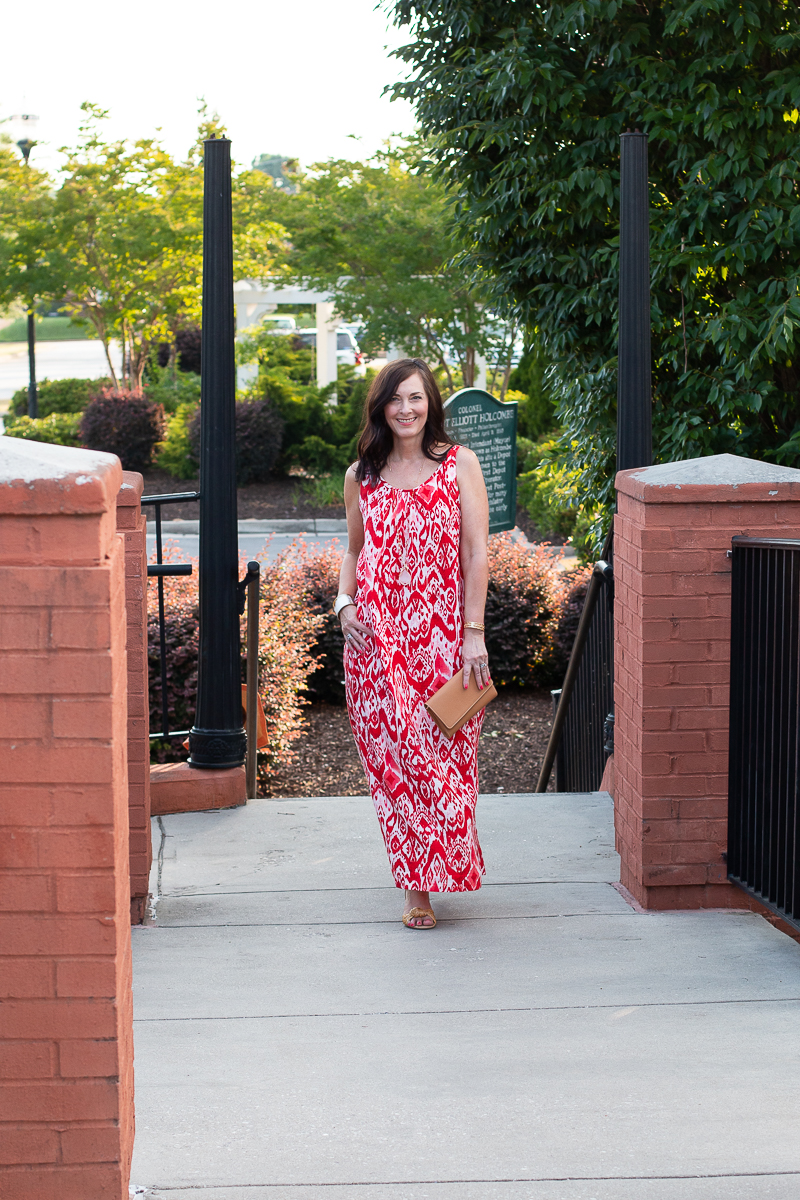 Ikat Dress | Horn Bracelet | Gold Bracelet | Necklace | Earrings | Sandals
Shades of red and coral are gorgeous for summer! They are vibrant, fun, and work well with lots of colors. Honestly, red is a color that I don't wear a lot. When I started looking on the Chico's website, I was totally drawn to this color. I built a fun summer travel wardrobe around it that can be mixed and matched as well as dressed up or down.
I built my wardrobe around coral with neutrals, blue and black.
The moment I saw this dress, I knew that I had to have it. It's perfect for all kinds of summer occasions from beach trips, to lunch with friends to a date night downtown.
Fit Tip: I am wearing a Chico's size 0 in this dress. I am typically a size 6-8.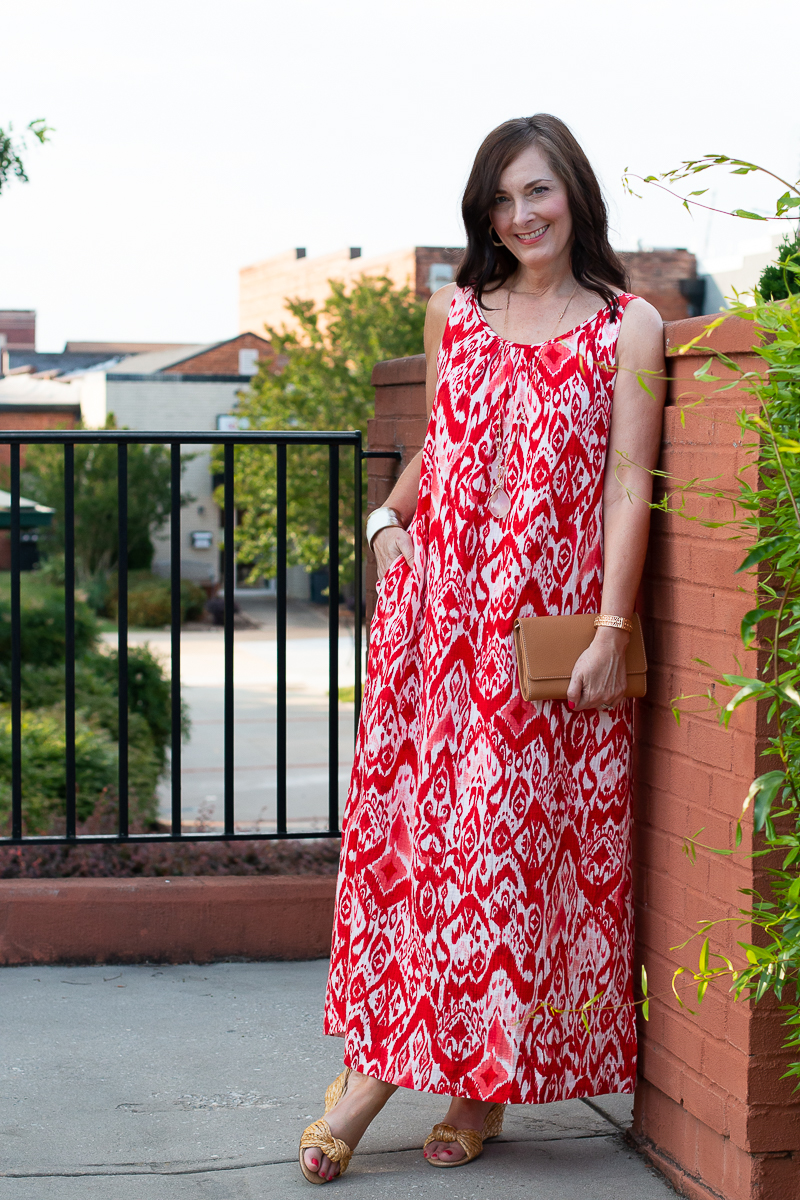 It's gorgeous with a gauze fabric. It's lined so no need for a slip. It's a loose fit with side slits for easy walking. PLUS, it has pockets! I love how Chico's incorporates pockets into lots of their clothing. Best of all, the pockets don't add bulk to the dress!
Be sure to check out my Instagram highlights for video details of all of these looks!
Pick a color scheme when traveling! This will allow you to easily coordinate shoes, accessories and be able to mix and match pieces.
Day to Night Looks
Day to night looks are perfect for travel. I like to find pieces that I can simply change the look of with jewelry, my hair, a bag and shoes.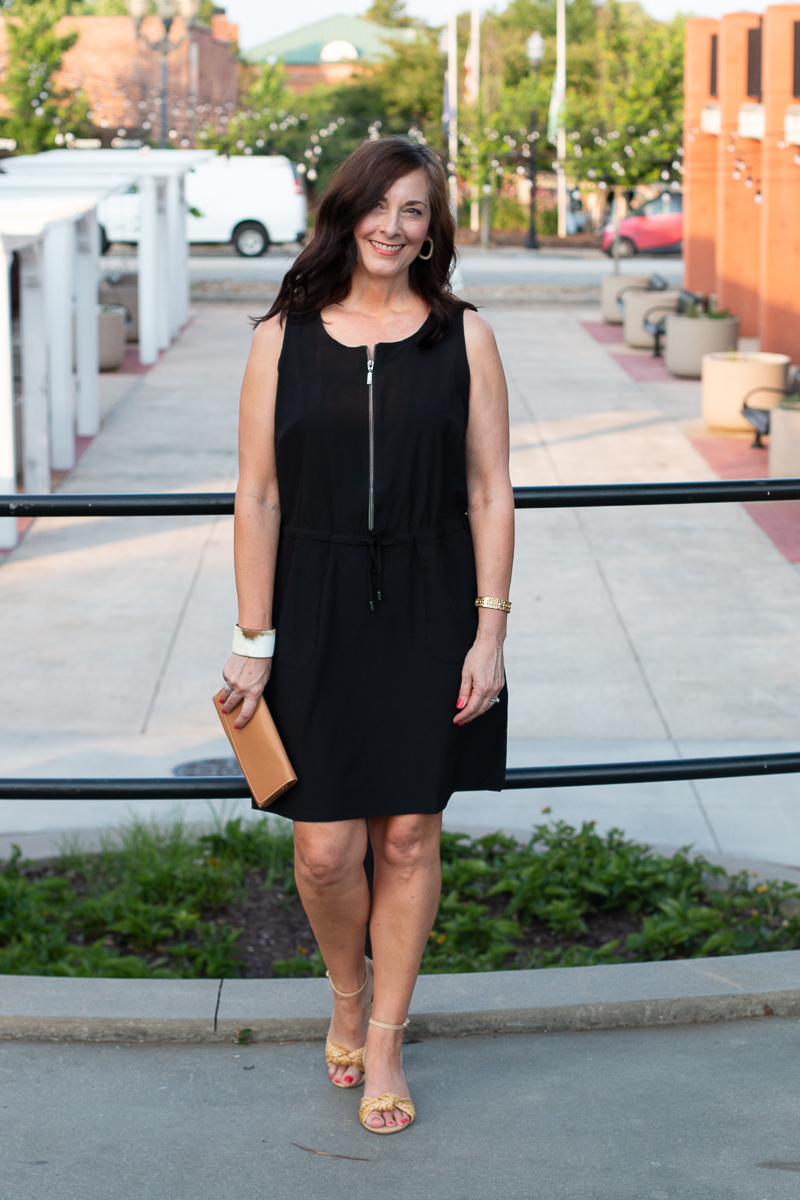 Purse | Black Dress | Horn Bracelet | Gold Bracelet | Earrings | Sandals
You can never go wrong with picking one little black dress! I can't even begin to tell you how many times that I have worn this dress.
I've worn it above for a date night with wedges and a clutch.
I have also worn it with sneakers and slides.
This dress is so lightweight that you feel like you aren't wearing anything. Ha, ha! It was great on our trip to Nashville for a day to night look.
FIT TIP: I am wearing a size 1 in this dress. I probably could have worn the .5.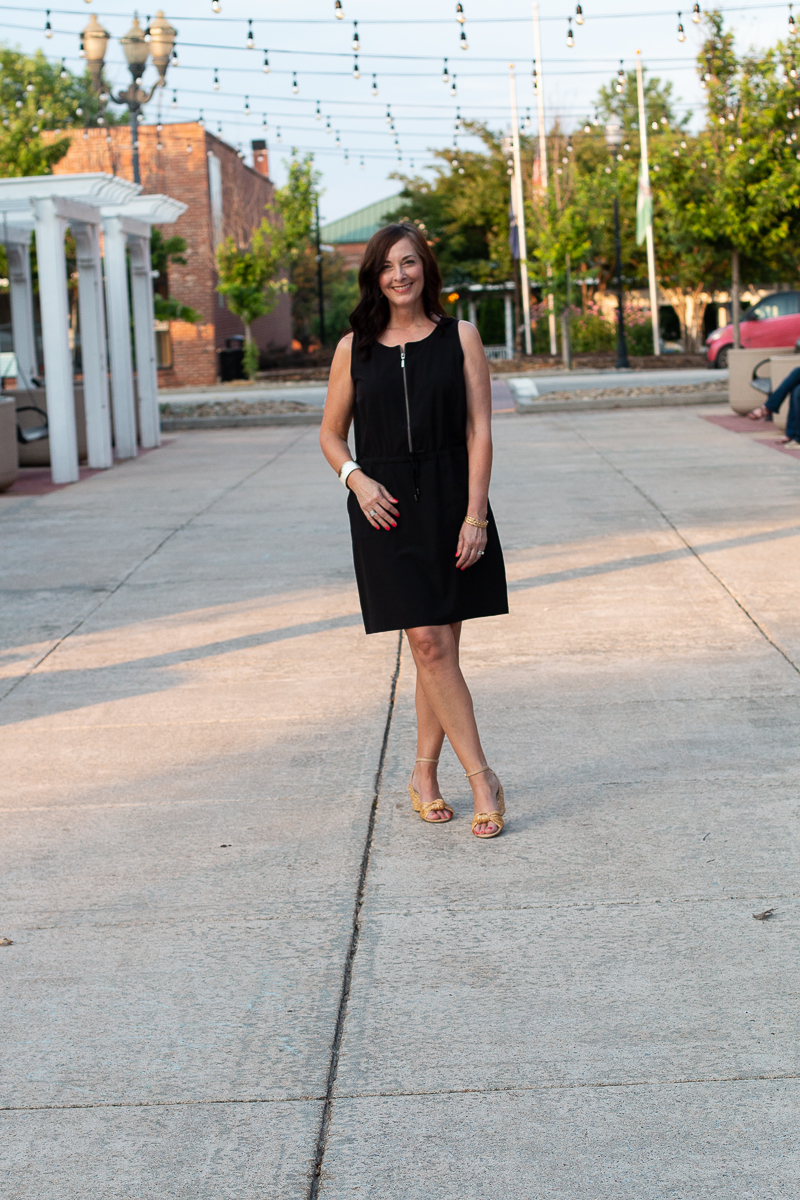 Purse | Black Dress | Horn Bracelet | Gold Bracelet | Earrings | Sandals
I like day to night looks for those days that I know we will be tight on time and plan to do something a bit more relaxed for dinner.
This small leather shoulder bag is perfect for travel. I can use the strap for day and remove it for a clutch evening look. It has spots for your ID and credit cards. It even holds my large smart phone with bulky case.
Now that the kids are adults, I don't feel like I have to carry a large bag to house everything for everyone. PLUS, it hurts your shoulder after being out and about all day. We've gotten to where we carry a small backpack that everyone takes turns carrying if need be.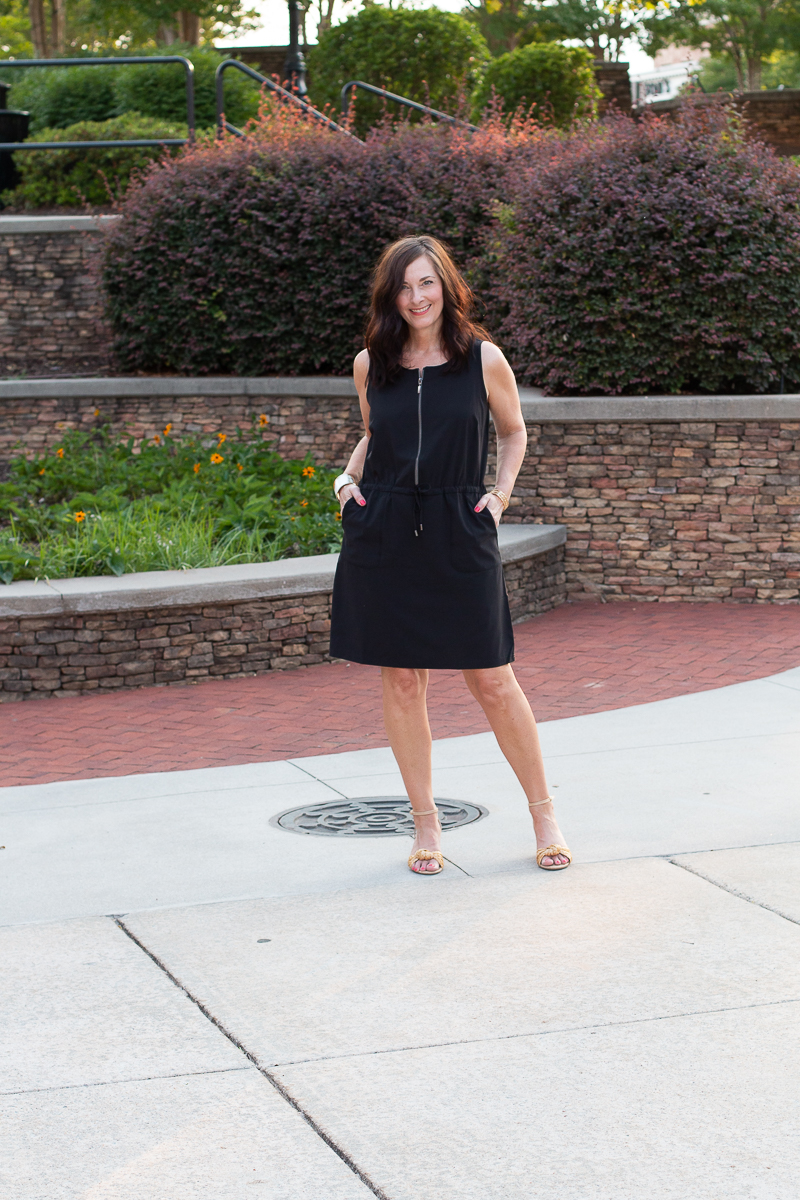 Purse | Black Dress | Horn Bracelet | Gold Bracelet | Earrings | Sandals

It's got those pockets that I love!
This dress is so flattering. It has a drawstring waist to give you shape. I love the zipper detail around the neckline. You could also layer a colored tank for an extra pop of color.
You can also go from day to night with a simple change in lip color. I typically take 2 lipsticks. I like one fairly nude for day and one bolder for evening.
Mix and Match Separates
I paired this amazing top with 2 pairs of pants for different looks. This will also look fabulous with these white shorts!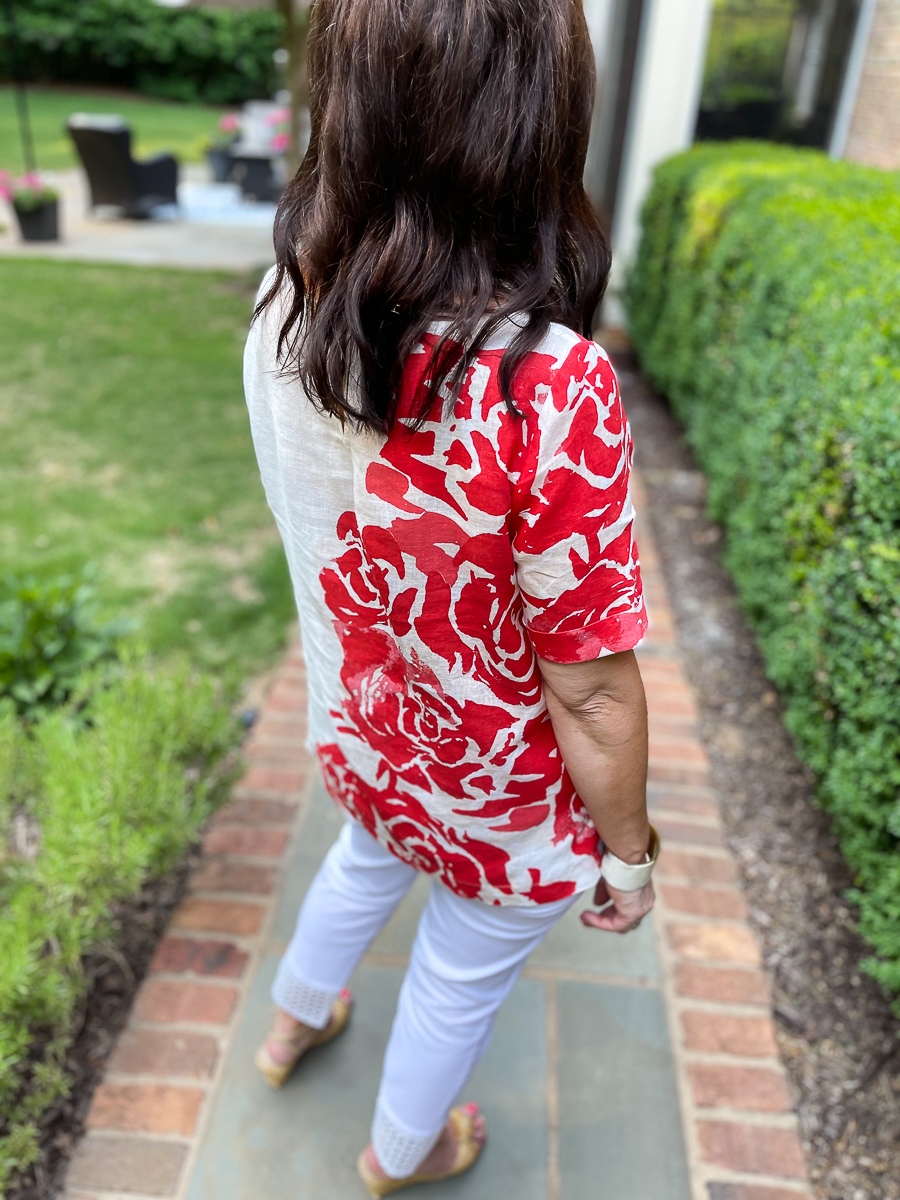 This floral linen tee creates a statement coming and going!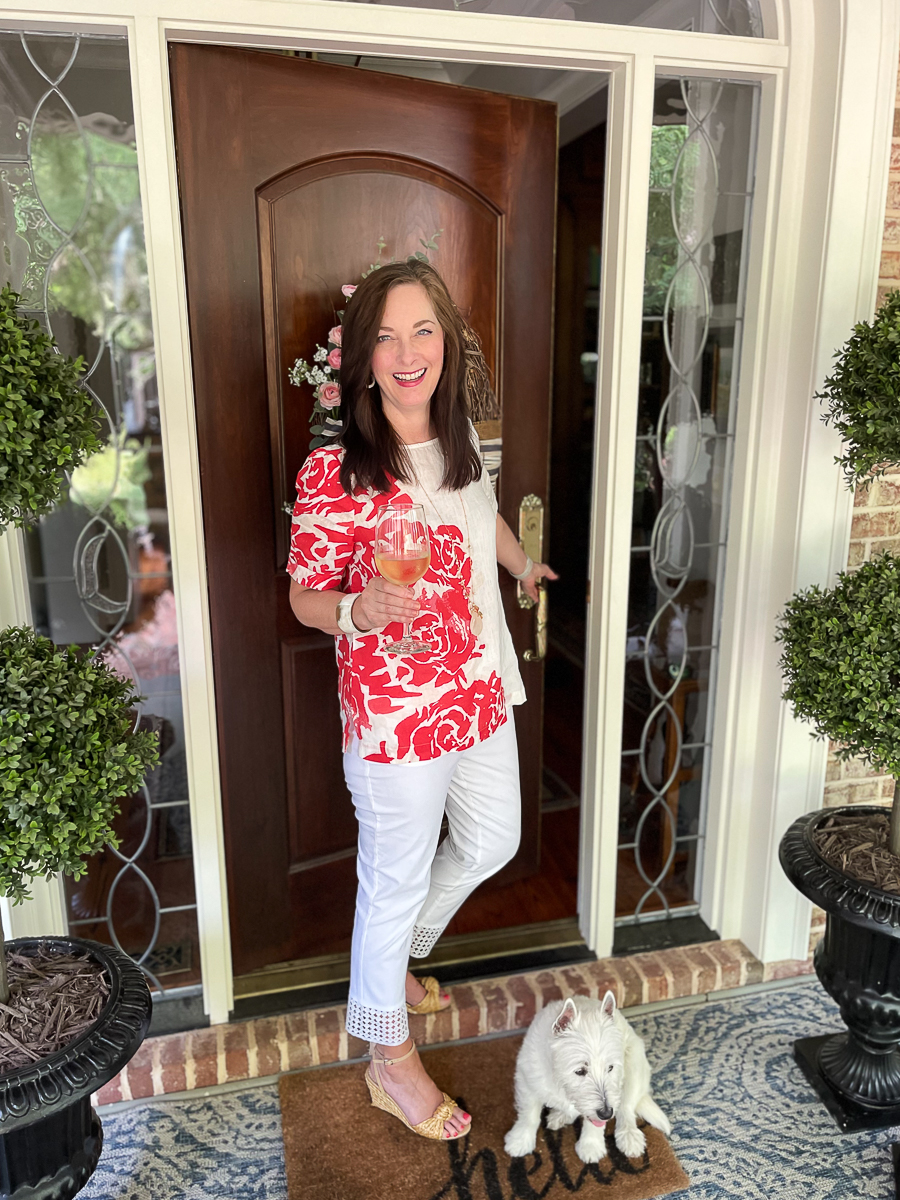 Purse | Floral Tee | White Pants | Necklace | Horn Bracelet | Gold Bracelet | Earrings | Sandals

I also wore this exact look while in Nashville one evening. These pants are the wildly popular Brigette line that is very slimming with stretch in fabric and pull-on styling.
FIT TIP: I am wearing a .5 in the pants and a size 1 in the floral linen tee.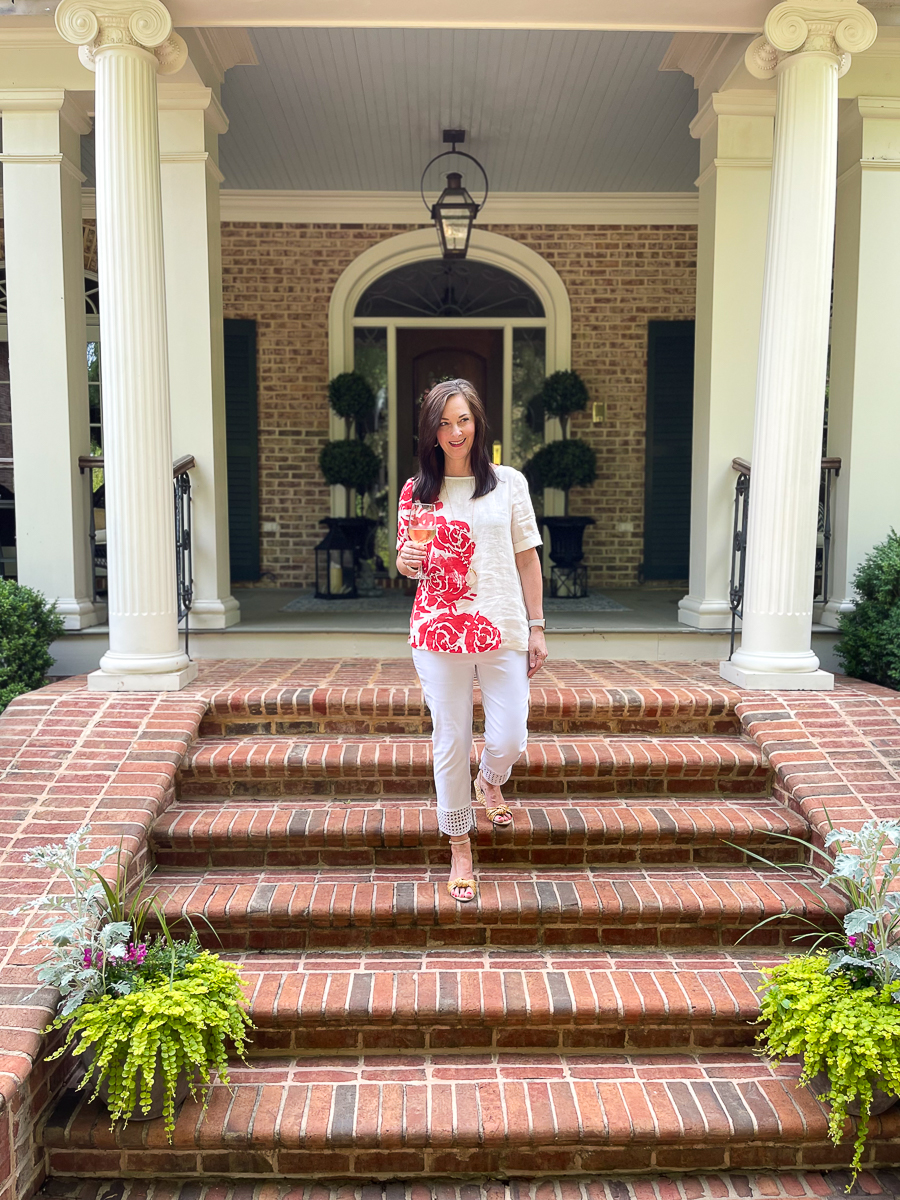 Purse | Floral Tee | White Pants | Necklace | Horn Bracelet | Gold Bracelet | Earrings | Sandals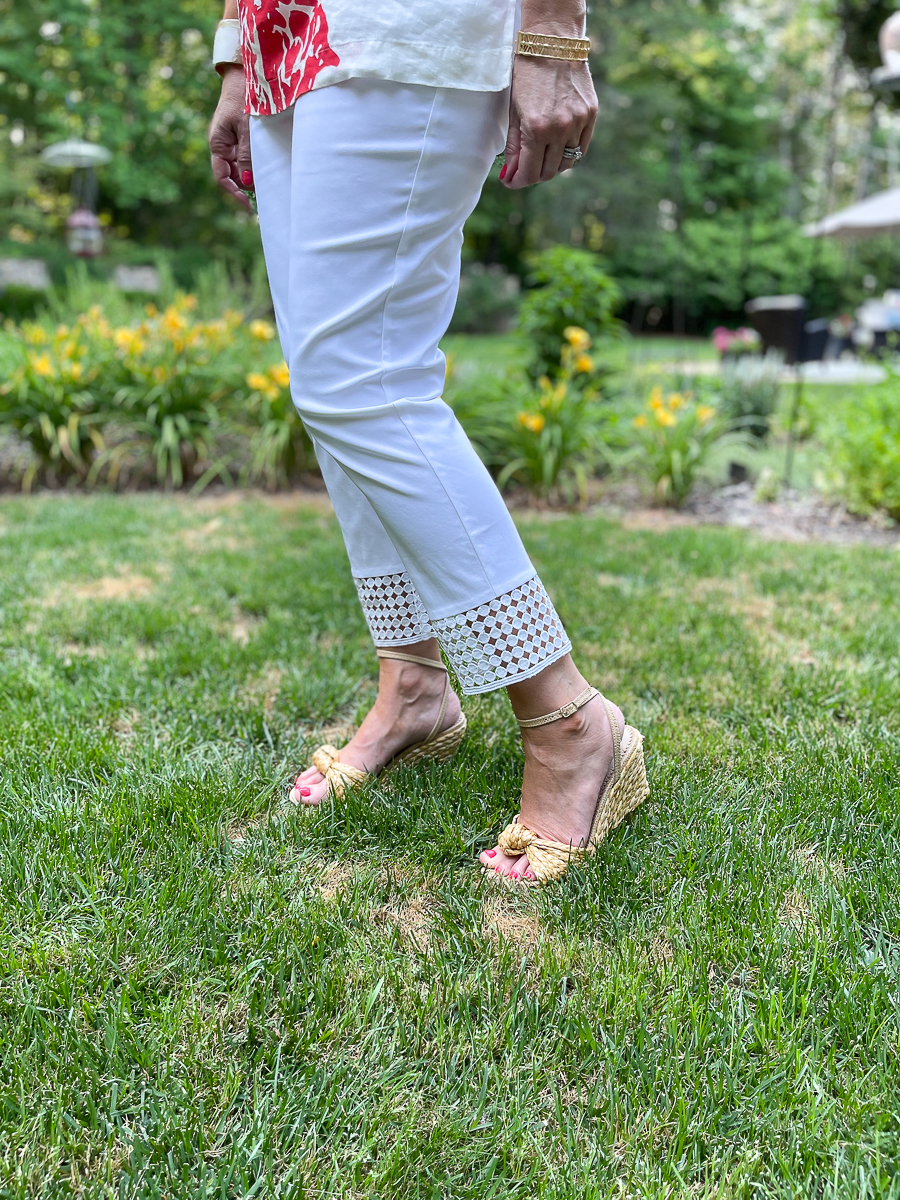 Purse | Floral Tee | White Pants | Necklace | Horn Bracelet | Gold Bracelet | Earrings | Sandals
Notice the darling detail at the hem. I love these extra unique touches. You don't find this very often!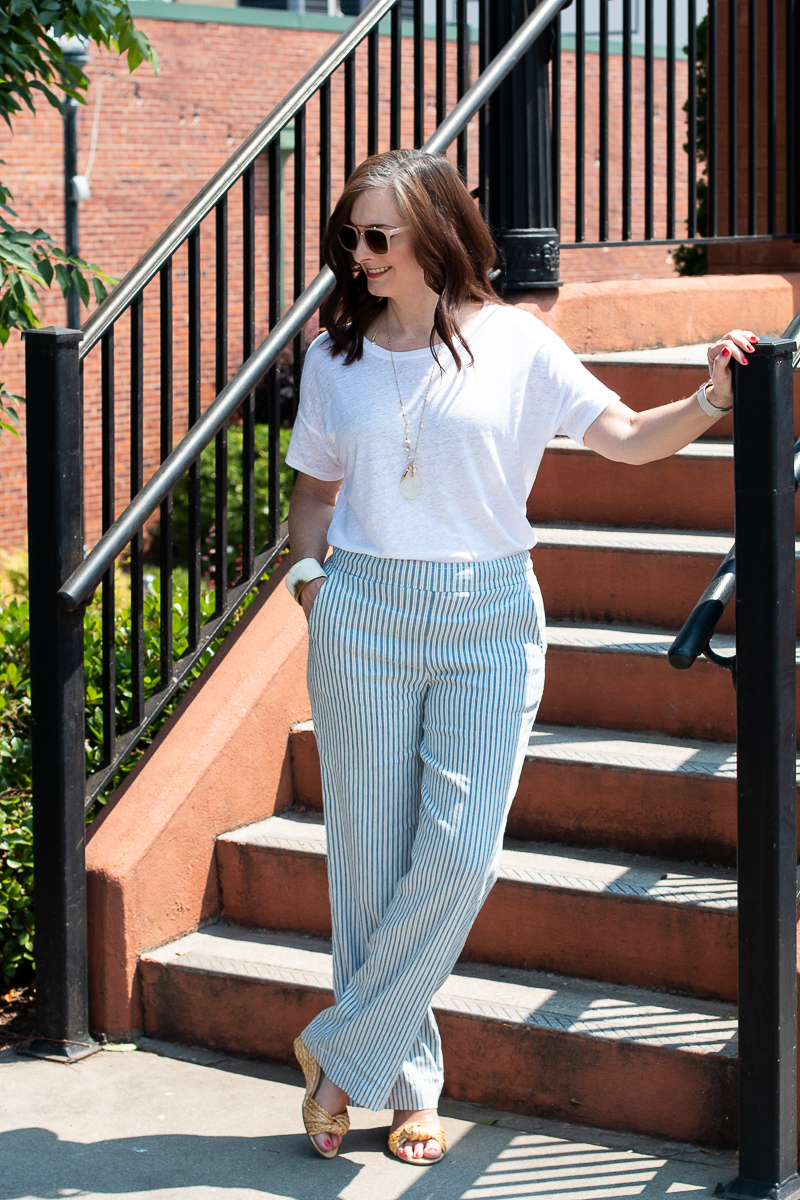 These linen pants are such an easy fit with the flowy, pull-on style.
FIT TIP: I am wearing a .5 in the pants and a 1 in the linen white tee.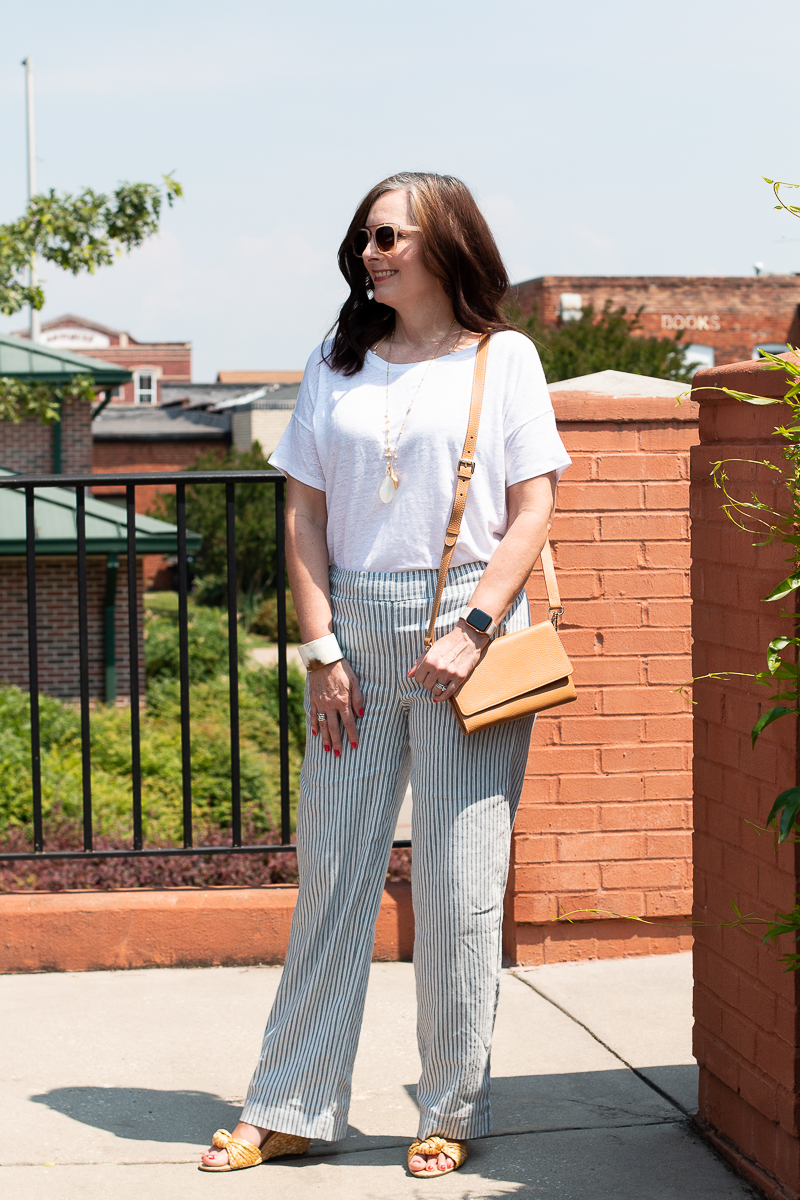 Notice the purse as a shoulder bag and a clutch for evening?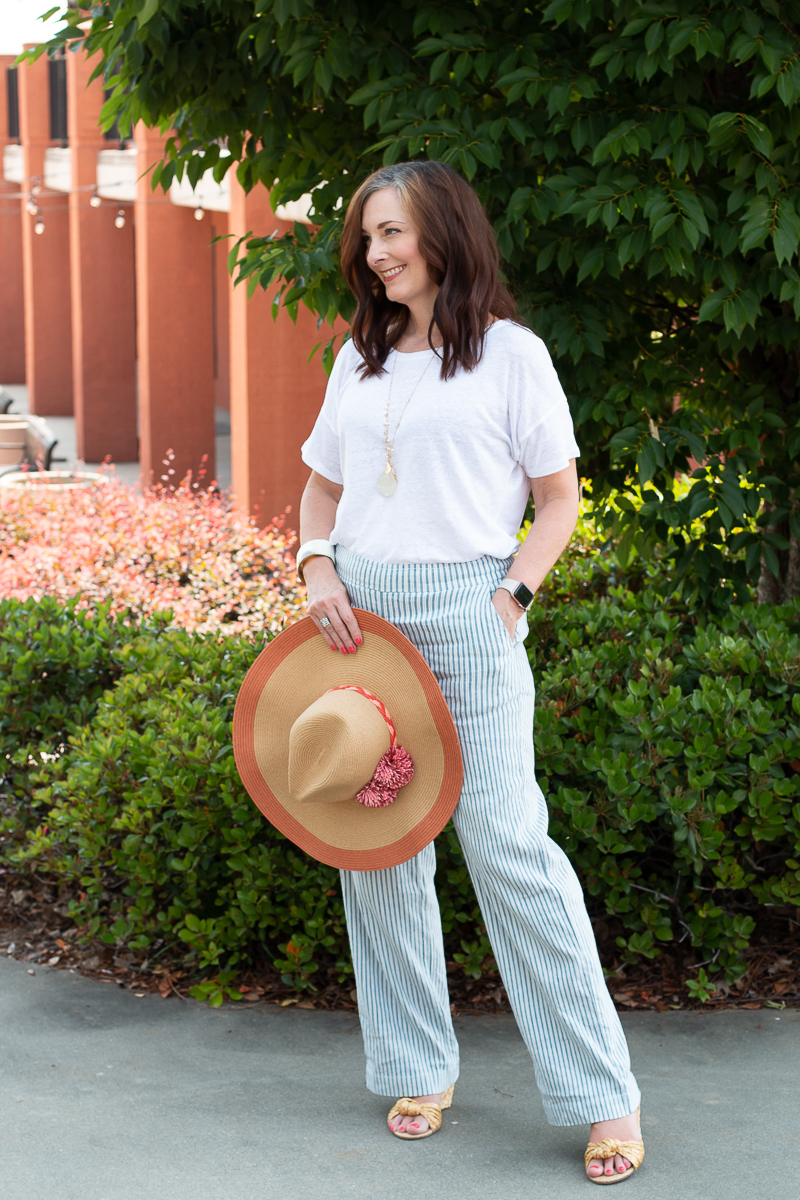 Hat | White Tee | Stripe Pants | Necklace | Horn Bracelet | Gold Bracelet | Earrings | Sandals

That gray hair grow out is sure showing. It's at an awkward stage for sure. Love adding a pop of coral with the sun hat.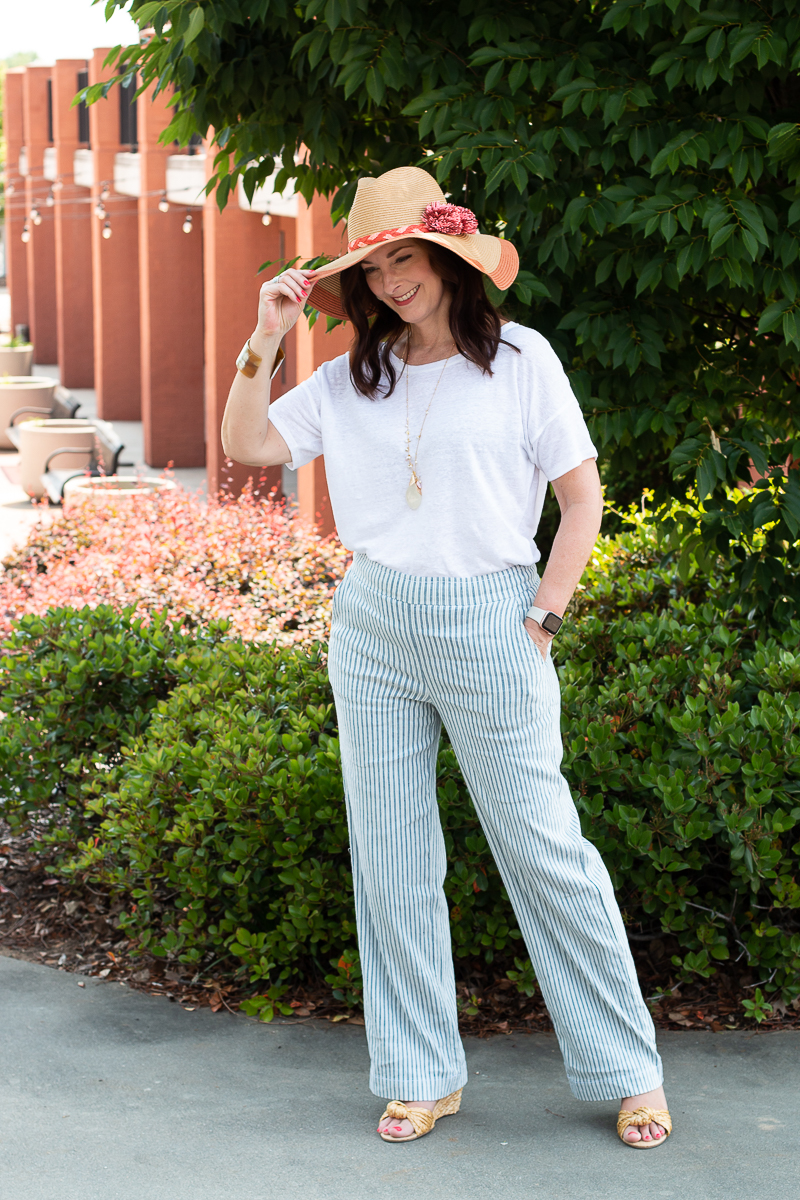 I've never been to The Hamptons, but I feel like I'm ready to with this look!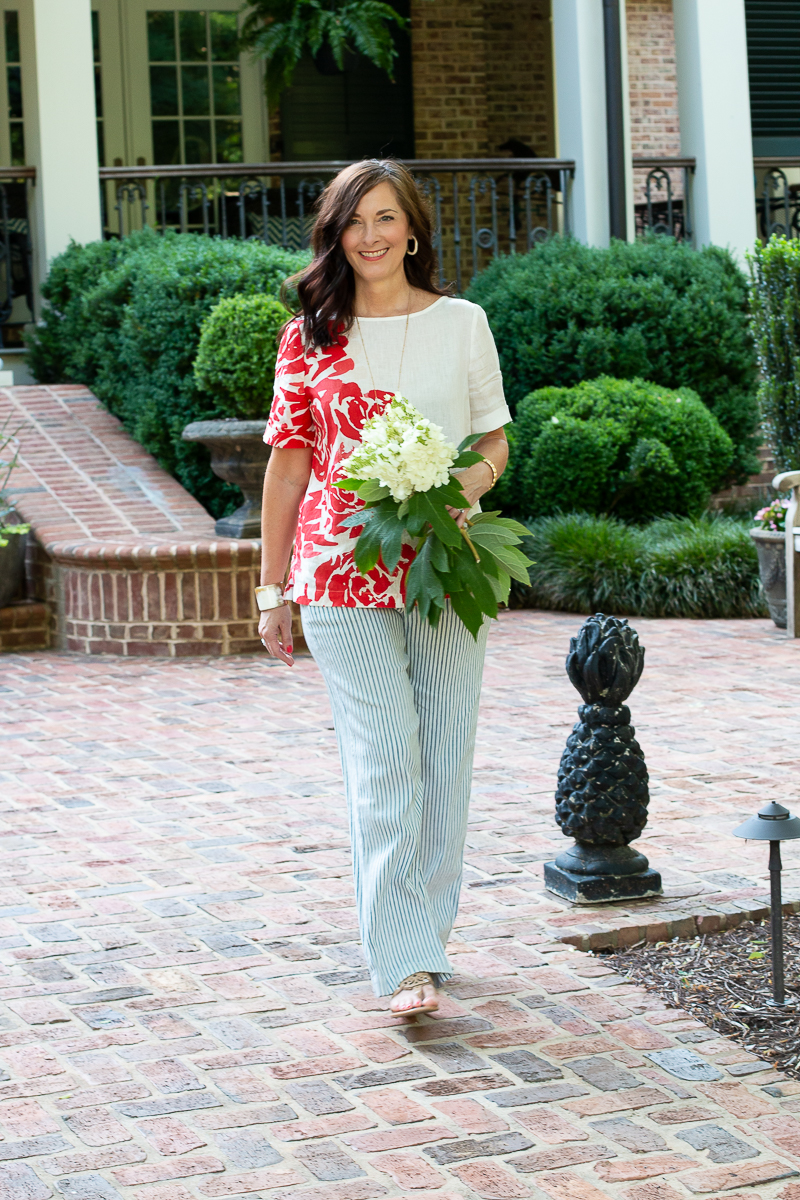 Purse | Floral Tee | Stripe Pants | Necklace | Horn Bracelet | Gold Bracelet | Earrings | Sandals

Don't be afraid to mix patterns. Stripes and florals are a great combination.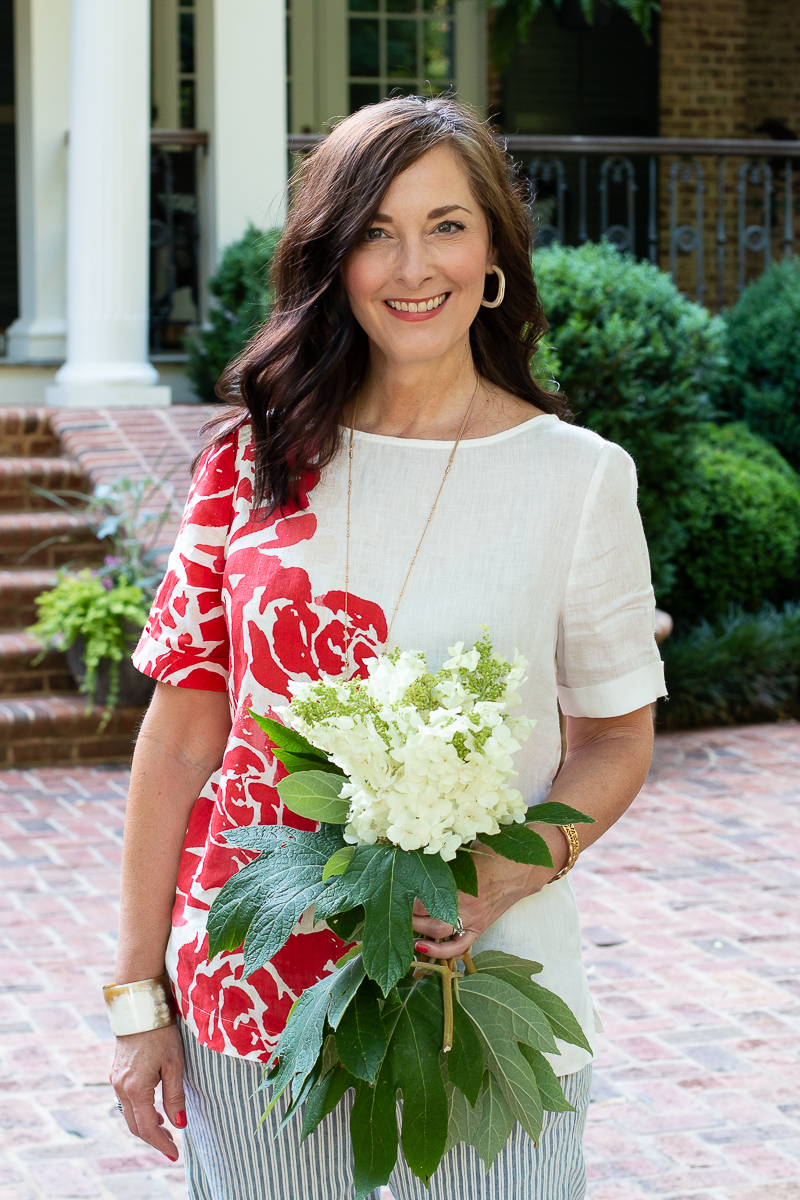 Purse | Floral Tee | Stripe Pants | Necklace | Horn Bracelet | Gold Bracelet | Earrings | Sandals
Shoes Take Up a Lot of Space
Once I decided on a coral look, I decided on 3 pairs of shoes that would work with all the looks whether it be day or night. I like to pack one comfy sneaker, a walking sandal, and a comfy sandal like a wedge for the evening.
Ashlyn is my sneaker addict. She has this pair and this pair that she swears by! I plan on adding one of these to my wardrobe.
Luckily, it's totally fashionable to wear sneakers with dresses these days!
TIP: Sneakers are a bulky item for your suitcase. Wear those when traveling.
Jewelry
With the exception of my wedding ring, I really don't travel much with anything other than costume jewelry. Costume jewelry is amazing at Chico's. I have cultivated quite a collection over the last year, and the quality is amazing.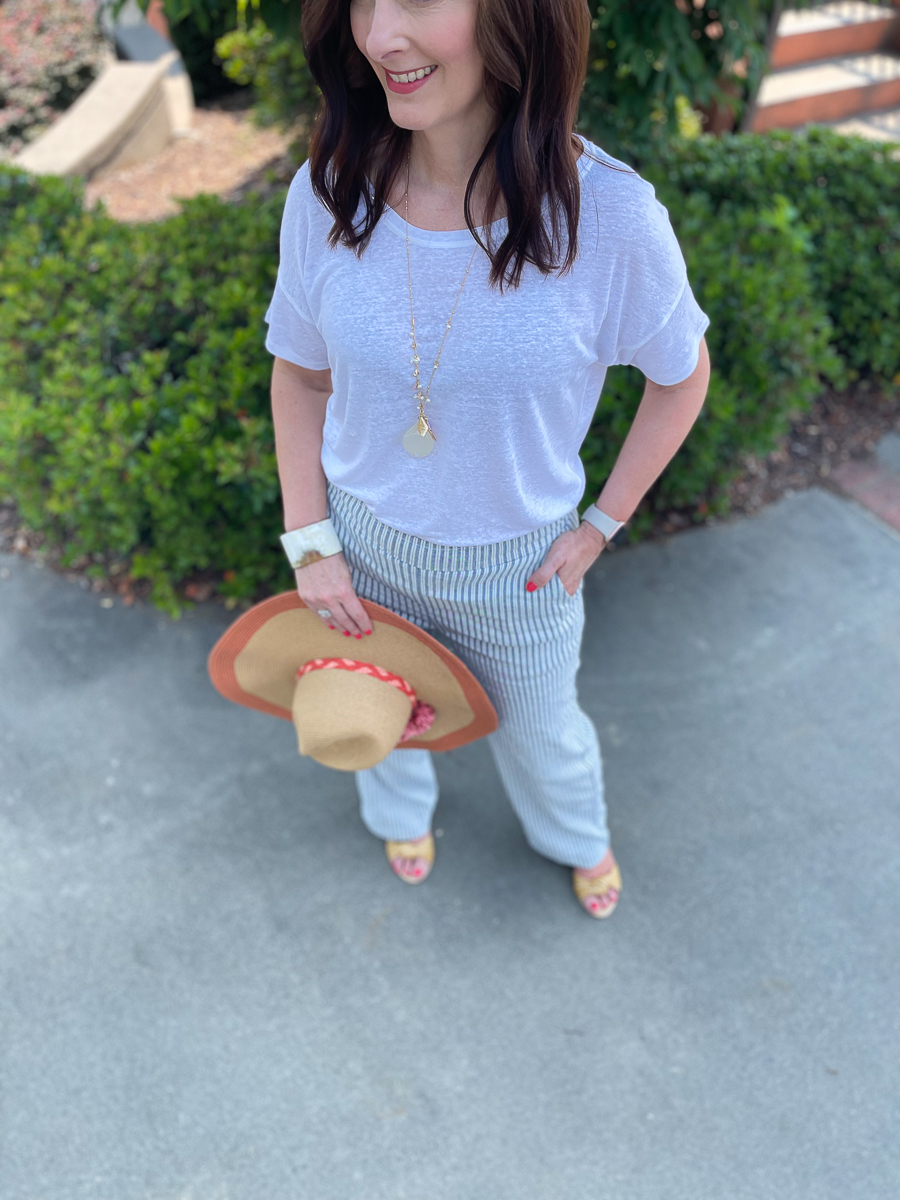 Typically, If I wear a bold earring, I go with no necklace or a dainty necklace. If I am wearing a bolder necklace, I go with small earrings.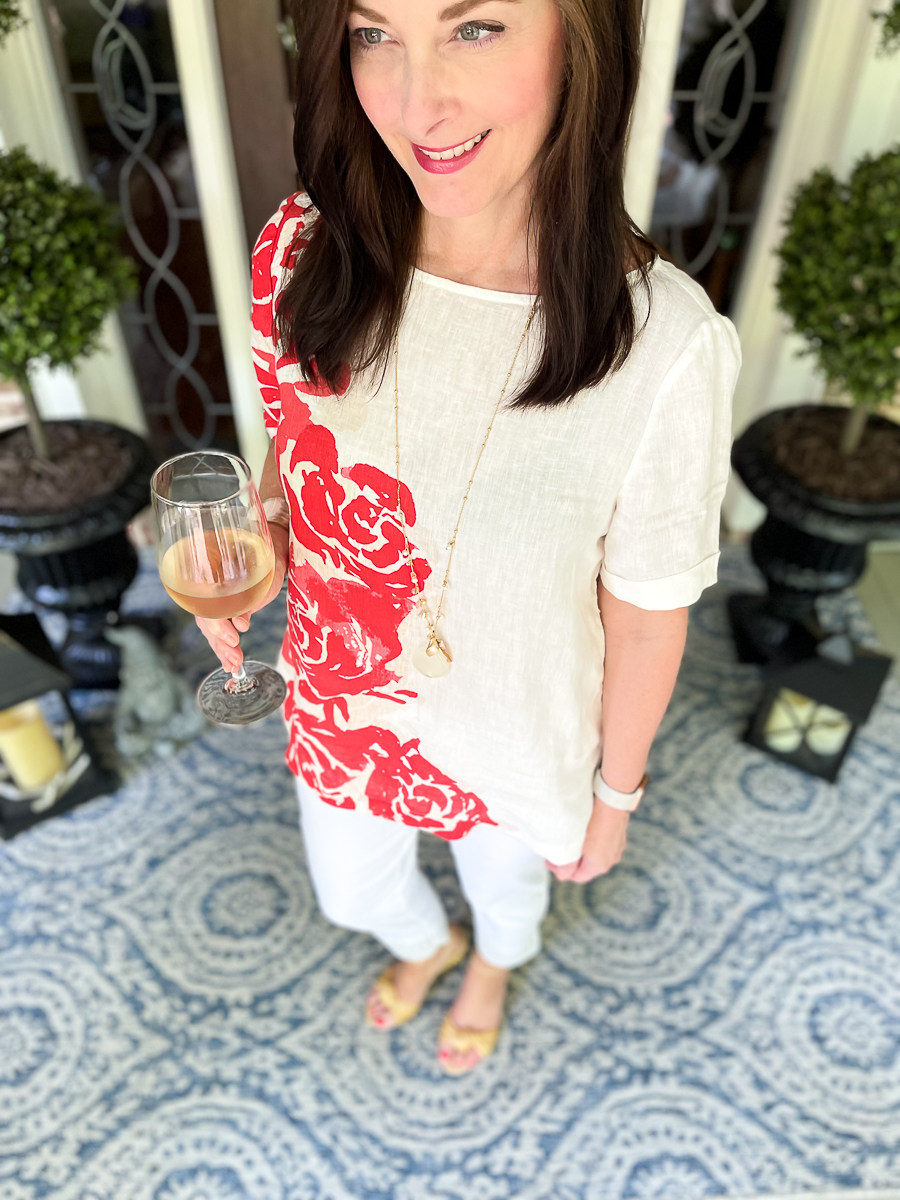 Regardless, I love a bold, chunky bracelet.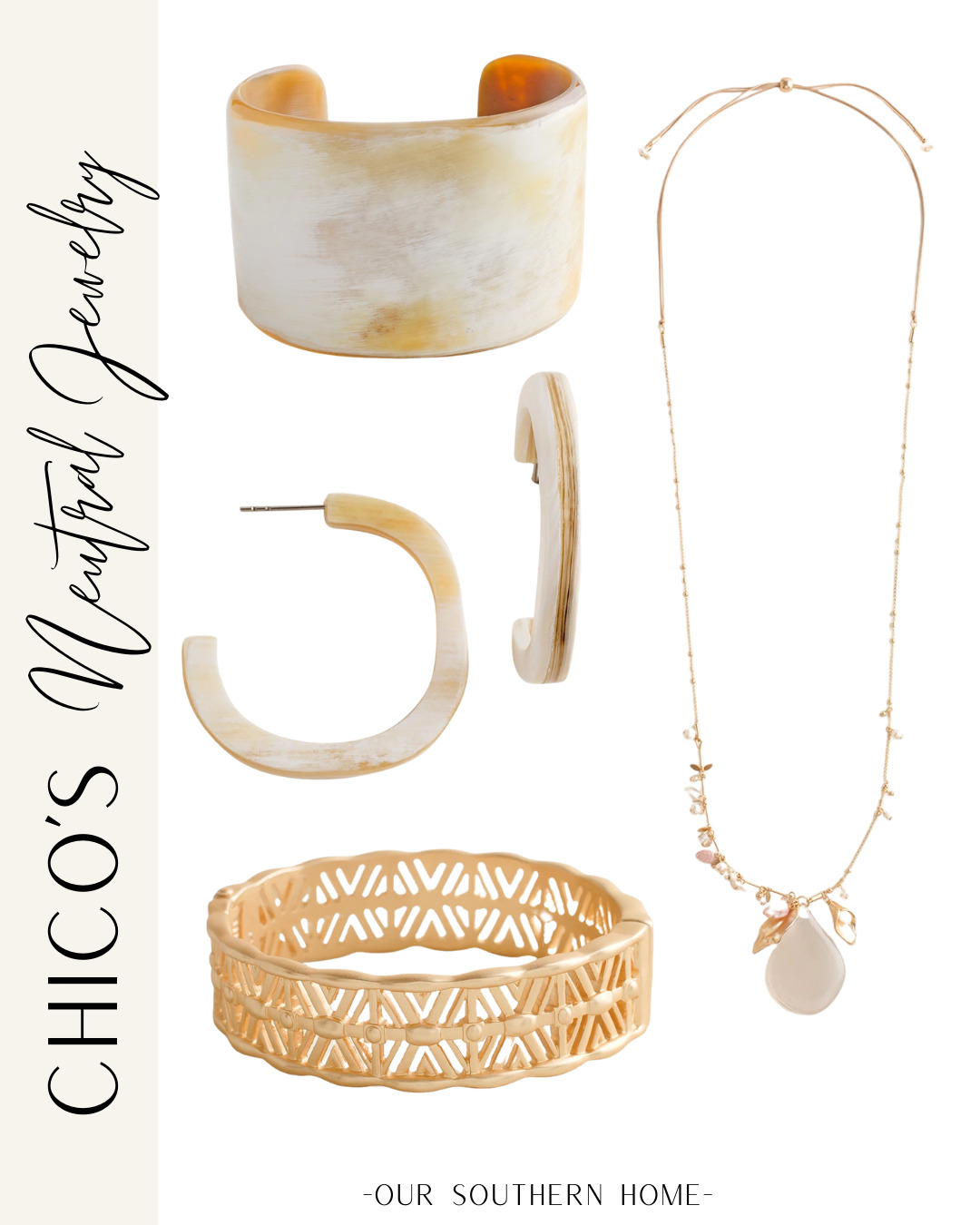 Horn Earrings | Horn Bracelet | Necklace | Gold Bracelet
Try to pick a set of jewelry that works with all of your looks.
I love this neutral horn look. It's unique and lightweight.
The necklace slips on over your neck and is easily adjustable by pulling the cords in the back to customize your length.
Plan for Sun
I have always been a diligent wearer of all things sunscreen, but since I had to have MOHS surgery on my cheek last August to remove skin cancer, I am even more diligent! I don't like to wear heavy foundations in the summer and really like to streamline my makeup for travel. I love this tinted sunscreen. I'll do a post soon on my current makeup routine. Y'all, it's gotten pretty simple!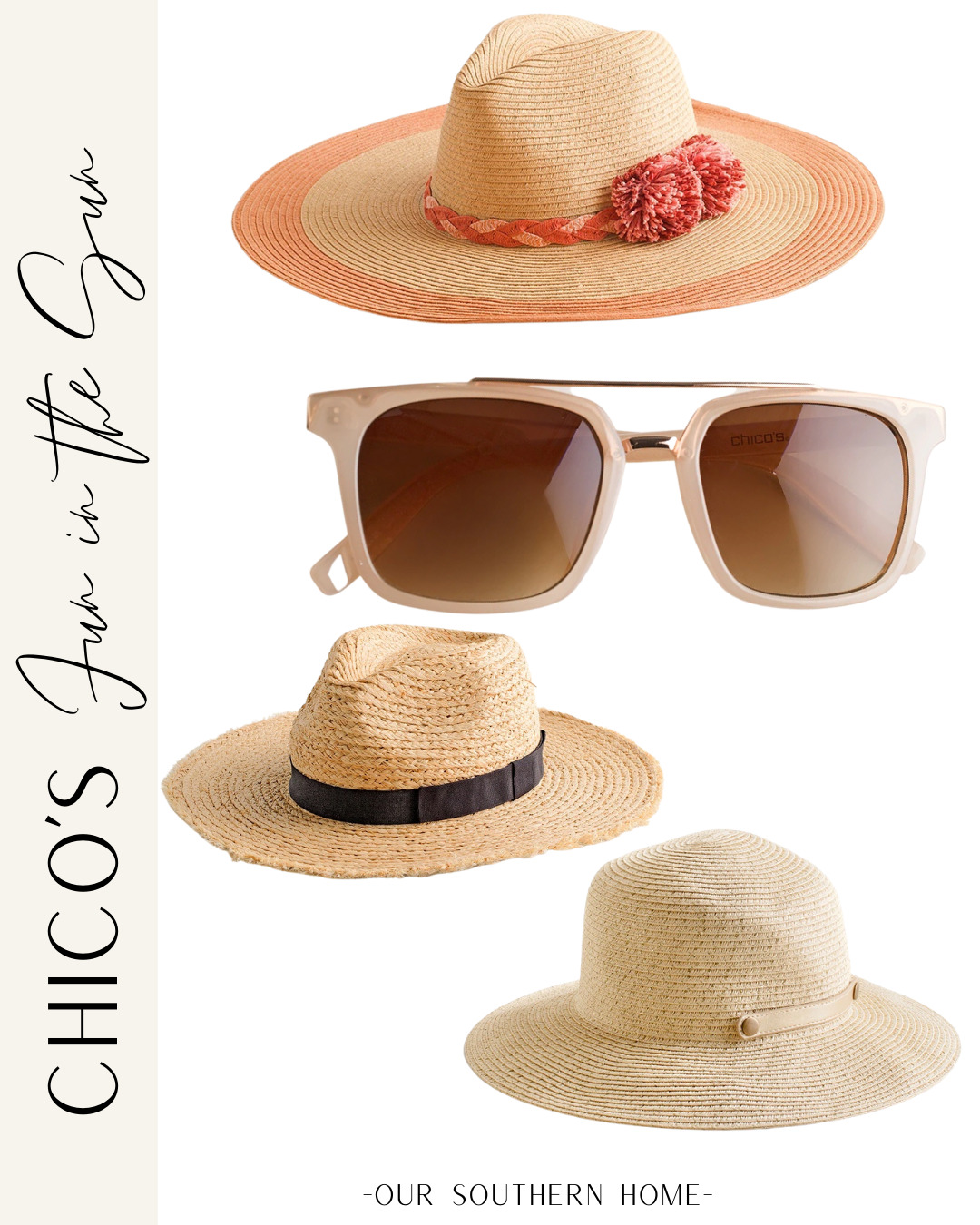 Coral Hat | Straw Hat with Black | Packable Hat | Glasses
I like to pack a ball cap, a sun hat, and sunglasses!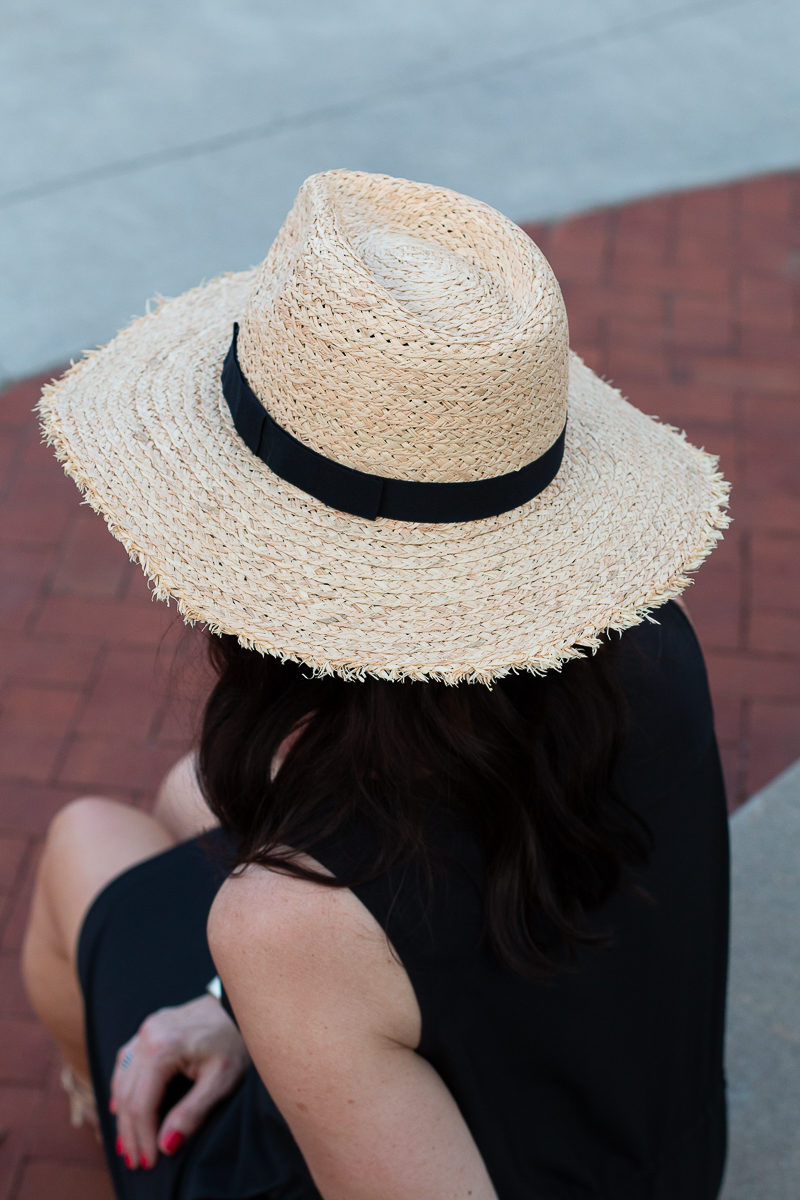 The 2 hat options from Chico's are so pretty and fun. If my hat is not packable, I'll just carry it on the plane with me.
This neutral straw hat would easily work with all the looks if space was a limitation. It adjusts to fit the size of your head.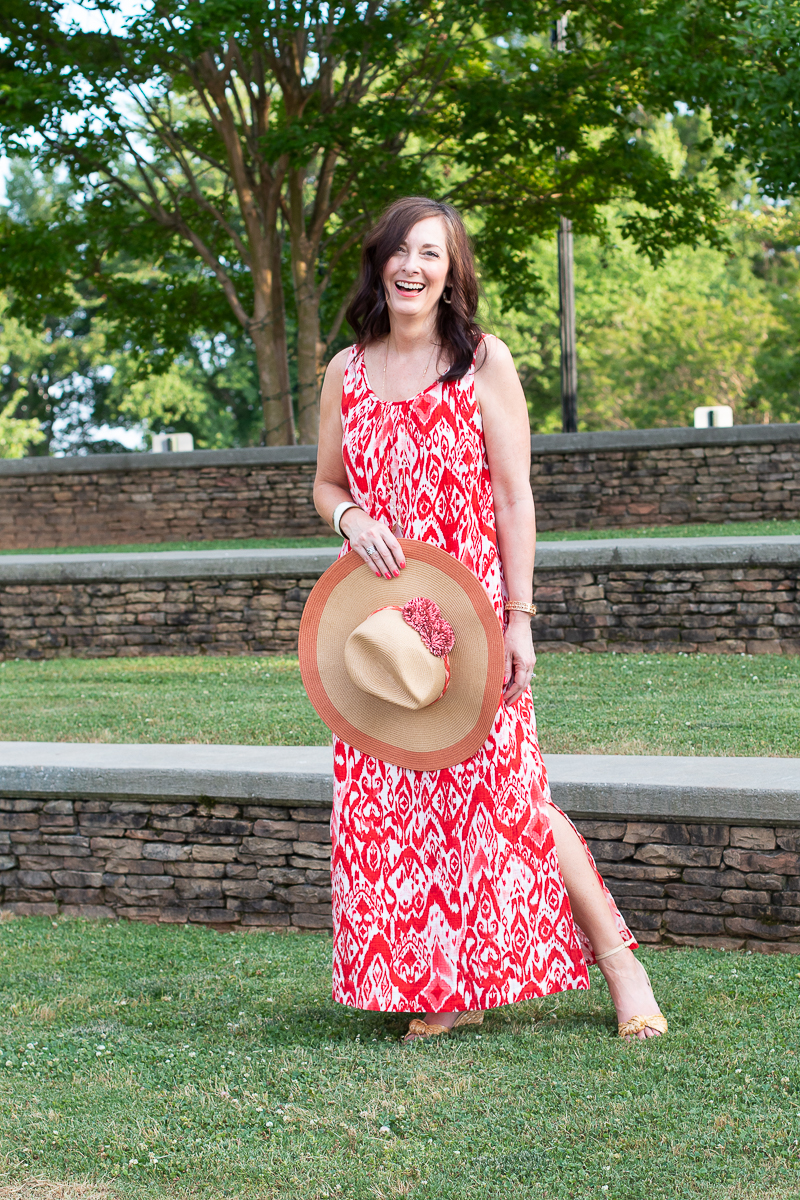 This coral hat with pom poms is so unique and fun! It will definitely be going with me on an upcoming beach trip.
It is adjustable as well.
Hats not only give your sun protection but make quite the fashion statement.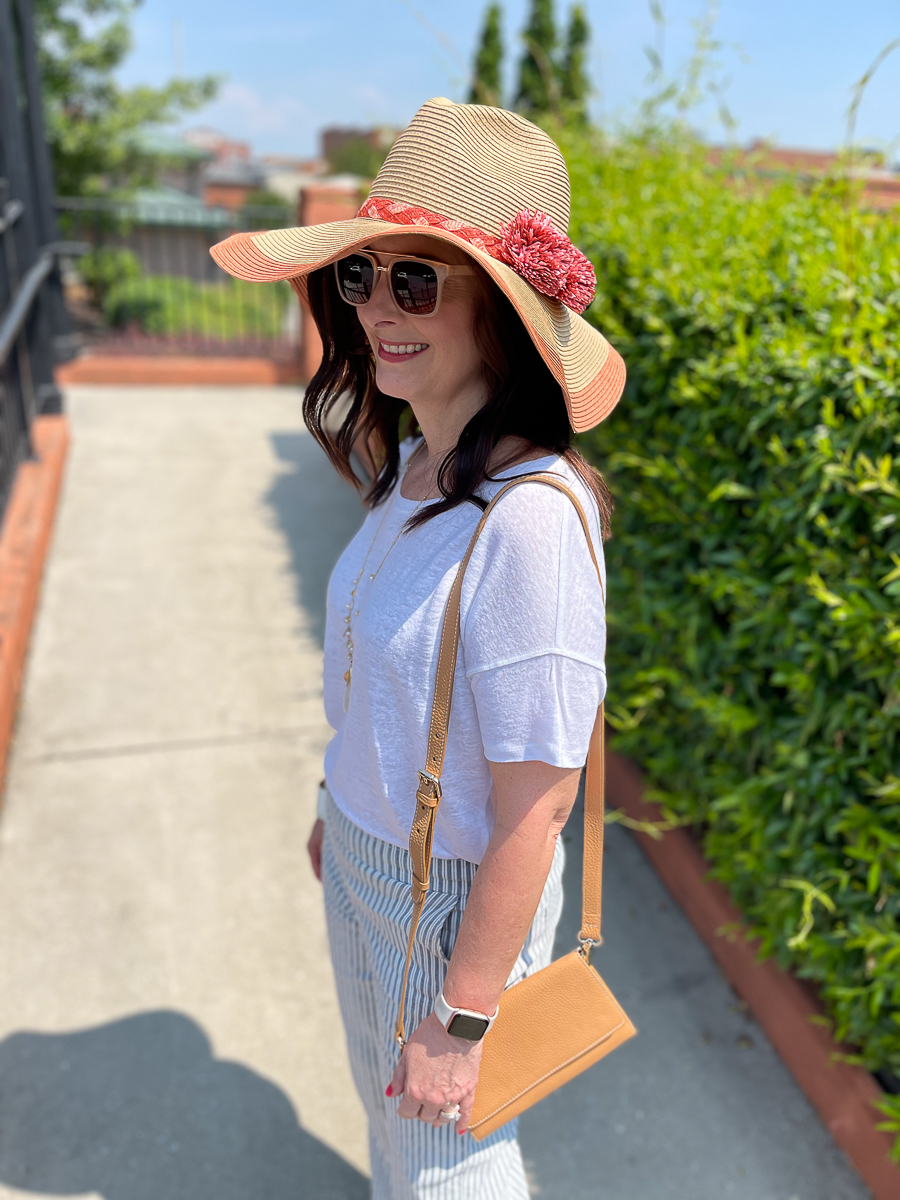 Don't forget a great pair of sunglasses! I wear sunglasses even on cloudy days having light-colored eyes. I thought outside the box with these. I typically go with the black or tortoise frames. Aren't these fun? They are very comfortable.
Travel Must-Haves
We went to Italy 4 years ago for an amazing family trip with the kids. I bought these (similar – mine are unavailable) packing cubes and can't speak highly enough about them. They were perfect with sharing rooms and not enough dresser space with lodging, especially when traveling overseas. We also used these on a cruise a couple of years ago.
They keep you so organized especially when living out of a suitcase or in close quarters.
Also, do yourself a favor and get a set of mesh bags. You can see through them somewhat but are great for organizing as well.
I hope you've been inspired to plan your travel wardrobe whether it be with the pieces I've shared with you or shopping your own closet. Be sure to PIN this post!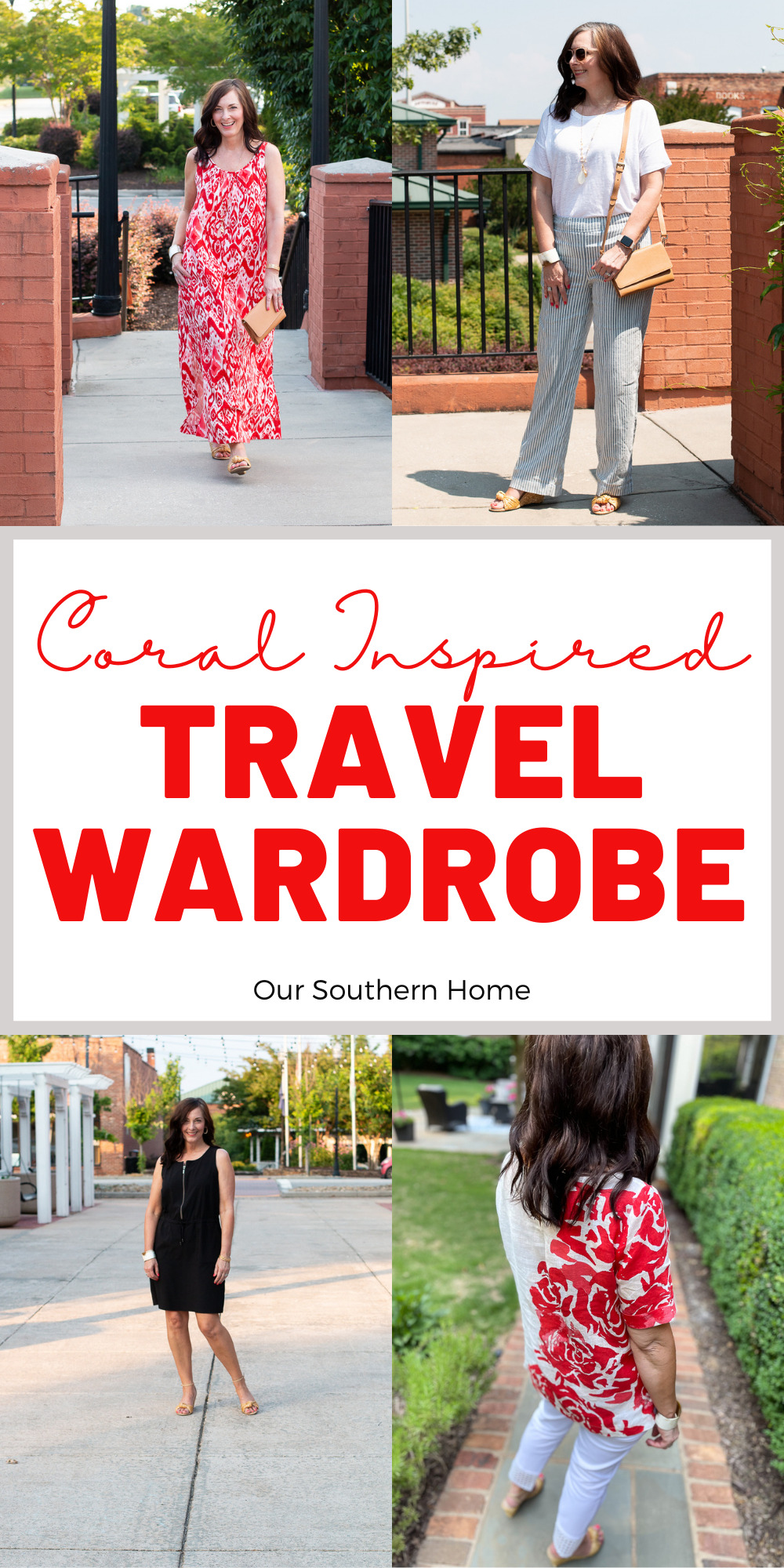 Check out my other looks from Chico's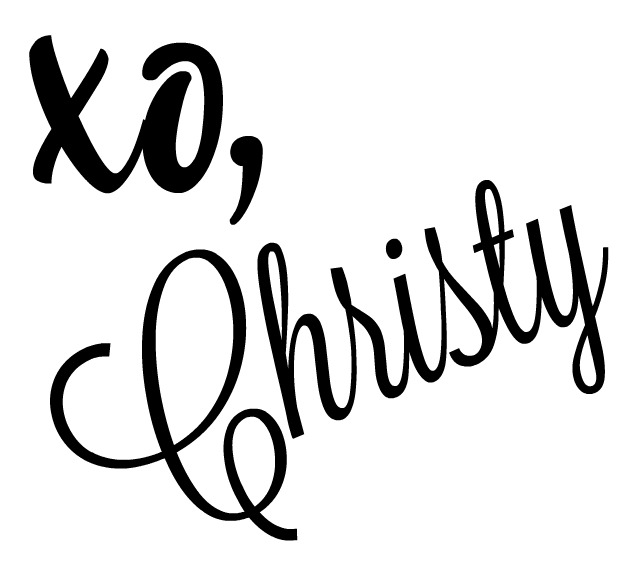 Buffer