Thrift Store Plate Stand Makeover
Spray paint quickly updates this Thrift Store Plate Stand for an inexpensive makeover perfect for entertaining.
This post was updated on July 2, 2022. This plate stand makeover is quite an old post. The screened porch has changed a bit since this was originally photographed many years ago.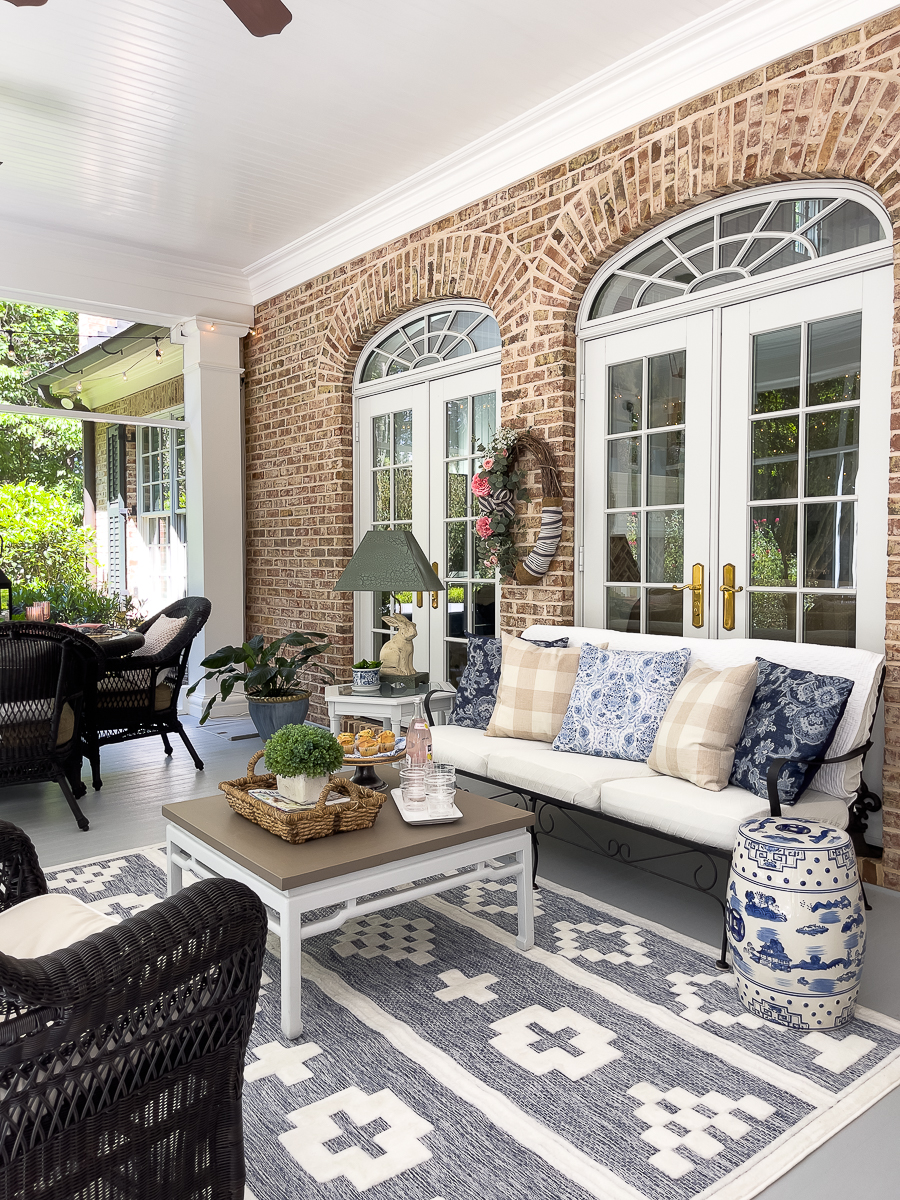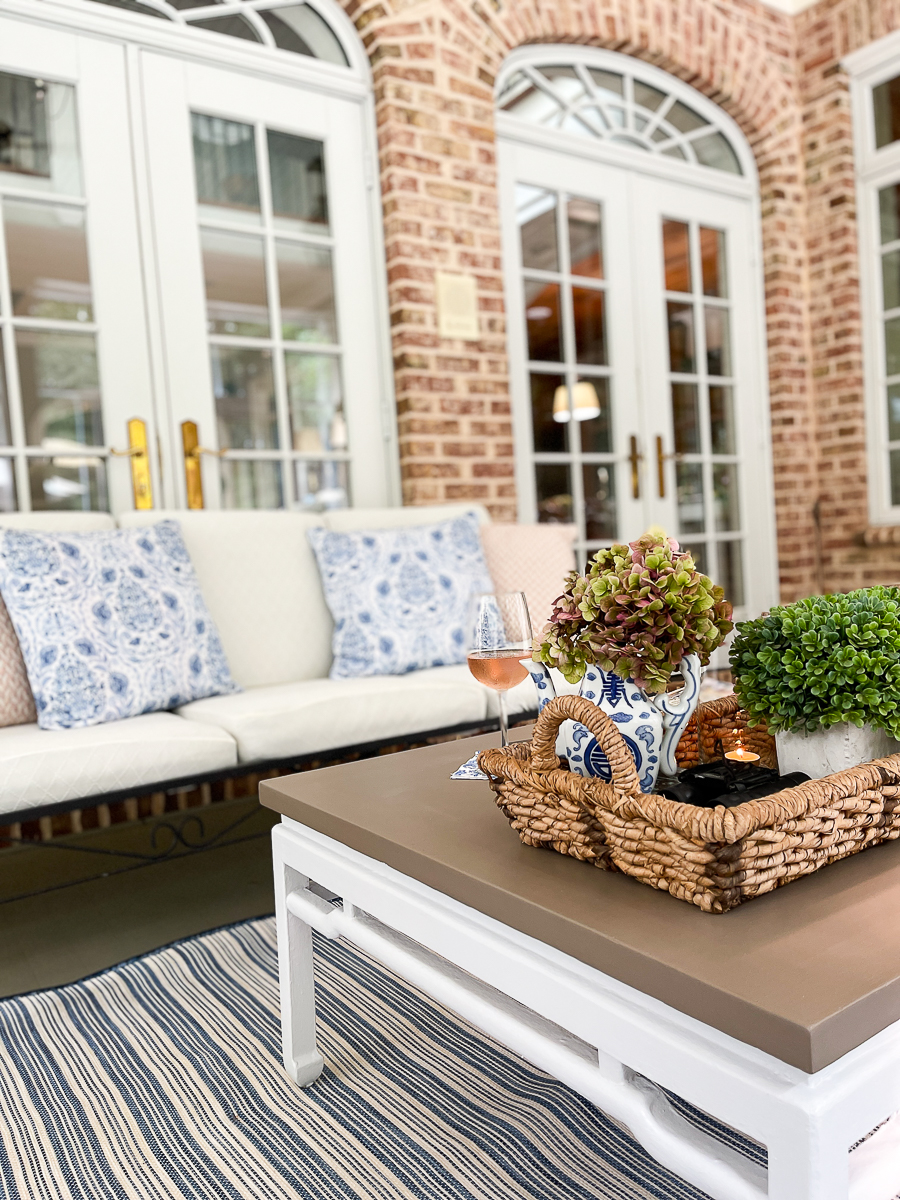 Latest from OSH
I adore a great thrift store find!
I'm really trying to be selective these days….only buying things I really think I can use in our home.
I've got quite the thrift store stash and this fun monthly challenge really has me utilizing those finds.
This month's is really quite simple.
Check out my latest thrift store makeover HERE! I can't believe that the top of this $30 hutch is now a fabulous bar cabinet!
This post may contain affiliate links. If you purchase something using one of my links, I may earn a small commission from the retailer costing you nothing more. You can read more on my disclosure page. YOU WILL FIND A SHOP THE LOOK FOR OUR HOME AT THE BOTTOM!
Thrift Store Plate Stand Makeover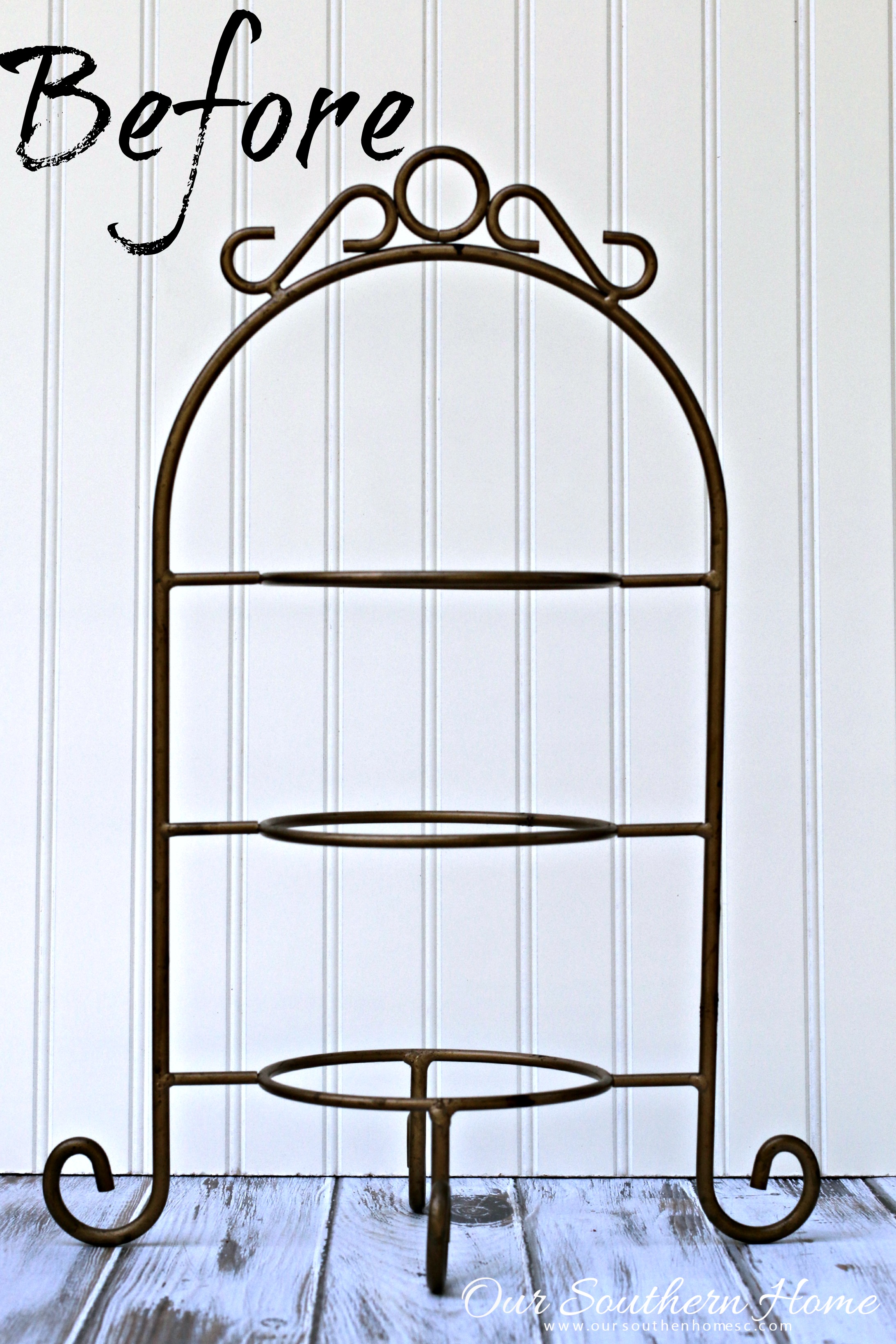 It really had this dark gold patina before. Not bad, just not the look I was going for.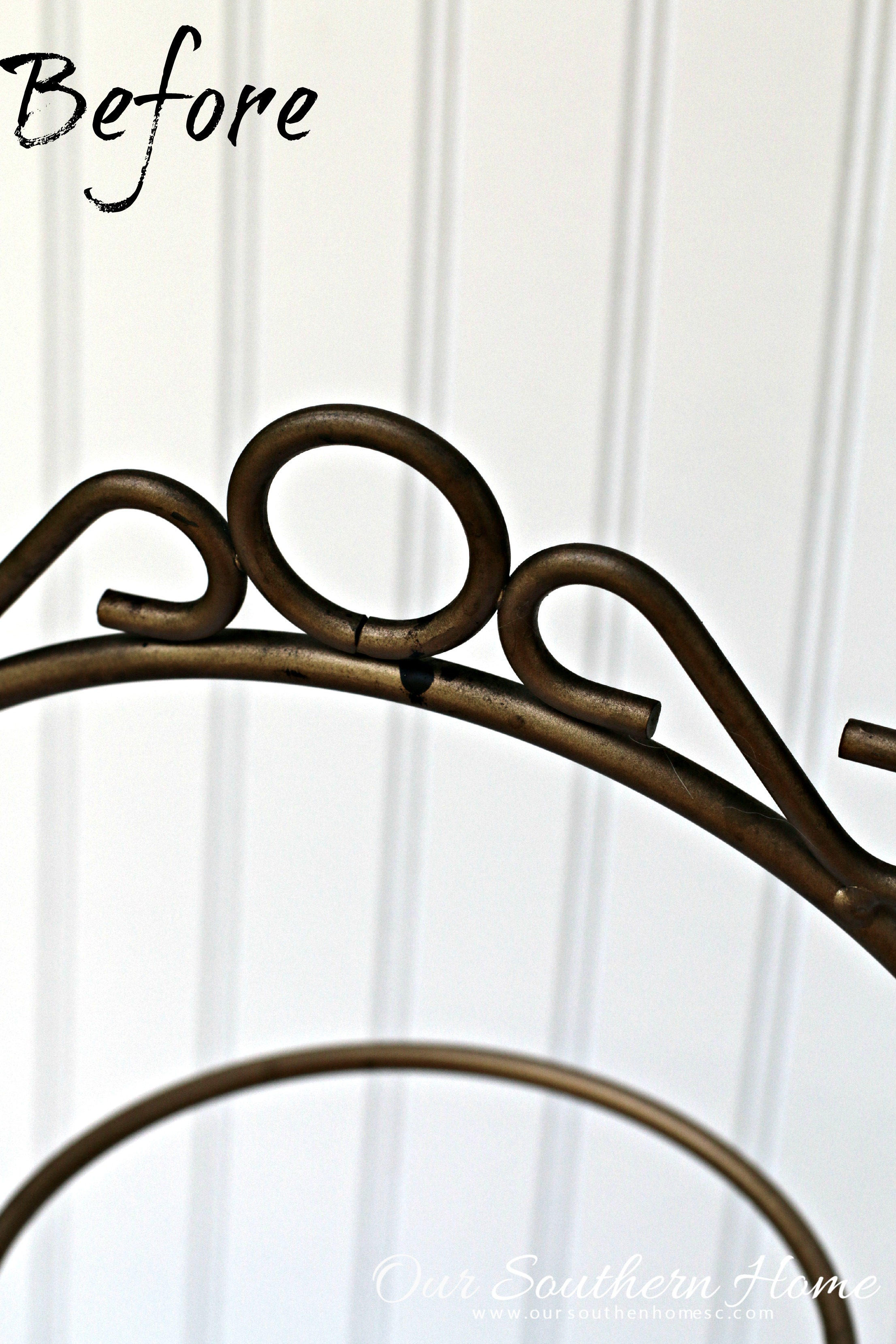 I just gave it a wipe down with cleaning wipes.
I lightly sanded a few rusty spots.
Finally sprayed it with 3 light, even coats of Rustoleum 2X the coverage in Blossom White. Love this paint!
After completely drying, it was ready to use.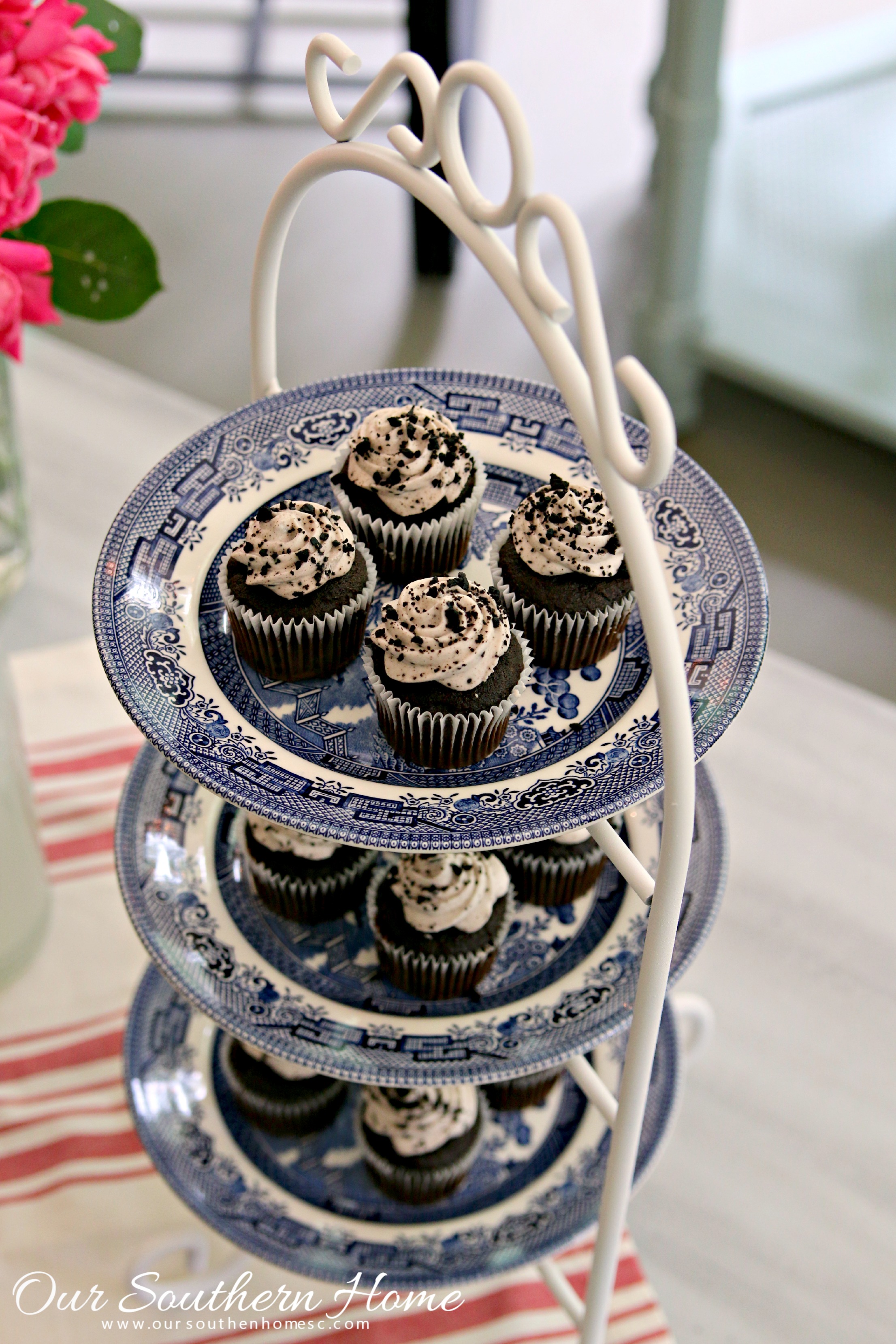 I told you it was crazy easy this month. I love it in white. I can now use all kinds of salad plate-sized dishes with it.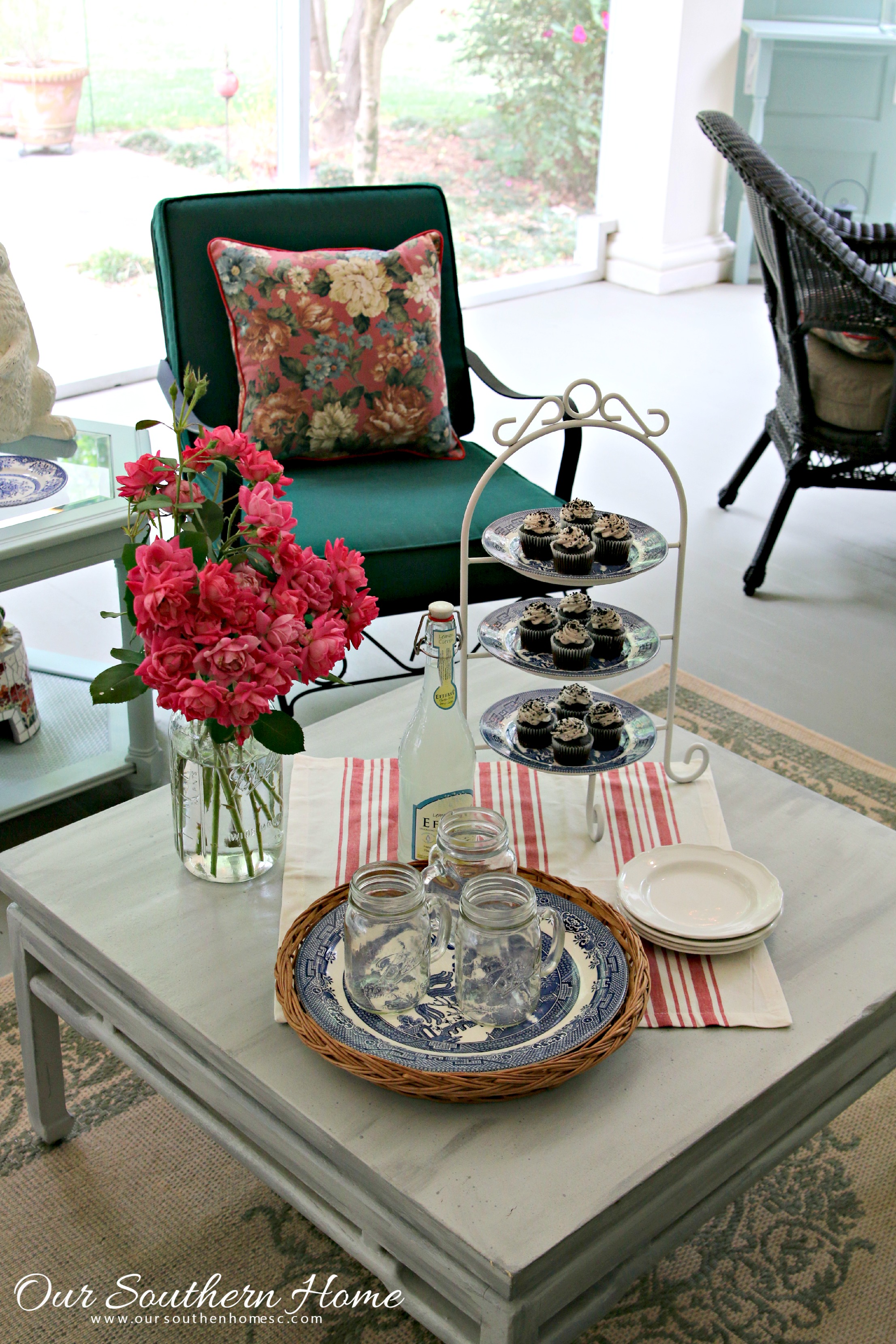 The white goes well with my outdoor living areas. Other thrift store items in this photo are the wicker tray, the coffee table (consignment shop – same paint it came with), and the end table. The antique iron furniture is from a newspaper ad (pre-Craigslist). You can see more on the porch HERE. I've just rearranged the space and still decorating it for this year. I'll be sharing it very soon!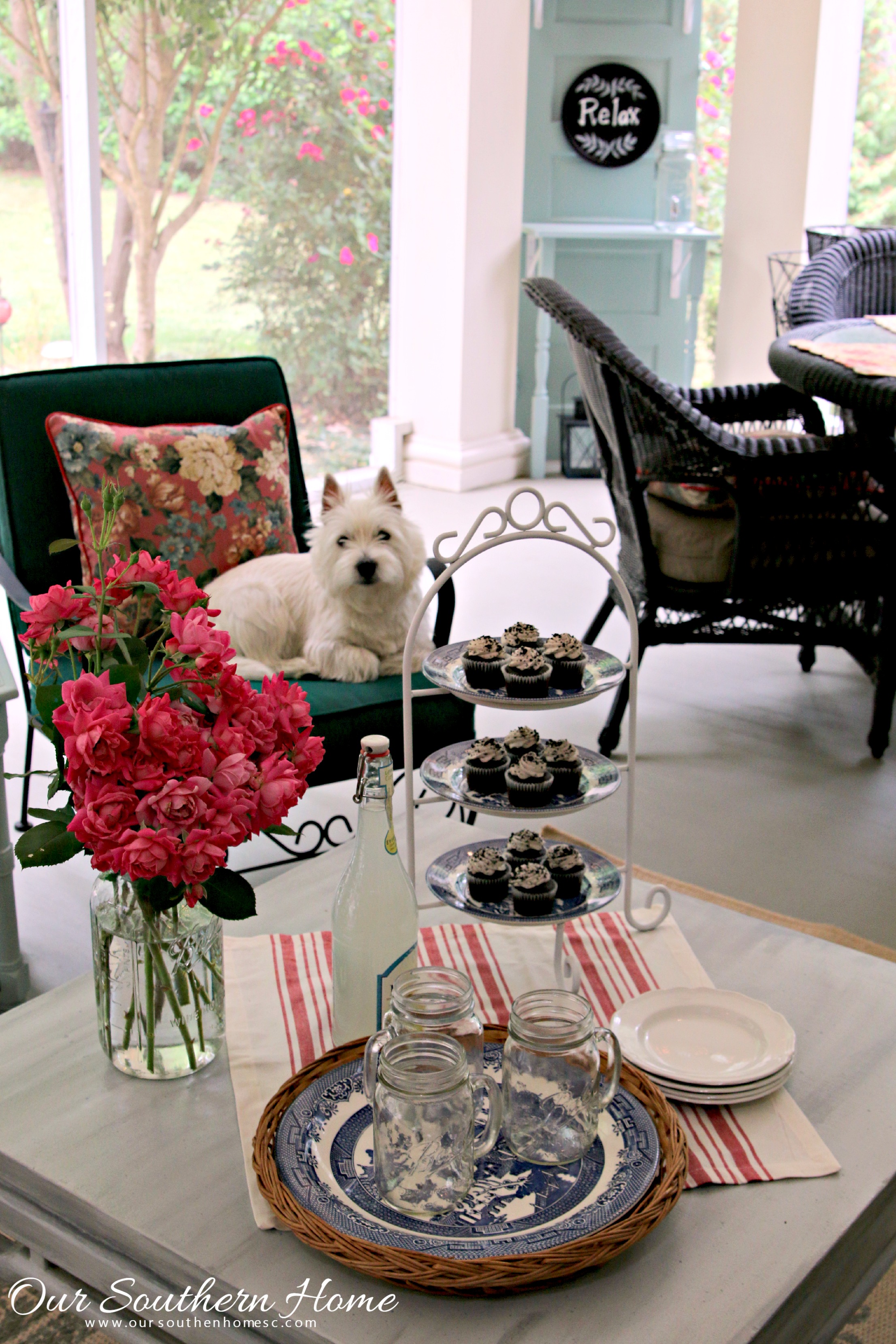 My little photo bomber….follows me everywhere when Ashlyn isn't here! You can see that I'm still decorating in the background.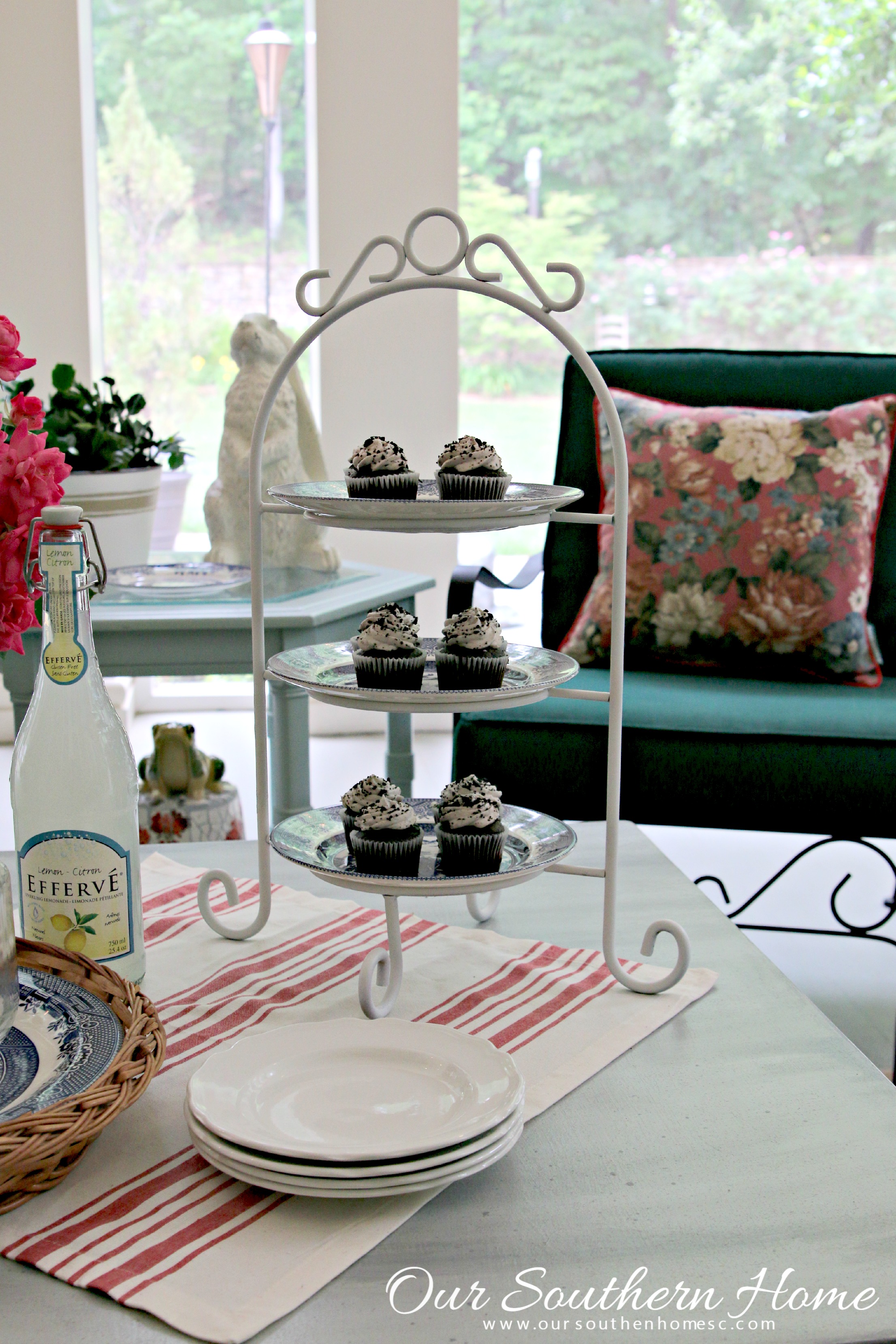 A tiered plate stand is perfect for a coffee table when entertaining a small group. It's easier to go elevated than spread out on the table.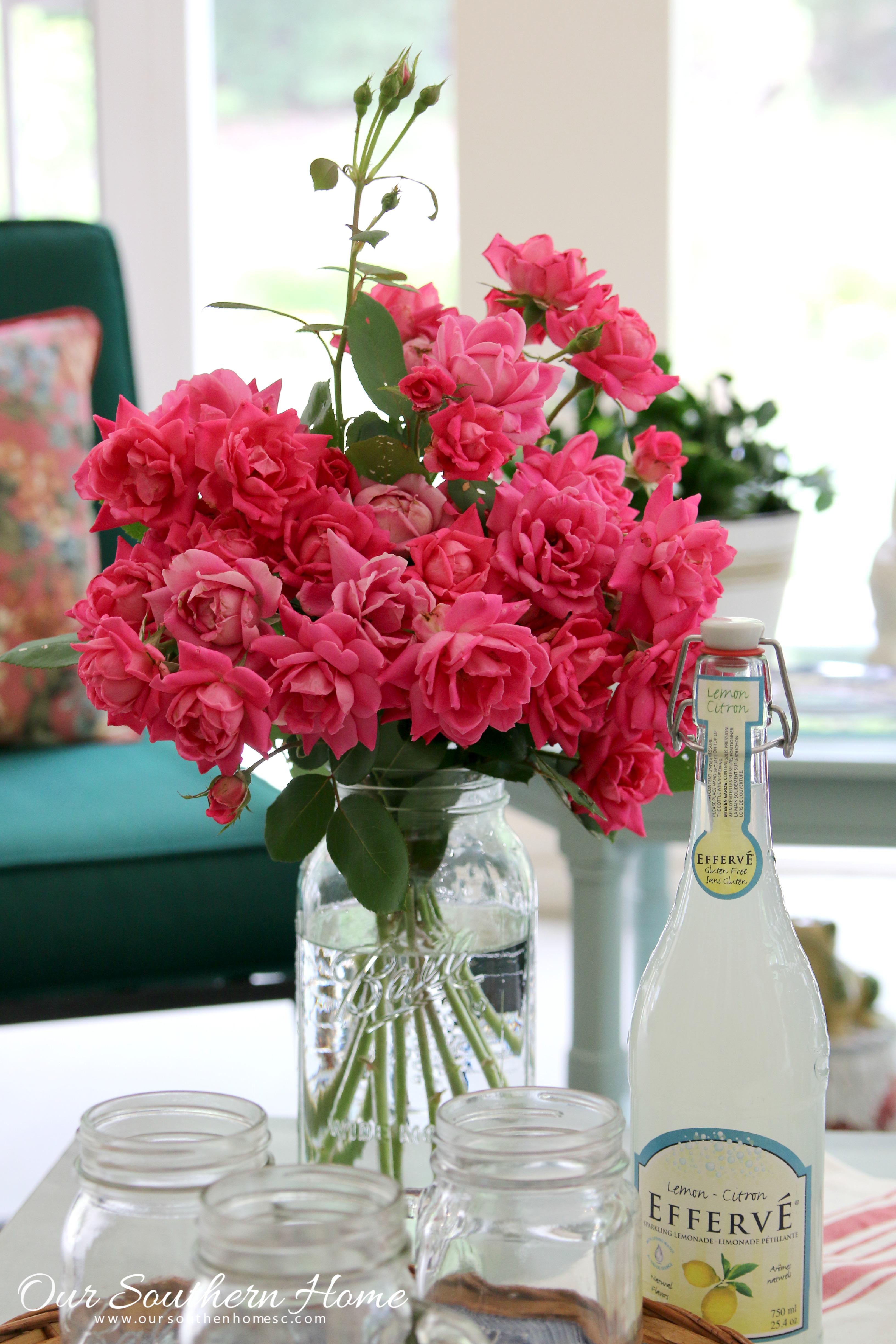 Have you tried this sparkling lemonade from ALDI? Yum and a pretty bottle!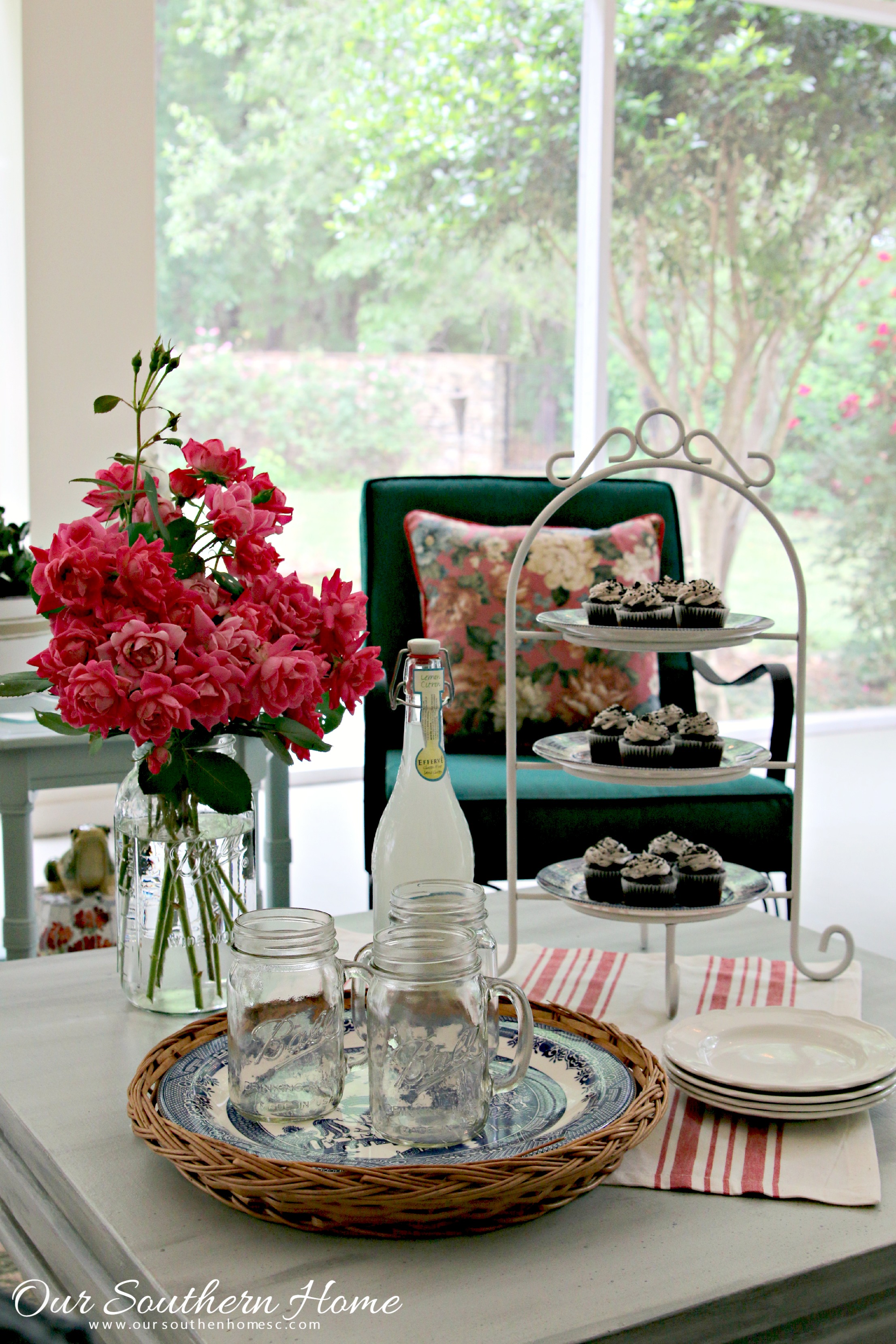 I couldn't believe that my platter fit in the tray perfectly!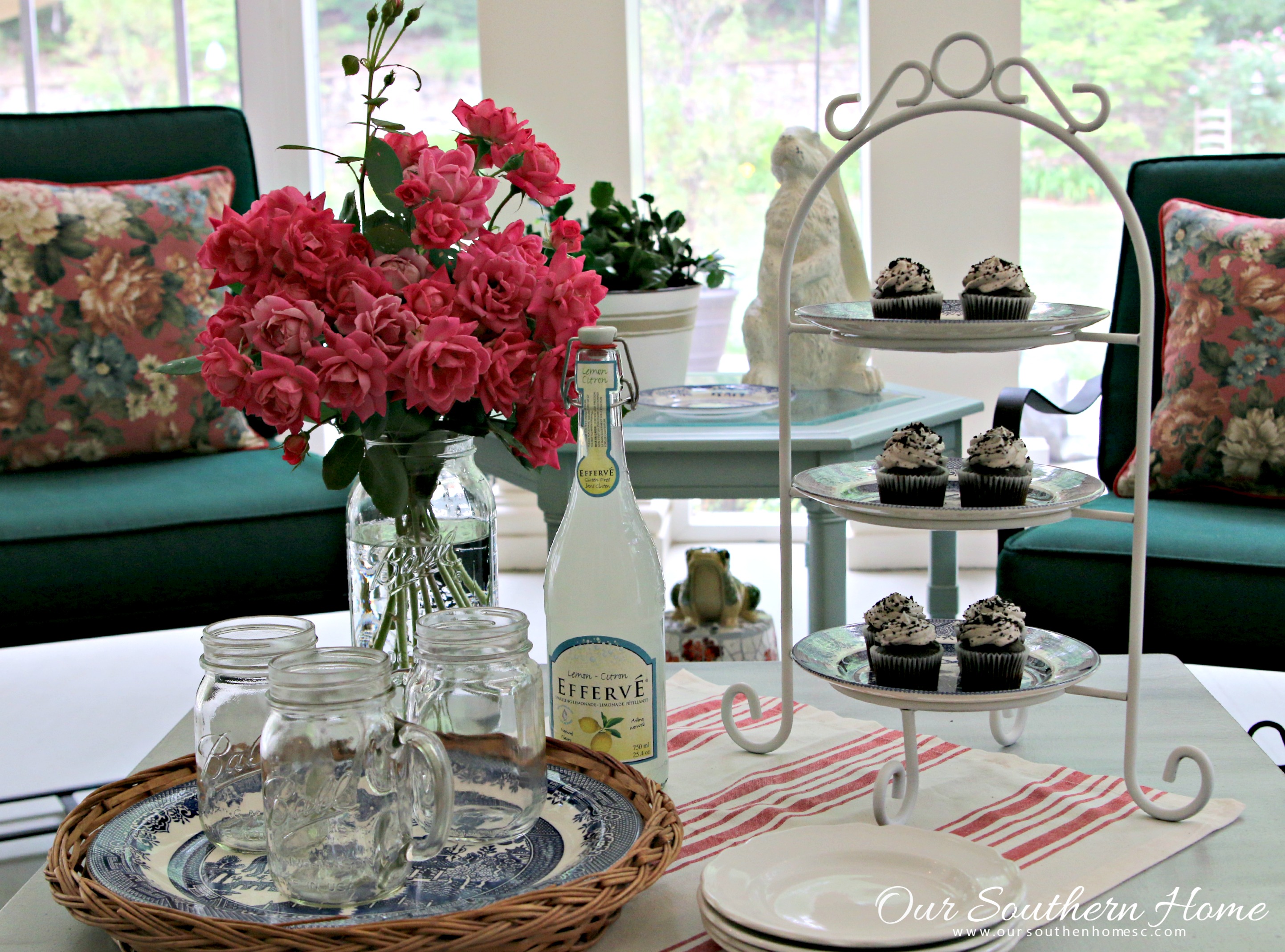 Our knock-out roses are in full bloom right now. They are such an easy, fast-growing rose with loads of blooms.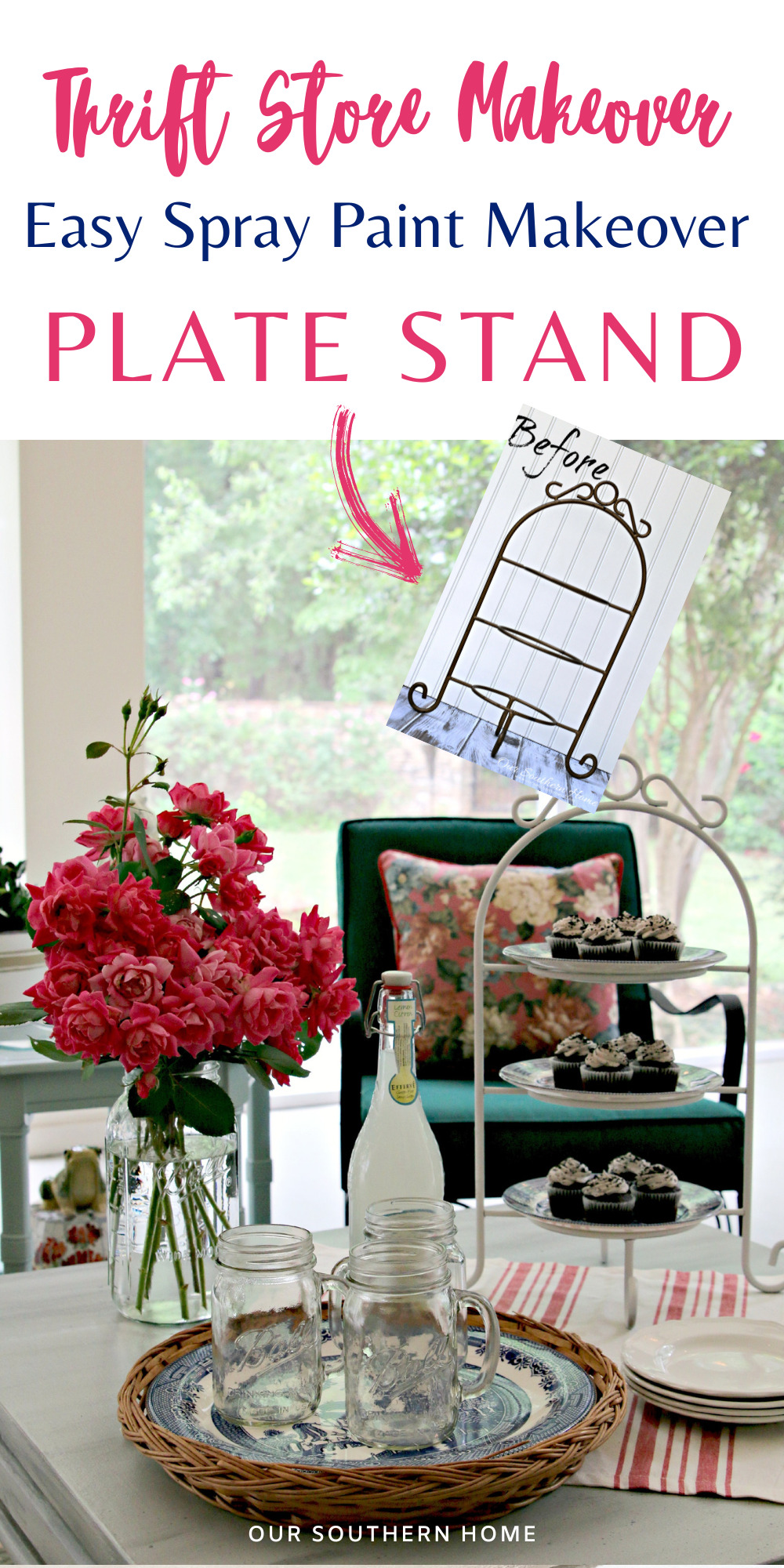 Be sure to check out the other projects in this month's challenge.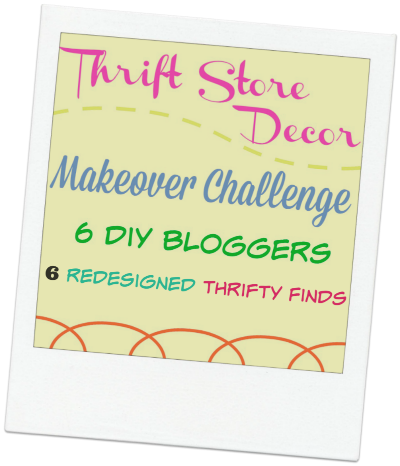 Petticoat Junktion with her Utensil Holder
DebbieDoos with her Herb Basket
Domestically Speaking with her Hanging Basket
Our Southern Home with my Plate Stand (you are here)
More Thrift Store Makeovers
Buffer