What a beautiful day here in South Carolina!! It is a crisp 45° here at 10am. Hubby and daughter are off to church. I stayed home to do some birthday baking for his birthday and be with our son sick with the flu. Fingers crossed he will be the only one!! Very sick since Wednesday.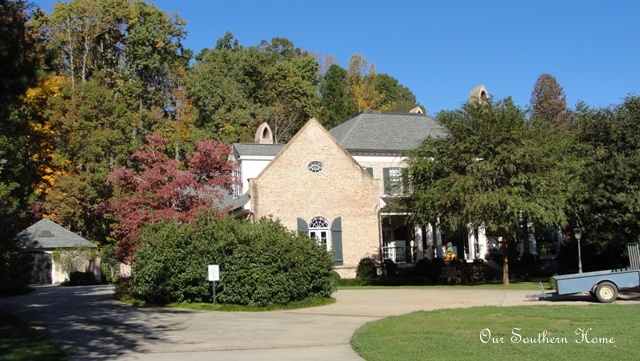 The leaf colors are starting to change ever so slightly. I am sure in Asheville, NCa slight hour away, they are just beautiful!
PLEASE ignore the blue trailer in the photo.  I know that if I had asked Max to move the trailer for the picture that I would have received major laughs!!  He just pulled it up from the barn to take our lawn mower in for winterizing.  It will be back in the barn next week.  Maybe I'll take a new photo later when leaves are really showing their fall beauty!
Enjoy this beautiful day! Over the next 2 weeks I'll share my daughter's thrifty desk redo, a lamp makeover, a newly completed scarf, a couple of recipes and my hubby's birthday pie!
Thanks for stopping by!  I'd love to have you follow my blog.  Options are on the sidebar!
Christy
Buffer