Happy August, Happy Friday my friends!
August 1st was a major milestone for my little blog. I celebrated my 5 year blogging anniversary at Our Southern Home. Guys the blogging world has changed so much and the amount of bloggers out there now is staggering.
I am so grateful for your faithful readership and comments through the years. I honestly enjoy doing it. Thank you….I am truly blessed.
A couple of years ago, I had a new logo made and had my site completely changed. (Yes, I'm considering changing again!) When I did that, I added a Fashion and Beauty tab which I've rarely used. Guess what….I plan to start.
Nothing else will change here. I am still sharing the same DIY, decorating, crafts and recipes. I'm just going to start sharing a little fashion and beauty on Fridays!
It will still be under, Favorite Things Friday!
There is a lot of learning about sharing Fashion and Beauty, but I find the whole concept downright fun.
This first post showing me with fashion feels more like a BLOOPER REEL than a shoot.
Feel free to laugh and make fun….we sure did. But what is life if you can't laugh at yourself.
Fashion blogs and Instagram photos are full of young and thin girls with what seems like an endless pocketbook. My plan is to share with you that occasional new outfit or maybe how I've put an outfit together with something that I already own…which will be most of the time! Everything will be reasonably priced….my goal is nothing over $100! I'm inching closer toward 50. I want to be trendy and stylish, but still age appropriate.
Hold your belly and get ready to laugh!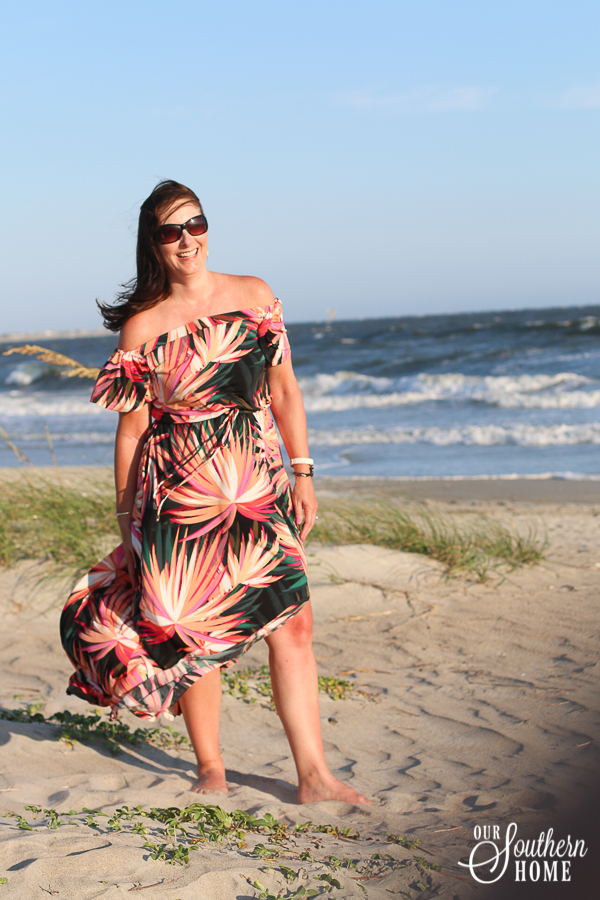 Ashlyn and I had this great idea to go on the beach after dinner to take pictures. We were all dressed up, and I wanted to share my favorite summer dress with you. With the coloring, I know I will wear it through September. We are still hot even through October in Upstate, SC.
Y'all that bright sun was deceiving. The wind was insane. I couldn't keep my dress down let alone my hair.
We laughed, made fun of each other….created some fun memories. I have worn this dress like crazy. The first time I wore it was to Ashlyn's graduation late May. I got so many compliments.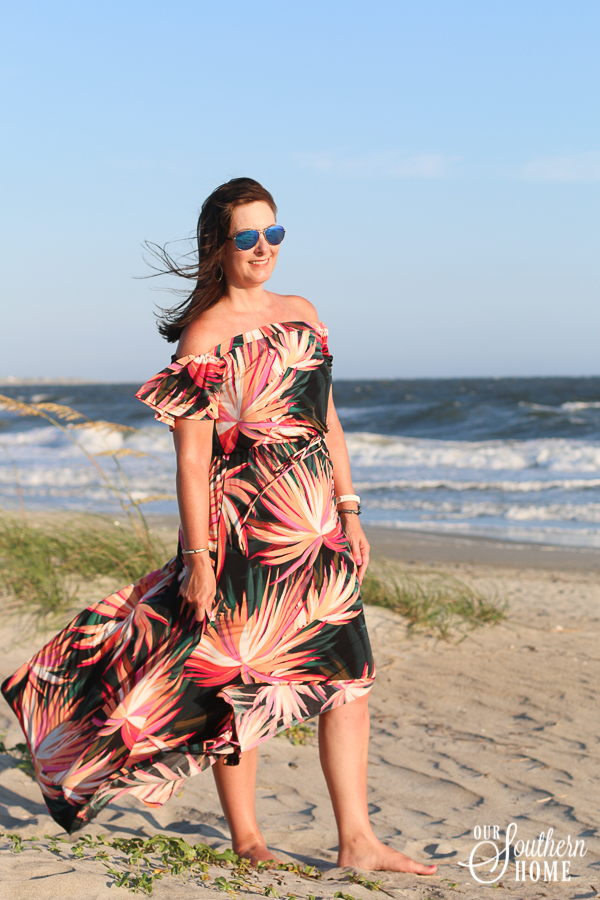 It's very figure flattering in that it is loose and comfortable, but drawn at the waist for shape.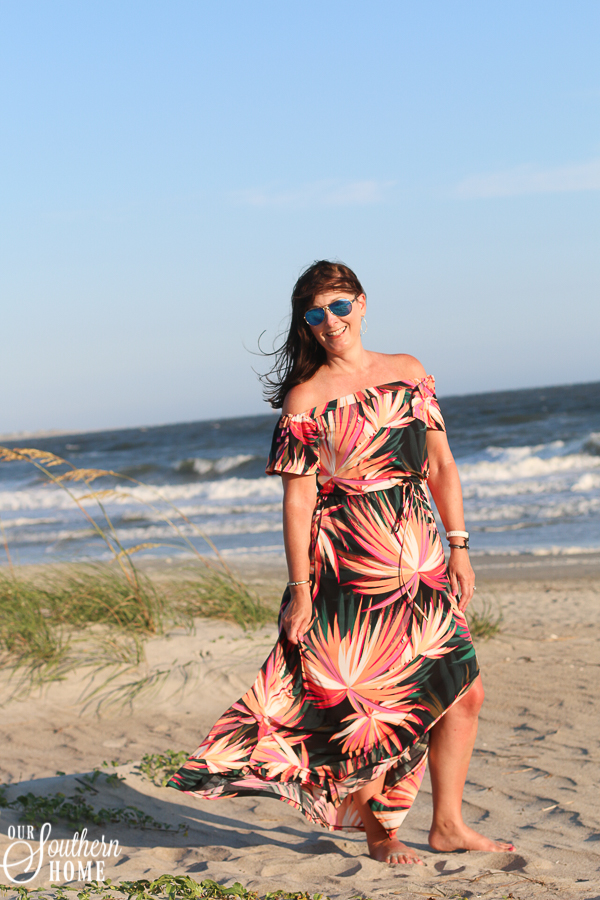 I took it on our Italy trip. It's great for travel…absolutely NO WRINKLES. It's great with flats and wedges. I've even worn it to church without the shoulders pulled down. I love it. You will notice that I even changed out sunglasses. Ashlyn wanted me to try hers. They are so comfortable!
There is one side slit, but only goes to the knee.
Affiliate links for my look:
Now, for some reason Ashlyn looked like a real model for her photos! I guess maybe the fact that she is 18 and almost 6 foot 1 helps!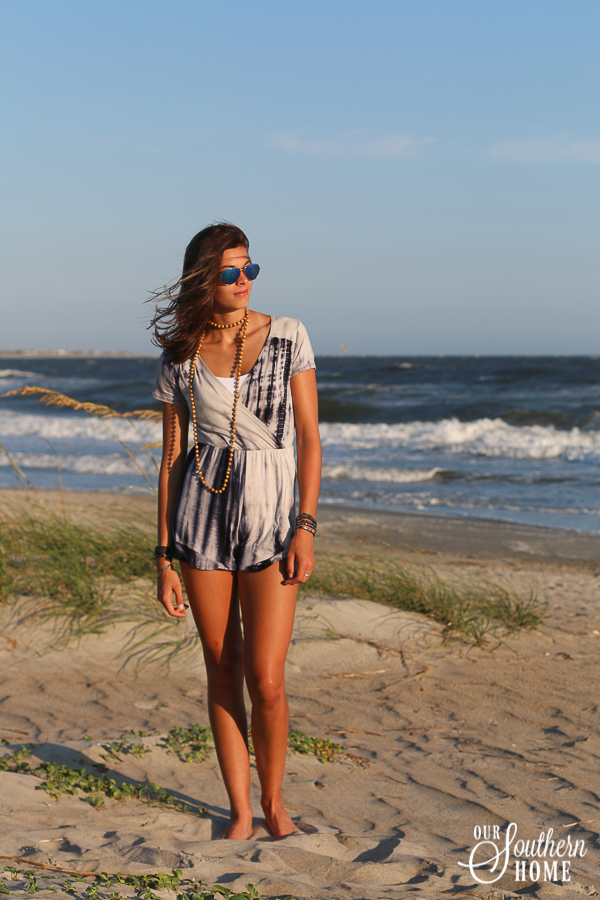 Effortless I tell you! If she wasn't my girl…..I'd be jealous. Now, I wouldn't wear this romper, but I just wanted to show off my girl. Her photos were so good.
She was more comfortable with a sports type bra since the wrap at the top is a bit low.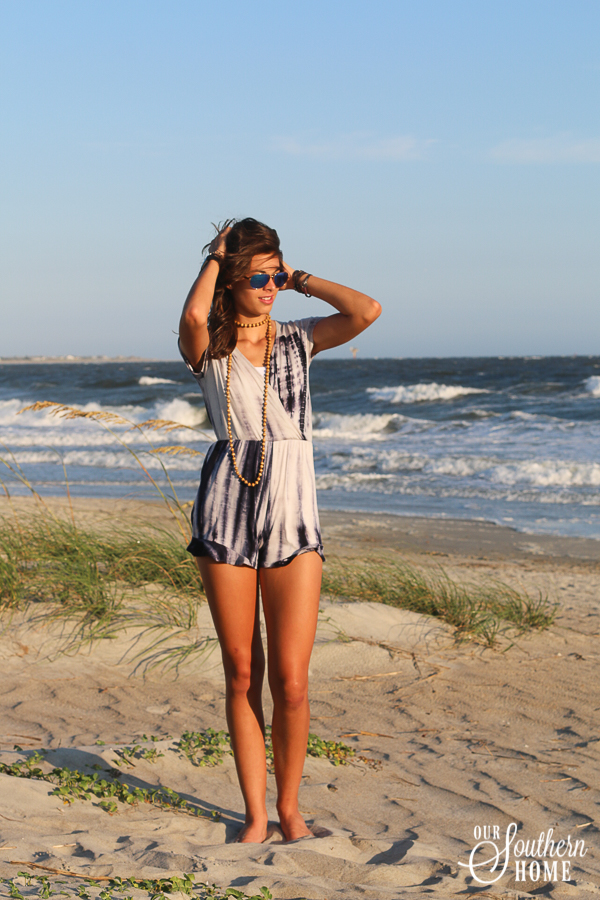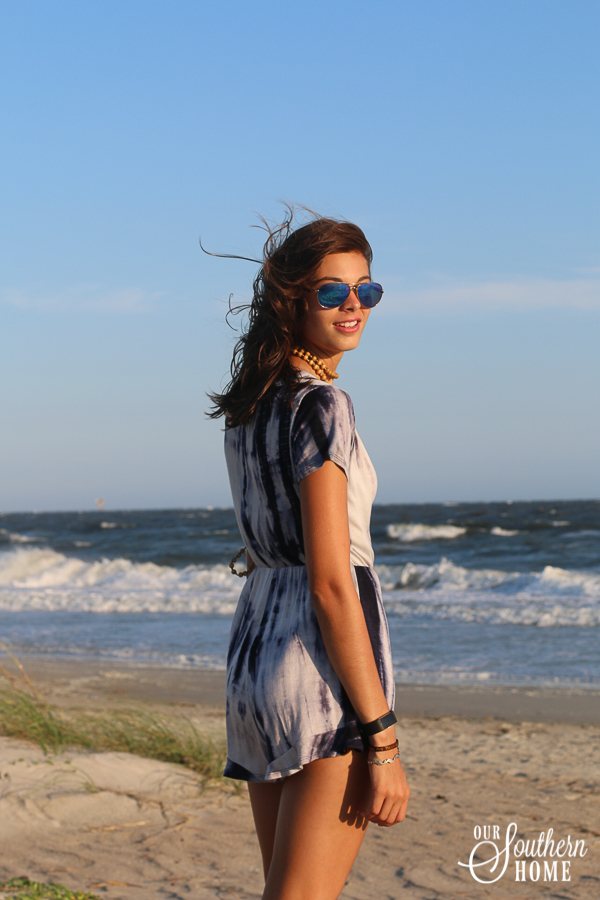 We were smitten over the earthy tie-dyed look.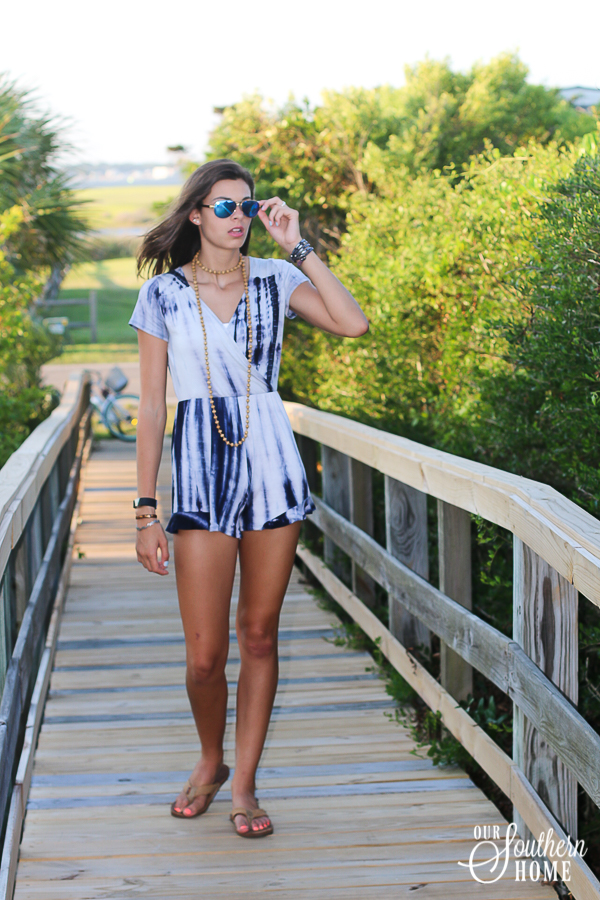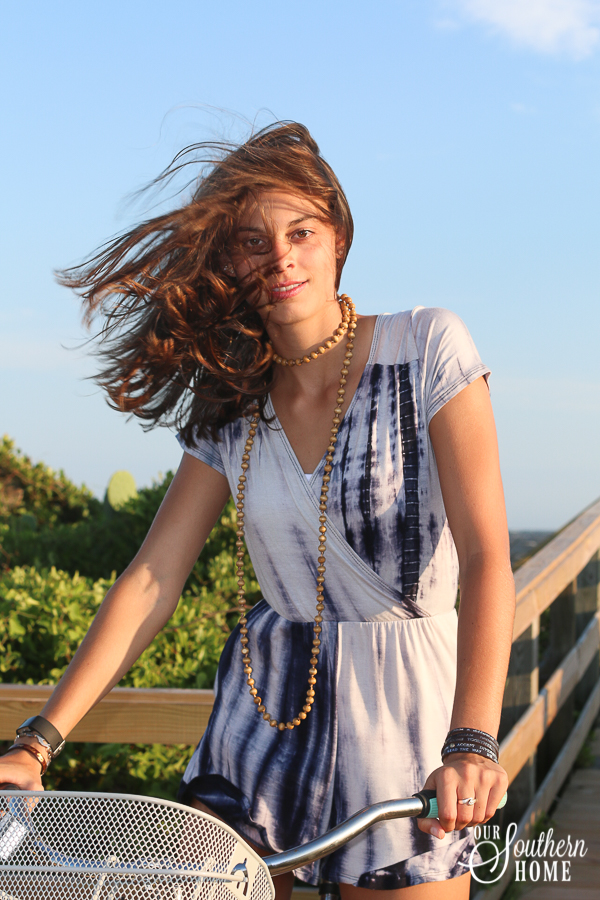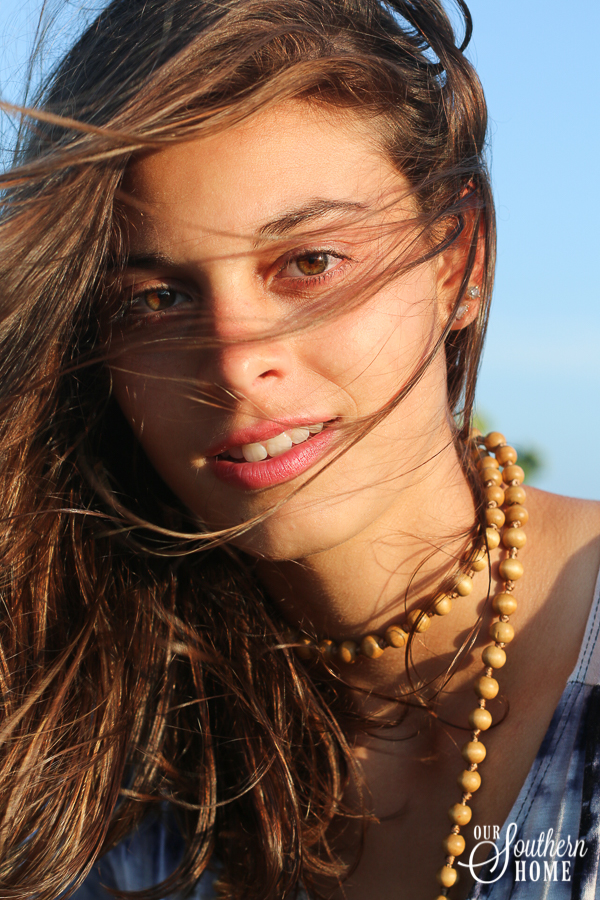 Ashlyn leaves for her Freshman year in college on a tennis scholarship, and I'm starting to freak out a bit. We spend so much time together.
Shop Ashlyn's Look
A big announcement!
I love beauty product…most women do. A friend of mine had become a beauty rep for a new natural skincare line that also has professional grade cosmetics. I was quite impressed and gave them a try. The company has been around since 1952 so they had trust and longevity. After years of supplying cosmetics to makeup artists for the entertainment industry and models they decided to launch a line for the masses. Clients of the makeup artists were constantly trying to get them to sell them the products and Alcone realized that there was a serious need.
I am so thankful that they did. I tried them and was compelled to become a beauty guide as well.


I will share occasionally in the Friday post, but I invite you to join my new Facebook group where I am sharing all things Alcone as well as fashion, beauty and ways to advance toward a more healthy lifestyle. I'll be sharing specials here so please join me! We are 85+ and growing.
You can check out the website and look around HERE.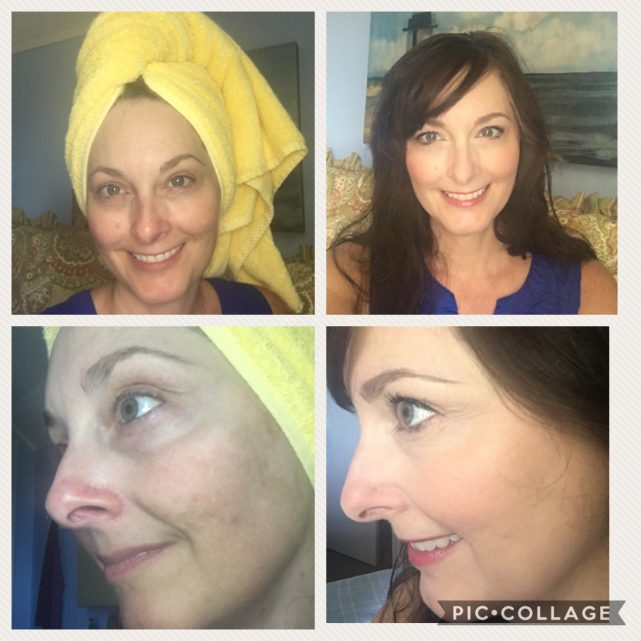 I'm 48 and skincare is very important to me. I have seen a noticeable difference in my skin. What won me over is the incredible fiber mascara and foundation coverage without feeling or looking heavy!
Let me know if I can help!
Check out my most recent post on my Nordstrom Sale Picks for Fall. I've ordered 3 of the items on the list and love them!
Now it's time to check out some other FASHION AND BEAUTY posts from some blogging friends!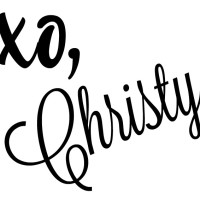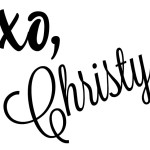 Buffer