Saturdays on the Porch #42
Saturdays on the Porch #42 features this week's fashion looks and more from Our Southern Home for life and home.
Latest from OSH
This post may contain affiliate links. If you purchase something using one of my links, I may earn a small commission from the retailer costing you nothing more. You can read more on my disclosure page. YOU WILL FIND A SHOP THE LOOK FOR OUR HOME AT THE BOTTOM!
Check out last week's Saturdays on the Porch.
Saturdays on the Porch #42
My thoughts and prayers are with the family and friends of loved ones lost in the recent tragedy in Texas. It's truly unimaginable. My heart is just broken. NOONE should have to go through this. I pray for those poor children that survived and what they are going to have to learn to live with. I pray for change. Something has to be done!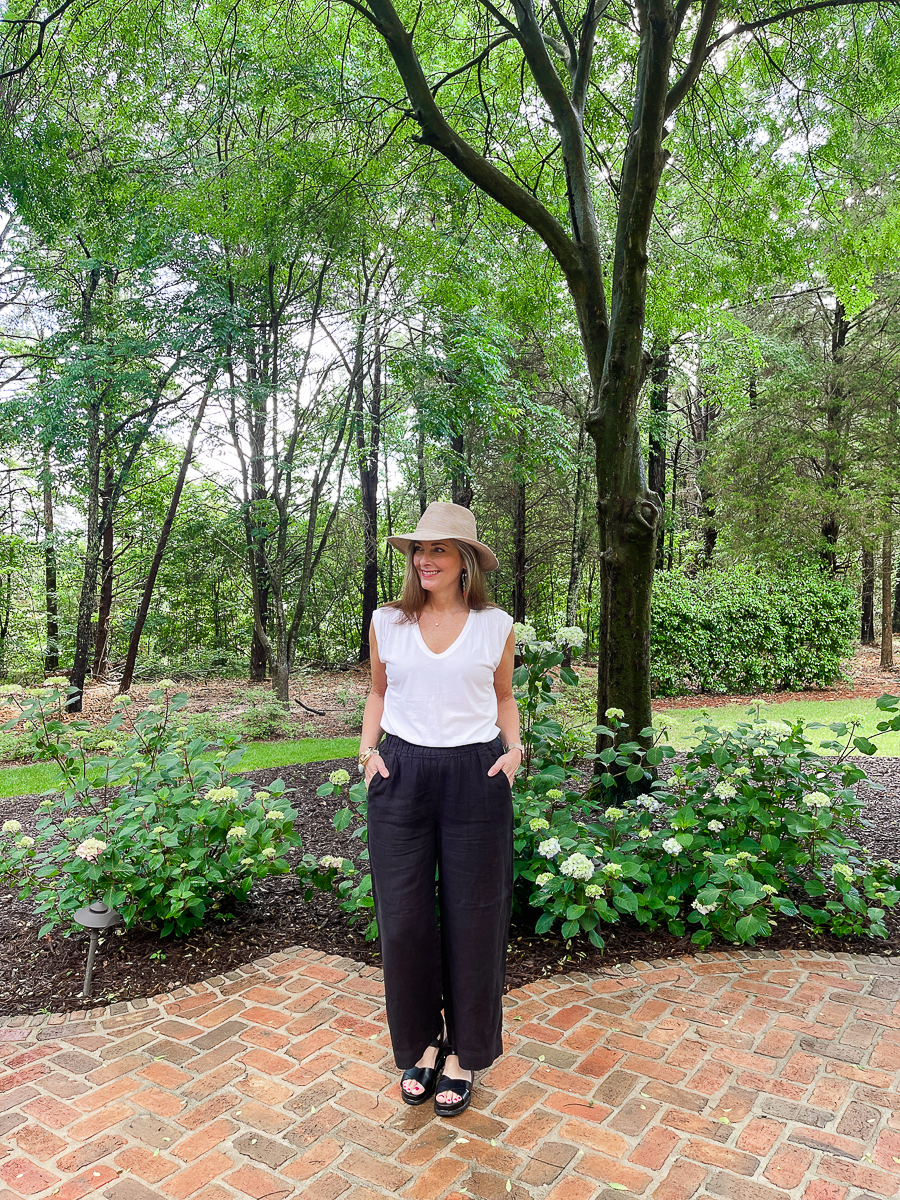 Happy Saturday! It's been a busy week trying to work around the rain outside. I did finally get all of the porch furniture cleaned over a couple of days using this recipe. I can't wait to share the porches decorated!
Ashlyn and I drove to Georgia on Thursday to pick up her wedding dress.
It is beautiful on her! Would you believe that it looks like her dress may need no alterations!
We have an appointment with our seamstress that did her prom dresses to look at it on the 6th of June. We have between now and then to decide on shoes. The only thing that she may have to do is the bustle of the train.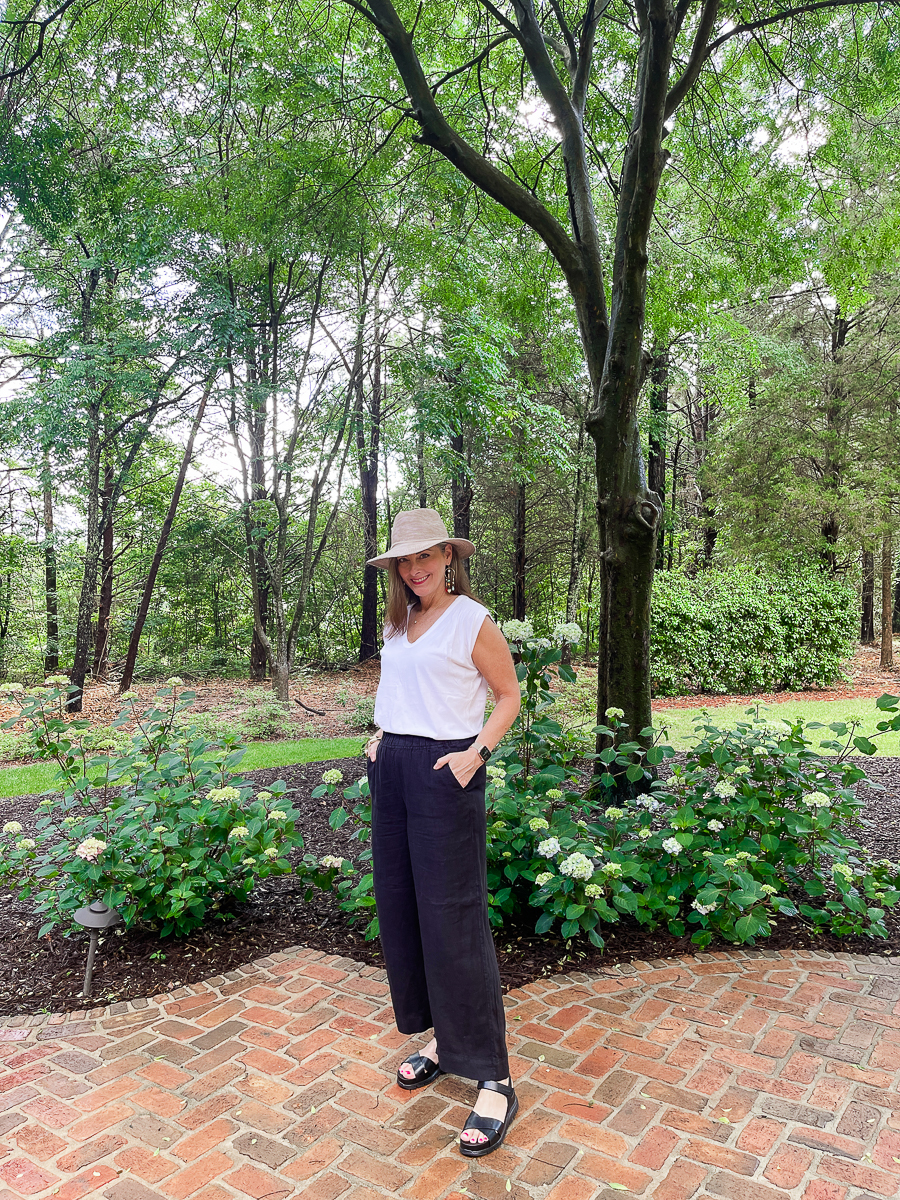 Ashlyn and I stopped at a TJ Maxx on our way home from Georgia. I picked up these fabulous wide-leg linen pants.
I can't even begin to tell you how comfortable they are. They are the Tahini brand. I am wearing a size medium.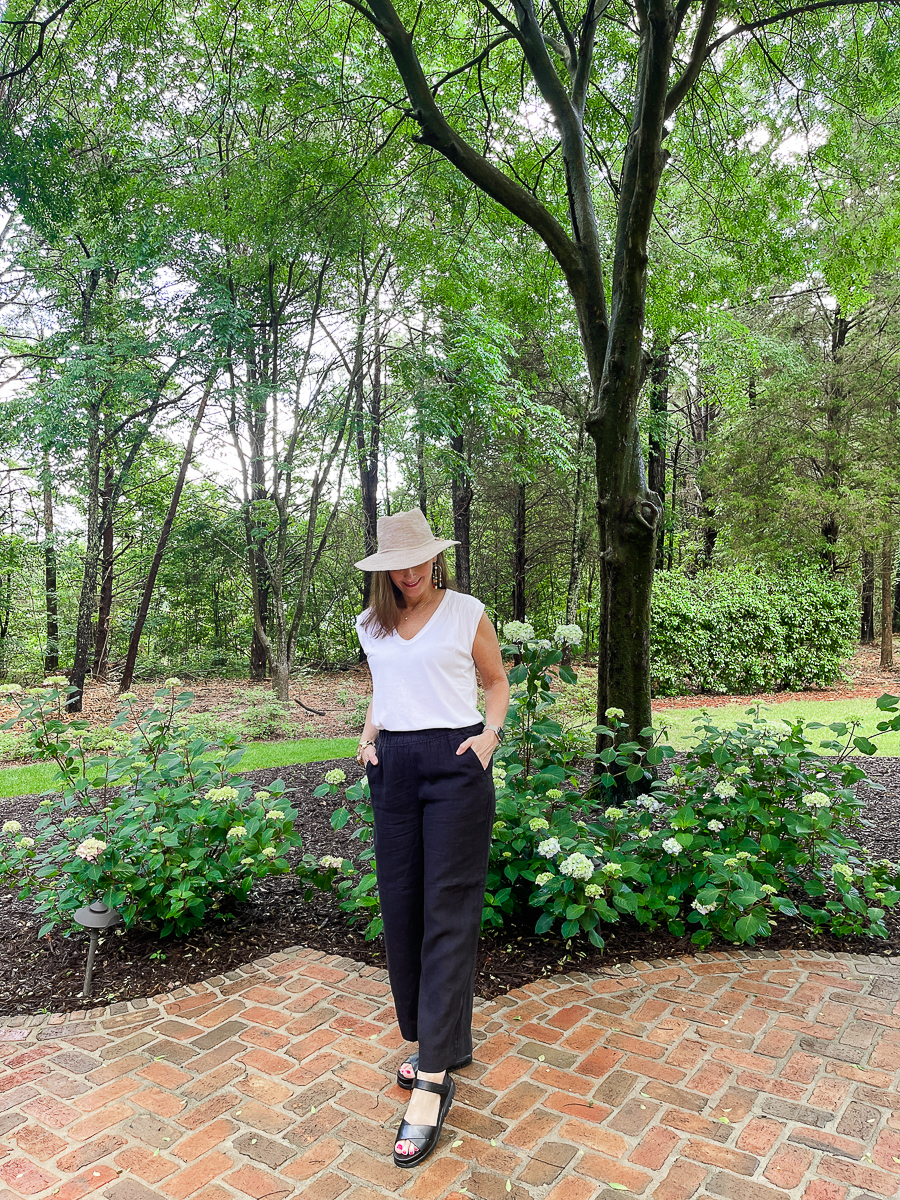 The pants are slightly cropped on me.
It's going to be a very versatile look for our upcoming trip to France.
It will work for daytime sightseeing and can be dressed up for dinner at night.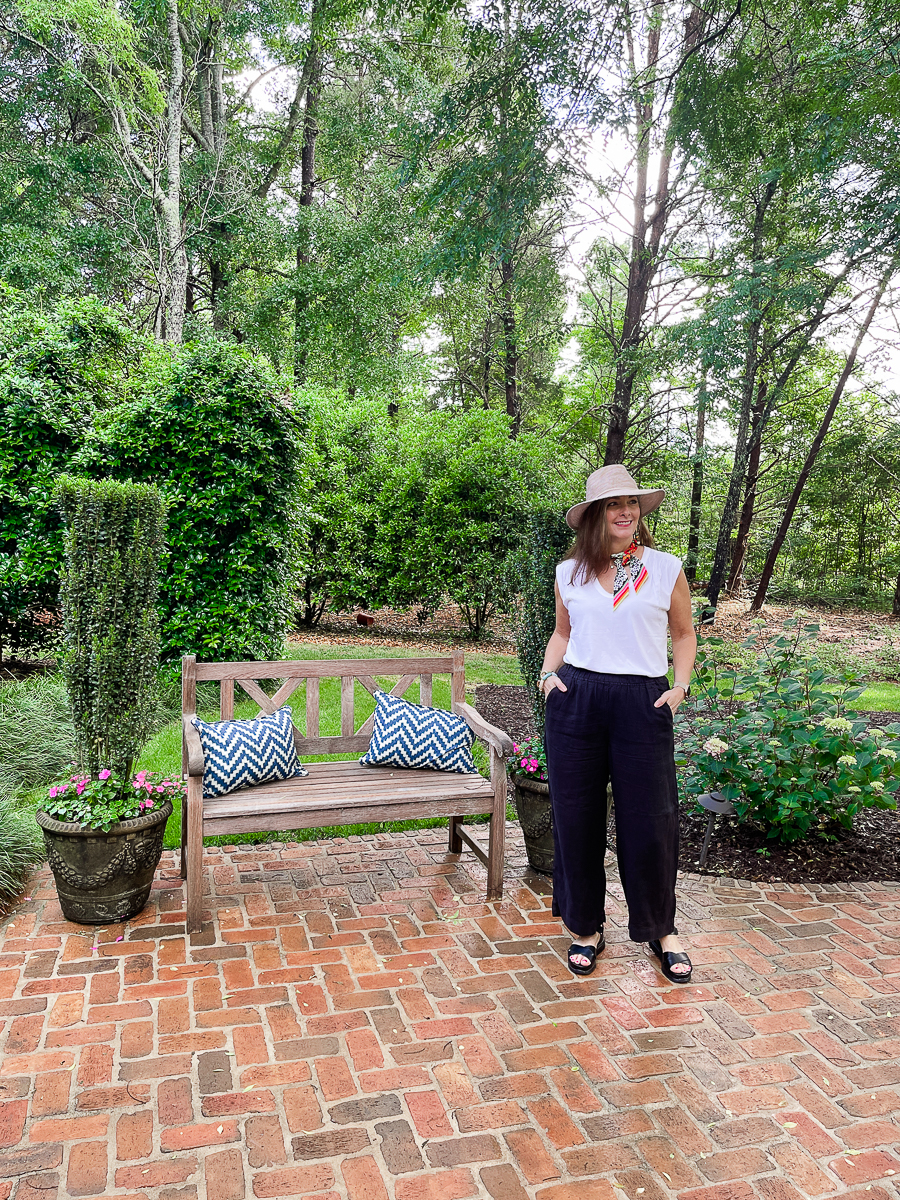 I ordered the tee that I have on in 3 colors. It is lightweight and perfect for summer. Grab it now while it is on sale.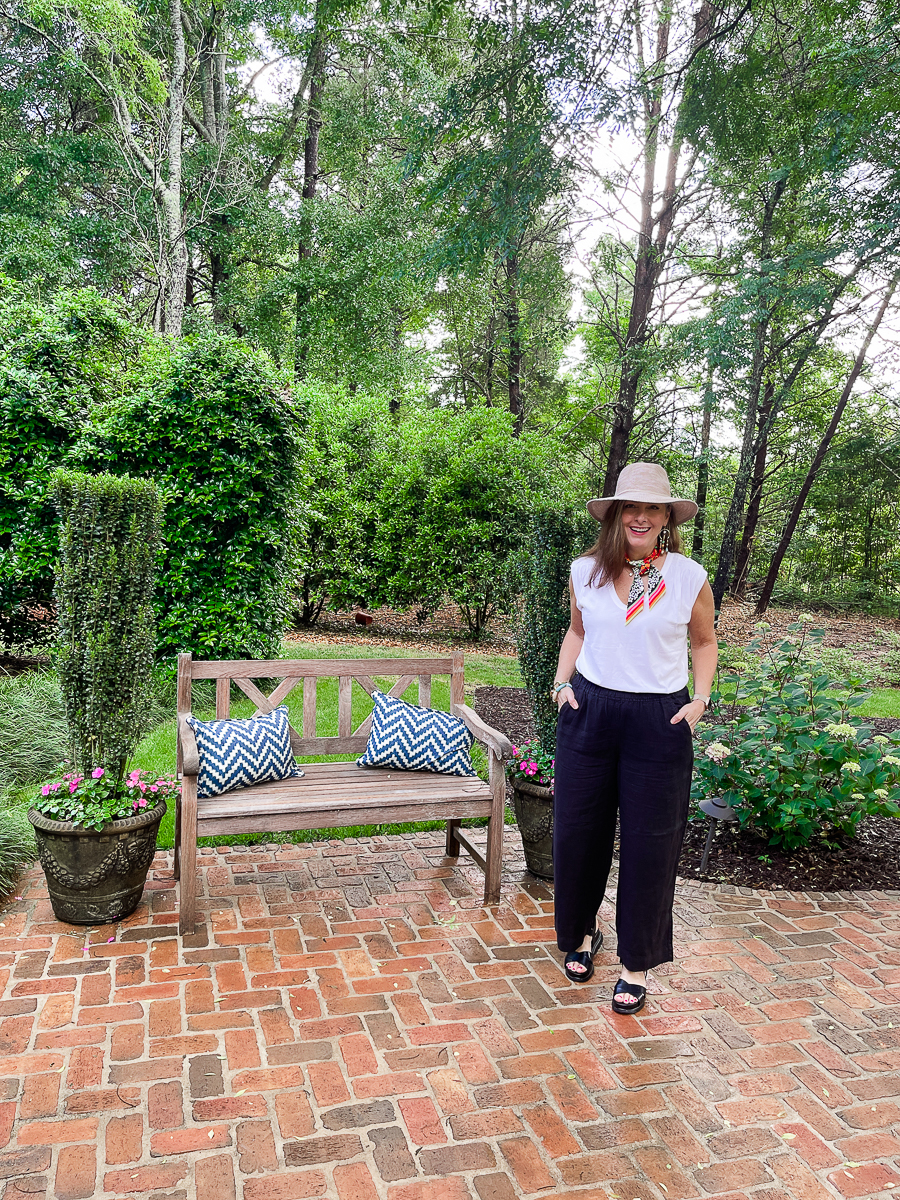 These walking sandals are so comfortable. I am on a mission to pack as lightly as possible for the trip. While I'd love to take some pretty heels for going to dinner at night, it just won't be practical for me on cobblestone streets. I'd prefer to not twist an ankle.
My plan is to take 4 pairs of shoes!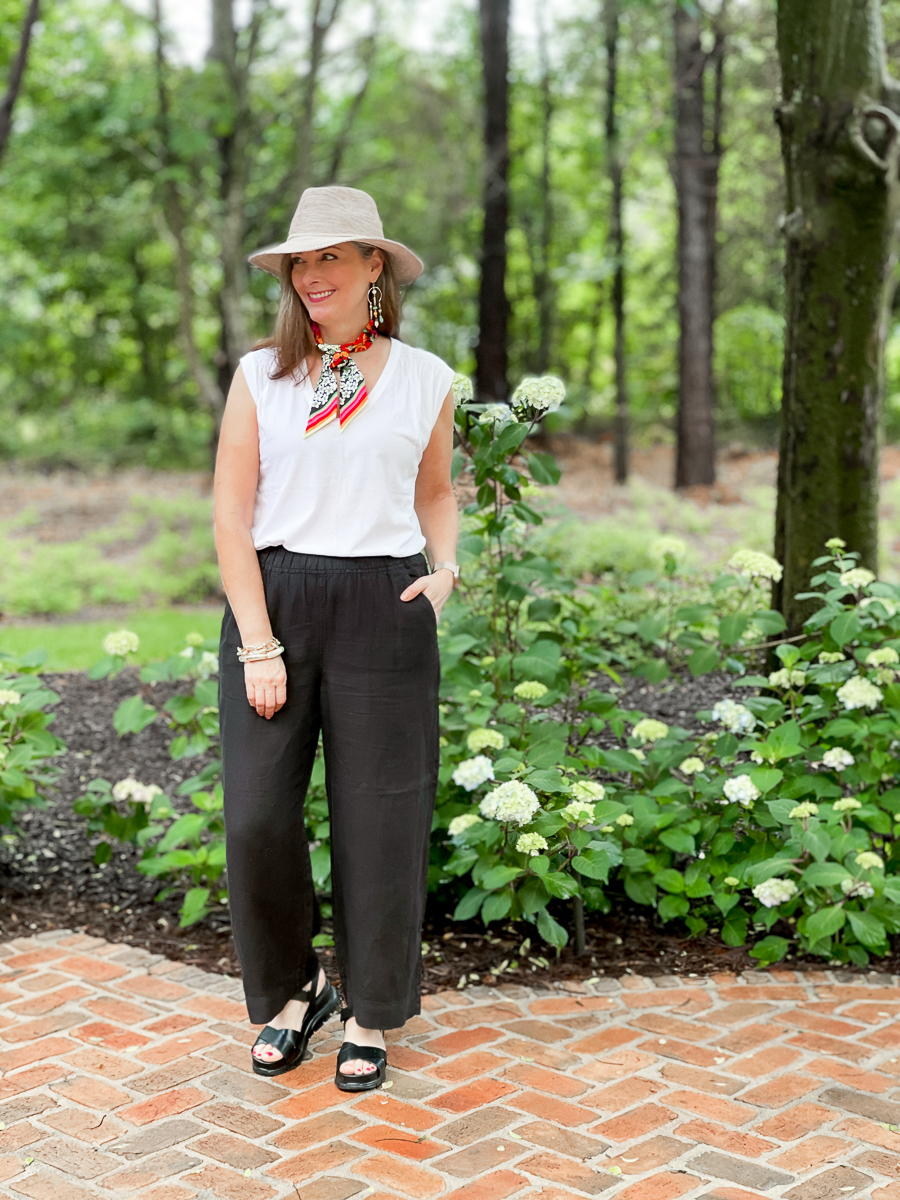 I have this set of 3 scarves that I use to tie on purses in the summer for a pop of color. They are perfect for your neck.
Being narrow, they don't have a lot of excess fabric.
FIT TIP: I am wearing a medium in the pants, a small in the tee, and a size 8 in the sandals. (Everything is true to size)


What I'm Reading
I love to read and listen to books. If you are looking for a way to get more steps in with your walking…..listen to books! You will want to keep walking to listen.
I read actual printed books as well as on Kindle. I prefer my Kindle, but it is nice to hold a real book occasionally.
I've had my Audible membership for a while, and LOVE it! It gives me one book credit per month.
Let me share with you how I read on Kindle and listen to books as well. Get yourself a library card!
Then add the LIBBY and HOOPLA apps to your phone.
I will typically check to see if a book is available there first before using my credit or buying. Using these 2 apps with your library card is FREE!!! I love FREE.
There may be a waitlist if it is a newer title or popular. That's ok. Sometimes the wait can be lengthy. If I'm not willing to wait, I will just purchase. If it is new or popular, you NEED to finish the book in the allowed checkout time. Sometimes you can renew, and sometimes you may have to get back in the queue. If that happens, when it is available again…..it will download where you left off.
Here is what I've recently read or listened to.
What We've Bought
What Caught My Eye
This screened porch with all the pretty colors is so cozy!
I have my eye on this wallpaper to add to the wall behind the guest bedroom bed!
See how pretty it would look on this wall!
Last weekend we went to Beaufort, NC for the wedding of our nephew. It was our first time visiting this area. The above video is a little of the area.
I love the look of this front door!!!
Buffer