This shop has been compensated by Inmar Intelligence and its advertiser. All opinions are mine alone. #TogetherwithRedDiamond
Red Velvet Cake Recipe
Holiday entertaining made simple with a dessert bar complete with flavorful coffee and homemade red velvet cake recipe!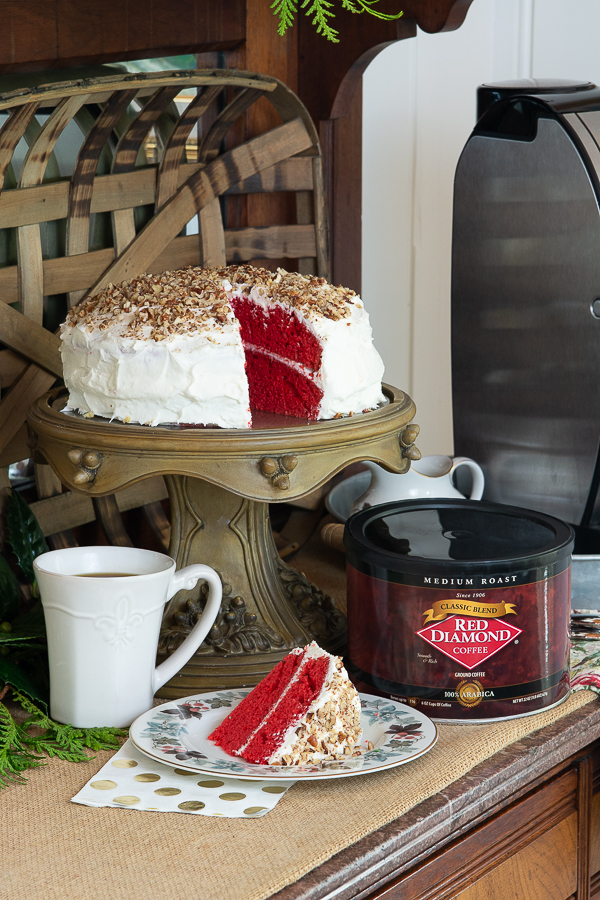 We are homebodies at heart so entertaining at home is our preference.
Spending time with family is always special, but the holidays bring additional joy.
Holiday memories are so important.
Entertaining at home need not be stressful!
Red Diamond® Coffee is the perfect drink to enjoy catching up with family. I purchased mine at Publix. Click here to find a store near you so you can buy your Red Diamond coffee
I've got a few tips for you to create a wonderful at-home experience by creating a simple dessert and coffee bar.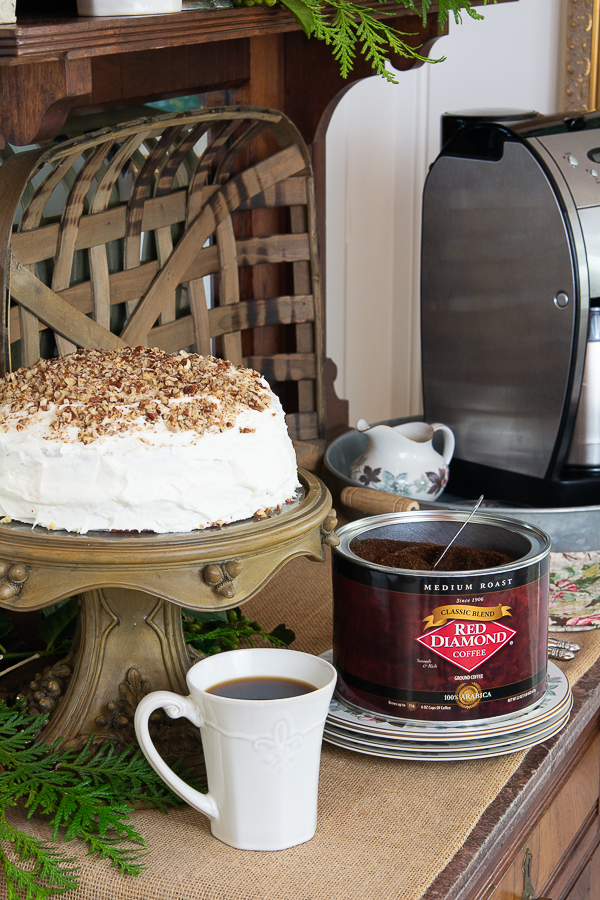 Of course, the ultimate coffee and dessert bar must start with flavorful coffee. We are loving Red Diamond® Classic Blend Ground Coffee.
Did you know that Red Diamond Classic Blend Ground Coffee is roasted in Alabama?
Perfect's not easy, but this coffee is!
This family-owned company from Birmingham, Alabama has been producing the best coffee since 1906.
Interested in trying Red Diamond Coffee? Hover over the image to click through to learn more​
Interested in trying Red Diamond Coffee? Hover over the image to click through to learn more.[/caption]
Quality is important, five generations of this family have been bringing us 100% Arabica coffee using only the highest quality coffee beans.
Trust me, you can tell with the first sip!
The aroma is decadent.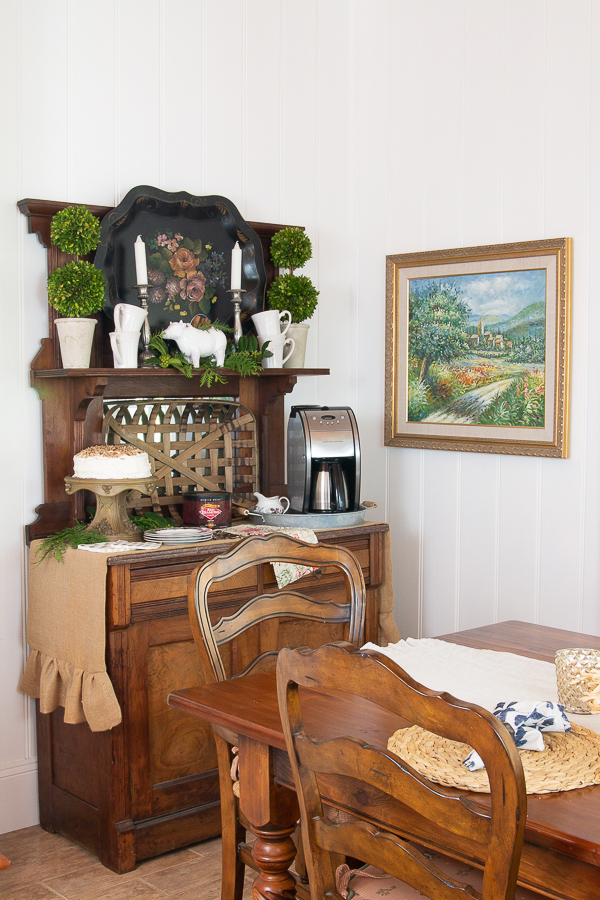 Let's talk about setting up a dessert and coffee bar!
Throughout the holiday season, I keep this area set up for entertaining.
It need not be elaborate to make a statement.
Here is what you'll need!
hutch or similar piece of furniture….even an area on your counters
coffee maker of choice
dessert such as Red Velvet Cake
plates, forks, napkins
gorgeous cake stand
mugs
decor
fresh clipping from the yard
table runner
creamer vessel
towel for any spills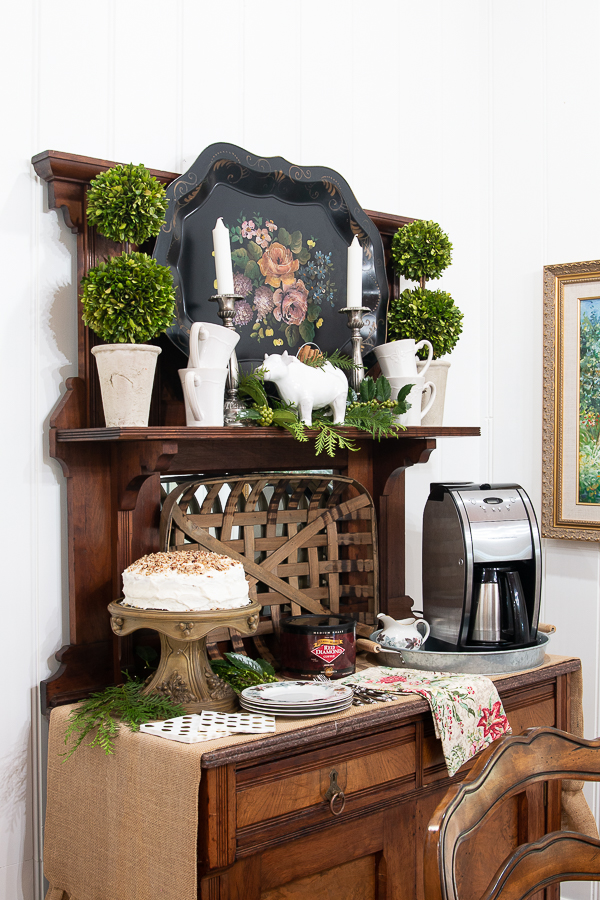 If fresh greens aren't an option, craft stores have wonder selections inexpensively.
Fresh greens that I love to use from our yard are evergreen trees, boxwood, holly, and magnolia.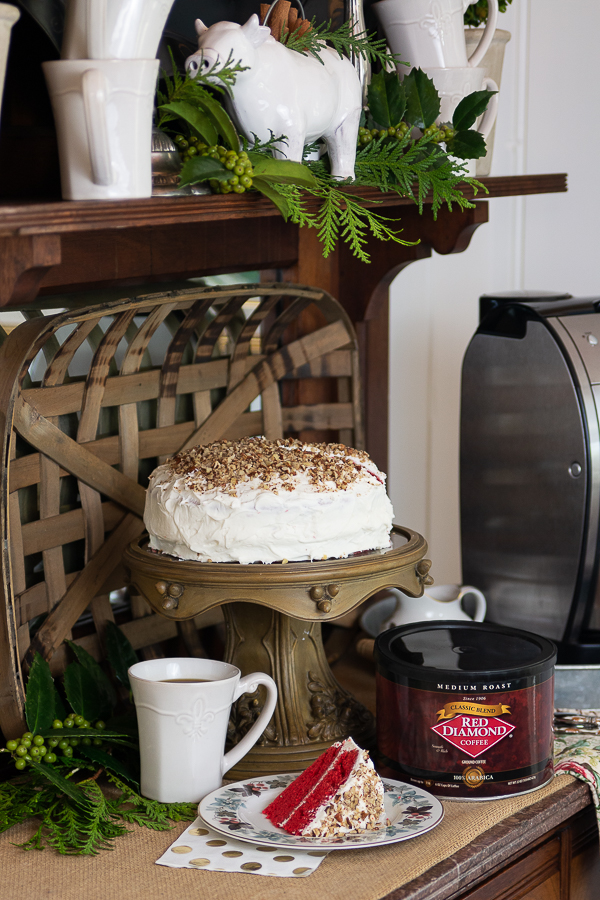 Red Velvet cake is my favorite cake. It is so good with a cup of coffee.
For as long as I can remember, I have always requested that my mom make this for my birthday.
I asked my mom for her recipe, and I made it for the first time.
I'm by no means a baker!
This recipe is so simple to make from scratch. You probably have most of the items on hand.
It's a beautiful cake for the holidays.
Here is my mom's Red Velvet Cake Recipe!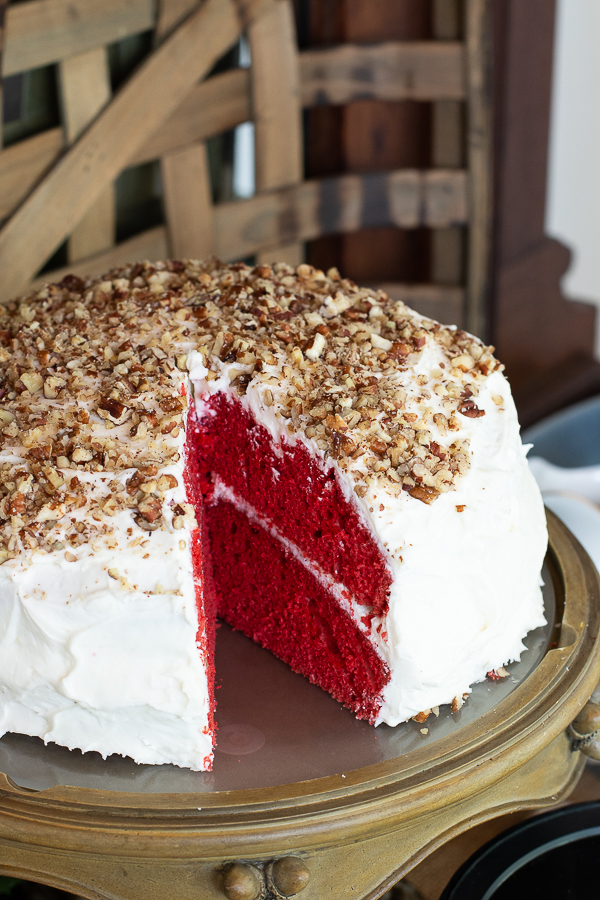 Red Velvet Cake Recipe
Yummy and beautiful homemade cake perfect for the holidays!
Ingredients
CAKE
2-1/2 cups of all-purpose flour
1 cup of buttermilk
1-1/2 cups of sugar
1/2 cup of canola oil
1 tsp of baking soda
1 tsp of salt
1 tsp of cocoa powder
1 tsp of white vinegar
1 tsp of pure vanilla extract
2 TBS of red food coloring
2 eggs
ICING
1 stick of margarine
3 ounces of cream cheese
16-ounce box or 3-1/2 cups of powdered sugar
1 tsp of pure vanilla extract
1 cup of walnuts or pecans
Instructions
Cake
Cream sugar and oil together with an electric mixer. Add eggs.
In a separate bowl hand mix food coloring, cocoa powder, vinegar, and vanilla together.
In a separate bowl, sift flour, salt, and baking soda together.
Add your food coloring mixture to the sugar mixture and beat well to blend.
Alternate adding flour mixture and buttermilk until well-blended.
Butter and flour 2- 9-inch cake pans. I used margarine.
Divide the batter into the 2 cake pans.
Bake at 350 degrees for 30 minutes. The cake tester should come out clean.
Icing
Cream together the margarine and cream cheese with an electric mixer.
Add vanilla
Gradually add the powdered sugar
If your icing is too thick, you can thin with a little milk. I didn't have to do this.
Chop 1 cup of nuts or more to sprinkle on top! I used pecans.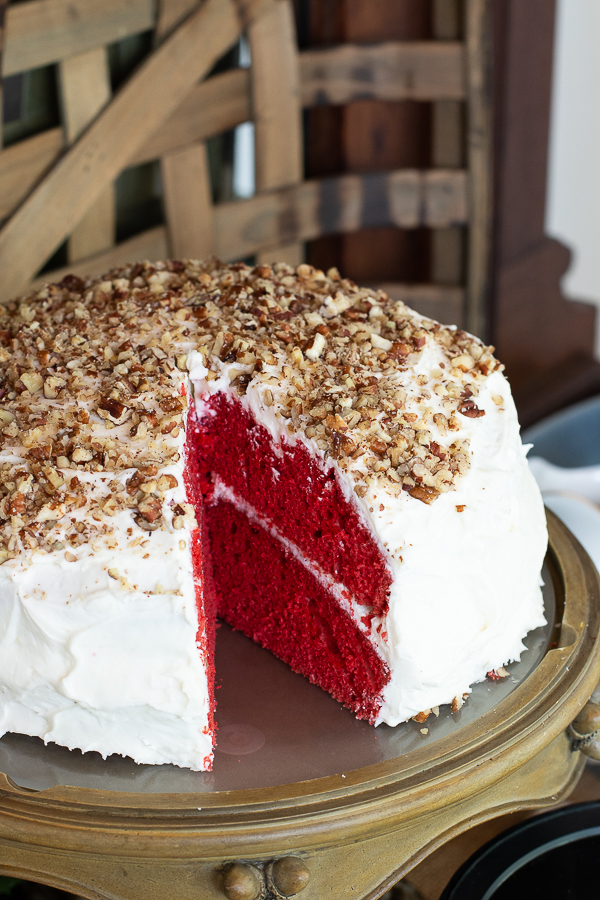 It's such a beautiful cake for the holidays.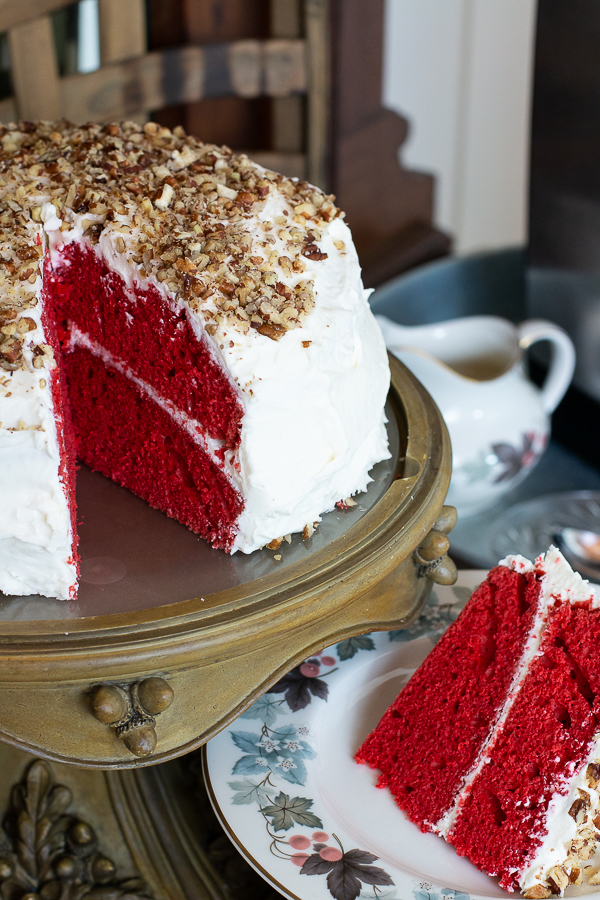 If nuts are not your thing, sprinkle to top with shaved chocolate or red sugar crystals. I'm even using my mom's wedding china. She gave it to me years ago. It's 57 years old!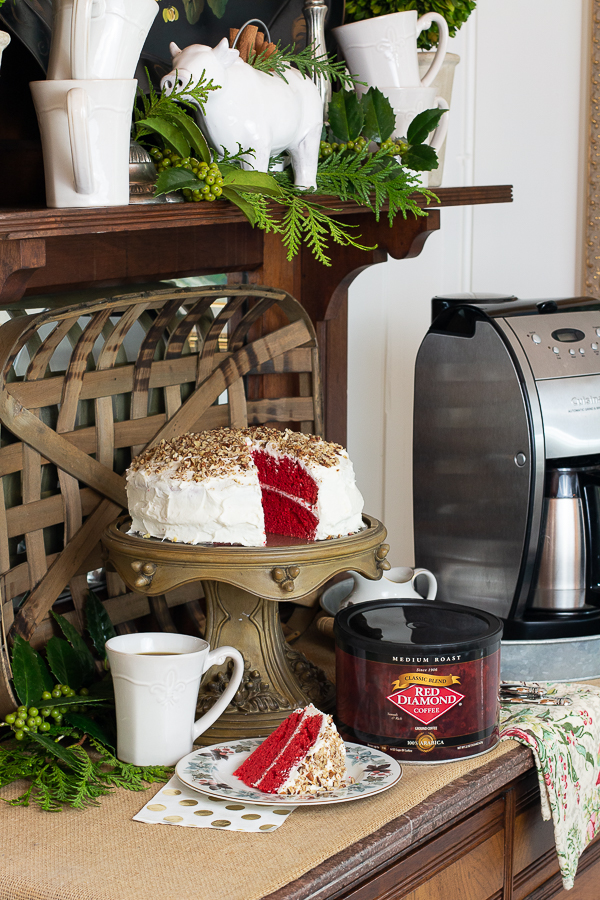 Check out Red Diamond Classic Blend Ground Coffee for your entertaining needs!
Be sure to follow Red Diamond on social media!
Facebook: @reddiamond // Pinterest @reddiamondinc // Twitter @RedDiamond // Instagram @drinkreddiamond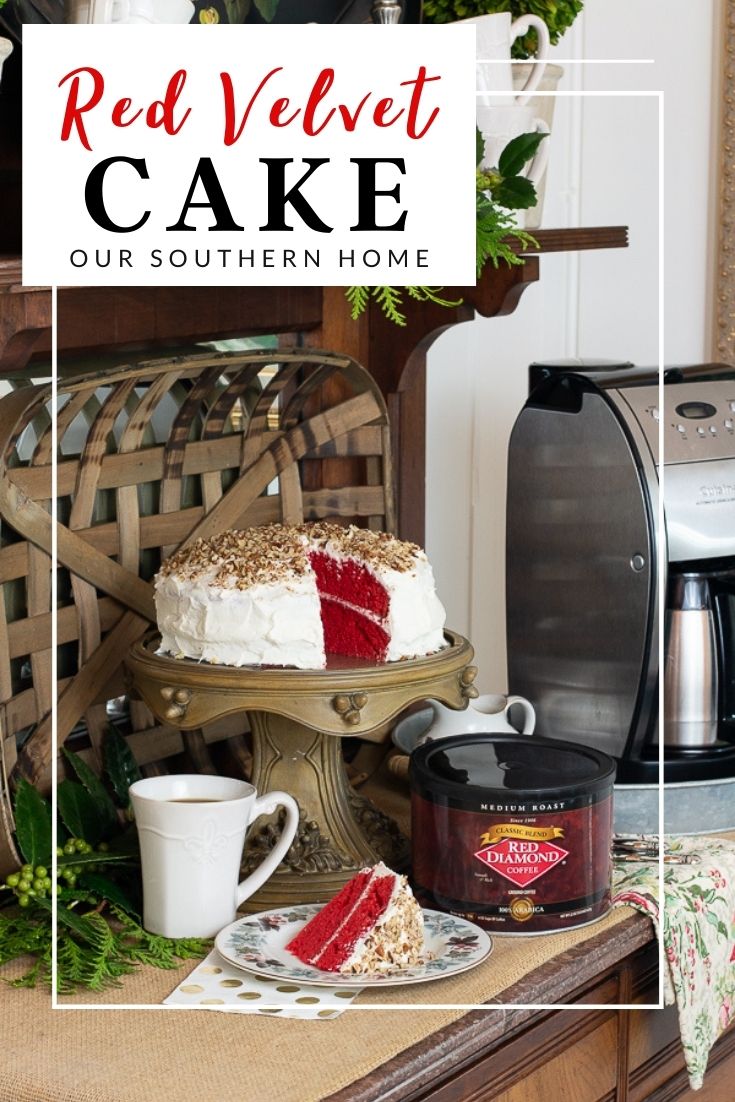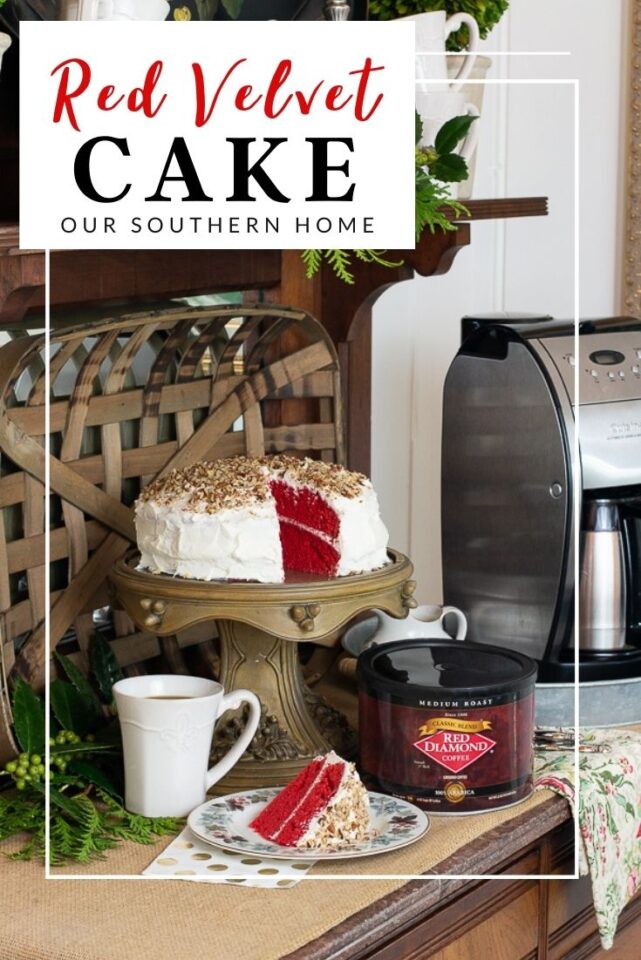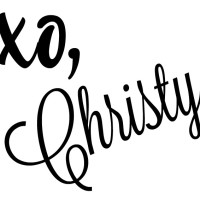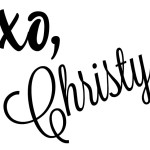 5 Christmas Favorites from the Blog!
Buffer