Saturdays on the Porch #27
Saturdays on the Porch #27 featuring this week's fashion looks and more from Our Southern Home for life and home.
Happy Saturday, sweet friends! I hope you've had an absolutely amazing week!
In case you missed Saturdays on the Porch, you can find the archives HERE.
Latest from OSH!
Be sure to check out my latest Instagram post and stories videos for our screened porch decorated for fall. We are loving it so much with the temps so pleasant in the evenings.
Saturdays on the Porch #27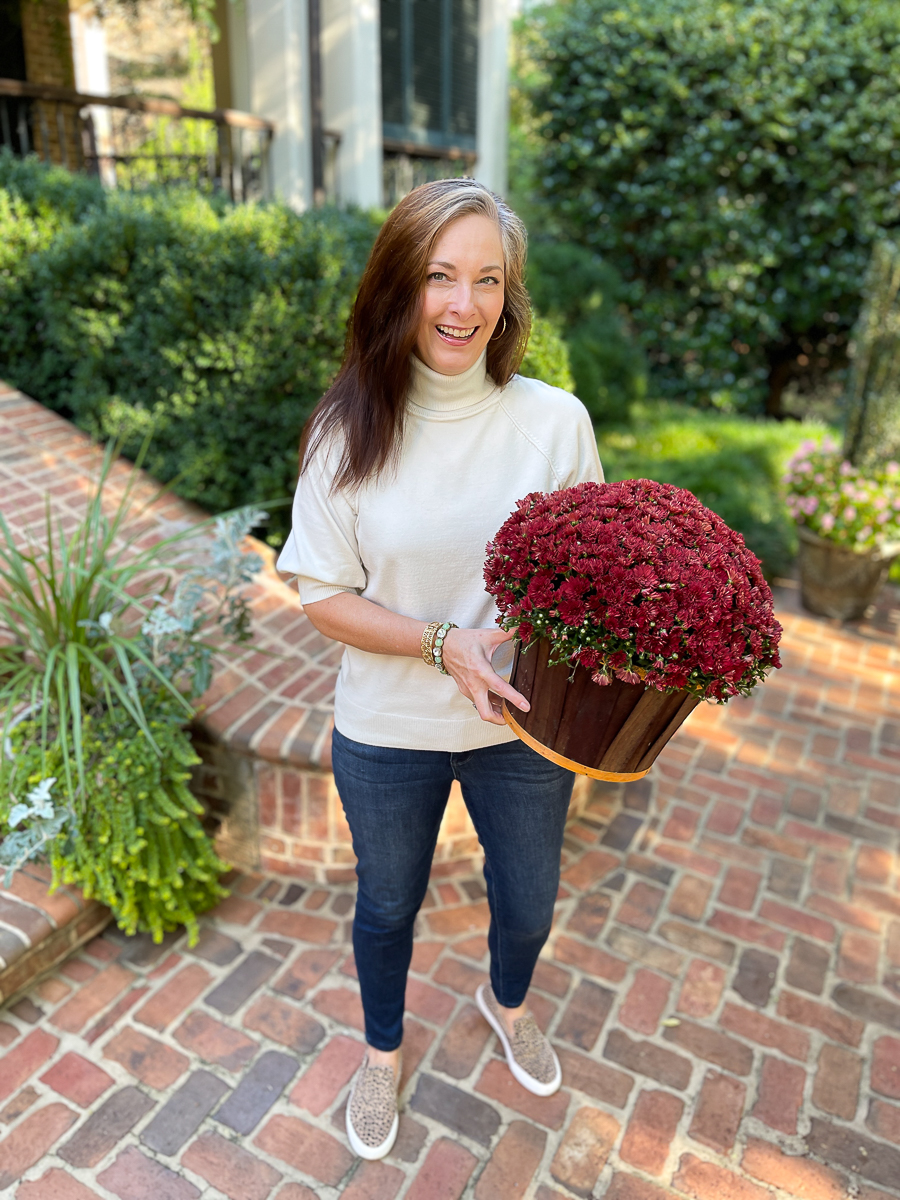 Walmart Turtleneck | Jeans | Similar Sneakers | Similar Sneakers | Similar Bracelet
I confess that I have worn this outfit 2 times this week (Monday and yesterday)…..I love it that much. I've always been a big fan of turtlenecks so when I saw this one from Walmart that is perfect for fall weather in the south, I was sold. I only regret not buying other colors as well.
This turtleneck comes in 6 different colors. I honestly would love them all.
Fit Tip: I am wearing a medium in the exact turtleneck and a size 8 in the exact jeans.
I've had these jeans for a while now and the ones I usually gravitate to are in my closet. They have stretch to them and the ab/waist technology is so comfortable! I highly recommend them.
SCROLL THROUGH THE PHOTOS. MY GRAYS ARE REALLY COMING THROUGH.
It will be 1 year on January 20th that I haven't colored my hair.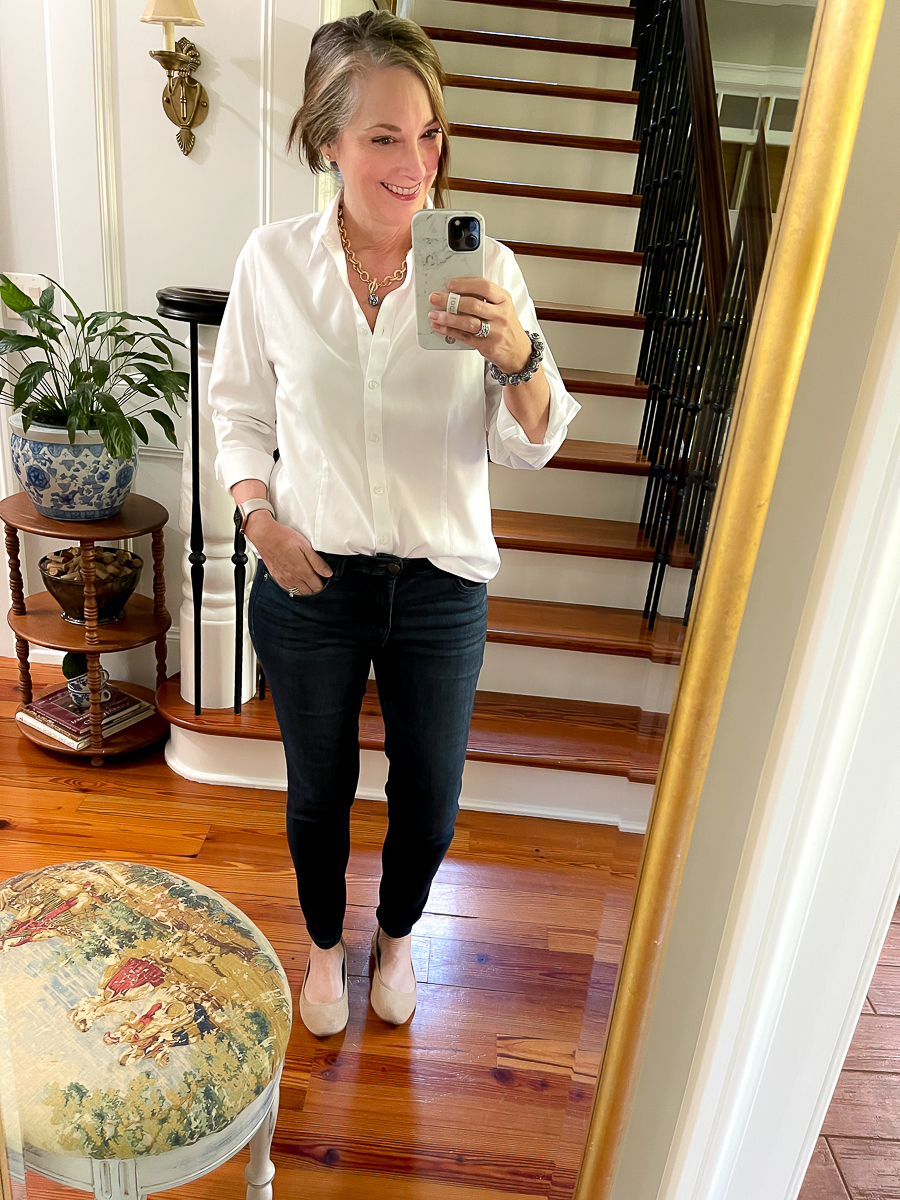 White Blouse | Jeans | Ballet Flats | Similar Necklace | Similar Bracelet
I wore this outfit to run errands on Thursday. You can never go wrong with a classic white shirt. This one is from Chico's last year. I've linked a similar one above. I am wearing a size 1 in it. I'm wearing the same jeans as above.
DIrty hair didn't stop me from running errands. I've been washing my hair less since not coloring it. It has become dryer. I just use some dry shampoo, teased it a bit then put it in a low ponytail looped to make somewhat of a bun. They pulled out one tendril and gave it a quick curl.
Fit Tip: I'm wearing a size 1 in the blouse from Chico's, a size 8 in jeans, and size up 1/2 size in the Amazon flats.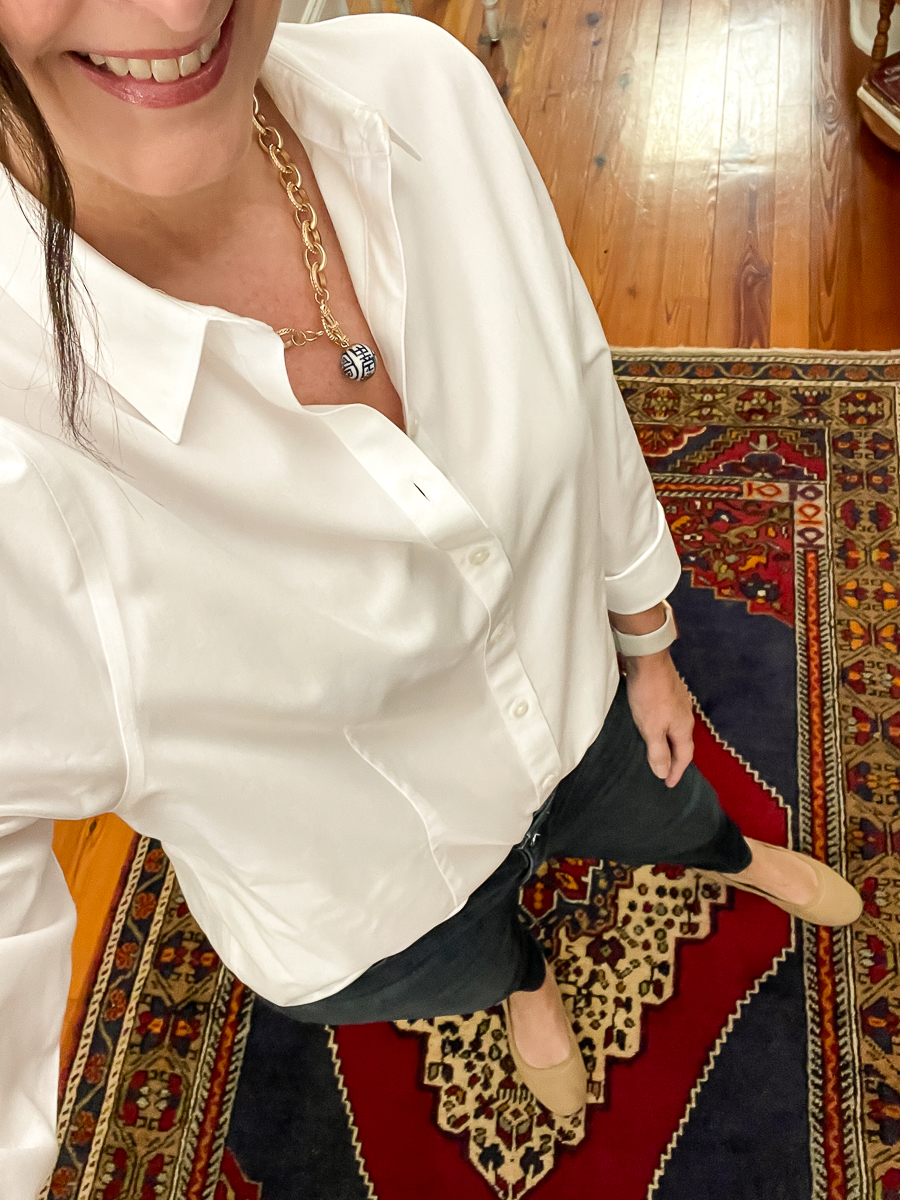 Happenings
This week has been a bit nuts. My husband was in the hospital a couple of days this week with gallbladder issues. He had one procedure on Tuesday and is having another in early November. He's doing great and is actually working in the yard a bit today. I didn't accomplish a lot this week, but that's ok!
Ashlyn is outside now with a saw and a metal blade to chop up her old trampoline. She's all for it…I'm just hoping that I'm not making another trip to the ER! Ha, ha!!!
We caught Jack scratching our grasscloth wallpaper in the area going back to the guest room yesterday. This is something that has happened in the last week. We are assuming that he is doing it at night. Y'all….I'm so upset. He has shredded a couple of areas. I think we are going to start locking him up in our bathroom at night. It is where we keep his food and litterbox. I did order this citrus spray. Fingers crossed. He doesn't like to be fussed at. We let my hubby handle disciplining him for it. He can't stand to be fussed at. I'll also be adding a second scratching post in the den area. The joys of a cat. Any advice?
Ugh…..we had a small leak in the guest room. Now I do have to repaint the ceiling. It's from our parapet brick walls. It's time to seal them again with this. I told you that it has been a week!
Upcoming on the Blog
Fall Screeend Porch
Fall Master Bedroom
Fall Tablescape with Belk
Halloween Tablescape with Mackenzie Childs
Fall Vignette
Christmas Porch with Old Time Pottery
Christmas Tree with Belk
Christmas Decorating with The Christmas Tree Shops
What I'm Reading
What We've Bought
What Caught My Eye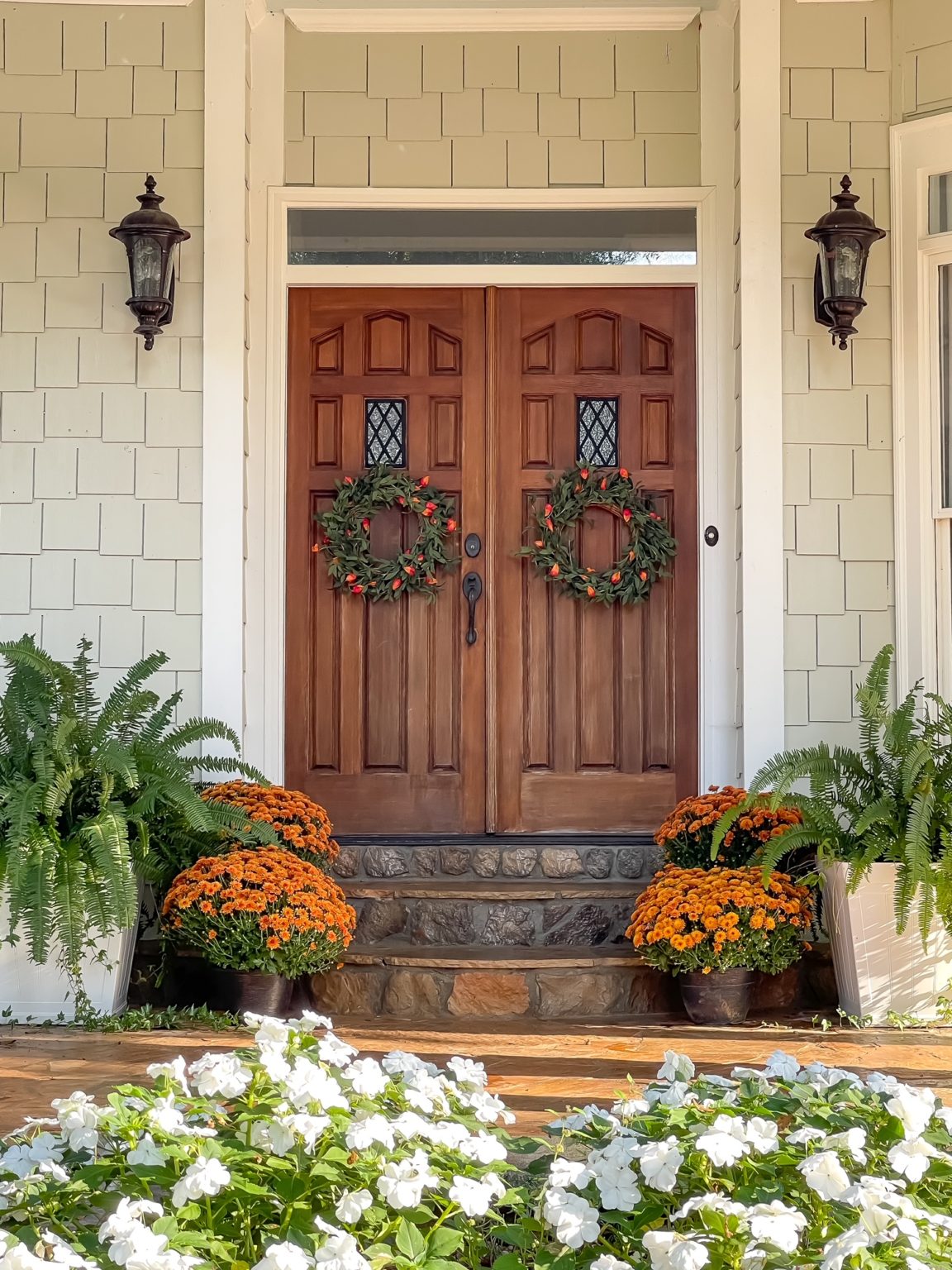 Lovely front entrance for fall from Duke Manor Farm!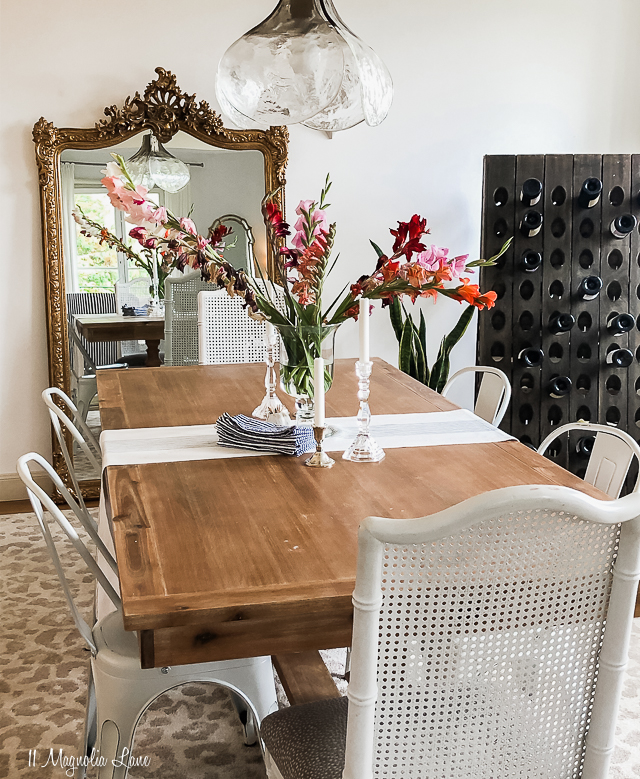 Vintage European finds from Eleven Magnolia Lane.
This yummy-looking beer bread!
This gorgeous home for fall!
This is a realtor account, but she is adorable with a gorgeous home!
More ways to use blue and white for fall.
I hope you have an amazing weeknd!!
Buffer